This Happened On Planet Earth…July 2019…End Times Signs

Published on Jul 18, 2019
Please Help Support This Ministry: https://www.paypal.me/watchman1963 Please subscribe to my backup channel: https://www.youtube.com/channel/UC4nc… Current Events Linked To Biblical Prophecies. Everything is unfolding just as the bible foretold. Wars, Volcanic Eruptions, Earthquakes, Extreme Weather, Christian Persecution, Violence and more!
Matthew 24:3-14 3 Now as He sat on the Mount of Olives, the disciples came to Him privately, saying, "Tell us, when will these things be? And what will be the sign of Your coming, and of the end of the age?" 4 And Jesus answered and said to them: "Take heed that no one deceives you. 5 For many will come in My name, saying, 'I am the Christ,' and will deceive many. 6 And you will hear of wars and rumours of wars. See that you are not troubled; for all[a] these things must come to pass, but the end is not yet.
7 For nation will rise against nation, and kingdom against kingdom. And there will be famines, pestilences,[b] and earthquakes in various places. 8 All these are the beginning of sorrows. 9 "Then they will deliver you up to tribulation and kill you, and you will be hated by all nations for My name's sake. 10 And then many will be offended, will betray one another, and will hate one another.
11 Then many false prophets will rise up and deceive many. 12 And because lawlessness will abound, the love of many will grow cold. 13 But he who endures to the end shall be saved. 14 And this gospel of the kingdom will be preached in all the world as a witness to all the nations, and then the end will come.
————————————————–
MAJOR EVENT!! WORST COLLAPSE IN HISTORY OF STOCK MARKET! (WARNING..)

Published on Jul 16, 2019
 

In today's video, Christopher Greene of AMTV reports on Economic Collapse 2019.
————————————————–
Earthquake Live Stream — 24/7 Seismic Activity — Global Unrest taking place — Be Prepared

Started streaming 21 minutes ago
Who is Dutchsinse? Dutchsinse is Michael Janitch (Mike Yuri Janitch). From Saint Louis Missouri, USA. https://www.dutchsinse.com/dutchsinse…
————————————————–
LATEST WORLD NEWS CLIPS – ARTICLES – THURSDAY JULY 18th 2019
1Th. 5:3 For when they shall say, Peace and safety; then sudden destruction cometh upon them, as travail upon a woman with child; and they shall not escape
Luke 11:29 And when the people were gathered thick together, he began to say, This is an evil generation: they seek a sign; and there shall no sign be given it, but the sign of Jonas the prophet
John 8:32 And ye shall know the truth, and the truth shall make you free
"My people are destroyed for lack of knowledge" (Hosea 4:6)
1Cor. 12:3 Wherefore I give you to understand, that no man speaking by the Spirit of God calleth Jesus accursed: AND THAT NO MAN CAN SAY THAT JESUS IS THE LORD, BUT BY THE HOLY GHOST.
THE TRIBULATION OF THE UNJUST (Those who have rejected Jesus Christ as their Saviour) IN THE BOOK OF REVELATION CHAPTER'S 6 to 22:
TRIBULATION IS COMING AND THE REMOVAL OF THE CHURCH IS IMMINENT.
THE GREAT "DECEPTION" IS READY TO BE IMPLEMENTED BY THE ONE WORLD GOVERNMENT. ARE YOU READY FOR JESUS CHRIST RETURN
Rev. 3:10 Because thou hast kept the word of my patience, I also will keep thee from the hour of temptation, which shall come upon all the world, to try them that dwell upon the earth:
Luke 12:37 Blessed are those servants, whom the lord when he cometh shall find watching: verily I say unto you, that he shall gird himself, and make them to sit down to meat, and will come forth and serve them
so won't you accept Jesus now and be removed from that event and live forever with Jesus in the Family of God?
2 "(For he saith, I have heard thee in a time accepted, and in the day of salvation have I succoured thee: behold, now is the accepted time; behold, now is the day of salvation.)" (2nd Corinthians 2:6)
—————————————
DAILY CHRISTIAN BIBLE QUESTIONS AND ANSWERS:
—————————————
WHY ASK FORGIVENESS IF WE'RE ALREADY SAVED?
QUESTION:    I was talking to a friend and he strongly believes that one can lose their salvation. I brought up that your salvation cannot be pulled out of God's hands, and he agreed. Then he said that it only worked that way if you did not sin. He stated that that was the reason as to why people go and repent everyday and night, to again be holy and be secure in salvation. Basically, he stated that we "work" for our salvation day and night by prayer. What should I tell him, for I am a bit intimidated.
Also, why do we pray for our forgiveness everyday if we are already saved?
ANSWER:    Many believers fail to understand that there are two facets to our relationship with the Lord. The first is our salvation, eternal and unconditional. I call it Union. It guarantees our place in Heaven. The second is our relationship with God. It's in the here and now and is conditional. I call it Fellowship. It makes all our earthly blessings possible.
These two are symbolized in the parable of the Prodigal Son. Throughout the entire story he was always his father's son. That never stopped, nor could it. He had union with his father by means of his birth. But while he was off living his life of sin it did him no good. By his actions, he had suspended the relationship. The moment he came to his senses and confessed he was restored as if nothing had ever happened.
When we become a believer we gain union with the Lord by means of our second birth. Nothing can ever take that away. But while we're off living a life of sin, it does us no good, because by our actions we've suspended the relationship. The moment we confess, we are restored as if nothing had ever happened.
Praying the sinner's prayer once brought us union with God forever. Praying 1 John 1:9 when we sin keeps us in fellowship every day.
DO I HAVE TO FORGIVE EVERYONE
QUESTION:    In the gospels, Jesus is often quoted as saying that if you do not do something, you will not reach the kingdom of God, or see it or attain it. Recently our pastor pointed this out and said he didn't want to "upset our evangelical upbringing" but that it's true. I think he was talking about forgiveness specifically, though there are other instances where Jesus says similar things (such as Matthew 7:21, Mark 10:15, etc).
I am a fairly new believer so I began asking around some people who belong to my congregation and they all believe you must forgive everyone of everything all the time, and do all of what Jesus commands or you're doomed. So I have been racking my brain afraid that there will be someone somewhere I haven't forgiven, because if I don't forgive, God won't forgive me. I am sure I haven't forgiven everyone everything, am I not saved since he won't forgive me? What of the other passages where Jesus says those phrases? Was he just kidding when he said you MUST forgive everyone?
ANSWER:    I hate to say this, but you've been victimized by some very bad theology. The Lord doesn't contradict Himself by saying one thing in one place and then something else in another. Take Matt. 7:21 for instance. Earlier in the same passage Jesus said that everyone who seeks finds, everyone who asks receives, and to all who knock the door will be opened. (Matt. 7:7-8) How could He then contradict Himself a few sentences later by saying, "Not everyone who says to me, Lord, Lord will enter the Kingdom." Well, it turns out that in Matt. 7:15-23 His topic is false prophets who were masquerading as believers. They're the ones who will be excluded.
And in Mark 10:15 He said that we must become like little children to enter the Kingdom. What are little children like? They're trusting, accept what they're told at face value and believe it with all their heart. That's the way we're supposed to believe. Nowhere in the New Testament is salvation described as being contingent on behavior. It is only contingent on belief. (John 3:16 and many others)
That said, in order to receive God's blessings here on Earth and earn crowns for yourself in Heaven, there are things you can do to express your gratitude to the Lord for saving you. One of those things is to forgive those who have wronged you because that's what God has done for you. Failure to do so is like refusing to say thanks for an incredible gift. It doesn't cause the gift to be taken away, but it does deprive you of certain blessings. Your salvation was guaranteed the moment you first believed and can never be taken away. (Ephes. 1:13-14)
THE ESSENTIALS OF FORGIVENESS
QUESTION:    Today, I was having a conversation with a friend about what is required to obtain forgiveness when you commit a sin against someone (specifically, adultery). My friend feels that sincerely asking God for forgiveness and ceasing the sinful behaviour is all that is required, especially when the former relationship (marriage) no longer exists and both parties have moved on with their lives. Of course, I feel that it is a must that you ask God for forgiveness, but I feel that you must also ask the person that you wronged for forgiveness as well. I've searched the Bible for references on asking for/receiving forgiveness, but I'm still unclear. Can you share your perspective on this?
"Therefore, if you are offering your gift at the altar and there remember that your brother has something against you, leave your gift there in front of the altar. First go and be reconciled to your brother; then come and offer your gift."
To me, this means that we can't maintain our relationship with God while there's an issue between us and another person that we haven't done our best to resolve. Whether it's asking for or granting forgiveness, failure to do our part violates the Lord's commandment that we love one another as He loved us (John 15:12) and leaves us out of fellowship with God.
Since the Lord only holds us responsible for our side of the equation, we can extend forgiveness even if the other party hasn't asked, and we can ask for it even if it isn't granted. But so far as it depends on us, we're to live at peace with everyone (Romans 12:18). The other person's unwillingness to ask doesn't justify our failure to forgive, and our fear that they would refuse to forgive us doesn't justify our failure to sincerely ask them anyway.
NEWS CLIPS OBTAINED FROM MANY SOURCES – INCLUDING

Tracking bible prophecy.org
Rapture Ready News
Prophecyupdate.Com
Main News Channels
End Times Headlines
Prophecyupdateblogspot.com
Stevequayle.com
Gracethrufaith.com
Nowtheendbegins.com
Other Christian Sites
(CLICK ON) LATEST DAILY NEWS CLIPS:
ISRAEL NEWS:
I AM GOING TO MAKE JERUSALEM A CUP THAT SENDS ALL THE SURROUNDING PEOPLES REELING … Zech. 12:2
God is in control, and He told the nations the consequences of dividing the Promised Land and declaring peace and safety on their own terms (Joel 3:1-2; I Thess. 5:3)
WORLD TERRORISM – WARS
GENERAL WORLD NEWS:
WORLD FINANCE:
MASSIVE EARTH CHANGES/EARTHQUAKES/VOLCANOES ETC:
2Chr. 7:13 If I shut up heaven that there be no rain, or if I command the locusts to devour the land, or if I send pestilence among my people;
2Chr. 7:14 If my people, which are called by my name, shall humble themselves, and pray, and seek my face, and turn from their wicked ways; then will I hear from heaven, and will forgive their sin, and will heal their land
CHRISTIAN AND RELIGIOUS WORLD NEWS:
Matt. 24:9 Then shall they deliver you up to be afflicted, and shall kill you: and ye shall be hated of all nations for my name's sake.
Matt. 24:10 And then shall many be offended, and shall betray one another, and shall hate one another
EXTRA WORLD – ALTERNATIVE NEWS:
——————————————————
WORLD – PROPHETIC NEWS ARTICLES PRESENTATION – THURSDAY JULY 18th 2019
MIDDLE EAST AND WORLD WAR LOOMING THE BUILD UP TO PSALM 83  – ISAIAH 17 AND GOG OF MAGOG WARS EZEKIEL 38:
THE WHOLE WORLD IS UNSTABLE FINANCIALLY, POLITICALLY, PHYSICALLY, MORALLY, GODLY: – AND BECOMING MORE SO DAILY. (WE ARE IN THE BEGINNING OF SORROWS (MATT 24:8)
THE BIBLE STATES THAT IT WILL ONLY GET WORSE BEFORE THE START OF THE TRIBULATION OF MANKIND – (

REVELATION 6)
Matt. 24:6 And ye shall hear of WARS AND RUMOURS OF WARS: see that ye be not troubled: for all these things must come to pass, but the end is not yet.
Matt. 24:7 FOR NATION SHALL RISE AGAINST NATION, AND KINGDOM AGAINST KINGDOM: and there shall be famines, and pestilences, and earthquakes, in divers places.
ISAIAH 17/PSALM 83:
THE DESTRUCTION OF DAMASCUS and
Muslim Countries in the Middle East will launch an attack on Israel
JEREMIAH 49:
PROPHECY OF ELAM – (Possible Attack on Iran's Nuclear Program
————————————————
ASSAD, IRAN SEEK PLAN TO DEAL WITH ISRAELI ATTACKS IN SYRIA
According to Syrian newspaper "Al-Watan," Syrian President Bashar Assad met with a senior Iranian official in Damascus this week to discuss ways of coping with Israeli airstrikes in the war-torn country.
Syrian President Bashar Assad met on Tuesday in Damascus with an unnamed senior Iranian official to discuss ways to cope with Israeli airstrikes in the war-torn country, reported regime-affiliated Syrian newspaper Al-Watan.
According to the report, the Iranian official also discussed with Assad the Trump administration's Mideast peace plan, and presented Iranian Supreme Leader Ayatollah Ali Khamenei's plan to contend with it.
The report comes against the backdrop of recent attacks on pro-Iranian forces in Syria, some which have been attributed to Israel though it denies involvement. In other cases, Israel has taken responsibility for attacks in Syria. In the past year, senior Israeli officials, chief among them Prime Minister Benjamin Netanyahu, have been increasingly candid about confronting Iranian entrenchment in Syria.
The head of the IDF's Military Intelligence Directorate, Maj. Gen. Tamir Heyman, said in June: "We are in a situation where Iran still represents a central economic counterweight in the Middle East. Iranian technology and money feed the various players in the area. [Iran] is under American pressure. Iran is doing a great deal to manipulate and raise oil prices, but thus far this isn't really working for them. The price of a barrel of oil today is $61.8. Oil consumption is at an all-time low, and the Iranian economy is in danger of destabilization. Across the world oil prices are stagnant, and this has been the trend over the past few years."
Regarding Iranian entrenchment in the Middle East, Heyman said the "multidimensional pressure applied by Israel," including its military activity, has stunted Tehran's efforts in Syria.
However, Heyman said, Iran's expansionism in the Middle East still hasn't been halted completely.
"Iran is currently searching for other places to establish a foothold, for example in the Iraqi sphere," he said.
——————————————–
The U.S. intelligence increasingly believes that a United Arab Emirates (UAE) tanker may have been forced into Iranian waters by naval forces of Iran's Islamic Revolutionary Guard Corps (IRGC), CNN Pentagon correspondent Barbara Starr reported late on Monday.
"CNN has learned: US intel increasingly believes UAE tanker MT RIAH forced into Iranian waters over the weekend by #IRGC naval forces," Starr tweeted.
The UAE is not sharing information, while some Gulf sources told CNN that the UAE vessel had simply broken down and has been towed by Iran, the CNN correspondent says.  
The U.S., however, says that there is no contact with the crew of the UAE ship, whose last known location was at Qesham Island, CNN's Starr reports.  
The incident, if it happened the way the U.S. intelligence is reportedly inclined to believe, would be the latest skirmish in waters in the Middle East in recent weeks.
In May and June, two separate apparent attacks on oil tankersnear the Strait of Hormuz stoked tensions in the area, which intensified with Iran shooting down a U.S. drone over the vital oil shipping lane.
In early July, Gibraltar, assisted by Royal Marines, detained a super tanker carrying crude oil to Syria because it had "reasonable grounds" to believe that the Iranian ship Grace 1 was violating European Union sanctions against Syria.
Shipping data that Reuters has reviewed suggests that the tanker en route to Syria was loaded with Iranian oil off the Iranian coast. 
——————————————–
Perhaps to be expected, Turkey's response to yesterday's EU announcement of impending economic and political sanctions to be brought against Ankara has been to swiftly and immediately double down on drilling, while dismissing the crisis as "not serious". 
Turkey has now sent its fourth oil and gas exploration ship to the eastern Mediterranean after European leaders condemned its drilling in EU-member Cyprus' territorial waters. Turkish Foreign Minister Mevlut Cavusoglu responded:
"Calling the EU's decision sanctions means taking it seriously. You shouldn't do that, the decision was made to satisfly Greek Cypriots. These things don't have any effect on us."
Turkey's Anadolu Agency reports, "Turkey will send its fourth ship to the Eastern Mediterranean region to continue its exploration and drilling, the country's energy and natural resources minister said on Tuesday. It will join the Fatih and recently deployed Yavuz, and the seismic vessel the Barbaros Hayrettin Pasa which has conducted exploration in the Mediterranean since April 2017.
This was accompanied by FM Cavusoglu warning the EU that Turkey plans to increase its drilling and exploration activities in the East Mediterranean while "protecting the rights" of Turkish Cypriots. 
Ankara's position is that it has the same rights as the Greek Cypriot government to drill in the region, which Turkey interprets as including waters that expand 200 miles from EU member Cyrprus' coast, brazenly asserting ownership over a swathe of the Mediterranean that even cuts into Greece's exclusive economic zone.
On Monday, following a meeting of EU foreign ministers in Brussels, the European Union announced that it will bring sanctions against Turkey for violating Cyprus' waters, which has also involved Turkey sending drones, F-16 fighters, and warships to escort the few drilling ships it's already deployed off Cyprus. 
Austrian Federal Minister for Europe, Integration and Foreign Affairs Alexander Schallenberg also announced Monday the extent of the planned sanctions:
"Today, we will adopt a number of measures against Turkey — less money, fewer loans through the European Investment Bank, freeze of aviation agreement talks. Naturally, other sanctions are possible."
"We are fully behind Cyprus," the EU official added while addressing the crisis.
Meanwhile, there are unverified reports that Turkey has struck major gas reserves, which if confirmed will only intensify the crisis. Per Turkey's Ahval news: 
Turkey's drill ship "Fatih" has found its first gas reserves in the potentially hydrocarbon rich area around the island of Cyprus, Turkish Cypriot newspaper Kıbrıs Postası reported on Monday. The Fatih is the first Turkish surveying vessel to begin drilling in the seas around the island. The second, "Yavuz", began drilling operations in July.

A Greek Cypriot newspaper, Fileleftheros, reported earlier this week that the Fatih had struck gas reserves of up to 170 billion cubic metres in the waters off Paphos in Greek Cypriot-controlled southwest Cyprus. Kıbrıs Postası quoted a diplomatic source as saying the story was credible.
——————————————–
Escalation appears back on in the Persian Gulf as the question of the "disappeared" UAE tanker remains unanswered, and as US intelligence officials point the finger at Iran's IRGC for "forcing" the tanker into Iranian waters just before its tracking transponder mysteriously switched off over two days ago. 
And now Britain has announced it will send a third warship and a navy tanker to the gulf, even though the Ministry of Defence is downplaying tensions with Iran. "These long-planned movements do not reflect an escalation in the UK posture in the region and are routine," the MoD said as it announced that the HMS Duncan, a type 45 frigate, is transiting to the region for general maritime security, also as the currently deployed HMS Montrose undergoes maintenance. The HMS Kent is also said to have been freshly deployed, though it will take much longer to reach the Middle East. 
Prime Minister Theresa May's office said Tuesday that Britain wanted to avoid escalation. "Escalation in the Gulf is not in anyone's interests and we have repeatedly stressed that to the Iranians," May's spokesman, James Slack, told reporters in London. However, Iranian officials had just days ago warned Britain to avoid sending more warships, saying it's playing a "dangerous game"in following the US lead of military build-up. 
The prime minister's office remarks were in response to Iran's supreme leader warning on Tuesday that Iran's military is ready to retaliate if the UK doesn't immediately release its tanker which was boarded and detained by Royal Marines off Gibraltar earlier this month. The UK had accused the Panamanian-flagged vessel carrying 2 million barrels of Iranian oil of seeking to violate EU oil sanctions on Syria. Tehran has accused Britain and its allies, chiefly the US, of "piracy".
"The vicious British… have committed piracy and stolen our ship… God willing, the Islamic Republic will not leave these vicious acts unanswered," Khamenei said in a speech in Tehran on state television.
He also pledged to "certainly continue" to renege on Iran's commitments under the 2015 nuclear accord, calling out Europe for failing to protect Iran from US sanctions and failing to meet its own terms under the JCPOA…
A month ago Britain announced it would deploy 100 Royal Marines to the Persian Gulf in order to form a "rapid reaction force" to protect UK assets in the region.
——————————————–
A magnitude 4.3 earthquake rattled the San Francisco Bay Area Tuesday afternoon, and residents around the region widely reported feeling light shaking.
The quake struck at 1:11 p.m. with a depth of 7.46 miles and an epicenter in the East Bay, about 7.5 miles east of Blackhawk and 17 miles southeast of Concord, according to the United States Geological Survey.
"I felt it," says Aimee Grove who lives in the East Bay. "But it just felt like a single jolt, as if something had slammed against the side of our house."
Farther afield in the South Bay, Daniel Michalek noticed the shaking in Santa Clara. "It started as a soft jolt but continued with a rolling/swaying feeling for several seconds," Michalek wrote to SFGATE.
A magnitude 3.5 aftershock followed at 1:28 p.m. in the same region.
The first earthquake was given a preliminary magnitude of 4.4, then downgraded to a 4.2 before the  USGS officially reported the temblor as a 4.3.
The USGS reports the 4.3 temblor occurred on the Greenville Fault. An earthquake of that magnitude could produce shaking around the epicenter but damage to structures is would not be expected.
Over the last seven days, there have been three other earthquakes above magnitude 3.0 within 100 miles of today's event. A magnitude 3.5 quake struck near Morgan Hill, roughly 60 miles south of today's tremors, on Monday at 1:46 p.m.
USGS said that they received "Did You Feel It?" reports corresponding to the 4.2-magnitude earthquake from as far as Fresno and Roseville.
Check back for more reporting as this story develops.
——————————————–
NEURALINK FOUNDER ELON MUSK SAYS FIRST PROTOTYPE TO CONNECT HUMAN BRAINS TO COMPUTERS WITH IMPLANTABLE MICROCHIPS POWERED BY AI READY IN 2020
Elon Musk founded Neuralink Corp. in July 2016 to create "ultra-high bandwidth brain-machine interfaces to connect humans and computers." The company said in 2017 that its initial goal was to devise brain interfaces to alleviate the symptoms of chronic medical conditions. As he has before, Musk warned that as it stands, humanity is at risk of being left behind by the rapid advancement of artificial intelligence, or AI — "even in a benign AI scenario — hopefully, it is a benign scenario."
Elon Musk, the futurist billionaire behind SpaceX and Tesla, outlined his plans to connect humans' brains directly to computers on Tuesday night, describing a campaign to create "symbiosis with artificial intelligence." He said the first prototype could be implanted in a person by the end of next year.
In a massive display of irony, Elon Musk, the same man that has famously warned that AI is 'summoning the demon' now wants to be the person who implants your brain with a microchip. Not only that, he even said to Joe Rogan in the podcast clip below, "if you can't beat them, join them". And that's just how fast things change from one nanosecond to the next in the end times, if you snooze you lose. Or in this case, snooze and gain a microchip in your head.
"And he causeth all, both small and great, rich and poor, free and bond, to receive a mark in their right hand, or in their foreheads: And that no man might buy or sell, save he that had the mark, or the name of the beast, or the number of his name. Here is wisdom. Let him that hath understanding count the number of the beast: for it is the number of a man; and his number is Six hundred threescore and six." Revelation 13:16-18 (KJV)
Just as in when nearly all prophetic fulfillments take place, there is usually a long ramp up time to the event, and then when it happens it happens so fast the vast majority of people completely miss it. The gospel of Luke warned for 20 centuries that the last days would be as it was in the 'days of Lot', and Christians for generations knew exactly what that meant and what to look for. Yet, with the rise and dominance of the LGBTQ+ P for Pedophile Movement, churches all over the world are becoming 'welcoming and affirming'. What happened?
"And when they agreed not among themselves, they departed, after that Paul had spoken one word, Well spake the Holy Ghost by Esaias the prophet unto our fathers, Saying, Go unto this people, and say, Hearing ye shall hear, and shall not understand; and seeing ye shall see, and not perceive: For the heart of this people is waxed gross, and their ears are dull of hearing, and their eyes have they closed; lest they should see with their eyes, and hear with their ears, and understand with their heart, and should be converted, and I should heal them." Acts 28:25-27 (KJV)
The same thing that is happening right now with the long-touted and warned against human implantable microchip, and it is happening before your very eyes just like the Bible said it would. Yesterday's faith and last year's Bible study won't do you much good, these are the end times, and you need to reup each and every day. There is no Mark of the Beast without the Beast, and yes the Church is removed in the Rapture before that happens, but pay close attention to what Elon Musk is saying. We could see some really wacky times before we board Flight #777, so it's best to resolve in your mind now what you will do when the time comes. I will not be receiving an implantable chip for any reason at any time, no matter how cool and exciting they make it. How about you?
Elon Musk wants to hook your brain directly up to computers
FROM MACH: Arriving at that goal "will take a long time," Musk said in a presentation at the California Academy of Sciences in San Francisco, noting that securing federal approval for implanted neural devices is difficult. But testing on animals is already underway, and "a monkey has been able to control the computer with his brain," he said.
Elon Musk founded Neuralink Corp. in July 2016 to create "ultra-high bandwidth brain-machine interfaces to connect humans and computers." The company said in 2017 that its initial goal was to devise brain interfaces to alleviate the symptoms of chronic medical conditions.
It's widely presumed, however, that Musk is characteristically after something much larger. He has frequently warned that the rapid advance of artificial intelligence, or AI, threatens to leave humanity in the dust, calling it an existential risk.
Musk repeated Tuesday night that one of the goals of Neuralink was to treat brain disorders, saying, "We can solve that with a chip." But he went on to say that it also sought to help you "preserve and enhance your own brain" and to "create a well-aligned future."
As he has before, Musk warned that as it stands, humanity is at risk of being left behind by the rapid advancement of artificial intelligence, or AI — "even in a benign AI scenario — hopefully, it is a benign scenario."
Addressing that, Musk said Tuesday, will require finding a way for the brain to "merge" with AI, most likely through tiny wireless chips implanted in the brain through a 2-millimeter incision to create what he called "some sort of symbiosis with artificial intelligence," with a goal of no less than securing "humanity's future as a civilization relative to AI."
The biggest technical hurdle is bandwidth, Musk said, meaning the tools humans use to interface with computers, like current hardware systems and smartphones.
While Neuralink "aspirationally" hopes to implant the first chip in a human patient before the end of 2020, Musk acknowledged that the larger goal will take a long time. Still, the ultimate hope is for "some sort of symbiosis with artificial intelligence," which he said would take root "at the civilizational scale."
"With a high-bandwidth brain interface, I think we can have the option of merging with AI," he said.
Asked how Neuralink could make such an advance system affordable and widely available, Musk said the infrastructure would be so simple that it wouldn't need expensive neuroscientists to implant and maintain.
"I think it's safe to say you could repay the loan with superhuman intelligence," he said. "I think it's a safe bet." In November, Musk touted "an AI extension of yourself" in an interview with comedian and podcast host Joe Rogan, saying: "If you can't beat it, join it.

READ MORE

:
Elon Musk On Joe Rogan – What Is Neuralink
Neuralink is developing ultra-high bandwidth brain-machine interfaces to connect humans and computers.
Elon Musk: We're 'Summoning the Demon' with Artificial Intelligence
Christians Being Prosecuted in Iran on Charges of 'Propaganda Against the Regime'
OPINION (Christian News Network) – Pressure is building in Iran as yet another group of believers pay for claiming the name of Christ. According to Miles Windsor of Middle East Concern, seven believers are in solitary confinement with no access to lawyers. In a separate incident, five men accused of "propaganda against the regime" began serving prison sentences on July 6.
Their sentences range from four to 14 months. "They have done nothing to undermine the state or spread propaganda against the state at all," Windsor emphasizes. "They're being imprisoned because of their faith in the Lord Jesus. That's true of the many Christians who face these kinds of charges." "It's really important to be praying for our brothers and sisters [in Iran] to be strong in what is a very, very difficult context." READ MORE
————————————————
… the European Commission is turning its attention to another American tech giant: Amazon. 
The e-commerce giant is facing a formal EU anti-trust probe over its treatment of third-party merchants on its platform, a premise that doesn't sound all that different from the EU's investigation into Google's AdSense advertising business (the EU hit Google with three multi-billion anti-trust fines over the past few years). In addition to the Amazon probe, the EU is also juggling investigations into Facebook, Apple and Twitter over violations of the EU's new GDPR privacy laws.
According to WSJ, Amazon is suspected of "abusing its dual role as both the provider of a marketplace where independent sellers can offer products and a retailer of products in its own right." In particular, the probe will explore whether "Amazon is using sensitive data from independent merchants to compete against them."
The investigation could lead to formal charges, fines and orders to change business practices – but they could also be dropped, WSJ says.
Though, if the past is any guide, the latter option is unlikely. Also, the timing of this announcement is interesting, coming one day after Congressional hearings where lawmakers from both parties attacked Amazon, Apple, Facebook and Google for their market dominance. That hearing comes just weeks after the DOJ and FTC divvied up oversight of the big tech companies in preparation for what's expected to be a major anti-trust push.
It used to be that the Europeans were leading the anti-trust charge against the tech giants because, well, they're all American companies, and there would be no political risks to fining American companies. 
Now, breaking up Amazon and the other tech giants might be the only issue that Elizabeth Warren and President Trump agree on. Facebook's ill-timed push into finance with its Calibra foundation has only further incensed lawmakers, as evidenced by yesterday's hearing.
On a related note, Germany's antitrust regulator on Wednesday said Amazon has agreed to change its terms of service on its marketplace platform for third-party sellers after an unrelated, eight-month probe.
What only months ago looked like a remote possibility – the breakup of the big four tech giants – is looking increasingly probable. And though the FAANG stocks aren't powering the rally like they once did, it's still worth considering what kind of impact this could have on the bull market if the floor suddenly falls out from under tech.
——————————————–
It's not news that China and Russia have been buying gold by the hundreds of ones. It's not news that Russia divested itself of most of its U.S. Treasury holdings last year in response to Donald Trump's sanctions on Rusal, upsetting the global Aluminum market.
Russia has led the charge on central bank gold buying, having increased its official holdings from 400.3 tonnes in Q1 of 2007 to 2168.3 tonnes as of the end of Q1 2019. That's a 442% increase in gold reserves.
China, on the other hand, has only in the past couple of years joined Russia's party of announcing its gold buying on a monthly basis. Previously, China would simply drop a 500-600 tonne bomb on the markets and see what would shake out of it.
Now, few people who follow this stuff believe China's government only owns 1916.3 tonnes of gold. Estimates range from 4000 to 6000 tonnes. Like Russia, very little of China's domestic production of gold (404 tonnes in 2018) leaves China and makes its way into the global market.
Russia's gold buying consumes most, and sometimes all, of Russia's domestic production (297 tonnes in 2017). The same is true for Kazakhstan (68.4 tonnes) and a few other countries.
It's easy when looking at these trends to see that something big may be on the horizon, that gold is on the verge of being re-monetized and a major shakeup to the world financial system is imminent.
That the multi-polar world is here. It's not, but it's coming.
The basic thesis is that the U.S. and China are headed for a mostly amicable divorce of their economies, a disentangling as it were. And that that would then allow for the emergence of the so-called multi-polar world that both Russian President Vladimir Putin and Chinese Premier Xi Jinping are working towards.
On this point I don't disagree. It's a strong point Alex Mercouris makes here that the U.S. and China have acknowledged their growing contention in the global economy but that there is no need for a completely antagonistic relationship.
The U.S. doesn't have to extend the unipolar moment into infinity to 'win' this 'war' with China. That is globalist thinking, maximalism to the extreme.
Russia is the closest there is to a gold-backed currency there is. The ruble by that metric (M1) 84.0% backed by Russia's official gold reserves.
That is an eye-popping number and it tells you that the Russians have very prudently saved over the past fifteen years or so. They have built what we Austrian economists like to call a 'pool of real savings' to lever into higher order investments.
Russia is now ready to deploy a significant part of its trade surplus and even some of its pool of real savings to build new and needed infrastructure for Russia. Putin mentioned in his annual 4-hour direct line that he was ready to begin spending some of Russia's oil revenues, drifting away from neoliberal and monetarist Alexei Kudrin and towards the nationalist/Keynesian Sergei Glazyev.
What China is doing, like Russia and the rest of the BRI Bloc, is they are building gold reserves to build the confidence of the world for the day when trust in the Western system fails. By having significant gold 'backing' but without convertibility those countries today adding to their rainy day funds will be the places capital will flow towards to avoid the whirlwind.
That is when the multi-polar world can be inaugurated.
——————————————–
Everybody is trampling all over themselves to raise bullish targets. $SPX 3,300, $SPX 3,350, $SPX 3500, do I hear Dow 31,500? Yes I am. The big driver of course the Fed and central banks cutting rates again to save the global economy.
But I have a question:
Why does the global economy need rescuing after 10 years of non stop monetary stimulus?
— Sven Henrich (@NorthmanTrader) July 16, 2019
I also have an answer and it's an unpleasant one. Because by bailing out markets and economies at every sign of trouble over the past 10 years central banks have given politicians license to do nothing. And nothing is what you get as political discourse fragments and majority solutions are impossible to come by.
But not only are majority solution impossible to get nobody even wants to even talk about them. Why? Because they involve pain. Voters don't want to hear pain. Hence all you hear is free money. Tax cuts in 2016. Now we hear free college, health care and debt forgiveness for 2020 and who knows maybe more tax cuts.
Nobody wants to campaign on pain. I get it. But does anyone really think solving the structural problems that are behind slowing growth after 10 years of monetary stimulus are easily solvable?
Heck, they may not be solvable at all, hence it's easier to create a political climate of hate, division, distraction and outrage.
Everybody talks about the outrage of the day, it's a hyped up atmosphere by design. Because the architects of the conversation know the truth, and that is: As long as people are distracted by outrage, fear, anger and emotion they will not think about how the system is actually utterly screwed.
Debt ceiling? Nobody takes it seriously and the supposed enemies labeling each other currently as racists and socialists will suddenly find a solution and compromise to raise the debt ceiling. They always do. It's always drama, and talk and hand wringing, but it never means anything.
Remember fiscal conservatives? They only exist when they are not in power. Nobody really wants to do anything but offer free money in one form or another. On either side.
In debt we trust:
But apparently central bankers are getting a sense that they can't do it alone, that they need help from the politicians:
Central Bankers Are Sick of Rescuing the World Economy Alone
"Global central bankers are again in the driving seat when it comes to propping up the world economy, but many are demanding governments join them in the rescue effort.
Amid slowing global growth, the Federal Reserve, European Central Bank and perhaps even the Bank of Japan are all set to ease monetary policy in coming months. But with less room to act than in the past, their leaders are telling politicians they will need to act if a downturn takes hold".
Be clear their solution is to add more debt. That's it. Stimulus. Because without stimulus nothing works.
Nobody is talking about structural solutions. Not the politicians, not the voters, not the central banks.
You know when structural solutions will be discussed? When it's too late. 
When the next crisis, crash, depression, whatever you want to call it, will force people to wake up and force them to come together and actually look at the problems. This will not happen now, not with this lot, and not with markets high, unemployment low, and central banks ready to throw free money around again.
No, central banks are now the impediment to progress, they are not only bailing out markets, but they are extending a license to politicians, a license to do nothing, but add more debt.
And that is the rise of insanity.
——————————————–
There is a reason James Simons' RenTec is the world's best performing hedge fund – it spots trends (even if they are glaringly obvious) well ahead of almost everyone else, and certainly long before the consensus.
That's what happened with Deutsche Bank, when as we reported two weeks ago, the quant fund pulled its cash from Deutsche Bank as a result of soaring counterparty risk, just days before the full – and to many, devastating – extent of the German lender's historic restructuring was disclosed, and would result in a bank that is radically different from what Deutsche Bank was previously (see "The Deutsche Bank As You Know It Is No More").
In any case, now that RenTec is long gone, and questions about the viability of Deutsche Bank are swirling – yes, it won't be insolvent overnight, but like the world's biggest melting ice cube, there is simply no equity value there any more – everyone else has decided to cut their counterparty risk with the bank with the €45 trillion in derivatives, and according to Bloomberg Deutsche Bank clients, mostly hedge funds, have started a "bank run" which has culminated with about $1 billion per day being pulled from the bank.
As a result of the modern version of this "bank run", where it's not depositors but counterparties that are pulling their liquid exposure from DB on fears another Lehman-style lock up could freeze their funds indefinitely, Deutsche Bank is considering how to transfer some €150 billion ($168 billion) of balances held in it prime-brokerage unit – along with technology and potentially hundreds of staff – to French banking giant BNP Paribas.
It also means that countless ones funds are suddenly at risk of being gated on whatever liquid exposure they have toward Deutsche Bank.
To be sure, Deutsche Bank's hedge fund balances have been declining throughout the year as speculation swirled around Sewing's intentions for the prime brokerage, but the rate of redemptions was far lower than $1 billion per day. Now that the bank jog has become a bank run, the next question is how much liquidity reserves does DB really have and what happen if hedge funds clients – suddenly spooked they will be the last bagholders standing – pull the remaining €150 billion all at once.
We are confident we will get the answer in a few days if not hours, until then please enjoy this chart which compares DB's stock decline to that of another bank which was gripped by a historic liquidity run in its last days too…
——————————————–
CASHLESS SOCIETY – PATHWAY TO THE MARK OF THE BEAST?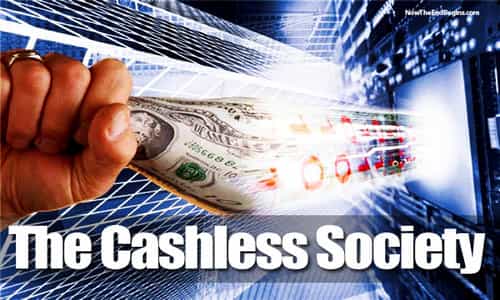 XBy PNW Staff July 17, 2019
In a sign of the times, Hasbro has released a new cashless version of it's classic board game Monopoly, designed for the digital age. In Hasbro's latest edition of Monopoly, gone are the paper money and Community Chest cards. 
Instead, the board game now comes with a voice-controlled, artificial intelligence device shaped like a top hat to help control the digital transactions.
Countries from around the world have been eager to implement a cashless society but none have moved as fast as Sweden.
Notes and coins now make up less than 1 percent of Sweden's economy which is ironic considering it was the first European country to issue modern banknotes, in 1661.
"No cash accepted" signs are now the norm in shops across Sweden as payments go digital and mobile but many Swedes want to take it to the next level as they blend tech with the human body.
Microchip implants that give people the ability to conduct financial transactions, monitor their health and even replace keycards to allow them to enter offices and buildings are the new rage as thousands have already been implanted. 
Many experts believe this is the next logical step in a digital society that is quite happy to give up privacy for convenience.  Cash is one of the last vestiges of anonymity but with every transaction digital there is a record that is being logged, analyzed and stored.. potentially forever.
Realizing the danger of such a cashless society Sweden's Civil Contingencies Agency has issued a guidance warning to every household telling residents to stockpile 'cash in small denominations' for use in emergencies, such as power failures, hackers or even a cyber war which could disable the digital economy.  In such a crisis, the economy would literally go back to the dark ages overnight as people would be forced to barter with no means of cash.
Last year a "systems issue" prevented customers from the CIBC, one of Canada's largest banks, from accessing their bank accounts for an entire business day.  The sentiments of normally patient Canadians were … tense.  Imagine if it had been longer – how long would you be able to survive without your credit/debit cards?  It served as a reminder to Canadians and everyone else who rely on everything digital how vulnerable we all are. 
Our vulnerabilities to the cashless society are not only technical but political as well.
Facebook – in partnership with major banks, payment processors, and e-commerce companies – has announced plans to launch a digital currency called the Libra. Unlike decentralized, free-floating cryptocurrencies, Libra will be tied to national fiat currencies, integrated into the financial system, and centrally managed.
Critics warn Libra is akin to a "spy coin." Many of the companies involved in Libra (including Facebook itself) routinely ban users on the basis of their political views. Big Tech has booted scores of individuals and groups off social platforms for engaging in "hate" speech. If Libra one day becomes the predominant online payment method, then political dissidents could effectively be banned from all e-commerce.
A lesson from the past is the Bush administration's attacks on the credit card processors of pornography sites more than a decade ago.  While we might applaud the effort to shut down pornography sites, the financial targeting set a precedent as New York's Comptroller, Thomas DiNapoli, appealed in a letter to major banks and credit card companies to block all transactions associated with firearms. 
The efforts failed but we have seen recent attempts in a similar way with MasterCard and Visa being pressured to deny service to those that promote "hate", or put another way – Christian and Conservative businesses that don't act politically correct.
In the past, if credit cards and banks refused transactions involving something they disagreed with an individual could simply pay in cash, but once physical currency has been eliminated such purchases will require the permission of both corporations and government.
A mark to a government ruler in your right hand that controls your ability to buy or sell based on your political/religious loyalty is exactly what is described in the book of Revelation and is often referred to as "the mark of the beast".  
Those who like to dismiss the book of Revelation as mere allegory may want to take another look.  
The technology described in Revelation is already here and the next step is taking place before our eyes as the masses are being conditioned to accept it's spread.  Slowly but surely we are also seeing our ability to conduct commerce becoming linked with our political/religious views.  Are we prepared for what will happen next?
Dig deeper into the Book of Revelation to explore the "mark of the beast" and other current issues facing our world with our Decoding The Future DVD Series – now on sale here.
A sad day in America – Bill Wilson –
In a party-line vote, the Democrat-controlled House of Representatives passed a resolution that "strongly condemns President Donald Trump's racist comments that have legitimized and increased fear and hatred of new Americans and people of colour by saying that our fellow Americans who are immigrants, and those who may look to the President like immigrants, should "go back" to other countries, by referring to immigrants and asylum seekers as "invaders," and by saying that Members of Congress who are immigrants (or those of our colleagues who are wrongly assumed to be immigrants) do not belong in Congress or in the United States of America." This marks a sad day in America.
In addition, Congresswoman Ilhan Omar (D-MN) re-tweeted an article by CNN contributor Wajahat Ali that declared in its headline "Trump is a Racist. If you still support him, so are you." House Speaker Nancy Pelosi (D-CA) broke House rules by calling the President "racist" on the floor, for which she would lose her speaking privileges for the day. Democrats, however, in a party line vote, overruled the rule, allowed Pelosi to remain speaking, and ordered her remarks not be stricken from the official records. All this is political maneuvering to position the President as a racist, those who support him as racists, and the narrative will be used in political ads throughout the election. In the end of the day, nothing is solved to better the nation.
It's a sad day in America when people who prize freedom of speech cannot use their freedom to build up rather than tear down. It's a sad day in America when a President has not enough sense to behave "presidential." It's a sad day in America when elected officials will not represent their constituency rather than a tribal political ideal. It's a sad day in America when if you disagree with someone of color and you are counted a racist or bigot not on the merit of the disagreement, but because you have disagreed with a person of colour. It's a sad day in America when we can't put this acerbic rhetoric aside and respectfully come together as "Americans" to solve the problems we have facing us. It's a sad day in America when words are twisted, hearts are judged, and emotions inflamed to serve nothing but hatred and hope of attaining votes from derision.
Brothers and sisters, it's a sad day in America. These elected people are behaving irresponsibly and disrespectfully, seeking offense and taking offense on every word spoken. They are not doing the bidding required of them by the Constitution or the electorate. You are not a racist because you disagree with someone of a different ethnicity or race. You are not a bigot because you disagree with someone's political belief. You are not a white supremist because you were born white. Galatians 3:28 says,
"There is neither Jew nor Greek, there is neither bond nor free, there is neither male nor female: for ye are all one in Christ Jesus."
Christian Americans are a vast voting majority in this nation. We need to expect, require and demand better of our elected officials. Otherwise it will be a sadder day in America.