This Happened On Planet Earth…Aug. 2019…End Times Signs

Published on Aug 16, 2019
 

Please Help Support This Ministry:

https://www.paypal.me/watchman1963

Cash App : $watchman1963 Please subscribe to my backup channel:

https://www.youtube.com/channel/UC4nc…

Current Events Linked To Biblical Prophecies. Everything is unfolding just as the bible foretold. Wars, Volcanic Eruptions, Earthquakes, Extreme Weather, Christian Persecution, Violence and more!
Matthew 24:3-14 3 Now as He sat on the Mount of Olives, the disciples came to Him privately, saying, "Tell us, when will these things be? And what will be the sign of Your coming, and of the end of the age?" 4 And Jesus answered and said to them: "Take heed that no one deceives you. 5 For many will come in My name, saying, 'I am the Christ,' and will deceive many. 6 And you will hear of wars and rumours of wars. See that you are not troubled; for all these things must come to pass, but the end is not yet. 7 For nation will rise against nation, and kingdom against kingdom. And there will be famines, pestilences,[b] and earthquakes in various places. 8 All these are the beginning of sorrows. 9 "Then they will deliver you up to tribulation and kill you, and you will be hated by all nations for My name's sake. 10 And then many will be offended, will betray one another, and will hate one another. 11 Then many false prophets will rise up and deceive many. 12 And because lawlessness will abound, the love of many will grow cold. 13 But he who endures to the end shall be saved. 14 And this gospel of the kingdom will be preached in all the world as a witness to all the nations, and then the end will come.
—————————————————
Russia flies nuclear-capable bombers to region facing Alaska-China & US Tensions Heat Up!

Published on Aug 15, 2019
 

You will hear the following in this Broadcast: -Pakistan PM accuses India of planning military action in Kashmir -Guess Who China Is Blaming For The Riots In Hong Kong? -India accuses Pakistan of helping militants infiltrate Kashmir -Russia flies nuclear-capable bombers to region facing Alaska
—————————————————
Warning Signs of an Imminent Earthquake, Predicting the Big One

Premiered 65 minutes ago
 

August 15, 2019: The fear of a major earthquake in North America has escalated, as a series of strong tremors has been felt from southern California all the way to the Pacific Northwest.
—————————————————
Satan is Conquering the World Right Infront of our Eyes! It's TIME to Cast Down Strongholds

Published on Aug 15, 2019
2 Corinthians 10:3-5

New King James Version (NKJV)

3 For though we walk in the flesh, we do not war according to the flesh. 4 For the weapons of our warfare are not [a]carnal but mighty in God for pulling down strongholds, 5 casting down arguments and every high thing that exalts itself against the knowledge of God, bringing every thought into captivity to the obedience of Christ,
—————————————————
LATEST WORLD NEWS CLIPS – ARTICLES – FRIDAY AUGUST 16th 2019
—————————————
CAN WE BE SAVED AND CONTINUE TO SIN?
Paul spoke of this in Romans chp. 7:
19" For the good that I would I do not: but the evil which I would not, that I do.
20 Now if I do that I would not, it is no more I that do it, but sin that dwelleth in me.
21 I find then a law, that, when I would do good, evil is present with me.
22 For I delight in the law of God after the inward man:
23 But I see another law in my members, warring against the law of my mind, and bringing me into captivity to the law of sin which is in my members.
24 O wretched man that I am! who shall deliver me from the body of this death?
25 I thank God through Jesus Christ our Lord. So then with the mind I myself serve the law of God; but with the flesh the law of sin." (Romans 7:19-25)
TRIBULATION IS COMING AND THE REMOVAL OF THE CHURCH IS IMMINENT.
THE GREAT "DECEPTION" IS READY TO BE IMPLEMENTED BY THE ONE WORLD GOVERNMENT. ARE YOU READY FOR JESUS CHRIST RETURN
Rev. 3:10 Because thou hast kept the word of my patience, I also will keep thee from the hour of temptation, which shall come upon all the world, to try them that dwell upon the earth:
Luke 12:37 Blessed are those servants, whom the lord when he cometh shall find watching: verily I say unto you, that he shall gird himself, and make them to sit down to meat, and will come forth and serve them
so won't you accept Jesus now and be removed from that event and live forever with Jesus in the Family of God?
2 "(For he saith, I have heard thee in a time accepted, and in the day of salvation have I succoured thee: behold, now is the accepted time; behold, now is the day of salvation.)" (2nd Corinthians 2:6)
——————————————-
DAILY CHRISTIAN BIBLICAL QUESTIONS AND ANSWERS:
——————————————-
MASTURBATION AND 1 JOHN 3:9
QUESTION:    I have read in your Q&A post that you don't think masturbation itself is a sin, and clearly, you have missed a vital verse from your bible. This verse most definitely would cover masturbation.
Whosoever is born of God doth not commit sin; for his seed remaineth in him: and he cannot sin, because he is born of God. 1 John 3:9
I hope you will prayerfully consider revising your position on the subject matter.
ANSWER:    Sorry, but you've misinterpreted the verse. The rules of grammar require that a pronoun refers to the closest preceding noun. This means that the word "his" in the phrase "his seed" refers to God. Some modern translations use the phrase "God's seed" to make it clearer.
John was saying that when we are born of God, His essence (seed) becomes a part of us and will keep us from living a life characterised by sinfulness. It's another way of saying that the Holy Spirit dwells within us and prompts a change in our behaviour when we're born again.
WHAT IS THE BIBLICAL POSITION ON MASTURBATION?
QUESTION:    What is the Biblical position on masturbation? I have sons that will be at the age soon where this subject may come up and truthfully I'm not sure what to tell them. I have done some looking into it and have also asked some people that I respect very much spiritually but I really wanted to get your take on it.
I have looked at the bible and cannot find anything satisfactory on it. I know of the account in Genesis where the guy is killed by the LORD for spilling his seed on the ground. But I have always understood this to be more about his refusal to carry on his brother's line.
I know that pornography is wrong and will tell my sons as much. If your focus (can't think of a better way to say it) is about your spouse does that change anything? If your spouse has a medical condition or schedule that doesn't allow for as much gratification as would be desired does that make a difference?
I have pondered if it is sort of a conditional thing too. Kind of like drinking. It is OK to have an alcoholic beverage so long as you are not getting drunk, etc. Are there times and conditions in which this activity is sinful and others where it is not?
I thank you for your willingness to take on subjects that can be a bit, well, sensitive. Thank you for being fearless in doing so.
ANSWER:    You're right, the Bible doesn't say anything about masturbation as such. It does say that in the Levitical system a man was ceremonially unclean after a nocturnal emission until the following evening. (Deut. 23:10) And as you said, the incident in Genesis 38:9-10 involved Onan's refusal to produce an heir for his dead brother.
Speaking of adultery the Lord made it clear that it's the motive of our heart that determines when we're sinning, not just the physical action. (Matt. 5:27-28)
But even there, the issue wasn't so much controlling our thoughts as demonstrating the impossibility of avoiding sin.
Paul's declaration that everything is permissible but not everything is beneficial may be the closest thing we get to advice on the issue. He went on to say that we shouldn't let ourselves be controlled by anything, referring to obsessive behaviour and that our bodies aren't meant for sexual immorality but for the Lord. Finally, there's the fact that being the Temple of the Holy Spirit means that the Lord dwells within us. We shouldn't do anything with or to our bodies that would cause Him embarrassment. (1 Cor. 6:12-20)
But at the end of the day, we must always remember that none of our sins take the Lord by surprise. He foresaw them all and forgave us anyway, nailing them to the cross. (Colossians 2:13-15). Sincere confession always brings restoration. However you counsel your sons, please be sure to include that.
————————————–
NEWS CLIPS OBTAINED FROM MANY SOURCES – INCLUDING

Tracking bible prophecy.org
Rapture Ready News
Prophecyupdate.Com
Main News Channels
End Times Headlines
Prophecyupdateblogspot.com
Stevequayle.com
Gracethrufaith.com
Nowtheendbegins.com
Other Christian Sites
(CLICK ON) LATEST DAILY NEWS CLIPS:
ISRAEL NEWS:
THE MIDDLE EAST PEACE PLAN IS "ANTI GOD" – (GOD WILL NOT ALLOW JERUSALEM TO BE DIVIDED).
ZECHARIAH 12:2-3
Zech. 12:2 Behold, I will make Jerusalem a cup of trembling unto all the people round about, when they shall be in the siege both against Judah and against Jerusalem.
Zech. 12:3 And in that day will I make Jerusalem a burdensome stone for all people: all that burden themselves with it shall be cut in pieces, though all the people of the earth be gathered together against it
WORLD TERRORISM – WARS
GENERAL WORLD NEWS:
WORLD FINANCE:
MASSIVE EARTH CHANGES/EARTHQUAKES/VOLCANOES ETC:
2Chr. 7:13 If I shut up heaven that there be no rain, or if I command the locusts to devour the land, or if I send pestilence among my people;
2Chr. 7:14 If my people, which are called by my name, shall humble themselves, and pray, and seek my face, and turn from their wicked ways; then will I hear from heaven, and will forgive their sin, and will heal their land
CHRISTIAN AND RELIGIOUS WORLD NEWS:
Matt. 24:9 Then shall they deliver you up to be afflicted, and shall kill you: and ye shall be hated of all nations for my name's sake.
Matt. 24:10 And then shall many be offended, and shall betray one another, and shall hate one another
EXTRA WORLD – ALTERNATIVE NEWS:
————————————————-
WORLD – PROPHETIC NEWS ARTICLES PRESENTATION – FRIDAY AUGUST 16th 2019
MIDDLE EAST AND WORLD WAR LOOMING THE BUILD UP TO PSALM 83  – ISAIAH 17 AND GOG OF MAGOG WARS EZEKIEL 38:
THE WHOLE WORLD IS UNSTABLE FINANCIALLY, POLITICALLY, PHYSICALLY, MORALLY, GODLY: – AND BECOMING MORE SO DAILY. (WE ARE IN THE BEGINNING OF SORROWS (MATT 24:8)
THE BIBLE STATES THAT IT WILL ONLY GET WORSE BEFORE THE START OF THE TRIBULATION OF MANKIND – (REVELATION 6)
Matt. 24:6 And ye shall hear of WARS AND RUMOURS OF WARS: see that ye be not troubled: for all these things must come to pass, but the end is not yet.
Matt. 24:7 FOR NATION SHALL RISE AGAINST NATION, AND KINGDOM AGAINST KINGDOM: and there shall be famines, and pestilences, and earthquakes, in divers places.
ISAIAH 17/PSALM 83:
THE DESTRUCTION OF DAMASCUS and
Muslim Countries in the Middle East will launch an attack on Israel
JEREMIAH 49:
PROPHECY OF ELAM – (Possible Attack on Iran's Nuclear Program
——————————————–
One day after the Chinese press roundly mocked Trump's unsolicited tariff delay as proof the US was losing the trade war with China, with the Global Times saying that "Chinese experts said the sudden postponing of impending tariffs showed that the maximum pressure tactics of the US are losing their bite when it comes to China", a suddenly emboldened Beijing – perhaps sensing that it is indeed dealing with a weaker opponent – called planned U.S. tariffs on an additional $300 billion in Chinese goods a violation of accords reached by Presidents Donald Trump and Xi Jinping, and warned it would take all necessary measures to impose new tariffs on its own.
Echoing what Global Times editor in chief Hu Xijin said overnight, a short Thursday statement from the State Council Tariff Committee said the new 10% tariffs have taken the U.S. and China off the track of resolving their dispute through negotiation, and noted that China "has no choice but to take necessary measures to retaliate," without specifying what the nation would do. The committee has overseen tit-for-tat retaliatory tariffs on American products.
The statement indicates that it won't take long for China to reveal its own retaliatory tariffs, according to Tu Xinquan, dean of the China Institute for WTO Studies at the University of International Business and Economics in Beijing. The response is about expressing China's stance even though policy makers know the impact on the U.S. economy will be limited, he told Bloomberg.
China: Will have to take all necessary measures to impose new tariffs.
The amount China has left is ~USD10bn (already imposed 110bn) so not much ammunition & will need curb investment/FX deval/UST/rare earth curb. Chart below
👇🏻 US has plenty left & reflects trade diff w/ China. pic.twitter.com/eieW5WF2MM
But what is far more troubling, is that contrary to Trump's implied expectation that China would respond with an olive branch of its own and according to Steven Englander, "will expect China to reciprocate by buying US agricultural products in the coming weeks", not only does China not plan on doing so but – as we warned yesterday – will send relations between the two nations into even greater turmoil with escalation of its own.
In kneejerk response to the apparent escalation, European stocks declined and U.S. equity futures pared a gain of almost 1%. The Stoxx Europe 600 index fell while the three main American equity contracts trimmed an earlier jump after China's move.
And with the ball no longer in China's court now that Beijing has spat at Trump's coy attempt at quasi-appeasement, all eyes are back on Trump's twitter feed where the US president has two options: either offer even more concessions to China and be seen as even weaker and more desperate to get some concessions out of Beijing (unlikely), or go back to square one and/or escalate tensions even more and potentially eliminate the proposed tariff delay, sending stocks plunging (and the Fed that much closer to the coveted emergency rate cut).
————————————————-
Yochanan Visser
The scenario of widespread riots in Judea, Samaria and Jerusalem planned by Hamas, Palestinian Islamic Jihad (PIJ), the Palestinian Authority and Jordan over alleged Israeli "aggression" against the Al-Aqsa Mosque did not materialize on Sunday.
Thousands of Muslims came to the Temple Mount in Jerusalem to pray on the first day of the Eid al-Adha feast and to prevent Jews from visiting the holiest site in Judaism.
At the entrance of the holiest site in Judaism hundreds of Jews waited for the end of the Muslim prayers.
However, the WAKF on purpose delayed the prayers where after Palestinian Muslims refused to leave the square and violently blocked the entrances to the Muslim shrines on the Temple Mount.
Hamas and PIJ, meanwhile, called upon Palestinian Arabs in Judea and Samaria to take to the streets and to fight the" Zionist occupation ", but the call was ignored almost everywhere.
The Jews wanted to visit the square where the two Jewish Temples once stood on Tisha B'Av – the annual fast commemorating the destruction of the Temples built by Salomon and Herod.
Initially, on orders from Prime Minister Benjamin Netanyahu, the police decided to deny Jews access to Temple Mount out of fear that this would unleash a new wave of widespread violence.
However, after the Israeli police succeeded to quell the violence and took control over the upper part of the Temple Mount the waiting crowd of Jews was allowed to ascend the mount.
Hamas and PIJ then called upon Palestinian Arabs in Judea and Samaria to take to the streets and fight the "Zionist occupation", but the call was ignored almost everywhere.
Jordan, meanwhile, threw oil on the fire through Ayman Safadi, the country's Foreign Minister who accused Israel of "violating the status quo" on the Temple Mount and of unspecified "violations."
Safadi, furthermore, called upon the international community not to be silent in light of the "Israeli violations in occupied Jerusalem."
At the same time, the PA launched a new incitement offensive in the Arab media.
Arab media reported that thousands of (Jewish) "settlers" had "stormed" the al-Aqsa mosque and had 'polluted' the sanctuary.
The same media questioned Jewish history on the Temple Mount and accused Israeli "extremist organizations" of organizing massive attacks on the mosque.
In the meantime, Hamas also tried to detonate the powder keg in a way reminiscent of what happened in 2014 when a sequence of violent events triggered the third Gaza-war which took the lives of more than 2,000 Palestinian Arabs and 72 Israeli's.
The horrific murder of the Jewish student and IDF soldier Dvir Sorek was not officially claimed by Hamas as it did earlier in 2014 during the manhunt for the perpetrators of the murder of three Jewish boys.
The Israeli security forces, however, revealed that at least one of Sorek's murderers, who were arrested last Friday, was a Hamas member.
The two Palestinian terrorists were arrested late Friday night by the Israeli border police on the roof of a house in the Palestinian village of Beit Kahil near Hebron where they were sleeping.
In 2014, the war was triggered by the kidnapping and murder of Eyal Yifrach, Gilad Shaar, Naftali Fraenkel and later by an Israeli air force action against Hamas terrorists in a tunnel under the Israeli border which killed 7 Hamas members and triggered a missile onslaught.
Now, Hamas tried to do the same thing when it attempted twice to infiltrate Israel from Gaza after the murder of Sorek over the weekend.
On Saturday, a Hamas cell of four heavily armed terrorists was timely discovered while sabotaging the security fence. The four men had prepared for a terrorist attack or kidnapping but were spotted by a unit of female IDF soldiers.
They were subsequently killed by snipers of the IDF's Golani Brigade.
The IDF later published photos showing that the four terrorists were armed to the teeth and carried knives, automatic guns, grenades, and even an RPG launcher.
Hamas and PIJ's strategy is now, however, determined by the Quds Force of the Iranian Republican Guards Corps (IRGC) which gives Hamas $ 30 million a month for armament and terrorist attacks against Israel.
The Quds Force wants Hamas and PIJ to increase pressure on Israel through Gaza but also through areas under PA control.
The difference with 2014 is that Hamas in Samaria and Judea no longer has a clear military infrastructure after the IDF carried out a major operation against PIJ and Hamas in 2014 and arrested more than 170 members of the terror groups.
Since then, the IDF has continued to arrest Hamas and PIJ members who were preparing terrorist attacks on a daily basis.
Experts now warn that Israel should take more decisive action against every attempt to take over the Temple Mount since the Palestinian Arabs see this as the beginning of gaining control over the whole of Israel.
Netanyahu has until now shown no interest in another ground war against the terror factions in Gaza because of fear it will trigger Iran's desired multi-front missile war. For this reason, the IDF limited its response to the infiltration attempts to a single strike on a Hamas facility in Gaza.
————————————————-
SATELLITE IMAGES EMERGE FROM BOMBED IRANIAN-IRAQI SITE – INDICATE HIT BY AIRSTRIK

E
An Israeli satellite imaging firm on Wednesday released photos of a weapons depot in southern Baghdad controlled by a pro-Iranian militia that was hit in an alleged Israeli airstrike earlier this week.
ImageSat International said that damage characteristics identified from the photos show "it is probable that the blast was caused by an airstrike, followed by secondary explosions of the explosives stored in the depot."
On Tuesday, a former Iraqi deputy prime minister appeared to blame Israel for the massive explosion on Monday.
"We believe they are weapons we were holding onto for a neighboring state and they were targeted by an oppressive colonial state on the basis of a treasonous Iraqi act," former deputy prime minister Baha al-Araji wrote on Twitter.
An unnamed security source on Wednesday told Asharq al-Awsat, an Arabic-language newspaper published in London, that Israel was behind the strike.
"All indications point to Israel, perhaps with the support of the United States, completing what it started in Syria in terms of targeting sites with Iranian forces," the source said.
The Israel Defense Forces has not commented on the reports.
According to foreign reports, Israel has been increasingly active in carrying out airstrikes against Iran-backed militias in Iraq, shifting its focus after years of reported raids aimed at keeping Tehran from gaining a foothold in Syria.
Israeli officials have identified Iraq as a likely growing base of operations for Iran-backed efforts against the Jewish state.
"It is clear that we are in the midst of a real battle between Israel and the United States against Iran and its allies in Iraq. It is clear that the two sides chose Iraq to be the place for their unannounced battle," the unnamed security source told the Saudi-owned newspaper.
The blast occurred Monday in the Saqr military base in the southern section of the Iraqi capital, which is ordinarily used by the country's Federal Police and the Popular Mobilization Forces (PMF), a state-sponsored umbrella group of militias, some of which are supported by Iran, according to Iraq's Interior Minister Saad Maan.
Local media reported that the weapons storehouse was controlled by the Sayyid of Martyrs Battalions, an Iraqi Shiite militia supported by Iran.
————————————————-
Iranian President Hassan Rouhani warned on Wednesday against Israeli involvement in a US-led coalition in the Persian Gulf.
The Iranian President claimed that Israel is the main source of terrorism and war in the region.
"Israelis had better take care of the security of where they are if they can! Although, wherever they had a presence, they brought about nothing but insecurity, slaughter and terror. The main perpetrator of terrorism, war and slaughter in the region is the occupying regime of Israel," charged Rouhani, who spoke during a cabinet meeting and was quoted by the semiofficial Fars news agency.
The president then cautioned regional countries against falling into the trap of these claims.
Rouhani said the US calls for forming a new coalition in the Persian Gulf and the Sea of Oman are "superficial" and "impractical".
"No doubt, no matter how much of these calls is put into practice, it will do nothing to help the security in the region," he added.
"The Islamic Republic of Iran, alongside other Persian Gulf littoral states, is ready to guarantee the security in this region," continued Rouhani.
"Regional countries, through unity and dialogue, can preserve their own security, and the US' measures and claims won't benefit them in the least," Rouhani stressed.
The comments come as the US works on forming an international maritime security coalition in the Persian Gulf.
The plans to build the coalition of nations, known as Operation Sentinel, were announced by the US following continued tensions with Iran in the region, culminating in the seizure of a British-flagged oil tanker by Iran.
Foreign Minister Yisrael Katz indicated last week that Israel would take part in the US-led coalition in the Gulf.
In response, Iran's Defense Minister, Amir Hatami, warned that any Israeli involvement in the international coalition would have "disastrous consequences" for the region.
The commander of the Iranian Revolutionary Guard's navy, Alireza Tangsiri, warned earlier this week that any presence by Israel in the Persian Gulf may set off a war.
————————————————-
The "Jordan Option," as articulated by Mudar Zahran, the secretary general of the Jordan Opposition Coalition, and me, anticipates that King Abdullah will abdicate, willingly or otherwise, and that Mudar Zahran will take over Jordan as its leader.
This option was first disclosed to the public shortly after the inauguration of President Trump in The Ultimate Alternate Israel-Palestine Solution.  What is unique about this iteration of the Option was that it called for King Abdullah to abdicate and for Mudar Zahran to become Jordan's leader.  Save for that, the Jordan Option had been proposed on and off since 1980.
The Jordan Option, as proposed by Mudar Zahran, leader of the Jordanian Opposition Coalition, and me, recognizes that nothing acceptable to Israel can be achieved by negotiating with King Abdullah or Mahmoud Abbas.  This option is very much in line with Trump's Deal of the Century, which considers Jordan to be the Palestinian state east of the Jordan River and Israel, the Jewish state west of the river.
Nothing will happen with the Deal of the Century until Zahran becomes the leader of Jordan.  In fact, the Deal of the Century is the Jordan Option.
Zahran is very open as to what his intentions are once in power.
He wants to work with Israel rather than be in confrontation with Israel.

Jordan will grant citizenship to all Palestinians wherever they may live.

Jordan will have an open-door policy for the return of all Palestinians.

Jordan will replace UNRWA as the provider of services to all Palestinian refugees, of which 2 million live west of the Jordan River.

Jordan will invite the said two million refugees to emigrate to Jordan to receive the said services, which include social security, health care, and education.

The peace treaty between Jordan and Israel will be reaffirmed, as will the Jordan River as the international boundary.

The Palestinian textbooks will be rewritten by a joint task force of Jews and Arabs to reflect in the main the Jewish narrative with appropriate nods to the Arab perspective.  These new textbooks will be studied by all Palestinians in Jordan and Israel.
THIS NEW REALITY WILL AFFECT ISRAEL IN THE FOLLOWING WAY:
The Palestinians living west of the River will no longer be stateless.  They will be Jordanian citizens living in Israel as foreign residents.

Thus, Israel will be able to extend its sovereignty over the entire area without the need to grant citizenship to the Palestinians living west of the river.  The reason this is so is because when you annex land or claim sovereignty over it, there is no law that obligates you to grant citizenship to citizens of foreign countries who may live there.

These Jordanian-Palestinians will be entitled to live in Areas A and B as foreign residents with full autonomy, just as they do now.

Over the next few years, Jordan will replace the P.A. as the administrator of these areas, and the P.A. will wither away.

These foreign residents will be incentivized to emigrate to Jordan with funds provided by the Gulf States and the U.S., as announced in the Bahrain Workshop.

The Oslo Accords will be subsumed in the Jordan-Israel Peace Treaty.

Hebron, which is an Area A, will be absorbed into Israel and will no longer be an autonomous area.

Gaza will be treated as an autonomous area A.  Hamas will be outlawed, and Jordan will administer it, as it will be doing for all Area A.

There will be no need for a peace process thereafter.

The Palestinian state will be Jordan and not some new creation west of the Jordan River.
Thus, the Jordan Option if implemented will be the biggest game-changer in the Middle East since the Six-Day War.
————————————————-
As we shared yesterday, satellite images confirmed President Trump's warning that Chinese troops were massing on the Hong Kong border.
Now, the AFP has published photos showing more military buildup unfolding in Shenzen.
The photos show what Reuters reports are hundreds of members of the People's Armed Police, a pro-regime paramilitary organization, carrying out military exercises in a stadium in Shenzen. They could be preparing to carry out demonstrations of its own in Hong Kong.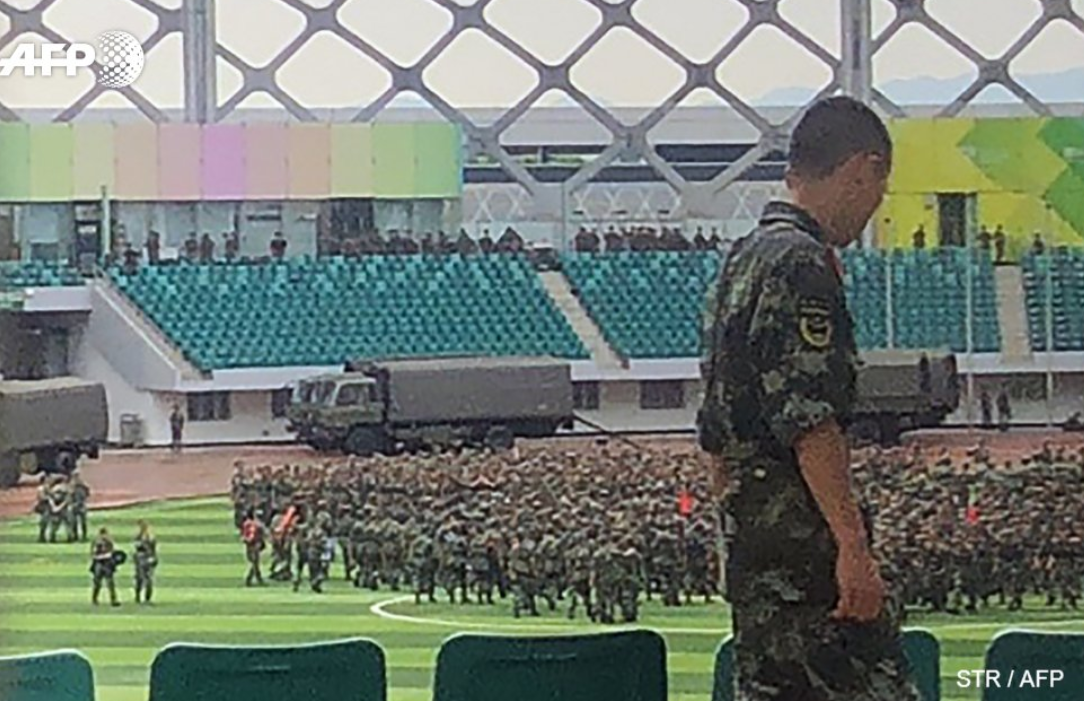 Not to mention the hundreds of carriers and what appear to be tanks driving toward the field.
And let's not forget the video of military vehicles clogging the streets of Shenzen.
— Alexandre Krauss (@AlexandreKrausz) August 12, 2019
This should give pause to everybody who is hoping that the Hong Kong uprisings might be the seeds of regime change across China. From what it looks like, Beijing might send paramilitary gangs across the border to do what the Hong Kong police seemingly can't accomplish.
China again on Wednesday called the protests acts of "terrorism", as more street clashes erupted at a police station following the harrowing showdown at Hong Kong International airport.
Some lawmakers have warned of another Tiananmen Square but in Hong Kong. That's starting to look more plausible than a peaceful deescalation.
Meanwhile, after the Trump Administration said Chine needs to resolve Hong Kong on its own, China's Foreign Ministry says it hopes the US does what it says.
————————————————-
REALITY DAWNING
Yesterday's announcement by the Trump administration to delay some of the new tariffs on China it just announced a few weeks ago was initially greeted with relief by equity markets across the globe. This proved to be mistake as reality is dawning and global stock markets are selling off hard just a day later on ever weakening economic data in Europe and Asia and further yield curve inversions.
Call it a major hangover as the reversal in tariffs was not coming from a position of strength, it was coming as a result of global economic reality sinking in, a reality that is making its way rapidly to US shores as well. The collapse in global yields has been a theme since October of 2018 with the US 10 year dropping to 1.6% from its October 2018 high of 3.25%, but only now that the 2 year/10 year yield curve has inverted are the official recession alarm bells ringing. Why? Because every single recession in the past 45 years has seen a 2 year/10year yield curve inversion preceding it.
To believe no recession is coming is to argue that this inversion is defying history. And indeed let's look at history, because it is now used to argue that this yield curve inversion leaves room for further market rallies to new highs. Does it?
If history is a guide, then the answer is yes but market relevant timing can vary quite a bit and depending on how the data is framed up you can get different conclusions.
The calmer interpretation comes via Credit Suisse:
"A recession occurs, on average, 22 months following a 2-10 inversion. The S&P 500 is up, on average, 12% one year after a 2-10 inversion. It's not until about 18 months after an inversion when the stock market usually turns and posts negative returns".
Turns out trade wars are not easy and the global growth picture is accelerating to the downside. Last week the UK announced negative GDP growth for the past quarter. This week it's Germany announcing shrinking GDP with its 10 year hitting a record negative 0.62% yield and European industrial production having gone negative and China announcing its lowest industrial production growth in 17 years.
All of these are signs that the risk of a global recession is a clear and present danger and hence a sudden end to a trade war, with a attempt at face saving by both sides, could certainly spark a sustained global relief rally that may end up averting a recession at this stage as uncertainty would be alleviated and investment decisions, currently on hold, could be made again.
…the downside is also current context versus history:
We've never faced a recession with so much debt and so little Fed ammunition available and with negative rates still in effect in many places
There's no playbook for this.
Historic data will be of little use.
— Sven Henrich (@NorthmanTrader) August 14, 2019
And this is where I caution everyone to rely on history exclusively  believing we have time. Do we have time?
We've never been in this situation before. Ever. Hence there is no economic model that can predict what will happen next. In fact no economist saw this coming:
————————————————-
You had better buckle up, because it looks like we are in for a bumpy ride.  On Wednesday, the Dow Jones Industrial Average was down a whopping 800 points.  Not only was that the worst day of 2019, but as you will see below, there have only been three days in U.S. history that have been worse.  An inversion of the yield curve sent investors into panic mode, and the selling was fast and furious.  And of course back on August 5th we witnessed a 767 point decline.  So this is now the second historic decline that we have seen so far this month, and the month is only about half over.  Could it be possible that we are on the verge of a major stock market meltdown?

(

READ MORE…

)
——————————————–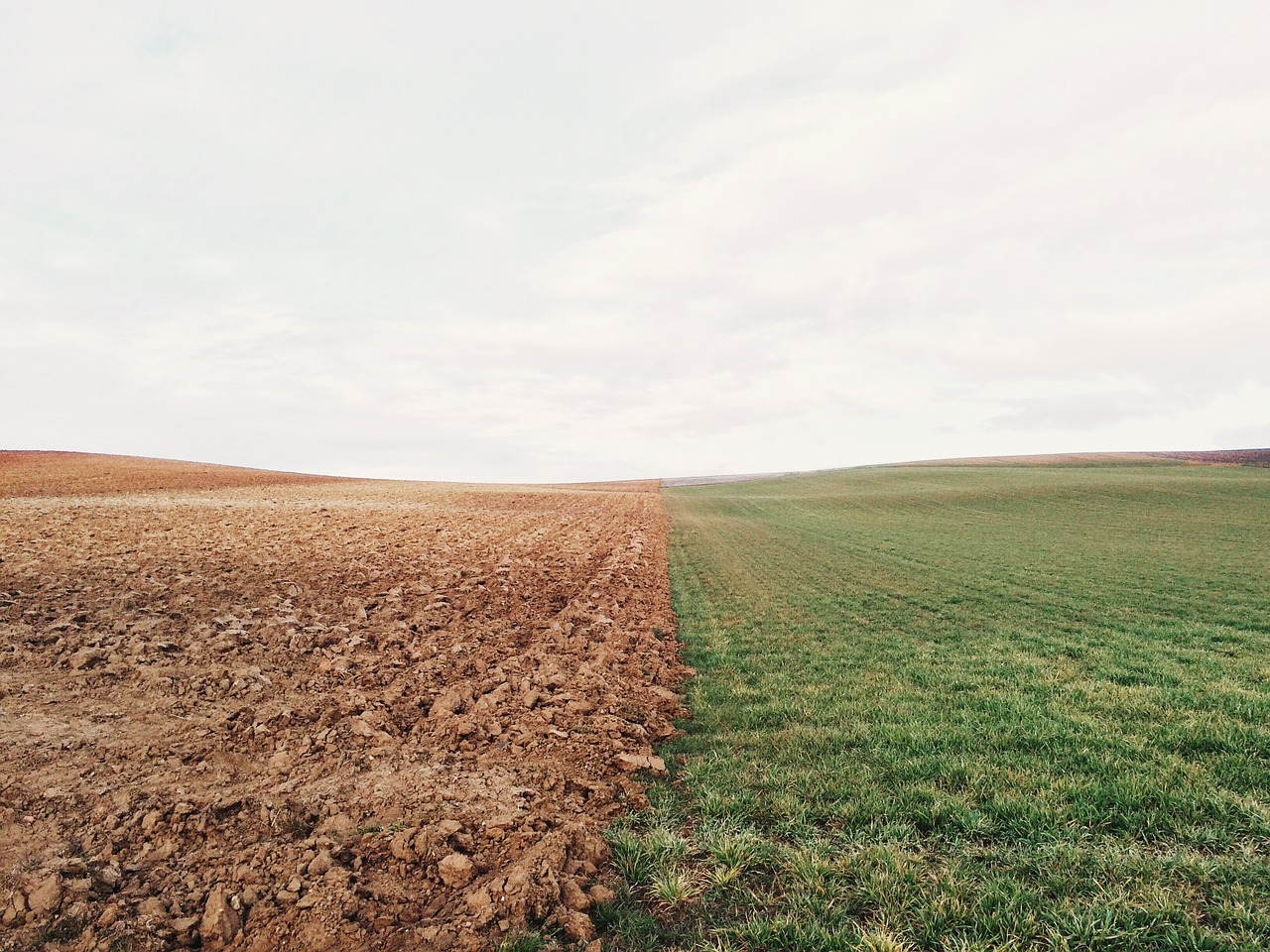 If that headline sounds really bad to you, that is because the situation that we are facing is really bad.  Over the past few months, I have written article after article about the unprecedented crisis that U.S. farmers are facing this year.  In those articles, I have always said that "millions" of acres of farmland did not get planted this year, because I knew that we did not have a final number yet.  Well, now we do, and it is extremely troubling.  Of course there are some people out there that do not even believe that we are facing a crisis, and a few have even accused me of overstating the severity of the problems that U.S. farmers are currently dealing with.  Sadly, things are not as bad as I thought – the truth is that they are even worse.  According to the U.S. Department of Agriculture, crops were not planted on 19.4 million acres of U.S. farmland this year.  The following comes directly from the official website of the USDA…

(

READ MORE…

)
——————————————–
Psalm 118
https://gracethrufaith.com/the-psalms/psalm-118
Give thanks to the LORD, for he is good;his love endures forever.  Let Israel say: "His love endures forever."  Let the house of Aaron say: "His love endures forever."  Let those who fear the LORD say: "His love endures forever."
In my anguish I cried to the LORD,  and he answered by setting me free. The LORD is with me; I will not be afraid.  What can man do to me? The LORD is with me; he is my helper.  I will look in triumph on my enemies.
It is better to take refuge in the LORD  than to trust in man.  It is better to take refuge in the LORD  than to trust in princes.
All the nations surrounded me, but in the name of the LORD I cut them off.  They surrounded me on every side, but in the name of the LORD I cut them off.  They swarmed around me like bees, but they died out as quickly as burning thorns; in the name of the LORD I cut them off.  I was pushed back and about to fall, but the LORD helped me.
The LORD is my strength and my song; he has become my salvation.  Shouts of joy and victory resound in the tents of the righteous:  "The LORD's right hand has done mighty things!  The LORD's right hand is lifted high; the LORD's right hand has done mighty things!"
I will not die but live, and will proclaim what the LORD has done.  The LORD has chastened me severely, but he has not given me over to death.  Open for me the gates of righteousness; I will enter and give thanks to the LORD. This is the gate of the LORD through which the righteous may enter.  I will give you thanks, for you answered me;  you have become my salvation.
The stone the builders rejected has become the capstone; the LORD has done this, and it is marvelous in our eyes.  This is the day the LORD has made; let us rejoice and be glad in it.
O LORD, save us; O LORD, grant us success.  Blessed is he who comes in the name of the LORD.  From the house of the LORD we bless you.
The LORD is God, and he has made his light shine upon us.  With boughs in hand, join in the festal procession up to the horns of the altar.  You are my God, and I will give you thanks;
you are my God, and I will exalt you. Give thanks to the LORD, for he is good; his love endures forever.
Psalm 118 was a national hymn of praise in Israel.  Parts of it came to be reserved for the Messiah's entrance into Jerusalem.  That's why the Pharisees admonished Jesus to rebuke His followers  when they spontaneously started singing it on that first Palm Sunday (Luke 19:39).  The people were doing God's will and Jesus set the Pharisees straight.
"I tell you," he replied, "if they keep quiet, the stones will cry out." (Luke 19:40)
This day had been identified to them 483 years earlier as the one where He would present Himself to Israel as their Messiah.  Then He told them the city would be utterly destroyed because they didn't recognize the time of God's coming to them (Luke 19:44)
By tradition Jesus and His Disciples also sang part of it at the end of their Passover meal.  Within a the 24 hour day just beginning, Jesus would be betrayed, arrested, tried, beaten, condemned, executed, and buried.  And yet He led them in singing,
"This is the day the LORD has made; let us rejoice and be glad in it."
He could do so because this was the day He would pay the price for His bride. The writer of Hebrews would later say,
Let us fix our eyes on Jesus, the author and perfecter of our faith, who for the joy set before him endured the cross, scorning its shame, and sat down at the right hand of the throne of God. (Hebr. 12:2)
The joy set before Him was the privilege of taking your hand in marriage. He considered it a fair exchange for His life.
Psalm 118 is also the last in a series of Hallel Psalms. Hallel means praise.  Hallelujah is Hebrew for "Praise the Lord".  Strangely, although it's one of the Church's most popular exclamations and is used 24 times in the Old Testament, it only appears 4 times in the New Testament and all 4 are in Rev. 19:1-8. They're shouted by a great multitude in Heaven  as the Lord prepares for His triumphal return to Earth with His Bride.
Of course the Church will be part of that multitude, and sometimes I like to imagine how we'll all sound.  Think of it.  The angels, the Old Testament saints, the Tribulation martyrs, and the Church all shouting as with one mighty voice, "Hallelujah!"
Maybe it's the power released in that shout that will rend the fabric of heaven, allowing the Lord to be visible on Earth, riding a white horse and accompanied by the armies of Heaven on their white horses.  While His robe will look as if it's been dipped in blood, ours will all be white and clean.  This is perhaps the most obvious sign that though we're the victors, the battle has been His.  Requiring nothing more than the power of His Word, he'll strike down the nations gathered against Him and will finally take possession of that which He purchased at the cross.  The usurper will be taken to prison in chains and the other two members of his Satanic trinity will be cast into the Lake of fire.
On that day his feet will stand on the Mount of Olives, east of Jerusalem, and the Mount of Olives will be split in two from east to west, forming a great valley, with half of the mountain moving north and half moving south.  On that day there will be no light, no cold or frost.  It will be a unique day, without daytime or nighttime—a day known to the LORD. When evening comes, there will be light.  On that day living water will flow out from Jerusalem, half to the eastern (Dead) sea  and half to the western (Mediterranean) sea, in summer and in winter. The LORD will be king over the whole earth. On that day there will be one LORD, and his name the only name.
Hallelujah, indeed.