Bible Prophecy Is Unfolding Right Before Our Very Eyes…2019

Published on Aug 23, 2019
 

Please Help Support This Ministry:

https://www.paypal.me/watchman1963

Cash App : $watchman1963 Please subscribe to my backup channel:

https://www.youtube.com/channel/UC4nc…

Current Events Linked To Biblical Prophecies. Everything is unfolding just as the bible foretold. Wars, Volcanic Eruptions, Earthquakes, Extreme Weather, Christian Persecution, Violence and more!
Matthew 24:3-14 3 Now as He sat on the Mount of Olives, the disciples came to Him privately, saying, "Tell us, when will these things be? And what will be the sign of Your coming, and of the end of the age?" 4 And Jesus answered and said to them: "Take heed that no one deceives you. 5 For many will come in My name, saying, 'I am the Christ,' and will deceive many. 6 And you will hear of wars and rumours of wars. See that you are not troubled; for all these things must come to pass, but the end is not yet.
7 For nation will rise against nation, and kingdom against kingdom. And there will be famines, pestilences,[b] and earthquakes in various places. 8 All these are the beginning of sorrows. 9 "Then they will deliver you up to tribulation and kill you, and you will be hated by all nations for My name's sake. 10 And then many will be offended, will betray one another, and will hate one another.
11 Then many false prophets will rise up and deceive many. 12 And because lawlessness will abound, the love of many will grow cold. 13 But he who endures to the end shall be saved. 14 And this gospel of the kingdom will be preached in all the world as a witness to all the nations, and then the end will come.
————————————————–
Israel strikes Hamas Targets-Russia & China caution US on Missile Test & More News

Published on Aug 22, 2019
 

You will hear the following in this Broadcast: -Russia, China Request UNSC Meeting Over US Medium-Range Missile Test – Deputy Envoy -Russia calls US missile test an 'escalation of military tensions' -US cruise missile test will start a new arms race, says China -US Looking to Develop Hypersonic Missiles -Putin says U.S. is able to deploy new cruise missile in Europe -Israeli, US militaries simulate retaking hijacked ship amid tensions -Israeli Defense Forces Deploy Rockets Onto Hamas Naval Facility -Iran has most advanced missile technology in Middle East, IRGC general claims -Netanyahu hints Israel behind strikes on Iraq, says Iran not immune anywhere -Trump confirms peace plan to be released after Israeli elections -Secretive warfare training being staged in 21 North Carolina counties, Army says -Japan warns North Korea now has miniaturized nukes small enough to fit on its ballistic missiles and is a 'serious and imminent threat'
————————————————–
Gaza Palestinians Resume Mortar-Fire into Israel – TV7 Israel News 22.08.19

Published on Aug 23, 2019
 

Today's top stories 22.08.19; 1) Palestinian Islamists resumed rocket and mortar fire from the Gaza Strip toward Israel's southern communities – prompting Israeli retaliatory strikes on the Hamas-controlled territory. 2) The mostly Iranian-backed Popular Mobilization Forces, PMF, have officially blamed Israel and the United States for a series of devastating explosions that destroyed a number of their paramilitary installations, all of which stored a significant amount of military equipment, and – among others – housed weapons caches of precision-guided-missiles. 3) Iranian Foreign Minister Mohammad Javad Zarif insisted that the international community must choose between "security for everybody or insecurity for everybody," at a time when the Islamic Republic is growing increasingly desperate in the face of crippling U.S. sanctions.
————————————————–
LATEST WORLD NEWS CLIPS – ARTICLES – FRIDAY AUGUST 23rd 2019
John 8:32 And ye shall know the truth, and the truth shall make you free
"My people are destroyed for lack of knowledge" (Hosea 4:6)
1Cor. 12:3 Wherefore I give you to understand, that no man speaking by the Spirit of God calleth Jesus accursed: AND THAT NO MAN CAN SAY THAT JESUS IS THE LORD, BUT BY THE HOLY GHOST.
THE TRIBULATION OF THE UNJUST (Those who have rejected Jesus Christ as their Saviour) IN THE BOOK OF REVELATION CHAPTER'S 6 to 22:
Rev. 3:10 Because thou hast kept the word of my patience, I also will keep thee from the hour of temptation, which shall come upon all the world, to try them that dwell upon the earth:
Luke 12:37 Blessed are those servants, whom the lord when he cometh shall find watching: verily I say unto you, that he shall gird himself, and make them to sit down to meat, and will come forth and serve them
so won't you accept Jesus now and be removed from that event and live forever with Jesus in the Family of God?
2 "(For he saith, I have heard thee in a time accepted, and in the day of salvation have I succoured thee: behold, now is the accepted time; behold, now is the day of salvation.)" (2nd Corinthians 2:6)
——————————————
DAILY CHRISTIAN BIBLICAL QUESTIONS AND ANSWERS:
——————————————-
THE MEANING OF ETERNAL LIFE
QUESTION:    I happened to notice a Catholic commentary on the Scriptures, and I looked up John 3:16 to see what it had to say. What struck me was the book's claim that the words for "eternal life" stresses the quality of life rather than the duration of life. Can you help us with what the Greek means, and how to respond to this interpretation?
ANSWER:    The Greek word for "eternal" in John 3:16 means "without end, never to cease, everlasting." It's the Greek word for "life" that follows it that carries a connotation of quality. It means "the state of one who is possessed of vitality or is animate," whose life is "real or genuine." Therefore whoever believes in Jesus has a real, genuine life that is everlasting and will never cease. Sounds pretty straight forward to me. I would respond by asking how the author came to his conclusion.
ETERNAL PUNISHMENT AND ETERNAL LIFE
QUESTION:    I have always been taught that punishment is eternal, but after reading Matthew 10:28, I wonder about that. Matthew 10:28 says that Satan can destroy the soul… so that means its gone right? I do believe the fires in hell and the lake of fire are eternal, but I am a wondering about the soul. Also, is eternal life a gift we receive? Isn't eternal life something that we achieve by being faithful to our Lord?
ANSWER:    The Greek word translated destroy in Matt. 10:28 literally means to put out of the way entirely. It comes from a root denoting the separation of a part from the whole. It's sometimes used metaphorically to describe giving one over to eternal misery in Hell. So yes, the soul is gone, but that doesn't mean it no longer exists.
According to John 3:16 and others, eternal life is a gift that we receive for believing that Jesus died for our sins. It's not something we achieve as a result of maintaining some standard of behavior.
ETERNAL PUNISHMENT, FOLLOW UP
QUESTION:    I was surprised to see you state the following and this is the first time I've ever come across this perspective.
"This is why Jesus told His disciples not to fear those who can only kill the body, but rather fear him who can kill both body and soul (Matt. 10:28). He was talking about Satan of course, but those who reject the Lord's pardon for their sins turn themselves over to Satan for his disposition".
Did you understand the word in this verse to be Hades? The word for 'Hell' here is not Hades but Gehenna, where Satan will be tormented for ever as its his final destination. If the word for Hell was Hades, then your point would stick, but then again, maybe I'm missing something here. Please let me know. My understanding has been that once Satan is tossed into that Hell he is suffering himself, and will be too busy to be involved in anyone else's torment. The Word says many times we are to "Fear the Lord" but not Satan. Surely "Him" in this verse refers to the Lord Himself? Am open, but can't see what you see – please show me.
ANSWER:    I really think we're splitting hairs here. God is the Author of life and doesn't want any to perish but for all to come to repentance. Satan, on the other hand, introduced death into the world.
When man rejects God's truth, it means that he accepts Satan's lies. He believes Satan, follows him, and shares his destiny. When he spends eternity in the place prepared for the devil and his angels is it because God made him go there, or is it because Satan lied to him and caused him to wind up there? You may argue that it's the man's own fault, and I would agree with you. But who started him down the path that led to his spiritual death? Certainly it wasn't God.
By the way, while confirming that the Greek word translated hell in Matt. 10:28 is indeed Gehenna, I also discovered that the personal pronoun for who ever it is we should fear is implied, not actual. Although it appears as "the one" in some translations and "him" in others, and some capitalize it while others don't, it literally means "this" or "that" and is most often translated "which". I believe the translators inserted the personal pronoun to show that our destiny is impacted by someone or something else, but it's not at all clear that God should be the one.
Personally I would have translated it "fear that which can kill both body and soul" implying that we should fear making the wrong choice about God.
———————————————
NEWS CLIPS OBTAINED FROM MANY SOURCES – INCLUDING

Tracking bible prophecy.org
Rapture Ready News
Prophecyupdate.Com
Main News Channels
End Times Headlines
Prophecyupdateblogspot.com
Stevequayle.com
Gracethrufaith.com
Nowtheendbegins.com
Other Christian Sites
(CLICK ON) LATEST DAILY NEWS CLIPS:
ISRAEL NEWS:
Zech. 12:2 Behold, I will make Jerusalem a cup of trembling unto all the people round about, when they shall be in the siege both against Judah and against Jerusalem.
Zech. 12:3 And in that day will I make Jerusalem a burdensome stone for all people: all that burden themselves with it shall be cut in pieces, though all the people of the earth be gathered together against it
WORLD TERRORISM – WARS
GENERAL WORLD NEWS:
WORLD FINANCE:
MASSIVE EARTH CHANGES/EARTHQUAKES/VOLCANOES ETC:
2Chr. 7:13 If I shut up heaven that there be no rain, or if I command the locusts to devour the land, or if I send pestilence among my people;
2Chr. 7:14 If my people, which are called by my name, shall humble themselves, and pray, and seek my face, and turn from their wicked ways; then will I hear from heaven, and will forgive their sin, and will heal their land
EXTRA WORLD – ALTERNATIVE NEWS:
————————————————-
WORLD – PROPHETIC NEWS ARTICLES PRESENTATION – FRIDAY AUGUST 23rd 2019
MIDDLE EAST AND WORLD WAR LOOMING THE BUILD UP TO PSALM 83  – ISAIAH 17 AND GOG OF MAGOG WARS EZEKIEL 38:
THE WHOLE WORLD IS UNSTABLE FINANCIALLY, POLITICALLY, PHYSICALLY, MORALY, GODLY: – AND BECOMMING MORE SO DAILY. (WE ARE IN THE BEGINNING OF SORROWS (MATT 24:8)
THE BIBLE STATES THAT IT WILL ONLY GET WORSE BEFORE THE START OF THE TRIBULATION OF MANKIND – (REVELATION 6)
Matt. 24:6 And ye shall hear of WARS AND RUMOURS OF WARS: see that ye be not troubled: for all these things must come to pass, but the end is not yet.
Matt. 24:7 FOR NATION SHALL RISE AGAINST NATION, AND KINGDOM AGAINST KINGDOM: and there shall be famines, and pestilences, and earthquakes, in divers places.
ISAIAH 17/PSALM 83:
THE DESTRUCTION OF DAMASCUS and
Muslim Countries in the Middle East will launch an attack on Israel
JEREMIAH 49:
PROPHECY OF ELAM – (Possible Attack on Iran's Nuclear Program
——————————————–
Russia and China have asked the United Nations Security Council to meet on Thursday over "statements by US officials on their plans to develop and deploy medium-range missiles," according to the request seen by Reuters.
Moscow and Beijing want to convene the 15-member council under the agenda item "threats to international peace and security" and have requested that U.N. disarmament affairs chief Izumi Nakamitsu brief the body.
The Pentagon said on Monday it had tested a conventionally configured cruise missile that hit its target after more than 500 km (310 miles) of flight, the first such test since the United States pulled out Cold War-era Intermediate-Range Nuclear Forces Treaty (INF).
US Defense Secretary Mark Esper was asked in a Fox News Channel interview on Wednesday whether the test was aimed at sending a message to China, Russia or North Korea and indicated that the main concern was China.
"We want to make sure that we, as we need to, have the capability to deter Chinese bad behavior by having our own capability to be able to strike at intermediate ranges," he said.
Esper said on a visit to Australia this month he was in favor of placing ground-launched, intermediate-range missiles in Asia relatively soon.
Esper was also asked about a rocket test accident in Russia this month which US officials believe was associated with the Kremlin's hypersonic cruise missile program.
"Clearly they are trying to expand their strategic nuclear arsenal to deal with the United States," he said, adding that all such new weapons would have to be included in any future strategic arms reduction treaty.
"Right now Russia has possibly nuclear-tipped … INF-range cruise missiles facing toward Europe, and that's not a good thing," he said.
Russian President Vladimir Putin said on Wednesday the United States was in a position to deploy a new land-based cruise missile in Romania and Poland, a scenario he considered a threat that Moscow would need to respond to.
Chinese Foreign Ministry spokesman Geng Shuang said on Tuesday that the US test showed the United States was stoking a new arms race and confrontation, which would have a serious negative impact on regional and global security.
The United States has said it has no imminent plans to deploy new land-based missiles in Europe.
——————————————–
A recent test of a US missile banned by the INF risks backfiring on global security, Vladimir Putin warned. The Russian president said it shows Washington was not interested in the now scrapped landmark accord for quite some time.
"Americans tested this missile too quickly – way too quickly after having announced [they] are leaving the agreement," Russian president said.
Given that, we have all reasons to believe that development to make it a ground launched missile – it's a maritime based projectile – started long before [US started] to look for reasons to leave the deal.
The weapon was confirmed by the Pentagon as being a modified version of a sea-based Tomahawk cruise missile, which is normally stationed on warships and submarines. It came just about two weeks after the Intermediate-Range Nuclear Forces Treaty (INF) officially expired on August 1.
The projectile successfully hit its target more than 500km (310 miles) away – exactly at a distance banned by the 1987 landmark agreement prohibiting all ground-launched missiles with a range of between 500km and 5,500km.
Saying the test only "escalates" security uncertainty in the world, Putin cautioned Europeans that Washington might not inform its allies about the software it plans to use in the missiles.
I am concerned that the recently tested missile can be fired from launching sites located in Romania and soon planned to be installed in Poland. It only requires a change in software.
That, in turn, poses a clear "danger" to Russia, according to the president. To counter that challenge, Moscow will have to opt for "countermeasures," including development of its own ground-launched short- and mid-range missiles. At the same time, Putin said that Kremlin will not be the first to deploy such weapons close to Europe or anywhere else unless the US does so first.
Washington announced its decision to withdraw from the INF six months before the test-launch, in February, while accusing Russia of developing a non-compliant missile system.
Moscow repeatedly denied the accusations and even invited international inspections of the system in question but no one took the offer. It further maintained that Washington was simply looking for a pretext to abandon the treaty which was once hailed as a milestone in ending the Cold War.
——————————————–
A rocket was fired from the Gaza Strip towards Israel early Thursday morning, the IDF said. The attack came shortly after Israeli planes struck Hamas naval targets off the coast of the Strip following an earlier rocket attack which landed in an open field in Israel.
The IDF said that warning sirens were activated near the Gaza border.
The Israel Defense Forces said earlier that fighter jets and aircraft hit several "sea-based bases" in the north belonging to the Hamas terror grop after Palestinian terrorists in Gaza fired a rocket from the Gaza Strip into southern Israel Wednesday night.
The army said the strikes were in response to the rocket attack, as well as "continuing terror activities from the Strip."
An army statement added, "The IDF will continue to oppose attempts to harm Israeli civilians and considers the Hamas terrorist organization responsible for what happens in and out of the Gaza Strip. "
Thursday morning's rocket attack was the sixth rocket fired at Israel from the enclave in the past week. One rocket was fired at southern Israel on Friday night, followed by three on Saturday night Saturday. Three of these were intercepted by the Iron Dome anti-missile system. One rocket struck outside a home in the southern town of Sderot, causing light damage, but no physical injuries.
The Israeli military retaliated to the Friday night attack, bombing two Hamas positions in the coastal enclave. There was no military response to the Saturday night rocket attack.
Israeli planes struck Hamas naval targets off the coast of the Gaza Strip early Thursday, the latest tit-for-tat cross-border fighting that has set the restive region on edge.
The Israel Defense Forces said fighter jets and aircraft hit several "sea-based bases" in the north belonging to the Hamas terror group.
Palestinian media reported several Israeli strikes around 12:30 a.m. in the northern Strip near Beit Lahia, including on a seaside site known as al-Waha, or Oasis.
There was no immediate word on casualties from the strikes, which came after Palestinian terrorists in Gaza fired a rocket from the Gaza Strip into southern Israel Wednesday night, striking an open field. No injuries or damage were caused by the attack.
The army said the strikes were in response to the rocket attack, as well as "continuing terror activities from the Strip."
An army statement added, "The IDF will continue to oppose attempts to harm Israeli civilians and considers the Hamas terrorist organization responsible for what happens in and out of the Gaza Strip. "
The latest rocket attack was the fifth rocket fired at Israel from the enclave in the past week. One rocket was fired at southern Israel on Friday night, followed by three on Saturday night Saturday. Three of these were intercepted by the Iron Dome anti-missile system. One rocket struck outside a home in the southern town of Sderot, causing light damage, but no physical injuries.
——————————————–
One thing that is important to understand about the mainstream media is that they do tell the truth on occasion. However, the truths they admit to are almost always wrapped in lies or told to the public far too late to make the information useful.   Dissecting mainstream media information and sifting out the truth from the propaganda is really the bulk of what the alternative media does (or should be doing).  
In the past couple of weeks I have received a rush of emails asking about the sudden flood of recession and economic crash talk in the media.  Does this abrupt 180 degree turn by the MSM (and global banks) on the economy warrant concern?  Yes, it does.
The first inclination of a portion of the liberty movement will be to assume that mainstream reports of imminent economic crisis are merely an attempt to tarnish the image of the Trump Administration, and that the talk of recession is "overblown".  This is partially true; Trump is meant to act as scapegoat, but this is not the big picture.  
The fact is, the pattern the media is following today matches almost exactly with the pattern they followed leading up to the credit crash of 2008.  Make no mistake, a financial crash is indeed happening…just as it did after media warnings in 2007/2008, and the reasons why the MSM is admitting to it today are calculated.
Before we get to that, we should examine how the media reacted during the lead up to the crash of 2008.
Multiple mainstream outlets ignored all the crash signals in 2005 and 2006 despite ample warnings from alternative economists. In fact, they mostly laughed at the prospect of the biggest bull market in the history of stocks and housing (at that time) actually collapsing. Then abruptly the media and the globalist institutions that dictate how the news is disseminated shifted position and started talking about "recession" and "crash potential". From the New York Times to The Telegraph to Reuters and others, as well as the IMF, BIS and Federal Reserve officials – Everyone suddenly started agreeing with alternative economists without actually deferring to them or giving them any credit for making the correct financial calls.
In 2007/2008, the discussion revolved around derivatives, a subject just complicated enough to confuse the majority of people and cause them to be disinterested in the root trigger for the economic crisis, which was central bankers creating and deflating bubbles through policy engineering.
Instead, the public just wanted to know how the crash was going to be fixed. Yes, some blame went to the banking system, but almost no one at the top was punished (only one banker in the US actually faced fraud charges). Ultimately, the crisis was pinned on a "perfect storm" of coincidences, and the central banks were applauded for their "swift action" in using stimulus and QE to save us all from a depression level event. The bankers were being referred to as "heroes".
Of course, central bank culpability was later explored, and Alan Greenspan even admitted partial responsibility, saying the Fed knew there was a bubble, but was "not aware" of how dangerous it really was. This was a lie. According to Fed minutes from 2004, Greenspan sought to silence any dissent on the housing bubble issue, saying that it would stir up debate on a process that "only the Fed understood". Meaning, there was indeed discussion on housing and credit warning signs, but Greenspan snuffed it out to prevent the public from hearing about it.
Only in the past year has talk of recession begun to break out, and only in the past couple of weeks have outlets become aggressive in pushing the notion that a financial crash is just around the corner. The reality is that if one removes the illusory support of central bank stimulus, our economy never left the "Great Recession" of 2008. 
Signals of renewed sharp declines in economic fundamentals have been visible since before the 2016 elections.  Alarms have been blaring on housing, auto markets, manufacturing, freight and shipping, historic debt levels, the yield curve, etc. since at least winter of last year, just as the Fed raised rates to their neutral rate of inflation and increased asset cuts from the balance sheet to between $30 billion to $50 billion or more per month.
The media should have been reporting on economic crisis dangers for the past 2-3 years.  But, they didn't give these problems much credence until recently.  So, what changed?
I can only theorize on why the media and the banking elites choose the timing they do to admit to the public what is about to happen. First, it is clear from their efforts to stifle free discussion that they do not want to let the populace know too far ahead of time that a crash is coming. According to the evidence, which I have outlined in-depth in previous articles, central banks and international banks sometimes engineer crash events in order to consolidate wealth and centralize their political power even further. Is it a conspiracy? Yes, it is, and it's a provable one.
When they do finally release the facts, or allow their puppet media outlets to report on the facts, it seems that they allow for around 6-8 months of warning time before economic shock events occur. In the case of the current crash in fundamentals (and eventually stocks), the time may be shorter. Why? Because this time the banks and the media have a scapegoat in the form of Donald Trump, and by extension, they have a scapegoat in the form of conservatives, populists, and sovereignty activists.
The vast majority of articles flowing through mainstream news feeds on economic recession refer directly to Trump, his supporters and the trade war as the primary villains behind the downturn. The warnings from the Fed, the BIS and the IMF insinuate the same accusation.
…everyone knows my primary concern has been that the globalists will crash the Everything Bubble on Trump's watch, and then blame all conservatives for the consequences.
To be clear, Trump is not the cause of the Everything Bubble, nor is he the cause of its current implosion. No president has the power to trigger a collapse of this magnitude, only central banks have that power. 
In other words, Trump is providing perfect cover for the central banks to crash the economy without receiving any of the blame.
Another factor on our timeline beyond Trump's helpful geopolitical distractions is the possibility of a 'No-Deal' Brexit in October.  I continue to believe this outcome (or something very similar) has been pushed into inevitability by former Prime Minister Theresa May and EU globalists, and that it will be used as yet another scapegoat for the now accelerating crash in the EU. 
With Germany on the verge of admitting recession, Deutsche Bank on the edge of insolvency, Italy nearing political and financial crisis, etc., it is only a matter of months before Europe sees its own "Lehman moment".  The Brexit is, in my view, a marker for a timeline on when the crash will hit its stride.
To summarize, the mainstream media and global banking institutions have two goals in informing the public about recession right now :
They are seeking to cover their own asses when the next shoe drops so they can say they "tried to warn us", and…

…they are conditioning a majority of the public to automatically blame conservatives and sovereignty proponents when the consequences hit them without mercy.
As the truth of a recession smacks the public in the face, the media will likely pull back slightly, just as they did in 2008, and suggest that the downturn is "temporary".  They will claim it's "not a repeat of the credit crisis", or that it will "subside after Trump is out of office".  These will all be lies designed to keep the public complacent even as the house of cards collapses around them.  The fact is, the hard data shows that economic conditions in the US and in most of the world are far more unstable than they were in 2008.  We are not looking at the crash of a credit bubble, we are looking at the crash of the 'Everything Bubble'.
The pace of the narrative is quickening, and I would suggest that a collapse of the bubble will move rather quickly, perhaps in the next four to six months.
As events are unfolding right now, it appears that Trump has served his purpose for the globalists and is slated to be replaced next year; probably by an extreme far-left Democrat.  
There are only a couple of scenarios I can imagine in which Trump remains in office, one of them being a major war which might require him to retain the presidency so the globalists can finish out a regime change agenda in nations like Iran or Venezuela.  This could, however, be pursued under a Democrat president almost as easily as long as Trump and his elitist cabinet lay the groundwork beforehand.  As in 2007/2008, it is unlikely that the mainstream would admit to a downturn that is not coming soon. Using the behavior of the media and of banking institutions as a guide, we can predict with some measure of certainty a crisis within the economy in the near term. Clearly, a major breakdown is slated to take place before the election of 2020, if not much sooner.
——————————————–
Now even one of the biggest banks in the entire country is openly admitting that a "slowdown" is upon us.  Over the past week or so, the mainstream media has been filled with chatter about the possibility of a recession and what that would mean for the Trump campaign in 2020, and we continue to get more evidence on a daily basis that economic activity REALLY IS

DECELERATING

.  All of the numbers are pointing in the same direction, and I am going to share some brand new figures with you in this article.  But first, I want to address what Morgan Stanley just released to the public.  In a note that was just published, Morgan Stanley's chief economist unequivocally stated that "the wheels for a slowdown are in motion"… (

READ MORE…

)
——————————————–
I can't say it any stronger. If I really see MMT coming, I will reposition my portfolio to heavily weight gold, real estate, and a few biotech companies. I simply can't imagine a more dire economic scenario. Many participants had read my analysis of the potential for $45 trillion worth of US debt by the end of the 2020s.
When I started talking about the potential for $20 trillion of additional quantitative easing, it was clear the question made some uncomfortable.
There was general agreement that neither political party can balance the budget. The latest "deal" between Trump and Congress raised spending $320 billion over the next two years.
The previous "sequester" deal that at least tried to limit spending is out the window. With it will go any control on the spending process. Current deficit projections will seem mild compared to what we actually get.
As I said a few weeks ago, using CBO projections from earlier this year and assuming one recession, the national debt would rise to almost $45 trillion by the end of the 2020s.
This new deal will add at least another $1.5 to $2 trillion to that amount. If there is a second recession, we would be looking at north of $50 trillion.
We don't have $40 trillion, let alone $50 trillion, to put into federal debt. It would crowd out all funding for productive private enterprises and sharply reduce GDP growth. Which is why I expect to see massive, currently inconceivable amounts of quantitative easing.
Wile E. Coyote and the Federal Reserve share a lot of similarities. Just as Wile is always trying to catch the Road Runner, the Federal Reserve and other central banks have been trying for 10 years to trigger a self-sustaining economic expansion, i.e. an expansion based on the self-reinforcing dynamics of increasing productivity driving increasing wages which then fuel consumption and investment in productivity, and so on.
But all the central banks' intricate plans have failed, and so they are having a Wile E. Coyote moment of impending doom. The Acme Brand detonator they counted on—negative interest rates—has failed to spark a self-sustaining expansion, and all the Fed's convoluted schemes—Operation Twist, buying a trillion dollars in sketchy home mortgages, etc.—failed to catch the prize.
And so the Fed was only able to raise rates, more or less at the last minute, by 2%— a pathetic admission that even after a decade of central bank-dependent expansion, the Fed couldn't even raise rates into positive territory, i.e. above the official rate of inflation.
While the other central banks are falling into the abyss, the Fed is clinging to the edge of the cliff by its fingertips. Having failed to spark a self-sustaining expansion, now the Fed is left with two dismal choices: either let go and fall into the abyss of negative interest rates—doing more of what's failed miserably—or cling on and keep rates at 2% so there's some policy response left when the global recession inevitably washes up on America's shores.
Whatever the Fed chooses to do, it's already failed. The Road Runner of self-sustaining expansion got clean away, and the Fed is left holding the ominously ticking Acme Brand detonator.
…TWO REALITIES.
The market fully expects central banks to be dovish.

And the market is relying on that fact for its investing thesis.
Yet deep down inside, investors worry, probably even know, that further monetary policy stimulus will be of dubious value in actually getting the global economy moving at a quicker pace. Expensive money is not what ails us.
Trading volumes remain, understandably, very low. Earlier in the week, that didn't mean there weren't things to be learned from the price action. Whatever today brings should probably be taken with a little bit more wariness. Traders have a tendency to talk themselves into all sorts of notions when the event they have been preparing for suddenly looms.
A few days ago, everyone was sure exactly what Fed Chairman Jerome Powell was going to say and what the central banks were going to do. Today will be about traders torturing themselves by questioning those assumptions. Whether they have been right or wrong in formulating their expectations, nothing in Wednesday's Fed minutes nor this morning's PMIs will change what ends up happening in September.
With all eyes focused squarely on Germany's dismal PMI prints, which have been in contraction for over half a year, the investing public forgot that the US economy is similarly slowing down. And moments ago it got a jarring reminder when Markit reported that the US manufacturing PMI unexpectedly tumbled into contraction territory, down from 50.4 last month, and badly missing expectations of a 50.5 rebound. This was the first print below the 50.0 expansion threshold for the first time since September 2009.
But wait, there's more, because whereas until now the US services segment appeared immune to the slowdown in US manufacturing, in August the service PMI tumbled to 50.9, down from 53.0 in July, matching the lowest print in at least 3 years, and well below the 52.8 consensus expectation.  According to Markit, subdued demand conditions continued to act as a brake on growth, with the latest rise in new work the slowest since March 2016. This contributed to a decline in backlogs of work for the first time in 2019 to date.
"August's survey data provides a clear signal that economic growth has continued to soften in the third quarter. The PMIs for manufacturing and services remain much weaker than at the beginning of 2019 and collectively point to annualized GDP growth of around 1.5%.
"The most concerning aspect of the latest data is a slowdown in new business growth to its weakest in a decade, driven by a sharp loss of momentum across the service sector. Survey respondents commented on a headwind from subdued corporate spending as softer growth expectations at home and internationally encouraged tighter budget setting.
"Business expectations for the year ahead became more gloomy in August and remain the lowest since comparable data were first available in 2012. The continued slide in corporate growth projections suggests that firms may exert greater caution in relation to spending, investment and staff hiring during the coming months."
An interesting nuance as noted by Viraj Patel of Arkera, is that while German economic sentiment may be troughing (granting in very contractionary territory), it is now America's turn to slump into recession:
Interesting PMI day so far. Eurozone (Germany) beats… and US disappoints. Is relative tide changing? Lot of pessimism over Eurozone economy versus US Trump tax cut 'sugar high' + tariff war slowdown still very much in process with more room to go. $EURUSD cyclically higher now? pic.twitter.com/RsRZDZQuYS
A few days ago we reported that the easiest way for Trump to get the Fed to launch QE was to i) start a global economic war or ii) send the US economy into recession. Based on today's data, Trump is making great progress on the latter, and we are confident the former can't be far behind.
——————————————–
Terrence McCoy
RIO DE JANEIRO – In the height of daytime on Monday, the sky suddenly blackened, and day became night in Sao Paulo.
Sure, smog is bad in the Western Hemisphere's largest city, where traffic jams can stretch for dozens of miles. But not this bad. What was going on? Was the end near?
"Apocalypse!" one person cried on Twitter.
"The final judgment is coming!" another added.
"Mordor," one more person intoned.
Experts tried to puzzle it out, but their conclusions at times appeared to be conflicting, deepening the mystery. The National Institute of Meteorology said the city, which sits at an elevation of 2,500 feet, was "inside a cloud." Others explained that it was a cold front. Metsul, a Brazilian meteorology company, said the culprit was smoke that had come in from forest fires in Bolivia, Paraguay and remote parts of Brazil.
In fact, it appeared to be a combination of all three factors – clouds, smoke and a cold front – that ushered in the smoke from distant reaches, plunging the city into darkness in the middle of the day.
"The smoke didn't come from fires in the state of Sao Paulo, but from very dense and wide fires that have been happening for several days in [the state of] Rondonia and Bolivia," Josélia Pegorim, a meteorologist with Climatempo, said in an interview with Globo. "The cold front changed direction and its winds transported the smoke to Sao Paulo."
The news highlighted the number of forest fires in Brazil, which rose by more than 80 percent this year, according to data released this week by the National Institute of Space Science.
"This central Brazil and south of the Amazon Rainforest region has been undergoing a prolonged drought," Alberto Setzer, a researcher at Inpe, said in an interview with local media outlets. "And there are some places where there has not fallen a drop of rain for three months."
Most of the Amazon was once considered fireproof, but as climate change and deforestation remakes the world, wildfires are increasing in frequency and intensity, recent research has shown.
This is the sky of the biggest city in the country of Brazil, São Paulo at 2-3 P.M.
THIS IS FRIGHTENING!
pic.twitter.com/Xygb4NeikW
"Wildfires in the Amazon are not natural events, but are instead caused by a combination of droughts and human activities. Both anthropogenic climate change and regional deforestation are linked to increases in the intensity and frequency of droughts over Amazonia," British researchers wrote this year in the Conversation.
——————————————–
WEBPAGE ADMINISTRATOR:  This is the birth pangs, the prelude to  –future judgments by God in the Tribulation; i.e.
Rev. 8:7 The first angel sounded, and there followed hail and fire mingled with blood, and they were cast upon the earth: AND THE THIRD PART OF TREES WAS BURNT UP, AND ALL GREEN GRASS WAS BURNT UP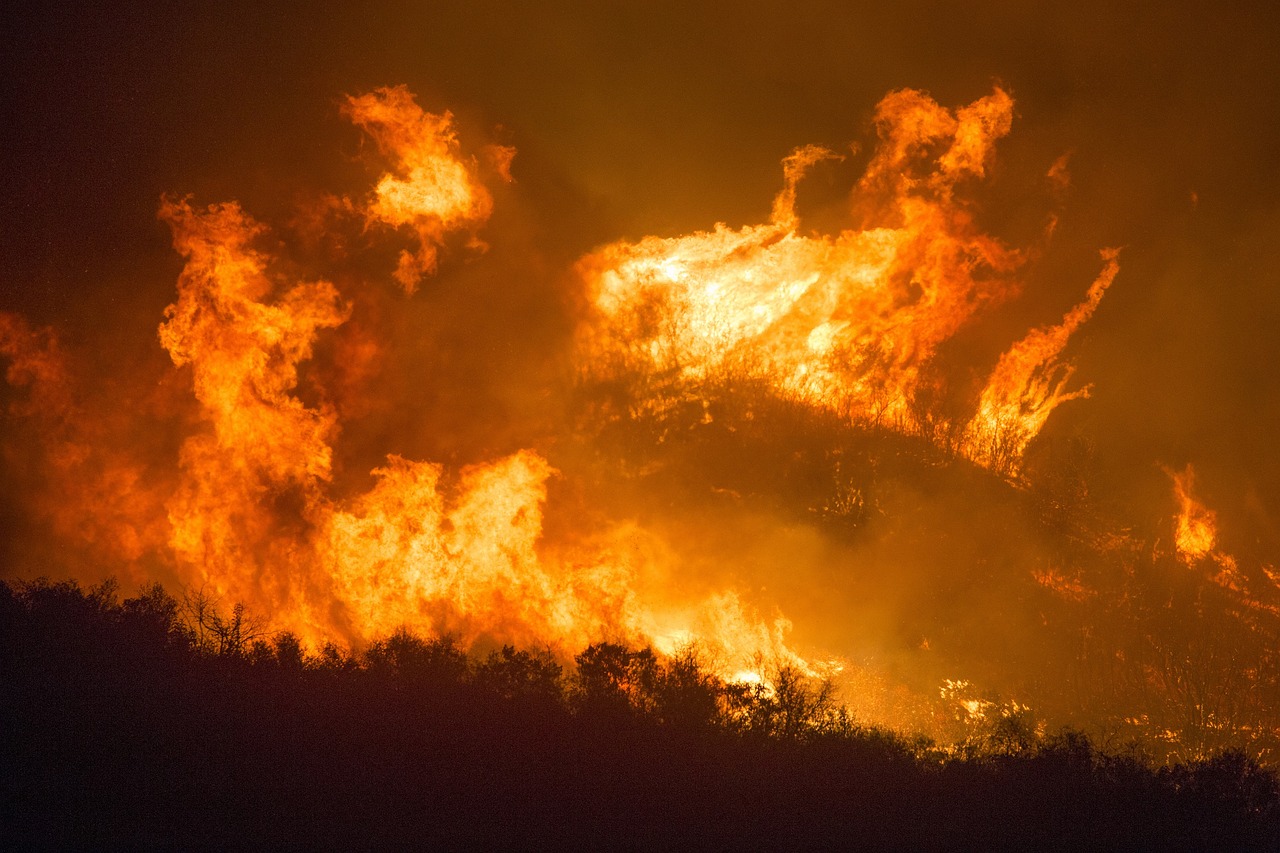 We have never seen anything quite like this.  This week the skies above Brazil's largest city turned black in the middle of the afternoon due to the massive wildfires that are currently raging in that country.  But the wildfires aren't actually happening anywhere near São Paulo.  In fact, the smoke that turned the skies black actually came from fires that were happening more than 1,000 miles away.  Can you imagine how powerful the fires have to be in order to do that?  And it isn't just Brazil – right now horrific fires are scorching vast stretches of our planet from South America all the way up to the Arctic.  Some of the fires are producing so much smoke that you can actually see it from space.  And in the process, irreversible damage is being done to our ecosystems. (READ MORE…)
——————————————–
YOUTUBE HATES CHRISTIANS

,
WE CAUGHT THEM
Dear Reader,
Did you ever hear something that left a pit in your stomach — a really BAD sinking feeling?
Well, if what we're about to share with you doesn't fill you with that same sick-to-your-stomach feeling, it should.
Something happened . . .
And it's not only terrifying — it's inconceivable.
Two weeks ago, while the news media was busy reporting on the Trump-Cummings battle, something devious was quietly afoot. It went largely unreported in the mainstream media (of course). But . . . 
Religion — specifically Christianity — was burned at the stake.
See, there's a faith-based organization called the Mighty Oaks Foundation, which serves over 100,000 active and military veterans.
Last week, the founder and president of Mighty Oaks, U.S. Marine veteran Chad Robichaux, reported something beyond disturbing.
Mighty Oaks was flagged for promoting "unacceptable content."
SAY WHAT?
See, YouTube blocked a Mighty Oaks ad, telling the organization, "The following keywords violate Google Ads advertising policies." It asked them to "remove the unacceptable content to continue."
Now are you ready for this, because it's gonna knock your socks off.
The "unacceptable" word was "Christian." Yes, that's right: Christian.
Not only that . . . YouTube LIED.
Here's how we KNOW they're targeting Christians.
YouTube is claiming they don't allow advertisers to target based on religion . . .
Well guess what? A funny thing happened when Robichaux plugged in another word . . .
It was the word "Muslim," and do you know what happened?
Nothing. That's because YouTube didn't flag it.
This is clear and present targeting of Christians, plain and simple . . .
Just like David Horowitz reveals in his explosive new bestseller, Dark Agenda: The War to Destroy Christian America.
And boy does this eye-opening book ever lay it on the line.
David Horowitz, a Jew, calls it like he sees it in his new #1 bestseller. 
In fact, David, a famous thinker and New York Times bestselling author, was planning on writing a book warning of a future persecution against Christians and Jews.
But as he investigated the matter, he discovered the persecution against Christians is already here.
It started. And attacks on religious Jews, including mass killing, have already begun.
In his blockbuster new book, Horowitz details the twisted trail of lies, deceit, and disgrace that has led to a growing hatred of Christians and Jews in our country.
When you read your FREE COPY, you'll see how far the secular left will go to push God out of America — our schools, our nation's capital, and even our homes.
If you doubt this even one iota, simply look at some extreme Democrats and listen.
Recently, California Sen. Kamala Harris, a presidential candidate, and Sen. Mazie Hirono of Hawaii took new U.S. District Court Judge Brian Buescher to task.
Want to know why?
Because he's CATHOLIC!
Listen, Buescher belongs to the Knights of Columbus. The women proceeded to tear apart the Knights and their opposition to abortion and same-sex marriage.
Harris and Hirono seem to suggest that a religious test should be imposed on anyone nominated to the federal bench.
Talk about a direct violation of Article VI of the Constitution!
"No religious test shall ever be required as a qualification to any office or public trust under the United States."
Our country was founded on Judeo-Christian principles — and the left is ready to obliterate them. And some of these people are running for president of the United States!
This probably shouldn't come as a shock — not if you read Dark Agenda and have been following the stunning anti-Christian, anti-Jewish crusade of crazy leftists.
Listen . . .
We stockpiled Dark Agenda when it was released because after seeing what's taking place in our country . . .
After witnessing the trashing of God and religion these past few years and, in particular, the targeting of Christians and Jews . . .
We feel compelled to share this shocking yet eye-opening bestseller with you.
Dark Agenda reveals everything about how this war started and how the left's one true goal is to create a Godless society.
Horowitz gives you chapter and verse on who's being targeted, where they're being targeted, and the religious whitewashing in Washington that you had no idea was taking place —you're not alone because most people don't know.
Leftists are pulling this crap quietly under the radar — piece by piece, shredding God, religion, and Christianity to pieces until there's nothing left.
This has been their plan all along. Just wait until you see where it all started.
Look, your religious freedom is at stake under these far-left wingnuts. It's time to do something about it.
Please don't say we didn't warn you.
Your friends at Newsmax
P.S. Tucker Carlson is urging all of his viewers to get David Horowitz's book. Ditto for Mike Huckabee. Listen, don't think, "Oh, I'll wait another day to get my FREE COPY . . . there will be plenty of copies." We can't guarantee we will have any more FREE BOOKS later today, tomorrow, or the next day. Dark Agenda has been flying out of here faster than we can stockpile more copies. We urge you to click here now for your FREE COPY.
——————————————–
THE FATE OF ISLAM IN BIBLE PROPHECY
There is much about the Arabs in Bible prophecy, but the Bible is relatively silent about Islam. This may seem to be a strange statement to some because many people identify the Arabs with Islam.
It is true that most Arabs are Muslims, but not all. There are, for example, Christian Arabs. But the Arab world (approximately 300 million people) constitutes a minority of the 1.4 billion people in the Muslim world. The largest Muslim country in the world is Indonesia (242 million). Other large non-Arab Muslim countries include Pakistan (162 million) and Bangladesh (144 million). Countries in the Middle East that are Muslim but not Arab include Turkey (70 million) and Iran (68 million).
THE ARABS IN PROPHECY
Concerning the Arabs, the Bible tells us that they will come against Israel in the end times and try to take its land. God will respond by rendering the Arab lands desolate (Ezekiel 35:6-7, 15), probably through the military campaigns of the Antichrist.
But the future for the Arabs is not all bleak. Like the Jews, a remnant of the Arabs will emerge from the Tribulation with their hearts turned to the one and only true God, Yahweh (Jeremiah 12:14-17).
The most remarkable prophecy concerning the future salvation of an Arab remnant is contained in Isaiah 19:16-25. Isaiah says that when the Lord strikes Egypt and Assyria, they will turn to Him and He will have compassion on them and "heal them." Isaiah then presents an incredible picture of Egypt, Assyria, and Israel living together in peace, worshiping the same God!
A SPECIFIC PROPHECY INVOLVING MUSLIM COUNTRIES
With regard to Islam in general, the only clear prophecy I see about it in the Scriptures has to do with the end time invasion of Israel that will be led by Russia (Ezekiel 38 and 39). The Bible states that Russia will be accompanied by certain specified allies (Ezekiel 38:1-6). The allies include Persia (modern day Syria, Iraq, Iran, and Afghanistan), Ethiopia, Put (Libya), Gomer (Western Turkey), and Beth-togarmah (Eastern Turkey). As you can see, all of these are countries with a Muslim majority.
Ezekiel 39 reveals that these forces will be destroyed supernaturally by God upon the hills of Israel (Ezekiel 38:18-23 and 39:3-6). Even the Jewish people will realize that the forces were destroyed by God (Ezekiel 38:23 and 39:7).
THE END TIME WORLD RELIGION?
Some Bible prophecy teachers are now asserting the belief that Islam will serve as the end time world religion of the Antichrist. This assumption is based in part on the fact that some Muslims are looking forward to the appearance of a Messiah called the Mahdi, and because of this expectation, some theorize that the Muslim world will rally to the Antichrist when he appears, thinking that he is their Mahdi.
I don't believe this expectation is valid. First of all, the concept of a Mahdi is held by less than ten percent of all Muslims. It is an aspect of Shiite eschatology, not the vast majority of Muslims who are Sunnis.
Second, the Bible teaches that the Antichrist will be of Roman descent and will rise to power in Europe. I can't imagine the Muslim world rushing to endorse any European leader. Africa, Asia, and Latin America have spent the past 200 years divesting themselves of European colonial rule. They are not going to willingly submit themselves to such rule again, regardless of how dynamic, charismatic, and wise the Antichrist may prove to be.
There is a third problem with the idea that the Antichrist will utilise Islam as his world religion. I believe the Bible teaches that the initial religion that the Antichrist will use is Catholicism. This seems to be the teaching of Revelation 17 where the religion of the end times is represented by a whore who is "drunk with the blood of the saints and with the blood of the witnesses of Jesus" (Revelation 17:6). She is pictured as being seated on "seven mountains" (Revelation 17:9). This is imagery which, in the apostle John's time, could only be referring to Rome. This identification is affirmed at the end of the chapter when John asserts that the woman is also "the great city which reigns over the kings of the earth" (Revelation 17:18). Again, in John's time, this could only be a reference to Rome.
The Bible further indicates that at some point in the Tribulation, possibly at its mid-point, the Antichrist will turn against the Catholic Church and destroy it, probably because it becomes a threat to his absolute power (Revelation 17:16). He and his False Prophet will then create a new religion that will mandate the worship of the Antichrist as god on earth (Revelation 13:11-17).
AN INTOLERANT RELIGION
Of all the world's religions, Islam is the most intolerant. It simply will not tolerate the existence of other religions in areas that it controls. I cannot even imagine any European leader associated with the Catholic Church being able to secure the allegiance of Muslims. I believe, instead, that the Muslim world will revolt against any attempt of the Antichrist to bring them within his domain. The result will be a war (Revelation 6) that will ultimately escalate into an all-out nuclear conflagration (Revelation 8 and 9). These wars result in the death of half of humanity during the first three and a half years of the Tribulation.
In summary, I believe the most likely scenario of the end times is one whereby God will unleash the Antichrist on the Muslim world and will judge them through him. The Antichrist will be successful. We are told in Revelation 13:7-8 that he will become the first true dictator over all the world because he will achieve "authority over every tribe and people and tongue and nation" (Revelation 13:7).
The Antichrist's victory will be a Pyrrhic one. A third or more of the earth will be left in ruin. And the one-half of humanity left alive will suffer radiation poisoning, resulting in people covered with sores that will not heal (Revelation 16:2 and 11).
At the middle of the Tribulation, when the Antichrist desecrates the Temple in Jerusalem and declares himself to be god, the Jews will reject him, and he will become obsessed with annihilating them during the last three and a half years of the Tribulation (Revelation 12:13-17). He will be successful in killing two-thirds of them (Zechariah 13:7-9).
While he is obsessed with the Jews, the Bible indicates that his worldwide empire will fall apart at the seams. The nations of Asia will revolt against him, sending an army of 200 million to overthrow him (Revelation 9:13-18, Revelation 16:12, and Daniel 11:44-45).
So, in summary, I would contend that Islam will suffer its judgement during the Tribulation when it refuses to accept the Antichrist as the world's leader.