Syrian War: US And Israel Prepare For Coordinated Campaign Against Iranian Forces
On April 8, the Trump administration announced that it is designating Iran's Revolutionary Guards as a "terrorist organization," accusing the force of financing and promoting terrorism in the region. Earlier, Advisor to the Secretary of State Brian Hook claimed that Iran is responsible for the deaths of at least 608 US service members in Iraq in the period from 2003 to 2011. In response, the Iranian Supreme National Security Council designated the United States Central Command a "terrorist organization". These developments show that Washington has taken course on a new round of the escalation with Iran. In the coming months, the US will likely undertake more measures both diplomatic, economic and maybe even military to increase pressure on the Iranian government and to limit its influence across the Middle East. An expanded US-Israeli campaign against supposed Iranian targets in Syria is named as one of the options that are currently considered by the US.
——————————————————
U.S. will be Philippines "Only Military Ally" as as China threatens isle

U.S. will be Philippines "Only Military Ally" as as China threatens isle The United States will remain the Philippines' only military ally, Foreign Affairs Secretary Teodoro Locsin said, amid an increased Chinese presence near a disputed island in the South China Sea. The US is "the only world power that is a bastion of democracy and human rights, is and will remain our only military ally. We don't need any other", he tweeted on Sunday (April 7).
——————————————————
Most SHOCKING Message for the World..Warning…Do not Worship the Image of the Beast 666

5G Technology..The Antichrist and the Image of the BEAST The Bible says this is exactly how it would look before the End The Most SHOCKING Message for the World…The Soon coming Antichrist…The Unstoppable World Tyrant…Image of the Beast…Mark of the Beast.
Revelation

13:16

-18 16 He causes all, both small and great, rich and poor, free and slave, to receive a mark on their right hand or on their foreheads, 17 and that no one may buy or sell except one who has the mark or the name of the beast, or the number of his name. 18 Here is wisdom. Let him who has understanding calculate the number of the beast, for it is the number of a man: His number is 666.
——————————————————
LATEST WORLD NEWS – ARTICLES WEDNESDAY APRIL 10th 2018
PUT YOUR TRUST AND FAITH IN JESUS CHRIST (OUR SAVIOUR):
(Romans 12:2) to seek God's will, the Lord says, "Do not worry about what you'll eat or drink or wear. But seek first His Kingdom and His righteousness and all these things will be given to you as well"
THIS IS THE END RESULT OF A CHRISTIANS PATIENCE AND LOVE FOR THE LORD JESUS CHRIST
Rev. 3:10 Because thou hast kept the word of my patience, I also will keep thee from the hour of temptation, which shall come upon all the world, to try them that dwell upon the earth:
——————————————-
DAILY CHRISTIAN BIBLICAL QUESTIONS AND ANSWERS:
——————————————-
GOD WITH US
QUESTION:    I have a co-worker who is a Jehovah Witness. He states they believe that Jesus is the archangel Michael. He questioned that if Jesus was God, why did he pray to himself. And he also referenced that when the disciples asked when he would come again, he said only the Father knows the time and hour of his return. Could you help me in showing him, with scriptural evidence, that Jesus was God with us?
ANSWER:    Remember that Jehovah's Witnesses don't believe in the Trinity, so they have to find some other identity for Jesus. But John said that Jesus was God in John 1:1. Paul said so in Colossians 1:15-20, and the writer of Hebrews agreed in Hebr. 1:3. Jesus claimed to be God in John 10:30, and God Himself called Jesus God in Hebrews 1:8.
When Jesus agreed to become a man to save mankind, He "put off" His godliness and became fully man, dependent on the Father and on the Holy Spirit, just as you and I are. While on Earth He prayed just like He taught us to pray, "knew" only those things that man could know and performed only those works man can perform (John 14:12).
In the first verse of Revelation we learn that all things were revealed to Him after He arrived in Heaven to take His place at the right hand of God, far above all rule and authority, power and dominion (ranks of angels) and every title that can be given, whether in this age or the next (Ephes. 1:21). He is as much superior to the angels as the name He has inherited is to theirs. (Hebr. 1:4)
To deny the deity of Jesus is to deny what's been revealed about Him through God's Word.
LIFE BEFORE CONCEPTION?
QUESTION:    Does it say anywhere in the Bible if souls are created at conception or if there exists a finite number of souls that were created at the beginning of time?
ANSWER:    The way I read Psalm 139 every part of us came to be at the moment of our conception. Although God was aware of every day of our existence before time began, and knows exactly how many of us there'll eventually be and which of us will choose Him, it's because He's outside of time and knows the end from the beginning. To say that any part of our being existed prior to our conception is to flirt with the idea of a pre-existence, a concept from Eastern Mysticism that can't be supported Biblically.
IS THERE LIFE BEFORE LIFE?
QUESTION:    Jeremiah 1:5 states the Lord knew Jeremiah before He formed him in the womb. Are there any more verses in scripture that show we were with God in spirit form before we were born?
ANSWER:    Life begins at conception. (Psalm 139:13) The notion of a pre-existence, or spirit life before birth, comes from Mormon doctrine and is not Scriptural. When God stated that he knew Jeremiah before He formed him, He was saying that knowing the end from the beginning, He had already seen all of Jeremiah's life and had set him apart to be a prophet to Israel before he was even born.
LIFE BEFORE SIN
QUESTION:    I am having a hard time trying to understand that animals such as sharks didn't eat fish until Adam & Eve sinned and would have possibly eaten something like seaweed or other oceanic plant life. It sounds like a really weak argument especially since sharks are clearly designed to be brutal killing machines. I don't understand how sharks could possibly get all the nutrients it needed from plant life one day, and then everything changed due to sin and it's body needed blood the day after…Just like I can't see a rattlesnake, another animal clearly designed to kill, picking off a flower before the Fall and then taking down a mouse after.
I understand that the Bible is a book of salvation and doesn't always give specifics on non-salvation issues, but there has to be a way to reconcile this somehow.
I'm trying to believe everything the Bible teaches and thus that no death existed before the Fall, but any answer I've heard really seems to be far fetched and without substance. Any ideas? Thanks!
ANSWER:    If man was apparently a vegetarian before the flood, but became an omnivore after-ward, a feared hunter of his former companions on Earth, why couldn't a shark make a similar transition? If wolves and lions will be content eating straw alongside their former prey (Isaiah 65:25) in the future, couldn't they have been changed into carnivores in the past as well? Eve didn't think it was strange to talk with a snake before the fall but we certainly would now.
We have no way of even speculating on the extent to which things were different before sin entered the world, nor the extent to which the restoration after the 2nd Coming will change things we take for granted now. All we know is what we see today.
————————————–
NEWS CLIPS OBTAINED FROM MANY SOURCES – INCLUDING

Tracking bible prophecy.org
Rapture Ready News
Prophecyupdate.Com
Main News Channels
End Times Headlines
Prophecyupdateblogspot.com
Stevequayle.com
Gracethrufaith.com
Nowtheendbegins.com
Other Christian Sites
(CLICK ON) LATEST DAILY NEWS CLIPS:
ISRAEL NEWS:
THE MIDDLE EAST PEACE PLAN IS "ANTI GOD" – (GOD WILL NOT ALLOW JERUSALEM TO BE DIVIDED).
1Th. 5:3 For when they shall say, Peace and safety; THEN SUDDEN DESTRUCTION COMETH UPON THEM, as travail upon a woman with child; and they shall not escape
ZECHARIAH 12:2-3
Zech. 12:2 Behold, I will make Jerusalem a cup of trembling unto all the people round about, when they shall be in the siege both against Judah and against Jerusalem.
Zech. 12:3 And in that day will I make Jerusalem a burdensome stone for all people: all that burden themselves with it shall be cut in pieces, though all the people of the earth be gathered together against it
I AM GOING TO MAKE JERUSALEM A CUP THAT SENDS ALL THE SURROUNDING PEOPLES REELING … Zech. 12:2
WORLD TERRORISM – WARS
GENERAL WORLD NEWS:
WORLD FINANCE:
MASSIVE EARTH CHANGES/EARTHQUAKES/VOLCANOES ETC:
2Chr. 7:13 If I shut up heaven that there be no rain, or if I command the locusts to devour the land, or if I send pestilence among my people;
2Chr. 7:14 If my people, which are called by my name, shall humble themselves, and pray, and seek my face, and turn from their wicked ways; then will I hear from heaven, and will forgive their sin, and will heal their land
CHRISTIAN AND RELIGIOUS WORLD NEWS:
EXTRA WORLD – ALTERNATIVE NEWS:
———————————————
WORLD PROPHETIC NEWS CLIPS/ARTICLES PRESENTATION – LATEST WORLD NEWS – ARTICLES WEDNESDAY APRIL 10th 2018
MIDDLE EAST WAR LOOMING THE BUILD UP TO PSALM 83  – ISAIAH 17 AND GOG OF MAGOG WARS EZEKIEL 38:
——————————————-
WHERE WE ARE CURRENTLY IN SCRIPTURE
Matt. 24:6 And ye shall hear of WARS AND RUMOURS OF WARS: see that ye be not troubled: for all these things must come to pass, but the end is not yet.
Matt. 24:7 FOR NATION SHALL RISE AGAINST NATION, AND KINGDOM AGAINST KINGDOM: and there shall be famines, and pestilences, and earthquakes, in divers places.
Matt. 24:8 All these are the beginning of sorrows
—————————————–
MAJOR WARS ON THE HORIZON
WORLD WAR 3
Matt. 24:6 And ye shall hear of WARS AND RUMOURS OF WARS:
Matt. 24:7 FOR NATION SHALL RISE AGAINST NATION, AND KINGDOM AGAINST KINGDOM:
ISAIAH 17/PSALM 83:
THE DESTRUCTION OF DAMASCUS and
Muslim Countries in the Middle East will launch an attack on Israel
JEREMIAH 49:
PROPHECY OF ELAM – (Attack on Iran's Nuclear Program
EZEKIEL 38 & 39
THE WAR OF GOG OF MAGOG – A coalition of Nations led by Russia, Iran, and Turkey to attack Israel
————————————-
"Jesus saith unto him, I am the way, the truth, andthe life: no man cometh unto the Father, but by me." (John 14:6)
TRIBULATION IS COMING AND THE REMOVAL OF THE CHURCH IS IMMINENT.
so won't you accept Jesus now and be removed from that event and live forever with Jesus in the Family of God?
2 "(For he saith, I have heard thee in a time accepted, and in the day of salvation have I succoured thee: behold, now is the accepted time; behold, now is the day of salvation.)" (2nd Corinthians 2:6)
——————————————-
RUSSIAN WARSHIPS ARRIVE IN THE PHILIPPINES AMID RISING SOUTH CHINA SEA TENSIONS
(CNN)Two Russian destroyers and a tanker have docked in the Philippines for a "goodwill visit" amid escalating tensions in the disputed South China Sea.
The destroyers Admiral Tributs and Vinogradov—classified as "large, anti-submarine ships"—docked in Manila early Monday, along with the Admiral Irkut, a "large sea tanker," according to the Philippine News Agency.
It is the second time this year Russian vessels have docked in the Philippines. In early January, three Russian naval ships docked in the Philippine capital for what was described as a visit to "further enhance and sustain the promotion of peace, stability and maritime cooperation."
The most recent arrival comes just months before the two countries are due to sign a naval cooperation agreement, likely in July, which will reportedly involve more joint training exercises and reciprocal port visits.
Russia and China have also been moving closer together in recent years, conducting joint military drills and signing economic deals, with both sides claiming relations are at their "best level in history."
Read More
Monday's Russia visit also comes amid the annual Balikatan joint exercises between the Philippines and US, which finish April 12.
The Balikatan drills feature more than 7,500 troops, F-35B stealth fighters and include live-fire training and amphibious operations among other events.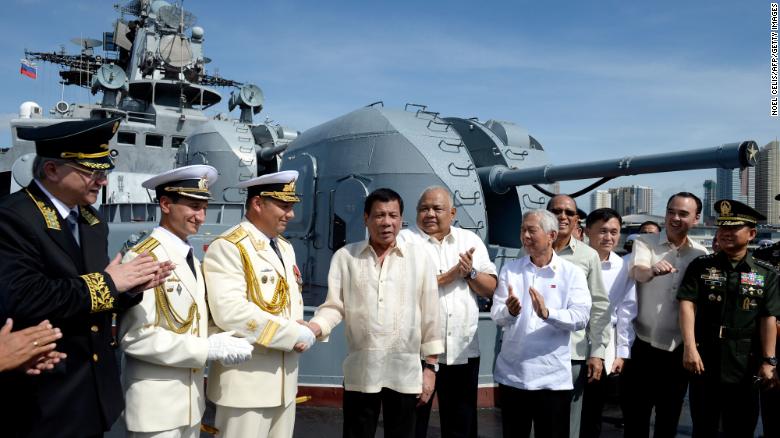 Mikhailov (3rd L) onboard the Russian anti-submarine navy ship Admiral Tributs in Manila on January 6, 2017.
Philippines' President Rodrigo Duterte (4th L) shake hands with Russia's Rear Admiral Eduard Mikhailov (3rd L) onboard the Russian anti-submarine navy ship Admiral Tributs in Manila on January 6, 2017.
While the Russian ship visit is not to that scale, Moscow's growing ties with the Philippines and presence in the region come at a time of increased tensions in the South China Sea.
The Philippines government said hundreds of Chinese vessels, including some military ships, had been spotted around Thitu Island in the Spratly chain, which is controlled by Manila but claimed by Beijing.
The Chinese flotilla began appearing around Thitu in December and January, about the time Manila began construction on the contested maritime feature.
In a speech Thursday, Philippines President Rodrigo Duterte warned Beijing to leave Thitu Island alone, threatening military action in response to any Chinese aggression.
"Let us be friends, but do not touch Pagasa Island and the rest," Duterte said, according to CNN Philippines, using the Philippine word Pagasa for Thitu. "If you make moves there, that's a different story. I will tell my soldiers, 'Prepare for suicide mission'."
src="//cdn.cnn.com/cnnnext/dam/assets/160217013519-china-south-china-sea-woody-island-large-169.jpg">
Why it's so tense in the South China Sea 01:17
China and the Philippines are just two of the many countries who lay claim to large portions of the South China Sea, along with Vietnam, Malaysia and Brunei. In a bid to reinforce their claim on the territory, China has built and militarized artificial islands across the important shipping lane.
Tensions cooled after Duterte pursued a closer economic relationship with Beijing. Manila also turned to Moscow for support, with Duterte shifting his country's previously close ties to Washington
————————————-
The Islamic Republic of Iran is looking for new ways to link their capital, Tehran, with Syria's Damascus and Iraq's Baghdad. One of the proposed actions they are taking to make this a reality is the construction of new highways and rail systems that would link Syria with Iran via Iraq.
Iran's Vice President Eshaq Jahangiri in statements this week underlined his country's determination to build new roads and railways in order to link the Persian Gulf states to Syria and the Mediterranean region.
"Iran which understands the political and economic conditions and developments believes that the necessary capacities for cooperation in transferring power and electricity, building roads and etc. will be provided and we hope that obstacles will be removed through the presence of the private sector," Jahangiri said, addressing the joint Iran-Iraq economic-trade forum in Tehran on Sunday.
He noted that building the Shalamcheh-Basra railway was one of the agreements made during the recent visit by the Iraqi delegation to Iran.
Jahangiri stressed the importance of developing a cross border highway between the two countries in order to boost trade and commerce, while also protecting their interests in the region.
"We will connect the Persian Gulf from Iraq to Syria and Mediterranean via railway and road,"Jahangiri said.
The Shalamcheh-Basra railway project is said to cost around 2.22 billion rials and once implemented, it will link the Iranian railway to Syria through Iraq.
For years since the start of the war in Syria, analysts have speculated what the so-called "Shia land bridge" or Iran-Iraq-Syria corridor to the Mediterranean would look like: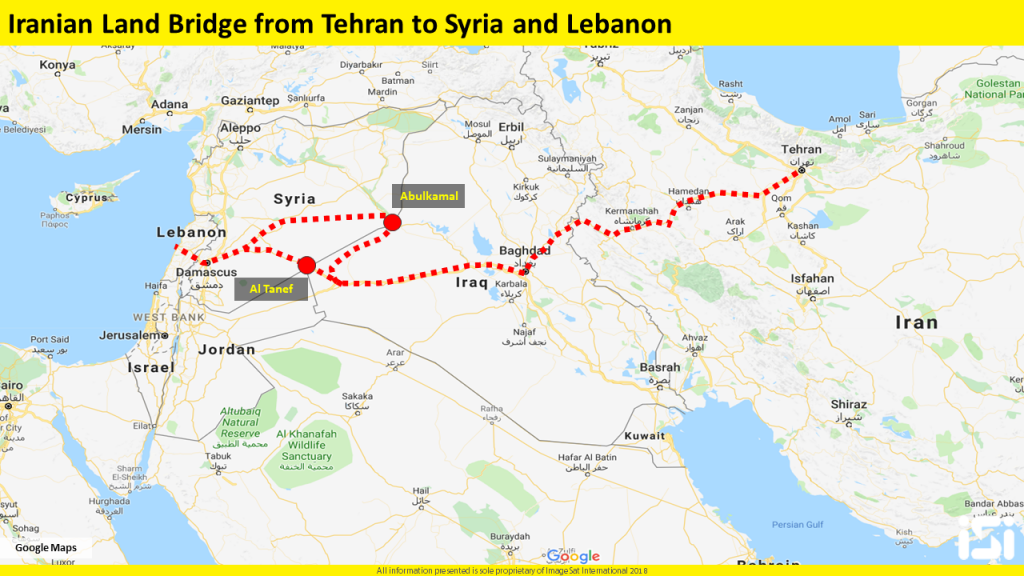 Director General of the Railway and Technical Structures Department at the Islamic Republic of Iran Railways (RAI) Mohammad Moussavi said in December that Iran was to build a movable railway bridge over the Arvand River as part of the 35-kilometer Shalamcheh-Basra railway project for linking Iran-Iraq railway network.
In addition to their railway and highway projects, Iran is also rumored to be planning to build a naval base in Syria's western coast.
————————————-
THE TRUMP ADMINISTRATION TAKES UNPRECEDENTED STEP AND LABELS IRAN'S REVOLUTIONARY GUARDS CORPS AS A FOREIGN TERRORIST ORGANIZATION
President Trump announced the designation Monday morning, in a shift from the decades in which the U.S. has viewed Iran as a state sponsor of terrorism."This unprecedented step, led by the Department of State, recognizes the reality that Iran is not only a State Sponsor of Terrorism, but that the IRGC actively participates in, finances, and promotes terrorism as a tool of statecraft," Trump said in a White House statement. "The IRGC is the Iranian government's primary means of directing and implementing its global terrorist campaign."
The Trump administration is designating Iran's Islamic Revolutionary Guard Corps as a foreign terrorist organization, taking an unprecedented step as it seems to increase pressure on Iran's regime.
It was long overdue, but today President Trump took another unprecedented step and formally designated Iran's elite Revolutionary Guard Corps as the terror group that it is. Now, any country that has dealings with the group could face criminal charges for aiding and abetting terrorism. Naturally, Iran is furious. This is not the type of treatment they had come to enjoy when Barack Obama was president. Not by a long shot.
The timing for this couldn't be better when you consider that Iran right at this moment is working furiously to establish an expanded military stronghold in Syria from which to continue its attacks on the nation of Israel. Add to this Trump's recognizing Israel's sovereignty over the Golan Heights, and you can see why Iran might be upset. This is why I voted for Trump and why he continues to have my support. This move will have the added value of boosting Netanyahu's popularity at the polls tomorrow. Go get'em, Bibi!
U.S. Labels Iran's Revolutionary Guard Corps As A Foreign Terrorist 

Organisation
FROM NPR: The move seems certain to bring a new level of tension between the two countries, as Iran's leaders have said they will retaliate in kind. Iranian lawmakers have prepared legislation that would label part of the U.S. military as a terrorist group, according to Iran's state-run IRNA news agency.
President Trump announced the designation Monday morning, in a shift from the decades in which the U.S. has viewed Iran as a state sponsor of terrorism.
"This unprecedented step, led by the Department of State, recognizes the reality that Iran is not only a State Sponsor of Terrorism, but that the IRGC actively participates in, finances, and promotes terrorism as a tool of statecraft," Trump said in a White House statement. "The IRGC is the Iranian government's primary means of directing and implementing its global terrorist campaign."
In response, Iran's Foreign Minister Mohammad Javad Zarif urged his government to add the Pentagon's U.S. Central Command to its own list of terrorist organizations, IRNA reports.
With the U.S. designation, anyone who deals with the Revolutionary Guard could run the risk of facing criminal charges, such as aiding or supporting a terrorist group. "If you are doing business with the IRGC, you will be bankrolling terrorism," Trump said.
It's the first time the U.S. has declared an element of a foreign government to be a terrorist organization, the Trump administration says. The Revolutionary Guard now joins ISIS, Boko Haram and other groups on the U.S. list of terrorist groups.
Laying out the administration's reasoning for the designation, Secretary of State Mike Pompeo listed a string of attacks and violent plots, which he said gave "ample justification for today's decision."
Among the cases cited by Pompeo were two that directly involved the U.S.: the 1996 Khobar Towers apartment complex bombing in Saudi Arabia, which killed 19 American service members and wounded dozens more; and a 2011 case in which the Obama administration said it had foiled a Quds Force plot to kill the Saudi ambassador to the U.S. in a bombing in Washington, D.C.
Today, the White House sees the IRGC as an "active and enthusiastic participant in acts of terror," a senior administration official said in a background briefing held shortly before Pompeo discussed the announcement Monday morning.
Accusing Iran of using the Revolutionary Guard to try to reshape the Middle East in its favor, another official said the group has amassed too much power and money, which he said it then uses to support attacks on Americans and U.S. assets.
"The Middle East cannot be more stable and peaceful without a weakened IRGC," the official said.
In recent months, the Trump administration has sought to impose "maximum pressure" on Iran's regime, after abandoning the nuclear deal brokered during the Obama administration. Even before news emerged of a possible terrorism designation for the Revolutionary Guard, more than 970 Iranian entities and individuals were already under U.S. sanctions.
But the administration is now taking the rare step of designating another country's military force as a terrorist group.
"In the past, part of the Guard Corps, known as the Quds Force, has been targeted by Washington," NPR's Peter Kenyon reports. "Iran's Foreign Minister Mohammad Javad Zarif tweeted that President Trump 'should know better than to be conned into another U.S. disaster.' "
Zarif and other Iranian officials sharply criticized the U.S. plan over the weekend, after news emerged that an official U.S. announcement against the Revolutionary Guard was imminent. READ MORE:
US labels Iran's elite Revolutionary Guard Corps a 'terror group' | Al Jazeera English
The United States designated Iran's elite Revolutionary Guard Corps (IRGC) a foreign "terrorist organisation", President Donald Trump said on Monday, marking the first time Washington has formally labelled another country's military a "terrorist" group.
—————————————
Meeting with Russian President Vladimir Putin in Moscow on Monday, Turkish President Recep Tayyip Erdogan once again affirmed "everything is done" regarding Turkey's moving forward with its purchase of the Russian S-400 air defense system, despite persistent condemnations and threats from Washington. 
Echoing similar statements of the past weeks in the face of US ultimatums related to blocking orders of Lockheed's F-35 stealth fighter, Erdogan said, "those who ask or suggest we backtrack don't know us," and told reporters further  after meeting with Putin, "If we sign a deal on an issue, that's a done deal. This is our sovereign right, no one can ask us to back down.''
It appears the long running controversy will end in US defense planners' worst fears come true: in place of strained and worsening ties with Washington, Turkey is fast moving into Moscow's orbit. The two leaders have already met multiple times this year, which doesn't bode well for Vice President Mike Pence's ultimatum last week of "Turkey must choose." 
This began at first slowly over the past 2 years after the Pentagon began closely backing Syrian Kurdish forces that Ankara sees as a "terrorist" extension of the outlawed PKK, but began in earnest last summer surrounding the Pastor Andrew Brunson detention, and as congressional leaders began discussing blocking transfer of the F-35. 
But now, as Bloomberg, reports of Monday's Putin-Erdogan meeting, the military relationship between NATO's easternmost member and Russia is set to deepen:
Russia's ready to consider deepening defense cooperation with Turkey through "joint development and joint production of high-tech weaponry," Putin said. While they discussed implementing the S-400 contract, there are also other "promising projects," he said.
The continued and deepening cooperation, combined with Erdogan's so far unwavering commitment to seeing the S-400 deal all the way through, suggests Ankara is ready to play chicken with the White House.
Pence posed last week: "Does it [Turkey] want to remain a critical partner in the most successful military alliance or does it want to risk the security of that partnership by making such reckless decisions that undermine our NATO alliance?"
By July — the anticipated time the S-400 is set to be delivered — we could finally have the answer on which side is willing to back down first. 
—————————————
Voters consider "King Bibi" versus "Bibi fatigue"

Novice ex-general Gantz could stop fifth term for Netanyahu

Victory will require parliamentary bloc-building (Updates with Netanyahu and Gantz voting)
By Dan Williams and Ari Rabinovitch
JERUSALEM, April 9 (Reuters) – Israelis began voting on Tuesday in an election that could hand right-wing Prime Minister Benjamin Netanyahu a record fifth term or see him dethroned by an ex-general who has pledged clean government and social cohesion.
During the campaign leading up to polling day, the rival parties waged a vitriolic online battle, accusing each other of corruption, fostering bigotry and being soft on security.
Netanyahu's closest rival in the campaign was Benny Gantz, a former chief of the armed forces. Gantz's centrist Blue and White party, which includes other former generals, has challenged Netanyahu's hitherto unrivalled national security credentials.
After an election eve visit to the Western Wall, Netanyahu, 69, voted at a polling station in Jerusalem on Tuesday morning, accompanied by his wife, Sara.
"This is truly the essence of democracy and we should be blessed with it," he said, shaking hands with election officials and posing for selfies. "With God's help the State of Israel will prevail. Thank you very much. Go to vote."
Casting his vote in Rosh Ha'ayin near Tel Aviv, Gantz, 59, said: "This is a day of hope, a day of unity. I look into everyone's eyes and know that we can connect."
After the election Israel's president, Reuven Rivlin, will consult the leaders of every party represented in the Knesset and select the person he believes has the best chance of forming a government.
Polling stations opened at 7 a.m. (0400 GMT) across the country and will close at 10 p.m. (1900 GMT).
But the victor may not be decided immediately. No party has ever won an outright majority in the 120-seat parliament, meaning days or even weeks of coalition negotiations lie ahead.
One factor may be the turnout of voters from Israel's 21 percent Arab minority. Many were angered by Israel's nation-state law, passed in 2018, which declared that only Jews have the right of self-determination in the country. Netanyahu supported the legislation.
————————————-
So much for all that free health care.
Now for what it looks like up close:
Socialist Venezuela is now an exploding supernova of spreading disease vectors, with its three million fleeing refugees bringing measles, malaria, diptheria, typhoid fever, tuberculosis, AIDS, Zika, leprosy, dengue chikungunya virus and other diseases long thought to have been eradicated in the early 20th century, with them.
What an advertisement for socialism that is.
It's the effect of the collapse of the country's medical system, brought on by socialism's unsustainable economics, and Venezuela's Maduro dictatorship (unlike a lot of starving African countries) refusing to permit any aid to enter. 
Two alarming news reports (which eerily don't intersect) have the exact same story:
First, the Washington Post, which cites an academic/NGO report just out:
Venezuela's health system is in "utter collapse," according to a report, including the exponential spread of vaccine-preventable diseases such as measles and diphtheria and "dramatic surges" in infectious diseases such as malaria and tuberculosis.
The report, to be released Thursday by Human Rights Watch and the Johns Hopkins Bloomberg School of Public Health, is among the few that has sought to quantify Venezuela's misery, as the country has ceased releasing health and nutrition data and retaliated against those who did.
Based on interviews with doctors and other health personnel in Venezuela, conducted by telephone and online; refugees in Colombia and Brazil, including health care professionals; and representatives of humanitarian and international organizations, the report concludes that the United Nations should take the lead providing aid.
Second, there's this organic report from Bloomberg Latin America columnist Mac Margolis, which features interviews with hospital personnel and public health officials, all seeing the same nightmare on the ground:
Half a century on, Venezuela is a hothouse for malaria again, but also communicable miseries from HIV/AIDS to Zika. Forgotten diseases such as diphtheria and measles rage. Leprosy, tuberculosis and typhoid fever are back, alongside emerging mosquito-borne viruses, such as dengue, Zika and chikungunya. New HIV infections jumped 24 percent from 2010 to 2016.
Now the worst humanitarian crisis in the Americas risks becoming a hemispheric emergency, as nearly 3 million Venezuelan refugees and migrants ferry their pathogens across the continent.
But when such migrants travel, they also carry ills that Venezuela's neighbors thought they'd beaten. After logging just one case of measles between 2008 and 2015, Brazil reported more than 10,000 infections last year. Most patients bore D8 genotype measles, the dominant strain circulating in Venezuela. The Venezuela epidemic has also been linked to outbreaks in Argentina, Colombia, Ecuador and Peru.
The World Health Organization reckoned that a Venezuelan malaria outbreak was responsible for 84 percent of the increase in infections in the Americas in 2017. Venezuela alone kicked in 53 percent of all reported cases regionally in 2016 and 2017.
"The human exodus has become a disease exodus. Contagion is one of our most prolific exports," Venezuelan infectious disease pathologist Alberto Paniz-Mondolfi, a member of the Venezuelan National Academy of Medicine, told me.
So as the West is forced to admit Venezuelan refugees (and unlike the Central Americans, these are real ones), each and every one of them is potentially a carrier, if not openly suffering from, of some of the most awful and once-thought-eradicated diseases from the 19th century. Next time a socialist speaks of 'progress' remember that this is what socialists deliver on their 'progress.'
It amounts to biological warfare on the West, given that people outside Venezuela's socialist zone of misery are going to die from these diseases which had long been eradicated from the capitalist West up until now.
It shows that in socialism, the ends always justifies the means. Venezuela's Maduro dictatorship has not only have collapsed their own medical system, allowing their people to go to hell, (something all socialist countries throughout the 20th century have had a comparable record on), they have also wiped out disease data, and threatened and punished anyone trying to find out the truth, as the Washington Post report notes at the end. 
Noting that the deprivation long predates recently imposed U.S. sanctions, it said that "Venezuelan authorities under Maduro have concealed the official health information. They have harassed and retaliated against those who collect data or speak out about food and medicine shortages."
The Washington Post reports that the United Nations should get involved, which is an idea. But good luck with that one, given the Maduroites' callous indifference to the lives of both its own people and those of its neighbors. They see any intervention as a threat to their own power and are unlikely to allow it. 
This is what socialism is, up close.
————————————-
A swarm of earthquakes has been triggered off the North Island's east coast by a large seismic event similar to what preceded the 2011 Japanese quake and tsunami. GNS Science has confirmed one of the largest "slow-slips" ever observed in New Zealand is currently underway off the coast of Gisborne in the Hikurangi subduction zone.
This slow-slip began last week and so far scientists have recorded "up to 3cm of eastward displacement," said Wallace. 
"This is caused by up to 10-15cm of movement on the Hikurangi plate boundary offshore of Gisborne." 
While these events are fairly common, happening every one or two years, this slow-slip is on track to be "as large at the previous slow-slip" recorded off Gisborne in 2010.
Since Monday, 85 quakes have been recorded in the area.
There have also recently been multiple small earthquakes recorded around the North Island, including in the north and off the coast of Whakatane. But GNS Science say it is hard to directly tie those to this slow-slip.
International seismologists have found the 2011 Japanese earthquake was preceded by a slow-slip earthquake that lasted a month, but the predictive value of the events remain unclear.
Scientists are studying the slow-slips off Gisborne through instruments on the seafloor off Poverty Bay to understand more about the movements and subduction zone processes.
This could help with earthquake forecasting in the future.
On Wednesday, Kiwis were urged to prepare for a large M8.9 earthquake off the coast of Gisborne which experts believe is inevitable and could happen within our lifetime.
"We know a large earthquake and tsunami is something we will face in our lifetime, or that of our children and grandchildren. The reality is it isn't a matter of if, but when."
The Hikurangi subduction zone is New Zealand's "largest and most active fault". It is found just off New Zealand's east coast, running from Gisborne to the top of the South Island, and is where the Pacific plate is sub ducting beneath the Indo-Australian plate.
"New Zealand sits on a subduction zone just like Japan, and people should be prepared for the next large earthquake and tsunami," said a statement from East Coast LAB.
—————————————
NASA has warned that a catastrophic supervolcano's eruption poses a bigger threat to humanity than does an asteroid. An eruption at Yellowstone, for example, would be an apocalyptic event – one which human beings have never experienced.
A supervolcano has the ability to "push mankind to extinction" with an eruption, NASA (National Aeronautics and Space Administration) further warned.  The space agency conducted a "thought experiment" called, Defending Human Civilization From Supervolcanic Eruptions.  In it, researchers stated that a supervolcano eruption was more likely to happen on Earth in the future than an asteroid hitting the earth, according to the Express Daily. NASA added:
"Supervolcanic eruptions occur more frequently than a large asteroid or comet impacts that would have a similarly catastrophic effect to human civilization."
Jet Propulsion Laboratory researchers found that collisions from asteroids which are more than 2km in diameter occurred "half as often as supervolcanic eruptions."
A supervolcano is defined as a volcano which is big enough to cause an eruption which could project more than 1000 km3 of material into the atmosphere. The term "supervolcano" was introduced to describe eruptions capable of "plunging the world into a catastrophe and push humanity to the brink of extinction," according to researchers.
The caldera underneath Yellowstone National Park is perhaps the most famous supervolcano in the United States.  Yellowstone has the capacity to extinct humanity if it ever erupts.
Yellowstone is due for another eruption at any time, and no one knows when. Scientists haven't even offered much of an educated guess, but NASA did say that they had plans to save the world from Yellowstone previously.  Although they admitted the plan could cause an eruption.
As of now, there is no good solution or fix to an eruption.  Continue to be prepared, as many scientists say that an eruption at Yellowstone would cause a nuclear winter and there wouldn't be enough food stored for everyone. Researchers have found that if a supervolcano like Yellowstone did erupt, then a "volcanic winter" would ensue. The length of said volcanic winter could surpass the "amount of stored food worldwide,"wrote Express Daily. 
Volcanologists claim that MOST volcanoes display warning signs weeks before they erupt, however, some do not.  U.S. Geological Survey Volcano Hazards Program coordinator John Eichelberger told Life's Little Mysteries: "These signs may include very small earthquakes beneath the volcano, slight inflation, or swelling, of the volcano and increased emission of heat and gas from vents on the volcano. Rising magma causessolid rock to break, sending earthquake signals."
————————————-
For the first time in history, atheists constitute the largest religious group in America. According to the General Social Survey, the number of Americans who have no religion has increased 266% over the past three decades and now account for 23.1% of the population, just barely edging out Catholics and Evangelicals as the nation's dominant faith. Mainline Protestant churches have suffered the greatest collapse, declining 62.5% since 1982 and now comprising just 10.8% of the U.S. population.
As religiosity has declined, social ills have abounded. Nearly one in five American adults suffers from anxiety disorders, which now constitute the most common mental illness in the country. One in six Americans takes antidepressant drugs, a 65% surge over just 15 years. The problem is particularly acute among younger Americans. While depression diagnoses have increased 33% since 2013, that number is up 47% among Millennials and 63% among teenagers. Coincidentally, suicide rates among American teenagers have increased by 70% since 2006. American life expectancy declined again last year, as Americans continue to drug and kill themselves at record rates.
Social scientists have long since established the link between religiosity and life satisfaction. As social psychologist Sonja Lyubomirsky observes, people who attend religious services several times each week are nearly twice as likely as those who worship less than once a month to describe themselves as "very happy." Such psychologists simply state the obvious: the belief that God loves you and that you will live with him in eternity offers greater consolation than the view of death as a dirt nap that stiffens you into worm food.
Religious people are also significantly more likely to engage in happy-making behaviours, such as getting and staying married. A study released in 2017 affirmed what countless others had already shown: married couples report higher life satisfaction than their single, divorced, and widowed neighbors. That satisfaction tends to last beyond the honeymoon and well into old age.
The misery epidemic threatens not merely American households but also our halls of power. The late Andrew Breitbart observed that politics is downstream of culture, and culture in turn is downstream of religion. "Cult" and "culture" are etymologically related, and a culture is defined by what it worships. A materialistic culture worships wealth; a licentious culture worships sex; a godly culture worships God. But "our Constitution was made for a moral and religious people," as John Adams wrote to the Massachusetts militia in 1798. "It is wholly inadequate to the government of any other."
————————————-
DID THE POPE JUST EVOKE THE PROPHETIC ALLIANCE BETWEEN ESAU AND ISHMAEL AGAINST JERUSALEM?
"So Esau went to Ishmael and took to wife, in addition to the wives he had, Mahalath the daughter of Ishmael son of Avraham, sister of Nebaioth"

Genesis 28:9

(The Israel Bible™)
It is a well-known Jewish idea that the clashes among Jacob, Esau and Ishmael that began in the book of Genesis continue throughout history. Objectively speaking, the primary political and spiritual adversaries of the Jewish people (the descendants of Jacob) have always been Christians (the descendants of Esau) and Muslims (the descendants of Ishmael).
There is an ancient Jewish teaching that, during the End Times, the descendants of Esau and the descendants of Ishmael will unite in their desire to destroy the descendants of Jacob.
Since ascending to the papacy in 2013, Pope Francis has been working openly to bring Esau and Ishmael together by enhancing Christian-Muslim relations. On the return flight from a recent visit to Morocco, where the official state religion is Islam, the Pope spoke with journalists about his vision for uniting the descendants of Esau and the descendants of Ishmael.
Pope Francis referred to harmony between Christians and Muslims as "a beautiful flower that promises to bear fruit."
In that interview, which was published last week, Pope Francis shined a light on an alliance between the Muslim country of Morocco and the Vatican regarding the status of Jerusalem. On his first day in the country, Pope Francis and Mohammed VI, King of Morocco, signed a statement about Jerusalem.
In essence, the statement, which references Al-Quds Acharif, the Arabic name for Jerusalem, minimizes the distinctive relationship between Jerusalem and the Jewish people and calls for Jerusalem to become, "the common patrimony of humanity and especially for the followers of the three monotheistic religions, as a place of encounter and as a symbol of peaceful coexistence, where mutual respect and dialogue can be cultivated."
As is well-known, the Vatican is a supporter of a two-state solution, further diminishing the singular connection between Israel and the Jewish people. The Pope calls for Christians and Muslims to see themselves as equally entitled to Jerusalem. "We are all citizens of Jerusalem, all believers," he said, referring to Muslims and Christians.
Couched in language of peace, harmony and fraternity, the call for greater cooperation between Christians and Muslims, and this specific statement calling for the universalization of Jerusalem, would effectively strip Jerusalem of its uniquely Jewish identity.
According to Rabbi Yechiel Weitzman author of The Ishmaelite Exile, this alliance of Christians and Muslims was predicted hundreds of years ago and is a sign of the End Times. According to Rabbi Weitzman, "the last stage in the process of Israel's perfection will be characterized by the alliance between Ishmael and Esav (Esau), an alliance aimed at tormenting the entire world and the Jewish people in particular."
The ancient Biblical connection between Esau and Ishamael is stated plainly in Genesis. Ishamael became Esau's father-in-law when Esau married a daughter of Ishmael.
So Esau went to Ishmael and took to wife, in addition to the wives he had, Mahalath the daughter of Ishmael son of Avraham, sister of Nebaioth. Genesis 28:9
Rabbi Weitzman concluded, "At the very outset of history, Ishmael and Esav forged a bond through marriage. And so it shall be at the End of Days. The alliance between them will bring history to its culmination in the redemption."