This Happened On Planet Earth…May 2019…End Times Signs

Published on May 10, 2019
Please Help Support This Ministry: https://www.paypal.me/watchman1963 Please subscribe to my backup channel: https://www.youtube.com/channel/UC4nc… Current Events Linked To Biblical Prophecies. Everything is unfolding just as the bible foretold. Wars, Volcanic Eruptions, Earthquakes, Extreme Weather, Christian Persecution, Violence and more!
Matthew 24:3-14 3 Now as He sat on the Mount of Olives, the disciples came to Him privately, saying, "Tell us, when will these things be? And what will be the sign of Your coming, and of the end of the age?" 4 And Jesus answered and said to them: "Take heed that no one deceives you. 5 For many will come in My name, saying, 'I am the Christ,' and will deceive many. 6 And you will hear of wars and rumors of wars. See that you are not troubled; for all[a] these things must come to pass, but the end is not yet.
7 For nation will rise against nation, and kingdom against kingdom. And there will be famines, pestilences,[b] and earthquakes in various places. 8 All these are the beginning of sorrows. 9 "Then they will deliver you up to tribulation and kill you, and you will be hated by all nations for My name's sake. 10 And then many will be offended, will betray one another, and will hate one another.
11 Then many false prophets will rise up and deceive many. 12 And because lawlessness will abound, the love of many will grow cold. 13 But he who endures to the end shall be saved. 14 And this gospel of the kingdom will be preached in all the world as a witness to all the nations, and then the end will come.
—————————————————
Top Iranian Commander: US Wouldn't Dare Launch Military Action Against Us

Published on May 10, 2019
Just In From The Times Of Israel: A top commander in Iran's elite Islamic Revolutionary Guards Corps said Friday the US "wouldn't dare to launch military action against us," amid rising tensions and escalating rhetoric in recent days.
—————————————————
Netanyahu: Bible is our 'present and future' – TV7 Israel News 10.05.19

Published on May 10, 2019
Today's top stories 10.05.19; 1) Prime Minister Benjamin Netanyahu declared that Israel's unwavering love for the land, security and the Bible – the cornerstone of Israel's existence – have secured the state's past, present and future. 2) U.S. President Donald Trump insists that while he hopes to avoid a military confrontation with Iran, he cannot not rule-out the risks of war. 3) The Iranian decision to scale-back on its commitments to the nuclear agreement and pose an ultimatum on Europe has infuriated European officials who have warned that unless the Islamic republic reconsiders its position, there will be consequences.
—————————————————
LATEST WORLD NEWS – ARTICLES SATURDAY MAY 11th 2019
WEBPAGE ADMINISTRATOR:
Keep in mind the word "Religion" in the Greek is "Religare" meaning "Bind back" or "yolk" – Religion is bound up in constant Chaos and has many branches and divisions, including the Muslim Religion, and all the "Cults", Christianity is not "bound" We are born again Christian's free in Jesus Christ our Saviour – We follow Jesus Christ as our Saviour and Lord.
The one world "Religious" church is being developed "quickly" and is called "CHRISLAM" already most countries are "ELIMINATING" THE Lords Prayer at their opening of Parliament – Australia and New Zealand included. The Muslim Religion will become the "ONE WORLD RELIGION" – And it is now being used in most opening addresses of Parliament.
Matt. 24:9 Then shall they deliver you up to be afflicted, and shall kill you: and ye shall be hated of all nations for my name's sake.
Matt. 24:10 And then shall many be offended, and shall betray one another, and shall hate one another
THE GREAT "DECEPTION" IS READY TO BE IMPLEMENTED BY THE ONE WORLD GOVERNMENT. ARE YOU READY FOR JESUS CHRIST RETURN
———————————————–
DAILY SCRIPTURE:
Luke 12:37 Blessed are those servants, whom the lord when he cometh shall find watching: verily I say unto you, that he shall gird himself, and make them to sit down to meat, and will come forth and serve them
PUT YOUR TRUST AND FAITH IN JESUS CHRIST (OUR SAVIOUR):
(Romans 12:2) to seek God's will, the Lord says, "Do not worry about what you'll eat or drink or wear. But seek first His Kingdom and His righteousness and all these things will be given to you as well"
THIS IS THE END RESULT OF A CHRISTIANS PATIENCE AND LOVE FOR THE LORD JESUS CHRIST
Rev. 3:10 Because thou hast kept the word of my patience, I also will keep thee from the hour of temptation, which shall come upon all the world, to try them that dwell upon the earth:
THE TRIBULATION OF THE UNJUST IN REVELATION CH 6 -22:
——————————————-
DAILY CHRISTIAN BIBLICAL QUESTIONS AND ANSWERS:
——————————————-
PSALM 51
Have mercy on me, O God, according to your unfailing love; according to your great compassion blot out my transgressions. Wash away all my iniquity and cleanse me from my sin. For I know my transgressions, and my sin is always before me. Against you, you only, have I sinned and done what is evil in your sight, so that you are proved right when you speak and justified when you judge.
Surely I was sinful at birth, sinful from the time my mother conceived me. Surely you desire truth in the inner parts, you teach me wisdom in the inmost place. Cleanse me with hyssop, and I will be clean; wash me, and I will be whiter than snow. Let me hear joy and gladness; let the bones you have crushed rejoice. Hide your face from my sins and blot out all my iniquity.
Create in me a pure heart, O God, and renew a steadfast spirit within me. Do not cast me from your presence or take your Holy Spirit from me. Restore to me the joy of your salvation and grant me a willing spirit, to sustain me. Then I will teach transgressors your ways, and sinners will turn back to you.
Save me from bloodguilt, O God, the God who saves me, and my tongue will sing of your righteousness. O Lord, open my lips, and my mouth will declare your praise. You do not delight in sacrifice, or I would bring it; you do not take pleasure in burnt offerings. The sacrifices of God are a broken spirit; a broken and contrite heart, O God, you will not despise. In your good pleasure make Zion prosper; build up the walls of Jerusalem. Then there will be righteous sacrifices, whole burnt offerings to delight you; then bulls will be offered on your altar.
King David had accidentally seen Bathsheba bathing on her rooftop and was immediately smitten. Only one problem. She was married to a man serving in the army. David conspired with the man's Commanding Officer to have him isolated at a point where the enemy forces were strong. When the enemy attacked, the man was killed and David took the newly widowed Bathsheba as his wife.
How could God permit such a thing and continue to bless David's reign as King? Certainly not because David reminded God that he'd been born with a sin nature and couldn't help himself. Nor was it because David promised to be good from then on and to teach people to stop sinning in exchange for his forgiveness. He knew David couldn't be good and He had other more credible teachers among His people.
God forgave David because David asked Him to. He asked with such profound regret that at one point tradition says he even went into the Holy of Hollies, placed his hand on the Ark of the Covenant expecting to be killed. He'd seen that happen to one of his soldiers who had instinctively reached out to keep the Ark from falling off its cart. (1 Chron. 13:7-10) No one but specially designated members of the tribe of Levi could touch the Ark, and that soldier wasn't one of them. Neither was David.
But God didn't kill David, He forgave him. It was a dramatic demonstration of His grace and proved that David was correct when he said,
"You do not delight in sacrifice, or I would bring it; you do not take pleasure in burnt offerings. The sacrifices of God are a broken spirit; a broken and contrite heart, O God, you will not despise."
It's impossible for the blood of bulls and goats to take away sins. (Hebr. 10:4) They only held the sins in abeyance until the Perfect Sacrifice was made. And then only if the Lord saw sincerity in the heart of the one presenting them. Like everything else with God, it's not the action but the motive in the heart of the one performing it that counts.
You've probably never committed such a great and public sin as David's. But remember, in the Lord's eyes there's no degree of sinfulness. We must understand that all sin is mortal and requires confession from the heart. Confess early and often. Confess sincerely and passionately. Ask the Lord to grant you a willing spirit to sustain you. Then your sacrifices of praise will be offered in righteousness, pleasing to the Lord.
How do you deal with guilt when it has a stronghold over you and when long exposure to pain and sorrow over a past action has left you feeling like there is no hope? I have accepted Jesus but lately, I don't feel I have faith for healing when the guilt and sorrow constantly remind me that there is no forgetting, especially when those I have harmed won't forgive me. I want to know how do I as a believer deal with this situation?
How are believers supposed to treat verses such as:
"But if you do not forgive men their trespasses, neither will your Father forgive your trespasses." (Matthew 6:15)
Is it guaranteed that the Holy Spirit will be successful in the sanctification process to rid us of habitual un-forgiveness? If not, would the Father not forgiving us affect our salvation?
————————————–
NEWS CLIPS OBTAINED FROM MANY SOURCES – INCLUDING


Tracking bible prophecy.org
Rapture Ready News
Prophecyupdate.Com
Main News Channels
End Times Headlines
Prophecyupdateblogspot.com
Stevequayle.com
Gracethrufaith.com
Nowtheendbegins.com
Other Christian Sites
(CLICK ON) LATEST DAILY NEWS CLIPS:
ISRAEL NEWS:
THE MIDDLE EAST PEACE PLAN IS "ANTI GOD" – (GOD WILL NOT ALLOW JERUSALEM TO BE DIVIDED).
1Th. 5:3 For when they shall say, Peace and safety; THEN SUDDEN DESTRUCTION COMETH UPON THEM, as travail upon a woman with child; and they shall not escape
ZECHARIAH 12:2-3
Zech. 12:2 Behold, I will make Jerusalem a cup of trembling unto all the people round about, when they shall be in the siege both against Judah and against Jerusalem.
Zech. 12:3 And in that day will I make Jerusalem a burdensome stone for all people: all that burden themselves with it shall be cut in pieces, though all the people of the earth be gathered together against it
I AM GOING TO MAKE JERUSALEM A CUP THAT SENDS ALL THE SURROUNDING PEOPLES REELING … Zech. 12:2
WORLD TERRORISM – WARS
GENERAL WORLD NEWS:
WORLD FINANCE:
MASSIVE EARTH CHANGES/EARTHQUAKES/VOLCANOES ETC:
2Chr. 7:13 If I shut up heaven that there be no rain, or if I command the locusts to devour the land, or if I send pestilence among my people;
2Chr. 7:14 If my people, which are called by my name, shall humble themselves, and pray, and seek my face, and turn from their wicked ways; then will I hear from heaven, and will forgive their sin, and will heal their land
CHRISTIAN AND RELIGIOUS WORLD NEWS:
EXTRA WORLD – ALTERNATIVE NEWS:
————————————————-
WORLD PROPHETIC NEWS CLIPS/ARTICLES PRESENTATION –SATURDAY MAY 11th 2019
MIDDLE EAST WAR LOOMING THE BUILD UP TO PSALM 83  – ISAIAH 17 AND GOG OF MAGOG WARS EZEKIEL 38:
——————————————-
Titus 2:11 ¶ For the grace of God that bringeth salvation hath appeared to all men,
Titus 2:12 Teaching us that, denying ungodliness and worldly lusts, we should live soberly, righteously, and godly, in this present world;
Titus 2:13 Looking for that blessed hope, and the glorious appearing of the great God and our Saviour Jesus Christ;
Titus 2:14 Who gave himself for us, that he might redeem us from all iniquity, and purify unto himself a peculiar people, zealous of good works
WHERE WE ARE CURRENTLY IN SCRIPTURE
Matt. 24:6 And ye shall hear of WARS AND RUMOURS OF WARS: see that ye be not troubled: for all these things must come to pass, but the end is not yet.
Matt. 24:7 FOR NATION SHALL RISE AGAINST NATION, AND KINGDOM AGAINST KINGDOM: and there shall be famines, and pestilences, and earthquakes, in divers places.
Matt. 24:8 All these are the beginning of sorrows
—————————————–
MAJOR WARS ON THE HORIZON
WORLD WAR 3
Matt. 24:6 And ye shall hear of WARS AND RUMOURS OF WARS:
Matt. 24:7 FOR NATION SHALL RISE AGAINST NATION, AND KINGDOM AGAINST KINGDOM:
ISAIAH 17/PSALM 83:
THE DESTRUCTION OF DAMASCUS and
Muslim Countries in the Middle East will launch an attack on Israel
JEREMIAH 49:
PROPHECY OF ELAM – (Attack on Iran's Nuclear Program
EZEKIEL 38 & 39
THE WAR OF GOG OF MAGOG – A coalition of Nations led by Russia, Iran, and Turkey to attack Israel
————————————-
"Jesus saith unto him, I am the way, the truth, andthe life: no man cometh unto the Father, but by me." (John 14:6)
TRIBULATION IS COMING AND THE REMOVAL OF THE CHURCH IS IMMINENT.
so won't you accept Jesus now and be removed from that event and live forever with Jesus in the Family of God?
2 "(For he saith, I have heard thee in a time accepted, and in the day of salvation have I succoured thee: behold, now is the accepted time; behold, now is the day of salvation.)" (2nd Corinthians 2:6)
——————————————-
A LOOMING CRISIS IN THE MIDEAST
CURRENT RELATED WORLD NEWS CLIPS:
————————————–
After raining down some 600 rockets that killed four Israelis this past week, the Netanyahu government responded with overwhelming force, deploying jet fighters to carry out multiple air strikes, killing 23 Gaza residents including a pregnant woman, according to Palestinian Authority officials. (The pregnant women and her child, however, are now confirmed as having been killed by a Palestinian rocket that feel short.)
And, so, the cycle of violence makes another cruel revolution. What makes the events of the past week different from earlier rockets-and-retaliation episodes? The reaction of Arab intellectuals and other thought leaders in Muslim world.
Consider the tweet of Dr. Turki Al-Hamad, a well-known Saudi author and thinker. He tweeted: "It's a repeating loop: rockets [are fired] from Gaza into Israel, Israel bombs [Gaza], someone or other mediates, the fighting stops – and the common Palestinian folks pay the price. This is 'resistance,' my friend. Iran and Turkey are in trouble, and the Palestinians are paying the price."
Note his use of scare quotes around resistance and his willingness to blame Iran and Turkey, two Muslim-majority nations, instead of the Jewish state. This marks a real rhetorical change.
And many influential Arab voices echoed the thoughts of Dr. Al-Hamad.
Muhammad Aal Al-Sheikh, a frequent contributor to the Saudi daily Al-Jazirah, tweeted: "The Persian ayatollahs have instructed their servants, Hamas, to escalate [the conflict] with Israel, and they obeyed. The result is seven Palestinians dead, versus one Israeli wounded. [The death toll increased after his tweet.] The Persians are tightening the pressure on the U.S. and Israel in retaliation for Trump's decision, and the victims are the people of Gaza."
Over and over again, tweets from journalists and intellectuals in Saudi Arabia and the Gulf states (except, notably, Qatar), show a shift in elite Arab opinion. Many blame Iran and cite the suffering of ordinary Palestinians, which is considerable. Air strikes have denied Palestinians access to clean drinking water, electricity to run their hospitals, and wrecked the roads which bring food and aid.
Few doubt the analysis that Hamas, which rules the Gaza Strip, is acting on orders from Tehran. Iran's Foreign Ministry Condemned what it called Israel's "savage" attack on Gaza, and blamed "unlimited US support" for Israel, the semi-official Fars news agency reported.
Iran is a major funder for Hamas, Iran's goal is to be the vanguard of the Islamic world and to be the regional power. They want to be a pan-Islamic power, so supporting groups like Hamas and Hezbollah is Iran's best way to transcend the Sunni-Shiite divide.
Trump administration now appears to be reviving the 12-point plan presented by Secretary of State Mike Pompeo a year ago, after America pulled out of the Iranian nuclear accord.
Trump's national security adviser, John Bolton, said the dispatch of the huge naval vessel is designed to deliver a message to Iran, and warned that any attack on American interests or those of its allies would be met by "unrelenting force."
TO GIVE YOUNG ARABS HOPE
While Saudi Arabia and the United Arab Emirates remain major funders of the Palestinian Authority, its support for the Palestinian cause has become more complicated in recent years. Each nation has essentially made common cause with Israel against Iran. It is significant that the state-run media in Saudi and the UAE each sympathize with the Palestinian people, rather than their leaders.
This creates an important opening for President Trump's "deal of the century," whose primary architect is his son-in-law and senior adviser, Jared Kushner. It suggests that Kushner's plan may be able to attract significant Arab support and that the Saudis and Gulf Arab may pressure Palestinian officials to accept the plan, or, at least, sit down and negotiate its terms.
What is Kushner's plan? While no document or detailed account has emerged, Kushner himself discussed it in broad terms in a recent speech at the Washington Institute, a D.C.-based think tank.
"We've put together, I would say, more of an in-depth operational document that shows what we think is possible, how people can live together, how security can work, how interaction can work, and really, how you try to form the outline of what a brighter future can be," Kushner said. He said he has also created a "business plan" to create jobs and economic growth in the war-torn disputed territories.
Kushner has avoided the term "two-state solution" and the plan is believed to be more focused on economics than political issues, like where to draw borders or the "right of return." Those two items stalled previous talks.
Secretary of State Mike Pompeo told CNN that Kushner's plan will be a departure from previous peace plans over the past 40 years. "Our idea is to put forward a vision that has ideas that are new, that are different, that are unique, that tries to reframe and reshape what's been an intractable problem that multiple administrations have grappled with, multiple administrations in Israel as well."
The plan is believed to include aid grants to the Palestinians in the range of $30 to $40 billion and make it easier for West Bank Palestinians to land jobs in Israel and to start businesses in Palestinian-controlled lands. But even these details are speculations.
All we can say with confidence is that the Kushner plan is built around economics, not politics. It began with a simple insight: for most Palestinians under the age of 40, the wars of 1948, 1967, and 1973 are ancient history. Instead of yearning for the political redemption of lost lands, younger Palestinians are demanding jobs, housing, education, and the hope of more prosperous lives. Why not, Kushner asked, build a new peace plan on the new generation rather than the demands of the older one?
Kushner is gambling that economic realities will trump political demands, which have defined the conflict for almost 70 years.
It is too soon to say whether this approach will work. But the tweets from Arab journalists, intellectuals and other thought leaders suggest a larger shift is underway on the Arab Street; that the greater Muslim world now cares more about the economic welfare of ordinary Palestinians than politics. If that is the case, the Kushner plan may have more of chance of success than many observers expect.
——————————————-
At a moment the US carrier strike group ordered deployed to the CENTOM Persian Gulf region area of command has traversed the Suez Canal, and as multiple B-52 bombers have also landed in Qatar in response to "troubling and escalatory" threats by Iran against US troops in the region, a top American military commander in the region has threatened he's ready to send an aircraft carrier through the vital Strait of Hormuz "if needed".
But should the US send a carrier through the key narrow oil shipping Persian Gulf choke point which is routinely patrolled by IRGC boats, one senior cleric has vowed the US Navy's…
"Billion-dollar fleet can be destroyed with one missile" — according to Iran's ISNA News Agency
Vice Admiral Jim Malloy, commander of the US Navy's Bahrain-based Fifth Fleet, made the statements to Reuters on Friday.
He oversees all US naval forces in the Middle East, and at the very moment the USS Abraham Lincoln Nimitz-class carrier makes its way into the area, the commander said, "If I need to bring it inside the strait, I will do so." He added, "I'm not restricted in any way, I'm not challenged in any way, to operate her anywhere in the Middle East."
He didn't specifically name the USS Abraham Lincoln during the telephone interview, but certainly the remarks were intentionally timed as a part of the White House's ongoing "maximum pressure" campaign against Iran. 
Iran, for its part, has dismissed the "deployment" and the underlying threat Bolton touted Sunday night as requiring a response as "fake intelligence" and part of a US "psychological warfare" campaign – further noting the carrier strike group's embarkation was pre-scheduled and merely used as a pretext for escalating threats. 
Of the latest claims that credible intelligence indicates Iranian actions against Americans in the region could be imminent, Malloy said the intelligence was linked "with actual activity that we observed."
"And that was certainly enough for me… to say that we saw this as a threat," he said. Addressing the question of Iranian ICBM's and recent statements of intelligence officials saying they'd observed Iran transferring missiles on boats, the top admiral said further, "It might be a new fielding of technology by Iran," Malloy said, adding the weaponry "falls under the category of destabilizing and offensive in nature."
Meanwhile, on Tuesday US defense officials indicated a number of B-52 bombers would be part of "additional forces" sent to the region in response to the new intelligence demanding heightened readiness against Iran. 
US CENTCOM posted images confirming the bombers' arrival this week to its official social media accounts. The images showed B-52 Stratofortress bombers landing in Qatar.
U.S. B-52H aircraft assigned to 20th Expeditionary Bomb Squadron arrived in CENTCOM AOR May 8. The Bomber Task Force is deployed here to defend American forces and interests in the region. For more photos go to https://t.co/WgUn4fN5kB pic.twitter.com/LgY9p2ODaK
— U.S. Central Command (@CENTCOM) May 8, 2019
Meanwhile, even after all this Trump in somewhat off-the-cuff remarks said Iran should call him if its leaders want to talk, and further said he doesn't ultimately want military confrontation. 
Iran's elite Islamic Revolutionary Guard Corps (IRGC) responded to the statement on Friday, rejecting any possibility of talks while a military threat looms.
"No talks will be held with the Americans and the Americans will not dare take military action against us," Yadollah Javani, the Guards' deputy head for political affairs, said according to Tasnim. "Our nation… sees America as unreliable."
—————————————–
U.S. commercial ships including oil tankers sailing through key Middle East waterways could be targeted by Iran in one of the threats to U.S. interests posed by Tehran, the U.S. Maritime Administration said in an advisory.
The U.S. military said this week that a number of B-52 bombers would be part of additional forces being sent to the Middle East to counter what the Trump administration calls "clear indications" of threats from Iran to U.S. forces there. The Islamic Republic has dismissed the U.S. contention of a threat as "fake intelligence". 
In the advisory posted on Thursday, the U.S. Maritime Administration (MARAD) said that since early May there had been an increased possibility of Iran or its regional proxies taking action against U.S. and partner interests. 
These included, MARAD said, oil production infrastructure, after Tehran threatened to close the vital Strait of Hormuz chokepoint through which about one third of the world's seaborne crude exports flow.
"Iran or its proxies could respond by targeting commercial vessels, including oil tankers, or U.S. military vessels in the Red Sea, Bab-el-Mandeb Strait, or the Persian Gulf," MARAD said. 
"Reporting indicates heightened Iranian readiness to conduct offensive operations against U.S. forces and interests." 
Millions of barrels of oil pass daily through the various bottlenecks from Middle East oil producers to markets across the globe.
Tensions have risen between Tehran and Washington since the Trump administration withdrew a year ago from a 2015 international nuclear deal with Iran and began ratcheting up sanctions to throttle Tehran's economy. 
Vice Admiral Jim Malloy, commander of the U.S. Navy's Bahrain-based Fifth Fleet, told Reuters on Thursday that its forces were on a heightened state of readiness, although the U.S. military was not seeking or preparing for war with Iran. 
MARAD added that U.S.-flagged ships were encouraged to contact the Fifth Fleet – which is tasked with protecting commercial shipping in the area – at least two days before sailing through the Strait of Hormuz.
—————————————–
Indicating that it is at odds with the government regarding policy on Gaza, the Israeli military on Monday warned that war with the impoverished Hamas-controlled enclave could be back on the horizon in days or weeks if Israel did not work to ease living conditions there.
Saturday and Sunday saw two days of intense fighting that saw nearly 700 rockets fired at Israel and four Israeli civilians killed.In response to the onslaught, the Israel Defense Forces conducted over 300 strikes from the air and land, including a rare assassination of a terrorist operative whom the IDF said funneled money from Iran to terror groups in the Strip.
The fighting was some of the heaviest seen since 2014's 50-day war with Gaza, but tapered off late Sunday and early Monday, as Palestinian factions Hamas and Islamic Jihad said a ceasefire had been reached.
In a press briefing, the military said the country needed to make changes to its strategic policy to improve living conditions in the Gaza Strip if it did not want another flareup of violence in coming weeks.
Now that there is some degree of calm, the IDF said it believes that the Israeli government should strike while the iron is hot and work towards a longer term ceasefire agreement. In the meantime, however, the military is keeping the air force, including air defense units, on high alert in case of another breakout of violence.
The violent outburst on Saturday and Sunday was the latest in a series of escalating clashes between Israel and Gaza-based terrorists to bring the sides to the brink of war, as Hamas has pushed for a blockade on the Strip maintained by Israel and Egypt to be lifted and other restrictions eased.
While the army has reportedly pushed for measures meant to make the lives of Palestinians in the Strip more bearable, the political leadership has been more hesitant, fearing being portrayed as giving in to terror, especially with Hamas holding Israeli captives and the remains of soldiers.
The military said in its briefing that throughout the fighting, it had been ordered by Prime Minister Benjamin Netanyahu's government to retaliate against the rocket fire forcefully, but with sufficient restraint as to avoid all-out war. Netanyahu also serves as defense minister.
The IDF contradicted claims by members of the security cabinet that the Memorial and Independence Days coming up this week and the Eurovision Song Contest planned for next week were not considerations in its decision-making.
The army said it had been instructed to try to bring the fighting to an end before these events, if not sooner, and with as many achievements as possible. Memorial Day begins Tuesday night, with Independence Day the next night
The military said the need to wrap up the fighting quickly prevented it from conducting strikes on Hamas's longer range rockets.
In response, a security cabinet minister told Channel 12 news, "We were shocked by the army's briefings. They are not in line with what the chief of staff presented to the cabinet. This is an attempt by the army to push blame onto the cabinet."
Other cabinet officials told the outlet that there were other circumstances beyond the upcoming holidays and events that justified the ceasefire. The officials hinted that the reasoning was similar to the case in November when a truce was accepted ahead of the IDF's Operation Northern Shield the following month, which found and destroyed attack tunnels dug by the Hezbollah terror group from Lebanon into northern Israel.
Military Intelligence believes that, for now, terror groups in the Strip will not carry out attacks against Israel in the lead-up to the Eurovision Song Contest, which is expected to draw tens of thousands of visitors.
But the army said that, while extant, this deterrence is shaky, especially as it relates to the Iran-backed Palestinian Islamic Jihad, whom the IDF primarily blames for this weekend's battle.
Before this latest flareup, the military said it had identified plans by the terror group to carry out an attack on the international music competition.
—————————————–
US Secretary of State Mike Pompeo on Thursday threatened a "swift and decisive" US response to any attack by Iran, in the latest of a series of escalating statements and actions.
"The regime in Tehran should understand that any attacks by them or their proxies of any identity against US interests or citizens will be answered with a swift and decisive US response," Pompeo said in a statement.
"Our restraint to this point should not be mistaken by Iran for a lack of resolve," he said.
The United States has already announced the deployment of an aircraft carrier strike group and nuclear-capable bombers to the region, saying it had information of plans for Iranian-backed attacks.
An American official said the decision to send in more forces was based in part on intelligence indications that Iran had moved short-range ballistic missiles by boat in waters off its shores.
The official, who spoke on condition of anonymity, said it was not clear whether the boats with missiles represented a new military capability that could be used against US forces or were only being moved to shore locations.
The moves have frightened some European allies as well as President Donald Trump's Democratic rivals, who fear the administration is pushing for war based on overhyped intelligence.
Pompeo, who earlier canceled a trip to Greenland to rush back to Washington, however said: "We do not seek war."
"But Iran's 40 years of killing American soldiers, attacking American facilities, and taking American hostages is a constant reminder that we must defend ourselves," said Pompeo, referencing the 1979 Islamic revolution that transformed Iran from close US ally to sworn foe.
Meanwhile Vice Admiral Jim Malloy, commander of the United States Naval Forces Central Command, told Reuters he would bring the aircraft carrier USS Abraham Lincoln through the Gulf's sensitive Strait of Hormuz if need be.
"If I need to bring it inside the strait, I will do so," Malloy said. "I'm not restricted in any way, I'm not challenged in any way, to operate her anywhere in the Middle East."
Trump also said Washington was not looking for a conflict with Tehran, but refused to divulge why the carrier had been dispatched.
"We have information that you don't want to know about," Trump said, according to Reuters. "They were very threatening and we have to have great security for this country and many other places."
—————————————–
A top commander in Iran's elite Islamic Revolutionary Guards Corps said Friday the US "wouldn't dare to launch military action against us," amid rising tensions and escalating rhetoric in recent days.
Yadollah Javani, the IRGC's deputy head for political affairs, made the comments after US Secretary of State Mike Pompeo on Thursday threatened a "swift and decisive" response to any attack by Iran.
And while President Donald Trump on Thursday said he "would like to see [Iran] call me" for talks, Javani told the Tasnim news agency there would be no talks, adding Tehran saw Washington as "unreliable."
The United States has in recent days announced the deployment of an aircraft carrier strike group and nuclear-capable bombers to the region, saying it had information of plans for Iranian-backed attacks.
An American official told the Associated Press the decision to send in more forces was based in part on intelligence indications that Iran had moved short-range ballistic missiles by boat in waters off its shores.
Asked about the possibility of military conflict with Iran, the president said: "I guess you could say that always, right? I don't want to say no, but hopefully that won't happen. We have one of the most powerful ships in the world that is loaded up and we don't want to do anything."
Meanwhile NBC News reported Thursday night that in a rare occurrence last week, US national security adviser John Bolton gathered the nation's top defense, intelligence and diplomatic officials at CIA headquarters to discuss developments on the Iranian front.
The US's military moves have frightened some European allies as well as Trump's Democratic rivals, who fear the administration is pushing for war based on overhyped intelligence.
—————————————-
The U.S. Geological Survey says a magnitude 6.3 earthquake hit near Miyazaki in southwestern Japan.
The agency says the earthquake struck at 8:48 a.m. Friday and had an epicenter 39 kilometers (24 miles) southeast of Miyazaki, a city of about 400,000. 
The earthquake had a depth of 23 kilometers (14 miles.)
The Japan Times reports that Kyushu Electric Power Co. says no abnormalities were reported at the nearby Sendai nuclear power plant in Kagoshima Prefecture.
The Times also reports that nation's weather agency did not issue a tsunami warning.
—————————————-
AMERICAN CIVIL WAR APPROACHING
It's very likely to worsen. The tectonic shifts in American culture have caused periods of political violence before. The Civil Rights movement, the race riots and unrest between 1968 and the 1970s, and abortion clinic bombings are a few key examples, but even those 'conflicts' eventually died down. Oftentimes, conflict is generational. One generation goes away, and future generations develop their own problems.
For current generations, I believe conditions are more likely to worsen before they get better because the culture war now includes more fronts that foment the anger and resentment that cause political violence.
The areas of every day life that have been heavily politicized, and the ways in which Americans can express identitarian anger and resentment (race, gender, class, politics, ideology; there's plenty of overlap there), have grown over the past decade, thus leading to a higher potential for violence.
Not only has the number of cultural 'battlefields' grown, but identitarian anger and resentment — the desire to "get even" or exact punishment against others based on race and class — has become more acceptable. As political violence becomes more acceptable among the extremes, you'll see more of it.
We could have just two to three years before we see routine, sustained political violence. For as long as I've been writing about LIC, I've warned of the effects of the next recession and financial crisis on the political and cultural climate. (I now believe that the next recession and financial crisis have an above average chance of happening simultaneously.) Class and race warfare, I believe, will worsen as we move through this period of economic and financial uncertainty.
High youth unemployment is a universal indicator of civil unrest and violence. What I'm seeing in America's future are social bases charged by race, class, and/or politics, who also lack economic opportunity and the hope of a better life that comes with it. That may be because artificial intelligence has taken their jobs (or their parents' jobs), or because they can't afford higher levels of schooling (or because they lack an education altogether), or because unemployment is so high that there are just not enough jobs to go around. Maybe it will be all three.
What concerns me — and, again, I don't see any of this as imminent, but I do believe it's coming over the next few years — is what I see as a convergence of a 'perfect storm' scenario with radicalized social bases, a dim economic outlook and loss of hope, political leaders who give a green light or at least tacit approval to political violence, and a belief that violence is the preferable solution. These prerequisites for organised political violence are developing.
—————————————–
APOSTACY IS RAMPANT ON PLANET EARTH
Omar Suleiman has a long record of incendiary social media statements about Israel, as compiled two years ago by Petra Marquardt-Bigman, a researcher, and posted on the Algemeiner Jewish news site. He has on multiple occasions wished for a third Palestinian Intifada, or violent uprising, likened Israeli troops to Nazis, and has wished for the end of Zionism, calling Zionists "the enemies of God." He is a backer of the boycott Israel movement.
May 10, 2019
—————————————-
CHRISLAM IN CHICAGO: LOUIS FARRAKHAN PREACHES SERMON ON THE 'SATANIC JEWS' AT SAINT SABINA CATHOLIC CHURCH, PRIEST CALLS FARRAKHAN A 'PROPHETIC VOICE

'
Louis Farrakhan, the leader of the Chicago-based Nation of Islam, spoke at the Rev. Michael Pfleger's St. Sabina Church amid heavy criticism of both men — Farrakhan for his past anti-Semitic and homophobic comments, and Pfleger for welcoming the divisive figurehead into his church."I'm here to separate the good Jews from the Satanic Jews," Farrakhan preached at the end of what had been a largely uncontroversial speech. "I have not said one word of hate. I do not hate Jewish people. Not one that is with me has ever committed a crime against the Jewish people, black people, white people. As long as you don't attack us, we won't bother you.
————————————
THE VATICAN IS BRINGING CHRISTIAN PASTORS TO ROME TO TRAIN THEM IN HOW TO PERFORM CATHOLIC RITUAL EXORCISMS USING SAINTS, ICONS AND GRAVEN IMAGES
More than 241 people, both lay and religious, from more than 40 countries signed up for the course this year, Crux Now reported."I'm here to understand the Catholic perspective. We are fighting the same enemy in the name of the Lord, even if there are some parts of the Anglican Church that have lost belief in Satan," course participant Benjamin McEntire, a Protestant priest from Alaska, said.They all agree that growing secularization has led to a proliferation of satanic groups, especially among young people through social media.
————————————-
SOUTH CHINA SEA TENSIONS EXPLODED AFTER US CARRIED OUT MISSILE DESTROYER DRILLS WITH ITS ALLIES
https://endtimeheadlines.org/2019/05/south-china-sea-tensions-exploded-after-us-carried-out-missile-destroyer-drills-with-its-allies/
(Express) – With US-China relations souring after threats of massive tariffs being placed on trade, the latest military movements are seen as a fresh challenge to Beijing from Washington. The US destroyer conducted the maneuvers alongside a Japanese aircraft carrier, two Indian naval ships and a Philippine patrol vessel. Officials from US Navy confirmed these were carried out in waterways claimed by China. Although similar exercises have been previously carried out, the combined display is seen as a stark threat by US
President Donald Trump towards China. Commander Andrew J. Klug, the captain of the US destroyer, the USS William P. Lawrence, defended the mission. He said: "Professional engagements with our allies, partners and friends in the region are opportunities to build upon our existing, strong relationships." Talks have been ongoing this week between the two sparring nations after Trump announced he planned to hike tariffs on $200billion (£154billion) worth of Chinese goods.

READ MORE

:
————————————-
WEBPAGE ADMINISTRATOR:  Keep in mind the word "Religion" in the Greek is "Religare" meaning "Bind back" or "yolk" – Christianity is not "bound" We are free in Jesus Christ our Saviour.
Matt. 24:9 Then shall they deliver you up to be afflicted, and shall kill you: and ye shall be hated of all nations for my name's sake.
Matt. 24:10 And then shall many be offended, and shall betray one another, and shall hate one another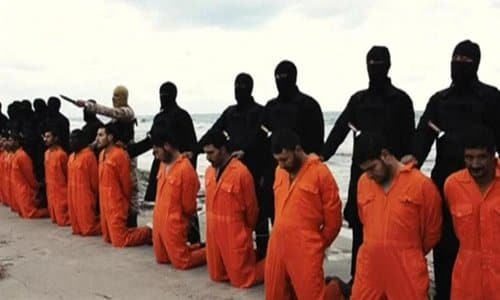 Outside the Sebastian Church in Negombo, Sri Lanka, posters display photos of the dead. One shows a woman and three children. It reads, "Rest in peace for Pradeep Susanthas and his whole family, who were killed in the church attack. Our deepest sympathies." The church, about 20 miles north of the capital city of Colombo, was the scene of the worst carnage from the Easter Sunday suicide bombings.
Fittingly, the church is named for Sebastian (AD 288), who was clubbed to death in Rome during the reign of Diocletian. Initial reports said that more than 100 Christians died during Sebastian's Easter service in Negombo. In all, more than 250 people—Sri Lankans and internationals—were murdered in coordinated Islamist attacks on April 21 against three churches and three hotels across the island nation.
These high-profile attacks were just the latest examples of persecution committed against Christians. Other atrocities have been just as deadly, but usually without much international outcry.
Between mid-February and mid-March, more than 300 Nigerian Christians in seven predominately Christian villages have been slaughtered, including 270 in Kaduna state, by Muslim terrorists.

In Egypt, Muslim extremist groups have attacked 900 churches over the last five years.

Over the last two years in China, crosses have been removed from 1,500 church buildings, and churches have been desecrated or destroyed in the provinces of Hebei, Henan, Guizhou, Shaanxi, and Shandong. In Guangzhou, the capital of China's Guangdong province, Communist Party officials are offering a reward of about $1,500 to anyone who provides information about underground churches, secret Christians, and unsanctioned religious activity. Some pastors and church members are being jailed. 
Last year, officials in Shanxi province used dynamite to level the sanctuary of Golden Lampstand Church, which is one of China's largest houses of Christian worship. Observers are calling this the worst crackdown against Christianity since the Cultural Revolution.
One advocacy group suggests that 50,000 Christians may be locked away in North Korea's prison camps. Some 200,000 North Korean Christians may have disappeared in the totalitarian state since 1953.

Four years ago, members of the Islamic State kidnapped and beheaded 21 Egyptian Copts on the beach in Sirte, Libya. A couple of months later, the terrorist group released a video showing the murder of 30 Ethiopian Christians.
Even Western Christians face troubling trends. In the months leading up to the Notre Dame cathedral conflagration (apparently accidental) in France, more than 800 churches were looted, befouled, and vandalized.
According to the Center for Religious Freedom of the Hudson Institute, these examples are just the tip of the iceberg. ON AVERAGE, ABOUT 345 CHRISTIANS ARE KILLED EACH MONTH ON ACCOUNT OF THEIR FAITH AND AROUND 105 CHURCHES OR CHRISTIAN BUILDINGS ARE BURNED OR ATTACKED. One in nine Christians experiences some form of persecution but you wouldn't know it from a steady diet of Western media.
As Ross Douthat of The New York Times said, "One of the basic facts of contemporary religious history is that Christians around the world are persecuted on an extraordinary scale—by mobs and pogroms in India, jihadists and United States-allied governments in the Muslim world, secular totalitarians in China and North Korea. 
Yet as an era-defining reality rather than an episodic phenomenon this reality is barely visible in the Western media, and rarely called by name and addressed head-on by Western governments and humanitarian institutions."
The $64,000 question is, Why are Christians facing such frequent, yet little-noted, persecution no "Why?"?
A look at the annual World Watch List of Open Doors, which tracks the fifty countries where it is most difficult to be a Christian, provides some clues. In the 2019 reporting period, 245 million Christians experienced what the WWL calls "high levels of persecution," compared with 215 million the previous year.
The first eleven practice "extreme" forms of persecution. The worst persecutors are, in order: North Korea, Afghanistan, Somalia, Libya, Pakistan, Sudan, Eritrea, Yemen, Iran, India, and Syria. Rounding out the Top 20 are these nine, which engage in "very high" levels of persecution: Nigeria, Iraq, Maldives, Saudi Arabia, Egypt, Uzbekistan, Myanmar, Laos, and Vietnam.
Religious nationalism is a key factor in many of these nations, including the atheistic, cultish regime in North Korea, the thirteen Muslim-dominated states, mainly Orthodox Christian Eritrea, Buddhist Myanmar, and largely Hindu India. The communist regimes in Uzbekistan (also mostly Muslim), Laos, and Vietnam also actively oppose the churches and Christians in their midst.
Officially atheist China, the world's largest communist state, is only No. 27 on the list, but its suppression of underground churches is getting worse. Just one nation in the Top 20 is a democracy—India.
Persecution of Christians in our day is mostly at the hands of militant Muslims, in a modern-day echo of the Crusades (except that only one side is doing the killing). But it also comes from atheists, Hindus, Buddhists—and even from those who call themselves Christians.
All this should be no surprise to real Christians, of course, whose Master warned,
"If the world hates you, know that it has hated me before it hated you…. Remember the word that I said to you: 'A servant is not greater than his master.' If they persecuted me, they will also persecute you" (John 15:18, 20a).
The old, interconnected conflict between Christ and Caesar, between God and the gods, continues unabated, in or out of the spotlight. Persecution in fact is unavoidable.
The ancient Christian martyr Sebastian would agree. He expected spiritual and physical opposition but was undeterred, saying, "The devil strains every nerve to secure the souls which belong to Christ. We should not grudge our toil wrestling them from Satan and giving them back to God."
When it comes to persecution, perhaps the question we ought to ask shouldn't be "Why?" but "Why not?"