Tension: U.S. Air Force Send F-16C Fighting Falcon aircraft to Poland, why?
Tension: U.S. Air Force Send F-16C Fighting Falcon aircraft to Poland, why? The U.S. Air Force has announced that F-16C Fighting Falcon fighter jets assigned to the 480th Fighter Squadron were deployed to Poland. Airmen and F-16C Fighting Falcon aircraft assigned to the 480th Fighter Squadron, 52nd Fighter Wing, Spandahlem Air Base, Germany, are participating in bilateral training with the Polish air force during Aviation Rotation 19.2 in support of Operation Atlantic Resolve at the 31st Tactical Air Base, Poznan-Krzesiny, Poland. The 480th began its service with the 52d Tactical Fighter Wing, Spangdahlem Air Base, when it moved to the base in 1976, flying F-4D Phantom IIs, then F-4G Advanced Wild Weasels as part of the Wild Weasel mission. In 1987, the 480th started flying F-16C Fighting Falcon and became the USAF's first squadron to be equipped with the Block 50 F-16s in 1993. During the rotation, U.S. and Polish air forces will conduct training focused on maintaining joint readiness while building interoperability capabilities.
————————————————-
Prophecy Update: "On The Verge": Damascus Countdown

We continue to Witness the Precursors getting stronger for the future fulfilment of the Isaiah 17 Prophecy. In fact we are witnessing precursors to things that will find there ultimate fulfilment during the tribulation period in our face now…. And if we know Jesus is going to Rapture Those that are truly His before the tribulation period starts doesn't it stand to reason we are closer than ever to the trumpet sounding at the appointed time?
————————————————-
The Authority and Reliability of the Bible

Published on May 31, 2019
The Authority and Reliability of the Bible from the Caves of Qumran Join Pastor Jack in Israel at Qumran, where the Dead Sea scrolls were discovered. At this time of uncertainty in our world, many question what is true. However, from Qumran, we see that God has indeed preserved His Word and that it is reliable and true.
————————————————-
LATEST WORLD NEWS CLIPS – ARTICLES MONDAY JUNE 03rd 2019
DAILY SCRIPTURE:
John 8:32 And ye shall know the truth, and the truth shall make you free
"My people are destroyed for lack of knowledge" (Hosea 4:6)
1Cor. 12:3 Wherefore I give you to understand, that no man speaking by the Spirit of God calleth Jesus accursed: AND THAT NO MAN CAN SAY THAT JESUS IS THE LORD, BUT BY THE HOLY GHOST.
Eph. 1:13 In whom ye also trusted, after that ye heard the word of truth, the gospel of your salvation: in whom also after that ye believed, ye were sealed with that holy Spirit of promise,
Eph. 3:5 Which in other ages was not made known unto the sons of men, as it is now revealed unto his holy apostles and prophets by the Spirit;
Eph. 4:30 And grieve not the holy Spirit of God, whereby ye are sealed unto the day of redemption
——————————————–
Luke 12:37 Blessed are those servants, whom the lord when he cometh shall find watching: verily I say unto you, that he shall gird himself, and make them to sit down to meat, and will come forth and serve them
PUT YOUR TRUST AND FAITH IN JESUS CHRIST (OUR SAVIOUR):
(Romans 12:2) to seek God's will, the Lord says, "Do not worry about what you'll eat or drink or wear. But seek first His Kingdom and His righteousness and all these things will be given to you as well"
——————————————-
DAILY CHRISTIAN BIBLICAL QUESTIONS AND ANSWERS:
——————————————-
RAPTURE OR SHEEP AND GOAT JUDGMENT?
QUESTION:    I was wondering, if you could tell me, when scripture says in Matthew 24:40-41 about the "one taken and the other left…" if this is about the Rapture or the sheep & Goat Judgement?
ANSWER:    I believe Matt. 24:40-41 is a reference to the Sheep and Goat judgement of Matt. 25:31-46 for the following reasons. First, according to Matt. 24:39 these verses describe an event that will happen "at the coming of the Son of Man". The rapture will have already taken place by that time.
Second, the Greek word translated "taken" means "to take to one's self" but the one translated "left" actually means "to send away". In the rapture the Lord will take the Church to Himself, but He won't be sending unbelievers away at that time. They will remain in their place. The event that happens at the time of the 2nd coming and includes both taking to Himself (Matt. 25:34) and sending away (Matt. 25:41) is the Sheep and Goat judgement .
WHEN IS THE SHEEP AND GOAT JUDGMENT?
QUESTION:    How can I prove the sheep & goat judgement occurs at the 2nd coming and is not the same as the great white throne judgement?
ANSWER:    You can prove the Sheep and Goat judgement happens just after the 2nd Coming by looking at the reference to its timing in Matt. 25:31,
"When the Son of Man comes in all his glory …"
Also, in Matt 25:34 He welcomes the "sheep" (surviving Tribulation believers) into the Millennial Kingdom. The Great White Throne judgment takes place at the end of the Millennium (Rev. 20:7) and is for unbelievers only (Rev. 20:11-12).
EXPLAINING THE SHEEP AND GOAT JUDGMENT
QUESTION:    Can you please explain again how Messiah was meaning His Jewish brethren when talking about "if you did it to the least of these my brothers, you were doing it to me", and how it means we should be helping the Jews today, whether monetarily or otherwise. Someone I'm talking to thinks it only means fellow believers, and I don't think that's entirely correct. Am I wrong in my thinking?
ANSWER:    First let's get the timing right so we can identify the intended audience. Your quote is from Matt. 25:40, part of the so-called Sheep and Goat judgment. (Matt. 25:31-46) The passage begins with the phrase
"When the son of man comes in His glory … " (Matt. 25:31)
This indicates the timing is just after the 2nd Coming.
The event He was speaking of is the judgement of Tribulation Survivors, believers and unbelievers who will have survived the Great Tribulation and are still alive on Earth at its end. Believers are going to be rewarded for their faith and received into the Millennial Kingdom on Earth in their natural states (Matt. 25:34-36). They'll help re-populate the Earth. Unbelievers will be removed from the planet to join the devil and his angels in the place prepared for them, and will be seen no more (Matt. 25:41-43). The Lord will use their treatment of His brethren as evidence of their heart condition toward Him since aiding Jews during the Great Tribulation will be a serious offence against the anti-Christ's government, and only a true believer would take such a risk.
This doesn't mean that it's not our job to help the less fortunate in the here and now. It just means that Matt 25:31-46 is intended for tribulation survivors, not the Church.
Remember these two things. First, the Olivet Discourse (Matt. 24-25) was meant for Israel, and second, everything after Matt. 24:36 will take place at or following the 2nd Coming.
————————————–
NEWS CLIPS OBTAINED FROM MANY SOURCES – INCLUDING


Tracking bible prophecy.org
Rapture Ready News
Prophecyupdate.Com
Main News Channels
End Times Headlines
Prophecyupdateblogspot.com
Stevequayle.com
Gracethrufaith.com
Nowtheendbegins.com
Other Christian Sites
(CLICK ON) LATEST DAILY NEWS CLIPS:
ISRAEL NEWS:
I AM GOING TO MAKE JERUSALEM A CUP THAT SENDS ALL THE SURROUNDING PEOPLES REELING … Zech. 12:2
God is in control, and He told the nations the consequences of dividing the Promised Land and declaring peace and safety on their own terms (Joel 3:1-2; I Thess. 5:3)
WORLD TERRORISM – WARS
GENERAL WORLD NEWS:
WORLD FINANCE:
MASSIVE EARTH CHANGES/EARTHQUAKES/VOLCANOES ETC:
2Chr. 7:13 If I shut up heaven that there be no rain, or if I command the locusts to devour the land, or if I send pestilence among my people;
2Chr. 7:14 If my people, which are called by my name, shall humble themselves, and pray, and seek my face, and turn from their wicked ways; then will I hear from heaven, and will forgive their sin, and will heal their land
EXTRA WORLD – ALTERNATIVE NEWS:
————————————————-
WORLD – PROPHETIC NEWS ARTICLES PRESENTATION – MONDAY JUNE 03rd 2019
MIDDLE EAST AND WORLD WAR LOOMING THE BUILD UP TO PSALM 83  – ISAIAH 17 AND GOG OF MAGOG WARS EZEKIEL 38:
THE WHOLE WORLD IS UNSTABLE FINANCIALLY, POLITICALLY, PHYSICALLY, MORALY, GODLY: – AND BECOMMING MORE SO DAILY. (WE ARE IN THE BEGINNING OF SORROWS (MATT 24:8)
THE BIBLE STATES THAT IT WILL ONLY GET WORSE BEFORE THE START OF THE TRIBULATION OF MANKIND – (

REVELATION 6

)
Matt. 24:6 And ye shall hear of WARS AND RUMOURS OF WARS: see that ye be not troubled: for all these things must come to pass, but the end is not yet.
Matt. 24:7 FOR NATION SHALL RISE AGAINST NATION, AND KINGDOM AGAINST KINGDOM: and there shall be famines, and pestilences, and earthquakes, in divers places.
Matt. 24:8 All these are the beginning of sorrows
——————————————-
With tensions high between the United States and Iran, the Israel Navy is prepared for any threat posed by Iran's terror proxy in Lebanon, Hezbollah.
While Israel has remained officially mum on the war of words between Tehran and Washington, the IDF is well aware of the strategic threat a war between the two foes could pose to the Jewish state.
"In every war the sea will be involved," a senior navy officer told The Jerusalem Post. "If there is war tomorrow, the navy is ready. Our readiness is high at all times."
The sea, he said "is an open theater where there are no borders but which every enemy wants to win. We have to be superior. We protect our borders where there are no walls, but there are multiple enemies."
As the navy increases in importance, especially in regard to protecting the country's coastline from waterborne threats as well as providing protection to the country's gas fields and shipping lanes, interest in the Naval Officer's Course has grown.
Israel is highly dependent on the sea with more than 90% of Israel's imports arriving via the sea, and while the country's navy is relatively small compared to other IDF corps, it has a significant amount of territory to protect since the expansion of the country's exclusive economic zone (EEZ) from 40 miles to 150 miles from shore years ago.
Senior naval officials have stated that Hezbollah has the ability to strike any spot in Israeli waters, including Israel's natural gas drilling rigs which supply around 60% (and soon 75%) of Israel's electricity.
"We live on an island. Our economy, natural resources, security are that of an island, dependent on the sea," the senior officer said, adding that the navy sees the same sorts of threats that are on land at sea.
At almost two and a half years long, the IDF's Naval Officer's Course is one of the most intensive programs in the military. According to army figures, more than 2,000 candidates apply with only 90 passing the initial tests and only 5.5% of the candidates who applied to the course graduate.
——————————————-
The rockets fired at Mount Hermon on Saturday are an indication as to what Iran is trying to push Syria to become: a testing ground for experiments in the battle against Israel and the United States, with the help of the pro-Iranian militias it has established there.
Israel is following with great concern the latest developments in Iran's continued attempts to entrench itself militarily in Syria. 
Israel isn't alone — Moscow shares this concern, and is also worried that Syrian President Bashar Assad is letting the Iranians do as they wish in his own territory.
The Israel Defense Forces thwarts much of the Iranian effort, at least according to foreign reports. Tehran's intended construction of factories for precision missiles was prevented for now, as were many of the shipments of precise weapons. 
Proof of that could be found on Saturday, as non-precise rockets were fired from deep in Syrian territory and one of them landed inside Syria.
This is the good news. 
But the bad news is the Iran is trying hard to establish a rocket force in Syria that will be operated by Shiite emissaries — Iraqi and Afghan militias and even the Lebanese terror group Hezbollah — all under the supervision of the Islamic Revolutionary Guard Corps.
That force is aimed at hurting Israel both in wartime and during calm periods, with the goal of creating a new type of war of attrition for Israel.
The critical question at this time is whether the strongest terror organization in the region — Hezbollah — will commit itself to this effort. The answer to that question isn't clear, as was evident by its leader Hassan Nasrallah's speech on Friday.
Which brings us to that speech, which came after Nasrallah disappeared for several weeks and didn't make addresses to the nation, prompting a wave of rumors regarding his health in Lebanese media and on social media.
But since then, Nasrallah has returned and cannot stop talking. At any event, the Hezbollah chief is prone to make fiery speeches — sometimes aimed at the Shiite community in Lebanon, sometime at the entire Lebanese people, and on occasions also at Israel.
Nasrallah's recent speech wasn't different in essence from previous ones, containing a laundry list of threats against Israel and the US. But he also laid down clear guidelines that the organization will likely try to follow in the near future in the case of an escalation with Iran.
First, he warned that if the US starts a war with Iran, the fighting will not end there but will spread to the entire region, with Israel and Saudi Arabia paying the price.
That threat is of course supposed to create deterrence, but it also provides clarification as to Hezbollah's intentions: It isn't a purely Lebanese group, but is still first and foremost an Iranian extension operating in Lebanon. While Hezbollah doesn't solely act on orders from Tehran, in emergency situations like a war with the US, it will stand at the Iranians' side in any way possible.
Still, notably, Nasrallah did not mention a new battlefront with Israel in Syria.
Secondly, Nasrallah explained in his address that while Hezbollah doesn't have precision missile factories in Lebanon, the Lebanese have the "right" to possess any weapon. He added that Washington was now trying to include the precision missile issue in the Israel-Lebanon negotiations regarding their maritime border. "The issue is not up for discussion," he said.
Perhaps most worrying is Nasrallah's direct statement that his group would react "immediately and strongly" to any Israeli strike on a precision missile factory in Lebanon.
The question is how this catch-22 can be solved. If the terror group continues to try and build factories for precision missiles in Lebanon, that will lead to an Israeli operation and a Hezbollah reaction — which could quickly lead to war. At the moment there are thought to be no such factories in Lebanon, but Hezbollah has recently tried to build several.
The international media reports about the Israeli information on the factories' locations led to their evacuation by Hezbollah. The Shiite group's intention may now change. While it understands the necessity for precise missiles, it also understands the price of building such a facility.
The attempts over the years to transfer precision missiles from Iran to Lebanon via Syria have been met with hundreds of operations attributed to Israel that likely prevented their delivery on a mass scale. Still, returning to the old method of importing precision missiles may be better than the second option — war with Israel.
Tehran and Hezbollah understand that the old route via the Damascus international airport is too exposed to Israeli eyes, so they are trying to land the aircraft carrying the weapons in other Syrian airports, intending to then transfer some of them to Hezbollah.
And a final note on the purported financial crisis suffered by Hezbollah. While this is definitely a difficult time for the group in light of recent US sanctions, Washington could be overestimating their effect. While the sanctions, including those on Tehran, will affect Hezbollah's budget, it is doubtful that the group is already going through a real crisis. They will have an effect in months and years to come, probably not days or weeks.
——————————————-
ROCKET FIRE BETWEEN SYRIA AND ISRAEL RESUMES
Syria claimed its air defenses downed missiles coming from the direction of Israel early Sunday morning, hours after two rockets were fired from Syria toward Israel's Mount Hermon.
The official SANA news agency initially reported explosions around southern Damascus, and shortly after said that Syrian air defenses intercepted missiles coming from the Golan Heights.
It was not immediately clear if both projectiles landed inside Israeli territory. The military was also checking if the rocket fire was intentionally directed at Israel and if so by whom. There has been no fighting reported in the area around the Syrian-Israeli border in recent days, indicating this was not likely the result of errant fire from internal battles.
The incoming rockets did not trigger alert sirens. These alarms are typically only activated in cases where a projectile is heading toward a populated area, rather than an open field.
The launches came less than a week after a limited clash between Israel and Syria.
On Monday, a Syrian anti-aircraft battery fired at an Israeli fighter jet that was flying within Israeli airspace. Shortly afterward, in response, the IDF attacked the battery and destroyed it, reportedly killing a Syrian officer and soldier. A military vehicle was also said damaged in the attack.
Saturday night's rockets appeared to be a relatively long range variety, reportedly fired from the Damascus area, some 35 kilometers (22 miles) away, similar to an attack earlier this year aimed at the Hermon.
The Hermon is located in the northern tip of Israel's Golan Heights. In addition to a popular ski resort, the area is also home to a number of military installations.
In January, Iranian troops in Syria fired a medium-range, Iranian-made missile at Mount Hermon in what the IDF said at the time was a "premeditated" attack aimed at deterring Israel from conducting airstrikes against the Islamic republic's troops and proxies in Syria.
The incoming projectile was shot down by Israel's Iron Dome air defense system.
Last Saturday, Syria said its air defenses shot down a number of missiles fired from Israel, a day after making a similar claim.
There was no response from the IDF to those reports. Israel rarely comments on individual strikes in Syria.
Toward the start of the Syrian civil war, the Israeli military established a number of "red lines" that if violated would result in a retaliatory strike, including any attacks — intentional or otherwise — against Israel.
Air defense systems were activated against missiles fired from the Golan Heights towards southwest Damascus, a Syrian military source said on Sunday morning, according to Kan news.
The Syrian Observatory for Human Rights stated that the attacks focused on groups of forces and warehouses connected to Hezbollah and Iran in southern Damascus, according to Kan.
At 4:10 a.m., Israel fired missiles towards the eastern Quneitra countryside causing damage and killing three soldiers and wounding seven other soldiers, a military source told the Syrian SANA news agency.
Two missiles were fired from Syria toward Israel's Golan Heights on Saturday night, the IDF confirmed.
The military said it was checking reports that one of the missiles landed near the Mount Hermon ski resort while the other landed inside Syrian territory.
There were no incoming rocket sirens activated and no interception of the rockets. The military said there was no damage or injuries.
On Monday, the IDF struck a Syrian military position near Quneitra after an anti-aircraft missile was launched at a fighter jet flying in Israeli territory. According to reports, the Israeli strike killed a Syrian officer and soldier and damaged a military vehicle.
In 2018, Syrian troops recaptured southern Syria seven years after losing the area to rebel groups at the start of that country's civil war, and returned to their positions, along with Hezbollah operatives.
In January, the Iron Dome missile defense system intercepted an Iranian-made surface-to-surface model with a 200 km. range and payload of hundreds of kilograms of explosives that was fired from the outskirts of Damascus.
According to some reports the rockets fired Saturday night appeared to have been fired from the area of Damascus, some 40 km. away, similar to the January attack the IDF said at the time was a "premeditated" attack that Iran had hoped would deter Israel from carrying out airstrikes against their assets.
——————————————-
Seven "foreign fighters" were among the 10 killed in Israel Defense Forces airstrikes on several military targets in Syria in the predawn hours of Sunday morning in response to two rockets that were fired from the country at the Golan Heights on Saturday night, a war monitor said.
The Syrian Observatory for Human Rights did not specify the nationalities of the foreigners, but in an earlier statement said that Iranian and Hezbollah targets were hit in the strikes.
Beginning at 4:10 a.m., Israel Defense Forces helicopters and planes attacked several targets connected to the Syrian army, including two artillery batteries, several observation and intelligence outposts, and an SA-2 type air defense unit, the IDF said in a statement.
Syrian media reported that Israel also struck several targets connected to Iran and is proxy militias in Syria, in the area of al-Kiswah, south of Damascus. These strikes reportedly targeted weapons caches and a military training facility.
The Israeli army refrained from specifying who it believes fired the two rockets at the Golan Heights — one of which landed inside Israeli territory, the other in Syria — but said it "sees the Syrian regime as responsible for all attacks against Israel from Syrian territory."
The observation and intelligence targets bombed by Israel were located near the border with the Golan Heights, while the artillery and anti-aircraft batteries were south and south-west of Damascus, the IDF said.
During the exchange, Israeli air defense systems fired in response to Syrian anti-aircraft fire, but no projectiles were believed to have landed inside Israel.
Prime Minister Benjamin Netanyahu said Sunday morning that Israel will continue to respond to any attacks on its territory.
"We are not prepared to tolerate firing into our territory and we react with great force against any aggression against us," the prime minister, who also serves as defense minister, said in a statement. "This is a consistent policy that I lead and so we will continue to do for the sake of Israel's security."
Syria's official SANA news agency said that three Syrian soldiers had been killed and seven injured in the attack, and claimed that Syrian air defenses intercepted missiles coming from the Golan Heights. The attack also caused material damage, the report said.
We hold the Syrian regime accountable and will firmly operate against any attempt to harm Israeli civilians. pic.twitter.com/XtDTqz7Btc
— Israel Defense Forces (@IDF) June 2, 2019
On Monday, a Syrian anti-aircraft battery fired at an Israeli fighter jet that was flying within Israeli airspace. Shortly afterward, in response, the IDF attacked the battery and destroyed it, reportedly killing a Syrian officer and soldier. A military vehicle was also said damaged in the attack.
Saturday night's rockets appeared to be a relatively long-range variety, reportedly fired from the Damascus area, some 35 kilometers (22 miles) away, similar to an attack earlier this year aimed at Mount Hermon. Mount Hermon is located in the northern tip of Israel's Golan Heights. In addition to a popular ski resort, the area is also home to a number of military installations.
——————————————-
A decision to not cap property that homeless people can keep on Skid Row was announced last Wednesday

It sparked fury among some who say it will 'only perpetuate the public health crisis that already exists' there 

Images from the downtown area show trash piling up as workers struggle to keep the area sanitized 

Rows and rows of tents line the sidewalks of Skid Row in the sprawling 50-block area, home to around 4,200

On Thursday it was revealed a Los Angeles police detective has been diagnosed with typhoid fever 

At least five other officers are also showing symptoms and their division polices downtown LA

Dustin DeRollo, a union spokesman, said cops who patrol Skid Row 'walk through the feces, urine and trash' 

In an op ed for The LA Times reporter Steve Lopez called it 'the collapse of a city that's lost control' 
These shocking pictures from downtown Los Angeles capture the growing problem it faces with trash and rodents in a desperate city also trying to contain a typhoid fever outbreak linked to worsening sanitary conditions. 
A decision to not cap the total amount of property that homeless people can keep on Skid Row was announced last Wednesday and it sparked fury among some officials who say it will 'only perpetuate the public health crisis that already exists' there.  
That, coupled with the news a Los Angeles police detective has been diagnosed with typhoid fever, has sparked concern among LA's residents. 
The city has now said it will dispose of sofas, refrigerators and other large items in the 50-block area of downtown. 
But councilmen Joe Buscaino slammed the decision, saying: 'The settlement will only perpetuate the public health crisis that already exists in Skid Row and will set a precedent for the rest of the city that will normalize encampments.
'The city is sending a clear signal that we are turning the sidewalks in Skid Row into free, unlimited public storage, doing a disservice to the residents of Los Angeles, especially to those living on the streets.'
Images from the downtown area show trash piling up as workers struggle to keep the area sanitized. They are pictured wearing face masks among the dirt and grime. 
Rows and rows of tents line the sidewalks of Skid Row in the sprawling 50-block area, home to around 4,200 homeless people, many in tents and shantytowns.  
Some lay passed out in the street, seemingly from the effects of drugs as others are pictured lugging their property around, in search of the next spot to set up. 
On Thursday it was revealed a Los Angeles police detective has been diagnosed with typhoid fever, a rare illness typically spread through contaminated food or water, and at least five other officers who work in the same station are showing symptoms.   
In an op ed for The LA Times reporter Steve Lopez called it 'the collapse of a city that's lost control', writing: 'We've got thousands of people huddled on the streets, many of them withering away with physical and mental disease. 
'Sidewalks have disappeared, hidden by tents and the kinds of makeshift shanties you see in Third World places.'
He called the city 'a giant trash receptacle'.
The police union has demanded better protective equipment for officers and called for the station to be regularly sanitized.
The Police Department said exposed areas of the Central Division were being disinfected and officials were reviewing the state's 'concerning' report that found health violations at the station.  
The building lacked an effective extermination program and had 'rats/rodents, fleas, roaches, flies, gnats, mosquitoes and grasshoppers,' according to the state Division of Occupational Safety and Health's May 14 report.
The federal Centers for Disease Control and Prevention says typhoid fever isn't common in the U.S. but affects 22 million people annually in other countries.
It is different from typhus, which can spread from infected fleas and caused an outbreak earlier this year that sickened homeless people who live near City Hall and a deputy city attorney.
——————————————-
NATIONS MOVE FROM THE U.S. DOLLAR – EMERGING GLOBAL MULTI-CURRENCY SYSTEM
Global central banks have stepped up their gold purchases. Tatiana Fic, the director of Central Banks and Public Policy at the World Gold Council and Ronald-Peter Stoeferle, a fund manager at Incrementum AG, have commented on the trend foreseeing a further drift from the US dollar and the emergence of a global multi-currency system.
Many Countries All Over the Globe are De-Dollarising, Repatriating Gold
For his part, Ronald-Peter Stoeferle, a fund manager at Incrementum AG and one of the authors of the 13th annual In Gold We Trust report, opined that the global surge in gold demand is nothing short of "a bigger de-dollarisation trend".
"It seems that many countries all over the globe are de-dollarising; they are basically diversifying from the US dollar. It is not only Russia, it is also Kazakhstan; it is China, of course; recently it was Hungary and also Poland, so also countries from the European Union. This shows lack of trust in the US dollar", Stoeferle emphasised.
The US-driven tariff and sanctions spree have prompted some countries to turn their back on the US dollar. Thus Russia, China, Turkey, Iran, India and Venezuela are increasingly shifting to national currencies in bilateral trade. Moscow even kicked off a "de-dollarisation" programme in response to Washington's stepping up sanctions against the country over the alleged meddling in the 2016 US presidential election, something that Russia vehemently denies.
Stoeferle highlighted that apart from acquiring bullion some countries are increasingly repatriating their gold reserves.
"Many countries are trying to get back their gold holdings that are stored internationally", he stressed. "This is also a big sign of the loss of confidence and trust in counter-parties and in the global financial system", Stoeferle says.
In late May, Vecernje Novosti, a Belgrade-based Serbian newspaper, reported that the country is due to increase its gold from 20 to 30 tonnes in 2019, stepping them up to 50 tonnes in 2020. For his part, Philippine President Rodrigo Duterte has signed a law stipulating that all gold produced by small miners in the country should be sold to the central bank at around world market prices in a bid to increase the Philippines gross international reserves.
Meanwhile, Russia and China doubled down on purchasing the precious metal in the first quarter of 2019 buying 55.3 and 33 tonnes, respectively. According to the World Gold Council's May report, Russia's gold reserves are now at 2,168.3 tonnes and rank sixth in the world, while China holds 1,885.5 tonnes.
In 2017 the German Central Bank finalised the repatriation of half of its bullion reservesfrom the Federal Reserve, the Bank of France and the Bank of England, leaving 1,200 and 430 tonnes of its precious metal in the US and the UK, respectively. As of May 2019, Germany's gold reserves amount to 3,369.7 tonnes.
In April 2018, the Turkish Central Bank signalled that it would bring its 220 tonnes of gold home from the US amid the ongoing diplomatic row between Washington and Ankara over the Turkey Halkbank case and Middle Eastern affairs.
——————————————-
POPE FRANCIS CALLS FOR 'SUPRANATIONAL, LEGAL CONSTITUTED BODY

'
By Mike Gendron
Pope Francis has been successfully executing the Vatican's well-defined strategy to create a one world religion. Now he is using his global influence and power to establish a one world government. During a speech on May 8th before the members of the Pontifical Academy of Social Sciences. Pope Francis demanded that a new "supranational, legal constituted body" enforce climate change policies and other worldwide "threats." He advocated a policy of decreased national sovereignty and increased global unity, claiming that planetary problems are exacerbated by "an excessive demand for sovereignty on the part of States." The pope is trying to convince the world that our only hope for peace, prosperity, and planetary salvation is to surrender our national sovereignty.
Regarding the hot topic of immigration, the pope declared that nationalism is too easily twisted into a doctrine repugnant to the welcoming of immigrants. In other words, a global government is necessary to ensure the welfare of migrants and the "universal common good." According to Francis, our only hope for planetary peace and progress is to make room for "international organizations" to develop into governing bodies, supplanting the "state interests". He said that if we hope to save the planet we must accept that we are one people and unite to create "a space for dialogue and meeting for all countries in a spirit of mutual respect."
Pope Francis warned attendees that sovereign nations attempting to govern themselves will find they are unable to protect their populations from the myriad menaces abroad in the world. He said, "The nation-state is no longer able to procure the common good of its populations alone." Rather than calling for the outright abolition of Nation States, the Pope insisted they all be subjected to external, global governing authorities. Francis went on to deride nations that have border walls.
Avro Manhattan, a critic of the Holy See, said, "The Vatican diplomacy is so influential and can exert such great power in the diplomatic-political field because it has at its disposal the tremendous machinery of a spiritual organization with ramifications in every country of the planet."
Many people are unaware of the political power of the papacy. Vatican City is a sovereign nation and the pope is the head of state. He can negotiate with other nations and enact laws with the same kind power as prime ministers and presidents. For centuries the Vatican has been a major influence in European political affairs. Its history is filled with political intrigue and the rise and fall of government leaders and national powers. Presidents, prime ministers and royalty from all over the world have traveled to Rome seeking an audience with the pope to seek his counsel and discuss matters of great political, economic, and social importance.
We know from the study of bible prophecy there will be a false prophet and world ruler who will usher in a time of "peace and prosperity" on the earth. The apostle John describes the ruler of this vast empire as having power and great authority, given to him by Satan (Revelation 13:2), He will receive worship from "all the world" and have authority over "every tribe, people, language and nation" (13:3-7). From this description, it is logical to assume that this person is the leader of a one-world government which is recognized as sovereign over all other governments.
——————————————-
SNOWDEN: 'MASS SURVEILLANCE…CAN MONITOR AND RECORD ACTIVITIES OF PEOPLE ON A SCALE….ALL POWERFUL

'
NSA whistleblower Edward Snowden said Thursday that people in systems of power have exploited the human desire to connect in order to create systems of mass surveillance.
Snowden appeared at Dalhousie University in Halifax, Nova Scotia via livestream from Moscow to give a keynote address for the Canadian university's Open Dialogue Series.
Right now, he said, humanity is in a sort of "atomic moment" in the field of computer science. "We're in the midst of the greatest redistribution of power since the Industrial Revolution, and this is happening because technology has provided a new capability," Snowden said.
"It's related to influence that reaches everyone in every place," he said. "It has no regard for borders. Its reach is unlimited, if you will, but its safeguards are not." Without such defenses, technology is able to affect human behavior.
Institutions can "monitor and record private activities of people on a scale that's broad enough that we can say it's close to all-powerful," said Snowden. 
They do this through "new platforms and algorithms," through which "they're able to shift our behavior. In some cases they're able to predict our decisions—and also nudge them—to different outcomes. And they do this by exploiting the human need for belonging."
"We don't sign up for this," he added, dismissing the notion that people know exactly what they are getting into with social media platforms like Facebook.
"How many of you who have a Facebook account actually read the terms of service?" Snowden asked. "Everything has hundreds and hundreds of pages of legal jargon that we're not qualified to read and assess—and yet they're considered to be binding upon us."
"It is through this sort of unholy connection of technology and sort of an unusual interpretation of contract law," he continued, "that these institutions have been able to transform this greatest virtue of humanity—which is this desire to interact and to connect and to cooperate and to share—to transform all of that into a weakness."
"And now," he added, "these institutions, which are both commercial and governmental, have built upon that and… have structuralized that and entrenched it to where it has become now the most effective means of social control in the history of our species."
"Maybe you've heard about it," Snowden said. "This is mass surveillance." * * *
——————————————-
SECRETARY OF STATE MIKE POMPEO AND JARED KUSHNER HEAD TO BILDERBERG 2019 TO DISCUSS THE COMING 'NEW STRATEGIC ORDER' WITH THE GLOBAL ELITES
The White House is making itself felt at this year's Bilderberg conference, by sending along not only Mike Pompeo, but Trump's deal making diplomat son-in-law, Jared Kushner, and two members of his National Security Council. Not to be outdone, the Pentagon has sent two senior officials: their top military strategist and the technical director for AI. As the war machine gets smarter, and every last bit of weaponry becomes AI-enhanced, the lines between Silicon Valley and the Pentagon start to get awfully blurry. Sniff this year's Bilderberg and you can smell this new kind of war: "cyber threats" and "the weaponization of social media" are on the agenda.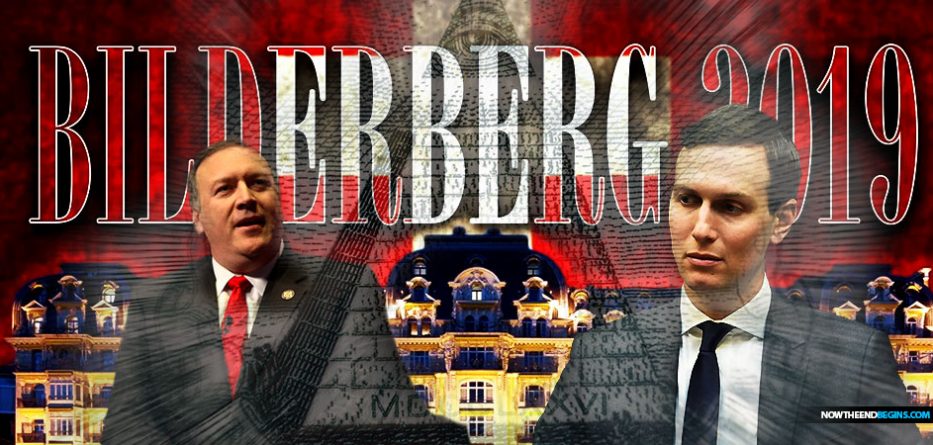 The Americans have come to Bilderberg in force this year. Secretary of State Mike Pompeo arrived on Saturday afternoon in a motorcade so long it stretched halfway back to Geneva. He'll be sharing his thoughts on "A New Strategic Order" with the head of NATO, two prime ministers, the German foreign minister, the King of Holland, and any number of finance bosses and billionaires, many of them from the world of tech.
When I saw the headline for this article on Drudge today, I  laughed out loud, I truly did. Why the very idea of Mike Pompeo, who just a few weeks ago was in a church in Texas talking about the Rapture, attending the annual super-secret Bilderberg meeting was ludicrous. Bilderberg is where the Illuminati plots out their plans for global domination. So what was Mike Pompeo there to talk about? Nothing less than the coming New World Order, that's what. And who was coming along to keep Pompeo company? Why, look, it's Jared Kushner, Central Casting's go-to guy when people are looking to audition for the role of Antichrist in the next installment of 'Left Behind'. Except this is no novel, and it's actually happening.
"Let no man deceive you by any means: for that day shall not come, except there come a falling away first, and that man of sin be revealed, the son of perdition; Who opposeth and exalteth himself above all that is called God, or that is worshipped; so that he as God sitteth in the temple of God, shewing himself that he is God."
2 Thessalonians 2:3,4 (KJV)
Watching all this end times activity assemble itself is like watching someone who is overfilling a water balloon. It gets bigger, and bigger and bigger, and you are unable to look away because you don't want to miss the spectacular moment when the whole thing explodes. That is, from a prophecy perspective, what we are seeing right now. We are making the transition from the pages of end times novels to the pages of scripture where the end times are unfolding in front of us. Whatever you do don't look away, this is one explosion you do not want to miss.
Pompeo and Kushner head to Bilderberg Meeting, a mysterious gathering of the global elite
FROM NEWSWEEK: A slew of Silicon Valley luminaries are attending this year's elite transatlantic conference at a heavily-guarded five-star hotel on the shores of Lake Geneva. They include Microsoft CEO Satya Nadella, who is making his first appearance at the secretive summit, and his fellow Microsoft board member, Reid Hoffman, who's a regular face at the Bilderberg buffet.
The White House is making itself felt at this year's conference, by sending along not only Pompeo, but Trump's deal making diplomat son-in-law, Jared Kushner, and two members of his National Security Council. Not to be outdone, the Pentagon has sent two senior officials: their top military strategist and the technical director for AI.
As the war machine gets smarter, and every last bit of weaponry becomes AI-enhanced, the lines between Silicon Valley and the Pentagon start to get awfully blurry. Sniff this year's Bilderberg and you can smell this new kind of war: "cyber threats" and "the weaponization of social media" are on the agenda. And around the table are the head of GCHQ and the director of NATO's new StratCom Centre of Excellence, which spearheads "digital engagement" and psychological warfare.
Secretary of State Mike Pompeo is on a weeklong trip to Europe where he is raising sensitive issues with national leaders — from Iranian missiles to Chinese technology to the economic collapse of Venezuela — but the most colorful conversations could take place this weekend out of public earshot in a secretive conclave at a Swiss lakeside resort. In Montreux, on the eastern shore of Lake Geneva, political and business leaders from Western nations are gathering for the 67th Bilderberg Meeting, an annual forum in which participants agree not to reveal exactly what was said or who said it. It is a shadow version of Davos, the elite annual winter conference in the Swiss Alps that President Trump has attended once but has also criticized. source
This blurring of tech and war takes physical form in some of the participants at Bilderberg. Longtime conference insider and former Google CEO Eric Schmidt chairs the Pentagon's Defense Innovation Board and also heads up the new National Security Commission on Artificial Intelligence. Two other members of the Defense Innovation Board are here in Montreux: Reid Hoffman, and the psychologist Adam M. Grant.
The Meetings are held under the Chatham House Rule, which states that participants are free to use the information received, but neither the identity nor the affiliation of the speaker(s) nor of any other participant may be revealed.
According to the group, this is this year's agenda:
A Stable Strategic Order

What Next for Europe?

Climate Change and Sustainability

China

Russia

The Future of Capitalism

Brexit

The Ethics of Artificial Intelligence

The Weaponization of Social Media

The Importance of Space

Cyber Threats
As can be seen, the members will be discussing (plotting?) with regard to issues of the day that seem to be moving in a direction away from freedom. source
Alongside Schmidt on the Bilderberg steering committee are yet another two tech billionaires, Alex Karp and Peter Thiel. Karp is the CEO of Palantir, a shady data-analytics company which has just won a massive $800 million Pentagon battlefield intelligence contract. Palantir was set up in 2004 by Peter Thiel with backing from the CIA. Thiel, who was a co-founder of PayPal, is a director of Facebook and is high tech's most vocal supporter of Donald Trump.
US SECRETARY OF STATE MIKE POMPEO POSTS SHOCK VIDEO IMPLYING UNITED STATES MAY ALSO SUPPORT THE BUILDING OF A THIRD JEWISH TEMPLE IN ISRAEL
Truly it boggles the mind what Donald Trump would think about his poor innocent son-in-law wandering into the murky world of Bilderberg, with its prime ministers and billionaire investors strategizing behind closed doors with Pentagon officials and NATO chiefs, all under the watchful eye of Goldman Sachs International.
And not just Goldman Sachs. In Montreux, as ever, there's a healthy number of high-finance bosses, including the chairmen of HSBC, Deutsche Bank and Santander and the CEOs of AXA and Credit Suisse. But as the movement in Bilderberg towards AI and tech continues, you can see within the group a fault line opening up between Wall Street and Silicon Valley. READ MORE:
Switzerland: Pompeo and Kissinger join Bilderberg Group meet in Montreux
The Bilderberg Group met for its 67th Annual Conference in Montreux on Saturday and were joined by the likes of US Secretary of State Mike Pompeo and one of his predecessors Henry Kissinger. French Minister Bruno Le Maire and relevant business personalities such as the former chairman of Google Eric Emerson Schmidt were also seen arriving at luxurious Montreux Palace. The Bilderberg Meeting was first established in 1954 by Price Bernhard of the Netherlands and seeks to promote dialogue between North America and Europe under the so-called 'Chatham House Rule' debating system.
——————————————-
BRISBANE (AUSTRALIA) SUNDAY MAIL – (FRONT PAGE ARTICLE) SUNDAY MAY 02nd 2019
"SHESUS"
Elite schools give Holy Father and Son heav-ho in PC push to make God gender neutral "SHESUS"
Male descriptions of God are being stripped from prayers by elite Brisbane schools, in a politically correct push to turn the "creator" gender neutral.
Top Catholic schools including All Hallows, Loreto College at Coorparoo, St Rita's College and Stuartholme are stamping out traditional terms such as "Father" and "Son" and "Lord" for not being "inclusive".
Stuartholme has even substituted the word "Godself" in place of "Himself". Declaring it wants students to deepen their "understanding of who God is for them, how God reveals God-self through creation, our relationships with others and the person of Jesus". However the policy, which has also led to changes to hymns, has been slammed as a bizarre campaign to "de-gender religion" in defiance of the Bible.
WEBPAGE ADMINISTRATOR:  I wonder every day how long God with his infinite Love and patience will "Tolerate" this kind of "BLASPHEMY" I feel it wont be for much longer. The Catholic Hierarchy has "TOTALLY" lost the plot. The Pope is calling for a "One World Religion", and a "One World Government". The time is short, get ready for Jesus return.