This Happened On Planet Earth…Aug. 2019…End Times Signs

Published on Aug 24, 2019
 

Please Help Support This Ministry:

https://www.paypal.me/watchman1963

Cash App : $watchman1963 Please subscribe to my backup channel:

https://www.youtube.com/channel/UC4nc…

Current Events Linked To Biblical Prophecies. Everything is unfolding just as the bible foretold. Wars, Volcanic Eruptions, Earthquakes, Extreme Weather, Christian Persecution, Violence and more!
Matthew 24:3-14 3 Now as He sat on the Mount of Olives, the disciples came to Him privately, saying, "Tell us, when will these things be? And what will be the sign of Your coming, and of the end of the age?" 4 And Jesus answered and said to them: "Take heed that no one deceives you. 5 For many will come in My name, saying, 'I am the Christ,' and will deceive many. 6 And you will hear of wars and rumours of wars. See that you are not troubled; for all these things must come to pass, but the end is not yet.
7 For nation will rise against nation, and kingdom against kingdom. And there will be famines, pestilences,[b] and earthquakes in various places. 8 All these are the beginning of sorrows. 9 "Then they will deliver you up to tribulation and kill you, and you will be hated by all nations for My name's sake. 10 And then many will be offended, will betray one another, and will hate one another.
11 Then many false prophets will rise up and deceive many. 12 And because lawlessness will abound, the love of many will grow cold. 13 But he who endures to the end shall be saved. 14 And this gospel of the kingdom will be preached in all the world as a witness to all the nations, and then the end will come.
————————————————
Deadly Terror Attack Claims Teenager's Life, Wounds Father and Brother – TV7 Israel News

Published on Aug 24, 2019
 

Today's top stories 23.08.19; 1) An Israeli teenager was killed, and two others were severely wounded this morning, when an explosive device detonated near the Ein Bubin spring, which is located next to the West Bank settlement of Dolev. 2) Prime Minister Benjamin Netanyahu confirmed that Israel is operating against Iran in Iraq, while reiterating that the Islamic Republic is not immune, no matter where it is situated – as the Islamic Republic persists in its activities to annihilate the Jewish State. 3) Amid heightened tensions in the Persian Gulf; the U.S. and Israeli Navies concluded a joint exercise this week, dubbed "noble Rose," in which special navy commando units from both countries drilled several scenarios, which among others included the commandeering of a hijacked vessel in deep waters, and rescuing a force from behind enemy lines.
————————————————
Tensions: Another US combat drone has been sh0t out of the sky

Published on Aug 24, 2019
 

Tensions: Another US combat drone has been sh0t out of the sky A US military combat drone has been shot down over Yemen, marking the second time in three months the US has lost an unmanned aerial vehicle over the war-torn country. Yemen's Houthi insurgency claimed responsibility, announcing that it downed a US MQ-9 Reaper hunter-killer drone, a $15 million unmanned aerial combat vehicle developed by General Atomics, in Dhamar, an area to the southeast of the Houthi-controlled capital of Sanaa. "We are aware of reporting that a US MQ-9 was shot down over Yemen. We do not have any further information to provide at this time," US Central Command initially said in response to Insider's inquiries.
————————————————
LATEST WORLD NEWS CLIPS – ARTICLES – SATURDAY AUGUST 24th 2019
John 8:32 And ye shall know the truth, and the truth shall make you free
"My people are destroyed for lack of knowledge" (Hosea 4:6)
1Cor. 12:3 Wherefore I give you to understand, that no man speaking by the Spirit of God calleth Jesus accursed: AND THAT NO MAN CAN SAY THAT JESUS IS THE LORD, BUT BY THE HOLY GHOST.
THE TRIBULATION OF THE UNJUST (Those who have rejected Jesus Christ as their Saviour) IN THE BOOK OF REVELATION CHAPTER'S 6 to 22:
Rev. 3:10 Because thou hast kept the word of my patience, I also will keep thee from the hour of temptation, which shall come upon all the world, to try them that dwell upon the earth:
Luke 12:37 Blessed are those servants, whom the lord when he cometh shall find watching: verily I say unto you, that he shall gird himself, and make them to sit down to meat, and will come forth and serve them
so won't you accept Jesus now and be removed from that event and live forever with Jesus in the Family of God?
2 "(For he saith, I have heard thee in a time accepted, and in the day of salvation have I succoured thee: behold, now is the accepted time; behold, now is the day of salvation.)" (2nd Corinthians 2:6)
——————————————-
DAILY CHRISTIAN BIBLICAL QUESTIONS AND ANSWERS:
——————————————-
THE TEMPLE OR THE BODY OF BELIEVERS?
QUESTION:    I have read the following on a web site and am wondering if the translations are correct. "There are two different Greek words that are translated as "temple" in English. One word "hieron" is used by Paul when referring to an actual building made with wood and stones. The other word "naos" is used when referring to the spiritual temple of God which refers to His people. The word "naos" is the one used in this 2 Thessalonians 2:4 verse, and therefore is NOT talking about a physical temple."
ANSWER:    The Greek word naos, used in 2 Thes. 2:4, is used 46 times in the New Testament. 45 times it's translated temple, and once it refers to a pagan shrine (Acts 19:24). It can be used metaphorically as the body of believers, like it is in 1 Cor. 3:16: "Don't you know that you are God's Temple and God's Spirit lives in you?" But the metaphorical use is by no means exclusive. The word most often refers to the physical temple building. (You can tell by the context which is meaning is intended.)
2 Thes. 2:4 is a description of the Abomination of Desolation, the kick-off event of the Great Tribulation. It's the defilement of a physical Temple in Israel, as foretold in Daniel 9:27 and Matt. 24:15, and is the signal for Jews in Israel to flee into the mountains. The metaphorical use of the word in describing this event is not consistent with other Old and New Testament prophecies, and would not fulfill them. I think your source is misreading the context of the passage.
RESURRECTION BODY BUT NOT GLORIFIED BODY?
QUESTION:    You've written that Christ didn't appear in His glorified body after the resurrection. If that's true how did He appear in the upper room whilst the doors were bolted shut? Didn't He ascend to heaven and sprinkle His blood on the Mercy Seat before coming back to earth for forty days? I always figured that once He was raised He was in His glorified body. I never even entertained the notion that He was in His regular "human" body after he arose. Is there scripture I can use to reference this idea?
ANSWER:    Here's Matthew's description of what Jesus looked like in His glorified body on the Mt. of Transfiguration.
"His face shone like the sun, and his clothes became as white as the light"
(Matt. 17:2). Mark 9:2 says they were a dazzling white, whiter than anyone in the world could bleach them. Luke 9:29 says the appearance of His face changed and His clothes became as bright as a flash of lightning.
In Rev. 1:14-16 John described Him this way .
"His head and hair were white like wool, as white as snow, and his eyes were like blazing fire. His feet were like bronze glowing in a furnace, and his voice was like the sound of rushing waters. His face was like the sun shining in all its brilliance."
In the 40 days between His resurrection and ascension, the New Testament records 12 post resurrection appearances by Jesus to individuals and groups of various sizes, the largest being about 500 in number. There's no indication that He looked like this in any of them.
He could appear and disappear at will, whether in a room with locked doors (John 20:19) or walking along a road (Luke 24:15). But He didn't look like he did in the descriptions of His transfiguration, which the dictionary defines as "the supernatural and glorified change in the appearance of Jesus on the mountain." He looked like other people on Earth.
This tells us that resurrection bodies have the ability to appear in different ways, and can do other things natural bodies can't do. 1 John 3:2 says after the rapture we'll be like Him. To me that means we'll have similar capabilities.
——————————————–
NEWS CLIPS OBTAINED FROM MANY SOURCES – INCLUDING

Tracking bible prophecy.org
Rapture Ready News
Prophecyupdate.Com
Main News Channels
End Times Headlines
Prophecyupdateblogspot.com
Stevequayle.com
Gracethrufaith.com
Nowtheendbegins.com
Other Christian Sites
(CLICK ON) LATEST DAILY NEWS CLIPS:
ISRAEL NEWS:
THE MIDDLE EAST PEACE PLAN IS "ANTI GOD" – (GOD WILL NOT ALLOW JERUSALEM TO BE DIVIDED).
ZECHARIAH 12:2-3
Zech. 12:2 Behold, I will make Jerusalem a cup of trembling unto all the people round about, when they shall be in the siege both against Judah and against Jerusalem.
Zech. 12:3 And in that day will I make Jerusalem a burdensome stone for all people: all that burden themselves with it shall be cut in pieces, though all the people of the earth be gathered together against it
WORLD TERRORISM – WARS
GENERAL WORLD NEWS:
WORLD FINANCE:
MASSIVE EARTH CHANGES/EARTHQUAKES/VOLCANOES ETC:
2Chr. 7:13 If I shut up heaven that there be no rain, or if I command the locusts to devour the land, or if I send pestilence among my people;
2Chr. 7:14 If my people, which are called by my name, shall humble themselves, and pray, and seek my face, and turn from their wicked ways; then will I hear from heaven, and will forgive their sin, and will heal their land
CHRISTIAN AND RELIGIOUS WORLD NEWS:
EXTRA WORLD – ALTERNATIVE NEWS:
————————————————-
WORLD – PROPHETIC NEWS ARTICLES PRESENTATION – SATURDAY AUGUST 24th 2019
MIDDLE EAST AND WORLD WAR LOOMING THE BUILD UP TO PSALM 83  – ISAIAH 17 AND GOG OF MAGOG WARS EZEKIEL 38:
THE WHOLE WORLD IS UNSTABLE FINANCIALLY, POLITICALLY, PHYSICALLY, MORALLY, GODLY: – AND BECOMING MORE SO DAILY. (WE ARE IN THE BEGINNING OF SORROWS (MATT 24:8)
THE BIBLE STATES THAT IT WILL ONLY GET WORSE BEFORE THE START OF THE TRIBULATION OF MANKIND – (REVELATION 6)
Matt. 24:6 And ye shall hear of WARS AND RUMOURS OF WARS: see that ye be not troubled: for all these things must come to pass, but the end is not yet.
Matt. 24:7 FOR NATION SHALL RISE AGAINST NATION, AND KINGDOM AGAINST KINGDOM: and there shall be famines, and pestilences, and earthquakes, in divers places.
ISAIAH 17/PSALM 83:
THE DESTRUCTION OF DAMASCUS and
Muslim Countries in the Middle East will launch an attack on Israel
JEREMIAH 49:
PROPHECY OF ELAM – (Possible Attack on Iran's Nuclear Program
————————————————–
FOREBODINGS OF WAR?
Less than a month before Israelis go to the polls, warnings of war appear – but Israel's Left still supports creating a Palestinian state.
The security situation became a more central issue in Israeli politics this week due to a number of new terrorist attacks and attempted attacks. A car ramming attack took place near Elazar. One Israeli youngster was severely wounded, his sister, moderately so. The IDF thwarted an infiltration attempt from Gaza killing five armed Palestinian terrorists. Several rockets were fired from Gaza. Arson that began in Lebanon while the wind was blowing toward Israel spread fires close to Israels Northern border.
Israeli Prime Minister Binyamin Netanyahu reacted by saying that Israel will embark if needed on a wide scale campaign in the Gaza Strip irrespective of the upcoming elections. He said so at Ben Gurion airport on his way to Ukraine for a two day trip.
In reaction to an earlier lethal terrorist attack, Yamina leader Ayelet Shaked said that the government should act to stop the transfer of payments to convicted terrorists by the Palestinian Authority. She and another prominent candidate of her list, Naftali Bennett also asked the government to annex the Gush Etzion bloc of settlements.
Shaked came out strongly against a report in the Haaretz daily. It claimed that she had offered Netanyahu assistance in obtaining immunity from prosecution in return for him to allow her to become a candidate for Likud in the elections. She said that she never spoke to Attorney General Avichai Mandelblit about criminal probes of politicians especially not about Netanyahu.
Many election polls have so far been published. If one does not take into account MK Avigdor Liberman's Yisrael Beytenu – neither the government nor the combined opposition parties have a majority. Yet there seems to be hardly any compelling reason to cause voters from either block to switch sides.
This stimulates the competition between the Likud and Blue and White who will receive the most seats. In the April elections both ended up with 35 MKs. Neither of them approaches this figure in any of the current polls. That is particularly bad for the Likud as it has absorbed the Kulanu party led by Moshe Kahlon which gained an additional four seats in April.
While the efforts to draw people in from the opposite camp seem to have failed, there are claims that the two big parties are trying to draw voters away from their potential allies. For the Likud that means that the right-wing Yamina is a target. The Democratic Union list leader, Nitzan Horowitz has accused Blue and White that it aims to draw away his voters.
The Ynet site published that Blue and White leader MK Benny Gantz had hired a firm to find out who was leaking confidential information from his list. The site reported that a leading person from the Yesh Atid party which is part of the Blue and White list was the culprit. This story once again raises the question whether the Yesh Atid component of Blue and White and the factions led by Gantz and MK Moshe Yaalon will stay together after the election.
Likud Labor and Social Affairs Minister Haim Katz has resigned from the cabinet. The Attorney General had announced his intention to indict him on charges of fraud and breach of trust. Katz will remain an MK and is expected to be re-elected in the September elections.
State Attorney Shai Nitzan has recommended to Mandelblit to indict Interior Minister and leader of the haredi Shas party Aryeh Deri for tax crimes, fraud, money laundering and obstruction crimes. Deri has an earlier criminal record.
Meretz leader Nitzan Horowitz, has stated that if his list would join a center-left coalition, it would ask for a freeze on settlement construction except for major settlement blocks, close to the pre-1967 green line. It would also insist on peace negotiations with the Palestinian Authority as an immediate priority for the government, with the aim of the establishment of a Palestinian State.
Horowitz suggested about Gaza that it was a small enclave with millions of people who have no other option than to throw missiles at Israel and carry out terrorist acts. The list's third candidate, former IDF deputy chief of staff Yair Golan, has said that Israel should cooperate with Hamas to stabilize the security situation for the residents of southern Israel.
Parties can pool excess votes, not required for their seats. This may enable one of them to get an extra seat. Yisrael Beytenu and Blue and White have entered in such a surplus-vote sharing agreement. It has also become known that Yisrael Beytenu leader Liberman has met before the municipal elections in Jerusalem in 2013 with the since then deceased leader of the radical ultra-orthodox faction rabbi Shmuel Auerbach. This in order to gain support for Liberman's candidate for the mayoralty Moshe Lion. Liberman is running the current campaign of his party expressing major opposition to the haredim.
The Likud has joined a court appeal from the far-right Otzma Yehudit party to the Supreme Court. They want to exclude the Joint Arab list from competing in the election. The Likud said that it was opposed to Knesset members who incite to violence or support terror, This is what one of the components of the joint Arab list – Balad – has done in the past.
————————————————–
India and Pakistan Will Soon Fight Together Even As They Kill Each Other in Kashmir
India and Pakistan are soon set to fight alongside one another and six other countries in drills scheduled to take place next month in Russia, even as New Delhi and Islamabad's forces engaged in deadly clashes along their disputed border in Kashmir.
The Russian Ministry of Defense first announced Tuesday that its troops would be joined by contingents from both India and Pakistan, as well as China, Kyrgyzstan, Kazakhstan, Tajikistan and Uzbekistan to take part in the Center-2019 drills involving "around 128,000 servicemen, over 20,000 units and weapons and military hardware, around 600 aircraft systems and up to 15 ships and logistics vessels." The last such drills took place in 2015 and this year's edition, set to take place September 16-21, would come after similar lineup participated in the Shanghai Cooperation Organization's Peace Mission 2018 drills last August.
That exercise marked the first time India and Pakistan trained together. The two sides even competed in a volleyball match in a sign of rare levity between nations that have engaged in four wars and continued to skirmish along their contested Kashmir border since 1947.
In the year since, however, relations have significantly worsened between the longtime rivals, especially in the wake of a dramatic series of escalations in February, and New Delhi's decision to consolidate control over its share of Kashmir, infuriating Islamabad and leaving the international community anxious over a new flare-up.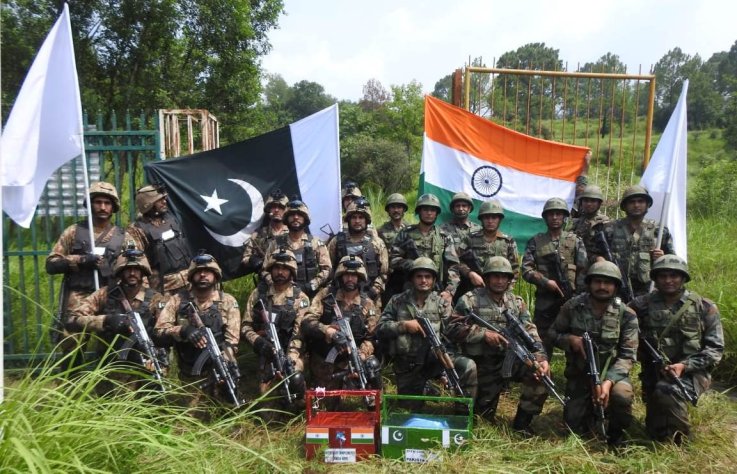 Pakistani and Indian troops pose after exchanging sweets for the Muslim holiday of Eid al-Adha at the Chakan Da Bagh crossing point in Kashmir, August 22, 2018. The gesture came just days before personnel from both sides trained together for the first time ever as part of the Shanghai Cooperation Organization's Peace Mission drills in Russia. Indian Ministry of Defense
While tensions have always been high at the Kashmir border, the situation deteriorated dramatically in February after a Pakistani-based militant group claimed a suicide attack that killed up to 40 Indian personnel. India responded with cross-border strikes against suspected training camps, to which Pakistan retaliated, leading to a dogfight that cost India at least one aircraft and left its pilot in Pakistani custody.
Pakistani Prime Minister Imran Khan ordered the release of the pilot, but no significant breakthrough followed. President Donald Trump later entered the fray, claiming last month Modi had asked him to mediate in a development that was welcomed by Khan, but denied by India.
Less than two weeks later, Modi revoked Article 370, removing the Indian state of Jammu and Kashmir's special status as a semi-autonomous region and putting it under direct federal government control in an effort to curb what India argued was Pakistan-backed militant activity. Khan issued a strong reaction, accusing his Indian counterpart of pursuing a "racist ideology" of Hindu nationalism in the majority-Muslim state and going so far as to warn of the possibility of nuclear war, in which "no one will be the winner."
Modi's order also split off and established central government control over the Ladakh region, where India claims the Aksai Chin area under Chinese control. In response, Chinese Foreign Ministry spokesperson Hua Chunying said at the time that "India has continued to undermine China's territorial sovereignty by unilaterally changing its domestic law," stating that "such practice is unacceptable and will not come into force."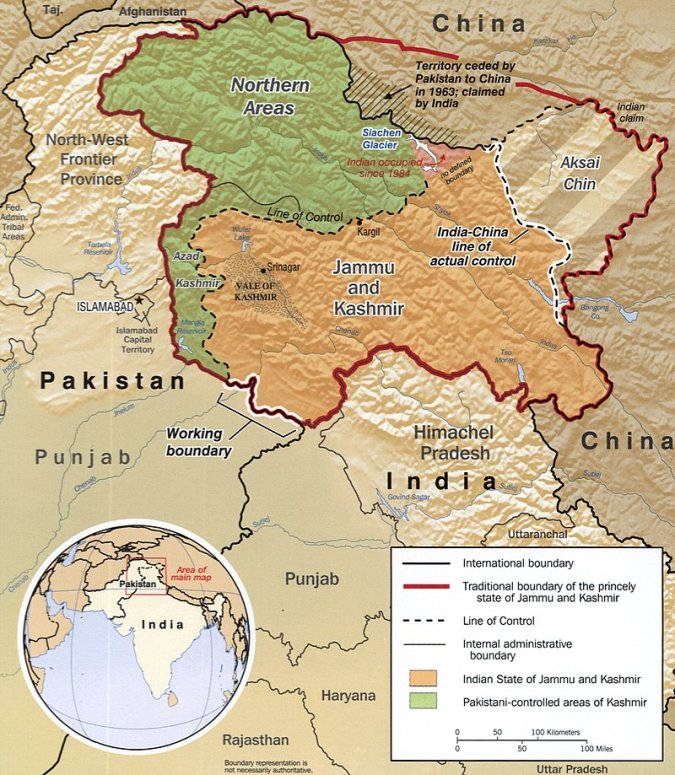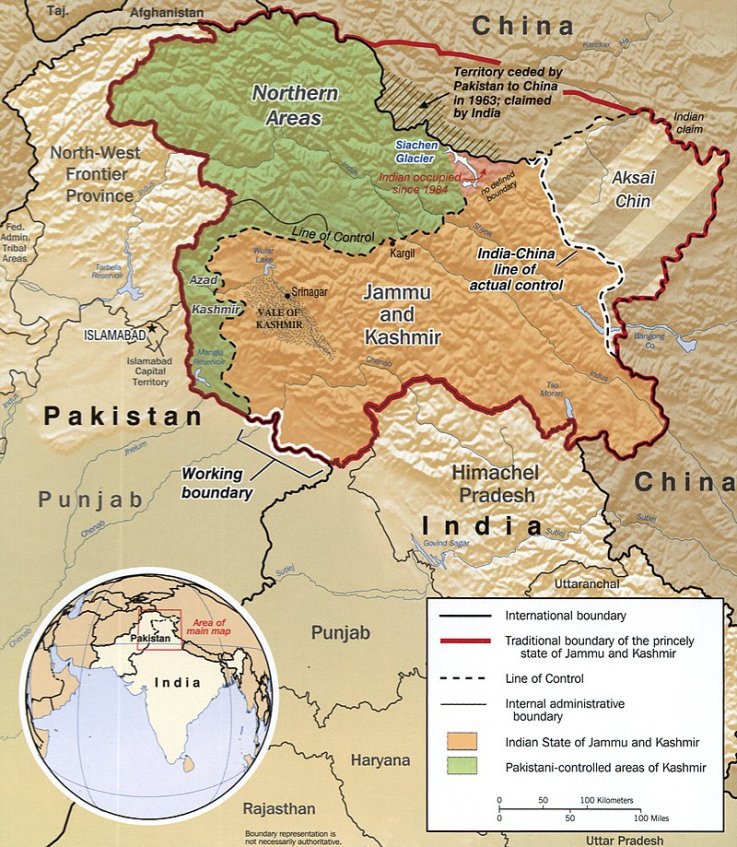 A map published in 2002 shows India's disputed borders at the Line of Control with Pakistan and Line of Actual Control with China. CENTRAL INTELLIGENCE AGENCY
Meanwhile, blood continued to be shed as the Indian-administered Kashmir went into lockdown and fire was exchanged both within the restive state, where a militant and Indian policemen were killed Wednesday, and across the border with Pakistan, which lost three soldiers in a fight that India denied reports of having lost six of its troops in.
RELATED STORIES:
After appealing for international support and calling unsuccessfully calling for talks with India, Khan told The New York Times o
"I mean, I have done all the talking," he added. "Unfortunately, now when I look back, all the overtures that I was making for peace and dialogue, I think they took it for appeasement. There is nothing more that we can do."
Modi, meanwhile, managed last week to score the world's most-trending television event after appearing on an episode of adventurer Bear Grylls' Man vs. Wild that drew over 3.6 billion impressions, beating the NFL's Super Bowl. The Indian leader reportedly flew Thursday over Pakistani airspace on his way to France for the first stop on a three-nation tour also set to include the United Arab Emirates and Bahrain.
Pakistan predicts Indian 'false flag' attack that triggers face-off with 'nuclear-armed countries'
Pakistani Prime Minister Imran Khan raised the prospect of nuclear war with India while calling for international assistance in a territorial dispute with his larger democratic neighbor.
"My worry is that this can escalate and for two nuclear-armed countries, it should be alarming for the world what we are facing now," Khan warned.
Khan invoked their respective weapons of mass destruction twice, stoking alarm over the arsenals that make the question of who controls the border region of Kashmir one of the "most dangerous" controversies in the world. Indian Prime Minister Narendra Modi tightened his government's control over the Indian-held portion of Kashmir, arguing that the changes would enhance security in an area simmering with terrorism threats, but Khan suggested that New Delhi is preparing a "false-flag operation" to justify a military conflict with his country.
Smugglers flying small cocaine-packed airplanes toward the United States from South and Central America will land in Mexico thinking they went undetected by American forces trying to interdict smugglers as they move through the Western Caribbean and Eastern Pacific Oceans. It is only when those tiny planes land and are greeted by a swarm of law enforcement that they may learn a Department of
"And then you are looking at two nuclear-armed countries eyeball to eyeball, and anything can happen," Khan told the New York Times in an interview published late Wednesday.
The two rivals clashed in February, when Indian fighter jets crossed the unofficial boundary dividing the Indian and Pakistani-controlled portions of Kashmir to strike a terrorist group in Pakistan. One of India's Soviet-made MiG-21s was downed by the Pakistani air force, and the pilot was captured. But U.S. officials sided with India in that incident because of frustration over Pakistan's perceived willingness to allow the terrorist networks to operate with impunity.
"Khan has been attempting to turn the tables on India, and characterize it as the malevolent force in the region, while in fact Pakistan is the country that has used terrorism as the primary tool in its foreign policy," Bill Roggio, a senior fellow at the Foundation for Defense of Democracies, told the Washington Examiner.
Modi echoed those charges when he revoked Jammu and Kashmir's special status earlier this month on the grounds that "terrorism and separatism" had flourished in the area and that the territory's autonomy "used as a weapon by Pakistan to incite anti-national feelings against some people in our country."
President Trump sided with Modi implicitly in the wake of the administrative change, despite Khan's allegations that India is planning an "ethnic cleansing." But India's tactics in locking down the Muslim-majority region — the government has cut internet access and used pellet guns to enforce a curfew — is beginning to draw criticism from American leaders.
"There are legitimate concerns about the ongoing communications blackouts, increased militarization of the region, and enforcement of curfews," House Armed Services Chairman Adam Smith, a Washington Democrat, said Wednesday. "This policy decision exacerbates an already tense environment in the region. I encourage both India and Pakistan to keep lines of communication open to prevent the further deterioration of the situation, and exercise restraint instead of engaging in rhetoric and actions that inspire extremist ideology."
Khan argued that India has rejected his attempts to have a productive discussion of the issue, which Indian authorities maintain is a purely internal matter. "There is no point in talking to them," he said. "All the overtures that I was making for peace and dialogue, I think they took it for appeasement."
But Roggio, who monitors terrorist groups headquartered in Pakistan as editor of the FDD's Long War Journal, views Khan's complaint with suspicion. "I do not think Khan is sincere about this," he told the Washington Examiner.
"I do not think Khan is sincere about this," Roggio said. "He is laying the groundwork for plausible deniability for the next attack in India that is carried out by one of Pakistan's jihadist proxies."
——————————————–
The Israeli army was on high alert along the Gaza Strip's border with Israel Friday ahead of weekly border rallies, amid concern of a potential escalation after days of rising violence in the region.
There were conflicting reports as to the intentions of the Hamas terror group, which rules the territory, ahead of the afternoon demonstrations.
Lebanese newspaper Al-Akhbar reported that Israel was conditioning the entry of new Qatari cash into the Strip on Hamas maintaining the peace until after the Israeli elections on September 17. But it said Hamas intended to raise tensions at the protests, with sources in the organization saying events would be more violent than in recent weeks, and that Hamas was considering renewing widespread sabotage attacks on the security fence, launching of arson balloons and nighttime rioting.
Recent days have seen an uptick in violence on the frontier. Rockets were fired at Israel from the enclave late Wednesday and early Thursday, prompting Israeli reprisal attacks.
The IDF on Thursday blamed the Iran-backed Palestinian Islamic Jihad for the recent increase in violence from Gaza and called for Hamas to rein in the terror group. "We do not plan to accept terror attacks and rocket fire against our citizens," the IDF's Arabic-language spokesperson Avichay Adraee tweeted.
A teenage girl was killed and her father and brother were seriously injured in a terrorist bombing at a natural spring outside the central West Bank settlement of Dolev on Friday morning, Israeli officials said.
Rina Shnerb, 17, of Lod, was critically wounded in the attack and received treatment at the scene from civilian and military medics before being pronounced dead of her injuries. Her father Eitan, a rabbi in Lod, and brother Dvir, 19, were taken by military helicopter to a Jerusalem hospital in serious condition, the Magen David Adom ambulance service said.
Israel Defense Forces Spokesperson Ronen Manelis said the army considered the blast to be a "serious terror attack."
The army said an improvised explosive device was used in the attack, but it was not immediately clear if the bomb was thrown at the family or if it had been planted earlier and was triggered when the family approached it.
Security services were reportedly tracking a car that fled the scene shortly after the explosion. "IDF soldiers are searching the area," the military said in a statement.
Manelis said the IDF did not yet know the identities of the culprits or if they belonged to an established terror group or were acting alone.
Troops were working to find the terrorists behind the attack as quickly as possible, under the general understanding that the more time they have to flee, the more difficult the search effort becomes.
The explosion occurred at the Bubin spring — a popular hiking spot — approximately 10 kilometers east of the city of Modiin.
"Our surroundings are full of natural springs and hiking to them is an inseparable part of residents' lives," Yael, a resident of Dolev, told Channel 12 news. "There is a difficult feeling."
She said a bomb attack was "a severe escalation" the likes of which the community had not encountered "in over 20 years."
——————————————–
IRAN KICKS OFF 'MASSIVE' WAR GAMES, UNVEILS HOMEMADE RUSSIAN MISSILE SYSTEM
'THE DRILL IS A REAL ONE BECAUSE THE BATTLEFIELD, ENEMY, AND THE FIGHTERS ARE REAL'
Iranian President Hassan Rouhani / Getty Images
Adam Kredo – August 22, 2019 12:15 PM
The Iranian Revolutionary Guard Corps' ground forces kicked off a "massive" set of war drills Thursday as the country unveiled its own homemade version of Russia's advanced S-300 missile defense system in yet another showing of Tehran's growing readiness for a possible war.
Iranian military leaders said the war games will mix with actual fighting as the IRGC forces seek to cleanse what they described as "anti-revolutionary terrorist groups" from along the country's borders. The operations follow an attack on IRGC units in July that killed one and injured one other.
Recent Stories in National Security
"The drill is a real one because the battlefield, enemy, and the fighters are real," Brigadier General Mohammad Pakpour, commander of the IRGC's ground force, was quoted as telling the country's state-controlled press. "Some terrorists might be hiding at the bordering areas and they will be targeted during the Qadir drills."
The war games come as Iran unveiled its own version of the Russian-made S-300 missile defense system, a highly advanced radar system that Iran had been seeking to employ for years.
The radar can target ballistic missiles, such as those Israel or America might use in a war, and is said to be capable of targeting multiple points at once.
"Bavar 373 is the most important indigenized missile defense system whose design and manufacturing started a few years ago and can engage multiple targets in high altitudes," Gen. Amir Hatami, Iran's defense minister, said at a Thursday ceremony unveiling the new military hardware.
Iranian military leaders say the system is even more advanced than its Russian counterpart and can detect 60 targets simultaneously while engaging six of them at once.
"The system is much more powerful than the Russian S-300 and some of its features could be compared with S-400," Iran's state-controlled Fars News Agency reported, referring to the even more advanced Russian version of the missile system.
Iran began building its own version of the missile system after Russia balked on selling it the S-300 following pushback from America and other Western nations seeking to confine Tehran's advancing military might.
——————————————–
Another G7 summit blown apart by Donald Trump? Not on Emmanuel Macron's watch.
Last year's gathering of G7 leaders ended in chaos after Trump abruptly announced via Twitter that he would not support the just-agreed summit communiqué, apparently out of anger over comments made by the host, Canadian Prime Minister Justin Trudeau.
The French president is determined not to let his American counterpart steal the show this year in the beach town of Biarritz in southwest France, so he has come up with a cunning plan: There will be no communiqué.
But that doesn't mean Macron lacks ambition when it comes to the summit, which will run from Saturday to Monday.
As Macron expounded in a two-and-a-half-hour briefing for reporters on Wednesday night, he views the gathering as a key moment in his drive to save what he sees as an endangered multilateral liberal world order.
He will have his work cut out, and not just when it comes to trying to keep Trump and the other leaders even vaguely on the same page. The summit takes place at a time of multiple crises around the world.
Trump is engaged in feuds on multiple fronts — from a trade war with China to a bizarre battle with Denmark over the idea of buying Greenland. New U.K. Prime Minister Boris Johnson is immersed in battles at home and abroad over Brexit. Italian Prime Minister Giuseppe Conte will likely attend the summit after his government collapsed. Angela Merkel is facing a weakening German economy.
And that's without even getting into the deep international disagreements over issues as diverse as Iran and climate change.
In his marathon briefing, Macron declared that France has a "particular responsibility" in a pivotal reshaping of the global liberal order. Otherwise, "Europe is at risk of fading … and losing its sovereignty," or worse — "becoming vassals."
Here are some of the key points in Macron's strategy for handling the G7.
Macron, who is having a working lunch with Johnson in Paris on Thursday, didn't mince his words on the possibility of a no-deal Brexit.
"A hard Brexit … will be the responsibility of the British government," he said.
"It was the British people who decided on Brexit, and the British government has the possibility up to the last second to revoke Article 50," Macron continued.
He said a renegotiation of the Brexit deal to remove the Irish border backstop provision, as suggested this week by Johnson, "is not an option … because what Johnson suggests in the letter he sent … is to choose between the integrity of the European market and the respect of the Good Friday Agreement. We wouldn't choose between these two."
And as for the much-vaunted trade deal the U.K. would make with the U.S., Macron argued it will not compensate for the cost of Brexit, and would come at "the cost of a historic vassalization."
——————————————–
In support of U.S. efforts in the Gulf, "Australia will send a warship, surveillance aircraft and Defence Force personnel to the Persian Gulf to join an international effort to combat Iran's actions in the Strait of Hormuz."
Eliminating the threat of the global jihad should be a primary focus in the West. Iran has managed to expand aid to its proxies, and continue its nuclear buildupwith brazen confidence under a nuclear deal that was signed by fearful Westerners to appease Iran, allowing the mullahs to buy time. Now Iran is an aggressor in international waters in the Gulf, claiming that its actions are a reaction to Trump's pulling out of the Iran Nuclear Deal.
Western leaders have collectively failed to stand up to jihadists, whose aim is intimidation, a key means they use to subjugate infidels and advance efforts to subvert the House of War.
"Australia to join US military effort to protect shipping in the Strait of Hormuz," by Sarah Martin and Ben Doherty, Guardian, August 21, 2019:
Australian forces will make a "modest, meaningful and time-limited" contribution to a United States-led mission in the Strait of Hormuz aimed at protecting freedom of navigation in the Gulf region.
Labor has supported the new mission as "appropriate", but critics are warning the involvement of Australia's military in the region could be seen as an "act of aggression" in breach of international law.
The prime minister, Scott Morrison, announced on Wednesday that Australia would send forces to the Middle East because "destabilising behaviour" in the Gulf was a threat to Australian interests.
"The government has been concerned over incidents involving shipping in the Strait of Hormuz over the past few months," Morrison said.
"This destabilising behaviour is a threat to our interests in the region, particularly our enduring interest in the security of global sea lanes.
"The government has decided it's in Australia's national interests to work with our international partners to contribute to an international maritime security mission … in the Middle East."
Morrison said about 15% of crude oil and 30% of refined oil destined for Australia came through the Strait of Hormuz, meaning instability in the region was also an economic threat that needed to be confronted….
——————————————–
Prime Minister Binyamin Netanyahu stated Thursday that Israel is working to prevent Iranian military consolidation in Iraq in the first such admission of Israeli activity in Iraq.
"We are working against Iranian consolidation – in Iraq as well," Netanyahu said in an interview with Channel 9 News.
On Wednesday, he Arabic-language Asharq Al-Awsatnewspaper reported that the bombing of Iranian weapons warehouses in Iraq in recent weeks, which has been attributed to Israel, was carried out with permission from the United States and Russia.
A Western diplomatic source quoted in the article told the newspaper that the understanding stresses that Israel should not officially declare its raids in order to control regional tension.
The understanding stipulates that "Israel's security is a priority as well as pursuing Iran in Iraq and Syria," the London-based newspaper reported.
The most recent attack came on Tuesday night, when a weapons depot belonging to the state-sanctioned paramilitary Popular Mobilization Forces at al-Balad military base in Saladin province was targeted, allegedly by Israeli drones.
Last week, an explosion at an ammunition warehouse in southern Baghdad run by the Popular Mobilization Forces injured 13 people.
Last month, an unmanned drone dropped explosives on a base belonging to the Popular Mobilization Forces in northern Iraq.
Israel had not commented on the reports before Thursday. On Monday, Netanyahu stated that Israel would respond to Iranian aggression anywhere without specifically admitting to Israeli activity in Iraq.
——————————————–
A divide within the Popular Mobilization Forces, a group of mostly Shi'ite militias that are seen as pro-Iran, is emerging in response to alleged airstrikes that have struck their facilities over the last month. The divide pits the official line of the PMF against comments made by Abu Mahdi al-Muhandis, the deputy of the PMF and a leader of Kata'ib Hezbollah. On the ground the larger issue confronting the powerful paramilitary groups of the PMF is how to respond.
First of all it is important to remember that the PMF and its 100,000 or so men under arms emerged from the anti-ISIS war as one of the strongest institutions in the country. 
It mans checkpoints, has a role in the economy and has even played a role in the conflict in Syria. But it is not a unified organization. It was supposed to become part of the Iraqi Security Forces in January 2018. That was a formality, but it still has its own brigades with their own political-religious affiliations. It has up to 67 individual brigades. Badr is the biggest organization within the PMF, with some 18 brigades linked to it.
Asaib Ahl al-Haq has several brigades, while Kata'ib Hezbollah has another three and Harakat Hezbollah al-Nuajaba has one. There are ethnic and religious groups as well, with units linked to Christians, members of the Shebek and Turkmen, Fayli Kurdish minorities and Sunni tribes. Many of these groups have been designated as terrorist organizations by the US.
Despite the complexity and diversity of the PMF, many of the groups within it are linked to Iran, either because their commanders once served alongside the Islamic Revolutionary Guard Corps, or because they are openly pro-Iran, or because their religious affiliation as Shi'ites predisposes them to fly flags of the Iranian Ayatollah.
Given this forest of allegiances and groups, the PMF is rooted in some internal divisions, but its general outlook is anti-American and anti-Israel. 
That means that when munitions warehouses began exploding in mid-July and rumors spread that foreign drones or aircraft had caused the destruction, they began to blame the US and Israel.
A quick survey of statements shows that Kata'ib Hezbollah has blamed the US for being responsible and linked the attacks to Israel. This is Muhandis' view and one that his organization has pushed since last year when another mysterious airstrike destroyed a Kata'ib Hezbollah base in Syria near the Iraqi border in June 2018.
Meanwhile a sheikh linked to Harakat Hezbollah al-Nujaba condemned the Iraqi army in mid-August, suggesting the PMF should replace it. He made the comments to El-Etejah TV. On August 19 the organization blamed the US for the attacks.
Qais Khazali of Asaib Ahl al-Haq has called for investigations and demanded that Iraq defend its airspace. The same organization had said Israel was behind the attacks on August 17.
Among the PMF there appears to be a dispute as to whether to hold the US responsible, or blame Israel or blame a nebulous foreign power.
Each reaction has its ramifications. Blaming the US has led to Iraq restricting its airspace and pressuring the US to make a statement. In July and on August 21 the US-led Coalition did make a statement saying they are only in Iraq to support the Iraqi security forces to defeat ISIS. Alleging the US is responsible will fuel calls to ask the US to leave Iraq and raise tensions between Iran's allies and the US in Iraq. This could raise tensions between US forces and the PMF as well.
Blaming Israel for the attacks is potentially embarrassing for the Iraqi government but it also hardens the PMF's stance enables some groups to see themselves as part of a broader regional Iranian-Hezbollah-PMF struggle against Israel. These elements, such as Khazali, have threatened Israel in the past. They tend to oppose the US and Israel, but blaming Israel for the strikes would fuel Iran-Israel tensions.
Accusing an unnamed foreign power of the attacks means that the only real response by the government would be to close the airspace of Iraq and bolster air defense. Already El-Etejah TV reports that the US is accused of pressuring Iraq to buy the Patriot missile defense system while others in Iraq want to be linked to Iranian air defense or acquire Russian systems.
The long-term question hanging over Iraq is what the PMF will look like in years to come. Will it be a collection of loosely affiliated forces like a confederation with each leader making their own statements, or will it be more formalized and integrated. Will it become a parallel state or swallow up parts of the state or be sidelined. The recent crises with the alleged airstrikes could be a large part of that process and accelerate it.
Iraq is furious after a series of 'mystery' blasts have rocked pro-Iran militia bases in and around Baghdad over the past weeks. Two Iraqi military bases storing munitions held by the country's Shiite paramilitaries have been hit in under two weeks, with the last one coming Tuesday, notably next to a major air base with US forces present, as well as Iraqi F-16s.
One Iraqi Parliament official told Lebanese broadcaster al-Mayadeen on Thursday that Baghdad has "proof" of Israeli involvement in the strikes, which others have actually blamed on extreme temperatures igniting munitions stores at the bases.
"We have proof that Israeli air forces hit several targets in Iraq, including the al-Saqr and Amerli bases. Israel claims that the Popular Mobilisation Forces have connections to Iran and Lebanon's Hezbollah," said Karim Alaiwi, a member of the Security and Defense Committee in the Iraqi Parliament.
He further charged in the interview that the US coordinated with Israel, given the US Air Force largely controls Iraq's airspace, according to his remarks.
This week Prime Minister Abdul-Mahdi ordered the removal of all ammunition depots within the boundaries of the Iraqi capital after multiple fatalities from the mystery blast, with some being the result of unspent munitions going off in the hours after the bases were struck.
Footage showing the August 12th arms depot blast, also widely blamed on Israel:
— Steven nabil (@thestevennabil) August 12, 2019
The Iraqi PM also called for an end to all "unauthorized flights" including US drones, spy planes, jets, or helicopters. The directive demanded that all aerial vehicles comply with Iraqi law and operations must be under Iraqi government authorization.
——————————————–
A 5.0-magnitude earthquake shook the Little Lake, California, area Thursday, according to the U.S. Geological Survey.
More than 600 people reported feeling the shaking in the area, according to the U.S.G.S.
At least 12 aftershocks at varying magnitudes were reported in Little Lake, Ridgecrest and California City.  The largest magnitude aftershock came in at 2.6.
Ridgecrest is about 20 miles northeast from where the magnitude-5.0 quake struck.
In July, Ridgecrest was struck by a magnitude-6.4 earthquake on July 4, followed by a 7.1 temblor the next day.
You can download the ShakeAlert app, which just underwent changes in light of the Ridgecrest quakes.
A magnitude 5 earthquake jolted the California desert Thursday – and it was felt as far as Sin City.
Clark County officials in Southern Nevada reported on social media that some employees felt the aftershocks in downtown Las Vegas.
Who felt this latest #earthquake in Las #Vegas? The @USGS is reporting a preliminary magnitude 5.0 with the epicenter north of #Ridgecrest, California. A number of our #ClarkCounty employees felt the rolling sensation here at our Gov't Ctr. in downtown Las #Vegas. pic.twitter.com/cCXUJJzwfT
— Clark County Nevada (@ClarkCountyNV) August 22, 2019
The U.S. Geological Survey said Thursday's quake occurred at 1:49 p.m. and was centered 19.8 miles north of the small city of Ridgecrest.
The magnitude 7.1 quake on July 5 and a magnitude 6.4 foreshock the day before strongly shook the same region and were felt more than 100 miles away.
Damage from those temblors occurred to facilities on the sprawling Naval Air Weapons Station China Lake as well as in the nearby communities of Trona and Ridgecrest.
Among the many aftershocks, a handful have reached the magnitude-5 level.
——————————————–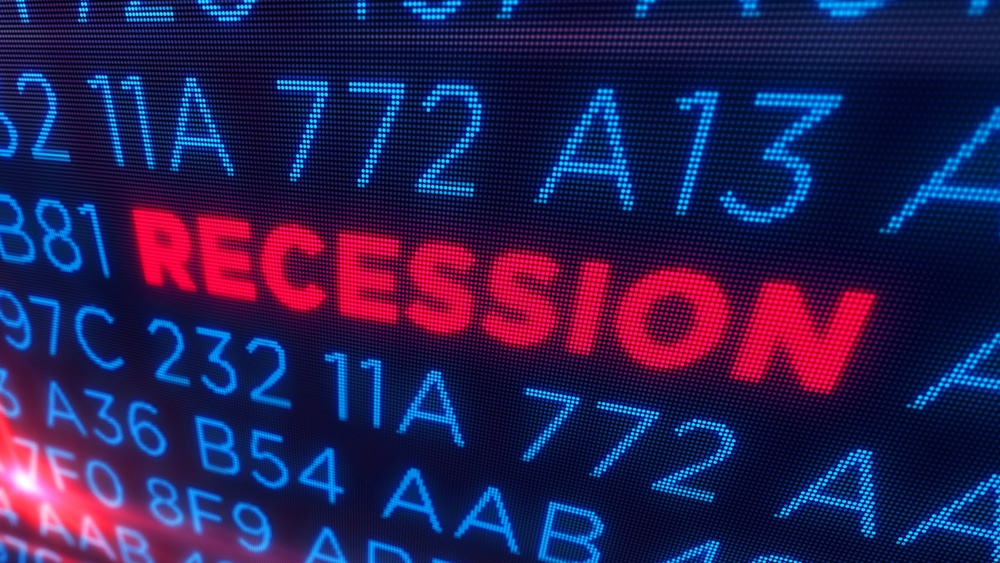 (CNBC) – The U.S. bond market just flashed what could be its biggest warning yet of a coming recession, and it is not alone. The spread between the 2-year Treasury yield and the 10-year yield flipped so that the 2-year was higher than the benchmark 10-year yield for the first time since June 2007. Other parts of the curve have already inverted, but traditionally the 2-year to 10-year spread is the most widely watched by market players. The U.S. 30-year bond yield fell to a record low early Wednesday, touching 2.015% for the first time ever, dropping through its prior record of 2.08%. Yields across Europe fell, and the German
10-year bund touched a new low of negative 0.65%. The long end of the curve, or the 10-year and 30-year yields, are reflecting fears about the global economy, so, therefore, rates have been declining. But the shorter end, the 2-year has not been declining as quickly, since it reflects the Fed funds rate, which is still above 2%. An inverted yield curve has been a reliable recession indicator, but it does not always precede an economic contraction and the length of time before a recession occurs has varied. According to Credit Suisse, the average length of time since the late 1990s for a recession to occur after inversion was 22 months.

CONTINUE

:
——————————————–
THE LGBTQ+P FOR PEDOPHILE MOVEMENT NOW OUTRAGEOUSLY PROMOTING DRAG QUEEN SHOWS FOR CHILDREN AFFLICTED WITH DOWN SYNDROME
"We sought them out because they are at the very highest level of disability drag," said event organizer Jill Vyn of DisArt, a Grand Rapids organization that connects art and people with disabilities. "Drag has never only been about sexuality," DisArt co-founder Christopher Smit said. "Drag is about gender performance, drag is about expression. Drag is also about ridding the culture of really damaging stereotypes."
A public art even
t in Grand Rapids, Michigan next month will feature men and women with Down syndrome performing as "drag queens" and "drag kings."
Children with Down Syndrome are amazing, beautiful people, with a capacity to love that most people who have never met one might be surprised by. We watched a movie called "Mr. Blue Sky" about a Down Syndrome girl who married a non-Down Syndrome boy, and it was a wonderful and touching film. But children with Down Syndrome have a diminished capacity to think and reason, and as such much be protected. The folks at DisArt don't think so, though, and have decided to exploit Down Syndrome children to promote their radical ideology.
We have told you for years now that since the LGBTQ+P for Pedophile Movement is unable to effectively reproduce that they must recruit and be constantly expanding their protective alphabet soup umbrella. Today they are adding children with Down Syndrome, tomorrow it will be pedophiles looking for children. The 'P' is coming, count on it.
Down syndrome 'drag show' created by LGBT activist coming to Michigan
FROM LIFE SITE NEWS: A drag group known as "Drag Syndrome" is comprised of performers with Down syndrome, and is an LGBT activist's attempt to promote so-called "inclusion."  Their performances feature song and dance by men wearing women's dresses, garish makeup, wigs, and in some cases fake breasts. Women sport beards and men's clothing.
A local TV channel, Wood TV, reports that "some people may be concerned because people with Down syndrome have limited mental capacity that they might not have the ability to decide to take part or understand what they are taking part in."
The organizers of the show, however, are defending the event.
"We sought them out because they are at the very highest level of disability drag," said event organizer Jill Vyn of DisArt, a Grand Rapids organization that connects art and people with disabilities.
"Drag has never only been about sexuality," DisArt co-founder Christopher Smit said. "Drag is about gender performance, drag is about expression. Drag is also about ridding the culture of really damaging stereotypes."
Drag queen shows largely consist of men dressing as women in order to mock stereotypes of womanhood and femininity.
"Drag Syndrome appears to be part of a broader trend that's more preoccupied with promoting 'gender fluidity' to various groups than genuinely helping those groups," reported LifeSiteNews' Calvin Frieburg last November. "'Drag Queen Story Time' events in the UK and United States feature crossdressers reading and performing to small children in public libraries and nursery schools, while the pro-LGBT media has heavily promoted stories about prepubescent drag performers such as Nemis Quinn Mélançon Golden, also known as 'Lactatia,' and Desmond 'Desmond is Amazing' Napoles."
"Down syndrome … affects a person's ability to think, reason, understand, and be social. The effects range from mild to moderate," according to webmd.com.
VIEWERS OF THE SHOW, who know that those with Down syndrome did not conceive and put together this troupe on their own, will be left to wonder to what extent, if any, those with Down syndrome who are participating in this event are being exploited by activists to unsuspectingly push the LGBT agenda.
The show is scheduled to be performed at  September 7, at 7:00 PM.

READ MORE

:
DRAG SYNDROME ON CNN
"I think people with Down syndrome have an extra chromosome that brings them extra talent," says Daniel Vais, the creative director of London's Drag Syndrome, which he says is the only drag troupe for drag kings and queens with Down syndrome.
——————————————–
CHOSEN ONE: PRESIDENT TRUMP'S RETWEET OF 'SECOND COMING OF GOD' COMMENT ONLY GOES TO SHOW WHAT WE HAVE SAID ABOUT HIM FROM THE BEGINNING
Evangelicals like Washington's Christian power brokers of 'The Family' run by the late master marketeer Doug Coe have done this nation a great disservice with their powerless 'love gospel' as we see on display in their yearly ecumenical 'National Prayer Breakfast' nonsense. Evangelicals who now say they 'feel betrayed' by Trump's comments only prove that never knew who he really was when they started supporting him. Bible believers know who Trump is, and we have from the beginning, he is the chosen one. Chosen to bring judgement.
SHARE THIS IMPORTANT NTEB ARTICLE:
Evangelicals who now say they 'feel betrayed' by Trump's comments only prove that never knew who he really was when they started supporting him.
It brings a smile to my face as I watched evangelicals struggling to understand the words and actions of President Trump. Why? Because evangelicals didn't understand why God placed him in office 3 years ago, and they still don't understand in 2019 why he is there. Evangelicals, who are strong on evangelizing but tragically short on bible doctrine and prophecy, cannot fathom why Trump would call himself "the chosen one", and retweet comments about him being the "second coming of God". To the people like the man who wrote the article below, it is bewildering, but to us it is pretty clear.
"For thus saith the LORD of hosts; Yet once, it is a little while, and I will shake the heavens, and the earth, and the sea, and the dry land; And I will shake all nations, and the desire of all nations shall come: and I will fill this house with glory, saith the LORD of hosts." Haggai 2:6,7 (KJV)
Donald Trump as president is exactly what we said he would b when we first start writing about him in 2015 and '16. We told you then that it was our considered opinion that God was placing Trump in power for two reasons. The first being to bless Israel and get something done for the Jewish people. This Trump has done is amazing fashion. Doing what no other president, Red or Blue, ever had the guts to do, Trump moved the US Embassy from Tel Aviv to Jerusalem. And in typical Trump style, he did it on May 14th, the 70th anniversary of regathered Israel. Not stopping there, Trump then proceeded to proclaim Jerusalem as the capital of Israel, and finally recognize Israeli sovereignty over the Golan Heights. For prophecy watchers it was a giddy time to say the least. Then we get to reason number two why God placed Trump in power. Judgment.
In our article entitled 'THE GLOBAL SHAKING FROM A TRUMP PRESIDENCY WE WARNED YOU ABOUT LAST YEAR HAS ALREADY STARTED' we told that as we had felt that God placing Barack Obama into office was God's judgement for national sin on America, God placing Trump into office is God's judgment on the world. God is using Trump to shake American and the world right down to its very core, letting him be a catalyst for the ever-rising chaos and confusion we now see around the globe. God is shaking everything, and we will not see an end to that shaking right up to the moment we are taken up and out of here in the Pretribulaton Rapture of the Church.
Lastly, and please don't miss this point, Donald Trump remains, despite evangelical fantasy, unsaved and headed for the fires of Hell as all unsaved people are at this very moment. His official 'spiritual advisor' is gospel pimp and fraud Paula White who makes a great show for the cameras but is all Laodicean fluff and nonsense. And because he is unsaved, President Trump will say things like he is the 'chosen one' and retweet comments calling him the 'second coming of God'. He has no idea who God is because he has no relationship with Him. Pray for Trump's soul.
Evangelicals like Washington's Christian power brokers of 'The Family' run by the late master marketeer Doug Coe have done this nation a great disservice with their powerless 'love gospel' as we see on display in their yearly ecumenical 'National Prayer Breakfast' nonsense. Evangelicals who now say they 'feel betrayed' by Trump's comments only prove that never knew who he really was when they started supporting him. Bible believers know who Trump is, and we have from the beginning, he is the chosen one. Chosen to bring judgement.
I'm an evangelist and a Trump voter. But Trump as the 'second coming of God' is blasphemous.
FROM GREENWICH TIME: Since President Donald Trump's election, many in the evangelical community have lauded him, grateful for his work to protect and propel some of the Christian values we hold so dear. The support has been unwavering, as he enjoys high marks from about 70 percent of evangelicals, many of whom are so concerned with protecting their rights and key issues that they don't want to do anything that might jeopardize that support for Trump and cause people to vote against him.
But perhaps one of Trump's most disturbing steps came Wednesday, when the president, who claims to be a Christian, tweeted quotes of and therefore validated radio host's Wayne Allyn Root words that "the Jewish people love Trump . . . like he's the King of Israel. They love him like he is the second coming of God."
Christians believe and profess that the only true "King of Israel" is God, as clearly stated in Isaiah 44:6, and that he sent his son, Jesus Christ, the Messiah, into this world. That makes the description of Trump as "the second coming of God" shocking, blasphemous and sacrilegious. The silence from my fellow evangelical colleagues, ministry partners and friends that has followed is deafening.
 Many of them refuse to call out moral failures on the right that they have so vehemently attacked on the left. In the evangelical community, we have come to believe incorrectly that any critique of Trump only serves to promote the party on the left. But embracing critiques proves we are objective, not blind to the flaws in political parties or our presidents.
Trump is neither the "Second Coming of God" nor the "Messiah." In repeating the profane quote, he gave a narcissistic endorsement and even thanked Root, a well-known conspiracy theorist, for his words.
Messianic claims are dangerous, because God does not share glory with anyone.
Another historic leader, Herod Agrippa – the king of Judea after Jesus' death, from 41 to 44 A.D. – once found himself in a similar situation. In the New Testament chapter of Acts 12, Herod was called "God." Herod's response? He took credit. The Lord's response? He sent an angel to kill Herod. In Herod's case, the Bible doesn't say he repeated the title – only that he allowed it to be spoken. Perhaps the president can learn from Herod's mistake.
I am a conservative evangelical who cast my vote for Trump for the very same reason many other evangelicals did: his conservative stance on issues concerning abortion and religious freedom. I visited Washington last October for a briefing at which faith leaders listened to White House officials address many policy issues.
Christians cannot proclaim their morals, family values and faith, then sit down when such values are tainted and misrepresented by the very leaders we say we support. Imagine for one minute if President Barack Obama had made similar claims during his administration. The reaction would be quite different.
Inconsistency is at least one reason I hear a growing antagonism toward evangelicals. As a full-time evangelist traveling all over the United States, I find it increasingly obvious that many people legitimately see evangelicals as hypocrites. Why? Because too often, we dismiss or excuse every indiscretion of the president by approving his other accomplishments.
Being fair and equitable does not mean simply applauding what many of us endorse about Trump, including his stance on abortion, his promotion of freedom of religion, his appointment of conservative judges and his aggressive support for Israel. We must also vocally denounce his blatantly egregious actions, including not only Wednesday's tweets but also his consistently negative interactions and dialogue with people of different races, genders and ethnicities.
As evangelicals, we have taken a hard line on conservative values, but we have also been moving our standards to fit our narrative. If we are going to condone or condemn certain actions, policies or behaviors coming from the current administration, then we had better be ready to do the same with the next president. Otherwise, we will continue to lose credibility and display a polluted brand of Christianity that is word without deed – completely unlike that of the true Messiah we claim to follow.

READ MORE

:
Trump: "I Am The Chosen One"
Speaking to reporters, Trump defended his actions against china arguing that the US has been exploited to the tune of $500 Billion and that somebody had to stand up to them. Watch as he calls himself the 'chosen one'.