Bible Prophecy Is Unfolding Right Before Our Very Eyes…2019

Published on Aug 31, 2019
Please Help Support This Ministry:

https://www.paypal.me/watchman1963

Cash App : $watchman1963 Please subscribe to my backup channel:

https://www.youtube.com/channel/UC4nc…

Current Events Linked To Biblical Prophecies. Everything is unfolding just as the bible foretold. Wars, Volcanic Eruptions, Earthquakes, Extreme Weather, Christian Persecution, Violence and more!
Matthew 24:3-14 3 Now as He sat on the Mount of Olives, the disciples came to Him privately, saying, "Tell us, when will these things be? And what will be the sign of Your coming, and of the end of the age?" 4 And Jesus answered and said to them: "Take heed that no one deceives you. 5 For many will come in My name, saying, 'I am the Christ,' and will deceive many. 6 And you will hear of wars and rumours of wars. See that you are not troubled; for all these things must come to pass, but the end is not yet.
7 For nation will rise against nation, and kingdom against kingdom. And there will be famines, pestilences,[b] and earthquakes in various places. 8 All these are the beginning of sorrows. 9 "Then they will deliver you up to tribulation and kill you, and you will be hated by all nations for My name's sake. 10 And then many will be offended, will betray one another, and will hate one another.
11 Then many false prophets will rise up and deceive many. 12 And because lawlessness will abound, the love of many will grow cold. 13 But he who endures to the end shall be saved. 14 And this gospel of the kingdom will be preached in all the world as a witness to all the nations, and then the end will come.
———————————————-
Israel exposes Iran-Hezbollah missile project in Lebanon – 30.8.19 TV7 Israel News

Published on Aug 31, 2019
 

Today's top stories; 1) The Israeli military released a document that purports to unveil a covert joint-project that is being carried out by the Islamic Republic of Iran and Hezbollah in Lebanon, in which Tehran is making significant efforts to arm its Shi'ite Lebanese proxy with hundreds of precision-guided missiles. 2) Iranian Foreign Minister Mohammad Javad Zarif claims that the Islamic republic does not need to withdraw from the 2015 nuclear agreement, as its reduced commitments to the multilateral deal was made within the guidelines of the accord 3) The Islamic Republic of Iran has yet again failed to launch a satellite into orbit, as the projectile exploded on its launch pad.
———————————————-
Watchman Report: Why Is There A Good And Evil?

Published on Aug 31, 2019
 

Watchman Report: Why Is There A Good And Evil? If God is a good God then why does evil exist? Pastor Jack Hibbs provides answers from the Bible, talks about the the moral law written on our hearts, and explains our moral connectivity with God. Pastor Jack Hibbs Facebook:

https://goo.gl/jhJHyL

Instagram:

https://goo.gl/TkQ4hD

Website:

https://goo.gl/y1gCnV

Calvary Chapel Chino Hills www.calvarycch.org All the signs of the last days are converging at the same time. Bible Prophecy is happening right before our eyes and like birth pains, the predicted events are happening more frequently and more intently. Never, in the history throughout the world have so many forces, including economic, scientific, techno-logic, ecologic, cultural, geopolitical, moral, spiritual and religion, converged together to bring this world that's already teetering over the edge into the abyss, to a point of no return. Jesus said when you see all these signs happening, know that I am near, even at the door.
———————————————-
LATEST WORLD NEWS CLIPS – ARTICLES – SATURDAY AUGUST 31st 2019
DAILY SCRIPTURE:
I give them eternal life, and they sall never perish; neither shall anyone snatch them out of My hand. John 10:28
Based in divinely revealed authority, the apostle Paul asserts to the Church and to us that, as Christians, we can know beyond all doubt that we are secure in God's hands. As you walk with Him, He will display His glory in your salvation and work out everything in your sanctification for your ultimate blessing.
——————————————-
DAILY CHRISTIAN BIBLICAL QUESTIONS AND ANSWERS:
——————————————-
EXPLAINING REV. 12
QUESTION:

    I can't find any satisfactory explanation of Revelation 12 – where Jesus is seemingly born in the middle of the tribulation. So apparently it's not a linear book.. What does this story of the woman and the dragon have to do with the larger teaching of Revelation?
ANSWER:    I believe the Revelation is by and large a linear book, but with several summary passages that put things into a historical perspective. Rev. 12 is one such summary. It takes the reader through the history of the animosity between Satan and God's people, and explains why he's so enraged at being cast out of heaven at the beginning (not the middle) of the Great Tribulation.
When studying the book of Revelation it helps to realize that out of its 404 verses, 280 are basically quotes from the Old Testament. Therefore, having a good command of the Old Testament makes understanding the Revelation much easier. As an example, an adaptation of the woman in Rev. 12:1 first appears in Genesis 37:9-11 in one of Joseph's dreams where he is the ruler over his brothers. (This is one of the many places in Genesis where Joseph serves as a type of the Messiah.) In Rev. 12:2 the woman is personified as Mary, the Lord's mother. Put the two together and you realize the woman represents Israel who gave birth to the Messiah.
Beginning in verse 3 we see Satan's fall, in which he was joined by 1/3 of the angelic host, and his attempt to prevent the Messiah from fulfilling His role as our redeemer. Having been the real leader of the plot to have Jesus killed, he was caught off guard by the resurrection, which turned what he thought would be his greatest victory into a resounding defeat.
Verse 6 is an account of the believing remnant of Israel heeding the Lord's call to flee from their homes when they see the abomination of desolation (Matt. 24:15-21) because that will be the sign that the Great Tribulation has begun. At that time Satan will finally be expelled from Heaven and confined to Earth to begin the epic battle against God and His people we know as the Great Tribulation. This battle is described in Rev. 13-19 .
EXPLAINING DANIEL 12
QUESTION:

    In reading your post "Don't believe anything I tell you", I have a question about Daniel 12:11-12. I am doing my own research, and need help with how you get periods of 30 and 45 days here. I only see 45 days mentioned. Please explain.
ANSWER:    From Daniel 12:1 we know that the angel is talking about the Great Tribulation. Jesus used these same words to describe it in Matt. 24:21. When Daniel asked how long it would last the angel said, "It will be for a time, times and half a time." (Daniel 12:7) This same phrase is used in Rev. 12:14. It means 3 ½ years. It's described as 1260 days in Rev. 12:6. So the Great Tribulation is 1260 days long.
Daniel 12:11 speaks of a 1290 day period which is 30 days longer than 1260 days, and in verse 12 he promised a blessing to those who wait for and reach 1335 days. This is 45 days after 1290 days and 75 days after the end of the 1260 day Great Tribulation.
So from the end of the Great Tribulation there will be a 30 day period bringing us to 1290 days and then a 45 day period bringing us to 1335 days. The total from the end of the Great Tribulation to the Millennium is 75 days. Sometime during this period, on a day no one will know in advance, Jesus will return.
———————————————-
NEWS CLIPS OBTAINED FROM MANY SOURCES – INCLUDING

Tracking bible prophecy.org
Rapture Ready News
Prophecyupdate.Com
Main News Channels
End Times Headlines
Prophecyupdateblogspot.com
Stevequayle.com
Gracethrufaith.com
Nowtheendbegins.com
Other Christian Sites
(CLICK ON) LATEST DAILY NEWS CLIPS:
ISRAEL NEWS:
ZECHARIAH 12:2
I AM GOING TO MAKE JERUSALEM A CUP THAT SENDS ALL THE SURROUNDING PEOPLES REELING … Zech. 12:2
WORLD TERRORISM – WARS
GENERAL WORLD NEWS:
WORLD FINANCE:
Rev. 6:6 And I heard a voice in the midst of the four beasts say, A measure of wheat for a penny, and three measures of barley for a penny; and see thou hurt not the oil and the wine
MASSIVE EARTH CHANGES/EARTHQUAKES/VOLCANOES ETC:
2Chr. 7:13 If I shut up heaven that there be no rain, or if I command the locusts to devour the land, or if I send pestilence among my people;
2Chr. 7:14 If my people, which are called by my name, shall humble themselves, and pray, and seek my face, and turn from their wicked ways; then will I hear from heaven, and will forgive their sin, and will heal their land
CHRISTIAN AND RELIGIOUS WORLD NEWS:
Matt. 24:9 Then shall they deliver you up to be afflicted, and shall kill you: and ye shall be hated of all nations for my name's sake.
Matt. 24:10 And then shall many be offended, and shall betray one another, and shall hate one another
EXTRA WORLD – ALTERNATIVE NEWS:
————————————————-
WORLD – PROPHETIC NEWS ARTICLES PRESENTATION – SATURDAY AUGUST 31st 2019
MIDDLE EAST AND WORLD WAR LOOMING THE BUILD UP TO PSALM 83  – ISAIAH 17 AND GOG OF MAGOG WARS EZEKIEL 38:
THE WHOLE WORLD IS UNSTABLE FINANCIALLY, POLITICALLY, PHYSICALLY, MORALLY, GODLY: – AND BECOMING MORE SO DAILY. (WE ARE IN THE BEGINNING OF SORROWS (MATT 24:8)
THE BIBLE STATES THAT IT WILL ONLY GET WORSE BEFORE THE START OF THE TRIBULATION OF MANKIND – (

REVELATION 6

)
Matt. 24:6 And ye shall hear of WARS AND RUMOURS OF WARS: see that ye be not troubled: for all these things must come to pass, but the end is not yet.
Matt. 24:7 FOR NATION SHALL RISE AGAINST NATION, AND KINGDOM AGAINST KINGDOM: and there shall be famines, and pestilences, and earthquakes, in divers places.
ISAIAH 17/PSALM 83:
THE DESTRUCTION OF DAMASCUS and
Muslim Countries in the Middle East will launch an attack on Israel
JEREMIAH 49:
PROPHECY OF ELAM – (Possible Attack on Iran's Nuclear Program
————————————————–
JAPAN-SOUTH KOREA DISPUTE IS A SIGN THAT THE WORLD ORDER IS 'COLLAPSING,' SAYS TRADE EXPERT
——————————————
WEBPAGE ADMINISTRATOR

:

  This article brings to mind what
God said would happen in the "Very Last Days" Just prior to his return for his Church.
Matt. 24:6 And ye shall hear of wars and rumours of wars: see that ye be not troubled: for all these things must come to pass, but the end is not yet.
Matt. 24:7 FOR NATION SHALL RISE AGAINST NATION, AND KINGDOM AGAINST KINGDOM: and there shall be famines, and pestilences, and earthquakes, in divers places
"We currently have World aggression of Nation Against Nation, and Kingdom against Kingdom", and it is getting worse daily. This is the prelude to World War mentioned also in Revelation 6:1-4
Rev. 6:1 And I saw when the Lamb opened one of the seals, and I heard, as it were the noise of thunder, one of the four beasts saying, Come and see.
Rev. 6:2 And I saw, and behold a white horse: and he that sat on him had a bow; and a crown was given unto him: and he went forth conquering, and to conquer.
Rev. 6:3  And when he had opened the second seal, I heard the second beast say, Come and see.
Rev. 6:4 And there went out another horse that was red: and power was given to him that sat thereon to take peace from the earth, and that they should kill one another: and there was given unto him a great sword.
———————————————-
KEY POINTS
The two Asian countries are currently locked in a trade dispute that ignited in July when Japan restricted exports of high-tech materials to South Korea which are critical for producing semiconductors and display screens.

"I think that this Japan-Korea incident is a symptom of what happens when a system starts to collapse," Elms told CNBC's "Squawk Box" on Wednesday
VIDEO NOT ABLE TO BE POSTED: Go to original url.
starts to collapse," Elms told CNBC's "Squawk Box" on Wednesday.
The two Asian countries are currently locked in a trade dispute that flared up in July when Japan restricted exports of high-tech materials to South Korea

which are critical for producing semiconductors and display screens.

The trade conflict between Japan and South Korea is a sign that the global order "is now collapsing," according to Deborah Elms, executive director at the Asian Trade Centre.
Since then, the two sides have threatened to drop each other from their respective preferential list of trusted trade partners, paving the way for potentially lengthy licensing processes — Japan's threat took effect on Wednesday. As things escalated, South Korea also scrapped a military intelligence-sharing pact with Japan.
"I think that this Japan-Korea incident is a symptom of what happens when a system starts to collapse," Elms told CNBC's "Squawk Box" on Wednesday. "You have trade disputes that escalate and there's no hand brake anymore, so they roll over into security disputes — and then again, there's no hand brake, so they can continue to percolate and there's no obvious way to end them."
"We are at a situation that, to be honest, really could have been reined in at any point, should have been reined in at some point … and yet doesn't seem to be stopping," said Elms, whose projects include the Regional Comprehensive Economic Partnership (RCEP), according to the Asian Trade Centre.
South Koreans participate in a rally to denounce Japan's new trade restrictions and Japanese Prime Minister Shinzo Abe on August 24, 2019 in Seoul, South Korea.
Chung Sung-Jun | Getty Images News | Getty Images
Elms said the tensions between Seoul and Tokyo were "like two neighbors arguing over who planted the tree on the property line that is now encroaching on both sides."
"While we're arguing about a tree that is on the property line, there is a forest fire on the ridge line," Elms said.
Tensions between the two countries hark back more than six decades, since Japan occupied the Korean Peninsula from 1910 to 1945 during World War II. Both countries signed a treaty in 1965 — but relations continue to be strained over compensation for forced labor by Japanese companies and sexual slavery of Korean women in wartime brothels.
How the system could 'derail'
The ongoing trade fight between the U.S. and China has rattled world markets and raised concerns over the global outlook. Late last week, both Washington and Beijing announced new tariffs on billions of dollars worth of each other's goods.
"I think there are many things at this point that could derail the system," Elms said, when commenting on the current global order. "Anything can happen," she said citing countries such as the U.S. that are "less respectful of the rules-based system."
She said that when rules and norms break down, "lots of things change."
"I think, we're at that moment where things are starting to shift."
With a system that's facing multiple threats and "no anchor," policymakers have been left unclear on how to respond amid rising uncertainty and risk, Elms said.
——————————————–
The protracted shadow war between Israel and Iran has spilled beyond the borders of Syria following a series of attacks in Iraq and Lebanon blamed on Israel, and threats of Hezbollah retaliation that reporters in Israel and Lebanon say has prompted the Israel Defense Force (IDF) to station dummy soldiers in jeeps along its northern border. 
Israel's state of high alert over potential cross border attacks comes days after U.S. officials leaked confirmation Israel was behind a July bombing at a weapons factory in Iraq—which they said Iran was using to transport weapons to Syria. Lebanon blamed Israel for a drone strike on Sunday in the suburbs of Beirut. Following Lebanese Prime Minister Saad Hariri's meeting with United Nations Security Council envoys to protest what he called a "clear Israeli violation of Lebanese sovereignty" on Monday, the U.N. called on both sides to exercise "maximum restraint."
Israel, which traditionally maintains a policy of ambiguity over oversees military operations, has not taken responsibility for either the Iraq attack or the Beirut drone strike, although its military said it had carried out a separate airstrike on Saturday near the Syrian border in order to foil an "imminent" drone attack planned by the Iranian Revolutionary Guards and Hezbollah (Iran has denied planning the strike.) Despite the lack of official confirmation, Israeli media reports that the Beirut drone strike damaged equipment that would have enhanced Hezbollah's precision guided rocket program. Hassan Nasrallah, the leader of the Lebanon-based Iran-backed Shi'ite militia force claimed the strike was Israel's first attack in Lebanon since the two countries fought a bloody war in 2006 and promised retaliation. "I say to the Israeli army on the border from tonight, stand guard. Wait for us one, two, three, four days," Nasrallah said Sunday. Lebanon's President Michel Aoun, a Hezbollah ally, likened Israel's alleged actions to a "declaration of war" and said Lebanon had the right to defend itself.
Speaking on the condition of anonymity, a U.S. intelligence official told TIME that Iranian responses could come in various forms: an attack from Hezbollah or other Iranian-proxies; attacks from Sunni militias with alliances of convenience to Tehran; and even attacks on Jewish or Israeli "targets" outside of Israel. A worst case scenario, the official said, might be an Iranian-backed attack on Jewish settlements in the West Bank or the Golan Heights, which could set off a war.
The timing for the rise in tensions isn't clear. While Iran's influence in the region is growing—particularly through militias supported by the Islamic Revolutionary Guards Corps-Quds Force in Iraq, Syria, Lebanon, and Yemen—the official who spoke with TIME said the threat to Israel has not increased substantially in recent months. The official declined to comment on why, at this juncture, Israel is expanding its shadow war with Iran. Here's what to know about the escalation.
Sunday morning's strike reportedly damaged a central component of Hezbollah's precision guided missile program: an industrial-sized mixer used to make propellants that enhance missile engine performance and can increase their accuracy. The machine—called a plenary mixer—was likely hit as preparations were being made to move it to a secure location, according to Israel's Haaretz.
An attack in Lebanon would cross unofficial red lines established after Israel's bloody month long war with its northern neighbor in 2006. But the reported target follows the general pattern of Israel's air strikes in Syria—largely tolerated by Russia, which backs the Assad regime. Israel's attacks on convoys bound for Lebanon have typically concentrated on thwarting Hezbollah's "accuracy project"—the group's attempt to enhance the capacity of its rocket cache—to pinpoint targets in Israel.
Why Israel is amping up tension with Iran now?
Nobody knows for sure. Israel has not taken responsibility for the strikes but Netanyahu has hinted at involvement in Iraq. On Aug. 20, he told reporters "Iran has no immunity, anywhere" adding that Israel would act against Iran "wherever it is necessary." 
Beyond an undisclosed military rationale, regional experts say several factors may have affected the Prime Minister's calculus. One is the upcoming Sept. 17 elections, where he is running against a former IDF general. But while Netanyahu may be keen to burnish his "Mr. Security" image, analysts consider him risk-averse and he has been careful to avoid entangling Israel in overseas conflicts.
Hilal Khashan, a professor of political science at the American University of Beirut says the dozens if not hundreds of unanswered attacks on Hezbollah positions and convoys in Syria, demonstrate the group's lack of capacity to effectively retaliate, prompting further escalation. Israel is "simply informing everybody that a new rule of the game is being introduced," Khashan says. "That is what drove Hassan Nasrallah out of his mind and caused him to issue a belligerent statement that I don't believe he's capable of enforcing." 
Still, the risks of miscalculation are considerable. The 2006 Lebanon-Israel war, which killed nearly 1,200 people and injured thousands more, was sparked by Hezbollah abducting a pair of Israeli soldiers near the border. Heiko Wimmen, a Beirut-based analyst at the International Crisis Group likened the situation to both sides performing "acrobatics on the edge of the abyss."
——————————————–
Summary: Saturday's planned protest in Hong Kong has been canceled after the arrest of three of Hong Kong's pro-democracy protest leaders on Friday; Joshua Wong, Andy Chan, and Agnes Chow.CNBC's Eunice Yoon notes that the arrests are being described on Chinese media as a crackdown on "the activists who create chaos in Hong Kong."
Update (0105ET): Saturday's planned protest marking the fifth anniversary of the 2014 event which sparked the Umbrella Movement has been canceled, according to The Guardian. 
Bonnie Leung from the Civil Human Rights Front said:
The appeal board has just rejected our appeal.
Our first principle is always to protect all the participants and make sure that no one could bear legal consequences because of participating in the protest that we organised.
However, because of the appeal board's decision, we can see no way that we can keep this principle and also continue our march and protest. Therefore the civil human rights front has no option but to cancel the march tomorrow.
The Civil Human Rights Front would like to sincerely apologise to the public and hope you can understand what we explained and the difficulty we are facing. At the same time, we understand that the right to march and the right to protest is a human right and is very important to Hong HOng people. The CHRF will continue to apply for marches and apply for rallies.
"I think the police are using all kinds of excuses to arrest all kinds of people including us. They arrested Joshua Wong and Agnes Chow this morning so there is a real danger we could face the same consequences as well. We will try our best to preserve CHRF as a legal organiser. If we do otherwise, the police may use that as an excuse to give us even more trouble in the future," she added. 
It will be interesting to see who does come out, and what Hong Kong (and possibly Beijing) authorities do about it.
Update (2205ET):  Hong Kong pro-democracy activist Agnes Chow has been arrested,
Update (2145ET): Just minutes after the arrest of Joshua Wong (as we detailed below), Andy Chan, the leader of the banned pro-independence Hong Kong National Party, has reportedly  been detained whilst trying to board a flight to Japan.
A police spokesperson told HKFP that Chan was arrested on suspicion of rioting and assaulting a police officer. The Organized Crime And Triad Bureau are investigating.
*  *  *
As we detailed earlier, pro-democracy activist Joshua Wong has been arrested ahead of this weekend's planned protests throughout the city, according to the Hong Kong Free Press. 
According to his colleague, Nathan Law, Wong was forced into a private vehicle at 7:30 a.m. on the street and escorted to the Wan Chai police headquarters. According to Law, Wong is being held on three yet-unknown charges, and is being represented by attorneys. 
BREAKING: Our secretary-general @joshuawongcf was just arrested this morning at roughly 7:30, when he was walking to the South Horizons MTR station. He was forcefully pushed into a private minivan on the street in broad daylight. Our lawyers following the case now.
The arrest of Wong – who was released from prison on June 17 after serving a five-week sentence related to the 2014 pro-democracy Umbrella Movement – comes hours after pro-independence leader Andy Chan was arrested at the airport. 
Wong was the face of those 2014 protests which paralysed parts of Hong Kong for 79 days. 
Beijing's role in directing the Hong Kong government throughout the extradition bill protests has been widely assumed, and following the arrest of three protest leaders Friday morning (local time), as well as the cancellation of Saturday's march, the long-anticipated crackdown (complete with a 'rotation' of PLA forces) appears to have finally started.
But in case there was any doubt left in your mind, Reuters published a lengthy report Friday detailing the extent to which the Chinese Communist Party has directed the Hong Kong government's response to the protests.
Hedge fund manager Kyle Bass noted on twitter that the troop "rotation" in Hong Kong looks more like an "invasion."
Some call a one-way troop movement a "rotation". I tend to call them "buildups" or simply an "invasion".
Fortunately for them, the detained protest leaders, a group that included Joshua Wong, the student protest leader who gained notoriety during the 2014 Umbrella movement, have been released.
My arrest shows the government answers our request for a dialogue with batons, tear gas, rubber bullets and mass arrest. Our freedom of assembly and other fundamental rights are eroded.
— Joshua Wong 黃之鋒 (@joshuawongcf) August 30, 2019
Earlier this summer, Lam submitted a report to Beijing that analyzed the protesters demands and issued a finding: permanently withdrawing the extradition bill could help placate the people and end the protest movement. But Beijing was, unsurprisingly, firmly opposed to this, or meeting any of the protesters other demands.
The Chinese central government rejected Lam's proposal to withdraw the extradition bill and ordered her not to yield to any of the protesters' other demands at that time, three individuals with direct knowledge of the matter told Reuters.
While it comes as no surprise that China would be unwilling to show any weakness in dealing with the HK protesters, the Reuters report for the first time offers "concrete evidence" of the degree to which the Communist Party is calling the shots in Hong Kong. Lam's report was prepared for an Aug. 7 meeting in Shenzhen with the senior Chinese leadership intended to examine the feasibility of the protest movement's demands, and how acceding to some of them might help restore order. Ultimately, the Chinese leadership decided not to take any action on the protesters' demands, particularly when it comes to the withdrawal bill – which Lam has said is 'dead' but not completely 'withdrawn' – or investigations into excessive use of force by police. Instead, they ratcheted up their rhetoric about foreign interference.
Lam's report had been submitted to the Central Co-ordination Group for Hong Kong and Macau Affairs, a group led by the Politburo Standing Committee.
——————————————–
Some call a one-way troop movement a "rotation". I tend to call them "buildups" or simply an "invastion"  — writes Hayman Capital's Kyle Bass. While Chinese military officials and state media are still claiming 'nothing to see here' as fresh People's Liberation Army (PLA) troops and armored vehicles have continued to pour into Hong King since early Thursday morning, the influx could mark the early phase of a looming major military crackdown from Beijing feared by many. 
As we reported earlier, while the People's Daily and other state media say it's part of a routine and planned 22nd annual rotation of the People's Liberation Army (PLA) garrison in Hong Kong — a normally significant logistical feat given PLA troops at the garrison number between 8,000 and 10,000 troops on either side of the border — there are clear alarming signs Chinese forces are prepping specifically for riot control and crowd suppression operations. 
Further suggesting the timing is not just fortuitous, the major "troop rotation" is happening a mere days before anti-Beijing protesters plan to hold a large march focused on calling for "full democracy" for the semi-autonomous city. 
Some signs of what's about to come…
What's not "routine" is that the PLA appears to be sending in gear and vehicles equipped for anti-riot operations.
Xinhua's photos showed that the PLA garrison had changed its armoured vehicles, of which it has about 50,from Type 092, the military version,to WJ-03B, the model used by armed police. The changes suggest the garrison is ready for anti-riot missions #HKexit @SariArhoHavren https://t.co/a28mKiPl5W
Chinese troops cross border into #HongKong. Beijing insists "routine" rotation of PLA forces. pic.twitter.com/OhXMqzxW9t
State media footage appears to show WJ-03B 6X6 anti-riot Wheeled Armored Vehicles (a variant or upgrade of the WZ901 armored vehicle) moving into Hong Kong. 
These vehicles are specifically designed for People's Armed Police (PAP) anti-rioting and internal security missions, precisely what one would expect if the mainland were prepping operations to crackdown on HK democracy protests.
No mere ordinary or "routine" troop transport vehicles among the many pouring in as part of the turnover in HK garrison troops. 
Chinese-made armored military vehicles specifically modified as variants for urban riot control are evident in Thursday's footage and photos.
Some real observation and useful information here.
I believe most Hong Kongers missed this point. I highly recommend the Hong Kongers to know more about the WJ-03B amoured vehicle.
Thank you Mr. Bass.https://t.co/88fsuTyFqr
And further China has been staging nearby drills in urban crowd control and anti-riot control tactics. 
Anti-riot drill by People's Armed Police in Shenzhen Stadium across the border from Hong Kong? pic.twitter.com/Uq8wjpBlnm
This follows early this month the PLA releasing a video that featured an emergency response "drill" involving Chinese troops taking positions around an mock-up urban environment. The promo video was unveiled at an event honoring the People's Liberation Army's (PLA's) Hong Kong garrison.
The footage was described as "a promotional video showing various activities and stating that troops stationed in the city were able to protect its long-term stability." 
The recently produced PLA "riot control" video, which The Washington Post described as showing soldiers practicing shooting protesters:
One Hong Kong lawmaker, Dennis Kwok of the Civic party said at the very least the large-scale troop movements are political posturing.
"I believe this is a deliberate posture on the part of the PLA to tell or warn the Hong Kong people that it may be deployed," Kwok told public broadcaster RTHK, according to The Guardian.
"As I said time and again, the use of troops in Hong Kong will be the end of Hong Kong, and I would warn against any such move on the part of the central people's government," he said.
If the internet goes dark, it will be a strong final sign a mainland military crackdown is underway, as The Guardian reports:
As concerns about a possible crackdown intensify in Hong Kong, the Hong Kong Internet Service Providers Association said on Wednesday it was troubled by reports that the local government might issue an executive order to block selective websites or applications.
It said such an order would be the "end of the open Internet of Hong Kong" and "permanently deter international businesses from positing their businesses and investments in Hong Kong".
The group also said it would be an ineffective move as it "would not deter nor stop determined users from accessing their desired services" through a virtual private network (VPN).
Hong Kong legislator Charles Mok previously warned the government has lately considered passing emergency regulation allowing it to shutdown the internet — as has been done during prior unrest on the mainland.
"Internet shutdown" will truly be the darkest day for Hong Kong: Emergency Regulations Ordinance grants the Chief Executive sweeping powers to bypass the legislature and control everything inc telecommunications and may shutdown the Internet.
Hong Kong will die!
— Charles Mok 莫乃光 (@charlesmok) August 27, 2019
——————————————–
THE CHINESE ECONOMY IS IN MELTDOWN AND THIS MAKES THE WORLD A VERY UNSTABLE PLACE
——————————————–
It's now obvious: We are living under a lawless deep state dictatorship where treasonous criminals like James Comey will never be prosecuted
The Office of the Inspector General (OIG) released a damning report this morning, revealing that former FBI director James Comey violated the law when he illegally leaked classified information to the media as a ploy to jump start the Robert Mueller witch hunt against Trump. You can read the report at this link:
The OIG report, authored by Michael Horowitz, states, "We conclude that Comey's retention, handling, and dissemination of certain Memos violated Department and FBI policies, and his FBI Employment Agreement."
"The watchdog office said Comey broke FBI rules by giving a memo containing unclassified information to his friend Daniel Richman with instructions to share the contents with a reporter," adds Breitbart News. "Attorney General William Barr will not prosecute the fired FBI director over his wrongdoings."
This means the DOJ, even under AG William Barr, is covering up the crimes of James Comey. "As long as you are a Democrat you are permitted to break the law," writes The Gateway Pundit. James Comey has long been a registered Republican, but his abuse of power and ongoing attempts to destroy President Trump have put him in the Democrat camp, philosophically speaking.
James Comey gets criticized in mean words but of course gets a pass for his unlawful actions.
Rep. Jim Jordan (R-OH), ranking member of the House Oversight Committee, issued a statement slamming Comey's actions as laid out in the inspector general's report.
"Today's report is a disappointing reminder that the former FBI Director put partisanship and personal ambition over patriotism and his legal obligations to the American people. By leaking his confidential communications with the President in an attempt to save face in the wake of his firing, Mr. Comey believed he was above the rules of the DOJ," Jordan said. "His actions were disgraceful and part of a wider effort within the Obama Justice Department to undermine President Trump. I am grateful that the Inspector General brought these issues to light and look forward to his and Mr. Durham's findings related to abuses of the FISA process."
When it comes to prosecuting these deep state dictators, we'll believe it when we see it. It seems like these corrupt, treasonous traitors get away with everything, while anyone affiliated with Trump gets the book thrown at them for extremely minor offences such as forgetting some small detail that qualified them for "lying to the government."
James Comley lied to everyone. Why is he still walking around as a free man?
And if the laws of this nation don't apply to those who wield the most power, then why should any citizen obey any law at all? We are witnessing the complete collapse of the rule of law in America, all because the power elite refuse to prosecute their own kind. Thus, we don't have a nation of equal justice at all. What we really have is a deep state dictatorship that's pretending to be a law-and-order republic.
——————————————–
DATA: NO WARMING SINCE AT LEAST 2005
The difficulty of accurately measuring average temperatures around the globe and across the United States has helped fuel the conflicting claims regarding climate change.
Purveyors of the belief that mankind is catastrophically impacting the global climate insist it's getting warmer year by year.But a new, improved system to assess surface temperatures established in 2005 by the National Oceanic and Atmospheric Administration, NOAA, indicates otherwise.
In fact, the U.S. Climate Reference Network—comprised of 114 pristinely maintained temperature stations spaced relatively uniformly across the lower 48 states—finds there has been no warming for the past 14 years at least, noted the Powerline blog.
While historically the U.S. has been considered to have the best records, surveys show that over half of the nation's weather stations do not comply with written standards, pointed out Powerline contributor John Hinderaker.
Some are next to airport runways and many are in cities, where temperatures are artificially inflated.
"And on top of all of that, the alarmists who curate weather records have systematically fiddled with them, lowering temperatures that were recorded decades ago and raising recent ones, to exaggerate the supposed phenomenon of global warming," he wrote.
Climate-change skeptics have pointed to examples such as Penn State Professor Michael Mann's iconic "hockey stick" graph purporting to show a spike in average global temperatures in the 20th century.  Mann lost a defamation suit last week after failing to present evidence to back his claim. Critics argue his graph doesn't take into account periods such as the Little Ice Age and the Medieval Warming Period.
NOAA's system utilizes locations far away from urban and land-development impacts, eliminating the need to adjust the data.
James Taylor, director of the Arthur B. Robinson Center for Climate and Environmental Policy at the Heartland Institute, writes at Real Clear Energy that there's "also good reason to believe U.S. temperatures have not warmed at all since the 1930s."
"Raw temperature readings at the preexisting stations indicate temperatures are the same now as 80 years ago," he writes.
"All of the asserted U.S. warming since 1930 is the product of the controversial adjustments made to the raw data. Skeptics point out that as the American population has grown, so has the artificial warming signal generated by growing cities, more asphalt, more automobiles, and more machinery."
Taylor contends that, if anything, the raw temperature readings "should be adjusted downward today relative to past temperatures (or past temperatures adjusted upward in comparison to present temperatures) rather than the other way around."
"If raw temperature readings are the same today as they were 80 years ago, when there were fewer artificial factors spuriously raising temperature readings, then U.S. temperatures today may actually be cooler than they were in the early 20th century," he reasons.
——————————————–
JESUIT SUPERIOR GENERAL OF THE ROMAN CATHOLIC CHURCH SAYS NO COUNTRY CAN TURN AWAY ILLEGAL MIGRANTS BECAUSE THE 'LAND BELONGS TO EVERYONE

'
The superior general of the Jesuits declared this week that no country has the right to turn away migrants, claiming the land belongs to everyone. "The challenge for a country that receives migrants is not only reception, but integration, which means receiving the contribution that immigrants bring," said Jesuit Father Arturo Sosa Abascal in an interview with Tempi.it. "They come to make a contribution, which is greater than what they receive from the host country," he claimed, seemingly without evidence. "Italians must remember their own experience," he continued.
The superior general of the Jesuits, Father Arturo Sosa Abascal, has declared "that no country has the right to turn away migrants" because in his view, "the goods of the land are for everyone."
It has been quite awhile since the Roman Catholic Church has wielded the type of absolute power they had grown accustomed to during the start of the Dark Ages and all the way into the time of the Spanish Inquisition. And like their brothers over in Islam, when Rome is not in power they pretend to be all about "peace and love" until they can seize control once again. And everyone once in a while, while pretending to be a lamb, the Roman wolf slips and tells us the truth, as did the Jesuit Superior General Father Arturo Sosa Abascal did recently with his comments on borders, migrants and the sovereignty of nations.
"For all nations have drunk of the wine of the wrath of her fornication, and the kings of the earth have committed fornication with her, and the merchants of the earth are waxed rich through the abundance of her delicacies. And I heard another voice from heaven, saying, Come out of her, my people, that ye be not partakers of her sins, and that ye receive not of her plagues." Revelation 18:3,4 (KJV)
Declaring first that "no country" should be allowed to turn away illegal migrants was shocking enough a pill to swallow to those of us who are used to living in freedom, but to follow that up with "the land belongs to everyone" should tell you everything you need to know about how the Roman wolf really thinks. Father Sosa is not alone in this manner of thought, as it is a near-perfect echo of how the Roman pontiff views things as well.
"For they have shed the blood of saints and prophets, and thou hast given them blood to drink; for they are worthy. And I heard another out of the altar say, Even so, Lord God Almighty, true and righteous are thy judgments." Revelation 16:6,7 (KJV)
During the time of Jacob's trouble in the days after the Pretribulation Rapture of the Church, Rome will not only be back in power they will for a hyper-brief period of time rule the world as the Catholic pope, who is also the king of Vatican City, will wear his third hat as Antichrist.  As we get closer and closer to the Rapture of the Church, you will see the Roman Catholic Church, and their military arm the Jesuits, becoming bolder and bolder as they prepare to rule the world after they are left behind.
Jesuit Superior General: "No country has a right to turn away migrants"
FROM JIHAD WATCH: Father Arturo Sosa Abascal also claims that "migrants come to make a contribution, which is greater than what they receive from the host country"; never mind the advancement of Islamization, and Germany's admission that 75% of its migrants face long-term unemployment and life on benefits, and the fact that in Switzerland over 80% of Somali migrants are on welfare.
Sosa is, not surprisingly, a loyal follower of the Pope of Islam — who has incessantly advocated for open-door policies and mass migration. Sosa also believes in that there is a "plan that originated in the United States to force Pope Francis to resign" and "bring in a new one who will discontinue deepening the path that Francis has indicated and undertaken."
In Sosa's flawed reasoning that the land belongs to "everyone," that "everyone" would include Islamic State fighters who have infiltrated the refugee stream, as well as jihadis from Boko Haram, al Qaeda, the Muslim Brotherhood, and drug lords and the like.
What makes Sosa so dangerous as a Catholic Church leader is that there are many who trust him and follow in his footsteps. He is a blind guide who has chosen to ignore the realities of modern-day migration problems in the West. Unfortunately, this unfit leader has forgotten the victims of jihad and Islamic supremacy.
ANTICHRIST: POPE FRANCIS TELLS CATHOLICS IN ROME THAT A 'PERSONAL RELATIONSHIP' WITH JESUS IS 'DANGEROUS AND HARMFUL'
"Jesuit Chief: No Country Has the Right to Turn Away Migrants," by Thomas D. Williams, Breitbart, August 24, 2019:
The superior general of the Jesuits declared this week that no country has the right to turn away migrants, claiming the land belongs to everyone.
"The challenge for a country that receives migrants is not only reception, but integration, which means receiving the contribution that immigrants bring," said Jesuit Father Arturo Sosa Abascal in an interview with Tempi.it.
"They come to make a contribution, which is greater than what they receive from the host country," he claimed, seemingly without evidence. "Italians must remember their own experience," he continued.
"They came to Latin America, including my country of Venezuela, and they were welcomed; they became part of society in the same way as everyone else, and today they are not considered 'different'," he said, drawing a somewhat dubious comparison between the largely legal migration of Italians to South America and Europe's largely unregulated migrant crisis.
"In Europe we must recognize the contribution that migrants make to the societies that receive them and thank them for it," the Jesuit added.
Then, in one of his more controversial claims, Father Sosa said that nations have no right to enforce their borders because in the end, the land belongs to everyone.
"Those who live in a given territory have no right to turn away migrants," he said, "because they have no absolute right to that territory. They do not own it; the goods of the land are for everyone."

READ MORE

:

 
Arturo Sosa, S.J., Jesuit Superior General
Our exclusive interview with the new global head of the Jesuit order. Fr. Sosa speaks on relations with Pope Francis, the death of his predecessor Peter Hans-Kovenbach, and much more.
THE SECRET HISTORY OF THE JESUITS
Secrets the Jesuits don't want Christians to know Out of Europe, a voice is heard from the secular world that documents historically the same information told by ex-priests. The author exposes the Vatican's involvement in world politics, intrigues, and the fomenting of wars throughout history. It appears, beyond any doubt, that the Roman Catholic institution is not a Christian church and never was. The poor Roman Catholic people have been betrayed by her and are facing spiritual disaster. Paris shows that Rome is, among all the other wars, responsible for the two great world wars.
————————————-
WEBPAGE ADMINISTRATOR:   I personally don't care what this "Head of the Jesuit's" says, he is wrong, and he needs to read the "WORD OF GOD – THE BIBLE" and become born again to Jesus Christ. Only then will he realise that his "Heart and soul" should be working for Jesus Christ and not Man, and the "Satanic Agenda".
——————————————–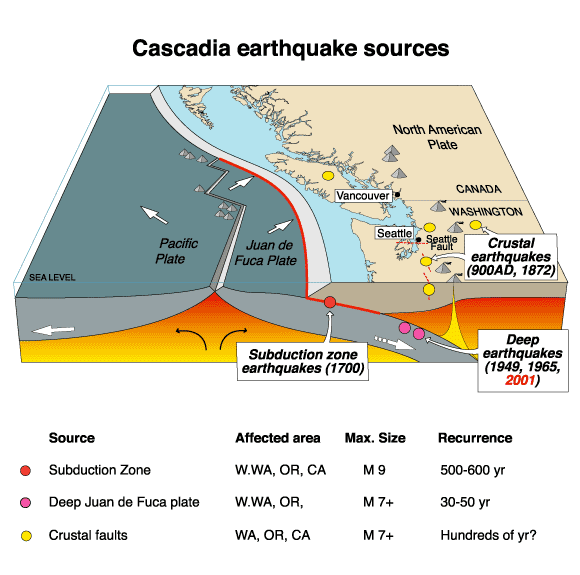 We haven't seen this sort of seismic activity on the west coast in a very long time.  Last month, two monster earthquakes in southern California were followed by thousands upon thousands of aftershocks, and the shaking still hasn't stopped.  Scientists tell us that the San Andreas fault is "locked and loaded" and that it could potentially "unzip all at once" without any warning at all.  But meanwhile, another ominous threat is looming farther north.  As you will see below, more than 4,500 earthquakes have rattled the Cascadia Subduction Zone over the last two weeks, and that includes a magnitude 6.3 quake that struck off the coast of Oregon on Thursday.  The following comes from the official USGS website… (Read More…)
——————————————–
Well, that certainly escalated quickly.  On Wednesday we were told that Hurricane Dorian would only be a Category 3 storm when it hits the Florida coastline, but now we are being told that it will be a Category 4 storm.  Hurricane Dorian is rapidly gaining strength over very warm waters in the Atlantic Ocean, and the latest forecast has it making landfall somewhere along the east coast of Florida on Monday.  If it is officially a Category 4 storm when it arrives, it will be the most powerful storm to hit the east coast of Florida since Hurricane Andrew in 1992.  Dorian is being described as a "monster hurricane", and Florida Governor Ron DeSantis has already declared a state of emergency for all 67 counties in the state of Florida. (

READ MORE…

)
——————————————–
AN ANOMALOUS SUDDEN STRATOSPHERIC WARMING IS FORMING OVER ANTARCTICA RIGHT NOW – AUSTRALIA AND NEW ZEALAND SHOULD PREPARE FOR A REPLAY OF THE 2018'S 'BEAST FROM THE EAST'
A Sudden Stratospheric Warming is currently sweeping across parts of Antarctica right now.
This is only the third such anomalous event in the southern hemisphere after 2002, and twice in 2010. Find out now what they are and what are their possible impacts below.
The Sudden Stratospheric Warming (SSW) over Antractica as pictured by Weatherzone on August 30, 2019.
A Sudden Stratospheric Warming is set to take place mid September across Antarctica with its effects potentially being felt across Australia and New Zealand.
This event has the potential to be unprecedented for the Southern hemisphere due to its abnormal / rare occurrence and its potential strength which models are showing already.
SO WHAT IS A 'SUDDEN STRATOSPHERIC WARMING'?
A Sudden Stratospheric Warming is when the temperature between 10km (30,000ft) and 50km (150,000ft) in the Stratosphere undergoes rapid warming (in the vicinity of at least 50ºc in the space of just a few days). The warming occurs so high up in the atmosphere that we are completely oblivious to it at the surface.
BUT HOW CAN IT WARM SO QUICKLY?
Every year, strong Westerly winds will circulate around the Antarctic (or Arctic). These winds form what we know as the stratospheric polar vortex which occurs high above the poles and produces excessive amounts of cold air.
In some instances though, these winds will weaken for a period of time – more commonly between the changing of seasons into Winter and out of Winter when the atmosphere itself is changing.
As these winds weaken, they can sometimes reverse and move from East to West instead. This causes the colder air to descend in the polar vortex and the air replacing it above is much warmer – which leads to a rapid warming and thus a Sudden Stratospheric Warming.
As the cold air sinks towards the surface, it causes our weather at the surface it begins to change the pattern of the jet stream and this can alter the weather at the surface in a cold fashion.
HOW DOES IT AFFECT OUR WEATHER?
There aren't too many cases that have been documented and so the overall understanding is limited. There have been cases in the Northern Hemisphere in recent history, from 2009-10, 2013 and what was dubbed 'the beast from the East' in 2018. So let's take those examples and try to extrapolate what such a weather anomaly means for New Zealand and Australia.
As the jet stream snakes more in its shape, it has tended to create large areas of blocking high pressure. In the Northern Hemisphere, these high pressure regions have typically developed over the Northern Atlantic Ocean and Scandinavia. What this has meant, is the area in between – the United Kingdom – has had extensive periods of dry, very cold (often icy) weather.
In other words, those typical conditions where its a blue sky but so cold that its like the morning frost cant melt. Southern Europe during this same time, was slightly milder but also very wet and windy. The boundary between the large area of prolonged dry and wet and windy (between the United Kingdom and Southern Europe) has lead to extremely snowy conditions. The effects of these events at the surface may only begin to appear weeks after the event started 50km above the surface, so while its already underway now over Antarctica – we may see nothing until mid September. 
WHAT DOES THAT MEAN FOR AUSTRALIA AND NEW ZEALAND WEATHER?
How can we translate this to Australia and New Zealand. Well we can't really as we don't know where the 2 blocking high pressure systems will be and where the 'in between' will be.
But we can assume that there will be 2 large area of high pressure, in between them will be an area of very icy, cold, dry conditions.
THERE, SUCH WEIRD

FOOTAGE'S

 OF KANGAROOS BOUNDING THROUGH THE SNOW COULD BECOME A NEW NORMAL:
North of that will be an area of very wet and windy conditions, and in between will be very snowy.
Whether that actually happens over Australia or South of Australia will be a wait and see game, but given we are closer to the Equator than the United Kingdom, chances are our impacts will be less than theirs during the 2018 'Beast from the East' event. 
——————————————–
Did Jesus Know Or Didn't He?
https://gracethrufaith.com/ask-a-bible-teacher/did-jesus-know-or-didnt-he
QUESTION:

   I am puzzled by a difference in the wording of Matthew 24:36. My NIV says

"nor the son…

" but my KJV says
"But of the day and hour knoweth no man, no, not the angels of heaven, but my Father only."
(no mention of the son) What is the correct interpretation – does the son know or not? Jesus is the Godhead and if the Father knows, wouldn't Jesus also know? Sorry if this is sounds confusing, but I am learning to check different versions.
ANSWER:

   In their different ways, both translations say that when Jesus said those words from Matt. 24:36 even He didn't know about the day or hour of His coming. Only God knew. He was on Earth as a man, and had put aside His Godly powers. We don't know exactly how this was accomplished but the effect was to make Him totally human. (If you read it carefully, you can see that one aspect of the wilderness temptation was to get Jesus to take up His godly powers again. Had He done so, He would have blown His mission.)
Later, after the ascension, the details of the End Times were revealed to Him, and He then revealed them to John. Rev. 1:1 says
"the Revelation of Jesus Christ which God gave to Him to show His servants what must soon take place. He made it known by sending his angel to His servant John …"
In other words, God revealed it to Jesus who revealed it to John. (The Greek word for angel simply means messenger. Jesus did not come to John as an angel in the sense that we understand the word.)