This Happened On Planet Earth…July 2019…End Times Signs

Published on Jul 13, 2019
 

Please Help Support This Ministry:

https://www.paypal.me/watchman1963

Please subscribe to my backup channel:

https://www.youtube.com/channel/UC4nc…

Current Events Linked To Biblical Prophecies. Everything is unfolding just as the bible foretold. Wars, Volcanic Eruptions, Earthquakes, Extreme Weather, Christian Persecution, Violence and more!
Matthew 24:3-14 3 Now as He sat on the Mount of Olives, the disciples came to Him privately, saying, "Tell us, when will these things be? And what will be the sign of Your coming, and of the end of the age?" 4 And Jesus answered and said to them: "Take heed that no one deceives you. 5 For many will come in My name, saying, 'I am the Christ,' and will deceive many. 6 And you will hear of wars and rumours of wars. See that you are not troubled; for all[a] these things must come to pass, but the end is not yet.
7 For nation will rise against nation, and kingdom against kingdom. And there will be famines, pestilences,[b] and earthquakes in various places. 8 All these are the beginning of sorrows. 9 "Then they will deliver you up to tribulation and kill you, and you will be hated by all nations for My name's sake. 10 And then many will be offended, will betray one another, and will hate one another.
11 Then many false prophets will rise up and deceive many. 12 And because lawlessness will abound, the love of many will grow cold. 13 But he who endures to the end shall be saved. 14 And this gospel of the kingdom will be preached in all the world as a witness to all the nations, and then the end will come.
————————————————–
California & Nevada Rocked by 10,000 Earthquakes-Apocalyptic Weather across the World

Published on Jul 12, 2019
 

You will hear the following in this Broadcast: -The Shaking Won't Stop: There Have Been More Than 10,000 Earthquakes In California And Nevada In The Last 7 Days -Hurricane Barry heads towards New Orleans -6 killed and more than 100 injured as very strong winds, tornadoes and violent hailstorms hit Greece -Extremely severe hailstorm hits Abruzzo, injuring 18 people, Italy -Extremely heavy rainfall floods Washington, D.C., nearly a month's worth of rain in 1 hour -Heavy rainfall hits Haiti, floods leave at least 5 people dead and 3 missing -Siberia hit by worst flooding in a century, 14 people killed, 13 remain missing, Russia -Record rains hit Japan, 1.2 million under evacuation advisory
————————————————–
Genesis 3: The Tactics of Satan

Published on Jul 13, 2019
 

Genesis 3:

The Tactics of Satan http://rockharborchurch.net/

All the signs of the last days are converging at the same time. Bible Prophecy is happening right before our eyes and like birth pains, the predicted events are happening more frequently and more intently. Never, in the history throughout the world have so many forces, including economic, scientific, techno-logic, ecologic, cultural, geopolitical, moral, spiritual and religion, converged together to bring this world that's already teetering over the edge into the abyss, to a point of no return. Jesus said when you see all these signs happening, know that I am near, even at the door.
————————————————–
LATEST WORLD NEWS CLIPS – ARTICLES – SATURDAY JULY 13th
1Th. 5:3 For when they shall say, Peace and safety; then sudden destruction cometh upon them, as travail upon a woman with child; and they shall not escape
Luke 11:29 And when the people were gathered thick together, he began to say, This is an evil generation: they seek a sign; and there shall no sign be given it, but the sign of Jonas the prophet
John 8:32 And ye shall know the truth, and the truth shall make you free
"My people are destroyed for lack of knowledge" (Hosea 4:6)
1Cor. 12:3 Wherefore I give you to understand, that no man speaking by the Spirit of God calleth Jesus accursed: AND THAT NO MAN CAN SAY THAT JESUS IS THE LORD, BUT BY THE HOLY GHOST.
THE TRIBULATION OF THE UNJUST (Those who have rejected Jesus Christ as their Saviour) IN THE BOOK OF REVELATION CHAPTER'S 6 to 22:
TRIBULATION IS COMING AND THE REMOVAL OF THE CHURCH IS IMMINENT.
THE GREAT "DECEPTION" IS READY TO BE IMPLEMENTED BY THE ONE WORLD GOVERNMENT. ARE YOU READY FOR JESUS CHRIST RETURN
Rev. 3:10 Because thou hast kept the word of my patience, I also will keep thee from the hour of temptation, which shall come upon all the world, to try them that dwell upon the earth:
Luke 12:37 Blessed are those servants, whom the lord when he cometh shall find watching: verily I say unto you, that he shall gird himself, and make them to sit down to meat, and will come forth and serve them
so won't you accept Jesus now and be removed from that event and live forever with Jesus in the Family of God?
2 "(For he saith, I have heard thee in a time accepted, and in the day of salvation have I succoured thee: behold, now is the accepted time; behold, now is the day of salvation.)" (2nd Corinthians 2:6)
——————————————-
DAILY CHRISTIAN BIBLICAL QUESTIONS AND ANSWERS:
——————————————-
PREPARING FOR HARD TIMES AHEAD
QUESTION:    Like everyone else, I've been intently watching the headlines, wondering what's next for our country, our world. I'm a pre-trib believer, but I'm also realizing that my family is not prepared for the "tough times" we'll probably experience before the Lord comes for us. I'm wondering if you could give some advice, insight, references regarding what we can do today to make sure we are as prepared as we can be regarding finances, food, fuel, etc. Like many others, money is a little tight for us right now; but I feel like I could be doing more to prepare us for what lies ahead.
ANSWER:    The best preparation for the times ahead is building a stronger faith. We haven't been promised an escape from hard times in general, just the last 7 years of them. So the most important thing to do is to practice living by faith. That doesn't mean going on as if nothing is happening and then trusting God for the money, etc. It means taking everything to prayer and not doing anything that you don't feel specifically led by the Lord to do. It also means listening to His voice more carefully and being guided by it. This includes everything from non-essential purchases, changing jobs or moving, to responding to His promptings in your giving and evangelizing.
In the financial sense, it's critical that you reduce spending and eliminate as much of your monthly debt obligation as possible. In tough times cash is king. Do whatever you can to stop discretionary spending and use that money to pay off things like credit card and other debt with variable or high interest. The more of your monthly income is necessary for debt repayment, the less freedom you have to react to sudden changes in your lifestyle. Simply put, it's economic enslavement. The fact that it's of our own making doesn't make it any less so. If you're not already doing so, begin tithing immediately, not out of a sense of duty or obligation but as an act of gratitude for all that He's given you. God loves a cheerful giver and will bless you for your faithfulness.
I'm not an advocate of hoarding. I think it demonstrates a lack of faith. God has promised that He will see to our needs if we seek Him. (Matt. 6:31-34) Where I live, the nearest grocery store is nearly an hour away, and when it rains the roads are impassable, so we keep a little extra on hand, but in my opinion the idea of trying to stock up a year or two worth of supplies demonstrates a lack of faith in the Lord's willingness to keep His promise.
GREAT REVIVAL AHEAD?
QUESTION:    It seems like a lot of Christian preachers are calling for a revival these days. I read their blogs and watch them on TV. Does the Bible teach this, and if not why are these preachers demanding something impossible?
ANSWER:    I believe there will be a great revival after the rapture when the fence sitters realize they shouldn't have waited so long to make their decision to be saved. Knowing their loved ones have gone will finally convince them that what we've been telling them is true and they'll finally do it.
Much of the talk about revival today is coming from people who believe in Dominion Theology. They teach that Christians have to take dominion over the Earth by converting the unsaved world before the Lord can come back. It's based loosely on God's command to Adam and Eve to fill the earth and take dominion over it (Genesis 1:28). Because of this they're always talking about great revivals on the horizon.
This view of the end times cannot be supported by scripture. It tells us the true Church will become weaker as the end approaches because many people will no longer put up with sound doctrine, but will gather around them teachers who say what their itching ears want to hear and will abandon the faith (1 Tim. 4:1 and 2 Tim4:3).
This will prove they were never believers to begin with but will make the ranks of the apostate church swell while the true Church gets smaller. We can see this happening around us today.
Speaking to the Church of our time, Jesus said,
"I know you have little strength, yet you have kept my word and have not denied my name. Since you have kept my command to endure patiently, I will also keep you from the hour of trial that is going to come upon the whole world to test those who live on the Earth"
————————————–
NEWS CLIPS OBTAINED FROM MANY SOURCES – INCLUDING

Tracking bible prophecy.org
Rapture Ready News
Prophecyupdate.Com
Main News Channels
End Times Headlines
Prophecyupdateblogspot.com
Stevequayle.com
Gracethrufaith.com
Nowtheendbegins.com
Other Christian Sites
(CLICK ON) LATEST DAILY NEWS CLIPS:
ISRAEL NEWS:
THE MIDDLE EAST PEACE PLAN IS "ANTI GOD" – (GOD WILL NOT ALLOW JERUSALEM TO BE DIVIDED).
ZECHARIAH 12:2-3
Zech. 12:2 Behold, I will make Jerusalem a cup of trembling unto all the people round about, when they shall be in the siege both against Judah and against Jerusalem.
WORLD TERRORISM – WARS
GENERAL WORLD NEWS:
WORLD FINANCE:
MASSIVE EARTH CHANGES/EARTHQUAKES/VOLCANOES ETC:
2Chr. 7:14 If my people, which are called by my name, shall humble themselves, and pray, and seek my face, and turn from their wicked ways; then will I hear from heaven, and will forgive their sin, and will heal their land
CHRISTIAN AND RELIGIOUS WORLD NEWS:
Matt. 24:9 Then shall they deliver you up to be afflicted, and shall kill you: and ye shall be hated of all nations for my name's sake.
Matt. 24:10 And then shall many be offended, and shall betray one another, and shall hate one another
EXTRA WORLD – ALTERNATIVE NEWS:
—————————————————
WORLD – PROPHETIC NEWS ARTICLES PRESENTATION – SATURDAY JULY 13th
MIDDLE EAST AND WORLD WAR LOOMING THE BUILD UP TO PSALM 83  – ISAIAH 17 AND GOG OF MAGOG WARS EZEKIEL 38:
THE WHOLE WORLD IS UNSTABLE FINANCIALLY, POLITICALLY, PHYSICALLY, MORALLY, GODLY: – AND BECOMING MORE SO DAILY. (WE ARE IN THE BEGINNING OF SORROWS (MATT 24:8)
THE BIBLE STATES THAT IT WILL ONLY GET WORSE BEFORE THE START OF THE TRIBULATION OF MANKIND – (

REVELATION 6

)
Matt. 24:6 And ye shall hear of WARS AND RUMOURS OF WARS: see that ye be not troubled: for all these things must come to pass, but the end is not yet.
Matt. 24:7 FOR NATION SHALL RISE AGAINST NATION, AND KINGDOM AGAINST KINGDOM: and there shall be famines, and pestilences, and earthquakes, in divers places.
ISAIAH 17/PSALM 83:
THE DESTRUCTION OF DAMASCUS and
Muslim Countries in the Middle East will launch an attack on Israel
JEREMIAH 49:
PROPHECY OF ELAM – (Possible Attack on Iran's Nuclear Program
—————————————-
Amid ongoing "tanker wars" following the UK's unprecedented and aggressive seizure of a super tanker transporting Iranian oil to Syria last week, which led to an alleged thwarted counter-attempt of Iran's IRGC to block a UK-flagged tanker in the Persian Gulf Wednesday, Britain says it plans to send a second warship to the region.
Currently the HMS Montrose is shadowing the BP-owned British Heritage tanker after it was approached by IRGC boats — this as Britain raised its threat level to British shipping in the gulf area to its highest. Per government statements, the HMS Duncan, a type 45 Destroyer, will be deployed alongside the HMS Montrose in the region for a short period.
"We are concerned by this action and continue to urge the Iranian authorities to de-escalate the situation in the region," a Downing Street spokesman had said Wednesday of the dangerous encounter with Iran's military in the gulf earlier that day. 
And on Thursday a separate UK official stated: "As part of our long-standing presence in the Gulf, HMS Duncan is deploying to the region to ensure we maintain a continuous maritime security presence while HMS Montrose comes off task for pre-planned maintenance and crew changeover," according to the BBC. 
"This will ensure that the UK, alongside international partners, can continue to support freedom of navigation for vessels transiting through this vital shipping lane." At the moment the HMS Duncan is in Mediterranean waters. 
The Pentagon also this week described plans to work with allies to provide military escorts to ships traversing waters near Iran, as concerns grow that any major incident would threaten global oil supplies, which would no doubt send prices soaring. 
Already other international ships are reportedly waiting for military escorts prior to entering the Strait of Hormuz, as Bloomberg describes in a breaking report:
VLCC Atlantic Pioneer, an Isle of Man-flagged tanker, sailed near Ras Tanura port in Saudi Arabia, turned away without loading any cargo and is now headed toward the Strait of Hormuz, Bloomberg ship-tracking data shows. 
The vessel is expected to wait for an escort from British naval ship HMS Montrose before sailing through the waterway, data intelligence firm Kpler SAS says in note released Friday.
Meanwhile Iran has continued to point the finger at Washington for the soaring tensions and growing "tanker war" after accusing the UK of detaining its some 1 million barrels of oil aboard a Panamanian-flagged vessel "at the behest of" the US government "in line with America's hostile policies".
Foreign ministry spokesman Abbas Mousavi said: "This is a dangerous game and we advise them not get involved in this game under America's influence."
"We ask them again to release the tanker immediately, which will be in all countries' interest," he added. 
—————————————-
Beijing will impose sanctions on US enterprises involved in arms sales to Taiwan, China's Ministry of Foreign Affairs said on Friday. The decision follows Washington's announcement to sell $2.22 billion worth of arms to Taiwan.
"US arms sales to Taiwan constitute a serious violation of international law and the basic norms governing international relations," said China's Foreign Ministry spokesperson Geng Shuang.
"To safeguard our national interests, China will impose sanctions on the US enterprises involved in the above-mentioned arms sales to Taiwan," the ministry added.
On Thursday the Chinese military expressed strong dissatisfaction with the US State Department's approval of a plan to sell weapons to Taiwan.
The spokesperson for China's Ministry of National Defense said: "Taiwan is an inalienable part of China. China's firm opposition to US arms sales to Taiwan is clear and consistent."
"As an internal affair of China, the Taiwan issue concerns China's core interests and the national feeling of the Chinese people, and forbids external interference," he stressed.
According to the defense ministry, the Chinese armed forces have the firm will, full confidence, and sufficient capability to thwart any form of interference by external forces and separatist acts of "Taiwan independence," and will take all necessary measures to safeguard national sovereignty, security, and territorial integrity.
On Monday, the US State Department approved the sale of M1A2T Abrams tanks, Stinger missiles and related military equipment to Taiwan at an estimated value of $2.2 billion.
The approval came in violation of the 'One China' principle that views the island as an integral part of China.
Relations between Beijing and Taipei have deteriorated since Taiwanese President Tsai Ing-wen, a member of the island's pro-independence Democratic Progressive Party, took office in May 2016. China suspects the leader of seeking formal independence with support from Washington.
—————————————-
Turkey has received the first shipment of S-400 air defense missile system equipment from Moscow, defying pressure from Washington to scrap the arms deal with Russia.
The components arrived at the Murted military airfield outside Ankara on Friday, the nation's Ministry of National Defense said in a short statement. Russia's Defense Ministry has also confirmed that the shipment has started and will continue as scheduled.
Both countries signed a contract for the delivery of four S-400 batteries in 2017. The contract earned Ankara the ongoing row with Washington, which strongly opposes the deal, claiming the purchase of advanced Russian-made weapons undermines the security of NATO and goes against American interests.
In order to pressure Ankara into dropping the contract with Russia, the US suspended the shipment of fifth generation F-35 jet fighters to Turkey. Last month, the Pentagon revealed plans to phase out Turkey's participation in the F-35 program altogether by July 31. A senior US defense official told Reuters that Ankara should brace for "ramifications" for its economy as well, if it sticks to the S-400 agreement with Moscow.
Turkey has repeatedly rebuffed calls from the US to scrap the deal, saying it is free to choose the countries it buys weapons from. Turkish President Recep Tayyip Erdogan said excluding the nation from the F-35 program would be "robbery," since Ankara has already invested money in it.
Similarly, Washington has been attempting to dissuade India from purchasing S-400s. New Delhi reached a deal to buy the missile systems from Moscow in October. Indian officials are now seeking a waiver from the US that will allow the nation to buy the weapons without the risk of violating American sanctions on Moscow.
"We will do what is in our national interest," India's foreign minister, Subrahmanyam Jaishankar, said after talks with his American counterpart, Mike Pompeo last month.
The medium-range and long-range S-400 Triumf surface-to-air missile system was developed as an upgraded version of the S-300. The all-weather weapon can shoot down aircraft at a distance of up to 250km (155 miles) and intercept ballistic missiles up to 60km (37 miles) away.
—————————————-
There's little doubt that the next war between Israel and the Gaza Strip is not far away, and it will be deadlier and more destructive than any previous war.
In the last war between the two, Operation Protective Edge in 2014, Israel lost 68 soldiers and six civilians. Some 2,500 Palestinians are believed to have been killed, roughly half civilians and half combatants.
Estimates for casualties in the next war are much higher toll, for soldiers and civilians.
IDF officials have repeatedly said that any future war with Israel's enemies, be it Hamas in the Gaza Strip or Hezbollah in the North, will have to have a clear and decisive win by the Israeli military so that the other side will think twice about going to war in the future.
IDF Chief of Staff Lt.-Gen. Aviv Kochavi has prioritized the southern front as the most likely to explode into conflict. He has already approved operational combat plans and recently set up an administrative unit to handle the formation of a list of potential targets in the coastal enclave for when the next war breaks out.
Israel's military, which has had the past five years to recover and plan for the next war, says it's prepared. Its troops have increased training, ammunition and weapons have been restocked with four times the amount as before the last war, and military intelligence has hundreds of targets ready.
Israel has also completed more than half of its 65-km. underground barrier to stave off attacks by Hamas and Palestinian Islamic Jihad (PIJ) via cross-border attack tunnels. Israel has already finished the maritime portion of the barrier, meant to stop any attacks by Hamas frogmen.
Since the end of Operation Protective Edge, Israel has been able to locate and destroy 18 cross-border tunnels. While it is believed that most of the tunnels have been exposed, the IDF announced on Monday that it had discovered an old tunnel dug by Hamas in the southern Strip.
But while the army says most of the cross-border tunnels have been destroyed and no longer pose a threat, the IDF knows that any tunnel opening found inside the Strip is connected to a network of tunnels, full of weapons and fighters.
The IDF knows the next war will include an all-out ground offensive, as an air war alone will not bring Hamas to its knees. Thousands of soldiers will enter Gaza, in tanks, armored personnel carriers, under cover of massive air bombardments and navy gunboat fire.
Elite commandos from special forces units will likely also take part, carrying out targeted killings and other secret operations.
In the last round of violence, in May, when close to 700 rockets were fired on Israel, the Israel Air Force carried out the first targeted killing in five years, taking out Hamed al-Khoudary, who Israel accused of being the man in charge of transferring funds from Iran to terrorist groups in Gaza.
Another Hamas operative was struck while riding his motorcycle on Salah al-Din Street, near the city of Khan Yunis. The Israeli military also targeted the private homes of other senior Hamas activists.
The targeted strikes temporarily brought Hamas to its knees and a ceasefire arrangement was hammered out.
But in the next war, a ceasefire arrangement won't be pounded out by airstrikes and targeted killings. IDF soldiers will have their boots on the ground, fighting in densely populated urban areas.
Their mission will be to remove the capabilities of Hamas, PIJ and other smaller groups quickly and effectively. The military is concerned about troops being static for too long and becoming easy targets for the well-armed terrorists fighting on their home turf.
With the knowledge that the home front will be pounded by incessant rocket and mortar fire in the next war, Israel has increased its air defence capabilities and has formulated plans to evacuate communities bordering the Gaza Strip.
—————————————-
SECRET IRANIAN NUCLEAR WEAPONS FACILITY STILL UP AND RUNNING
Report: 'Everything required to enrich uranium to weapons grade could be quickly reconstituted'
Iranian President Hassan Rouhani / Getty Images
Adam Kredo – July 11, 2019 4:45 PM
Iran never ended critical nuclear weapons work at a controversial underground military bunker that remains operational to this day and able to "enrich uranium to weapons grade" levels. That is according to a new watchdog report that has reignited calls for the Trump administration to close loopholes that have permitted the Islamic Republic to continue its most contested nuclear research.
The new report, issued by the Institute for Science and International Security, confirms suspicions long held by the international community that Iran never dismantled its Fordow research site, as it was required to do under the landmark 2015 nuclear deal. The findings have further fueled concerns about Iran's march towards nuclear weapons, particularly in light of the country's recent threats to enrich uranium, the key component in a bomb, to levels approaching 20 percent purity.
Recent Stories in National Security
The latest evidence of Iran's continued weapons research has reignited a battle between congressional Iran hawks and the Trump administration, which continues to provide Tehran with a series of sanctions waivers permitting it to continue work at Fordow. Hardliners in Congress have called for an immediate end to these waivers in light of Iran's efforts to blow past restrictions on the amount of highly enriched uranium it stockpiles inside the country.
"The Fordow uranium enrichment facility has never been repurposed, as promised in the JCPOA," the acronym used to refer to the nuclear deal, according to the latest watchdog report. "Everything required to enrich uranium to weapons grade could be quickly reconstituted in the underground portion of the facility."
"Fordow is potentially part of Iran's current threats to progressively go to higher enrichment levels and increase its stocks of enriched uranium, and if conducted there, Fordow's underground tunnel complex is fortified to withstand aerial bombardment," the report states. "Fordow now includes semi-indigenous nuclear equipment production and potentially illicit procurement at the newly expanded support area, the former which was not likely intended by the JCPOA, and the latter which is prohibited."
Secret documents seized from Iran by Israel corroborate evidence that Tehran sought, from at least 2002, to produce weapon-grade uranium to create one to two nuclear weapons per year.
"There is no doubt it could be reconstituted to fulfill that purpose," the report concluded.
Sen. Ted Cruz (R., Texas) said the latest report on Iran's work at Fordow should compel the Trump administration to stop issuing waivers, which have permitted continued nuclear work at the site.
"Today's report once again demonstrates that the catastrophic Obama Iran nuclear deal created enormous danger for Americans and our allies," Cruz said in a statement. "Fordow is a military bunker the Ayatollahs dug out of the side of a mountain so they could build nuclear bombs."
"Under the nuclear deal, it was supposed to be converted but it never was. Instead, Iran used the time and the billions they received from the deal to expand the facility, possibly in violation of restrictions in the deal itself," Cruz said. "The Trump administration should immediately cancel the civil-nuclear waivers it has been issuing, which allow Iran to continue building up Fordow and other nuclear sites."
A State Department spokesperson told the Washington Free Beacon the administration will not stand by as Iran marches closer to the nuclear redline.
"The Iranian regime uses its nuclear program to extort the international community and threaten regional security," the official said, speaking only on background. "Nuclear brinksmanship will not strengthen Iran's position, but instead lead to further isolation and pressure."
U.S. officials do not recognize Iran's right to enrich uranium "at any level," the official said, hinting at possible revocation of the sanctions waivers that have allowed work to continue at Fordow.
"The world's top sponsor of terrorism can never be allowed to enrich uranium at any level," the official said. "We will continue to impose maximum pressure on the regime until it abandons its destabilizing behavior, including proliferation-sensitive work."
"Iran should realize that negotiating leverage will no longer be measured in kilograms of uranium or dollars per barrel, but rather in its willingness to end its destabilizing activities, including by abandoning a path to nuclear weapons," the official said.
One veteran Republican congressional official who works on Iran issues told the Free Beacon that GOP hawks on Capitol Hill are starting to openly question the Trump administration's commitment to upholding tough sanctions on Tehran.
"This is becoming clownish. The President already said that new sanctions are coming. Every day there's a new story about how Iran is violating the deal," the source said, speaking only on background. "People up here are starting to ask who inside the administration is holding up the response."
Meanwhile, international nuclear inspectors on Thursday confirmed that Iran has been illicitly housing radioactive materials. This is the same facility that Israeli prime minister Benjamin Netanyahu revealed last year as a key source for Iran's nuclear buildup.
As tensions between the U.S. and Iran have escalated since the downing of an American drone, Iranian leaders have vowed to continue openly breaching nuclear enrichment restrictions.
"Enhancing nuclear enrichment levels to 20 percent could well be the next move by Iran in case Europe failed to provide Tehran with the promised merits under the nuclear deal," a spokesman for Iran's Atomic Energy Organization confirmed to the country's state-controlled media.
"The level of Iran's [uranium] enrichment has exceeded 3.67 percent and at present the purity level of the produced materials is nearly 4.5 percent," the official was quoted as saying.
Iran is pressuring European nations to create backdoor financial vehicles meant to skirt the toughest U.S. sanctions, a demand U.S. officials have described as nuclear extortion.
UPDATE 5:40 P.M.: This has been updated with comment from a State Department spokesman received after publication.
—————————————-
Even though everything else seems to be going wrong, the stock market just continues to soar to new record highs.  In fact, the Dow Jones Industrial Average closed above 27,000 for the first time ever on Thursday.  Investors continue to relentlessly believe that bright days are ahead even though we are on the brink of a war with Iran, we are in the middle of a trade war with China, California has been hit by more than 10,000 earthquakes over the past week, and all of the economic numbers are screaming that a recession is dead ahead.  There has certainly been a lot of craziness on Wall Street in recent years, but the truth is that stock prices have never been as absurd as they are right now.  It is inevitable that a very painful reality check is coming, but for the moment investors are celebrating another historic landmark… (

READ MORE…

)
—————————————-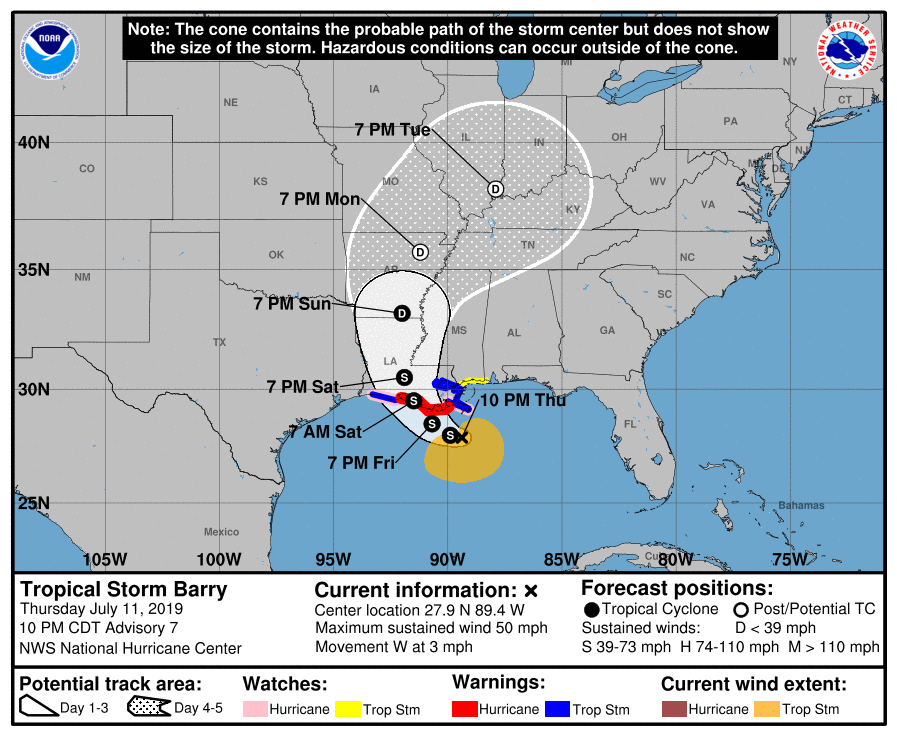 New Orleans is about to be hit by "an extreme rainfall event" that is likely to be the worst disaster that the city has seen since Hurricane Katrina.  It is being projected that Tropical Storm Barry could officially become a hurricane before it makes landfall on Saturday, but in this case the wind speed is not really that important.  Instead, the massive amount of rain that this immense storm will dump on southern Louisiana is the greatest danger, because the region is potentially facing flooding that is absolutely unprecedented.  In fact, one weather expert is even warning that the flooding could be so dramatic that it might actually "change the course of American history"… (

READ MORE…

)
——————————————–
LATEST (CURRENT BIRTH PANGS) EARTHQUAKE AND CRITICAL WEATHER NEWS FROM AMERICA:
———————————————
——————————————–
WE  ARE CURRENTLY IN THE BIRTH PANGS

PRIOR TO

THE START OF THE TRIBULATION REVELATION 6
2Pet. 3:7 But the heavens and the earth, which are now, by the same word are kept in store, reserved unto fire against the day of judgment and perdition of ungodly men.
1John 4:17  Herein is our love made perfect, that we may have boldness in the day of judgment: because as he is, so are we in this world.
Jude 15  To execute judgment upon all, and to convince all that are ungodly among them of all their ungodly deeds which they have ungodly committed, and of all their hard speeches which ungodly sinners have spoken against him.
Rev. 14:7 Saying with a loud voice, Fear God, and give glory to him; for the hour of his judgment is come: and worship him that made heaven, and earth, and the sea, and the fountains of waters.
Rev. 15:4 Who shall not fear thee, O Lord, and glorify thy name? for thou only art holy: for all nations shall come and worship before thee; for thy judgments are made manifest.
Rev. 16:7 And I heard another out of the altar say, Even so, Lord God Almighty, true and righteous are thy judgments.
Zeph. 1:18 Neither their silver nor their gold shall be able to deliver them in the day of the LORD'S wrath; but the whole land shall be devoured by the fire of his jealousy: for he shall make even a speedy riddance of all them that dwell in the land.
———————————
1Th. 5:2 For yourselves know perfectly that the day of the Lord so cometh as a thief in the night.
2Pet. 3:10 But the day of the Lord will come as a thief in the night; in the which the heavens shall pass away with a great noise, and the elements shall melt with fervent heat, the earth also and the works that are therein shall be burned up.
BE READY FOR THE LORDS RETURN FOR HIS CHURCH