This Happened On Planet Earth…May 2019…End Times Signs

Published on May 31, 2019
 

Please Help Support This Ministry:

https://www.paypal.me/watchman1963

Please subscribe to my backup channel:

https://www.youtube.com/channel/UC4nc…

Current Events Linked To Biblical Prophecies. Everything is unfolding just as the bible foretold. Wars, Volcanic Eruptions, Earthquakes, Extreme Weather, Christian Persecution, Violence and more!
Matthew 24:3-14 3 Now as He sat on the Mount of Olives, the disciples came to Him privately, saying, "Tell us, when will these things be? And what will be the sign of Your coming, and of the end of the age?" 4 And Jesus answered and said to them: "Take heed that no one deceives you. 5 For many will come in My name, saying, 'I am the Christ,' and will deceive many. 6 And you will hear of wars and rumours of wars. See that you are not troubled; for all[a] these things must come to pass, but the end is not yet.
7 For nation will rise against nation, and kingdom against kingdom. And there will be famines, pestilences,[b] and earthquakes in various places. 8 All these are the beginning of sorrows. 9 "Then they will deliver you up to tribulation and kill you, and you will be hated by all nations for My name's sake. 10 And then many will be offended, will betray one another, and will hate one another.
11 Then many false prophets will rise up and deceive many. 12 And because lawlessness will abound, the love of many will grow cold. 13 But he who endures to the end shall be saved. 14 And this gospel of the kingdom will be preached in all the world as a witness to all the nations, and then the end will come.
—————————————————-
This Just Happened In Antarctica, But You Won't Believe What Happens Next…

Published on May 30, 2019
Antarctica Mystery – Sky Fall Theory , how does it all connect ?
—————————————————-
U.S.-Iran, on a course of collision – Jerusalem Studio 427

Published on May 31, 2019
If one were to judge by rhetoric only, the United States and the Islamic Republic of Iran are inevitable drawn into a head-on clash. That said, along with a verbal escalation, there are efforts to cool the heat and bring, about some form of dialogue.
—————————————————-
Rock Harbor Church Prophecy Update

Published on May 31, 2019
Rock Harbor Church Prophecy Update http://rockharborchurch.net/ All the signs of the last days are converging at the same time. Bible Prophecy is happening right before our eyes and like birth pains, the predicted events are happening more frequently and more intently. Never, in the history throughout the world have so many forces, including economic, scientific, techno-logic, ecologic, cultural, geopolitical, moral, spiritual and religion, converged together to bring this world that's already teetering over the edge into the abyss, to a point of no return. Jesus said when you see all these signs happening, know that I am near, even at the door.
—————————————————-
LATEST WORLD NEWS CLIPS – ARTICLES SATURDAY JUNE 01st 2019
DAILY SCRIPTURE:
John 8:32 And ye shall know the truth, and the truth shall make you free
"My people are destroyed for lack of knowledge" (Hosea 4:6)
1Cor. 12:3 Wherefore I give you to understand, that no man speaking by the Spirit of God calleth Jesus accursed: AND THAT NO MAN CAN SAY THAT JESUS IS THE LORD, BUT BY THE HOLY GHOST.
Eph. 1:13 In whom ye also trusted, after that ye heard the word of truth, the gospel of your salvation: in whom also after that ye believed, ye were sealed with that holy Spirit of promise,
Eph. 3:5 Which in other ages was not made known unto the sons of men, as it is now revealed unto his holy apostles and prophets by the Spirit;
Eph. 4:30 And grieve not the holy Spirit of God, whereby ye are sealed unto the day of redemption
——————————————–
Luke 12:37 Blessed are those servants, whom the lord when he cometh shall find watching: verily I say unto you, that he shall gird himself, and make them to sit down to meat, and will come forth and serve them
PUT YOUR TRUST AND FAITH IN JESUS CHRIST (OUR SAVIOUR):
(Romans 12:2) to seek God's will, the Lord says, "Do not worry about what you'll eat or drink or wear. But seek first His Kingdom and His righteousness and all these things will be given to you as well"
THIS IS THE END RESULT OF A CHRISTIANS PATIENCE AND LOVE FOR THE LORD JESUS CHRIST
Rev. 3:10 Because thou hast kept the word of my patience, I also will keep thee from the hour of temptation, which shall come upon all the world, to try them that dwell upon the earth:
THE TRIBULATION OF THE UNJUST IN THE BOOK OF REVELATION CHAPTER'S 6 to 22:
TRIBULATION IS COMING AND THE REMOVAL OF THE CHURCH IS IMMINENT.
so won't you accept Jesus now and be removed from that event and live forever with Jesus in the Family of God?
2 "(For he saith, I have heard thee in a time accepted, and in the day of salvation have I succoured thee: behold, now is the accepted time; behold, now is the day of salvation.)" (2nd Corinthians 2:6)
——————————————-
DAILY CHRISTIAN BIBLICAL QUESTIONS AND ANSWERS:
——————————————-
STILL MORE ON THE BRIDE
QUESTION:    In one of your articles on the bride of Christ, you note that the Church is the bride, as many do. The reference you use in Ephesians 5 doesn't seem to clarify that the church is the bride, although many state that the church is the bride. As I read Revelation 21:2 and 21:9 and 10 it would seem clear that the Holy City New Jerusalem is The Bride. Are there other scriptures where it states the Church is the Bride in no uncertain terms?
ANSWER:    I've answered questions like this before, but it bears repeating. To me this issue is as much a matter of common sense as anything else. Why would Jesus marry a city? Wouldn't He more likely marry the people in the city? And Rev. 21 doesn't say the Holy City is the bride, but that it's prepared as a bride beautifully dressed for her husband. The Greek word translated "as" also means "like" and indicates John was making a comparison. Just as no effort is spared to make a bride look her absolute best on her wedding day, so no effort will be spared in making the Holy City look as beautiful as possible as it comes down out of Heaven. The description of the city in Rev. 21:11-20 supports this.
For an additional reference besides Ephesians 5:25-27, in 2 Cor. 11:1-2 Paul spoke of espousing the Church to one husband, to Christ, that he might present us as a pure virgin to Him. The Greek word translated espouse means to betroth or to give in marriage. It's clear that the Church is the Bride of Christ.
ARE THE 144,000 THE BRIDE?
QUESTION:    I have a question pertaining to the 144,000 mentioned in Revelation 7:4. I read some thoughts from a well-known Pastor who says that the 144,000 are Israelites of pure racial strain and will be the ones that go into the world to convert a "Great Multitude" of believers. Then he goes on to say that the church is not the Bride of Christ. The 144,000 are the only ones to be the Bride. The born again believers (us) are the "Great Multitude" and therefore the wedding guests. I am trying to figure out the scriptures to check for myself. I am fine with being a wedding guest if that's the case, but is this
ANSWER:    The 144,000 will be selected after the rapture so they are not part of the Church. As for the Church being the Bride, in 2 Cor. 11:2 Paul spoke of espousing (promising) the Church to one husband, to Christ. The Greek word for espousing means he has betrothed us to Jesus. The Church is the intended Bride of Christ.
You should not be fine with having someone relegate the Church to the status of wedding guest because it's an incorrect interpretation of our role in the coming age that cannot be supported by Scripture.
(SEE MAIN ARTICLES LISTED TODAY FOR MORE INFORMATION ON THE BRIDE OF CHRIST)
————————————–
NEWS CLIPS OBTAINED FROM MANY SOURCES – INCLUDING


Tracking bible prophecy.org
Rapture Ready News
Prophecyupdate.Com
Main News Channels
End Times Headlines
Prophecyupdateblogspot.com
Stevequayle.com
Gracethrufaith.com
Nowtheendbegins.com
Other Christian Sites
(CLICK ON) LATEST DAILY NEWS CLIPS:
ISRAEL NEWS:
THE MIDDLE EAST PEACE PLAN IS "ANTI GOD" – (GOD WILL NOT ALLOW JERUSALEM TO BE DIVIDED).
ZECHARIAH 12:2-3
I AM GOING TO MAKE JERUSALEM A CUP THAT SENDS ALL THE SURROUNDING PEOPLES REELING … Zech. 12:2
God is in control, and He told the nations the consequences of dividing the Promised Land and declaring peace and safety on their own terms (

Joel 3:1-2; I Thess. 5:3)
WORLD TERRORISM – WARS
GENERAL WORLD NEWS:
WORLD FINANCE:
MASSIVE EARTH CHANGES/EARTHQUAKES/VOLCANOES ETC:
2Chr. 7:13 If I shut up heaven that there be no rain, or if I command the locusts to devour the land, or if I send pestilence among my people;
2Chr. 7:14 If my people, which are called by my name, shall humble themselves, and pray, and seek my face, and turn from their wicked ways; then will I hear from heaven, and will forgive their sin, and will heal their land
CHRISTIAN AND RELIGIOUS WORLD NEWS:
Matt. 24:9 Then shall they deliver you up to be afflicted, and shall kill you: and ye shall be hated of all nations for my name's sake.
Matt. 24:10 And then shall many be offended, and shall betray one another, and shall hate one another
EXTRA WORLD – ALTERNATIVE NEWS:
————————————————-
WORLD – PROPHETIC NEWS ARTICLES PRESENTATION – SATURDAY JUNE 01st 2019
MIDDLE EAST AND WORLD WAR LOOMING THE BUILD UP TO PSALM 83  – ISAIAH 17 AND GOG OF MAGOG WARS EZEKIEL 38:
THE WHOLE WORLD IS UNSTABLE FINANCIALLY, POLITICALLY, PHYSICALLY, MORALY, GODLY: – AND BECOMMING MORE SO DAILY. (WE ARE IN THE BEGINNING OF SORROWS (MATT 24:8)
THE BIBLE STATES THAT IT WILL ONLY GET WORSE BEFORE THE START OF THE TRIBULATION OF MANKIND – (

REVELATION 6

)
Matt. 24:6 And ye shall hear of WARS AND RUMOURS OF WARS: see that ye be not troubled: for all these things must come to pass, but the end is not yet.
Matt. 24:7 FOR NATION SHALL RISE AGAINST NATION, AND KINGDOM AGAINST KINGDOM: and there shall be famines, and pestilences, and earthquakes, in divers places.
MIDDLE EAST WAR LOOMING THE BUILD UP TO PSALM 83  – ISAIAH 17 AND GOG OF MAGOG WARS EZEKIEL 38:
Matt. 24:7 FOR NATION SHALL RISE AGAINST NATION, AND KINGDOM AGAINST KINGDOM:
Matt. 24:8 All these are the beginning of sorrows
ISAIAH 17/PSALM 83:
THE DESTRUCTION OF DAMASCUS and
Muslim Countries in the Middle East will launch an attack on Israel
JEREMIAH 49:
PROPHECY OF ELAM – (Attack on Iran's Nuclear Program
EZEKIEL 38 & 39
——————————————-
CHINA CHECKMATE!?! THIS 'RARE KILL SWITCH' WOULD HALT U.S. MILITARY, DEFENSE, PHONES & COMPUTERS IN SECONDS!
Please watch the video below for the full story! 
If you think you know all the 'elements' of the Trump / China trade war; think again!  There is a very rare portion to the discussions that control more than anyone realizes.  Unfortunately for the U.S. in the short term; China nearly completely controls it!  This rare kill switch would immediately halt any forward progress of our military, defense, phones and computers in seconds.  To learn more, tune in…it is something everyone needs to understand!
As always, PLEASE HELP SHARE wherever you can; this broadcast truly deserves the awareness you help to assure it gets!  Your thumbs up and comments are always appreciated!!
God Speed and God Bless,
Justus
For More Information (references) See:
References Can Be Found At www.justusaknight.com (please subscribe while you're there)
——————————————-
China is rapidly expanding its nuclear forces with new missiles, submarines, and bombers and will double its warhead stockpile in the coming decade, the director of the Defense Intelligence Agency said this week.
DIA director Army Lt. Gen. Robert P. Ashley also said in a speech Wednesday that Russia is building large numbers of tactical nuclear weapons in addition to new strategic weapons, including an earth-penetrating nuclear warhead similar to a weapon canceled by the United States years ago under pressure from anti-nuclear activists in Congress.
On China's nuclear forces, Ashley stated: "Over the next decade, China is likely to at least double the size of its nuclear stockpile in the course of implementing the most rapid expansion and diversification of its nuclear arsenal in China's history."
The three-star general noted that last year alone China conducted more ballistic missile tests in developing and training than those carried out by the rest of the world combined.
"We expect this modernization to continue, and this trajectory is consistent with Chinese president Xi's vision for China's military, which he laid out at the 19th Party Congress and stated that China's military will be 'fully transformed into a first tier force' by 2050," Ashely said in a speech to a Washington think tank.
China's warhead totals are not fully known as a result of military secrecy, but Ashley said the estimate is that the current arsenal includes "low, couple hundred" warheads.
Other estimates have put the number of warheads hidden in underground bunkers to be from several hundred to as many as a thousand.
China's nuclear forces are shrouded in secrecy and include a network of nuclear storage and production facilities dubbed the Great Underground Wall that is estimated to be some 3,000 miles long.
The DIA director also stated, in a setback for arms control advocates who have pushed for U.S. ratification of a nuclear test ban treaty, that intelligence indicates both China and Russia have facilities and have conducted small nuclear tests in apparent violation of a commitment to zero nuclear tests under the 1996 Comprehensive Test Ban Treaty, or CTBT.
Asked if Chinese nuclear modernization is not in compliance with CTBT curbs, Ashley said: "That's our belief in terms of what we're seeing with the testing regime."
China's military is attempting to rapidly advance its nuclear forces, which in the past were limited. The first Chinese mobile intercontinental-range missile was deployed around 2000, he said.
"So part of that rapid growth is because the capability did not exist in the kind of capacity that Russia or the U.S. has had in the past," Ashely said. "So that has been a significant investment that they've made in terms of them catching up [with] capacity over the course of the last 15 years."
China's new strategic arms include a new road-mobile ICBM, a new multi-warhead variant of its silo-based ICBMs, and new submarine-launched ballistic missiles.
The Chinese also are building a new strategic bomber that will give Beijing its first triad of weapons—land-based, sea-based, and bomber-delivered strike weapons.
Ashley said the buildup shows "China's commitment to expanding the role and centrality of nuclear forces in Beijing's military aspirations."
Its forces also include nuclear-tipped short-range precision strike weapons similar to those being developed by the Russians.
"While China's overall arsenal is assessed to be much smaller than Russia's, that does not make this trend any less concerning," Ashley said.
China has announced it will not be the first to use nuclear weapons in a conflict and also would not use nuclear arms against non-nuclear states.
China is also increasing the reliance in their strategy on using nuclear weapons.
"And it's not just in the nuclear," he said. "If you look at all the domains, what they have done in terms of modernizing the military across aviation, and a big area not the subject of this topic is really the space/counterpace aspect of how the Chinese are approaching warfighting from every domain. But there is a significant investment in their nuclear forces."
Of their main nuclear testing facility, known as Lop Nur, in western China, Ashley revealed the Chinese are preparing to operate the site year round—an indication of "China's growing goals for its nuclear forces."
Moscow is currently developing several new types of nuclear warheads and delivery systems that are 70 percent completed.
"Russia's development of new warhead designs and overall stockpile management efforts have been enhanced by its approach to nuclear testing," Ashely said. "The United States believes that Russia probably is not adhering to its nuclear testing moratorium in a manner consistent with the 'zero-yield' standard."
The Senate rejected ratifying the CTBT in October 1999 over concerns its anti-testing provisions could not be verified and concerns about cheating. The treaty ratification battle was led by then-Sen. Joseph Biden who later became vice president in the Obama administration and is leading Democratic candidates in the 2020 presidential race.
"After working together for decades to achieve real nuclear reductions, Russia is upgrading the capacity of its nuclear forces," Ashley said. "We assess its overall nuclear stockpile is likely to grow significantly over the next decade."
A major worry is the large increases in smaller or non-strategic nuclear warheads that can be fired from ships, aircraft, and ground forces designed, Ashley said, to deter and defeat either the NATO alliance or China in a conflict.
"Russia's stockpile of non-strategic nuclear weapons—already large and diverse—is being modernized with an eye towards greater accuracy, longer ranges, and lower yields to suit their potential warfighting role," he said.
Dozens of small nuclear weapons systems have been deployed or are in development including short- and close-range ballistic missiles, ground-launched cruise missiles, including the 9M729 missile, which violates the Intermediate-Range Nuclear Forces or INF Treaty. Russian small nuclear forces also are being prepared for firing from antiship and antisubmarine missiles, torpedoes, and depth charges. The total Russian small warhead stockpile is around 2,000 weapons.
By comparison, the United States has deployed a single non-strategic nuclear weapon, the B-61 gravity bomb.
"In addition to the anticipated growth in non-strategic nuclear weapons, Russia claims to be developing new warhead designs for strategic systems, such as new high-yield and earth-penetrating warheads to attack hardened military targets like U.S., allied, and Chinese command and control facilities," Ashley said.
U.S. plans for an earth-penetrating nuclear weapon needed to penetrate deep underground targets like those used by the militaries in China, Russia, North Korea, and Iran, were scrapped in 2005 after anti-nuclear activists pressed Congress to cut off funding for the weapon.
As a result, U.S. military forces lack weapons needed for deterrence against deep hardened underground targets.
Ashely said Russia's nuclear forces are being greatly enhanced by the modernization of the past several years. The new weapons include multiple warhead SS-27s that provide Moscow with the ability to upload or increase the number of warheads in a time of crisis. A new Sarmat ICBM will carry more than 10 warheads on each missile and will be capable of launching a new hypersonic strike vehicle called the Avanguard.
New strategic weapons unveiled by Russian president Vladimir Putin in March 2018 include the Kanyon, a nuclear-powered, nuclear-armed intercontinental-range cruise missile, and an air-launched ballistic missile.
Additionally, Russia is modernizing an automated nuclear command and control launch system called Perimeter. The Cold War-era system was also known as the "Dead Hand" system that is capable of launching an all-out nuclear strike without human intervention in the event Russian leaders were killed in a nuclear first-strike.
Ashley said by ignoring the zero-yield limit, the Russians will be able to upgrade their warheads with modern weapons designs.
A reporter for Reuters asked Ashley if China and Russia were building up their nuclear forces as a result of what the reporter termed a "massive" U.S. modernization.
The DIA chief said both China and Russia regard the United States as a competitor and are working on developing nuclear deterrence against U.S. or allied forces.
"So I think it's a natural evolution that they have those capabilities that they shore up their defenses and it's not just on the nuclear side of the house," he said. "It's maritime, it's space/counterspace. Really it's a whole modernization across multiple domains."
———————————————
New satellite images show the People's Liberation Army Navy (PLAN) recently conducted war games to simulate an invasion of Taiwan, reported ThePrint.
The PLAN used Type 071 (NATO reporting name: Yuzhao), an amphibious transport dock, designed to carry 800 fully armed troops, dozens of vehicles and landing crafts, and four helicopters, was used to practice circular deployment with other vessels ahead of a beach assault.
"This formation [circular deploymen] provides safety from shore fire as well as aerial attacks, since most landing ships carry only short-range air defence and close-in weapon systems (CIWS)," said ThePrint.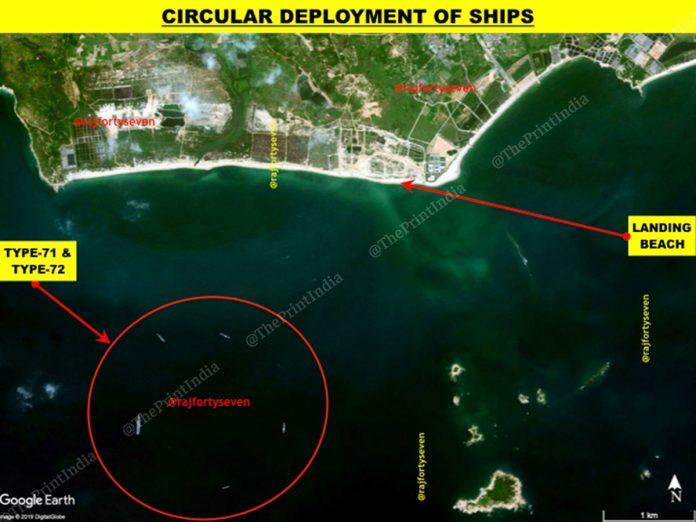 A Type 072A vessel (NATO reporting name: Yuting II), a landing ship designed to carry 250 fully armed troops ten tanks, four landing craft, a medium helicopter, was used to transport amphibious vehicles near the beach landing. Ahead of the invasion simulation, reconnaissance aircraft surveilled above.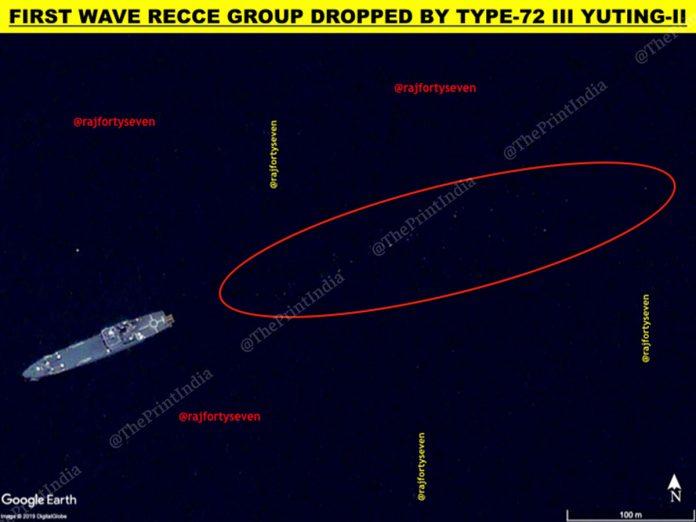 The amphibious exercise used landing craft air cushion vessels to bring troops and vehicles ashore. Some of the first vehicles on land were type-08 amphibious armored vehicles and/or Type 05 amphibious fighting vehicles.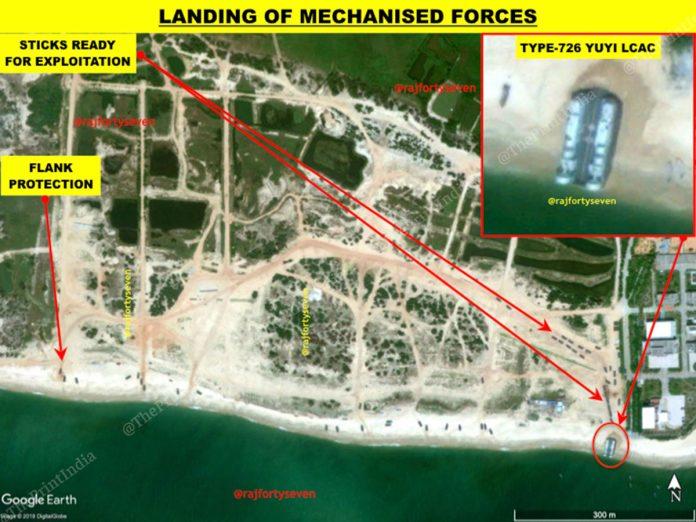 ThePrint said the PLAN also practiced re-embarkation after the landing exercise and regrouping to fine-tune their amphibious warfare tactics.
"The re-embarkation is rarely caught on satellite imagery. This exclusive satellite image displays the process of re-embarkation with five amphibious fighting vehicles lined up in the queue for loading on Type-72 Yukan and Yuting class vessels," ThePrint said.
China has vigorously criticized any action by Taiwan to acquire Western armament, claiming that the militarization of the Taiwan Strait is damaging the 'One-China policy,' which states that Taiwan will eventually be reunified with the mainland.
While China has never ruled out the possibility of invasion and it has continued acquiring the military capability to do so, Taiwan's air, sea and land forces, conducted a war exercise Thursday to repel an invading army.
Regional tensions have also grown due to China's territorial claims and aspirations in the South China Sea, something which has prompted Japan to cast aside its postwar pacifism.
With the probability of China taking Taiwan by force is rising, the military balance in the Taiwan Strait is firmly in China's favor.
With both sides preparing for a cross-strait war, it's only a matter of time before the powder keg is ignited.
———————————————
Former CIA Officer and whistleblower Kevin Shipp says what is going on in Washington D.C. with the "treason" against Trump is unlike anything we have ever faced as a nation.Shipp explains, 
"This is an historic battle between the President of the United States and what I call the 'Shadow Government.' 
"Some call this the 'Deep State,' and that includes the CIA, the FBI and the NSA. President Trump is the first President to stand up against this Shadow Government. They have been spying on Trump since he was a presidential candidate. So, this is huge, it's historic and nothing like this has ever occurred in any western government…
The Shadow Government has been controlling Congress, controlling the judiciary and controlling the President of the United States. No one has stood up against them until Donald J. Trump.  They did not figure on this, and he is not bound to this Shadow Government or their threats. Trump has got them quaking in their boots because they have been engaged in illegal surveillance. They have been engaged in a false counter-intelligence against the Trump campaign, literally planting spies in the Trump campaign.
I can guarantee you they are scrambling like rats trying to get off a ship. Comey points fingers at Clapper, he's pointing fingers at Comey, there's Loretta Lynch and on and on. They are scared because if this stuff is declassified, the American people will see what they have done. For some of these people, this amounts to treason. They attempted a coup against a duly elected President of the United States."
Make no mistake, what happened to President Trump with the "hoax" of Russia collusion was a frame job to try to knock him out of office. Trump has called this "treason," and when he says this, the mainstream media is silent and won't report it. Shipp says,
"They know it, and they are trying their level best to support these Shadow Government/Deep State players because the media was complicit in this false Russia collusion. There is no way they are going to report on information that will expose their role in it…
They shot and they missed, and it was a bad miss because they tipped their hand."
Shipp says new Attorney General William Barr is the right man for the job of prosecuting treason. Shipp says, "Barr was a former CIA attorney . . . I was skeptical at first, but now I am right behind Barr."
"I think the fact that Barr was a CIA attorney gives him an inside view… So, Barr has an edge . . . over the CIA and the FBI. He knows how that system works. He knows how they are going to stonewall him. He knows how they are going to use classification to try to conceal what they have done. They got the worst President and the worst Attorney General for them to expose what they are doing both at the same time. Barr has subpoena power, and they are quaking in their boots because this has never happened before. They have never been challenged like this before."
This is simply a case of spying to get blackmail information against political opponents. It goes back to 2012 and was under the direction of President Obama, according to Shipp. Shipp explains, "This was NSA domestic surveillance, and it's been going on since before 9/11. It increased after 9/11."
"What they did, Comey and others like Brennan, they went in and requested information existing already on NSA super computers and used that information to spy on the Trump Campaign…They did spy on Donald Trump, and it was extensive. It was criminal and was existing systems the NSA already had in place…
This leads all the way to Barack Obama and, of course, Hillary Clinton. Hillary Clinton being the blackmailer extraordinaire and Barack Obama…
They were using this power to intimidate others and probably to blackmail others… that's exactly what they were doing… They were all engaging in flagrant criminal activity. They all thought the global princess was going to get elected, and all of a sudden—boom. The unthinkable happened for them. Donald Trump was elected, and they freaked out."
Join Greg Hunter as he goes One-on-One with former CIA Officer and whistleblower Kevin Shipp.
———————————————
The first opinion polls taken since the Knesset dispersed Wednesday night and set new elections for September 17 showed Prime Minister Benjamin Netanyahu would be unable to form a coalition without Avigdor Liberman's Yisrael Beytenu party — precisely as was the case over the past seven weeks, when Netanyahu failed to muster a majority because Liberman wouldn't come on board.
Netanyahu and Liberman, allies and rivals over three decades in Israeli politics, spent much of Thursday bitterly accusing each other of placing personal interests above those of the state and betraying their voters' wishes. Netanyahu on Thursday evening branded Liberman "a serial saboteur of right-wing governments"; Liberman earlier Thursday said Netanyahu was guilty of relentless "surrender" to Israel's ultra-Orthodox politicians. And both made clear they would never again be partners in government.
But a Channel 13 poll published on Thursday evening showed that Israel's political deadlock would be maintained if elections were held today. The poll, which surveyed 720 Israelis and had a 3.8% margin of error predicted 57 seats in the 120-member Knesset for the Likud-led right-wing bloc, and 54 seats for the centrist-left-Arab bloc, led by the Blue and White party of ex-IDF chief Benny Gantz. Holding the balance of power: Liberman's Yisrael Beytenu, with 9 seats. Liberman, however, refused to partner with Netanyahu during the past seven weeks of coalition negotiations that culminated in Netanyahu's admission of defeat on Wednesday night, and Liberman stated on Thursday that he would not back Gantz as prime minister after the next elections, although he did not explicitly rule out ever joining a Gantz-led coalition.
In full, the survey gave Likud, now merged with Moshe Kahlon's Kulanu party, 36 seats, followed by Blue and White with 33 seats. (In the April 9 elections, Likud and Blue and White received 35 seats each, and Kulanu won 4.) Yisrael Beytenu came next in Thursday's poll with 9 seats (up from 5 in April), followed by Shas and United Torah Judaism with 7 apiece (the two ultra-Orthodox parties each won 8 in April); the Union of Right-Wing Parties 7 (up from 5 in April), Hadash-Ta'al 7 (up from 6); Meretz 6 (up from 4); Labor 4 (down from 6) and Ra'am-Balad 4 (unchanged).
Another poll, by the Kan state broadcaster, had similar findings, giving the right-wing bloc 58 seats, the centrist-left-Arab bloc 54, and Liberman in the middle with 8.
The Kan poll allocated Knesset seats as follows: Likud 35, Blue and White 34, Yisrael Beytenu 8, United Torah Judaism 8, Shas 7, Hadash-Ta'al 6, Labor and Meretz 5 each, and Union of Right-Wing Parties, the New Right and Ra'am-Balad 4 each.
Israel's political map is certain to change somewhat in the weeks ahead of the September 17 elections, with the popular outgoing Justice Minister Ayelet Shaked possibly joining Netanyahu's Likud, Labor choosing a new leader and possibly merging with Meretz, the Arab parties running on a joint list, and numerous other shifts.
——————————————–
GLOBALIST GERMAN CHANCELLOR ANGELA MERKEL GIVES COMMENCEMENT SPEECH AT HARVARD, BRAZENLY ATTACKS PRESIDENT TRUMP FOR PUTTING AMERICA FIRST
German Chancellor Angela Merkel took aim at Donald Trump's worldview in a speech on U.S. soil, saying unilateralism risks bringing down post-World War II alliances and trade wars threaten the "foundations of our prosperity." Some 2,000 miles to the west, Trump reprised his America First doctrine in a speech to the U.S. Air Force Academy in Colorado Springs, Colorado, saying the U.S. won't sacrifice its interests for those of foreign powers.
German Chancellor Angela Merkel took aim at Donald Trump's worldview in a speech on U.S. soil, saying unilateralism risks bringing down post-World War II alliances and trade wars threaten the "foundations of our prosperity."
If this story doesn't make you mad, congratulations, you're a globalist Democrat. Can you imagine the unmitigated gall of this women, Angela Merkel, coming to the the United States to give the commencement speech at Harvard, and then attack our president because he is not a globalist and is putting the interests of America ahead of the interests of the rest of the world?
"The thing that hath been, it is that which shall be; and that which is done is that which shall be done: and there is no new thing under the sun. Is there any thing whereof it may be said, See, this is new? it hath been already of old time, which was before us. There is no remembrance of former things; neither shall there be any remembrance of things that are to come with those that shall come after." Ecclesiastes 1:9-11 (KJV)
In her speech, which she gave largely in German through an interpreter, globalist Angela Merkel spoke to the graduating class about a 'magic force that leads us and guides us', that was eerily reminiscent of the New Age references that her predecessor Adolf Hitler was so found of. Germany tried to conquer the world in WWI, then tried it again in WWII, and if you ask me, I don't think they can help themselves and will give another shot. You know, the 'old college try', right, Adolf, I mean Angela?
The Far Left Liberals that populate Harvard ate it up and rewarded Merkel with lavish applause everytime she attacked our president. As Merkel raised her hand to wave, as you see in the above photo, one could not help but make comparisons. Achtung, baby.
Angela Merkel attacks Trump's unilateral world view in Harvard speech
Angela Merkel, 64, was addressing a receptive audience on Thursday as she seeks halt a deterioration in the trans-Atlantic alliance under Trump's presidency. In her 14th year in office, officials in Merkel's government are beginning to speak of a point of no return in U.S.-German relations.
"More than ever, our way of thinking and actions have to be multilateral rather than unilateral," Merkel said in a commencement speech to Harvard University's class of 2019 that combined tough criticism of nationalist policies with philosophical vistas of a change for the better.
At times, Merkel drew applause from the crowd by seeming to address the U.S. leader directly, urging graduates not to act "first impulses" or to brandish "lies as truth and truth as lies."
Some 2,000 miles to the west, Trump reprised his America First doctrine in a speech to the U.S. Air Force Academy in Colorado Springs, Colorado, saying the U.S. won't sacrifice its interests for those of foreign powers.
"We don't do that anymore," Trump told graduates. "In all things and ways we are putting America first. and it's about time." READ MORE:
German Chancellor Angela Merkel's address | Harvard Commencement 2019
German Chancellor Angela Merkel's address at the annual meeting of the Harvard Alumni Association at the 368th Harvard Commencement on May 30, 2019.