This Happened On Planet Earth…Oct. 2019…End Times Signs

Please Help Support This Ministry: https://www.paypal.me/watchman1963 Cash App : $watchman1963 Please subscribe to my backup channel: https://www.youtube.com/channel/UC4nc… Current Events Linked To Biblical Prophecies. Everything is unfolding just as the bible foretold. Wars, Volcanic Eruptions, Earthquakes, Extreme Weather, Christian Persecution, Violence and more!
Matthew 24:3-14 3 Now as He sat on the Mount of Olives, the disciples came to Him privately, saying, "Tell us, when will these things be? And what will be the sign of Your coming, and of the end of the age?" 4 And Jesus answered and said to them: "Take heed that no one deceives you. 5 For many will come in My name, saying, 'I am the Christ,' and will deceive many. 6 And you will hear of wars and rumours of wars. See that you are not troubled; for all these things must come to pass, but the end is not yet.
7 For nation will rise against nation, and kingdom against kingdom. And there will be famines, pestilences,[b] and earthquakes in various places. 8 All these are the beginning of sorrows. 9 "Then they will deliver you up to tribulation and kill you, and you will be hated by all nations for My name's sake. 10 And then many will be offended, will betray one another, and will hate one another.
11 Then many false prophets will rise up and deceive many. 12 And because lawlessness will abound, the love of many will grow cold. 13 But he who endures to the end shall be saved. 14 And this gospel of the kingdom will be preached in all the world as a witness to all the nations, and then the end will come.
—————————————————
Israel warns of possible genocide against Kurds – TV7 Israel News 11.10.19

 

Today's top stories 11.10.19; 1) Israel strongly condemned the Turkish operation against Kurdish areas in northeast Syria and warned against the danger of ethnic cleansing of the Kurdish population by Turkey and its proxies. 2) Turkish President Recep Tayyip Erdogan levelled a warning toward the European Union 'not to condemn' his country's military operation in northeast Syria – or else – Ankara will expel all of the Syrian refugees in the direction of Europe. 3) An Iranian tanker was reportedly struck by two incoming missiles, some 96 kilometers – or 60 miles – off the Saudi port-city of Jeddah.
—————————————————
Turkey launches military operation against Northeast Syria – TV7 Israel News 10.10.19

Today's top stories 10.10.19; 1) Turkey intensified artillery and aerial strikes against Syrian border' towns and villages, shortly after President Recep Tayyip Erdogan announced the official launch of a cross-border operation, with the aim of establishing a long-aspired safe-zone. 2) U.S. President Donald Trump reiterated his threat "to wipe out" Ankara's economy, if it would act to massacre the Syrian Kurdish population – while revealing that the United States continues to support the Kurds with both finance and weaponry. 3) Prime Minister Benjamin Netanyahu asserts that while the state of Israel greatly appreciates the important support it receives from the united States; it must remain vigilant by implementing a basic rule: The Jewish State must defend itself, by itself, against any threat.
—————————————————
4 Kilometer Planet Killer Asteroid 1998 OR2 Headed Towards Earth In 2020

113K subscribers
 #1998OR2 #Asteroid #PlanetKillerAsteroid #CNEOS #nasa

NASA warned that one of the biggest and most dangerous asteroids it has detected is moving towards Earth. If this massive asteroid ends up on a collision course with the planet, it could trigger an extinction-level event. The approaching asteroid, identified as 52768 (1998 OR2), is currently being monitored by NASA' Center for Near Earth Object Studies (CNEOS). According to the agency, this asteroid is currently moving at a speed of 31,320 kilometers per hour. It has an estimated diameter of 4.1 kilometers, making it significantly longer than the entire Hollywood Walk of Fame.
—————————————————
LATEST WORLD NEWS CLIPS – ARTICLES – SATURDAY OCTOBER 12th 2019
WE PREACH THE BLESSED HOPE FOR THE FUTURE IN JESUS CHRIST OUR SAVIOUR
1Cor. 12:3 Wherefore I give you to understand, that no man speaking by the Spirit of God calleth Jesus accursed: AND THAT NO MAN CAN SAY THAT JESUS IS THE LORD, BUT BY THE HOLY GHOST.
"Behold, I come like a thief! Blessed is he who stays awake and keeps his clothes with him, so that he may not go naked and be shamefully exposed."
Here Jesus was alluding to the fact that the Doctrine of Eternal Security WILL EXPIRE WITH THE RAPTURE
Rev. 3:10 Because thou hast kept the word of my patience, I also will keep thee from the hour of temptation, which shall come upon all the world, to try them that dwell upon the earth:
Luke 12:37 Blessed are those servants, whom the lord when he cometh shall find watching: verily I say unto you, that he shall gird himself, and make them to sit down to meat, and will come forth and serve them
SO WON'T YOU ACCEPT JESUS NOW AND BE REMOVED FROM THAT EVENT AND LIVE FOREVER WITH JESUS IN THE FAMILY OF GOD?
2 "(For he saith, I have heard thee in a time accepted, and in the day of salvation have I succoured thee: behold, now is the accepted time; behold, now is the day of salvation.)" (2nd Corinthians 2:6)
——————————————-
DAILY CHRISTIAN BIBLICAL QUESTIONS AND ANSWERS:
——————————————-
Supporting Conditional Security With Scripture?
https://gracethrufaith.com/ask-a-bible-teacher/supporting-conditional-security-with-scripture
QUESTION:    I came across a website that opposes Eternal Security. The author has a lot to say and has scripture references to back up everything he says. I'd like to know what you think and maybe point out anything wrong with his opinion. I am really beginning to doubt the OSAS doctrine and honestly question why the Gospel is even called the Good news.
ANSWER:    When a person uses scripture to back up what he says, it's our job to look up the Scripture and see if they're interpreting it correctly. One of the ways to tell is to compare it with other scriptures on the same subject. There are several absolutely clear passages that give us God's view of our security in Him. For example, John 10:27-30 tells us no one can take us out of His or His father's hands. Romans 8:38-39 says nothing can separate us from His love. Ephesians 1:13-14 says when we first believed, God sent His Spirit as a deposit guaranteeing our inheritance, 2 Cor. 1:21-22 says God set His seal of ownership on us and put His Spirit in our heart guaranteeing what is to come. In short, we are His and there's no power in Heaven, on Earth, or under the Earth that can change that, either in the present or in the future.
God cannot lie. He can't say one thing in one place and something else in another. His word has to be consistent. Therefore we can always use His clearest statements to help us understand statements that aren't as clear. I don't need to read what this other fellow has to say to know he's wrong. He may just be confused or he may be deliberately trying to mislead people but the result is the same. If he's saying we don't have eternal security he is disputing these clear verses that say we do.
The Gospel is called good news because when Jesus went to the cross He forgave us all our sins (Colossians 2:13-14), and made us perfect forever (Hebr. 10:14), a new creation in Christ (2 Cor. 5:17) as righteous as He is (2 Cor. 5:21). This righteousness is not dependent on our behaviour but comes through faith in Jesus Christ to all who believe (Romans 3:21-22). If you take eternal security away from the gospel, then you're right. It no longer is good news because none of us could ever hope to keep ourselves saved.
Conditional Salvation?
https://gracethrufaith.com/ask-a-bible-teacher/conditional-salvation/
QUESTION:    My husband is convinced that you can lose your salvation. He believes we are initially saved by the blood of Jesus, but if we continue sinning once we know better, we will not go to heaven. Also, he believes that if we are caught sinning when Jesus returns, we will not go to Heaven.
I believe that that I will go to heaven because Jesus died for all of my sins; past, present, and future, and I have asked for His forgiveness. I believe he was God's son, died on the cross, and was resurrected and because of this, he paid the price for me. I am very concerned about my husband's views, and that he is teaching them to others, including our daughter. Please help me with this.
ANSWER:    People who teach a conditional salvation have misunderstood several things. The first is the nature of time. Hebrews 10:12-14 says that the Lord's sacrifice was offered once but that it covered all of time, past present and future. It says that by this ones sacrifice He has made us perfect forever, confirming a similar thought in 2 Cor. 5:17-21. The old has gone, the new has come. God now chooses to see us not as we are but as we will be, as righteous as He is.
And that brings me to the second thing, the nature of sin. Sin is a terminal illness. A resurrection body is the only cure. While on Earth believers are in remission because of the Lord's shed blood, but the illness hasn't left us. It only takes a surface reading of the Sermon on the Mount (Matt. 5-7) to understand that even our thoughts of anger, envy, or lust condemn us. We may be able to prevent ourselves from acting on our sinful desires, but without the blood of Jesus it would only take one unguarded thought to spoil everything forever. Who among us has not had even one sinful thought sine being saved?
And the third thing is grace. Grace is defined as an unmerited favour. Anytime you add any form of merit to grace, you nullify its effect (Romans 4:4). Our salvation can be described as a wonderful gift from God, freely given to all who believe. Like every other gift, it was given solely out of His love for us (John 3:16). No effort was required to earn it, and none is required to keep it. We have only to believe it to receive it. And no matter what happens in the future He won't take it back (John 6:37-40).
Now it is God who makes us stand firm in Christ. He anointed us, set His seal of ownership on us, and put His spirit in our hearts as a guarantee of the good things to come (2 Cor. 1:21-22).
——————————————————
NEWS CLIPS OBTAINED FROM MANY SOURCES – INCLUDING

Tracking bible prophecy.org
Rapture Ready News
Prophecyupdate.Com
Main News Channels
End Times Headlines
Prophecyupdateblogspot.com
Stevequayle.com
Gracethrufaith.com
Nowtheendbegins.com
Other Christian Sites
(CLICK ON) LATEST DAILY NEWS CLIPS:
ISRAEL NEWS:
Zech. 12:2 Behold, I will make Jerusalem a cup of trembling unto all the people round about, when they shall be in the siege both against Judah and against Jerusalem.
Zech. 12:3 And in that day will I make Jerusalem a burdensome stone for all people: all that burden themselves with it shall be cut in pieces, though all the people of the earth be gathered together against it
WORLD TERRORISM – WARS
GENERAL WORLD NEWS:
WORLD FINANCE:
1Tim. 6:10 For the love of money is the root of all evil: which while some coveted after, they have erred from the faith, and pierced themselves through with many sorrows
MASSIVE EARTH CHANGES/EARTHQUAKES/VOLCANOES ETC:
2Chr. 7:13 If I shut up heaven that there be no rain, or if I command the locusts to devour the land, or if I send pestilence among my people;
2Chr. 7:14 If my people, which are called by my name, shall humble themselves, and pray, and seek my face, and turn from their wicked ways; then will I hear from heaven, and will forgive their sin, and will heal their land
CHRISTIAN AND RELIGIOUS WORLD NEWS:
Matt. 24:9 Then shall they deliver you up to be afflicted, and shall kill you: and ye shall be hated of all nations for my name's sake.
Matt. 24:10 And then shall many be offended, and shall betray one another, and shall hate one another
EXTRA WORLD – ALTERNATIVE NEWS:
————————————————-
WORLD – PROPHETIC NEWS ARTICLES PRESENTATION – SATURDAY OCTOBER 12th 2019
MIDDLE EAST AND WORLD WAR LOOMING THE BUILD UP TO PSALM 83  – ISAIAH 17 AND GOG OF MAGOG WARS EZEKIEL 38:
THE WHOLE WORLD IS UNSTABLE FINANCIALLY, POLITICALLY, PHYSICALLY, MORALLY, GODLY: – AND BECOMING MORE SO DAILY. (WE ARE IN THE BEGINNING OF SORROWS (MATT 24:8)
THE BIBLE STATES THAT IT WILL ONLY GET WORSE BEFORE THE START OF THE TRIBULATION OF MANKIND – (REVELATION 6)
Matt. 24:6 And ye shall hear of WARS AND RUMOURS OF WARS: see that ye be not troubled: for all these things must come to pass, but the end is not yet.
Matt. 24:7 FOR NATION SHALL RISE AGAINST NATION, AND KINGDOM AGAINST KINGDOM: and there shall be famines, and pestilences, and earthquakes, in divers places.
ISAIAH 17/PSALM 83:
THE DESTRUCTION OF DAMASCUS and
Muslim Countries in the Middle East will launch an attack on Israel
JEREMIAH 49:
PROPHECY OF ELAM – (Possible Attack on Iran's Nuclear Program
————————————————–
Two missile explosions, 20 minutes apart, set a tanker belonging to the National Iranian Oil Company on fire in the Red Sea on Friday, Oct. 11 when it was 95km from the Saudi port city of Jeddah. Iranian state media IRNA said the explosions damaged two storerooms aboard the oil tanker and caused an oil spill into the Red Sea. 
Iran's Nour news agency, close to Iran's Revolutionary Guards, later said the situation was under control and no crew members were injured. It gave the vessel different names, "Sanitized" or "Sabity" or "Sinopa"
The US Navy's 5th Fleet, which oversees the region, did not immediately respond to a request for comment.
The explosions came after a series of attacks attributed to Iran, including the shooting down of a US drone over the Strait of Hormuz, attacks on tankers sailing in the Gulf and, finally, the cruise missile-drone assault on Saudi oil facilities which halved its output.
DEBKAfile: If a missile strikes is confirmed. this would be the first time since that series of attacks began to unfold five months ago that an Iranian oil tanker was targeted. 
The incident may have two possible sources:
THE TWO MISSILES WERE FIRED FROM THE SAUDI COAST OR A SAUDI MISSILE BOAT

. This would represent Riyadh's payback for the missile-drone assault that disabled a Saudi oil field and refinery on Sept. 14. For now, no comment has been forthcoming from any Saudi source.

A third party which maintains a missile boat presence in the Red Sea.
If the Saudis were responsible, the incident is capable of triggering a major outbreak of hostilities, including the trading of missile strikes between the oil kingdom and Iran. If it was a third party, Tehran may decide to pin the blame on Israel. On Thursday, Oct. 10, Prime Minister Binyamin Netanyahu revealed for the first time that Israel was pondering a pre-emptive attack on Iran to thwart its plans for an assault on Israel.
Many questions remained unanswered early Friday after an attack on an Iranian oil tanker in the Red Sea sent oil prices higher, in the latest attack on energy-industry infrastructure in an increasingly volatile part of the world. According to the New York Times, a fire erupted on an Iranian oil tanker about 60 miles from the Port of Jeddah on Friday after the tanker's two major tanks were struck by missiles, causing an oil spill.
Iranian media said "technical experts" are still investigating the cause of the explosion, though Iranian state media initially blamed Saudi Arabia. 
The Kingdom, meanwhile, denied any responsibility for the attack. However, according to conflicting reports, the National Iranian Oil Company denied that Saudi Arabia, Iran's archrival in the region, was behind the attack, and instead pointed the finger toward Israel.
Whatever the details of the attack may be, there's no questions that the attack marks a major escalation of tensions in the region.
————————————————–
TURKEY BOMBS US SPECIAL FORCES IN SYRIA ATTACK, APPARENTLY BY MISTAKE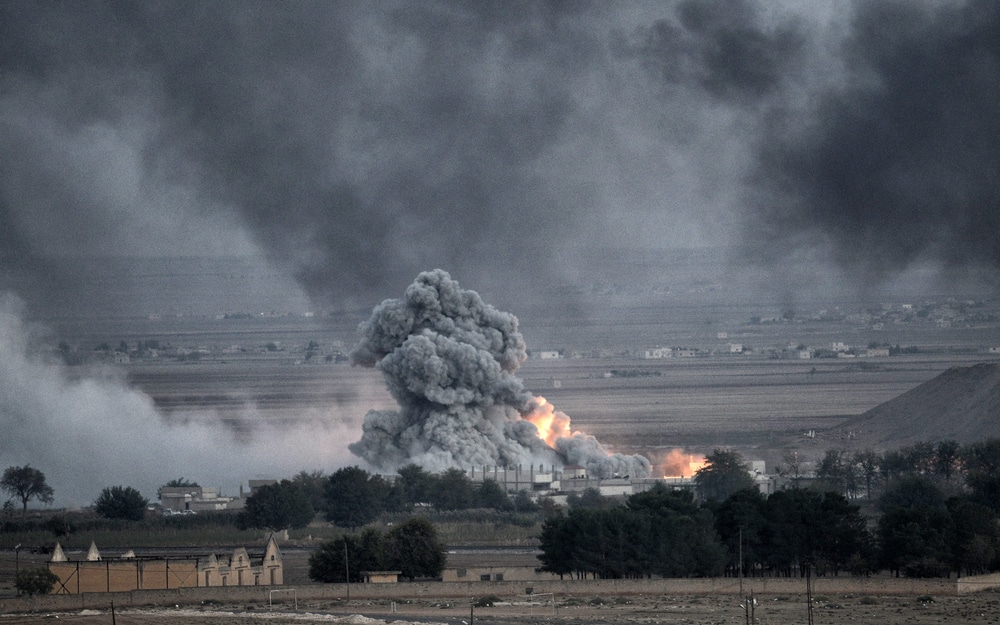 (Newsweek) – A contingent of U.S. Special Forces has been caught up in Turkish shelling against U.S.-backed Kurdish positions in northern Syria. Newsweek has learned through both an Iraqi Kurdish intelligence official and senior Pentagon official that Special Forces operating in the Mashtenour hill in the majority-Kurdish city of Kobani fell under artillery fire from Turkish forces conducting their so-called "Operation Peace Spring" against Kurdish forces backed by the U.S. but considered terrorist organisations by Turkey.
The senior Pentagon official said that Turkish forces should be aware of U.S. positions "down to the grid." The official could not specify the exact number of personnel present, but indicated they were "small numbers below company level," so somewhere between 15 and 100 troops. The incident came as Defence Secretary Mark Esper assured reporters that up to 50 Special Force Operators had been re positioned from "two small outposts" near the Syrian border as Turkey commenced a unilateral operation opposed by the Pentagon. 

READ MORE

:
————————————————–
Lebanese Arabic news broadcaster Al-Mayadeen is reporting that Russia has begun organising "reconciliation talks" between Syria and Turkey, in what would be an unprecedented development, given President Erdogan's position has long been that Turkey won't negotiate with Damascus so long as Assad is in power. 
The Middle East broadcaster cited Russian Foreign Minister Sergey Lavrov, who said, "Moscow will ask for start of talks between Damascus and Ankara".
Russia's TASS has also confirmed the initiative, making it the first significant attempt to bring the two sides to the table, given Ankara severed diplomatic ties with Damascus in 2012. Turkey could indeed be ready given it has finally gotten its way in Syria — with a long planned attack on Syrian Kurds along the border in northern Syria, which began Wednesday with an air and ground offensive. 
Previously Ankara had signaled that it would only engage Damascus if it led to Assad being removed from office. But with US troops now largely out of the way, and with Trump signalling that he wants to ultimately bring them all home and let regional powers sort out the aftermath, including the threat of ISIS prisoners in northeast Syria, the final deal-makers that remain are Putin and Erdogan. 
"We will be pressing for the beginning of a dialogue between Turkey and Syria. There are reasons to believe that this will meet the interests of both countries. Also, we will be promoting contacts between Damascus and Kurdish organizations that renounce extremism and terrorist methods of activity," Lavrov said.
"We've heard Syrian officials and Kurdish organisations' representatives say they are interested in Russia using its good relations with all parties to this process for assistance in establishing such a dialogue. We'll see how to go about this business," the Russian foreign minister added.
And in a report on Thursday as a ground battle rages between YPG/SDF forces and Turkish-backed proxy 'rebels' – backed also by Turkish troops – The Guardian also took note of a potential Putin "deal of the century" to end the war in Syria while ensuring American retreat: 
But Putin also wants to see an end to the Syrian civil war. With the US leaving the scene, he may try to forge his own "deal of the century" between Erdoğan, the Syrian regime and the Kurds.
With the US gone from the scene, an acceptable status quo could be reached, which would no doubt involve the Kurds once again coming under Damascus, but with much less autonomy than they hoped for, and with significant security guarantees for Turkey. 
–—————————————————-
U.S. MARINES RESERVE UNITS ACTIVATED FOR "EMERGENCY WITHIN THE UNITED STATES" WHICH "WILL COME WITH LITTLE WARNING" – CITES "THREATS IN THE HOMELAND

"
(Natural News)

BREAKING NEWS UPDATE

concerning a directive involving the United States Marine Corps reserve units via MARADMINS number 550/19, signed on Oct. 3, 2019, authorised by Brigadier General Daniel L. Shipley, Director, Manpower Plans and Policy.
Notably, Brigadier General Daniel L. Shipley was nominated by President Trump for the rank of major general, according to a Jan. 16, 2019 Defense.gov press announcement. Before serving in his current role, Shipley served as the deputy director, Program Analysis and Evaluation, Department of Programs and Resources for the U.S. Marines.
This new order is summarised as, "

MARINES ORDERED TO ACTIVE DUTY ISO DEFENCE SUPPORT OF CIVIL AUTHORITIES.

" (The term "ISO" means In Support Of.") (See full text of the order here.)
NOTE: There is disinfo being circulated about this order, claiming it was cancelled, but the cancelled order is 300/14, not 500/19. In fact, this new order 500/19 replaces a lot of previous orders, reestablishing the urgency of the situation and making sure any action to defend the Homeland is authorized by orders that are in good standing.
Sponsored solution from the Health Ranger Store: Lab-verified Nascent Iodine solution is a dietary supplement that provides your body with supplemental iodine to help protect your thyroid during radiation exposure. Nuclear accidents such as Fukushima (or nuclear war) can expose your body to radioactive iodine-131, a dangerous radioisotope. Pre-loading your system with stable iodine occupies the iodine receptor sites on your organs, causing your body to naturally expel radioactive iodine you may have been exposed to through air, food, water or milk products. This defensive strategy is recommended by nearly all health authorities, worldwide, including the Nuclear Regulatory Commission. Discover more at this link.
The entire CIA-run deep state media (i.e. Washington Post, NYY, CNN, etc.) are all in on the effort and now gas-lighting the entire nation with ginned up "whistle-blower" schemes that are wholesale fabrications.
Alex Jones reminds us: Trump has long planned to activate the U.S. Marines to stop an illegal coup
I spoke on the phone with Alex Jones today about this breaking news, and he told me, "I talked to a high level Trump confidant concerning what Trump would do if the deep state attempted an illegal coup. Trump said they would call out the marines and surround the White House, then legally and lawfully pursue the originators of the criminal coup."
This high-level confidant is someone who is very close to the President, and who is familiar with the Pr
This high-level confidant is someone who is very close to the President, and who is familiar with the President's plans for how to deal with any attempt by the deep state to carry out an illegal coup attempt.
We urge all lawful, pro-America organisations and individuals to prepare to defend your President against an illegal coup attempt in the coming weeks or months.
Details of the military order to U.S. Marines: "threats in the Homeland" … "will come with little or no warning"
Does the following order describe an activation of U.S. Marines reserve units to prepare for an anticipated hot coup attempt against our President? While some might downplay the order as a routine personnel organization directive, you can read the highlights here and decide for yourself.
ORDER TO ACTIVE DUTY TO PROVIDE ASSISTANCE IN RESPONSE TO A MAJOR DISASTER OR EMERGENCY.
TOTAL FORCE MOBILIZATION, ACTIVATION, INTEGRATION, AND DEACTIVATION PLAN (MAID-P).
In accordance with (IAW) REF A, this MARADMIN provides guidance for the activation of Reserve Component (RC) Marines under §12304a, Title 10, U.S. Code, following a request for Federal assistance in response to a major disaster or emergency within the United States.  Requests for Federal assistance will come with little warning.  As required, the Marine Corps must rapidly mobilize RC units and personnel IAW this MARADMIN in order to respond to threats in the Homeland.
This order specifically references the President of the United States as the commanding officer:
SECNAV's delegated authority may be exercised only after: (Note: SECNAV means Secretary of the Navy)
…2.B.2.  When directed by the President in support of (ISO) a request for assistance (RFA) from a primary Federal department or agency…
This order also invokes the "Marine Emergency Preparedness Liaison Officer (EPLO)" as well as a large contingent of U.S. Marines forces:
USNORTHCOM and USINDOPACOM requests EPLO activation through its USMC service component, Marine Forces North (MARFORNORTH) and Marine Forces Pacific (MARFORPAC).
COMMARFORNORTH/COMMARFORPAC should consider using on hand Active Component (AC) and Active Reserve (AR) personnel to meet immediate IA requirements.
The order also appears to underscore something called, "involuntary activation authority" as explained here:
RC personnel can be sourced from the Individual Ready Reserve (IRR) or Individual Mobilization Augmentee (IMA) program with the involuntary activation authority residing with SECNAV and SECD4.C.3.  Ensure coordination is conducted with MARFORPAC and MARFORNORTH regarding the expected or planned RC IA mobilizations either in a voluntary or involuntary status.
4.C.6.  As required, act on delegated SECNAV authorities for volunteer mobilization orders under §12301(d) for the initial 72 hour Immediate Response Authority period IOT facilitate a rapid time-sensitive response.
GO TO WEBPAGE BELOW FOR ADDITIONAL VIDEOS:
https://thecommonsenseshow.com/agenda-21-conspiracy-martial-law/us-marines-reserve-units-
—————————————————–
A larger global currency shift is underway…
And it may be happening much more quickly than anyone has realized.
Things are definitely in motion. Call it a game of musical chairs, or an exercise in rearranging chairs on the Titanic, or just that a tilting balance of power. Just don't make the mistake of thinking this is all routine.
The People's Bank of China has added about 100 tons of gold to its reserves since December. Russia has bought 106 tons of the precious metal this year.
"They can read the writing on the wall," Euro Pacific Capital CEO Peter Schiff told FOX Business, adding that the two countries are "preparing for the world where the dollar is no longer the reserve currency."
China's gold reserves now stand at more than 1,950 tons, Bloomberg says. Russia has more than 2,200 tons, and has the fifth-largest stockpile by country.
Beijing's gold purchases, which amount to 100 tons since December, come as it has been less aggressively buying Treasurys amid the U.S-China trade war. In June, China fell behind Japan as the world's largest holder of U.S. debt, a title it had held since May 2017.
Meanwhile, Russia has more than quadrupled its reserves over the past decade amid its promise to break its reliance on the U.S. dollar. Russia's central bank has bought 106 tons so far this year, according to Bloomberg.
Trade war uncertainty and worries about the health of the global economy have helped propel gold prices to their highest level in six years. The precious metal is up almost 18 percent this year and last month hit $1,550 an ounce for the first time since April 2013.
If you are not watching the central banks, you could be making a big mistake. Central banks could be the catalyst that sends the price of gold surging.
The big question: which central banks are buying gold?
Here's the thing: back in the 1970s, when the U.S. dollar was in favor, the major central banks never really sold their gold. They kept a lot of it and continue to hold it.
It was the small central banks that rushed to buy the U.S. dollar. Now it's those same central banks looking to accumulate gold. They will need a lot of gold to diversify their reserves.
Two of the central banks that shouldn't be ignored are China and Russia. They need a lot of gold.
China has been stepping into the gold market at an astonishing pace. Between December 2018 and September 2019, China's central bank purchased 100 tons of the yellow metal. (Source: "China's Gold-Buying Spree Tops 100 Tons During Trade War," Bloomberg, October 6, 2019.)
The Chinese central bank went quiet for some time after 2009, but since 2015, it has been active. Also, its actions have been very loud and clear: it doesn't care about where gold prices are; it just wants more gold.
Russia has been very active in the gold market as well. Its gold stash currently amounts to close to $110.0 billion. (Source: "Russia's Massive Gold Stash Is Now Worth More Than $100Bln," The Moscow Times, September 9, 2019.)
The country has been one of the most consistent gold buyers for a while. The Russian central bank has been increasing its gold holdings each month for several years.
—————————————————–
Farmers in the middle of the country are about to get hit by what could potentially be the worst October blizzard in U.S. history.  According to USA Today, "the massive size and intensity of this snowstorm is unheard of for October". 
In other words, we have never seen anything like this in the month of October ever before.  Such a storm would have been disastrous enough in a normal year, but this has definitely not been a normal year for Midwest farmers.  As I detailed extensively in previous articles, endless rain and horrific flooding made planting season a complete and utter nightmare for many Midwest farmers this year.  Millions of acres did not get planted at all, and planting was seriously delayed on tens of millions of other acres.  As a result, corn, soybeans and other crops are simply not ready to be harvested in many parts of the Midwest, and now an unprecedented winter storm is barrelling directly toward our heartland.
This is a very, very serious situation.  Normally, most corn in the Dakotas and Minnesota is considered to be "mature" by now, but this year we are facing a completely different scenario.
According to the latest USDA Crop Progress Report, only 22 percent of the corn in North Dakota is considered to be "mature" at this point…
Many farmers continue to wait on the sidelines to get into the fields. With freezing temperatures, heavy snowfall, and high winds set to hit the northern Plains this week, the corn in North Dakota is only 22% mature vs. a 75% five-year average, according to Monday's USDA Crop Progress Report.
Also, South Dakota corn is rated 36% mature vs. an 80% five-year average. Minnesota farmers have a corn crop that is just 39% mature vs. an 83% five-year average.
And now here comes an "all-out blizzard".
In case you are wondering, I am not the one that put such an extreme label on this storm.  In fact, Accuweather is specifically using that term to describe this historic storm…
An unusually far-reaching snowstorm for early October will stall, strengthen and evolve into an "all-out blizzard" over the Dakotas and then will send a blast of cold air across much of the Plains and Midwest.
Heavy snow has already fallen on the northern Rockies and was progressing southeastward along with a charge of cold air. Snow and slippery travel were also being reported in parts of Washington state, including around Spokane where new daily snowfall record for Oct. 8 was set. Spokane International Airport recorded 3.3 inches of snow Tuesday, shattering the previous record for the day, which was a trace set in 1981.
It is crazy that Spokane is already getting snow.
According to Yahoo News, that snowfall already makes this the "third-snowiest October" that the city has ever experienced…
Spokane, Washington, was one town that was hit particularly hard by the snow on Tuesday. A record-breaking 3.3 inches of snow fell, the first measurable snow in the month of October since 2001. It also made this month the third-snowiest October on record, following 3.9 inches in October of 1975 and 6.1 inches in October of 1957.
Ultimately, a few inches of snow is not that big of a deal.
But once this storm reaches 
A general 6-12 inches is forecast over much of the Dakotas. However, a large swath of 12-24 inches is likely with an AccuWeather Local StormMax™ of 30 inches likely from north-central North Dakota to central and northeastern North Dakota.
Cities that could end up with 2 feet of snow include Bismarck, Jamestown and Devils Lake, North Dakota, as well as Mobridge, South Dakota, and Winnipeg, Manitoba.
Needless to say, that much snow at this time of the year is going to be absolutely devastating for many farmers.
And we are being told that this coming storm actually has "two parts".  After the first part strikes, the second part is going to come rolling through on Friday and Saturday…
The storm will have two parts, the first of which is targeting the northern and central Rockies and High Plains on Wednesday into Thursday. The second part will bring snow to the eastern and central portions of the Dakotas and western Minnesota by week's end.
"Near-blizzard to full-fledged blizzard conditions are possible across portions of central North Dakota Friday afternoon into Saturday morning," the weather service in Bismarck said. "Expect high impacts and dangerous to impossible travel conditions."
—————————————————–
SOMETHING ΗΙT CΑLΙFΟRNΙA 7 TIMES CΑUSΙNG THESE WΙLDFΙRΕS: HERE'S ΡRΟΟF!(WATCH REVEALED FΟΟTΑGE)
——————————
The Saddleridge Fire broke out after 9pm on Thursday in Sylmar, California along the 210 Freeway 

Mandatory evacuation orders were issued as 4,600 acres of land were scorched by 6am on Friday  

Footage shows drivers racing to escape the flames rising on either side of them 

Los Angeles Fire Department says  'unknown number' of homes are in the fire's path

Meanwhile the nearby Sandalwood Fire continued to burn after a garbage truck threw burning trash on the side of the road

Lois Arvickson, 89, of Calimesa, has been missing since Thursday night after the Sandalwood Fire swept through the mobile home park where she lived
Terrifying aerial footage showed crews battling a California wildfire fueled by winds as home burned and 100,000 people were forced to evacuate. 
The fire, known as the Saddleridge Brush Fire, broke out after 9pm on Thursday in Sylmar, north of Los Angeles, along the 210 Freeway near Yarnell Street and jumped the highway, according to KTLA.
Multiple freeways, including Interstate 5, Interstate 210, and Interstate 405 northbound were shut down at least partially, according to the California Highway Patrol. 
Fire officials said the Saddleridge fire consumed more than 4,600 acres by 6am on Friday with zero containment.
Authorities have ordered mandatory evacuations in the Granada Hills, Porter Ranch and Oakridge Estates neighbourhoods. 
According to Los Angeles Fire Department Spokeswoman Margaret Stewart, an 'unknown number' of homes are in the fire's path. 
'Once daylight comes, a more accurate assessment can be performed,' the LA Fire Department said in a message on Twitter. 'A number of homes have been destroyed by fire but the estimated number is not available at this time.'   
Drivers shared terrifying footage of the flames raging on either side of the freeway before it was shut down.
Emergency service are seen at intervals along the highway in the dramatic footage, as the fire burns orange into the night's sky.  
In one of the videos the driving conditions become so bad due to the smoke that cars begin to pull over on the side of the road.   
In separate videos, part of the footage shows huge flames rising up into the sky from a building as helicopters circle above the area. 
Land further behind in the background is also on fire, with large areas of grass burning into the night's sky.  
Much of northern California, from San Francisco to the Oregon border, remains under a state 'red flag' fire alert.
The National Weather Service said the hot gusty winds that usually hit northern California in October, sometimes called the 'Diablo Winds,' would persist into Friday morning.    
Hot, dry winds sweeping into Southern California raised concerns that the region's largest utility could widen power shutoffs on Friday to prevent its equipment from sparking wildfires.
Southern California Edison turned off electricity to about 20,000 people in Los Angeles, Ventura, San Bernardino and Kern counties, but warned that thousands more could lose service as Santa Ana winds gained strength.
Winds gusted dangerously as forecast before calming in Northern California, where Pacific Gas & Electric faced hostility and second-guessing over its widespread shutoffs.     
Governor Gavin Newsom criticized PG&E and ordinary customers complained about the inconveniences caused by the unprecedented blackouts that began midweek. 
————————————————–
As the world reels under the impact of the latest Middle East crisis, many are discovering that the events are fitting into a larger pattern of precisely predicted events. 
The pattern is to be found woven through the Hebrew prophets from Moses to Jesus Christ and John the Apostle. The prophecies were made during a period of from 3500 to 1900 years ago. 
Throughout these predictions, it's clear that the events are to lead to a final seven-year period of world catastrophe. This period will climax with a global war of such magnitude that only the personal, visible return of Jesus Christ to this planet will prevent man from self-annihilation. 
THINGS WE ARE SEEING
Listed below are 20 pieces of this pattern which are unmistakably coming together simultaneously for the first time in history. 
The return of the dispersed Jews to Israel to become a nation again in 1948.
The Jews' recapture of the Old City of Jerusalem in the 1967 Arab-Israeli War.
The rise of Russia as a powerful nation and enemy of Israel. 
The Arab confederation against the new State of Israel.
The rise of a military power in the Orient that can field an army of 200 million soldiers. (Red China alone boasts that she has this number of troops!)
The revival of the Old Roman Empire in the form of a ten-nation confederacy. (I believe the European Common Market is ultimately going to be this power.)
The revival of the dark
occultism
 practices of ancient Babylon. 
The unprecedented turn to drugs.
The increase of international revolution.
The increase of wars.
The increase of earthquakes.
The increase of famines through the population explosion.
The coming of plagues.
The increase of famines through the population explosion.
The coming of plagues.
The increase of pollution.
The departure of many Christian churches from the historic truth of Christianity. 
The move toward a one-world religion.
The move toward a one-world government.
The decline of the United States as a major world power. 
The increase in lawlessness.
The decline of the family unit.
THINGS TO WATCH

The Arabs will continue to bring greater pressure upon the Western nations to support their demands against Israel. They will do so through the continued restriction of oil without which the industrial nations cannot survive. They may begin to use their vast financial power to seriously threaten the economy of the United States as well.
It is doubtful that Fort Knox could back up the dollars they hold, if they demanded gold for them. 
The United States will have some severe economic shocks from the European Common Market and the Arab oil squeeze.
It will continue its decline as a major power both by this and internal moral decadence.
The European Common Market will begin to emerge as the greatest economic power in history.
Israel will continue to increasingly become the Western world's dilemma. The Middle East will continue to be the most dangerous threat to world peace in history. The prophets clearly say that the spark that sets off Armageddon will be struck by the invasion of Israel by the Egyptian-led Arabs and the Russians. 
Jesus predicted these days we're living in when He said concerning the prophetic signs,
"When you see all these things, know He is at the door ready to return."
Then He said,
"This generation will not pass away until all is fulfilled."

My opinion is that, because we are seeing all these signs fitting into the predicted pattern, we are the generation, which will see the culmination of history, as we know it, and the return of Christ. Who knows, perhaps this will be the year of Christ's sudden and mysterious coming to snatch out all those who believe in Him.
For more than fifty years, I have lived in the urgent expectation of Jesus' return.  Fifty years is a long time.  Do I regret it?  Was I wrong?
No and no!
In Luke 12:37, Jesus said,
"Blessed are those servants whom the master, when he comes, will find watching." (NKJV)
As followers of Christ, we are to live in a state of watchfulness.  A thousand years ago, there were Christians living in expectation of His coming.  They were not foolish to do so.  They were obedient.  Titus 2:13 directs us to be
"looking for the blessed hope and glorious appearing of our great God and Savior Jesus Christ." (NKJV)
Those Christians from previous generations who lived in expectancy of Christ's return tended also to be those who lived closest to Him.  They were the ones most interested in His word, in sharing the Gospel, helping the poor, and caring for the sick.  
If you're always on the lookout for Christ's return, someone will inevitably remind you that no one knows the day nor the hour. But they're missing the point.  It's precisely because we do not know the day nor hour of His return that we are to be watchful.  In Matthew 24:42, Jesus said,
"Watch therefore, for you do not know what hour your Lord is coming." (NKJV)
For two thousand years, people have been watching.  That sounds like a long time, but remember this.  God gave the first promise of His first coming to Adam and Eve.  It took thousands of years, but God kept His word and Jesus came.  By human standards, the Lord may sometimes seem slow.  But He has a reason for that.  2 Peter 3:9-10 says,
"The Lord is not slack concerning His promise, as some count slackness, but is longsuffering toward us, not willing that any should perish but that all should come to repentance.  But the day of the Lord will come." (NKJV)
When skeptics complain about God allowing evil and pain in the world, remember that "the Lord is not slack."  He will one day stop all the child molesters, terrorists, and other criminals.  And He will hold them to account.  But He won't just stop the evil you don't like.  He will stop all evil.  He will hold everyone to account.
Why does he wait?  Because He "is longsuffering toward us."  He's "not willing that any should perish."  He wants everyone to "come to repentance" — turn to Him and be saved.  For now, love and concern compel Him to wait.  But He will not wait forever.
Earlier in the same chapter, Peter wrote,
"Knowing this first: that scoffers will come in the last days, walking according to their own lusts, and saying,
'Where is the promise of His coming?  For since the fathers fell asleep, all things continue as they were from the beginning of creation.'" (2 Peter 3:3-4 NKJV)
I'm convinced that these are the last days, and can assure you that scoffers have come.  "I've been hearing this all my life!" … "You've been saying this for fifty years!"  Yes, and I will keep on saying it because it's still true.
There are no signs yet to be fulfilled before the rapture.  But signs of the Second Coming are everywhere.  Since the rapture comes before the Second Coming, the rapture has to be exceedingly close!
The big thing that makes our time different from any other is the existence of Israel as a nation, and the Jews having control of Jerusalem.  But there are other things unique to our time, as well.  For instance, before now the world did not have the technology needed for the Antichrist to control commerce as completely as the Bible foretells.
THERE'S ANOTHER SIGN UNIQUE TO TODAY.  JESUS IS COMING SOON . . . BECAUSE HE MUST!
In dozens of areas, human civilization is hurtling headlong toward destruction.  Look at just one — machines with artificial intelligence.  Scientists like Stephen Hawking warn of such machines taking over the world, destroying the human race in the process.  Far out?  Even longtime proponents of artificial intelligence have now joined in the warnings.
Air Force General Paul Selva, the Vice Chairman of the Joint Chiefs of Staff at the U.S. Defence Department, recently warned about "autonomous weapons systems" similar to the title character in the movie, "The Terminator" — and just as dangerous.  General Selva sees weapons that are not under direct human control as a menace to mankind. And, like self-driving cars, they're just around the corner.
Then there's nuclear proliferation.  Some people take comfort from the fact that no nuclear weapons have been used in combat since 1945.  But that's like taking comfort from the fact that you've been playing Russian roulette for an hour and no shots have been fired.  Just keep playing, and the odds will catch up to you.
During the Cold War, Carl Sagan, wrote, "The nuclear arms race is like two sworn enemies standing waist deep in gasoline, one with three matches, the other with five."
Except now, a madman in Korea also holds a match.  The nation of Iran, run by religious fanatics who see it as their job to create an apocalypse, also have, or will soon have, a match in their hands.  Next door neighbour enemies, India and Pakistan, both have nukes.  Russia has more than anybody, and no one knows if their leader is crazy or not.
But don't be afraid. Things are shaping up as God said they would.  Just be sure you have invited Jesus to save you.  Receive the pardon purchased for you when He died on the cross.  He will instantly give you a new heart with new desires.  Ask Him to empower you with His Holy Spirit.  Then remember to thank Him for all these things.
IN HIS POWER, YOU WILL BEGIN TO LIVE A LIFE THAT WILL DRAW OTHERS TO HIM AS WELL

.