The Final Signs Before The World Ends…2019

271K subscribers
 

Please Help Support This Ministry:

https://www.paypal.me/watchman1963

Cash App : $watchman1963 Please subscribe to my backup channel:

https://www.youtube.com/channel/UC4nc…

Current Events Linked To Biblical Prophecies. Everything is unfolding just as the bible foretold. Wars, Volcanic Eruptions, Earthquakes, Extreme Weather, Christian Persecution, Violence and more!
Matthew 24:3-14 3 Now as He sat on the Mount of Olives, the disciples came to Him privately, saying, "Tell us, when will these things be? And what will be the sign of Your coming, and of the end of the age?" 4 And Jesus answered and said to them: "Take heed that no one deceives you. 5 For many will come in My name, saying, 'I am the Christ,' and will deceive many. 6 And you will hear of wars and rumours of wars. See that you are not troubled; for all these things must come to pass, but the end is not yet.
7 For nation will rise against nation, and kingdom against kingdom. And there will be famines, pestilences,[b] and earthquakes in various places. 8 All these are the beginning of sorrows. 9 "Then they will deliver you up to tribulation and kill you, and you will be hated by all nations for My name's sake. 10 And then many will be offended, will betray one another, and will hate one another.
11 Then many false prophets will rise up and deceive many. 12 And because lawlessness will abound, the love of many will grow cold. 13 But he who endures to the end shall be saved. 14 And this gospel of the kingdom will be preached in all the world as a witness to all the nations, and then the end will come.
————————————————-
Arabian Peninsula's New Cold War Is Coming
————————————————-
Watchman Report: What You Believe About The Rapture and Why It Matters

Watchman Report: What You Believe About The Rapture and Why It Matters The Bible's absolutely clear there will be a Rapture. This exciting event often generates questions, but when armed with solid answers, believers can be ready with anticipation. Join Pastor Jack as he shares how the Rapture should affect your life. Pastor Jack Hibbs Facebook: https://goo.gl/jhJHyL Instagram: https://goo.gl/TkQ4hD Website: https://goo.gl/y1gCnV Calvary Chapel Chino Hills www.calvarycch.org All the signs of the last days are converging at the same time. Bible Prophecy is happening right before our eyes and like birth pains, the predicted events are happening more frequently and more intently. Never, in the history throughout the world have so many forces, including economic, scientific, techno-logic, ecologic, cultural, geopolitical, moral, spiritual and religion, converged together to bring this world that's already teetering over the edge into the abyss, to a point of no return. Jesus said when you see all these signs happening, know that I am near, even at the door.
————————————————-
LATEST WORLD NEWS CLIPS – ARTICLES – SUNDAY SEPTEMBER 15th 2019
John 8:32 And ye shall know the truth, and the truth shall make you free
"My people are destroyed for lack of knowledge" (Hosea 4:6)
1Cor. 12:3

Wherefore I give you to understand, that no man speaking by the Spirit of God calleth Jesus accursed:

AND THAT NO MAN CAN SAY THAT JESUS IS THE LORD, BUT BY THE HOLY GHOST.
THE TRIBULATION OF THE UNJUST (Those who have rejected Jesus Christ as their Saviour) IN THE BOOK OF REVELATION CHAPTER'S 6 to 22:
Rev. 3:10 Because thou hast kept the word of my patience, I also will keep thee from the hour of temptation, which shall come upon all the world, to try them that dwell upon the earth:
Luke 12:37 Blessed are those servants, whom the lord when he cometh shall find watching: verily I say unto you, that he shall gird himself, and make them to sit down to meat, and will come forth and serve them
so won't you accept Jesus now and be removed from that event and live forever with Jesus in the Family of God?
2 "(For he saith, I have heard thee in a time accepted, and in the day of salvation have I succoured thee: behold, now is the accepted time; behold, now is the day of salvation.)" (2nd Corinthians 2:6)
——————————————-
DAILY CHRISTIAN BIBLICAL QUESTIONS AND ANSWERS:
——————————————-
EARTH: RESTORATION OR JUDGMENT?
QUESTION:    I read your article on Magnetic Pole Shift written in '06. It is very interesting. A couple of questions please.
Is the article referring to the restoration on earth to its original position? What about the restoration on the vapour rind around the earth?
Am I getting the restoration of earth and the judgement of earth mixed up?
ANSWER:    I believe that one purpose of the earthquakes and other "natural" disasters that take place during the 70th Week of Daniel is to put the Earth back the way it was when Adam was created. In Matt. 19:28 Jesus referred to the Millennium as the Restoration (renewal) of all things, and I believe He was talking about the whole Creation. Judging from the increased life spans Isaiah 65:20 describes, I believe this includes the restoration of the water vapour canopy that surrounded Earth in pre-flood days as well.
In Romans 8:20-21 Paul described the restoration of Earth as freeing the Creation from the bondage to decay caused by the introduction of sin into the world. The judgment of Earth pertains to the people who have rebelled against God. They both happen at the same time but are two different things.
THE RESTORATION OF ALL THINGS
QUESTION:    The Bible says God is going to restore the earth to its original, fresh-out-of-the-box state. That's a major overhaul. I know He can and He will. But, while He's lowering mountains and raising valleys, what's going to happen to all the people? Does scripture suggest any kind of a "work around" plan?
ANSWER:    I believe one effect of the end times judgements will be to complete the demolition phase of the Earth's restoration.
For example Revelation 16:16-21 speaks of the worst earthquake the world has ever experienced causing every mountain to fall down, islands to disappear, and the cities of the nations to be destroyed, while 100 lb. hailstones bombard the Earth. Much of the world's remaining population will die during this time.
According to Matt. 19:28, the actual restoration will take place after He returns, and could happen very quickly. Remember He created everything from scratch in only six days.
The Lord will surely comfort Zion and will look with compassion on all her ruins; he will make her deserts like Eden, her wastelands like the garden of the Lord. Joy and gladness will be found in her, thanksgiving and the sound of singing. (Isaiah 51:3)
——————————————–
NEWS CLIPS OBTAINED FROM MANY SOURCES – INCLUDING

Tracking bible prophecy.org
Rapture Ready News
Prophecyupdate.Com
Main News Channels
End Times Headlines
Prophecyupdateblogspot.com
Stevequayle.com
Gracethrufaith.com
Nowtheendbegins.com
Other Christian Sites
(CLICK ON) LATEST DAILY NEWS CLIPS:
ISRAEL NEWS:
THE MIDDLE EAST PEACE PLAN IS "ANTI GOD" – (GOD WILL NOT ALLOW JERUSALEM TO BE DIVIDED).
ZECHARIAH 12:2-3
WORLD TERRORISM – WARS
GENERAL WORLD NEWS:
MASSIVE EARTH CHANGES/EARTHQUAKES/VOLCANOES ETC:
2Chr. 7:13 If I shut up heaven that there be no rain, or if I command the locusts to devour the land, or if I send pestilence among my people;
2Chr. 7:14

If my people, which are called by my name, shall humble themselves, and pray, and seek my face, and turn from their wicked ways; then will I hear from heaven, and will forgive their sin, and will heal their land
WEBPAGE ADMINISTRATOR:  There are (2) "Male and Female"
EXTRA WORLD – ALTERNATIVE NEWS:
————————————————-
WORLD – PROPHETIC NEWS ARTICLES PRESENTATION – SUNDAY SEPTEMBER 15th 2019
MIDDLE EAST AND WORLD WAR LOOMING THE BUILD UP TO PSALM 83  – ISAIAH 17 AND GOG OF MAGOG WARS EZEKIEL 38:
THE WHOLE WORLD IS UNSTABLE FINANCIALLY, POLITICALLY, PHYSICALLY, MORALLY, GODLY: – AND BECOMING MORE SO DAILY. (WE ARE IN THE BEGINNING OF SORROWS (MATT 24:8)
THE BIBLE STATES THAT IT WILL ONLY GET WORSE BEFORE THE START OF THE TRIBULATION OF MANKIND – (REVELATION 6)
Matt. 24:6 And ye shall hear of WARS AND RUMOURS OF WARS: see that ye be not troubled: for all these things must come to pass, but the end is not yet.
Matt. 24:7 FOR NATION SHALL RISE AGAINST NATION, AND KINGDOM AGAINST KINGDOM: and there shall be famines, and pestilences, and earthquakes, in divers places.
ISAIAH 17/PSALM 83:
THE DESTRUCTION OF DAMASCUS and
Muslim Countries in the Middle East will launch an attack on Israel
JEREMIAH 49:
PROPHECY OF ELAM – (Possible Attack on Iran's Nuclear Program
————————————————–
THE MIDDLE EAST WAR BEGINS: NETANYAHU WARNS THERE IS "NO OTHER CHOICE BUT TO EMBARK ON A WIDE SCALE CAMPAIGN IN GAZA"
With elections looming on Tuesday, Israeli Prime Minister Benjamin Netanyahu is warning that Israel has "no other choice" other than to invade Gaza in order to overthrow the Hamas regime in power there.  In fact, the Jerusalem Post is reporting that on Friday Netanyahu said that war "could happen at any moment".  The Prime Minister and other Israeli officials are sick and tired of rockets being constantly fired into Israel, and they have come to the conclusion that a peaceful resolution with Hamas is simply not possible.  Here in the United States many on the left will criticize Israel for taking military action, but how long would any U.S. president wait before taking military action against a terror group that was firing missiles at us?  The truth is that Israel has been exceedingly patient with the situation in Gaza, but now the time for patience has run out.
In recent days, Netanyahu has made it exceedingly clear what is about to happen.  Here is one example from the Jerusalem Post…
Prime Minister Benjamin Netanyahu warned on Thursday that Israel may have no choice but to embark on a military operation in Gaza to overthrow Hamas.
"It looks like there will be no other choice but to embark on a wide scale campaign in Gaza," Netanyahu said in an interview with Kan Reshet Bet Radio shortly before he boarded a flight to Moscow where he is expected to meet with Russian President Vladimir Putin.
"There probably won't be a choice but to topple the Hamas regime. Hamas doesn't exert its sovereignty in the Strip and doesn't prevent attacks," he said. "We have a situation in which a terror group that launches rockets has taken over, and doesn't rein in rogue factions even when it wants to."
Netanyahu's comments also came two days after a campaign rally in the southern city of Ashdod was interrupted by incoming rocket sirens after rockets were fired from the Hamas-run Gaza Strip.
I am not sure how Netanyahu could be any clearer.  Here is a third example…
"I do not wage war unless it is a last resort and I don't risk the lives of our soldiers and citizens just to get applause," Netanyahu said in an interview with Kan Reshet Bet Radio. "We will probably have no choice but to set out on a big campaign, a war against the terror forces in Gaza."
"I won't start it one minute before we are ready, and we are preparing for a 'different war'," he added, shortly before flying to Russia for a meeting with President Vladimir Putin.
Israeli Prime Minister Benjamin Netanyahu always chooses his words very carefully.  He is a gifted communicator, and we have never seen him talk quite like this before.
In the past, Israel has responded to rocket attacks from Gaza by conducting targeted airstrikes, and this is something that we witnessed yet again on Wednesday…
Early Wednesday, Israeli jets launched air strikes on 15 targets belonging to the Hamas terror group, which rules the Gaza Strip, in response to the rockets fired at Ashdod and Ashkelon, which were intercepted by the Iron Dome air defense system, according to the IDF.
But it has become clear that airstrikes will never be enough to permanently stop the rocket attacks, and so the Israeli government is preparing to initiate a major ground operation inside Gaza.
Of course this could potentially spark a much wider regional war.  Israel and Hezbollah have literally been on the brink of war for months, and so if a major conflict erupts it is easy to envision Hezbollah jumping in to aid their allies in the south.
Right now, Hezbollah has approximately 150,000 missiles pointed at Israel, and their troops are battle-hardened after fighting for many years in Syria.
And if Israel and Hezbollah go to war, there is a very strong possibility that Iran could get involved as well.
Basically we are just a hop, skip and jump away from a cataclysmic war in the Middle East, and this is one of the reasons why Israel has shown so much restraint.
But at some point action must be taken.  No nation is going to allow terrorist organizations to keep firing rockets at their citizens indefinitely, and the Israeli government has had enough.
As IDF Chief of Staff Lt. Gen. Aviv Kochavi recently stated, there is "a moral obligation to defend the nation's citizens against the armies of terrorism that surround them"…
"The changes in the enemy demand that the IDF make changes and adjust its forces and methods of warfare, so urban areas cannot shield the enemy. The firepower the enemy will encounter in the next war will be unprecedented, and a country that allows terrorism to entrench itself in its territory will be seen as responsible for it, and suffer the consequences," Kochavi warned.
"The IDF has a moral obligation to defend the nation's citizens against the armies of terrorism that surround them. When the Israeli home-front is under threat by thousands of missiles and rockets, we won't hesitate to strike a massive blow to eradicate those threats. We will attack and preserve our values, but a main tenet of those values is the need to protect our citizens," he said.
Personally, I doubt that the Israeli military operation will happen before the election on Tuesday, but I could be wrong.
And let us also hope that it can be postponed until after the upcoming Jewish holidays.
But it is coming, and once Israeli tanks roll into Gaza everything will change.  Global events are about to accelerate significantly, and so many of the things that we have been watching for are about to happen.
Both sides have been preparing for this war for a very long time, and the death and destruction will be immense.
Things are eerily quiet for the moment, but the fighting will soon commence, and when it does this will become the biggest news story on the entire planet

.
————————————————–
A man stood up the other day at one Democrat Party function or the other. He was a fellow Democrat with those gathered, as I recall.
The man with the microphone for that moment said something like, "Our nation is in serious trouble, and the only one who can make it right again is the Lord Jesus Christ." That's not his exact quote, but it was just as strong as I've paraphrased here.
There was immediate and loud reaction to his words. They were not in support of the speaker's sentiment. Far from it; there were shouts for him to shut up and even stronger invective, as I heard the reaction.
They gave him the proverbial hook in no uncertain terms.
He was exactly right, of course, and what he was doing on that Democrat stage, I must admit, baffled me. Having heard all such references to God in a positive way shouted down by Democrat Party gatherings since well before the 2016 presidential election–shouted down with boos and hisses of serpent-like virulence–I was surprised that even one among them still held to the view he tried to express.
Now I am aware that there are many true Christians even among the Democrat Party as it is currently constituted. However, it is getting more and more difficult to come to that conclusion based upon the God-opposing madness that–again, in my view— has become manifest since the time immediately following John F. Kennedy's presidency.
It is as if that political element within America is waging war on God. I'm not thinking here in terms of symbolically or allegorically or metaphorically, or any other way than literally. It seems the Democrat Party, with the full-blown assistance of the mainstream media and every other humanistic element of culture and society, is at war with God–specifically with Jesus Christ.
Lest critics brand me as a falsehood-spreading, right-wing deplorable, I offer a couple of pieces of evidence of recent vintage to support my case.
While the anti-God forces seek in every way, and on a daily basis, to push Christian beliefs from the public square, the champions of this force incessantly seek to claim that Christians are doing what they, themselves, are doing to remove all godly governance.
The Democratic National Committee (DNC) passed a resolution at its summer meeting championing "religiously unaffiliated" voters, who the resolution noted are the "largest religious group" within the party.
The DNC's "Resolution Regarding the Religiously Unaffiliated Demographic" stated that "religiously unaffiliated Americans overwhelmingly share the Democratic Party's values," and "have often been subjected to unfair bias and exclusion in American society."
The resolution also takes a shot at deeply religious voters, who are accused of using their religious beliefs to oppress other groups.
It said "those most loudly claiming that morals, values, and patriotism must be defined by their particular religious views have used those religious views, with misplaced claims of 'religious liberty,' to justify public policy that has threatened the civil rights and liberties of many Americans, including but not limited to the LGBT community, women, and ethnic and religious/nonreligious minorities…
DNC chair Tom Perez has been openly critical of church-going Americans in the past.
Perez said in December 2018 that Republicans have an advantage because "people buy" what they hear at church.
"It should come as a surprise to no-one that that person has elevated the issue of courts to the top because that person on the pulpit is saying 'ignore everything else that this person has done and is doing, we have to focus on one issue of Roe vs. Wade.' And people buy it. Because that's their only source," Perez said. ("DNC Resolution Celebrates Democrats' 'Largest Religious Group' — And It's Not Christians," Daily Caller, Peter Hasson, senior reporter, 8/30/19)
The "religiously unaffiliated" designation is used to avoid "we are against any governance by any deity" label. America is still a nation that has a significant remnant of God's people, and the Democrat elite know it. They are masters, it seems, of luciferically inspired language.
Nowhere is the growing war against true believers in Jesus Christ more pronounced than within the so-called higher education institutions of America. We can read or hear news reports almost hourly of professors ranting against the way America was founded. They always bring the slavery issue into the mix of their vitriolic condemnation of the Founding Fathers. They ignore the goodness within the Founders' intention to, ultimately, bring about realization and acceptance that all men are created equal and that God is that Creator who favors no human being over another.
One example in American academia today of the hatred for all that is Christian is Jeff Klinzman, an adjunct English professor at Kirkwood Community College in Cedar Rapids, Iowa. He claims to be in sympathy with the domestic terrorists called Antifa, and posted the following on Facebook. "I know who I'd clock with a bat."
He was referring to President Trump, who had said previously: "Antipas are Radical Left Wack Jobs who go around hitting…people over the heads with baseball bats."
The professor also wrote that he wanted to "stop evangelical Christians" and posted a poem that said, "Kill them all and bury them deep in the ground."
Klinzman explained why he shared the poem, "It's not pretty, and I'm not proud, but seeing what evangelical Christians are doing to this [country] and its people fills me with rage, and a desire to exact revenge."
When contacted by Cedar Rapids ABC affiliate KCRG, Klinzman said he was part of the group, "I affirm that I am antifa."
Antifa is

a far-left group that often goes to rallies to fight white supremacists or groups they perceive to be racist. They also have a history of attacking journalists covering the protests. ("'Kill them all': Iowa professor resigns after his comments about evangelicals revealed," Washington Examiner, Julio Rosas, August 27, 2019)
Jesus' own words immediately came to mind when observing the treatment of that aberrant member of the Democrat Party's most active membership, the man who stood with the microphone claiming Jesus as the answer to all problems.
They shall put you out of the synagogues: yea, the time cometh, that whosoever killeth you will think that he doeth God service. And these things will they do unto you, because they have not known the Father, nor me.  (John 16:2-3)
Just as the pious Jews sought to kill those who believed Jesus was Messiah, the elite of that Democrat Party gathering seem to be of the mindset reflected by the words of the professor as given above.
But it is not just those within the Democrat Party who are waging war against Christ. The whole world is going mad with the reprobate mind that has infected mankind because of collective resistance to Heaven's governance. They are primed, sad to say, to accept their false Christ, who will soon appear on the world scene. Antichrist will wage the ultimate war against Christ. He–and all who follow him—will meet their devastating end upon the killing field called

Armageddon.
Don't be part of that end-times war-making. Accept Christ as prescribed in God's Word.
That if thou shalt confess with thy mouth the Lord Jesus, and shalt believe in thine heart that God hath raised him from the dead, thou shalt be saved. For with the heart man believeth unto righteousness; and with the mouth confession is made unto salvation. 
(Romans 10:9-10)
——————————————–
The controversy between Israel and Russia regarding airstrikes of Iranian targets in Syria and Iraq continues, despite the meeting Between Prime Minister Benjamin Netanyahu and Russian President Vladimir Putin. This was reported on Friday by Independent Arabia. 
According to the report, Moscow has prevented three Israeli airstrikes on three Syrian outposts recently, and even threatened that any jets attempting such a thing would be shot down, either by Russian jets or by the S400 Anti-aircraft missiles. The source cited in the report claims a similar situation has happened twice, and that during August, Moscow stopped an airstrike on a Syrian outpost in Qasioun, where a S300 missile battery is placed.
Moreover, it was claimed that another airstrike planned for a week later on a Syrian outpost in the Qunaitra area and a third airstrike on a sensitive area in Latakia. This development is what pushed Netanyahu to have his quick visit in Russia to try and convince Putin to ignore Israel's attacks in Syria. 
According to the Russian source, Putin let Netanyahu know that his country will not allow any damage to be done to the Syrian regime's army, or any of the weapons being given to it, because giving such a permission would be seen as giving Israel leniency – something that contradicts Russia's goal of assisting the Syrian regime.
The British-Arabic news outlet reported that Netanyahu tried to present a positive message of the cooperation between the two countries and even tried to use it for his election campaign, but it didn't work. Israeli sources who have spoken with the newspaper called the meeting "a failure". They claimed that everything regarding the air strikes in Iraq and Syria, since the fact they were in the public eye embarrassed the Russians terribly in the eyes of their allies in the area – Syria, Iran and the militias that support them. 
The Russian source said: "Putin has expressed his dissatisfaction from Israel's latest actions in Lebanon" and even emphasized to Netanyahu that he "Rejects the aggression towards Lebanon's sovereignty" something which has never been heard from him. Putin further stated that someone is cheating him in regards to Syria and Lebanon and that he will not let it go without a response. According to him, Netanyahu was warned not to strike such targets in the future.
The British-Arabic website adds that more Israeli sources have said similar things on the subject and the visit was meant to reduce the severity of the controversy between the countries into a tactical one, rather than an ideological one.
——————————————–
Iran has in recent weeks dramatically upped its aggression against Israel, Prime Minister Benjamin Netanyahu told Russian President Vladimir Putin Thursday in Sochi.
Netanyahu traveled to the Black Sea resort town mainly to discuss military coordination between Moscow and Jerusalem and Israel's efforts to prevent Tehran from entrenching itself in Syria. Russia is one of Damascus's key allies.
"Security coordination between us is always important, but it is particularly important at this time because last month there has been a very sharp increase in the number of Iranian attempts to attack Israel from Syria, and also to place accurate missiles against us," Netanyahu said.
"This is an intolerable threat, from our perspective, and we are acting [against it], and therefore we are also obligated to ensure that our coordination prevents friction. We're indeed doing this, and will continue doing it, I am sure also in our conversation now."
Netanyahu was referring to the so-called deconfliction mechanism between the Russian and Israeli armies that was instituted shortly after Putin decided to establish a military presence in Syria.
Thursday's meeting, which began with a nearly three-hour delay, as Putin was in Dagestan to commemorate the 20th anniversary of the civil war there, was the 13th time the two leaders met since November 2015.
In his comments, the Israeli leader, who traveled to Russia less than a week before the September 17 Knesset elections, hailed bilateral relations, saying they have never been better. He cited two reasons: more than one million Russian-speakers live in Israel, building a "human bridge" between the two countries, and the "direct relationship" between himself and Putin.
Israeli voters hailing from the former Soviet Union are one of the key audiences Netanyahu's Likud party is targeting during the current election campaign in an attempt to weaken one of his main political rivals, the Moldovan-born Yisrael Beytenu chief Avigdor Liberman.
Putin, speaking before the prime minister, in his remarks stressed his commitment to Israel's security. He did not address the ostensible warmth of his personal relationship to Netanyahu, but made a comment many observers interpreted as a hint toward who he would like to win the Israeli elections.
"Russia cares a lot about who will be elected to the Knesset, and I hope that whoever enters the Knesset will continue bilateral ties between the countries and will push out relationship forward," he said.
Furthermore, Putin announced that he plans to visit Israel in January 2020 to participate in a memorial commemorating the liberation of the Auschwitz death camp, and also to attend the unveiling of a monument honoring Soviet soldiers who fought and fell in the siege of Leningrad.
Earlier on Thursday, Netanyahu, who is also defense minister, met the Kremlin's defense chief, Sergei Shoigu.
"The first issue [we discussed] is security, and this is maintaining freedom of action for the IDF, including the air force, in the face of Iran's attempts to militarily entrench in our region against us," he said after the meeting.
"We are operating constantly and it is important to prevent unnecessary collisions. This is what we are doing in meetings such as these and also, of course, in the many telephone conversations between them."
——————————————–
Several thousand Palestinians protested along the Gaza border Friday, hours after Prime Minister Benjamin Netanyahu warned that war with terror groups in the Gaza Strip could break out "at any moment."
Some 4,000 Palestinians took part in demonstrations with several hundred rioting and throwing rocks and explosive devices at IDF troops who responded with tear gas and occasional live fire.
The Hamas-run Gaza health ministry said 30 people had been wounded, including 15 from live fire. The IDF had no immediate comment.
Two Palestinian teens were killed in last week's clashes, which the IDF called "especially violent" and senior Hamas official Ismail Radwan on Friday warned Israel to act with restraint, saying the "resistance is a sword defending the Palestinian people."
Nevertheless, Hamas issued a call to those taking part in the protests to keep away from the fence and not give the IDF an excuse to open fire.
The protests come after a week of tension in the south.
Rockets have been fired at Israeli cities and communities multiple times over the past week — with most intercepted by the Iron Dome defense system or landing in open areas — drawing retaliatory Israeli airstrikes. On Tuesday night, two rockets were launched at Ashdod and Ashkelon during a campaign rally in Ashdod by the premier, who was whisked off the stage by his bodyguards to take shelter.
In his comments, which he made after returning from a meeting with Russian President Vladimir Putin, Netanyahu asserted, "An operation in Gaza could happen at any moment, including four days before the elections. The date of the elections does not factor [into a decision to go to war]."
Israelis go to the polls on Tuesday, September 17. Netanyahu, who is facing stiff competition in his bid to reclaim the premiership, has been seeking to hammer home his credentials and past achievements in security and diplomacy, but ongoing attacks from Gaza have remained a nagging thorn in his side, repeatedly exploited by his political rivals.
For many of those rivals, the scenes of Netanyahu being forced to take shelter from rockets provided a counterpoint to the image he has attempted to cultivate as "Mr. Security," highlighting what they say is his government's failure to deal with ongoing attacks from Gaza terror groups
"There probably won't be a choice but to launch an operation, a war with the terror forces in Gaza," the prime minister said in a radio interview with the Kan public broadcaster, kicking off a media blitz five days before the elections. "There probably won't be a choice but to topple the Hamas regime. Hamas doesn't exert its sovereignty in the Strip and doesn't prevent attacks."
"We have a situation in which a terror group that launches rockets has taken over, and doesn't rein in rogue factions even when it wants to," Netanyahu said of Hamas, which has ruled the Strip since it took over in a bloody coup in 2007, and which says it seeks Israel's destruction. It has fought three wars with Israel since 2008.
——————————————–
If he wins reelection next week, Prime Minister Benjamin Netanyahu has promised to annex the Jordan Valley. Though his opponents see this pledge as political spin, whispers of an agreement on the matter between Netanyahu and US President Donald Trump suggests that this time around, Israel (through Netanyahu) means business. As do the frantic condemnations from the UN Secretary General, European powers and heads of Arab states. 
"If I'm reelected," said Netanyahu on September 10, "I will impose Israeli sovereignty over the Jordan Valley. Give me the power to secure Israel's security. Give me the power to decide on Israel's borders." Netanyahu qualified his pledge by saying that such a move requires a supportive coalition, which, if the polls are to be believed, is anything but certain. Netanyahu has also said that the annexation of the Jordan Valley would be only the first step toward annexing other areas in Judea and Samaria.
Following Netanyahu at the podium was Moshe Feiglin, head of the right-wing Zehut party, whose own speech was called by one of Israel's leading historians the most Zionistic public address in recent years. "The Prime Minister's statement is nothing short of historic," said Feiglin, who recently merged his party with Netanyahu's Likud in order to avoid wasting votes on right-wing parties that have little chance of passing the electoral threshold. 
Feiglin went on to explain that Netanyahu's vow marked the "first time since the signing of the damned Oslo Accord that the Israeli Right is ready to implement an alternative strategy to that of the Left." The significance of the prime minister's statement, Feiglin continued, lies in the fact that it unapologetically states that "we are not colonialists in our own land, that we have every right to impose sovereignty over this area because it is our Land, and ours alone."
Naturally, Netanyahu is now facing harsh criticism over his new commitment. "Blue and White" party co-leader Yair Lapid said that he objects to the promised annexation on the grounds that "it is technically impossible." 
But the simple fact of the matter is that the annexation of the Jordan Valley has been an Israeli consensus for decades. Only recently has the Left, which now on principle opposes anything proposed by the Right, raised any real objections.
The annexation of the Jordan Valley is known by Israelis as the "Allon Plan," and was laid out already in the aftermath of the 1967 Six Day War by then-Minister of Labor Yigal Allon, the legendary commander of the Jewish paramilitary group Palmach during the 1948 War of Independence. 
Allon's plan was accepted by most members of then-Prime Minister Levi Eshkol's coalition, and until recently has remained acceptable to both left- and right-wing Knesset factions. The original Allon Plan differs somewhat from the annexation map presented by Netanyahu, which includes the entirety of the Jordan Valley, but the idea remains the same, namely that Israel's sovereign border must run the length of the Jordan Valley lest the Jewish state be left indefensible.
The Allon Plan was partially implemented by successive Labor (read: left-wing) governments, which built 16 Jewish settlements along the 87-kilometer Allon Road (routes 458, 508, 578) that begins at Kfar Adumim Junction in the south and ends at Mehola in the north. Both plans, that of Allon and Netanyahu's new map, assume that an Arab state west of the Jordan River is an impossible prospect. The difference, however, is that Allon spoke only in terms of security. Netanyahu, as echoed by Feiglin, speaks in terms of national rights, as well as security.
If indeed he is reelected, and depending on the coalition he is able to form, Netanyahu will most certainly annex the Jordan Valley, and by doing so will put an end to the dream of a Palestinian state on ancient Jewish lands.
———————————————-
FINAL POLLS: NETANYAHU EDGING TOWARDS MAJORITY RIGHT-WING BLO

C
The final polls released ahead of next week's election indicated that Prime Minister Benjamin Netanyahu was inching his way closer to being able to form a right-wing coalition, but still falling just short of the mark.
In the Channel 12 and 13 surveys released Friday, which under Israeli law was the last day polls were allowed to be published before the September 17 vote, Netanyahu's Likud party and its centrist rival Blue and White were in a dead heat. However, Netanyahu's potential right-wing coalition moved up to 59 and 58 seats in the respective surveys. Sixty-one seats are needed for a majority in the 120-seat Knesset.
Most polls in recent months had Netanyahu's right-wing and religious partners at 55 or 56 seats, with the rise in Friday's polls indicating that momentum was with them in the final days before the election.
Analysts on Channel 12 noted that the right-wing bloc has traditionally also fared better in the actual vote, compared to the polls, potentially heralding good news for its constituent parties.
Camil Fuchs, the pollster who conducted the Channel 13 survey, also highlighted the difficulty of polling in the ultra-Orthodox community and said his results could be underestimating Shas and United Torah Judaism's actual electoral strength.
Analysts also said that a low turnout was expected amid voter apathy, but he ultra-Orthodox community might duck that trend, with rabbis calling on their constituency to vote.
In both of Friday's surveys, Likud and Blue and White were each predicted to win 32 seats. The two parties received 35 seats apiece in elections in April.
The polls also indicated that the left-wing parties were hemorrhaging support.
The left-wing Democratic Camp alliance received six seats in the Channel 12 poll and five from Channel 13.
Labor, which is running together with former MK Orly Levy-Abekasis's Gesher party, got five seats from Channel 12 and four from Channel 13, both of which would mark an all-time low for the party whose previous iterations led Israel for nearly 30 years after the state's founding.
———————————————-
Drone attacks sparked fires at Aramco oil facilities in eastern Saudi Arabia today

Attacks took place at 4:00am at world's largest oil processing plant Abqaiq

The Saudi interior ministry said the fires have now been brought under control 

Iran-backed Houthis claimed responsibility for attacks in Buqyaq and Khurais 

Tensions are running high in the region after attacks in June and July on oil tankers in Gulf waters that Riyadh and Washington blamed on Iran
Ten drones launched by Iran-backed militants sparked a huge fire at the world's largest oil processing facility and a major oilfield in Saudi Arabia in the early hours of this morning.
The fires at Abqaiq in Buqyaq, which contains the world's largest oil processing plant, and Khurais, which contains the country's second largest oilfield, have now been brought under control since the drone attacks at 4.00am local time.  
Tensions are running high in the region after attacks in June and July on oil tankers in Gulf waters that Riyadh and Washington blamed on Iran. 
A military spokesman for Yemen's Houthi rebels, considered an Iranian proxy force in the region, has claimed responsibility for today's attacks on Abqaiq and Khurais, two major facilities in eastern Saudi Arabia run by state-owned oil giant Aramco.  
Houthi fighters in Yemen have previously launched attacks over the border, hitting Shaybah oilfield with drones last month and two oil pumping stations in May. Both attacks caused fires but did not disrupt production. 
Yahia Sarie announced that the Houthi's were taking responsibility for the attacks on Saturday in a televised address carried by the Houthi's Al-Masirah satellite news channel.
He said the Houthis sent 10 drones to attack an oil processing facility in Buqyaq and the Khurais oil field, warning that attacks by the rebels against the kingdom would only get worse if the war in Yemen continues.
Sarie said: 'The only option for the Saudi government is to stop attacking us.'  
Iran denies supplying the Houthis with weapons, although the U.N., the West and Gulf Arab nations say Tehran does. Drone models nearly identical to those used by Iran have been used in the conflict in Yemen.  
The attacks highlight how the increasingly advanced weaponry of the Iran-linked Huthi rebels – from ballistic missiles to unmanned drones – poses a serious threat to oil installations in Saudi Arabia, the world's top crude exporter.
Saudi Arabia's oil production and exports have been disrupted, three sources familiar with the matter have said.
One of the sources said the attacks have impacted 5 million barrels per day of oil production – almost half the kingdom's current output. The source did not elaborate.
Saudi Aramco operates the world's largest oil processing facility and crude oil stabilisation plant in the world at Abqaiq, in eastern Saudi Arabia. The plant has a crude oil processing capacity of more than 7 million barrels per day.
Authorities have not reported on casualties. A witness nearby said at least 15 ambulances were seen in the area and there was a heavy security presence around Abqaiq. 
The attack will likely heighten tensions further across the wider Persian Gulf amid a confrontation between the U.S. and Iran over its unraveling nuclear deal with world powers.   
Saudi Aramco describes its Abqaiq oil processing facility in Buqyaq as 'the largest crude oil stabilisation plant in the world.' 
The facility, which processes sour crude oil into sweet crude, then later transports onto transshipment points on the Persian Gulf and the Red Sea, has been targeted in the past by militants. 
Abqaiq facility, located 37 miles southwest of Aramco's Dhahran headquarters, is home to the company's largest oil processing plant, according to its website (pictured: Smoke is seen following a fire at an Aramco factory in Abqaiq)
——————————————–
Disturbingly, the main concern of Blair's think-tank appears to be the online verbal"hatred" displayed by citizens in response to terrorist attacks—not the actual physical expression of hatred shown in the mass murders of innocent people by terrorists. Terrorist attacks, it would appear, are now supposedly normal, unavoidable incidents that have become part and parcel of UK life.

Unlike proscribed groups that are banned for criminal actionssuch as violence or terrorism, the designation of "hate group" would mainly be prosecuting thought-crimes.

Democratic values, however, appear to be the think-tank's least concern. The proposed law would make the British government the arbiter of accepted speech, especially political speech. Such an extraordinary and radically authoritarian move would render freedom of speech an illusion in the UK.

The Home Office would be able to accuse any group it found politically inconvenient of "spreading intolerance" or "aligning with extremist ideologies"—and designate it a "hate group".
The problem, as the think-tank defines it, is "the dangerous nature of hateful groups, including on the far right like Britain First and Generation Identity. But current laws are unable to stop groups that spread hate and division, but do not advocate violence". The think-tank defines what it sees as one of the main problems with hate crime the following way:
Specifically, the report mentioned as problematic the rise online in "hate incidents" after three Islamic terrorist attacks in the UK in 2017 — the Westminster car-ramming and stabbing attack in March by Khalid Masood, who murdered pedestrians and a police officer; the Manchester arena bombing in May, at the end of an Ariana Grande concert, in which Salman Abedi murdered 22 people—the youngest only 8 years old—and injured more than 200 people; and the London Bridge ramming attack in June, in which Rachid Redouane, Khuram Butt and Youssef Zaghba drove a van into pedestrians on London Bridge and then proceeded to stab people in nearby Borough Market. Eight people were murdered in that attack.
Disturbingly, the main concern of Blair's think-tank appears to be the online verbal "hatred" displayed by citizens in response to terrorist attacks – not the actual physical expression of hatred shown in the mass murders of innocent people by terrorists. Terrorist attacks, it would appear, are now supposedly normal, unavoidable incidents that have become part and parcel of UK life.
The report defines a hate group as:
"Spreading intolerance and antipathy towards people of a different race, religion, gender or nationality, specifically because of these characteristics; Aligning with extremist ideologies… though not inciting violence; Committing hate crimes or inspiring others to do so via hate speech; Disproportionately blaming specific groups (based on religion, race, gender or nationality) for broader societal issues".
It would be up to the government to define what is understood by "spreading intolerance", or "blaming specific groups for broader societal issues".
Being designated a "hate group", it is underlined in the report, "would sit alongside proscription but not be linked to violence or terrorism, while related offences would be civil not criminal".
Unlike proscribed groups that are banned for criminal actions, such as violence or terrorism, the designation of "hate group" would mainly be prosecuting thought-crimes.
Democratic values, however, appear to be the think-tank's least concern. The proposed law would make the British government the arbiter of accepted speech, especially political speech. Such an extraordinary and radically authoritarian move would render freedom of speech an illusion in the UK. The Home Office would be able to accuse any group it found politically inconvenient of "spreading intolerance" or "aligning with extremist ideologies"—and designate it a "hate group".
It would make the old Soviets proud.
——————————————–
The machinations of an illiberal left, on display in its ever-increasing violence accompanied by the ululations of a propagandist media in contravention of an imaginary "white supremacist" right, have riven the nation into diametrically opposed camps. 
The right will never accept socialism, while the left will accept nothing less.
TRUMP WINS
Those on the left will not allow a Trump victory, even should he win the popular vote and the Electoral College.  They are used to getting what they want and like spoiled brats, have learned that tantrums work. 
Should Donald Trump prevail in his bid for a second term, the left will go insane, deploying every "insurance policy" weapon at their disposal to negate four more years of the Orange Man.  What Obama, Comey, and Brennan et al. did to Trump in his first term will seem mild in comparison to what the left is planning should he win.
Antifa, the military arm of the Democratic Party, has not spent the last three years practicing and organizing merely to sit on the sidelines.  They have used the interregnum to mobilize and learn tactics, while probing to find what government will allow, media will trumpet, and the public will endure.
The skirling "resistance" has morphed from pajama-boy blobs of perpetually offended little dictators and pussy-hat sporting shriekers into balaclava-wearing avengers who crave the opportunity to put deplorables in their place and give them the government they deserve good and hard.  They will flood the streets after a Trump victory in their Antifa costumes looking to bust the heads of anyone near enough to become part of their 15 minutes of YouTube fame.
It will start in the cities—the Democrat-run cities, of course—where the political leadership will provide them a measure of protection against identification and arrest.  Seattle, Portland, LA, San Francisco, NYC, Chicago, Atlanta, Boston, and Baltimore, among others, will become flashpoints of unrest. 
The riots will be portrayed by the media and the Democrats as a groundswell of support for deposing a racist president.  They will bemoan the necessity of the violence, destruction, and loss of life, but remind Americans that "the people have spoken."  Some among the Antifa will be championed.  In lockstep, both the New York Times and the Washington Post will run headlines calling them: "The New Founding Fathers."  People who fight back will quickly grow in number—even as the media label them "white supremacists."  Blood will be spilled.
China, Iran, Russia, and Venezuela will plead for calm and offer to mediate the evolving humanitarian crisis…
TRUMP LOSES
The right will never believe the Democrats didn't cheat their way to victory; in addition to understanding that a Democratic President will undemocratically implement policies by executive order that are inimical to their interests and desires.
Many on the right are weary of leaders who prioritize good press over good policy, and who prefer losing gracefully over winning ugly.  They believe they did build that and that they have not yet made enough money and are fed up with being portrayed as ignorant and evil just because of political disagreements.  Eight years of Obama and three years of watching his slow-motion coup have made them angry.
Tone-deaf to this silent majority and emboldened by victory, the new president will borrow Barry's "pen and phone" and start issuing executive orders throwing open our borders, banning fossil fuels, and of course, implementing "common sense" gun control.  Buoyed by media, the new president will start with universal background checks and a gun registry. 
Eventually, the president will overreach, signing an order for gun confiscation, euphemistically called, "mandatory buybacks."  Antifa and their ilk will flood the streets in support of seizing these "weapons of war."  Media will declare, "It's the will of the people."
And for the right, that will be the last straw (plastic or paper).
The left doesn't understand that every gun owner is a single-issue-voter; millions will refuse to give up their guns.  And, many gun owners in this country will not go "meekly into the night," there will be "rage" against what they will see as a usurpation of their constitutional rights. 
Confiscation will go well at first, with gun owners in the cities acquiescing to the knock on the door in the middle of the night and the intimidation of, "Papers please."
But in flyover country, a different scenario will play out.  Most gun owners will hide their weapons and most local police departments will accept that, not wanting to jail their neighbors.  Resistance will be broad, perhaps encompassing hundreds of millions of Americans.  Barack Obama, for once in the dismal history of his efforts to kill the America we love, will be proven correct.  Americans do "cling to their guns." 
The media will call it "white supremacy," but a still unregulated internet will be rife with videos of an out of control government battling its own citizens. 
The president will call for mobilizing the National Guard.  Some governors will refuse, and army units now overseas will be sent home to deal with the growing unrest.  Mistakes will be made and there will be gunfire in the streets; people will die on both sides.  The  president will desperately call for martial law. 
Many Army, National Guard, and police will defect, or desert, or simply refuse orders. 
What will happen after that is anybody's guess. 
——————————————–
Public-opinion polls reflect that large numbers of Americans in their 20s and 30s (i.e., Gen Z and millennials) support socialism. When one considers the indoctrination to which these young Americans have been subjected in their state-run educational systems, their preference for socialism actually makes sense.
From the first grade, American students are indoctrinated with the notion that they live in a free country, one that has a free-enterprise economic system. By the time they graduate from high school, students have no doubts that this is true. The notion is refortified in those students who go on to college. By the time Americans start their careers, their mindsets are set in concrete: They are grateful that they live in a free country. Many of them continue reciting the Pledge of Allegiance, which they learned in school and which they were expected to recite every day, a pledge that confirms that in America there is "liberty for all."
Now, look around you. Examine the society in which you live. There are crises, chaos, and mayhem everywhere. Social Security. Health care. Immigration. Federal spending and debt. Monetary. Afghanistan. Iraq. Syria. Korea. Russia. China. Drug war. Forever wars. Secret surveillance. Assassinations. Death. Destruction. Bombings. Terrorism. Mass killings. Tribunals. Torture. Indefinite detention. Militarism. Invasions. Occupations. Coups. Regime-change operations. Trade wars. Sanctions. Embargoes. Police states. Alcoholism. Drug addiction. Homelessness. Poverty. Suicides.
It's not a pretty picture, is it? It's a picture of a quite dysfunctional society.
In the mind of the Gen Zer and the millennial, that is what comes with freedom and free enterprise. Given such, it's perfectly logical to want something else, and that something else happens to be socialism. It even makes sense that so many young people decide to check out of life early through suicide. They're thinking, "If this is freedom — if this is the best there is — no, thanks. I'm leaving and hopefully going on to something better."
Conservatives and liberals
Moreover, it's not just people in their 20s and 30s who believe this. Conservatives and progressives (i.e., liberals or leftists) believe the same thing. They all fervently believe in the words of the Lee Greenwood song, "I'm proud to be an American where at least I know I'm free." That's why whenever they see a U.S. soldier, they go out of their way to thank him for "his service" in keeping America free. They have absolutely no doubts that they live in a free country, one that has a free-enterprise economic system.
Ironically, however, conservatives and liberals divide into two camps: Conservatives decry socialism and defend what they are convinced is America's free-enterprise system. Liberals decry what they too are convinced is America's free-enterprise system and want it replaced with a socialist system.
It's all one great big confused mindset, one that is the direct result of state indoctrination.
The libertarian breakthrough
What distinguishes us libertarians from non-libertarians is that we have succeeded in breaking through the state's system of indoctrination.
The truth is that Americans are not free and they don't live in a free-enterprise system. What the state ingrained in during those long years in the state's education system was a lie from the start. Americans lives their lives as serfs on a giant government plantation, one that is based on the statist principles of socialism, interventionism, militarism, and imperialism.
America's system is based on massive mandatory charity. Through such programs as Social Security, Medicare, Medicaid, education grants, farm subsidies, foreign aid, and thousands of others, Americas are forced to be good, caring, and compassionate.  There is no way to reconcile that type of system with freedom. Freedom necessarily entails the right to make charitable decisions on a purely voluntary basis.
America's system is also based on control, regulation, and management of peaceful activity. The drug war is a good example. President Trump's trade wars and unilateral impositions of tariffs, sanctions, and embargoes is another. America's system of immigration controls is another. There is no way to reconcile such a system with the principles of a genuinely free society. A free society necessarily entails ingesting whatever you want, no matter how harmful, traveling wherever you want, and doing whatever you want with your own money.
America's system is also based on a national-security state, a type of totalitarian government structure, one that comes with assassination, torture, coups, invasions, bombings, sanctions, embargoes, wars of aggression, occupations, indefinite detention, military tribunals, death, suffering, and destruction. There is no way that such things can be reconciled with the principles of genuinely free society. A free society necessarily entails a limited-government republic type of governmental system.
Thus, we libertarians lament the dysfunctional state of American society, just as many Gen Xers, millennials, and leftists do. The difference is that they think that the dysfunctionality is the result of freedom and free enterprise and, therefore, want socialism to replace it. We libertarians, on the other hand, realize that the dysfunctionality in American society is owing to the socialist, interventionist, militarist, and imperialist system under which we live, which is why we favor a genuinely free society, a genuine free-enterprise system, and the restoration of a limited-government republic.
The hope for America
Given the popularity of statism among Gen Zers, millennials, conservatives, and liberals, is there much hope for putting American back on the right track? Of course there is! Since we libertarians have succeeded in breaking through the indoctrination to which the state subjected us in its educational system, so can others. We libertarians just need to keep speaking the truth and sticking to our principles. That's the best way to help others achieve the same breakthrough that we libertarians have achieved.
——————————————–
Torrential rain that has been falling in Spain's Mediterranean area left two people dead in Caudete, Valencia province. 
Ontinyent in the same province recorded a staggering 277.6 mm (10.93 inches) of rain, making September 12 its wettest day since records began in 1917.
The extreme weather has caused flooding in other parts of Valencia, as well as in Murcia and Castile-La Mancha.
The Clariano river in Ontinyent, a village in Valencia, has also burst its banks, requiring 40 people to be rescued and 150 evacuated from their homes.
Now look at that major flooding event just off the motorway A-7 in Orihuela, Alicante, east Spain:
A small tornado formed at around three in the morning on Dénia's Raset beach, in Alicante province, damaging the municipal sports center and ripping up trees, traffic signs and roofs. Winds of 104 kilometers per hour were recorded.
The rising waters of the Clariano river have also destroyed a 16th-century bridge in Aielo de Malferit (Valencia). The centuries-old structure "is completely gone," said the mayor, Juanra Espí.
Spain has been hit by a bout of extreme weather this week, with the eastern region of Valencia in particular battered by torrential rain and flooding.
Yes, this is what it looks like when 277.6mm of rain falls on your city:
The unusual conditions are the result of a gota fría, or "cold drop," a term used to describe a sudden fall in temperatures along the east coast caused by the arrival of very cold polar air.
A school wall in Ontinyent also collapsed on Thursday because of the extreme weather. The heavy rainfall caused the Cànyoles River to rise and the Bosquet ravine in Moixent also flooded, with several cars dragged away in the torrential flow of water.
The cold drop hit the Mediterranean area on Monday and is forecast to last until midday on Friday. According to Spain's meteorological agency AEMET, the extreme weather will intensify as it strengthens north of Algeria and in the southeast of the peninsula, leading to more torrential storms.
Almería, Alicante, Valencia and Murcia have been put on red alert until Friday for heavy rainfall and storms, with between 60 and 90 millimeters expected to fall in an hour, and more than 200 millimeters in total.
These storms will be among the worst in the last 13 years for their torrential intensity, persistence, the presence of very strong winds up to 100 kmh. There is also possibility of dramatic hail storms, 4-meter-high waves, waterspouts and tornadoes in the Levante.
——————————————–
TRUMP ANNOUNCES FEDERAL CAMPS FOR HOMELESS-THAT WOULD BE FEDERAL FEMA CAMPS
Submitted by Dave Hodges on Saturday, September 14, 2019 – 11:49.
Trump's idea to federally house the homeless may seem like a humanitarian gesture. However, it sets a very dangerous precedent in that the government can detain a certain noncriminal class of people. Ultimately, this is called FEMA camp incarceration.
——————————————–
CHINA & US ADVANCING DRONE SWARM TECHNOLOGY – A HARBINGER OF REVELATION 9

?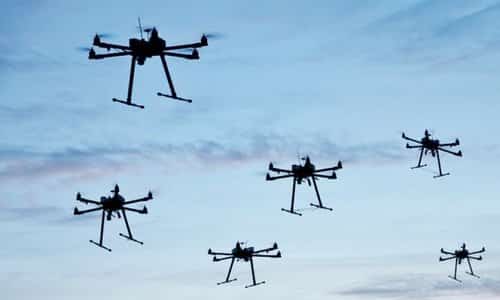 By PNW Staff September 04, 2019
Have you ever seen a large flock of birds flying in unison? They look like a cloud. And the whole flock can shift left, right, up, or down – all in a split second. 
Despite their quick shifts, these birds act as one. They aren't disorganized or disjointed. They fly in perfect harmony as if they have a single mind. We observe similar behavior in schools of fish, bees, locusts, gnats, and all sorts of animals.
Now, imagine one of these groups is coming to get you. That's right. Imagine a swarm of bees is coming after you. Would a shotgun do you much good? Not really. You can fire into a swarm of bees, and you might take out one or more. 
But you know what? The swarm will keep coming. This is because the power of a swarm is decentralized. A single strike won't stop it.
Drone swarms are about to change the face of modern warfare and some prophecy watchers find both the technology and name of the US Naval program behind it perhaps more than coincidence. The US navy recently demonstrated its Low-Cost UAV Swarming Technology (LOCUST) program by putting 30 drones flying together in perfect formation.
These drones are launched from a special tube in less than a minute to create a vicious swarm designed to overwhelm an adversary autonomously. 
What makes the swarm unique is that any hostile aircraft, manned or unmanned, can be brought down by a single missile, but a swarm can take multiple hits and keep going. The drones are self-reconfiguring so that if one drone gets taken out, the others autonomously change their behavior to complete the mission.
China is one of the nations leading the charge on the development of drone swarm technology.  Some reports indicate that China has successfully tested a swarm of one thousand drones. And China appears to be interested in swarm capability as a method of attacking US aircraft carriers. 
Several test simulations by the US Navy have shown that drone swarms are consistently able to get past ship defenses that are geared towards shooting down single planes. This weakness means it makes sense to attack an enemy ship with a large number of cheap drones rather than one missile costing the same. Ironically, the best counter to drone swarm attacks being studied is a defensive drone swarm that can intercept the offensive ones.
The aim is to have drones flying together without having to be individually controlled, maintaining separation safely like a flock of birds. They are different from any other drone in that the operator does not control an individual aircraft, but pilots the whole swarm as a single unit.
Intel has demonstrated the power of large swarms when it stole the show at last year's Winter Olympic Opening Ceremony in South Korea with a co-coordinated drone light show (see footage here), and at the same time captured a Guinness World Record for most simultaneous airborne drones: 1,218 in total.
A 2018 test of DARPA's Collaborative Operations in Denied Environments (CODE) demonstrated how a drone swarm, when communications with its human controllers were disrupted, could still find and strike targets simply by the AI following the intent of the mission plan.
With manned aircraft and ships, the pilot's life counts for a lot; but swarming drones are expendable and high "casualties" do not matter as much. This is a very different world to the dogfights that, historically, have made up modern warfare and could drastically alter the course of air warfare forever.  
Experts predict that as drone swarm techniques are perfected they will expand both in number and use.  The Office of Naval Research has already experimented with a swarming configuration of 13 robotic boats on Virginia's James River. The boats were able to perform a variety of tasks to protect a high-value ship from incoming craft.
Earlier this year it was reported that the EU had been working with member states to help roll out a system called ROBORDER that would employ swarms of autonomous drones to patrol air, land and sea for border violations.
Some prophecy watchers find it interesting that the Bible describes "locust" type creatures that play a significant role in end-time conflict.  Revelation 9 describes them this way:
"The shape of the locusts was like horses prepared for battle. On their heads were something like crowns of gold, and their faces were like faces of men. They had hair like the hair of women, and their teeth were like the teeth of lions. They had breastplates like breastplates of iron, and the sound of their wings was like the sound of chariots with many horses running to battle. They had tails like scorpions and stings in their tails. Their power was to hurt men for five months. They had as king over them the angel of the bottomless pit, whose name in Hebrew is Abaddon, and in Greek his name is Apollyon."
(Revelation 9:7-11).
What on earth was the Apostle John talking about? Exactly what kind of locusts did he witness on the Isle of Patmos where he received these prophetic revelations? 
The traditional interpretation is that these locusts could be evil entities and/or demonic physical or spiritual beings that will rise up out of the bottomless pit (abyss) to torment people and assume the characteristics of locusts.
Others speculate they may be some form of grotesque variation of natural locusts as we know them today (perhaps even some form of chimeras or other DNA manipulation that scientists are now moving ahead with), or did John the Apostle perhaps see some advanced military aerial machinery that he lacked the words to describe? 
The revelations were given to him about 2,000 years ago when there would have been no way for him properly to describe 21st-century technological inventions that would follow many centuries later. Is it possible John was describing some type of technology in our day similar to the LOCUST program?  
With China leading the way in this technology and also being a potential candidate for the "Kings Of the East" mentioned in Revelation with it's 200 million man army – it makes for a scary combination.
Until recently, the most common technological correlation was that of helicopter gunships but, as insect looking drones and swarm technology become more common, this may present an interesting possible explanation.
Either way, Revelation 9 suggests a time of immense pain and suffering that no one will want to experience, regardless of what final form it takes.  Drone swarm technology should serve as a reminder of such warnings.
Learn more about China's drone swarm advances and it's direct threat to the US here: