This Happened On Planet Earth…Aug. 2019…End Times Signs

Published on Aug 15, 2019
 

Please Help Support This Ministry:

https://www.paypal.me/watchman1963

Cash App : $watchman1963 Please subscribe to my backup channel:

https://www.youtube.com/channel/UC4nc…

Current Events Linked To Biblical Prophecies. Everything is unfolding just as the bible foretold. Wars, Volcanic Eruptions, Earthquakes, Extreme Weather, Christian Persecution, Violence and more!
Matthew 24:3-14 3 Now as He sat on the Mount of Olives, the disciples came to Him privately, saying, "Tell us, when will these things be? And what will be the sign of Your coming, and of the end of the age?" 4 And Jesus answered and said to them: "Take heed that no one deceives you. 5 For many will come in My name, saying, 'I am the Christ,' and will deceive many. 6 And you will hear of wars and rumours of wars. See that you are not troubled; for all these things must come to pass, but the end is not yet.
7 For nation will rise against nation, and kingdom against kingdom. And there will be famines, pestilences,[b] and earthquakes in various places. 8 All these are the beginning of sorrows. 9 "Then they will deliver you up to tribulation and kill you, and you will be hated by all nations for My name's sake. 10 And then many will be offended, will betray one another, and will hate one another.
11 Then many false prophets will rise up and deceive many. 12 And because lawlessness will abound, the love of many will grow cold. 13 But he who endures to the end shall be saved. 14 And this gospel of the kingdom will be preached in all the world as a witness to all the nations, and then the end will come.
——————————————————
According to God's Timepiece, Our Time is Short!

Published on Aug 15, 2019
 According to God's Timepiece, Our Time is Short! It's Later Than You Think… Time is Short! All the signs of the last days are converging at the same time. Bible Prophecy is happening right before our eyes and like birth pains, the predicted events are happening more frequently and more intently. Never, in the history throughout the world have so many forces, including economic, scientific, techno-logic, ecologic, cultural, geopolitical, moral, spiritual and religion, converged together to bring this world that's already teetering over the edge into the abyss, to a point of no return.

Jesus said when you see all these signs happening, know that I am near, even at the door.
——————————————————
China Prepares For A Hong Kong Invasion—Signs of the Last Days
——————————————————
LATEST WORLD NEWS CLIPS – ARTICLES – THURSDAY AUGUST 15th 2019
John 8:32 And ye shall know the truth, and the truth shall make you free
"My people are destroyed for lack of knowledge" (Hosea 4:6)
1Cor. 12:3 Wherefore I give you to understand, that no man speaking by the Spirit of God calleth Jesus accursed: AND THAT NO MAN CAN SAY THAT JESUS IS THE LORD, BUT BY THE HOLY GHOST.
THE TRIBULATION OF THE UNJUST (Those who have rejected Jesus Christ as their Saviour) IN THE BOOK OF REVELATION CHAPTER'S 6 to 22:
TRIBULATION IS COMING AND THE REMOVAL OF THE CHURCH IS IMMINENT.
THE GREAT "DECEPTION" IS READY TO BE IMPLEMENTED BY THE ONE WORLD GOVERNMENT. ARE YOU READY FOR JESUS CHRIST RETURN
Rev. 3:10 Because thou hast kept the word of my patience, I also will keep thee from the hour of temptation, which shall come upon all the world, to try them that dwell upon the earth:
Luke 12:37 Blessed are those servants, whom the lord when he cometh shall find watching: verily I say unto you, that he shall gird himself, and make them to sit down to meat, and will come forth and serve them
so won't you accept Jesus now and be removed from that event and live forever with Jesus in the Family of God?
2 "(For he saith, I have heard thee in a time accepted, and in the day of salvation have I succoured thee: behold, now is the accepted time; behold, now is the day of salvation.)" (2nd Corinthians 2:6)
——————————————-
DAILY CHRISTIAN BIBLICAL QUESTIONS AND ANSWERS:
——————————————-
WHO SHOULD WE LOVE?
QUESTION:    In 1 Cor. 13:1-5 Paul is adamant that without " Love" none of the other efforts will matter. Who is he wanting us to "Love" and what is his definition of "Love"?
ANSWER:    In Matt 22:36-40 Jesus said the greatest commandments are to love God with all your heart, soul, and mind, and love your neighbour as yourself. In the parable of the Good Samaritan (Luke 25:37) He said a neighbour is anyone in need. In John 13:34 and John 15:12 He said as Christians we must love one another as He has loved us. He said this is how the world will know we are His.
Put these together and it appears he was saying that love should be our default setting when approaching the world, and His definition of love is doing for others as we would have them do for us. I believe this is the love Paul was talking about. The love we express toward others is a reflection of our gratitude to the Lord for the free gift of salvation.
And remember, love is a verb. That means it's something we do, not just something we feel.
WHY DOES GOD LOVE US?
QUESTION:    I have been a born again Christian for about 7 months now and have taken to the scriptures like crazy reading and learning. One thing I have not been able to clearly understand in all my reading so far is why man is God's greatest creation. I understand we were made in His image and he actually breathed life into us but how are we actually a more prized creation than say angels for example? They have free will just as we do from what I understand, yet God gave us (man) a way to find redemption where as the angels did not after rebellion. Can you clarify how we are a more prized creation than any other?
ANSWER:    As you've said God created us in His own image and personally breathed life into us. He considers us to be His work of art, has expressed a love for us that's unique in all creation, and provided the means for our redemption when we sinned, even allowing us to be adopted into His own family to share in His inheritance. The Bible clearly says this of us in passages like John 3:16, Galatians 4:4-7, and Ephes. 2:8-10 but doesn't offer any explanation as to why God feels this way about us.
RECONCILING GOD'S ANGER WITH HIS LOVE
QUESTION:    I've always heard the phrase "God loves the sinner, but hates the sin" and we are called to do the same. Because God is love, I am convinced that He truly loves all even the sinners (as stated in (Romans 5:8). But I read in Psalms 5:5 and Psalms 11:5 that he hates the workers of iniquity, and those that love violence. How do we reconcile this?
ANSWER:    The verses you cited are from the Old Testament, before the cross. In Colossians 1:19-20 Paul wrote,
"For God was pleased to have all His fullness dwell in (Jesus) and through Him to reconcile all things to Himself, whether things on Earth or things in Heaven, by making peace through His blood shed on the cross."
This doesn't mean everyone will be saved because of the cross, but that all the sins of mankind were paid for there. Remember, John the Baptist called Jesus, "The Lamb of God who takes away the sin of the world" (John 1:29). That's why whosoever believes in what the Lord did for us there will not perish but have eternal life (John 3:16).
——————————————–
NEWS CLIPS OBTAINED FROM MANY SOURCES – INCLUDING

Tracking bible prophecy.org
Rapture Ready News
Prophecyupdate.Com
Main News Channels
End Times Headlines
Prophecyupdateblogspot.com
Stevequayle.com
Gracethrufaith.com
Nowtheendbegins.com
Other Christian Sites
(CLICK ON) LATEST DAILY NEWS CLIPS:
ISRAEL NEWS:
THE MIDDLE EAST PEACE PLAN IS "ANTI GOD" – (GOD WILL NOT ALLOW JERUSALEM TO BE DIVIDED).
ZECHARIAH 12:2-3
I AM GOING TO MAKE JERUSALEM A CUP THAT SENDS ALL THE SURROUNDING PEOPLES REELING … Zech. 12:2
God is in control, and He told the nations the consequences of dividing the Promised Land and declaring peace and safety on their own terms (Joel 3:1-2; I Thess. 5:3)
WORLD TERRORISM – WARS
GENERAL WORLD NEWS:
MASSIVE EARTH CHANGES/EARTHQUAKES/VOLCANOES ETC:
2Chr. 7:13 If I shut up heaven that there be no rain, or if I command the locusts to devour the land, or if I send pestilence among my people;
2Chr. 7:14 If my people, which are called by my name, shall humble themselves, and pray, and seek my face, and turn from their wicked ways; then will I hear from heaven, and will forgive their sin, and will heal their land
CHRISTIAN AND RELIGIOUS WORLD NEWS:
Matt. 24:9 Then shall they deliver you up to be afflicted, and shall kill you: and ye shall be hated of all nations for my name's sake.
Matt. 24:10 And then shall many be offended, and shall betray one another, and shall hate one another
EXTRA WORLD – ALTERNATIVE NEWS:
————————————————-
WORLD – PROPHETIC NEWS ARTICLES PRESENTATION – THURSDAY AUGUST 15th 2019
MIDDLE EAST AND WORLD WAR LOOMING THE BUILD UP TO PSALM 83  – ISAIAH 17 AND GOG OF MAGOG WARS EZEKIEL 38:
THE WHOLE WORLD IS UNSTABLE FINANCIALLY, POLITICALLY, PHYSICALLY, MORALLY, GODLY: – AND BECOMING MORE SO DAILY. (WE ARE IN THE BEGINNING OF SORROWS (MATT 24:8)
THE BIBLE STATES THAT IT WILL ONLY GET WORSE BEFORE THE START OF THE TRIBULATION OF MANKIND – (REVELATION 6)
Matt. 24:6 And ye shall hear of WARS AND RUMOURS OF WARS: see that ye be not troubled: for all these things must come to pass, but the end is not yet.
Matt. 24:7 FOR NATION SHALL RISE AGAINST NATION, AND KINGDOM AGAINST KINGDOM: and there shall be famines, and pestilences, and earthquakes, in divers places.
ISAIAH 17/PSALM 83:
THE DESTRUCTION OF DAMASCUS and
Muslim Countries in the Middle East will launch an attack on Israel
JEREMIAH 49:
PROPHECY OF ELAM – (Possible Attack on Iran's Nuclear Program
————————————————–
THE IRAN-TURKEY THREAT – AMERICA AND ISRAEL ARE THE TARGETS
The United States and Israel must pay close attention to the two actors in the Middle East region who are increasingly challenging the West, and particularly American and Israeli interests. The two nations (actors) are Iran and Turkey. Both are Muslim states, and fundamentalist in nature. Iran is the core state of Shiite Islam, while Turkey seeks the leadership of Sunni-Islam, which is the dominant branch of Islam (about 87-90% of world Muslims are Sunni).
The Islamic Republic of Iran has shown its deadly hostility toward the U.S. from its very beginning in 1979, following the Islamic revolution, which overthrew the Shah of Iran. The Islamist revolutionaries invaded the U.S. embassy and kept 52 U.S. diplomats as hostages for 444 days. Subsequently, in a murderous campaign to gain exclusive power, the Ayatollah Khomeini and his fanatical followers murdered all opposition.
In April, 1983, Iran's chief proxy, the Lebanese-Shiite terrorist group Hezbollah, on orders from the Ayatollahs in Tehran, bombed the U.S. embassy in Beirut, killing 17 Americans. In October of the same year, two truck bombs used by Hezbollah against the U.S. Marine barracks in Beirut, killed 241 U.S. Marine peacekeepers. Iran, through its proxies, continued to strike at American people, and American interests in the region. Iran, in violation of international law, mined the Persian Gulf in 1988. One such mine struck the USS Samuel Roberts, injuring 10 U.S sailors.
In 1996, Hezbollah, with Iranian backing, truck bombed the Khobar Towers in Saudi Arabia, killing 19 American military personnel and wounding 372. Iran helped al-Qaeda, including the 9/11, hijackers, transit through Iran to their training ground in Afghanistan. Following the U.S. overthrow of Saddam Hussein in Iraq, the Iranian regime backed Shiite militias in killing Americans. It provided training, arms and material support, including improvised explosive devises (IED) that killed and maimed countless U.S. military personnel. Africa and Latin America, as well as in Europe, Iran and its Islamic Revolutionary Guard Corps (IRGC) targeted American interests.
The list of attacks and attempted assassinations on U.S. soil and in Europe deserve a separate article. Fast forward to here and now…since May, 2019, when the U.S. administration warned Iran that its provocations would lead to the U.S. using "unrelenting force," the Iranians have continued to harass U.S. and British interests with impunity. Tehran sabotaged four tankers in May and attacked two more on June 13th. In mid-June, Iraqi Shiite militias, loyal to Iran, fired rockets on U.S. bases in Iraq. They have apparently figured out that with a year away from elections in the U.S., the Trump administration won't consider getting into a major war with Iran. They are therefore testing the limits of U.S. patience.
Mohammad Ali Jafari, former commander of the IRGC, reacting to the spike in tension with the U.S. threatened that Iran is able to draw upon its network of militant proxies. He implied that the upside of the recent conflict (with the U.S.) has been the "mobilization of nearly 200,000 armed youth in different countries in the region…" This might be sheer bluster, but the U.S. must be prepared.
In the meantime, Iran is brazenly increasing its nuclear activities. The U.S. Institute of Peace, in an article by Kelsey Davenport on July 8, 2019, reported that, "Since July 1 (2019), Iran has engaged in two breaches of the 2015 nuclear deal. On July 1, (2019) it increased its stockpile of low-enriched uranium above the 300-kilogram limit. On July 8, (2019) it increased enrichment (of uranium) from the limit of 3.67 percent to 4.5 percent."
Iran's threat to Israel is far more immediate and serious. Israel, however, is prepared to respond to Iran with overwhelming force if needed. Iran used Hamas last May to fire 700 rockets from Gaza into Israel. It is also planning a coordinated missile attack on Israel, involving Hamas in Gaza, Hezbollah in Lebanon and Syria, and Iraqi Shiite militias from western Iraq. The lesson from the Holocaust is clear, never ignore a demagogue's threat. Hitler materialized his threat and murdered two-thirds of Europe's Jewry.
Now, the Iranian leaders are making similar genocidal threats against the Jewish state, including Iran's president Hassan Rouhani, who proclaimed last November that, "Israel is a 'cancerous tumor,' and a 'fake regime,' set up by western countries." Iran's Supreme Leader Ayatollah Ali Khamenei went even farther, calling Israel, "A cancer in the region that must be removed." Mojtaba Zolnour, chairman of the Iranian Parliament National Security and Foreign Policy Commission threatened that, "If the U.S. attacks us, only half an hour will remain of Israel's lifespan," Given the Iranian regime's apocalyptic beliefs about the coming of the Mahdi, (Shiite messiah), and its quest for nuclear bombs, Iran poses a global threat.
Turkey, once a NATO bulwark against Soviet adventurism, is now a serious concern to the West. Most of it has to do with Turkey's president Recep Tayyip Erdogan, an arrogant, and dictatorial leader, who consolidated his power by appealing to Islamism, with dreams of leading the Sunni Muslim world. He has whittled away at the secular republic built by Ataturk (The founder of Modern Turkey), and in recent years he has moved away from the West while embracing the Muslim world, including Iran. He is cooperating with Iran and Russia in Syria, while confronting the U.S. with threats to destroy Washington's allies, the Rojave Kurds, who helped the U.S. defeat ISIS.
It seems increasingly clear that should hostilities between the U.S. and Iran turn into war, Erdogan's Turkey may not honor its mutual-defense pledge under article 5 of the NATO charter. Erdogan has become one of the most vocal opponents of the U.S. sanctions against Iran. Erdogan's decision to buy the Russian S-400 missile defense system has further alienated him from the U.S. and NATO.
In Syria, Turkish and Iranian interests converge, both rejecting Kurdish assertion of self-determination, and as Russia takes a more global view on the issues, Turkey and Iran have gotten closer. Iran, Russia, and Turkey have launched the Astana peace process (shaping the future of Syria), excluding the U.S. and its allies. Russia's sympathetic view on Israel's security concerns regarding Iranian and Hezbollah's creeping encroachment toward the Israeli border in the Golan, is another reason for the anti-Semitic Erdogan to find common ground with the anti-Semitic regime in Tehran.
According to Israel Hayom (July 9, 2019), "Turkish organizations teach Arab kids from East Jerusalem that Israel is theirs." Turkish authorities have allowed the military wing of Hamas to operate an office in Istanbul that plans terror attacks, as well as transferring funds to Hamas activists in the West Bank. Erdogan's Justice and Development Party shares common ground with Hamas in that both are affiliated with the Muslim Brotherhood. Three years ago, Erdogan appealed to the Muslim world to defend the Palestinians against Israel, and when Israel reacted to Hamas' rocket attacks against Israeli civilians, he called Netanyahu a "terrorist," and labelled Israel a "terrorist state."
The Jerusalem Post quoted Erdogan as telling young Turks at an Istanbul meeting of the Turkey Youth Foundation, that "The Jews in Israel kick people laying on the ground. In fact, Jews don't kick (just) men but also women and children when they fall on the ground."
Erdogan's blatant antisemitism, and his recurrent tirades against Israel, makes him as much a future threat to Israel as the mullahs of Iran. The anti-American, and anti-Israel venom coming out Ankara and Tehran cannot and must not be ignored.
——————————————–
Deep apprehension in Israel over a Russian U-turn, which is letting small Iranian Al Qods and Hizballah units regain former positions 10-15km from the Israeli and Jordanian borders. They are coming back after Russian forces drove them out last year and established a safe zone at those border districts in their stead.
Reporting this turn of events, DEBKAfile's military and intelligence sources add that the Russian forces, not content with allowing this Iranian-Hizballah comeback, have also evacuated their own positions, leaving the local population under the control of the Al Qods and Hizballah
invaders.  
These actions violate Russian President Vladimir Putin's commitment last year to US President Donald Trump and Prime Minister Binyamin Netanyahu to purge S. Syrian borders of the hostile elements ruled from Tehran an provide monitors for a safe zone.
Washington and Jerusalem have interceded strongly with Moscow against this breach while trying to establish whether they were ordered from Putin's office in the Kremlin or the local command on a directive from the Russian defense ministry. 
For now, neither the US nor Israel has decided how to respond to the new pro-Iranian buildup at Israel's back door. They are also trying to find out if the Russian step is Moscow's response to the US-Turkish safe zone initiative for northeastern Syria. This week, a large American unit landed in southern Turkey to start activating the joint US-Turkish safe zone, which aims to separate the Turkish army from the pro-US SDF militia which is dominated by Syrian Kurds. Moscow may have opened the door to Iran in southern Syria to counter expanding US involvement in the north.
Israel showed first resistance to the new hostile presence at its border on July 24 by firing surface missiles at the intelligence stations Iran was setting up on the Tal Al-Harara hilltop opposite the Golan border. But the Russian move continued notwithstanding.
——————————————–
Hamas leader Yahya Sinwar vowed on Tuesday that the terror group would prevail over the IDF should Israel send troops into the coastal enclave in any future conflict.
"We will defeat the occupation army, if it crosses into Gaza, if God, the ruler of the universe, wills," Sinwar said in a short speech delivered to Palestinian families in his hometown Khan Younis in southern Gaza.
"We will beat that defeated army," he vowed, adding that if there is another conflict with Israel, "we will shower their cities with hundreds of missiles in a single barrage."
Sinwar, second only to Hamas politburo head Ismail Haniyeh in the terror group's hierarchy, is known to use bellicose rhetoric when referring to the possibility of conflict with Israel.
In the past 12 years, Hamas and other terror groups in Gaza have fought three major conflicts with Israel.
On Saturday a senior Israeli minister indicated that Israel was not planning on launching a major military operation against Gaza in direct reaction to a foiled large-scale terror attack from the Strip earlier in the day, but would hit the enclave hard at some point.
Yoav Gallant, a former general and member of the high-level security cabinet, predicted the military would eventually launch a major offensive against the Hamas and other terror groups in the Strip, but its timing would be determined by Israel and not as a reprisal for an attack.
"Hamas will not determine the schedule. We will defend ourselves," Gallant told Channel 12. "There will be another wide-scale operation in Gaza, but we will set the timing and conditions."
——————————————–
An Iraqi defense official on Wednesday said Israel was responsible for a massive explosion earlier this week in a weapons depot controlled by an Iranian-backed Shiite militia in Baghdad.
"All indications point to Israel, perhaps with the support of the United States, completing what it started in Syria in terms of targeting sites with Iranian forces," the unnamed official told the Asharq al-Awsat, an Arabic-language newspaper published in London.
The Israel Defense Forces has not commented on the reports.
According to foreign reports, Israel has been increasingly active in carrying out airstrikes against Iran-backed militias in Iraq, shifting its focus after years of reported raids aimed at keeping Tehran from gaining a foothold in Syria.
Israeli officials have identified Iraq as a likely growing base of operations for Iran-backed efforts against the Jewish state.
"It is clear that we are in the midst of a real battle between Israel and the United States against Iran and its allies in Iraq. It is clear that the two sides chose Iraq to be the place for their unannounced battle," the security official told the Saudi-owned newspaper.
The blast occurred Monday in the Saqr military base in the southern section of the Iraqi capital, which is ordinarily used by the country's Federal Police and the Popular Mobilization Forces, a state-sponsored umbrella group of militias, some of which are supported by Iran, according to Iraq's Interior Minister Saad Maan.
——————————————–
The clashes witnessed atop the Temple Mount this week as the Jews' mourning day of Tisha B'Av coincided with the start of the Muslims' festival of Eid al-Adha were a reminder of how explosive the holy site remains.
The Palestinian leadership needed no reminding. For the past several years, amid waning interest in the "two-state solution," Palestinian Authority Chairman Mahmoud Abbas has been trying to reignite the situation primarily by issuing urgent warnings that Israel plans to divide the sacred plateau in preparation for rebuilding the Jewish Temple. These belligerent statements, combined with ongoing institutionalized incitement, have resulted in numerous acts of violence and terror. 
But Abbas is reading from an old playbook. The alleged conspiracy of the Jews against the Al Aqsa Mosque was first utilized a century ago by the Nazi-affiliated Palestinian Mufti of Jerusalem Haj Amin al-Husseini.
In fact, it was al-Husseini's goal to expel the Jews from Palestine and to prevent any more from arriving. But conventional methods were ineffective in the face of waves of incoming Jewish immigrants and initial British support for the Zionist movement. At the time, the Mufti's power was weak, and those loyal to him were in the minority. The surrounding Arab countries were still too preoccupied with their own problems following independence from the colonial powers. 
The Mufti knew he had to do something dramatic to catch the attention of and mobilize the Arab and Muslim world to aid his cause.
To accomplish this, the Mufti sought to convince the Arab world that the Jews intended to demolish the Al Aqsa Mosque and replace the Dome of the Rock with the Third Temple. "Palestine does not satisfy the Jews, because their goal is to take control of the rest of the Arab countries, Lebanon, Syria and Iraq, and even the Khyber region in Saudi Arabia on the pretext that this was the homeland of the Jewish tribes in the seventh century," al-Husseini repeated to as many Arabs as would listen.
By the late 1920s, clashes between Jews and Arabs near the Western Wall had increased greatly. On September 23 and 24, 1928, rioting Arabs attacked Jewish worshippers on Yom Kippur, the holiest day on the Jewish calendar. The Mufti took advantage of the riots, claiming that the Jews were trying to seize control of the Temple Mount. He presented the British authorities with what he insisted was conclusive evidence that the Jews were trying to destroy Al Aqsa, which by that time Muslims had deemed their third holiest site.
This same "evidence" was conveyed to leaders across the Arab world to persuade them that the Jews sought to "defile" the holy places of Islam. One piece of evidence the Mufti's envoys carried were leaflets from religious Jewish organizations soliciting donations, but which also made reference to Jerusalem and the Temple. Similarly, the religious symbolism present in local synagogues and the fact that the Jews were revering the Western Wall as a remnant of their ancient Temple was all exploited by the Mufti to engender anxiety among other Muslim leaders. 
Thanks to the Mufti's ploys, the Palestinians came to see the Temple Mount and Al Aqsa Mosque as a potent weapon in their struggle against Israel's restoration. While the situation is today somewhat different, and Abbas can no longer summon a mob of Muslims from across the region to massacre Jews at the Western Wall (as the Mufti did in 1929), the conspiracy theory that al-Husseini invented has become a mainstay of Arab political discourse. The phrase "Al Aqsa is in peril" is still routinely used by Abbas and other Palestinian leaders to solicit support from Arabs and Muslims around the world.
——————————————–
Russia says their nuclear-powered missile is far ahead of the United States despite a deadly mishap  during a failed test which killed seven people and sent radiation all over the region, according to Bloomberg. 
Speaking with reporters on Tuesday, Kremlin spokesman Dmitry Peskov said that Russian President Vladimir Putin "has repeatedly said that Russian developments in this area surpass the level achieved by other countries, and are quite unique." 
According to the report "U.S. officials have said repeatedly in the past year that its military is working on such programs," which was echoed in a Monday tweet by President Trump – who said "We have similar, though more advanced, technology," adding "The Russian "Skyfall" explosion has people worried about the air around the facility, and far beyond. Not good!"
The United States is learning much from the failed missile explosion in Russia. We have similar, though more advanced, technology. The Russian "Skyfall" explosion has people worried about the air around the facility, and far beyond. Not good!
— Donald J. Trump (@realDonaldTrump) August 12, 2019
"Skyfall" appears to confirm reports that the weapon being tested was the Burevestnik SSC-X-9 nuclear-powered cruise missile, which Putin introduced during a brief animated segment during his state-of-the-nation address last year.
——————————————–
Complex doesn't even begin to describe the positioning of Iran-Russia in the geopolitical chessboard. What's clear in our current, volatile moment is that they're partners, as I previously reported. Although not strategic partners, as in the Russia-China tie-up, Russia-China-Iran remain the crucial triad in the ongoing, multi-layered, long-term Eurasia integration process.
As for Russia-Iran military cooperation, the upcoming joint military exercises in the "northern part of the Indian Ocean," including the Strait of Hormuz, are a first-ever such occasion, made possible only by a special agreement.
Analyst Gennady Nechaev is closer to reality when he notes that in the event of growing Russia-Iran cooperation, the possibility would be open for "permanent basing of the Russian Navy in one of the Iranian ports with the provision of an airfield nearby – the same type of arrangement as Tartus and Hmeimim on the Mediterranean coast of Syria."  To get there, though, would be a long and winding road.
And that brings us to Chabahar, which poses an interesting question. Chabahar is a deep sea port, on the Gulf of Oman and the key plank in India's mini-Silk Road vision. India invested a lot in Chabahar, to have it connected by highway to Afghanistan and Central Asia and in the future by rail to the Caucasus. All that so India may bypass Pakistan as far as trade routes are concerned.
Chabahar, though, may also become an important node of the New Silk Roads, or Belt and Road Initiative. India and China – as well as Russia – are members of the Shanghai Cooperation Organization. Iran, sooner or later, will also become a full SCO member. Only then the possibility "might" – and the emphasis is on "might" – open for the Russian or Chinese navy occasionally to dock at Chabahar, but still not to use it as a forward military base.
China's priority is energy supplies – and Beijing works the chessboard accordingly. The Chinese ambassador to the United Arab Emirates just issued a trial balloon, mentioning that Beijing might consider escorting oil tankers across the Persian Gulf and the Strait of Hormuz. That could happen independently or – the dangling carrot – as part of Washington's Operation Sentinel, which for the moment has managed to find only one "coalition of the willing" member: the UK.
What's actually happening right now in the Persian Gulf is way more entertaining. As I confirmed with energy traders in Doha late last month, demand for oil right now is higher than in 2018. And in consequence Iran continues to sell most of its oil.
A tanker leaves Iran with transponder off; the oil is transferred to another tanker on the high seas; and then it is relabeled. According to a trader, "If you take two to three million barrels a day off the market by sanctions on Venezuela and Iran, plus the OPEC cutbacks, you would have to see a higher price."
Iranian Foreign Minister Javad Zarif has been proving again and again his diplomatic mastery, running rings around the Donald Trump administration. But all major decisions in Iran come from Supreme Leader Ayatollah Khamenei. That also applies to Tehran's position in relation to multi-level forms of support from the Russia-China strategic partnership.
What the past few months have made crystal clear is how Russia-China's magnetic pull is attracting key Eurasia players Iran, Turkey and Pakistan. And make no mistake: As much as Tehran may be extremely proud of its political independence, it is reassuring to know that Iran is, and will continue to be, a definitive red line for Russia-China.
——————————————–
Mere hours after President Trump tweeted that US intelligence had confirmed the buildup of Chinese troops on the border with Hong Kong, US defense officials warned that Beijing had refused two US Navy ships permission to make port stops in Hong Kong in the coming weeks, a sign that President Xi is none too pleased with how the US has handled itself during the anti-extradition bill protests that have swept Hong Kong over the past ten weeks.
BREAKING: We just got news China is refusing to grant US Navy ships entry into Hong Kong. We're watching market reaction NOW @ClamanCountdown
Beijing has repeatedly warned the US to stop interfering with Taiwan and Hong Kong, or else face consequences, including the implicit threat of force.
Meanwhile, China confirmed that it denied the requests made by the US Navy.
Commander Christensen, Deputy Spokesperson, US Pacific Fleet: The Chinese Government denied requests for port visits to Hong Kong by the USS Green Bay and USS Lake Erie, which were scheduled to arrive in the next few weeks.
Update (1325ET): While we have seen numerous clips on social media of troop build-ups over the past few days, President Trump has just tweeted confirmation:
Our Intelligence has informed us that the Chinese Government is moving troops to the Border with Hong Kong. Everyone should be calm and safe!
— Donald J. Trump (@realDonaldTrump) August 13, 2019
Additionally, seeming to address the rumors of US involvement, he tweeted this just before…
Many are blaming me, and the United States, for the problems going on in Hong Kong. I can't imagine why?
— Donald J. Trump (@realDonaldTrump) August 13, 2019
Update 6: The Chinese government once again condemned the protesters on Tuesday, accusing them of acts of terrorism, rhetoric they've employed against the protesters for days now. Meanwhile, President Trump said he hopes 'nobody gets killed' during the protests in Hong Kong.
Update 5: That didn't take long…
Less than an hour after reports of riot police storming the airport first hit the Internet, HK police have reportedly nearly finished clearing the airport. Few injuries have been reported – but many have been arrested. The Guardian reports that the police have arrested more than 20 protesters.
In one stunning scene, a protester wrested a baton from a riot police officer, who then drew their firearm. Amazingly, nobody was killed.
Police officer had his baton taken from him and was attacked with it. Drew his pistol and aimed at protesters. Astonished nobody killed here tonight. pic.twitter.com/Wox8yziDnz
As Chinese police mass in Shenzen just over the boarder, some journalists are asking important questions.
Knew this yesterday, it's getting dangerous for Hong Kong, they can't fight the police, how in the hell do they think they are going to fight the Chinese military.
— Star Traveler-Dixie is consecrated Ground. (@startraveler785) August 13, 2019
Update 4: In what appears to be one of the most violent clashes in the history of the 10-week anti-extradition bill protests, Hong Kong police are reportedly storming Hong Kong International Airport clad in riot gear ready to clear all protesters from the premises. Clouds of tear gas and pepper spray are reportedly filling the air as police apply liberal doses to the protesters (and probably a few unfortunate travelers who managed to get caught in the cross fire).
Elsewhere, there have been reports of protesters blocking police vehicles – cars and buses –  prompting police to push back with more pepper spray. It's clear that they've been given the order to clear the airport.
Videos of clashes between the police and protesters are proliferating on Twitter.
WATCH: Riot police clash with protesters at Hong Kong airport pic.twitter.com/KfIsBp8Msg
——————————————–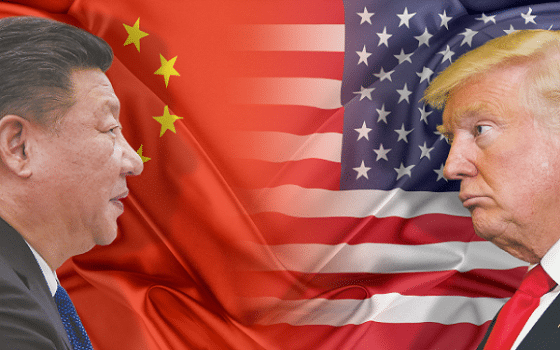 This is not going to end well.  As a result of our ongoing trade war, U.S. relations with China were already rapidly deteriorating, but now the chaos in Hong Kong threatens to completely wreck them.  Violence between political protesters and riot police is making headlines all over the globe, and as you will see below, the Chinese are squarely blaming the United States for what is happening.  On Tuesday, flights at Hong Kong International Airport were canceled for a second day in a row, and riot police stormed the airport in an attempt to evict the thousands of protesters that were occupying it.  This resulted in extremely violent clashes, and you can see raw video of one of these confrontations right here.  Needless to say, the Chinese government is extremely alarmed by these developments.  According to ABC News, one top official told the press that these protests in Hong Kong "have begun to show signs of terrorism"… (

READ MORE…

)
——————————————–
We are watching a complete and utter financial meltdown unfold in Argentina, and many are concerned that the panic could start spreading elsewhere.  When you go into way too much debt and you just keep devaluing your currency, this sort of thing is inevitably going to happen, and this is why I am endlessly criticizing the path that the United States is currently on.  If we do not reverse course, we will end up just like them.  On Monday, we witnessed the second largest one day stock market decline that we have seen anywhere in the world since 1950.  It is hard to believe, but the most important stock market index in Argentina actually plummeted 48 percent in a single trading session… (

READ MORE…

)
——————————————–
PSALM 117
Praise the LORD, all you nations; extol him, all you peoples. For great is his love toward us, and the faithfulness of the LORD endures forever. Praise the LORD.
There will come a time soon when this psalm's command will be obeyed. All the nations of the Earth will praise the Lord. Actually, nations don't praise anyone, it's the people in them who do, and that's what the psalmist had in mind. He's calling everyone to praise the Lord, no matter who they are or where they come from.
Before that can happen, some really momentous events have to take place. Never in recorded history has the entire family of man voluntarily praised the Lord as one. Great judgements will be necessary to rid the Earth of those who insist upon denying the Lord, and millions of people will be swept away in these judgements.
But not a single one of them will be able to cry foul. Every one of them from the first one to die with denial on his or her lips to the last will have had a face-to-face encounter with the Truth. Everyone will have received at least one bona fide offer of pardon. Everyone will have heard the gospel, and everyone will have consciously rejected it. As they stand before the Great White Throne every one of them will once again relive each time when the offer was presented to them and will recall in detail the brush-off responses they gave. No one will ever be able to say, "I never knew."
How do I know this? It's because I know my Lord. Through His creation, He has made His presence obvious to even the most casual observer (Romans 1:20). The heavens declare His glory, the night time sky proclaims His work (Psalm 19:1-4). He gave His only begotten son that whoever believes would not perish but have everlasting life (John 3:16). He said that whoever asks receives, whoever seeks will find, to whoever knocks the door will be opened. (Matt. 7:7-8) He doesn't want anyone to perish but for everyone to come to repentance. (1 Peter 3:9)
He's gone to such extremes to make the path to salvation clear to anyone who will walk it because He loves us too much to overlook anyone.
He'll try and try to get your attention, calling you first with blessings and if that doesn't work, with hardship. He'll bring person after person across your path with the story of His love. At the beginning of man's existence, He wrote it in the stars so that every father could tell the story to his son as they lay gazing up into the heavens while tending their sheep in some far away pastureland. He's written it into countless books, not to mention His own, which He's had translated into all the languages of the world. He's broadcast it from one end of the heavens to the other on the radio, satellite TV, and the internet. Missionaries without number have carried His message of love to the deepest jungles, the highest mountains, the most inaccessible valleys.
One of the things that will amaze us most when we come into His presence and know as we are known is the extreme measures He's taken to make sure that not one, not one, of his children has been left to wander alone, never hearing His call to come home.
But as it has been in every generation, many in this one will ignore the call and continue on their own way, the way of destruction. As you give thanks today, give thanks that you're not one of them. And as you pray, pray that even one more would finally hear His voice and respond, before it's too late.