This Happened On Planet Earth…July 2019…End Times Signs

Please Help Support This Ministry: https://www.paypal.me/watchman1963 Please subscribe to my backup channel: https://www.youtube.com/channel/UC4nc… Current Events Linked To Biblical Prophecies. Everything is unfolding just as the bible foretold. Wars, Volcanic Eruptions, Earthquakes, Extreme Weather, Christian Persecution, Violence and more!
Matthew 24:3-14 3 Now as He sat on the Mount of Olives, the disciples came to Him privately, saying, "Tell us, when will these things be? And what will be the sign of Your coming, and of the end of the age?" 4 And Jesus answered and said to them: "Take heed that no one deceives you. 5 For many will come in My name, saying, 'I am the Christ,' and will deceive many. 6 And you will hear of wars and rumors of wars. See that you are not troubled; for all[a] these things must come to pass, but the end is not yet. 7 For nation will rise against nation, and kingdom against kingdom. And there will be famines, pestilences,[b] and earthquakes in various places. 8 All these are the beginning of sorrows. 9 "Then they will deliver you up to tribulation and kill you, and you will be hated by all nations for My name's sake. 10 And then many will be offended, will betray one another, and will hate one another. 11 Then many false prophets will rise up and deceive many. 12 And because lawlessness will abound, the love of many will grow cold. 13 But he who endures to the end shall be saved. 14 And this gospel of the kingdom will be preached in all the world as a witness to all the nations, and then the end will come.
————————————————-
14 Russian Sailors Dead After Fire In Secret Navy Submarine | TIME
18,495 views




TIME 




Published on 3 Jul 2019




 A fire on one of the Russian navy's deep-sea submersibles killed 14 sailors, the Russian Defense Ministry said Tuesday without giving the cause of the blaze or saying if there were survivors. Subscribe to TIME ►► http://po.st/SubscribeTIME
————————————————-
Prophecy Update End Times News Headlines – 7/3/19

Published on 4 Jul 2019
 Prophecy Update End Times News Headlines – 7/3/19 A fast-paced highlight and review of the major news stories and headlines that relate to Bible Prophecy and the End Times… All the signs of the last days are converging at the same time. Bible Prophecy is happening right before our eyes and like birth pains, the predicted events are happening more frequently and more intently. Never, in the history throughout the world have so many forces, including economic, scientific, techno-logic, ecologic, cultural, geopolitical, moral, spiritual and religion, converged together to bring this world that's already teetering over the edge into the abyss, to a point of no return.

Jesus said when you see all these signs happening, know that I am near, even at the door.
————————————————-
LATEST WORLD NEWS CLIPS – ARTICLES – THURSDAY JULY 04th 2019
DAILY SCRIPTURE:
John 8:32 And ye shall know the truth, and the truth shall make you free
"My people are destroyed for lack of knowledge" (Hosea 4:6)
1Cor. 12:3 Wherefore I give you to understand, that no man speaking by the Spirit of God calleth Jesus accursed: AND THAT NO MAN CAN SAY THAT JESUS IS THE LORD, BUT BY THE HOLY GHOST.
THE TRIBULATION OF THE UNJUST (Those who have rejected Jesus Christ as their Saviour) IN THE BOOK OF REVELATION CHAPTER'S 6 to 22:
TRIBULATION IS COMING AND THE REMOVAL OF THE CHURCH IS IMMINENT.
THE GREAT "DECEPTION" IS READY TO BE IMPLEMENTED BY THE ONE WORLD GOVERNMENT. ARE YOU READY FOR JESUS CHRIST RETURN
Rev. 3:10 Because thou hast kept the word of my patience, I also will keep thee from the hour of temptation, which shall come upon all the world, to try them that dwell upon the earth:
Luke 12:37 Blessed are those servants, whom the lord when he cometh shall find watching: verily I say unto you, that he shall gird himself, and make them to sit down to meat, and will come forth and serve them
so won't you accept Jesus now and be removed from that event and live forever with Jesus in the Family of God?
2 "(For he saith, I have heard thee in a time accepted, and in the day of salvation have I succoured thee: behold, now is the accepted time; behold, now is the day of salvation.)" (2nd Corinthians 2:6)
——————————————-
DAILY CHRISTIAN BIBLICAL QUESTIONS AND ANSWERS:
——————————————-
Resist The Devil
https://gracethrufaith.com/ask-a-bible-teacher/resist-the-devil/
QUESTION:    I have failed miserably over the years as a Christian. As Jesus said Anyone who wants to follow Him must deny himself and pick up his cross. I know I do not measure up. Maybe here and there I've really tried to do the Lord's will but then I fail again. I used to work as an Lpn in a hospital. I'm disabled now. I didn't confront my co workers and ask them did they know Jesus as their Saviour because I didn't want to make waves. Is this being ashamed of the Lord? If it is, will He tell me to depart from Him? I more then anything want to be like Jesus now. But now I am house bound. I only see my husband and son. I have just made an effort to start a web site telling people that God's gift of Salvation is Free because this Lordship Salvation disturbs me terribly.

I want other Christians to realize that our salvation is a free gift and can't be earned by anything we do but I am still terribly afraid I haven't denied myself enough. I haven't picked up my cross when I should have. I am very upset and all I can do is beg the Lord's forgiveness for being such a poor witness during my life as a Christian. Please let me know what you think about what I've written and thank you again for your help.
ANSWER:    Like many others, you've been taught an incorrect interpretation of this verse. When Jesus talked about picking up our cross and following Him, He was telling us to symbolically put our "flesh" to death, just as He was putting His body to death. He meant we were to stop being so self-centred, always seeking after our own pleasures, and put our life to a more meaningful purpose, living in a manner more pleasing to Him.
We're not called to confront others so much as to be an example of the benefits that come from living a Christian life. Some do this by showing great faith, others by their service, and still others by their love, or by always being at peace no matter what the circumstance. How we live is a much more powerful witness than what we say.
As a nurse, you've lived a life of service to others, bringing comfort and relief, and hope. And the fact that you wish you had done more is an indication of your love for the Lord and your desire to please Him. How could He be disappointed in you?
Now that you're disabled and can't do these things, Satan is trying to make you feel guilty, as if you haven't done enough. Don't let him steal your victory. Resist him and he'll flee from you (James 4:7).
Why Does God Let Satan Afflict Us?
https://gracethrufaith.com/ask-a-bible-teacher/why-does-god-let-satan-afflict-us/
QUESTION:    I've told my daughter, who is 15, that Satan has access to God right now, and has to ask to do things to people…siting the book of Job, where he asked God if he could test him. Is that correct? Then my daughter asked "Why would God ever say yes to him, to allow him to do bad things to people?" That stumps me. Can you help?
ANSWER:    Satan does have to ask permission to afflict people, but God's answer is determined by the state of the person's life. Ephesians 4:27 says continuing anger can give the devil a foothold in our lives. In 1 Cor. 5:1-5 it's sexual sin, and Matt. 18:32-34. it's the refusal to forgive a brother that requires God to give Satan access to us. In Job's case, it was his self-righteousness. He didn't think he deserved to be mistreated, not realizing that by justifying himself he was actually condemning God. (These are just examples and are not meant to be a complete list.)
In certain cases, God is required by His own righteousness to withdraw His protection from a believer in sin. His desire is that this will bring the sinner to his or her senses, and cause him or her to seek the forgiveness that brings reconciliation and restores the protection.
————————————–
NEWS CLIPS OBTAINED FROM MANY SOURCES – INCLUDING

Tracking bible prophecy.org
Rapture Ready News
Prophecyupdate.Com
Main News Channels
End Times Headlines
Prophecyupdateblogspot.com
Stevequayle.com
Gracethrufaith.com
Nowtheendbegins.com
Other Christian Sites
(CLICK ON) LATEST DAILY NEWS CLIPS:
http://www.trackingbibleprophecy.org/birthpangs.php
ISRAEL NEWS:
Zech. 12:3 And in that day will I make Jerusalem a burdensome stone for all people: all that burden themselves with it shall be cut in pieces, though all the people of the earth be gathered together against it
I AM GOING TO MAKE JERUSALEM A CUP THAT SENDS ALL THE SURROUNDING PEOPLES REELING … Zech. 12:2
God is in control, and He told the nations the consequences of dividing the Promised Land and declaring peace and safety on their own terms (Joel 3:1-2; I Thess. 5:3)
WORLD TERRORISM – WARS
GENERAL WORLD NEWS:
MASSIVE EARTH CHANGES/EARTHQUAKES/VOLCANOES ETC:
2Chr. 7:13 If I shut up heaven that there be no rain, or if I command the locusts to devour the land, or if I send pestilence among my people;
2Chr. 7:14 If my people, which are called by my name, shall humble themselves, and pray, and seek my face, and turn from their wicked ways; then will I hear from heaven, and will forgive their sin, and will heal their land
CHRISTIAN AND RELIGIOUS WORLD NEWS:
Matt. 24:9 Then shall they deliver you up to be afflicted, and shall kill you: and ye shall be hated of all nations for my name's sake.
Matt. 24:10 And then shall many be offended, and shall betray one another, and shall hate one another
EXTRA WORLD – ALTERNATIVE NEWS:
————————————————-
WORLD – PROPHETIC NEWS ARTICLES PRESENTATION – THURSDAY JULY 04th 2019
MIDDLE EAST AND WORLD WAR LOOMING THE BUILD UP TO PSALM 83  – ISAIAH 17 AND GOG OF MAGOG WARS EZEKIEL 38:
THE WHOLE WORLD IS UNSTABLE FINANCIALLY, POLITICALLY, PHYSICALLY, MORALLY, GODLY: – AND BECOMING MORE SO DAILY. (WE ARE IN THE BEGINNING OF SORROWS (MATT 24:8)
THE BIBLE STATES THAT IT WILL ONLY GET WORSE BEFORE THE START OF THE TRIBULATION OF MANKIND – (REVELATION 6)
Matt. 24:6 And ye shall hear of WARS AND RUMOURS OF WARS: see that ye be not troubled: for all these things must come to pass, but the end is not yet.
Matt. 24:7 FOR NATION SHALL RISE AGAINST NATION, AND KINGDOM AGAINST KINGDOM: and there shall be famines, and pestilences, and earthquakes, in divers places.
ISAIAH 17/PSALM 83:
THE DESTRUCTION OF DAMASCUS and
Muslim Countries in the Middle East will launch an attack on Israel
JEREMIAH 49:
PROPHECY OF ELAM – (Possible Attack on Iran's Nuclear Program
————————————————–
CURRENT NEWS CLIPS: PERTAINING TO WAR PANGS WORLD WIDE:
——————————————–
Reports that Iran's armed drones which attacked Saudi oil targets on May 14 came from Iraq – not Saudi Arabia – may shift the IDF's anti-Iran targeting map in a new direction.
Iran's Revolutionary Guards Corps (IRGC) seem to have added Iraq to Syria and Yemen as their new war front. Israel may find itself having to expand its area of operations accordingly. DEBKAfile asks: Is anyone in the region acting to put a spoke in Tehran's expansionist wheel?
Prime Minister Binyamin Netanyahu said on Monday, July 2 "We will soon reveal evidence that Iran was lying throughout about its nuclear program," and added: "Israel will not let Iran get away with developing a nuclear weapon."
Is anyone impeding Iran's lies or its nuclear plans?
These questions impelled Netanyahu to assign the Mossad Director Yossie Cohen with making some telling comments at a lecture in Tel Aviv: "A string of attacks on fuel installations and tankers took place in recent weeks. Finding the culprit is an essential topic of discussion, but I can say with certainty that Iran was behind these attacks. They were approved by the Iranian regime and executed by the Revolutionary Guards."
Cohen put in plain and unequivocal language what President Donald Trump and the Saudi and UAE crown princes have declined to spell out: that Iran and the IRGC were the cause of these upsets. Israel backed these words up with action. Early Monday morning, July 1, the Israeli Air Force and Navy unleashed missiles that wiped out IRGC missile stores in Syria. They blew a large hole in the Iranian-Hizballah missile stockpile for attacking Israel, but stopped there. Did this operation have any impact on Israel's prime goal of preventing a nuclear-armed Iran? The answer is no. 
Tehran may be expected to hit back. Against whom and when? According to DEBKAfile's military sources, it would not suit Tehran's other plans at this time to single Israel out and make the Jewish state a key regional player, while the IRGC is expanding its frontline area into Iraq.
The fact that neither the US nor Saudi Arabia responded to the Iranian drone attack by striking IRGC bases in Iraq from which the drone was launched, or even addressing the intelligence data confirming this, has left the initiative with Israel to try and fill the void – or not. For now, Israel can count only on strong verbal backing and sanctions-wielding from Washington and tacit support from friendly Gulf nations, but nothing more is on substantial is available for helping Israel to take on Iran in earnest.
——————————————–
ISRAEL PREPARES TO 'RESPOND TO ESCALATION SCENARIOS'
https://prophecyupdate.blogspot.com/
Amid escalating tensions in the region, Israel has said it is preparing for possible military involvement in a confrontation between the US and Iran.
Foreign Minister Yisrael Katz warned an international security forum on Tuesday that the situation might be brought out of the "gray zone" and into the "red zone" of "military conflagration" if Iran makes any "mistaken calculations."
Israel, Katz said, "must be prepared" for such an escalation and continues to "devote itself to building up its military might" in the event that it would have to "respond to escalation scenarios."
The comments came after a senior Iranian lawmaker warned on Monday that if the US attacks Iran, Tehran will respond and "only half an hour will remain of Israel's lifespan."
The two nations frequently exchange threats and Israel has previously threatened to take military action against Iran to prevent it from making nuclear weapons, though Tehran has denied it is trying to produce the bombs.
Israel has been a major supporter of US President Donald Trump's aggressive "maximum pressure" policy against Iran, including the economic sanctions Washington has used to strangle the country's economy. Katz predicted that the "economic war" on Iran would be successful despite the lack of enthusiasm for it shown by Europe and other powers — a source of frustration in Washington.
Tensions between the US and Iran has been mounting for months, with the US accusing Tehran of attacking two oil tankers in the Gulf of Oman in June. Iran later shot down an American spy drone which it said had entered its airspace, prompting Trump to consider a military strike which he backed away from at the last minute.
Washington accused Tehran of "playing with fire" on Monday after it announced that it had breached uranium enrichment limits under the terms of the 2015 nuclear deal. 
Trump abandoned the deal last year, calling it a "disaster" and the "worst deal ever" but expected Tehran to remain compliant. The White House also alleged on Monday that Tehran had violated the terms of the deal before it even existed.
——————————————–
BUILDUP TO WAR: IRAN THREATENS ISRAEL WITH DESTRUCTION
The rapidly expiring "sunset provisions" – which will lift existing restrictions on Iran's military, missiles, and nuclear programs – were a key factor in President Trump's decision to withdraw from the flawed Joint Comprehensive Plan of Action (JCPOA) in May last year. The first of the sunset provisions, the arms embargo under U.N. Security Council Resolution (UNSCR) 2231, will expire by October 18, 2020.
In its report, JCPOA Sunset Alert, United Against Nuclear Iran (UANI) details the hazards once UNSCR 2231's arms transfer provisions expire. Guns, howitzers, mortars, battle tanks, armored combat vehicles, combat aircraft, attack helicopters, warships, and missiles or missile systems will proliferate throughout the region.
The European Union is skirting the Iran sanction architecture by launching INSTEX. Based in Paris, it is managed by Per Fischer a German banker and the UK is heading the supervisory board.
The channel, set up by Germany, France, and the UK, is called INSTEX — short for "Instrument in Support of Trade Exchanges."
"We're making clear that we didn't just talk about keeping the nuclear deal with Iran alive, but now we're creating a possibility to conduct business transactions," German Foreign Minister Heiko Maas told reporters Thursday after a meeting with European counterparts in Bucharest, Romania.
"This is a precondition for us to meet the obligations we entered into in order to demand from Iran that it doesn't begin military uranium enrichment," Maas said.
Zarif, Iran's Foreign Minister has confirmed violations of stockpile limitations as well as uranium enrichment of 300kg. for low-enriched uranium. These two items are violations of the JCPOA and Europe considers this just a distraction.

The U.S. has sent an estimated 12 F-22 Raptor stealth fighters to Qatar, based at al Udeid Air Base to bolster defenses Iran threats. There is a B-52 bomber task force in the region. The U.S. has dispatched several army batteries that operate the Patriot Missile launchers. Much of this is due to and in preparation for the asymmetric warfare tactics in use by Iran.

Iran is aware they cannot match the United States militarily, so there are two other possibilities and they include attacking Israel and major cyber interruptions.
Speaking at a political conference of ultra-conservatives in Iran's north, Mashaei said, "If the Zionist regime attacks Iran, the Zionists will have no longer than a week to live." 
The semi-official Fars news agency quoted him as saying that the Islamic Republic would destroy Israel "in less than 10 days". On the cyber front, Iran has the abilities to disrupt networks associated with power systems in the region as well as those connected to oil production and shipping. U.S. Cybercom has the authorization, by way of the NDAA to conduct what is known as TMA, traditional military activities where cyber operations are included. Last month, the NYT's reported the U.S. did carry out cyber attacks on Iran.
Iran has established terror cells in Western-allied countries including the United States as noted by this case reported by the FBIjust last month. Additionally, Qassem Suleimani has set up terror sites in Africaprepared to strike oil fields, military installations, and embassies. These operations are managed by a specialized department of the Quds Force known as Unit 400.
——————————————–
RUMORS OF WAR:
https://prophecyupdate.blogspot.com/
While all major powers and signatories to the JCPOA are cautioning Iran in the wake of its declared uranium enrichment ramp-up, there's been mixed reaction and a blame game already emerging. 
Early this week Israel's Foreign Minister went so far as to say Israel may "act alone" to prevent Iran from acquiring nuclear weapons, while China's reaction was very different, slamming US policy and its "maximum pressure" campaign as the "root cause of the current tensions," according to Reuters. EU signatories, meanwhile, urged further dialogue and expressed "extreme concern" over Iran's breaching the 300km uranium enrichment ceiling. 
To be expected, Tel Aviv has remained the most bellicose in reaction to Iranian enrichment activity. Israeli Foreign Minister Israel Katz told Israel Army Radio that the Jewish state would not "allow Iran to obtain nuclear weapons, even if it has to act alone on that".
And Katz further told an international security forum in separate comments that Iran was on its way out of what he called the "gray zone". "It should be taken into account that mistaken calculations by the (Iranian) regime … are liable to bring about a shift from the 'gray zone' to the 'red zone' – that is, a military conflagration," he said in a speech, according to Reuters. 
"We must be prepared for this, and thus the State of Israel continues to devote itself to building up its military might for the event that it will have to respond to escalation scenarios," Katz added. 
Additionally, even mainstream media reporting now acknowledges that Israel has long been on record as mulling a preemptive strike scenario, per Reuters:
Israel has long threatened to take preemptive military action to deny Iran the means of making nuclear weapons. Tehran says it has no such designs. One of its senior lawmakers warned on Monday that Israel would be destroyed within "only half an hour" should the United States attack Iran.
This followed President Trump's condemnation that Iran was "playing with fire" in breaking prior terms of the nuclear deal, something Iran's leaders have slammed as full of hypocrisy given it was the US which unilaterally pulled out of the 2015 deal in May a year ago. 
However, China has grown bolder in its pushing back against threats and the "pressure campaign" out of Washington and Tel Aviv. 
Only two weeks ago China urged the world to stand down from opening "Pandora's Box" in the Middle East amid the soaring tensions in the Persian Gulf. 
A top Beijing official, Chinese State Councillor Wang Yi, had specifically called on the United States to cease its "extreme pressure" campaign against Iran. Notably, this came after he met Syria's foreign minister in the Chinese capital. 
"We call on all sides to remain rational and exercise restraint, and not take any escalatory actions that irritate regional tensions, and not open a Pandora's box," Wang said. "In particular, the U.S. side should alter its extreme pressure methods," Wang said.
But if indeed both the US and its ally Israel get bogged down in yet another lengthy Middle East quagmire, China and Russia would sit back and emerge the likely winners. 
——————————————–
https://prophecyupdate.blogspot.com/
It's one of the more unique, more capable, and more distinctive vessels in Russia's naval fleet. And it now appears to hold the distinction of being the latest Russian naval ship to suffer a catastrophic — and, so far, unexplained — incident. 
Russia's Defense Ministry said on July 2 that a submarine operated by its main naval research-and-development unit had suffered a fire on board, killing 14 sailors. The ship was reportedly operating in Russia's territorial waters in the Barents Sea. 
The ministry did not identify the ship involved in the July 1 incident, describing it only as "a research submersible vehicle designated for studying the seafloor…in the interests of the Russian Navy.
Multiple Russian media outlets, however, reported it was a submarine known as the AS-12; another outlet pointed to a vessel with a similar design, the AS-31.
Nicknamed Losharik, after a Soviet-era cartoon horse made up of balloon-like spheres, both submarines are nuclear-powered vessels that have been the subject of speculation and rumor among Western naval analysts and military experts for years, curious about its design and capabilities.
According to one respected naval blogger, the AS-12 is a deep-diving special missions ship, operated by the Russian Navy's primary research unit, the Main Directorate Deep Sea Research (GUGI).
Nuclear-powered, with a crew of up to 25, the ship has been in service since the early 2000s and is believed to be able to dive as deep as 6,100 meters. 
It's designed in a way that allows it to dive deeper than normal Russian attack or ballistic-missile submarines. It features a series of orbs contained within a traditional-looking submarine hull, thus giving rise to its cartoon nickname.
The submarine is also designed to be carried, or ferried, under the belly of a larger submarine, allowing greater secrecy and shrouding from sonar or other surveillance.
Western military analysts and at least one Russian naval blogger said the ship that most often ferries the AS-12 is the BS-136 Orenburg, a modified Delta III ballistic-missile submarine.
For the wider public, the shadowy world of undersea surveillance, and even sabotage, has regained attention over the past two years with the spotting of Russian military research vessels lurking off U.S. coastlines.
U.S. intelligence and military officials have publicly voiced concerns that Russian forces might be developing new, secretive ways to tap — or even cut — undersea fiber-optic cables that carry transatlantic Internet traffic.
Others have pointed to new Russian efforts to go after the network of undersea acoustic arrays that the United States and NATO have deployed for years to track submarines, or even classified naval cables.
Hard details about the accident are still limited, but Russia has revealed that 14 sailors died in a fire on board an unspecified deep-diving "research" submarine yesterday, making it the deadliest Russian submarine accident in more than a decade. Unconfirmed reports say that the incident occurred on board the Project 10831 Losharik, one of the Russian Navy's secretive "special projects" spy subs, a submersible it had launched, or its larger modified Project 667BDRM Delfin-class mothership submarine, the BS-64 Podmoskovye. This is still very much a developing story, so all of this information could be subject to change.
The incident occurred on July 1, 2019, within Russian territorial waters, according to a statement from the Russian Ministry of Defense. The statement does not name the submarine, but says it was carrying out "bathymetric measurements," or underwater mapping, at the time. Russia says the blaze is now extinguished and the submarine is in port at Severomorsk, home of the Russian Navy's Northern Fleet's headquarters, but there is no detailed timeline of how long the submarine was on fire or how long it took to get it back pier-side.
Russian newspaper Novaya Gazeta separately reported that the fire had been on board Losharik itself and initially reported that the entire crew of 25 had died, though they subsequently changed this to the official tally of 14 fatalities. The updated Novaya Gazeta story also said that the submarine in question had the hull number AS-31, rather than the Losharik's reported hull number of AS-12.
Yet another report from Open Media, again citing unnamed sources, says that the submarine in question was actually BS-64, which reportedly serves as the mothership for Losharik. The small nuclear-powered submarine is supposed to ride closer to the mission area underneath the larger BS-64.
The official description of the submarine is "deep-water research apparatus" could point to a smaller deep-diving submersible, which the Russian Navy and other Russian government agencies do operate for intelligence gathering and special operations missions, scientific research, and deep-sea rescue purposes. However, these vessels typically have crews that are much smaller than 14 individuals. For instance, Russia's AS-28 deep-sea rescue vehicle (DSRV) has a crew of only five, though it can carry up to 20 additional individuals during a rescue mission. 
If Losharik or Podmoskovye suffered the fire, one of the immediate questions is whether or not their nuclear reactors were ever in danger and what their statuses are at present. Russian President Vladimir Putin has reportedly canceled his entire schedule for the day and is set to meet with Defense Minister Sergei Shoigu, very likely about the accident. 
The Kremlin has released a full English readout of Putin's meeting with Shoigu, in which the Russian President describes the submarine that suffered the fire as an "unusual vessel." This would seem to further point to the boat in question being Losharik or another one of Russia's special projects submarines.
——————————————–
https://prophecyupdate.blogspot.com/
Red lights start flashing in rapid succession, space-based infrared sensors detect a heat signature, somebody calls the President…and in what may seem like a matter of seconds, the U.S. launches an immediate, massive counterattack. F-35s, B-2 bombers, nuclear-armed Navy submarines, missile-armed destroyers, Ground Based Interceptors and satellites — are all instantly thrust into action. Why?
An enemy has launched a nuclear attack on the U.S. homeland, an Intercontinental Ballistic Missile packed with destructive power…is heading toward North America.
Just what would the U.S. do? Are there a series of steps, protocols and instant counterattack plans to put in motion instantly? According to U.S. Air Force Chief of Staff Gen. David Goldfein, the answer is "yes."
Speaking recently at a Mitchell Institute for Aerospace Studies Nuclear Deterrence event, Goldfein mapped out what he would do if Russia attacked the U.S. with a nuclear weapon. He cited a series of rapid, successive steps.
— "Should war with a nuclear power happen – and I'm gonna primarily use Russia as my example today as the most dangerous nuclear threat we face – I fully expect three lights to light up on my red switch phone in the office. The first call will be the Supreme Allied Commander of Europe – General Tod Wolters – who will tell me what he needs to join NATO forces to halt enemy activity and blunt their objectives. By virtue of the speed with which air and space component deploys and employs, he expects us (U.S. Air Force) to be the first to arrive at his (halt) and his blunt force. Because NATO is first and foremost a nuclear alliance "– Gen. Goldfein.
——————————————–
https://prophecyupdate.blogspot.com/
In a first public statement about the fatal incident on board of a Russian deep sea research vehicle, President Vladimir Putin said that it's a "great loss," adding that 2 heroes of Russia and 7 high-ranking officers were killed.
"It is not an ordinary vessel, it is a research vessel," the president said while meeting with the Russian Defense Minister Sergey Shoigu in the wake of the tragedy.
Putin referred to the vessel's crew as "highly qualified professionals" and called the deaths of 14 sailors a "great loss for Russia and our fleet."
He specified that two of those who died in the fire on board the research vessel were previously awarded the nation's highest honorary title – the Hero of Russia – while seven were navy officers in the rank of 'captain 1st class' (Russian equivalent to NATO OF-5/US O-6 captain rank).
Putin ordered Shoigu to personally travel to Severomorsk, where the research vessel is currently stationed, to oversee the investigation and to report to him upon return.
On Monday, a Russian Navy's deep sea research vessel caught fire during a planned operation aimed at exploring the seabed in the Russian territorial waters. 
The Russian Investigative Committee launched an investigation into the incident. The Russian Navy also initiated its own probe led by the Navy head, Nikolay Evmenov. The cause of the fire remains unknown so far.
Heroic Russian naval officers sacrificed their lives, saving their colleagues and civilians, as they battled flames on board a deepwater research submersible in the Barents Sea, the nation's defense minister has said.
The fire on the Navy's deep water research submersible had claimed the lives on 14 officers on board on Monday. Defense Minister Sergey Shoygu shared some details of the crew's conduct.
"The crew acted heroically in a critical situation. They evacuated a civilian from the compartment, which was engulfed in flames, and sealed the door behind him in order to avoid the spreading of the fire onto the rest of the vessel," he said.
All victims will receive state honors posthumously, Shoygu said.
The minister said that all crew on board were "unique naval specialists, high-class professionals, who conducted important research of the Earth's hydrosphere."
——————————————–
In a video published Monday, the Discovery Institute set out to disprove materialist theories to explain the origin of life in purely materialistic, orderless terms. Materialism claims that matter is all there is, and many scientists believe this, but it is an assumption they bring to science, rather than a finding of science. The video is the fifth in a series entitled "Science Uprising" that seeks to unmask the claims of materialists which masquerade as scientific but are often more ideological and not backed up by the most accurate research.
The video opens with a quote from Stephen Hawking: "The life we have on earth must have spontaneously generated itself."
The host, wearing a mask similar to the V for Vendetta-style masks worn by the hacker group Anonymous, is more skeptical. "Did life really spontaneously generate itself from chemicals? Has science shown this?" he asks.
He interviews James Tour, an American synthetic organic chemist and professor of chemistry, nanoengineering, and computer science at Rice University. Tour attacks the computer-generated origin of life models purporting to show the origin of the first cell.
"All of these little pictures of molecules coming together to form the first cell are fallacious, are ridiculous," he says. "The origin of life community has not been honest. They will write in their very papers, they will see some small phenomenon and extrapolate what this means in the context of origin of life. And then they will work with the press and the press will extrapolate it all the more, and you get many many people deceived, thinking that life has been all but made. All of this is a lie."
The video discusses two main purported "breakthroughs" in origin of life science.
"We haven't created life, nowhere close!" Tour responds. "What they did is: they took a cell; they took the genome out of that cell; they manufactured a genome that's similar to it; and they put it in. That is akin to taking an engine out of a Ford and putting it into a Buick and then saying, 'Look I created automobiles!'"
"No, you just took one piece — and not even the engine, it's just the computer control box — you took out of one car and put it in another car, that's what it was like. But the design of the computer control box you got from other cells," the synthetic organic chemist explains.
Another materialistic approach to origin of life involves "protocells." If the basic building blocks of cells, or the ancestor of the first cell, could be constructed by chance, the theory goes, then there need be no intelligent explanation for the origin of life.
"Protocells are a bunch of nonsense," Tour claims. "That is like a prototurkey. I take 20 pounds of sliced turkey meat from a delicatessen. I throw that into a pot. I add in some turkey broth. I warm that up and I throw in some feathers, and I say that's a prototurkey. Yeah, there's no order to it, but you know if you wait long enough, a turkey will come gobbling out."
"That sounds ridiculous, doesn't it?" the synthetic organic chemist asks. "That's precisely what origin of life researchers have done when they make a protocell."
Materialist theory claims that with enough time and enough chance, life could arise out of non-life. This violates the basic rules of organic chemistry, Tour argues.
"Time is actually the enemy. You let these chemicals that have been made sit around. They show the degradation in a period of weeks. Weeks is the twinkling of an eye when it comes to pre-biotic timescales," he says. "The chemicals decompose. So to think that the molecules could be made and sit there waiting for other molecules to come in, it doesn't happen. Organic chemistry doesn't work that way."
At a loss to explain the origin of life on Earth, some materialistic scientists claim that life must have originated in outer space and was then carried to Earth somehow.
"Whether you want to have it originate from Earth for from some other planet, you have to have the origin of life," Tour explains. "You have to have the origin of that first cell. How does that happen? We have no idea."
The video's Anonymous-style narrator explains that the problem of naturalistic explanations for the origin of life is "becoming harder all the time, not easier," thanks to the complexity of a cell. To understand this complexity, he interviews Douglas Axe, visiting professor of microbiology at Biola University and founder of the Biologic Institute.
"To get an idea of the complexity of a living cell, think of a factory with thousands of pieces of machinery all working together to do some coordinated task," Axe begins. "A cell is actually far more complicated than that factory because factories don't maintain themselves, people have to maintain factories. And factories certainly don't make new factories, whereas with a living cell, all the parts that wear out are automatically remanufactured within the cell. Not only that, the cell is manufacturing a new cell as well. Human-made factories don't even come close."
In order to achieve this kind of complexity, life requires "some very detailed instructions," encoded in DNA and RNA.
"If you have a string of nucleic acids like DNA or RNA has, you have to have a precise sequence, because that translates to what proteins are needed to build the organism. That's called the information code," Tour explains. Chemistry cannot explain the origin of such a code, he says.
"We don't have a tool to assess that within chemistry."
Last but not least, the video's narrator interviews Stephen Meyer, a former geophysicist, Ph.D. in the philosophy of science, and director of the Discovery Institute's Center for Science and Culture. His bestselling books include Darwin's Doubt: The Explosive Origin of Animal Life and the Case for Intelligent Design.
"Is there anything we know of that does have the causal power, the ability to generate new information, and therefore could explain the origin of the first cell?" Meyer asks. "I think there is. And that's the idea of intelligent design."
The video defines intelligent design as "the theory that certain features of the natural world are best explained by an intelligent cause, not an undirected process."
Meyer says he supports this theory "because what we know from our experience is that intelligent agents can produce information and indeed do produce information in a digital or typographic form — the kind of information that we find in the DNA molecule — functional digital information."
"Whenever we see information, and we trace it back to its source, whether we find it in a section of software code, for a paragraph in a book, or in a hieroglyphic inscription, we always find that a mind played a role in generating that information," he says.
The Anonymous-style narrator concludes with a final shot against naturalistic origin of life science.
"Don't be fooled by the hype: Materialists are further from explaining the origin of life than ever before. Yet they still refuse to consider the only observable source known to create information code, an intelligent designing mind," he says.
"We are not materialists. We see the human soul. We experience love. We live with purpose. We fight for justice. We are the quiet majority, and we will be quiet no longer," the narrator says in an Anonymous-style closing.
——————————————–
http://endoftheamericandream.com/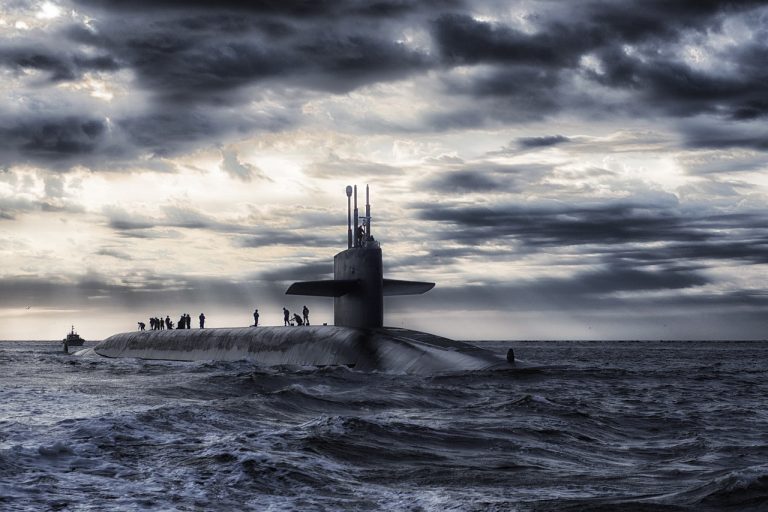 Why are top officials in both the United States and Russia suddenly being pulled into emergency meetings?  At this moment rumors are flying all over the Internet, and we have very little solid information about what is really going on.  In this article I will share what we know so far, but as we learn more the picture will inevitably become a lot clearer.  On Tuesday President Trump didn't have any public events scheduled, and that was a bit strange, but Vice President Mike Pence was supposed to appear at an event in New Hampshire.  Unfortunately, that trip was suddenly canceled after Pence had already boarded the plane, and Pence was ordered to return to the White House… (

READ MORE…

)
——————————————–
Biblical Archaeologists Discover Stunning 1,600-Year Old Mosaic In Northern Israel Depicting End Times Prophecy From Book Of Daniel
https://www.nowtheendbegins.com/biblical-archaeologists-discover-stunning-1600-year-old-mosaic-northern-israel-huqoq-depicting-end-times-prophecy-book-daniel-chapter-7/
Biblical archaeologists in Huqoq discovered mosaics depicting four beasts described in Chapter 7 of the Book of Daniel. The beasts represented four kingdoms preceding the end of days. "The Daniel panel is interesting because it points to eschatological, or end of day, expectations among this congregation," said Magness, in the statement. "The Elim panel is interesting as it is generally considered a fairly minor episode in the Israelites' desert wanderings ­­– which raises the question of why it was significant to this Jewish congregation in Lower Galilee." The excavation marked the ninth year of digs at the Huqoq site.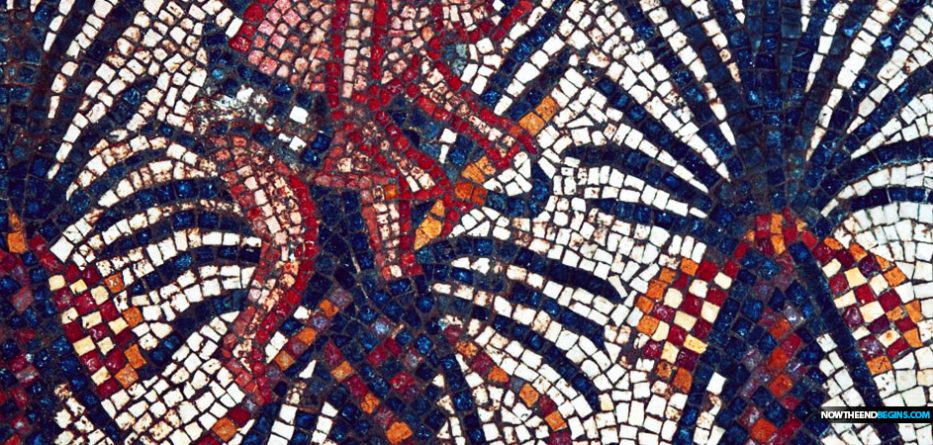 Biblical archaeologists in Huqoq have uncovered a stunning 1,600-year-old biblical mosaic in northern Israel depicting four beasts described in Chapter 7 of the Book of Daniel. The beasts represented four kingdoms preceding the end of days.
New archaeological discoveries are coming to the surface on nearly a monthly basis now, a veritable flood of artefacts confirming not only the history of the Jewish people in the land of Israel, but shedding new light on Bible prophecy as well. This latest find in Huqoq has to do with both the Exodus of the Jews, and the 4 Beasts of the end times we read about in Daniel 7.
"Daniel spake and said, I saw in my vision by night, and, behold, the four winds of the heaven strove upon the great sea. And four great beasts came up from the sea, diverse one from another. The first was like a lion, and had eagle's wings: I beheld till the wings thereof were plucked, and it was lifted up from the earth, and made stand upon the feet as a man, and a man's heart was given to it. I beheld till the thrones were cast down, and the Ancient of days did sit, whose garment was white as snow, and the hair of his head like the pure wool: his throne was likethe fiery flame, and his wheels as burning fire. A fiery stream issued and came forth from before him: thousand thousands ministered unto him, and ten thousand times ten thousand stood before him: the judgment was set, and the books were opened." Daniel 7:2-4,9,10 (KJV)
I find it so amazing that as these long-buried archaeological treasures are coming to light, that the human race stands on the very precipice of watching the prophecies they reference about to come true in stunning fashion.
I was not able to locate a picture of the Daniel mosaic the article references, but had a great phone call with Carly from University of North Carolina, the team that found the mosaics and she said she would forward that to me as soon as it becomes available.
1,600-year-old biblical mosaic discovered in Israel sheds light on Bible prophecy and revelation
FROM FOX NEWS: The mosaic, which depicts a scene from the book of Exodus, was found at the site of a fifth-century synagogue in Huqoq. Excavation director Jodi Magness, a professor at University of North Carolina at Chapel Hill, said the mosaic was the first depiction of the episode of Elim from Exodus 15:27 ever found in ancient Jewish art. "Elim is where the Israelites camped after leaving Egypt and wandering in the wilderness without water," she explained in a statement, noting that the mosaic is separated into three registers or horizontal strips.
One register showed clusters of dates being harvested by loincloth-clad agricultural workers while another showed a row of wells and date palms, she explained. "On the left side of the panel, a man in a short tunic is carrying a water jar and entering the arched gate of a city flanked by crenellated towers. An inscription above the gate reads, 'And they came to Elim'," Magness added.
Chapter 7

in the book of Daniel describes four beasts which represent the four kingdoms leading up to the end of days. This year our team discovered mosaics in the synagogue's north aisle depicting these four beasts, as indicated by a fragmentary Aramaic inscription referring to the first beast: a lion with eagle's wings. The lion itself is not preserved, nor is the third beast.  However, the second beast from Daniel 7:4 – a bear with three ribs protruding from its mouth – is preserved. So is most of the fourth beast, which is described in Daniel 7:7 as having iron teeth.
Archaeologists also discovered mosaics depicting four beasts described in Chapter 7 of the Book of Daniel. The beasts represented four kingdoms preceding the end of days.
"The Daniel panel is interesting because it points to eschatological, or end of day, expectations among this congregation," said Magness, in the statement. "The Elim panel is interesting as it is generally considered a fairly minor episode in the Israelites' desert wanderings ­­– which raises the question of why it was significant to this Jewish congregation in Lower Galilee."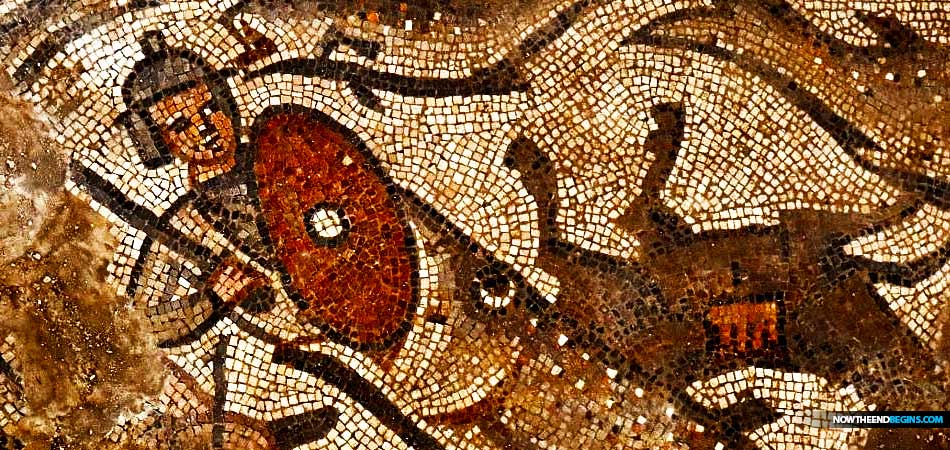 The excavation marked the ninth year of digs at the Huqoq site. The first mosaics were discovered in 2012. Between 2014 and 2017, archaeologists discovered mosaics depicting Noah's Ark, the parting of the Red Sea, Jonah and the fish and the Tower of Babel, painting a fascinating picture of life at the ancient site.
In 2018 researchers also announced the discovery of a stunning mosaic depicting a biblical scene from Numbers 13:23. Labelled "a pole between two," the panel showed two spies sent by Moses to explore the biblical land of Canaan.
Another mosaic discovered at Huqoq includes a depiction of Samson. There also has been an ongoing debate about whether a mosaic uncovered in 2016 portrays Alexander the Great. The purported Alexander the Great mosaic was the first non-biblical story ever found decorating an ancient synagogue. READ MORE:
Carolina Researchers Continue to Discover Ancient Mosaics in Israel
Recent discoveries by a team of specialists and students at Huqoq in Israel's Galilee, led by University of North Carolina at Chapel Hill professor Jodi Magness, shed new light on the life and culture of an ancient Jewish village. The discoveries indicate villagers flourished under early fifth century Christian rule, contradicting a widespread view that Jewish settlement in the region declined during that period. The large size and elaborate interior decoration of the Huqoq synagogue point to an unexpected level of prosperity.
——————————————–
http://pastormiketaylor.blogspot.com/
Oh, say can you see the undeniable truth that America is descending into the denouement of twilight's last gleaming?
Anyone with even a modicum of awareness surely can't help but admit, if he is honest, that the sun is setting on the once great American empire. Truthfully, it isn't just the final downfall of America that is breaking upon us. It's also the coming to an end of the entire fallen world system that has been ruined ever since the Garden of Eden where Eve was deceived by the Serpent, and Adam's rebellion resulted in Paradise Lost, thus necessitating God the Son's personal intervention into His creation in order to procure redemption for lost and fallen mankind.
We are the terminal generation. We are the generation that was born to see the rebirth of Israel, God's "super sign" whose rebirth heralded the beginning of the last generation – the generation that would live to see the culmination of all Biblically prophesied events. This is exciting, awe inspiring, and terrifying. It is these very events that are in play, and are almost at fruition, that prove beyond any doubt that indeed we are living in the twilight's last gleaming of the Church Age.
Can you see what's going on? Can you see how close we are to the rapture of the Church and the consequent last seven years – the Time of Jacob's Trouble?
Make no mistake, the Dispensation of Grace is almost finished; the dawning of the great and terrible Day of the Lord is at hand. In looking at where we are, and what is already in play as a nation and a world, it is patently obvious that we are now in the waning light of twilight's last gleaming. Let's look at just a few of these last-of-the-last-days indicators that the Church Age is winding down, and the Day of the Lord is "at hand."
Take for instance, the UN's far-reaching global plans Agendas 21 and 30. These declarations are truly horrifying, both in their blatant power grabs and in their systematic extinction of all personal, family, corporate, and national freedoms.
Both of these documents, Agenda 21 and Agenda 30, DIRECTLY impact every single individual United States citizen (as well as the citizenry of nearly every other nation on earth). From the womb to the tomb – our lives, our children's lives, and our futures have been hijacked by an oligarchy of elitists who have made themselves the "ruling gods" over all people. They alone determine who will live, who will die, and what each person's life is worth.
The Luciferian agendas that this unelected, multinational group of elite megalomaniacs have planned for decades – centuries even – go all the way back to the Knights Templar, to the guilds of the Freemasons. The goals and Agendas of the Order of the Illuminati (begun by Adam Weisapt), along with a multitude of other esoteric orders, are right this moment in the process of being fully implemented. What is now being orchestrated, and is soon to be complete, is nothing less than an Orwellian nightmare that is rapidly forming into the great beast system that will be ruled by none other than the Antichrist himself.
The meticulously detailed plans spelled out in these agendas, outlined in terrifyingly clear detail, expose the truth that the plans of these global architects of the New World Order are already well underway, and are right now being carried out by the very ones who designed these agendas and objectives; those who are the very same ones who are funding and underwriting this multi-trillion dollar (and much more), multi-tentacled gorgon.
All of the UN's ongoing plans are designed to control every area of our culture: governmental, economic, educational, financial, entertainment, and religious. ALL AREAS of life are to be overseen, and all aspects of their control of our culture are spelled out in exquisite, horrifying detail in the very words of the ones who are running this globalist, last days agenda.
These Minions of Chaos have been and are now infiltrating every strata and corner of our culture. Indeed, they are now in governing and leading positions within EVERY ONE of these areas of culture in order that they may fully indoctrinate our culture. Their goal is to completely bring about a seismic paradigm shift in the worldview of every American – in particular our children, from pre-k all the way through post graduate programs, thereby moving America away from the Judeo-Christian roots, morals, and worldviews on which we as a nation were founded.
The very bedrock upon which our Constitution and the rule of law rests is being systematically moved towards a pantheistic, narcissistic, self-absorbed, perpetually needy, always entitled "hive" mentality where personal freedoms, personal motivation and personal responsibility are crushed beneath the behemoth weight of the communistic "hive mind" with the elite oligarchy that masters and controls it. It's all there, spelled out in their own words in the United Nations plans called Agenda 21 and Agenda 30.
Do you know WHY they – the UN globalist puppeteers – aren't worried that the monstrous truth of what they are doing is being put out in plain sight? It's because they know that most Americans are too lazy, too self-absorbed, too incredulous, too indifferent, too enthralled with our own particular favourite "bread and circuses," too apathetic, too afraid or too intimidated to bother to research and read the chilling truths that they have actually published.
And do you know what? The globalists are right. Very few Americans actually care enough to bother to research the truth for themselves.
Well, the uncomfortable and inconvenient fact is that everyone WILL care – and soon, because the colossus of American freedom (both personal and national), along with what's left of our national sovereignty, is haemorrhaging to death from a hundred thousand paper cuts. America is in her agonal stages America, as we have always known her, has been on life support for decades and is now about to flatline for the final time with no chance of ever being revived again.
Tragically, most of the zombified American public desires to simply continue on as usual in their cognitive dissonance; living inside their own little opaque bubbles, hiding from the admittedly uncomfortable yet increasingly apparent reality of just how far gone we are as a nation and a culture. But be warned America: your bubbles of delusion are about to be ruptured, and the America that all of the see-no-evil puppets will witness when they are rudely awakened to harsh reality.
America will soon be forced to see and deal with the truth. Once God's inevitable judgment arrives, it will be a complete and utter shock to the majority. There will be nowhere to run, nowhere to hide when the Lion of Judah roars forth His justice and vengeance upon this evil-loving, God-hating world.
Of course, we "doom and gloom" town criers, we "Debbie Downers" who have been the always maligned, inconvenient watchmen on the wall – the ever-hated, constantly mocked, invariably derided, and the always-to-be-avoided-at-all cost doomsayers – well, we've tried for years to tell the world what's coming.
We, the hated warners of approaching doom, already KNOW. We know what's BEEN happening, what IS happening now, and what is ABOUT to happen. It's too bad that so many others will be so utterly surprised and devastated when the dawning realization of the loss of our sovereign freedoms finally become too obvious for even them to ignore. Tragically, by the time the truth of how things REALLY ARE finally becomes patently clear even to them, it will be far too late.
I could plead yet one more time for everyone to face what is happening right now and what is going to happen to America and to the world at large – most especially what is just over the horizon after the very soon rapture of the Remnant Church occurs – but I already know that these warning cries are, for the most part, a futile effort.
There are very few left, even among those who claim to be believers in Christ, who really want to know the truth of the nearness of the rapture. There are relatively few who dare to face the reality of where we are, both as a Church and a nation. Few realize that we are indeed living in twilight's last gleaming. Everyone will know eventually – and sooner rather than later. Oh, they will know – very soon.
Twilight is rapidly descending into the night of coming judgment. Requiescat en pace, America. As the New World Order's Antichrist system is rising, the Remnant Church, with increasing fervour, cries MARANATHA! (come Lord Jesus)