This Happened On Planet Earth…July 2019…End Times Signs

Published on Jul 16, 2019
 

Please Help Support This Ministry:

https://www.paypal.me/watchman1963

Please subscribe to my backup channel:

https://www.youtube.com/channel/UC4nc…

Current Events Linked To Biblical Prophecies. Everything is unfolding just as the bible foretold. Wars, Volcanic Eruptions, Earthquakes, Extreme Weather, Christian Persecution, Violence and more!
Matthew 24:3-14 3 Now as He sat on the Mount of Olives, the disciples came to Him privately, saying, "Tell us, when will these things be? And what will be the sign of Your coming, and of the end of the age?" 4 And Jesus answered and said to them: "Take heed that no one deceives you. 5 For many will come in My name, saying, 'I am the Christ,' and will deceive many. 6 And you will hear of wars and rumours of wars. See that you are not troubled; for all[a] these things must come to pass, but the end is not yet.
7 For nation will rise against nation, and kingdom against kingdom. And there will be famines, pestilences,[b] and earthquakes in various places. 8 All these are the beginning of sorrows. 9 "Then they will deliver you up to tribulation and kill you, and you will be hated by all nations for My name's sake. 10 And then many will be offended, will betray one another, and will hate one another.
11 Then many false prophets will rise up and deceive many. 12 And because lawlessness will abound, the love of many will grow cold. 13 But he who endures to the end shall be saved. 14 And this gospel of the kingdom will be preached in all the world as a witness to all the nations, and then the end will come.
——————————————-
China says the US is Playing w/ Fire-Leader Nasrallah Warns Israel on the Verge of Vanishing

Published on Jul 16, 2019
 

You will hear the following in this Broadcast: -Iran 'to ramp up production' at secret nuclear enrichment bunker built under a MOUNTAIN to protect it from US attack -UK playing a 'dangerous game' by sending warship, warns Iran -UK and Iran talk oil tankers: Zarif insists on immediate release, Hunt gives conditions -Israel Will be on 'Verge of Vanishing' in Case of Conflict With Hezbollah, Leader Nasrallah Warns -Netanyahu Threatens Hezbollah With 'Crushing Military Blow' Amid War of Words With Nasrallah -China threatens sanctions against US companies selling weapons to Taiwan -'Don't play with fire': Beijing warns US over Taiwan – China performs Military Drills -After Taiwan buys arms, China holds military drills on southeast coast -Netanyahu Threatens Hezbollah With 'Crushing Military Blow' Amid War of Words With Nasrallah -A mind of its own: Russia unveils terrifying new AI 'superweapon'
——————————————-
Watchman Report: No More Worries!

Published on Jul 16, 2019
 

Watchman Report: No More Worries! Barry Meguiar Barry Meguiar shares the scriptural formula for living a worry-free life . . . while having the doctors give up on him in the hospital, to being on the verge of bankruptcy to facing a corporate take-over to losing his youngest daughter less than a month ago. –
——————————————-
LATEST WORLD NEWS CLIPS – ARTICLES – TUESDAY JULY 16th 2019
1Th. 5:3 For when they shall say, Peace and safety; then sudden destruction cometh upon them, as travail upon a woman with child; and they shall not escape
Luke 11:29 And when the people were gathered thick together, he began to say, This is an evil generation: they seek a sign; and there shall no sign be given it, but the sign of Jonas the prophet
John 8:32 And ye shall know the truth, and the truth shall make you free
"My people are destroyed for lack of knowledge" (Hosea 4:6)
1Cor. 12:3 Wherefore I give you to understand, that no man speaking by the Spirit of God calleth Jesus accursed: AND THAT NO MAN CAN SAY THAT JESUS IS THE LORD, BUT BY THE HOLY GHOST.
THE TRIBULATION OF THE UNJUST (Those who have rejected Jesus Christ as their Saviour) IN THE BOOK OF REVELATION CHAPTER'S 6 to 22:
TRIBULATION IS COMING AND THE REMOVAL OF THE CHURCH IS IMMINENT.
THE GREAT "DECEPTION" IS READY TO BE IMPLEMENTED BY THE ONE WORLD GOVERNMENT. ARE YOU READY FOR JESUS CHRIST RETURN
Rev. 3:10 Because thou hast kept the word of my patience, I also will keep thee from the hour of temptation, which shall come upon all the world, to try them that dwell upon the earth:
Luke 12:37 Blessed are those servants, whom the lord when he cometh shall find watching: verily I say unto you, that he shall gird himself, and make them to sit down to meat, and will come forth and serve them
so won't you accept Jesus now and be removed from that event and live forever with Jesus in the Family of God?
2 "(For he saith, I have heard thee in a time accepted, and in the day of salvation have I succoured thee: behold, now is the accepted time; behold, now is the day of salvation.)" (2nd Corinthians 2:6)
——————————————-
DAILY CHRISTIAN BIBLICAL QUESTIONS AND ANSWERS:
——————————————-
WHAT'S THE DIFFERENCE BETWEEN SAYING AND BELIEVING?
QUESTION:    What is the difference between believing in your heart when praying the sinner's prayer and just telling Jesus that you believe? Or is there a difference?
ANSWER:    If we're like most people, we don't always say what we mean and we don't always mean what we say. And the more pressure we feel, the more likely it is that we'll say what we think the people around us want to hear. Therefore, there's a big difference between just saying something and actually believing it.
When it comes to asking Jesus to forgive us, it isn't enough just to say the words. We have to really believe in our heart that we're a sinner in need of forgiveness, that His death has already paid the price for all our sins, and when we ask him to forgive us He will do it. The Greek word for believe means that we act like our life depends on it, because in the eternal sense it does.
The Lord knows the motives of our heart better than we do (1 Cor. 4:5). If we have asked in faith He will respond with a sense of peace that surpasses all human understanding. We'll know in our heart that the matter is settled, and nothing anyone can say or do will persuade us otherwise.
"Therefore do not let anyone judge you by what you eat or drink, or with regard to a religious festival, a New Moon celebration, or a sabbath day. These are a shadow of the things that were to come; the reality, however, is found in Christ" (Colossians 2:16-17).
PLEASE EXPLAIN THE DIFFERENCE
QUESTION:    Re: Must God Choose Us? Could you explain these two verses. Isaiah 55:6 says, "Seek ye the LORD while he may be found, call ye upon him while he is near" and John 6:44 says, " No man can come to me, except the Father which hath sent me draw him: and I will raise him up at the last day." They seem to contradict each other.
ANSWER:    Isaiah 55 is primarily a call to the Jewish people to respond to Him. Remember He had a covenant relationship with them, having promised to take them as His people and be their God. (Exodus 6:7). Because of that any of them who came to Him would be accepted. While Isaiah 55:3 holds out the promise of an everlasting covenant, verse 7 shows that this call was to an Old Covenant relationship. In Isaiah 56:1-8 the call was extended to foreigners who kept His covenant as well.
In John 6:44 Jesus was explaining that hence forth keeping the Old Covenant would not be enough to qualify them for a relationship with God. The procedure found in Romans 8:29-30 would apply to both Jews and Gentiles. God foreknew who among all humanity would choose to accept His Son's death as payment for their sins. Their names had been written in the Lamb's Book of Life before the foundations of Earth were laid. Those He foreknew, He predestined (appointed) to a place in His Kingdom. At some point in their life He would call them, and this is what Jesus was talking about. When they respond to the call, as He knows they will, He justifies them (regards them as though innocent) through the Blood of Jesus, and at the rapture/resurrection He will glorify them as they take their place in the Kingdom.
Matt; 7:7-8, John 3:16, John 6:38-40, Romans 10:9,13, and others clearly explain that the choice to be saved is ours to make. These promises make general to all humanity that which Isaiah 55 made specific to the Jews. They fulfill its promise of the New Covenant as well in that the only condition they contain is belief.
————————————–
NEWS CLIPS OBTAINED FROM MANY SOURCES – INCLUDING

Tracking bible prophecy.org
Rapture Ready News
Prophecyupdate.Com
Main News Channels
End Times Headlines
Prophecyupdateblogspot.com
Stevequayle.com
Gracethrufaith.com
Nowtheendbegins.com
Other Christian Sites
(CLICK ON) LATEST DAILY NEWS CLIPS:
ISRAEL NEWS:
Zech. 12:3 And in that day will I make Jerusalem a burdensome stone for all people: all that burden themselves with it shall be cut in pieces, though all the people of the earth be gathered together against it
GENERAL WORLD NEWS:
WORLD FINANCE:
MASSIVE EARTH CHANGES/EARTHQUAKES/VOLCANOES ETC:
2Chr. 7:13 If I shut up heaven that there be no rain, or if I command the locusts to devour the land, or if I send pestilence among my people;
2Chr. 7:14 If my people, which are called by my name, shall humble themselves, and pray, and seek my face, and turn from their wicked ways; then will I hear from heaven, and will forgive their sin, and will heal their land
CHRISTIAN AND RELIGIOUS WORLD NEWS:
Matt. 24:9 Then shall they deliver you up to be afflicted, and shall kill you: and ye shall be hated of all nations for my name's sake.
Matt. 24:10 And then shall many be offended, and shall betray one another, and shall hate one another
EXTRA WORLD – ALTERNATIVE NEWS:
————————————————-
WORLD – PROPHETIC NEWS ARTICLES PRESENTATION – TUESDAY JULY 16th 2019
MIDDLE EAST AND WORLD WAR LOOMING THE BUILD UP TO PSALM 83  – ISAIAH 17 AND GOG OF MAGOG WARS EZEKIEL 38:
THE WHOLE WORLD IS UNSTABLE FINANCIALLY, POLITICALLY, PHYSICALLY, MORALLY, GODLY: – AND BECOMING MORE SO DAILY. (WE ARE IN THE BEGINNING OF SORROWS (MATT 24:8)
THE BIBLE STATES THAT IT WILL ONLY GET WORSE BEFORE THE START OF THE TRIBULATION OF MANKIND – (REVELATION 6)
Matt. 24:6 And ye shall hear of WARS AND RUMOURS OF WARS: see that ye be not troubled: for all these things must come to pass, but the end is not yet.
Matt. 24:7 FOR NATION SHALL RISE AGAINST NATION, AND KINGDOM AGAINST KINGDOM: and there shall be famines, and pestilences, and earthquakes, in divers places.
ISAIAH 17/PSALM 83:
THE DESTRUCTION OF DAMASCUS and
Muslim Countries in the Middle East will launch an attack on Israel
JEREMIAH 49:
PROPHECY OF ELAM – (Possible Attack on Iran's Nuclear Program
——————————————–
By choosing to hold the protests under the banner of the "Three No's," the organizers of the "Great March of Return" have again proven that the weekly demonstrations are not about improving the living conditions of Palestinians or easing restrictions imposed on the Gaza Strip. Instead, the message the organizers are sending to the Palestinians and the rest of the world is: "We don't recognize Israel's right to exist and therefore we will never make negotiate or make peace with it."

Hamas's two other "No's" – no to recognizing Israel and no to making peace with Israel – do not come as a surprise. In fact, Hamas appears to be reminding Palestinians of its true objectives as outlined in its 1988 charter: "There is no solution for the Palestinian question expect through Jihad (holy war). Initiatives, proposals and international conferences are all a waste of time and vain endeavors…[Hamas] believes that the land of Palestine is an Islamic Waqf consecrated for future Muslim generations until Judgement Day. It, or any part of it, should not be squandered."

This is all that Hamas has to offer the Palestinians 12 years after its violent takeover of the Gaza Strip? Sadly, thousands of Palestinians continue to heed Hamas's call for trying to breach the border with Israel every Friday while ignoring that it is their leaders who are mainly responsible for dragging them from one disaster to another.
On July 12, the weekly protests along the border with Israel were held under the banner of "No to negotiations [with Israel], no to reconciliation [with Israel] and no to recognizing the [Israeli] entity."
The Three No's appear based on the Khartoum Resolution issued at the conclusion of the Arab League summit convened three months after the 1967 Six-Day War between Israel and the Arab countries: 
No peace with Israel, no recognition of Israel and no negotiations with it.
By choosing to hold the protests under the banner of the "Three No's," the organizers of the "Great March of Return" have again proven that the weekly demonstrations are not about improving the living conditions of Palestinians or easing restrictions imposed on the Gaza Strip. Instead, the message the organizers are sending to the Palestinians and the rest of the world is: "We don't recognize Israel's right to exist and therefore we will never make negotiate or make peace with it."
Even some Palestinians have expressed astonishment over the Gaza protests' "Three No's," calling them "unrealistic" and "absurd."
Next week's Friday protests will be held under the banner "Burning the Zionist flag." The organizers announced that the "peaceful" and "popular" protests will continue "until the Palestinians achieve their rights." The protests along the border with Israel, they said, are also aimed at foiling US President Donald Trump's plan for peace in the Middle East, also known as the "Deal of the Century," and abrogating the Oslo Accords signed in 1993 between Israel and the Palestinians.
On the one hand, Hamas is sending Palestinians to clash with Israeli soldiers along the Gaza-Israel border under the banner of "No to negotiations [with Israel]." On the other hand, Hamas is begging the Egyptians and the UN to help arrange a ceasefire with Israel. The pounding seems a way of trying to coerce the Israelis into bigger concessions, faster.
Hamas's two other "No's"—no to recognizing Israel and no to making peace with Israel—do not come as a surprise. In fact, Hamas appears to be reminding Palestinians of its true objectives as outlined in its 1988 charter:
"There is no solution for the Palestinian question expect through Jihad (holy war). Initiatives, proposals and international conferences are all a waste of time and vain endeavors…[Hamas] believes that the land of Palestine is an Islamic Waqf consecrated for future Muslim generations until Judgement Day. It, or any part of it, should not be squandered."
—————————————–
FOOD SHORTAGE WARNINGS ARE ALREADY STARTING TO APPEAR, AND NOW TROPICAL STORM BARRY IS GOING TO RIP THROUGH AMERICA'S HEARTLAND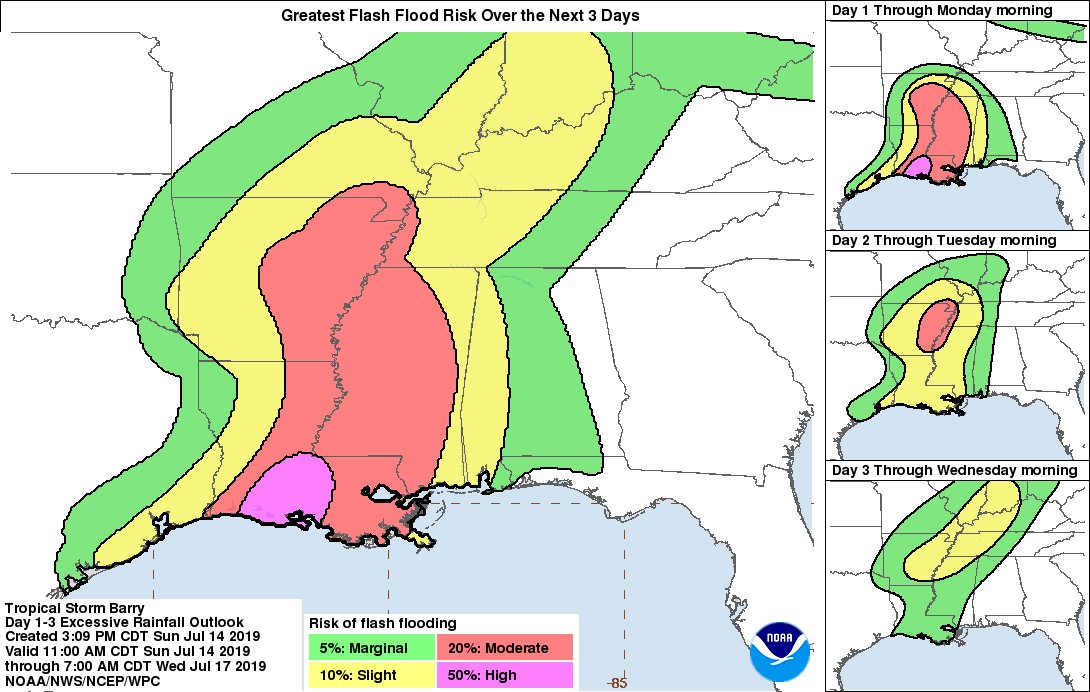 The middle of the country has been relentlessly hammered by endless rain and unprecedented flooding for months, and now it is about to be absolutely pummeled by Tropical Storm Barry.  Needless to say, this is going to cause even more headaches for Midwestern farmers.  At this point, millions of acres of prime farmland are not going to be planted at all this year, and there are tens of millions of other acres where crops are really, really struggling.  Those farms desperately need some warm, sunny weather for a while, but instead they are about to get hit by another enormous storm.  In the end, this could potentially turn out to be the worst growing season in modern history, and it comes at a time when crops are literally failing all over the planet.  Sadly, we really struggle to feed everyone on the globe even during the best years, and so what will things look like if worldwide harvests are catastrophic during the second half of 2019?
I want to make it clear that we have not reached a full-blown crisis yet, but what we are seeing are some very early signs of trouble which could greatly escalate in the months ahead.
For example, it is being reported that we are now facing a "shortage of avocados"…
A shortage of avocados has sent prices soaring.
Wholesale prices of avocados are more than double what they were just a year ago.
Most of the extra cost is being passed onto consumers, with retail prices almost doubling.
That is certainly not the end of the world, because we can definitely survive without avocados.
But corn is another matter altogether.  All over the middle portion of the United States, corn fields look absolutely disastrous right now.  For example, just check out this photo which a reader took of a corn field in Illinois on July 6th.  The corn should be at least waist high by now, but instead it is barely out of the ground and most of that field appears to be covered by water.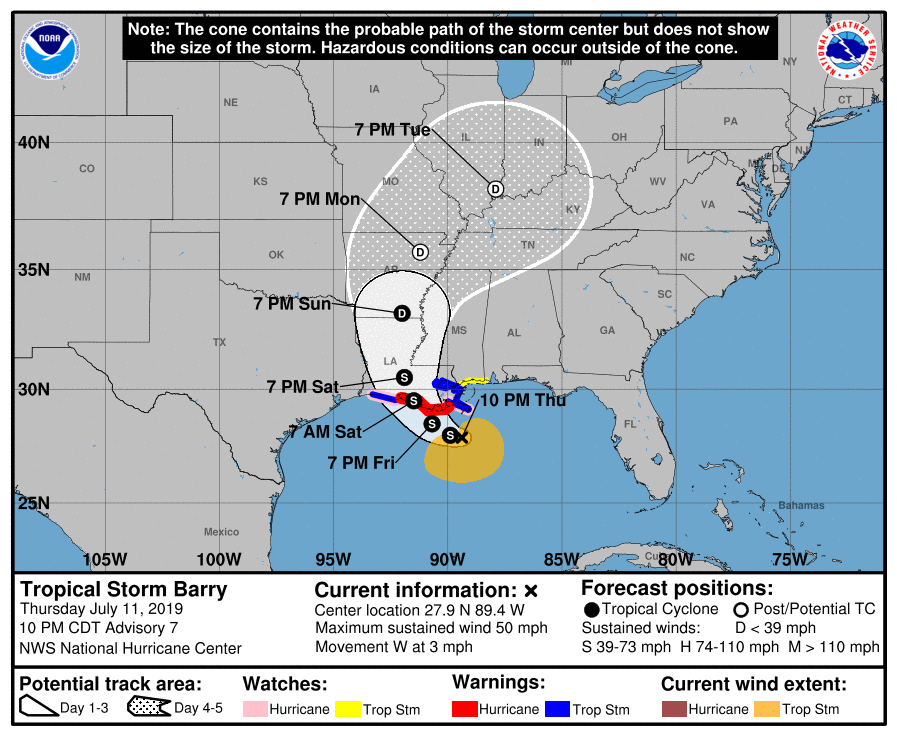 It is still very early, and we shall see how the rest of the growing season plays out, but some analysts are already starting to use the word "shortage" in connection with this crisis…
"U.S. corn will be in short supply, but emotions, fears, and hoarding could push it to shortage," says Ned Schmidt, editor of the Agri-Food Value View Report. The "reality of the situation will develop over time, pushing December 2019 corn to $5.05" a bushel by year end.
Of course many of my readers were greatly concerned about the recent nationwide "tortilla shortage" at Taco Bell, but for the moment that shortage appears to have been resolved…
Taco Bell confirmed to Fox News that they've resolved the issues with their suppliers and that the affected restaurants should be able to offer customers the entire menu. This includes all burritos and quesadillas.
A spokesperson for Taco Bell told Fox News, "We appreciate our burrito-loving customers' patience. We have worked closely with our suppliers to resolve any shortages, and most, if not all, of our impacted restaurants should be offering our full menu so fans can now enjoy their Taco Bell favorites from the classic Bean Burrito to the new Steak Reaper Ranch Fries burrito."
Far more alarming is the photo of a "product shortage" at Wal-Mart which has been floating around social media.
I do not know who originally took this photo, and I am unable to confirm if this same notice has been posted at locations around the country, but it is definitely alarming…
This is just another reminder of how dependent we are on America's farmers.
If they do not grow our food, we do not eat.
And now Tropical Storm Barry is going to dump enormous amounts of rain on farms throughout the middle portion of the country all the way through Wednesday.
It is being reported that approximately 11 million people are currently under flash flood warnings right now, and this storm is moving very, very slowly…
As of Sunday afternoon, Barry was crawling north across Louisiana at around 9 mph — slower than a bicyclist. That means it's still hovering over the same state where it made landfall Saturday, dumping copious amounts of rain on cities already deluged.
And it's not even close to done.
"Barry is expected to produce additional rain accumulations of 3 to 6 inches across portions of the lower Mississippi Valley with isolated maximum amounts of 10 inches across eastern Arkansas, western Tennessee, southeast Missouri, and northwest Mississippi," the NHC said.
The slower this storm moves, the more rain it will dump, and we are talking about immense amounts of water.
In fact, at one point it was being projected that Barry would dump 14 trillion gallons of rain on Louisiana, Mississippi and Arkansas…
Heavy rain packs the biggest danger over the region through the weekend. Forecasters said up to 20 inches is expected over southeast Louisiana, including New Orleans, Baton Rouge and Alexandria, and in southwest Mississippi, with as much as 25 inches in some isolated areas.
In all, some 14 trillion gallons of rainwater is forecast to fall on Louisiana, Mississippi and Arkansas during Barry, according to an estimate from BAM Weather meteorologist Ryan Maue.
The current track of this storm is going to take it over some of the hardest hit areas of Missouri, Illinois, Indiana and Ohio.
Needless to say, a lot of farmers are saying prayers and hoping for a miracle.
Weather patterns are behaving very, very strangely all over the world, and many believe that the worst is yet to come.  I encourage you to get prepared for the challenging times that are ahead while you still can.
For now any food shortages will just be minor inconveniences, but if harvests around the world are as disastrous as many are projecting, that could soon change in a major way.
——————————————–
TODAYS RELATED NEWS CLIPS: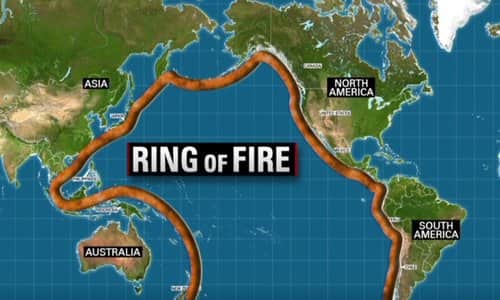 Within the last 48 hours we have seen large earthquakes going off like firecrackers all along the Ring of Fire.  As you will see below, a magnitude 6.1 quake just hit Japan, a magnitude 6.6 quake just hit Australia and a magnitude 7.3 earthquake just hit Indonesia.  And of course all of this comes just about a week after southern California was hit by the two largest earthquakes that it has experienced in more than two decades.  So is all of this shaking unusual?  Just a few moments ago, I pulled up the most recent data from Earthquake Track, and what I discovered is more than just a little bit alarming.  Looking at the entire globe, we have averaged 193 earthquakes of magnitude 1.5 or greater per day so far in 2019.  That is very high, but it pales in comparison to what we have witnessed over the last week.  Within the last seven days, our planet has experienced an average of more than 677 earthquakes of magnitude 1.5 or greater per day.  That means that the number of global earthquakes right now is more than 3 times above normal.
And the number of very large earthquakes is at a frighteningly high level as well.  According to the USGS, there have been 121 earthquakes of at least magnitude 4.5 around the world within the last seven days, and that includes the magnitude 6.1 earthquake that just hit Japan.
Incredibly, that quake in Japan brought the number of global earthquakes of magnitude 6.0 or greater that we have seen so far this year up to a grand total of 84.  The following comes from the Big Wobble…
Last nights quake brings the total of major quakes (mag 6+) to 84, incredibly all but 7 of them striking the Pacific Ring Of Fire.
The last 38 major quakes this year, going back to the 3rd of May have occurred along the Pacific Ring Of Fire.
But on Sunday we had to add two more to that total.
The equal-largest earthquake recorded in Australia has hit off the Kimberley coast, shaking items off shelves and stunning local residents who had never felt a tremor before.
The 6.6 magnitude undersea quake struck at 3.39pm AEST on Sunday between Port Hedland and Broome, GeoScience Australia reported.
The second was even larger.  When a magnitude 7.3 earthquake hit Indonesia on Sunday, it sparked tsunami fears and made headlines all over the globe…
A terrifying 7.3-magnitude earthquake has sparked panic after it rocked the remote Maluku islands in eastern Indonesia today.
Scared residents were seen fleeing through the streets and heading for high ground, though no tsunami warning was issued after the land-based quake struck.
None of this is "normal".  As I keep warning my readers, we have entered a time of tremendous global instability, and the U.S. is certainly not going to be exempt.
In fact, we just witnessed a magnitude 4.0 earthquake in Montana.  The following comes from Ricky Scaparo…
According to reports from the USGS, A 4.0 earthquake has rattled Manhattan, Montana. This earthquake follows the string of quakes that have rattled the globe over the past few weeks producing powerful earthquakes in Southern California and rattling Seattle, Washington. We will give you more information as we receive it.
The magnitude 4.6 earthquake in Seattle that he mentioned definitely got a lot of attention when it struck very early on Friday morning.  According to a USGS geophysicist, that quake was "widely felt throughout the Seattle area"…
"It's been widely felt throughout the Seattle area," said Paul Caruso, a USGS geophysicist.
I know that California is receiving most of the attention right now, but we definitely need to keep a close eye on the Northwest, because they are definitely overdue for a "Big One" of their own and there are several volcanoes in the region that could literally go off at any time.
Meanwhile, the shaking in southern California simply will not stop.  According to Cal Tech, there have been 10,303 earthquakes of all magnitudes in California and Nevada within the last seven days.
In case you are wondering, that is not "normal" either.
The magnitude 7.1 earthquake that we witnessed back on July 5th did not cause an enormous amount of damage because it happened in a very remote location.
But we should definitely not take that quake lightly, because it was extremely powerful.  According to the Los Angeles Times, it actually "packed the energy of 45 nuclear bombs"…
When the magnitude 7.1 earthquake ruptured the earth in the Mojave Desert, it packed the energy of 45 nuclear bombs of the type that fell on Hiroshima.
Can you imagine if such a quake had happened in downtown Los Angeles?
And if a magnitude 9.0 earthquake were to hit southern California someday, it would be 707 times more powerful than the magnitude 7.1 earthquake that we just witnessed.
Hopefully such a quake is still a long way off, but we have witnessed renewed shaking in the region within the last 24 hours.  The following comes from the Express…
California has since experienced a number of aftershocks with a seismic swarm hitting southern California in the past 24 hours.
Over the course of the last 24 hours, there have been 762 earthquakes in California, 29 earthquakes were over a magnitude of 2.5.
Unfortunately, this is not just a localized phenomenon.
As I showed at the beginning of this article, the number of global earthquakes is three times above normal right now.
Our entire planet is being greatly shaken, and many believe that what we have witnessed so far is just the beginning.
——————————————–
But one thing the Bible demonstrates so clearly for us is that each new generation resorts to rebellion. It has always been that way. We can see it in our own world today. All we have to do is hang around and live long enough.
Ecclesiastes 1:9 tells us this truth:
"The thing that hath been, it is that which shall be; and that which is done is that which shall be done: and there is no new thing under the sun."
It's true of all manner of rebellions, too. There's no new form of rebellion under the sun. The evil men do today is no worse than the evil they did in Noah's day, prompting God to destroy all life save one family.
We can't save ourselves with a carbon tax or by banning air travel or by eradicating plastic straws.
"Why do the heathen rage, and the people imagine a vain thing?" asks the psalmist.
"The kings of the earth set themselves, and the rulers take counsel together, against the Lord, and against his anointed, saying, Let us break their bands asunder, and cast away their cords from us. He that sitteth in the heavens shall laugh: the Lord shall have them in derision. Then shall he speak unto them in his wrath, and vex them in his sore displeasure. Yet have I set my king upon my holy hill of Zion.
I will declare the decree: the Lord hath said unto me, Thou art my Son; this day have I begotten thee. Ask of me, and I shall give thee the heathen for thine inheritance, and the uttermost parts of the earth for thy possession. Thou shalt break them with a rod of iron; thou shalt dash them in pieces like a potter's vessel. Be wise now therefore, O ye kings: be instructed, ye judges of the earth. Serve the Lord with fear, and rejoice with trembling. Kiss the Son, lest he be angry, and ye perish from the way, when his wrath is kindled but a little. Blessed are all they that put their trust in him."
Trust in Him – and His Son.
There is no other way – no other prudent path, no other road that leads to life.
He commands: "Let's reason together." It's irrational not to walk with God. How many times must we see the folly of the way of the heathen? Why do the heathen still rage against Him? Why do they imagine a vain thing – that there is life in the way of rebellion against God Almighty?
—————————————–
Rear Admiral Lou Yuan, deputy head of the Chinese Academy of Military Sciences, has told an audience in Shenzhen that the ongoing disputes over the ownership of the East and South China Seas could be resolved by sinking two U.S. Navy aircraft carriers.
Admiral Lou gave a wide-ranging speech on the state of Sino-U.S. relations. As reported by New Zealand Herald, the high-profile, hawkish military commentator reportedly declared the current trade spat was "definitely not simply friction over economics and trade," but was instead a "prime strategic issue".
His speech, delivered on Dec. 20 to the 2018 Military Industry List summit, declared that China's new and highly capable anti-ship ballistic and cruise missiles were more than capable of hitting U.S. Navy carriers, despite them being at the centre of a 'bubble' of defensive escorts.
"What the United States fears the most is taking casualties," Admiral Lou declared.
He said the loss of one super carrier would cost the U.S. the lives of 5000 service men and women. Sinking two would double that toll.
"We'll see how frightened America is."
In his speech, he said there were 'five cornerstones of the United States' open to exploitation: their military, their money, their talent, their voting system — and their fear of adversaries.
Admiral Lou, who holds an academic military rank — not a service role — said China should "use its strength to attack the enemy's shortcomings. Attack wherever the enemy is afraid of being hit. Wherever the enemy is weak …"
The U.S. Navy 10 Nimitz-class aircraft carriers, USS Nimitz (CVN 68), USS Dwight D. Eisenhower (CVN 69), USS Carl Vinson (CVN 70), USS Theodore Roosevelt (CVN 71), USS Abraham Lincoln (CVN 72), USS George Washington (CVN 73), USS John C. Stennis (CVN 74), USS Harry S. Truman (CVN 75), USS Ronald Reagan (CVN 76) and USS George H.W. Bush (CVN 77), are the largest warships in the world, each designed for an approximately 50-year service life with just a single mid-life refueling. The next generation of aircraft carrier, the Gerald R. Ford-class (CVN 78) was ordered in September 2008 as the force structure replacement for USS Enterprise (CVN 65), which inactivated in 2012.
—————————————–
THE UN IS NORMALIZING PEDOPHILIA: THE DEEP STATE IS FREE TO PREY UPON YOUR CHILDREN
The Bible explains the reason for the trouble. Humanity is sinful, not just in theory or in practice but by nature. Sin is part of the very fiber of our being. The Bible speaks of "sinful flesh" in Romans 8:3. It's our "earthly nature" that produces the list of sins in Colossians 3:5. And Romans 6:6 speaks of "the body ruled by sin." The flesh-and-blood existence we lead on this earth is shaped by our sinful, corrupt nature.
The United Nations Office of the High Commissioner for Human Rights is sanctioning a sexual revolution that will culminate in the legalization and whole-hearted support of transgenderism but will also support the legalization of pedophilia.
As the Deep State is further exposed for their role in PedoGate, we can expect more counterattacks such as the legalization of pedophilia.

"The United Nations "Human Rights Council," which counts some of the world's most ruthless dictatorships as members, sparked global outrage last week by voting to appoint a UN czar to oversee the normalization of homosexuality and transgenderism around the world.
…According to the UN's propaganda service, the discredited UN "Human Rights Council" debated the measure for almost four hours on June 30 before adopting the scheme in a contentious vote. Just 23 member governments and regimes voted in favor of creating the new czar, while 18 voted against and six abstained.
The measure was pushed forward by a tight-knit network of communist and socialist governments in Latin America with close ties to Marxist terrorist groups, Western globalists, Moscow, and Beijing.
A number of European governments and other members of the "LGBT Core Group," which includes Obama and the EU, also played a key role in pushing the scheme from outside the UN "human rights" outfit.
"For the first time, work on this issue [normalizing homosexuality and transgenderism] will be effectively institutionalized at the Human Rights Council," the UN said…."
"…celebrated as a "great step forward for human rights in the United States." "The measures he advocated here — including new laws to protect people from discrimination — are the same measures that, today, we advocate governments everywhere."
Years ago, I wrote about the fact that the North American Man-Boy Association (NAMBLA) was advocating for the legalization of pedophilia. Their identifying banner statement is "sex before 8 or it is too late". Care to guess who their largest contributor is? NAMBLA's largest contributor is George Soros.
The following is an example of how academics talk about pedophilia. Soon, the practice, much like transgenders terrorizing girls in female restrooms has become the norm.
"Paedophilic interest is natural and normal for human males," said the presentation.
"At least a sizeable minority of normal males would like to have sex with children … Normal males are aroused by children."
Some yellowing tract from the Seventies or early Eighties, the era of abusive celebrities and the infamous PIE, the Paedophile Information Exchange? No.
Anonymous commenters on some underground website? No again.
The statement that pedophilia is "natural and normal" was made not three decades ago but last July.
It was made not in private but as one of the central claims of an academic presentation delivered, at the invitation of the organizers, to many of the key experts in the field at a conference held by the University of Cambridge.
Other presentations included "Liberating the pedophile: a discursive analysis," and "Danger and difference: the stakes of hebephilia."
Hebephilia is the sexual preference for children in early puberty, typically 11 to 14-year-olds.
The most heinous organization in America is Nambla. Nambla is short for the North American Man-Boy Association and their identifying banner statement is "sex before 8 or it is too late".
We are on our way in the country to allowing and even encouraging sex with children. The last taboo is being eliminated.
It is now tolerated that creatures with an XY chromosome structure can now enter little girls restrooms, under the guise of being a transgender and terrorize these girls George Soros style. 
Your children are about to become part of a world that they are not equipped to live in.
How long will it be until employees who have sex with children is protected as well when we look at the transgender issue in bathrooms. No, this is not hyperbole, it is a legitimate concern.
The North American Man-Boy Love Association (NAMBLA) begins to figure prominently into this picture. In the past, one of their trademark phrases was "sex before eight, or it's too late".
This is an obvious attempt to remove the last perverted prohibition from our legal code as well as our societal safeguards to protect our children. Words cannot describe how sick and perverted these people truly are.
And before you think that this could never become a reality, please consider that globalist, George Soros, gives money to NAMBLA.
If that is not concerning enough for you please realize that Kevin Jennings, an Obama Department of Education official, and a close friend of Hillary Clinton has involvement with this group as well.
"Could the last taboo be permanently removed? You mean I no longer have to hide the fact that I am a pedophile?
Bootstrapping gender neutral and homosexual protection issues to pedophilia is already happening. The New York Times is on record (here as well) saying the pedophilia is not a crime.
The ACLU is actively defending Nambla and pedophile advocates.
"And it shall come to pass afterward, that I will pour out my spirit upon all flesh; and your sons and your daughters shall prophesy, your old men shall dream dreams, your young men shall see visions." (Joel 2:28.)
John Wesley who said that what we tolerate in our generation, will be embraced by the next. Wesley is 100% correct! We are living in sick times.
Usually, the Lord doth no great thing for or against his people, without giving warning of it before it comes.
They perverted justice among themselves (v. 7): "You turn judgment to wormwood, that is, you make your administrations of justice bitter and nauseous, and highly displeasing both to God and man.'' That fruit has become a weed, a weed in the garden; as nothing is more venerable, nothing more valuable, than justice duly administered, so nothing is more hurtful, nothing more abominable, than designedly doing wrong under color and pretense of doing right. Corruptio optimi est pessima —The best, when corrupted, becomes the worst.
It is impossible to find anyone in the Bible who was a power for God who did not have enemies and was not hated.
2 Corinthians 4:8-11 New King James Version (NKJV)
8 We are hard-pressed on every side, yet not crushed; we are perplexed, but not in despair; 9 persecuted, but not forsaken; struck down, but not destroyed— 10 always carrying about in the body the dying of the Lord Jesus, that the life of Jesus also may be manifested in our body. 11 For we who live are always delivered to death for Jesus' sake, that the life of Jesus also may be manifested in our mortal flesh.
"Pedophile" has reverberated throughout America. But beneath our anger and revulsion, a fundamental question pulsates: Are those who abuse their positions of trust to prey upon children—a category certainly not limited to those in religious orders—sick … or are they evil? We need the answer to that fundamental question. Because, without the truth, we cannot act. And until we act, nothing will change.
My job is protecting children. It has taken me from big cities to rural outposts, from ghettos to penthouses, and from courtrooms, into demonic battlefields. But whatever the venue, the truth remains constant: Some humans intentionally hurt children. They commit unspeakable acts—for their pleasure, their profit, or both.