This Happened On Planet Earth…July 2019…End Times Signs

Published on Jul 23, 2019
 

Please Help Support This Ministry:

https://www.paypal.me/watchman1963

Please subscribe to my backup channel:

https://www.youtube.com/channel/UC4nc…

Current Events Linked To Biblical Prophecies. Everything is unfolding just as the bible foretold. Wars, Volcanic Eruptions, Earthquakes, Extreme Weather, Christian Persecution, Violence and more!
Matthew 24:3-14 3 Now as He sat on the Mount of Olives, the disciples came to Him privately, saying, "Tell us, when will these things be? And what will be the sign of Your coming, and of the end of the age?" 4 And Jesus answered and said to them: "Take heed that no one deceives you. 5 For many will come in My name, saying, 'I am the Christ,' and will deceive many. 6 And you will hear of wars and rumours of wars. See that you are not troubled; for all[a] these things must come to pass, but the end is not yet. 7 For nation will rise against nation, and kingdom against kingdom. And there will be famines, pestilences,[b] and earthquakes in various places. 8 All these are the beginning of sorrows. 9 "Then they will deliver you up to tribulation and kill you, and you will be hated by all nations for My name's sake. 10 And then many will be offended, will betray one another, and will hate one another. 11 Then many false prophets will rise up and deceive many. 12 And because lawlessness will abound, the love of many will grow cold. 13 But he who endures to the end shall be saved. 14 And this gospel of the kingdom will be preached in all the world as a witness to all the nations, and then the end will come.
———————————————–
Iran: Iranian flag flies from seized UK oil tanker – state TV



Iranian state TV released footage purportedly from the deck of the seized British-flagged oil tanker Stena Impero, as it flew the Iranian flag while docked in the southern Iranian port city of Bandar Abbas on Sunday.




Iran announced it had seized the Stena Impero after accusing it of contravening international maritime regulations, on Friday, according to reports citing Iranian state TV.




UK marines helped seize a tanker near Gibraltar on July 4, which was suspected of being on its way to sell oil to Syria from Iran in alleged breach of international sanctions, to which Tehran announced it would respond in kind.
————————————————
War w/Iran & US Imminent?
US tells China to stop Bullying-Venezuelan fighter jet shadows US Plane

Published on Jul 23, 2019
 

You will hear the following in this Broadcast: -Is a War with Iran on the Horizon? Experts weigh in -Iran says it has arrested CIA spies, President Trump says they are lying -US says UK must take care of their own ships -Hezbollah Moves Troops To The Israeli Border As It Prepares To Attack If A U.S.-Iran War Breaks Out -Saudi king approves hosting U.S. troops to enhance regional security -UK calls seizure of ship a 'hostile act'and tells Iran to release it immediately -Peace Is About To Be Taken From The Earth, And World War 3 Could Literally Start At Any Moment -US calls on China to stop 'bullying behaviour' in the South China Sea -Venezuelan fighter jet 'aggressively shadowed' Navy aircraft over Caribbean Sea, US military says
———————————————–
WORLD NEWS CLIPS – ARTICLES – TUESDAY JULY 23rd 2019
1Th. 5:3 For when they shall say, Peace and safety; then sudden destruction cometh upon them, as travail upon a woman with child; and they shall not escape
Luke 11:29 And when the people were gathered thick together, he began to say, This is an evil generation: they seek a sign; and there shall no sign be given it, but the sign of Jonas the prophet
John 8:32 And ye shall know the truth, and the truth shall make you free
"My people are destroyed for lack of knowledge" (Hosea 4:6)
1Cor. 12:3 Wherefore I give you to understand, that no man speaking by the Spirit of God calleth Jesus accursed: AND THAT NO MAN CAN SAY THAT JESUS IS THE LORD, BUT BY THE HOLY GHOST.
THE TRIBULATION OF THE UNJUST (Those who have rejected Jesus Christ as their Saviour) IN THE BOOK OF REVELATION CHAPTER'S 6 to 22:
TRIBULATION IS COMING AND THE REMOVAL OF THE CHURCH IS IMMINENT.
THE GREAT "DECEPTION" IS READY TO BE IMPLEMENTED BY THE ONE WORLD GOVERNMENT, AND THE ONE WORLD CHURCH UNDER THE CATHOLIC BANNER. ARE YOU READY FOR JESUS CHRIST RETURN
Rev. 3:10 Because thou hast kept the word of my patience, I also will keep thee from the hour of temptation, which shall come upon all the world, to try them that dwell upon the earth:
Luke 12:37 Blessed are those servants, whom the lord when he cometh shall find watching: verily I say unto you, that he shall gird himself, and make them to sit down to meat, and will come forth and serve them
so won't you accept Jesus now and be removed from that event and live forever with Jesus in the Family of God?
2 "(For he saith, I have heard thee in a time accepted, and in the day of salvation have I succoured thee: behold, now is the accepted time; behold, now is the day of salvation.)" (2nd Corinthians 2:6)
——————————————-
DAILY CHRISTIAN BIBLICAL QUESTIONS AND ANSWERS:
——————————————-
A NEW COMMANDMENT I GIVE YOU
A Bible Study by Jack Kelley
Whenever I write about forgiveness, I try to emphasize the idea that forgiveness is not something we extend because the other person has earned it or deserves it, but because the Lord has commanded it. He commanded it for three reasons. First because the failure to forgive is a sin that interrupts our relationship with Him, second because it's an opportunity for us to show our gratitude for having been forgiven, and third because by doing so we keep His commandments.
In His parable of The Unmerciful Servant, the Lord made it clear that having forgiven us for everything, He expects us to forgive each other for the little things that get between us (Matt. 18:21-35). This is critical to maintaining our fellowship with Him (Matt. 6:14-15).
Jesus didn't die so that bad people could become good. He died so that dead people could live. In the parable of the prodigal son, the older son criticized his father for restoring the younger rebellious son to his former position.  The father, a type of our Father, didn't justify his actions by saying,
"your brother who was bad has become good" but "your brother who was dead is alive (Luke 15:32)."
The father forgave his younger son and clearly desired for the older one to do so as well.
OBEYING THE LAW OR KEEPING THE COMMANDMENTS?
The Lord's major problem with the religious leaders of the day wasn't that they were failing in their effort to live by the law. It was that they considered themselves successful when in fact they were leaving out the most important part.
When they asked Him the first and greatest commandment He said,
"Love the Lord your God with all your heart and with all your soul and with all your mind."
And then He said,
"And the second is like it: Love your neighbor as yourself 
Their pride in keeping the law had produced in them a love for themselves greater than either their love for Him or their neighbours and put them in violation of both of these commandments. For this they received no credit for their obedience to the law, but rather condemnation for failure to keep the commandments (Matt 23:13-33).
The same point is made in the parable of the Pharisee and the Tax Collector (Luke 18:10-14).  The two men were praying in the Temple at the same time.  The Pharisee bragged about himself to God, thanking Him that he was not like other men.  The tax collector humbly said, "God, have mercy on me, a sinner."  Jesus said the tax collector was the only one of the two who went home justified before God.  The Greek word translated justified means to be rendered righteous.
If you think you're a better Christian than someone else because you haven't sinned like they have, you're in danger of becoming one of the modern Pharisees. If you've failed to forgive a brother because you think he hasn't earned it or doesn't deserve it, you're almost there. Keep going and you'll earn the Lord's condemnation just like they did (Luke 6:37). Confess and you'll be forgiven, just as they were (Acts 2:41).
"It's God's kindness that leads you to repentance."
 Lamentations 3:22-23 agrees. "His mercies are new every morning." No one comes to Jesus out of a desire to obey the law, but out of a realisation that we can't. It's His mercy we seek, not His justice. Perhaps this is why the Lord gave us a "new" commandment in John 13:34.
"Love one another. As I have loved you, you must love one another."
It's so important He repeated it in John 15:12. His kindness to us is to be expressed in our kindness to one another. Out of His love He forgave us, although He didn't need to and we didn't deserve it, and out of that same love we are to forgive each other.
THE GREATEST GIFT
Of all the gifts we received from Him, the greatest is love (1 Cor 13:13). It's the distinguishing factor by which the world will know we are His (John 13:35). Concerning this love, we are to be a channel, not a reservoir, allowing it to flow through us into each other, instead of hoarding it for ourselves.
"As I have loved you, you must love one another."
"If you love me, obey what I command," the Lord told us (John 14:15). In so doing He reminded us of the greatest commandments.
"Love the Lord your God with all your heart and with all your soul and with all your mind, and love your neighbor as yourself " as well as His "new" commandment, "As I have loved you, you must love one another."
When other believers sin against us they are breaking all these commandments, failing to act out of love for the Lord and a neighbour, and failing to express the Lord's love for us. When they admit they've sinned and confess the Lord forgives them.  When we fail to forgive them we are breaking His commandments as well, failing to act out of love for the Lord and our neighbours, and failing to express the Lord's love for them. When we admit we've sinned and confess the Lord forgives us.
FOR I DESIRE MERCY, NOT SACRIFICE
Some Pharisees had just accused the Lord's disciples of breaking the Law by picking some heads of grain and eating them on the Sabbath. The Lord responded,
"If you had known what these words mean, 'I desire mercy, not sacrifice,' you would not have condemned the innocent."
It's in Matt. 12:1-8 but it's a quote from Hosea 6:6.  He was saying that God views the way we treat others as evidence of our feelings toward Him.   Obedience is acceptable only if it's undertaken in response to God's love for us.  Since no one succeeds, everyone requires God's mercy. The fact that He grants it is evidence of His love for us. Our mercy toward one another is evidence of our love for God.  It goes against human nature because it comes from the divine nature, but it's what God desires of us.  He says,
"Shouldn't you have mercy on your brother just as I had mercy on you?"
He's got a point.  Selah 10-22-11.
———————————————-
NEWS CLIPS OBTAINED FROM MANY SOURCES – INCLUDING

Tracking bible prophecy.org
Rapture Ready News
Prophecyupdate.Com
Main News Channels
End Times Headlines
Prophecyupdateblogspot.com
Stevequayle.com
Gracethrufaith.com
Nowtheendbegins.com
Other Christian Sites
(CLICK ON) LATEST DAILY NEWS CLIPS:
ISRAEL NEWS:
I AM GOING TO MAKE JERUSALEM A CUP THAT SENDS ALL THE SURROUNDING PEOPLES REELING … Zech. 12:2
God is in control, and He told the nations the consequences of dividing the Promised Land and declaring peace and safety on their own terms (Joel 3:1-2; I Thess. 5:3)
WORLD TERRORISM – WARS
GENERAL WORLD NEWS:
WORLD FINANCE:
MASSIVE EARTH CHANGES/EARTHQUAKES/VOLCANOES ETC:
2Chr. 7:13 If I shut up heaven that there be no rain, or if I command the locusts to devour the land, or if I send pestilence among my people;
2Chr. 7:14 If my people, which are called by my name, shall humble themselves, and pray, and seek my face, and turn from their wicked ways; then will I hear from heaven, and will forgive their sin, and will heal their land
CHRISTIAN AND RELIGIOUS WORLD NEWS:
Matt. 24:9 Then shall they deliver you up to be afflicted, and shall kill you: and ye shall be hated of all nations for my name's sake.
Matt. 24:10 And then shall many be offended, and shall betray one another, and shall hate one another
EXTRA WORLD – ALTERNATIVE NEWS:
————————————————-
WORLD – PROPHETIC NEWS ARTICLES PRESENTATION – TUESDAY JULY 23rd 2019
MIDDLE EAST AND WORLD WAR LOOMING THE BUILD UP TO PSALM 83  – ISAIAH 17 AND GOG OF MAGOG WARS EZEKIEL 38:
THE WHOLE WORLD IS UNSTABLE FINANCIALLY, POLITICALLY, PHYSICALLY, MORALLY, GODLY: – AND BECOMING MORE SO DAILY. (WE ARE IN THE BEGINNING OF SORROWS (MATT 24:8)
THE BIBLE STATES THAT IT WILL ONLY GET WORSE BEFORE THE START OF THE TRIBULATION OF MANKIND – (

REVELATION 6

)
Matt. 24:6 And ye shall hear of WARS AND RUMOURS OF WARS: see that ye be not troubled: for all these things must come to pass, but the end is not yet.
Matt. 24:7 FOR NATION SHALL RISE AGAINST NATION, AND KINGDOM AGAINST KINGDOM: and there shall be famines, and pestilences, and earthquakes, in divers places.
ISAIAH 17/PSALM 83:
THE DESTRUCTION OF DAMASCUS and
Muslim Countries in the Middle East will launch an attack on Israel
JEREMIAH 49:
PROPHECY OF ELAM – (Possible Attack on Iran's Nuclear Program
————————————————–
IRAN FLIES IRANIAN FLAG ON SEIZED BRITISH OIL TANKER, TAUNTS BRITAIN ON STATE TV STATE RUN TV SHOWS IRAN'S NATIONAL FLAG HOISTED ON CAPTURED BRITISH SHIP
https://neonnettle.com/news/7928-iran-demands-us-withdraws-all-american-forces-from-middle-east
See video posted at the top (Beginning) of this News Report:
Iran shows their national flag being hoisted on the seized on the seized British tanker in a major taunt to Britain
Iran has hoisted the Iranian national flag over the seized British oil tanker, Stena Impero, as Tehran taunts Britain in new footage broadcast on state TV. State-controlled news outlet Press TV also showed footage of Iranian armed forces patrolling the decks of the oil tanker after it was seized by the Iranian Revolutionary Guard in the Strait of Hormuz on Friday. The clip appears to have been recorded in the southern port of Bandar Abbas. An Iranian official earlier stated that the 23-strong crew of the British-registered ship was "safe and in good health."
As the situation in the Persian Gulf is threatening to spiral out of control, Prime Minister Theresa May announced that she is calling a meeting of Britain's emergencies committee Monday to discuss the UK's next moves. "As well as receiving the latest updates from ministers and officials, the… meeting will discuss the maintenance of the security of shipping in the Persian Gulf," a Downing Street spokesperson said Sunday.
In a video posted by Press TV on Sunday, the ship that sailing under the British flag is seen brandishing Iran's green, white and red banner. The short clip also shows a patrol boat that appears to be circling the waters near the vessel
The ship appears empty except for several people that can be seen on the upper deck.
Iran has accused the Stena Impero's crew of ignoring a distress signal after an "accident" with a shipping boat. Tehran says the tanker instead changed its course, sailing in the wrong direction of a shipping lane.
The head of the Ports and Maritime Organization in Iran's southern Hormozgan Province, Allah-Morad Afifipoor, told Press TV that it's unclear how much time the probe will take, saying it would depend on the crew's cooperation and Tehran's ability to obtain the relevant documentation.
On Saturday, Iranian news agency ISNA said the crew, which consists of 18 Indians, three Russians, a Latvian national, and a Filipino, remains on board and may be subject to "technical questioning."
The UK, in a letter to the UN Security Council, challenged the Iranian Navy's account, saying the Stena Impero was seized in Omani territorial waters and had done nothing wrong.
A recently-surfaced tense radio exchange between the Iranian Navy and the British frigate HMS Montrose, which was near the site of the incident, shows the British side advising the Stena Impero to defy Iran's demands. "As you are conducting transit passage in a recognized international strait, under international law your passage must not be impaired, impeded, obstructed or hampered," the Montrose radioed to the tanker. The Iranians said that they intended "no challenge" and needed to inspect the vessel for "security reasons."
READ MORE
:
https://neonnettle.com/news/7928-iran-demands-us-withdraws-all-american-forces-from-middle-east
——————————————–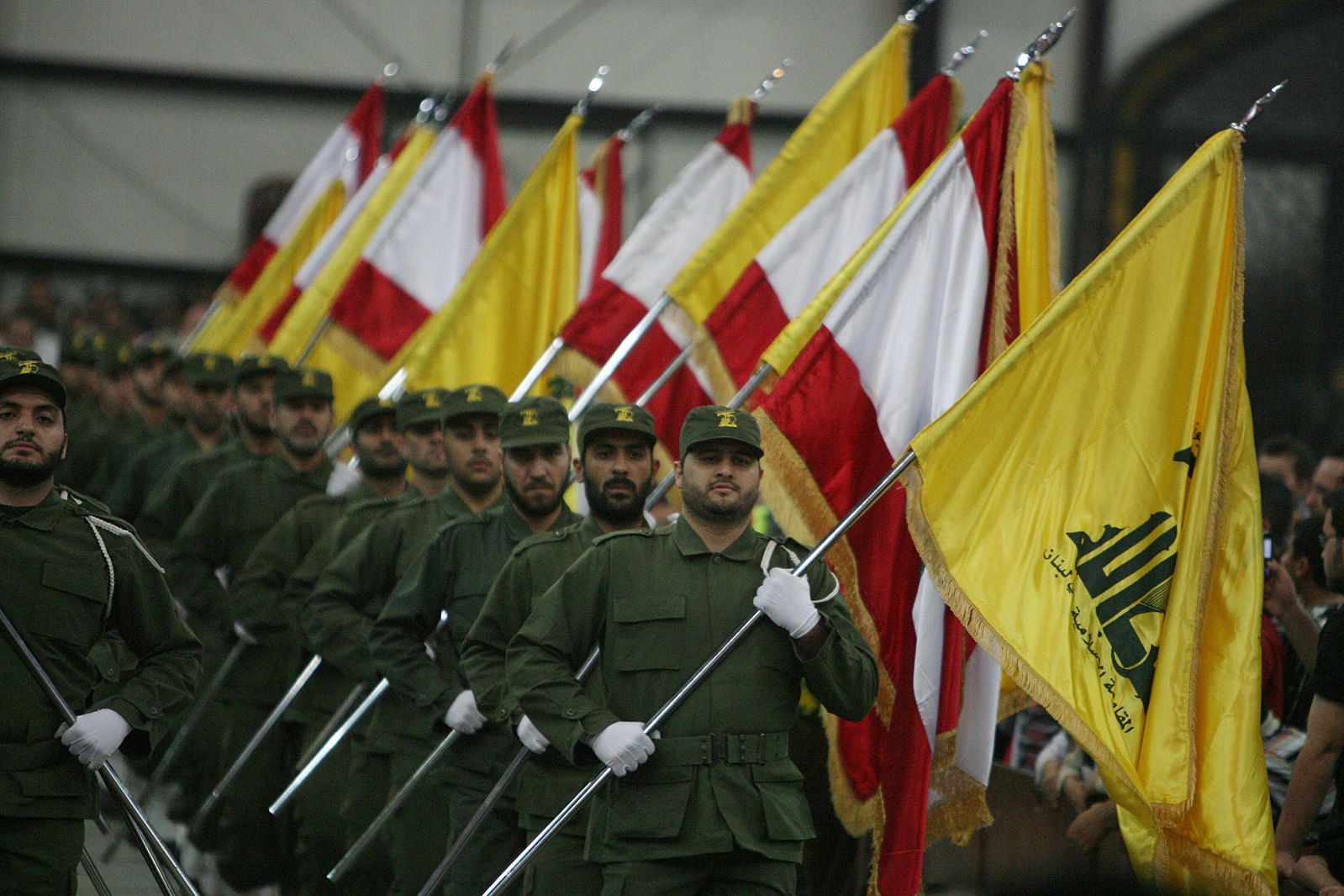 It has become exceedingly clear that if the U.S. and Iran go to war, the entire region is going to be set ablaze.  Iran has already threatened to hit Israel extremely hard if the U.S. attacks, and hordes of Hezbollah fighters are massing along Israel's borders right now in anticipation of a military conflict.  As you will see below, it is estimated that Hezbollah now has 150,000 missiles of their own pointed at Israel, and one Hezbollah military officer recently warned that they "will fire the first shot this time".  The war between Israel and Hezbollah in 2006 was highly destructive, but the truth is that it isn't even worth comparing to what the next conflict will be like.  Today, Hezbollah is the most heavily armed terror organization the world has ever seen, and their forces are battle-hardened after spending many years engaged in the bloody war in Syria.  After victory after victory in that struggle, now those same fighters are being deployed along the Israeli border.  The following comes from the Daily Beast…
Hezbollah's forces, battle-hardened in the Syrian civil war, have begun redeploying toward the Israeli border, not only in Lebanon, but in Syria opposite the Israeli-occupied side of the Golan Heights.
Hezbollah fighters who spoke to The Daily Beast say their organization is hurting from sanctions and ready to initiate hostilities—if and when Tehran deems that necessary.
All Tehran has to do is give the order and those forces are going in.
In fact, one Hezbollah commander that was interviewed by the Daily Beast is openly admitting that "we will fire the first shot this time"…
"The sanctions now have us preparing for dealing with the Israeli front," says "Commander Samir," a Hezbollah officer in charge of 800 fighters on Lebanon's border with Israel. He declines to use his real name because he is not authorized to speak to the media. "We will fire the first shot this time," he says.
As I keep warning, we are literally on the verge of World War 3 breaking out in the Middle East.
The moment U.S. missiles start hitting Iran, the Israelis will have to go on full alert because they will be attacked.
And let there be no doubt – Hezbollah is fully capable of raining down hell on Israeli cities.  According to a report in an Israeli news source from late last year, it is estimated that Hezbollah's arsenal of missiles and rockets has now risen to 150,000…
The Lebanese terrorist group Hezbollah's arsenal of missiles and rockets has grown to 150,000, Internal Security Minister Gilad Erdan (Likud) revealed Sunday.
Speaking at a conference hosted by the Jerusalem Institute for Strategic Studies on Sunday, Erdan highlighted the increasing military presence of Iran and its allies along the Israeli border, Israel Hayom reported.
Can you imagine the devastation that would be caused by 150,000 missiles and rockets being fired into an area roughly the size of New Jersey?
Yes, the Israeli military would intercept some of them, but many would get through.
Of course Israel has even more firepower, and they would undoubtedly win the conflict.  Last week, Israeli Prime Minister Benjamin Netanyahu promised that Israel would "act with tremendous force" if a war with Hezbollah were to erupt.
Unfortunately, it probably would not be just Hezbollah that Israel would be fighting.  The Iranians have also been "providing training and support" for Hamas and Palestinian Islamic Jihad.  And it definitely raised eyebrows when a delegation from Hamas visited Tehran over the weekend.  The following comes from the Jerusalem Post…
The head of the political bureau of the Hamas terrorist movement, Ismail Haniyeh said on Saturday that he hoped that a visit by a senior Hamas delegation in Tehran over the weekend would provide "important results," according to a Hamas press release on the terror group's website.
In the end, Israel could find itself fighting Hezbollah, Hamas, Islamic Jihad and Iran simultaneously, and such a war would be unlike anything we have ever seen before.
And the violence would not just be limited to the Middle East.  In a previous article, I detailed the enormous presence that Hezbollah already has in North America, and Hamas and Islamic Jihad definitely have a presence here too.
Could you imagine the chaos that we would see if all of those terrorists were suddenly unleashed and they started destroyed "soft targets" all across America?
So the Trump administration should think very, very carefully before going to war with Iran.  Because once it starts, there will be no going back.
At this point our border security is a complete and utter joke, and conservative activists have been documenting for years that illegal immigrants can hop back and forth across the border with ease.  For highly organized terror organizations, getting operatives into the United States is not exactly a problem.  They are here, and when the right moment comes, they will strike.
I have been loudly calling for the U.S. government to secure our borders for many years, but it hasn't happened, and now we could pay a very great price for our foolishness.
All it is going to take is one wrong move for war to erupt.  Iran, Hezbollah, Hamas and Islamic Jihad are all preparing to fight, and all of them would throw literally everything that they have at the United States and Israel.
We do not want to fight a war against hordes of apocalyptic terrorists that hate us with a passion that most westerners cannot even imagine.  It would be a horrible, bloody, nightmarish war, and none of our lives would ever be the same again.
————————————————–
The U.S. military is following many of the exact same patterns that we witnessed during our previous wars in the Middle East, and that even includes setting up shop at a key military base deep in the heart of the Arabian peninsula.  After the U.S. invasion of Iraq in 2003, the U.S. military abandoned Prince Sultan Air Base in Saudi Arabia, but now they are back.  Hundreds of U.S. troops are already there working hard to get the base operational, and as you will see below, a tremendous amount of new construction is planned.  The base covers "well over a hundred square miles", and so it has more than enough room to serve as a central hub for a new Middle East war.  Tensions with Iran have escalated dramatically over the past few weeks, but apparently somebody anticipated that the U.S. would need to use this base even before then, because according to NBC News U.S. troops were already arriving back in June…
In June the U.S. military began moving equipment and hundreds of troops back to a military base in Saudi Arabia that the U.S. deserted more than 15 years ago, according to two U.S. officials familiar with the deployment.
Over the coming weeks the deployment to Prince Sultan Air Base, intended to counter the threat from Iran, will grow to include fighter jets and Patriot long-range missile defense systems, the officials said. The Patriots have already arrived at the base and should be operational in mid-July, while the aircraft are expected to arrive in August.
And it turns out that the U.S. military has used this base during all of our previous wars in the Middle East.
For example, according to Air Force Magazine the U.S. military first occupied Prince Sultan Air Base for a few months during Operation Desert Storm…
The US Air Force first occupied the sprawling base in two frantic months from November 1990 to January 1991, then departed. Five years later, USAF and coalition forces moved back into the base. It quickly became a massive facility, home to a state-of-the-art air operations center and serving as the hub for air activity in the region.
Then later on, the base played a key role during the U.S. invasion of Afghanistan.  The following comes from the Military Times…
Starting with the January 1991 air war against Iraq after its invasion of Kuwait the previous summer, the U.S. flew a wide range of aircraft from Prince Sultan air base, originally known as al-Kharj. Supported by an all-American array of creature comforts like fast-food restaurants and swimming pools, U.S. forces there flew and maintained Air Force fighters and other warplanes.
The base also served as a launch pad for the December 1998 bombing of Iraq, code-named Operation Desert Fox, which targeted sites believed to be associated with Iraq's nuclear and missile programs. In 2001, the base became home to the U.S. military's main air control organization, known as the Combined Air Operations Center, which orchestrated the air war in Afghanistan until it was relocated in 2003 to al-Udeid air base in Qatar.
But U.S. activity at the base didn't reach a crescendo until Operation Iraqi Freedom in 2003.  Here is more from Air Force Magazine…
Other delicate negotiations came down to the wire just before the start of Operation Iraqi Freedom. "We've had very productive meetings regarding military cooperation with Saudi Arabia in the event of military action against Iraq," State Department official Richard Boucher announced Feb. 26, 2003.
That day, newspapers reported that the Saudis granted formal permission for PSAB to be used in the war against Saddam Hussein's Iraq. Operation Iraqi Freedom began March 19.
Once again, PSAB pulled its weight in the air campaign. Fuel was a metric showing just how far PSAB had come since 1996. Prince Sultan Air Base operated at maximum rates during major combat operations in Operation Iraqi Freedom from March 19 to May 1, 2003. During that time, the 363rd Fuels Management Flight issued more than one million gallons per day. Officials had previously expanded the fuel storage capacity at Prince Sultan from two million to more than 15 million gallons.
So as you can see, every time the U.S. has decided to go to war in the Middle East, Prince Sultan Air Base has played a leading role.
And now after all this time we have suddenly returned.
This time around, it appears that the U.S. is planning for a very long stay.  According to NBC News, existing roads and runways will be reinforced and expanded, and the U.S. military is even going to "build a medical facility"…
While Prince Sultan Air Base is an active facility, portions of the base will need an upgrade to accommodate the U.S. military, including reinforcing and expanding roads and runways, one U.S. official said. Base housing will also need updating, the official said, and the U.S. will build a medical facility. Many of the U.S. service members deployed there over the past few weeks are engineers preparing the base for the new mission.
Apparently whoever is in charge of making these sorts of decisions is not very optimistic about peace with Iran.
A tremendous amount of money and effort is required for a project like this, because it is basically the equivalent of putting up a small American city in the middle of nowhere.  The base covers "well over a hundred square miles", and all the way back in 2002 Wolf Blitzer called it "a little sliver of America in the middle of the Arabian Peninsula"…
"By the time the base complex was completed in 1999, it had cost the government of Saudi Arabia more than $1 billion and covered well over a hundred square miles," found Air Force historian Daniel L. Haulman.
Food was also a priority. Baskin-Robbins ice cream set up shop as did other popular vendors such as Pizza Inn and Burger King. In time, the exchange provided a small haven of food, shopping, and diversion. "It's a little sliver of America in the middle of the Arabian Peninsula," enthused CNN's war correspondent Wolf Blitzer, who visited the base in December 2002 as forces there prepared for intensifying action against Iraq.
I suppose that the Saudis want us to be as comfortable as possible if we are going to fight a war that will greatly benefit them.
After all, the Saudis and the Iranians have been engaged in a proxy war for many years, and so the Saudis would be absolutely thrilled to see the U.S. military bomb the living daylights out of them.
And Saudi Arabia's minister of state for foreign affairs actually sounds quite eager for the action to start…
"Any attack on the freedom of navigation is a violation of international law," Adel Aljubeir said in a Twitter post.
"Iran must realise its acts of intercepting ships, including most recently the British ship, are completely unacceptable. The world community must take action to deter such behaviour," he added.
But as I discussed in a previous article, if the American people truly understood what a war against Iran would be like, there would be millions of protesters in Washington D.C. right now trying to stop it from happening.  It would be a horrible, bloody, apocalyptic war that would set the entire Middle East ablaze, and it would set the stage for the sort of nightmare scenarios that I have been relentlessly warning about.
Unfortunately, so far only a very small portion of the U.S. population seems alarmed about any of this.
Meanwhile, the Pentagon is rapidly preparing for war, and Prince Sultan Air Base is now buzzing with U.S. military activity for the very first time since the invasion of Iraq.
——————————————–
DID ISRAEL ATTACK AN IRANIAN MILITARY BASE IN IRAQ?
https://prophecyupdate.blogspot.com/
Edy Cohen
Last Thursday night, unidentified aircraft attacked an Iranian military base in the district of Salah al-Din in Iraq. It is a desert area very close to the border between Iraq and Syria, through which passes the main land corridor connecting Iran to Syria and Lebanon via Iraq.
The Iranian base was full of ballistic missiles and dozens of operatives from Al-Heshid al-Shaabi [a pro-Iranian Iraqi Shiite militia] and Lebanese Hezbollah operatives were inside during the bombing. According to reports in the Arab media, several people were killed and dozens of fighters from the Iranian Revolutionary Guards and Hezbollah operatives were injured in the attack. Several fires broke out during the night as a result of the weapons and ammunition igniting.
At the time of writing, it is still not clear who carried out the attack. No one has taken responsibility. A number of media outlets suggested at first that the US may be behind the operation, but a few hours later the Pentagon issued a denial and made it clear that the US was not involved.
It is important to note that this area has already been attacked in the past with the purpose of disrupting the direct Shi'ite corridor from Iran to Syria and Lebanon, thus preventing Hezbollah and other terrorist proxies from receiving advanced weapons that could threaten Israel's security. The previous attack, which took place about a year ago in June 2018, happened not far from last week's bombing site, where it is now reported that 52 jihadists, mostly Iraqis, were killed.
Officially, Israel refuses to comment on the development, but behind the scenes many are suggesting it was an Israeli operation.
For example, the Minister for Regional Cooperation, Tzahi Hanegbi, said in a radio interview on Monday morning (July 21) that "we are the only ones who kill Iranians, we strike the Iranians hundreds of times in Syria, sometimes they admit it, and sometimes foreign publications expose the matter."
It is no secret that Israel has been striking Syria for several years and is preventing Hezbollah from obtaining advanced weapons from Iran. Most of these operations are published by the Syrian media. Israel is trying to maintain a low profile so as not to provoke the other side to initiate a response. It was years even until Israel admitted to carrying out the 2007 airstrike on Dir al-Zawar, where the Israel Air Force destroyed a nascent Syrian nuclear reactor being built with help from North Korea. Israel tries to avoid confirming its involvement in real time, but will often admit carrying out such strikes in retrospect.
Israel's political echelon will also often threaten future attacks, and Prime Minister Benjamin Netanyahu even said that hitting targets in Iraq is not out of the question. The Iranian base hit last week in Iraq is certainly one that poses a threat to Israel.
To save face, Iran and Iraq have not volunteered much information regarding the strike, but it is clear that the Iranians and their Shiite allies were dealt a heavy and strategic blow. If war breaks out in the Persian Gulf anytime soon, Iran will now have a much harder time carrying through on threats to punish Israel using missiles positioned in Syria and Lebanon. 
As the tension mounts, the risk of war in the Middle East increases. The question is whether Iran will follow in the footsteps of Saddam Hussein, who launched missiles at Israel in response to being attacked by the US, or use its proxies to do the dirty work. Israel isn't waiting around to find out, and remains busy eliminating threats preemptively.
——————————————–
ISRAEL PUTS IRAN ON NOTICE: PLANS TO USE IRAQ AS LAUNCHING PAD FOR ATTACKS ON ISRAEL WILL NOT BE TOLERATED
https://prophecyupdate.blogspot.com/
Iranian and Iraq intelligence sources claim an Israeli Harop UAV carried out the attack on the 52nd Brigade of the Hashd Shaabi militia on Friday, July 19. The attack struck the militia at a Badr Brigades camp outside Amerli town in the Salahudin Province northeast of Baghdad. 
The sources identify the fragments gathered at the site as belonging to the IAF's Harop, a loitering combat unmanned vehicle, itself a flying bomb, developed by Israel's Aerospace Industries. This drone is a stealth munition that can loiter for up to six hours before homing in on a target. It has a range of 1,000km. The Badr camp is about 900km from Israel.
Some Russian aviation websites also speculated on Sunday that Israel was responsible for the attack.
According to Iranian Revolutionary Guards, there were no casualties – in denial of  local accounts of deaths among Iranian and Hizballah officers. 
If the Iranian and Iraqi claim is confirmed, it would represent three groundbreaking events:
The Israeli Air Force's first known attack on an Iranian target using a Harop UCAV.

The first Israeli attack deep inside Iraq not far from its border with Iran.

The Israeli minister Tzachi Hnegbi's blunt remark on Sunday, that in the past two years Israel has caused Iranian military deaths in both overt and covert operations, may have betrayed some impatience with the Trump administration's policy of military restraint against Iran, including Tehran's threat to Gulf shipping. In certain circles, Washington's restraint is seen as exposing Israel to bolder Iranian aggression. 

Israel has repeatedly put Tehran on notice that its plans to use Iraq as a launching pad for attacks on Israel would not be tolerated.
——————————————–
Iran's ambassador in London warned on Sunday that the UK government must get its "domestic political forces" pushing for regime change under control or else the two countries will face dangerous escalation. 
The public statement came two days after the British-flagged Stena Impero was boarded and captured by IRGC commandos, and over two weeks after the tanker Grace 1 was seized by UK Royal Marines off Gibraltar.
Iranian Ambassador Hamid Baeidinejad urged via his personal Twitter account that continued pressure on Iran would be "unwise" given that Tehran stands "firm and ready for different scenarios".
The ambassador said the UK government must "contain those domestic political forces who want to escalate existing tension between Iran and the UK well beyond the issue of ships" — in what appears a reference to the UK defense establishment and its allies at think tanks like the neoconservative the Henry Jackson Society and others, and powerful oil and weapons gulf allies like Saudi Arabia. 
His statement implied that British 'deep state' elements were using the tit-for-tat tanker seizures as a convenient raison d'etre for pushing conflict with Iran. 
On Friday Britain had issued its own warnings, with Foreign Minister Jeremy Hunt telling the Iranians they face "robust" and "serious consequences," but he stopped short of discussing military options, instead his statements emphasized diplomacy. 
The UK has condemned it as "a hostile act" – and German Foreign Minister Heiko Maas has indicated European leaders are desperately trying to prevent "uncontrollable military escalation."
Meanwhile, more details of Iran's seizure of the still detained Stena Impero tanker have emerged.  IRGC spokesman Brig. Gen. Ramezan Sharif was cited by Iran's Fars News Agency over the weekend as claiming a Royal Navy warship had attempted to put up "resistance and interference" to prevent Iran's navy from detaining the vessel. 
State media released new footage showing the tanker impounded with Iran's flag raised above.
——————————————–
Abdul Majeed / AFP
The Pakistani Army accused India of shelling its outposts along the Line of Control (LoC) and said one of its soldiers died during the exchange of fire. New Delhi says its forces retaliated after Pakistani troops attacked first.
According to Islamabad, Indian troops struck its positions with rockets and mortar fire at several locations in the northern Khyber Pakhtunkhwa province and the Pakistani-controlled part of Kashmir on Saturday. The Pakistani Army said it responded to "unprovoked ceasefire violation" and retaliated, hitting Indian outposts and "causing casualties."
One Pakistani soldier was killed and four locals were injured, including two young girls, the army said.
New Delhi claimed that Pakistan opened fire first, shelling the Mendhar area on the Indian-controlled part of Kashmir and targeting Indian outposts with mortars and small arms. Indian troops then retaliated to suppress the fire coming from the Pakistani side, the army's spokesperson said.
India did not report any casualties.
The longtime rivals nearly got into a full-blown war with each other in February. India ordered an air raid into Pakistan, striking what it said were camps of militant group Jaish-e-Mohammed (JeM), which had previously conducted a terrorist attack on Indian soil. Just days later, tensions between the neighbors escalated into open aerial combat. An Indian pilot was shot down, captured by Pakistan, and later handed over to India.
Islamabad and New Delhi subsequently exchanged several friendly overtures. In May, Pakistan's prime minister, Imran Khan, congratulated his Indian counterpart, Narendra Modi on his re-election and said he is ready to work with him for "peace, progress and prosperity" in the region. India's Foreign Ministry responded that the nation "seeks normal and cooperative relations with all neighbors, including Pakistan."
——————————————–
Senior US officials are set arrive in the region next week to further discuss the Trump administration's forthcoming Israeli-Palestinian peace plan, a senior US official told The Times of Israel Sunday.
The US delegation includes US President Donald Trump's senior adviser Jared Kushner, US special peace envoy Jason Greenblatt, Kushner's senior aid Avi Berkowitz, and Brian Hook, the administration's point man on Iran.
They are set to travel to Israel, Egypt, Jordan, Qatar, Saudi Arabia, and the United Arab Emirates, said the senior official, who asked not to be named, as he was not authorized to speak about the visit to press.
"The purpose of the visit is to follow up on the Bahrain workshop," the official said, referring to last month's "Peace to Prosperity" summit in Manama, during which the administration presented the economic part of its two-pronged peace proposal.
"We would like to finalize the plan's economic portion, including to discuss the potential placement of the investments," the official said, referring to the $50 billion investment packaged for the Palestinians and the wider region proposed by the plan.
The delegation's trip is to be understood as the conclusion of the first stage of the peace plan's unveiling, but not yet as the overture to the presentation of the political part, the official stresses.
The White House has indicated that it is waiting until after a government is formed in Israel following September 17 elections before it releases the political part of the peace plan, and has not revealed any of its details.
Days after publicizing the economic part of the plan, the White House also co-sponsored a conference in Bahrain, which focused on it. The Palestinians fiercely opposed the workshop in the Gulf country, arguing any peace effort must address political matters before economic ones.
Greenblatt has previously stated that the publication of the political section of the plan may be postponed until around early November, when he predicted a new Israeli government would be formed.
Netanyahu has said he will keep an "open mind" about the US peace proposal, while PA President Mahmoud Abbas has vowed on many occasions to reject the US plan.
——————————————–
A state of emergency has been declared in the area around the volcano after it violently exploded on July 20, 2019, sending ash all the way into Bolivia.
Nearly 30,000 people have been evacuated.
According to Peru's National Emergency Operations Center (COEN), ash from the volcano has covered 617 schools and 20 health centers in the southern region of the Andean nation.
The volcano set off a series of explosions last Thursday and emitted a column of ash about 5 kilometers (3 miles) high, which has since drifted with the wind, taking with it toxic gases.
The Geophysical Institute of Peru (IGP) issued an ongoing "orange warning" on Sunday, indicating further moderate explosions with more ash emission possible.
The majority of those affected by the eruption — 19,000 of the 29,700 — live in the area bordering Bolivia to the east. About 9,000 people to the south, around the town of Moquegua, have also been affected since the volcano erupted last week.
A state of emergency was declared by President Martin Vizcarra after he visited the area in order to accelerate distribution of aid, and speed up evacuations of communities.
The director of the Southern California Earthquake Center, Thomas Jordan, made an announcement recently that would have sent a chill down the spine of every Californian<.
The San Andreas fault appears to be in a critical state and as such, could generate a large earthquake imminently.
Of course, the reiteration of the seismic hazard to Californians will be nothing surprising, but what is new is the warning that the southern portion of the fault "looks like it's locked, loaded and ready to go".
Why is this eminent seismologist making these alarming statements?
Well, the fact is that there has not been a major release of stresses in the southern portion of the San Andreas fault system since 1857. In simple terms, the San Andreas is one of many fault systems roughly marking the border between the Pacific and North American tectonic plates. Both plates are moving in an approximately northerly direction but the Pacific plate is moving faster than its North American counterpart, meaning that stresses between the plates are constantly building up.
In 1906, some of these stresses were catastrophically released in the San Francisco Bay area in a 7.8 magnitude event and again, in northern California, during the 6.9 magnitude 1989 Loma Prieta earthquake. Events of these magnitudes, however, have not occurred along the San Andreas fault in the south of the state – the 1994 Northridge event was associated with a nearby, but separate, fault system – leading to the suggestion that one is imminent and, given the amount of stress that might actually have accumulated, when it arrives it will be the "Big One".
…recent predictions limit the possible maximum earthquake magnitude along the San Andreas fault system to 8.0, although with a 7% probability estimate that such an event could occur in Southern California in the next 30 years; over the same period, there is a 75% chance of a magnitude 7.0 event. While magnitudes of 7.0, 8.0 and 9.0 might sound negligibly different, the energy that such events would unleash varies significantly, with a magnitude 9.0 event releasing 32 times more energy than a magnitude 8.0 and 1,000 times more energy than a magnitude 7.0.
What is realistic, however, is that a great amount of destruction is likely. While the building codes in California are stringent, recommending retrofitting of seismic protection measures to older buildings and preventing the construction of new buildings near to known fault lines, there is no way to make a building 100% safe.
Even so, in all probability, the San Andreas is likely to generate a significant earthquake in the not too distant future. When it arrives, the damage will be significant and southern California will be massively affected. But Californians are no strangers to these events and the infrastructure of the state, in recent times, has been designed with earthquake protection in mind.
——————————————–
RECENT SIGNIFICANT EVENTS
First, as I write this article, Hurricane Barry is bearing down on Louisiana, and I suspect that some people are wondering why is this happening?
Among other things, I believe natural disasters are part of the curse that God placed upon the earth because of sin.
There will be natural disasters until the curse is removed (Rom. 8:22).
I also believe that God sent the Ten Plagues upon Egypt to let Pharaoh know that Israel's God is God, and there are some things that humans can't control

(Exodus 7:14-12:30).
I also believe that natural disasters come from the heart of a loving God that wants sinful people to repent of their sins and return to Him (

II Chron. 12:12-14

).
We live in a godless world with many Church members (Christians in name only) twisting Scripture to justify their re-definition of sin.
Someone said beware of half-truths because the half you believe may be wrong.
God may be telling us that repentance in the Church is badly needed.
A recent Pew Research poll found that the number of people in the U.S. that call themselves Christian was 86% in the early 90's, 78.4% in 2007 and 70.6% in 2014.
God loves people, but He hates sin, and He will judge sin.
Second, true Christians are close to losing their freedom of speech and religion.
In Jan. 2019, UN Sec. General Antonio Guterres directed one of his advisors to develop a plan to combat hate speech and hate crimes.
The plan was presented to the UN in June 2019, and it wants to globally outlaw all speech, writing and behavior that is divisive or intolerant (all speech, writing and behavior that criticizes Muslims, gays, etc.).
Third, concerning Pres. Trump's Deal of the Century, his Special Envoy Jason Greenblatt said, "We are aiming for a home run."
Pres. Trump believes the peace negotiations have gone on long enough and it is time for a comprehensive, final peace treaty in the Middle East.
God is the only One that knows what is going to happen, but it should be noted that the rebellious Palestinian leadership is not so rebellious after all.
Three things have spurred them to try to re-establish their relationship with Pres. Trump: 1) Pres. Trump cut off U.S. financial aid, and the PA is hurting financially; 2) The PA has decided that Pres. Trump will get re-elected, and they want to smooth things over with him; and 3) PA efforts to get all of the Arab nations to boycott Jared Kushner's Bahrain conference was ignored by some Arab leaders.
Fourth, last week, there was an article about Mark Zuckerberg's desire to create a one-world currency in early 2020.
This week, Pres. Trump and Jerome Powell, head of the Federal Reserve, chimed in on the subject.
Mr. Trump tweeted, "If Facebook and other companies want to become a bank, they must seek a new Banking Charter and become subject to all Banking Regulations, just like other Banks, both National [and international]."
Mr. Powell said America's central bank has "serious concerns" about Mr. Zuckerberg's one-world currency.
Notice that discussion of a one-world currency has now moved from the pages of books on Bible prophecy to tweets at the White House and Federal Reserve testimony before the U.S. House of Representatives.
Fifth, some people want to deny the existence of King David because they don't want to believe the Bible is the Word of God.
If scholars can prove that King David existed, it would make it harder to deny what the Bible says.
Several years ago, archaeologists started excavating a site in Israel that appeared to be an ancient town.
They have found and carbon-dated many items.
On July 8, 2010, they announced that the town they have found is the ancient town of Ziklag.
According to the Bible, King David hid at Ziklag when he was fleeing from King Saul.
It seems that archaeology keeps proving the Bible right, and it never proves the Bible wrong.
Prophecy Plus Ministries, Inc.
Daymond & Rachel Duck
———————————————-
DEUTSCHE BANK COLLAPSE COULD CRASH GLOBAL FINANCIAL MARKETS
German financial services giant Deutsche Bank AG is one of the largest and most important economic institutions in the world. Mainly due to self-imposed scandals, the bank is now having to taking drastic measures to stay afloat. Investors everywhere should note that if such a critical piece of the too-big-to-fail banking system falters, it could trigger another global financial crisis.
DEUTSCHE BANK STRUGGLES TO SURVIVE
Deutsche Bank AG, the largest banking services group in Germany with well over a trillion dollars worth of assets under management, has been a major source of concern for international investors, economists and policy makers for more than two years now. In fact, the International Monetary Fund called the bank in 2016 "the most important net contributor to systemic risks" to the global financial system. That same year, various financial publications around the world also started warning that Deutsche might be the "next Lehman Brothers," referring to the investment bank whose collapse is considered to be a major part of starting the 2008 global financial crisis.
Now the German bank appears to be struggling again, with some commentators fearing it will not be able to survive. Just this month it was announced that Deutsche will undergo a major reorganization in order to stop the bleeding. As was widely reported, the restructuring process of the company will include downsizing about a fifth of its employees around the world, approximately 18,000-20,000 people. Additionally it was revealed that Deutsche will cut its investment in information technology by over a billion dollars per year, a move that will hinder it from catching up with competitors or being able to face new challengers in the fintech domain. Moreover, there are also reports in the market that some institutional investment funds are pulling out their assets from the bank, which might signal a lack of trust in the success of the reorganization efforts.
COSTLY SCANDALS AND BILLIONS IN FINES
Before we ponder how the situation might unfold, let's review how Deutsche Bank got to its current state. Over the last few years it has been involved in a number of scandals such as facilitating money laundering which cost the bank a fortune in legal expenses, reputational damage and massive fines. Its stock is now trading at a 30-year low, having lost over 70% in value since 2007. The bank also suffered frequent changes at the top because of this, replacing CEOs and other top executives at an alarming rate for a company of its kind in its industry. In November 2018, its headquarters were even raided by law enforcement officers and representatives of the German tax authority.
The myriad of legal troubles it's faced have cost Deutsche Bank an incredible amount of money in the last few years. For example, in April 2015 it had to agree to pay a combined $2.5 billion in fines to American and British authorities for its involvement in the Libor scandal, where several banks were accused of colluding to fix interest rates widely used around the world. And in January 2017, Deutsche reached a $7.2 billion settlement with the U.S. Justice Department over its sale and pooling of toxic mortgage securities. In total, Deutsche Bank has paid more than €12 billion for litigation since 2012.
WHAT HAPPENS WHEN TOO-BIG-TO-FAIL FAILS?
So what will happen if Deutsche Bank does not succeed with its reorganization efforts and can no longer survive on its own? If it was operating in an economy governed by real free market principles, the bank would just go out of business the same way other companies do all the time. However, it is more than possible that politicians and bureaucrats will feel a need to intervene to prevent that from happening.
Bodies such as the German government and the European Central Bank (ECB) can say that the failure of the largest commercial banking institution in the economic heart of Europe would have disastrous ramifications for the continent and the world as a lack of investor trust will send an economic shockwave from Germany outward. For this reason they may claim to have no choice but to rescue Deutsche Bank with other people's money. This can be done by several ways, including forcing other banks to buy out Deutsche (there were attempts to merge it with Commerzbank AG in the past), printing more fiat money and giving it away to Deutsche or even outright nationalizing the bank.
Whatever the case may be, it will have lasting implications on the global economy. Besides the knock-on effect on other financial institutions, a collapse of Deutsche Bank, as well as a rescue of it with European citizens' money, could create serious political fallback. As we have seen with the last global crisis financial, disillusioned voters might feel that those in power are sacrificing their savings in order to help rich bankers from too-big-to-fail institutions, fueling a drift to populism in extreme right and left parties, further destabilizing the established order.
A new financial crisis triggered by a collapse of Deutsche Bank can also drive more people to discover cryptocurrency as an alternative to fiat, as the faults of the old system become obvious to understand. A costly and unfair rescue of the failing system will also have such an effect, evoking the Times headline "Chancellor on brink of second bailout for banks" from January 3, 2009, enshrined by Satoshi Nakamoto in the Bitcoin genesis block for a reason.
CURRENT RELATED NEWS ARTICLES: