The Final Signs Before The World Ends…May…(2019)

Published on May 27, 2019
Please Help Support This Ministry: https://www.paypal.me/watchman1963 Please subscribe to my backup channel: https://www.youtube.com/channel/UC4nc… Current Events Linked To Biblical Prophecies. Everything is unfolding just as the bible foretold. Wars, Volcanic Eruptions, Earthquakes, Extreme Weather, Christian Persecution, Violence and more!
Matthew 24:3-14 3 Now as He sat on the Mount of Olives, the disciples came to Him privately, saying, "Tell us, when will these things be? And what will be the sign of Your coming, and of the end of the age?" 4 And Jesus answered and said to them: "Take heed that no one deceives you. 5 For many will come in My name, saying, 'I am the Christ,' and will deceive many. 6 And you will hear of wars and rumours of wars. See that you are not troubled; for all[a] these things must come to pass, but the end is not yet.
7 For nation will rise against nation, and kingdom against kingdom. And there will be famines, pestilences,[b] and earthquakes in various places. 8 All these are the beginning of sorrows. 9 "Then they will deliver you up to tribulation and kill you, and you will be hated by all nations for My name's sake. 10 And then many will be offended, will betray one another, and will hate one another.
11 Then many false prophets will rise up and deceive many. 12 And because lawlessness will abound, the love of many will grow cold. 13 But he who endures to the end shall be saved. 14 And this gospel of the kingdom will be preached in all the world as a witness to all the nations, and then the end will come.
—————————————————-
U.S. to deploy additional forces to confront Iran – TV7 Israel News 27.05.19

Published on May 27, 2019
Today's top stories 27.05.19; 1) Israel may find itself heading to another round of national parliamentary elections, after coalition negotiations appear to be deadlocked, with less than 36 hours to go until the legal deadline for Prime Minister Benjamin Netanyahu to present his new government to President Reuven Rivlin. 2) Israeli Prime Minister Benjamin Netanyahu praised Israel's Police and Fire and Rescue authorities for successfully managing to battle more than one thousand blazes that raged, this past week, nationwide. 3) The United States announced its plan to deploy 1,500 additional forces to the Middle East, as part of Washington's ongoing efforts to deter the Islamic Republic of Iran.
—————————————————-
The Top 10 Bible Prophecies in Play Today

Published on May 27, 2019
Pastor J.D. breaks from the usual and presents the top 10 Bible prophecies in play today.
All the signs of the last days are converging at the same time. Bible Prophecy is happening right before our eyes and like birth pains, the predicted events are happening more frequently and more intently. Never, in the history throughout the world have so many forces, including economic, scientific, techno-logic, ecologic, cultural, geopolitical, moral, spiritual and religion, converged together to bring this world that's already teetering over the edge into the abyss, to a point of no return. Jesus said when you see all these signs happening, know that I am near, even at the door.
—————————————————-
LATEST WORLD NEWS – ARTICLES TUESDAY MAY 28th 2019
DAILY SCRIPTURE:
LOVE THE LORD GOD WITH ALL YOUR HEART:
Jude 21 Keep yourselves in the love of God, looking for the mercy of our Lord Jesus Christ unto eternal life
Matt. 6:24 No man can serve two masters: for either he will hate the one, and love the other; or else he will hold to the one, and despise the other. Ye cannot serve God and mammon.
Matt. 22:37 Jesus said unto him, Thou shalt love the Lord thy God with all thy heart, and with all thy soul, and with all thy mind.
Mark 12:30 And thou shalt love the Lord thy God with all thy heart, and with all thy soul, and with all thy mind, and with all thy strength: this is the first commandment
Luke 11:42 But woe unto you, Pharisees! for ye tithe mint and rue and all manner of herbs, and pass over judgment and the love of God: these ought ye to have done, and not to leave the other undone.
Luke 16:13 No servant can serve two masters: for either he will hate the one, and love the other; or else he will hold to the one, and despise the other. Ye cannot serve God and mammon.
John 3:16 For God so loved the world, that he gave his only begotten Son, that whosoever believeth in him should not perish, but have everlasting life.
John 5:42 But I know you, that ye have not the love of God in you.
John 8:42 Jesus said unto them, If God were your Father, ye would love me: for I proceeded forth and came from God; neither came I of myself, but he sent me.
John 12:43 For they loved the praise of men more than the praise of God.
John 16:27 For the Father himself loveth you, because ye have loved me, and have believed that I came out from God
——————————————-
DAILY CHRISTIAN BIBLICAL QUESTIONS AND ANSWERS:
——————————————-
MORE MOUNTAIN MOVING FAITH
QUESTION:    I have recently been having a heated discussion re Mark 11.23 in regards to what exactly is the mountain that is mentioned in this passage? It is obviously not literal. Is this passage a teaching on positive confession doctrine or something else?
"I tell you the truth, if anyone says to this mountain, 'Go, throw yourself into the sea,' and does not doubt in his heart but believes that what he says will happen, it will be done for him."
As Jesus was speaking this He and the disciples were walking over the Mt. of Olives from Bethany to Jerusalem so that's the mountain He had in mind. The phrase "I tell you the truth" reveals that Jesus was not speaking metaphorically, and the teaching was not about some man-made prayer formula. It was about the power of faith. But ours is so weak it's almost impossible for us to believe He was being literal about it.
MOUNTAIN MOVING FAITH
QUESTION:    I am having trouble understanding what you mean on the "healing amputees" answer. Do you mean that there are degrees of faith? I would think that if you believe that "God can do it", is that not faith?
Is the faith that saved us different from the faith for healing? Please correct me if I am wrong, this has always been a difficult issue for me. I have prayed for healings and other things and sometimes receive answers, but would say on average my prayers "fall to the ground."
ANSWER:    Yes, I believe that there are different degrees of faith. For example, the faith to be saved was a gift from God (Ephes. 2:8-9) and for some that's as far as it goes. But for others, as we study God's word our faith grows (Romans 10:17)
Then there's the supernatural faith that Paul mentioned as one of the Spiritual Gifts (1 Cor. 12:9) Not everyone gets this kind of faith automatically, but I think it can come upon us in a moment of extreme peril.
But the mountain moving faith that Jesus spoke of in Matt 21:21-22 is available to all who seek it. It's the faith that comes as we experience God's miraculous intervention in our lives. The more we rely on God, the more He does, giving us the faith to rely on Him for still more. Any missionary can tell you that.
Like a physical muscle, faith gets stronger as we exercise it, and like the body builder who through strenuous exercise can acquire the strength to pull a train car down the track, we can develop the faith to move mountains.
Most people never manifest this kind of faith because most people don't fully commit their lives to the Lord to do with as He will. Paul called it living by faith, not by sight (2 Cor 5:7) believing God's promises even when they conflict with what we see. He did it and look at what he accomplished.
ACQUIRING MOUNTAIN MOVING FAITH
QUESTION:    My question is on faith. I know someone who is terminally ill and dying. She has great faith in the Lord. In a recent conversation she said, "Can you imagine meeting Jesus? How wonderful it will be". There was such excitement in her spirit. I have great respect and admiration for her faith and the relationship she has with Him. She has said that her faith is a simple one. She trusts her life to God. In many of our conversations over the years she has shared her faith and the faithfulness of the Lord in her life. How do you reach that kind of faith?
ANSWER:    I think the best way to get the kind of faith you describe is to give your life totally to God, not making a single decision on your own but submitting everything to Him, accepting only that which He provides, and doing only that which He directs. By living that way you'll learn that trusting totally upon Him will give you a much better life than you could ever achieve on your own, and you'll also develop such a strong faith that nothing will be able to shake you.
This is the transformation Paul was speaking of in Romans 12:2. By following his advice you'll find that you'll always have faith sufficient for whatever situation you encounter. Your friend might not have been able to predict that she'd have the faith required for her current situation. But having habitually exercised her faith, she has always found it to be more than adequate for the task at hand.
————————————–
NEWS CLIPS OBTAINED FROM MANY SOURCES – INCLUDING


Tracking bible prophecy.org
Rapture Ready News
Prophecyupdate.Com
Main News Channels
End Times Headlines
Prophecyupdateblogspot.com
Stevequayle.com
Gracethrufaith.com
Nowtheendbegins.com
Other Christian Sites
(CLICK ON) LATEST DAILY NEWS CLIPS:
ISRAEL NEWS:
Zech. 12:2 Behold, I will make Jerusalem a cup of trembling unto all the people round about, when they shall be in the siege both against Judah and against Jerusalem.
Zech. 12:3 And in that day will I make Jerusalem a burdensome stone for all people: all that burden themselves with it shall be cut in pieces, though all the people of the earth be gathered together against it
WORLD TERRORISM – WARS
GENERAL WORLD NEWS:
MASSIVE EARTH CHANGES/EARTHQUAKES/VOLCANOES ETC:
2Chr. 7:13 If I shut up heaven that there be no rain, or if I command the locusts to devour the land, or if I send pestilence among my people;
2Chr. 7:14 If my people, which are called by my name, shall humble themselves, and pray, and seek my face, and turn from their wicked ways; then will I hear from heaven, and will forgive their sin, and will heal their land
CHRISTIAN AND RELIGIOUS WORLD NEWS:
Matt. 24:9 Then shall they deliver you up to be afflicted, and shall kill you: and ye shall be hated of all nations for my name's sake.
Matt. 24:10 And then shall many be offended, and shall betray one another, and shall hate one another
EXTRA WORLD – ALTERNATIVE NEWS:
————————————————-
WORLD PROPHETIC NEWS CLIPS/ARTICLES PRESENTATION – TUESDAY MAY 28th 2019
MIDDLE EAST WAR LOOMING THE BUILD UP TO PSALM 83  – ISAIAH 17 AND GOG OF MAGOG WARS EZEKIEL 38:
——————————————-
WHERE WE ARE CURRENTLY IN SCRIPTURE
Matt. 24:6 And ye shall hear of WARS AND RUMOURS OF WARS: see that ye be not troubled: for all these things must come to pass, but the end is not yet.
Matt. 24:7 FOR NATION SHALL RISE AGAINST NATION, AND KINGDOM AGAINST KINGDOM: and there shall be famines, and pestilences, and earthquakes, in divers places.
Matt. 24:8 All these are the beginning of sorrows
MAJOR WARS ON THE HORIZON
WORLD WAR 3
Matt. 24:6 And ye shall hear of WARS AND RUMOURS OF WARS:
Matt. 24:7 FOR NATION SHALL RISE AGAINST NATION, AND KINGDOM AGAINST KINGDOM:
ISAIAH 17/PSALM 83:
THE DESTRUCTION OF DAMASCUS and
Muslim Countries in the Middle East will launch an attack on Israel
JEREMIAH 49:
PROPHECY OF ELAM – (Attack on Iran's Nuclear Program
EZEKIEL 38 & 39
————————————————
LATEST RELATED NEWS CLIPS:
———————————–
If you want to understand what is really happening in the world today, a mid-ranking official named Ian Henderson is vastly more important to you than Theresa May. You will not, however, find anything about Henderson in the vast majority of corporate and state media outlets.
You may recall that, one month after the Skripal incident, there was allegedly a "chemical weapons attack" in the jihadist enclave of Douma, which led to air strikes against the Syrian government in support of the jihadist forces by US, British and French bombers and missiles. At the time, I argued that the Douma jihadist enclave was on the brink of falling (as indeed it proved) and there was no military advantage – and a massive international downside – for the Syrian Army in using chemical weapons. Such evidence for the attack that existed came from the jihadist allied and NATO funded White Helmets and related sources; and the veteran and extremely respected journalist Robert Fisk, first westerner to arrive on the scene, reported that no chemical attack had taken place.
The "Douma chemical weapon attack" was linked to the "Skripal chemical weapon attack" by the western media as evidence of Russian evil. Robert Fisk was subjected to massive media abuse and I was demonised by countless mainstream media journalists on social media, of which this is just one example of a great many.
In both the Skripal and the Douma case, it fell to the Organisation for the Prohibition of Chemical Weapons to provide the technical analysis. The OPCW is a multilateral body established by treaty, and has 193 member states. The only major chemical weapons owning powers which are not members and refuse the inspections regime are the pariah rogue states Israel and North Korea.
An OPCW fact finding mission visited Douma on April 21 and 25 2018 and was able to visit the sites, collect samples and interview witnesses. No weaponised chemicals were detected but traces of chlorine were found. Chlorine is not an uncommon chemical, so molecular traces of chlorine at a bombing site are not improbable. The interim report of the OPCW following the Fact Finding Mission was markedly sober and non-committal:
The results show that no organophosphorous nerve agents or their degradation products were detected in the environmental samples or in the plasma samples taken from alleged casualties. Along with explosive residues, various chlorinated organic chemicals were found in samples from two sites, for which there is full chain of custody.
The fact-finding mission then returned to OPCW HQ, at which time the heavily politicised process took over within the secretariat and influenced by national delegations. 9 months later the final report was expressed in language of greater certainty, yet backed by no better objective evidence:
Regarding the alleged use of toxic chemicals as a weapon on 7 April 2018 in Douma, the Syrian Arab Republic, the evaluation and analysis of all the information gathered by the FFM—witnesses' testimonies, environmental and biomedical samples analysis results, toxicological and ballistic analyses from experts, additional digital information from witnesses—provide reasonable grounds that the use of a toxic chemical as a weapon took place. This toxic chemical contained reactive chlorine. The toxic chemical was likely molecular chlorine.
The original longer video footage of one of the videos on the Bellingcat site gives a fuller idea of the remarkable lack of damage to one gas cylinder which had smashed through the reinforced concrete roof and landed gently on the bed.
Now we come to the essential Mr Ian Henderson. Mr Henderson was in charge of the engineering sub-group of the OPCW Fact Finding Mission. The engineers assessed that the story of the cylinders being dropped from the sky was improbable, and it was much more probable that they had simply been placed there manually. There are two major reasons they came to this conclusion.
At least one of the crater holes showed damage that indicated it had been caused by an explosive, not by the alleged blunt impact. The cylinders simply did not show enough damage to have come through the reinforced concrete slabs and particularly the damage which would have been caused by the rebar. Rebar is actually thicker steel than a gas cylinder and would have caused major deformation.
Yet – and this is why Ian Henderson is more important to your understanding of the world than Theresa May – the OPCW Fact Finding Mission reflected in their final report none of the findings of their own sub-group of university based engineers from two European universities, butinstead produced something that is very close to the amateur propaganda "analysis" put out by Bellingcat. The implications of this fraud are mind-blowing.
The genuine experts' findings were completely suppressed until they were leaked last week. And still then, this leak – which has the most profound ramifications – has in itself been almost completely suppressed by the mainstream media, except for those marginalised outliers who still manage to get a platform, Robert Fisk and Peter Hitchens (a tiny platform in the case of Fisk).
Consider what this tells us. A fake chemical attack incident was used to justify military aggression against Syria by the USA, UK and France. The entire western mainstream media promoted the anti-Syrian and anti-Russian narrative to justify that attack. The supposedly neutral international watchdog, the OPCW, was manipulated by the NATO powers to produce a highly biased report that omits the findings of its own engineers. Which can only call into doubt the neutrality and reliability of the OPCW in its findings on the Skripals too.
There has been virtually no media reporting of the scandalous cover-up. This really does tell you a very great deal more about how the Western world works than the vicissitudes of the ludicrously over-promoted Theresa May and her tears of self pity.
————————————————
Knesset Speaker Yuli Edelstein receives a letter signed by coalition heads expressing their intention to advance the Likud bill to dissolve the government after negotiations between the parties broke down.
The letter is submitted at Eledstein's request, and includes Liberman's signature.
Earlier, Liberman said at a press conference that he would not join a "halachic government" and backed the measure to dissolve the Netanyahu-led government.
The Likud party tells Liberman not to participate in the toppling of a right-wing government, after the Yisrael Beytenu chairman announced that his secularist party would not join a Netanyahu-led government.
"The faction heads have agreed that the minute Liberman signs the coalition agreement, the the coalition negotiations with all the other parties will conclude, based on the understanding that have already been reached," the party says in a statement.
"We are inviting Liberman to join us today, and not have a hand in toppling a right-wing government," says the statement released in response to Liberman's press conference.
Liberman slams the pro-Netanyahu daily Israel Hayom as more slanted in its reporting than the Soviet propaganda newspaper Pravda during the years of Joseph Stalin.
"Even Pravda in the days of Stalin was more believable and more objective than Israel Hayom," he says.
He accuses Likud and Netanyahu allies of spinning the unraveling coalition talks in the media as a a result of a personal vendetta against Netanyahu.
"They are trying to take the easy way out and blame me," Liberman says. "If Likud needs to blame someone, they should look in the mirror."
This morning, Israel Hayom's front page headline read: "Deceit: and his name is Liberman."
Yisrael Beytenu chairman Avidgor Liberman says there is no way his party will join a Netanyahu-led government, saying that during negotiations "we made clear that we have no intention of compromising our values."
"We will not be partners in a halachic government," he says at a press conference ahead of a plenum vote to dissolve the Knesset. 
He says his secularist Yisrael Beytenu party will vote in favor of a Likud-drafted bill to dissolve the Knesset later today.
Liberman accuses Likud of spreading lies about the negotiations in a bid to make it appear that his opposition to the coalition agreement was a personal vendetta.
"We were very practical and very clear, but Likud is trying to create a narrative of a personal vendetta using their propaganda machine."
Opposition parties are convening a meeting to coordinate positions ahead of a Knesset vote on holding new elections.
According to reports Meretz chairwoman Tamar Zandberg says the opposition parties will likely vote in favor of dissolving the Knesset if there is no possibility of forming a center-left government.
According to reports, the opposition's Blue and White and Labor parties are not in favor of dissolving the Knesset.
————————————————
TODAYS RELATED HEADLINE NEWS ITEMS:
————————————-
Europeans woke Monday to a new political reality after European Parliament elections ended the domination of the EU's main center-right and center-left parties and revealed a changed political landscape where the far-right, pro-business groups and environmentalists will be forces to be reckoned with.
Turning out in numbers not seen for 20 years, voters took their concerns about immigration and security to the ballot box, making parties led by the likes of Italy's populist Matteo Salvini and France's far-right leader Marine Le Pen among the biggest in the 28-nation bloc's assembly.
"The rules are changing in Europe," Salvini, Italy's hard-line interior minister, said at his League party headquarters in Milan early Monday. "A new Europe is born."
Voter projections showed the League won 33% of the vote, up from just 6% at the last European vote in 2014.
The lion's share of Britain's seats went to Nigel Farage's Brexit Party, as citizens punished the governing conservatives and opposition Labour party for their embarrassing failure to manage the divided country's delayed departure from the EU.
Riding what they called Europe's "green wave" backed by Europe-wide rallies urging climate action, environmentalist parties made strong gains, notably in Germany, one of the continent's main forces for EU integration.
The free-market liberals saw their stake in the 751-seat parliament rise to 107 seats, from 68 in 2014.
The picture of a fractured assembly for the next five years was complete as many citizens turned their backs on the center-right European People's Party — one of its key figures, German Chancellor Angela Merkel, saw her party lose ground — and the center-left Socialists.
"We are facing a shrinking center of the European Union parliament," a subdued EPP lead candidate Manfred Weber said, after just over 50 percent of the EU's more than 400 million voters had turned out over four days in the world's biggest transnational elections. "From now on, those who want to have a strong European Union have to join forces."
The Socialist lead candidate, Frans Timmermans, essentially conceded defeat, even though the two groups remain the assembly's biggest by some margin.
"If you lose an election, if you lose seats, you have to be modest," the former Dutch foreign minister said. "We have lost seats and this means that we have to be humble."
————————————————
Key POINTS
The European parliamentary election is the second-largest democratic exercise in the world, with citizens across 28 nations voting for their new representatives.

This year's vote was particularly relevant due to the surge of anti-EU and nationalist parties across the region.
The EU Parliament will be much more fragmented over the next five years with the established centrist bloc failing to gain a majority at this week's election, early results and projections show.
The initial results on Sunday evening suggested a strong showing for Liberal and Green parties, with euroskeptic groups in France and the U.K. holding the gains they saw in 2014. Italy's anti-immigration Lega party was also expected to make large gains, according to exit polls.
It means that pro-EU parties will hold onto two-thirds of the seats at the EU Parliament, though nationalist opponents have also produced a solid result. The lack of a majority for the centrist bloc — the center-right European People's Party (EPP) and the center-left Socialist and Democrats (S&D) which has held power in Brussels for several decades — could further complicate decision-making at the European Union.
This year's vote was particularly relevant due to the surge of anti-EU and nationalist parties across the region. However, the pro-EU parties look to have largely held their ground in many countries and the euro rose slightly in early Asia trading Sunday.
"Defying the doomsayers once again, Europe continues to muddle through reasonably well. Judging by exit polls and first projections, the EU election will result in a more fragmented parliament with a slightly increased presence of euroskeptic right-wing parties," he said.
However, he added that "the deeply divided right-wingers will remain far away from wielding any significant power at the European level. They will not be able to block significant decisions."
FRANCE
In France, Marine Le Pen's euroskeptic National Rally topped the European election vote, according to exit polls published Sunday, narrowly beating the centrist alliance of President Emmanuel Macron.
The narrow victory for Le Pen's party marked a symbolic victory for nationalist supporters across the bloc.
In a statement, Macron's office described the performance as disappointing but not disastrous. It also said pro-EU parties were still in the majority. UK
Projected results in the U.K. showed the newly-formed Brexit Party had comfortably beat the country's two main parties, with voters expressing their frustration over deadlock in Westminster.
It comes shortly after Conservative Party leader Theresa Mayannounced her resignation as prime minister on Friday morning.
GERMANY
Chancellor Angela Merkel's conservative alliance secured the most seats in Germany in the European Parliament election on Sunday, the early results showed, with the Greens and the anti-immigration Alternative for Germany (Afd) party set to finish second and fourth respectively.
Merkel's Christian Democratic Union (CDU), and its partner the Christian Social Union, received roughly 28% of the vote share, followed by the Greens with approximately 21%.
ITALY
Meanwhile in Italy, the Lega party picked up the most votes, according to exit polls, comfortably beating its coalition partner the Five Star Movement (M5S).
Early results showed Deputy Prime Minister Matteo Salvini's Lega party had secured around 28% of the vote, up from 17% at the national vote last year and 6% at the last EU ballot in 2014.
M5S, led by Italy's other deputy leader Luigi Di Maio, looked on track to receive around 20% of the vote. That compared with 32% in the 2018 country-wide election and 21% in the EU vote five years ago.
The result could herald a dramatic shift in the coalition government's dynamic, following months of wrangling over their respective manifestos and ministerial appointments.
Parties committed to strengthening the European Union held on to two-thirds of seats in the EU parliament, official projections from the bloc's elections showed on Sunday, though far-right and nationalist opponents saw strong gains.
France's Emmanuel Macron, who has staked his presidency on persuading Europeans that the EU is the answer to the challenges of an uncertain, globalising world economy, took a personal hit when his centrist movement was edged into second place by Marine Le Pen's anti-immigration, anti-Brussels National Rally.
But Macron's Renaissance, built on the ruins of centre-left and centre-right parties, added to gains for liberals at the EU level as turnout bounced sharply across the bloc. Along with a surge for the Greens, that meant four groups occupying the pro-EU middle ground lost under 20 seats, securing 505 seats out of 751, according to a projection by the European Parliament.
That may complicate some policymaking, as a two-party "grand coalition" of the conservative European People's Party (EPP) and the Socialists (S&D) no longer has a majority. The liberals, with over 100 seats and Greens, with nearly 70, want a big say.
But it also dents the hopes of Le Pen, Italian Deputy Prime Minister Matteo Salvini and others who have been seeking to disrupt attempts to forge closer EU integration. Salvini called the elections a mandate for a shake-up in Brussels.
But tensions among nationalists, who also include the Polish and Hungarian ruling parties and the new Brexit Party of British campaigner Nigel Farage, have limited their impact on policy.
——————————————-
Nationalist Matteo Salvini's ENF Party was the number one party in the EU elections in Italy.
Marine le Pen's ENF Party was the number one party in France in the EU Elections.
And Nigel Farage and his six-week-old Brexit Party crushed the competition in Great Britain.
Farage wins in UK.

– Le Pen wins in France

– Salvini wins in Italy.

– Orban wins in Hungary.

– Right wing surging in Sweden.
Massive success for the right-wing and EU skeptics this election!
— PeterSweden (@PeterSweden7) May 26, 2019
EU election results as of right now:
Nigel Farage leading in England
Marine Le Pen leading in France
Salvini leading in Italy
A global mass awakening is happening and there is nothing that the global elites or their media henchmen can do to stop it. #BREXIT#MAGA
— Candace Owens (@RealCandaceO) May 26, 2019
Looks like Salvini has smashed it in Italy. Le Pen beat Macron. Brexit Party triumphant in the UK.
Remember in 2017 when they told us populism was dead?
Reality begs to differ.
— Paul Joseph Watson (@PrisonPlanet) May 26, 2019
Dominik Tarczynski won in Poland.
— 4.TARCZYŃSKI Dominik (@D_Tarczynski) May 27, 2019
——————————————-
Germany's top official on anti-Semitism has caused a stir by saying that he would not advise Jews wear skullcaps in certain parts of the country, according to AP. 
Felix Klein said in an interview published Saturday that his "opinion has unfortunately changed compared with what it used to be" and that he couldn't "recommend to Jews that they wear the skullcap at all times everywhere in Germany."
He also said German police were not familiar with how to deal with anti-Semitic crimes:
"Many of them don't know what's allowed and what's not. There is a clear definition of anti-Semitism and cops should be taught it during their training."
He didn't elaborate further on details of what he meant, including what times and places he was referring to. Germany is home to about 100,000 Jewish citizens, according to Haaretz.  
Israeli President Reuven Rivlin said on Sunday that he was "shocked" by the comment:
"The statement of the German government's anti-Semitism commissioner that it would be preferable for Jews not wear a kippa in Germany out of fear for their safety, shocked me deeply."
He continued:
"We will never submit, will never lower our gaze and will never react to anti-Semitism with defeatism — and expect and demand our allies act in the same way."
The country's main Jewish leader, Josef Schuster, also said last year that he "would advise people visiting big cities against wearing Jewish skullcaps". He continued: 
"It has long been a fact that Jews are potentially exposed to danger in some big cities if they can be recognized as Jews." He added that he pointed that out two years ago, "so it is to be welcomed if this situation gets more attention at the highest political level."
The German Federal Ministry of the Interior says there has been growth of 20% in anti-Semitic crimes in the country. Extreme right-wing activists were responsible for 90% of the 1,800 incidents in 2018. 
Michel Friedman, former vice president of the Central Council of Jews in Germany, said: "When an official government representative tells the Jewish community they can't be protected from violence, it's a show of poverty for Germany's legal and political reality." 
———————————————
Many of the world's most persecuted Christians have nothing whatsoever to do with colonialism or missionaries. Those most faced with the threat of genocide — including Syria's and Iraq's Assyrians or Egypt's Copts — were Christian several centuries before the ancestors of Europe's colonizers became Christian and went missionizing…

The BBC report highlights "political correctness" as being especially responsible for the West's indifference….

Among the worst persecutors are those that rule according to Islamic law, or Sharia—which academics such as Georgetown University's John Esposito insist is equitable and just. In Afghanistan (ranked #2), "Christianity is not permitted to exist."
 "Christian persecution 'at near genocide levels,'" the title of a May 3 BBC report, cites a lengthy interim study ordered by British Foreign Secretary Jeremy Hunt and led by Rev. Philip Mounstephen, the Bishop of Truro.
According to the BBC report, one in three people around the world suffer from religious persecution, with Christians being "the most persecuted religious group". "Religion 'is at risk of disappearing' in some parts of the world," it noted, and "In some regions, the level and nature of persecution is arguably coming close to meeting the international definition of genocide, according to that adopted by the UN."
British Foreign Secretary Jeremy Hunt is also quoted on why Western governments have been "asleep" — his word — concerning this growing epidemic:
"I think there is a misplaced worry that it is somehow colonialist to talk about a religion [Christianity] that was associated with colonial powers rather than the countries that we marched into as colonisers. That has perhaps created an awkwardness in talking about this issue—the role of missionaries was always a controversial one and that has, I think, also led some people to shy away from this topic."
Whatever the merits of such thinking, the fact is that many of the world's most persecuted Christians have nothing whatsoever to do with colonialism or missionaries. Those most faced with the threat of genocide — including Syria's and Iraq's Assyrians or Egypt's Copts — were Christian several centuries before the ancestors of Europe's colonizers became Christian and went missionizing.
The BBC report highlights "political correctness" as being especially responsible for the West's indifference, and quotes Hunt again in this regard: "What we have forgotten in that atmosphere of political correctness is actually the Christians that are being persecuted are some of the poorest people on the planet."
Although the BBC report has an entire heading titled and devoted to the impact of "political correctness," ironically, it too succumbs to this contemporary Western malady. For while it did a fair job in highlighting the problem, it said nothing about its causes — not one word about who is persecuting Christians, or why.
The overwhelming majority of Christian persecution, however, evidently occurs in Muslim majority nations. According to Open Doors' World Watch List 2019[WWL], which surveys the 50 nations where Christians are most persecuted, "Islamic oppression continues to impact millions of Christians." In seven of the absolute worst ten nations, "Islamic oppression" is the cause of persecution. "This means, for millions of Christians—particularly those who grew up Muslim or were born into Muslim families—openly following Jesus can have painful consequences," including death.
Perhaps the BBC succumbed to silence concerning the sources of Christian persecution — that is, succumbed to "the atmosphere of political correctness" which it ironically highlighted — because in its own report, it did not rely on the WWL. The problem with this interpretation is that the study the BBC did rely on, the Bishop of Truro's, is saturated with talk concerning the actual sources of Christian persecution. In this regard, the words "Islam" and "Islamist" appear 61 times; "Muslim" appears 56 times in this review on persecuted Christians.
Here are a few of the more significant quotes from the Bishop of Truro's report:
"The persecution of Christians is perhaps at its most virulent in the region of the birthplace of Christianity—the Middle East & North Africa."

"In countries such as Algeria, Egypt, Iran, Iraq, Syria and Saudi Arabia the situation of Christians and other minorities has reached an alarming stage."

"The eradication of Christians and other minorities on pain of 'the sword' or other violent means was revealed to be the specific and stated objective of [Islamic] extremist groups in Syria, Iraq, Egypt, north-east Nigeria and the Philippines."

"[T]here is mass violence which regularly expresses itself through the bombing of churches, as has been the case in countries such as Egypt, Pakistan, and Indonesia."

"The single-greatest threat to Christians [in Nigeria] … came from Islamist militant group Boko Haram, with US intelligence reports in 2015 suggesting that 200,000 Christians were at risk of being killed… Those worst affected included Christian women and girls 'abducted, and forced to convert, enter forced marriages, sexual abuse and torture.'"

"An intent to erase all evidence of the Christian presence [in Syria, Iraq, Egypt, north-east Nigeria and the Philippines] was made plain by the removal of crosses, the destruction of Church buildings and other Church symbols. The killing and abduction of clergy represented a direct attack on the Church's structure and leadership."

"Christianity now faces the possibility of being wiped-out in parts of the Middle East where its roots go back furthest. In Palestine, Christian numbers are below 1.5 percent; in Syria the Christian population has declined from 1.7 million in 2011 to below 450,000 and in Iraq, Christian numbers have slumped from 1.5 million before 2003 to below 120,000 today. Christianity is at risk of disappearing, representing a massive setback for plurality in the region."
The BBC should be commended for (finally) reporting on this urgent issue — even if it is three years behind the times. As the Truro report correctly observes, "In 2016 various political bodies including the UK parliament, the European Parliament and the US House of Representatives, declared that ISIS atrocities against Christians and other religious minority groups such as Yazidis and Shi'a Muslims met the tests of genocide."
At the very least, it appears that the BBC has stopped trying to minimize the specter of Christian persecution as it did in 2013, when this situation was just starting to reach the boiling point.
————————————————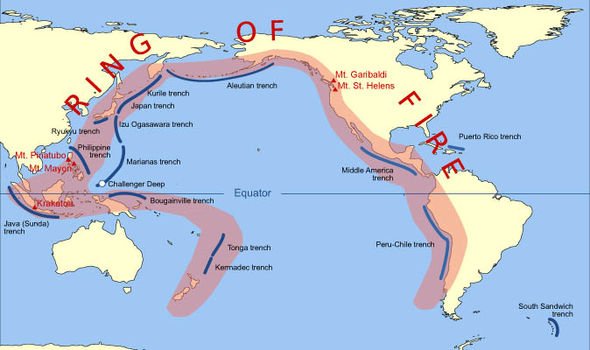 Very early on Sunday morning, a massive 8.0 magnitude earthquake struck a sparsely populated area of Peru.  As you will see below, it was the largest earthquake to hit Peru in 12 years, and other areas of "the Ring of Fire" experienced unusual shaking afterwards.  Here in the United States, there were dozens of detectable earthquakes in the state of California on Sunday, and a lot of people are concerned about what all of these small earthquakes could mean.  More than 80 percent of the world's earthquakes happen within the Ring of Fire, and many scientists believe that shaking along one section of the Ring of Fire can put stress on other portions.  Of course we have been told over and over again that California is way overdue for a "Big One", and we know that it is coming someday.  Let us just hope that it can be delayed for as long as possible. (READ MORE…)
——————————————-
A series of tiny quakes rattling California and the Pacific Northwest may signal an upcoming catastrophic earthquake, seismologists say, KOIN reported. Or experts say they might just be another reminder that the pressure's always building on fault lines beneath the West Coast, KATU reported.
"Those are just reminders," said Scott Burns, a Portland State University geology professor, according to the station. "We don't know what they mean. They are reminders that we are in earthquake country, and they may be precursors to the 'big one.'"
The tremors are indications of a "slow-slip" event, says Ken Creager, a University of Washington professor, KOMO reported.
Mac Slavo details, for the first time since 2011, three distinct zones in the Pacific Northwest have been "going off" all at once. According to King 5 News, scientists say that the theory is that the sub-ducting ocean plate is being stretched like taffy in the heat that is the mantle of the earth.
"Any signal you get is interesting," said Tim Melbourne, a who runs the Northwest Geodetic Array, which is based at Central Washington University in Ellensburg.
"If you have something out in the dark, and you know it's dangerous, you know it's menacing, and every now and then you get a flash of light from it. Any flash of light doesn't tell you a lot, but you piece them all together and you can start to put together all the angles, and you can start to see the dragon, and it's a big dragon," Melbourne said.
Melbourne's metaphorical "dragon" is the Cascadia Subduction zone. Sections of the ocean floor are being pushed under the western edge of the North American continent creating pressure. Where the two plates join is a huge fault line, and the cooler upper portions of that fault are locked together. When they give way, typically between about 300 and 500 years, the result is a massive tsunami-triggering earthquake. The one scientists expect to occur off of our coast is expected to be a magnitude nine. And some government agencies have already been preparing for the inevitable event. 
Episodes of tremors and plate slippage have been affecting the Pacific Northwest about every 14 months since at least the 1990s. Shaking from these events typically aren't felt and don't mean an earthquake is imminent. However, researchers believe the slip events are building up the pressure at the fault, which will eventually lead to a long-predicted magnitude 9 earthquake.
Though it appears several slip events are occurring, the latest data doesn't seem to indicate the "main" event or "the big one" has started north of Seattle. But it's still a good idea to be prepared. 
—————————————–
The last 12 months have been the wettest in all of U.S. history, and this has created absolutely horrific conditions for U.S. farmers.  Thanks to endless rain and historic flooding that has stretched on for months, many farmers have not been able to plant crops at all, and a lot of the crops that have actually been planted are deeply struggling.  What this means is that U.S. agricultural production is going to be way, way down this year.  The numbers that I am about to share with you are deeply alarming, and they should serve as a wake up call for all of us.  The food that each one of us eats every day is produced by our farmers, and right now our farmers are truly facing a nightmare scenario. (READ MORE…)
—————————————–
TODAYS RELATED NEWS CLIP:
Automakers can't help but acknowledge the global recession in their industry after a decade of growth. As a result, they are slashing payroll across the board, according to Bloomberg. Countries like China, the United Kingdom, Germany, Canada and the United States have all seen at least 38,000 job cuts over the last six months in the automotive sector. And this could just be the beginning of larger cuts to come.
Daimler CEO Dieter Zetsche said Wednesday that "sweeping cost reductions" are ahead to prepare for what he is calling "unprecedented" industry disruption.
Bank of America Merrill Lynch analyst John Murphy said: "The industry is right now staring down the barrel of what we think is going to be a significant downturn. The pace of decline in China is a real surprise."
Automakers are cutting shifts and closing factories across the world but the cost cutting goes beyond that. Salaried workers are also being cut, a surefire sign that slowing sales in both China and the US are taking their toll. Additionally, the slow down is coming at a time when automakers have deployed significant capital to invest in electric vehicles.
We reported about Ford's plans on Monday to cut another 7000 jobs, representing 10% of its workforce worldwide. And the recession, which was likely due to happen regardless of market conditions, comes at the worst possible time. It could be exacerbated by the ongoing trade war, which foreign carmakers have warned could put 700,000 American jobs at risk.
This chart shows all of the job reductions announced and reported over the last six months.
Morgan Stanley analyst Adam Jonas said Tuesday: "Auto companies globally are contemplating life where global production has greater downside risk than upside. The chopping may not be over for Ford," he continued, estimating a 5% decline in revenue could result in 23,000 more layoffs in the future. 
Meanwhile, global light vehicle sales were down 0.5% in 2018 to 94.8 million, which was the first annual drop in global sales since 2009. Zetsche concluded: "Everything is under scrutiny."
—————————————–
PSALM 61
H

ear my cry, O God; listen to my prayer. From the ends of the earth I call to you, I call as my heart grows faint; lead me to the rock that is higher than I. For you have been my refuge, a strong tower against the foe. I long to dwell in your tent forever and take refuge in the shelter of your wings.
For you have heard my vows, O God; you have given me the heritage of those who fear your name. Increase the days of the king's life, his years for many generations. May he be enthroned in God's presence forever; appoint your love and faithfulness to protect him. Then will I ever sing praise to your name and fulfill my vows day after day.
IT'S WHEN WE'RE UNDER A LOT OF STRESS THAT WE MOST DESIRE THE SANCTUARY OUR FAITH IN GOD CAN PROVIDE. David felt this way and asked God to take him to a refuge he could not reach on his own, a "rock higher than I".
The advantage we have over David is that we're told how to find such a place whenever we need it. Paul put the instructions in his letter to the Philippians, who were facing daily persecution of a life threatening nature.
"Rejoice in the Lord always," he wrote, "I will say it again: Rejoice! Let your gentleness be evident to all. The Lord is near. Do not be anxious about anything, but in everything, by prayer and petition, with thanksgiving, present your requests to God. And the peace of God, which transcends all understanding, will guard your hearts and your minds in Christ Jesus." (Phil 4:4-7)
The peace that transcends all understanding is truly a place we cannot reach on our own. It's an inner quiet that sustains us in spite of circumstances, conditions, or what other people say, think, or do. But by rejoicing in every situation, even the ones causing the intolerable stress in our lives, we can get there. A friend paraphrased this passage to help me remember the instructions. "Be fearful of nothing, pray about everything, and be thankful for anything." Well said.
But Paul gave further instructions.
"Finally, brothers, whatever is true, whatever is noble, whatever is right, whatever is pure, whatever is lovely, whatever is admirable–if anything is excellent or praiseworthy–think about such things. Whatever you have learned or received or heard from me, or seen in me–put it into practice. And the God of peace will be with you."
With all due respect to Dr. Norman Vincent Peale, Paul discovered the Power of Positive Thinking. Somehow he knew that with all the potential God has invested in the human mind, there's one gigantic limitation. At the conscious level we can only think one thought at a time. That means that by concentrating on the true, noble, pure, and right things in our world, we'll be unable to scare ourselves into believing that the catastrophic consequences we've conjured up will actually come to pass. We'll remember that God has promised to work all things together for our good, (Romans 8:28) and experience a strengthening of our faith instead of descending into the vortex of our fears. Fear and faith cannot exist in the same mind at the same time.
Focusing on the positive also helps us overpower another of our enemy's weapons, the debilitating emotion we call worry. Research has proven that for the average person 40% of the time spent worrying is spent on things with such a low probability of happening, they're not worth considering. Another 30% is spent on things that have already happened and there's nothing we can do to reverse them. 12% more on things that are irrelevant; it doesn't matter whether they happen or not. 10% of our worrying time involves things that aren't our responsibility, and finally only 8% of our worrying time is spent on things that are real and also our responsibility to correct.
But by the time we get to those, most of us are so exhausted from worrying about the things we can't control, we're too weak to fix the things we can. Following Paul's advice on positive thinking helps us avoid this trap, too. Good man, that Paul.