This Happened On Planet Earth…Sept. 2019…End Times Signs

274K subscribers
 

Please Help Support This Ministry:

https://www.paypal.me/watchman1963

Cash App : $watchman1963 Please subscribe to my backup channel:

https://www.youtube.com/channel/UC4nc…

Current Events Linked To Biblical Prophecies. Everything is unfolding just as the bible foretold. Wars, Volcanic Eruptions, Earthquakes, Extreme Weather, Christian Persecution, Violence and more!
Matthew 24:3-14 3 Now as He sat on the Mount of Olives, the disciples came to Him privately, saying, "Tell us, when will these things be? And what will be the sign of Your coming, and of the end of the age?" 4 And Jesus answered and said to them: "Take heed that no one deceives you. 5 For many will come in My name, saying, 'I am the Christ,' and will deceive many. 6 And you will hear of wars and rumours of wars. See that you are not troubled; for all these things must come to pass, but the end is not yet.
7 For nation will rise against nation, and kingdom against kingdom. And there will be famines, pestilences,[b] and earthquakes in various places. 8 All these are the beginning of sorrows. 9 "Then they will deliver you up to tribulation and kill you, and you will be hated by all nations for My name's sake. 10 And then many will be offended, will betray one another, and will hate one another.
11 Then many false prophets will rise up and deceive many. 12 And because lawlessness will abound, the love of many will grow cold. 13 But he who endures to the end shall be saved. 14 And this gospel of the kingdom will be preached in all the world as a witness to all the nations, and then the end will come.
————————————————-
'Iran's actions may lead to global economic crisis' – 30.9.19 TV7 Israel News

 

Today's top stories; 1) Prime Minister and Likud Chairman Benjamin Netanyahu will advance with a final effort this week, together with his centrist political rival Blue and White Chairman Benny Gantz, 'to try and bridge the gaps in negotiations to establish a national unity government.' 2) The Israeli Security Services, Shin Bet, in a joint operation with IDF and Police forces, apprehended a Palestinian militant cell that is responsible for committing the heinous terror attack near the West Bank settlement of Dolev last month, in which Israeli teenager Rina Shnerb was killed and her brother and father were critically injured. 3) Saudi crown prince Mohammad Bin Salman warned of a looming threat of escalation with the Islamic Republic of Iran, if the latter would not cease its aggressive actions against the Kingdom of Saudi Arabia.
————————————————-
2019 09 29 John Haller's Prophecy Update "Already Gone?"

33.5K subscribers
 Is it all "Already Gone?" Future generations? Seems so. Common Sense? Likely. The Ability to Reason? Yup. We are in a war with principalities and spirits in the unseen realm, that are hell-bent on destroying all that is right and good, essentially the rules to live by designed by God. We are seeing children exploited, both in the womb and outside, congregations are following wolves in sheep's clothing and the multimedia assault on our sensibilities has reached a frenetic pace. As a result, every born-again believer, from the moment they rise to the moment they lie down are under constant and ever-increasing spiritual attack. As a result, we must gird up for battle, putting on our spiritual armour everyday and continuing through daily living or by direct witness to be lights in an ever-darkening, ever-deceived world that is marching toward an abyss of desperation and destruction. John asks the questions and explains in this weeks' update entitled

"Already Gone?"
————————————————-
Watchman Report: Bible Prophecy Update – September 29, 2019

154K subscribers
 

Watchman Report: Bible Prophecy Update – September 29, 2019 Pastor J.D. talks about the prophetic window of opportunity by virtue of Israel's inabil

ity to form a government. – Those wishing to give to Calvary Chapel Kaneohe, please visit https://calvarychapelkaneohe.com/dona

…
————————————————-
LATEST WORLD NEWS CLIPS – ARTICLES – TUESDAY OCTOBER 01st 2019
WE PREACH THE BLESSED HOPE FOR THE FUTURE IN JESUS CHRIST OUR SAVIOUR
John 8:32 And ye shall know the truth, and the truth shall make you free
"My people are destroyed for lack of knowledge" (Hosea 4:6)
1Cor. 12:3 Wherefore I give you to understand, that no man speaking by the Spirit of God calleth Jesus accursed: AND THAT NO MAN CAN SAY THAT JESUS IS THE LORD, BUT BY THE HOLY GHOST.
THE TRIBULATION OF THE UNJUST (Those who have rejected Jesus Christ as their Saviour) IN THE BOOK OF REVELATION CHAPTER'S 6 to 22:
Rev. 3:10 Because thou hast kept the word of my patience, I also will keep thee from the hour of temptation, which shall come upon all the world, to try them that dwell upon the earth:
Luke 12:37 Blessed are those servants, whom the lord when he cometh shall find watching: verily I say unto you, that he shall gird himself, and make them to sit down to meat, and will come forth and serve them
so won't you accept Jesus now and be removed from that event and live forever with Jesus in the Family of God?
2 "(For he saith, I have heard thee in a time accepted, and in the day of salvation have I succoured thee: behold, now is the accepted time; behold, now is the day of salvation.)" (2nd Corinthians 2:6)
——————————————-
DAILY CHRISTIAN BIBLICAL QUESTIONS AND ANSWERS:
——————————————-
DOES THE LORD TEST US?
QUESTION:    I was wondering your thoughts on God testing us. I've only heard this taught one time, Deuteronomy 8:2 says that God tests us in order to know what is in our heart, whether or not we will keep his commands. If taken literally, or at least the way I take it, the LORD brings things across my path to see how I will respond… Will I chose to act in faith on his word, or be in fear. Will I choose to obey or not and so on and so forth. Is this correct? If so it would give a different outlook on "problems" we encounter on a day to day basis.
ANSWER:    First, If God knows the end from the beginning, as He claims in Isaiah 46:10, then He couldn't have been testing the Israelites so He could see whether they would keep His commands. He already knew they couldn't obey. He had to have been testing them so they could see whether they would keep His commands. Remember, the purpose of the commandments was to make them conscious of their sin (Romans 3:20).
Second, His relationship with Israel was based on obedience. His relationship with us is based on belief, and because of our belief He already sees us as if we're perfect (2 Cor. 5:17, Hebr. 10:12-14).
In Colossians 1:19-20 Paul said because Jesus died for our sins, God has made peace with us. In John 6:28-29 Jesus said God's only requirement is that we believe in the one He sent. Our belief makes as righteous as He is (Romans 3:21-24, 2 Cor. 5:21) so He has no further expectation of us. He sees anything we do beyond belief as an expression of our gratitude to Him for saving us.
Even if He didn't already know how we'll respond to this situation or that one, testing us would serve no purpose because when we go to be with Him we will no longer be like we are now (1 Cor. 15:53). All this means He would have no reason to test us.
This world is increasingly a dark and dangerous place, and problems are a fact of life. Jesus warned us we would have trials while we're here (John 16:33) but that doesn't mean He's the one who brings them across our path. John said the whole world is under the control of the evil one (1 John 5:19). Our job is to consider it pure joy when we face trials (James 1:2) and live by faith not by sight (2 Cor; 5:7) because our present sufferings are not worth comparing with the glory that will be revealed in us (Romans 8:18).
TEST OR TEMPTATION?
QUESTION:    My wife and I have been married for 8 years. We've been blessed with 2 beautiful daughters. She was recently contacted by her childhood sweetheart (from about 15 years ago) whom she says she was supposed to marry. He left my wife for her best friend, got married, had children and has now recently divorced. Now he's telling my wife that he regrets what he's done and still has feeling for her, he wants her to divorce me and move into his "big beautiful house" in the city, and to bring her kids with her.
My wife now says that she no longer is in love with me, is not sure if she ever loved me, and is now in love with her childhood sweetheart. She says that she deserves to be happy. She says that God brought us together only to have these wonderful children of ours, and that he brought this guy back into her life for a reason. She would like to know why God brought him back into her life all of a sudden.
We spoke with a Pastor who said that God is testing her. She wants scriptural proof that God is testing her. I've read that if she passes this test, God will heal her and fill her heart with a stronger love for me than ever. I believe that if she passes this test, that the best for us is yet to come. She wants scriptural proof that God will reward her if she perseveres. I don't think she believes that divorce is wrong, and that it is against God's Law. I think she feels that if it is wrong, that God will forgive her no matter what she does.
I am willing to do whatever it takes to save my marriage and preserve our family unit. I am terrified of the devastating effects that a divorce would have on our children. Your advice is greatly appreciated.
ANSWER:    The clearest admonitions given anywhere is scripture are given about the permanence of marriage. Matthew 5:31-32 clearly state that the only acceptable condition for dissolution of a marriage is sexual infidelity. And in Matt. 19:3-6 the Lord clarified this position in response to a specific question, saying "What God has joined together, let man not separate."
As for God testing your wife, I believe the situation is more on the order of temptation and that's the answer to her question of why this man is back in her life.
"When tempted, no one should say, "God is tempting me." For God cannot be tempted by evil, nor does he tempt anyone; but each one is tempted when, by his own evil desire, he is dragged away and enticed."
Here's what that means. Your wife would have no desire to leave if she was being fulfilled where she is. This man hasn't come into her life to re-awaken her lost love, but has been brought in response to her desire for fulfilment.
He is a temptation, not a test, and therefore hasn't been sent by God, but by the devil. God, being so strongly opposed to divorce, wouldn't send a divorced man proposing another divorce as a solution to her problems.
As for proof that your wife will be rewarded for resisting this temptation, the Bible is full of examples of the rewards for faithfulness, in this life as well as the next.
I suggest the two of you find a Christian marriage counsellor and discover the source of this problem together so you can correct it together. Your wife does deserve to be happy, but so do you, and you've both pledged before God to stand by each other and work toward that end together.
And don't be surprised to learn that you've dropped the ball sometime in the past and bear a large part of the responsibility for this situation. You should view this as a wake-up call, not a betrayal.
———————————————-
NEWS CLIPS OBTAINED FROM MANY SOURCES – INCLUDING

Tracking bible prophecy.org
Rapture Ready News
Prophecyupdate.Com
Main News Channels
End Times Headlines
Prophecyupdateblogspot.com
Stevequayle.com
Gracethrufaith.com
Nowtheendbegins.com
Other Christian Sites
(CLICK ON) LATEST DAILY NEWS CLIPS:
ISRAEL NEWS:
ZECHARIAH 12:2-3
Zech. 12:2 Behold, I will make Jerusalem a cup of trembling unto all the people round about, when they shall be in the siege both against Judah and against Jerusalem.
Zech. 12:3 And in that day will I make Jerusalem a burdensome stone for all people: all that burden themselves with it shall be cut in pieces, though all the people of the earth be gathered together against it
WORLD TERRORISM – WARS
GENERAL WORLD NEWS:
MASSIVE EARTH CHANGES/EARTHQUAKES/VOLCANOES ETC:
2Chr. 7:13 If I shut up heaven that there be no rain, or if I command the locusts to devour the land, or if I send pestilence among my people;
2Chr. 7:14 If my people, which are called by my name, shall humble themselves, and pray, and seek my face, and turn from their wicked ways; then will I hear from heaven, and will forgive their sin, and will heal their land
CHRISTIAN AND RELIGIOUS WORLD NEWS:
WEBPAGE ADMINISTRATOR

:  Keep in mind the word "RELIGION" in the Greek is "Religare" meaning "Bind back" or "yolk" – CHRISTIANITY is not "bound" We are free in Jesus Christ our Saviour.
Matt. 24:9 Then shall they deliver you up to be afflicted, and shall kill you: and ye shall be hated of all nations for my name's sake.
Matt. 24:10 And then shall many be offended, and shall betray one another, and shall hate one another
EXTRA WORLD – ALTERNATIVE NEWS:
————————————————-
WORLD – PROPHETIC NEWS ARTICLES PRESENTATION – TUESDAY OCTOBER 01st 2019
MIDDLE EAST AND WORLD WAR LOOMING THE BUILD UP TO PSALM 83  – ISAIAH 17 AND GOG OF MAGOG WARS EZEKIEL 38:
THE WHOLE WORLD IS UNSTABLE FINANCIALLY, POLITICALLY, PHYSICALLY, MORALLY, GODLY: – AND BECOMING MORE SO DAILY. (WE ARE IN THE BEGINNING OF SORROWS (MATT 24:8)
THE BIBLE STATES THAT IT WILL ONLY GET WORSE BEFORE THE START OF THE TRIBULATION OF MANKIND – (REVELATION 6)
Matt. 24:6 And ye shall hear of WARS AND RUMOURS OF WARS: see that ye be not troubled: for all these things must come to pass, but the end is not yet.
Matt. 24:7 FOR NATION SHALL RISE AGAINST NATION, AND KINGDOM AGAINST KINGDOM: and there shall be famines, and pestilences, and earthquakes, in divers places.
ISAIAH 17/PSALM 83:
THE DESTRUCTION OF DAMASCUS and
Muslim Countries in the Middle East will launch an attack on Israel
JEREMIAH 49:
PROPHECY OF ELAM – (Possible Attack on Iran's Nuclear Program
————————————————–
If I said, "Tensions are running high in the Middle East," most Americans would yawn and reply, "So? What else is new? Tensions in the Middle East have been going back and forth between a simmer and a boil for the last hundred years."
But this time the United States sent an aircraft carrier, the USS Abraham Lincoln, and its carrier strike group. This time there have been credible threats against US forces in Iraq. The Iran-sponsored Shia Muslim militias that helped rid Iraq of ISIS are now being re purposed for attacks on US troops in the region.
Iran's goal is to get the US involved in a ground war against those Shia militias in Iraq. They do not want to face an American assault on their homeland. But President Trump has made it clear that if Iran-sponsored groups hit American forces, this country will retaliate against Iran itself. That threat alone may be enough to keep war at bay — for now.
But the radical Muslim leaders of Iran are not known for giving up. While they know than can't withstand a direct assault by the United States, they will push America to the edge again and again. And they will not quit.
They are responsible for the catastrophe in Yemen where some 16 million people are at this moment in danger of starvation. Numerous aid agencies are trying to help, but the Houthi rebels steal the aid for their own use. Like other Shiite Muslim terrorists in the Middle East, the Houthis are financed and directed by the government of Iran. The Iranians could stop the catastrophe any time they want. But they don't seem to care about the people of Yemen. They just want to keep control of the land near the Gulf of Aiden and the Bab-el-Mandeb strait. 
Iran has long been considered the world's leading state sponsor of terror. That's growing worse, not better. Recently, the US State Department designated Iran's Islamic Revolutionary Guard Corps a terrorist organisation. 
Iran is a close ally with North Korea. Iranian missiles use technology developed in North Korea. And North Korea now has intercontinental ballistic missiles in its arsenal. Have they shared that technology with Iran? With North Korea's financial predicament, it's seems almost certain that they have. We also know about Iran's obsession with nuclear weapons. Intelligence sources say that Iran's North Korean friends have at least a hundred of those. The combination of ICBMs and nuclear weapons in Iranian hands would put the whole world in danger.
Iran is Shia Muslim. Their bitter enemies are the Sunni Muslims. Iranian pursuit of nuclear weapons has pushed several Sunni nations in the Middle East to actively seek nuclear weapons of their own. To get such weapons, Saudi Arabia and others in the region can skip the long process of developing them. They can surreptitiously buy them from their fellow Sunni Muslims in Pakistan, one of the world's nuclear powers.
The dynamics of all of this changed dramatically when Iran convinced mighty Russia to join them as an ally. The Chinese also remain on good terms with Iran. The ancient conflict between rival Shiite and Sunni Muslim groups is now a major destabilising force in global politics.
All of these events fit into the geopolitical pattern described in the Bible for the last days.
Don't be discouraged by that. Be encouraged. It proves again that we can trust the Bible with our lives. Its warnings are again proving accurate. That is yet another reason to trust the Bible's positive messages. Jesus is coming again, and He's coming soon! In the meantime, all the Bible's promises remain in effect — promises from God to you. So take heart!
——————————————–
REVOLUTIONARY GUARD COMMANDER WARNS "IRAN HAS ENCIRCLED ISRAEL FROM ALL SIDES"

.
(JP) – An Iranian Revolutionary Guards top commander threatened Israel, warning against an Israeli attack on Iran, Radio Farda reported on Saturday. "If Israel makes a strategic mistake, it has to collect bits and pieces of Tel Aviv from the lower depths of the Mediterranean Sea," IRGC Deputy Commander for Operations Abbas Nilforoushan said in an interview with the IRGC's Tasnim news agency, as reported by the US-funded Iranian branch of Radio Free Europe/Radio Liberty.
Nilforoushan added that "Israel is not in a position to threaten Iran" and that "Iran has encircled Israel from all four sides." "Nothing will be left of Israel" in case of a conflict between the two countries, he vowed. The commander also commented on the confrontation between Israel and Iran forces or proxies in Lebanon and Syria. "We will perceive any mistake in the region as involvement in a war in the whole region. Any action to start a war in the region will flare up a fire that will burn those who have started the war," he said.

READ MORE

:
——————————————–
The reality of the delusional approach adopted by Mr Macron and other European leaders was, though, brutally exposed the moment Mr Rouhani arrived in New York. Instead of showing any sign of seeking to repair Tehran's strained relationship with the West and its allies, he instead indulged in an orgy of self-justification in which he sought to portray his country as an innocent victim of Western aggression rather than accepting, as is really the case, that Iran was the primary instigator of the latest escalation in tensions.

"The security of our region shall be provided when American troops pull out." — Iranian President Hassan Rouhani, UN General Assembly, September 25, 2019.

This will have made for uncomfortable listening for all those European leaders who still believe that the best way to resolve the global crisis with Iran is by trying to save the nuclear deal.

The reality is that, so long as Tehran remains committed to its hostile stance towards the West, there is little prospect of having a constructive relationship with Iran.
The utter futility of European attempts to keep faith with the flawed Iranian nuclear deal has been brutally exposed in the wake of the uncompromising approach adopted by Iranian President Hassan Rouhani during the United Nations General Assembly.
In the build-up to the UN's annual jamboree of global networkers, there had been much speculation that, against a background of mounting tensions in the Gulf over Tehran's aggressive conduct, the forum might provide an opportunity to re-establish a dialogue with the ayatollahs.
To this end French President Emmanuel Macron has, in particular, been actively trying to broker a diplomatic rapprochement between Tehran and Washington, to the extent it was even suggested that a bilateral meeting might be possible between US President Donald Trump and Mr Rouhani.
The reality of the delusional approach adopted by Mr Macron and other European leaders was, though, brutally exposed the moment Mr Rouhani arrived in New York. Instead of showing any sign of seeking to repair Tehran's strained relationship with the West and its allies, he instead indulged in an orgy of self-justification in which he sought to portray his country as an innocent victim of Western aggression rather than accepting, as is really the case, that Iran was the primary instigator of the latest escalation in tensions.
The prime target of his attack was, unsurprisingly, the US, which he accused of engaging in "merciless economic terrorism" following the Trump administration's decision to withdraw from the 2015 nuclear deal and impose a new round of economic sanctions against Tehran.
Washington's policies, Mr Rouhani contended, were designed to "deprive Iran from participating in the global economy" by resorting to tactics that amounted to "international piracy."
In short, the tone of Mr Rouhani's address to the UN was that of a politician who wants to maintain his confrontational stance against the West, rather than of a man who genuinely seeks peace.
This will have made for uncomfortable listening for all those European leaders who still believe that the best way to resolve the global crisis with Iran is by trying to save the nuclear deal.
The reality is that, so long as Tehran remains committed to its hostile stance towards the West, there is little prospect of having a constructive relationship with Iran.
——————————————–
Violence continued in Hong Kong as anti-government demonstrations entered their 17th week. The police response was described by the Washington Post as "among the most aggressive" since the movement began over a now-withdrawn extradition bill which would have allowed China to forcibly move suspects to the mainland for face trial in communist courts. 
Hong Kong police to pro-democracy protesters:


DISPERSE OR WE FIRE

 pic.twitter.com/k6QLGcqhmR
— Alfons López Tena #FBPE (@alfonslopeztena) September 29, 2019
Protesters destroyed signs and flags raised in advance of the 70th anniversary celebrations of the founding of the People's Republic of China, some of which were burned. According to WaPo, "At times, riot police appeared outnumbered. Shoppers at a luxury mall in central Hong Kong looked on as police and protesters engaged in a pitched battle. Protesters crouched, created a phalanx of umbrellas and tossed bricks and bottles toward the officers. Police fired round after round of tear gas."
The protesters inched forward as rubber bullets shredded their umbrellas. When it appeared the police might be outflanked, officers made a hasty retreat. Protesters seized the moment, rushing toward officers piling into police vans. 
Demonstrators, cheered by onlookers and fellow marchers, hit the vans with poles and bottles as the vehicles sped away. The road was littered with glass and spent tear-gas canisters clinked across the asphalt as the protesters continued their march. 
At nightfall in the nearby neighborhood of Wan Chai,residents left their homes and workplaces to jeer at police and pelt their vehicles with bricks and bottles. –Washington Post
When riot police started amassing inside Wan Chai station, frontline protesters worked to cut them off by barricading its entrances and hurling bricks, pulled from the sidewalk, down the escalators. pic.twitter.com/oQ7BdTI5f1
— Alejandro Alvarez (@aletweetsnews) September 29, 2019
Several people were seriously injured, including an Indonesian journalist based in Hong Kong who was hit in the eye by a projectile while live-streaming the event for her publication.
Street battles broke between protesters and police who struggled to keep the demonstrators at bay with rubber bullets and tear gas. 
Residents and tourists were caught in the crossfire, clutching their faces and running in fear in several areas, including the neon-lit luxury shopping district of Causeway Bay. –Washington Post
In addition to tear gas, authorities deployed water cannons again – spraying protesters with blue die containing an irritant. 
At approximately 5pm, riot police launched an aggressive clearance operation against protesters along Harcourt Road – a frequent location for clashes. 
Police pushed young demonstrators to the asphalt road and dragged them away, leaving pools of blood. Hong Kong's hospital authority said 13 people were admitted to hospitals by 7:30 p.m., including one in serious condition. –Washington Post
Arrested protesters were lined up against a wall outside a government building before being frisked and taken away. 
——————————————–
A powerful magnitude 6.8 earthquake shook the coast of Chile on Sunday, swaying buildings in the capital of Santiago. The national emergency agency said there were no reported injuries or damage to basic services.
The U.S. Geological Survey said the quake hit at 10:57 a.m. local time and was centered 40 miles west-southwest of the city of Constitucion and about 225 miles south of Santiago, the capital. The epicenter was 10.3 miles below the surface.
In Constitucion, the cathedral was evacuated, but there were no reports of damage. Chilean officials said the quake was felt across a broad swath of the central and south of the country.
The USGS initially calculated the magnitude at 7.2
——————————————–
UNCOVERED: UKRAINE 'WHISTLEBLOWER' IS AN ANTI-TRUMP DEEP STATE CIA EMPLOYEE WHO USED FAKE NEWS REPORTS TO LODGE COMPLAINT
Newstarget
With every new detail we learn about "Spygate," the Obama-era operation to undermine President Donald Trump and remove him from office with a phony allegation of "Russian collusion," we can see clearly there were many elements of the Deep State working in concert to carry out the biggest political scandal in the history of our country.
So far, no one has been held accountable for Spygate — not James Comey, Hillary Clinton, Barack Obama, Peter Strzok, Andrew McCabe, Bruce Ohr, Sally Yates, or other lower-level operatives in government and the Intelligence Community who were involved.
But we know now that because of the actions of these seditious individuals, there most definitely is a political bias against our president and anyone like him who may be contemplating a run for the White House in the future. So much for doing one's duty in a neutral fashion and on behalf of the American people to serve who we choose as our leader.
Now, we're seeing the latest Democrat-run Deep State coup attempt against President Trump: A manufactured "scandal" involving a phone call between him and the leader of Ukraine, Volodymyr Zelenskyy. 
The narrative is based on the claims of a "whistleblower" who has been reported to be a CIA employee detailed to the White House. Though this whistleblower, who hasn't been identified by name yet, never actually heard the president's call with Zelenskyy; he/she was basing his/her complaint on second-hand information.
But, apparently, that's not all. 
On Thursday the House Intelligence Committee hauled acting Director of National Intelligence Joseph Maguire in for questioning, though it turned out to be nothing more than the usual Democrat posturing and, since their party controls the lower chamber, they can get away with abusing the process.
DEMOCRATS ARE ACCUSING TRUMP OF DOING WHAT OBAMA DID TO HIM
In any event, when it was Rep. John Radcliffe's (R-Texas) turn to question McGuire, he roasted fellow Democrats and essentially dashed any hopes that the president is actually going to be impeached. 
How? By exposing the fact that this whistleblower relied mostly on fake news outlets like the Washington Post and Politico, both of whom have published so many false "bombshells" about Trump you'd think it was their job to be wrong. (Related: ROFL! Texas GOP Rep. McCaul trolls Nancy Pelosi over impeachment with 'Throwback Thursday' moment.)
"The Democrats are intent on impeaching President Trump for lawful conduct," Radcliffe said. 
"The whistleblower then goes on to say, 'I was not a direct witness to the events described' … In other words, all of this is secondhand information. None of it is firsthand information," Radcliffe, a former federal prosecutor, continued. 
"The sources the whistleblower bases his complaints on include the Washington Post, The New York Times, Politico, The Hill, Bloomberg, ABC News and others. In other words, much like the Steel Dossier the allegations in whistleblower's complaints are based on third-hand mainstream media sources, rather than first hand information," he said. 
The Washington Examiner, which is supposed to be a 'fair' news organization but is looking more and more like just another anti-Trump Internet rag, even admitted that "the complaint did not contain firsthand accounts of the controversial phone call, only secondhand and thirdhand information."
So why are we talking "impeachment" here? And while everyone is focused on President Trump, let's never forget that:
Joe Biden actually didthreaten Ukraine in a quid pro quo fashion — telling that government to fire a prosecutor who was looking into a corrupt company that was paying his son, Hunter, $50k a month to be a board member (they did fire the prosecutor and Biden is on video bragging about it, which should be Exhibit A in his indictment for abuse of power).

Trump was the target of Spygate, which involved the Obama administration using foreign sourcesin an attempt to dig up dirt on him (where are the indictments?).
Trump is being accused of doing exactly what Democrats have done to him. It's a disgrace.
SOURCES INCLUDE:
——————————————–
Impeachment mania is reaching a fever pitch in Washington, and as I reported a couple of days ago, the Democrats are hoping to have articles of impeachment ready for a House vote around Thanksgiving.  But in order to impeach the president of the United States, you need to have an impeachable offense first, and even if everything that is being alleged is 100 percent true there is simply no impeachable offense in this case.  In recent days there has been a lot of talk about "the integrity of our elections" and Donald Trump has been accused of "betraying his oath of office", but top Democrats never seem to publicly bring up any specific law that Trump has violated. 
The U.S. Constitution sets a high standard for impeaching the president, and unless that standard is met, impeachment proceedings should not go forward.  Some progressive writers have attempted to suggest that Trump is guilty of bribery, extortion, obstruction of justice or a campaign finance violation, but none of those crimes comes anywhere close to fitting the facts of this case.  Democrats may have been offended by what Trump said during his call with the president of Ukraine, but being offended is not enough to impeach someone. (Read More…)
——————————————–
CHINA FORCES CHURCHES TO SING NATIONAL ANTHEM, RAISE CHINESE FLAG TO HONOR COMMUNIST HISTORY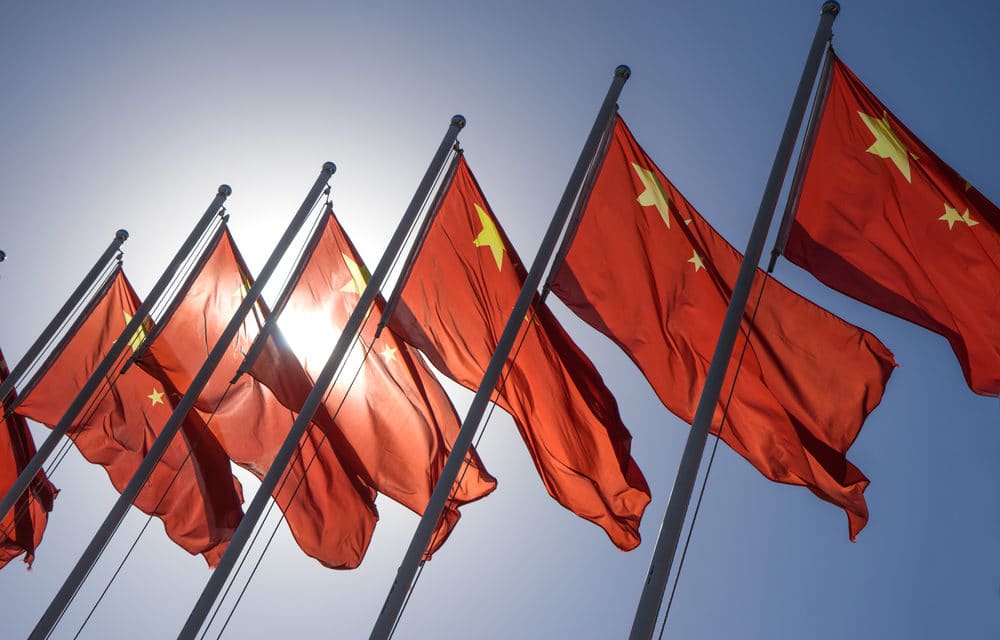 (CP) – Catholic churches run by the Chinese state have been ordered to hold events in which parishioners sing China's national anthem, pray for the nation, and raise the Chinese flag, sparking outrage among local Christians. Persecution watchdog China Aid reports that ahead of China's National Day on Oct. 1, the Chinese Patriotic Catholic Association, an organization associated with the Chinese government, and the Bishops' Conference of the Catholic Church in China issued a statement declaring that Chinese Christians should take pride in the Communist Party's leadership over the past 70 years and should hold events to celebrate it. According to the statement, before each morning mass on Sunday, September 22, parishioners attending official Catholic churches in every region of the country must sing China's national anthem, pray for the nation, and raise the Chinese flag. The order sparked outrage among local Christians, who called the display of nationalism "outrageous."
——————————————–
BIBLE SCHOLAR JOSEPH ATWILL IN HIS BOOK 'CAESAR'S MESSIAH' ARGUES THAT JESUS WAS A MYTH CREATED BY THE ROMANS TO KEEP THE JEWS PACIFIED AND PAYING TAXES
As Joseph Atwill presents in Caesar's Messiah, the Flavian Roman imperial family created Christianity to pacify the militaristic opposition to their rule. Even more incredibly, they placed a literary satire within the Gospels to mark their handiwork. This symbolic framework is the hidden history of Western civilization. In his follow-up book, Shakespeare's Secret Messiah, Atwill shows how this typology was understood and employed by Marlowe and Shakespeare, and what it means for the future of the Christian world.
SHARE THIS IMPORTANT NTEB ARTICLE:
Christianity is a baseless religion that was designed by the Roman empire to justify slavery and pacify the citizens, according to controversial Biblical scholar Joseph Atwill.
I usually get in trouble when I am speaking without a filter, so I will say this as charitably as I can. There is not on this earth anywhere a dumber group of people than those select individuals that call themselves 'bible scholars'. Whenever one of those special people open their mouths, it is a near guarantee that what is about to come out of that mouth is the rank heresy of the educated atheist. With that, let's say hello to bible scholar Joseph Atwill, he was written an entire book called 'Caesar's Messiah' that "exposes the greatest secret in world history' that Jesus of Nazareth was a 'creation of the Roman government' designed to keep the Jews pacified and paying taxes.
"Knowing this first, that there shall come in the last days scoffers, walking after their own lusts, And saying, Where is the promise of his coming? for since the fathers fell asleep, all things continue as they were from the beginning of the creation. For this they willingly are ignorant of, that by the word of God the heavens were of old, and the earth standing out of the water and in the water: Whereby the world that then was, being overflowed with water, perished: But the heavens and the earth, which are now, by the same word are kept in store, reserved unto fire against the day of judgment and perdition of ungodly men."  2 Peter 3:3-7 (KJV)
The very premise of 'Caesar's Messiah' is so categorically stupid that I almost didn't want to take the time to write an article refuting it. You don't argue with people who claim that gravity doesn't exist, or people who think the earth is flat, why would you want to waste your precious time doing that? But this 'scholar' taking a swipe at my Saviour cannot go unanswered, I value far too much the precious Blood that was shed to buy my pardon to not step in and say something.
"For unto us a child is born, unto us a son is given: and the government shall be upon his shoulder: and his name shall be called Wonderful, Counsellor, The mighty God, The everlasting Father, The Prince of Peace. Of the increase of his government and peace there shall be no end, upon the throne of David, and upon his kingdom, to order it, and to establish it with judgment and with justice from henceforth even for ever. The zeal of the LORD of hosts will perform this." Isaiah 9:6,7 (KJV)
So let's answer a fool according to his folly, shall we? For starters, At will conveniently neglects nearly a thousand years of Old Testament prophecies regarding the then-coming Messiah with over 300 prophecies that were fulfilled with 100% accuracy with the birth and ministry of Jesus of Nazareth. The vast bulk of that prophecy was written hundreds of years before Rome ever even existed as a world power. Second, there is the personal and first-hand testimony of hundreds of witnesses regarding Jesus and the miracles He performed. Third, if Jesus was simply a "roman creation" would the Roman government then made themselves look so foolish as to allow Him to rise from the dead on the third day? I mean, how hard is it to keep a mythical corpse in a tomb? Yet, Rome had some massive egg on their faces on that first Resurrection Morning.
"For when we were yet without strength, in due time Christ died for the ungodly. For scarcely for a righteous man will one die: yet peradventure for a good man some would even dare to die. But God commendeth his love toward us, in that, while we were yet sinners, Christ died for us." Romans 5:6-8 (KJV)
Would the apostles have given their lives for a hoax…would YOU die for something you knew wasn't true? And even if you would, could you convince dozens of other disciples and apostles to kill themselves for a hoax they knew was a hoax with you? I mean, come on. The only thing that Rome is guilty of inventing is the counterfeit of biblical Christianity known as the Roman Catholic Church. That they did create, and that is certainly a hoax when compared to the Bible.
"Wherefore God also hath highly exalted him, and given him a name which is above every name: That at the name of Jesus every knee should bow, of things in heaven, and things in earth, and things under the earth; And that every tongue should confess that Jesus Christ is Lord, to the glory of God the Father." Philippians 2:9-11 (KJV)
Jesus of Nazareth is most certainly not a hoax, for if He was, the Romans wouldn't have crucified Him on the cross between two malefactors. Bible scholars like Joseph Atwill are the same bunch that has been trying to steal not only your faith but also your Bible with their endless procession of "new and improved" bible perversions that do nothing but attack the deity, power and authority of Jesus Christ. They constantly drag you to the "hebrew and greek' to inform you that "a better translation says" blah, blah, blah.
"Where the word of a king is, there is power: and who may say unto him, What doest thou?" Ecclesiastes 8:4 (KJV)
So I will say a hearty "no thanks!" to mountains of books produced by the bible scholars, and I will stick with my King James Holy Bible, written at a 6th grade comprehension level and in plain English so that even a non-scholar like me can get a hold of it.  Jesus loves me. this I know, for the BIBLE from Genesis to Revelation tells me so. What a thing, man, what a thing!
Story of Jesus Christ was a HOAX designed to control the people, Biblical scholar claims
FROM THE EXPRESS UK: In a blog on his website Mr Atwill wrote: "Christianity may be considered a religion, but it was actually developed and used as a system of mind control to produce slaves that believed God decreed their slavery." The scholar argues that at the time, Jewish sects in Palestine were awaiting a 'warrior Messiah', which became an increasing problem after the Roman Empire failed to deal with the problem with traditional means.
As Atwill presents in Caesar's Messiah, the Flavian Roman imperial family created Christianity to pacify the militaristic opposition to their rule. Even more incredibly, they placed a literary satire within the Gospels to mark their handiwork.  This symbolic framework is the hidden history of Western civilization. In his follow-up book, Shakespeare's Secret Messiah, Atwill shows how this typology was understood and employed by Marlowe and Shakespeare, and what it means for the future of the Christian world. source
As a result, the rulers resorted to psychological warfare which would appear to give the citizens what they wanted, while at the same time making sure they followed their rules.
Mr Atwill added: "They surmised that the way to stop the spread of zealous Jewish missionary activity was to create a competing belief system. That's when the 'peaceful' Messiah story was invented.
"Instead of inspiring warfare, this Messiah urged turn-the-other-cheek pacifism and encouraged Jews to 'give onto Caesar' and pay their taxes to Rome.
"Although Christianity can be a comfort to some, it can also be very damaging and repressive, an insidious form of mind control that has led to blind acceptance of serfdom, poverty, and war throughout history."
Mr Atwill even goes so far to say that "to this day, especially in the United States, it is used to create support for war in the Middle East". He says he first discovered this revelation when noticing Jesus is "the only fictional character in literature whose entire life story can be traced to other sources".
By comparing the New Testament to the 'War of the Jews' by Josephus – the sole surviving account of first century Judea – he found the parallels between the two are uncanny.
Mr Atwill: "What seems to have eluded many scholars is that the sequence of events and locations of Jesus ministry are more or less the same as the sequence of events and locations of the military campaign of Emperor Titus Flavius as described by Josephus.
"This is clear evidence of a deliberately constructed pattern. The biography of Jesus is actually constructed, tip to stern, on prior stories, but especially on the biography of a Roman Caesar."

READ MORE

:
——————————————–
On Thursday, La Civiltà Cattolica journal released the transcript of a meeting between Pope Francis and a group of 24 Jesuits on September 5, 2019, during his recent trip to Mozambique in which the pope suggested that certain Evangelical Protestants in the United States "cannot really be defined as Christian."
"Two important articles in Civiltà Cattolica have been published in this regard. I recommend them to you. They were written by Father Spadaro and the Argentinean Presbyterian pastor, Marcelo Figueroa. The first article spoke of the 'ecumenism of hatred.' The second was on the 'theology of prosperity,'" the pontiff said.
"Reading them you will see that there are sects that cannot really be defined as Christian. They preach Christ, yes, but their message is not Christian," the pope said. "It has nothing to do with the preaching of a Lutheran or any other serious evangelical Christianity."
In the first essay recommended by the pope, the authors, who are both friends of Francis, slammed conservative Christians in the U.S. as ignorant, theocratic, Manichean, war-mongering fanatics.
For the "Evangelical right," the authors proposed, the panorama of threats to the American way of life "have included modernist spirits, the black civil rights movement, the hippy movement, communism, feminist movements and so on. And now in our day there are the migrants and the Muslims."
The authors did not hesitate to suggest that many Evangelicals are southern racists who reject climate change.
"Another interesting aspect is the relationship with creation of these religious groups that are composed mainly of whites from the deep American South," the article stated. "There is a sort of 'anesthetic' with regard to ecological disasters and problems generated by climate change. They profess 'dominionism' and consider ecologists as people who are against the Christian faith."
At the time of its publication, the article triggered an avalanche of critical responses denouncing the ignorance and political ill-will underlying the essay.
Philadelphia Archbishop Charles J. Chaput, for instance, wrote a sharp criticism of the essay, saying that the authors were guilty of "dumbing down and inadequately presenting the nature of Catholic/evangelical cooperation on religious freedom and other key issues."
In his critique of the article, Dr. Samuel Gregg called the article "disturbing," while lamenting the tacit anti-Americanism and "distinctly amateur grasp of American religious history."
The published criticisms of the original article by serious scholars, both Christian and secular, ended up being so numerous they could fill a book. The article was eventually dismissed as simply an embarrassing attempt at political propaganda by overly zealous Italian and Argentinian clerics who were completely out of their depth.
Which could lead one to wonder what Pope Francis could possibly be thinking when he dredges up this ill-begotten essay out of the swamp of oblivion to recommend it as a useful aid for understanding America's complex religious landscape.
——————————————–
DOES THE FUTURE EVEN MATTER?
QUESTION:    Since we're living in the End Times, there are times I wonder if the things I'm doing matter at all. I know I should be a good steward of the gifts and blessings God has given me, but sometimes I get discouraged. I'm a 20-year-old college student, and when I think that the rapture is going to happen soon, I sometimes wonder if the things I'm doing for the future even matter at all if they never come to fruition. Honestly, the sooner we go to Heaven, the better it is. But I also feel sad at times when I think that I won't receive any rewards at the Bema Seat. I haven't lived life out as long as others nor do I feel like I have done much for God's Kingdom.
ANSWER:    Many young people have regrets about the likelihood that they won't be able to achieve their life goals, and it's not just because of the rapture. Some wonder if our economy will ever be big enough to support everyone's dreams again.
But the hope of a successful self-directed life on Earth is a man-made concept that has never been taught in the Bible. In Matt 6:33-34 Jesus told us to make His Kingdom and His righteousness our first priority and not worry about the future. And in Romans 12:1-2 Paul advised us not to conform to the patterns of this world but to offer ourselves as a living sacrifice to the Lord. If these things have been true throughout the Church age, how much more so are they true today, on the verge of His return for us?
Also, Bema Seat rewards are not based on the length of our Christian life. They're based solely on what we do with the time we're given. The best cure for your discouragement would be to offer the remainder of your life to the Lord to use as it suits Him. You'll be amazed at how much He can accomplish when He has a willing partner, and you'll have the time of your remaining life in the bargain, not to mention rewards that will last for all eternity.
DOES SIN STILL MATTER?
QUESTION:    Why would Jesus give the command, "Go and sin no more," in John 8:11, if future sin is pardoned and freely embraced? And is future sin not effectively sin until it becomes established and is thus past? Is one's own future sin to be lamented when free will is still available? Does grace truly received let us go forward though it's misunderstood by the world? Or does grace abolish sin, even the future kind?
ANSWER:    There are two factors at play here. First, Jesus knew the woman in John 8:11 could not refrain from all sin, so He had to be admonishing her to stop committing the sin of which she had been accused, adultery.
Second, even though all the sins of our life were forgiven at the cross, that doesn't mean it's OK to live a sin filled life. We know this because Paul, the champion of salvation by grace, repeatedly counseled us to live in a manner pleasing to God. He called it "living up to what we have already attained (Phil. 3:16).
Even though they're forgiven, our sins still grieve the Holy Spirit, and they still have an impact on our relationship with the Lord. Therefore we shouldn't "freely embrace them."
Combining these two factors, we can understand that grace doesn't abolish sin. By the grace of God we have been relieved of the penalty for our sins, but it's a sign of our indifference about what it took for him to do that to act as if the sin in our life no longer matters.