Israel-Hezbollah: Cross-border violence escalates – TV7 Israel News 02.09.19

Published on Sep 3, 2019
 

Today's top stories 02.09.19;
1) Heightened tensions along Israel's northern frontier with Lebanon escalated into an exchange of cross-border hostilities over the weekend, causing extensive damage in both Israel and Lebanon.
2) Hezbollah Secretary General Hassan Nasrallah claims that his organization does not possess any factories to produce precision-guided missiles – while acknowledging that it does possess the sophisticated weaponry for the purpose of attacking the Jewish State.
3) Prime Minister Benjamin Netanyahu declared his intension to assert Israel's sovereignty over all of the Jewish settlements in the West Bank.
—————————————————-
Israel and Hezbollah Exchange Fire on Border — What's Next?
i24NEWS DESK | Israel and Hezbollah exchanged fire on the Israel-Lebanon border. Will it escalate to an all-out conflict? What's behind these types of incidents? Our Adi Koplewitz and Owen Alterman analyze. Story: Israel Defense Forces (IDF) said on Sunday that a military base was struck by anti-tank projectiles fired by Lebanese-based terror organization Hezbollah near the northern border. Following the missile fire, the Shi'ite terror organization claimed to have destroyed an IDF vehicle in the attack. In an official statement, the IDF said: "Following the initial report of an incident in Avivim, a number of anti-tank missiles were fired from Lebanon at an IDF base and military vehicles in the area.
"The IDF returned fire at shooting sources and targets in southern Lebanon. Additional details are under investigation and will be provided later," the IDF added. The IDF did not state whether there were any casualties. According to Hezbollah-affiliated news channel Al-Manar, the IDF responded by attacking the town of Maroun al-Ras in south Lebanon with artillery shells, believing it to be the area where the projectiles were launched. Israeli Prime Minister Benjamin Netanyahu has been updated on the incident and emergency units have been ordered to the northern border.
Residents of the town of Avivim and Kibbutz Yir'on in the Upper Galilee, where Hezbollah is believed to have struck, said they could hear explosions Sunday afternoon, reported Haaretz. In light of this, nearby roads were blocked by the IDF. The IDF has ordered residents in range of 2.5 miles from the northern Lebanese border to open shelters. Furthermore, residents are not obliged to enter shelters unless they hear alarms.
Should alarms go off, people in the area should stay in shelter for 10 minutes and wait for further instructions, the IDF spokesperson said in a statement. Earlier on Sunday, the IDF reportedly fired a number of artillery shells near the contested Shebaa Farms on the northern border surfaced, according to Lebanese media. Tensions between Israel and Lebanon are at a fever pitch, with the Shi'ite terror organization Hezbollah blaming Jerusalem for a string of bombings it has suffered over the past several weeks.
—————————————————-
The Soon Coming Invasion and Attack on Israel, and the Peace Agreement

Bible Prophecy is happening right before our eyes and like birth pains, the predicted events are happening more frequently and more intently. Never, in the history throughout the world have so many forces, including economic, scientific, techno-logic, ecologic, cultural, geopolitical, moral, spiritual and religion, converged together to bring this world that's already teetering over the edge into the abyss, to a point of no return.

Jesus said when you see all these signs happening, know that I am near, even at the door.
—————————————————-
LATEST WORLD NEWS CLIPS – ARTICLES – TUESDAY SEPTEMBER 03rd 2019
John 8:32 And ye shall know the truth, and the truth shall make you free
"My people are destroyed for lack of knowledge" (Hosea 4:6)
1Cor. 12:3 Wherefore I give you to understand, that no man speaking by the Spirit of God calleth Jesus accursed: AND THAT NO MAN CAN SAY THAT JESUS IS THE LORD, BUT BY THE HOLY GHOST.
THE TRIBULATION OF THE UNJUST (Those who have rejected Jesus Christ as their Saviour) IN THE BOOK OF REVELATION CHAPTER'S 6 to 22:
Rev. 3:10 Because thou hast kept the word of my patience, I also will keep thee from the hour of temptation, which shall come upon all the world, to try them that dwell upon the earth:
Luke 12:37 Blessed are those servants, whom the lord when he cometh shall find watching: verily I say unto you, that he shall gird himself, and make them to sit down to meat, and will come forth and serve them
SO WON'T YOU ACCEPT JESUS NOW AND BE REMOVED FROM THAT EVENT AND LIVE FOREVER WITH JESUS IN THE FAMILY OF GOD?
2 "(For he saith, I have heard thee in a time accepted, and in the day of salvation have I succoured thee: behold, now is the accepted time; behold, now is the day of salvation.)" (2nd Corinthians 2:6)
——————————————-
DAILY CHRISTIAN BIBLICAL QUESTIONS AND ANSWERS:
——————————————-
DEMONIC VISITATION
QUESTION:    I was raised Catholic and raised my children Catholic. I got saved about six years ago and began going to a Christian church. One of my two grown daughters has been going with me also but I could never get my other grown daughter to. She has not been in a church in about five years. Last weekend she indicated out of the blue that she would attend church with us. Of course, I was very happy and grateful.
This past Friday evening she said she would go again with us on Sunday. Then, at about 1 am on Saturday morning, she was awakened by a presence in her room which she felt was demonic. She felt it trying to push her off of her bed and she had a strong feeling that if it did, she would become possessed. No one in my family has ever had any experience of this kind before. She began to pray the Lord's Prayer out loud over and over again and the pushing motion she felt slowed down but did not stop and the presence did not leave her. In fact, her lips became numb and soon she could no longer pray out loud. At that instant she began to say in her mind, "I cast you out in Jesus Name" and immediately the presence left her.
Can you explain this? Could it have just been a dream? If not is there anything I can do to help her? She is frightened it may happen again. Thank you and God bless you and your family.
ANSWER:    Yes, it could have been a dream, but from your description, I'm more inclined to believe that it was just what she thought, a demonic visitation. Your daughter's intuitive response was consistent with the Bible's admonition to

"resist the devil and he will flee from you."

(

James 4

:

7

)
The devil doesn't like to lose anyone, and even neutral people belong to him, but visitations like this are rare. He must believe that your daughter will become a powerful force for the Lord. Encourage her to make a public profession of faith as soon as she can sincerely do so because the Bible also tells us that
"Greater is He Who is in us than he who is in the world." (1 John 4:4)
In the meantime, while we're admonished to respect our enemy we're not to fear him, and the name of Jesus is a powerful and effective weapon of resistance.
IS DEMONIC VISITATION POSSIBLE?
QUESTION:    I have a friend who is a born again believer. She recently told me that she saw something in her house that frightened her. She believes it was a demon. After that, she has "felt" something touch her. She said most recently, she felt like something was choking her. I suggested she talk to her pastor about this but she is afraid that he might think she is going crazy. Have you ever had experience with yourself or someone you know who is a believer being physically attacked by a demon?
Do you have any suggestions I can pass along to my friend?
ANSWER:    While a believer can suffer demonic oppression and even torment there are limits set by God. Remember Satan was allowed to afflict Job but couldn't take his life (Job 1:6). Tell your friend to get some like minded believers together and pray over and through her house to declare it off limits in Jesus' name. You can walk around it while praying like Joshua did at Jericho and anoint the door posts and window frames with oil if you like. We also have authority on Jesus' name over demons in case of another visitation.
Be sure to make a thorough confession before doing this to make certain that you're within God's protective power. (1 John 1:9)
——————————————-
NEWS CLIPS OBTAINED FROM MANY SOURCES – INCLUDING

Tracking bible prophecy.org
Rapture Ready News
Prophecyupdate.Com
Main News Channels
End Times Headlines
Prophecyupdateblogspot.com
Stevequayle.com
Gracethrufaith.com
Nowtheendbegins.com
Other Christian Sites
(CLICK ON) LATEST DAILY NEWS CLIPS:
ISRAEL NEWS:
THE MIDDLE EAST PEACE PLAN IS "ANTI GOD" – (GOD WILL NOT ALLOW JERUSALEM TO BE DIVIDED).
ZECHARIAH 12:2-3
Zech. 12:2 Behold, I will make Jerusalem a cup of trembling unto all the people round about, when they shall be in the siege both against Judah and against Jerusalem.
WORLD TERRORISM – WARS
WORLD FINANCE:
Rev. 6:5 And when he had opened the third seal, I heard the third beast say, Come and see. And I beheld, and lo a black horse; and he that sat on him had a pair of balances in his hand.
MASSIVE EARTH CHANGES/EARTHQUAKES/VOLCANOES ETC:
2Chr. 7:13 If I shut up heaven that there be no rain, or if I command the locusts to devour the land, or if I send pestilence among my people;
2Chr. 7:14 If my people, which are called by my name, shall humble themselves, and pray, and seek my face, and turn from their wicked ways; then will I hear from heaven, and will forgive their sin, and will heal their land
CHRISTIAN AND RELIGIOUS WORLD NEWS:
Matt. 24:9 Then shall they deliver you up to be afflicted, and shall kill you: and ye shall be hated of all nations for my name's sake.
Matt. 24:10 And then shall many be offended, and shall betray one another, and shall hate one another
WEBPAGE ADMINISTRATOR
: 
I do not think that Pope Francis understands that all this "Climate Chaos" is "God's Will". This is the "BIRTH PANGS" prior to the Tribulation of the "Unjust"
Revelation 6
– Pope Francis needs to read the Bible and also get ready for God's
Judgement
 of Mankind.
EXTRA WORLD – ALTERNATIVE NEWS:
————————————————-
WORLD – PROPHETIC NEWS ARTICLES PRESENTATION – TUESDAY SEPTEMBER 03rd 2019
MIDDLE EAST AND WORLD WAR LOOMING THE BUILD UP TO PSALM 83  – ISAIAH 17 AND GOG OF MAGOG WARS EZEKIEL 38:
THE WHOLE WORLD IS UNSTABLE FINANCIALLY, POLITICALLY, PHYSICALLY, MORALLY, GODLY: – AND BECOMING MORE SO DAILY. (WE ARE IN THE BEGINNING OF SORROWS (MATT 24:8)
THE BIBLE STATES THAT IT WILL ONLY GET WORSE BEFORE THE START OF THE TRIBULATION OF MANKIND – (

REVELATION 6

)
Matt. 24:6 And ye shall hear of WARS AND RUMOURS OF WARS: see that ye be not troubled: for all these things must come to pass, but the end is not yet.
Matt. 24:7 FOR NATION SHALL RISE AGAINST NATION, AND KINGDOM AGAINST KINGDOM: and there shall be famines, and pestilences, and earthquakes, in divers places.
ISAIAH 17/PSALM 83:
THE DESTRUCTION OF DAMASCUS and
Muslim Countries in the Middle East will launch an attack on Israel
JEREMIAH 49:
PROPHECY OF ELAM – (Possible Attack on Iran's Nuclear Program
————————————————–
The Israeli military fired artillery shells into a disputed portion of land on the Lebanese border on Sunday, amid soaring tensions along the frontier, a Hezbollah-affiliated news outlet reported.
The Israel Defense Forces confirmed conducting "activities" in northern Israel, which sparked a fire near the border, but refused to comment on the nature of those actions.
According to Hezbollah's Al-Manar news outlet, the IDF fired the shells into the hills outside of the village of Kfar Chouba, next to a contested area along the border, known in Israel as Mount Dov and in Lebanon as Shebaa Farms.
The Lebanese Armed Forces said in a statement that an Israeli drone also dropped an incendiary device nearby, sparking a small fire that was extinguished by residents of the area.
Al-Manar also shared photographs of artillery shells it said were fired by the IDF into the area.
Residents of northern Israel reported seeing increased military activity in the area on Sunday morning, with soldiers establishing roadblocks along local highways and large numbers of aircraft flying overhead.
On Saturday night, the Iran-backed terror group released a new Hebrew-language video threatening to attack northern Israel, using portions of a speech made by Nasrallah following last week's attacks and video footage apparently filmed along the border.
"I am telling residents of the north and residents of all of occupied Palestine: do not rest, do not relax for a second," the terrorist leader shouts in Arabic with Hebrew subtitles, over images of northern Israeli towns.
Earlier on Saturday, Lebanon's National News Agency reported that a flare launched by Israel operating along the border had fallen in a UNIFIL base inside Lebanon, causing a fire to break out. There were no injuries.
The Lebanese news agency also reported that several explosions were heard along the border and that an additional fire had broken out the Israeli side of the border near Mount Dov. Responding to a query on the matter, the army said that the fire had been started by IDF activity in the area and that the blaze had been contained.
The army refused to comment on the nature of this activity.
On Friday, Kohavi toured the border a day after the army canceled leave for combat soldiers in the area, and the head of the IDF Northern Command warned Israel would offer a "harsh" response to any Hezbollah attack.
——————————————–
The Hezbollah terror group fired several anti-tank guided missiles at an army base and a military jeep just inside northern Israel's border with Lebanon on Sunday afternoon, causing no injuries, the Israel Defense Forces said.
Military sources said that the vehicle was empty when it was struck, but that soldiers had been inside half an hour earlier. IDF spokesman Lt. Col. Jonathan Conricus initially said that the armored jeep had been painted with a red Jewish star, identifying it as an ambulance, but later retracted the claim and clarified that the vehicle had been used as an ambulance but was not marked as such.
In response to the attack, the Israeli military said its artillery cannons and attack helicopters fired approximately 100 shells and bombs at Hezbollah targets in southern Lebanon.
Conricus said the IDF considered the "tactical event on the ground" to be over as of Sunday evening, but that the larger strategic threat posed by Hezbollah on the border remained. The IDF remained on high alert Sunday evening, officials said.
Prime Minister Benjamin Netanyahu said no Israelis were so much as "scratched" by the Hezbollah attack. "There were no Israeli injuries, not even a scratch," Netanyahu said, smiling, at the opening of a Honduras diplomatic office in Jerusalem.
The military said Hezbollah operatives fired two or three missiles at a battalion headquarters outside of the Israeli community of Avivim and at military vehicles nearby shortly after 4:15 p.m. Sunday. Several of the projectiles struck their targets but did not cause any casualties, despite claims to the contrary by Hezbollah, the IDF said.
The Iran-backed terror group took responsibility for the missile strikes, saying in a statement that its fighters "destroyed an 'Israeli' military vehicle on the Avivim barracks road [in northern Israel] and killed and injured those in it."
A senior Iranian security official praised Hezbollah's firing of anti-tank missiles from Lebanon at Israeli territory on Sunday, as the deputy leader of the Iran-backed terror group said the attack changed the rules of the game.
Ali Shamkhani, secretary of Iran's Supreme National Security Council, said the attack demonstrated the willingness of Tehran and its proxies to confront Israel, the United States and allied regional countries, according to the Mehr news agency.
Hezbollah indicated the attack was in retaliation for an Israeli airstrike in Syria last month that killed several operatives, including two of its members. Israel said that strike was to thwart an Iranian plot to launch explosives-laded drones at Israeli territory. IDF Chief of Staff Aviv Kohavi accused a top Iranian general of personally overseeing the plan.
The Lebanese terror group has also accused Israel of being behind a recent drone attack in Beirut that reportedly damaged materials for Hezbollah's missile program.
Naim Qassem, the deputy head of Hezbollah, boasted after Sunday's anti-tank missile fire that Israel would be deterred from future strikes.
"Hezbollah succeeded in proving the balance of power and forced upon Israel new rules of engagement," he was quoted as saying by the Ynet news site. "Hezbollah wants to preserve its deterrence and the rules of engagement."
The UN peacekeeping force in Lebanon, meanwhile, condemned the Hezbollah attack.
"This is a serious incident in violation of UN Security Council Resolution 1701 and clearly directed at undermining stability in the area," UNIFIL commander Maj. Gen. Stefano Del Col said in a statement, referring to the UN resolution ending the 2005 Second Lebanon War between Israel and Hezbollah.
——————————————–
IDF chief Aviv Kohavi on Sunday called on United Nations peacekeepers and the Lebanese government to take action against the Hezbollah terror group's precision missile project, indicating that Israel would be forced to act if they didn't.
Kohavi conveyed this position in a meeting with Maj.-Gen. Stefano Del Col, the head of the UN's Interim Force in Lebanon (UNIFIL), following a clash along the border with Hezbollah on Sunday in which the terror group fired anti-tank guided missiles at Israeli positions near the security fence. No soldiers were injured, and the Israel Defense Forces retaliated by firing approximately 100 artillery shells and bombs at Hezbollah positions in southern Lebanon.
"We will not accept harm to our citizens or our soldiers, and we will not accept Hezbollah's precision missile project on Lebanese soil," Kohavi told Del Col.
This was their first meeting since the IDF chief of staff took up his position in January.
"The state of Lebanon and UNIFIL must bring an end to Iran and Hezbollah's precision missile project in Lebanon and fully implement [UN] Security Council Resolution 1701," Kohavi said, referring to the resolution that ended the 2006 Second Lebanon War.
"The current state of affairs is not one we can come to terms with," he said.
UN Resolution 1701 calls for all armed groups, besides the Lebanese military, to be removed from southern Lebanon, in the area south of the country's Litani River.
Israel has repeatedly claimed that the Hezbollah terror group, occasionally aided by the Lebanese Armed Forces, maintains an active presence in southern Lebanon of both fighters and weaponry despite this prohibition. UNIFIL, which is tasked with ensuring Resolution 1701's implementation, has indicated that the constraints of its mandate prevent it from being able to fully investigate Israel's claims, namely because of the peacekeepers' inability to enter private property.
A tense calm took hold over northern Israel on Monday following the exchange of fire the day before, but Kohavi told the UNIFIL commander that the IDF remained at the ready for any new developments.
"The IDF is in a state of preparedness for a variety of possible scenarios," Kohavi said.
In a statement on Sunday night, Del Col said, "This is a serious incident in violation of UN Security Council resolution 1701 and clearly directed at undermining stability in the area," Del Col said. "General calm has been restored in the area and the parties have reassured me of their continued commitment to the cessation of hostilities in accordance with Resolution 1701."
UN chief Antonio Guterres also called on Israel and the Iran-backed Hezbollah to show "maximum restraint," saying in a statement Sunday that he was "seriously concerned" by the recent exchange of fire along the border.
——————————————–
The IDF's response to the 4 Kornet 9M1333 anti-tank missiles Hizballah fired at a military position and ambulance near Moshav Avivit on Sunday, Sept. 1, was carefully calibrated to avoid sparking a major flare-up. Israeli tank, artillery and aerial units blasted the South Lebanese Ras a-Maroun and Yiroun villages from which Hizballah fired, but otherwise concentrated their fire on unpopulated land to avoid casualties.
While the military response was swift, it was also kept in check to make sure that life in Israel's border communities was restored to its normal routine with all possible speed.
The entire exchange of fire lasted a couple of hours before the military announced it was over without Israeli casualties. This told Hizballah that it had failed in its bid for avenge the deaths of its two former adherents, converted members of Iran's Al Qods Brigades, who were killed in the Israeli strike south of Damascus on Aug. 24 for thwarting a killer drone attack.
Hizballah's Hassan Nasrallah is unlikely to let it go at that. 
Indeed, the entire incident wound down under a cloud of uncertainty and unanswered questions. Has he got a major operation ready to go when Israel's high alert and massive military deployments on its northern borders show signs of weakening? Will Al Qods chief Gen. Qassem Soleimani pat Nasrallah on the back or tell him to do better with a more seriously damaging assault on Israel? By the same token, there is no telling whether the rocket attack was no more the signal for the start of an Iranian backed war of attrition from Lebanon in tune with the Hamas terrorist campaign plaguing southern Israel.
DEBKAfile's military sources calculate that the odds on more Hizballah attacks are high for three reasons:
Nasrallah badly needs a military coup after the successful operations against Hizballah that Israel pulled off in Beirut and Syria two weeks ago. The rocket attack on Sunday hardly fit that bill.

A single rocket attack is a poor show when compared with 18 months of continuous Palestinian Hamas and Islamic Jihad operations against Israel. He needs much more damaging and impressive action to support his and Iran's claim to lead the "axis of resistance." 

Soleimani and Nasrallah have hatched a conspiracy to engineer Prime Minister Binyamin Netanyahu's ouster in Israel's Sept. 17 general election by violent operations for damaging his credibility as the guardian of national security.
——————————————–
RUMORS OF WAR: HOW LONG CAN ISRAEL AND HEZBOLLAH AVOID WAR?
After a week of threats, the Hezbollah terror group came through on its vows of revenge, firing several anti-tank guided missiles at an Israeli military position along the Lebanese border, hitting an armored jeep that had minutes before been full of soldiers.
The Israeli military responded with artillery shelling and airstrikes on Hezbollah targets in southern Lebanon. But there too, no casualties were reported.
With this attack, Hezbollah can claim a victory over the Jewish state, having effectively bypassed Israeli defenses and struck an IDF base and an armored vehicle from across the border.
The media-savvy terror group can even hint through its affiliated news outlets that Israel is covering up casualties and losses — helped in part by an Israeli psychological warfare operation — thus making its bombardment seem more successful.
According to military sources, the vehicle that was hit in the strike had minutes earlier been full of soldiers.
Whether the timing of Hezbollah's attack was a case of dumb luck for both sides, or if the terror group deliberately avoided causing large numbers of Israeli losses to avoid such a conflict — this is not immediately known.
But had the attack caused many casualties, it would have demand a forceful response by Israel and likely another retaliation by Hezbollah until all-out war broke out.
But whatever the cause, this bloodless exchange, which lasted just a few hours, could bring to a close the current period of heightened tensions and mark a return to the quieter, though no less violent, status quo in which Hezbollah seeks to acquire precision-guided missiles and other advanced weaponry and Israel's security services fight to prevent this from happening.
But as of Sunday night, it was not clear if the afternoon's attack will suffice in Hezbollah's search for revenge, or if another border exchange is in the offing.
The current tensions can be traced back to two main events: an airstrike by the IDF last Saturday night against an Iranian-controlled base in Syria from which Iranian operatives, including two Hezbollah members, planned to bomb targets in northern Israel with armed drones; and a drone attack in Beirut last Sunday morning that has been attributed to Israel that reportedly targeted key components of a joint Hezbollah-Iranian project to manufacture precision-guided missiles in Lebanon.
Throughout the past week, both incidents — the airstrike and drone attack — have been cited by Hezbollah officials as unacceptable forms of Israeli aggression, demanding retaliation.
However, in its official statement on Sunday's missile barrage, the terror group referred only to the Hezbollah "martyrs" killed in Israel's airstrike in Syria, leaving open the possibility that a reprisal attack for the Beirut drone blast was yet to come.
Indeed on Sunday evening, the Israeli military said that while it considers the "tactical event" with Hezbollah to be over, the larger strategic threat posed by the terror group remains firmly in place.
While this current period of heightened tensions may come to an end with Sunday's attack, the underlying issues have not been resolved, most importantly Hezbollah's efforts to acquire precision-guided missiles.
According to the IDF, since 2013 the terror group's patron Iran has been working to provide these advanced munitions to Hezbollah.
Yadlin compared Hezbollah's efforts to produce these precision-guided missiles to Iran's desire to acquire a nuclear weapon. In both cases, Israel has demonstrated that it will take military action in order to prevent such a situation.
The former intelligence chief said he believes that sooner or later the IDF will have to stage a major operation to prevent Hezbollah from improving its missiles.
Last week, in a bid to force the Lebanese government and international community to take action against this joint Hezbollah-Iranian project, the IDF declassified intelligence about the Iranian and Hezbollah officials running it.
Hezbollah and Iran, however, have in no way indicated that they plan to abandon the venture, meaning that while this round of violence may come to an end, the next is only a matter of time.
——————————————–
Philip K. Dick's story "The Minority Report," made into a movie in 2002 directed by Steven Spielberg and starring Tom Cruise, takes us to a nightmarish Washington, DC, in the year 2054, where police arrest people based on crimes that psychics say they're going to commit in the future. That dystopia could come to Britain 35 years early if the Tony Blair Institute for Global Change gets its way. According to the Guardian, the Institute has recommended that "a new law allowing for hate groups to be designated and punished before they turn to violence is needed in order to tackle far-right extremists."
"Before they turn to violence" — that is, even if there is no indication that they will ever be violent.
The Guardian notes that the authors of Narratives of Hate: The Spectrum of Far-Right Worldviews in the UK, the Tony Blair Institute report calling for this, "acknowledge that the issue of linking violent and nonviolent extremism is contentious and steps would need to be taken to protect free speech."
That's window dressing meant to deceive the public into complacency. There is no way to criminalize certain opinions while protecting the freedom of speech.
The Guardian continues: "The law…would designate hate groups as organisations that spread intolerance and antipathy towards people of a different race, religion, gender or nationality, the report said."
The danger of this is that it is universally taken for granted among the political and media elites that honest analysis of how jihadis use the texts and teachings of Islam to justify their actions and make recruits among peaceful Muslims constitutes spreading "intolerance and antipathy towards people of a different race, religion, gender or nationality." Such analysis is consistently lumped together with racist groups, as if race hatred were the same thing as opposition to jihad mass murder and Sharia oppression of women, gays, and others.
The report focuses on genuinely racist and hateful groups that people will be reluctant to defend, but that's just the camel's nose under the tent. According to the Guardian, "the recommendations and conclusions are based on analysis of the overlap between four 'nonviolent' far-right groups – Britain First, For Britain, the British National party (BNP) and Generation Identity England – and the ideology of the terrorist Anders Breivik, who murdered 77 people in Norway in 2011."
The "ideology of the terrorist Anders Breivik" is generally conflated with those who inspired him, according to media myth: critics of jihad violence and Sharia oppression of women and others. The fact that Breivik was hardly a counter-jihadi, and actually called for Europeans to ally with Hamas and al-Qaeda, is altogether forgotten, as it does not fit the narrative. So if the "ideology of the terrorist Anders Breivik" is actually criminalized, opposing jihad terror, mass Muslim migration into Europe, and the introduction of oppressive Sharia norms into the West will become a criminal act, even if the opponent of these things never calls for or condones any violence.
If the "ideology of the terrorist Anders Breivik" is going to be criminalized, will socialism and communism be outlawed also, since Stalin, Mao, Pol Pot and others murdered tens of millions in their names? Of course not. This proposed new law is designed solely to muzzle those who call for resistance to jihad violence and Islamization. Those who speak out against this proposal will inevitably be stigmatized as "racists" and "Islamophobes," vehemently suspected of themselves being part of this "far-right fringe."
And so there is likely to be no opposition to the Tony Blair Institute's recommendation, and so very soon, even the tiny and embattled groups that are trying to resist jihad terror and Islamization in Britain today will be shut down, without anyone daring to speak out for them. What will happen then? What will this new Britain of "The Minority Report" look like when the real 2054 comes around? Probably it will be much more nightmarish than anything Philip K. Dick ever imagined.
——————————————–
Unusual remarks and actions by the outgoing head of the Bank of England and other central banking insiders strongly suggest that there is a very ugly scenario in the works to end the role of the US dollar as world reserve currency. In the process, this would involve that the Fed deliberately triggers a dramatic economic depression. If this scenario is actually deployed in coming months, Donald Trump will go down in history books as the second Hebert Hoover, and the world economy will be pushed into the worst collapse since the 1930s. Here are some elements worth considering.
The about-to-retire head of the very special Bank of England, Mark Carney, delivered a remarkable speech at the recent annual meeting of central bankers and finance elites at Jackson Hole Wyoming on August 23. The 23-page address to fellow central bankers and financial insiders is clearly a major signal of where the Powers That Be who run world central banks plan to take the world. 
Carney discusses the fact that China as the world leading trading nation is the obvious candidate to replace the dollar as leading reserve, however, he notes, "…for the Renminbi to become a truly global currency, much more is required. Moreover, history teaches that the transition to a new global reserve currency may not proceed smoothly." He indicates that means it often needs wars or depressions, as he cites the role of World War I forcing out sterling in favor of the US dollar. What Carney finds more immediate is a new IMF-based monetary system to replace the dominant role of the dollar.
The Carney speech, when deciphered from its central bank language, gives us for the first time a clear roadmap where the powers that control world central banking would like to take us. The world reserve role of the US dollar must end; it must be replaced by some form of IMF SDRs as basis for a multi-currency reserve. 
That in turn would ultimately be based on digital money, so-called block chain currencies. Such currencies, make no mistake, would be completely controlled by central bank authorities and the IMF. That would require their often-proposed elimination of all cash in favor of digital money where every cent we spend can be monitored by the state.
This cashless society would also set the stage for the next great financial crisis and the confiscation by governments of ordinary citizens' bank deposits under new "bank bail-in" laws now on the books since 2014 in every major industrial country including the EU and USA.
The IMF is fully behind the turn to global blockchain digital currencies and use of SDR to replace the dominant US dollar. In a little-noticed speech in November 14, 2018, IMF chief Lagarde strongly indicated that the IMF was behind central bank digital currencies as well as cashless societies. She noted very carefully, "I believe we should consider the possibility to issue digital currency. There may be a role for the state to supply money to the digital economy." She added, "A new wind is blowing, that of digitalization…What role will remain for cash in this digital world? … demand for cash is decreasing—as shown in recent IMF work. And in ten, twenty, thirty years, who will still be exchanging pieces of paper?"
The introduction of this central bankers' new digital currency world will require, as Carney suggests, dramatic upheavals of the status quo, upheavals that would lead to the end of the dominant role of the US dollar since the 1944 Bretton Woods agreement. As that dollar reserve currency role is a pillar of American power in the world, for that to happen would require nothing short of catastrophe. Is this in fact what the Federal Reserve is quietly planning with its money policies?
——————————————–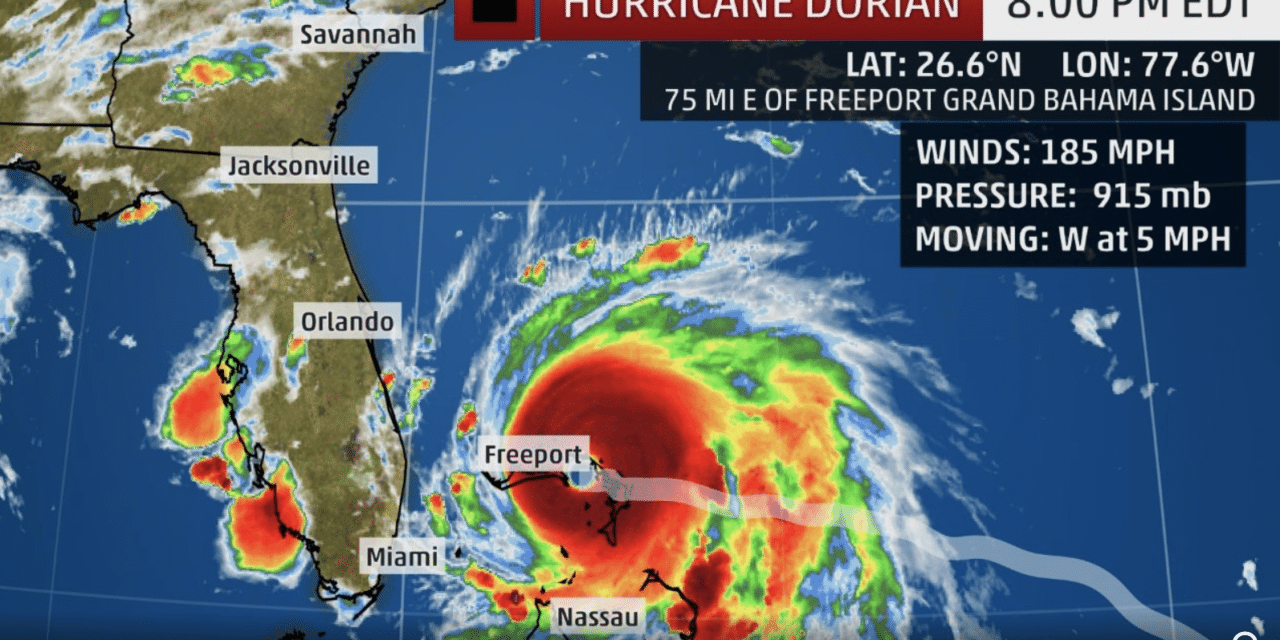 (TWC) – A hurricane warning has been issued for a portion of Florida's east coast as Dorian crawls over the northwestern Bahamas as a Category 5. The dangerous hurricane is still a threat to Florida, Georgia, South Carolina, North Carolina and southeastern Virginia. Dorian made its first landfall on Elbow Cay, in the Abacos of the northwestern Bahamas, at 12:40 p.m. EDT Sunday. It then made a second landfall on Great Abaco Island near Marsh Harbour at 2 p.m.
——————————————–
Hurricane Dorian is already setting all sorts of records, and it hasn't even reached the United States yet.  As I write this article, this "lawnmower from the sky" is ripping through the Bahamas with immense fury.  The east coast could potentially be the next target, and widespread evacuations have already been ordered all along the Florida coastline, and that even includes President Trump's Mar-a-Lago resort.  For many years, there has been a tremendous amount of debate in the scientific community about whether we should add a new category to the Saffir Simpson scale because of how powerful hurricanes are becoming.  Many meteorologists have advocated adding a "Category 6" or even a "Category 7" to the scale, and without a doubt the power of Hurricane Dorian will almost certainly renew that debate.  And as you will see below, if the scale had already been expanded, Hurricane Dorian would likely be considered to be a "Category 6" storm right now. (

READ MORE…

)
——————————————–
A new study has discovered that we are far more dependent on America's great debt creation machine than most of us would have ever dared to imagine.  Today, debt is involved in most of our major transactions.  In order to purchase a home, most of us go into debt.  The same thing is true when most of us buy a vehicle.  Total credit card debt is well over a trillion dollars, and total student loan debt is now over a trillion and a half dollars.  Corporate debt has more than doubled since the last financial crisis, state and local governments are absolutely drowning in debt and unfunded pension liabilities, and the federal government is more than 22 trillion dollars in debt.  The Federal Reserve and the "too big to fail" banks are at the core of this insidious debt-based system, and it has been systematically destroying the bright future that our children and our grandchildren were supposed to have.  But if we suddenly turned off America's great debt creation machine at this point, our entire economic system would totally collapse because we have become so dependent on it.  In fact, a study that was just conducted by Bloomberg discovered that "gross domestic product per capita would plunge into negative territory" if the ability to borrow was suddenly removed… (

READ MORE…

)
——————————————–
IRON AND CLAY MIXTURE:
Unfortunately, the European mindset refuses to face the reality, as if the challenge is too severe to be addressed.

"The conference took place under the theme 'Penser l'Europe' ['Thinking of Europe']… There, I was disturbed to hear Tariq Ramadan speaking of Europe as dar al-Shahada, i.e. house of Islamic belief. The attending audience was alarmed, but did not get the message of the perception of Europe… as a part of house of Islam. If Europe is no longer perceived as dar al-Harb/house of war, but viewed as part of the peaceful house of Islam, then this is not a sign of moderation, as some wrongly assume: IT IS THE MINDSET OF AN ISLAMIZATION OF EUROPE". — Bassam Tibi, Professor Emeritus of International Relations, University of Goettingen.

It is a false Marxist notion among young people here in Europe that if you are successful or comfortable, it can only have been at the expense of humanity: "If I win, somebody else must lose." There seems to be no concept at all of "win-win"—"If I win, all of you can win too: everyone can win!"—which underpins the free economy and has lifted so much of the world so spectacularly out of poverty.

It is important to… reject the current fashion of self-abasement. Europe seems to be afflicted with a skepticism about the future, as if the decline of the West is actually a justified punishment and a liberation from its faults of the past…. "For me, today," notes Alain Finkielkraut, "the most essential thing is European civilization".
Europe presents itself as the vanguard of the unification of humanity. Europe's cultural roots, as a result, have been put at risk. 
According to Pierre Manent, a renowned French political scientist and a professor at the School for Advanced Studies in the Social Sciences in Paris:
"European pride or European self-consciousness depend on the rejection of European history and European civilization! We want nothing to do with the Christian roots and we absolutely want to be perfectly welcoming to Islam".
Manent delivered these words to the French monthly, Causeur. He cited, as an example, Turkey:
"It was very clear that not only was its massively Islamic character (even before Erdogan) not an obstacle but a sort of motive, a reason to bring the Turkey into the EU. It would finally have been the definitive proof that Europe had detached itself and freed itself from its Christian dependence".
Europe's southern border is now the front line for this mass-migration; Italy risks becoming that refugee camp. In the last few months, Italy has faced a succession of boats from Africa, challenging its policy: first the Sea Watch 3, then the Open Arms and finally the Ocean Viking. Until just before Italy's March 2018 elections, migrants were crossing the Mediterranean at the rate of 200,000 a year.
Since European security ministers failed to agree on the Mediterranean refugee crisis, Italy's Interior Minister Matteo Salvini, willing to stand virtually alone, chose to close Italian ports. Although Italian court tried to charge him with "kidnapping" migrants, Salvini's policy worked and landings plummeted. In the first two months of 2019, 262 seaborne migrants reached Italy, compared to 5,200 in the same period last year, and more than 13,000 in the same period of 2017.
The Italian government collapsed on August 20; there is now the great possibility that a new pro-immigration leftist coalition will take its place. A ship attempting to bring to Italy 356 migrants from Africa, more than all who came in the first two months, has been stranded at sea since it picked up the migrants between August 9-12, while awaiting permission to land. In one standoff after another, NGOs have been attempting to break Salvini's barricade against illegal immigration.
One ship already did. One of the captains of the Sea Watch 3, a German citizen, Pia Klemp, was even honored by the city of Paris for breaking the Italian blockade. According to the other German captain, Carola Rackete: "My life was easy… I am white, German, born in a rich country and with the right passport"—as if her determination to help migrants would be, in her own words, related to the comparatively privileged life she has lived in the West.
It is a false Marxist notion among young people in Europe that if you are successful or comfortable, it can only have been at the expense of humanity: "If I win, somebody else must lose." There seems to be no concept at all of "win-win"—"If I win, all of you can win too: everyone can win!"—that underpins a free-market economy and has lifted so much of the world so spectacularly out of poverty. Many of the young people see only barriers to be broken down. Pascal Bruckner called it, the "tyranny of guilt".
Unfortunately, the price for cultural relativism has become painfully visible in Europe. The disintegration of Western nation-states is now a real possibility. Multiculturalism—built on a background of demographic decline, massive de-Christianization and cultural self-repudiation—is nothing more than a transitional phase that risks leading to the fragmentation of the West. Among the reasons for that, the historian David Engels listed "mass-migration, the aging of the population, Islamization and the dissolution of nation states".
Mass-migration has already undermined the unity and solidarity of Western societies and—combined with demonizing Israel in the hope of obtaining inexpensive oil and preventing terrorism—has destabilized the post-1945 political consensus.
German Chancellor Angela Merkel's policy of open doors—"Wir schaffen das" ("We can do it") — led to a right-wing party in her parliament. The Alternative for Germany (AfD) is now leading the polls in regional elections in the former East Germany. The French Socialist Party, which governed the country under President François Hollande, is now disappearing. The diktats of Brussels on immigration and quotas have broken the unity of Europe and resulted in the virtual "secession" of the Visegrad countries (Poland, Hungary, the Czech Republic, Slovakia). The migration utopia in Sweden brought a populist right-wing party into parliament, and the arrival of half a million illegal immigrants pushed the once-marginal League of Matteo Salvini to the top of Italy's political establishment.
Whether one likes it or not, Europe seems to be feeling an existential cultural threat from these great migratory flows. There is not only the pressure of illegal immigration; there is also pressure from legal immigration. More than 100,000 people applied for asylum in France in 2017, a "historic" number, and more than 123,000 applications in 2018. In Germany, there were 200,000 requests for asylum in 2018.
This mass immigration is changing Europe's internal composition. In Antwerp, the second-largest city in Belgium and the capital of Flanders, half the children in elementary schools are Muslim. In the Brussels region, you can get some idea of the change by studying the attendance of religion classes in primary and secondary schools: 15.6% attend Catholic classes, 4.3% Protestant and Orthodox classes, 0.2% attend Judaism classes, and 51.4% attend Islamic religion classes (12.8% attend secular "ethics" classes). Is it clearer now what will happen in the capital of the European Union? We should not be surprised that immigration tops the list of worries of the Belgian population.
While the power of European Christianity seems to be falling off a demographic and cultural cliff, Islam is making giant strides. It is not just a question of immigration and birth rates; it is also one of influence. "In September 2002 I participated in a meeting of the cultural centers of the leading European Union member states in Brussels", the German-Syrian intellectual Bassam Tibi, Professor Emeritus of International Relations at the University of Göttingen, wrote.
"The conference took place under the theme 'Penser l'Europe' ['Thinking of Europe'] while being given the title 'Islam en Europe'. There, I was disturbed to hear Tariq Ramadan speaking of Europe as dar al-Shahada, i.e. house of Islamic belief. The attending audience was alarmed, but did not get the message of the perception of Europe in an Islamist mindset as a part of house of Islam. If Europe is no longer perceived as dar al-Harb/house of war, but viewed as part of the peaceful house of Islam, then this is not a sign of moderation, as some wrongly assume: it is the mindset of an Islamization of Europe…"
———————————————–
HAL LINDSEY ANALYSIS OF CURRENT EVENTS
Not long ago in this space, I talked about one of the most underreported facts of the Middle East — that the Lebanese terror group known as Hezbollah has a larger stockpile of missiles than all NATO countries (except the U.S.) combined.  The terror group is reported to have approximately 150,000 missiles in the field, ready to go.
Hezbollah is the most powerful non-state military actor in the world.  They have 20,000 active duty troops and another 25,000 reservists.  They are known to have a vast number of deep and sophisticated tunnel and bunker complexes across southern Lebanon, and entering Israel under its northern border.
Where does a terrorist group get the weapons and money to build such an immense military machine?  It primarily comes from their fellow Shiite Muslims in Iran.
Israeli Defense Forces Intelligence Chief, Maj.-Gen.  Herzl Halevi, said, "We are seeing Hezbollah building a domestic military industry on Lebanese soil based on Iranian know-how.  Hezbollah is producing weapons systems and transporting them to southern Lebanon….  Over the past year, Iran is working to establish infrastructure for the independent production of precision weapons in Lebanon and Yemen."
In 2006, Israel and Hezbollah fought a 34-day war.  It ended with the Lebanese cabinet, Hezbollah's strongman leader, and the Israeli Knesset agreeing to the terms of UN Security Council Resolution 1701.  Among other things, that resolution provided for "the disarmament of all armed groups in Lebanon….  There will be no weapons or authority in Lebanon other than that of the Lebanese State."
That should have been the end of an armed Hezbollah.  But instead, they have had an explosion of military capability in the intervening years.  In other words, Hezbollah's promise isn't worth the paper it's written on, and the UN remains a toothless tiger.
The resolution also required Hezbollah to stay north of the Litani River.  It runs about 18 miles north of and roughly parallel to Lebanon's border with Israel.  Most of their force remains north of the river, but they are building observation towers next to the border.
You might wonder how UN peacekeepers could overlook something so obvious.  Before I tell you how Hezbollah gets away with it, go ahead and swallow any liquid you may be drinking — because this could definitely provoke choking.  Hezbollah is able to work along the border because they made up their own environmental organization — "Green Without Borders." They say they plan to plant a million trees.  Oh, and they just happen to want to plant those trees in South Lebanon — near the border with Israel.
Israeli Defense Forces (IDF) released photographs and video showing "Green Without Borders" building large observation towers along the border.  The UN Interim Force in Lebanon (UNIFIL) issued a statement supposedly contradicting the IDF.  It says its members have "not observed any unauthorized armed persons at the locations or found any basis to report a violation of resolution 1701."
But Israel did not accuse Hezbollah of sending "armed persons" south of the Litani.  They accused them of building observation towers.  UNIFIL did not deny the basic accusation, nor did they explain why a group whose primary purpose is to plant trees, needs observation towers directly on the border.
UNIFIL was formed in 2006, not only to keep Hezbollah north of the Litani River, but to oversee Hezbollah's disarmament.  During the intervening years, Hezbollah's military power has grown into something far greater than that of most nations.  After a failure of such proportions, how does UNIFIL have any credibility left?
With ISIS, the world saw the danger, and nations have been cooperating to rein it in.  But with Hezbollah, the nations of the world are turning a blind eye, despite the obvious and massive violations of UN resolutions.
Only Israel seems concerned about Hezbollah.  And it should be.  Look at a map of the region.  With Damascus and other key Syrian assets in the hands of Iran and Russia, Iran has a direct pipeline to Hezbollah in Lebanon.  And with Iran's growing oil wealth, they can give Hezbollah all the assets it needs.  In the early 1980s, Iran created Hezbollah.  Now, the terror group has become an extension of Iran's power in the region.
Hezbollah caused massive difficulties for Israel in 2006.  At that time, they had 15,000 rockets.  Now they have ten times that number.  Plus, the 150,000 missiles they presently have are both more sophisticated and more destructive than the 15,000 from eleven years ago.  The old ones didn't have nearly the payload of the new ones, nor did they have the precision guidance systems of the new ones.
These weapons are not defensive, but offensive in nature.  Hezbollah and Iran have made their intentions clear.  They mean to destroy Israel from the face of the earth.
God promises to preserve Israel during and after the current regathering, but the nation will experience terrible days.  With Hezbollah and so many other armies poised to strike their small nation, you can see why Israel will one day agree to a peace treaty with Antichrist.  He will promise what they will crave most — peace and safety.  And then he will deliver a reign of destruction.
In the end, however, all God's promises to Israel will be kept.  At the end of the book, they turn to the true Messiah.  They win… as do all those who put their trust in Jesus.
In its heyday, ISIS conquered large swaths of territory.  Al-Qaeda and other terror groups have controlled pockets of land here and there, but not like ISIS.  For a couple of years, ISIS was building a country.  More precisely, they were building a caliphate.
In 2014, ISIS leader, Abu Bakr al-Baghdadi, made the claim that his genealogy went back to Mohammed himself — a requirement for a true caliph.  His followers began using the title "Caliph" to address and describe him.  They called him, "Commander of the Believers."  They saw him as the leader of all Muslims.  ISIS changed names.  It became simply "The Islamic State."
Thankfully, all that is disappearing now.  ISIS controls territory in Syria and Iraq, but less every day.  Their hope of a grand future is dying.  Young people from all over the world came to Syria and Iraq, eager to join "a great cause."  Thousands of them now lie in mass graves.
Our military commanders correctly remind us that there is much to be done.  But the fearsome ISIS war machine long ago lost momentum, then began to lose its lands.  In July, Iraqi forces retook the ISIS stronghold of Mosul.  A few days ago, a U.S.-backed group called the "Syrian Democratic Forces" took over Raqqa in Syria.  That had been the defacto capital of ISIS.
War is always a grim business.  But we should all be thankful to God and our military for the defeat of one of the cruelest, most barbaric groups in the last thousand years.
With these developments, we're all asking what comes next?  What will happen when ISIS has been driven from its territory in Iran and Syria?  What will happen in the region, and the world?  What will happen to terrorism?
First, what will happen to ISIS itself?  President Obama often promised to "degrade and ultimately destroy ISIL."  During last year's campaign, candidate Donald Trump vowed to "utterly destroy ISIS."
Are we on the verge of that?  They've been degraded as a power in the Middle East, but they are far from destroyed.  Governments around the world now fight a kind of whack-a-mole war against them.  There have been ISIS terror attacks on the United Kingdom, France, Belgium, Canada, Australia, the United States, Kuwait, Denmark, Tunisia, Egypt, Russia, Libya, Turkey, Bangladesh, Spain, Kazakhstan, Malaysia, Germany, Pakistan, Afghanistan, the Philippines, Indonesia, and Saudi Arabia.
While that's not a complete list, it gives an idea of the width and breadth of the Islamic State's reach.  It goes well beyond their dying strongholds in Iraq and Syria.  ISIS as a global entity will not soon disappear.  In fact, it may become more active.  The number of casualties from ISIS terror attacks has gone up each year since 2014.
ISIS carried out the October 4th ambush in Niger that killed four U.S. Green Berets.  A small group of American Special Forces soldiers are in Niger to assist that nation in their battle with terrorists.
ISIS is not going away.  It's going everywhere.
From a prophetic standpoint, it is particularly intriguing to look at how all this may affect Israel.  For instance, with its mission in Syria coming to an end, will Hezbollah now turn its attention back toward Israel?  Hezbollah has 130,000 working missiles sitting just off Israel's border.  The Weekly Standard described it as "an offensive arsenal bigger than that of all Western Europe."  
Will Russia leave Syria?  Will Iran?  Will Iran-backed Shiite militias give up their power in Iraq?  The answer to all those questions is, "No!" 
The Russian economy is predicated on the sale of natural gas.  They are Europe's primary supplier.  That allows Russia to overcharge Europe for fuel.  But in the 2000s, Israel began to find natural gas.  At first, the fields were small.  Then, in 2010, they discovered the Leviathan field with an estimated 22 trillion cubic feet of natural gas.  As of 2014, they had verified finds of 35 trillion cubic feet.
In April, Israel signed an agreement with Cyprus, Greece, and Italy that will allow it to pump natural gas to Europe.  They plan to build a $7 billion pipeline beneath the Mediterranean.  It will be the longest, deepest subsea pipeline on earth.  They expect to have it in operation by 2025.
To Russia, that makes Israel a threat.  The Russian economy is not diverse.  It is built on the sale of natural gas to Europe.  Israel's pipeline threatens the Russian economy far more than sanctions.  So, yes, expect Russia to remain on Israel's doorstep.
The nuclear deal opened a massive flow of cash to Iran.  Since then, they have been projecting their power everywhere they find their fellow Shiite Muslims — especially Iraq, Syria, Lebanon, and Yemen.  As they gain greater control in those areas, expect them to focus increasingly on their most important goal, "Al-Quds" — known to most of us as "Jerusalem."
Hamas is the one Sunni Muslim organisation that Iran seems to back wholeheartedly.  Their hatred for Israel exceeds internal Islamic rivalries.  Over the last few days, Hamas leaders were in Iran for consultations.  Iran reportedly told them that its continued support depends on Hamas continuing the "axis of resistance" against the "Zionist entity."