The Bible Says This is Exactly How it Would Look Before the End…2019

Published on Sep 10, 2019
 

Please Help Support This Ministry:

https://www.paypal.me/watchman1963

Cash App : $watchman1963 Please subscribe to my backup channel:

https://www.youtube.com/channel/UC4nc…

Current Events Linked To Biblical Prophecies. Everything is unfolding just as the bible foretold. Wars, Volcanic Eruptions, Earthquakes, Extreme Weather, Christian Persecution, Violence and more!
Matthew 24:3-14 3 Now as He sat on the Mount of Olives, the disciples came to Him privately, saying, "Tell us, when will these things be? And what will be the sign of Your coming, and of the end of the age?" 4 And Jesus answered and said to them: "Take heed that no one deceives you. 5 For many will come in My name, saying, 'I am the Christ,' and will deceive many. 6 And you will hear of wars and rumours of wars. See that you are not troubled; for all these things must come to pass, but the end is not yet.
7 For nation will rise against nation, and kingdom against kingdom. And there will be famines, pestilences,[b] and earthquakes in various places. 8 All these are the beginning of sorrows. 9 "Then they will deliver you up to tribulation and kill you, and you will be hated by all nations for My name's sake. 10 And then many will be offended, will betray one another, and will hate one another.
11 Then many false prophets will rise up and deceive many. 12 And because lawlessness will abound, the love of many will grow cold. 13 But he who endures to the end shall be saved. 14 And this gospel of the kingdom will be preached in all the world as a witness to all the nations, and then the end will come.
—————————————————
Israel Faces Muti-Front Hostilities – 9.9.19 TV7 Israel News

Published on Sep 10, 2019
 

Today's top stories;
1) Tensions surrounding Israel's hostile borders have once again intensified over the weekend, raising renewed concerns over a possible escalation.
2) The Israeli Air Force allegedly targets an Iranian troop concentration and vehicles, as well as pro-Iranian militias, in the area of Abul Kamal in eastern Syria, reportedly killing at least 18 Shi'ite Islamists.
3) The Lebanese Iranian-proxy Hezbollah reportedly downed an Israeli unmanned aerial vehicle this morning, moments after the drone penetrated Lebanon's airspace.
—————————————————
EXCLUSIVE: Images on Iran's Efforts to Cover Nuclear Facility

Published on Sep 9, 2019
 

Articles:

https://www.i24news.tv/en

Live:

https://video.i24news.tv/page/live?cl…

Replay:

https://video.i24news.tv/page/5ab2981…

Facebook:

https://www.facebook.com/i24newsEN/

Twitter:

https://twitter.com/i24NEWS_EN

Instagram:

https://www.instagram.com/i24news/ #i24NEWS #DailyDosewithJeffSmith #Iran

DAILY DOSE | New images showing the extent of the Iranian regime's efforts to cover up its use of a storage facility for nuclear materials has been released exclusively to i24NEWS. The images show massive cement blocks used to hide radioactive material from being discovered at the site. The new evidence ostensibly provides verification of claims made by Israeli Prime Minister Benjamin Netanyahu last year at the United Nations General Assembly after referring to "clean but radioactive rugs." Netanyahu's remarks were made months after an Israeli clandestine operation obtained a trove of highly sensitive documentation from the Islamic Republic outlining parts of its opaque atomic program, supposedly shelved after world powers and Iran signed the 2015 nuclear accord. Netanyahu delivered a PowerPoint presentation in June 2018, displaying thousands of original "incriminating" files part of half a ton of material from an archive of "Project Amad," the name he said was given to "Iran's comprehensive program to design, test and build nuclear weapons." Among the documents was a reference to the Iranian carpet facility located just south of Tehran. On Sunday, the UN's nuclear watchdog found traces of uranium at the facility Netanyahu once described as a 'secret atomic warehouse,' Reuters reported Sunday. The International Atomic Energy Agency (IAEA) is investigating the origin of the nuclear materials and asked Tehran to explain the samples, diplomats told Reuters.
—————————————————
The Coming Perfect Prophetic Storm… JD FARAG

Published on Sep 10, 2019
 

Watchman Report: The Coming Perfect Prophetic Storm… Expositional teaching through the Bible at Calvary Chapel in Kaneohe Hawaii with pastor JD Farag. — Those wishing to give to Calvary Chapel Kaneohe, please visit

https://calvarychapelkaneohe.com/dona

… Connect with Pastor J.D. Farag on Social Media to stay updated on his latest Bible Prophecy teachings and End Times-related news.
—————————————————
LATEST WORLD NEWS CLIPS – ARTICLES – TUESDAY SEPTEMBER 10th 2019
John 8:32 And ye shall know the truth, and the truth shall make you free
"My people are destroyed for lack of knowledge" (Hosea 4:6)
1Cor. 12:3 Wherefore I give you to understand, that no man speaking by the Spirit of God calleth Jesus accursed: AND THAT NO MAN CAN SAY THAT JESUS IS THE LORD, BUT BY THE HOLY GHOST.
THE TRIBULATION OF THE UNJUST (Those who have rejected Jesus Christ as their Saviour) IN THE BOOK OF REVELATION CHAPTER'S 6 to 22:
Rev. 3:10 Because thou hast kept the word of my patience, I also will keep thee from the hour of temptation, which shall come upon all the world, to try them that dwell upon the earth:
Luke 12:37 Blessed are those servants, whom the lord when he cometh shall find watching: verily I say unto you, that he shall gird himself, and make them to sit down to meat, and will come forth and serve them
so won't you accept Jesus now and be removed from that event and live forever with Jesus in the Family of God?
2 "(For he saith, I have heard thee in a time accepted, and in the day of salvation have I succoured thee: behold, now is the accepted time; behold, now is the day of salvation.)" (2nd Corinthians 2:6)
——————————————-
DAILY CHRISTIAN BIBLICAL QUESTIONS AND ANSWERS:
——————————————-
DID JOHN THE BAPTIST HAVE DOUBTS?
QUESTION:    John the Baptist met & knew Jesus several times: before birth, while baptizing Jesus, etc… (besides being Jesus' cousin) and yet John had to be assured once again after he was arrested by Herod. What happened to make him doubt while he was in prison?
ANSWER:    From the Biblical accounts of their lives it's hard to believe that John the Baptist had doubts about who Jesus really was, and yet his question in Matt. 11:2-3 makes it appear that he did. This is one of those cases where a little background knowledge is helpful. In the Lord's time there was a religious group called the Essenes. Josephus called them the third major religious sect after the Pharisees and the Saduccees. We know them as the source of the Dead Sea Scrolls. They misunderstood messianic prophecy and believed there would be 2 messiahs instead of two visits by the same one. They called one Son of Joseph after Jacob's 11th son. He would be the suffering servant who would die for the people. The other would be a conquering King who they named Son of David.
According to tradition, John spent time with the Essenes. I think he knew of this belief and wanted to set the record straight. The question he sent his disciples to ask could be translated from the Greek as, "Are you the (only) one who was to come, or should we (also) expect someone else?"
In His response, the Lord reminded them of miracles He had performed (Matt. 11:4-5). The Essenes believed some of these miracles would be performed by "Son of Joseph" and others would be performed by "Son of David." In effect, by pointing to the miracles of both Jesus was saying, "I am the only one."
John didn't have any doubt. He sent his disciples to Jesus to remove their doubts.
JOHN THE BAPTIST'S LAST QUESTION TO JESUS
QUESTION:    Once again I come to you for help understanding the scriptures. This time it is to help me understand what Jesus is talking about in this passage "Blessed is the man who does not fall away on account of me." (Matt. 11:6) I don't understand why Jesus would say that anyone could "fall away". Other translation say "who does not stumble", "who do not turn away", who is not offended", "who will not be suspicious", "who doesn't loose his faith", "who shall not be scandalized",…Because of me. What does he mean here?
ANSWER:    In Matt. 11:2-6 John had been imprisoned and sent his own disciples to ask Jesus if He was the one who was to come, or should they expect someone else. Some commentators say John was having a crisis of faith and wanted Jesus to reassure him. I don't believe this for one second. John had the Holy Spirit and had known before he was even born who Jesus was (Luke 1:39-45). I believe John, who knew his death was near, wanted his disciples to be sure Jesus was the one, so they would transfer their allegiance to Him.
Also, John had spent time among the Essenes who believed in two Messiahs; a suffering servant and a conquering king. In the Greek language Matt. 11:2 can read, "Are you the only one who was to come, or should we also expect another, different from you?" He could have been reassuring his own disciples that the Essenes were wrong and that there would only be one Messiah.
In response Jesus listed miracles the Essenes attributed to both Messiahs and reminded John's disciples He had done all of them. His final statement in Matt. 11:6 was a benediction upon those who would believe that He was the one and only Messiah spoken of in their Scriptures.
———————————————
NEWS CLIPS OBTAINED FROM MANY SOURCES – INCLUDING

Tracking bible prophecy.org
Rapture Ready News
Prophecyupdate.Com
Main News Channels
End Times Headlines
Prophecyupdateblogspot.com
Stevequayle.com
Gracethrufaith.com
Nowtheendbegins.com
Other Christian Sites
(CLICK ON) LATEST DAILY NEWS CLIPS:
ISRAEL NEWS:
THE MIDDLE EAST PEACE PLAN IS "ANTI GOD" – (GOD WILL NOT ALLOW JERUSALEM TO BE DIVIDED).
ZECHARIAH 12:2-3
WORLD TERRORISM – WARS
GENERAL WORLD NEWS:
WORLD FINANCE:
Rev. 6:6 And I heard a voice in the midst of the four beasts say, A measure of wheat for a penny, and three measures of barley for a penny; and see thou hurt not the oil and the wine
MASSIVE EARTH CHANGES/EARTHQUAKES/VOLCANOES ETC:
2Chr. 7:13 If I shut up heaven that there be no rain, or if I command the locusts to devour the land, or if I send pestilence among my people;
2Chr. 7:14 If my people, which are called by my name, shall humble themselves, and pray, and seek my face, and turn from their wicked ways; then will I hear from heaven, and will forgive their sin, and will heal their land
CHRISTIAN AND RELIGIOUS WORLD NEWS:
Matt. 24:9 Then shall they deliver you up to be afflicted, and shall kill you: and ye shall be hated of all nations for my name's sake.
Matt. 24:10 And then shall many be offended, and shall betray one another, and shall hate one another
EXTRA WORLD – ALTERNATIVE NEWS:
————————————————-
WORLD – PROPHETIC NEWS ARTICLES PRESENTATION – TUESDAY SEPTEMBER 10th 2019
MIDDLE EAST AND WORLD WAR LOOMING THE BUILD UP TO PSALM 83  – ISAIAH 17 AND GOG OF MAGOG WARS EZEKIEL 38:
THE WHOLE WORLD IS UNSTABLE FINANCIALLY, POLITICALLY, PHYSICALLY, MORALLY, GODLY: – AND BECOMING MORE SO DAILY. (WE ARE IN THE BEGINNING OF SORROWS (MATT 24:8)
THE BIBLE STATES THAT IT WILL ONLY GET WORSE BEFORE THE START OF THE TRIBULATION OF MANKIND – (REVELATION 6)
Matt. 24:6 And ye shall hear of WARS AND RUMOURS OF WARS: see that ye be not troubled: for all these things must come to pass, but the end is not yet.
Matt. 24:7 FOR NATION SHALL RISE AGAINST NATION, AND KINGDOM AGAINST KINGDOM: and there shall be famines, and pestilences, and earthquakes, in divers places.
ISAIAH 17/PSALM 83:
THE DESTRUCTION OF DAMASCUS and
Muslim Countries in the Middle East will launch an attack on Israel
JEREMIAH 49:
PROPHECY OF ELAM – (Possible Attack on Iran's Nuclear Program
————————————————–
MIDDLE EAST AT BOILING POINT:
First, the Middle East has reached a boiling point

.
In just two days, Israel attacked targets in Gaza, Iraq, Syria and Lebanon.
All of these nations are mentioned in end-of-the-age prophecies, and all of them are currently in a state of high alert.
The Iraqi and Lebanese governments called Israel's attacks an act of war, and Hezbollah (in Lebanon) threatened to attack Israel.
Iran moved troops closer to Israel's border with Syria and said Israel will pay a price for its actions.
Prime Min. Netanyahu briefed his main opponent in the Israeli election on the situation and beefed up his troops and weapons at bases near Israel's borders with Syria and Lebanon.
Mr. Netanyahu ordered all Israeli troops to stay at least 3 kilometers away from those borders unless they are armed and wearing a bulletproof vest.
Israel's ambassador to the UN demanded that the UN rein in Iran, but no one thinks that will happen.
On Aug. 28, 2019, Israel ordered a six-kilometer area of airspace along Israel's border with Lebanon closed to civilian aircraft.
On Aug. 29, 2019, the Israeli military cancelled the leaves and furloughs of all Israeli troops serving in the combat brigades on the Syrian and Lebanese borders.
On Aug. 29, 2019, U.S. Sec. of State Mike Pompeo made it clear that Israel can count on U.S. help, including military assistance, if war breaks out.
On Sept. 1, 2019, Hezbollah fired several anti-tank missiles from Lebanon into Israel, and the IDF retaliated with about 100 shells of their own.
On the same day, Prime Min. Netanyahu urged citizens living within four kilometers of Israel's border with Lebanon to open their bomb shelters.
Also, on that same day, Lebanon's Prime Min. asked France and the U.S. to pressure Israel to back off, and Russia called upon Hezbollah and Israel to get control of the situation before it turned into an all-out war.
It was also reported that Israel had planes in the air for the purpose of delivering a massive attack on Hezbollah, but the attack was suddenly cancelled.
As of this writing (Sept. 2, 2019), things have calmed down, but there is much doubt about how long that will last.
For whatever it is worth, if all-out war had broken out, it is not unreasonable to believe that several end-of-the-age prophecies could have been quickly fulfilled.
Second, it is common knowledge that China has implemented a Social Credit Score system in some areas of the nation, and Beijing is now tracking what millions of her citizens are doing.
Many factors determine a citizen's Social Credit Score including what they buy and sell; who they send e-mail to; who they associate with; the websites they visit; their driving record, use of alcohol, control of their pets, etc.
Chinese citizens with a high Social Credit Score are rewarded with better jobs, access to better houses, better schools for their children, lower utility bills, better Internet service and other perks.
Chinese citizens with a low Social Credit Score are punished with low-paying jobs, poorer housing, poorer schools for their children, higher utility bills, poorer internet service, etc.
Here is the latest: A movement is now underway to bring a China-like Social Credit Score system to the U.S.
Several High-tech companies are pushing the U.S. government to establish a Social Credit Score system because they want to sell and install the surveillance equipment (cameras, computers, monitors, etc.).
Social media companies (like Facebook) want to sell the data they are collecting to the government, insurance companies and others.
Insurance companies want to raise the healthcare rates on known bad drivers, smokers, drinkers, etc.
These things are leading to the Mark of the Beast, and they are a sure sign that time is short.
For whatever it is worth, the city of Philadelphia has 100,000 street lights that city officials plan to replace in the next three years.
The new street lights will be part of an interconnected system of security cameras, air-quality monitors, traffic and pedestrian counters, and gunshot detectors.
Third, on Aug. 26, 2019, Pres. Trump said he thinks Israel and the PA want to make a deal, and he believes it could happen.
If they agree to negotiate, it could still drag on for years, there could be war or whatever.
But it is important to understand that the Rapture will be before the Antichrist confirms a peace treaty, and there could be a peace treaty on the table in less than a month.
Fourth, on Sept, 17, 2019, Israel will hold a second vote to try to elect a new Prime Minister.
The election is very tight, and one of Israel's small political parties has bowed out of the campaign and given its support to Prime Min. Netanyahu.
This was apparently brought on by the fact that Prime Min. Netanyahu offered to give the head of that political party, Moshe Feiglin, a high position in the next Netanyahu government (assuming there is another Netanyahu government).
This could be a deciding factor in the election, and the fascinating thing about it is the fact that Mr. Feiglin strongly supports a rebuilt Temple.
This begs a question: Did God set up this election standoff to put a strong advocate for rebuilding the Temple in a high position to fulfill His Word?
We need to keep watching and waiting (and, most of all, be ready).
Prophecy Plus Ministries, Inc.
Daymond & Rachel Duck
———————————————–
The Israel Defense Forces on Sunday launched a large-scale exercise simulating war against Hezbollah and other pro-Iranian forces in the north of the country.
The drill, known in Hebrew as Even HaRosha, or Keystone, will largely be focused on the performance of senior officers and their staffs, rather than on fighting tactics and maneuvers, the army said.
"The goal of the exercise is improving the performance of the [IDF] General Staff and the various headquarters in war," the IDF said in a statement.
Command units of the army's air force, navy, ground forces, intelligence, logistics, communications and cyber units will participate in the exercise.
Some aspects of the drill were initially scheduled for last week, but were postponed in light of heightened tensions with the Hezbollah terror group.
The military said the exercise was scheduled to end Wednesday.
"Various scenarios will be simulated, with an emphasis on cooperation, multi-system planning and operations during wartime," the army said.
Tensions with Hezbollah and its patron Iran have soared in recent weeks, after the IDF late last month thwarted an attempt by Iranian operatives in Syria — including two former Hezbollah members — to carry out an attack on northern Israel with armed drones and attacked their base. It also followed a drone attack in Beirut, attributed to Israel, that reportedly destroyed key components of a joint Hezbollah-Iran project to manufacture precision-guided missiles in Lebanon.
——————————————–
Airstrikes hit positions of pro-Iranian forces and allied militias in eastern Syria overnight, killing 18 fighters, a war monitor said Monday.
It was not clear who carried out the raids in the region of Albu Kamal near the border with Iraq, according to the Syrian Observatory for Human Rights.
The Britain-based Observatory, which has a vast network of contacts across Syria, said "18 fighters were killed, but their nationalities have not yet been determined."
"Warplanes whose identity is not known so far targeted vehicles and positions of the Iranian forces and militias loyal to them," the Observatory said.
The blasts targeted a base belonging to the Popular Mobilization Force, according to the Saudi Al Arabiya network, citing sources in the area.
Al Arabiya said the base, in the al-Boukamal area, also housed forces from the Lebanese Hezbollah terror group.
Since mid-July, five arms depots and training camps belonging to the Popular Mobilization Forces have been targeted in apparent attacks.
The PMF has blamed both Israel and the US for the recent string of blasts and drone sightings at its bases. There was no immediate comment from Israel.
The fresh blasts occurred on the Syrian side of the border in the same regions where Fox News reported last week Iran is constructing a new military facility that can house thousands of soldiers and storage facilities for advanced weapons.
Quoting Western intelligence sources, the US cable network said the base is located near the Syria-Iraq border, and its construction is being overseen by the Quds Force, the overseas branch of Iran's elite Islamic Revolutionary Guard Corps.
Satellite photos of the base, known as the Imam Ali compound, showed what appeared to be five recently constructed buildings that can store precision-guided missiles, according to ImageSat International.
ImageSat, an Israeli satellite imagery analysis firm, said the photos also show other structures at the facility that could be used for storing missiles
An Iran-backed militia in Syria fired several rockets toward northern Israel in the predawn hours of Monday morning, but they fell short of the border, the army said.
According to the Israel Defense Forces, the attack was carried out by operatives of a Shiite militia operating under the command of Iran's Islamic Revolutionary Guard Corps' Quds Force.
The IDF said the rockets were fired from the suburbs outside Damascus.
The alleged attack came amid reports of a series of airstrikes against a pro-Iranian militia in eastern Syria, which killed 18 fighters, according to a Britain-based war monitor.
In a statement, the IDF said it "holds the Syrian regime responsible for every action that takes place in Syria."
In a tweet, the Israeli army's Arabic-language spokesperson warned Syria's Assad regime that it would "pay the price" for allowing Iran and its proxies to use Syria as a base of operations against the Jewish state, either by turning a blind eye to their actions or by actively cooperating with them.
"This is not hidden from us," the spokesman wrote.
According to the Syrian Observatory for Human Rights, the airstrikes on pro-Iranian militias took place in the Albu Kamal region near the border with Iraq.
There have been no official claims as to who was behind the attack.
"Warplanes whose identity is not known so far targeted vehicles and positions of the Iranian forces and militias loyal to them," the Observatory said. "Eighteen fighters were killed, but their nationalities have not yet been determined."
Sunday night's blasts occurred on the Syrian side of the border in the same regions where Fox News reported last week Iran was constructing a new military facility that can house thousands of soldiers and storage facilities for advanced weapons.
Quoting Western intelligence sources, the US cable network said the base is located near the Syria-Iraq border, and its construction is being overseen by the Quds Force, the overseas branch of Iran's elite Islamic Revolutionary Guard Corps.
Satellite photos of the base, known as the Imam Ali compound, showed what appeared to be five recently constructed buildings that can store precision-guided missiles, according to ImageSat International.
——————————————–
NETANYAHU: IDF IS SET FOR GAZA WAR EVEN IF DELAYING ELECTION
Israel stands ready for a major war against the Palestinian terrorist organizations of the Gaza Strip. PM/Defense Minister Binyamin Netanyahu relayed this warning to Hamas via the Egyptian intelligence delegation which arrived in the Gaza Strip on Sunday, Sept. Sept. 8 and went into conference with Hamas leader Yahye Sinwar. 
The message warned Hamas that the escalating attacks on Israel and threats of violence of late had prompted a decision in Jerusalem to opt for a general war as the only way to put a stop to the terror harassment ongoing year after year. 
This message was Israel's last warning and final notice to Hamas. 
More attacks and its failure to uphold its commitments for reining in its people and those of its allies, in keeping with standing undertakings, would have one consequence, the prime minister warned. The IDF already had its orders and is standing ready to launch a comprehensive military campaign against Hamas and the other terrorist organizations operating in the Gaza Strip.
At the end of the message, our sources report, Netanyahu emphasized that Hamas and its leaders would be seriously mistaken if they expected Israel's Sept.17 election to delay its Gaza operation. Quite the opposite. The election will be delayed. Israel's political parties will join forces to postpone the election until after it is over. 
This was the first time that the prime minister had suggested a possible postponement of the general election due to a war situation, in view of its almost certainly involving the civilian population as well. 
This message is seen by our sources as the prime minister's reply to the Iranian-Hizballah conspiracy to step up the violence on Israel's borders in order to topple him and his Likud party at the forthcoming poll. This conspiracy was hatched at a secret war counsel in Beirut on Aug. 28 by the IRGC commander Gen. Hossein Salami, Al Qods chief Gen. Qassem Soleimani and Hizballah's Hassan Nasrallah. 
Netanyahu's final warning to Hamas on Sunday turned the tables on the conspirators with the information that the key election on which they had counted for his ouster would not take place amid rising aggression – but postponed.
——————————————–
Prime Minister Benjamin Netanyahu is expected to fly to Sochi on Thursday, just five days before Election Day, to discuss strengthening the security cooperation between the two countries in Syria.

"Later this week, it is very likely that I will be in Russia in order to discuss with President [Vladimir] Putin the continuation of military coordination so as to prevent a collision given the upsurge in activity against us by Iran and its proxies, and our increased activity against them," Netanyahu said at the weekly cabinet meeting.
Netanyahu last met Putin in April, five days before the previous election, when he thanked the Russian president for assistance in returning the remains of IDF Sgt. Zachary Baumel to Israel.

Netanyahu said last week that efforts were under way to arrange for another trilateral summit in Jerusalem of US, Russian and Israeli security officials to discuss the removal of Iranian forces from Syria. The first such meeting took place in June in Jerusalem.
The trip to Russia, if it takes place, will be the second trip abroad in a week, as Netanyahu made a lightning visit to London on Thursday. He met there with British Prime Minister Boris Johnson, British Secretary of State for Defense Ben Wallace and US Defense Secretary Mark Esper.
"The discussions, almost all of them, mainly dealt with Iran and Iran's proxies, especially Hezbollah, and the necessary steps by Israel, those that have been carried out and those that will be carried out, in coordination – first and foremost – with the US," he said.
——————————————–
The UN's nuclear watchdog confirmed Monday that Iran was installing advanced centrifuges as the troubled 2015 deal with world powers over Tehran's nuclear program threatens to fall apart.
The International Atomic Energy Agency (IAEA) said in a statement that on September 7 it had "verified that the following centrifuges were either installed or being installed…: 22 IR-4, one IR-5, 30 IR-6 and three IR-6s."
The IAEA's confirmation comes a day after Tehran hit out at European powers, saying they had left Iran little option but to scale back its commitments under the 2015 Joint Comprehensive Plan of Action (JCPOA).
The IAEA added in its statement that the centrifuges had been installed at Iran's Natanz facility and said "all of the installed centrifuges had been prepared for testing with UF6 (uranium hexafluoride), although none of them were being tested with UF6 on 7 and 8 September 2019."
"In addition, in a letter to the Agency dated 8 September, Iran informed the Agency that it would reinstall the piping at two R&D lines to accommodate a cascade of 164 IR-4 centrifuges and a cascade of 164 IR-2m centrifuges," the agency's statement said.
Reuven Azar, Prime Minister Benjamin Netanyahu's foreign policy adviser, said Monday's IAEA announcement was proof that Tehran was not in compliance with the deal, and never was. In a tweet, Azar said Iran would not be able to answer the IAEA's questions about its undeclared nuclear sites "because you cheated and continue to cheat."
——————————————–
Hong Kong is an inseparable part of China and any form of secessionism "will be crushed", state media said on Monday, a day after demonstrators rallied at the U.S. consulate to ask for help in bringing democracy to city.
The China Daily newspaper said Sunday's rally in Hong Kong was proof that foreign forces were behind the protests, which began in mid-June, and warned that demonstrators should "stop trying the patience of the central government".
Chinese officials have accused foreign forces of trying to hurt Beijing by creating chaos in Hong Kong over a hugely unpopular extradition bill that would have allowed suspects to be tried in Communist Party-controlled courts.
Anger over the bill grew into sometimes violent protests calling for more freedoms for Hong Kong, which returned to Chinese rule in 1997 under a "one country, two systems" formula.
Hong Kong leader Carrie Lam formally scrapped the bill last week as part of concessions aimed at ending the protests.
"Hong Kong is an inseparable part of China — and that is the bottom line no one should challenge, not the demonstrators, not the foreign forces playing their dirty games," the China Daily said in an editorial.
"The demonstrations in Hong Kong are not about rights or democracy. They are a result of foreign interference. Lest the central government's restraint be misconstrued as weakness, let it be clear secessionism in any form will be crushed," it said.
State news agency Xinhua said in a separate commentary that the rule of law needed to be manifested and that Hong Kong could pay a larger and heavier penalty should the current situation continue.
——————————————–
About a thousand representatives of world religions and other organizations gathered in Germany in late August to advance globalism and a planetary uniting of religions to promote the United Nations' so-called masterplan for humanity known as UN Agenda 2030. 
Critics expressed alarm that self-proclaimed religious leaders were embracing dangerous world "order" ideas totally at odds with liberty and Christianity. The implications are massive.
The controversial 10th World Assembly of Religions for Peace, backed by George Soros and the globalist-controlled German government and other powerful forces, aimed to unify the world's religious organizations behind key elements of the establishment's agenda — including a UN-guided "modern order."
Operating in almost 100 nations, the alliance claims to be "the world's largest and most representative coalition of religious and indigenous communities." It is funded by Soros, the Rockefellers, the Ford Foundation, the UN Foundation, various UN agencies, U.S. taxpayers via the State Department, and more.
Among other decisions, the coalition vowed to increase cooperation among their religious sects under the guise of caring for "the earth," the "entire web of life," and what participants described as the "common good." 
The common good includes "earth with its air, water, soil, and web of life." Central to it all, by their own admission, is the totalitarian UN Agenda 2030 and the increasingly discredited man-made global-warming hypothesis claiming CO2 is pollution.
In the speeches and in the final "Religions for Peace" declaration, it became abundantly clear that these self-styled religious leaders have been at the very least co-opted or duped into advancing globalism, socialism, and other ideologies and theologies deeply at odds with traditional Americanism and biblical Christianity. The God of the Bible said "thou shalt not steal," for instance, while the attendees advocated for global socialism, essentially the institutionalization of thievery.
The primary focus of the gathering appeared to be promoting the UN as the solution to virtually all human problems. In particular, the totalitarian-inspired UN Agenda 2030 Sustainable Development Goals (SDGs), described by top UN leaders as the "masterplan for humanity" and the global "declaration of interdependence," are at the heart of the whole effort to save what the document refers to as "Mother Earth." And, claiming that the "modern" world "order" is underpinned by the UN, the religious leaders were not shy about admitting it.
For instance, in the "call to action," signatories agreed to "urge religious communities to invest their resources in alignment with achieving the SDGs." The declaration also states explicitly that the UN's controversial vision, rather than the Bible or other religious texts, should guide human development — an extraordinary statement coming from religious leaders, some of whom identify as Christian. "We commit to human development as set forth in the Sustainable Development Goals (SDGs)," the agreement declares.
Examining the UN Agenda 2030 in detail highlights the enormous implications of the statement. For instance, Goal 10 of the SDGs demands that governments and the UN "reduce inequality within and among countries." To do that, the agreement continues, will "only be possible if wealth is shared and income inequality is addressed."

In other words, national and international socialism — an anti-biblical "ideology" that has produced untold misery, death, and destruction everywhere it has been imposed. The UN plan also demands that governments take control of production and consumption, another key element of totalitarianism, technocracy, and socialism. And it promotes indoctrination of children, population control, and much more.  
It is especially bizarre that this UN Agenda 2030 is being embraced by so many self-proclaimed "religious" leaders. Consider, among other red flags, that the mass-murdering dictatorship enslaving Communist China boasted openly that it played a "crucial role" in developing the UN agenda.
Then consider that the godless Chinese regime ruthlessly persecutes Christians, Muslims, Falun Gong practitioners, and others — and has since its inception. Mass-murdering dictators such as genocidal Marxist tyrant Robert Mugabe of Zimbabwe could barely contain their glee over the UN scheme. 
But of course, as with the UN Agenda 2030, much of the "religious" declaration adopted at the conference in Lindau, Germany, revolves around the supposed "cataclysmic heating of the earth," which is claimed to be caused by human emissions of CO2. And so, to save humanity from this alleged scourge — an essential gas that is exhaled by humans and used by plants in photosynthesis — globalism and government controls over the economy are claimed to be crucial. No mention was made of the fact that human emissions of CO2 make up a fraction of one percent of all the greenhouse gases present naturally in the atmosphere.     
There are some traditional Christian notions in the platitudes expressed at the Religions for Peace conference, such as promoting forgiveness. But despite the presence of self-proclaimed evangelical Protestant Christians, Orthodox Christians, and Roman Catholics, the final declaration adopted in Germany is filled with unbiblical and even anti-biblical extremism that would be instantly recognizable to informed Christians. Indeed, from a Christian perspective, the whole premise of the effort is flawed, with the Bible repeatedly instructing God's people not to be bound together with unbelievers.  
A brief perusal of the website, meanwhile, reveals that the Religions for Peace outfit includes Muslim Brotherhood-linked Islamists, hardcore Hindus who worship numerous gods, Buddhists, Shinto adherents, proud spirit worshipers, and all manner of other pagan and heathen leaders. And yet, the declaration drafted and signed by attendees commits them to creating an "Alliance of Virtue" whereby all of the religions will join forces with each other on "virtues shared widely across religious traditions and other virtue heritages." It also vows to promote "religious literacy education" for everyone focusing on "shared civic virtues" and "social diversity."  
The declaration went on to call for total disarmament of all people and governments, a longtime goal of globalists hoping to centralize all weaponry (and coercive power) in the hands of the UN and its Orwellian-sounding "peace" troops. "We also call for immediate steps toward general disarmament including all weapons of destruction — conventional, nuclear, chemical, biological, and those newly emerging," the "religious" declaration stated, with conventional weapons including even firearms. By contrast, the Bible is packed with references to the importance of having and carrying weapons. In Luke 22:36-38, Jesus actually commanded his followers to buy a sword, even if it meant having to sell their garments to do so.  
The entire "Religions for Peace" operation has been a front for globalism since its inception. And that continues to this day. The outgoing Secretary-General of the World Conference of Religions for Peace (WCRP) is Dr. William Fray Vendley, a member of the global government-promoting Council on Foreign Relations. According to U.S. Admiral Chester Ward, who defected from the Deep State CFR after 16 years as a member, most CFR members are dedicated to submerging the once-independent United States into an "all-powerful one-world government." Vendley is also linked to the Clintons, serving as an advisor to the scandal-plagued Clinton Global Initiative and its Religion Forum.
UN has long been promoting a sort of New Age paganism. The Preamble to the UN Earth Charter, which was filled with religious and spiritual overtones, sounds very similar to the Religions for Peace agreement. "We are one human family and one Earth community with a common destiny," the charter states. "We must join together to bring forth a sustainable global society founded on respect for nature…. Towards this end, it is imperative that we, the peoples of Earth, declare our responsibility to one another, to the greater community of life, and to future generations." The ceremonies surrounding the adoption were filled with pagan religious symbolism and ritual, as documented by The New American.  
German President Frank-Walter Steinmeier, who opened the Religions for Peace summit, painted religion as a source of conflict, without even attempting to differentiate between true biblical Christianity — which produces peace — and other "religions" that promote holy war, child sacrifice, and more. "We must be united in our shared belief that religion must never again be cited as a justification for hatred or violence," Steinmeier said. "No war must ever again be waged in the name of religion."
Much of the rhetoric and policy coming out of this conference can be clearly traced back to the efforts of Pope Francis, who has been openly promoting globalism, the UN Agenda 2030, mass migration, and more under the guise of Christianity. His recent agreement with a leading Sunni Muslim drew global scrutiny, as did his formal blessing on the work of the deeply controversial "World Government Summit" in the United Arab Emirates. However, his growing attacks on traditional Christian doctrines have shocked even Catholic theologians, spurring growing and potentially unprecedented divisions within the Catholic Church.  
Meanwhile, the UN has long been seeking to unite the world under its control by hyping and promoting bizarre theological notions and "spiritual" views. In fact, it has repeatedly demanded that "spirituality education" be incorporated in schools worldwide. And the author of UNESCO's "World Core Curriculum," Robert Muller, admitted in the forward to the Teachers' Manual that his global education scheme was based on the teachings of Lucifer Publishing Company founder Alice Bailey.
Totalitarianism, globalism, socialism, and other dangerous "isms" must be rejected in every form. And those deadly, anti-Christian ideologies should never be promoted under the guise of "religion," especially Christianity. Christians involved in this effort should read their Bible and seriously reconsider their involvement.  
——————————————–
Clashes erupted once again between Hong Kong police and pro-democracy protesters – many of whom called on US President Donald Trump to help bring democracy to the Chinese-ruled city. 
Thousands of Hong Kong protesters chant the U.S. national anthem and call on President Donald Trump to 'liberate' the Chinese-ruled city. More here: https://t.co/LRX6ojJEaq pic.twitter.com/5qAzATMLd8
While there have always been a handful of protesters waving US national flags in recent months, today's march from the US consulate looks to be the most red, white and blue protest that Hong Kong has seen pic.twitter.com/a3cyl6X5St
While the protest was largely peaceful, some activists constructed barricades, smashed windows, set objects on fire, and vandalized the MTR metro station in the Central district – home to banks, jewelry shops and high-fashion shopping arcades. They were met with a sharp response from police. 
Crowds dispersed from the Central business district moved on to the nearby Admiralty bar district of Wan Chai, and then on to Causeway Bay in what Reuters describes as a "now familiar pattern of cat-and-mouse clashes" over the past three months of unrest. 
"We can't leave because there are riot police," said 20-year-old 'Oscar' in Causeway Bay. "They fired tear gas from the station. We are heading to North Point," located to the east. 
Thousands of protesters earlier sang the Star Spangled Banner and called on U.S. President Donald Trump to "liberate" the city. They waved the Stars and Stripes and placards demanding democracy.
"Fight for freedom, stand with Hong Kong," they shouted before handing over petitions at the U.S. Consulate. "Resist Beijing, liberate Hong Kong." –Reuters
On Saturday speaking from Paris, US Defense Secretary Mark Esper urged Beijing to exercise restraint over the Hong Kong protests. 
President Trump last month suggested that China should "humanely" settle the Hong Kong situation before a trade deal is inked between the two countries. 
China, meanwhile, has accused the United States and Britain of fomenting unrest. 
Last week Hong Kong's Chief Executive Carrie Lam announced that she would meet some of the protesters' demands – chief among them fully withdrawing a controversial extradition bill which would have allowed the extradition of suspects to mainland China to stand trial in Communisty Party courts, vs. Hong Kong's independent judiciary which dates back to British rule. 
Lam's olive branch hasn't worked, however, as the protests have evolved into a broad anti-government call for democracy. 
Washington Responds
US lawmakers will address the Hong Kong protests as a top priority when they return to work after recess next week, according to Senate Minority leader Chuck Schumer (D-NY). 
Schumer urged Senate Majority Leader Mitch McConnell, a Republican who sets the floor agenda, to bring up a bipartisan bill that would require an annual justification of the special treatment afforded by Washington to Hong Kong, including special trade and business privileges, under the U.S. Hong Kong Policy Act of 1992.
The legislation, called the Hong Kong Human Rights and Democracy Act, would also mandate that officials in China and Hong Kong who have undermined the city's autonomy are vulnerable to sanctions. –Reuters
On Sunday, protest organizer Joshua Wong – the face of the "Umbrella" movement from five years ago, was re-arrested at the airport while returning from Germany and the United States for breaching the conditions of his bail. He was previously charged with inciting and participating in an unauthorized rally outside police headquarters on June 21, and subsequently released on bail. 
"Preliminary legal advice suggested that the court had acknowledged and approved my trips to Germany and the U.S. when it granted bail on Aug. 30," Wong said in a statement. "Therefore, it is believed that there are some mistakes have been made on the bail certificate."
——————————————–
[At this point you just have to laugh…Sadly, this paragraph from the linked article actually does describe the current state of affairs]
So here's the current state of Brexit, as explained to the bemused and befuddled:
"There are a number of parties. One of them wants to take us out, but there are some within that party that didn't want to take us out, so they were kicked out by the man who just came in. In order to get us out, the man who just came in tried to get himself out, so that he could then get back in, in order to take us out. But he was thwarted by the other parties, who despite wanting him out, kept him in because they fear that if he gets out, he will then get back in and will then take us out. But if they can keep him in long enough, and prevent him from taking us out, they figure that soon after he has failed to take us out, they will be able to get him out and get themselves in. And then after he gets out and they get in, they may try to take us out or they may try to keep us in. It's anyone's guess. Then again, it's entirely possible that if they do get in, they might try to get us out, then campaign against their deal for taking us out to try and keep us in. It really is that simple."
Can anything be done? Indeed. I thoroughly recommend ignoring it as much as possible, going on plenty of walks, and reading lots of good books (I've been reading lots of Dickens recently and can thoroughly recommend him as a Brexit detoxifier). Other than that, trust in God and keep yer powder dry.
——————————————–
'LIKE NOTHING WE'VE SEEN': QUEENSLAND BUSHFIRES TEAR THROUGH RAINFORES

T
Fires that swept though subtropical rainforest around the historic Binna Burra lodge are unprecedented, experts say
A koala and her joey rescued from the bushfires in the Gold Coast hinterland. Photograph: Supplied by Jimboomba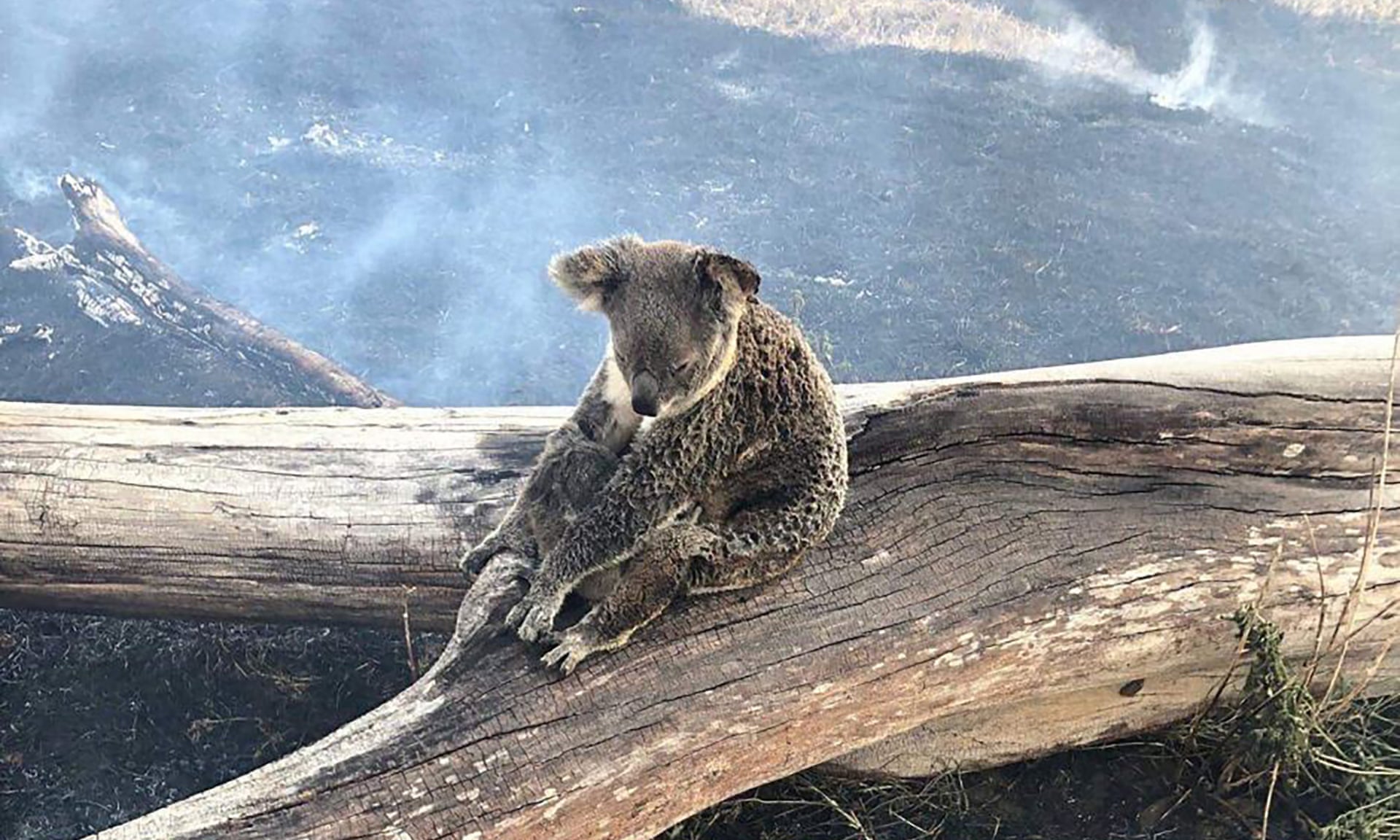 Police
Queensland's former fire commissioner says an erratic bushfire front that climbed into the state's subtropical rainforest and razed the 86-year-old Binna Burra Lodge is "like nothing we've ever seen before".
"What we're seeing, it's just not within people's imagination," said Lee Johnson, who spent 12 years in charge of Queensland's fire service.
"They just didn't believe it could ever get so bad."
Heritage listed Binna Burra lodge in the Gold Coast Hinterland rainforest, before and after it was destroyed by fire. Composite: Supplied/Seven News
Queensland remains in the grip of one of the worst bushfire threats in its history, fuelled by prolonged dry conditions and fierce gusting winds; an "omen" of a potentially devastating fire season ahead. There are still 52 fires burning across the state. Schools are closed and about 20 structures have been destroyed.
Early on Sunday morning, a fire front climbed into the Lamington national park and razed Binna Burra, a historic eco-tourism lodge built in the 1930s and surrounded by subtropical Gondwana rainforest.
An obituary for Binna Burra Lodge, which first moved me when I was a teenager
Mary-Rose MacColl
Read more
The heritage-listed main lodge was built in 1933. It has never before been seriously threatened by bushfire, protected in part by lush and damp surroundings that typically suppress the progress of dangerous fires.
"There have certainly been fires in the area before," said the lodge chairman, Steve Noakes. "Back in the traditional owners' time there's evidence of fires, but certainly in the period of European history in this part of Australia, this is the most catastrophic.
Play Video
1:01
Queensland suffers worst start to bushfire season on record – video
Advertisement
"There's nothing left to burn at Binna Burra, it's all gone."
Last year, Queensland experienced "unprecedented" fire conditions in November – a combination of hot, dry and windy days in tropical and subtropical parts of the state.
A year later, and again conditions are being described in similar terms, the sort that can fuel catastrophic wildfires. Southeast Queensland has been particularly dry; the fire-threatened town of Stanthorpe is almost out of drinking water.
In Lamington national park, the rainforest has had very little recent rain.
Johnson, who is now a director of the Bushfire and Natural Hazards Cooperative Research Centre, said in those sorts of extremely dry conditions the forest terrain became a potential tinderbox.
"We've had a very long history of concern about that area, but we definitely have not seen fire conditions like this," Johnston said.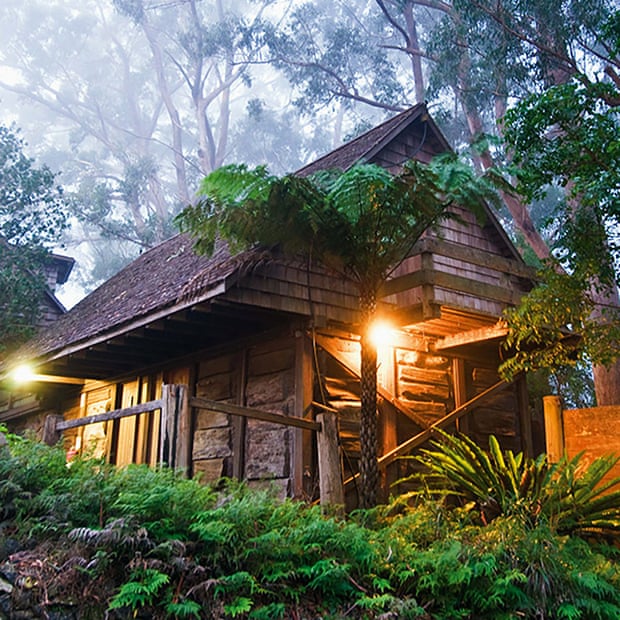 Heritage listed Binna Burra Lodge in the Gold Coast Hinterland before it was destroyed by fire Photograph: Supplied
Advertisement
"Their terrain is very similar to parts of southern New South Wales and Victoria where bushfires are the norm. In Queensland the potential is there. That country at Lamington national park in particular, the topography is just cruel.
"The weather conditions they're now facing are just unheard of. The thing about fire, the bush in those conditions, is you can't actually fight it. The heat generated means you can't put people or equipment in front of this fires, you just can't do it."
Part of the attraction of a place like Binna Burra Lodge is the isolation. There is one narrow access road. About 3am on Sunday morning, concern about the welfare of firefighters forced a retreat. All anyone could do was wait, while the fire front moved through.
"We can't access the site, it will be cut off for some days because of the rock slides and the tree fall," Noakes said. "A couple of the emergency services workers hiked in yesterday, they were very brave, but it's basically a write-off."
'Dead things everywhere': is Australia facing the summer from hell?
Noakes said the situation was "a signal to us that we need to take a more proactive approach to climate change".
"We need to know more about the impact of climate change on subtropical rainforests of Australia and what that means in terms of long-term infrastructure. That's why people come to Queensland, to experience these places."
He said Binna Burra would be rebuilt in a way that took into account the likely impacts of climate change.
"Binna Burra is 86 years old. When we position and design and build and operate tourism infrastructure in these sorts of natural environments, we have to think about 50 or 100 years ahead and what changes climate impacts are going to have on the built infrastructure.
"Our responsibility now is to have a vision that is crafted of the knowledge and the understanding of the climate as it will impact on the tropical and subtropical rainforest."
THE CRISIS IS ESCALATING:
——————————————–
It is being called

"the Pacific marine heatwave of 2019"

, and officials are warning that it could have very frightening implications if it does not dissipate soon.  Right now, there is a vast expanse of water stretching from northern Alaska all the way to southern California where the water temperatures have rapidly risen to very dangerous levels.  In fact, in some spots the water temperature is already

"as much as 6 degrees Fahrenheit above normal"

, and there is a tremendous amount of concern about what will happen if the water continues to become even warmer.  At this point things are already so bad that we are being warned that this strange anomaly could "ravage marine life and decimate commercial fishing" all along the west coast.  The following comes from NPR… (

READ MORE…

)