Rapture and the Revealing of the Antichrist Sept. 29-Oct. 1, 2019???
Published on Sep 15, 2019
—————————————————–
Iran says it's ready for war with US after Saudi oil attack accusations

113K subscribers
 Saudioilattack

Iran has dismissed US accusations it was behind drone attacks on Saudi Arabia's oil plants, and warned it is ready for a "full-fledged" war. Iranian foreign ministry spokesman Abbas Mousavi said Washington had adopted a "maximum pressure" strategy against Iran, but because of "it's failure [the US] is leaning toward maximum lies".
—————————————————–
MAJOR CRISIS!! MOSCOW THREATENS TO SHOOT DOWN ISRAELI JETS! SAUDI OIL ATTACKED!
•Published on Sep 15, 2019
—————————————————–
Drones hit 2 Saudi Aramco oil facilities, causes fires

Drone attacks claimed by Yemen's Houthi rebels have caused fires at two major facilities run by Saudi Aramco, Saudi Arabia's state-owned oil giant. Citing an interior ministry spokesperson, the official Saudi Press Agency said on Saturday the blazes at the facilities in Abqaiq – home to the company's largest oil processing plant – and Khurais were under control. The ministry did not identify the source of the attack and said investigations were ongoing. It did not specify if there were any casualties or whether operations at the two facilities had been affected. Al Jazeera's Osama Bin Javaid explains.
—————————————————–
LATEST WORLD NEWS CLIPS – ARTICLES – MONDAY SEPTEMBER 16th 2019
John 8:32 And ye shall know the truth, and the truth shall make you free
"My people are destroyed for lack of knowledge" (Hosea 4:6)
1Cor. 12:3 Wherefore I give you to understand, that no man speaking by the Spirit of God calleth Jesus accursed: AND THAT NO MAN CAN SAY THAT JESUS IS THE LORD, BUT BY THE HOLY GHOST.
THE TRIBULATION OF THE UNJUST (Those who have rejected Jesus Christ as their Saviour) IN THE BOOK OF R

EVELATION CHAPTER'S 6 to 22

:
Rev. 3:10 Because thou hast kept the word of my patience, I also will keep thee from the hour of temptation, which shall come upon all the world, to try them that dwell upon the earth:
Luke 12:37 Blessed are those servants, whom the lord when he cometh shall find watching: verily I say unto you, that he shall gird himself, and make them to sit down to meat, and will come forth and serve them
so won't you accept Jesus now and be removed from that event and live forever with Jesus in the Family of God?
2 "(For he saith, I have heard thee in a time accepted, and in the day of salvation have I succoured thee: behold, now is the accepted time; behold, now is the day of salvation.)" (2nd Corinthians 2:6)
——————————————-
DAILY CHRISTIAN BIBLICAL QUESTIONS AND ANSWERS:
——————————————-
WHO ARE THE TRIBULATION SAINTS?
QUESTION:    Please clarify who the Tribulation Saints are. If I understand you, at the Rapture, God will turn His attention from the gentiles back to the Hebrews. Does this mean the Tribulation Saints will all be Jewish, that the Gentiles have missed the boat so to speak?
Thank you so much for sharing your considerable knowledge with your readers. May God continue to bless you.
ANSWER:    After the cross, God divided humanity into 3 parts where before there had only been two. Instead of just Jews and Gentiles, now there was also the Church. (1 Cor. 10:32) After the Church is gone in the Rapture there will only be Jews and Gentiles again. Many from both groups will come to know Jesus during the Great Tribulation and will be martyred for their faith, and these are often referred to as Tribulation Saints. (Actually it would be more correct to call them Tribulation Martyrs.)
But some from the Jews who are saved will survive to populate Israel in the Millennium, and some from the believing Gentiles will survive to populate the Nations. Since they will have been saved during the Great Tribulation they are really Tribulation Saints too, although most only use the phrase in connection with the martyrs.
Unbelievers who survive the Great Tribulation will be taken away after the 2nd Coming and will be seen no more.
MORE ON THE TRIBULATION SAINTS
QUESTION:    In your "Times of the Gentiles and Fullness of the Gentiles" piece, you stated at the end that the Tribulation Saints "don't belong to the Church". Forgive me, but I'd like to understand where they belong. I'm certain I must have missed or overlooked some teaching on them.
ANSWER:

   Tribulation Saints are in a separate group from the Church. We know this from Rev. 7:9-17. First, they arrive in Heaven some time after the rapture and John, the Apostle most closely associated with the Church doesn't know who they are. And while they serve God in His Temple day and night they are never called priests. In that way, they're like the martyrs in Rev. 20:4 who reign with the Lord but are never called kings. I believe both groups are part of a second level of administration that assists the Church in the Millennial Kingdom.
THE TRIBULATION SAINTS ARE NOT SEALED, FOLLOW UP
QUESTION:    A while back, I read something you wrote about Tribulation saints NOT sealed by the Holy Spirit, but recently, I happened upon something in my reading Revelation. In Chapter 9, it talks about the plague of locusts, with tails of scorpions. And the locusts are sent to sting ONLY those who DON'T have the seal of God in their forehead. (Revelation 9:4). Is that different than being sealed by the Holy spirit? If so, how?
ANSWER:

   The seal spoken of in Rev. 9:4 is not the same as the one the church receives. In the first place, it relates to Rev. 7:3-4 where it says the only ones who will have the seal of God in their foreheads are the 144,000 from the tribes of Israel. No one else, whether believer or not, will receive the seal. Second, the purpose of that seal is to protect the 144,000 from the locusts. It's not intended to guarantee their salvation, like the seal we have does for us (2 Cor. 1:21-22).
———————————————
NEWS CLIPS OBTAINED FROM MANY SOURCES – INCLUDING

Tracking bible prophecy.org
Rapture Ready News
Prophecyupdate.Com
Main News Channels
End Times Headlines
Prophecyupdateblogspot.com
Stevequayle.com
Gracethrufaith.com
Nowtheendbegins.com
Other Christian Sites
(CLICK ON) LATEST DAILY NEWS CLIPS:
ISRAEL NEWS:
THE MIDDLE EAST PEACE PLAN IS "ANTI GOD" – (GOD WILL NOT ALLOW JERUSALEM TO BE DIVIDED).
ZECHARIAH 12:2-3
WORLD TERRORISM – WARS
GENERAL WORLD NEWS:
MASSIVE EARTH CHANGES/EARTHQUAKES/VOLCANOES ETC:
2Chr. 7:13 If I shut up heaven that there be no rain, or if I command the locusts to devour the land, or if I send pestilence among my people;
2Chr. 7:14 If my people, which are called by my name, shall humble themselves, and pray, and seek my face, and turn from their wicked ways; then will I hear from heaven, and will forgive their sin, and will heal their land
CHRISTIAN AND RELIGIOUS WORLD NEWS:
Matt. 24:9 Then shall they deliver you up to be afflicted, and shall kill you: and ye shall be hated of all nations for my name's sake.
Matt. 24:10 And then shall many be offended, and shall betray one another, and shall hate one another
EXTRA WORLD – ALTERNATIVE NEWS:
————————————————-
WORLD – PROPHETIC NEWS ARTICLES PRESENTATION – MONDAY SEPTEMBER 16th 2019
MIDDLE EAST AND WORLD WAR LOOMING THE BUILD UP TO PSALM 83  – ISAIAH 17 AND GOG OF MAGOG WARS EZEKIEL 38:
THE WHOLE WORLD IS UNSTABLE FINANCIALLY, POLITICALLY, PHYSICALLY, MORALLY, GODLY: – AND BECOMING MORE SO DAILY. (WE ARE IN THE BEGINNING OF SORROWS (MATT 24:8)
THE BIBLE STATES THAT IT WILL ONLY GET WORSE BEFORE THE START OF THE TRIBULATION OF MANKIND – (REVELATION 6)
Matt. 24:6 And ye shall hear of WARS AND RUMOURS OF WARS: see that ye be not troubled: for all these things must come to pass, but the end is not yet.
Matt. 24:7 FOR NATION SHALL RISE AGAINST NATION, AND KINGDOM AGAINST KINGDOM: and there shall be famines, and pestilences, and earthquakes, in divers places.
ISAIAH 17/PSALM 83:
THE DESTRUCTION OF DAMASCUS and
Muslim Countries in the Middle East will launch an attack on Israel
JEREMIAH 49:
PROPHECY OF ELAM – (Possible Attack on Iran's Nuclear Program
————————————————–
IRAN-BACKED MILITANTS LAUNCH DRONE STRIKE ON SAUDI ARABIA'S ARAMCO REFINERIES WIPING OUT OVER HALF OF THE KINGDOM'S OIL REFINING CAPABILITIES
Fires raged at the plant in Abqaiq, Bugayg, and the arab country's second largest oilfield in Khurais this morning after mounting tensions between Riyadh and Tehran finally came to a head prompting Houthi rebels in Yemen to launch the flurry of rockets. A military spokesperson for these Yemeni rebels, who are locked into a bloody civil war, claimed responsibility for the strike on Saudi Arabia's state-owned oil giant Aramco.
Half of Saudi Arabia's oil production power is feared to have been wiped out after Iran-backed militants turned two of the world's most valuable refineries into infernos with a devastating drone strike.
Iran is fighting a proxy war on many fronts including Saudi Arabia and Israel, by supplying weapons and funding to Islamic terror groups in Yemen, Lebanon and the Gaza Strip. These one-off type of attacks can be, as you can see here, devastatingly effective. In this recent drone strike attack on Saudi Arabia, it wiped out half of the kingdom's production power to produce oil.
So it's a good thing that the United States, due largely to the shale boom in the Permian Basin of West Texas, has just this month surpassed Saudi Arabia at now over 11 million barrels per day. The United States isn't expected to cede its crown any time soon. The EIA expects US oil production to stay ahead of Russia and Saudi Arabia through 2019.
Attacks took place at 4.00 am at world's largest oil processing plant Abqaiq
FROM DAILY MAIL UK: A eye-watering 5 million barrels per day of crude production has reportedly been destroyed – more than 50 per cent of the kingdom's 9.65 million daily output which is relied upon around the globe. Fires raged at the plant in Abqaiq, Bugayg, and the arab country's second largest oilfield in Khurais this morning after mounting tensions between Riyadh and Tehran finally came to a head prompting Houthi rebels in Yemen to launch the flurry of rockets.
A military spokesperson for these Yemeni rebels, who are locked into a bloody civil war, claimed responsibility for the strike on Saudi Arabia's state-owned oil giant Aramco.
The Houthi fighters have previously launched attacks over the border, hitting Shaybah oilfield with drones last month and two oil pumping stations in May. Both attacks caused fires but did not disrupt production.
The Saudi government has not yet officially confirmed the scale of the damage, by two well-connected sources told Reuters that 5 million barrels worth of daily production had been impacted.  Yahia Sarie announced that the Houthi's were taking responsibility for the attacks on Saturday in a televised address carried by the Houthi's Al-Masirah satellite news channel.
He said the Houthis sent 10 drones to attack an oil processing facility in Buqyaq and the Khurais oil field, warning that attacks by the rebels against the kingdom would only get worse if the war in Yemen continues.
Sarie said: 'The only option for the Saudi government is to stop attacking us.'
Iran denies supplying the Houthis with weapons, although the UN, the West and Gulf Arab nations say Tehran does. Drone models nearly identical to those used by Iran have been used in the conflict in Yemen. The attacks highlight how the increasingly advanced weaponry of the Iran-linked Houthi rebels – from ballistic missiles to unmanned drones – poses a serious threat to oil installations in Saudi Arabia, the world's top crude exporter.
The international energy watchdog said that the global oil markets are for now 'well supplied with ample commercial stocks.' The International Energy Agency said in a statement: 'We are in contact with Saudi authorities as well as major producer and consumer nations.'

READ MOR

E:
Saudi Arabia: major fire at world's largest oil refinery after drone attack
Drones attacked the world's largest oil processing facility in Saudi Arabia and a major oilfield operated by Saudi Aramco early on Saturday, the kingdom's interior ministry said, sparking a huge fire at a processor crucial to global energy supplies. It was not clear if there were any injuries in the attacks, nor what effect it would have on oil production in the kingdom Major Saudi Arabia oil facilities hit by drone strikes
————————————————
U.S. BLAMES IRAN FOR ATTACK ON SAUDI OIL FACILITIES



Secretary of State Mike Pompeo blamed Iran for coordinated drone strikes on the heart of Saudi Arabia's oil industry, saying they marked an unprecedented attack on the world's energy supply.
The strikes shut down half of the kingdom's crude production on Saturday, potentially roiling petroleum prices and demonstrating the power of Iran's proxies.
Iran-allied Houthi rebels in neighboring Yemen claimed credit for the attack, saying they sent 10 drones to strike at important facilities in Saudi Arabia's oil-rich Eastern Province. But Mr. Pompeo said there was no evidence the strikes had come from Yemen.
In a tweet, he said the U.S. will work with allies "to ensure that energy markets remain well supplied and Iran is held accountable for its aggression." He added that the strikes showed Iran wasn't serious about diplomacy.
Mr. Pompeo didn't explain how the U.S. believes Iran was to blame or where the strikes originated, but Iran-backed militias in Iraq have previously been responsible for targeting Saudi Arabia's oil industry. 
The production shutdown amounts to a loss of about 5.7 million barrels a day, the kingdom's national oil company said, roughly 5% of the world's daily production of crude oil.
Officials said they hoped to restore production to its regular level of 9.8 million barrels a day by Monday. Energy Minister Prince Abdulaziz bin Salman said lost production would be offset through supplies of oil already on hand.
President Trump called Saudi Arabia's day-to-day ruler, Crown Prince Mohammed bin Salman, on Saturday and said the U.S. was ready to "cooperate with the kingdom in supporting its security and stability," according to the Saudi Press Agency, the official news service.
Saturday's attack was the largest yet claimed by the Houthis in terms of its overall impact on the Saudi economy. The attack hit hundreds of miles away from their Yemen stronghold.
"The attack has been quite surprising" for the amount of damage it caused, said Fabian Hinz, an arms researcher at the Middlebury Institute of International Studies in Monterey, Calif.
The increasing sophistication of the attacks has shown deepening cooperation between the Houthis and Iran as Tehran has sought ways to apply pressure on their Saudi and American adversaries, according to U.S. officials and analysts. The Iranian government denies controlling the Houthi movement.
Saudi Arabia: Drone attacks knocked out half its oil supply
JON GAMBRELL
Yemen's Houthi rebels launched drone attacks on the world's largest oil processing facility in Saudi Arabia and a major oil field Saturday, sparking huge fires and halting about half of the supplies from the world's largest exporter of oil.
The attacks were the latest of many drone assaults on the kingdom's oil infrastructure assaults in recent weeks, but easily the most damaging. They raise concerns about the global oil supply and likely will further increase tensions across the Persian Gulf amid an escalating crisis between the U.S. and Iran over its unraveling nuclear deal with world powers.
The attacks resulted in "the temporary suspension of production operations" at the Abqaiq oil processing facility and the Khurais oil field, Energy Minister Prince Abdulaziz bin Salman said in a statement carried by the state-run Saudi Press Agency. The fires "were controlled," the statement said, and no workers were injured.
The fires led to the interruption of an estimated 5.7 million barrels in crude supplies, according to the statement, which said part of that would be offset with stockpiles. The statement said Saudi Aramco, the state-owned oil giant, would provide updated information in the next 48 hours.
————————————————
Drone attacks sparked fires at Aramco oil facilities in eastern Saudi Arabia today

Attacks took place at 4:00am at world's largest oil processing plant Abqaiq

The Saudi interior ministry said the fires have now been brought under control 

Iran-backed Houthis claimed responsibility for attacks in Buqyaq and Khurais 

Tensions are running high in the region after attacks in June and July on oil tankers in Gulf waters that Riyadh and Washington blamed on Iran
Ten drones launched by Iran-backed militants sparked a huge fire at the world's largest oil processing facility and a major oilfield in Saudi Arabia in the early hours of this morning.
The fires at Abqaiq in Buqyaq, which contains the world's largest oil processing plant, and Khurais, which contains the country's second largest oilfield, have now been brought under control since the drone attacks at 4.00am local time.  
Tensions are running high in the region after attacks in June and July on oil tankers in Gulf waters that Riyadh and Washington blamed on Iran. 
A military spokesman for Yemen's Houthi rebels, considered an Iranian proxy force in the region, has claimed responsibility for today's attacks on Abqaiq and Khurais, two major facilities in eastern Saudi Arabia run by state-owned oil giant Aramco.  
Houthi fighters in Yemen have previously launched attacks over the border, hitting Shaybah oilfield with drones last month and two oil pumping stations in May. Both attacks caused fires but did not disrupt production. 
Yahia Sarie announced that the Houthi's were taking responsibility for the attacks on Saturday in a televised address carried by the Houthi's Al-Masirah satellite news channel.
He said the Houthis sent 10 drones to attack an oil processing facility in Buqyaq and the Khurais oil field, warning that attacks by the rebels against the kingdom would only get worse if the war in Yemen continues.
Sarie said: 'The only option for the Saudi government is to stop attacking us.'  
Iran denies supplying the Houthis with weapons, although the U.N., the West and Gulf Arab nations say Tehran does. Drone models nearly identical to those used by Iran have been used in the conflict in Yemen.  
The attacks highlight how the increasingly advanced weaponry of the Iran-linked Huthi rebels – from ballistic missiles to unmanned drones – poses a serious threat to oil installations in Saudi Arabia, the world's top crude exporter.
Saudi Arabia's oil production and exports have been disrupted, three sources familiar with the matter have said.
One of the sources said the attacks have impacted 5 million barrels per day of oil production – almost half the kingdom's current output. The source did not elaborate.
Saudi Aramco operates the world's largest oil processing facility and crude oil stabilisation plant in the world at Abqaiq, in eastern Saudi Arabia. The plant has a crude oil processing capacity of more than 7 million barrels per day.
Authorities have not reported on casualties. A witness nearby said at least 15 ambulances were seen in the area and there was a heavy security presence around Abqaiq. 
The attack will likely heighten tensions further across the wider Persian Gulf amid a confrontation between the U.S. and Iran over its unraveling nuclear deal with world powers.   
Saudi Aramco describes its Abqaiq oil processing facility in Buqyaq as 'the largest crude oil stabilisation plant in the world.' 
The facility, which processes sour crude oil into sweet crude, then later transports onto transshipment points on the Persian Gulf and the Red Sea, has been targeted in the past by militants. 
Abqaiq facility, located 37 miles southwest of Aramco's Dhahran headquarters, is home to the company's largest oil processing plant, according to its website (pictured: Smoke is seen following a fire at an Aramco factory in Abqaiq)
——————————————————-
RUMORS OF WAR: IRANIAN GENERAL SAYS COUNTRY READY FOR 'FULL-FLEDGED WAR' WITH US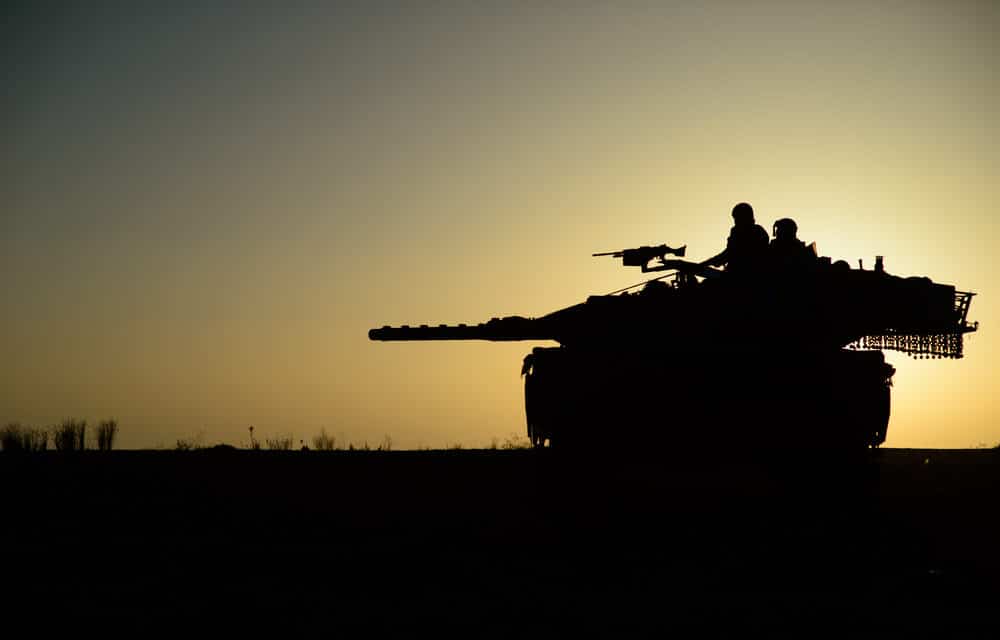 (Times Of Israel) – Amir Ali Hajizadeh warns that American bases up to 2,000 kilometers away are 'within the range of our missiles,' after Washington blamed Tehran for Houthi attack on Saudi oil. A top Iranian commander warned on Sunday that Tehran was prepared for an all-out war with the United States and said his country could launch advanced missiles at US bases and aircraft carriers within a range of 2,000 kilometers (1,242 miles). The statement appeared to be a response to Washington casting blame on Iran Saturday after Yemen's Houthi rebels launched drone attacks on the world's largest oil processing facility
in Saudi Arabia and a major oil field, sparking huge fires at a vulnerable chokepoint for global energy supplies. Saudi Arabia's energy minister said the kingdom was temporarily halting production at two Aramco oil facilities that were attacked by the Yemeni rebels, interrupting about half of the company's total output. The Iranian-backed Houthis, who hold Yemen's capital, Sanaa, and other territory in the Arab world's poorest country, took responsibility for the attacks in the war against a Saudi-led coalition that has fought since 2015 to reinstate the internationally recognized Yemeni government. 

READ MORE

:
——————————————–
Iran has rebuffed US accusations of launching a drone attacks that cut Saudi Arabia's oil output in half. A senior Islamic Revolutionary Guard Corps commander, meanwhile, has warned Washington that Tehran is ready for war.
Allegations that Iran was behind the drone attacks on Saudi oil facilities are "unsubstantiated" and false, Foreign Ministry spokesperson Seyyed Abbas Mousavi stated on Sunday. He also said officials in Washington are accusing Iran in order to tarnish its image on the world stage in preparation for "future actions" against Tehran.
The Americans adopted the 'maximum pressure' policy against Iran, which, due to its failure, is leaning towards 'maximum lies'
The Houthi rebels in Yemen have claimed responsibility for sending 10 armed drones to hit two Saudi oil refineries on Saturday. The attacks caused massive fires and other damage to the sites, which halved the kingdom's oil output.
The Houthis previously admitted to launching similar drone and rocket attacks against Riyadh, some of which were directed at oil pumping stations. The Saudis have been waging a devastating aerial bombing campaign in civil war-torn Yemen, where they intervened in 2015 on behalf of ousted President Abdrabbuh Mansur Hadi.
US Secretary of State Mike Pompeo, however, squarely blamed Iran. Senator Lindsey Graham even suggested the US should respond by striking Tehran's oil refineries.
The commander of the Islamic Revolutionary Guard Corps (IRGC) Aerospace Force, Brigadier General Amir Ali Hajizadeh, warned that Tehran is fully prepared to retaliate if attacked.
"Everybody should know that all American bases and their vessels in a distance of up to 2,000 kilometers [from Iran] are within the range of our missiles."
————————————————
Early Saturday, Sept. 14, Yemeni Houthi rebels fired at least 10 drones against the Saudi Aramco's biggest oil facility and second largest oil field from Iraq. Our sources report that they used pro-Iranian Shiite militia bases in southern Iraq, instead of across the Yemen border. Huge fires blazed at Abqaiq, the largest crude oil stabilization plant in the world in the Eastern Province, and the Kurais oilfield some 60km to the southwest. The state-owned Aramco reported the fires were brought under control.
Oil industry sources said the strikes had reduced Saudi oil production by five million barrels a day – nearly half the kingdom's output.
This was not just the most extensive Iranian-backed attack on Gulf oil targets since the first round in May, it also opened up Iraq on Saudi Arabia's northern border as a second active front for meting out punishment to US allies for Washington's sanctions on Tehran's oil exports.
The operation, the biggest scale conducted by the Houthis against the oil kingdom, bore the signature of Iran's supreme Middle East commander and strategist, Al Qods chief Gen. Qassem Soleimani. It may be seen as Tehran's reply to French efforts to bring about a meeting between President Donald Trump and President Hassan Rouhani. Supreme leader Ayatollah Ali Khamenei is clearly against this meeting.
This was not the first time that Soleimani orchestrated an attack on Saudi Arabi from Iraqi territory. On May 15, two Iranian explosive drones fired from Iraq damaged two pumping stations along the Aramco East-West pipeline running to the Yanbu oil terminal.
That Iran now possesses a logistic infrastructure in Iraq for launching multiple armed UAV strikes against many points in the Middle East is seen as a dangerous development in Washington and Jerusalem. 
Israeli military sources commented on Saturday night that Israel might find it has become another target from that source. They noted that although the Saudis have advanced air defense weapons, drones on the offensive are difficult to detect and intercept. How to react to this new menace was discussed Saturday night in conversations President Trump had with Saudi Crown Prince Muhammed bin Salman and prime minister Binyamin Netanyahu.
————————————————
The US and Israel are discussing a mutual defense treaty that would further cement the already "tremendous" alliance between the two countries, President Donald Trump has revealed.
"I had a call today with Prime Minister Netanyahu to discuss the possibility of moving forward with a Mutual Defense Treaty, between the United States and Israel, that would further anchor the tremendous alliance between our two countries," Trump tweeted. 
….between our two countries. I look forward to continuing those discussions after the Israeli Elections when we meet at the United Nations later this month!
— Donald J. Trump (@realDonaldTrump) September 14, 2019
Trump voiced not-that-veiled support for Benjamin Netanyahu ahead of the upcoming parliamentary elections in Israel.
"I look forward to continuing those discussions after the Israeli Elections when we meet at the United Nations later this month!" Trump wrote.
The support surely comes in handy, as Netanyahu's backing appears to be quite shaky. The September 17 polls are the second snap legislative elections this year after Netanyahu failed to form the government back in April.
The outcome of the upcoming vote is hard to predict, as Netanyahu's party, Likud, has almost equal support as their main opponent the Blue and White led by Benny Gantz, opinion polls show.
Netanyahu was quick to respond to Trump's announcement, lauding the prospects of the alliance and managing to call the US president a "friend" twice in a single tweet.
Thank you my dear friend President @realDonaldTrump. The Jewish State has never had a greater friend in the White House. I look forward to our meeting at the UN to advance a historic Defense Treaty between the United States and Israel.
Forging a proper US-Israel alliance won't be that great a step, since the standing agreements already oblige Washington to protect Tel Aviv in case of a war, former Pentagon official Michael Maloof believes. Still, such a deal somewhat increases the chances of the US being "lured into a conflict we don't want."
"In one sense, it would commit the United States to Israel's defense, even if Israel decides to attack, let's say, for example, Iran, then we will be committed to back them up without any hesitation. Already we have what amounts to a defense arrangement," Maloof told RT. "Even without a piece of paper, the United States would come to Israel's assistance, if it was physically attacked en masse."
Trump's decision to announce such plans just a few days before the Israeli elections is not a coincidence, Maloof noted, and it clearly shows that he tried "to send a message that he wants Netanyahu re-elected."
Relations between Washington and Tel Aviv have always been quite cozy – and got even closer under Trump – yet the two countries do not have a full-fledged military alliance. 
Israel was one of the first major non-Nato ally (MNNA), a designation that  goes with a whole set of benefits, such as generous loans, a priority in delivery of various military surplus, possession of war reserve stocks of Pentagon-owned hardware outside US military bases (Israel is said to have at least six sites) and others.
Yest in 2014 the US enshrined Israel into a new class of ally – a major strategic partner. The new designation, which is a step above MNNA, was basically established specifically for Israel. It greatly expanded the US wartime stockpiles in Israel from $200 million in value to a whopping $1.8 billion.
Under the Trump administration, the trend has continued, and in 2017, the US established its first permanent military base – an air defense facility – in Israel.
————————————————
Al-Sahab, the media arm of Al-Qaeda, released a video on Sept. 11, 2019, in which the group's leader, Ayman al-Zawahiri, urged attacks against Israeli, U.S., European and Russian interests worldwide.
In the video, which was posted on Al-Sahab's official Telegram channel, al-Zawahiri accused Iran of partnering with the United States in its wars in Iraq, Afghanistan and Syria, and praised the Taliban, saying they had drained the U.S. "which sought to negotiate with the Taliban to get out of Afghanistan."
The video, which is titled "And they shall continue fighting you" (Koran 2:217), starts with a condemnation of the United States, accusing it of continuing hostility against Islam and Muslims and citing U.S. President Donald Trump's decisions to move the U.S. embassy to Jerusalem and recognize Israel's sovereignty over the Golan Heights as examples.
[wpipa id="94167″]
Al-Zawahiri then claimed that the majority of Zionists throughout history have been non-Jews, listing Napoleon Bonaparte, Arthur Balfour, Mark Sykes and President Trump as examples of "non-Jew Zionists." According to al-Zawahiri, "These Zionists plot against Muslims everywhere and immigrate to Israel from all over the world; therefore, it is necessary to take the battle to them everywhere."
Encouraging martyrdom-seeking mujahideen to carry out attacks around the world, Al-Zawahiri noted that those who want to wage jihad against Israel can do so anywhere.
"After ensuring that his target is permissible in the light of the Sharia [Islamic law], that no harm should occur to Muslims as a result of his actions, and that the benefits of his actions outweigh the costs, all he needs to do is to put his trust in Allah and head for his target after leaving a message that the aim of his jihad operation is avenging the crimes in Palestine and all such Muslim lands," said al-Zawahiri.
"The interests of Israel and its American, British, French, Russian and European allies are spread all over the world. So just as they conspire and join forces against us everywhere, we must chase them down everywhere at a time and place of our choosing," he added.
Al-Zawahiri also encouraged those wishing to carry out attacks to be inventive and creative.
Al-Zawahiri concluded by addressing Muslims everywhere, saying: "America only understands the language of force. Those who inflict damage on America, America tries to negotiate and arrive at an understanding with them. Those who retreat in the face of its power, America doesn't spare them until it has completely overcome them. The Islamic Emirate dealt severe blows to America. This is why the Americans showed keenness to negotiate with them a withdrawal from Afghanistan."
————————————————
"There may be a military operation and there may be other actions in the coming days, it's dependent on many things," said Strategic Affairs Minister Gilad Erdan in an interview with Kan news on Saturday.

Erdan clarified that the state, of course, needed to try other means to achieve quiet before going to war, but that, after multiple attempts, negotiation attempts between Hamas and Israel had failed.
"When we talk about an agreement, we tried and we tried and we tried, it didn't succeed," said Erdan. "Hamas, even though there were 300 [Palestinians] that we killed when they were trying to breach the border fence in the Friday protests, continues to allow the chaos from the Gaza Strip, and therefore there is an understanding today that there will be a need to go into a military operation. The time will be chosen by us and we won't notify them beforehand."
On Friday, Prime Minister Benjamin Netanyahu said that Israel might head to a military operation in the Gaza Strip before elections take place, according to Channel 13. 
"It looks like there will be no other choice but to embark on a wide-scale campaign in Gaza," said Netanyahu.
"There probably won't be a choice but to topple the Hamas regime. Hamas doesn't exert its sovereignty in the Strip and doesn't prevent attacks," he said. "We have a situation in which a terror group that launches rockets has taken over, and doesn't rein in rogue factions even when it wants to."
————————————————
According to reports in both Israeli and Arabic regional media, Israel this past week was preparing to expand major airstrikes against "Iran-backed" targets in Syria, but Moscow imposed its red line. 
The Independent has published a story describing that Russia's military in Syria threatened to shoot down any invading Israeli warplanes using fighter jets or their S-400 system.
The Jerusalem Post, citing sources in the UK Independent (Arabia), writes just after the latest meeting in Sochi between Prime Minister Benjamin Netanyahu and Russian President Vladimir Putin:
According to the report, Moscow has prevented three Israeli airstrikes on three Syrian outposts recently, and even threatened that any jets attempting such a thing would be shot down, either by Russian jets or by the S400 Anti-aircraft missiles. The source cited in the report claims a similar situation has happened twice, and that during August, Moscow stopped an airstrike on a Syrian outpost in Qasioun, where a S300 missile battery is placed.
Netanyahu's hasty trip to meet with Putin on Thursday – even in the final days before Tuesday's key election – was reportedly with a goal to press the Russian president on essentially ignoring Israel's attacks in Syria. 
Citing further sources in the British-Arabic Independent Arabia, The Jerusalem Post continues:
According to the Russian source, Putin let Netanyahu know that his country will not allow any damage to be done to the Syrian regime's army, or any of the weapons being given to it… 
Israeli sources cited by the Arabic newspaper described Netanyahu's attempts to persuade Putin as "a failure". This in spite of Netanyahu telling reporters after the meeting that his relations with Moscow were stronger than ever. 
Moscow is said to be particularly resistant given the Israeli military's recent spate of attacks on targets in Lebanon, Iraq, and Syria. 
Sources in the report claimed further that Putin in a somewhat unprecedented moment raised the issue of Lebanon:
The Russian source said: "Putin has expressed his dissatisfaction from Israel's latest actions in Lebanon" and even emphasized to Netanyahu that he "Rejects the aggression towards Lebanon's sovereignty" something which has never been heard from him. Putin further stated that someone is cheating him in regards to Syria and Lebanon and that he will not let it go without a response. According to him, Netanyahu was warned not to strike such targets in the future.
It could also be simply that Putin understands that Netanyahu, now desperate to extend his political career to a record fifth term as prime minister as next week's elections loom, could be ready to risk a major and very unnecessary Middle East conflagration in order to continue to appeal to Israeli right wing and nationalist voters. 
————————————————
YAMINA CHAIRWOMAN CLAIMS TRUMP'S PEACE PLAN INCLUDES "DIVIDING JERUSALEM"
WEBPAGE ADMINISTRATOR:
THE MIDDLE EAST PEACE PLAN IS "ANTI GOD" – (GOD WILL NOT ALLOW JERUSALEM TO BE DIVIDED).
ZECHARIAH 12:2-3
Zech. 12:2 Behold, I will make Jerusalem a cup of trembling unto all the people round about, when they shall be in the siege both against Judah and against Jerusalem.
Zech. 12:3 And in that day will I make Jerusalem a burdensome stone for all people: all that burden themselves with it shall be cut in pieces, though all the people of the earth be gathered together against it
I AM GOING TO MAKE JERUSALEM A CUP THAT SENDS ALL THE SURROUNDING PEOPLES REELING … Zech. 12:2
God is in control, and He told the nations the consequences of dividing the Promised Land and declaring peace and safety on their own terms (Joel 3:1-2; I Thess. 5:3)
———————————————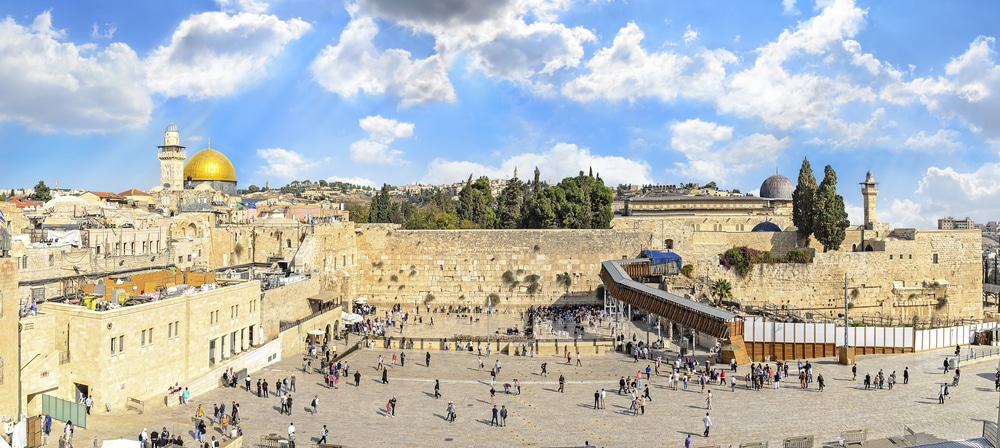 OPINION (Haaretz) – U.S. President Donald Trump's Middle East peace plan would divide Jerusalem, Yamina Chairwoman Ayelet Shaked said in an interview Saturday night, three days before Israelis head to the polls. Prime Minister Benjamin Netanyahu "only talked about the carrots of the Trump plan, he didn't mention the sticks," Shaked told Channel 12's Meet the Press program. "He didn't talk about how they're going to divide Jerusalem. The plan includes giving East Jerusalem neighborhoods to the Palestinians."
The former justice minister also said that the plan would entail some Jewish settlements falling under Palestinian Authority sovereignty. When asked how she knows this, as only the economic section of the Trump administration's plan has been released thus far, Shaked responded: "I know." She added, "I want to be part of a government that watches over Netanyahu – that makes sure that this doesn't happen." Her statements come hours after Trump announced via Twitter that he and Netanyahu held a telephone conversation in which the two discussed the possibility of signing a mutual defense treaty between Washington and Jerusalem.

READ MORE

:
——————————————————-
The Times of Israel is liveblogging Sunday's events as they unfold.
Prime Minister Benjamin Netanyahu says his plan to apply Israeli sovereignty over all West Bank settlements will "come up" as part of the upcoming US peace initiative.
He says he is referring to "all our communities in Judea and Samaria, including the [settlement] blocs as well as areas outside the blocs, and other areas crucial to our security and to securing our legacy."
Netanyahu makes the statement while is convening his final pre-election cabinet meeting at the Jordan Valley Regional Council — a part of the West Bank he's vowed to annex if reelected.
It is not immediately clear what Netanyahu means by this — whether such intentions have been incorporated into Washington's plan or whether Israel will insist upon the move as part of any accord.
Netanyahu's annexation plans have sparked a cascade of international condemnations. Critics say it could inflame the Middle East and eliminate any remaining Palestinian hope of establishing a state.
——————————————–
DISCERNING THE TIMES: THE MIRACULOUS REBIRTH OF ISRAE

L
We live in an age of miracles unlike any the world has ever known. In this generation, man has unlocked the secret of the genome, can 'create' life in a test tube, can duplicate that which is already created [cloning], develop medicines and compounds that can prolong life, and it seems as if there is almost nothing that we cannot do.
Science expects to one day be able to control the elements, bring rain where drought is, anticipate natural disasters like earthquakes, and perhaps, even prevent them.
We can travel outside our atmosphere, and one day expect to reach distant stars. In the natural, it would seem that there is nothing we will not eventually be able to do.
Science has pretty much been able to naturalize, internalize and explain away what were, in previous generations, miracles, reducing them to probabilities, equations, charts and graphs.
With one exception. We can do everything except tell the future. The future contains too many variables to accurately predict. Take the restoration of Israel, for example. Israel was destroyed in 702 BC by the Assyrian king, Sargon II, who conquered the kingdom of Israel.
It was common practice for a conqueror to uproot and displace the conquered people to another part of the empire, repopulating that place with a conquered people from somewhere else.
The reason for that was to separate a people from their land, which effectively prevented uprisings. The northern Kingdom of Israel was scattered throughout the Assyrian Empire, and was effectively lost to history, leaving only the tiny southern kingdom of Judah.
A century later, the Kingdom of Judah was similarly conquered by the Kingdom of Babylon, who also displaced its population, deporting them into captivity in Babylon.
To a Jew living in Babylon during the Captivity, it seemed certain that Judah would go the way of Israel and would similarly be lost to history.
Yet the prophets of the Captivity, like Daniel and Ezekiel, wrote confidently that in the last days, there would again be a nation called 'Israel' and that its citizens would once again inhabit the same piece of real estate from which they had been displaced, seemingly forever.
Yet Ezekiel wrote,
"And I will bring them out from the people, and gather them from the countries, and will bring them to their own land, and feed them upon the mountains of Israel by the rivers, and in all the inhabited places of the country." (Ezekiel 34:13)
The Jews would be gathered from the countries, and brought into THEIR OWN LAND, upon the mountains of ISRAEL, and not some other place.
Writing of the Gog Magog invasion, God inspired Ezekiel to prophesy;
"After many days thou shalt be visited: in the latter years thou shalt come into the land that is brought back from the sword, and is gathered out of many people, against the mountains of Israel, which have been always waste: but it is brought forth out of the nations, and they shall dwell safely all of them." (Ezekiel 38:8)
In this passage, we find the time frame in which Ezekiel's prophecy would come to pass — 'after many days, in the latter years'. And again, we find that it is not Judah, but ISRAEL, of whom the prophet prophesied. That they would be 'brought forth from the nations' to a land that had 'always been waste' — UNTIL THEY RETURNED.
For more than 2,500 years, this prophecy remained dormant, until, on May 14, 1948, the survivors of the Holocaust were 'brought forth' under the banner of 'never again' to the 'mountains of Israel' — which 'had always been waste' as the nation of 'Israel'.
In his book, 'Personal Witness' Abba Eban, one of the founders of Israel, noted that when David Ben-Gurion cabled President Truman to ask the United States to recognize the Jewish state, the Jews still hadn't decided what to call it.
Eban noted, 'Some wanted to call it Zion, others Judah…what about 'Israel'?' The name was chosen only hours before the state came into existence.
In 1897, the 1st Zionist Congress petitioned the government of Great Britain for a Jewish state in what is today the African country of Uganda. The British told the Jews to petition the Ottoman Empire, who at that time controlled Palestine.
The Jews would have settled for Uganda as a Jewish homeland, but the prophets said that the Jewish homeland of the last days would be 'on the mountains of Israel'. And that is exactly what happened.
The prophet Daniel, also writing from captivity in Babylon, penned the future history of Israel, [a nation that had not existed for a century] dividing its future into 70 weeks of years. During the 70th and final week, Daniel prophesied the revival of an empire [Rome] that, in Daniel's day, would not see its FIRST incarnation for another 500 years.
Today, the nation of Israel exists, composed of a people 'brought forth from the nations' while, for the first time in 2000 years, a European superstate made up of what had once been the territory of the Roman Empire, seeks involvement in a peace process that Daniel said would be confirmed by a leader of a revived Rome.
Israel was reborn in 1948, as the embryonic European Community of nations was being born out of the 1948 Benelux Treaty.
According to Jesus, the generation that would see His return would be one in which there would be;
"signs in the sun, and in the moon, and in the stars; and upon the earth distress of nations, with perplexity; the sea and the waves roaring; Men's hearts failing them for fear, and for looking after those things which are coming on the earth: for the powers of heaven shall be shaken." (Luke 21:25-26)
It would be a period of 'wars and rumors of wars,' when,
"NATION SHALL RISE AGAINST NATION, AND KINGDOM AGAINST KINGDOM: and there shall be famines, and pestilences, and earthquakes, in divers places." (Matthew 24:6-7)
Jesus noted that;
"All these are the beginning of sorrows" (v.8)
Bible prophecy was given the Church so that,
"ye in like manner, when ye shall see these things come to pass, know that it [His return] is nigh, even at the doors." (Mark 13:29)
We are indeed living in the 'age of miracles' but they are miracles of God, against which the miracles of science cannot possibly compete.
We in this generation have been given the unspeakable gift of certainty that the Lord is about to return, a warning that time is running out, and a renewed commission to go out into all the earth and make disciples of all nations, before time has run out.
No man can know the future, but the God of Creation foretold it –in detail — so that there could be no misunderstanding. The Lord is about to return.
"Behold, I shew you a mystery; We shall not all sleep, but we shall all be changed, In a moment, in the twinkling of an eye, at the last trump: for the trumpet shall sound, and the dead shall be raised incorruptible, and we shall be changed." (1st Corinthians 15:51-52)
"For the Lord Himself shall descend from heaven with a shout, with the voice of the archangel, and with the trump of God: and the dead in Christ shall rise first: Then we which are alive and remain shall be caught up together with them in the clouds, to meet the Lord in the air: and so shall we ever be with the Lord."
"Wherefore, comfort one another with these words."
——————————————–
SEVERAL RESEARCHERS ARE REACHING THE SAME CONCLUSIONS REGARDING THE FUTURE OF HUMANITY
Submitted by Dave Hodges on Sunday, September 15, 2019 – 06:32.
The speaking events in Branson are providing a lot of people with paradigm shifting information. I am awestruck with regard to the degree of correlation among and between the various speakers, The following article will highlight the degree of agreement among Mike Adams, Steve Quayle and myself with regard to what is already underway as we are witnessing the end of an age. 
THE CSS PREVIOUSLY CLAIMED DEPOPULATION OF THE EARTH WAS UNDERWAY
Four years ago, I first brought up the possibility that mankind was being "terra-formed" into extinction through the creation of events and programs designed to end massive lost of life. It was also in the last week I explored the notion, for the 3rd time in last 5 years, that the Earth was being terra-formed. I compared the terra-forming to the 1997 move, The Arrival. I have known about the attempted terra-forming of the planet by entities who are not human and I have known it for over 20 years. Vance Davis and myself have decided to tell all. As I previously identified in an earlier article, the terra-forming events are:
Fukushima, which is far worse than most people realize.

The far-reaching effects of the Gulf Oil Spill.

GMO's and the destruction of our collective DNA . I am saying that humans are being terraformed.

Transhumanism spells the end of humanity as we know it

Chemtrails are producing 18% sunlight and this will result in much lower crop yield leading to a global famine. 

The implementation of 5G that is so severe that humanity will not survive.
CERN is also a part of this. Some of these terra-forming events are opening portals for entry by very evil entities. In the next part in this series, I will detail how each of these six attacks upon humanity is part of a terra-forming plot very similar to the movie, The Arrival, in which aliens are heating up the Earth for the purpose of exterminating all life on the planet. 
Both four years ago and again last week, I stated that the present terraforming programs of the planet were an extension of what was already happening in the cosmos and the conflicts in the cosmos had come home to roost on the Earth.  When I first met Vance Davis of the NSA, he told me that in his training that there was a war in the cosmos for our soul between the forces of good (God) and evil (Lucifer). The key prize in this conflict was the human soul but Lucifer could not decipher the code. Therefore, Lucifer decided on a strategy to destroy the human being. The means, as I have previously stated that Lucifer was employing to destroy humanity was the series of false flag attacks which would depopulate humanity. Then the trans-humanism age would be ushered in and humanity would be no more. I further stated that I believed in the present time, that every lifestyle that did not end in procreation and live births, would be honored while heterosexuality would be vilified all in the name of depopulation. It is also my expressed belief that the great deception is upon us and these "fakes aliens" are actually servants of Lucifer but will serve the same purpose real aliens in ridding the planet for the purpose of taking over the Earth. As I previously stated, this is why our technology and science are being artificially repressed (eg Newtonian physics vs Hyperdimensional physics). Humanity could easily conquer all resource deficits, but the globalists withhold information in order to manage humanity through artificially created resource shortages. 
MIKE ADAMS TAKES THE COSMOLOGY OF THE GOOD-EVIL CONFLICT TO HIGHER LEVEL
In the past, the Health Ranger, Mike Adams, the founder of Natural News.News Target, has previously expressed the opinion that if and when the first contact with alien occurs, the event may be something other than a celebratory tailgate party. Adams maintains that peaceful, nonaggressive civilizations would likely mind their own business and ignore us like we would ignore an out of the way insect. He previously expressed the belief that aliens would show up on our doorstep, are likely to be very advanced and would likely seek to colonize earth and seize our resources. To prepare for the risk, Adams recommended a planetary-defense initiative and a multi-planet colonization strategy.
In the past two years, Mike has put considerably more research and more thought on the topic of alien contact. I had a first row seat as Mike presented his views to a sold-out venue. I don;'t want to steal Mike's coming thunder, so I will limit my comparison to Mike Adams' observations of this phenomena to outline form knowing the Mike is opening a website in which he will be unveiling his observations and discoveries in much more detailed form. 
Briefly Mike shares the same idea as I do with regard to the hostile intent of these evil entities and the goal is the complete destruction of humanity. Mike's ideas, in part, can be summarized, but not limited to, in the following:
The deliberate poisoning of our food through the insertion of several chemicals he identified in the presentation (eg GMO's). 
The repression of technology in order to enslave humanity (eg faster than light travel FTL). 

The honoring of any lifestyle that does not result in procreation

The banning of anyone who does not embrace the anti-Christian lifestyle.

The attack on the food supply and the introduction of cannibalism . 

The attack of humans through debilitating medical practices (eg unsafe and unproven vaccines). 

The entities appearing on the planet are from Satan and they intend to wipe out humanity as we presently know it. 

The reasons behind the domination of our particular planet have to with geographic location. In a galactic sense, we are the city on the river that is upstream from all other cities. 
There must be cooperation between key members of the global elite and the "fake" aliens. In other words, humanity is being sold out by some of our own. (Editor's Note: This is the cosmic version of Hitler's "Brown-shirt factor". When these useful idiots have completed their capitulation and betrayal of humanity, they will be eliminated like the people they are presently oppressing).
Even the most ardent skeptic of Mike's research would have a hard time refuting what was said in his presentation.
STEVE QUAYLE FILLS IN THE GAPS AND COMPLETES THE STORY
Like Mike Adams and myself, Steve Quayle believes that it is intended that mankind perish from the Earth. I am only going to summarize Steve's research because I know that everything he discussed will soon be available in his various formats. If is Steve's strong contention, which he, in great detail, documents the different types of hostile entities in their various forms. Further, it is clear from Steve's work, that these entities have had great influence over past. Steve's presentation included overwhelming documentation of the influence that these evil entities have had over prior civilizations (eg Native American, Aztecs, et al). The visual documentation that Steve presented at the conference was stunning. I am veteran of the Independent Media, and I sat spellbound through his presentation. 
The most stunning part of Steve's presentation had to do with the extreme earth-changes and their cataclysmic effects on the people.We are truly bearing witness to the end of the age.
Steve made an excellent point in reference to the Bible in that in the upcoming days, the average person will never know what hit them and their hearts will fail them. 
Steve's research can be followed in his latest video productions and books. These are all available on his website. 
CONCLUSION
Today, I will be a panelist, at the conference, along with Steve Quayle and Paul Begley as we summarize what we learned this weekend along with where we feel humanity is headed. 
I never thought that last year's conference on trans-humanism could ever be topped. This conference came very close. I would strongly suggest that all that could not attend, and that truly desire to share in this life-changing information, should seek to obtain the DVD's of all the tremendous presentations. The entire conference is available on pre-order for DVDs, as a pre-order price.