This Happened On Planet Earth…Sept. 2019…End Times Signs

Published on Sep 4, 2019
 

Please Help Support This Ministry:

https://www.paypal.me/watchman1963

Cash App : $watchman1963 Please subscribe to my backup channel:

https://www.youtube.com/channel/UC4nc…

Current Events Linked To Biblical Prophecies. Everything is unfolding just as the bible foretold. Wars, Volcanic Eruptions, Earthquakes, Extreme Weather, Christian Persecution, Violence and more!
Matthew 24:3-14 3 Now as He sat on the Mount of Olives, the disciples came to Him privately, saying, "Tell us, when will these things be? And what will be the sign of Your coming, and of the end of the age?" 4 And Jesus answered and said to them: "Take heed that no one deceives you. 5 For many will come in My name, saying, 'I am the Christ,' and will deceive many. 6 And you will hear of wars and rumours of wars. See that you are not troubled; for all these things must come to pass, but the end is not yet.
7 For nation will rise against nation, and kingdom against kingdom. And there will be famines, pestilences,[b] and earthquakes in various places. 8 All these are the beginning of sorrows. 9 "Then they will deliver you up to tribulation and kill you, and you will be hated by all nations for My name's sake. 10 And then many will be offended, will betray one another, and will hate one another.
11 Then many false prophets will rise up and deceive many. 12 And because lawlessness will abound, the love of many will grow cold. 13 But he who endures to the end shall be saved. 14 And this gospel of the kingdom will be preached in all the world as a witness to all the nations, and then the end will come.
——————————————————-
Battle of Narratives as Israel-Hezbollah Tensions Spike

Published on Sep 4, 2019

 
Articles:
https://www.i24news.tv/en
Live:
https://video.i24news.tv/page/live?cl…
Replay:
https://video.i24news.tv/page/5ab2981…
Facebook:
https://www.facebook.com/i24newsEN/
Twitter:
https://twitter.com/i24NEWS_EN
Instagram:
https://www.instagram.com/i24news/
#i24NEWS
#DailyDosewithJeffSmith
#Hezbollah
  DAILY DOSE | The Lebanese-based terror
organisation
 Hezbollah came very close to hitting an Israeli Defense Forces (IDF) ambulance which carried five soldiers and drove near the Lebanon border against the army's protocol, reported Hebrew-language Haaretz outlet on Monday night. According to the report, the IDF vehicle breached the army's directives and was lucky to come out of the incident unscathed. IDF senior officers were cited by Haaretz as saying they were "very lucky" to end the incident with no casualties — which otherwise could have meant an entirely different response scenario by Israel's military. In the Haaretz report, it was stated that the IDF armored vehicle was traveling on a road around 3.4 miles from the border when it was targeted, still within range of the Kornet anti-tank guided missiles, which was used by Hezbollah in the incident. The army launched a probe into the incident as it is yet unclear why the soldiers took that particular route when the IDF had minimized vehicular movement ahead of the expected attack. Meanwhile, Hezbollah on Monday released footage of what they said was a successful attack carried out against an IDF vehicle the previous day. The video shows what appears to be an anti-tank missile launcher firing a projectile towards the IDF vehicle traveling down a secluded road.  A tracker highlights the targeted vehicle as it continues to move down the road when it suddenly explodes in a plum of fire and smoke. The footage, aired by Hezbollah-affiliated news station Al-Manar, could not be independently verified. The IDF launched over 100 artillery shells into Hezbollah positions on Sunday after the terror organization fired two projectiles at an Israeli military base in the north. The IDF previously said that no injuries were reported in its brief exchange of hostilities with Hezbollah on Sunday afternoon. In fact, it was later revealed that the IDF constructed an elaborate decoy operation to convince Hezbollah officials it had wounded Israeli soldiers during the strikes. But the footage released by Hezbollah on Monday suggest that unanswered questions still remain over the truth of yesterday's flare up.
——————————————————-
Hezbollah: 'No more red lines in battle against Israel' – TV7 Israel News 03.09.19

Published on Sep 4, 2019
 

Today's top stories 03.09.19; 1) Following the exchange of cross-border fire between Israel and Iran's Lebanese-proxy Hezbollah, the IDF maintains a high level of alert, which according to a military official, "is expected to last for several more days, unless Hezbollah miscalculates Jerusalem's resolve to defend itself." 2) Russian Foreign Minister Sergei Lavrov revealed that the Islamic Republic of Iran and Russia agreed on a series of measures, with the aim of protecting their joint economic projects – while Iran's Foreign Minister Mohammad Javad Zarif welcomed a Russian proposal for ensuring maritime security in the Persian Gulf. 3) France has reportedly offered to extend a 15 billion dollars letter of credit to the Islamic Republic of Iran in exchange for the Tehran's compliance with the 2015 nuclear agreement – after the latter threatened, once again, to scale back further from its nuclear commitments by Thursday, September 5th.
——————————————————-
LATEST WORLD NEWS CLIPS – ARTICLES – WEDNESDAY SEPTEMBER 04th 2019
THIS IS HAPPENING RIGHT NOW:
Matt. 24:1  And Jesus went out, and departed from the temple: and his disciples came to him for to shew him the buildings of the temple.
Matt. 24:2 And Jesus said unto them, See ye not all these things? verily I say unto you, There shall not be left here one stone upon another, that shall not be thrown down.
Matt. 24:3 And as he sat upon the mount of Olives, the disciples came unto him privately, saying, Tell us, when shall these things be? and what shall be the sign of thy coming, and of the end of the world?
Matt. 24:4  And Jesus answered and said unto them, Take heed that no man deceive you.
Matt. 24:5 For many shall come in my name, saying, I am Christ; and shall deceive many.
Matt. 24:6 And ye shall hear of wars and rumors of wars: see that ye be not troubled: for all these things must come to pass, but the end is not yet.
Matt. 24:7 For nation shall rise against nation, and kingdom against kingdom: and there shall be famines, and pestilences, and earthquakes, in divers places.
Matt. 24:8 All these are the beginning of sorrows.
Matt. 24:9 Then shall they deliver you up to be afflicted, and shall kill you: and ye shall be hated of all nations for my name's sake.
Matt. 24:10 And then shall many be offended, and shall betray one another, and shall hate one another
——————————————-
DAILY CHRISTIAN BIBLICAL QUESTIONS AND ANSWERS:
——————————————-
GREAT REVIVAL AHEAD?
QUESTION:    It seems like a lot of Christian preachers are calling for a revival these days. I read their blogs and watch them on TV. Does the Bible teach this, and if not why are these preachers demanding something impossible?
ANSWER:    I believe there will be a great revival after the rapture when the fence sitters realize they shouldn't have waited so long to make their decision to be saved. Knowing their loved ones have gone will finally convince them that what we've been telling them is true and they'll finally do it.
Much of the talk about revival today is coming from people who believe in Dominion Theology. They teach that Christians have to take dominion over the Earth by converting the unsaved world before the Lord can come back. It's based loosely on God's command to Adam and Eve to fill the earth and take dominion over it (Genesis 1:28). Because of this they're always talking about great revivals on the horizon.
This view of the end times cannot be supported by scripture. It tells us the true Church will become weaker as the end approaches because many people will no longer put up with sound doctrine, but will gather around them teachers who say what their itching ears want to hear and will abandon the faith (1 Tim. 4:1 and 2 Tim4:3).
This will prove they were never believers to begin with but will make the ranks of the apostate church swell while the true Church gets smaller. We can see this happening around us today.
Speaking to the Church of our time, Jesus said,
"I know you have little strength, yet you have kept my word and have not denied my name. Since you have kept my command to endure patiently, I will also keep you from the hour of trial that is going to come upon the whole world to test those who live on the Earth" (Rev. 3:8,10).
REVIVAL BEFORE RAPTURE?
QUESTION:    Thank You for sharing your knowledge with us! Do you think there will be a revival in the U.S. before the Rapture?
ANSWER:    There is a move toward Christianity in Africa, India, and China in numbers never seen before in history. Some estimate that the Church receives as many as 175,000 new believers each day from these countries.
But in the West, I think the opposite is happening. The true Church is getting smaller and weaker while the "name-only" Christian groups are expanding. The middle ground is rapidly disappearing in Western Christianity.
MORE ON REVIVAL BEFORE RAPTURE
QUESTION:    I love your website. Very clear teaching. I am looking forward to being raptured but I also have a longing to be used of the Lord in healing and deliverance to see our Lord glorified and many people added to the Church. I've read and heard prophecies from authors and speakers about a great revival before the bride goes up in the rapture. What are your views about this?
ANSWER:    When someone gives a prophecy that disagrees with the Bible, we're supposed to believe the Bible. It doesn't speak of a last days revival before the rapture. It says in the last days many who previously appeared to be part of the church will

fall

away (2 Thes, 2:3).
Some will abandon the faith and follow deceiving spirits (1 Tim. 4:1) while others will have only a form of godliness but will deny its power (2 Tim. 3:1-5). They will not put up with sound doctrine and will turn their ears away from the Truth to follow myths (2 Tim. 4:3-4). What remains of the true Church will have little strength (Rev. 3:8). These prophecies have been coming true right before our eyes in the Western Church (Europe and the US) for years now.
There does seem to be a great move of the Holy Spirit in places where the gospel has not made inroads in the past. We hear reports out of Africa, the Middle East, India, China, and other places to confirm this.
Revival means bringing new life to something that's has been dying, so what's happening in the East technically isn't a revival. I believe God is issuing a supernatural "last call" around the world before He takes the Church home in the rapture.
———————————————
NEWS CLIPS OBTAINED FROM MANY SOURCES – INCLUDING

Tracking bible prophecy.org
Rapture Ready News
Prophecyupdate.Com
Main News Channels
End Times Headlines
Prophecyupdateblogspot.com
Stevequayle.com
Gracethrufaith.com
Nowtheendbegins.com
Other Christian Sites
(CLICK ON) LATEST DAILY NEWS CLIPS:
ISRAEL NEWS:
THE MIDDLE EAST PEACE PLAN IS "ANTI GOD" – (GOD WILL NOT ALLOW JERUSALEM TO BE DIVIDED).
ZECHARIAH 12:2-3
Zech. 12:2 Behold, I will make Jerusalem a cup of trembling unto all the people round about, when they shall be in the siege both against Judah and against Jerusalem.
WORLD TERRORISM – WARS
GENERAL WORLD NEWS:
WORLD FINANCE:
1Tim. 6:10 For the love of money is the root of all evil: which while some coveted after, they have erred from the faith, and pierced themselves through with many sorrows
MASSIVE EARTH CHANGES/EARTHQUAKES/VOLCANOES ETC:
2Chr. 7:13 If I shut up heaven that there be no rain, or if I command the locusts to devour the land, or if I send pestilence among my people;
2Chr. 7:14 If my people, which are called by my name, shall humble themselves, and pray, and seek my face, and turn from their wicked ways; then will I hear from heaven, and will forgive their sin, and will heal their land
CHRISTIAN AND RELIGIOUS WORLD NEWS:
Matt. 24:9 Then shall they deliver you up to be afflicted, and shall kill you: and ye shall be hated of all nations for my name's sake.
Matt. 24:10 And then shall many be offended, and shall betray one another, and shall hate one another
EXTRA WORLD – ALTERNATIVE NEWS:
————————————————-
WORLD – PROPHETIC NEWS ARTICLES PRESENTATION – WEDNESDAY SEPTEMBER 04th 2019
MIDDLE EAST AND WORLD WAR LOOMING THE BUILD UP TO PSALM 83  – ISAIAH 17 AND GOG OF MAGOG WARS EZEKIEL 38:
THE WHOLE WORLD IS UNSTABLE FINANCIALLY, POLITICALLY, PHYSICALLY, MORALLY, GODLY: – AND BECOMING MORE SO DAILY. (WE ARE IN THE BEGINNING OF SORROWS (MATT 24:8)
THE BIBLE STATES THAT IT WILL ONLY GET WORSE BEFORE THE START OF THE TRIBULATION OF MANKIND – (

REVELATION 6)
Matt. 24:6 And ye shall hear of WARS AND RUMOURS OF WARS: see that ye be not troubled: for all these things must come to pass, but the end is not yet.
Matt. 24:7 FOR NATION SHALL RISE AGAINST NATION, AND KINGDOM AGAINST KINGDOM: and there shall be famines, and pestilences, and earthquakes, in divers places.
ISAIAH 17/PSALM 83:
THE DESTRUCTION OF DAMASCUS and
Muslim Countries in the Middle East will launch an attack on Israel
JEREMIAH 49:
PROPHECY OF ELAM – (Possible Attack on Iran's Nuclear Program
———————————————-
On Sunday afternoon, the expected Iranian retaliation for humiliating Israeli military actions against Hezbollah's headquarters in Beirut and Iranian attack drones in Syria who were about to be launched at northern Israel finally came but ended in another humiliating debacle.
Iran activated its Lebanese proxy Hezbollah which attacked an IDF base near Avivim close to the Lebanese Israeli border with a number of Kornet anti-tank missiles hitting several IDF vehicles on the base.
The attack came after the IDF took preventive measures which were meant to deprive Hezbollah of surprising the Israeli military and which could prevent an incident similar to the one which triggered the Second Lebanon War.
The Israeli military closed off roads up to five kilometers from the border with Lebanon set up checkpoints and deployed artillery and other heavy equipment to the north of Israel as well as additional Iron Dome anti-missile shields.
This showed the IDF has learned the lessons of the Second Lebanon War when repeated warnings about an imminent Hezbollah attack by Gal Hirsch the then commander of the IDF's 91

st

 division were ignored with devastating consequences.
When the Hezbollah retaliation finally came, the IDF again showed off its intelligent and sophisticated warfare capabilities which in fact, prevented the outbreak of the Third Lebanon War.
First, the IDF used drones which dropped incendiary materials on fields and forests along the Lebanese border thereby creating a smokescreen which deprived Hezbollah of the ability to accurately target the Israeli army. At the same time, IDF artillery pounded 30 Hezbollah targets with 100 shells in southern Lebanon.
After the Kornet attacks on the base near Avivim the IDF also used a trick to confuse Hezbollah and scored another victory in the ongoing psychological war.
The IDF ordered a helicopter to the targeted base which transferred soldiers with bandages soaked with fake blood to the Rambam Medical Center in Haifa where they were released without any medical inspection.
Photos of the 'injured' soldiers were subsequently posted by the IDF on its Facebook page which is also followed by Hezbollah and Iranian agents while Israeli military and government officials kept mum on the issue of casualties.
Hezbollah then issued a triumphant statement which claimed a number of Israeli soldiers had been wounded and killed during the attack. In this way, the Israeli military handed Hezbollah 'a victory' and de-escalated the situation.
It worked.
Hezbollah refrained from further attacks on Israel and only when things quiet down the IDF and Prime Minister Benyamin Netanyahu released a statement confirming there were no wounded or killed soldiers on the Israeli side.
This was at least the third time the Israeli military outsmarted the Quds Force of the Iranian Revolutionary Guards Corps and its proxy Hezbollah.
The first time was on May 10, 2018, when Qassem Soleimani, the commander of the Quds Force, ordered a massive missile attack on the Israeli Golan Heights using more than 30 Grad and Fajr missiles which in majority landed on Syrian soil.
This direct Iranian attack on Israel was provoked by a series of IAF strikes on Iranian military facilities in Syria.
The botched Iranian attempt to kill Israeli citizens on the Golan Heights gave Israel the legitimate right to launch a counter attack on the Quds Force in Syria.
Using 28 IAF F-15 and F-16 fighter jets, the IAF destroyed more than 50 Iran-related targets in Syria, among them intelligence facilities, logistic headquarters, observation posts, weapon-storage facilities as well as rocket launchers and air defense batteries.
Altogether, the IAF and IDF used 60 air-to-ground missiles and 10 tactical ground-to-ground missiles, according to the Russian Defense Ministry.
The four-hour-long Israeli offensive against the IRGC in Syria furthermore killed 28 Syrian soldiers and Shiite fighters, the Russians claimed.
On the Israeli side there were no reports of damages or casualties.
IDF spokesman Brigade General Ronen Manlis explained at the time that the Israeli military had "plundered" the Iranian capabilities in Syria.
"They were dragged back because of the activity we carried out for over a month and during these past weeks," Manlis told reporters in May 2018.
"We laid out correct defensive preparations and we took a number of aggressive actions in recent weeks," the IDF spokesman said while adding that Soleimani and the Quds Force paid a heavy price.
The second time the IDF used intelligent and sophisticated warfare tactics against the Iranian axis in Lebanon and Syria was on Sunday, August 25, 2019, when the Israeli air force and marine humiliated the Quds Force and Hezbollah.
Using superb intelligence the IAF first destroyed a large number of Iranian attack drones which were about to launch a massive strike on northern Israeli cities and communities.
A few hours later, the Israeli marine used two Iranian-made DIJ drones loaded with 5.5 kilos of C4 plastic explosives to prevent the delivery of a planetary mixer to Hezbollah by Iran.
The industrial mixer weighing about eight tons was meant to be used to manufacture solid fuel propellants which improve the engine performance of Hezbollah missiles and their accuracy.
This Israeli action took place in the center of Beirut where Hezbollah has its headquarters and dealt another blow to the 'precision project' which is meant to upgrade Hezbollah's crude rockets and convert them into GPS-guided precision missiles.
——————————————–
Only an extraordinary errand would have brought two top Iranian generals, IRGC chief Maj. Gen, Hossein Salami and Al Qods' Qassem Soleimani, flying to Beirut for a secret conclave with Hizballah's Hassan Nasrallah. But DEBKAfile reports exclusively that this is what happened on the night of Aug. 22, shortly after the thwarting of Iran's first attempt to launch 4 killer drones into Israel from Syria.
Our sources report the two key Iranian Guards generals, who were never before known to have flown out of Iran together, spent three and-a-half hours talking to the Hizballah chief before leaving the Lebanese capital as quietly as they came. 
The content of this singular meeting has not been established for sure by any intelligence agency, but it is generally believed to have been called as a counsel of war to set out a joint program of operations against US and Israeli Middle East targets in the coming weeks. 
A partial parallel may be drawn between this event and a meeting 12 years ago.  On July 19, 200, Nasrallah travelled to Damascus to sit down with then Iranian President Ahmadinejad and Syrian President Bashar Assad. They met to outline a common Iranian-Hizballah-Syrian plan of action against Israel as a sequel to the 2006 Israel-Lebanon war. This time, Assad was conspicuously absent from the deliberations, evidence of his decision in recent weeks to draw some distance from Tehran and deepen his cooperation with Moscow.




It is also worth noting that Moscow hastened to step into the exchange of fire between Hizballah in Lebanon and the IDF on Sunday, Sept. 1, Russian commanders in Syria carried messages between the warring sides to keep the flareup in check and prevent it escalating into all-out war. This would have damaged Russian interests in Syria. 
This and other incidents in the region in the last 10 days were evidently the outcome of last month's extraordinary summit in Beirut. The process they set in motion is clearly only at its outset.
——————————————–
The most recent clash between Israel and the Hezbollah militant group in Lebanon may or may not be over, but the signs still point to a potentially catastrophic conflict ahead. 
Both sides have an interest in halting operations for now. Neither wants a full-scale war. Much will depend upon the Hezbollah reaction to the ruse with which Israel tried to calm this current upsurge.
It was Israel's strike on Hezbollah's power centre – the Dahiya quarter of Beirut – that prompted this cross-border exchange. This was, in the vernacular loved by military analysts, seen as being in "contravention of the rules of the game". 
This was the first Israeli strike on the Lebanese capital since a war between Israel and Hezbollah in 2006. Indeed direct confrontations between Israeli and Hezbollah forces in general are relatively rare.
Israel is believed to have targeted a piece of industrial machinery – essentially a large mixer – crucial for manufacturing the propellant for missiles and rockets. This is seen as part of what has been dubbed "the precision project"; an effort by Iran to improve the accuracy and range of existing missiles that it has supplied to its allies in the region, like Hezbollah. 
This strike was bound to prompt a Hezbollah response and the Israeli military made the necessary preparations; moving up artillery; cancelling a planned exercise; and reducing the number of vulnerable patrols in the border region. 
Hezbollah's response was not slow in coming.
A small number of Kornet anti-tank missiles were fired at an Israeli position and an armoured ambulance was hit. Hezbollah was quick to claim success, announcing that it had "destroyed an IDF military vehicle on the Avivim Barracks road killing and injuring those inside."
Israel now says there were no casualties, but initially it mounted what appeared to be a helicopter casualty evacuation, seemingly in retrospect as a ruse to encourage Hezbollah to believe its attack had been successful and thus to buy some time for calm to be restored.
Time will tell but neither Israel nor Hezbollah want escalation now. But the Israelis have questions to answer too.
Are they going to seize future opportunities to strike at Hezbollah's Iranian-backed missile programme in Lebanon knowing full well that this breaches the so-called "rules of the game"? 
But of course this is not a game and fundamentally the "rules" are only temporary. What is going on here is an undeclared war not just between Israel and Hezbollah, but between Israel and Hezbollah's sponsor, Iran. 
In geographical terms this is being fought out across a wide front that now extends from Lebanon and deep into Syria. It is likely even targets in Iraq have been hit by Israeli strikes.
Iran is seeking to make progress in three areas. 
Firstly it wants to continue the missile supply line it runs to its allies in the region. Secondly it is helping Hezbollah to improve the capability of the missiles that it already has. And thirdly it is seeking to take advantage of the influential position it has achieved, given its backing for the Assad regime in Syria, to establish itself there as a military player, in part, to open up a new front against Israel.
Israel has been consistently striking back at the Iranians and recently says that it foiled an Iranian-backed drone attack into Israel. The Israeli military's intelligence gathering abilities are remarkable. It hits missile convoys, storage depots, drone bases, and industrial sites. 
But these are tactical successes. In strategic terms they may slow Iran's designs but there is no indication that Tehran is changing its fundamental approach.
Outside actors seem unable to alter Tehran's direction of travel. The US is clearly in no position to do so. And assurances from Moscow that it will persuade the Syrians to contain the advance of Iran and its proxies, have proved illusory.
It is instructive that the tempo of Israeli air attacks increased significantly in the aftermath of the June meeting between the National Security Advisers of Israel, Russia and the United States.
So the latest skirmish in this undeclared war may be over, but the struggle continues. And the risk of conflagration only gets closer. 
It is like one of those old-fashioned movies in which a bomb is discovered with a long-burning fuse, which the hero gets to snuff out with moments to spare. The fuse for this impending conflagration is longer; but nobody knows quite how long. 
The fuse has been snuffed out now on multiple occasions. But each time when it is re-lit, it gets ever shorter.
——————————————–
Update: Speaking to reporters Monday evening, Boris Johnson insisted that he would never ask for another Brexit delay.
JOHNSON: THERE ARE NO CIRCUMSTANCES IN WHICH I'LL ASK FOR DELAY

JOHNSON: I DON'T WANT AN ELECTION, YOU DON'T WANT AN ELECTION

JOHNSON: BREXIT DELAY WILL MAKE FURTHER EU TALKS IMPOSSIBLE

JOHNSON: PARLIAMENT THREAT TO DELAY BREXIT WILL HARM EU TALKS

JOHNSON: I WILL NEVER ASK EU FOR ANOTHER BREXIT DELAY

JOHNSON PLANS OCT. 14 UK ELECTION IF HE LOSES BREXIT VOTE
A cross-party group of MPs who are opposed to leaving the EU without a deal on Oct. 31 have settled on their plan to stop PM Boris Johnson from running down the clock: They're reportedly planning to pass legislation that would force Johnson to seek a three-month delay of Brexit Day, according to Bloomberg.
If the legislation passes, Johnson would either need to secure a new withdrawal agreement with the EU by mid-October, or press the EU27 to grant the UK another extension, something that the bloc would likely support.
Here's more from BBG:
Details of the rebel plans to stop a no-deal Brexit on Oct. 31 by pushing legislation through Parliament are beginning to emerge.
Two people familiar with the draft law told Bloomberg it would compel Johnson to seek a three-month delay if he's been unable to get a new Brexit deal through the House of Commons by Oct. 19 or to persuade lawmakers to back a no-deal departure.
That would set Jan. 31 as the new deadline for Brexit.
Goldman Sachs believes there's still a high likelihood that Johnson calls for a snap election on or around Oct. 17 – which is also the beginning of what's supposed to be the last EU summit with the UK and the EU27 before Brexit Day – if the PM "decides this week that a pre-Brexit general election is his best response to a legislative lock on "no deal." DB sees this as one possible outcome, though they believe the overall odds of Johnson choosing this route are just 5%. 
And with good reason. Calling for a snap vote would require 100 opposition MPs to vote with the PM to win the necessary two-thirds majority. Goldman believes they could be swayed if Johnson shows them "concrete evidence" that he's already sought permission from the EU27 to call for another Article 50 extension.
"Traditionally, the date of a general election is in the gift of the prime minister," the note said. "In our view, it would be suboptimal for Labour MPs to allow the Conservative government to call an October election that characterizes the Labour front-bench as a Brexit saboteur. That said, the Labour leadership would certainly find itself in a difficult position."
Proponents of the bill are expected to begin the process of passing it on Wednesday. Their strategy involves taking over Parliamentary business. 
——————————————–
Following what many have described as the most violent weekend yet after 86 days, or 13 weeks of pro-Democracy protests in Hong Kong, which have led to the arrest of at least 1,117 residents, where the local police is now deploying water cannon in response to "rioters" using petrol bombs, China appears to have finally had enough and on Sunday, Beijing issued a stern ultimatum to not only Hong Kong protesters, but also the West on Sunday, reiterating that it will not tolerate any attempt to undermine Chinese sovereignty over the city.
"The end is coming for those attempting to disrupt Hong Kong and antagonize China," stated a commentary piece published by the state's Xinhua News Agency.
According to the Nikkei, the ultimatum was directed at "the rioters and their behind-the-scene supporters" – which should be interpreted as China's latest accusation of Western meddling, with the article warning that "their attempt to 'kidnap Hong Kong' and press the central authorities is just a delusion," adding, "No concession should be expected concerning such principle issues."
The commentary said three red lines must not be crossed:
no one should harm Chinese sovereignty,

challenge the power of the central authorities 

use Hong Kong to infiltrate and undermine the mainland.
"Anyone who dares to infringe upon these bottom lines and interfere in or damage the 'one country, two systems' principle will face nothing but failure," the piece declared. "They should never misjudge the determination and ability of the central government… to safeguard the nation's sovereignty, security and core interests."
With the protests attracting global attention, the demonstrators and the authorities are also fighting a PR battle. On Saturday, the Chinese Foreign Ministry took an unusual step of distributing images of alleged protester vandalism to the international press, in an apparent attempt to discredit the movement.
The warning came just hours after tens of thousands of people blocked roads and public transport links to Hong Kong's airport. The demonstrations, which started in response to a proposed bill that would have allowed extradition to the mainland, have mutated into a broader rejection of Beijing's growing control over the semi-autonomous city, with China – and even Russia – accusing the CIA of being behind the ongoing protests.
Despite recently linking his view of the trade war with Beijing to the ongoing Hong Kong protests, Trump has refused to sternly condemn the growing possibility of a Chinese crackdown, leading some to suggest that China has cobbled a behind the scenes deal with Trump, whereby it lets the US president give the impression of a modest win in the trade war in exchange for being given a carte blanche to deal with the HK protesters as it sees fit when the time comes, and with the Chinese National Day holiday coming on Oct. 1, it is almost certain that Beijing will have to regain control over Hong Kong in the coming weeks if not days.
——————————————–
A major seismic event is underway, and scientists at the Pacific Northwest Seismic Network are saying the Puget Sound could be at a higher risk for earthquakes. 
The event is called a slow-slip event and brings tiny tremors in the region that could potentially lead to a larger earthquake at the Cascadia subduction zone.
Steve Malone, a professor emeritus with PNSN, thinks the first tremor of this ETS cycle began Aug. 11 just south of San Juan Island. 
The last two quakes stronger than M1.0 of the slow-slip event, a M2.5 and M2.4, hit today, September 2, 2019.
Back in July, the area suffered a 4.6 magnitude quake, the largest in the region in some time. It was strong enough for most people to feel but did not cause any damage.
"Over this week the tremor has on average gotten stronger and more frequent but is not yet as near-continuous as during some previous ETS events," Malone wrote. "Thus far I have not been convinced that the GPS data is yet showing displacements consistent with a full-blown ETS, but then it is early in the sequence, and I am just a seismologist. If this activity continues as I expect it likely will then it likely will spread a bit farther south but it should mostly head to the northwest."
The slow slip event is a semi-regular occurrence happening once every 14 months or so, according to scientific records and notes.
Another concern is the fact that the Cascadia Subduction Zone is located right next to the Juan de Fuca tectonic plate, which plunges underneath the North American plate. A large section of the Juan de Fuca plate is missing underneath central Oregon, or rather tearing apart and splitting the plate, which has raised more concerns about how a cascading seismic event might impact both states.
Apart from the Cascadia, Seattle is also threatened by the seismically active Seattle Fault and South Whidbey Island Fault. So just be ready, because those three fault lines are overdue for a large earthquake.
——————————————–
'COMPLETE DEVASTATION… PLEASE PRAY FOR US': DORIAN BASHES BAHAMAS WITH 220 MPH GUSTS, AT LEAST 5 DEAD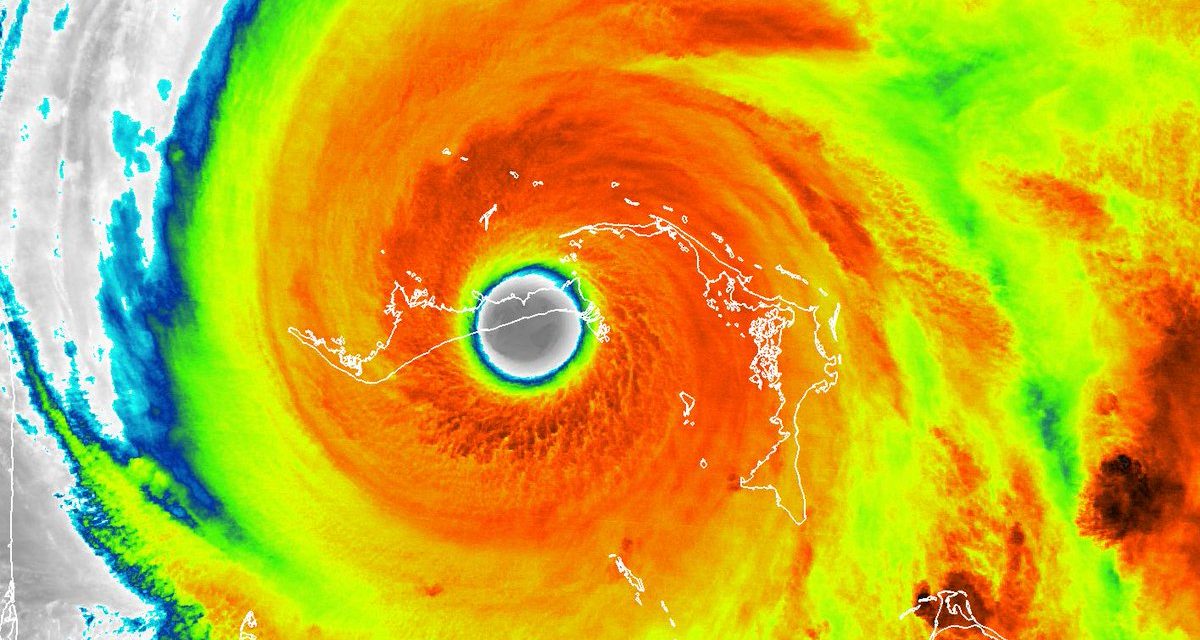 (CBN) – Hurricane Dorian unleashed massive flooding across the Bahamas on Monday, pummeling the islands with so much wind and water that authorities urged people to find floatation devices and grab hammers to break out of their attics if necessary. At least five deaths were blamed on the storm. "We are in the midst of a historic tragedy," Prime Minister Hubert Minnis said in announcing the fatalities. He called the devastation "unprecedented and extensive."The fearsome Category 4 storm slowed almost to a  standstill as it shredded roofs, hurled cars and forced even rescue crews to take shelter until the onslaught passed.
Officials said they received a "tremendous" number of calls from people in flooded homes. A radio station received more than 2,000 distress messages, including reports of a 5-month-old baby stranded on a roof and a grandmother with six grandchildren who cut a hole in a roof to escape rising floodwaters. Other reports involved a group of eight children and five adults stranded on a highway and two storm shelters that flooded. "Complete devastation" were the words of the man who shot some of the first video Monday morning from the Bahamas, which showed the results of 185 mph maximum sustained winds and gusts up to 220 mph, tying the record for the most powerful Atlantic hurricane to ever make landfall. CONTINUE:
——————————————–
COMPLETE DESTRUCTION ON GRAND BAHAMA ISLAND
Hurricane Dorian with its 185 MPH and 220 MPH gusts, caused such complete destruction of Grand Bahama Island, that not only are most structures gone, much of the island itself no longer exists above sea level!
The photos below (Click twice to enlarge) show the catastrophic results of the Hurricane "stalling" over the island and smashing it with hurricane force winds for over 24 hours:
The "AFTER" photo shows green lines which outline where the land above sea level used to be.  It is possible that once floodwaters recede, part or all of the land may return, but not likely.  The erosion by wind and wind-driven water has likely changed the land forever.
It is hard to imagine such destruction and even harder to imagine anyone surviving.  The death toll among island inhabitants and tourists is expected to be horrifying.
The photos below are coming in from Abaco Island:
The average person does not grasp the destructive power of a hurricane. I do. It is DESTRUCTION like this which drives me to warn folks to evacuate whenever a hurricane is inbound anywhere. That's why I cover these storms from early-on and tell people to either prepare or to get out.
Abaco Island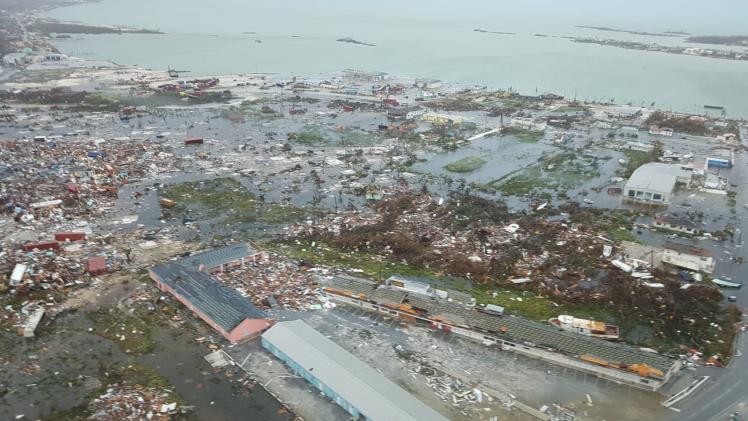 Lots of the public whine that it is "fear-mongering" and say "it's just a little wind and rain"  but it isn't;  I KNOW what these storms can do.   That's why I tell people to get out.  I will continue to do so.
Abaco Island