July 15, 2020: US Rejects China Claim Over South China Sea and Threatens Military Action!
———————————————–
US rejects Chinas claims in S.China Sea,sends warship-China & Iran enter deal-Bad news for Israel

58.3K subscribers
You will hear the following in this Broadcast: -US Navy warship challenges China in South China Sea as US blasts Beijing's 'unlawful' claims and 'gangster tactics' -U.S. rejects China's claims in South China Sea, adding to tensions -China accuses the US of 'invading other countries' territory at will' and 'sailing through the world like a bully' -Iran and China agree to trade and military partnership -Proposed China-Iran deal is bad news for Israel
———————————————–
WarnING to China (July 15,2020) US Send Missiles to Taiwan to Fight China Aggression in South China Sea

133K subscribers
Warn to China (July 15,2020) US Send Missiles to Taiwan to Fight China Aggression in South China Sea Taiwan has a stockpile of missiles that by some estimates is the world's biggest in terms of number per unit of area. These weapons include missiles manufactured in the United States as well as well as locally designed and made products. They also range from air- and sea-launch to land-strike missiles. Missiles are a key element of Taiwan's defence strategy in the face of mainland China's much bigger PLA.
———————————————–
Alert (July 16,20) UK Deploy Aircraft Carriers with 36 F-35 and 4 Warship to Join US Training in SCS

133K subscribers
Alert (July 16,20) UK Deploy Aircraft Carriers with 36 F-35 and 4 Warship to Join US Training in SCS The Royal Navy's brand new £3 billion aircraft carrier HMS Queen Elizabeth will be deployed to the Far East to take part in military dr!lls with the U.S. Navy and Japan. According to reports from the British media the carrier, known as "Big Lizzie," will visit the Far East during a grand maiden voyage and will carry out joint military exercises. However, when it does occur it will be notable as the Royal Navy hasn't had a permanent military or naval presence "East of Suez" since the early days of the Cold W4r. While the Royal Navy once had bases around the world thanks to the fact that the "sun never set on the British Empire," those days are long in the past and that sun has truly set. The Falklands Fight in 1982 was the only recent exception where the Royal Navy operated far from its home waters or near London's few remaining colonial outposts.
———————————————–
Study: Cholesterol Drug May Reduce Risk of COVID-19
———————————————–
The Book of Daniel 1:8-21: The Confidence of Un Compromise

179K subscribers
———————————————–
LATEST NEWS CLIPS – ARTICLES (THURSDAY 16th JULY 2020)
WE PREACH THE BLESSED HOPE FOR THE FUTURE IN JESUS CHRIST OUR SAVIOUR
1Cor. 12:3 Wherefore I give you to understand, that no man speaking by the Spirit of God calleth Jesus accursed: AND THAT NO MAN CAN SAY THAT JESUS IS THE LORD, BUT BY THE HOLY GHOST.
"Behold, I come like a thief! Blessed is he who stays awake and keeps his clothes with him, so that he may not go naked and be shamefully exposed."
"And you know what is restraining him now so that he may be revealed in his time. For the mystery of lawlessness is already at work. Only he who now restrains it will do so until he is out of the way."
REV. 14:12
Here Jesus was alluding to the fact that the Doctrine of Eternal Security WILL EXPIRE WITH THE RAPTURE
Luke 12:37 Blessed are those servants, whom the lord when he cometh shall find watching: verily I say unto you, that he shall gird himself, and make them to sit down to meat, and will come forth and serve them
SO WON'T YOU ACCEPT JESUS NOW AND BE REMOVED FROM THAT EVENT  (OF TRIBULATION) AND LIVE FOREVER WITH JESUS IN THE FAMILY OF GOD?
2 "(For he saith, I have heard thee in a time accepted, and in the day of salvation have I succoured thee: behold, now is the accepted time; behold, now is the day of salvation.)" (2nd Corinthians 2:6)
—————————————————
DAILY CHRISTIAN BIBLICAL QUESTIONS AND ANSWERS:
—————————————————
THE TERMINAL GENERATION
https://gracethrufaith.com/popular-posts-from-the-past/the-terminal-generation-2/
A Bible Study by Jack Kelley
"I tell you the truth, this generation will certainly not pass away until all these things have happened. Heaven and Earth will pass away, but my words will never pass away" (Matt 24:34-35).
As you probably know, Tim LaHaye and Jerry Jenkins wrote a non-fiction book called "Are We Living In The End Times?" in response to the many questions they received from folks who read their "Left Behind" series. Their goal was to provide insights into Biblical prophecy that will help readers conclude that the correct answer to the question raised in their book's title is a resounding Yes! We are living in the End times.
When I read the book I came across a point that I think bears a closer look. This point addresses the length of a Biblical generation and is significant due to the popular (mis)interpretation of Matt 24:34 referenced above. Many folks take this verse to mean that the generation the Lord is referring to is the one being born about the time the signs He's been describing start to appear. Nothing wrong with that, but then they assume that all the signs will appear and the Lord will return within the time span of one generation.
This "one generation" idea has Biblical precedence since all the major prophecies pointing to the first coming were fulfilled within the generation in which the Lord was born. So right away everyone starts speculating on the length of a Biblical generation and that's where the trouble starts.  First of all the terms generation and life span are not equivalent, and Jesus never said the signs would all be fulfilled within the span of one generation, but with in the lifetimes of the generation being born when they begin.
WHAT'S A GENERATION?
In Genesis 15  the Lord told Abraham that his descendants would spend 400 years in Egypt as slaves before coming out with great wealth. And then "in the 4th generation your descendants will come back here (Canaan) for the sin of the Amorites has not yet reached its full measure" (Gen. 15:13-16).
This passage appears to equate 400 years with 4 generations, making a generation 100 years long, but careful study reveals this is not the case. The numbers 400 and 4 refer to two different things. True, the Israelites were in Egypt for about 400 years, but after they left, the generation that finally crossed the Jordan with Joshua was the 4th one that had been born since the birth of Moses.
Here's what happened.  As I said, the Israelites did spend 400 years in Egypt. Near the end of that time the Lord sent Moses to be their deliverer. His birth marked the beginning of the first generation of the deliverance.  But when he was 40 years old he killed an Egyptian soldier who was mistreating an Israelite slave (Acts 7:23).  As this happened the second generation was being born. He fled into the desert of Midian and hid for 40 years (Acts 7:30) until everyone who had known about the murder was dead (Exodus 4:19).  When the Lord sent him back to Egypt he was 80 years old (Exodus 7:6) and the third generation of people was being born.
Moses led the Israelites toward the Promised land. But they rebelled against God and were required to spend 40 years in the wilderness, a year for each day the spies had spent in the Promised Land (Numbers 14:33-34).  God said everyone over 20 years of age would die there (Numbers 14:29).  During their time in the wilderness the fourth generation was born.  And just as the Lord had said, in the fourth generation the Israelites entered the promised land under the command of Joshua, who had succeeded Moses as their leader.
This mystery further unravels with a simple trip to the dictionary, where the length of a generation is defined as "the average interval of time between the birth of parents and the birth of their offspring." These days no one would wait till age 40 to begin having children, but in Biblical times that was often the case.  It took that long for men to learn a trade, build a home, and get themselves financially secure enough to start a family.  And of course the key to the definition lies in the word average, so we know we're dealing with generalities here.
SO WHAT'S THE POINT?
But all this, while interesting, is irrelevant because Matt 24:34 simply says that the generation being born when the  fulfillment of end times signs begins would still be alive at the Lord's return. We've just assumed that meant all the signs would be fulfilled within 40 years or so. The dictionary also defines a generation as a group of individuals born and living at about the same time and this may be the most appropriate definition to use in interpreting Matt 24:34.
The verse doesn't say that no subsequent generations would be born, nor does it say that all the signs would be fulfilled before the birth of the next generation, but rather within the lifetimes of those who are born about the time the fulfilment begins. So we need to look at Biblical revelation to get an idea of the time involved.  As it happens, there is a reference to the length of a person's life.  Psalm 90:10 says the length of our days is 70 years, or 80 if we have the strength.  So there you go.
WHEN'S HE COMING?
In any countdown to the 2nd coming the year 1948 is viewed as the obvious starting point.  (You can read our study on why that's the case here.)  But don't make the mistake so many have made adding only 40 years to 1948 when in fact a better number, based on Biblical evidence, is 70 to 80. That would put the 2nd coming somewhere between 2018 and 2028 and the rapture no less than 7 years earlier, within most of our lifetimes. Keep in mind that the rapture and 2nd coming are only related to the extent that one must precede the other. The Rapture of the church is a secret event that could literally happen any moment now, while there are still several other major events that must occur before the 2nd coming.
It's provocative to note that whether it's a secular or Bible based viewpoint, the most popular estimate for the end of the age is somewhere within the first quarter of this new century. But the real kicker in the Matthew passage we began with is verse 35. "Heaven and Earth will pass away, but my words will never pass away" (Matt 24:35). This is as strong a commitment as you'll find anywhere in Scripture. The Lord will return as promised, and soon. Even Heaven and Earth, two things we think of as absolutely permanent, are not as permanent as His promise. You can almost hear the footsteps of the Messiah.
—————————————————
THIS MAY BE THE TERMINAL GENERATION, BUT GOD HAS A PURPOSE AND A PROMISE OF THINGS TO COME:
(CLICK ON LINK BELOW FOR FURTHER STUDY ON THIS SUBJECT)
—————————————————-
NEWS CLIPS/ARTICLES OBTAINED FROM MANY SOURCES – INCLUDING

Tracking bible prophecy.org
Rapture Ready News
Prophecyupdate.Com
Main News Channels
End Times Headlines
Prophecyupdateblogspot.com
Stevequayle.com
Gracethrufaith.com
Nowtheendbegins.com
Other Christian Sites
(CLICK ON) LATEST DAILY NEWS CLIPS:
ISRAEL NEWS:
THE MIDDLE EAST PEACE PLAN IS "ANTI GOD" – (GOD WILL NOT ALLOW JERUSALEM TO BE DIVIDED).
ZECHARIAH 12:2-3
I AM GOING TO MAKE JERUSALEM A CUP THAT SENDS ALL THE SURROUNDING PEOPLES REELING … Zech. 12:2
WORLD TERRORISM – WARS
GENERAL WORLD NEWS:
WORLD FINANCE:
1Tim. 6:10 For the love of money is the root of all evil: which while some coveted after, they have erred from the faith, and pierced themselves through with many sorrows
MASSIVE EARTH CHANGES/EARTHQUAKES/VOLCANOES ETC:
2Chr. 7:13 If I shut up heaven that there be no rain, or if I command the locusts to devour the land, or if I send pestilence among my people;
2Chr. 7:14 If my people, which are called by my name, shall humble themselves, and pray, and seek my face, and turn from their wicked ways; then will I hear from heaven, and will forgive their sin, and will heal their land
CHRISTIAN AND RELIGIOUS WORLD NEWS:
Matt. 24:9 Then shall they deliver you up to be afflicted, and shall kill you: and ye shall be hated of all nations for my name's sake.
Matt. 24:10 And then shall many be offended, and shall betray one another, and shall hate one another
EXTRA WORLD – ALTERNATIVE NEWS:
Please keep in mind that this collection of News Articles is mainly concerning America, but also take note that what happens in America will also "Dramatically" affect Australia and the rest of the World "Massively".
—————————————————-
WORLD – PROPHETIC NEWS ARTICLES PRESENTATION  (THURSDAY 16th JULY 2020)
MIDDLE EAST AND WORLD WAR LOOMING THE BUILD UP TO PSALM 83  – ISAIAH 17 AND GOG OF MAGOG WARS EZEKIEL 37-38:
THE WHOLE WORLD IS UNSTABLE FINANCIALLY, POLITICALLY, PHYSICALLY, MORALLY, GODLY: – AND BECOMING MORE SO DAILY. (WE ARE IN THE BEGINNING OF SORROWS (MATT 24:8)
THE BIBLE STATES THAT IT WILL ONLY GET WORSE BEFORE THE START OF THE TRIBULATION OF MANKIND – (REVELATION 6)
But before that we have to go through the Birth Pangs, leading up to the Tribulation of Mankind; and I feel that the beginning of Matthew 24 explains that time very well. We are currently in the Birth Pangs (Even though

Matthew 24:

is directed at the Jewish Nation, it still reflects Biblical Prophecy for the whole World at this time):
Matt.

24:6

And ye shall hear of WARS AND RUMOURS OF WARS: see that ye be not troubled: for all these things must come to pass, but the end is not yet.
Matt. 24:7 FOR NATION SHALL RISE AGAINST NATION, AND KINGDOM AGAINST KINGDOM: and there shall be famines, and pestilences, and earthquakes, in divers places.
—————————————————-
GENERAL PROPHETIC NEWS SECTION:
—————————————————–
PREPARING FOR WW3
DON'T LOOK NOW, BUT THIS AIRLINE JUST CANCELLED ALL INTERNATIONAL FLIGHTS UNTIL MARCH 2021 DUE TO COVID – SQ-COVID IS THE EXCUSE, AS ALL NATIONS ARE PREPARING FOR WW3 AND THE ARRIVAL AFTER THE WAR — OF THE MAN OF PEACE – AKA 'THE ANTICHRIST'!
https://www.zerohedge.com/markets/dont-look-now-airline-just-cancelled-all-international-flights-until-march-2021-due-covid?utm
by

Tyler Durden

 – Wed, 07/15/2020 – 01:00
THE PROSPECTS FOR A V-SHAPED RECOVERY IN AIRLINES ARE LOOKING DIM. The latest indication of how slow things are getting back to normal in the industry is Australian-based Qantas Airlines pulling all of its international flights off its website this week. 
The airline is cancelling routes to New Zealand until September 1 and

flights to other international destinations have been cancelled until March 28, 2021 – nearly another year away – according to the Daily Mail. 
Flights are still available through the airline's partner airlines like Emirates, British Airways and Cathay Pacific. But Qantas wants to prevent new bookings from being made on its own airline. Flights that have already been booked will proceed as planned.
The move comes weeks after the airline cut 6,000 jobs, representing 20% of its workforce. The company's CEO has also predicted that international flights wouldn't resume until July 2021. 
"We have never experienced anything like this before – no-one has. All airlines are in the biggest crisis our industry has ever faced," he said last month. "Revenues have collapsed, entire fleets are grounded and the world biggest carriers are taking extreme action just to survive."
The decision to halt international flights comes after the airline's decision to also ground its double decker A380 planes for at least three years and to retire six Boeing 747s. 
Trade Minister Simon Birmingham said in June that Australia's borders would probably remain closed for another 4 months.
————————————————-
https://prophecyupdate.blogspot.com/ – Jonathan C. Brentner
The Clear Prophetic Intent Of The Book Of Revelation
The book of Revelation begins with these words: "The revelation of Jesus Christ." From beginning to end, the book contains Jesus' revelation to us, His church. Unfortunately, many today treat the book as an allegory from which they can pick and choose what is symbolic and what is not and then decide how they will interpret it.
John's choice of words negates the allegorical approach to the book of Revelation. The apostle uses the word "saw" 44 times by itself and 12 times with the word "looked." He uses the word "heard" 30 times to indicate he was writing down words he heard. The apostle purposely used the words of someone communicating God's message based on what he both saw and heard. Those writing allegory do not write as eyewitnesses to events; the apostle confirmed over and over again that he was recording future events as he saw them writing down what he heard at a future time.
Yes, he employs symbolism and imagery in relating Jesus' message about the future. His overriding intent, however, was to tell us specifically what he saw and heard concerning the future, especially during a time of tribulation that will come upon the world. Jesus Himself confirmed that the words of the book as prophecy (Rev. 22:6).
Only pre-millennialism interprets the book of Revelation as future prophecy, which assures us of God's coming judgment of the wickedness in our world.
The Dismissal Of Biblical Prophecy Redirects The Focus Of Believers To The Temporal
Those who deny what the Bible teaches about the millennium and tribulation believe the next prophetic event is Jesus' return at the end of this age to wrap things up, judge humanity, and initiate the eternal state. They give lip service to the immanency of Jesus' return, but neither they nor those listening to them really believe this could happen in their lifetime or during that of their grandchildren or great grandchildren.
As a result, they tend to focus on the things of this world rather than on eternity. "Why watch for Jesus' return if it's still centuries away? Why adopt an eternal outlook on life if I expect to live a lengthy life and then go to be with the Lord after I die? I have plenty of time to think of eternity when I am old."
In stark contrast to such a mindset, the biblical perspective conveys a message of immanency regarding Jesus' appearing. New Testament saints waited for Jesus' appearing with great eagerness (1 Cor. 1:7; Phil. 3:20-21). They watched for Him to come (1 Thess. 1:9-10) just as the Lord told his followers to do (Matt. 24:44, 25:13). The Apostle Paul believed Jesus could return for him in his lifetime (1 Thess. 4:17).
I know some a-millennialists maintain the Apostle Paul's two-world perspective of 2 Corinthians 4:17-18, but they are the exception rather than the norm.
Only pre-millennialism naturally leads to a biblical two-world perspective.
The words of Alva J. McClain in his wonderful work, The Greatness of the Kingdom, sum up the importance of a pre-millennial outlook on our world:
The pre-millennial philosophy of history makes sense. It lays a biblical and rational basis for a truly optimistic view of human history…It says that life here and now, in spite of the tragedy of sin, is nevertheless worth-while; and therefore all efforts to make it better are also worth-while. All the true values of human life will be preserved and carried over into the coming kingdom; nothing worth-while will be lost. Furthermore, we are encouraged in the midst of opposition and reverses by the assurance that help is on the way.
Only premillennialism offers hope for us in a world defined by violence and deception.
Although the Bible reveals the future formation of a totalitarian one-world government, it also tells us that Jesus will destroy it. The book of Revelation assures us that the Lord will severely judge the violence and evil of our day. As for us, we will be with Jesus before the Lord pours out His wrath on this Christ-hating world.
MARANATHA!!
————————————————-
https://prophecyupdate.blogspot.com/ – Khaled Abu Toameh
By courting Hamas, Abbas and Fatah are emboldening an Islamist movement that seeks to extend its control from the Gaza Strip to the West Bank. Hamas's declared goal is to replace Israel with an Iranian-style Islamist state.

Abbas may also be using his renewed ties with Hamas as a way of pressuring the international community into providing him with more financial aid.

Hamas evidently wants to use the West Bank as a launching pad for carrying out terrorist attacks against Israel.

Hamas also does not appear to be headed towards recognizing Israel's right to exist. As such, Abbas seems to be handing Hamas the noose that eventually will be tied around his own neck.

After renouncing all agreements and understandings with Israel and the United States, including security cooperation, Palestinian Authority President Mahmoud Abbas and his ruling Fatah faction are now cozying up to their rivals in Hamas — a move that may prove to be counterproductive and pave the way for the resumption of massive anti-Israel violence.
By courting Hamas, Abbas and Fatah are emboldening an Islamist movement that seeks to extend its control from the Gaza Strip to the West Bank. Hamas's declared goal is to replace Israel with an Iranian-style Islamist state.
Abbas may also be using his renewed ties with Hamas as a way of pressuring the international community into providing him with more financial aid. The message he is sending to Western donors is: "If you don't fully support us and exert pressure on Israel, I will throw myself into the arms of Hamas."
The apparent rapprochement between Fatah and Hamas began earlier this month when the two parties held a joint press interview by video conference, during which they announced their intention to work together to "topple" both Israel's plan to apply its sovereignty to parts of the West Bank and US President Donald Trump's Peace to Prosperity vision for solving the Israeli-Palestinian conflict.
The appearance of Jibril Rajoub, Secretary-General of the Fatah Central Committee, alongside senior Hamas official Saleh Arouri, a founding commander of Hamas's military wing, Izz ad-Din al-Qassam Brigades, was aimed at sending a message to the Palestinians and the rest of the world that when it comes to Israel and the US, the Palestinians are prepared to lay aside their differences and stand united against "conspiracies aiming to liquidate the Palestinian cause and national rights."
There is no question that Hamas members will interpret the appearance of their military commander, Arouri, with a senior Fatah official and close confidant of Abbas as a green light from the PA leadership to launch terrorist attacks against Israel.
Shortly before his appearance wth Rajoub, Arouri said that Hamas believes that "the only way to deal with Israel is through a comprehensive resistance."
In an interview with the Hezbollah-affiliated Al-Mayadeen television station, Arouri said he did not rule out the possibility that the "armed struggle" would return to the West Bank and said that that could happen "sooner than some imagine." He also praised Abbas for halting security coordination with Israel, in a move mainly designed to prevent Hamas from staging a coup against the PA regime.
Instead of distancing himself from Hamas, Abbas has chosen to forge an alliance with a terrorist group whose charter explicitly calls for Jihad (holy war) and the elimination of Israel.
 Instead of working with Israel to prevent Hamas from expanding its control to the West Bank, Abbas has chosen to sever all ties with Israel, including the security coordination that keeps him safe and guarantees his continued control over the PA.
————————————————-
https://prophecyupdate.blogspot.com/ –  Tyler Durden
A heavily modified Chengdu J-20 stealth fighter jet formally entered mass production this month, according to a new report via South China Morning Post (SCMP), who spoke with military sources about the development surrounding the fifth-generation fighter jet with upgraded Russian engines. 
China held a ceremony last week, unveiling the modified J-20B stealth fighter jet. The source said, "production of the J-20B started on Wednesday. It has finally become a complete stealth fighter jet, with its agility meeting the original criteria." 
"The most significant change to the fighter jet is that it is now equipped with thrust vector control," the source said. 
Thrust vector control (TVC) is cutting-edge aviation technology that is currently dominated by the US and Russia, gives these nation's stealth jets better combat capability. 
"TVC involves a movable thrust nozzle that enables a fixed-wing plane to change the direction of its engine exhaust. This allows the pilot to raise the aircraft's nose cone vertically while maintaining forward momentum so the plane effectively "sits" on its own tail in an aerodynamic stall caused by low speed and a high angle of attack.
————————————————-
https://prophecyupdate.blogspot.com/ – Arsenio Toledo
Two churches in Chicago are reporting that city officials have threatened to bulldoze their churches if they do not comply with the city's Wuhan coronavirus (COVID-19) mandates, which currently restrict their ability to hold in-person worship services.
Mat Staver, the founder and chairman of Liberty Counsel and legal representative of the churches, said that the city has classified his clients as "public nuisances" due to their refusal to follow some of the city's coronavirus protocols on religious grounds.
He further said that his clients were served a letter stating that the city has "the power and duty to cause all nuisances affecting the health of the public to be abated." This meant that the city could do everything in its power to make sure that Staver's clients do not hold any in-person religious services for the duration of the pandemic, including the possibility of tearing down the properties should they remain defiant.
During an appearance on the Todd Starnes Radio Show, Staver said that he is seeking an emergency injunction on the city's order for his clients to cease providing their congregation with in-person worship services. The motion for the injunction is headed to the desk of noted Christian and conservative Supreme Court Justice Brett Kavanaugh.
Among the churches hit with the city of Chicago's "summary abatement" orders are the Elim Romanian Pentecostal Church, headed by Reverend Cristian Ionescu, and Metro Praise International headed by Pastor Joe Wyrostek, who told NBC Chicago that he was warned to no longer hold services that have more than 10 people present at his facilities. Ionescu has received similar citations from the city.
Wyrostek further stated that he feels very disappointed because his church was not considered an essential institution, and thus could not remain open at the height of the city's coronavirus lockdown.
Other critics of the city's coronavirus directives have pointed out how Chicago's crime rate is still very high, and how the Chicago Police Department (CPD) is spending an excessive amount of time policing churches and not enough time cracking down on the violence plaguing the city. (Related: Chicago seeking help in identifying 19 persons of interest connected to ARSON ATTACKS during city's engineered riots.)
Staver pointed out during the interview that, in a Facebook Live video filmed outside Ionescu's church, the sounds of sporadic gunfire could be heard in the distance. Todd Starnes, host of the show, said that this was unacceptable.
————————————————-
The World Health Organisation announced Monday that it will not be visiting the Wuhan Institute of Virology during its investigation into the origins of the coronavirus, despite the fact that the lab held samples of coronavirus that were almost exactly the same as that which caused a global pandemic.
The WHO stated that its mission will only seek to "advance the understanding of animal hosts for Covid-19 and ascertain how the disease jumped between animals and humans".
As The Independent notes, the announcement suggests that the theory of the virus being modified or leaking from the lab in Wuhan has already been completely discounted by the WHO.
In addition, the body has refused to provide any details of the locations it will be visiting during its investigation in China.
As The Independent report notes, "It had previously emerged the lab had held a coronavirus sample that was 96.2 per cent the same as Covid-19 for almost a decade. This prompted speculation about the origin of the virus…"
Several prominent researchers and scientists have also noted that the lab must be investigated given this fact.
It also previously emerged that the Wuhan Institute of Virology took a shipment of some of the world's deadliest pathogens just weeks before the outbreak of the coronavirus. It is also known that the lab was tampering with natural pathogens and mutating them to become more infectious.
The latest development comes amid reports that Chinese virologists have fled Hong Kong and effectively defected to the West with evidence against the Chinese Communist Party concerning its role in the COVID-19 pandemic.
The WHO previously complained that it had 'not been invited' by China to investigate the outbreak, and has continually been criticised for propping up Communist Party talking points.
————————————————-
A lot of Americans are assuming that eventually a newly developed COVID-19 vaccine will put an end to this pandemic.  And many of those same people are assuming that all they will have to do is get one shot and they will be protected from the virus for their rest of their lives.  Unfortunately, that is not the way that it is going to work.  As you will see below, the experimental vaccine that is making the most headlines will require two shots, and those two shots will be a month apart.  And because COVID-19 antibodies disappear in just a few months, those that get the vaccine will need a "booster shot" very rapidly after the first two injections, and then another one, and then another one, and then more "booster shots" at regular intervals in perpetuity.  Of course most Americans won't want to submit to an endless series of shots that only provide very brief periods of protection at best, but authorities will be very strongly pushing people to do so. (

READ MORE…

)
————————————————-
https://prophecyupdate.blogspot.com/ – Andrea Widburg
Once upon a time, California's Governor Gavin Newsom, the leftist boy wonder of America's largest and most leftist state, was considered a top future contender for the White House.  That future is not so clear now that he's made it clear to Californians that every time the Wuhan virus rears its head, he's again going to shut down their places of work and imprison them in their homes.
Back in March, as one PBS outlet reported, "California Gov. Gavin Newsom ordered many businesses to temporarily close their doors to create 'social distance' and 'flatten the curve.'"  (Emphasis mine.)  The explanation for these measures was always meant to be a short-term way to keep the pressure off the health care system:
He says officials want to reduce the wave, or curve, of patients that hit the healthcare system at one time.
"One way to think about the health system is that it's there to manage the flow of patient health needs across the population in the same way that a drainage system is there to manage the flow of water that comes from storms," Clemens said.
Sometimes when it storms, those drains aren't able to manage all the rain, and that leads to damaging floods. Picture what could happen when a surge of patients check into doctors offices across the country.
"So the idea behind the social distancing and the flattening out of the curve is an effort to spread out the flow of patients so that it doesn't overwhelm the system like a major storm at any one point in time," Clemens said.
California, though, didn't stop with flattening the curve (nor did other Democrat-run states).  By May, Newsom told people that "temporary" was so yesterday:
"We're not going back to normal," Newsom said during a Tuesday press conference. "It's a new normal, with adaptations and modifications, until we get to immunity and a vaccine."
California did tentatively move forward with opening up, but, as was to be expected, once people were let out of their home prisons (and once prisoners were let out of real prisons), people started getting sick again.  So what did Newsom do?  He reinstated the economic end of California all over again:
At this point, it's unclear if Newsom is imprisoning his citizens without due process because he genuinely believes he must in order to prevent a single Wuhan virus death or if he's still doing so with an eye to depriving Trump of his greatest strength going into the election: the economy.  Whatever the motive, Newsom is ensuring that the California economy sinks ever lower.  (It's worth noting at this point that California's vast wealth his concentrated along the coast and in Sacramento.  The rest of California is a very poor state, which no economic resilience.)
Unfortunately, other states — conservative-run states — are getting in the act, announcing lockdowns all over the place in response to the leftist media's scorn.
The truth is that the curve has long since been flattened.  We know to protect the elderly, we know that the hydroxychloroquine-Azithromycin-Zinc cocktail works if given promptly, and we know how to use ventilators so they help rather than kill people.  Hospitals will not be overwhelmed.  The reason hospitals are filling now is because of all the people denied treatment during the lockdown.
An endless cycle of lockdown and release will not save lives; it will destroy them.  But that's still the road Newsom has chosen for California and that other, equally uncourageous governors, are heading towards with their states.
————————————————-
https://prophecyupdate.blogspot.com/ – Joe Hoft 
Despite reassurances by the government, residents along China's rivers are increasingly worried that the mitigation capabilities of the Three Gorges Dam might fail after heavy rains lashed parts of the country.
Some 141 people are already missing or dead, and nearly 38 million people have been evacuated since alerts were triggered in June about the flooding of 433 rivers nationwide, the country's flood control authorities said on Monday.
Rivers are now over warning levels and residents are worried.  The CCP is sending reassuring comments on the situation but some are skeptical:
…Zhang Jianping, an activist in Jiangsu, is skeptical.
"With hindsight, I think that all those experts who opposed the buildings of the Three Gorges were right," Zhang said on Radio Free Asia. "Since it was built, it has never played a role in preventing flooding or droughts, like we thought it would back then."
Despite protests by residents and environmentalists, the Three Gorges Dam was completed in 2006 after a 12-year build. Millions were displaced as an area of about 600 kilometers was submerged to create the world's largest dam and hydroelectricity facilities.
The Chinese reportedly released water at the Three Gorges Dam to alleviate pressure on the dam related to recent floods:
The problem is that China once claimed the dam would withstand a 10,000 year flood, then a 1,000 year flood and now only a 100 year flood:
Pictures show that the dam is now displaced since it was built (see cover photo above) which has many people scared that it might break.
It's events like this that cause the average observer to doubt the CCP and rely on any data coming out of China, on this and other subjects.
————————————————-
https://prophecyupdate.blogspot.com/ –
Florida health officials left COVID-19 trackers slackjawed on Sunday when it reported more than 15k new infections in just 24 hours on Sunday (the data were gleaned from the prior day). But as hospitalizations surge, questions have grown about whether the state is still trying to 'juke' its data, something that a now infamous whistleblower alleged before she was fired (she has since started her own COVID-19 data portal relying on public info).
Journalists scouring the reams of daily data for discrepancies have apparently happened upon bombshell they had been hoping for: Orlando Health has just confirmed that some of the data it shared over the weekend were wrong, after journalists reported more than 50 labs showing 100% positivity rate, or roughly around there. One local Fox affiliate looked into the numbers and contacted a few of the labs to confirm that their internal data matched the public data released by the state.
As it turned out, some of these discrepancies were pretty extreme: Orlando Health, one of the organizations contacted by Fox, confirmed that it's positivity rate was actually 9.8%, not the 98% that had been reported to the state.
Coronavirus Cases Up The report showed that Orlando Health had a 98 percent positivity rate. However, when FOX 35 News contacted the hospital, they confirmed errors in the report. Orlando Health's positivity rate is only 9.4 percent, not 98 percent as in the report.
The Orlando VA confirmed a similar discrepancy.
The report also showed that the Orlando Veteran's Medical Center had a positivity rate of 76%. A spokesperson for the VA told FOX 35 News on Tuesday that this does not reflect their numbers and that the positivity rate for the center is actually 6 percent.
FOX 35 is still waiting to hear back from the Florida Department of Health about an explanation for these errors. 
Readers can maybe find some comfort in the fact that these errors likely exaggerated the statewide positivity rate, but still: With the state's handling of the response coming under such intense scrutiny – and with Gov DeSantis admitting that reopening bars so quickly was a mistake – sees errors point to a culture of carelessness that Floridians might find extremely discouraging, especially now that their state is home to the new national epicenter (Miami).
Watch the clip below for more from FOX 35.
————————————————-
Federal Reserve Chair Jerome Powell and San Francisco Fed President Mary Daly both recently denied that the Federal Reserve's policies create economic inequality. Unfortunately for Powell, Daly, and other Fed promoters, a cursory look at the Fed's operations shows that the central bank is the leading cause of economic inequality.
The Federal Reserve manipulates the money supply by buying and selling government securities. This means that when the Fed decides to pump money into the economy, it does so by putting it in the pockets of wealthy, and oftentimes politically-connected, investors who are able to spend the new money before the Fed's actions result in widespread inflation.
Wealthy individuals also tend to be among the first to invest in the bubbles that form when the Fed distorts interest rates, which are the price of money. These investors may lose some money when the bubble bursts, but these losses are usually outweighed by their gains, so they end up profiting from the Fed-created boom-bubble-bust cycle.
In contrast, middle-class Americans lose jobs as well as savings, houses, and other assets when bubbles burst. They will also not benefit as much as the rich and well-connected from government bailouts and stimulus schemes. Middle- and working-class Americans also suffer from a steady erosion of their standard of living because of the Fed's devaluation of the currency. This is the reason why so many Americans rely on credit cards to cover routine expenses. The Federal Reserve is thus the reason why total US credit card debt is almost one trillion dollars.
Big-spending politicians are also beneficiaries of the fiat money system. The Fed's purchases of US debt enable Congress to massively increase welfare and warfare spending without increasing taxes to politically unacceptable levels. The people pay for the welfare-warfare state via the Fed's hidden and regressive inflation tax.
Low interest rates also benefit politicians by keeping the federal government's interest payments low. This is an unstated reason why the Fed will keep interest rates near zero or even lower interest rates below zero.
In response to the government-caused economic collapse, the Federal Reserve increased the money supply by about a trillion dollars from mid-April to early June. In contrast, it took the Fed all of 2019 to grow the money supply by 921 billion dollars. Even before the lockdown, the Fed was massively intervening in the economy in a futile attempt to prevent economic crisis.
A coming crisis will likely be triggered by a collapse in the dollar's value and a rejection of the dollar's world reserve currency status. The economic collapse will be worse than the Great Depression. This will result in widespread violence along with government crackdowns on liberties, accelerating the US slide into authoritarianism. The only way to avoid this is for Congress to make drastic cuts in spending — starting with defunding the military-industrial complex — and to audit then end the Fed.
————————————————-
MULTIPLES VOLCANOES ERUPTING AROUND THE WORLD ALONG WITH HUNDREDS OF QUAKES STRIKING NEAR OR UNDER LAVA CRATERS
https://endtimeheadlines.org/2020/07/multiples-volcanoes-erupting-around-the-world-along-with-hundreds-of-quakes-striking-near-or-under-lava-craters/ – Jul 14, 2020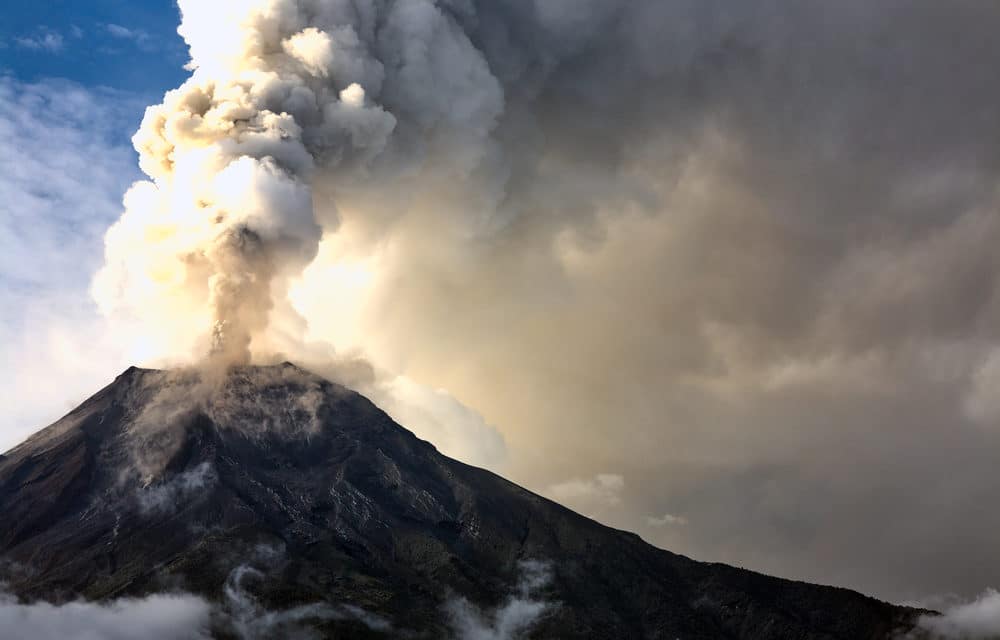 (ETH) – The earth continues to groan from unrest as volcanic unrest is picking up around the world with at least twenty-six volcanoes reportedly across the globe and thirteen volcanoes showing enhanced activity.
————————————————-
7,000 CHRISTIANS CRY OUT TO GOD IN THE STREETS OF SAN DIEGO FOR AMERICA
https://endtimeheadlines.org/2020/07/7000-christians-cry-out-to-god-in-the-streets-of-san-diego-for-america/ – Jul 14, 2020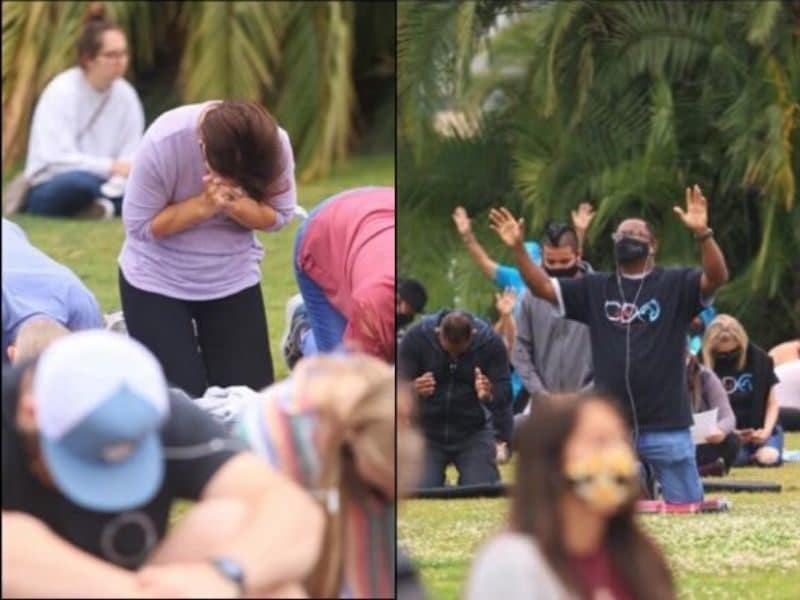 (ETH) – At least 7,000 Christians recently filled the streets of San Diego praying for America. And another 8,500  tuned in to the online broadcast services amounting to more than 15,000 crying out to God and of course the Main Stream Media was silent on this taking place.
According to the report from GOD tv, Pastor Miles McPherson led the frontlines using prayers as his weapon in combating against chaos and political confusion in the country. The senior pastor of Rock Church in San Diego gathered his members and partnered with over 135 other churches and 148 pastors leading to start a movement called "We Pray San Diego".
The report went on to state that on June 20th, the gathering took place at 11 locations in the city, including San Diego, Oceanside, San Marcos, Carmel Mountain Ranch, Chula Vista, Spring Valley, San Carlos, and Santee. With Prostrating, lifting their hands, and kneeling down before God, it literally pictures a city on its knees.
Witnesses say that for one hour, the people sang praises and laid hands on and prayed for strangers. Together, in unity, they all cried out for healing, peace, joy, and unity to pour out in the community.
"We just want to bring the love of God and the power of God in every community in San Diego and all the people to bring us all together," McPherson said. He added, "God can heal all of the unrest. He can bring good out of evil and good out of pain. We're going to see, I believe, a transformation of San Diego and our country as we go through this."
————————————————-
On This Day In History In 1555, Roman Catholic Pope Paul IV Issued A Papal Decree Forcing The Jews Of Rome Into A Ghetto Like Adolf Hitler Later Did
https://www.nowtheendbegins.com/july-14-1555-roman-catholic-pope-paul-iv-issued-papal-decree-forcing-jews-of-rome-into-ghetto-adolf-hitler/ – by Geoffrey Grider July 14, 2020
In the bible, 5 is the number of death. Lucifer was the 5th covering cherub, Jesus had 5 bleeding wounds, David had 5 smooth stones to kill Goliath and his 4 brothers, Adam lost his 5th rib to create Eve, and the list goes on and on. But to have a year with triple 5's and a Roman Catholic pope like Pope Paul IV ordering Jews into a ghetto, that is prophetic. God warned the Jews that, because of their disobedience to Him, they would be "scattered to the four corners" of the world and be trodden down of their enemies. Pope Paul IV, in a stunning prefiguring of Adolf Hitler, rounded up the Jews and forced them into ghettos. And speaking of Hitler, he was a 'triple 5' man as well, take a look.
SHARE THIS IMPORTANT NTEB ARTICLE:
On July 14, 1555, Pope Paul IV issued his bull "Cum nimis absurdum," which subjected the Jews under his dominion to a long list of restrictions and humiliations, most notably the requirement that the Jews of Rome live within a closed area. This became the Rome Ghetto, the mandatory home of the city's Jews until its abolishment in 1870.
This story is fascinating for a variety of reasons, one especially from a numerical perspective. Today is the 465th anniversary of the day that the Roman Catholic Pope Paul IV issued his infamous papal decree forcing all the Jews of Rome into a ghetto. It is for reasons just like this why we say that the Roman Catholic religion IS NOT CHRISTIAN, and is not biblical, if it were, the Roman Catholic popes would love the Jews, which clearly they do not. Secondly, let's take a look at the year 1555.
"For I would not, brethren, that ye should be ignorant of this mystery, lest ye should be wise in your own conceits; that blindness in part is happened to Israel, until the fullness of the Gentiles be come in. And so all Israel shall be saved: as it is written, There shall come out of Sion the Deliverer, and shall turn away ungodliness from Jacob: For this is my covenant unto them, when I shall take away their sins." Romans 11:25-27 (KJB)
In the bible, 5 is the number of death. Lucifer was the 5th covering cherub, Jesus had 5 bleeding wounds, David had 5 smooth stones to kill Goliath and his 4 brothers, Adam lost his 5th rib to create Eve, and the list goes on and on. But to have a year with triple 5's and a Roman Catholic pope like Pope Paul IV ordering Jews into a ghetto, that is prophetic. God warned the Jews that, because of their disobedience to Him, they would be "scattered to the four corners" of the world and be trodden down of their enemies. God told them they would be hunted down as the prophet Jeremiah warned.
"Behold, I will send for many fishers, saith the LORD, and they shall fish them; and after will I send for many hunters, and they shall hunt them from every mountain, and from every hill, and out of the holes of the rocks. For mine eyes are upon all their ways: they are not hid from my face, neither is their iniquity hid from mine eyes." Jeremiah 16:16,17 (KJB)
The Jewish people have no bigger enemy than any Roman pope over the last 1,700 years. Pope Paul IV, in a stunning prefiguring of Adolf Hitler, rounded up the Jews and forced them into ghettos. And speaking of Hitler, he was a 'triple 5' man as well, take a look.
7 WAYS THAT ADOLF HITLER WAS A PERFECT TYPE OF THE COMING BIBLICAL ANTICHRIST
1555: Roman Catholic Pope Paul IV Orders Jews to Live in a Ghetto
FROM HAARETZ

:

Pope Paul IV (1476-1559) was an unusually rigid and intolerant pontiff. He had been the leading figure in the establishment of a Roman Inquisition in 1542 (the papal bull that created the Inquisition stated, "Even if my own father were a heretic, I would gather the wood to burn him"), and had overseen the burning of the Talmud in Rome in 1553.
Less than two months after his ascent to the papacy on May 23, 1555, he issued "Cum nimis absurbum" – meaning literally, "Because it is completely senseless " After those opening words, the proclamation continues: "and inappropriate to be in a situation where Christian piety allows the Jews (whose guilt — all of their own doing — has condemned them to eternal slavery) access to our society and even to live among us" before laying a long and detailed list of restrictions on Jewish life.
The first in the list of rules was one requiring all Jews in any given town to live in a single district, which was to be enclosed with a wall, and locked at night. The Jews were not allowed to own any property in the ghetto, and were permitted to have but a single synagogue for prayer. Any others that existed at the time of the promulgation of the bull were to be destroyed. Jews were obligated to identify themselves with a yellow head-covering. Professionally, they were limited to the rag trade, unless they were trained physicians, in which case they were forbidden from tending to Christians. They were also prohibited from working on Sundays or on Christian feast days, among other restrictions.
The Roman Ghetto was established on the banks of the Tiber river, one of the least desirable sections of the city, if only because of its tendency to flood when the river's waters rose. The Jews, who had their own dialect, called Giudeo-romanesco, had to finance its construction, which was designed by architect Giovanni Sallustio Peruzzi. Initially, it could be entered or departed by only two gates, although by the time the walls were demolished, in the 19th century, that number had increased to eight. Since the area of the ghetto could not expand, the only way to add living space was to build up, to as high as seven stories. This helped to block the sun, making the ghetto a dark space.
On the positive side, Christian landlords could not evict their Jewish tenants, nor could they raise rents. At the same time, the Jews were required to go through an annual ritual by which they requested permission to reside in the ghetto, a privilege for which they also had to pay a tax. Before that procedure was instituted, the Jews had to participate as performers in an annual carnival of humiliation.
The abolishment of the Roman Ghetto took place over a period of nearly a century, beginning with the brief period in 1798-99 when the Papal States were overtaken by the Italian Republic. Again in the mid-1800s, there was a period when Jews were permitted to live outside the ghetto, but this too was temporary. Finally, in 1882, 12 years after the final abolition of the Papal States, the ghetto, the last remaining one in Europe, was formally abolished and its walls torn down.

READ MORE

:
 International Holocaust Remembrance Day from the Ghetto in Rome
The Roman Ghetto was established as a result of Papal bull Cum nimis absurdum, promulgated by Pope Paul IV on 14 July 1555. The bull also required the Jews of Rome, which had existed as a community since before Christian times and which numbered about 2,000 at the time, to live in the ghetto. The ghetto was a walled quarter with three gates that were locked at night. The wall was built under the direction of the architect Giovanni Sallustio Peruzzi. The money for its construction — 300 scudi — had to be paid by the Jewish community. The area of Rome chosen for the ghetto was the most undesirable quarter of the city, subject to constant flooding by the Tiber River. At the time of its founding, the four-block area was expected to contain roughly 1,000 inhabitants.
NOW THE END BEGINS IS YOUR FRONT LINE DEFENCE AGAINST THE RISING TIDE OF DARKNESS IN THE LAST DAYS BEFORE THE RAPTURE OF THE CHURCH
————————————————
JESUS CHRIST RETURN FOR HIS CHURCH IS "IMMINENT"
Matt. 7:27 And the rain descended, and the floods came, and the winds blew, and beat upon that house; and it fell: and great was the fall of it.
Matt. 24:38 For as in the days that were before the flood they were eating and drinking, marrying and giving in marriage, until the day that Noe entered into the ark,
Matt. 24:39 And knew not until the flood came, and took them all away; so shall also the coming of the Son of man be
——————————————–
DON'T WAIT FOR THE LAST MINUTE
We are currently in the "Birth Pangs" pending the coming "7 year TRIBULATION" period, where all the Nations on Earth will be subject to God's Wrath on an "UNGODLY" World. The Rapture of Jesus Christ Church is "TOTALLY" imminent; And what will follow after that will be massively more devastating that we are seeing right now (Read Revelation Ch 6 – 22) God is trying to get everyone's attention to the coming Judgments; He does not want "ANYONE" to perish, but all to come to repentance. He loves us, but will not stand idly by and watch the World, (His Creation) turn to sin and debauchery). We are currently living in a fallen "Satanic" World where "EVIL", is totally accepted, "and God and his Love for his Church": is being exponentially rejected. The time has come when God HAS TO intervene, and he is (The prophetic word listed in his Word the Bible is being fulfilled exponentially).
——————————————————
THE NEW WORLD ORDER:
ONE WORLD GOVERNMENT – ONE WORLD ECONOMIC SYSTEM – ONE WORLD RELIGION
Dan. 9:27 And he shall confirm the covenant with many for one week: and in the midst of the week he shall cause the sacrifice and the oblation to cease, and for the overspreading of abominations he shall make it desolate, even until the consummation, and that determined shall be poured upon the desolate
Dan. 7:24 And the ten horns out of this kingdom are ten kings that shall arise: and another shall rise after them; and he shall be diverse from the first, and he shall subdue three kings
Rev. 17:12 And the ten horns which thou sawest are ten kings, which have received no kingdom as yet; but receive power as kings one hour with the beast