Unprecedented World Events…The Bible Warned Us Of These Days!

278K subscribers
 

Please Help Support This Ministry:

https://www.paypal.me/watchman1963

Cash App : $watchman1963 Please subscribe to my backup channel:

https://www.youtube.com/channel/UC4nc…

Current Events Linked To Biblical Prophecies. Everything is unfolding just as the bible foretold. Wars, Volcanic Eruptions, Earthquakes, Extreme Weather, Christian Persecution, Violence and more!
Matthew 24:3-14 3 Now as He sat on the Mount of Olives, the disciples came to Him privately, saying, "Tell us, when will these things be? And what will be the sign of Your coming, and of the end of the age?" 4 And Jesus answered and said to them: "Take heed that no one deceives you. 5 For many will come in My name, saying, 'I am the Christ,' and will deceive many. 6 And you will hear of wars and rumours of wars. See that you are not troubled; for all these things must come to pass, but the end is not yet.
7 For nation will rise against nation, and kingdom against kingdom. And there will be famines, pestilences,[b] and earthquakes in various places. 8 All these are the beginning of sorrows. 9 "Then they will deliver you up to tribulation and kill you, and you will be hated by all nations for My name's sake. 10 And then many will be offended, will betray one another, and will hate one another.
11 Then many false prophets will rise up and deceive many. 12 And because lawlessness will abound, the love of many will grow cold. 13 But he who endures to the end shall be saved. 14 And this gospel of the kingdom will be preached in all the world as a witness to all the nations.
—————————————————-
Turkey launches cross-border offensive into Syria – TV7 Israel News 21.02.20

 

Today's top stories 21.02.20; 1) Following days of mounting tensions, intense battles erupted in Syria's northwestern Idlib region when the Turkish military launched a cross-border offensive against Syrian regime forces. 2) The United States voices concern over increased prospects of "a more extensive conflict" between Russia and Turkey. 3) A cessation of terror-related activities from the Hamas-controlled Gaza Strip has come to an end today, when several clusters of balloons rigged with explosives were located in southern Israel.
—————————————————-
US Troops Attacked In Syria As World War Prophecy Rises—Signs of the Last Days

39.7K subscribers
 

In Syria, US troops were attacked, and for the first time, nation state has attacked nation state in Syria, as Revelation Prophecy signs of worst World War ever at Euphrates River are rising. Support this ministry so we can continue sharing signs of Biblical prophecy to the world, donate here:

https://signsofthelastdays.org/produ

c…
—————————————————-
Fighting in NW Syria pulls in Russian & Turkish forces-Turkey tells US:Send Patriot System

56.8K subscribers
 

You will hear the following in this Broadcast: -Flare-up in fighting in northwest Syria pulls in Russian, Turkish forces -Turkish minister says U.S. may send Patriot systems to Turkey to use in Syria's Idlib -Turkey will activate Russian S-400 missile systems: minister -Russian warplanes repel attack on Syrian army in Idlib as militants launch offensive aided by Turkish artillery — Moscow -Turkish soldiers killed in Syria amid threats of escalation
—————————————————-
Earth's Poles Are Behaving Strangely

141K subscribers
 

February 19, 2020: The Arctic is suddenly seeing a dramatic increase in sea ice, while Antarctica is seeing record heat and a sharp decline in the overall extent of the glacial ice shelves.
—————————————————-
LATEST NEWS CLIPS – ARTICLES SATURDAY 22nd FEBRUARY 2020
WE PREACH THE BLESSED HOPE FOR THE FUTURE IN JESUS CHRIST OUR SAVIOUR
1Cor. 12:3 Wherefore I give you to understand, that no man speaking by the Spirit of God calleth Jesus accursed: AND THAT NO MAN CAN SAY THAT JESUS IS THE LORD, BUT BY THE HOLY GHOST.
"Behold, I come like a thief! Blessed is he who stays awake and keeps his clothes with him, so that he may not go naked and be shamefully exposed."
"And you know what is restraining him now so that he may be revealed in his time. For the mystery of lawlessness is already at work. Only he who now restrains it will do so until he is out of the way."
—————————————-
JESUS CHRIST RETURN FOR HIS CHURCH IS "IMMINENT"
Matt. 7:27 And the rain descended, and the floods came, and the winds blew, and beat upon that house; and it fell: and great was the fall of it.
Matt. 24:38 For as in the days that were before the flood they were eating and drinking, marrying and giving in marriage, until the day that Noe entered into the ark,
Matt. 24:39 And knew not until the flood came, and took them all away; so shall also the coming of the Son of man be
——————————————–
DON'T WAIT FOR THE LAST MINUTE
We are currently in the "Birth Pangs" of the coming "7 year TRIBULATION" period, where all the Nations on Earth will be subject to God's Wrath on an "UNGODLY" World. The Rapture of Jesus Christ Church is "TOTALLY" imminent; And what will follow after that will be massively more devastating that we are seeing right now (Read Revelation Ch 6 – 22) God is trying to get everyone's attention to the coming Judgements; He does not want "ANYONE" to perish, but all to come to repentance. He loves us, but will not stand idly by and watch the World, (His Creation) turn to sin and debauchery). We are currently living in a fallen "Satanic" World where "EVIL", is totally accepted, and God and his Love is being exponentially rejected. The time has come when God HAS TO intervene, and he is (The prophetic word listed in his Word the Bible is being fulfilled exponentially).
——————————————-
Rom. 1:18 For the wrath of God is revealed from heaven against all ungodliness and unrighteousness of men, who hold the truth in unrighteousness;
Rom. 2:5 But after thy hardness and impenitent heart treasurest up unto thyself wrath against the day of wrath and revelation of the righteous judgment of God
Eph. 5:6 Let no man deceive you with vain words: for because of these things cometh the wrath of God upon the children of disobedience.
Col. 3:6 For which things' sake the wrath of God cometh on the children of disobedience:
James 1:20 For the wrath of man worketh not the righteousness of God.
Rev. 14:10 The same shall drink of the wine of the wrath of God, which is poured out without mixture into the cup of his indignation; and he shall be tormented with fire and brimstone in the presence of the holy angels, and in the presence of the Lamb:
Rev. 14:19 And the angel thrust in his sickle into the earth, and gathered the vine of the earth, and cast it into the great winepress of the wrath of God.
——————————————–
Luke 21:25 And there shall be signs in the sun, and in the moon, and in the stars; and upon the earth distress of nations, with perplexity; the sea and the waves roaring;
Luke 21:26 Men's hearts failing them for fear, and for looking after those things which are coming on the earth: for the powers of heaven shall be shaken
Luke 12:37 Blessed are those servants, whom the lord when he cometh shall find watching: verily I say unto you, that he shall gird himself, and make them to sit down to meat, and will come forth and serve them
—————————————-
SO WON'T YOU ACCEPT JESUS NOW AND BE REMOVED FROM THAT EVENT  (OF TRIBULATION) AND LIVE FOREVER WITH JESUS IN THE FAMILY OF GOD THIS WORLD IS IN "DISTRESS" AND IT WILL SOON BE IN TRIBULATION?
2 "(For he saith, I have heard thee in a time accepted, and in the day of salvation have I succoured thee: behold, now is the accepted time; behold, now is the day of salvation.)" (2nd Corinthians 2:6)
——————————————-
DAILY CHRISTIAN BIBLICAL QUESTIONS AND ANSWERS:
——————————————-
DEAD SEA BLOOMS FLORAL WONDERLAND FOR FIRST TIME PROMPTING BIBLICAL PROPHECY 

FULFILMENT
https://endtimeheadlines.org/2020/02/dead-sea-blooms-floral-wonderland-for-first-time-prompting-prophecy-fulfillment/Feb 20, 2020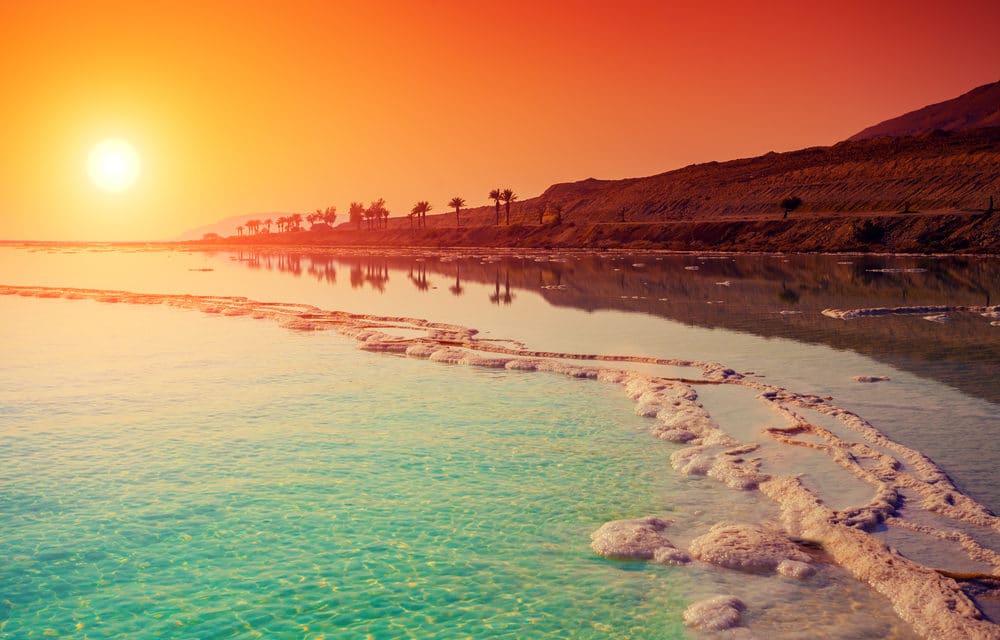 OPINION (ETH) – Last month, I reported on how we have seen multiple events converging quickly in 2020 regarding the Nation of Israel and the fulfilment of Bible Prophecy. Now we are getting reports out of Israel of yet another event that many are claiming is a fulfilment of Bible Prophecy.
For those who have visited the lowest point on the face of the earth, Ezekiel's end-of-days prophecy of the Dead Sea coming to life seems impossible, yet recently, scientists have been shocked to discover that the sinkholes appearing around the sea are quickly filling up with fish and other forms of life previously unseen in the inhospitable region. The Dead Sea has reportedly bloomed a colourful floral landscape for the first time prompting many to say it is is fulfilling a prophecy from the Book of Ezekiel.
And now, another rare life form has been witnessed across the northern shoreline of the Dead Sea – colourful floral landscapes. Thanks to Israel's record rains, the breathtaking flower trails have sprouted from the cliffs to the shoreline of the Northern Dead Sea area. The four-mile stretch from Kibbutz Kalya to Ovnat is alive with newly formed fields of annual species whose seeds can lay dormant in the desert for years until there is enough water for them to sprout.
Known as the Dead Sea in English because of its hypersaline environment (37% salinity – almost ten times saltier than the ocean) and scarcity of aquatic life, Israeli photojournalist Noam Bedein of the Dead Sea Revival Project says that the term Dead Sea – "a political term used mostly by the Romans" – is a misnomer.

MORE

:
Singing Mountains And Clapping Trees
https://gracethrufaith.com/ask-a-bible-teacher/singing-mountains-and-clapping-trees/
QUESTION:    "The mountains and the hills shall break forth before you into singing, and all the trees of the field shall clap their hands." (Isaiah 55:12)
Is this the new Jerusalem? When we are completely free from sin, and put on Christ completely and be like Him as He is, will we have power and closeness to the creation where we hear mountains/hills sing and trees clap their hands? To think all material things that bring joy but not everlasting is to be replaced with creation makes my heart leap. Surely to hear a mountain speak must be simply divine.
ANSWER:    Sorry, Isaiah 55:12-13 is not about the Church or the New Jerusalem. It speaks of Israel's Kingdom Age on Earth as God's people finally return to their ancient land for good, their preeminent position among the nations of Earth restored.
After the curse is lifted and peace is restored to the creation, we'll see all kinds of grand and glorious changes; the desert blooming (Isaiah 35:1-2), the Dead Sea teeming with fish (Ezekiel 47:9-10) trees bearing fruit each month with leaves that can heal people (Ezekiel 47:12), and even singing mountains and clapping trees.
————————————————–
NEWS CLIPS OBTAINED FROM MANY SOURCES – INCLUDING

Tracking bible prophecy.org
Rapture Ready News
Prophecyupdate.Com
Main News Channels
End Times Headlines
Prophecyupdateblogspot.com
Stevequayle.com
Gracethrufaith.com
Nowtheendbegins.com
Other Christian Sites
(CLICK ON) LATEST DAILY NEWS CLIPS:
ISRAEL NEWS:
THE MIDDLE EAST PEACE PLAN IS "ANTI GOD" – (GOD WILL NOT ALLOW JERUSALEM TO BE DIVIDED).
ZECHARIAH 12:2-3
Zech. 12:2 Behold, I will make Jerusalem a cup of trembling unto all the people round about, when they shall be in the siege both against Judah and against Jerusalem.
Zech. 12:3 And in that day will I make Jerusalem a burdensome stone for all people: all that burden themselves with it shall be cut in pieces, though all the people of the earth be gathered together against it
WORLD TERRORISM – WARS
GENERAL WORLD NEWS:
WORLD FINANCE:
Rev. 6:6 And I heard a voice in the midst of the four beasts say, A measure of wheat for a penny, and three measures of barley for a penny; and see thou hurt not the oil and the wine
MASSIVE EARTH CHANGES/EARTHQUAKES/VOLCANOES ETC:
2Chr. 7:13 If I shut up heaven that there be no rain, or if I command the locusts to devour the land, or if I send pestilence among my people;
2Chr. 7:14 If my people, which are called by my name, shall humble themselves, and pray, and seek my face, and turn from their wicked ways; then will I hear from heaven, and will forgive their sin, and will heal their land
CORONAVIRUS NEWS CLIPS:
CHRISTIAN AND RELIGIOUS WORLD NEWS:
Matt. 24:9 Then shall they deliver you up to be afflicted, and shall kill you: and ye shall be hated of all nations for my name's sake.
Matt. 24:10 And then shall many be offended, and shall betray one another, and shall hate one another
————————————————-
WORLD – PROPHETIC NEWS ARTICLES PRESENTATION SATURDAY 22nd FEBRUARY 2020
MIDDLE EAST AND WORLD WAR LOOMING THE BUILD UP TO PSALM 83  – ISAIAH 17 AND GOG OF MAGOG WARS EZEKIEL 37-38:
THE WHOLE WORLD IS UNSTABLE FINANCIALLY, POLITICALLY, PHYSICALLY, MORALLY, GODLY: – AND BECOMING MORE SO DAILY. (WE ARE IN THE BEGINNING OF SORROWS (MATT 24:8)
THE BIBLE STATES THAT IT WILL ONLY GET WORSE BEFORE THE START OF THE TRIBULATION OF MANKIND – (REVELATION 6)
But before that we have to go through the Birth Pangs, leading up to the Tribulation of Mankind; and I feel that the beginning of Matthew 24 explains that time very well.
Matt. 24:6 And ye shall hear of WARS AND RUMOURS OF WARS: see that ye be not troubled: for all these things must come to pass, but the end is not yet.
Matt. 24:7 FOR NATION SHALL RISE AGAINST NATION, AND KINGDOM AGAINST KINGDOM: and there shall be famines, and pestilences, and earthquakes, in divers places.
————————————————-
GENERAL PROPHETIC NEWS SECTION:
————————————————-
https://prophecyupdate.blogspot.com/ – By Jack Kinsella
"But as the days of Noe were, so shall also the coming of the Son of man be." (Matthew 24:37)
"They did eat, they drank, they married wives, they were given in marriage, until the day that Noe entered into the ark, and the flood came, and destroyed them all. " (Luke 17:27)
To get a look at that distant, future, generation who would witness the return of Christ, Jesus tells us to look to that distant, past generation that experienced the judgement of the Great Flood.
"Likewise also as it was in the days of Lot; they did eat, they drank, they bought, they sold, they planted, they builded; But the same day that Lot went out of Sodom it rained fire and brimstone from heaven, and destroyed them all." (Luke 17:29)
Let's connect some more dots. Genesis Chapter 6 describes the most direct and unfettered contact between human beings in general and the spirit world recorded in the entire Bible — other than the Book of the Revelation's description of the Tribulation Period.
Additionally, Genesis tells us that "God saw that the wickedness of man was great in the earth, and that every imagination of the thoughts of his heart was only evil continually."
It can be argued that television is imagination in a box. There, we vicariously live out all our dreams and fantasies. Somewhere on the cable dial, there is something for the imagination of everybody's heart…
So take a look at what is the imagination of the thoughts of THIS generation's heart. It won't take long. Pick up your remote and scroll through the cable listings. (I'll wait.)
Popular culture today is full of the use of spirit guides, alien encounters, and open satanic worship.
A similar, but seldom-noted parallel between the unholy offspring of Genesis 6 and this generation is DNA and cloning research. In Genesis chapter 2, God promises a Redeemer who would be of the 'seed of a woman'.
Satan therefore set out to pollute the human bloodline to prevent this prophecy from being fulfilled. The corruption of the human race was the main reason for the Flood. And we are in the process of corrupting it again — as it was in the days of Noah.
Jesus uses the story of the evacuation of Lot's family before judging Sodom and Gomorrah to illustrate the Rapture of the Church — before the judgment of the Tribulation Period.
"Knowing this first, that there shall come in the last days scoffers, walking after their own lusts. And saying, Where is the promise of His coming? for since the fathers fell asleep, all things continue as they were from the beginning of the creation. " (2 Peter 3:2-3)
I love this argument for its utter stupidity. The Lord hasn't come back, which somehow proves He won't come back. Peter doesn't call it 'stupid', he calls it 'willing ignorance' but it means the same thing.
"For this they willingly are ignorant of, that by the word of God the heavens were of old, and the earth standing out of the water and in the water: Whereby the world that then was, being overflowed with water, perished."
About the only thing in modern culture that raises eyebrows is Biblical Christianity.
While other Christians scoff, or argue that the Church has replaced Israel in God's Plan, that they've been hearing 'for ages' that the Lord is coming back, or that prophecy was all fulfilled back in AD 70, keep this thought in mind.
God has chosen a few out of this generation to be the watchmen on the wall. Most churches have their 'prophecy nuts'. Recognize what that term really describes.
It describes a relative handful of Christians — out of this vast, unique generation — who have been specifically and directly chosen by God to give the warning of His soon return.
And out of all the generations of Christians — from the Resurrection of Christ and down through the centuries — out of all the nations on all the continents, right down to all the people in your church, He chose . . . you.
"Ye therefore, beloved, seeing ye know these things before, beware lest ye also, being led away with the error of the wicked, fall from your own stedfastness. But grow in grace, and in the knowledge of our Lord and Saviour Jesus Christ. To Him be glory both now and for ever. Amen. " (2nd Peter 3:17-18)
Wow.
—————————————————
https://prophecyupdate.blogspot.com/ –
A balloon apparently carrying the warhead of a rocket-propelled grenade was found near a house in the city of Ashkelon Friday morning. It was apparently flown across the border from the Gaza Strip.
Police sappers were called to the scene to defuse the suspect device. No one was hurt in the incident.
A similar balloon carrying an RPG was found in southern Israel on Tuesday. The warhead was found outside the community of Alumim. There have been several cases of RPGs being attached to balloons in recent weeks. Balloons regularly carry improvised bombs and incendiary devices from Gaza into Israel.
Palestinian terrorists in the Gaza Strip began sending clusters of balloons and kites into Israel laden with explosives beginning in 2018. The practice has waxed and waned over that time, but has picked up considerably in recent weeks, with dozens of such balloon-borne bombs landing in towns and farming communities adjacent to the Palestinian enclave.
Also on Tuesday, Prime Minister Benjamin Netanyahu said the military was planning a "big surprise" for Hamas if the terrorist group failed to rein in violence aimed at southern Israel, amid reports that Israel was contemplating the assassination of two senior Hamas leaders.
—————————————————
https://prophecyupdate.blogspot.com/ – Raphael Ahren
The notion that "Palestine" is a full-fledged state that can grant jurisdiction to the International Criminal Court was dealt a serious blow over the past week, as seven countries and many scholars of international law argued that the issue was not as simple as the Palestinians and their supporters would like to make it seem.
Even some countries that have formally recognized the "State of Palestine" along the pre-1967 lines argued that Palestine cannot necessarily be considered to have validly granted the ICC jurisdiction to probe war crimes allegedly committed on its territory.
Germany, Australia, Austria, Brazil, the Czech Republic, Hungary and Uganda last week submitted written documents to The Hague, each asking to become an amicus curiae — a "friend of the court" that is not a party to the case but wants to offer its views. They all posited that Palestine cannot transfer criminal jurisdiction over its territory to The Hague.
Not a single country filed a request to argue the opposite.
"I have spoken with several leaders from these countries and, along with international organizations and leading experts in the world, they have expressed a clear stand that the international court has no authority to discuss the conflict between the State of Israel and the Palestinians," Prime Minister Benjamin Netanyahu said Sunday.
"The fact that many countries have lined up alongside us… is a fact that certainly needs to encourage every friend of Israel around the world and every citizen of Israel."
"Issues like the fact that recognition can be symbolic [but] not legal, that the territory of the Palestinian entity is undetermined and subject to negotiation, and just the exceptional degree of controversy and uncertainty surrounding this entire question, all make the case for ICC jurisdiction highly doubtful even for recognizing states," he said.
Israel has long argued that the ICC lacks jurisdiction over the case not least because there is no sovereign Palestinian state that could delegate to the court criminal jurisdiction over its territory and nationals.
While not a single country filed such a request arguing in favor of jurisdiction, the Arab League and the Organization of Islamic Cooperation did submit amicus curiae observations saying that Palestine is of course a sovereign nation and that the ICC can proceed with launching an investigation into the Israeli-Palestinian conflict.
"The [Arab] League would submit that, as a matter of international law, the State of Palestine is the sole sovereign over this territory. The status of occupation over the territory of Palestine has been universally recognized," the Cairo-based organization said in its application.
The Organisation of Islamic Cooperation, which is headquartered in Jedda, Saudi Arabia, said it would highlight the "historical aspects of the Question of Palestine and the injustices the Palestinian people have been subject to," including the 1917 Balfour Declaration and 1947 UN Partition Plan, "which determined the historical founding contours of the State of Palestine and Palestinian sovereignty rights."
But these umbrella groups mainly represent themselves and not their member states, very few of which are members of the court, and can be expected to influence the three judges of the pre-trial chamber much less than the powerful and democratic Western nations that spoke out against the court's jurisdiction.
—————————————————
https://prophecyupdate.blogspot.com/ –
The South Korean city of Daegu was facing an "unprecedented crisis" after coronavirus infections that centred on a controversial "cult" church surged to 38 cases, accounting for nearly half of the country's total.
The city of 2.5 million people, which is two hours south of the capital Seoul, was turned into a ghost town after health officials said the bulk of country's 31 new cases announced on Thursday were linked to a branch of the Shincheonji Church of Jesus.
"We are in an unprecedented crisis," Daegu's mayor, Kwon Young-jin, told reporters.
He ordered the shutdown of all kindergartens and public libraries, according to the news agency Yonhap. Schools in the city were considering postponing the beginning of the spring term scheduled for early March.
Shopping malls and movie theatres were empty and the usually busy city centre streets were quiet. A concert featuring BTS and other K-pop stars that was set for Daegu Stadium on 8 March has been postponed.
The defence ministry banned troops stationed in Daegu from leaving their barracks and receiving guests. The US military imposed similar restrictions on its army base in the city, which houses thousands of troops, family members and civilian employees, curbing travel and closing schools and child care centres.
In what the Korean centre for disease control called a "super spreader" event, almost half of the country's total of 82 infections have been linked to a 61-year-old woman who worships at the Daegu church, an entity often accused of being a cult.
She first developed a fever on 10 February but reportedly twice refused to be tested for the coronavirus on the grounds that she had not recently travelled abroad. She attended at least four services before being diagnosed.
So far, 37 other members of the church have been confirmed as infected.
Seemingly overnight, the public attitude toward the coronavirus outbreak in South Korea has gone from simmering apprehension to full-blown paranoia. And nowhere is that more apparent than in Daegu, the country's fourth-largest city, with a population of 2.5 million people – roughly one-tenth of the South's total population.
As the South Korean government debates whether to raise the alert level, the mayor of Daegu has asked all of the city's residents to avoid venturing outside as the government tracks down, tests and quarantines all the members of a church where an infected woman is believed to have spread the virus to more than 40 people.
As a result, the usually bustling streets of Daegu have suddenly gone quiet: Residents who spoke to Reuters described empty streets in the city center, deserted storefronts and a pervasive "climate of fear".
On social media, some Koreans are trying to inject a little levity into the conversation. Following a news report where a local described the environment as "a Zombie Apocalypse", some posted clips from the infamous Korean zombie movie "Train to Busan."
#45 – Train To Busan (2016)
"While a zombie virus breaks out in South Korea, passengers struggle to survive on the train from Seoul to Busan." pic.twitter.com/gwd7GaIdGN
Overnight, South Korea reported its first virus-linked death, and on Thursday malls, storefronts, bars and restaurants were all empty, along with the streets of Daegu.
The most crowded streets in the city were abandoned.
"It's like someone dropped a bomb in the middle of the city. It looks like a zombie apocalypse," Kim Geun-woo, a 28-year-old resident told Reuters by telephone.
"Even Dongseong-ro Street – the most crowded centre of the city – is empty," he said, adding that he had tried to buy surgical masks but shops were sold out.
The country's outbreak isn't isolated to Daegu: Korea's Centres for Disease Control and Prevention reported 53 new cases on Thursday, after reporting 20 new cases a day earlier, bringing the country-wide total to 104. But Daegu and the surrounding area definitely has the largest share of cases. Korea's Centers for Disease Control and Prevention reported that 70 patients are from Daegu or nearby, and the majority have been traced to an infected 61-year-old woman, known in the SK media as "Patient 31".
Authorities released some new information Thursday about the South Korean patient who succumbed to the virus was reportedly one of 13 infected patients at a hospital near Daegu. Health officials said they were investigating whether there were links between his death and the outbreak at the Church. The hospital where they were staying is being temporarily shuttered and more than 600 staff and patients are being tested for the virus.
In a strange twist, the Guardian reported Thursday that the Shincheonji Church of Jesus, the church at the center of Daegu's outbreak, is part of a "controversial cult". The alleged super spread who infected dozens of others at the church first developed a fever on Feb. 10 but reportedly twice refused to be tested for the coronavirus on the grounds that she had not recently travelled abroad. This allowed her to attend at least 4 church services before being isolated, the Guardian reports.
Daegu's municipal government said there were 1,001 church members in the city, all of whom have been asked to 'self-quarantine'. 90 of them currently showing symptoms.
Unlike Chinese officials, who have sought to play down the severity of the outbreak at every turn, Korean officials have warned that the situation is "very grave", and urged the Korean people to take care. Daegu's mayor has postponed the beginning of South Korea's spring semester by one week into March, an unprecedented move.
Daegu Mayor Kwon Young-jin told residents to stay indoors as he warned of likely further cases.
"We are in an unprecedented crisis," he said at a briefing in the city, about 240 km (150 miles) southwest of the capital Seoul.
Kwon cautioned that at least 90 more of the about 1,000 other people who attended services at the Temple of the Tabernacle of the Testimony were also showing symptoms.
"We plan to test all believers of that church and have asked them to stay at home isolated from their families,"Kwon said.
South Korea's vice health minister Kim Kang-lip said at a separate briefing in the administrative city of Sejong that the situation was "very grave."
Research released over the past week has confirmed that COVID-19 is more infectious than SARS and MERS. Now, thanks to China's failures, Seoul is going to need to develop a plan to stop the outbreak and heal the damage to their already-suffering economy, which has been hurt by rising trade tensions with Japan.
————————————————–
https://prophecyupdate.blogspot.com/ –
According to Japanese government officials, both of the virus-related fatalities were Japanese citizens in their 80s who had been moved off the ship more than a week ago for treatment in a Japanese hospital, though the government has so far declined to release names.
The latest reports Thursday morning confirmed another 13 cases aboard the DP bringing the total to 634. The odds that individuals being released from the 2 week quarantine on Thursday and Friday might have contracted the virus, but have yet to show symptoms, remains high. The death in South Korea raised the death toll ex-China to 10.
The speed is hardly a surprise for those who have been paying attention to all of the new research, instead of dismissing it for being 'alarmist' and 'not peer reviewed'.
Finally, earlier this week, researchers published the largest study yet of the outbreak, which confirmed that COVID-19 is more contagious than SARS and MERS, leaving it on par with seasonal influenza.
Still, experts insist that the virus's fatality rate is probably around 2%, meaning that it's less deadly than SARS, but the wider spread will result in more deaths, CNN reports.
"My sense and the sense of many of my colleagues, is that the ultimate case fatality rate … is less than 2%," Dr. Anthony Fauci, director of the National Institute for Allergy and Infectious Diseases, told CNN's Jim Sciutto on "New Day" Tuesday. "What is likely not getting counted is a large number of people who are either asymptomatic or minimally symptomatic, so the denominator of your equation is likely much much larger."
"So I would think at tops it's 2% and it likely will go down when all the counting gets done to 1% or less. That's still considerable if you look at the possibility that you're dealing with a global pandemic," he added.
Even as President Xi does everything in his power to present an image of success to the Chinese people – in his speeches, he claims the Chinese government's strict quarantines have been an unmitigated success – global experts, including the WHO, have warned that the disease will continue to spread globally, and that the end of this crisis is still far from certain.
And as new confirmed cases dropped substantially on Wednesday in Hubei, everywhere else, the rate of new infections is accelerating.
In South Korea, the number of cases soared by almost two-thirds to 104 overnight, further emphasizing our observation that the number of cases ex-China has started to accelerate notably as the curve starts to resemble an exponential progression.
One WHO health expert told a Japanese TV station on Thursday that the virus is "a moving target" making it difficult to collect information and treat people: "Nobody has ever had to deal with this situation before, this is a new virus on a ship with 4,000 people, there are no guidelines for that." He added that he suspects there was a substantial amount of transmission before it arrived in Yokohama, adding that it was "not possible" to isolate everybody individually.
The WHO senior epidemiologist was responding to claims made by another expert in infectious disease that the Japanese had failed to observer proper quarantine protocols.
Back in Korea, the mayor of Daegu, a city of 2.5 million where 10 South Koreans contracted the disease from a church service, asked residents to stay indoors. Iran also reported two infected that then died.
Experts suspect that one woman in Daegu may have infected at least 40 others by going to her Christian church, according to Yonhap. The alleged 'superspreader' is the reason for the huge jump in new cases on Thursday. Experts say the city is now facing an "unprecedented crisis" following the spike in cases.
Cases are also surging in Singapore, where Deutsche Bank confirmed that an employee in its Singapore office had contracted the virus.
Adding to its woes, Iran reported three new cases on Thursday a day after it confirmed two virus-related deaths in the city of Qoms.
Warnings about the virus's economic blowback are increasing, as Goldman said Thursday that stocks aren't completely pricing in the risks from the virus.
Meanwhile, Air France-KLM, Qantas, and the global container shipping giant Maersk became the latest companies to warn about the financial impact from the continued spread of the coronavirus.
As President Xi balances the risks to tens of thousands of lives on one hand, and keeping his promise to double the size of China's economy by 2020 on the other, it seems the leadership in Beijing are beginning to believe their own propaganda. Premier Li Keqiang, Xi's No. 2 who is in charge of the committee managing the crisis, local governments should seek to increase the rate of resumed production and work, according to China Central Television.
Put another way: Come on in, the water's fine, and if you get the virus and die, we'll cremate your body and tell your family you died of "pneumonia."
China's smartphone shipment declined 50%-60% during the 2020 Spring Festival holidays due to the coronavirus outbreak. About 60 million smartphones remain unsold.
Chinese officials are pulling out all the fiscal and monetary stops to protect China's damaged economy, and on Thursday local officials from Hubei announced a new lending scheme – a "special financing vehicle" – worth 50 billion yuan (more than $7 billion) to stabilize financing for local companies.
To be sure, the drop in new cases last night was largely caused by health officials reversing their decision to include "clinically diagnosed" patients – i.e. those who haven't yet tested positive due to a shortage of effective tests – in the case totals.
The spate of deaths rattled investors overnight, and US equity futures are pointing to a lower open on Thursday, and a rush of risk-off trading in Asia has pushed the BBG dollar index to a 4-month high following the latest piece of evidence that the coronavirus isn't simply "another flu".
————————————————
https://prophecyupdate.blogspot.com/ –
Authored by 'Amarynth' via The Saker blog,
We set up a 'brain trust' in the Cafe in order to write a combined sitrep for The Saker Blog about the Coronavirus. The new name in the taxonomy is COVID-19 but let's stick to Novel Coronavirus for now. It is of course too early to come to any conclusions, but we can start isolating the discernible high level trends and perhaps get an early glimpse as to what effect the outbreak may have geopolitically and economically, although it is very early days.
We will not attempt to look at the technical picture here – the numbers of recoveries, the death rates and the infection rates, rates of transmission, life of virus on surfaces and so on because the technical picture is not yet clear and all data is in a state of flux with opposing and inconsistent reports from all sides. 
One cannot expect otherwise as the world is still shooting at a rapidly moving target in terms of statistical ground and epidemiological analysis.
In addition, we have professional organisations like the WHO and the CDC not really in lockstep and giving different pronouncements on a professional level. It is too early to draw conclusions.
What people are saying:
Let us look for a moment as to what 'people are saying'.
(If you want to end up deeply into conspiracies, I would suggest you go to subReddits /r/Coronavirus and /r/China_Flu )
What 'people are saying' runs the gamut from messages received in meditation, prayer, even channeling, and this information is being put out there as valid for everyone else in the face of no definitive information you can hang your hat on.
As you can see from this list, and it is by no means exhaustive, all over the show, and there are literally 10's more of these
What the timing indicates
The timing is suspicious no matter how you look at it.
Manufacturing usually shuts down or goes slow over Chinese New Year / Spring Festival which can last as much as 15 days. So, economically, this was a good time for a virus (if China 'did it').
On the other hand, this holiday gives rise to the greatest migration of people on our planet which also makes it an ideal time to infect a population (if someone outside of China 'did it').
The timing so close to the signing of the of the US/China Phase I Trade Agreement, which the Chinese referred to as only a 'cease fire' in the trade war, and the US referred to as a great breakthrough, is suspicious. The Chinese were indicating that they are very hesitant to even go to a phase II negotiation. And of course, there is a black part of the actual agreement that we do not know about.
The Main Tropes
1. The main trope out there is that this is a bioengineered bioweapon. But right at that point opinions diverge so widely that one can only ask questions, and not conclude anything.

2. The second trope is that people are being arrested widely. We've seen reports of arrests in Canada and in the US, and out of Harvard. Here is but one.
3. The third trope is thatChina is "The Sick Man",and we hate them for dumping this virus on the rest of us. Let me just say that the level of invective against China is not only unprecedented, it is also suspicious. Rebranding of the Coronoa Virus to the Chinese Virus is proceeding apace, even though it has a formal name now – COVID-19. In my life I have never seen such an overt manipulation of the common headspace such as this, since 'weapons of mass destruction'.

The fourth trope is that the US, on a public and governmental basis has decided to vilify China, correctly or incorrectly. Note Mr Pompeo.Is he only taking an opportunity that is presented to him, or does he know more than what we think?

5. The fifth trope is that the 

civilizational fear against China is suddenly out in the open

 for everyone to see. It is almost a morphic resonance of fear expressed against China and that China is the culprit. However, we don't really know who the culprit is actually. We don't even know if there is a culprit.
Is China the culprit, or is China the victim, or is this a virus that spread from animal to human or has it escaped from some or other lab by accident (or on purpose)? We do not know any of this and this trope just creates more FUD (fear, uncertainty and doubt).
The sixth trope is that China is wrong no matter what she does. Quarantine and even forced quarantine is expressed by the blockheads of Brutal China Cracking Down on Their People, without thinking what is actually necessary to do for this kind of outbreak, no matter where it comes from. One after the other video supposedly from China showing the so-called Brutal Chinese government is distributed with relish, with nary a thought that you and I are actually being protected by these heavy handed tactics.  The snowflakes are out in force talking about human rights, yet, by the looks of things, China is going all out protecting the many.
Because there is a strange consistency in what the State (used generally) says, and what the alternative media says, this is more worrying than anything else. On the one hand nobody can believe the State, and on the other hand alternative media is reproducing and disseminating the message of the State.
The seventh trope is that the few voices, even here on The Saker Blog, that try to look at this realistically are drowned out in the general societal willingness to believe the worst. Viva free speech!?!
The formal state, and the western alternative media are generally in lockstep on this issue.
China is now attempting to go back to work. We do not know how successful this is, but some are trying to measure the actual air pollution to try and figure out if China has gone back to work, or not. Economically China has also given guidance to business, saying that this event is a force majeure, known colloquially in contractual terms as 'an act of God', and therefore they can renegotiate contracts, delivery dates and completion.
LET US LOOK AT WHAT IS CLEAR.
CHINA IS FIGHTING FOR ITS LIFE. The death-toll or even containment is not truly visible in any numbers as yet. This will have tremendous impact on supply lines and not only on China's economy, but all parts of the international supply chain, upstream and downstream. China is acting on expressed unhappiness of their people. They are firing those who do not perform, who put red-tape in the path of directly fighting this virus. It may look brutal to lock people into their homes, but how many do they save by this action? Where do these get food? It is in the Chinese media that food gets delivered. This is something that the western youtube pundits (and their a-hole brothers) forget to report, although this is open and publicized in the Chinese media.

THIS IS A CATASTROPHE. It is not a flu, it is not a common cold, it is not something that 5G brought onto China, it is not God punishing the Godless red commies. Whatever it is, it is a catastrophe with world-wide consequences. We do not know enough to come to any meaningful conclusions except to say that considering the timeline, we are right to be suspicious and we may be right to prepare with the basic masks, gloves and limited public exposure, i.e., not visiting large gatherings, for a period of time.

If this virus continues, it will have societal impact that may be severe – we won't shake hands, we won't hug babies, social interaction will be vastly compromised, and a few more common contact methods like music concerts or sporting activies for humans will be left by the wayside.

If it continues much beyond the current level, the 

extensive

economic fallout

 cannot be estimated.  You and I and no analyst in the world can truly get their arms around the economic fallout and the breakdown of worldwide supply chains.  Who knows, we may be out of a specific little part for a normal service of a vehicle, we may be out of medicines (the idea of the many people that are taking anti-depressants and such types of medicines having to go cold-turkey is quite scary, and there may be a severe shortage of simple medical equipment, like masks and gloves that are even now getting hard to source – just try buying masks on Amazon).

In the current analysis and according to what we have available, we do not yet know enough to be meaningful. Much more than that is pure speculation and gives rise to other agendas being seeded into the public narrative.
What is clear, is that fear, uncertainty, and doubt is rife and people are terrified…
————————————————
CORONAVIRUS-INFECTED AMERICANS FLOWN HOME AGAINST CDC'S ADVICE, HOSPITALS PREPARE FOR GLOBAL PANDEMIC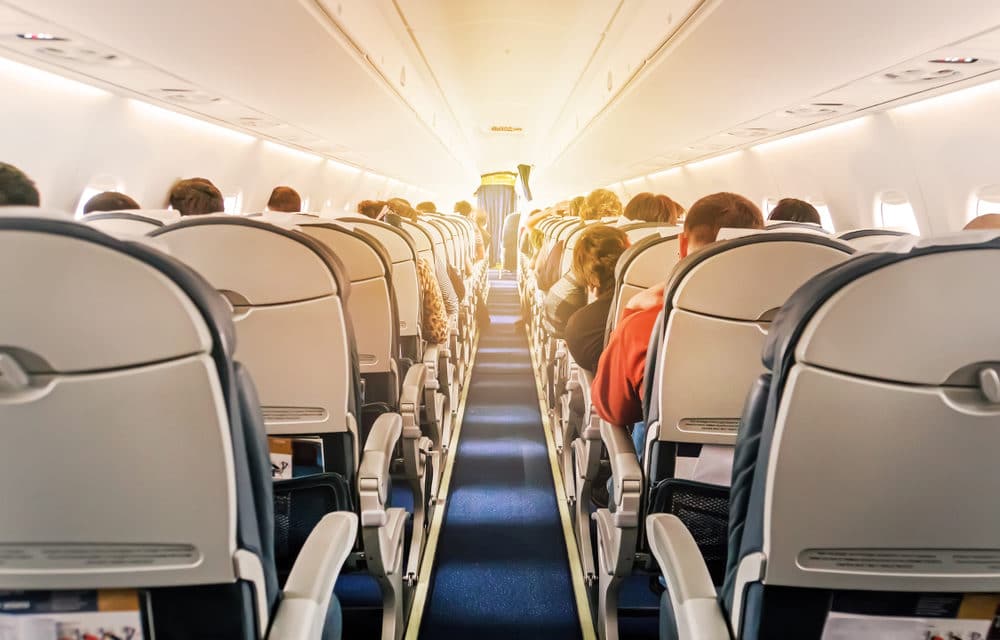 (ETH) – In a very disturbing report, 328 Americans that spent weeks in quarantine aboard the Diamond Princess reportedly boarded flights with at least 14 passengers infected with the coronavirus.  This comes after the U.S. State Department had promised that no one with the infection would be allowed to board the planes. This decision came as a choice between either letting them all fly or leaving them behind in Japanese hospitals.  According to MSN,  a fierce debate broke out:
 "The State Department and a top Trump administration health official wanted to forge ahead. The infected passengers had no symptoms and could be segregated on the plane in a plastic-lined enclosure. But officials at the Centers for Disease Control and Prevention disagreed, contending they could still spread the virus. The CDC believed the 14 should not be flown back with uninfected passengers." The report went on to state that passengers were permitted to fly back home despite the warning from the CDC. In fact, CDC officials demanded to be left out of the news release that explained that infected people were being flown back to the United States.
Meanwhile, Hospitals across the US are preparing for an outbreak of the coronavirus to become a global pandemic. This comes as Dr. Anne Schuchat, a top official of the Centers for Disease Control and Prevention, came out urging hospitals last week to prepare!  "This is the time to open up your pandemic plans and see that things are in order," 
she continued, health-care providers need to plan for a "surge at a hospital, the ability to provide personal protective equipment for your workforce, the administrative controls and so forth that you might put place in a health care setting." Dr. Nancy Messonnier, director of the CDC's National Center for Immunization and Respiratory Diseases, also echoes this warning saying: "At some point, we are likely to see community spread in the U.S. or in other countries," she warned.
————————————————
We still don't know if this coronavirus outbreak will become a horrific worldwide pandemic or not, but what we have seen so far is definitely very alarming.  People have literally been dropping dead in the streets, the Chinese government has locked down major city after major city, and the virus kept spreading very rapidly on a cruise ship off the coast of Japan even though a strict quarantine was instituted.  Scientists that have studied the virus are telling us that it "could be 20 times more lethal than the flu", and it binds to human cell receptors much more easily than the SARS virus did.  Unfortunately, because the epicenter of this crisis is on the other side of the globe, most Americans are simply not paying much attention to it.  In fact, most of the people that my wife and I have been talking to and hearing from don't think that the coronavirus is much of a threat to the United States at all. (

READ MORE…

)
————————————————
Plague Of Locusts Is Only Intensifying As It Now Covers Africa, Many Muslim Nations In The Middle East And Has Reached As Far As Communist China
https://www.nowtheendbegins.com/worst-locust-infestation-70-years-east-africa-middle-east-communist-china-biblical-plague/ – by Geoffrey Grider February 21, 2020
As if sharing a single mind, thousands of locust bugs are all heading in the same direction – to gorge on any plants in their path. The apocalyptic scene results in people stopping their cars, either too scared to drive with such poor visibility or to marvel at the unsettling spectacle. Dropping from the sky, one of the engorged bugs lands on the driver's windscreen and looks to be several inches long. A person in the car can be heard making what sounds like noises of disgust.
NOW THE END BEGINS SHARE:
The worst desert locust infestation in 70 years is ravaging East Africa, potentially endangering economies in a region heavily dependent on agriculture for food security.
I honestly thought that the current locust swarming would have stopped by now, or at the very least lessened, but just the opposite is taking place. It is increasing in intensity, with the locusts eating the food of 35,000 people in a single day. Interestingly, the locust swarms seem to be affecting nations that reject the God of the bible who commands the locusts at His will.
"If I shut up heaven that there be no rain, or if I command the locusts to devour the land, or if I send pestilence among my people;"
2 Chronicles 7:13 (KJB)
"Hast thou entered into the treasures of the snow? or hast thou seen the treasures of the hail, Which I have reserved against the time of trouble, against the day of battle and war?" Job 38:22,23 (KJB)
The book of Job tells us that God uses the weather as a weapon, and it is more powerful than anything the militaries of the world can command. Read the book of Revelation sometime and see how God is going to use weather to judge this world. Hydrogen bombs are nothing more than mere firecrackers compared to what God will rain down upon this earth in the coming time of the great Tribulation. I am starting to think that this relentless locust plague is more than a seasonal outbreak, as it is rapidly approaching biblical territory. Birth pangs, perhaps? Time will tell.
Plague of locusts threatens East African economies as UN sounds emergency alarm
FROM CNBC: In recent days, locust swarms have begun to impact South Sudan, Uganda and Tanzania, having already decimated crops throughout Ethiopia, Kenya and Somalia, Eritrea and Djibouti. The Food and Agriculture Organization (FAO) of the United Nations earlier this week called the situation "extremely alarming."
 The UN warned of an unprecedented threat to food security in a part of the world where millions face hunger, and the FAO estimated that 70,000 hectares of crops in Kenya and around 30,000 hectares in Ethiopia had been infested. It added that locusts had attacked coffee and tea crops that account for approximately 30% of Ethiopia's exports.
The FAO also estimated that around 8.5 million Ethiopians and 3.1 million Kenyans already face food insecurity. The locusts have now begun breeding along both sides of the Red Sea in Egypt, Sudan, Eritrea and Saudi Arabia.
Desert locusts can travel up to 150km (95 miles) a day, and a one-square-kilometer swarm can devour as much food as 35,000 people in a single day, according to the UN.

READ MORE

:
YES, OUR GLOBAL CLIMATE IS CHANGING RAPIDLY, AND NO, THERE IS NOTHING YOU CAN DO ABOUT IT AND THERE IS NO POWER ON EARTH THAT CAN STOP IT
Apocalyptic locust swarm stops traffic in Bahrain as sky turns black in terrifying footage
FROM THE DAILY STAR UK: This horrifying video shows the sky turning black as a swarm of locusts descends on Bahrain today. In the clip, filmed by stunned witnesses cowering in their car, a dark cloud of flying insects swarms above a road in the normally-sunny Middle Eastern island nation.
As if sharing a single mind, thousands of locust bugs are all heading in the same direction – to gorge on any plants in their path. The apocalyptic scene results in people stopping their cars, either too scared to drive with such poor visibility or to marvel at the unsettling spectacle.
Dropping from the sky, one of the engorged bugs lands on the driver's windscreen and looks to be several inches long. A person in the car can be heard making what sounds like noises of disgust.
Pakistan earlier declared a national emergency shortly after this footage showed a plague of locusts blocking out the Sun in the nation. Another terrifying video filmed in Kenya showed how locusts appeared out of nowhere and then swarmed around a motorist.
In some areas of eastern Africa, the swarm was said to be 360 billion locusts-strong and the worst attack in more than 25 years. China has insisted it is not scared of the approaching plague of insects as the first ones were filmed landing inside its border.
The nation has deployed an army of 100,000 ducks to deal with the problem using nothing but their bills and a voracious appetite. Runner ducks – which walk upright like penguins – can be trained to feed on locusts and charge towards their prey at the command of a whistle, according to the BBC.

READ MORE

:
Watch Huge Swarms of Locusts Invade East Africa
NOW THE END BEGINS IS YOUR FRONT LINE DEFENCE AGAINST THE RISING TIDE OF DARKNESS IN THE LAST DAYS BEFORE THE RAPTURE OF THE CHURCH
————————————————
https://prophecyupdate.blogspot.com/ – John Hayward
Eastern Africa is facing a food crisis after a devastating plague of desert locusts, the worst seen in the region for several generations. 
A new wave of insects is already spreading across half a dozen African nations and poised to consume new crops that were planted to replace last season's losses. Political instability in the region is adding to the misery as violent insurgencies make it difficult to distribute both locally grown and internationally donated food.
As Germany's Deutsche Welle (DW) noted in a grim report on Wednesday, food shortages threaten to trigger even more violence as battle lines are drawn over livestock and grazing lands. 
"There is nothing left to harvest. And there is nothing else that I know how to do. It's just this farm. That's where I get food, where I feed my family and friends, all people," a Kenyan farmer told DW.
Some of the worst locust rampages are occurring in places like Somalia where the ground is soaked in blood from the atrocities of the al-Shabaab terrorist gang, and South Sudan, where a fragile peace coalition could collapse and rekindle a brutal civil war. Drought and political violence combined to unleash famine in South Sudan even before the locusts arrived.
The locusts are a formidable adversary, with swarms capable of travelling over a hundred miles a day and devouring as many crops as thousands of humans. Swarms larger than entire cities have been observed in Africa. 
CNBC on Thursday noted the severe economic damage from the locust plague, such as the destruction of Ethiopia's vital coffee and tea crops, which make up 30 percent of the country's exports. The shortage of crops is applying inflationary pressure to economies that can ill afford it and making it harder for governments and corporations in eastern Africa to obtain credit. Some analysts believe the region could lose one or two percent of its GDP growth this year.
Kenya's economic fate may be decided by exactly where those fast-moving locust swarms decide to go next. As analysts explained to CNBC, the locusts have mostly afflicted northern Kenya, far from where its major export crops are grown, resulting in food insecurity for the local population but relatively little financial damage. If the locusts move further south, the economic forecast will grow considerably more pessimistic, with almost a percentage point of GDP on the line.
U.N. experts worry that the locust population could grow by up to 500 times over the summer and spread to 30 countries. One of those countries is China, which is already dealing with a deadly coronavirus epidemic. Locust swarms have already been sighted along the Chinese border.
————————————————
GLOBAL CROP FAILURES AND THE COMING FAMINE
https://prophecyupdate.blogspot.com/ –
Global food production is being hit from seemingly every side.  Thanks to absolutely crazy weather patterns, giant locust armies in Africa and the Middle East, and an unprecedented outbreak of African Swine Fever in China, a lot less food is being produced around the world than originally anticipated.  Even during the best of years we really struggle to feed everyone on the planet, and so a lot of people are wondering what is going to happen as global food supplies become tighter and tighter.  The mainstream media in the United States is so obsessed with politics right now that they haven't been paying much attention to this emerging crisis, but the truth is that this growing nightmare is only going to intensify in the months ahead.
In Australia, conditions have been extremely hot and extremely dry, and that helped to fuel the horrific wildfires that we recently witnessed.
And everyone knew that agricultural production in Australia was going to be disappointing this year, but it turns out that it is actually going to be the worst ever recorded…
Australia's hottest and driest year on record has slashed crop production, with summer output expected to fall to the lowest levels on record, according to official projections released Tuesday.
The country's agriculture department said it expects production of crops like sorghum, cotton and rice to fall 66 percent — the lowest levels since records began in 1980-81.
The continent of Australia is considered to be one of the breadbaskets of the world.  According to the U.S. Department of Agriculture, in 2018/19 Australia exported over 9 million tons of wheat to the rest of the world.
But thanks to relentless crop failures, Australia has started to import wheat, and that is likely to continue for the foreseeable future.
So instead of helping to feed the rest of the world, Australia is now relying on the rest of us to help feed them.
And what is happening this year didn't just barely break the old records.  In fact, one senior economist says that this will be the worst summer crop production the country has ever seen "by a large margin"…
"It is the lowest summer crop production in this period by a large margin," Peter Collins, a senior economist with the department's statistical body ABARES told AFP.
Of course if the rest of the world was doing great we could certainly survive a downturn in Australia.
Unfortunately, that is definitely not the case.
Right now, billions upon billions of locusts are voraciously devouring farms in eastern Africa and the Middle East.  As I detailed the other day, giant armies of locusts the size of large cities are travelling up to 100 miles per day as they search for food.  When they descend on a farm, all the crops can be consumed literally within 30 seconds.  It is a nightmare of epic proportions, and UN officials are telling us that this crisis is only going to get worse over the next couple of months.
In Uganda, the army has been called out to help fight this locust plague, but it is making very little difference…
Under a warm morning sun scores of weary soldiers stare as millions of yellow locusts rise into the northern Ugandan sky, despite hours spent spraying vegetation with chemicals in an attempt to kill them.
From the tops of shea trees, fields of pea plants and tall grass savanna, the insects rise in a hypnotic murmuration, disappearing quickly to wreak devastation elsewhere.
The most effective way of fighting these locust swarms is to spray insecticide on them from the air, but even that only produces very limited results.
However, at least it is better than doing nothing.
The UN is trying to raise a lot more money to get more planes into the air, because if nothing is done the number of locusts "could grow up to 500 times by June"…
The U.N. has said $76 million is needed immediately. On Tuesday, U.S. Secretary of State Mike Pompeo during a visit to Ethiopia said the U.S. would donate another $8 million to the effort. That follows an earlier $800,000.
The number of overall locusts could grow up to 500 times by June, when drier weather begins, experts have said. Until then, the fear is that more rains in the coming weeks will bring fresh vegetation to feed a new generation of the voracious insects.
Overall, these locusts are affecting nations "with a combined population of nearly 2 billion", and the amount of food that these locusts are destroying is unprecedented.
Meanwhile, China has been dealing with the worst outbreak of African Swine Fever in history.
African Swine Fever does not affect humans, but it sweeps through herds of pigs like wildfire.  There is no vaccine, there is no cure, and once African Swine Fever starts infecting pigs in a certain area the only thing that can be done is to kill the rest of the pigs to keep it from spreading anywhere else.
Unfortunately, China has not been able to get this outbreak under control, and the losses have been staggering.
According to the New York Times, the number of pigs that have been wiped out in China already is equivalent to "nearly one-quarter of all the world's pigs"…
The disease was first reported in Shenyang, Liaoning Province, in early August 2018. By the end of August 2019, the entire pig population of China had dropped by about 40 percent. China accounted for more than half of the global pig population in 2018, and the epidemic there alone has killed nearly one-quarter of all the world's pigs.
But of course China is not the only one dealing with African Swine Fever.
In fact, cases of African Swine Fever have now been identified "in 50 countries", and U.S. pig farmers are deathly afraid of what would happen if this disease starts spreading here.
As a result of this crisis, pork prices in China have gone through the roof, and many families are no longer able to eat pork at all.
Never before in the modern era have we seen so many major threats to global food production emerge simultaneously.
There are more than 7 billion people living on our planet today, and we need to be able to grow enough food to feed everyone.
If we aren't able to do that, food prices will start to get really high, and people in the poorest areas simply will not have enough food to feed their families.
————————————————
https://prophecyupdate.blogspot.com/ –
The Tungurahua volcano in Ecuador is showing early signs of impending catastrophic collapse.
Scientists discovered substantial internal damage from ongoing magma activity analysing satellite images.
One of South America's most active volcanoes, Tungurhua – also known in Ecuador as the 'Throat of Fire' or 'The Black Giant' – is showing early warning signs of "potential collapse." The resulting landslides would cause widespread damage to the area.
In a new study, scientists found very rapid deformation of Tungurahua's west flank, probably caused by imbalances between magma being supplied and magma being erupted. 
Flank failure is one of the most destructive processes on Earth, whereby a portion of a volcano collapses and creates landslides and explosive eruptions.
The largest tsunami on earth was triggered by a massive flank collapse that fell into the narrow inlet of Lituya Bay in Alaska.
So what's going on at Tungurahua volcano?
Geophysical and geochemical monitoring of the volcano have shown that magma supply is one of a number of factors that can cause or contribute to volcanic flank instability.
So while there is a risk of possible flank collapse, the uncertainty of these natural systems also means it could remain stable. 
According to the lead scientist of the new science study: "Shallow magma transport and storage are key dynamic processes at the heart of hazard assessment and event forecasting for eruptive activity and flank collapse. The results of this study highlight the importance of monitoring volcanoes with a history of flank collapse and how this can be incorporated into routine geophysical and geodetic volcanic surveillance."
Here an epic video of an eruption of the Throat of Fire:
Collapse history of Tungurahua 
Tungurahua collapsed at the end of the Late Pleistocene.
After rebuilding itself, the volcano collapsed again about 3,000 years ago, destroying an area of 80km sq.
In 1999, 25,000 people were evacuated after an eruption of the volcanic peak. Now imagine the impact on human life during a new flank failure at the Black Giant Volcano.
————————————————
https://prophecyupdate.blogspot.com
Some countries have begun to link all of these technologies through central databases to create the ultimate autocratic control mechanism over their populations. Even corporate databases set up by companies actively engaged in developing these high tech systems are now being shared with governmental agencies. 
For instance, governments can now locate people through video surveillance and facial recognition, GPS sensors in vehicles or smartphones, and through the use of smart cards or phones to pay for goods and services. They can also access any person's phone call records, messages, and e-mails and scan them using advanced software algorithms for the presence of any unapproved speech, activities, or plans. 
One of the major applications of the development of artificial intelligence systems is in the implementation of the technocracy state. Not surprisingly, the nations that have already started putting this tyranny of technocracy in place are those with the least freedom in their political systems.
For instance, China has implemented plans to become the leader in artificial intelligence systems by the year 2030. The market for artificial intelligence is greatest in its application to facial recognition technology (estimated to be $9.6 billion by 2022). Currently, China has almost its entire population of 1.4 billion people scanned into their facial recognition databases (CNBC article, May 16, 2019). India, too, has over 1 billion people in its biometric databases.
YITU Technology, a Shanghai-based company has developed advanced artificial intelligence algorithms that can use facial recognition to identify an individual in seconds from a database of over 2 billion people. Soon, no one will be able to walk through cities without encountering an army of surveillance cameras capturing their facial image and comparing them to a central database to register their identity and track their every move.
But the technocracy system that is arising is even more insidious than merely identifying and tracking people. It will also grade your performance in society against acceptable norms. China has started using its vast technocracy infrastructure to rank its population through a scoring system.
 The first part of the scoring algorithm relates to an individual's financial and credit history. China's mobile and online payment platforms are among the largest in the world, and even though they are held by nongovernmental corporations, they have accrued a wealth of financial information on individuals and businesses. The Chinese government has obtained access to all of these databases and has transformed the information into a numerical scoring system (called a "social credit score") to assess how each individual is doing relative to a state-determined behavioral ranking scheme.
The financial information that Alipay, WeChat, PayPal, and others accumulate about their users is being accessed by the Chinese government to aid in developing the social credit score for each person, family, or company. Doing things the "approved" way, such as paying off debts on time, buying Chinese made products, or even doing community service can result in a higher score. 
However, bad behaviors such as not paying bills on time, committing financial fraud, tax evasion, or even doing socially unacceptable things like protesting or speaking out against government programs or policies, or even smoking in non-smoking areas can all decrease the score. Thus, a person's social score directly impacts his or her ability to function in Chinese society. This is what a functioning tyranny based on technocracy looks like.
In China, a social score in the low region of the ranking system will result in being restricted from using planes, trains or buses, not being able to buy cars or real estate, or not even being able to use the Internet. Those who end up with low scores effectively become non-citizens who can no longer participate in Chinese society. 
Through their social scoring system, China is thus punishing those with bad or unapproved behaviors and rewarding those with good behaviors. This scoring system is creating the ultimate authoritarian power in a highly controlled society where the technocracy system of tyranny rules more effectively than the government ever could without it.
The monitoring capability of China's technocracy is growing stronger by the day. Fox News reported that ten schools in China have designed new uniforms for students that contain embedded computer chips. The chips can track student's every movement on school grounds.
The schools can monitor the whereabouts of each student within the buildings or even outside on school property, and parents can have access to the surveillance data.
The schools claim that these smart uniforms are for the "safety and security" of the students and that they would never try to track them outside of school. Sure. Expect this surveillance trend to spread throughout the school system soon—not only in China but in every country. For the safety and security of the students, of course!
As the rise of this type of technocracy develops worldwide, the ability of even "free" countries to control their populations will become absolute. Under this system, there will be no true freedom or liberty anywhere. No one will be able to remain incognito or go about their lives in privacy. The government surveillance web will capture every person through GPS tracking, facial recognition, video monitoring, and their use of digital signatures as they purchase goods and services.
The Bible predicts the rise of this type of societal control within the frightening prophecies about the Antichrist, the final world empire called the Beast, and the final economic system using the Mark of the Beast. The electronic tyranny of technocracy that is now being developed and implemented throughout the world is in preparation for the Antichrist's rise to power. As we see this final empire taking shape in our day, we can know for certain that the End Times is upon us and the Coming of Christ is drawing near. Now is the time to turn away from sin and evil and believe in Jesus before it is too late!
ALSO, KNOWN AS THE MARK OF THE BEAST — THE 'ID2020 ALLIANCE COMBINE's VACCINATIONS WITH IMPLANTABLE MICROCHIPS TO CREATE YOUR DIGITAL ID…
The ID2020 Alliance, as it's being called, is a digital identity program that aims to "leverage immunization" as a means of inserting tiny microchips into people's bodies. In collaboration with the Global Alliance for Vaccines and Immunizations, also known as GAVI, the government of Bangladesh and various other "partners in government, academia, and humanitarian relief," the ID2020 Alliance hopes to usher in this mark of the beast as a way to keep tabs on every human being living on Earth.