———————————————-
(Mar 04,2021) Taiwan Fires Missiles 'infinity' to China surface amid Missions PLA Military on Border

Taiwan Fires Missiles 'infinity' to China surface amid Missions PLA Military on Border Taiwan on Thursday successfully tested surface-to-surface missiles with the highest trajectory altitude of "infinity," according to the state-owned Missiles developer. The test of missile, said to be Hsiung Feng IIE, with the "highest trajectory altitude of infinite" was conducted at Jioupeng Military Base in Pingtung County in Southern Taiwan, the National Chung-Shan​​​​​​​ Institute of Science and Technology said, as reported by daily Taiwan News reported. It is first such military drill carried by Taiwan in 2021. The missile test comes amid increased air and sea activities by China, the US and Taiwan in the Taiwan Strait.
———————————————-
Is Humanity Living in a Mass Delusion?

From cardboard cut out politicians to the self appointed culture cancelling masses marching in the streets, has humanity lost all touch of reality? Is Humanity Living in a Mass Delusion? Speaker: Michael (Council of Time)
———————————————-
ALERT! MidEast Conflict Rises, US Turns From Israel
•

Streamed live on Mar 1, 2021

Prophecy Alert! BREAKING NEWS -conflict rising in MidEast as missiles, rockets, and drones unleashed by Iran & US admin backs away from Israel & MidEast allies. Prophecy in motion! Support this ministry so we can continue sharing signs of Biblical prophecy to the world, donate here:

https://signsofthelastdays.org/giving-2/

​

Check recurring contribution button to become a monthly Partner In Prophecy.
—————————————————
LATEST NEWS CLIPS – ARTICLES PRESENTATION (THURSDAY 04th MARCH 2021)
—————————————————
(THIS IS THE WORLD'S CURRENT TIMELINE)
Matt. 24:6 And ye shall hear of wars and rumors of wars: see that ye be not troubled: for all these things must come to pass, but the end is not yet.
Matt. 24:7 For nation shall rise against nation, and kingdom against kingdom: and there shall be famines, and pestilences, and earthquakes, in divers places.
Matt. 24:8 All these are the beginning of sorrows.
Matt. 24:9 Then shall they deliver you up to be afflicted and shall kill you: and ye shall be hated of all nations for my name's sake.
Luke 12:40 Be ye therefore ready also: for the Son of man cometh at an hour when ye think not
—————————————–
THIS IS THE WORLD'S VERY NEAR FUTURE:
Matt. 24:21 For then shall be great tribulation, such as was not since the beginning of the world to this time, no, nor ever shall be
—————————————————
WE PREACH THE BLESSED HOPE FOR THE FUTURE IN JESUS CHRIST OUR SAVIOUR
1Cor. 12:3 Wherefore I give you to understand, that no man speaking by the Spirit of God calleth Jesus accursed: AND THAT NO MAN CAN SAY THAT JESUS IS THE LORD, BUT BY THE HOLY GHOST.
"Behold, I come like a thief! Blessed is he who stays awake and keeps his clothes with him, so that he may not go naked and be shamefully exposed."
"And you know what is restraining him now so that he may be revealed in his time. For the mystery of lawlessness is already at work. Only he who now restrains it will do so until he is out of the way."
REV. 14:12
Here Jesus was alluding to the fact that the Doctrine of Eternal Security WILL EXPIRE WITH THE RAPTURE OF THE CHURCH
L

uke 12:37

Blessed are those servants, whom the lord when he cometh shall find watching: verily I say unto you, that he shall gird himself, and make them to sit down to meat, and will come forth and serve them
SO WON'T YOU ACCEPT JESUS NOW AND BE REMOVED FROM THAT EVENT  (OF TRIBULATION) AND LIVE FOREVER WITH JESUS IN THE FAMILY OF GOD?
2 "(For he saith, I have heard thee in a time accepted, and in the day of salvation have I succoured thee: behold, now is the accepted time; behold, now is the day of salvation.)" (2nd Corinthians 2:6)
—————————————————-
WEBPAGE ADMINISTRATOR:
URGENT MESSAGE:
MESSAGE TO ALL JESUS CHRIST LOVING CHRISTIANS OUT THERE
FROM GOD:
Pack your bags (DIRECTIONS BELOW); because Jesus Christ Plane (FLIGHT 777 TO HEAVEN) is leaving soon from runways all over the World; Be Ready "JESUS" is Coming Quickly. WITH ALL OF GOD'S LOVE WITH HIM TO RESCUE HIS CHURCH FROM A FALLEN

"SINFULL"

WORLD
Rev. 2:5 Remember therefore from whence thou art fallen, and repent, and do the first works; or else I will come unto thee quickly, and will remove thy candlestick out of his place, except thou repent.
Rev. 2:16 Repent; or else I will come unto thee quickly, and will fight against them with the sword of my mouth.
Rev. 3:11 Behold, I come quickly: hold that fast which thou hast, that no man take thy crown.
Rev. 22:7 Behold, I come quickly: blessed is he that keepeth the sayings of the prophecy of this book.
Rev. 22:12 And, behold, I come quickly; and my reward is with me, to give every man according as his work shall be.
Rev. 22:20  He which testifieth these things saith, Surely I come quickly. Amen. Even so, come, Lord Jesus.
THIS IS A TIME OF TESTING BEFORE THE END:
Rev. 3:19 As many as I love, I rebuke and chasten: be zealous therefore, and repent
We are well and truly into God's Birth pangs (PRE-TRIBULATION) at this time; "THE BEGINNING OF SORROWS" as described in (Matt. 24:3-8).This is not the 7 year Tribulation as yet, just a lead up to and "warning" from God That the Rapture of Jesus Christ Church, and the Tribulation Revelation 6 (God's Judgment) is about to start.
(PLEASE SEE THE ARTICLE BELOW "BIRTH PANGS" PLACED AT THE BOTTOM OF THIS REPORT (JUST ABOVE SALVATION).
IN THE MEANTIME, GATHER YOURSELVES TOGETHER IN LOVE, FAITH, AND WORSHIP, AND PRAY "INCESSANTLY TILL HIS GLORIOUS RETURN.
————————————
" THE UNDERGROUND CHURCH HAS BEGUN":
REMEMBER SOME MAIN STREAM CHURCHES ARE NOT WHAT THEY SEEM:
Rev. 3:14  And unto the angel of the church of the Laodiceans write; These things saith the Amen, the faithful and true witness, the beginning of the creation of God;
Rev. 3:15 I know thy works, that thou art neither cold nor hot: I would thou wert cold or hot.
Rev. 3:16 So then because thou art lukewarm, and neither cold nor hot, I will spue thee out of my mouth.
Rev. 3:17 Because thou sayest, I am rich, and increased with goods, and have need of nothing; and knowest not that thou art wretched, and miserable, and poor, and blind, and naked:
SEEK THE LORD JESUS CHRIST WHILE HE MAY BE FOUND – "THE TIME IS CRITICALLY SHORT"
—————————————————
DAILY CHRISTIAN BIBLICAL QUESTIONS AND ANSWERS:
—————————————————
A Better Reward
https://gracethrufaith.com/ask-a-bible-teacher/a-better-reward/
QUESTION:    I have noticed over the years when I spread the Good News of Jesus, using Bible Prophecy, that non-Christians are many times more ready to accept what I say about the End Times, the Rapture and the Second Coming of Jesus than true believers are. Many believers just pooh-pooh anything to do with Bible Prophecy and say, "It's not for us to know." or "No one knows the day or hour." It is so frustrating to talk to them that I almost get gleeful knowing that there is a better reward in Heaven, for those of us who await the Lord's return with great hope, than for them. Am I wrong to feel that way?
ANSWER:    You're referring to the Crown of Righteousness, promised to those believers who long for His appearing (2 Tim 4:8). I think it depends on your motive in thinking this way. If you're thankful that the Lord has opened your heart to an understanding of these things, then it's OK. But if you're in any way placing yourself above those who don't know or even care to know about prophecy, it could be a problem of pride.
Rapture As Reward
https://gracethrufaith.com/ask-a-bible-teacher/rapture-as-reward/
QUESTION:    Let's say a person fully leans on faith in God thru Jesus Christ, tries not to sin, prays, repents, is baptized, and reliant on Holy Spirit for daily life … also knowing that this life can change at any time according to the end times and God's will. Yet this person is not sure as to the mechanics or theology surrounding the "rapture". Will such persons who are following Jesus, still be taken if indeed the rapture is the "reward" for being a believer?
ANSWER:    There's no Bible verse on the rapture that makes any mention of qualifications for inclusion other than the faith that saves us. Nor does any verse differentiate "good" Christians from "bad" ones in determining who gets to go. Believing in the rapture or not, or in a certain timing for it, or in a list of qualifications, are not salvation issues and have no bearing on our destiny. The Bible only says that the Lord will return for His own, and He knows who they are.
Paul said right after the resurrection of the dead we who are still alive and are left will be caught up together with them (1 Thes 4:16-17). He didn't say those of us who believe in the rapture, but simply "we", implying that all believers who are alive at the time will be taken.
Put another way, for a believer the Rapture is like gravity. It applies the same to all of us whether we believe in it or not.
———————————————-
NEWS CLIPS/ARTICLES OBTAINED FROM MANY SOURCES – INCLUDING
Tracking bible prophecy.org
Rapture Ready News
Prophecyupdate.Com
Main News Channels
End Times Headlines
Prophecyupdateblogspot.com
Stevequayle.com
Gracethrufaith.com
Nowtheendbegins.com
Other Christian Sites
(CLICK ON) LATEST DAILY NEWS CLIPS:
ISRAEL NEWS:
I AM GOING TO MAKE JERUSALEM A CUP THAT SENDS ALL THE SURROUNDING PEOPLES REELING … Zech. 12:2
God is in control, and He told the nations the consequences of dividing the Promised Land and declaring peace and safety on their own terms (Joel 3:1-2; I Thess. 5:3)
WORLD TERRORISM – DECEPTION – CHAOS – WARS
GENERAL WORLD NEWS:
GENERAL WORLD CORONAVIRUS NEWS:
WORLD FINANCE:
1Tim. 6:10 For the love of money is the root of all evil: which while some coveted after, they have erred from the faith, and pierced themselves through with many sorrows
MASSIVE EARTH CHANGES/EARTHQUAKES/VOLCANOES ETC:
2Chr. 7:13 If I shut up heaven that there be no rain, or if I command the locusts to devour the land, or if I send pestilence among my people;
2Chr. 7:14 If my people, which are called by my name, shall humble themselves, and pray, and seek my face, and turn from their wicked ways; then will I hear from heaven, and will forgive their sin, and will heal their land
CHRISTIAN AND RELIGIOUS WORLD NEWS:
Matt. 24:9 Then shall they deliver you up to be afflicted, and shall kill you: and ye shall be hated of all nations for my name's sake.
Matt. 24:10 And then shall many be offended, and shall betray one another, and shall hate one another
EXTRA WORLD – ALTERNATIVE NEWS:
Please keep in mind that this collection of News Articles is mainly concerning America, but also take note that what happens in America will also "Dramatically" affect Australia and the rest of the World "Massively".
—————————————————-
WORLD – PROPHETIC NEWS ARTICLES PRESENTATION  (LATEST NEWS CLIPS – ARTICLES PRESENTATION (THURSDAY 04th MARCH 2021)
MIDDLE EAST AND WORLD WAR LOOMING THE BUILD UP TO PSALM 83  – ISAIAH 17 AND GOG OF MAGOG WARS EZEKIEL 37-38:
THE WHOLE WORLD IS UNSTABLE FINANCIALLY, POLITICALLY, PHYSICALLY, MORALLY, GODLY: – AND BECOMING MORE SO DAILY. (WE ARE IN THE BEGINNING OF SORROWS (MATT 24:8)
THE BIBLE STATES THAT IT WILL ONLY GET WORSE BEFORE THE START OF THE TRIBULATION OF MANKIND – (REVELATION 6)
But before that we have to go through the Birth Pangs, leading up to the Tribulation of Mankind; and I feel that the beginning of Matthew 24 explains that time very well. We are currently in the Birth Pangs (Even though Matthew 24: is directed at the Jewish Nation, it still reflects Biblical Prophecy for the whole World at this time):
Matt. 24:6 And ye shall hear of WARS AND RUMOURS OF WARS: see that ye be not troubled: for all these things must come to pass, but the end is not yet.
Matt. 24:7 FOR NATION SHALL RISE AGAINST NATION, AND KINGDOM AGAINST KINGDOM: and there shall be famines, and pestilences, and earthquakes, in divers places.
—————————————————-
GENERAL PROPHETIC NEWS SECTION:
—————————————————–
BY THE NUMBERS: COVID VACCINE ASSOCIATED ADVERSE

EVENTS AND "DEATHS

"
https://prophecyupdate.blogspot.com/2021/03/by-numbers-covid-vaccine-associated.html – Children's Health Defense Team
The latest data made public by the Centers for Disease Control and Prevention's (CDC) Vaccine Adverse Event Reporting System (VAERS) on deaths and injuries reported after COVID vaccines are in line with trends that have been emerging since the first data were released in December.
Between Dec. 14, 2020 and Feb. 18, 2021, 19,907 reports of adverse events have been reported to VAERS, including 1,095 deaths and 3,767 serious injuries.
ABOUT A THIRD OF THE DEATHS REPORTED OCCURRED WITHIN 48 HOURS OF VACCINATION, and 

48% of the people who died

 became ill within 48 hours of being vaccinated.
(READ MORE HERE) 
ABOUT 21% OF THE DEATHS WERE CARDIAC-RELATED. As The Defender reported last month, Dr. J. Patrick Whelan, a pediatric rheumatologist, warned the U.S. Food and Drug Administration in December that mRNA vaccines like those developed by Pfizerand Moderna could cause heart attacks and other injuries in ways not assessed in safety trials.
Of the reported deaths, 966 were reported in the U.S. and 129 outside the U.S. The average age of the deceased was 77.8, the youngest was 23. Of those who died, 53% were male, 46% female and 1% of the reports did not include gender.
Of those who died, 56% received the

Pfizer vaccine,

and 43% got the

Moderna vaccine

.
The number of serious adverse events reports increased by 641 this week, to a total of 3,767 between Dec. 14, 2020, and Feb. 18. Adverse reaction reports from the latest CDC data include:
By comparison, during the same time period — Dec. 14, 2020 – Feb. 18, 2021 — VAERS received reports of 83 deaths following flu vaccines.
According to the VAERS website, "it is important to note that for any reported event, no cause-and-effect relationship has been established … VAERS collects data on any adverse event following vaccination, be it coincidental or truly caused by a vaccine. The report of an adverse event to VAERS is not documentation that a vaccine caused the event."
RELATED NEWS CLIPS:
——————————————–
CLICK ON LINK BELOW:
——————————————–
The European Union Will Introduce 'Digital Green Pass' Legislation This Month Requiring All Citizens To Show Proof Of COVID-19 Vaccination
https://www.nowtheendbegins.com/ – by Geoffrey Grider March 2, 2021
The vaccine passport has been dubbed the "Digital Green Pass", presumably after the Israeli scheme of the same name. Greece, which has been one of the main proponents of the scheme, already signed a 'trial run' of a Green Pass system with Israel last month. The EU Commission president claimed that the vaccine passport "will respect data protection, security and privacy," adding: "the Digital Green Pass should facilitate Europeans' lives." "The aim is to gradually enable them to move safely in the European Union or abroad – for work or tourism," von der Leyen wrote.
NOW THE END BEGINS SHARE:
The European Union will introduce legislation to introduce the Digital Green Pass vaccine passport this month, EU Commission President Ursula von der Leyen announced on Monday.
The best way to describe to you what's happening now comes by way of an old Arabian proverb that says "If the camel once gets his nose in the tent, his body will soon follow." A digital green pass on your mobile device is the camel getting his nose in your tent, at this stage the vaccine is 'strongly recommended' but not mandated. But not taking it will lock you out of things like international air travel. Once you accept this, the camel will then proceed to insert his whole self into your tent, with the end result being a mark implanted inside your body. You may consider the countdown to the actual, literal Mark of the Beast as having begun.
"And he causeth all, both small and great, rich and poor, free and bond, to receive a mark in their right hand, or in their foreheads: And that no man might buy or sell, save he that had the mark, or the name of the beast, or the number of his name. Here is wisdom. Let him that hath understanding count the number of the beast: for it is the number of a man; and his number is Six hundred threescore and six." Revelation 13:16-18 (KJB)
For me, the truly amazing thing that I see is watching people across the world not only accepting these conditions but demanding them, blissfully ignorant of signing their own death warrants. John MacArthur lied to you when he said a believer could take the Mark and be forgiven by God, that is 1,000% not true. God will forgive no one, not a single soul, who takes the Mark of the Beast in the coming time of Jacob's trouble that will be here after the Pretribulation Rapture of the Church. The Digital Green Pass is not, at the moment, the Mark of the Beast but it will be sooner rather than later. Why don't you start practicing now and refuse to follow what you see happening?
COVID-1984: EUROPEAN UNION OFFICIALLY ANNOUNCES VACCINE PASSPORT SCHEME, UK MAY JOIN
FROM BREITBART NEWS: In a statement released on social media, von der Leyen said that the vaccine passport will provide proof that a person has been vaccinated, results of tests for those who couldn't get a vaccine yet, and information related to a successful recovery from the Chinese virus.
The vaccine passport has been dubbed the "DIGITAL GREEN PASS", presumably after the Israeli scheme of the same name. Greece, which has been one of the main proponents of the scheme, already signed a 'trial run' of a Green Pass system with Israel last month.
The EU Commission president claimed that the vaccine passport "will respect data protection, security and privacy," adding: "the Digital Green Pass should facilitate Europeans' lives."
"The aim is to gradually enable them to move safely in the European Union or abroad – for work or tourism," von der Leyen wrote.
The introduction of a vaccine passport was signaled last week by German Chancellor Angela Merkel, who claimed that "everyone agreed that we need a digital vaccination certificate," following a virtual EU coronavirus summit on Thursday. Merkel said that such a system could be put in place before the summer holiday season, but cautioned that a vaccine passport SHOULD NOT "MEAN that only those who have a vaccination passport are allowed to travel."
The move to introduce the legislation has apparently caught some within the bloc off guard, however, with Belgian Deputy Prime Minister and Minister of Foreign Affairs, Sophie Wilmès writing: "For Belgium, there is no question of linking vaccination to the freedom of movement around Europe".
"Respect for the principle of non-discrimination is more fundamental than ever since vaccination is not compulsory and access to the vaccine is not yet generalized."
According to The Telegraph, Downing Street has indicated that Brexit Britain is already set to hold talks with the EU over the passport scheme.
"We have said that we are looking at the issue of vaccine passports. As you can expect, DfT (the Department for Transport) will work and do speak to countries across the world in terms of how they may look to introduce passports," the Prime Minister's official spokesman said.
"Of course you can expect us to speak to the EU and other countries on how they may implement any similar sorts of policies," the spokesman added.
After months of denying coronavirus vaccine passports would be deployed domestically, Prime Minister Boris Johnson's government has begun to signal that it will look to require Britons to carry papers in order to go to the pub or the theatre.
Cabinet Minister Michael Gove — who has previously outright denied that the government would implement such draconian measures — has been tapped by Mr Johnson to research the development of a so-called 'Covid Status Certification' vaccine passport.
Mr Johnson defended the idea by saying: "I know the fervent libertarians will object but other people will think that there is case for it."

READ MORE
NOW THE END BEGINS IS YOUR FRONT LINE DEFENSE AGAINST THE RISING TIDE OF DARKNESS IN THE LAST DAYS BEFORE THE RAPTURE OF THE CHURCH
————————————————-
NETANYAHU: ISRAEL IS STRIKING BACK AT IRAN BECAUSE OF ATTACK ON ISRAELI SHIP
https://www.nowtheendbegins.com/ – Ryan Morgan
On Monday, Israeli Prime Minister Benjamin Netanyahu blamed Iran for an attack on an Israeli-owned cargo ship last week and said Israel is striking back at Iranian targets throughout the region.
On Thursday, the Israeli-owned MV Helios Ray suffered a series of blasts to its hull, forcing it to pull into a Dubai port for repairs. In comments reported by The Associated Press, Netanyahu said Israel was already striking back against Iran for the attack.
Netanyahu did not specify how Israel was striking back in his remarks Monday, but his comments did come after Syrian state media said Syrian air defenses intercepted Israeli missiles directed at Damascus on Sunday night. The missiles reportedly targeted an area where Iranian Islamic Revolutionary Guards Corps (IRGC) troops and Iran-backed militia fighters are believed to be located.
Syrian state media reported the Syrian air defense systems intercepted most of the Israeli missiles and there were no indications of casualties from the missile attacks.
Israel has launched numerous strikes in Syria's direction in recent months. In a Friday news briefing, Israeli Defense Minister Benny Gantz said Israel was taking various actions on an "almost weekly" basis to harass Iranian forces in Syria, which have been fighting in support of Syrian leader Bashar Al-Assad.
————————————————-
https://www.nowtheendbegins.com/ – Steve Watson
Capitol Police announced Tuesday that security is being increased in DC following an intelligence warning that militias are planning a breach on Thursday March 4th.
Capitol Hill is already surrounded by a huge razor wire topped fence, with thousands of National Guard troops still stationed within its perimeters, but apparently that is not enough.
Fox 5 News reports that Capitol police 'sources' warned that the militia group the Three Percenters, who have been accused of involvement in the January 6th riot, is planning to cause another breach this week.
Fox News also reported that March 4th is the day that QAnon followers believe President Trump is going to return and be reinstated, as it was historically the day on which presidents were inaugurated.
The report also states that "There is also some chatter about March 20, the day the Republican party came to life in 1834. And, there's even some noise about April 15: federal income tax day.
As we previously reported, the Capitol Police Chief has proposed erecting a permanent fence around the centre of government in DC.
Internal documents have also indicated that DC authorities want to keep the National Guard troops in place through the Summer and into Fall.
The January 6th events have been used to implement a military presence around the centre of government, which is now being held in place with fresh 'threats' being touted every week as justification.
————————————————-
https://www.nowtheendbegins.com/ – Stefan Gleason
As the Great Reset proceeds from globalist think tanks and technology billionaires to allied media elites, governments, schools, and Woke corporations, what will be "reset" next?
Supporters of the World Economic Forum's all-encompassing Great Reset agenda are eyeing BIG changes for the global monetary system.
Plans that might once have been dismissed as pure speculation or conspiracy theories are now being openly pushed by people who occupy the highest levels of power.
 …Treasury Secretary Janet Yellen The former Federal Reserve chair has taken a particular interest in stamping out cryptocurrencies and expanding the reach of the International Monetary Fund (IMF) – which could ultimately be the issuer of a new global digital currency.
Yellen derided Bitcoin as "an extremely inefficient way to conduct transactions" because "the amount of energy consumed in processing those transactions is staggering."
A report just released on Monday by Citi ("Bitcoin: At the Tipping Point") makes the case that Bitcoin could become the currency of choice for international trade within seven years. That assumes governments won't act in conjunction to ban or co-opt the technology to ensure they maintain "legal tender" monopolies.
In principle, Yellen and her global central planning cohorts support the digitization of money. In fact, they are enthusiastic about the prospects for replacing circulating paper cash with digital tokens.
They just want to make sure those digits are issued and controlled by governments and central banks.
Treasury Secretary Yellen recently told the New York Times, "Too many Americans really don't have access to easy payment systems and to banking accounts, and I think this is something that a digital dollar — a central bank digital currency — could help with. I think it could result in faster, safer and cheaper payments."
A central bank digital currency might also result in the imposition of negative interest rates or the automatic deduction of taxes with no way for holders to escape… except by exiting the dollar-denominated financial system entirely.
Federal Reserve Chairman Jerome Powell told Congress last week that the Fed is indeed "looking carefully" at issuing a digital dollar, calling it "a high priority project for us."
Anyone who is concerned about the prospect of being herded into a new digital currency regime should make it a high priority to own tangible money that exists outside the financial system.
No technology or government mandate can change the fact that gold and silver have universally recognized, inflation-resistant value.
————————————————-
https://www.nowtheendbegins.com/ – Tyler Durden
A couple of weeks ago, the Canadian government introduced a new set of rules forcing international air travelers to quarantine in hotels for three days upon arrival; the plan has since backfired, "after a series of endless, chaotic setbacks including food shortages and even alleged sexual assaults," according to RT News. 
Vancouver's local radio station CKWX reports travelers have become upset at Sheraton Gateway Hotel in Toronto after they waited hours for their meals. 
Arunthia Urmi, who traveled outside of Canada to visit her father, said she waited hours for food, only to receive nothing more than a flimsy piece of salmon – barely a meal. She also said:
"There was no water. There was no fork or knife, no utensils. No salt or pepper. Nothing," Urmi said.
Twitter user Raymond Truesdale documented the frustration between travelers at the Toronto hotel and staff. 
Truesdale said, "Here at Hotel Sheraton airport terminal 3 They were ill-prepared for this 3-day quarantine No kitchen staff no food they say no water people have come to lobby boondoggle."
Multiple confrontations broke out between those in quarantine and hotel staff about lack of food and water. …and when they got food – the hotel price gouged the living hell out of those in quarantine. Judging by the content of the food, it was certainly not worth $50. 
The mandatory quarantines have restricted these people from going outside to retrieve food. So they must rely on staff who were not adequately equipped with supplies. 
At a Holiday Inn quarantine in Toronto, residents also complained about water shortages, cold food, and a lack of utensils.
"I was so hungry. I called so many times," one woman told CTV News.
Canadian officials were underprepared as the lack of security and confusion among hotel staff resulted in starving people. 
 A spokesperson for the Minister of Health said they had been informed of many of these mishaps. 
"We're aware of reports that some travelers have experienced issues with food and accommodation at government-authorized hotels during their mandatory 3-night hotel stopover," they said in an email.
"The Public Health Agency of Canada is working directly with hotel partners to find solutions to these issues."
Police at Toronto Pearson International Airport slapped several people with fines after they attempted to escape quarantine. 
Other reports state there have been multiple sexual assaults at these quarantine hotels – calls for lawmakers to end the program are mounting.
Canada's sudden imposition of mandatory hotel quarantine for incoming air travelers has done nothing to suppress the virus' spread but has only created more problems. 
————————————————-
https://www.nowtheendbegins.com/ – By David Catron
It has now been nearly a year since "public health experts" began appearing on television talk shows insisting that, to survive COVID-19, the nation would have to pursue unprecedented mitigation policies. They told us that our salvation required draconian measures such as school closures, stay-at-home orders, and business lockdowns. Moreover, we were advised not to expect a fast return to our normal lives. In early April 2020, for example, Dr. Ezekiel Emanuel solemnly assured us, "We will not be able to return to normalcy until we find a vaccine…. We need to prepare ourselves for this to last 18 months or so and for the toll that it will take."
The good doctor didn't mention that, for a man of his means, "the toll that it will take" would be negligible even as it disrupted the education of millions of children, rendered their parents unemployed, and wreaked social and psychological havoc throughout society. The sainted Dr. Anthony Fauci echoed Dr. Zeke: "I know it's difficult … this is inconvenient from an economic and a personal standpoint, but we just have to do it." Not coincidentally, Fauci is the highest-paid bureaucrat in Washington. But not all public health experts accepted the cost-benefit analyses offered by Drs. Emanuel and Fauci.
Among the first actual epidemiologists who advised that more information was needed before draconian mitigation measures could be scientifically justified was Dr. John P. A. Ioannidis of the Stanford University School of Medicine. Dr. Ioannidis questioned the reasoning used by people like Emanuel and Fauci in an essay published in STAT, where he wrote that the precipitous response to the pandemic was "a once-in-a-century evidence fiasco" and that decisions of monumental significance were being made without truly dependable data concerning how many people had been infected:
The data collected so far on how many people are infected and how the epidemic is evolving are utterly unreliable. Given the limited testing to date, some deaths and probably the vast majority of infections due to SARS-CoV-2 are being missed.… In the absence of data, prepare-for-the-worst reasoning leads to extreme measures of social distancing and lockdowns. Unfortunately, we do not know if these measures work.… [w]e don't know how long social distancing measures and lockdowns can be maintained without major consequences to the economy, society, and mental health.
Shortly after Ioannidis wrote his essay, Michael T. Osterholm, director of the Center for Infectious Disease Research and Policy at the University of Minnesota, wrote an opinion piece for the Washington Post in which he denounced shutdowns in general. Osterholm begins his column by informing the Post's readers of a reality to which few of its readers had been previously exposed: "Covid-19 will go away eventually in one of two ways. Either we will develop a vaccine to prevent it, or the virus will burn itself out as the spread of infection comes to confer a form of herd immunity on the population."
Public health experts such as University of Alabama epidemiologist Dr. Suzanne Judd and Dr. Marty Makary of the Johns Hopkins School of Medicine predict that we may reach herd immunity by spring. This is why Osterholm warned us a year ago against pursuing lockdowns without any real understanding of the alternatives:
Consider the effect of shutting down offices, schools, transportation systems, restaurants, hotels, stores, theaters, concert halls, sporting events and other venues indefinitely and leaving all of their workers unemployed and on the public dole. The likely result would be not just a depression but a complete economic breakdown, with countless permanently lost jobs, long before a vaccine is ready or natural immunity takes hold. We can't have everyone stay home and still produce and distribute the basics needed to sustain life and fight the disease.… We are in uncharted territory.
Another early critic of lockdowns was Dr. Knut M. Wittkowski. Like many other epidemiologists, Wittkowski's warnings were ignored during the lockdown frenzy. In addition to his concerns about the ineffectiveness of the shutdowns, he was also worried about their threat to our civil liberties. He posted a YouTube video wherein he discusses these issues, but, after 1.5 million views, the video was taken down with no explanation. The video can be found here, at the American Institute for Economic Research. In it, he makes this observation: "I think people in the United States … are more docile than they should be."
So, a year later, states like Florida that lifted their lockdowns quickly and eased other restrictions early have far better COVID-19 records than states of similar size, like New York, that stayed locked down longer and were slow to ease other restrictions. Specifically, Florida's COVID-19 death rate of 144 per 100,000 residents is lower than New York's 243 per 100,000 residents. Likewise, Georgia has a larger population than New Jersey, yet its COVID-19 death rate of 159 per 100,000 residents is lower than New Jersey's 262 per 100,000 residents. This pattern repeats itself across the nation. Long lockdowns kill people.
As for our experts, it's clear that Dr. Zeke didn't have a clue. He was wrong about how long it would take to produce a vaccine, and his claims about the necessity of draconian lockdowns were sheer nonsense. Dr. Fauci, when it was possible to get him to commit to a single position two days in a row, was usually wrong. His latest flip-flop has involved school reopenings. Meanwhile, Drs. Ioannidis, Osterholm, and Wittkowski have been vindicated despite relentless criticism from the media and deplatforming. It turns out that "following the science" is much like it was in Galileo's day. Recant your heresy or be canceled at the stake.
————————————————-
https://www.nowtheendbegins.com/ – by Geoffrey Grider
Microsoft Corp. and Bill Gates have teamed up with the Los Angeles Unified School District to bring students a COVID-19 QR Code "comprehensive system" called 'Daily Pass.'
FROM THE DAILY WIRE: The system requires children to be scanned into school with their own unique QR code: their "Daily Pass." If a student doesn't have their barcode, they cannot get into school. And per the district, students will also still be wearing masks, staying six feet apart from one another and getting temperature checks outside the school.
There are nearly half a million students in the Los Angeles Unified School District, ranging from kindergarten to 12th grade. To earn their safe-for-school Daily Pass, students and staffers must answer questions online and test negative for the novel coronavirus every week.
"DAILY PASS GENERATES A UNIQUE QR CODE FOR EACH STUDENT AND STAFF MEMBER, AND THAT CODE AUTHORIZES ENTRY TO A SPECIFIC LAUSD LOCATION FOR THAT DAY ONLY — AS LONG AS THE INDIVIDUAL RECEIVES A NEGATIVE TEST RESULT FOR COVID, SHOWS NO SYMPTOMS AND HAS A TEMPERATURE UNDER 100 DEGREES, THE DISTRICT SAID," NBC LOS ANGELES OUTLINED. "UPON THE INDIVIDUAL'S ARRIVAL TO A CAMPUS, THEIR QR CODE IS SCANNED BY A DISTRICT SCHOOL-SITE LEADER, WHO TAKES THE INDIVIDUAL'S TEMPERATURE."
Schools have not been shown to significantly spread the virus, and some studies have found children are not at a significant risk of contracting the disease. Still, the promotional video for Daily Pass paints a different picture (see below). A scared child is only put at ease when she fills out her Daily Pass information, gets her unique barcode, stays six-feet away from her peers, and is scanned into school.
 I hope your eyes are open wide enough to see that this is never, ever going to go away, that COVID vaccine passports and all the rest of the junk that goes with that, are absolutely, 100% here to stay regardless of what the COVID virus does. They are creating the Mark of the Beast system right in front of our very eyes, and instead of pushing back and refusing, the overwhelming, vast majority of our global population is going right along with it.
Watch the video at the bottom of this article to see how terrifying the new Microsoft 'Daily Pass' really is. Everything we have ever told you about the end times is all happening right now, and at a rate of speed so fast we can't even catalogue it all. I hope you're ready for the Rapture because it is right around the corner.
————————————————-
https://www.nowtheendbegins.com/ – Harbingers Daily
A Canadian church was ordered to pay $83,000 by the Ontario Superior Court of Justice following an in-person church service in January with more than 10 people.
Trinity Bible Chapel in Waterloo refused to turn worshippers away or close their doors after the government issued orders last December limiting religious gatherings to no more than 10 people to slow the spread of COVID-19.
After church members worshipped together on Jan. 24, they were charged with contempt of court and handed a hefty fine.
Pastor Will Schuurman was fined $5,000, another pastor was fined $4,000, and each of the church elders was ordered to pay $3,000. Trinity Bible Chapel, by itself, was fined $15,000 and was also directed to pay $45,000 to cover the court costs of the Ministry of the Attorney General (MAG).
The MAG alleges that it took attorney's 104 hours to prosecute the church for having a worship service on Jan. 24. The church pled guilty to the charges, which are final and cannot be appealed. 
But the church believes that "God showed up in power, offered eternal hope to people, and saved souls" that day.
After the Jan. 24th church service, Pastor Schuurman tweeted that seven people were baptized and four more also requested to be baptized.
————————————————-
https://www.nowtheendbegins.com/ – Cristina Laila 
First Florida, then Texas, now Mississippi.
Mississippi Governor Tate Reeves (R) announced on Tuesday that starting Wednesday all county mask mandates will be lifted and all businesses will be able to operate at full capacity.
Governor Reeves made the announcement shortly after Texas Governor Abbott announced an end to his state's lockdown and mask mandate.
"This new order removes our county mask mandates and allows businesses to operate at full capacity without state-imposed rules or restrictions," Reeves said during a presser on Tuesday.
————————————————-
https://endtimeheadlines.org/
Texas Governor Greg Abbott has lifted many of the Covid-19 restrictions in his state, permitting businesses to operate at 100-percent capacity starting March 10 and repealing the requirement for people to wear face coverings.
Abbott delivered the "exciting news" during a speech to the Lubbock Chamber of Commerce on Tuesday, informing the assembled small business and community leaders that the mask mandate – in place since July – was no more.
"We must now do more to restore livelihoods and normalcy for Texans by opening Texas 100 percent,"Abbott said in a statement on Tuesday – Texas' Independence Day. "Make no mistake, Covid-19 has not disappeared, but it is clear from the recoveries, vaccinations, reduced hospitalizations, and safe practices that Texans are using that state mandates are no longer needed."
The announcement that businesses would be permitted to operate at full capacity going forward doubtless came as a relief for those establishments struggling to return to full operation in the wake of one of the worst storms in Texas' history. The snowstorm late last month took out power, heat, and other utilities to over four million Texans, killing dozens.
The governor's view contrasted sharply with that of President Joe Biden, who has so latched on to the idea of masks that he actually planned to send millions of them all around the country. He also expects Americans to remain obediently masked-up through to 2022, and declared the US would have enough Covid-19 vaccines to give everyone a jab by the end of the summer.
The announcement by Governor Greg Abbott that Texas will fully reopen next week is drawing backlash from mask mandate champions such as his California colleague Gavin Newsom and other Democrats – and counter-backlash as well.
Abbott marked the anniversary of the 1836 Texan independence on Tuesday by announcing that the state will reopen "100 percent" by next week in order to "restore livelihoods and normalcy." 
While Covid-19 has not disappeared, state mandates are "no longer needed" to force people to maintain safety practices, so the Texans can "have the freedom to determine their own destiny," added Abbott, a Republican.
Abbott's announcement triggered an avalanche of criticism on Twitter, if not in actual Texas, with critics invoking the standard talking point used against Republican governors reluctant to impose strict lockdowns or mask mandates: they are against "science" and want people to die.
Abbott is "a mass murderer," tweeted conspiracy theorist and outspoken Resistance activist Bill Palmer.
There were even comparisons to another famous Texan – former US President George W. Bush – and his 'Mission accomplished' moment, prematurely celebrating victory in Iraq in May 2003. Though the initial US invasion succeeded, the bloody occupation would drag on for more than eight years after that.
Then there was Newsom, the governor who imposed the strictest lockdown rules on California and continues to ban all indoor dining to this day. He commented on a wire report about the Texas reopening by calling it "absolutely reckless."
Newsom's post prompted backlash in the opposite direction, with his critics posting reminders of the governor violating his own lockdown rules – both last year, with the infamous mask-less dinner with lobbyists at the posh French Laundry restaurant, and just this weekend, when he met with comedian George Lopez inside a Fresno eatery and apparently dined on the premises despite his own rules making that a no-no.
————————————————-
APOCALYPTIC LOCUST PLAGUE TURNS SKY BLACK AS SWARMS RAVAGE MIDDLE EAST…
https://endtimeheadlines.org/2021/03/apocalyptic-locust-plague-turns-sky-black-as-swarms-ravage-middle-east/ Mar 2, 2021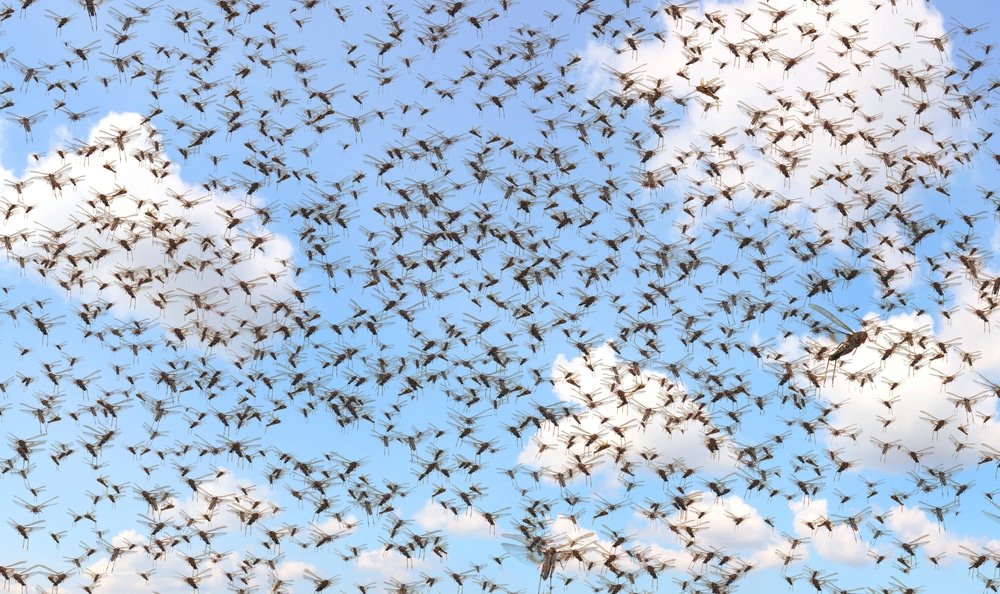 (Daily Star) – Horrifying footage shows a swarm of locusts filling the sky in the town of Mahayil in the Asir region of Saudi Arabia. In a nightmarish clip, filmed by someone standing in the street on February 23, the locusts hang overhead like a swirling black cloud as they fly around outside people's homes.
As the camera is turned around 360 degrees, it becomes clear nearby buildings are all completely surrounded by the ravenous insects as far as the eye can see. The footage continues for several more minutes, and the locusts just keep on coming as the swarm apparently grows in size.
The United Nations Food and Agriculture Organization (FAO) has warned that swarms of the crop-eating insects pose a threat to agricultural and pastoral livelihoods for millions of people spanning from the Horn of Africa (Djibouti, Eritrea, Ethiopia, Somalia, and Somaliland) to Yemen.
Authorities have failed to bring the locust plague under control after it exploded in 2020 following favorable weather conditions and seasonal rains. Although the locust swarm looks bad, it's still not as catastrophic as the infestations 2020, according to the latest situation report from reliefweb.int.

READ MORE
————————————————-
https://www.nowtheendbegins.com/ – Cap Allon
Sumatra's incredibly active Sinabung Volcano has exploded in spectacular fashion again today, March 2, sending volcanic ash high into the atmosphere.
The Volcanic Ash Advisory Center (VAAC) Darwin is warning of a thick ash plume rising to 40,000 feet (12.2 km).
Particulates ejected to altitudes above 32,800 feet (10 km) –and into the stratosphere– have a direct cooling effect on the planet.
This latest eruption (from March 2) ranks as one of the largest in years, rivaling the 55,000 footer of June 9, 2020.
Sinabung is certainly one to watch as we continue our descent into this next Grand Solar Minimum. The volcano appears more than capable of producing a powerful VEI 6+ which would result in a dramatic cooling of the planet almost overnight.
Seismic and Volcanic activity has been correlated to changes in the Sun.
The recent global uptick in earthquakes and volcanic eruptions is likely attributed to the drop-off in solar activity, coronal holes, a waning magnetosphere, and the increase in Galactic Cosmic Rays penetrating silica-rich magma.
Check out these link for more info: 
————————————————-
SALVATION
CLICK ON LINKS BELOW:
WHAT IS SALVATION? What is the Christian doctrine of salvation? 
SIMPLY Salvation is believing in the Lord Jesus Christ death on the Cross where he gave his life for us. And
HOW DOES GOD SAVE

?

In the Christian doctrine of salvation, God has rescued us through (JESUS CHRIST DEATH (ON THE CROSS) AND HIS "RESURRECTION) (John 3:17). Specifically, it was Jesus' death on the cross and subsequent resurrection that achieved our salvation (Romans 5:10; Ephesians 1:7). Scripture is clear that salvation is the gracious, undeserved gift of God (Ephesians 2:5, 8) and is only available through faith in Jesus Christ (Acts 4:12).
AND IT IS A "FREE" GIFT, BASED ON OUR LOVE FOR JESUS SACRIFICE FOR US AND OUR CONTINUAL SINS THAT MUST BE "FORGIVEN" THROUGH HIS SACRIFICE.
————————————————
AN EXAMPLE OF THE SINNERS PRAYER:
Dear Father,
I now believe that Jesus Christ is Your only begotten Son, that He came down to our earth in the flesh and died on the cross to take away all of my sins and the sins of this world. I believe that Jesus Christ then rose from the dead on the third day to give all of us eternal life.
Lord Jesus,
I now confess to You all of the wrong and sinful things that I have ever done in my life. I ask that You please forgive me and wash away all of my sins by the blood that You have personally shed for me on the cross. I am now ready to accept You as my personal Lord and Savior. I now ask that You come into my life and live with me for all of eternity.
Father, Jesus – I now believe that I am truly saved and born again.
Thank You Father.
Thank You Jesus.
————————————————
JESUS CHRIST RETURN FOR HIS CHURCH IS "IMMINENT"
Matt. 7:27 And the rain descended, and the floods came, and the winds blew, and beat upon that house; and it fell: and great was the fall of it.
Matt. 24:38 For as in the days that were before the flood they were eating and drinking, marrying and giving in marriage, until the day that Noe entered into the ark,
Matt. 24:39 And knew not until the flood came, and took them all away; so shall also the coming of the Son of man be
——————————————–
DON'T WAIT FOR THE LAST MINUTE
We are currently in the "Birth Pangs" pending the coming "7 year TRIBULATION" period, where all the Nations on Earth will be subject to God's Wrath on an "UNGODLY" World. The Rapture of Jesus Christ Church is "TOTALLY" imminent; And what will follow after that will be massively more devastating that we are seeing right now (Read

Revelation Ch 6 – 22

) God is trying to get everyone's attention to the coming Judgments; He does not want "ANYONE" to perish, but all to come to repentance. He loves us, but will not stand idly by and watch the World, (His Creation) turn to sin and debauchery). We are currently living in a fallen "Satanic" World where "EVIL", is totally accepted, "and God and his Love for his Church": is being exponentially rejected. The time has come when God HAS TO intervene, and he is (The prophetic word listed in his Word the Bible is being fulfilled exponentially).
——————————————————
THE NEW WORLD ORDER:
ONE WORLD GOVERNMENT – ONE WORLD ECONOMIC SYSTEM – ONE WORLD RELIGION
Dan. 9:27 And he shall confirm the covenant with many for one week: and in the midst of the week he shall cause the sacrifice and the oblation to cease, and for the overspreading of abominations he shall make it desolate, even until the consummation, and that determined shall be poured upon the desolate
Dan. 7:24 And the ten horns out of this kingdom are ten kings that shall arise: and another shall rise after them; and he shall be diverse from the first, and he shall subdue three kings
Rev. 17:12 And the ten horns which thou sawest are ten kings, which have received no kingdom as yet; but receive power as kings one hour with the beast
—————————————————-
THE MARK OF THE BEAST:
DON'T TAKE THE MARK OF THE BEAST WHICH IS (CHANGING YOUR D.N.A.) AND GIVING YOUR CONTROL OVER TO THE "BEAST SYSTEM" – THIS IS AN ABONOMINATION TO GOD: (YOU ARE HIS CREATION):
Rev. 13:14 And deceiveth them that dwell on the earth by the means of those miracles which he had power to do in the sight of the beast; saying to them that dwell on the earth, that they should make an image to the beast, which had the wound by a sword, and did live.
Rev. 13:15 And he had power to give life unto the image of the beast, that the image of the beast should both speak, and cause that as many as would not worship the image of the beast should be killed.
Rev. 14:9 And the third angel followed them, saying with a loud voice, If any man worship the beast and his image, and receive his mark in his forehead, or in his hand
THE PUNISHMENT FROM GOD FOR THOSE WHO TAKE THE MARK AND WORSHIP THE "BEAST SYSTEM":
Rev. 14:10 The same shall drink of the wine of the wrath of God, which is poured out without mixture into the cup of his indignation; and he shall be tormented with fire and brimstone in the presence of the holy angels, and in the presence of the Lamb:
 (

YOU ARE GOD'S CREATION – CHANGING YOUR D.N.A. AND/OR GIVING YOUR ALLEGANCE TO ANOTHER ENTITY I.E. (THE ANTICHRIST) – IS AN ABONOMINATION TO GOD):
————————————————-
THE FUTURE CONONAVIRUS INJECTION AT THIS POINT IN TIME ALSO APPEARS TO BE "MASSIVELY" AGAINST GOD AS IT WILL IS ALSO TAINTED WITH A CHANGE IN YOUR (R.N.A. WHICH CHANGES YOUR D.N.A.) AND WILL ALTER YOUR BODY IN MANY WAYS, (INCLUDING DEATH).
————————————————-
WEBPAGE ADMINISTRATOR:
(THE AUSTRALIAN R.N.A. VACCINE)
You Know, there comes a time in one's life when you just have to speak up regarding the "Blatant "Stupidity", "Greed", "Corruption", "Lies", "ETC" that some people have in their Soul; To say we have to have the Vaccine because of an "I SAID SO" attitude; even if it is Tainted with "DEATH", it can change your R.N.A. to Totally Change your D.N.A. Causing "DEATH". And "OH" if you change your D.N.A. don't look to God to have Mercy on you "IF" you survive, because "GOD" is the "CREATOR" of your "SOUL", and your "BODY". And once you change your D.N.A. you WILL become "NEPHLINIC," i.e. a different person. This is what the fallen Angels did after God Created Adam and Eve, they changed "Animal", and "Human" D.N.A. Which turned "Humans & Animals into a Totally different Species, i.e. it made them "NEPHLIMIC" "NOT OF GOD". God's Judgment is coming upon the people that are creating this "Ungodly" Evil, and like it was before the "FLOOD", so it will be again; Destruction of God's Creation over a "SEVEN YEAR PERIOD". Revelation Chapter 6 to Revelation Chapter 22. Which is about to start any time in the very near future.
This RNA "Vaccine" is "NOT APPROVED", and Trials that they recently conducted on people in Korea, Africa, and God knows where else, resulted in "Hundreds" of Deaths, and left the rest very sick and dying. And since then "tens of Thousands" of people are becoming very sick after the jab, and most are dying. Ask yourself why are they vaccinating Nursing Home residents and Hospitals first; the answer is because the New World Order's Objective is to Eliminate every person over 70 Years Old, and that is exactly what is happening Worldwide;
—————————————
CLICK ON LINK BELOW:
—————————————————-
The "AGENDA" of the "NEW WORLD ORDER" "THE ORDER OF THE PROTOCOLS OF ZION" is to wipe out "EIGHT TENTH'S OF HUMANITY", and leave enough room for the "ELITES" to live in peace and harmony". But they have not considered God into this equation, and he is our Creator and he loves his Creation with a passion –Jesus Christ died for us on the cross at calvary, and Once the Church has gone from this World God's vengeance will commence on the Ungodly of this World.
THE NEW WORLD ORDER THAT HAS ALREADY BEGUN, It Means A "ONE WORLD GOVERNMENT", A ONE WORLD CHURCH, AND A ONE WORLD RELIGION ("CHRISLAM"). "AND IT IS PURE EVIL"
PLEASE ACCEPT GOD'S FREE GIFT OF SALVATION. IT IS OUR ONLY HOPE