The End Times are HERE…Climaxing in the Return of Jesus Christ!

295K subscribers
Please Help Support This Ministry:

https://www.paypal.me/watchman1963

Cash App: $watchman1963 Please subscribe to my backup channel:

https://www.youtube.com/channel/UC4nc…

Current Events Linked To Biblical Prophecies. Everything is unfolding just as the bible foretold. Wars, Volcanic Eruptions, Earthquakes, Extreme Weather, Christian Persecution, Violence and

more!
——————————————–
Iran tries to form Russia/China alliance against US-2 State Solution for Israel-China/US Tensions

59.3K subscribers
You will hear the following in this Broadcast: -Iran's Zarif tries to form Russia-China alliance against US -China Will 'Start a Just War' If U.S. Troops Return to Taiwan, State-affiliated Media Warns -Bahrain claims deal with Israel supports two-state solution -Saudi Arabia calls for 'coexistence' in the Middle East following Abraham Accords
——————————————–
George Soros Prepping His 80 "Gangs" For Chaos in America! Be Ready! All Hell's About To Break Loose
——————————————–
1-5 Leviticus 17 – Demon Worship & Rock Music – w/slides 12-17-2009 A.D.

219K subscribers
 

Leviticus 17 – Demon Worship & Rock Music – w/slides 12-17-2009 A.D. Now with JD's original slides. Leviticus 17's look into the forbidden occult practices causes JD to be lead by the Holy Spirit to go into details about the demonic force involved with music & how they use it to open doorways for possesion into the minds of those who listen and perform it and how the performs ar often willing participates working with demonic forces toward that end. Thank God who sets us free in Jesus the Christ!!! Call upon His name for deliverance and salvation today!!! Also begins with a word from Joey, who happened to be visiting that night from the Operation Christmas Child outreach of Franklin Graham's (the Lord's thru Franklin & company actually ; – ) ministery, Samaritan's Purse. God Bible Truth Salvation occult demon demonic devil satan possesion music spirit spiritual force overcome reason Jesus Deliverer Victory Freedom Exorcism rational reason overcome evil Jesus Saves exorcism Holy DELIVERANCE Rock music allister crowley worship rock roll sex drugs
——————————————–
Focus on the End Times – Abraham Accord Peace Deal

186K subscribers
 

Abraham Accord Peace Deal Focus on the End Times Tim Buck (Founder of FOTET Ministry) expands on the Abraham Accord peace deal and the significance of its world relations.
——————————————–
Prophecy Update – Current Events – (9/25/20)

186K subscribers
Prophecy Update – Current Events – (9/25/20) Pastors Tom Hughes & James Kaddis
——————————————–
LATEST NEWS CLIPS – ARTICLES (SUNDAY 27th SEPTEMBER 2020)
—————————————————
(THIS IS THE WORLD'S CURRENT TIMELINE)
Matt. 24:6 And ye shall hear of wars and rumours of wars: see that ye be not troubled: for all these things must come to pass, but the end is not yet.
Matt. 24:7 For nation shall rise against nation, and kingdom against kingdom: and there shall be famines, and pestilences, and earthquakes, in divers places.
Matt. 24:8 All these are the beginning of sorrows.
Matt. 24:9 Then shall they deliver you up to be afflicted, and shall kill you: and ye shall be hated of all nations for my name's sake.
Luke 12:40 Be ye therefore ready also: for the Son of man cometh at an hour when ye think not
—————————————–
THIS IS THE WORLD'S VERY NEAR FUTURE:
Matt. 24:21 For then shall be great tribulation, such as was not since the beginning of the world to this time, no, nor ever shall be
—————————————————
WE PREACH THE BLESSED HOPE FOR THE FUTURE IN JESUS CHRIST OUR SAVIOUR
1Cor. 12:3 Wherefore I give you to understand, that no man speaking by the Spirit of God calleth Jesus accursed: AND THAT NO MAN CAN SAY THAT JESUS IS THE LORD, BUT BY THE HOLY GHOST.
"Behold, I come like a thief! Blessed is he who stays awake and keeps his clothes with him, so that he may not go naked and be shamefully exposed."
"And you know what is restraining him now so that he may be revealed in his time. For the mystery of lawlessness is already at work. Only he who now restrains it will do so until he is out of the way."
REV. 14:12
Here Jesus was alluding to the fact that the Doctrine of Eternal Security WILL EXPIRE WITH THE RAPTURE OF THE CHURCH
Luke 12:37 Blessed are those servants, whom the lord when he cometh shall find watching: verily I say unto you, that he shall gird himself, and make them to sit down to meat, and will come forth and serve them
SO WON'T YOU ACCEPT JESUS NOW AND BE REMOVED FROM THAT EVENT  (OF TRIBULATION) AND LIVE FOREVER WITH JESUS IN THE FAMILY OF GOD?
2 "(For he saith, I have heard thee in a time accepted, and in the day of salvation have I succoured thee: behold, now is the accepted time; behold, now is the day of salvation.)" (2nd Corinthians 2:6)
—————————————————
DAILY CHRISTIAN BIBLICAL QUESTIONS AND ANSWERS:
—————————————————
Confess With Your Mouth And Believe In Your Heart
Https://Gracethrufaith.Com/Ask-A-Bible-Teacher/Confess-With-Your-Mouth-And-Believe-In-Your-Heart/
QUESTION:   In Romans 10:9,10, I have come upon many different types of interpretation by pastors and commentaries. And I'm always in a debate with other Christian members when comes to this verse. I've always interpreted "confess with thy mouth the Lord Jesus" as simply asking God with our (mouth or mind) to save us because we agree that Christ is God and he died for our sin and he rose again from the dead. Is this correct?
ANSWER:    There are two important points in Romans 10:9, which says, "If you confess with your mouth, 'Jesus is Lord,' and believe in your heart that God raised him from the dead, you will be saved." The first is the Greek word translated confess. It means to acknowledge or agree. It's a compound word whose roots mean to speak together, or to say the same thing. When we confess that Jesus is Lord, we're agreeing that He is who the Bible shows Him to be, the one who came to die for our sins.
The second point is believing that God raised Him from the dead. After the resurrection, Jesus ascended to the Father to sit at His right hand. Since Jesus took upon Himself all the sins of mankind, and since sinful man cannot exist in God's presence, the fact that Jesus is with the Father is proof that the penalty for all the sins of mankind was paid at the cross. If even one of our sins remained unpaid Jesus would still be in the tomb and we would be without hope.
People ask, if Jesus died for everyone's sins why isn't everyone automatically saved? The answer lies in verse 10. "For it is with your heart that you believe and are justified, and it is with your mouth that you confess and are saved."
The word "believe" means to be persuaded that something is true. We have to be persuaded in our heart that Jesus came to die for our sins and that the resurrection proves His death was sufficient to pay for our sins in order to be saved. It's this belief that justifies us. (To be justified is to be made righteous in God's sight.)
Confess And Believe?
Https://Gracethrufaith.Com/Ask-A-Bible-Teacher/Confess-And-Believe/
QUESTION:   I'm bothered by an article I read on the Internet about being "saved." The writer quotes multiple scriptures, and states quite dogmatically that "one must believe in the resurrection…confess the resurrection…to be saved. He lists a series of common steps seekers are guided to take by various churches and evangelists such as, "Invite Jesus into your heart…." or "Accept Jesus as your personal savior …" or "Say the sinner's prayer" as being inadequate. Do you agree?
ANSWER:    Here's what it comes down to. In John 1:29 John the Baptist introduced Jesus as "the Lamb of God who takes away the sin of the world." John 3:16 says, "For God so loved the world that He gave His one and only Son that whoever believes in Him shall not perish but have eternal life." These and other passages tell us that Jesus died for all the sins of mankind, but it takes belief for us to benefit therefrom. Those who don't believe in His completed work will not inherit eternal life.
In Romans 10:9 Paul said, "If you confess (agree) with your mouth that Jesus is Lord and believe in your heart that God raised Him from the dead, you will be saved." Jesus literally took upon Himself all of our sins (2 Cor. 5:21) when He went to the cross. After the resurrection He ascended to His place on the throne of God. The point here is that since the Father cannot dwell in the presence of sin, the Son's death had to be sufficient to take away every single one of our sins. If even one remained unpaid by His death He couldn't be sitting at the right hand of God today and would still be in the grave. Simple logic tells us that His resurrection is proof of ours. In order for our belief in eternal life to have any substance, it has to be supported by our belief in the resurrection.
This doesn't mean that I'm in agreement with the article you referenced, which I also found to be quite dogmatic. God judges us according to the motives of our heart, and is not looking for loopholes that would allow Him to exclude us. The Bible doesn't say we have to confess the resurrection with our mouth, only that we have to believe it in our heart.
—————————————————-
NEWS CLIPS/ARTICLES OBTAINED FROM MANY SOURCES – INCLUDING

Tracking bible prophecy.org
Rapture Ready News
Prophecyupdate.Com
Main News Channels
End Times Headlines
Prophecyupdateblogspot.com
Stevequayle.com
Gracethrufaith.com
Nowtheendbegins.com
Other Christian Sites
(CLICK ON) LATEST DAILY NEWS CLIPS:
ISRAEL NEWS:
THE MIDDLE EAST PEACE PLAN IS "ANTI GOD" – (GOD WILL NOT ALLOW JERUSALEM TO BE DIVIDED).
ZECHARIAH 12:2-3
Zech. 12:2 Behold, I will make Jerusalem a cup of trembling unto all the people round about, when they shall be in the siege both against Judah and against Jerusalem.
WORLD TERRORISM – WARS
GENERAL WORLD NEWS:
GENERAL WORLD CORONAVIRUS NEWS:
WORLD FINANCE:
1Tim. 6:10 For the love of money is the root of all evil: which while some coveted after, they have erred from the faith, and pierced themselves through with many sorrows
MASSIVE EARTH CHANGES/EARTHQUAKES/VOLCANOES ETC:
2Chr. 7:13 If I shut up heaven that there be no rain, or if I command the locusts to devour the land, or if I send pestilence among my people;
2Chr. 7:14 If my people, which are called by my name, shall humble themselves, and pray, and seek my face, and turn from their wicked ways; then will I hear from heaven, and will forgive their sin, and will heal their land
CHRISTIAN AND RELIGIOUS WORLD NEWS:
Matt. 24:9 Then shall they deliver you up to be afflicted, and shall kill you: and ye shall be hated of all nations for my name's sake.
Matt. 24:10 And then shall many be offended, and shall betray one another, and shall hate one another
EXTRA WORLD – ALTERNATIVE NEWS:
Please keep in mind that this collection of News Articles is mainly concerning America, but also take note that what happens in America will also "Dramatically" affect Australia and the rest of the World "Massively".
—————————————————-
WORLD – PROPHETIC NEWS ARTICLES PRESENTATION  (

XXXXX  XXth  XXXX 2020)
MIDDLE EAST AND WORLD WAR LOOMING THE BUILD UP TO PSALM 83  – ISAIAH 17 AND GOG OF MAGOG WARS EZEKIEL 37-38:
THE WHOLE WORLD IS UNSTABLE FINANCIALLY, POLITICALLY, PHYSICALLY, MORALLY, GODLY: – AND BECOMING MORE SO DAILY. (WE ARE IN THE BEGINNING OF SORROWS

(

MATT 24:8)
THE BIBLE STATES THAT IT WILL ONLY GET WORSE BEFORE THE START OF THE TRIBULATION OF MANKIND – (REVELATION 6)
But before that we have to go through the Birth Pangs, leading up to the Tribulation of Mankind; and I feel that the beginning of Matthew 24 explains that time very well. We are currently in the Birth Pangs (Even though Matthew 24: is directed at the Jewish Nation, it still reflects Biblical Prophecy for the whole World at this time):
Matt. 24:6 And ye shall hear of WARS AND RUMOURS OF WARS: see that ye be not troubled: for all these things must come to pass, but the end is not yet.
Matt. 24:7 FOR NATION SHALL RISE AGAINST NATION, AND KINGDOM AGAINST KINGDOM: and there shall be famines, and pestilences, and earthquakes, in divers places.
—————————————————-
GENERAL PROPHETIC NEWS SECTION:
—————————————————–
https://prophecyupdate.blogspot.com/ – Tyler Durden
Hu Xijn, the editor of China's English language mouthpiece publication geared toward Western audiences, Global Times, is at it again "relaying" Beijing's threats and warnings. 
He took aim at a US Marine Corps authored editorial written in Military Review in a tweet which unleashed headlines, including in Newsweek. The American military publication called for a US ground troops deployment to Taiwan to restore the regional balance of power in Washington's favor.
The Marine author urged this of the Pentagon "if it is committed to defending Taiwanese sovereignty." Hu shot back, likely echoing Beijing's view in his usual hawkish manner, that "the PLA will definitely start a just war to safeguard China's territorial integrity" if there are US troops stationed in Taiwan.
This would also of course be seen as a severe violation and breakdown of the 'One China' policy status quo.
Thus the US article itself is now stirring already high tensions, as Newsweek summarizes:
The article headlined "Deterring the Dragon," has [Marine Captain] Mills warning that the current power balance made a surprise attack on Taiwan "more likely" and believes that American leadership has to "face down" international pressure "against a deliberate and more global conflict with China."
"If Chinese forces can prevent U.S. forces from responding reflexively or immediately to PLA (People's Liberation Army) aggression, the United States will either accede to a quick PLA victory in a Taiwanese-mainland China conflict or be forced to wage a long, costly campaign to re-establish access to Taiwan with a far from certain outcome," Mills wrote.
Typically Hu reflects the insider thinking of the Chinese Communist Party, but with a more hawkish tinge.
And while a lone article by a Marine officer in a military publication might be seen in the United States as but one among many perspectives on China adding to the debate, no doubt Beijing sees it very differently – as a veiled Pentagon threat to take precisely such action. 
Meanwhile since last week China has stepped up military activity and war games in areas near Taiwan and the contested strait, including 'de-mining' exercises.
—————————————————-
https://prophecyupdate.blogspot.com/ – Insider Paper
No signs of disengagement are visible between the Chinese military and Indian soldiers on eastern Ladakh. Both sides have been engaged in a stand-off since April which worsened with time. In recent reports, India has communicated to China that its soldiers will not hesitate to defend themselves. India has explicitly stated that Indian soldiers stationed at the border will open fire in self-defense if the need arises.
INDIAN SOLDIERS AT THE BORDER BECOME WARY OF CHINESE TACTICS
India has reiterated that it is essential for Indian soldiers at the border to open fire in self-defense because China has a history of utilizing tactics of "using mass". Indian officials state that Chinese soldiers wait until they are sure they will be able to outnumber Indian soldiers and then strike. A similar situation happened in the 15 June Galwan Valley clash which resulted in considerable losses to the Indian military. India says these tactics will not be tolerated again.
Tensions between China and India have considerably grown since April, it seems that these tensions will continue on the border in winters as well. The Chinese military has deployed around 50,000 soldiers and equipment, including missile systems, tanks, and artillery, at the border.
INDIAN SOLDIERS WILL OPEN FIRE IN SELF-DEFENSE IF THE NEED ARISES
Sources suggest that India has changed its rules of engagement for the Line of Actual Control (LAC). This change resulted from the 15 June Galwan Valley clash. The bloody clash had resulted in the death of 20 Indian soldiers, including a commanding officer, and many Chinese troops. A source claimed that China is aware of these developments, "We have told our soldiers that they can open fire if there is a fear of their own safety. They can fire for self-defense."
Reports assert that Chinese words of peace will not be believed until they begin to show on the border. This is because, despite the peace talks between the two superpowers, China has continued to deploy heavy armor to the border.  The sources also said China has given them a number for the People's Liberation Army (PLA) soldiers killed in the Galwan Valley clash — a number Beijing has yet to publicly acknowledge.
The Galwan Valley clash took place when Indian soldiers were massively outnumbered by the Chinese military. The skirmish took place when an attempt at disengagement on the border failed. "The Chinese tactic was to come in large numbers with clubs and crude weapons and surround Indians, who followed the laid-down protocols and moved in a much lesser manner," one of the sources quoted above said. "According to the agreement, both sides are supposed to have a 15-20-member-strong patrol team. Over the last few years (since Doklam), the Chinese started increasing numbers," the source added.
—————————————————-
AMERICA WILL SOON STAND ALONE! CHINESE MULTI-NATIONAL ECONOMIC IMPERIALISM IS BEING USED TO SEPARATE THE US FROM HER ALLIES

IN PREPARATION FOR WAR
Submitted by Dave Hodges on Saturday, September 26, 2020 – 14:33.
China, the globalists and their administrative arm, the United Nations are busy separating America from her allies. In the previous article on this subject, the CSS introduced the reader to the project known as CANZUK, a proposed free trade agreement between Australia, New Zealand, Canada and the UK, which pretends to be a free trade agreement in the making. However, this is a cover story.
The real intent on CANZUK is to organize these 4 nations as a collective under Chinese control. The method that is being used to accomplish this control of 4 of America's closest allies is the creation of massive debt owed to the CHICOMS and the Chinese subsequently take control over key infrasture as payment for the unpaid debts.
This is the classic Chinese strategy. Most will find it inconceivable that China could ever separate America from 4 of her English-speaking allies. However, it is already happening.
In reality, China has been at work at this strategy for sometime. This article will provide, some, certainly there is not space to cover every instance of Chinese imperialism which has one goal:

ISOLATE THE UNITED STATES FROM HER ALLIES PRIOR TO BEING ATTACKED.

  
It will be made clear in this series that the Chinese have pre-positioned colonists, economic and military interests around the planet as an early part of the plot to control the world for the United Nations takeover in which the UN claimed that they would be the sole planetary and economic authority by 2030.  
This is a completely unbelievable hypothesis until one looks at what has already unfolded. Is China colonizing the planet? A small sample-size, cursory look easily establishes the fact that the Chinese are fulfilling their new mission as the future world policeman as we can clearly see that the Chinese are the new imperialist power on the planet. 
CHINESE CONTROL OVER CENTRAL AMERICA
In Central America, the United States has been indifferent to the infrastructure needs of Central America with more than 60% of Central America's roads being unpaved and 70% of Central America's sewage is released in an untreated state. The power grids are not reliable and the US has done nothing. However, in 2008, the Chinese showed up and began to build AND control the infrastructure of the 7 country region.   
However, with infrastructure development, came a mountain of debt for these Central American countries and as a result, they are hopelessly indebted to the Chinese. Of course, if one controls a nation's purse strings, they also control the politics and the military. Can you say Red Dawn? There are some 56 port deals at various levels that China's working and that has strong military implications with regard to the logistics needed to launch a major invasion south of the American-Mexican border.
China has "deployed some assets" to the region,…and that's picked up consistently in the last couple years. They're also increasing their military engagement, Spanish-language schools, training, training centers, and gifting of gear to various countries."
Do I have your attention?
Also,=and as previously reported on the CSS, we know that the CHICOMS control the cartels. The policy makers in the United States that have a full understanding of what it is I just wrote, are no doubt losing sleep as I do over these facts. 
CHINESE CONTROL OVER SOUTH AMERICA
Each region of the world that the Chinese military front groups have infiltrated speaks directly to military control. The methods between Central and South America may seen slightly different, however, the result of the total takeover of the both Central and South America is abundantly clear 
At some 16 million people, Ecuador's entire population is smaller than that of Beijing – but despite its size, the country isn't just attractive to investors from the Middle Kingdom, it has rung up a huge debt with China. Out of 15 countries in Latin America that have received Chinese funding, Ecuador is among the top three borrowers, with a total of 15 loans estimated at US$18.4 billion.
As of last year, only Brazil (US$28.9 billion) and Venezuela (US$67.2 billion) – both major players in the region – received more money from China than Ecuador, according to the China-Latin America Finance Database.
If one controls the economy, eventually, the military is under the control of the financiers and ultimately even the "elected" officials. In Ecuador, the people don;t like it and they protest. But their Chinese puppet government is unresponsive to the will of the people who want to expel the Chinese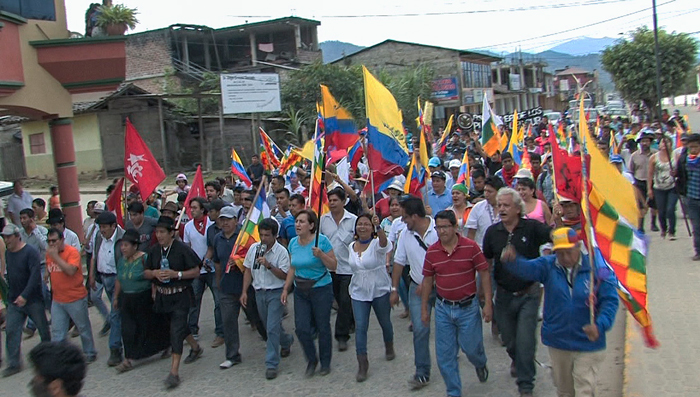 In a protest against the Mirador mine under the control of the Chinese, demonstrators walked 580km from Tundayme to Quito over 11 days in August 2015. Photo: Camara Shuar
The Chinese are locking key South American countries with their population control technologies. The following paragraphs is merely a small sample size of what is happening in South America. 
…New systems already being pioneered in China will link near-total surveillance – made possible by ubiquitous cameras – and access to location data in smartphones, as well as other information on virtually all aspects of a person, including telephone and digital communications, banking and credit card data and complementary commercial transactions, contracts, and public registries," says the report, titled "The Future of Latin America and the Caribbean in the Context of the Rise of China"….
…Ecuador has bought the ECU-91123 system, designed and built by China National Electronics Import and Export Corp, to integrate its security and disaster relief agencies, including the police, fire services and paramedic units, into one platform…
In China's Big Brother Bolivia, we are seeing the same kind of takeover:
…Chinese companies have been exporting "new-generation surveillance systems" to the region mostly through contracts with the Bolivarian Alliance for the Peoples of Our America, a regional group of leftist leaders…Bolivia has bought the BOL-110, which uses more than 600 security cameras and was developed by the same Chinese company…
Xi is helping to prop up Maduro In Venezuela and in this poverty-stricken country.
VENEZUELA
As I investigated further, I discovered that the Chinese ships in Venezuela, were not there for humanitarian aid as had been previously stated. This flotilla contained Chinese oil workers who work under the umbrella of the Chinese military. The Chinese all but control Mexico's Pemex oil. The Chinese coalition is located off of the EAST coast of Venezuela. This will make sense after one reads the following paragraphs. From Reuters on September 14, 2019:
China and Venezuela had signed a "memorandum for cooperation in Ayacucho bloc 6," located in Venezuela's vast oil-rich Orinoco Belt, without elaborating.
China will drill 300 wells in Ayacucho and extend $184 million in financing for the joint oil venture Petrozumano, the statement added. A source at Venezuelan state oil company PDVSA , who asked to remain anonymous because he is not allowed to speak to media, said oil services and procurement at Sinovensa would be handled by Chinese companies.
The Chinese are also after Venezuelan Palladium as well.
PAUSING TO STATE THAT WHEN THESE MASSIVE INFRASTRUCTURE DEBTS ARE NOT PAID,THE HOST GOVERNMENT LOSES CONTROL OF KEY ASSETS AND NATIONAL SOVEREIGNTY. 
MEXICO 
It is common knowledge that the Chinese are active in Mexico. They largely control the cartels and reap profits from drug and child-sex-trafficking. Additionally, the CHICOMS largely control PEMEX oil and it is also common knwledge that the Chinese maintain a strong military presence in Northern Mexico. I have previously published.
When AMLO pivoted away from China, the CHICOMS had their cartel assets attempt to assassinate the head of the Mexico City police who just happens to be the head of security for AMLO. This was a warning from China to AMLO. Mexico is needed to launch a Red Dawn invasion and AMLO is getting cold feet. Further, the CSS has covered the fact that the CHICOMS are providing the cartels with mechanized military assets. 
CHILE AND VENEZUELA
Chilie is unbelievably rich in mineral resources and it is easy to see why the Chinese have set their sights on Chile as evidenced by the following:   
Globally, Chile is:
A leading producer of

Copper, accounting for 34% of global production

Iodine, 60% of global production 

Rhenium, 52% of global production

Lithium, 35% of global production

The second largest producer of arsenic

The third largest producer of boron and molybdenum

The fifth largest producer of silver

The sixth largest producer of pumicite and refined selenium
Previously, I began to publish accounts of Chinese incursions into Chile. It was reported that entire Chinese villages were being imported to Chile, ostensibly to take over the mines when the ongoing regime change is completed. Further, it has been widely reported that the CHICOMS have have infiltrated local Chilean police and are among the most brutal when supressing the ongoing riots. I published notifications from the local American consulate advising ex-pates to stock up on supplies and to bascially be prepared to be on their own. China is fueling the ongoing revolution.
Here we see more of the same pattern of a Chinese takeover from a different perspective in Venezuela:
Venezuela, with the help of Chinese telecommunications company ZTE, has built a database that can track citizens' behaviour through a national identity card. The so-called "fatherland card", according to Reuters, can compile data including political affiliation, voting, financial and medical histories as well as social media usage.
…David B.H. Denoon, author of China, The United States, and the Future of Latin America, said many Latin Americans feared "Chinese telecom equipment will be used for surveillance without the consent of Latin governments".
"Without the consent of Latin American governments" This speaks to a hostile takeover of Latin America by the Chinese. Ellis warned that Chinese intelligence entities capacity to collect data on citizens, political leaders, and economic elites, as well as those who control sensitive military and commercial information".="China could exploit this potential to compromise and blackmail political, military, and business figures, to obtain politically, militarily, or commercially valuable information, and to influence political and commercial decisions to advance Chinese strategic objectives," Ellis stated in the report.
In addition, several publications note that in the past year, China has entered into military and communications technology transfers with several Central and South American countries with the most notably being Brazil and Agentina.
The same exact concerns about China's growing imperialistic influence has also surfaced in Africa. 
Chinese In Africa and the Middle East
I have been in contact with a former South African pastor, Abri Bracken, who relocated to New Zealand in order to escape the persecution of whites in South Africa. Previously Pastor Bracken sent me the following email:
Hi Dave.
Dave FYI, President Trump needs to move on the South African issue. China is taking  Southern Africa and it is linked to the land grab from farmers in South Africa. China has reportedly deployed and installed a dreaded new generation of surface-to- air missiles (SAM) in Zimbabwe, in what is seen as direct preparation for defending her vast economic interests in the country. The story broke today on South African Radio stations as well. 
(Editor's Note: The link for the story connected to the missiles is listed below. Certainly, the Chinese do not need SAM missiles to defend against any African military. These missiles intended for the United States should they intervene in South Africa in order to stop the genocide against whites which is in the early stages of unfolding. The South African ANC ruling party would surely welcome Chinese military support against a potential US intervention force.).
Again, from Pastor Brancken about the Chinese incursion into South Africa.
Hello Dave. …I was right. There is much more behind the white farm confiscations than what meets the eye. China is behind it! An article just broke in a credible SA news agency (Maroela Media –www.maroelamedia.co.za) that the reason why the ANC government is "stealing" the first two farms is not for agricultural reasons. It is for the minerals, coal to be specific. It will go to the Chinese. The farms are game farms, you cannot do agricultural farming there, meaning that the confiscation of the first farm is not to produce food or to enable new black farmers to learn about agricultural farming. It is used for high end game hunting. China is moving into Southern Africa for the fertile quality of agricultural land in order to produce food for China and for the natural resources, gold, diamonds and coal. That is why they are placing surface to air missiles in Zimbabwe. What do they fear? Southern Africa is not exactly the best and most advanced when it comes to air forces. No Southern Africa country will strike them. Are they expecting a greater power to counter their moves? USA? The Communist ANC is fulfilling the wishes of the communist Chinese.  Blessings, Abri Brancken
The Chinese are dominating trade and infrastructure development in Africa. From the National Interest:
…China is in Africa now not to advance Maoism, but to control its resources, people, and potential. From building railways in Kenya and roads in rural Ethiopia to running mines in the Congo, China has drastically changed the African economic landscape in the twentieth century. China lent nearly $125 billion to Africa between 2000 and 2006 and recently pledged $60 billion at the 2018 Forum on China-Africa Co-operation. The Chinese superficially appear to maintain a mutually beneficial relationship with Africa by providing financial and technical assistance to Africa's pressing developmental needs. Trade between China and Africa has grown from $10 billion in 2000 to $190 billion by 2017. It is estimated that 12 percent of Africa industrial production, or $500 billion annually—nearly half of Africa's internationally contracted construction market—is carried out by Chinese firms…
AFGHANISTAN
For at least 20 months, the US government has known that the Chinese have established a base of operations in Afghanistan.
There is mounting evidence that Chinese ground troops are operating inside Afghanistan, conducting joint counter-terror patrols with Afghan forces along a 50-mile stretch of their shared border and fueling speculation that Beijing is preparing to play a significantly greater role in the country's security once the U.S. and NATO leave.  The full scope of China's involvement remains unclear, and the Pentagon is unwilling to discuss it. "We know that they are there, that they are present," a Pentagon spokesman said. Yet beyond a subtle acknowledgement, U.S. military officials in Washington and in Kabul would not respond to several detailed questions submitted by Military Times.
What is in Afghanistan? Drugs, lots and lots of drugs and since the Chinese control the drug cartels, this makes a lot of sense. 
CONCLUSION
Clearly, colonization has begun, through the use of economic imperialism, Chinese style. What's next? How will this ultimately impact the United States? Part Two will address these critical issues as it relates to 4 of our very closest allies and China is in the process of separating them from the United States. Australia will be the first CANZUK nation that will be analyzed. . 
—————————————————-
https://prophecyupdate.blogspot.com/ – J.D. Farag
Pastor JD explains that the only way to make any sense out of the unprecedented events in the world today is by viewing everything through the lens of Bible prophecy.
—————————————————-
https://prophecyupdate.blogspot.com/ – Andrea Widburg
…However, ordinary people – e.g., moms at football games and church worshippers — are finding that some local police have developed an unpleasantly totalitarian side about those mask mandates. Leftists like masks. They want to see everyone wearing a mask. Health paranoia, more than health science, supports them. From a non-scientific viewpoint, the way people wear masks (under their noses) and handle their masks (on and off, on and off, transferring viruses and bacteria all over the place), their utility is questionable.
People other than power-hungry leftists have noticed that, while hyper-sensitive Wuhan virus tests are still showing new cases, people aren't dying en masse. Also, most of the deaths occurred in a handful of counties. Roughly 200 days after we were told a 15-day shutdown would flatten the curve and return life to normal, we finally flattened that curve.
In the free America we older folks still remember, mask madness would be over. Masks would be limited to those who need them (the elderly and those with co-morbidities) and those with active symptoms who, for whatever reason, cannot remain at home. The rest of us would be free – especially our children, who can neither give nor receive the Wuhan virus.
But that's not happening in 2020 America. State and municipal politicians, having had a taste of power, are not letting go. Many are going all-in for total control. To save one person from dying from the Wuhan virus, these despots are willing to destroy hundreds, thousands, tens of thousands, or even hundreds of thousands of other lives. Who cares about drug abuse, alcohol abuse, depression, broken marriages, suicide, untreated diseases, child abuse, and bankruptcy when you can assure that your town won't have a single Wuhan virus death and, even better, no Wuhan virus cases at all?
So how are these tinpot tyrants maintaining this control? With the police, who fall into two categories. We regularly see footage showing police facing down screaming mobs, who shoot them, throw Molotov cocktails at them, try to burn them alive in police stations, shower them with feces balloons, blind them with lasers, and strike them with clubs. These front line police are absolute heroes.
But when it comes to some of the behind-the-line police, there are problems. Take what happened to Alecia Kitts. She drove with her family for an hour and a half, traveling from Marietta, Ohio, to Logan, Ohio, to watch her son's school football game. She was sitting outdoors, in isolation, with her family, maskless (just like Fauci) because she has asthma, when a Logan Police Department officer, without any prior warning, arrested her for not wearing a mask.
Kitts objected loudly and wiggled about wildly to avoid the cuffs the officer was trying to place on her. She shouldn't have resisted. That only makes things worse– and it did. The officer tasered Kitts as she sat on the metal bench, giving her children a shock too. Another officer who came to help . . . wasn't initially wearing a mask:
I'm beginning to understand how, in Saudi Arabia, the religious police were willing to let young girls burn to death rather than have them appear maskless. Even in Saudi Arabia, though, people across the political spectrum objected. Here, the spectators sat placidly as the mask police went after Kitts. They didn't even have the decency to heckle the police.
Meanwhile, in Moscow, Idaho, where no one has died or been hospitalized from the Wuhan virus, the city council has still banned church services, which is almost certainly unconstitutional. When parishioners showed up in a parking lot to sing hymns, the police arrested some of the singers:
I know exactly what's going on with police who follow orders that they know are unconstitutional or morally indecent. They're not bad. They're prisoners of the demands of their lives – feeding the children, paying the mortgage, keeping up the insurance. But at some point, one hopes at least some will say "enough."
Watching all this, I ask myself, who are we? What in the world have we become? Have we always been so sheeplike and cowardly, and I just didn't notice? At least the vile leftists fight for what they believe. We need to pull back soon because we are heading fast for a cliff edge that separates us from being Americans and turns us into perpetual victims living in a violent, totalitarian world.
———————————————
https://prophecyupdate.blogspot.com/ – Lionel Shriver
Outside rare contrary voices like mine, silenced in August, we continue to be fed a steady diet of Covid hysteria, which amounts to government-sponsored terrorism. After all, what is terrorism? The instillation of pervasive social fear to achieve political ends. Sounds like this administration's Covid strategy in a nutshell. Good gracious, and I thought governments were meant to protect us from terrorism.
For months now, Boris and his Sage henchmen have warned frenetically about the likelihood of a second wave. The sudden backtracking on opening up the economy — Monday's arbitrary, scientifically baseless 'rule of six', limiting all gatherings to half a dozen; the threat of a nationwide curfew — gives every indication that the UK government is preparing for a second wave. These folks could profit politically from a second wave, if only because they've predicted it for so long, and another full lockdown would seem to justify the first one. The most expedient way to cover up a mistake is to keep making it.
I'm not a natural conspiracy theorist. I instinctively trace the source of human catastrophe to incompetence, a quality in which our species is far more awash than malign intent. Nevertheless, it's within this government's power to make out that there is a second wave. Indeed, the perverse project may already be under way.
Let's start with the definition. We should rightly worry about a second wave of deaths. Covid fatalities have been rumpling along the X-axis at barely above zero for two months. But Boris has brought down the hammer on treacherous convocations of seven people, even outside, because of a rise in cases. Ergo, a 'second wave' will be defined as a surge in cases, even if deaths remain negligible and admissions to hospitals presently half-empty barely rise.
This escalation of cases for the last month has a host of explanations, one being that lockdowns only delay infections so long as the virus is still circulating at all. Lockdowns do not save lives, unless we lock down for ever, in which case I suggest we all procure a mercifully deadly dose of cyanide. The other obvious cause is vastly ramped-up testing, which identifies the asymptomatic.
When you account for the fact that PCR tests are wildly oversensitive, and thus systematically stigmatise loads of people who merely carry a kind of viral flotsam and are not infectious, the real false positivity rate is much higher. With widespread testing that produces a high percentage of false positives, we will always appear to be amid a raging epidemic. This nightmare will never be over. And the authorities' suffocating restrictions for our 'own good' won't ever be over, either.
That's why the 'moonshot' proposal to get us to test ourselves every day as automatically as we brush our teeth has activated the few dormant cells in my brain that are vulnerable to conspiracy theories. Daily testing of 67 million people would, if nothing else, produce a bumper crop of false positives. It would have the happy side benefit of inducing permanently heightened anxiety in us serfs: more terrorism. It's a formula for maintaining a state of emergency until the end of time. At an eye-popping cost of £100 billion, it would also, by the by, help ensure sovereign bankruptcy.
On encountering Chris Whitty's baleful announcement that the UK is 'on the edge of losing control' of the virus, I can't have been alone in spewing coffee all over a new iPad. Our betters have never controlled the virus. They've just controlled us.
They're not planning to stop controlling us. This government is starting to behave as if it wants a second wave, ideally even worse than the first, and a second lockdown, ideally even worse than the first as well. Otherwise, we wake up one day and realise: oh, excess deaths for 2020 weren't all that high compared to previous years with especially bad flu. Most of us are still here. And the country is in shambles. The finger-pointing could grow unpleasant.
Pay less attention to case numbers. Primarily attend to deaths, and secondarily to hospital admissions (also paltry for the last two months). Only the lethality of this disease has justified the wholesale destruction of our social lives, our work lives, our livelihoods, and our civil rights — including freedom of speech, apparently. If draconian measures are triggered by an uptick in mere 'cases', which for the most part do not represent people gravely or terminally ill, the country could be plunged into repeated lockdowns to suppress the head cold.
—————————————————-
https://prophecyupdate.blogspot.com/ – Bill Sardi
The current unrest in the streets of American cities only serves as a distraction to what is really going on.
Stop arguing over whether face masks prevent the spread of COVID-19 coronavirus, or that lockdowns are or aren't needed to save lives.  That is all contrived.  The real agenda is to intentionally drive Americans out of their livelihoods so they beg for a federal government dole out in the form of new digital currency.
With paper money going the way of buggy whips, digital currency will be distributed directly from the federal government rather than banks and Americans will lose the anonymity of what goods and services they spend their money on.  The federal government will now know what political party you contribute to, whether you have complied with forced vaccination, etc., etc.  And if you disagree with government, your digital money card could be turned off.
Do you understand the federal government is considering a technical change in the form of the currency it uses, from paper money to digital money, a move that will totally negate the House of Representatives that governs how public funds are spent?  In other words, American democracy will be side stepped.
Americans might as well sign a Declaration of Dependency, and scrap that old piece of paper that says Declaration of Independence.  If Americans have no financial independence, they have no self-rule at all.
As economist Peter Schiff has said, when government relies on taxing the people, the people control government.  But when government just prints money into existence, in this case electronically, it controls the people.
Now money will be created out of thin air, instead of from taxes on the productivity of US workers and corporations.   Then that money will be issued directly from the US Treasury Department (initially they say it will come from the independent central bank called the Federal Reserve), into your personal digital account.
There will be no more paper money.  Well, that is also denied, but that is what will eventually take place.  Now there is no need for a local bank or an ATM machine.  If you want to borrow money, you do that over the telephone.  The nation's 472,000 bank tellers lose their jobs and are added to the rolls of unemployed workers on the government dole.
The contrived COVID-19 pandemic has been used to force millions of people out of work so the federal government could not only bail out big business, but force every worker in the country on unemployment so they have to depend on digitally-issued COVID-19 money.
The COVID-19 lockdown is intended to drive Americans into total dependency upon the federal government.  The "war of independence" has been lost.  All Americans become wards of the State.  No opposition to government can be mounted or your digital money card will be turned off.
What a guaranteed income promises, which some politicians have placed on their political platforms, is a little bit of security in exchange for total loss of freedom.  Destroy the middle class and impoverish every American worker until they beg for the digital dole out.
The federal government has been meeting its financial obligations by just "printing" money into existence for a long time now.  Once the percentage of retirees grew to the point where funds for Medicare and Social Security exceeded the real taxes (FICA payments) on current earnings, all that was left were IOUs in for the form of US Treasury Notes in Social Security and Medicare Trust Funds to pay for pensions and health care.
Maybe the US is attempting to "go digital" before a digital global currency is introduced.
Mastercard is working in league with the International Monetary Fund and the World Bank to usher in a single global currency, which the European-based World Economic Counsel says it will offer the world beginning in January of 2021 with demonstrations in 400 cities.
The world's populations are likely to buy into the idea.  Over three-quarters of the world's workers earn less than $10 a day.  Now they get an "equity" card, a digital money account.  Workers all over the globe earn money, if you can call it that, of equal value globally.  There will be no exchange rate for different currencies.  All money would be valued the same.
To start the ball rolling, one proposal calls for the creation of "recession insurance bonds."  This could be derived from a percentage of the Gross Domestic Product (GDP) and is equally distributed to households in a recession.  But wait!  The GDP then only becomes a measure of welfare, not productivity.  Who will say no to free money, sent directly into each household's digital account?
Now local banks become unnecessary.  What you earn goes directly into your federal digital account and federal taxes are deducted (FICA payments, income tax) directly.  The federal government is expected to glean an additional $500 billion in taxes in this manner.  Tax accountants become superfluous.
While socialists clamor for a guaranteed income, you don't even need to put it to a vote, it is being ushered in by a technology change.  Technocracy trumps democracy.
Then a "handful of technocrats quietly, without a vote, take over the United States.
—————————————————-
https://prophecyupdate.blogspot.com/ – Charles Hugh Smith 
The essence of any Totalitarian society is the politicization of everything, as everything must be either supporting the status quo or it's a threat to the status quo.
There is no middle ground in a Totalitarian society and so everything–literally everything– must be politicized to assess its true nature of being "for" or "against" the status quo.
In such a society, what cannot be politicized ceases to exist. It isn't counted or recognized, and so it fades into a netherworld of shadows, a dangerous realm where the mere act of attempting to recognize a non-politicized experience is itself a threat to the status quo.
You will of course be thinking of the former Soviet Union (USSR) and other Totalitarian societies. Here's an extreme example of how the politicization of everything works: a conventional worker in a conventional factory happens to mention to a co-worker that he dreamed Stalin had fallen ill, and this worried him. The co-worker reported this disturbing dream to the proper authorities, who instantly recognized the true nature of the dream and sentenced the worker to 10 years in the Gulag for having an anti-Soviet dream.
(A 10-year sentence in the Gulag was so common that it was nicknamed "a tenner.")
In America circa 2020, "a tenner" for the wrong thought, opinion or dreamtakes other forms.Indeed, even the claim that a dream might not have a political angle is itself cause for being sentenced to "a tenner," because the core of the Totalitarian society is the politicization of everything.
Every object, entity, image, document, historical "fact," person, thought, emotion, reaction, narrative, opinion, everything tangible or intangible, has a barely concealed political subtext in a Totalitarian society.
There is nothing innocuous, innocent or whimsical in a Totalitarian society, at least in the public sphere. In an era permeated by the cruel marriage of surveillance capitalism and the bitterly divided state, even the once-private sphere is subject to public exposure and shaming / sentencing.
As in an Orwellian nightmare, your "smart" phone, vehicle, TV or Alexa-powered doorbell can eavesdrop and record your private conversations and behaviors, and somebody somewhere has access to this data and can share it with others.
The ostensible justification is "your safety" or "to catch wrongdoing," but this is transparently false. The real reason is to discern your political crimes. You need not commit any crimes per se to be persecuted; all that's needed is some tiny bit of evidence that reflects your true beliefs which by definition must be supportive of the status quo via endless virtual-signaling; if not, then they are necessarily a threat to the status quo.
———————————————–
https://prophecyupdate.blogspot.com/ – Dr John Lee
The way in which the British government decided to announce the latest set of restrictions on social life was something of a back-to-the-future moment. The chief medical officer and chief scientific officer were wheeled out to make dire predictions, paving the way for the prime minister to emerge from his bunker to tell us what we must do, based on the science, for our own safety.
The first time around, back in March, the tone felt about right. There was a lot we did not know about the virus, there were worrying pictures of what might be about to happen, and the idea of a short intense shutdown to prevent the NHS from being overwhelmed by a surge of serious cases seemed reasonable.
But a great deal has changed since then. We now know a lot about the virus and what it has been doing, and we know that the seriousness of the disease – in population terms – is much less than was originally feared. We know that the pictures we saw on our televisions were highly selected, in the way that disaster reporting usually is. We know that the extreme predictions of disaster that did so much to frighten people in March were based on catastrophist extrapolations of models with biologically naive assumptions, models that have been shown to be wrong many times before.
So this time the tone seemed wrong. The scientific talking heads again presented a one-sided, extreme version of what might be about to happen, untempered by even an acknowledgement of the many possible alternative interpretations of the data, and without deigning to take questions. Even more striking, the government's idea of what it thinks it is trying to do, as presented by the prime minister, appears to have drastically shifted: from a short sharp shock to protect the NHS, to a one-size-fits-all, less intense but nevertheless highly damaging slowdown, intended to reduce case incidence in all ages, despite the disease severity varying over a thousand-fold (as we now know) between young and old.
The idea now seems to be to try to suppress the virus until the cavalry come galloping over the hill in the form of a vaccine, or possibly an antiviral drug. This Covid-control strategy apparently must be pursued at all costs, without even a cursory nod to the idea of a cost-benefit analysis which might weigh the benefits accrued by the policy against the damage caused to society along all the other axes of health, economics and lives worth living.
Why has there been this radical change in policy, which has not even been properly explained? The government can only get away with it by continuing to use emergency powers, thus necessitating maintenance of the idea that we are in an emergency. And unfortunately it is aided in this by two further underappreciated factors: the nature of scientific careers, and the infiltration of bureaucracies (including, and perhaps especially, those dominated by scientists) by what has become known as the precautionary principle.
Science works best when everything is examined critically, not when there is unquestioning acceptance of just one narrative. When that happens, a particular paradigm has captured a field, and that usually results in errors and slow progress. Good science challenges every assumption, rigorously examines every self-evident conclusion for flaws, and scrutinises every consequence that follows from those conclusions for unintended wider effects that may neutralise (or even negate) their validity.
It is clearly not what has been happening during the Covid crisis, which has been remarkable for the almost complete absence of doubt expressed by government advisers, and the complete lack of alternative perspectives or interpretations aired in public, even if it were only to dismiss them. This may reflect the baleful influence of PsyOps again, or it may be that some in the fields of epidemiology, infectious diseases and public health sense an opportunity.
———————————————–
https://prophecyupdate.blogspot.com/ – Tyler Durden
Six months after parliament passed the Coronavirus Act 2020, which gives the government powers to impose lockdowns and other restrictive social distancing measures (measures that have been accompanied by stiff fines), thousands of Britons packed London's Trafalgar Square bearing signs reading "We Do Not Consent" and "Think Before It's Illegal" during a rally that was billed as a "We Do Not Consent" anti-lockdown demonstration.
The event was organized by a coalition of political groups, and supporters have been galvanized by the talk of another London lockdown by mayor Sadiq Khan, as well as PM Boris Johnson's assurances that a lockdown would be imposed if the government felt all other measures had failed.
Protests are exempt from the rule of six, a rule that threatens fines for groups of more than six people, which has created much aggravation in the UK. Organizers of the rally had to submit a "risk assessment" and agree to comply with social distancing rules. While police told the press that the organizers had completed these requirements, the metropolitan police promised to crack down on those not wearing masks and violating other rules.
They added that enforcement "remains a last resort but will be undertaken if required."
Demonstrators waved signs and British flags and cheered as speakers – including several notable "conspiracy theories", according to the Guardian – addressed the crowd. Crowds chanted "freedom" as people whistled and clapped.
#WeDoNotConsent The crowds get bigger at every protest. More people are waking up. Stand up and fight for your rights. Trafalgar Square
"I've been shouting that mandatory vaccines are coming, no one believed me. No we can see it's just around the corner, we've never been closer." Kerry Dunn, 41, from Bath, whose son, Beau, suffered severe brain damage after he was vaccinated.
At points, police fulfilled their promise to break up crowds. Before they began, the protests received a warning from the Metropolitan Police, which said it would intervene if the protesters don't abide by social distancing guidelines.
Toby Young, General Secretary of the Free Speech Union, expressed hope that law enforcement would allow the group to protest "as they did with [Extinction Rebellion] and BLM."
—————————————————-
https://prophecyupdate.blogspot.com/ –  Strange Sounds
"We are plunging now into a deep mini ice age," says British astrophysicist Piers Corbyn, "and there is no way out."
For the next 20 years it's going to get colder and colder, on average, says Corbyn who holds a B.Sc. in Physics and an M.Sc. in Astrophysics.
The jet stream will be wilder: there will be more wild temperature changes, more hail events, more earthquakes, more extreme volcano events, more snow in winters, lousy summers, late springs, short autumns, and more and more crop failures.
"The fact is the sun rules the sea temperature, and the sea temperature rules the climate," explains Corbyn.
"What we have happening now is the start of the mini ice age … it began around 2013. It's a slow start, and now the rate of moving into the mini ice age is accelerating.
The Little Ice Age (LIA) was triggered by a large outflow of sea ice from the Arctic Ocean into the North Atlantic, according to the findings of a new paper published in the journal Science Advances.
The paper combines marine sediment cores drilled from the ocean floor from the Arctic Ocean to the North Atlantic.
These records indicate an abrupt increase in Arctic sea ice and cold waters exported to the North Atlantic starting around 1300, peaking in mid-century, and ending abruptly in the late 1300s.
Crucially, the provocative paper concludes that external forcing from volcanoes or any other cause may not be necessary for large swings in climate to occur — a previously widely held assumption.
"These results strongly suggest that these things can occur out of the blue due to internal variability in the climate system," said Dr. Martin Miles, researcher in the Institute of Arctic and Alpine Research at the University of Colorado.
But the marine cores do also show a sustained, far-flung pulse of sea ice near the Norse colonies on Greenland, an event which coincided with their demise in the 15th century; a cooling climate is thought to have pushed hard on their resilience.
Today, it is feared a similar event may be about to occur.
"We are waiting for a huge burst of cold water to be released from the Beaufort Gyre," says David Mauriello of the ORP, a release which is is long overdue with the gyre having circulated in-place far longer than is normal. "And when it does this," continues Mauriello, "it will potentially shut down the Gulf Stream."
The Beaufort Gyre has been circulating in-place for far longer than is normal. When it finally lets-up, cold water will outflow into the Atlantic, potentially disrupting/shutting-down the Gulf Stream.
The Gulf Stream is key to Europe having the mild, habitable climate that it does. A shutting down of the Gulf Stream will lead to cold Arctic-like conditions invading Western Europe almost overnight, with Britain, Ireland, and Scandinavia at the forefront of the blast.
However, it must be stressed that these processes and mechanisms remain poorly understood – but then so do the majority of subjects within the field of climate science.
This reality makes the purported 100% confidence and consensus around the impact a trace gas such as CO2 can have on global temperatures even more absurd.
Again, that Michael Crichton quote rings true: "Whenever you hear the consensus of scientists agrees on something or other, reach for your wallet, because you're being had."
And for those out there crying 'but Crichton' isn't a scientist': 1) err, he brought dinosaurs back to life, and 2) fine, you got me, so I'll included astrophysicist Piers Corbyn's views on CO2 instead.
So, to conclude: "Carbon dioxide levels do not have any impact -I repeat, any impact- on climate," states Corbyn, "the CO2 theory is wrong from the start."
The COLD TIMES are returning, the mid-latitudes are REFREEZING, in line with historically low solar activity, cloud-nucleating Cosmic Rays, and a meridional jet stream flow. Both NOAA and NASA appear to agree, if you read between the lines, with NOAA saying we're entering a 'full-blown' Grand Solar Minimum in the late-2020s, and NASA seeing this upcoming solar cycle (25) as "the weakest of the past 200 years", with the agency correlating previous solar shutdowns to prolonged periods of global cooling here.
——————————————–
THINGS TO COME:
https://prophecyupdate.blogspot.com/ – Ethan Huff
A new proposal by Daniel Andrews, the 48th incumbent Premier of Victoria in Australia, would make it so that residents of the state who violate its Wuhan coronavirus (COVID-19) restrictions – or even just spread what the government deems to be "conspiracy theories" about the plandemic – can be locked up or thrown in concentration camps by any "public servant."
The power-crazed politician of the far-left Australian state has already made global headlines for sanctioning breaking into people's homes and smashing their car windows upon suspicion that Wuhan coronavirus (COVID-19) restrictions are being flouted. Now he wants to start arresting and detaining people without any evidence of a crime being committed, all to keep people "safe" from the Wuhan coronavirus (COVID-19).
Otherwise innocent Victorians, should Andrews' proposal be enacted, would be subject to arrest by any "public servant," not just a police officer, if they are merely suspected of having the Wuhan coronavirus (COVID-19). Arrests would also be permitted of those who question the official plandemic narrative, which the government considers to be the spreading of dangerous "conspiracy theories."
The proposal also contains provisions for how to handle people who are suspected of breaching Wuhan coronavirus (COVID-19) rules at their homes and workplaces. Snitches would be able to call a government tip line to report potential violations, prompting "public servants" to come out for an inspection or to make an arrest.
More of the latest news about the Wuhan coronavirus (COVID-19) can be found at Pandemic.news.
Responding to the proposal, 18 former judges and lawyers, all of high esteem, wrote an open letter warning that Andrews' proposal is "unprecedented, excessive and open to abuse."
Ross Gillies QC, one of the lawyers, told the media that he is fearful the measure would be widely abused by power-hungry government officials who are eager to cause a fight.
"I don't trust someone who is nominated by a public servant with the power to make arrests," Gillies is quoted as saying. "I have real abiding concern that power is a very dangerous thing."
"Some people are excited by power and the ability to exert authority over someone else," he added. "There is the potential for enormous injustice. Someone might grab someone and say, 'I have reason to believe you are a COVID carrier or know someone who has COVID and I apprehend you. There would be no remedy in that situation. That may be the worst-case scenario but we know that can happen."
Chillingly, Andrews' bill has already passed the lower house, and will now move on to the upper house which has the power to either vote it down or amend it next month. Gillies is urging the upper house to reject it, for obvious reasons, calling it "draconian."
Another signer of the letter, James Peters QC, expressed similar concerns about the measure, noting that power "is very intoxicating and only some people can exercise it carefully such as very well-trained groups."
When asked if he can envision a scenario in which innocent Victorians are being arrested in the streets by people who are not police officers, Peters indicated that he can, and that it's "a very big risk."
While it is normally the case that arrests are followed by being brought before a bail justice, the proposed new law would eliminate that process entirely. Worse yet, if emergency powers are enacted alongside it, Victoria could quite literally see a Fourth Reich type of situation manifest within its border.
"We have a traditional understanding of police power and redress to the courts if you have concern about how powers are exercised," he says. "But how are you able to effectively test the belief upon which you were restrained? You might not find out about it [why you were arrested] until you get to court."
————————————————-
If anyone doubts that the country that many of us loved so much is almost totally gone, just look at what is going on all around the U.S. right now.  People are actually being arrested and put in prison for not wearing masks.  If authorities are willing to get this extreme during a relatively minor pandemic, what are they going to do to us when a true national emergency breaks out?  I certainly don't have anything against anyone that wants to wear a mask, and I certainly don't have a problem with officials that want to encourage everyone to wear one.  But when it gets to a point where the police are actively hunting for "non-conformers" and are dragging them off to prison in handcuffs, that should tell all of us that we aren't living in a free country anymore. (

READ MORE…

)
————————————————-
WHEN THESE THINGS BEGIN TO TAKE PLACE…
https://prophecyupdate.blogspot.com/ – Jack Kelley
There is no fear in love. But perfect love drives out fear, because fear has to do with punishment. The one who fears is not made perfect in love (1 John 4:18).
There's lots of fear mongering going on today. The word "monger" originally referred to a trader of commodities, but today it's more often used to describe a person involved in something petty or contemptible.
You don't have to look very far to find someone who's only too willing to inform you about all the things you should fear, whether it's financial collapse, food shortages, killer diseases, or the government secretly planning to lock you up in the FEMA camps they've been building so they can force you to take the mark of the beast.
Books and videos explaining signs from God that foretell of coming judgments are guaranteed to sell even if they are not always accurate in their interpretation of His word. This is because all around the world there is a growing expectation of judgment. Paul explained that even those who have no knowledge of God's law intuitively know right from wrong (

Romans 2:14-1

5), and even the most casual observers are beginning to sense that things are going wrong.
I don't know of a single nation that's being blessed today. All are in some stage of the end times judgment that will culminate in the fulfilment of Jeremiah 30:11 when the Lord will completely destroy them. Only Israel is guaranteed survival and even they will endure some very difficult times first.
We recently compared current events in the world with the "birth pangs" Jesus described as indicators that the end of the Age was drawing near. We saw evidence that these indicators are steadily becoming more frequent and more intense as the time for the Second Coming approaches in the same way that birth pangs become more frequent and more intense as the time for the delivery of a new life approaches.
Many Christians are still deeply immersed in the world, and even though they are born again, the fearful attitudes of their unbelieving counterparts have begun occupying their minds as well. What with the evening news, the internet, radio and TV talk shows, and what passes for secular entertainment these days it's no wonder.
The Bible warns us about letting the fears and uncertainties of this world infect our minds. In Matt. 6:25-34 Jesus repeatedly said, "Do not worry." And in Matt. 13:22 He said the worries of this life and the deceitfulness of worldly wealth could stunt the growth of His word in our hearts and make us unfruitful. He said we should expect trouble in this world but to take heart because He has overcome the world (John 16:33). And about the times we're in, He said, "When these things begin to take place, stand up and lift up your heads, because your redemption is drawing near" (Luke 21:28).
Notice that Jesus didn't tell us to take heart because He would give us the strength to overcome the world ourselves. He said to take heart because He has overcome the world. 
And He also said seeing the signs of the approaching End Times should cause us to stand up and lift up our heads because our redemption is drawing near. One of the great promises of the Bible is that we don't have to be overtaken by events in this world, but can remain above them.
Jesus said there will be trouble in this world but to take heart because He has overcome the world (John 16:33). He said when the particular trouble the world is experiencing right now begins to take place we should stand up and lift up our heads because our redemption is drawing near (Luke 21:28). He said because we've kept His command to endure patiently He will keep us from the hour of trial that's coming upon the whole world to test those who live on the Earth (Rev. 3:10). He said He will come back and take us to be with Him so that where He is we will also be (John 14:2-3).
Paul said Jesus will rescue us from the coming wrath (1 Thes. 1:10). He said we who are alive and are left will be caught up (raptured) to meet Him in the clouds and we will be with the Lord forever (1 Thes. 4:17). He said to encourage each other with these words (1 Thes. 4:18). He said events leading up to the end of the age should not take us by surprise (1 Thes. 5:4), and that we are not appointed to suffer wrath but to receive salvation through Christ our Lord (1 Thes. 5:9).
If you've only heard these things from the mouths of men then you can't be sure they are true, and you're fair game for the fear mongers who delight in shaking the confidence of the uncertain.
But if you have read with your own eyes the verses from which these statements come, and know them well enough so you can easily find them in your Bible, if you have asked the Holy Spirit to confirm the truth of them and believe in your heart that they apply to the times ahead, then you have protected yourself from all the fear mongering that abounds today.
You know that these promises do not necessarily exempt you from any persecution or trial between now and the day He comes to take us, but you know you are a child of God (John 1:12-13) and because of that you can continue to endure patiently. Since He left to prepare a place for you, you know He will come back for you. When He does He will take you to His Father's house, and you will dwell in the house of the Lord forever (John 14:2-3). You can almost hear the footsteps of the Messiah.
——————————————
JESUS CHRIST RETURN FOR HIS CHURCH IS "IMMINENT"
Matt. 7:27 And the rain descended, and the floods came, and the winds blew, and beat upon that house; and it fell: and great was the fall of it.
Matt. 24:38 For as in the days that were before the flood they were eating and drinking, marrying and giving in marriage, until the day that Noe entered into the ark,
Matt. 24:39 And knew not until the flood came, and took them all away; so shall also the coming of the Son of man be
——————————————–
DON'T WAIT FOR THE LAST MINUTE
We are currently in the "Birth Pangs" pending the coming "7 year TRIBULATION" period, where all the Nations on Earth will be subject to God's Wrath on an "UNGODLY" World. The Rapture of Jesus Christ Church is "TOTALLY" imminent; And what will follow after that will be massively more devastating that we are seeing right now (

Read

Revelation Ch 6 – 22

) God is trying to get everyone's attention to the coming Judgments; He does not want "ANYONE" to perish, but all to come to repentance. He loves us, but will not stand idly by and watch the World, (His Creation) turn to sin and debauchery). We are currently living in a fallen "Satanic" World where "EVIL", is totally accepted, "and God and his Love for his Church": is being exponentially rejected. The time has come when God HAS TO intervene, and he is (The prophetic word listed in his Word the Bible is being fulfilled exponentially).
——————————————————
THE NEW WORLD ORDER:
ONE WORLD GOVERNMENT – ONE WORLD ECONOMIC SYSTEM – ONE WORLD RELIGION
Dan. 9:27 And he shall confirm the covenant with many for one week: and in the midst of the week he shall cause the sacrifice and the oblation to cease, and for the overspreading of abominations he shall make it desolate, even until the consummation, and that determined shall be poured upon the desolate
Dan. 7:24 And the ten horns out of this kingdom are ten kings that shall arise: and another shall rise after them; and he shall be diverse from the first, and he shall subdue three kings
Rev. 17:12 And the ten horns which thou sawest are ten kings, which have received no kingdom as yet; but receive power as kings one hour with the beast
———————————————–
THE MARK OF THE BEAST:
DON'T TAKE THE MARK OF THE BEAST WHICH IS (CHANGING YOUR D.N.A.) AND GIVING YOUR CONTROL OVER TO THE "BEAST SYSTEM" – THIS IS AN ABONOMINATION TO GOD: (YOU ARE HIS CREATION):
Rev. 13:14 And deceiveth them that dwell on the earth by the means of those miracles which he had power to do in the sight of the beast; saying to them that dwell on the earth, that they should make an image to the beast, which had the wound by a sword, and did live.
Rev. 13:15 And he had power to give life unto the image of the beast, that the image of the beast should both speak, and cause that as many as would not worship the image of the beast should be killed.
Rev. 14:9 And the third angel followed them, saying with a loud voice, If any man worship the beast and his image, and receive his mark in his forehead, or in his hand
THE PUNISHMENT FROM GOD FOR THOSE WHO TAKE THE MARK AND WORSHIP THE "BEAST SYSTEM":
Rev. 14:10 The same shall drink of the wine of the wrath of God, which is poured out without mixture into the cup of his indignation; and he shall be tormented with fire and brimstone in the presence of the holy angels, and in the presence of the Lamb:
 (

YOU ARE GOD'S CREATION

–

CHANGING YOUR D.N.A. AND/OR GIVING YOUR ALLEGANCE TO ANOTHER ENTITY I.E. (THE ANTICHRIST) – IS AN ABONOMINATION TO GOD):
————————————————-
THE FUTURE CONONAVIRUS INJECTION AT THIS POINT IN TIME ALSO APPEARS TO BE "MASSIVELY" AGAINST GOD AS IT WILL IS ALSO TAINTED WITH A CHANGE IN YOUR (R.N.A. WHICH CHANGES YOUR D.N.A.) AND WILL ALTER YOUR BODY IN MANY WAYS, (INCLUDING DEATH).