Will Psalm 83 Lead to Ezekiel 38?

187K subscribers
Will Psalm 83 Lead to Ezekiel 38? Will Psalm 83 be the next prophesied war? Find out with guest Bill Salus and Nathan Jones of the Lamb & Lion Ministries evangelism team as they provide their Prophetic Perspectives.
———————————————-
Indian Rejects US Help (Oct 17,2020) Amid PLA Prepare Troops to War in LAC Border

Indian Rejects US Help, Amid PLA Prepare Troops to War in LAC Border While the border tensions between India and China are still persisting, Washington has been warming up with New Delhi, extending its solidarity and throwing full-weight behind India. India and the US have been long-standing allies, however, China's confrontation with several countries including Japan, the US and Australia has raised alarm against China's expansionist strategy. During the recent Quad meeting, US Secretary of State Mike Pompeo called China an aggressor in the "South [China Sea], in the East China Sea, the Mekong, the Himalayas, the Taiwan Straits."
———————————————-
Israel-Hamas seek long-term ceasefire; EU leaders discuss Turkey relations- TV7 Israel News 16.10.20

Today's top stories 16.10.20; 1) Israel's security establishment is reportedly pushing for a long-term arrangement with the Islamist Hamas organization in the Gaza Strip. 2) Leaders of the European Union 27-member states concluded a two-day summit, today; during which a debate on foreign issues – including EU-Turkey relations – was discussed. 3) Greece calls on Turkey to return to the negotiating table – as tensions continue to simmer.
———————————————-
Hezbollah hurdle to Israel-Lebanon peace; Turkey to expand EastMed exploration-TV7 Israel News 15.10

 

Today's top stories 15.10.20; 1) U.S. Secretary of State Mike Pompeo reaffirmed Washington's commitments to confront Iran's malign activities – and separately calls on Saudi Arabia to normalize its relations with the Jewish State. 2) Israeli Prime Minister Benjamin Netanyahu emphasized that so-long Hezbollah controls Lebanon, there cannot be peace between Jerusalem and Beirut. 3) Russia warns Turkey about overreaching into areas in the southern Caucasus that may steer Moscow from diplomacy to war.
———————————————-
An Upside-Down World – Ecclesiastes 10 – October 15th, 2020
•

Streamed live 13 hours ago

223K subscribers
Pastor JD talks about coming to terms with the reality of living in an upside-down world.  Subscribe to Pastor J.D.'s new prophecy website at

http://jdfarag.org
———————————————-
Prophecy Update – Countering Chaos and Confusion (Part 2)

187K subscribers
Prophecy Update – Countering Chaos and Confusion (Part 2) For more Olive Tree Ministries Resources click here:

http://www.olivetreeviews.org

. Jan Markell features Michele Bachmann for two weeks. In this program, Michele warns that the Left plans to try every tactic imaginable using chaos and confusion to defeat Donald Trump and to re-make America—or to re-imagine us, as a globalist paradise. What can the Christian and the Church do? We use the mobile app found at

http://www.oneplace.com

. All the signs of the last days are converging at the same time. Bible Prophecy is happening right before our eyes and like birth pains, the predicted events are happening more frequently and more intently. Never, in the history throughout the world have so many forces, including economic, scientific, techno-logic, ecologic, cultural, geopolitical, moral, spiritual and religion, converged together to bring this world that's already teetering over the edge into the abyss, to a point of no return. Jesus said when you see all these signs happening, know that I am near, even at the door.
———————————————-
Exodus – Chapter 6 – Staying on the Path of Truth (Part 2)

187K subscribers
Exodus – Chapter 6

– Staying on the Path of Truth (Part 2) Pastor Brandon Holthaus If you would like to be added to our text alerts, please click here and complete your contact information. https://rockharborchurchca.ccbchurch

…. I am Pastor Brandon Holthaus, and I want to welcome you to our Rock Harbour Church's YouTube Channel. We desire to reach people with the truth; believers and unbelievers alike. We connect dots of events that are happening in the world from a Biblical perspective and also a prophetic perspective. We offer prophecy updates, discipleship lessons, and sermons to help people grow in the Lord and come to the knowledge of the truth.

https://rockharborchurch.net
—————————————————
LATEST NEWS CLIPS – ARTICLES (SATURDAY 17th OCTOBER)
—————————————————
(THIS IS THE WORLD'S CURRENT TIMELINE)
Matt. 24:6 And ye shall hear of wars and rumours of wars: see that ye be not troubled: for all these things must come to pass, but the end is not yet.
Matt. 24:7 For nation shall rise against nation, and kingdom against kingdom: and there shall be famines, and pestilences, and earthquakes, in divers places.
Matt. 24:8 All these are the beginning of sorrows.
Matt. 24:9 Then shall they deliver you up to be afflicted, and shall kill you: and ye shall be hated of all nations for my name's sake.
Luke 12:40 Be ye therefore ready also: for the Son of man cometh at an hour when ye think not
—————————————–
THIS IS THE WORLD'S VERY NEAR FUTURE:
Matt. 24:21 For then shall be great tribulation, such as was not since the beginning of the world to this time, no, nor ever shall be
—————————————————
WE PREACH THE BLESSED HOPE FOR THE FUTURE IN JESUS CHRIST OUR SAVIOUR
1Cor. 12:3 Wherefore I give you to understand, that no man speaking by the Spirit of God calleth Jesus accursed: AND THAT NO MAN CAN SAY THAT JESUS IS THE LORD, BUT BY THE HOLY GHOST.
"Behold, I come like a thief! Blessed is he who stays awake and keeps his clothes with him, so that he may not go naked and be shamefully exposed."
"And you know what is restraining him now so that he may be revealed in his time. For the mystery of lawlessness is already at work. Only he who now restrains it will do so until he is out of the way."
REV. 14:12
Here Jesus was alluding to the fact that the Doctrine of Eternal Security WILL EXPIRE WITH THE RAPTURE OF THE CHURCH
Luke 12:37 Blessed are those servants, whom the lord when he cometh shall find watching: verily I say unto you, that he shall gird himself, and make them to sit down to meat, and will come forth and serve them
SO WON'T YOU ACCEPT JESUS NOW AND BE REMOVED FROM THAT EVENT  (OF TRIBULATION) AND LIVE FOREVER WITH JESUS IN THE FAMILY OF GOD?
2 "(For he saith, I have heard thee in a time accepted, and in the day of salvation have I succoured thee: behold, now is the accepted time; behold, now is the day of salvation.)" (2nd Corinthians 2:6)
—————————————————
DAILY CHRISTIAN BIBLICAL QUESTIONS AND ANSWERS:
—————————————————
Will We Be Judged For Unconfessed Sins?
https://gracethrufaith.com/ask-a-bible-teacher/will-we-be-judged-for-unconfessed-sins/
QUESTION:    I recently heard a teacher state that Christians will be judged for their sins which have not been confessed. He said that if sins were confessed and forgiveness was asked, the sins would not have to be accounted for. However, he said that if we have unconfessed sin, we will be judged for it, not for salvation, but be judged for it nevertheless. Is this something that is Biblical? I can't seem to find this teaching for judgment of Christians for their sins.
ANSWER:    There is a Catholic tradition that some sins we commit in this life and fail to receive forgiveness for before dying will cause us to be consigned to purgatory for a time until we've worked them off and qualified ourselves for heaven.  Maybe this is what your teacher was talking about.
But stop and think about this for a minute. None of your sins had been committed when Jesus went to the cross and died for them. And yet Colossians 2:13-14 says He forgave all our sins. That means all the sins of our life, not just the ones we've confessed, were covered at the cross.  When we accepted the Lord's death as payment for them the slate was wiped clean.
2 Cor. 5:17 says if anyone is in Christ he is a new creation, that the old has gone and the new has come.  In Romans 7:18-20 Paul taught that all our sins after being saved belong to the old self, not the new one.   Hebrews 10:14 says by the Lord's once for all time sacrifice he has made us perfect forever.
You couldn't confirm this person's  teaching in Scripture because it doesn't exist there.  The Catholic tradition of purgatory is not Biblical either.
When Will We Be Judged?
https://gracethrufaith.com/ask-a-bible-teacher/when-will-we-be-judged/
QUESTION:    From studying Matthew 12:36 seems to me that Jesus was referring to all the "empty words" (idle and careless) that were ever spoken from both believers and unbelievers. Unbelievers will be judged for their words at the Great White Throne Judgement when it mentions in Rev. 20:12 that certain "books were opened." Since the Matthew 12 verse is also for believers, when will this take place?
ANSWER:    From Matt. 12:25 to the end of the chapter, Jesus was talking directly to the Pharisees who had just accused Him of performing miracles by the power of Satan. This is confirmed in Matt. 12:34. We know that unbelievers will be judged at the Great White Throne (Rev. 20:11-15) but there is no such judgment for believers. All our sins were forgiven at the cross and washed away in the blood of Jesus. From God's perspective we're as righteous as He is.
It's important to follow this thought to its conclusion, because that's where Jesus spoke abut believers. In Matt. 12:37 He said,

"For by your words you will be acquitted and by your words you will be condemned"
If we say words of repentance such as, "Lord Jesus I know I'm a sinner in need of a Savior, please forgive my sins and be my Savior" our words will acquit us. The Holy Spirit will come to dwell n us, preventing us from saying words that condemn us like the Pharisees did.
Aren't We Really Judged At Death?
https://gracethrufaith.com/ask-a-bible-teacher/arent-we-really-judged-at-death/
QUESTION:    Thank you for your teaching. I have benefited most from your sharing. May I follow-up on the topic of 'Hades and Hell'? If there are 2 places within Hades or Sheol where the dead before the Cross went , does it mean that judgment had occurred for them, that some had gone to the Paradise (like Lazarus in (Luke 23:43); while others to 'Torments'?
ANSWER:    Before the cross everyone who died went to Sheol, or Hades in the Greek. Those who would eventually be given eternal life went to a place of comfort that was called Abraham's Bosom and Paradise. All others went to a place of discomfort sometimes called Torments. Both places were temporary. Paradise was emptied after the cross when the Lord's death opened the gates of Heaven to those who had died in faith. What we now call Hades or Hell is really the place called Torments. It will be emptied at the Great White Throne judgment at the end of the Millennium, when it's thrown into the Lake of Fire (Rev. 20:13-15).
So while our destiny is established at death, both groups will face a judgment afterward. For believers it's the Bema Seat, where crowns are awarded for things we did on Earth (1 Cor. 3:12-15). For unbelievers it's the great White Throne, prelude to the Lake of Fire. The lesson is that we have only this life to determine which judgment we'll face, for man is destined to die once, and after that to face judgment. (Hebr. 9:24).
—————————————————-
NEWS CLIPS/ARTICLES OBTAINED FROM MANY SOURCES – INCLUDING

Tracking bible prophecy.org
Rapture Ready News
Prophecyupdate.Com
Main News Channels
End Times Headlines
Prophecyupdateblogspot.com
Stevequayle.com
Gracethrufaith.com
Nowtheendbegins.com
Other Christian Sites
(CLICK ON) LATEST DAILY NEWS CLIPS:
ISRAEL NEWS:
THE MIDDLE EAST PEACE PLAN IS "ANTI GOD" – (GOD WILL NOT ALLOW JERUSALEM TO BE DIVIDED).
ZECHARIAH 12:2-3
Zech. 12:2 Behold, I will make Jerusalem a cup of trembling unto all the people round about, when they shall be in the siege both against Judah and against Jerusalem.
WORLD TERRORISM – WARS
GENERAL WORLD NEWS:
GENERAL WORLD CORONAVIRUS NEWS:
WORLD FINANCE:
1Tim. 6:10 For the love of money is the root of all evil: which while some coveted after, they have erred from the faith, and pierced themselves through with many sorrows
MASSIVE EARTH CHANGES/EARTHQUAKES/VOLCANOES ETC:
2Chr. 7:13 If I shut up heaven that there be no rain, or if I command the locusts to devour the land, or if I send pestilence among my people;
2Chr. 7:14 If my people, which are called by my name, shall humble themselves, and pray, and seek my face, and turn from their wicked ways; then will I hear from heaven, and will forgive their sin, and will heal their land
CHRISTIAN AND RELIGIOUS WORLD NEWS:
Matt. 24:9 Then shall they deliver you up to be afflicted, and shall kill you: and ye shall be hated of all nations for my name's sake.
Matt. 24:10 And then shall many be offended, and shall betray one another, and shall hate one another
EXTRA WORLD – ALTERNATIVE NEWS:
Please keep in mind that this collection of News Articles is mainly concerning America, but also take note that what happens in America will also "Dramatically" affect Australia and the rest of the World "Massively".
—————————————————-
WORLD – PROPHETIC NEWS ARTICLES PRESENTATION (SATURDAY 17th OCTOBER 2020)
MIDDLE EAST AND WORLD WAR LOOMING THE BUILD UP TO PSALM 83  – ISAIAH 17 AND GOG OF MAGOG WARS EZEKIEL 37-38:
THE WHOLE WORLD IS UNSTABLE FINANCIALLY, POLITICALLY, PHYSICALLY, MORALLY, GODLY: – AND BECOMING MORE SO DAILY. (WE ARE IN THE BEGINNING OF SORROWS (MATT 24:8)
THE BIBLE STATES THAT IT WILL ONLY GET WORSE BEFORE THE START OF THE TRIBULATION OF MANKIND – (REVELATION 6)
But before that we have to go through the Birth Pangs, leading up to the Tribulation of Mankind; and I feel that the beginning of Matthew 24 explains that time very well. We are currently in the Birth Pangs (Even though Matthew 24: is directed at the Jewish Nation, it still reflects Biblical Prophecy for the whole World at this time):
Matt. 24:6 And ye shall hear of WARS AND RUMOURS OF WARS: see that ye be not troubled: for all these things must come to pass, but the end is not yet.
Matt. 24:7 FOR NATION SHALL RISE AGAINST NATION, AND KINGDOM AGAINST KINGDOM: and there shall be famines, and pestilences, and earthquakes, in divers places.
—————————————————-
GENERAL PROPHETIC NEWS SECTION:
—————————————————–
https://prophecyupdate.blogspot.com/ – Tyler Durden
China has again put its military in a "high state of alert" after two US Navy warships recently sailed through the Taiwan Strait. Late last week the US destroyer John McCain sailed near the disputed Paracel Islands administered and militarized by China, upon which the PLA military warned the US to "halt its provocations".
The latest incident was Wednesday, when the Arleigh Burke class guided-missile destroyer USS Barry passed through the strait. Washington was quick to emphasize that it was a "routine transit" like others toward the purpose of peaceful 'freedom of navigation' operations, while Beijing once again denounced the "trouble-stirring statements and moves".
State-backed Global Times said the USS Barry transit resulted in assets from China's Eastern Theater Command being mobilized. It "organized naval and air forces and tracked and monitored the USS Barry destroyer for the entire course when the U.S. warship sailed through the Taiwan Straits on Wednesday," according to GT.
The PLA's Senior Colonel Zhang Chunhui said: "We sternly urge the U.S. to stop making trouble-stirring statements and moves. The command forces are always on high alert in resolutely safeguarding national sovereignty and territorial integrity, as well as peace and stability in the Taiwan Straits."
These latest tensions based on US presence in the contested sea lanes cased the PLA military to be put on alert. While this is nothing new Chinese President Xi Jinping's language has grown more threatening in referencing talk of war.
While touring a military base at Chaozhou City in the southern province of Guangdong Xi is reported to have told the elite troops to "maintain a state of high alert" and "put all (their) minds and energy on preparing for war".
This also comes at a moment of fresh reports the Trump administration has authorized three types of major weapons sales to Taiwan, which China has condemned as a violation of the long-standing 'One China' status quo. More advanced weapons are also under consideration, thus the threats out of Beijing are only expected to grow more fierce. 
————————————————-
https://prophecyupdate.blogspot.com/ – The Associated Press
China says it tracked a U.S. Navy warship as it passed through the Taiwan Strait and has its forces in the area on high alert, as tensions between the world's two largest economies and rivals for regional influence continue to simmer.
The spokesperson for its Eastern Theater Command, Maj. Zhang Chunxuan, said air and sea forces were mobilized to keep tabs Wednesday on the USS Barry, an Arleigh Burke-class guided missile destroyer.
Zhang said the U.S. has recently been sending "the wrong signal" to proponents of independence for Taiwan, a pro-U.S. self-governing democracy that China claims as its own territory, to be annexed by force if necessary.
Although the Taiwan Strait is a public waterway, China is extremely sensitive to all U.S. military moves in its periphery amid heightened tensions over Taiwan, the South China Sea, trade disputes and other issues.
The U.S. has been "seriously undermining peace and stability in the Taiwan Strait region. We are asking the United States to stop making trouble through its words and actions in the Taiwan Strait," Zhang said.
Chinese troops in the Eastern Theater "remain on high alert, resolutely safeguard national sovereignty and territorial integrity, and resolutely safeguard peace and stability around the Taiwan Strait," he said.
In a brief statement, the U.S. Pacific Fleet said the Barry had "conducted a routine Taiwan Strait transit … in accordance with international law." "The ship's transit through the Taiwan Strait demonstrates the U.S. commitment to a free and open Indo-Pacific," the statement said. "The U.S. Navy will continue to fly, sail and operate anywhere international law allows."
While the U.S. has no formal diplomatic ties with Taiwan in deference to Beijing, Washington is legally bound to ensure the island can defend against threats and is its biggest provider of military hardware. Recent sales have included tanks, missiles and upgraded F-16 Fighting Falcon fighter jets, while reports say the U.S. is also preparing to offer drones, rocket systems and other missile systems.
————————————————-
https://prophecyupdate.blogspot.com/ – Stefan Stanford
5 When the Lamb opened the third seal, I heard the third living creature say, "Come!" I looked, and there before me was a black horse! Its rider was holding a pair of scales in his hand. 6 Then I heard what sounded like a voice among the four living creatures, saying, "Two pounds[a] of wheat for a day's wages,[b]and six pounds[c] of barley for a day's wages,[d]and do not damage the oil and the wine!"
7 When the Lamb opened the fourth seal, I heard the voice of the fourth living creature say, "Come!" 8 I looked, and there before me was a pale horse! Its rider was named Death, and Hades was following close behind him. They were given power over a fourth of the earth to kill by sword, famine and plague, and by the wild beasts of the earth. (Revelation 6)
While this recent story by Robert Wheeler over at the Organic Prepper reports the 'shocking news' that a simulation run by 'Big Ag' corporation Cargill had predicted a 400% increase in the price of food by the year 2030, anybody who thinks most of America will even 'last' until 2030 may be gravely mistaken.
Warning within the story that the 'predicted' food crisis will begin in the year 2020, and that the decade between 2020 and 2030 would see two major food crises, quite interesting is the fact that this simulation was run in the year 2015, several years before the arrival of covid-19 and the 'food shortages' that have come along with it.
And while the Organic Prepper story reported that 'self-reliance' was one of the best ways that Americans could plan on 'beating' what is coming down the pike at us, we're also served best by this 'quick reminder' of how nation's run out of the food in the 1st place, with the socialist nation of Venezuela our 'best and most recent proof' that if it can happen to them, it can happen to us here in America, too.
With the absolute key to Lewis's warning being unlike all other commodities, food is the one essential that cannot be postponed, we continue to serve our families and loved ones best by preparing now for whatever the future might bring, whether that future is only months, 2 years, 5 years or 10.
So we'll be taking a look within the next section of this story at more signs that have come out over the past several days of potentially dire food shortages ahead in this covid-19 age that we're living in while looking at what happened in Venezuela (especially with leftists also now pushing to transform America into a socialist nation) while looking at more we can do to 'prepare' in the final section of the story below.
According to this October 12th story over at USA Today, between fears of another Covid-19 lockdown ahead and fears of election violence breaking out in America, more than half of Americans confirmed in a recent poll by the Sports and Leisure Research Group, Engagious and ROKK Solutions, that they already have been, or plan to, stockpile food and other essentials in the days, weeks and months ahead.
————————————————-
https://prophecyupdate.blogspot.com/ – Daniel Greenfield
The problem isn't just the China Virus. It's that we adopted the China Model to fight it.
Public health experts adopted China's draconian lockdowns without knowing how well they really worked and in a country that, fortunately, lacks the power to truly enforce them.
China's deceptiveness and lack of transparency meant that we did not know how well anything that the Communist dictatorship did to battle the virus that it spawned actually worked. Despite that, our public health experts, and those of most free countries, adopted the China Model.
We don't know how well the China Model worked for the People's Republic of China, but it failed in every free country that tried it. Lockdowns eventually gave way to re-openings and new waves of infection. This was always going to happen because not even the more socialist European countries have the police state or the compliant populations of a Communist dictatorship.
Desperate, the public health experts adopted China's compulsive mask wearing, a cultural practice that predates the virus, as if wearing a few flimsy scraps of fiber would fix everything.
It hadn't and it didn't.
But by then the public health experts and the media that had touted them were moving fully into the scapegoat portion of the crisis. The China Model had failed, all that was left was shifting the blame to more conservative and traditional populations, and away from the cultural elites.
In New York City that meant falsely blaming Chassidic Jews for the second wave. From Maine to San Francisco, Democrat leaders and their media blamed conservative Christian gatherings. Their national counterparts loudly blamed President Trump for not wearing a mask all the time.
A New York Times headline captured the cynical broad spectrum cultural scapegoating with, "N.Y.C. Threatens Orthodox Jewish Areas on Virus, but Trump's Impact Is Seen."
The uncomfortable truth was that the lockdowns had failed economically, socially, and medically.
Even blue states and cities were no longer able to carry the impossible economic burden much longer. The Black Lives Matter riots and the onset of summer broke the #StayHome taboos, and medically, the lockdowns had been useless efforts to meet a fake crisis of hospital overflows.
America, like too many other countries, put the experts in charge and they failed. Miserably.
Democrats claimed that they were superior because they were "listening to the science". They weren't listening to the science, which is not an oracle and does not give interviews. Instead, they were obeying a class of officials, some of them whom weren't even medical professionals, who impressed elected officials and the public with statistical sleight of hand. And little else.
The entire lockdown to testing to reopening pipeline that we adopted wholesale was a typical bureaucratic and corporate exercise, complete with the illusion of metrics and goals, that suffered from all the typical problems of bureaucracy, academia, and corporate culture.
The system that determines re-openings and closings is an echo chamber that measures its own functioning while having little to do with the real world. Testing has become a cargo cult exercise that confuses the map with the world, and the virus with the spreadsheet. It gamifies fighting the pandemic while dragging entire countries into an imaginary world based on its invented rules.
When the media reports a rise or decrease in positive tests, it's treated as if it's an assessment of the virus, rather than an incomplete data point that measures its own measurements.
The daily coronavirus reports have become the equivalent of Soviet harvest reports. They sound impressive, mean absolutely nothing, and are the pet obsession of a bureaucracy that not only has no understanding of the problem, but its grip on power has made it the problem.
The smarter medical professionals understand that the theories have failed, while the administrators who put the theories into practice confused their system with science. The politicians listen to the administrators and when they tell us to trust the science, they mean the bureaucracy. The medical professionals can't and won't backtrack now. It's too late.
The best and brightest spent the worst part of a year shuffling rationales like a gambler's trick deck, wrecked the economy, and sent tens of thousands of infected patients into nursing homes to infect the residents, accounting for at least a third of the national coronavirus death toll.
Like most national leadership disasters, it was a combination of mis-judgement, understandable mistakes, tragic errors, and acts of incomprehensible stupidity or unmitigated evil.
https://prophecyupdate.blogspot.com/ – By Michael Haynes
Dr. Scott Atlas, a recently appointed advisor to President Trump's Coronavirus Task Force, said the architects of the COVID-19 lockdowns "should be held accountable for what they did."
In a Fox News interview yesterday, Atlas outlined the enormous detriments to public health that result from lockdowns. He criticized those who were advocating for more lockdowns to help prevent the spread of the virus, saying they were "simply out of touch with average Americans."
"Prolonged lockdowns are a complete disaster," said Atlas. "People have been killed by people who want prolonged lockdowns."
Atlas pointed to data regarding the hidden effect of lockdowns upon people's health.
"Forty-six percent of the most common types of cancers were not diagnosed during the lockdown," he observed. This means that as a result, "people will present with much later, more widespread disease."
Out of those scheduled for chemotherapy, only half appeared for their appointments, meaning that "650,000 Americans" missed crucial treatment. The reason for this, Atlas said, is purely "out of the fear instilled by our so-called public health experts."
Atlas referred to the effect the lockdowns were having on children and young adults. Just as a result of closing the schools, the number of child abuse cases has increased dramatically, with "more than 200,000 cases of child abuse not reported during the two months of spring school closures."
A CDC report showed that "one out of four young college-aged Americans have contemplated killing themselves during the month of June," Atlas said. "This is completely off the rails."
But he was even more scathing with regard to the proponents of lockdowns, whom he accused of having committed crimes against humanity.
"History will record the faces of the public health expertise as some of the most sinful, egregious, epic failures in the history of public policy," Atlas stated.
"They have killed people with their lack of understanding and their lack of caring about not just the impact of cases of COVID-19, a virus that the overwhelming majority of people do well in."
The White House advisor distinguished between COVID-19 policies and their actual outcomes. "They never cared to considered the impact of the policy itself," he said, "and the policy itself has been a complete epic failure, and honestly some people say a crime against humanity — these people should be held accountable for what they did."
When governments across the US forced businesses to close down in response to the coronavirus pandemic, everybody assumed the layoffs would be temporary. Despite the huge surge in unemployment, the expectation was people would quickly return to work once the crisis passed and the economy opened up again. But as the pandemic stretches into its eighth month, millions of Americans remain out of work and economists say many of those "temporary" job losses have become permanent.
Millions of Americans have returned to work as expected. The unemployment rate has nearly halved to 7.9% since April. But nearly 13 million Americans remain out of work. That's about 7 million more than pre-pandemic levels.
According to the Bureau of Labor Statistics, the number of job losses categorized as permanent grew by 345,000 to 3.8 million people in September. In other words, nearly 4 million unemployed Americans have no prospects of returning to work.
The number of long-term unemployed – people out of work for a period exceeding six months – has ballooned. According to the Bureau of Labor Statistics, around 2.4 million Americans were unemployed for 27 weeks or more in September, up 781,000 from the previous month. The last time we saw this kind of jump in long-term unemployment was during the Great Recession.
Economists crunching the numbers say the trend shows that some layoffs once thought temporary have become permanent. To make matters worse, companies have begun initiating layoffs on a trajectory similar to a traditional recession, according to an article published by CNBC
Meanwhile, months since the lockdowns were generally lifted, hundreds of thousands of Americans continue to apply for unemployment for the first time every week. Last week, more than 800,000 people filed first-time unemployment claims. That compares with 188,000 first time claims during the same period in 2019.
And tens of thousands of people will get pink slips in the coming weeks as the long-term economic damage caused by government lockdowns in response to the coronavirus pandemic begin to ripple through the economy. Regal Cinemas closed all of its locations last week with no timetable for reopening. Disney announced it would lay off 28,000 workers. US airlines are shedding jobs at a dizzying pace.
"We're still at a high level of layoffs in the economy," Susan Houseman, VP and research director at the W.E. Upjohn Institute for Employment Research, told CNBC. "The new job losses will, by and large, be perceived as permanent."
In a recent podcast, Peter Schiff said he thinks a lot of the people who have gone back to work in recent weeks will eventually find themselves in the unemployment line again.
——————————————–
https://prophecyupdate.blogspot.com/ – Mary Christine
Meanwhile, a virtual conference was taking place in Washington, DC called the World Vaccine Congress. This was a 4-day brainstorming session with 300 speakers and thousands in attendance; which of course included representatives from several pharmaceutical companies, plus military personnel, HHS, other government agencies and NGO's. Our favorite Dr. Shortstuff Fauci opened the meeting as one of the first keynote speakers. There is a second World Vaccine Congress – Europe beginning October 19.
Only one person with press credentials covered this extremely important meeting and reported on it. The Washington Post had a speaker there, but I have found no coverage, from The WAPO or any other media outlet yet. Much of what transpired there will eventually impact everyone in the world.
Did I learn anything I didn't think I already knew? I think what I learned is that it confirms my worst suspicions on what is planned in the next 12 to 18 months.
You can view the daily agenda for the World Vaccine Congress here. What I will present is a focused view of certain portions of the agenda. For instance, how they are using technology both as a part of the vaccine and how they intend to use it to track who is vaccinated.  
Much of the focus was on the US and the challenges they expect to have regarding vaccine "hesitancy".
Challenges included "misinformation", nationalism and how to combat it. How to build peoples trust, particularly with the black community. Of particular concern were people harboring certain "ideologies" including anti-vaxxers and people with religious objections. These people were labeled extremists and Nazis.
Last July, Yale University enrolled 4000 participants in a study named Covid-19 Messaging Part 1. The study will help them to decide what kind of messaging will be the most persuasive to convince the "hesitant" to get vaccinated. I believe this is also called propaganda.
There will be a "digital" focus on the immune system using blockchain technology. Compliance will be enforced using surveillance. Allowing people to move around freely it makes it harder to locate them to make sure they are vaccinated.  Getting people in quarantine faster was suggested as one way to be able to more easily locate people. Going back to the old normal is a non-starter. Masks, social distancing and quarantines is the new normal.
Recently, the CDC released the initial draft on how the Covid-19 vaccine would be phased in. Page 11 shows a 3 phased approach beginning with healthcare workers. Once there are enough doses to vaccinate the general population, public/private partnerships will be used to facilitate the efficient distribution of the vaccine. The Community Emergency Response Team is one aspect of this partnership.  Many churches are part of the CERT and can be used as a place to set up mobile vaccine units.
Before I move on to their discussion about possible vaccine ingredients, I think it's important to talk about the RT-PCR tests that are being used to diagnose who has a "case". The question I don't hear anybody asking is just what, exactly, is considered a case? Is the person sick? Or are these just people who had the PCR test and got a positive reading?  Spiro Skouras answers these questions on activistpost.com.
The short answer, for those who do not want to watch a 27-minute video, is no, the PCR test was not meant to diagnose any infectious disease. 
In that same video, Dr Thomas Cowan explains how the PCR is being used to manipulate the crisis and creating false positives/negatives. This is extremely important to understand so I strongly encourage you to at least watch that part. It begins at the 16-minute mark and is only about 5 minutes long. If you only watch that part, you will also miss Dr. Shortstuff Fauci explaining that it's highly unlikely that "asymptomatic" people are spreading the disease.
Getting back to the World Vaccine Congress topic, executives from Merck, Janssen (Johnson & Johnson), GSK, Pfizer, Moderna, Inovio, Sanofi and other manufacturers were in attendance.  One of the topics on the agenda was Bridging Multiple Technologies and Therapeutics.
I find these things to be rather alarming but continuing on with the last subject they focused on: Mandatory Vaccines Around the World, Are They Working?
While most of the logistics about how this is all going to be rolled out is secret including the fact that they are immune to FOIA requests,  we do have the bare bones first draft available from the CDC which seems to match up to the discussion about mandates.
The roll out will not initially include a mandate. A "soft" rollout will most likely be how the first doses will be dispensed. Those first doses are to be dispensed to healthcare workers and people considered to be at high risk of becoming infected. As production continues and more doses are available the pressure to be injected will increase.   Draconian measures, with Australia being used as an example of draconian, are not considered to be useful at this time in the US. However, if "vaccine hesitancy" should continue to be a problem then a mandate is not out of the question. A recent article in the NEJM bears this out.
 "Noncompliance should incur a penalty" and notes that it should be a "relatively substantial" one.
It suggests that "employment suspension or stay-at-home orders," should be issued, but that fines should be discouraged because they can be legally challenged, and "may stoke distrust without improving uptake."
A couple more things that I find extremely concerning that I want to pass on: The use of agencies that combat terrorism to deal with the "anti-vaxxers" is an idea that is being considered.  Also, the vaccine manufacturers will be immune from liability for vaccine injuries caused by their products.
If anyone does want to listen to the reports from WATB.tv  themselves you can listen to Day 4 here and from there you can find the other reports. I will warn you that they had the reporting process down by Day 4 and this is the shortest and easiest one to listen to.
For me, after nearly 6 months of "2 weeks to flatten the curve" I am left with more questions than answers; even considering the fact that I know much more now about what seems to be going on here than I did back in March.
Questions like:
The virus has a greater than 99.7% survival rate. (Scroll about halfway down to the chart to see the statistics) Why are we still in a nationwide State of Emergency along with most of the states?
Why are we still dealing with mask mandates when Spiro Skouras has  Dr. Fauci on video stating that  "it's highly unlikely that asymptomatic people are spreading disease?"
Why are the government and pharmaceutical companies so hellbent on developing a vaccine in record time if both above are true?
Why are we using a PCR test to diagnose an infectious disease that was not designed for that purpose? How many people are false positive that had to quarantine for no reason?
Why is the CDC saying that they never even isolated a specific genetic sequence for SARS-Cov2? Watch a video that breaks the CDC report down here.
Why does the military and the DOD need to be involved?
Why all the secrecy surrounding the vaccine contracts that are being handed out under Operation Warpspeed?
Why is it that more and more scientists and medical professionals are speaking out against this Covid agenda but that information gets suppressed?
What is the real agenda here? Could The Great Reset be the real agenda?
One last question, and this is the most alarming of all. Why, on September 21, 2018, did Microsoft apply for a patent for a Crypto-currency system that uses human body activity data? 
No one is talking about this.
I believe this can still be stopped. But only if we stop believing lies.
Back in March President Trump said "We are at war with an invisible enemy."
As the old saying goes "The first casualty of war is truth".
————————————————-
ANTI-VACCINE ADS BEING CENSORED ON FACEBOOK
Facebook announced on Tuesday that the social media giant will ban all ads encouraging people to avoid vaccination. Facebook is now censoring factual information on the adverse health and side effects of getting vaccinated.
Anyone paying attention knows that there will be a COVID-19 vaccine, and it will, for all intents and purposes, be mandated for all and distributed by the military. This is not news to most, however, the propaganda campaign has begun, and Facebook will assist the tyrants with censorship.
"Our goal is to help messages about the safety and efficacy of vaccines reach a broad group of people while prohibiting ads with misinformation that could harm public health efforts," Facebook's head of health initiatives, Kang-Xing Jin, said in a blog post, according to the Hill. "We don't want these ads on our platform."
The truth is, doctors and others have expressed concerns about vaccine safety, and this is not new. But the push to make sure everyone is vaccinated is new. So is the blatant censorship. As with other tightenings on free speech, enforcing the new ban on anti-vaccination ads will be crucial.
Facebook has chosen sides.  They did a long time ago. They are not on the side of the people and will do what is necessary to see the elitists rollout the New World Order.
According to the report by TheHill, Tuesday's policy update will not affect user-generated content about vaccines, including the private Facebook groups and Instagram pages. So far, Facebook claims they will allow critics of vaccination the free speech that was already their birthright.
—————————————–
ANOTHER MASS DIE-OFF OF SEA LIFE AT RUSSIA'S COAST OF KAMCHATKA
https://prophecyupdate.blogspot.com/ – Strange Sounds
Unexplained deaths of sea life are continuing to cause anxiety in Russia's Far East.
On Tuesday, fish, octopuses and crabs were filmed washed ashore hundreds of kilometers away from the spot where the alarm was first raised.
A video of the ecological disaster near Ozernovskiy village on Kamchatka's western coast shows dead marine creatures scattered along a 50-meter-wide area of the beach.
The peninsula, some 7,000km east of Moscow, is home to one of the earth's most pristine environments.
The footage is similar to clips that came from Avacha Bay on the opposite eastern coast in late September, when numerous marine life washed ashore. By land, the distance between Ozernovskiy and Avacha Bay is around 250 kilometers.
Scientists have flown to the site by helicopter to take samples from the water, and remove soil and animal carcasses for analysis, local authorities said. The Prosecutor's Office and environmental watchdog Rosprirodnadzor are also sending their people to Ozernovskiy.
"We are faced with a large-scale new phenomenon that science has yet to comprehend," said Kamchatka's governor, Vladimir Solodov.
The fact that the beaches near Ozernovskiy are clean, according to witnesses, and because of the large distance between the two contamination spots, it is unlikely that the "local man-made facility near Petropavlovsk-Kamchatsky" is to blame for the disaster, he pointed out.
The governor was presumably referring to the Kozelsk chemical landfill, which stands on the river flowing into Avacha Bay. A possible leak from the landfill has been considered among the potential reasons for the death of 95 percent of sea life in the area. It's believed that it'll take the fauna up to 15 years to fully recover.
Water samples taken from Avacha Bay after the disaster showed that the concentration of phosphates, iron, phenols and ammonium were seven times higher than normal. But a specific agent that caused the contamination couldn't be established.
Russia's Investigative committee has launched a criminal probe into the incident.
————————————————-
ASSEMBLY OF GOD CHURCH DEPARTS DENOMINATION, GOES FULLY INCLUSIVE FOR LBTQ COMMUNITY
https://endtimeheadlines.org/2020/02/assembly-of-god-church-departs-denomination-goes-fully-inclusive-for-lbtq-community/ – Feb 18, 2020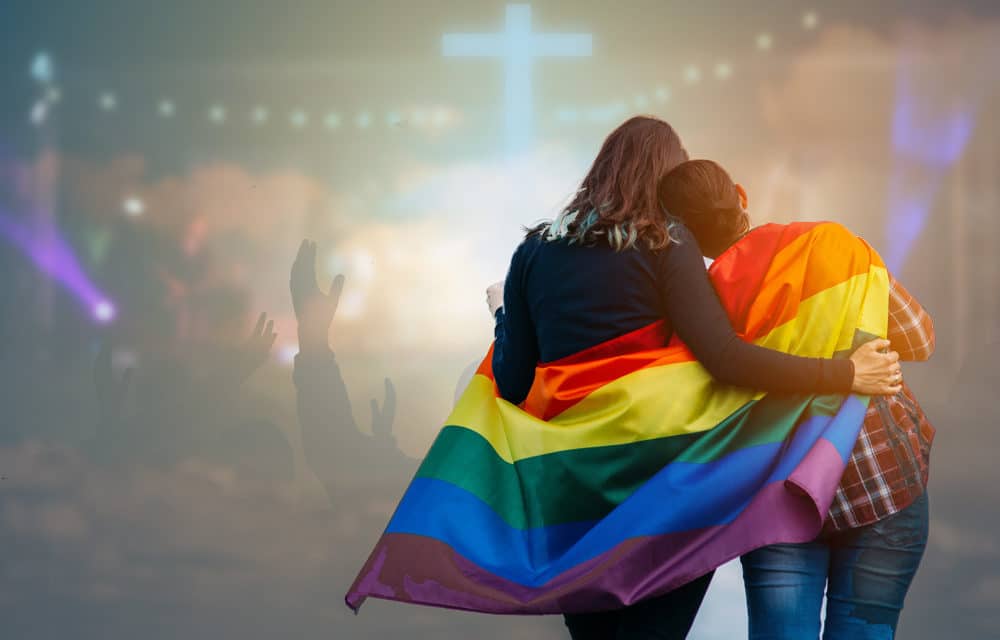 OPINION (ETH) – According to a report from Charisma News, An Assembly of God Church in Texas has departed from the denomination and is now fully affirming the LGBTQ Community and even announced the news on their Church website:
"In our endeavor to promote unity over uniformity, we've compiled these resources that we believe will be helpful as you learn more and lean into conversations regarding our church's decision to be a fully inclusive church for the LGBTQ+ community."
The suggested resources that are provided, include a podcast titled "How to Be a Girl Podcast: A Christian Family's Story of Raising Their Trans Child," a book titled God and the Gay Christian by Matthew Vines, a glossary of LGBTQ+ terms and much more. Author and Speaker John Burton reportedly contacted the general superintendent of the Assemblies of God regarding the news and received a response. The following is an excerpt of that reply:
"As many of you are aware, a certified minister at an Assembly Of God church in Texas on Sunday announced a departure from the official Assemblies of God position on human sexuality. The Assemblies of God has a well-established process to deal with such departures. Immediately upon first knowledge, the North Texas District initiated appropriate action required in dealing with both the minister and the church. When it comes to matters of marriage, sexual orientation, and gender identity, the Bible is clear. That is why the only acceptable position for Assemblies of God ministers and churches is clearly outlined in this statement"

MORE

:
————————————-
WEBPAGE ADMINISTRATOR:  This is exactly what God said will happen in the last days; just before the Rapture of the Church. "What the Church has done IS DISGUSTING" in God's eyes to say the least. God does not agree with Homosexuality, He destroyed Sodom and Gomorah and five other cities because of this Sin. We are indevoured to Help Homosexuals and pray for, and with them, but not to agree with their Sin, or any other Sin.
——————————————-
Gen. 18:20 And the LORD said, Because the cry of Sodom and Gomorrah is great, and because their sin is very grievous;
Gen. 18:22 And the men turned their faces from thence, and went toward Sodom: but Abraham stood yet before the LORD.
Gen. 18:26 And the LORD said, If I find in Sodom fifty righteous within the city, then I will spare all the place for their sakes.
Gen. 19:1  And there came two angels to Sodom at even; and Lot sat in the gate of Sodom: and Lot seeing them rose up to meet them; and he bowed himself with his face toward the ground;
Gen. 19:4 ¶ But before they lay down, the men of the city, even the men of Sodom, compassed the house round, both old and young, all the people from every quarter:
Gen. 19:24 ¶ Then the LORD rained upon Sodom and upon Gomorrah brimstone and fire from the LORD out of heaven;
Gen. 19:28 And he looked toward Sodom and Gomorrah, and toward all the land of the plain, and beheld, and, lo, the smoke of the country went up as the smoke of a furnace
WE TRULY HAVE THE FALLING AWAY THAT GOD SAID WOULD HAPPEN JUST BEFORE THE END
2Th. 2:3  Let no man deceive you by any means: for that day shall not come, except there come a falling away first, and that man of sin be revealed, the son of perdition;
Heb. 6:6 If they shall fall away, to renew them again unto repentance; seeing they crucify to themselves the Son of God afresh, and put him to an open shame.
2Pet. 3:17 Ye therefore, beloved, seeing ye know these things before, beware lest ye also, being led away with the error of the wicked, fall from your own stedfastness.
————————————————-
After Welcoming The Idol Pachamama, Pope Francis Has Vatican City State Mint Issue Coin Celebrating Gaia Earth Mother Goddess Of Paganism
https://www.nowtheendbegins.com/idol-amazon-pachamama-vatican-city-state-mint-issues-earth-mother-goddess-gaia-worship/ – by Geoffrey Grider October 15, 2020
"The Vatican City State Mint will issue a 10 euro silver coin made by Maestro Oldani, depicting a mother carrying the earth in her womb, to whom we owe care and love as if it were a daughter, with long ears of wheat in her hair, in a reference between past and future that becomes timeless, and therefore eternal," states the official description of the coin. Various media outlets, including the news website owned by the German bishops, made a connection between the coin and the Pachamama statues used in the context of the Amazon synod last year, even though the appearance of "Mother Earth" on the coin differs from the statues used in 2019.
 NOW THE END BEGINS SHARE:
The Vatican City Mint issued a coin depicting a mother carrying the earth in her womb. The issue of the Gaia coin comes almost one year to the day when the idol Pachamama was worshipped in the Vatican gardens in the presence of Pope Francis.
Pope Francis is not a Christian, obviously, you have to be born again according to John 3:3 (KJB) and he clearly is not. But let's got a step further. Pope Francis is not even very much of a Catholic, he spends most of his time going against stated Roman Catholic doctrine. So what is he? Well, he is a New Age pagan who worships and promotes the 'goddess mother' of Gaia, and he is so committed to worshiping the 'mother goddess' of Gaia, that he just had the Vatican Mint issue a coin in her honor.
"So he carried me away in the spirit into the wilderness: and I saw a woman sit upon a scarlet coloured beast, full of names of blasphemy, having seven heads and ten horns. And the woman was arrayed in purple and scarlet colour, and decked with gold and precious stones and pearls, having a golden cup in her hand full of abominations and filthiness of her fornication:"
Revelation 17:3,4 (KJB)
In 2019, we brought you the story of how Pope Francis held a worship service at the Vatican honouring the female fertility idol called Pachamama, and Catholics got so mad at him that they took the idol and threw it into the river. But Pope Francis, commanding the world's most-wealthy corporation, had an official coin struck celebrating the female 'mother goddess' figure of not only Pachamama, but of all the religions like Gaia that worship a female goddess idol. Pope Francis is showing you who he is, you Catholics should believe him.
 POPE FRANCIS TELLS CATHOLICS IN ROME THAT A 'PERSONAL RELATIONSHIP' WITH JESUS IS 'DANGEROUS AND HARMFUL'
Vatican issues coin of mother carrying 'earth in her womb' one year after Pachamama scandal
FROM LIFE SITE NEWS: "The Vatican City State Mint will issue a 10 euro silver coin made by Maestro Oldani, depicting a mother carrying the earth in her womb, to whom we owe care and love as if it were a daughter, with long ears of wheat in her hair, in a reference between past and future that becomes timeless, and therefore eternal," states the official description of the coin.
"The celebration of life on earth is a commitment to take care of the planet, a project to which the Church intends to offer its support, a grandiose and complex work that aims: to promote international action to guarantee everyone a future, the food that is needed, both in quantity and quality, so that economic advancement may be accompanied with social development, without which there is no real progress."
 PROMOTING GAIA EARTH WORSHIP, POPE FRANCIS SAYS 'MANY SPIRITUAL MASTERS' LIKE BUDDHA HAVE TAUGHT US ABOUT THE 'MYSTICAL CAPACITY' OF NATURE
Various media outlets, including the news website owned by the German bishops, made a connection between the coin and the Pachamama statues used in the context of the Amazon synod last year, even though the appearance of "Mother Earth" on the coin differs from the statues used in 2019.
"The coin recalls the Pachamama statues set up at the Amazon synod in the previous year, which according to the prefect of the Vatican communication dicastery, Paolo Ruffini, 'stand for life, fertility and mother earth' and should bring the culture of the Amazon region also objectively to the synod," wrote katholisch.de.
In the fall of 2019, Alexander Tschugguel, a young Austrian Catholic, had thrown a number of the controversial Pachamama statues into the Tiber in Rome after they had been prominently featured in a church in Rome for days.
Similar statues had also been used in a religious ceremony in the Vatican gardens on October 4, 2019. Even Pope Francis blessed one of the statues. At the ceremony, people were bowing down to the ground worshiping the statue. Additionally, the Pope prayed in front of a Pachamama statue at St. Peter's Cathedral on October 7 and then accompanied it in procession into the synod hall.
The Pope confirmed later that the statue was called "Pachamama" and apologized for the Pachamama statues being thrown into the Tiber river.
Tschugguel himself tweeted earlier today, "We cannot buy those coins and throw them all in the Tiber, we have to fight this on a spiritual level! And we fight it by publicly opposing this #idolatrousness! #Staycatholic #staytrue #fightevil!"

READ MORE

:
Video shows Pope Francis blessing controversial 'Pachamama' statue
During a formal Oct. 4 ceremony preceding the opening of the Pan-Amazonian Synod, Pope Francis clearly blesses a statue that moments before tribal members bowed down to in the Vatican Gardens. Vatican Gardens, Rome, Oct. 4, 2019.
 NOW THE END BEGINS IS YOUR FRONT LINE DEFENCE AGAINST THE RISING TIDE OF DARKNESS IN THE LAST DAYS BEFORE THE RAPTURE OF THE CHURCH
————————————————-
https://prophecyupdate.blogspot.com/ – Ryan Jones
23 At that time if anyone says to you, 'Look, here is the Messiah!' or, 'There he is!' do not believe it. 24 For false messiahs and false prophets will appear and perform great signs and wondersto deceive, if possible, even the elect. 25 See, I have told you ahead of time.
26 "So if anyone tells you, 'There he is, out in the wilderness,' do not go out; or, 'Here he is, in the inner rooms,' do not believe it. 27 For as lightning that comes from the east is visible even in the west, so will be the coming of the Son of Man.
(Matthew 24)
Israel's biggest rabbis are all afraid to leave the country lest they miss Messiah's coming
A recent interview on Israeli radio again featured prominent rabbis explaining that the Messiah is just about to reveal himself.
Rabbi Yaakov Zisholtz told religious broadcaster Radio 2000 that Rabbi Rabbi Chaim Kanievsky recently told him that he (Kanievsky) is already in direct contact with the Messiah.
To understand why religious Jews are taking this seriously, it's important to know that Rabbi Chaim Kanievsky is considered one of the two or three top rabbis of the ultra-Orthodox Jewish community in Israel.
And Rabbi Zisholtz says that Kanievsky and others of the mystical "concealed" rabbis have now tasked him with informing the public of the Messiah's imminent arrival.
Rabbi Zisholtz began his explosive three-hour interview with a warning:
"…the process of redemption is about to start happening very quickly and at a fast pace. It is important that people remain calm and steady to act properly in the right time.
"There is a potential Messiah in every generation and there are righteous men who know precisely who it is. This is, of course, true in this generation.
"Getting the word out now that the Messiah is closer than ever is a matter of life and death. Haven't you heard of Gog and Magog? That is what is going to happen very soon. Right now, the situation is explosive more than you can possibly imagine. Everyone needs to know whether they are on the inside or if they are going to be left out."
He went on to reiterate a number of signs of which prominent rabbis have taken note and that they firmly believe to be evidence of the coming of Messiah.
"Rabbi Dov Kook, as everyone knows, is a very righteous man. He is one of the greatest men of our generation…[and] ten years ago, when Israel was suffering from a horrible drought, someone asked Rabbi Kook when the Sea of Galilee will again be full," recounted Rabbi Zisholtz. "Rabbi Kook responded that when the Messiah arrives, the Sea of Galilee will be full. In a few weeks, the Sea of Galilee will be full for the first time since Rabbi Kook made this statement."
"Another righteous rabbi said that according to the current situation in heaven, there will not be Israeli elections – rather, there will be a war," cautioned Zisholtz. "If the elections do take place, it's pointless since it will end like the other elections; no government will come out of it. No one will take the government away from Netanyahu."
Decades ago, Rabbi Yitzhak Kaduri, one of modern Israel's most revered sages, as well as the Lubavitcher Rebbe, Rabbi Menachem Schneerson, both predicted that Benjamin Netanyahu would be the State of Israel's last prime minister prior to the Messianic Age. A great many, if not most of the ultra-Orthodox Jews in Israel continue to believe that to be true.
————————————————
JESUS CHRIST RETURN FOR HIS CHURCH IS "IMMINENT"
Matt. 7:27 And the rain descended, and the floods came, and the winds blew, and beat upon that house; and it fell: and great was the fall of it.
Matt. 24:38 For as in the days that were before the flood they were eating and drinking, marrying and giving in marriage, until the day that Noe entered into the ark,
Matt. 24:39 And knew not until the flood came, and took them all away; so shall also the coming of the Son of man be
——————————————–
DON'T WAIT FOR THE LAST MINUTE
We are currently in the "Birth Pangs" pending the coming "7 year TRIBULATION" period, where all the Nations on Earth will be subject to God's Wrath on an "UNGODLY" World. The Rapture of Jesus Christ Church is "TOTALLY" imminent; And what will follow after that will be massively more devastating that we are seeing right now (Read

Revelation Ch 6 – 22

) God is trying to get everyone's attention to the coming Judgments; He does not want "ANYONE" to perish, but all to come to repentance. He loves us, but will not stand idly by and watch the World, (His Creation) turn to sin and debauchery). We are currently living in a fallen "Satanic" World where "EVIL", is totally accepted, "and God and his Love for his Church": is being exponentially rejected. The time has come when God HAS TO intervene, and he is (The prophetic word listed in his Word the Bible is being fulfilled exponentially).
—————————————–
THE NEW WORLD ORDER:
ONE WORLD GOVERNMENT – ONE WORLD ECONOMIC SYSTEM – ONE WORLD RELIGION
Dan. 9:27 And he shall confirm the covenant with many for one week: and in the midst of the week he shall cause the sacrifice and the oblation to cease, and for the overspreading of abominations he shall make it desolate, even until the consummation, and that determined shall be poured upon the desolate
Dan. 7:24 And the ten horns out of this kingdom are ten kings that shall arise: and another shall rise after them; and he shall be diverse from the first, and he shall subdue three kings
Rev. 17:12 And the ten horns which thou sawest are ten kings, which have received no kingdom as yet; but receive power as kings one hour with the beast