World Events Pointing to the Rapture and the Soon Return of Jesus

296K subscribers
Please Help Support This Ministry:

https://www.paypal.me/watchman1963

Cash App : $watchman1963 Please subscribe to my backup channel:

https://www.youtube.com/channel/UC4nc…

Current Events Linked To Biblical Prophecies. Everything is unfolding just as the bible foretold. Wars, Volcanic Eruptions, Earthquakes, Extreme Weather, Christian Persecution, Violence and more!
——————————————–
Ask Russian help (Oct 11,2020) Putin Deploys T-90 & T-72 Tanks to LAC for Against PLA in Border

Ask Russian help (Oct 11,2020) Putin Deploys T-90 & T-72 Tanks to LAC for Against PLA in Border Despite the developments, the armed forces of both nations have continued to gear up for a winter-war with New Delhi choosing to go an extra mile after deploying large numbers of Soviet/Russian made T-72 and T-90 tanks in the region. But can they be banked upon to win a war against Chinese forces in a region which can be unforgiving owing to its tough mountainous terrains and chilling temperatures? The Indian Defence Forces which recently admitted to preparing for a war-like situation ever since June's Galwan Valley clash, have been busy deploying heavy numbers of third-generation T-90 Bhishma Tanks and T-72M1 tanks along with BMP-2 infantry combat vehicles in key areas of the Ladakh valley.
——————————————–
Israel Signs Agreement w/Jordan-Assad wants Golan Heights back! China Threatens US Destroyer & More!

59.3K subscribers
You will hear the following in this Broadcast: -Mach 8! Russian warship makes history by launching HYPERSONIC Zircon missile at mock target in far northern seas -India Successfully Test-Fires Anti-Radiation Missiles to Target Enemy Radars -China Threatens War Over New Taiwan Independence Proposal -Chinese Military Accuses US Destroyer of Approaching Paracel Islands Without Beijing's Consent -Assad:
No talks with Israel without return of Golan Heights to Syria – Israel and Jordan sign historic airspace agreement -Armenian President Says Turkey's Erdogan Creating Another Syria In The Caucasus" – Hurricane Delta's Landfall Imminent Along Southwest Louisiana Coast With Dangerous Storm Surge, Winds, Flooding Rain -2020's reign of terror continues as Iceland's most active volcano on verge of erupting again, scientists warn – Scarlet fever making a comeback after bacterial MUTATION – New bat virus identified: Corona bat hunters warn of 'game changer' discovery in Africa -Update on the Westmorland Swarm after more than 1,200 earthquakes have rattled the Imperial Valley, California -Home damaged as rare tornado strikes Belgium – Top US Food Bank Warns Of Nationwide "Meal Shortages" In Next 12 Months -205 earthquakes rock US supervolcano – is an eruption brewing? -Broadway Extends Shutdown Through May 2021 – Prepare for a 'marathon' and two years of wearing masks to battle COVID-19, says prominent Spanish virologist
——————————————–
The 10 Kings and the rising Mideast Caliphate (Part 1)

187K subscribers
The 10 Kings and the rising Mideast Caliphate (Part 1) Tim Buck teaches about the 10 Kings and the rising Mideast Caliphate in this two part class Visit our website:

https://fotet.org

All the signs of the last days are converging at the same time. Bible Prophecy is happening right before our eyes and like birth pains, the predicted events are happening more frequently and more intently. Never, in the history throughout the world have so many forces, including economic, scientific, techno-logic, ecologic, cultural, geopolitical, moral, spiritual and religion, converged together to bring this world that's already teetering over the edge into the abyss, to a point of no return. Jesus said when you see all these signs happening, know that I am near, even at the door.
——————————————–
Prophecy Update – Current Events – (10/9/20)

187K subscribers
Prophecy Update – Current Events – (10/9/20) Pastors Tom Hughes and James Kaddis
——————————————–
LATEST NEWS CLIPS – ARTICLES (SUNDAY 11th OCTOBER)
—————————————————
(THIS IS THE WORLD'S CURRENT TIMELINE)
Matt. 24:6 And ye shall hear of wars and rumours of wars: see that ye be not troubled: for all these things must come to pass, but the end is not yet.
Matt. 24:7 For nation shall rise against nation, and kingdom against kingdom: and there shall be famines, and pestilences, and earthquakes, in divers places.
Matt. 24:8 All these are the beginning of sorrows.
Matt. 24:9 Then shall they deliver you up to be afflicted, and shall kill you: and ye shall be hated of all nations for my name's sake.
Luke 12:40 Be ye therefore ready also: for the Son of man cometh at an hour when ye think not
—————————————–
THIS IS THE WORLD'S VERY NEAR FUTURE:
Matt. 24:21 For then shall be great tribulation, such as was not since the beginning of the world to this time, no, nor ever shall be
—————————————————
WE PREACH THE BLESSED HOPE FOR THE FUTURE IN JESUS CHRIST OUR SAVIOUR
1Cor. 12:3 Wherefore I give you to understand, that no man speaking by the Spirit of God calleth Jesus accursed: AND THAT NO MAN CAN SAY THAT JESUS IS THE LORD, BUT BY THE HOLY GHOST.
"Behold, I come like a thief! Blessed is he who stays awake and keeps his clothes with him, so that he may not go naked and be shamefully exposed."
"And you know what is restraining him now so that he may be revealed in his time. For the mystery of lawlessness is already at work. Only he who now restrains it will do so until he is out of the way."
REV. 14:12
Here Jesus was alluding to the fact that the Doctrine of Eternal Security WILL EXPIRE WITH THE RAPTURE OF THE CHURCH
Luke 12:37 Blessed are those servants, whom the lord when he cometh shall find watching: verily I say unto you, that he shall gird himself, and make them to sit down to meat, and will come forth and serve them
SO WON'T YOU ACCEPT JESUS NOW AND BE REMOVED FROM THAT EVENT  (OF TRIBULATION) AND LIVE FOREVER WITH JESUS IN THE FAMILY OF GOD?
2 "(For he saith, I have heard thee in a time accepted, and in the day of salvation have I succoured thee: behold, now is the accepted time; behold, now is the day of salvation.)" (2nd Corinthians 2:6)
—————————————————
DAILY CHRISTIAN BIBLICAL QUESTIONS AND ANSWERS:
—————————————————
Submissive Wives, Loving Husbands
Https://Gracethrufaith.Com/Ask-A-Bible-Teacher/Submissive-Wives-Loving-Husbands/
QUESTION:    I would like to know the meaning of the man as head of household, and should a wife do whatever the husband tells her if he's not faithful to God, drinks obsessively, has integrity issues, and squanders money?
ANSWER:    In his letter to the Ephesians, Paul described the marital relationship as it should be. Wives are to submit to their husbands in everything just as if they were doing it for the Lord. Husbands are to love their wives as Christ loved the church, overlooking all their faults and placing their wives needs ahead of their own, even to the point of giving their very lives for the well being of their wives. (Ephes. 5:22-27)
In this way the marriage becomes a model of Christ and the Church. When one party fails to uphold his part of the bargain, in your case your husband, the model falls apart and it becomes very difficult for the other party, you. But the solution is not to cease doing your part. Remember you're doing this for the Lord, not for your husband. If he's not mature or responsible enough to do his part, then he's in trouble with the Lord and the Lord will deal with him accordingly. As for you, remaining faithful to your obligations will please the Lord and he'll bless you for it. In most cases He does this by bringing the errant husband to task.
Of course all this assumes that you're both believers and your husband is 100% of the problem. Ask the Lord if any part of the responsibility lies with you, and if so make sure you address any issue He brings to your mind.
Submissive Wife, Loving Husband
Https://Gracethrufaith.Com/Ask-A-Bible-Teacher/Submissive-Wife-Loving-Husband-2/
QUESTION:    I am hoping that you can help me to better understand a wife being submissive to her husband. I have been a Christian for 10 years now, but have never really gotten my brain wrapped around this particular truth. I have been married for 21 years, and to be really honest, am not sure of my husbands salvation. I want to honor the Lord in my marriage, and be honorable to my husband. Your input would be greatly appreciated.
ANSWER:    The clearest model we have for this is Ephesians 5:22-28. Wives are supposed to submit to their husbands as the Church submits to the Lord (Ephes. 5:22-24). The Church seeks the Lord's will in everything and follows His direction. So should a wife submit to her husband, seeking his will and direction for their lives.
The husband's part is to love his wife as the Lord loves the Church (Ephes. 5:25-28). The Lord gave Himself up as an expression of His love for the Church, putting aside everything He was in order to elevate Her. He sees her as perfect, without any defect or shortcoming. This is the way a husband should regard his wife.
Both parties have to be committed to this ideal, but when a wife submits to her husband's will and His will is to devote his life to loving her, everybody wins. And that's what the Lord desires for us.
Divorce And Remarriage
Https://Gracethrufaith.Com/Ask-A-Bible-Teacher/Divorce-And-Remarriage/
QUESTION:    Our church is facing a crisis over the issue of a believer's remarriage. We're an Independent fundamental KJ only Baptist work. Our church stand is that marriage is between one man and one woman until death. No divorce and no remarriage. We have a number of divorced and remarried members that were voted into membership after they were remarried, I included and I've been a member since 1995.
We have a brother who was divorced by his unsaved wife 12 years ago when he was an unsaved man. He was Born Again about 4 years ago and has witnessed to his former wife on a number of occasions. Not only has she rejected Christ but she considers our church a cult and refuses to allow their daughters to attend any more.
This brother has since met a woman from another country who is also Born Again. They've known each other for about two years and believe that the Lord has brought them together. Knowing the church's position on remarriage they decided to have a private wedding with just a few people there at his home. Our pastors both refused to do the ceremony which I agree with.
Here's the hard part, both of our pastors have recommend that this brother resign from membership. Since this brother has removed himself from the class he was teaching after finding a willing and capable replacement, removed himself from our bus route, removed himself from the usher committee and building committee I don't see a need for discipline since he has imposed this upon himself already.
My desire is that this brother doesn't leave but if he doesn't our pastors will and I don't want this to happen either. We are at a cross roads here. Did this brother do anything wrong when he remarried? Any insight would be greatly appreciated.
ANSWER:    I don't agree with any interpretation of the Bible that makes divorce an unpardonable sin because the Lord didn't do that. When Jesus taught on divorce, He was reminding His listeners that divorce is a sin, since the fact that it was legal made some think that it wasn't a sin. The same is true today. The fact that divorce is legal in most places for any reason or even no reason, causes many believers to think it's not a sin.
But because of the cross, all sins are forgiven the moment we ask. Telling someone that he can't marry again, or that he is no longer worthy to serve the Lord in any capacity, is telling him that he can't be forgiven. It's one thing to say, like some places do, that a divorced person shouldn't be doing any marriage counseling or teaching on marriage. But what does the failure of a marriage have to do with driving a bus, or keeping a building in good repair, especially since the failed marriage was to a confirmed unbeliever who left him.
When Jesus was shown a woman who had been caught in the act of adultery He forgave her, told her not to do it again, and that was the end of it. (John 8:11) When Paul told the church in Corinth to expel a brother who was having an immoral relationship (1 Cor. 5:2) it was so he could realize that what he was doing was a sin. Paul later admonished them to welcome him back because he had repented, so as not to give the devil the victory after all. (2 Cor. 2:5-11)
And finally, my biggest problem is that the Lord commanded us to love our wives as Christ loved the Church (Ephes. 5:25). I strongly believe that many men are in flagrant violation of this commandment every day, living in loveless marriages but thinking that they're not sinning because they stay married. Do they think they're fooling the Lord just because they're fooling the people around them?
Matt. 19:9 says that a man who divorces his wife and marries another woman commits adultery. In Matt. 5:28 he said that any man who looks lustfully at a woman is also committing adultery. The Lord said to those who were about to kill the adulterous woman, "Let him who is without sin cast the first stone." Can any of your leaders pass that test? He also said, "Blessed are the merciful for they will be shown mercy." In my opinion your leaders are not being merciful in the way they're treating this brother.
Divorce is a sin that nearly 1/2 of all Christians have committed. It's a terrible thing that violates a sacred trust and does serious emotional damage to everyone involved. The earthly consequences are severe. But when the Lord went to the cross He carried every one of those divorces with Him and with His blood He wiped every slate clean. How can we do less?
—————————————————-
NEWS CLIPS/ARTICLES OBTAINED FROM MANY SOURCES – INCLUDING

Tracking bible prophecy.org
Rapture Ready News
Prophecyupdate.Com
Main News Channels
End Times Headlines
Prophecyupdateblogspot.com
Stevequayle.com
Gracethrufaith.com
Nowtheendbegins.com
Other Christian Sites
(CLICK ON) LATEST DAILY NEWS CLIPS:
WORLD TERRORISM – WARS
Matt. 24:6 And ye shall hear of wars and rumours of wars: see that ye be not troubled: for all these things must come to pass, but the end is not yet.
Matt. 24:7 For nation shall rise against nation, and kingdom against kingdom: and there shall be famines, and pestilences, and earthquakes, in divers places
GENERAL WORLD NEWS:
GENERAL WORLD CORONAVIRUS NEWS:
WORLD FINANCE:
1Tim. 6:10 For the love of money is the root of all evil: which while some coveted after, they have erred from the faith, and pierced themselves through with many sorrows
BREAKING: The US Mint Is Hiking Silver Prices, Will Charge $67 For Each 1-Ounce Uncirculated American Silver Eagle (PROOF) Coin In Just Five Days! SQ;
MASSIVE EARTH CHANGES/EARTHQUAKES/VOLCANOES ETC:
2Chr. 7:13 If I shut up heaven that there be no rain, or if I command the locusts to devour the land, or if I send pestilence among my people;
2Chr. 7:14 If my people, which are called by my name, shall humble themselves, and pray, and seek my face, and turn from their wicked ways; then will I hear from heaven, and will forgive their sin, and will heal their land
CHRISTIAN AND RELIGIOUS WORLD NEWS:
Matt. 24:9 Then shall they deliver you up to be afflicted, and shall kill you: and ye shall be hated of all nations for my name's sake.
Matt. 24:10 And then shall many be offended, and shall betray one another, and shall hate one another
EXTRA WORLD – ALTERNATIVE NEWS:
Please keep in mind that this collection of News Articles is mainly concerning America, but also take note that what happens in America will also "Dramatically" affect Australia and the rest of the World "Massively".
———————————————
WORLD – PROPHETIC NEWS ARTICLES PRESENTATION (SUNDAY 11th OCTOBER 2020)
MIDDLE EAST AND WORLD WAR LOOMING THE BUILD UP TO PSALM 83  – ISAIAH 17 AND GOG OF MAGOG WARS EZEKIEL 37-38:
THE WHOLE WORLD IS UNSTABLE FINANCIALLY, POLITICALLY, PHYSICALLY, MORALLY, GODLY: – AND BECOMING MORE SO DAILY. (WE ARE IN THE BEGINNING OF SORROWS (MATT 24:8)
THE BIBLE STATES THAT IT WILL ONLY GET WORSE BEFORE THE START OF THE TRIBULATION OF MANKIND – (REVELATION 6)
But before that we have to go through the Birth Pangs, leading up to the Tribulation of Mankind; and I feel that the beginning of Matthew 24 explains that time very well. We are currently in the Birth Pangs (Even though Matthew 24: is directed at the Jewish Nation, it still reflects Biblical Prophecy for the whole World at this time):
Matt. 24:6 And ye shall hear of WARS AND RUMOURS OF WARS: see that ye be not troubled: for all these things must come to pass, but the end is not yet.
Matt. 24:7 FOR NATION SHALL RISE AGAINST NATION, AND KINGDOM AGAINST KINGDOM: and there shall be famines, and pestilences, and earthquakes, in divers places.
—————————————————-
GENERAL PROPHETIC NEWS SECTION:
—————————————————–
LATEST NEWS CLIPS DETAILING THE STATE OF AND CHAOS  IN OUR WORLD AT THIS MOMENT
————————————————-
https://prophecyupdate.blogspot.com/ – By Gordan Chang/Gatestone Institute
China, violating previous understandings, has been sending large numbers of fighter aircraft and bombers into Taiwan's airspace this month.
At the same time, China's ruling Communist Party is issuing threats. The flights of military aircraft are not warnings, the Communist Party's Global Times newspaper stated in an editorial on September 18. "They are rehearsals on taking over Taiwan. What is needed is a political reason that can turn them into real battle to smash Taiwan independence forces."
Fortunately, bad weather is coming. The November-through-January period is not conducive to conducting invasions across the Taiwan Strait. Nonetheless, China is clearly gearing itself for war.
Beijing calls the island "sacred" Chinese territory, but Taiwan has never been part of communist China, the "People's Republic." In fact, Taiwan has never been formally recognized as part of any Chinese state. People on the island, in survey after survey, overwhelming consider themselves "Taiwanese," not "Chinese."
Beijing nevertheless insists it has sovereignty over Taiwan, which formally calls itself the Republic of China. The People's Republic has been sending planes near Taiwan's territory to make a point.
Last month, the message was directed at Washington. While U.S. Secretary of Health and Human Services Alex Azar visited Taiwan's capital, Taipei, China ordered aircraft to fly near the island.
This month, China's incursions have been larger. On the September 18, Beijing sent 18 aircraft across the median line, which divides the Taiwan Strait in two. The following day, 19 Chinese aircraft, including nuclear-capable H-6 bombers, flew into Taiwan airspace. The Chinese military in the past has flown H-6s on provocative "island encirclement patrols."
The large incursions on the 18th were especially significant. A Chinese fighter pilot got on the radio to deny that there was a median line, which for years both sides had respected to avoid accidental contact. The pilot, breaking practice, also made a political statement, calling Taiwan a "pawn" of "foreign forces."
Now, Beijing is sending aircraft near Taiwan "almost every day" and directing them to approach in all four directions.
At the same time, the Chinese are ramping up the rhetoric. "The U.S. and Taiwan must not misjudge the situation, or believe the exercise is a bluff," stated the same Global Times editorial. "Should they continue to make provocations, a war will inevitably break out."
"Deployment of the U.S. army to Taiwan means the start of a cross-Straits war," another editorial from the paper announced.
Ominously, Hu Xijin, the Global Times editor, wrote that China is "morally justified" to wage war on Taiwan.
————————————————-
CHINESE MILITARY DEMANDS USA 'STOP PROVOCATIVE ACTIONS' IN THE SOUTH SEA…
https://endtimeheadlines.org/2020/10/chinese-military-demands-usa-stop-provocative-actions-in-the-south-sea/ – Oct 10, 2020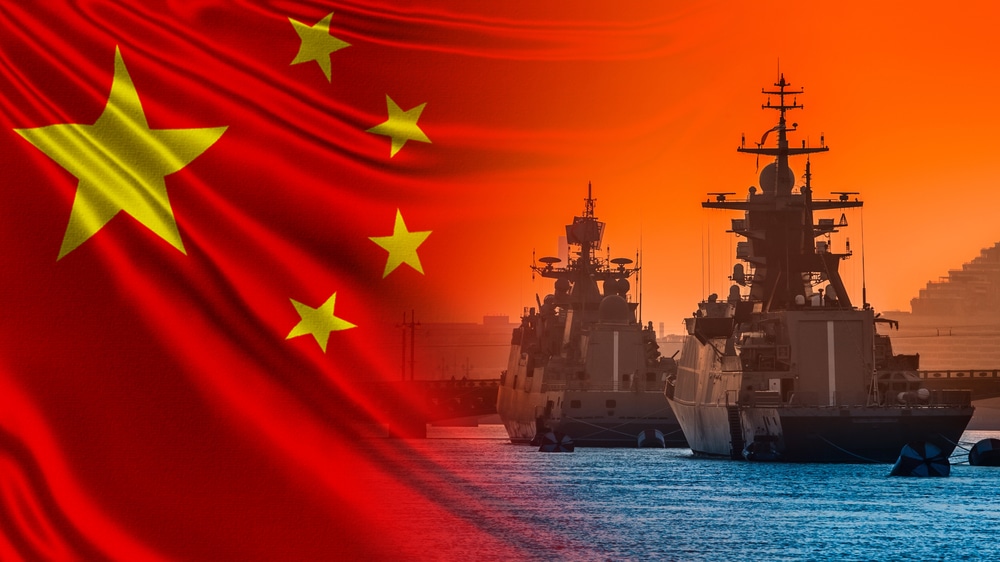 (ETH) – Tensions are flaring again between China and the US as China has now come out demanding the US 'control and restrict' its naval operations in the South China Sea after a US guided-missile destroyer reportedly entered waters around the disputed Paracel Islands without permission.
This latest incident comes as a spokesperson for the Chinese People's Liberation Army recently accused the US of flexing its military muscle after the USS John McCain was reportedly seen sailing into China's territorial waters on Friday. 'It is a naked navigational hegemony and military provocation,' Colonel Zhang Nandong said in a statement. 'We demand the US immediately stop such provocative actions, (and) strictly control and restrict military operations in the sea and air to avoid accidents.'
The Chinese military is accusing the US of 'frequently' sending warships to the South China Sea to 'show off its force and severely infringe upon China's sovereignty and security interests'. The spokesperson warned that it would take all necessary measures to resolutely safeguard national sovereignty and security and to maintain peace and stability in the region.
Back in July, China accused the US of 'sailing through the world like a bully' after two US aircraft carriers, the USS Nimitz and USS Ronald Reagan, were dispatched to the South China Sea in a show of Military force. According to the report,  China claims most of the South China Sea based on the 'nine-dash line', a vague delineation which dates back to the 1940s.
China has spent many years building military bases on artificial islands in the area, which is reportedly home to oil and gas deposits and is a vital commercial waterway. China also accused Secretary of State Mike Pompeo of maliciously creating political confrontation and smearing Beijing and called on the US to 'stop its unprovoked attacks.'
'We once again urge the US to abandon its Cold War mentality and ideological prejudice, stop unprovoked accusations and attacks against China and treat relations with China in a constructive manner,' the Chinese embassy in Japan said in a statement.
————————————————-
https://prophecyupdate.blogspot.com/ – Tyler Durden
President Armen Sarkissian has charged that Turkey is creating "another Syria in the Caucasus" through its military and diplomatic support for Azerbaijan in the war for the autonomous ethnic Armenian breakaway region of Nagorno-Karabakh.
"If we don't act now internationally, stopping Turkey . . . with the perspective of making this region a new Syria . . . then everyone will be hit," he said to the Financial Times in a new interview.
He further urged an international effort to stop the aggression which he said was fueled by Turkey, which he called "the bully of the region".
"We need more effort to stop this," Presdient Sarkissian said. "And the focus of the efforts should be Turkey. The moment Turkey is taken out of the equation, we will be closer to a ceasefire and returning to the negotiation table."
"What is a Nato member state doing in Azerbaijan helping to fight Nagorno-Karabakh? Explain to me," he questioned. "That completely redefines the role of Nato."
Turkish President Erodgan has been vocal in supporting Azerbaijan as Turkey's "brother country" since hostilities started late last month, and which has since taken hundreds of lives on both sides, military and civilian. But it's also widely believed Turkey is sending limited airpower in the form of F-16 jets and drones, for use against the Armenian military.
There's also the issue of Turkey transferring hundreds of Syrian militants from Islamist factions who had previously been warring against Assad, which has been covered widely in Western press, such as in The Guardian, since the start of the latest fighting.
As for the still disputed Turkish F-16 question, Armenia last week accused Turkey of shooting down an Armenian jet over its airspace, something both Ankara and Azerbaijan vehemently denied.
However, satellite imagery showed a par of Turkish F-16 jets parked at an airbase in Baku, after which Azerbaijani President Ilham Aliyev was forced to admit the presence. He merely claimed they were there for routine "training" exercises and not to engage in any hostilities. 
Interestingly, Syria's President Bashar Assad weighed in on the issue of Turkish intervention in Nagorno-Karabakh, saying Erdogan was supporting terrorists from Libya to Syria to the Caucasus.
Assad blamed Turkish intervention for heightening the conflict in a series of statements this week, some of which were featured in televised interviews:
————————————————-
TURKEY SPEARHEADING ANOTHER JIHAD AGAINST CHRISTIAN ARMENIA
https://prophecyupdate.blogspot.com/ – Raymond Ibrahim
As it has done in other arenas where "extremists" are attacking moderates or Christians—from Syria to Libya to Nigeria—Turkey is spearheading another jihad, this time against Christian Armenia.
By doing what it does best—funding, sponsoring, and transporting terrorists to troubled regions—Turkey has exacerbated if not sparked tensions.  Several reports and testimonials, including by an independent French journalist, have confirmed that Turkey is funneling jihadi groups that had been operating in Syria and Libya—including the pro-Muslim Brotherhood Hamza Division, to this latest theater of conflict.
The "quality" of these incoming "freedom fighters" – as the Western mainstream media, particularly during the Obama era, was wont to call them—is further evidenced by their attempts to enforce sharia, Islamic law, on some of their more secularized hosts in Azerbaijan. 
After asking, "Why has Turkey returned to the South Caucasus 100 years [after the dissolution of the Ottoman Empire]?" Nikol Pashinyan, Armenia's prime minister, answered in a statement:  "To continue the Armenian Genocide."  This is a reference to the well documented massacre of an estimated 1.5 million Armenians, 750,000 Greeks and 300,000 Assyrians—a total of 2.5 million Christians—slaughtered at the hands of Turks and in the name of jihad. 
While Pashinyan is correct in characterizing the latest hostilities as a reflection of Turkey's attempt "to continue the Armenian Genocide" of the nineteenth-twentieth centuries, in fact, the continuum of Turkic attacks on Armenia stretch back more than a thousand years ago, when the Turks first cleansed the Armenians from their ancient homeland, also in accordance with jihadi ideology.
————————————————-
SYRIA DEMANDS RETURN OF GOLAN HEIGHTS BEFORE ANY TALKS WITH ISRAEL
https://prophecyupdate.blogspot.com/2020/10/syria-demands-return-of-golan-heights.html – Toi Staff
Syrian President Bashar Assad said in an interview with Russian state news Thursday that peace talks with Israel would only take place if the Israelis return the Golan Heights to Syrian control.
In the interview, Assad said that Syria would hold peace talks with Israel only when the Jewish state was ready "to return the occupied Syrian land."
Israel captured the Golan Heights from Syria during the 1967 Six Day War and the two countries have been technically at war ever since.
Assad's statements seemingly came in response to recent speculation that Syria is interested in negotiations with Israel in order to alleviate crushing economic sanctions imposed by the United States.
The report by Ibrahim Hamidi, a senior diplomatic editor at the Asharq al-Awsat newspaper and an expert in Syrian affairs, speculated that Syria's silence on the recent normalization accords between Israel and the United Arab Emirates and Bahrain, along with a delivery of Humanitarian aid from the UAE, indicated Syria was interested in coming to the table in order to appease the Americans.
Asked about normalization with Israel, Assad said that normalization is possible "only when we can reclaim our land, it is very simple," he said.
Assad also emphasized in the interview that Syria was not negotiating with Israel.
Israel and Syria have fought three major wars since the establishment of the Jewish state. After the Israeli capture of the Golan Heights in 1967, and bitter fighting over the Golan in the 1973 war, Israel extended its law to the Heights in 1981 — with Israeli sovereignty recognized by the Trump Administration in March 2019. Intermittent Israel-Syria peace efforts in the 1990s talks foundered amid ongoing public demands by Bashar's father, former president Hafez Assad, for the full return of the Golan, and his continued insistence in behind-the-scenes negotiations at least on continued access to the waters of the Sea of Galilee.
More recently, Israel's military has acted to prevent the Syrian civil war spilling over into its territory, and launched hundreds of strikes targeting arms convoys and depots and other targets — seeking to prevent the supply of arms to the Hezbollah terror group and to thwart Iran's ongoing efforts to establish a major military presence in Syria.
————————————————-
https://prophecyupdate.blogspot.com/ – Tyler Durden
Li-Meng Yan, A Chinese virologist (MD, PhD) who worked in a WHO reference lab and fled her position at the University of Hong Kong, has published a second co-authored report, alleging that SARS-CoV-2, the virus which causes COVID-19, was not only created in a Wuhan lab, it's an "unrestricted bioweapon" which was intentionally released.
"We used biological evidence and in-depth analyses to show that SARS-CoV-2 must be a laboratory product, which was created by using a template virus (ZC45/ZXC21) owned by military research laboratories under the control of the Chinese Communist Party (CCP) government," reads the paper.
SARS-CoV2 is a product of laboratory modification, which can be created in approximately six months using a template virus owned by a laboratory of the People's Liberation Army (PLA). The fact that data fabrications were used to cover up the true origin of SARS-CoV 2 further implicates that the laboratory modification here is beyond simple gain-of-function research.
————————————————-
https://prophecyupdate.blogspot.com/ –  Frantisek Krejci
Extreme global poverty is expected to rise in 2020 for the first time in over 20 years due to the disruption caused by the "extraordinary" coronavirus crisis, the World Bank has warned.
According to a new report, the Covid-19 pandemic is expected to push an additional 88 million to 115 million people into extreme poverty this year, with the total rising to as many as 150 million by 2021, depending on the severity of the economic contraction.
Extreme poverty, defined as living on less than $1.90 a day, is likely to affect between 9.1 percent and 9.4 percent of the world's population this year, it said. That would represent a regression to the rate of 9.2 percent in 2017. Had the pandemic not convulsed the globe, the poverty rate was expected to drop to 7.9 percent in 2020.
"The pandemic and global recession may cause over 1.4 percent of the world's population to fall into extreme poverty," said World Bank Group President David Malpass. "In order to reverse this serious setback to development progress and poverty reduction, countries will need to prepare for a different economy post-Covid, by allowing capital, labor, skills, and innovation to move into new businesses and sectors."
Disney is laying off 28,000 workers. American Airlines and United Airlines plan to cut 31,000 workers. Last week's disappointing unemployment report shows that we have a long way to go. Perhaps a lot longer than we think.
I'm going to quote at length from my friend David Rosenberg, who I believe is absolutely spot on:
"You tally up these sectors and before the crisis, they supported 32 million jobs, or about a third of the private sector workforce, and it looks to me as though half of them are not going back to their old jobs.
"And I'm not sure many people understand that amusement parks, airlines, hoteliers and restaurants cannot stay in business at 50% capacity (or even 75% in the case of restaurants).
"… As it stands, the US Chamber of Commerce said that 25% of small businesses have already shut down. Another survey by Ipsos concluded that two-thirds are still nervous about leaving their homes; 59% say they intend to remain locked down on their own until signs emerge that the virus is 'fully contained.' A YouGov/CBS poll concludes that 85% of American households say they wouldn't get on an airplane even if they could. That's why the industry needs a bailout!
"A Washington Post/University of Maryland poll shows that only 56% of consumers across the nation intend to shop at the supermarket, which I suppose is a continuous bullish data point for delivery services but that's about it. Just 33% say they are comfortable entering a retail store. And a mere 22% say they are willing to dine in a sit-in restaurant.
"All these polls say basically the same thing – it will not be 'business as usual,' as the bulls will try and convince you, and the best we can hope for is a partial recovery. I mean, at best. What we had on our hands was a vertical down economic decline with job losses an order of magnitude higher than anything we have witnessed since the Great Depression. So, even as the stock market is telling you it has it all figured out, I can assure you that what we face at this very moment is a very uncertain economic future. And unfortunately, most of the longer-term risks are to the downside.
"We are in a depression – not a recession, but a depression. And I think the dynamics of a depression are different than they are in a recession because depressions invoke a secular change in behavior. Classic business cycle recessions are forgotten about within a year after they end – the scars from this one will take years to heal."
It's one thing to bail out airlines with multiple billions of dollars. What about the local bakery with 15 employees? Where do they get the capital to reopen when the time is right?
You can repeat that story a million (or more) times.
Know this: That which can't go on, won't. We can't keep piling on debt at this rate forever, and we can't repay what we have.
————————————————-
https://prophecyupdate.blogspot.com/ – Worthy News
Around 15,000 scientists and doctors from around the world, and both sides of the political aisle, have now signed a document stating that coronavirus lockdown measures are having a "devastating" effect on public health, the Washington Times reports. Initiated by doctors from Harvard, Stanford, and Oxford University, the Great Barrington Declaration was published on Tuesday. Doctors and scientists have continued to sign up for it since then.
The signatories assert in the declaration: "As infectious disease epidemiologists and public health scientists, we have grave concerns about the damaging physical and mental health impacts of the prevailing COVID-19 policies…Coming from both the left and right and around the world, we have devoted our careers to protecting people," the declaration says.
According to the signatories, current lockdown measures are "producing devastating effects on short and long-term public health." These effects, the signatories say, include "lower childhood vaccination rates, worsening cardiovascular disease outcomes, fewer cancer screenings, and deteriorating mental health—leading to greater excess mortality in years to come."
Instead of lockdowns, the Declaration recommends a policy called "Focused Protection." Under this approach, people would be allowed live normal lives "to build up immunity through natural infection." At the same time, improved safety measures would be put in place to protect the elderly and others who are more vulnerable to infection and death from COVID-19, the Washington Examiner reports.
The lead signatories to the Declaration Harvard professor of medicine Dr. Martin Kulldorf, Oxford epidemiologist Dr. Sunetra Gupta, and Stanford Medical School professor Dr. Jay Bhattacharya. By Thursday afternoon, the declaration had been signed by almost 5,000 medical and public-health scientists and almost 10,000 medical practitioners, the Washington Examiner reports.
————————————————-
https://prophecyupdate.blogspot.com/ – Joseph Mercola
Ireland began a national trial of their new Health Passport Ireland initiative, which uses an app to track and display results of COVID-19 testing, plus COVID-19 vaccination status, when one becomes available

It's being touted as a measure that increases freedom, but one day, when you head out the door, you may not be able to simply walk into a shop, restaurant or even a doctor's office or your place of work like you used to, unless you can prove you don't have COVID-19 and have been vaccinated via your "green" health passport app

Expansion plans are underway, and the system will likely soon be rolled out globally, in countries such as Canada, the U.S., the U.K., Germany, France, Italy and Kenya, with other locations following

Apps that started out to track your COVID-19 test results and vaccination status could turn into tools of control and power, making it impossible for you to attend school, work or travel unless you have the right color or results
On August 28, 2020, Ireland began a national trial of their new Health Passport Ireland initiative.1 "Protecting Society and Economy," their website reads, Ireland's health passports are actually nothing more than a way to track and display results of COVID-19 testing — and facilitate increased COVID-19 testing for businesses and the public, plus display COVID-19 vaccination status, when one becomes available.2
At this time, Ireland's health passports are being launched on a trial basis within a range of industries, including health care (hospitals and nursing homes), child care, education, agriculture, entertainment and others.3 It's plausible that they could soon be required to gain entry into schools, hospitals, offices, airports and more.
It's being touted as a measure that increases freedom — "Using the rapid real-time scanning technology, we can now enjoy freer travel with increased protection from COVID-19," Health Passport Ireland states4 — but one day, when you head out the door, you may not be able to simply walk into a shop, restaurant or even a doctor's office or your place of work like you used to, unless you can prove you don't have COVID-19 and have been vaccinated via your "green" health passport app.
As for how it works, the new health passport system claims to combine the "most advanced and validated testing solutions" so you can have immediate access to your COVID-19 status, which you can then choose to display or scan whenever appropriate.5 This involves first getting tested for COVID-19, after which an authorized medical administrator will create a Health Passport Ireland account in your name and update your COVID-19 test results.
Users will then need to download the Health Passport mobile app onto their phone, which will automatically be linked to their most recent COVID-19 test results. If your health passport turns green, it indicates you've tested negative "allowing you to safely enjoy daily life." If not, you'll be given a red status, at which point "you should self-isolate with medical attention."6
Further, test results automatically expire over time, turning your health passport amber — a warning that it's time to get tested again.
For those who haven't been tested, Health Passport Ireland states that you can still immediately use the technology by downloading the app and using it to "easily scan others whenever needed," and adding that by scanning others to get their COVID-19 status, "It gives great security for you and your family throughout our daily lives, for example when availing of services, whilst travelling, at events, at work and much more."7
So, to sum up, in order to achieve the freedom you need to go about your normal, daily life, you only need to get tested for COVID-19, have a health administrator create a Health Passport account in your name, download the app on your phone, receive your COVID-19 test results on your phone (and get retested as required), then display your COVID-19 status whenever it's requested.
HEALTH PASSPORTS GOING GLOBAL
Ireland's health passport is a world's first, developed by Irish-based ROQU Group. It's designed, however, to expand on a global scale and is compatible with all official COVID-19 tests, including swab tests, blood tests and rapid diagnostic tests. According to Robert Quirke, president and CEO of ROQU Group:8
"Around the world, there is continued frustration and disappointment due to COVID-19 restrictions … Using our global visibility, we are helping local companies by making the best COVID-19 testing solutions readily available to all. As testing and research continues to improve, we want to ensure that Irish society and economy can easily access testing solutions that offer the highest levels of clinical validation.
The purpose of the pilot trial is to demonstrate how Health Passport works across a variety of real-life business and social scenarios."
Expansion plans are underway, with ROQU noting that the system will soon be rolled out globally in countries such as Canada, the U.S., the U.K., Germany, France, Italy and Kenya, with other locations following.
"No matter where your test is performed worldwide, this can now be safely and securely updated into your private Health Passport account. This is vital for passengers departing and arriving into Ireland," Health Passport Ireland stated.9
IRELAND PUSHED HEALTH PASSPORT FOR PEOPLE WITH DISABILITIES
In June 2019, months before the pandemic was declared, Ireland's Health Service Executive (HSE) launched another health passport initiative, this time supposedly to help people with intellectual disabilities gain equal access to health care.10 The passports, which are available to people with intellectual disabilities within certain health care groups, include multiple sections, detailing personal information, communication abilities, medical history and more.
Once again touted as a way to improve health care access, privacy concerns aren't mentioned, nor is the fact that, should such a passport fall into the wrong hands, it could be used to promote discrimination as opposed to ending it.
VACCINATION STATUS WILL ALSO BE DISPLAYED
Health Passport Ireland (soon to be Health Passport Canada, U.S., Germany and more) isn't only intended to display your COVID-19 test results. It will also display your official vaccination status, once a COVID-19 vaccine becomes available. Considering you can also link the app to other medical services and records, it's not a stretch to assume it may one day be used to track the status of all of your vaccines and other medical procedures.
It seems we may soon be living in a world where your personal health data — including results from COVID-19 testing and data showing whether or not you've received certain vaccines — must be shared and authenticated before you're able to enter a sports arena, travel by air or even enter your workplace.
Ireland's Health Passport is only one such system in the works. The technology behind such innovations, which many are calling a threat to civil liberties and privacy, is already available to the general public in the App Store and Google Play via Civic Technologies' Civic Wallet. Civic Technologies, which bills itself as a "leading innovator in digital identity solutions,"11 released its "Civic Wallet" app June 16, 2020. Previously it was only available in private beta mode.
In addition to offering a way for users to send and receive digital currency, including bitcoin, ethereum, CVC and USDC, which are U.S. dollars converted to assets on the ethereum blockchain,12 it will also offer proof-of-health verifications via its so-called Health Key.
Civic Technologies, in turn, has partnered with Circle Medical, an affiliate of San Francisco-based hospital UCSF Health, which will use the app so 500 of its employees can prove their COVID-19 health status. Civic plans to roll out its proof-of-health verification for companies with more than 500 employees.
————————————————-
https://prophecyupdate.blogspot.com/ – Anthony Murdoch
An Ontario politician is raising alarm over the Trudeau Liberal government's plan to expand COVID isolation/quarantine facilities coast to coast. 
Randy Hillier, Independent Ontario MPP for Lanark, Frontenac & Kingston, expressed concern over the "Federal Quarantine/Isolation sites" in the provincial question period late this week.
He asked the Doug Ford government of Ontario if they knew of "how many of these camps will be built, and how many people does this government expect to detain." He pointed out how documentation shows that the "Federal Quarantine/Isolation sites" could be used for "other requirements" besides for COVID-19. 
"So your government must be in negotiations and aware of these plans to potentially detain and isolate citizens and residents of our country and our province, so speaker, to the Premier, where will these camps be built, how many people will be detained, and for what reason, for what reasons can people be kept in these isolation camps, and I'd like to have the Premier assure the people of Ontario…," said Hillier, whose microphone was cut off before he could finish.   
In an email sent to his followers, Hillier expressed more of his concerns. 
"The Premier has been actively dodging my questions since July. Today was just another example of the new status quo in Queen's Park, no response. After this exchange I'm not even sure if the Premier and his Cabinet know what's going on regarding the Federal government considering the expansion of isolation/quarantine facilities from coast to coast," wrote Hillier in an email sent out Thursday. 
"The expansion of isolation/quarantine camps in Canada is something of concern and the Ontario government must know about it, so why won't they tell the people of Ontario?" 
The Government of Canada (GoC) is currently soliciting feedback and information from industry service providers for additional "Federal Quarantine/Isolation sites" which if built, could be used for "other requirements" besides only for COVID-19 imposed quarantines.
————————————————-
https://prophecyupdate.blogspot.com/ – Stefan Stanford 
As we hear in the 1st video at the bottom of this story from 'earthquake/earth-changes watcher' Dutchsinse, he's recently been witnessing thousands of sudden bursts of heat all around the New Madrid fault zone, as well as numerous oil + gas wells 'flaring off'. 
Warning us within his video that these 'hot spots' seem to flicker on and off for 5 or 10 minutes before then vanishing, as our videographer also warns, this is occurring only along the edge of the North American craton in mass events, with other flare ups in Kansas, Oklahoma, Texas, New Mexico, Colorado, Wyoming, Idaho, Washington State, and Oregon (all along the craton edge!). 
And with the Central part of America now preparing for an apocalyptic earthquake in the "Great Central US Shakeout", a a wide-ranging earthquake drill set for 10:15 a.m. on October 15th, with the goal of the drill being "to improve preparedness and draw attention to the earthquake hazards that exist in Illinois, across the country and around the world", as this story over at The Telegraph reports, while it might seem that this area should be more concerned with flooding or tornadoes, a major earthquake is considered the worst-case disaster scenario by local and state emergency planners. 
And while some people reading this story might ask, why should they care about a New Madrid quake if they're living hundreds to thousands of miles away from there, as the website for New Madrid, Missouri had reported, the New Madrid earthquakes of 1811 and 1812 were the biggest earthquakes in American history. They occurred in the central Mississippi Valley, but were felt as far away as New York City, Boston, Montreal, and Washington D.C. President James Madison and his wife Dolly felt them in the White House. From this story over at The Express before we continue.: 
The 150-mile long New Madrid Seismic Zone in New Madrid, Missouri, is the source of the concern, and is also thought to be overdue for a massive tremor, which would (directly) impact seven states – Illinois, Indiana, Missouri, Arkansas, Kentucky, Tennessee and Mississippi. 
It has not seen significant earthquakes for more than 200 years. 
In the winter of 1811 and 1812 there were three earthquakes of magnitude 7 – as high as 7.7 – and a series of aftershocks across the American Midwest. 
The results were catastrophic, with the course of the Mississippi being diverted, chasms ripping open, and volcanoes of sand and water bursting through the ground. 
————————————————-
https://prophecyupdate.blogspot.com/ – Hal Lindsey
The November 2020 issue of The Atlantic features an article titled, "The Election that Could Break America"… The President of the United States, the First Lady, many others in the Administration and on Capitol Hill have been diagnosed with Covid-19… The World Health Organization now estimates that 10% of the world's population has had the virus… A new wave of the disease is hitting New York, Paris, London, Madrid, and elsewhere… An unprecedented fire season continues in the western United States… A shaken Washington establishment is preparing for all-out war over Supreme Court nominee, Amy Coney Barrett… Yet another potential hurricane seems to be taking aim at the Gulf Coast… And on and on.
They call these "uncertain times." But are they really uncertain?
For those who understand Bible prophecy, the times became quite certain with the birth of modern Israel in 1948. These are the days of the budding fig tree, times of the end as a new beginning dawns. Societal upheavals, natural disasters, and the threat of new and more horrible kinds of war create fear and anguish across the world. But the Bible said these things would happen during the days not long before the return of Jesus.
The Bible's accuracy should give us tremendous comfort. Through it, God demonstrates His authority and ultimate control. He did not create us, then leave us to fend for ourselves. He remains active and interested in our lives. He offers to make us a part of His family. And when you're one of His, He has a Bible full of promises to give you comfort and hope in times of trouble.
In Matthew 6:26, Jesus reminded His followers of His Father's care for the "the birds of the air." "They do not sow, neither do they reap, nor gather into barns, and yet your heavenly Father feeds them. Are you not worth much more than they?"
Then, in verse 27, Jesus asked this profound question. "Who of you by being worried can add a single hour to his life?"
Agonizing and worry produce more agonizing and worry. How much better to trust the God of your salvation, stand on the solid ground of His word, and allow His all-powerful arms to envelope you? Trust Him, love Him, and receive His love. You don't save yourself by having the right feelings. Only Jesus saves. But you get to choose whether or not you will walk in the peace that Jesus offers.
Will only good things happen in your life? No. The 23rd Psalm describes walking through the "valley of the shadow of death." What an amazing picture! That same verse 4 goes on to say,

"I will fear no evil; For You are with me."
That is not naively ignoring the situation. That is acknowledging the true context of every situation. Evil exists. Bad things sometimes happen. But those things happen inside a greater and better framework. The big picture is this. The Almighty God loves you and promises to care for you, even when times seem uncertain.
It's not that you have no enemies, but that even in their presence, He prepares a feast for you. If you are His, then you can say with the Psalmist, "Surely goodness and mercy will follow me all the days of my life; And I will dwell in the house of the Lord Forever."
————————————————-
 Grant Phillips
"Let not your heart be troubled; you believe in God, believe also in Me. Peace I leave with you, My peace I give to you; not as the world gives do I give to you. Let not your heart be troubled, neither let it be afraid." (John 14:1, 27)
Many Christians are afraid, or at best concerned, but as you trusted Him to save you, also trust Him to be with you in times of trouble. We can rest assured that God is in control. What we are seeing today surprises many of us, but God is not surprised. The world is doing exactly what He told us it would do as the days draw closer to His return. Notice the following words of God and take heart.
…there is hope, a sure hope, for every believer in Jesus Christ. He told us in the introductory Scriptures above to believe in Him. He said He will give us peace, not the phony peace the world gives, but real peace that works. He told us to not be troubled or afraid. Even though the world is falling apart around our ears, God is faithful to His Word and will not disappoint.
"But blessed are those who trust in the LORD and have made the LORD their hope and confidence.
They are like trees planted along a riverbank, with roots that reach deep into the water.
Such trees are not bothered by the heat or worried by long months of drought.
Their leaves stay green, and they never stop producing fruit." (Jeremiah 17:7-8)
Our hope is not in the President of the United States…
Our hope is not in Congress, neither is it in a political party. Our hope is in the God of gods, the Lord of lords and the King of kings.
God knows what He is doing. We just need to trust Him. He is divinely orchestrating this fallen world to its own fate. We look around us and see man fighting against man, but the real battle is spiritual. The apostle Paul said:
"For we do not wrestle against flesh and blood, but against principalities, against powers, against the rulers of the darkness of this age, against spiritual hosts of wickedness in the heavenly places." (Ephesians 6:12)
Does it seem the battle is intensifying? Well it is, because Satan is quickly approaching his last days and he knows it. I have no idea when the Tribulation will start, but one thing is sure, all the road signs are pointing in that direction. And remember, Jesus removes His bride before His day of wrath (Tribulation) begins.
Understanding these verses and accepting them will help us be just like the trees God speaks about in these verses of Jeremiah 17:8. By the way, He says the same thing in Psalms 1:3.
THOSE WHO TRUST IN MAN
"This is what the LORD says: "Cursed are those who put their trust in mere humans, who rely on human strength and turn their hearts away from the LORD.
They are like stunted shrubs in the desert, with no hope for the future. They will live in the barren wilderness, in an uninhabited salty land." (Jeremiah 17:5-6)
Those who trust in the Lord do not put their trust in man, but to the contrary, those who do not trust God will depend on our man to pull us out of this mess we have created for ourselves.
These dear folks will depend on Presidential leaders and Congress to save our bacon. They will believe that politicians and the media are being truthful to us. In other words, they are naïve to say the least.
Those Who Trust In The Heart
"The human heart is the most deceitful of all things, and desperately wicked.
Who really knows how bad it is?
But I, the LORD, search all hearts and examine secret motives. I give all people their due rewards, according to what their actions deserve." (Jeremiah 17:9-10)
Our county does not have a political problem, or a morality problem, or a justice problem, or a ________ (fill in the blank) problem. Our country has a heart problem that is filled with sin. All these other things are just what flows out from a deceitful and wicked heart.
Only a wicked heart would murder innocent defenceless little babies. Only a wicked heart would loot, burn, destroy, steal and murder to get their way. Only a wicked heart would be the number one propagator of porn, illicit drugs, sex slave trade and all that is evil in God's eyes.
Only a deceitful wicked heart would look us in the eye and purposely lie to us for their own gain while they smile at our gullibility.
Our Lord and Saviour, Jesus Christ, will rule with a rod of iron in the end. I close with these verses:
"And, behold, I come quickly; and my reward is with me, to give every man according as his work shall be.
I am Alpha and Omega, the beginning and the end, the first and the last.
Blessed are they that do His commandments, that they may have right to the tree of life, and may enter in through the gates into the city.
For without are dogs, and sorcerers, and whoremongers, and murderers, and idolaters, and whosoever loveth and maketh a lie.
I Jesus have sent mine angel to testify unto you these things in the churches. I am the root and the offspring of David, and the bright and morning star.
And the Spirit and the bride say, Come. And let him that heareth say, Come. And let him that is athirst come. And whosoever will, let him take the water of life freely.
He which testifieth these things saith, Surely I come quickly…" (Revelation 22:12-17, 20a)
————————————————
JESUS CHRIST RETURN FOR HIS CHURCH IS "IMMINENT"
Matt. 7:27 And the rain descended, and the floods came, and the winds blew, and beat upon that house; and it fell: and great was the fall of it.
Matt. 24:38 For as in the days that were before the flood they were eating and drinking, marrying and giving in marriage, until the day that Noe entered into the ark,
Matt. 24:39 And knew not until the flood came, and took them all away; so shall also the coming of the Son of man be
——————————————–
DON'T WAIT FOR THE LAST MINUTE
We are currently in the "Birth Pangs" pending the coming "7 year TRIBULATION" period, where all the Nations on Earth will be subject to God's Wrath on an "UNGODLY" World. The Rapture of Jesus Christ Church is "TOTALLY" imminent; And what will follow after that will be massively more devastating that we are seeing right now (Read Revelation Ch 6 – 22) God is trying to get everyone's attention to the coming Judgments; He does not want "ANYONE" to perish, but all to come to repentance. He loves us, but will not stand idly by and watch the World, (His Creation) turn to sin and debauchery). We are currently living in a fallen "Satanic" World where "EVIL", is totally accepted, "and God and his Love for his Church": is being exponentially rejected. The time has come when God HAS TO intervene, and he is (The prophetic word listed in his Word the Bible is being fulfilled exponentially).
——————————————————
THE NEW WORLD ORDER:
ONE WORLD GOVERNMENT – ONE WORLD ECONOMIC SYSTEM – ONE WORLD RELIGION
Dan. 9:27 And he shall confirm the covenant with many for one week: and in the midst of the week he shall cause the sacrifice and the oblation to cease, and for the overspreading of abominations he shall make it desolate, even until the consummation, and that determined shall be poured upon the desolate
Dan. 7:24 And the ten horns out of this kingdom are ten kings that shall arise: and another shall rise after them; and he shall be diverse from the first, and he shall subdue three kings
Rev. 17:12 And the ten horns which thou sawest are ten kings, which have received no kingdom as yet; but receive power as kings one hour with the beast