Unprecedented World Chaos…A Glimpse of the Tribulation

279K subscribers
Please Help Support This Ministry:

https://www.paypal.me/watchman1963

Cash App : $watchman1963 Please subscribe to my backup channel:

https://www.youtube.com/channel/UC4nc…

Current Events Linked To Biblical Prophecies. Everything is unfolding just as the bible foretold. Wars, Volcanic Eruptions, Earthquakes, Extreme Weather, Christian Persecution, Violence and more!
Matthew 24:3-14 3 Now as He sat on the Mount of Olives, the disciples came to Him privately, saying, "Tell us, when will these things be? And what will be the sign of Your coming, and of the end of the age?" 4 And Jesus answered and said to them: "Take heed that no one deceives you. 5 For many will come in My name, saying, 'I am the Christ,' and will deceive many. 6 And you will hear of wars and rumours of wars. See that you are not troubled; for all these things must come to pass, but the end is not yet. 7 For nation will rise against nation, and kingdom against kingdom. And there will be famines, pestilences,[b] and earthquakes in various places. 8 All these are the beginning of sorrows. 9 "Then they will deliver you up to tribulation and kill you, and you will be hated by all nations for My name's sake. 10 And then many will be offended, will betray one another, and will hate one another. 11 Then many false prophets will rise up and deceive many. 12 And because lawlessness will abound, the love of many will grow cold. 13 But he who endures to the end shall be saved. 14 And this gospel of the kingdom will be preached in all the world as a witness to all the nations, and then the end will come.
—————————————————–
Israel negotiates emergency coalition; U.S. strikes Iranian-proxy in Iraq – TV7 Israel News 13.03.20

 

Today's top stories 13.03.20; 1) Israeli Prime Minister Benjamin Netanyahu and former IDF Chief of Staff Benny Gantz are holding negotiations on advancing an emergency unity government for the purpose of dealing with the potentially devastating consequences of the spread of the coronavirus. 2) Jerusalem officially instructs the closure of most educational institutes until further notice, in efforts to contain the coronavirus. 3) The United States conducted retaliatory strikes against Kataib Hezbollah in Iraq, early this morning; after the Iranian backed militia struck a military base housing U.S-led coalition forces – killing one British and two American servicemembers.
—————————————————–
Unprecedented World Chaos…A Glimpse of the Tribulation

279K subscribers
Current Events Linked To Biblical Prophecies. Everything is unfolding just as the bible foretold. Wars, Volcanic Eruptions, Earthquakes, Extreme Weather, Christian Persecution, Violence and more!

Matthew 24:3-14 3 Now as He sat on the Mount of Olives, the disciples came to Him privately, saying, "Tell us, when will these things be? And what will be the sign of Your coming, and of the end of the age?" 4 And Jesus answered and said to them: "Take heed that no one deceives you. 5 For many will come in My name, saying, 'I am the Christ,' and will deceive many. 6 And you will hear of wars and rumours of wars. See that you are not troubled; for all these things must come to pass, but the end is not yet. 7 For nation will rise against nation, and kingdom against kingdom. And there will be famines, pestilences,[b] and earthquakes in various places. 8 All these are the beginning of sorrows. 9 "Then they will deliver you up to tribulation and kill you, and you will be hated by all nations for My name's sake. 10 And then many will be offended, will betray one another, and will hate one another. 11 Then many false prophets will rise up and deceive many. 12 And because lawlessness will abound, the love of many will grow cold. 13 But he who endures to the end shall be saved. 14 And this gospel of the kingdom will be preached in all the world as a witness to all the nations, and then the end will come.
—————————————————–
Prophecy Update End Times News Headlines – 3/13/20

166K subscribers
 Prophecy Update End Times News Headlines – 3/13/20 It's Later Than You Think… Time is Short! A fast-paced highlight and review of the major news stories and headlines that relate to Bible Prophecy and the End Times… All the signs of the last days are converging at the same time. Bible Prophecy is happening right before our eyes and like birth pains, the predicted events are happening more frequently and more intently. Never, in the history throughout the world have so many forces, including economic, scientific, techno-logic, ecologic, cultural, geopolitical, moral, spiritual and religion, converged together to bring this world that's already teetering over the edge into the abyss, to a point of no return.

Jesus said when you see all these signs happening, know that I am near, even at the door.
—————————————————–
Watchman Report: Thou Shall Not Panic!!!

166K subscribers
Watchman Report: Thou Shall Not Panic!!! Pastor Jack Suspends the Spread of Fear and Panic

#Coronavirus

Pastor Jack Hibbs Facebook:

https://goo.gl/jhJHyL

Instagram:

https://goo.gl/TkQ4hD

Website:

https://goo.gl/y1gCnV

Calvary Chapel Chino Hills www.calvarycch.org
—————————————————–
LATEST NEWS CLIPS ARTICLES – SUNDAY 15th MARCH 2020
WE PREACH THE BLESSED HOPE FOR THE FUTURE IN JESUS CHRIST OUR SAVIOUR
Rev. 3:3 Remember therefore how thou hast received and heard, and hold fast, and repent. If therefore thou shalt not watch, I will come on thee as a thief, and thou shalt not know what hour I will come upon thee.
Prov. 14:12  There is a way which seemeth right unto a man, but the end thereof are the ways of death.
Is. 52:10 The LORD hath made bare his holy arm in the eyes of all the nations; and all the ends of the earth shall see the salvation of our God
Jer. 25:31 A noise shall come even to the ends of the earth; for the LORD hath a controversy with the nations, he will plead with all flesh; he will give them that are wicked to the sword, saith the LORD
——————————————-
DAILY CHRISTIAN BIBLICAL QUESTIONS AND ANSWERS:
——————————————-
Angry With God
https://gracethrufaith.com/ask-a-bible-teacher/angry-with-god/
QUESTION:    What do you think is the best way to approach a family member who is an unbeliever and is so angry about losing a loved one that she has cursed God. She has also been utterly indoctrinated in a liberal college Theology course that scoffs at true Christianity and is anti Israel. I pray for her daily but fear she is very close to being lost forever. I am grateful for your ministry and any thoughts.
ANSWER:    Take a look behind what your family member is saying and ask yourself, "Why would a person curse someone she doesn't believe in?" As you say, she is angry. But by taking her anger out on God she is admitting that she believes there is a God.
Anger is one of the stages of grief, and even true believers can sometimes be angry with God in times of loss. This is probably not a good time to discuss the issue with her, but it is a good time to pray that her heart will be softened, as you're already doing, so you can have a discussion later.
Be sure to pray that she'll move through this stage and not get stuck there, as some do, but will come to the Lord for comfort. It's the very best thing you can do for her, and it pleases God to see you doing this, because He wants everyone to be saved and come to a knowledge of the truth (1 Tim. 2:1-4).
"This is the confidence we have in approaching God: that if we ask anything according to his will, he hears us. And if we know that he hears us–whatever we ask–we know that we have what we asked of him" (1 John 5:14-15).
Angry With God (CONTINUED)
https://gracethrufaith.com/ask-a-bible-teacher/angry-god/
QUESTION:    For the past 9 years my emotional, mental & physical health has been suffering from all of the stress & losses I have suffered. I stopped going to church & went cold toward God because of the pain, anguish & grief I have suffered for so long. My heart is broken. I have been having serious doubts that God even exists as I heard only silence when I reached out to God over & over for intervention & healing. I have thrown myself into the Word, reading many good Christian books & have sought counsel from friends & a Christian counselor for the past 6 months. I can't even find a mustard seed of faith. I have doubts all day long about if God even exists. I don't know what else to do. I don't want to ever give up but it is such a difficult struggle. Is there anything you can suggest beyond what I am doing now? I have been filled with anger & rebellion toward God as to why he did not help me. Any help you can give me would be so appreciated. I am running out of hope!
ANSWER:    From what you've told me it sounds like you are angry with God because of all the things that have happened and have severed your relationship with Him. This has opened the door to Satan and allowed him to take full advantage of your suffering to make you feel even worse. From all your studying you should know that God didn't cause these things to happen to you. We are all sinners who live in a sin filled world where bad things can happen without cause.
God is not responsible for our sins or for the fact that we live in a fallen creation. Satan is responsible for that, and he's the one making you miserable. You will find peace when you apologize to God for your anger and ask Him to forgive you. When you do this with a sincere heart, you will find Him right at your side where He's been all along, waiting to comfort you in your loss.
James 4:7-8 says,

"Submit yourselves then to God. Resist the devil and he will flee from you. Come near to God and He will come near to you."
CAN I BE ANGRY WITH GOD?
https://gracethrufaith.com/ask-a-bible-teacher/can-i-be-angry-with-god/
QUESTION:    Is it really possible to be angry at God for his action in ones life? I have a strong feeling that I am. When he took my wife home He left me in this messed up world alone after standing on his healing words and it didn't happen. I feel so lost and confused. I really don't want to be here anymore and hate every day that I am. I think about it day and night. Am I saved? His word says I am. I've accepted Jesus as my savior 23 years ago. My wife was. And I just want to be with her in heaven not this world. There has been so many times I've come close. I find no joy here. Sometimes I feel like It was just foolishness to believe he was going to heal her now that she is gone. I feel as though Ive been tossed in to hell its self and forgotten. Why do I still stay here? Why doesn't he just take me now?
ANSWER:    Yes it is possible and even permissible to be angry with God. In any relationship there's bound to be frustration, especially from misunderstanding, and our relationship with God is no different. But as in any other relationship, it will become a problem it you let it fester instead of dealing with it. Tell God about your anger and ask Him to forgive you and show you why you're still here.
And it wasn't foolishness to believe that He would heal her. He did heal her. She's happier and healthier now than she's ever been and can't wait to see you. The part that you should apologize for is wanting her healed in order to stay with you. Although it's understandable, that's asking for your will to be done, not God's.
God is not mean and he doesn't forget people. He loves you more than you can imagine and wants only the best for you. My guess is that He has left you here because He's not finished blessing you yet. Once you realize that and begin looking for the blessings he has in store for you, you'll start seeing them and your joy will return.
Is God Ever Angry With Us?
https://gracethrufaith.com/ask-a-bible-teacher/god-ever-angry-us/
QUESTION:    I know that Jesus' death on the cross paid the price for all of my past, present, and future sins. And I know that nothing I have done or ever can do could help me earn my salvation. It's already been done by Jesus. My question though is this: Does God get angry or upset with us believers for things we do or times of doubt? I know all I need is to repent/ask forgiveness but I still wonder if we do things that make him mad and want to discipline us the way a loving dad would their own son?
ANSWER:    In Colossians 1:19-20 Paul said that God has made peace with us through the blood of Jesus shed on the cross. I take that to mean He no longer gets angry with those who have accepted His Son's death as payment for their sins.
But Hebrews 12:7-11 says we should endure hardship as a discipline. It says God disciplines us for our good so we may share in His holiness, and while it may seem painful at the time it produces a harvest of righteousness and peace for those who are trained by it.
As you can see from this passage God's discipline is compared to training. It can be uncomfortable but it's never applied in anger.
————————————————-
NEWS CLIPS OBTAINED FROM MANY SOURCES – INCLUDING

Tracking bible prophecy.org
Rapture Ready News
Prophecyupdate.Com
Main News Channels
End Times Headlines
Prophecyupdateblogspot.com
Stevequayle.com
Gracethrufaith.com
Nowtheendbegins.com
Other Christian Sites
(CLICK ON) LATEST DAILY NEWS CLIPS:
ISRAEL NEWS:
THE MIDDLE EAST PEACE PLAN IS "ANTI GOD" – (GOD WILL NOT ALLOW JERUSALEM TO BE DIVIDED).
ZECHARIAH 12:2-3
I AM GOING TO MAKE JERUSALEM A CUP THAT SENDS ALL THE SURROUNDING PEOPLES REELING … Zech. 12:2
WORLD TERRORISM – WARS
GENERAL WORLD NEWS:
WORLD FINANCE:
Rev. 6:6 And I heard a voice in the midst of the four beasts say, A measure of wheat for a penny, and three measures of barley for a penny; and see thou hurt not the oil and the wine
MASSIVE EARTH CHANGES/EARTHQUAKES/VOLCANOES ETC:
(PLUS) EXTRA WORLD – ALTERNATIVE NEWS:
2Chr. 7:13 If I shut up heaven that there be no rain, or if I command the locusts to devour the land, or if I send pestilence among my people;
2Chr. 7:14 If my people, which are called by my name, shall humble themselves, and pray, and seek my face, and turn from their wicked ways; then will I hear from heaven, and will forgive their sin, and will heal their land
CORONAVIRUS NEWS CLIPS:
WEBPAGE ADMINISTRATOR: 

Please Note:

because of the "Massive" amount of "Coronavirus News Clips" being advertised, there could be a doubling-up of News Clips below.
2Tim. 1:7 For God hath not given us the spirit of fear; but of power, and of love, and of a sound mind.
CHRISTIAN AND RELIGIOUS WORLD NEWS:
Matt. 24:9 Then shall they deliver you up to be afflicted, and shall kill you: and ye shall be hated of all nations for my name's sake.
Matt. 24:10 And then shall many be offended, and shall betray one another, and shall hate one another
————————————————-
WORLD – PROPHETIC NEWS ARTICLES PRESENTATION SUNDAY 15th MARCH 2020
MIDDLE EAST AND WORLD WAR LOOMING THE BUILD UP TO PSALM 83  – ISAIAH 17 AND GOG OF MAGOG WARS EZEKIEL 37-38:
THE WHOLE WORLD IS UNSTABLE FINANCIALLY, POLITICALLY, PHYSICALLY, MORALY, GODLY: – AND BECOMMING MORE SO DAILY. (WE ARE IN THE BEGINNING OF SORROWS (MATT 24:8)
THE BIBLE STATES THAT IT WILL ONLY GET WORSE BEFORE THE START OF THE TRIBULATION OF MANKIND – (REVELATION 6)
But before that we have to go through the Birth Pangs, leading up to the Tribulation of Mankind; and I feel that the beginning of Matthew 24 explains that time very well.
Matt. 24:6 And ye shall hear of WARS AND RUMOURS OF WARS: see that ye be not troubled: for all these things must come to pass, but the end is not yet.
Matt. 24:7 FOR NATION SHALL RISE AGAINST NATION, AND KINGDOM AGAINST KINGDOM: and there shall be famines, and pestilences, and earthquakes, in divers places.
————————————————-
GENERAL PROPHETIC NEWS SECTION:
————————————————-
A barrage of rockets hit a base housing U.S. and other coalition troops north of Baghdad, Iraqi security officials said Saturday, just days after a similar attack killed three servicemen, including two Americans.
At least two Iraqi soldiers were wounded in the attack at Camp Taji, according to the Iraqi officials, who spoke on condition of anonymity in line with regulations.
The officials said over a dozen rockets landed inside the base. Some struck the area where coalition forces are based, while others fell on a runway used by Iraqi forces.
The was no immediate comment from the coalition regarding Saturday's attack.
The attack was unusual because it occurred during the day. Previous assaults on military bases housing U.S. troops typically occurred at night.
The previous rocket attack against Camp Taji on Wednesday also killed a British serviceman. It prompted American airstrikes Friday against what U.S. officials said were mainly weapons facilities belonging to Kataib Hezbollah, the Iran-backed militia group believed to be responsible.
However, Iraq's military said those airstrikes killed five security force members and a civilian, while wounding five fighters from the Popular Mobilization Forces, an umbrella organization including an array of militias, including some Iran-backed groups.
Iran-backed Shiite militia groups vowed to exact revenge for Friday's U.S. strikes, signalling another cycle of tit-for-tat violence between Washington and Tehran that could play out inside Iraq.
America's killing of Iraqi security forces might also give Iran-backed militia groups more reason to stage counterattacks against U.S. troops in Iraq, analysts said.
"We can't forget that the PMF is a recognized entity within the Iraqi security forces; they aren't isolated from the security forces and often are co-located on the same bases or use the same facilities," said Sajad Jiyad, a researcher and former managing director of the Bayan Center, a Baghdad-based think tank.
"Now the (Iran-backed) groups who supported the initial strike in Taji, who were the most outspoken, feel obliged, authorized, maybe even legitimized to respond, ostensibly to protect Iraqi sovereignty but really to keep the pressure up on Americans," he added.
"There are no red lines anymore," Jiyad said.
————————————————
https://prophecyupdate.blogspot.com/ – Tyler Durden
With coronavirus pandemic dominating the world's attention, it's easy to forget that the US is essentially in a state of war with Iran, just Thursday night conducting a major aerial bombing campaign against multiple Iran-backed militia targets across southern Iraq.
In response to prior rocket attacks on Camp Taji which killed two Americans on Wednesday the Pentagon declared that "all options are on the table" — suggesting there could be more strikes to come. The Pentagon said it initiated a "proportional" response against five Kata'ib Hezbollah weapons facilities. 
Iraq's government immediately condemned the attacks as not only unauthorized violations of its airspace, but as having killed and wounded several Iraqi security force personnel.
Top US forces general in the region, Marine Gen. Frank McKenzie, brushed Baghdad's condemnation aside, essentially saying it was Iraqi forces' fault for being there. Many officers in the Iraqi Army essentially see Khatib Hezbollah as a de facto extension of national forces.
Iraq condemned overnight U.S. air strikes on Friday, saying they killed six people and warning of dangerous consequences for what it called a violation of sovereignty and targeted aggression against the nation's regular armed forces.
The foreign ministry further summoned the US and UK ambassadors following the attacks. But the Pentagon is not backing down.
"These locations that we struck are clear locations of terrorist bases," McKenzie said Friday. When asked about Iraq's fierce response, he said, "If Iraqi military forces are there, I would say it's probably not a good idea to position yourself with Khatib Hezbollah in the wake of a strike that killed Americans and Coalition members."
Meanwhile, the Pentagon is moving Patriot air defense missile systems into Iraq to better defensed US personnel against any potential Iranian strike, even at a moment when Tehran's real focus remains on combating the deadlier Covid-19 outbreak in its midst. 
It was also reported Friday that Secretary of Defense Mark Esper has agreed to keep two aircraft carriers in the Gulf region "for a period of time". They've been identified as the USS Dwight D. Eisenhower and the USS Harry S. Truman.
The US rarely maintains two carriers there, with the last instance coming about eight years ago, in 2012. 
————————————————
https://prophecyupdate.blogspot.com/ – Greg Hunter's Usawatchdog.Com,
Renowned geopolitical and financial cycle expert Charles Nenner told his clients back in January 2020, "It was time to sell . . . . I am afraid they can lose 40% to the downside."
Well, we are more than halfway there, and Nenner warns it's going to go lower – much lower. Nenner says,
"You know it was all over the media, and they were always laughing at me that my long term target is 5,000 for the DOW Jones. They ask me how are we going to get there, and I say I don't know. Now, this thing with the virus, there is no business anymore because the United States has stopped flights with Europe. So, maybe we can see how we get there."
I think people have finally stopped laughing about Nenner's 5,000 DOW call.
Another way the markets can crash is a full blown banking crisis that is brewing in Europe. At the center is Deutsche Bank (DB), which the IMF called the "most systemically dangerous bank" in the world back in 2016. Nenner predicted on USAWatchdog.com that if DB stock crashed through a $6.44 price target, it could go to $0. DB closed Thursday at $5.53, down 15% in one day. Nenner says,
"I have real estate I want to sell because in Amsterdam, it's going through the roof. I decided not to do it because I don't trust the banking system. For years, we have talked about Deutsche Bank, and I said if it goes below $6.50, it could go into bankruptcy. Now it's $5.50. They are interconnected to most European banks. So, something is really cooking over there, and I don't really trust the banks. That's why I am not selling my real estate. . . . I don't trust the banks anymore."
So, Deutsche Bank is the canary in the coal mine? Nenner says,
"Definitely. If DB goes, I don't know what all the other banks are going to do. . . . It looks like DB can go to zero. . . . Next step is $3.90. If it goes to that, it's finished."
DB is just one big bank in deep financial trouble, and it's much bigger than just DB. Nenner says,
"Other banks are also down 20%. Italian banks are very important. What happened in Italy? They closed everything down. There is no fashion business anymore. There is no car business anymore. There is nothing going on. How do you think these banks are going to make it?"
Nenner says he is forecasting a banking crisis, and the tip of the iceberg is Deutsche Bank. Nenner says,
"They are interconnected to all the other banks in Europe. I don't know how the other banks can survive if this bank gets into trouble."
Does it get worse before it gets better? Nenner says,
"I think we are heading for a depression. Usually we go into a recession at a 6% GDP. Now, we have 1.5% to 2% GDP. Usually, the Fed Funds are 6%, 7% or 8%. Now, they are almost zero. What are they going to do when we get a recession? You get very fast a negative GDP. You get very fast a negative interest rate, and it's a big mess. This has been going on for many, many nice years, and all the Fed Presidents had tricks and let it go. They did not want to have a depression in their lifetime like the 1930's. So, they kept it going, and now there is no way out anymore."
So, there is no avoiding a depression? Nenner says, "Yep, and it is going to be very bad."
————————————————
https://prophecyupdate.blogspot.com/ – Daniel Wiseman 
Sure, Coronavirus or COVID-19 as it is also called, is disturbing and scary. But when you consider how many people are likely to die, and who is likely to die, compared to the statistics in mortality for so many other conditions and diseases, this is mass craziness in terms of fear.
Coronavirus has caused a fear contagion. The fact that it is a "pandemic," only means that it exists around the world. This is a health care crisis that has now precipitated an economic crisis because of lack of perspective. 
As of March 12, 2020, there have been only 37 people to die from Coronavirus in the United States. As of March 10, 2020, only 32 people had died from Coronavirus. Of those 32 people, about 24 of them died in a nursing home in Washington State. That means in those two days, only five more people had died from Coronavirus. Is this enough of a reason to bring economic activity to halt? I don't think so. Normal Americans are able to cope with these types of risks and displacements. Unfortunately we have become a diminished people, no longer able to face reality and difficulties. It's a kind of national cowardice. Let me say this clearly: life is inherently dangerous, and none of us are going to get out alive.
Let's talk about other causes of preventable death and see how much significantly greater they are than Coronavirus is likely ever to be. The following are the most recent figures that I pulled from reputable internet sources, such as the Centers for Disease Control.
People killed in car accidents each year in the United States: 35,000.

People killed by influenza last year in the United States: 35,000. The year before that 61,000 people died from the flu.

Number of people that die of heart disease in the United States each year: 650,000.

Number of people that die of cancer each year: 610,000.

Number of people that die from smoking each year: 485,000.

Number of people that die from alcohol-related deaths each year: 88,000.

Number of people killed by accidents and unintentional injuries each year in the United States: 170,000.
In 1918, 575,000 people in the United States died from influenza. We have been here before, and obviously we don't want these types of deaths to happen again, but it seems extreme to think that this virus which does not appear to be all that lethal to healthy people will cause this type of catastrophe.
Rahm Emanuel once famously said, "Never let a crisis go to waste."  He meant that when a crisis arises, big government progressives like him must do what they can to increase government intrusion into our lives.  In short, when it comes to the coronavirus, while the presence of the virus on our planet is true, it is a reality that the virus makes people sick, and it can kill some people who have compromised or lower immune systems, it is also providing just the crisis the left had been hoping for to shove government down our throats just a little bit more.
The fact that the disease has spread around the world is true.  The hysteria, however, is manufactured.  The virus is being intentionally misrepresented as something we would see in science fiction dystopia movies, with the intent to create panic, and use the crisis as a political weapon against the Trump administration.  The progressive left intends for the coronavirus to be Trump's Katrina, a convenient opportunity during an election year.
I live in Riverside County, and in my county store shelves are looking more bare than usual, and thanks to a recommendation by Governor Gavin Newsom, large gatherings are being cancelled.  Countrywide, the NBA, MLS, and NHL have all cancelled the remainder of their seasons, and the NCAA has cancelled March Madness.  Disneyland is closed, as are other places that generally attract crowds.  Schools are cancelling classes, and are in many cases moving everything online.  All of this in the name of stopping the spread of the disease.
In other countries, like Italy, the whole nation is shutting down.  And, you know, I kind of get it.  The dead have piled up to the tune of 1,016, with 15,113 cases of the coronavirus in that country.
That all said, this is not the Black Death that wiped out Europe during the Dark Ages, or a global scourge of death like in Stephen King's 'The Stand', or the massive list of zombie apocalypse movies we have seen in theaters.  I agree we should be concerned regarding any viral threat, but we must not live in fear, or overstate the realities for the sake of political expediency.
The world population is a bit more than seven and a half billion people, with about 125,000 cases of the coronavirus that have been reported.  Yes, it is likely the number is actually higher, but let's go with what we know.  We are talking something like a millionth of a percent of the population testing positive for corona virus. Only 0.00000305 percent of the U.S. population has tested positive with the coronavirus.  Worldwide, roughly 1 out of every 15 million people have been infected, and in the U.S., 1 in every 3 million have been infected.  And, truth be told, a massive majority of those reported cases have already recovered.  80% of the people's symptoms are mild, and of the over 4,000 deaths worldwide, nearly all of them were people who were older, or had some kind of condition that lowered their ability to fight off the disease.
Meanwhile, in recent history, we lose a little more than 10,000 people per year to the flu.  18,000 people have died from the Swine Flu, and when it first appeared in April of 2009, it took the Obama administration ten months to take action because they didn't consider it that large of a threat.  HIV/AIDS has killed 36 million since its emergence in 1981.
The coronavirus, based on those numbers, is not nearly the killer they are making it out to be.  In truth, it is actually a minor irritant.
Also, we are being told the coronavirus is spread from person to person, can remain airborne for about three hours, and you could be up to six feet from an infected person and catch it.  A distance beyond six feet from an infected person will likely keep you safe.
So why are we seeing all of the panic?  Why are we scrambling as if we are living in the world of Resident Evil?  Don't get me wrong, I'm concerned, but I am not going to be hysterical about all of this, and I am disappointed that as citizens we are literally allowing the government to take advantage of this situation to dictate our lives even more so than usual, and blame a Trump administration that has not only been pro-active, but was criticized as being overcautious February 2 when the President shut down travel from China to the United States, and his decision to declare a public health emergency on January 31.  Back then, none of the Democrats supported the President's actions, by the way.
P

ANIC & THE PANDEMIC: IS THERE A BETTER APPROACH

?
Cliff Mass 
OUR SOCIETY IS NOW TRANSITIONING INTO PANIC ABOUT THE CORONAVIRUS

.
Universities and schools are being shuttered, sports activities and public gatherings are being cancelled, individuals are hoarding toilet paper and supplies, travel is being severely constrained, the stock market has crashed, and business activity is nose-diving.  Major businesses are forcing their employees to work at home.
This blog will try to summarize the coronavirus threat, suggest that some of the panic-driven actions may not be well-founded, and that there may be a far better, more effective approach to deal with the virus.
If one steps back and looks at the actual numbers, particularly against other threats we face, the situation is far less apocalyptic than some are suggesting.   As of today, the Centers for Disease Control and Prevention (CDC) notes 1215 cases and 36 deaths in the U.S. since January 1.  This is a very, very small percentage of the U.S.  population of 331 million.   The number of U.S. cases no longer appears to be going up rapidly, as noted by the latest CDC graphic (see below).  Note the drop after the peak in early March.
In China, where the problem started, the number of cases is rapidly declining (see below).
According to Washington State's Department of Health, the state has had 457 coronavirus cases and 31 deaths.  Most (23) of the death's in Washington have been limited to one nursing facility in Kirkland with a large number of elderly, chronically ill patients.  In fact, according to the NY Times, this facility would typically lose 5 patients a month.
This facility also represents about 50 of the coronavirus cases in Washington, since several first responders and staff were sickened (with no fatalities) due to exposure at this site.    In many ways, the Kirkland facility represented an unfortunate random event–the random exposure of a group of extremely vulnerable patients.    If this random exposure had not happened, Washington State would probably not be getting headlines as a center for this virus outbreak.
There are undoubtedly many, many cases of coronavirus infection in the younger, healthier members of society, many of which are not aware of their infection.  But without testing, we don't really know other than by indirect statistical approaches.  Thus, the "death rates" are clearly far too high, and highly deceptive.
It is important to note that the coronavirus numbers are extraordinarily smaller than those of the flu.
Below is a flu graphic I got from CDC and added the coronavirus cases (see the gray dot).  In fact, the gray dot should be much smaller.   For example, we had 36 coronavirus deaths nationally so far compared to 61,000 flu deaths in 2017-2018.  45 million cases that year compared to 1200 coronavirus cases so far this year.  In WA state, 75 have died of flu through the end of February and several years have brought 200- 300 deaths from influenza.
Coronavirus is also not in the same league as auto accidents, which kill 1.25 millions a year (3287 deaths a day), with 25-50 million injured or disabled for the worldwide statistics, while about 38,000 die in the U.S. each year from auto wrecks.
Are our political leaders shutting down society for the flu or stopping auto travel because of deaths on the roadway? The answer is no.  So why are they willing to close down society to deal with the coronavirus, which has represented only a small smaller risk to the general population?  Life is full of risks that must be considered, mitigated, and dealt with.  But society must continue to function.
As the virus began to spread in China, the U.S. needed to develop a coherent plan for understanding and dealing with the crisis.  This did not happen.   President Trump probably made the right call about cutting off travel to China, but the lack of coherent planning beyond that is apparent.  The lack of testing is a major failure of his administration and others.
————————————————
FACTS ABOUT CORONAVIRUS:
https://prophecyupdate.blogspot.com/ – By TOI STAFF and AGENCIES
[Note: Below is probably the most reasonable non-medical article I have seen to date. Keep in mind, the vast majority of items in this article would apply to any virus involving the upper respiratory tract]
The coronavirus pandemic originated in China in late 2019 as a cluster of mysterious cases of pneumonia.
The culprit was found to be a new type of virus, now called severe respiratory syndrome coronavirus 2, or SARS-Cov-2.
The virus, and the disease it causes — COVID-19 — is fatal to a small percentage of the people it affects. Most of the danger is related to pneumonia, or an inflammation of the lungs caused by infection, although there is still much uncertainty about how the viral infection spreads and progresses in the body.
The early symptoms are usually a cough, fever and shortness of breath, and look a lot like the flu or common cold. Symptoms appear 2-14 days after exposure, the Centers for Disease Control said.
The virus circulates through droplets in the air spread by coughing or sneezing, and enters the body through the mouth, eyes or nose. It can remain viable on surfaces for hours to days, and may be able to enter the lungs directly when inhaled.
After entering the body, the virus spreads to the back of the nasal passage and to mucous membranes in the throat, attaching to the body's cell receptors.
The viral particles hook onto the outer walls of the host's cells, the virus's genetic material breaches the cell membrane, and it then hijacks the cell into making more copies of the virus. The virus copies proliferate, break out of the cell, and infect other cells in the body. A single cell can churn out millions of copies of the virus before it dies.
INTO THE LUNGS
The virus then moves from the back of the throat down the bronchial tubes toward the lungs, according to a report from The New York Times based on interviews with leading experts in infectious diseases.
The infection can then reach the lungs, causing inflammation in their mucous membranes and damaging their air sacs. The inflammation hampers the lungs' ability to oxygenate the blood and remove carbon dioxide from the bloodstream.
The inflammation in the lungs, and their reduced efficacy, can cause them to fill with fluids, pus and dead cells, and cause an infection, leading to pneumonia.
Some people who are infected have difficulty breathing and require a ventilator, and for others, the lungs become so inundated with fluids that even with intervention, they die.
People suffering from pneumonia are also at a heightened risk for secondary viral and bacterial infections.
Pneumonia caused by the coronavirus appears to be more severe than most cases of the disease, and affects a greater portion of the lungs, experts told The Guardian newspaper. Pneumonia is usually caused by bacterial infection, which can be treated with antibiotics.
The COVID-19 lung infection appears to start on the outer parts of the sides of the lung, then moves to more central areas, including the upper respiratory tract and trachea.
The virus can also enter the bloodstream, and may be able to infect the gastrointestinal system, causing symptoms like diarrhea and indigestion. The infection can also directly damage organs including the heart, kidneys, and liver, and cause bone marrow to become inflamed. Small blood vessels may also be vulnerable to inflammation.
The body's own immune response to the infection can cause inflammation and organ malfunction. It is still unclear if the brain is affected.
The Centers for Disease Control said the virus has been detected in blood and stool specimens, but it is unclear whether it can spread through any bodily fluids.
There are at least six other kinds of coronavirus that can infect humans. Some cause colds, while others caused the SARS and MERS outbreaks. The SARS-Cov-2 strain is believed to have originated in bats.
Health experts recommend regular hand washing to limit exposure. Soap effectively destroys the virus when it is outside the body because it dissolves the virus's lipid bilayer, or its outer membrane made of fat, causing the viral particles to fall apart. Hand sanitizer and alcohol products are less effective than soap in combating the virus.
WHO IS MOST AT RISK?
Over 60,000 people have recovered from the virus, at the time of this writing. The World Health Organization says about 80% of people recover without any treatment from specialists, and about one in six become seriously ill.
Older people and those with underlying health problems are the most vulnerable. The immune system tends to weaken with age, even in healthy and active people.
Risk from coronavirus starts to increase for people who are over 60 and is heightened more for those over 80. Longtime smokers are likely more susceptible to a serious infection due to their damaged lungs.
According to the World Health Organization, people with mild illness recover in about two weeks, while those with more severe ailments who survive may take three to six weeks to rebound.
Worldwide, there have been over 134,000 confirmed cases of the coronavirus and over 5,600 deaths since it first emerged in China in December, according to AFP figures on March 14.
The WHO has estimated that the virus will kill around 3.4% of patients.
Various reports quoted by the Associated Press have estimated the fatality rate from less than 1% to as high as 4% among cases diagnosed so far, depending on location.
An official from the Centers for Disease Control estimated that in the US, between 0.25% and 1% of patients would die.
The World Health Organization has declared the virus a pandemic and warned, also on March 14, that it was "impossible" to know when it would peak.
As of this writing, there have been 143 confirmed coronavirus cases in Israel, with three people in serious condition. There have not been any deaths from the virus. Some 35,000 Israelis have entered quarantine.
Israel has taken a number of stringent measures to curb the spread of the virus, including banning public gatherings of over 100 people and closing schools and universities, with stricter measures likely to follow.
All Israelis returning from overseas are required to quarantine at home for 14 days. Non-Israeli nationals were barred from entering the country as of Thursday at 8 p.m., unless they can demonstrate an ability to self-quarantine for two weeks.
—————————————————
The COVID-19 pandemic continues to explode all over the globe, and authorities are warning that it is going to continue to get worse.  The number of confirmed cases outside of China roughly tripled once again this week, and if this outbreak continues to escalate at this pace there will be more than a million confirmed cases in less than a month.  But as bad as the official numbers are, the truth is that there are a whole lot more people walking around out there that have caught the virus but have not been tested.  In fact, a medical professor at Johns Hopkins University named Marty Makary believes that there are "probably 25 to 50 people who have the virus for every one person who is confirmed"… (

READ MORE…

)
————————————————
In A Stroke Of Genius, President Trump Creates Nationwide Network Of America's Top Consumer Stores Who Are Building Drive-Thru Coronavirus Testing Locations
https://www.nowtheendbegins.com/genius-president-trump-declares-national-emergency-over-coronavirus-stocks-go-crazy/ – by Geoffrey Grider March 13, 2020
Speaking from the Rose Garden, Trump said, "I am officially declaring a national emergency." He said the presidential directive will make available more than $50 billion for state and local governments to respond to the coronavirus outbreak. The Dow Jones Industrial Average was a few hundreds points as Trump, accompanied with CEOs of major businesses like Wal-Mart, Target and others sought to assure Americans that there will be a steady supply of goods for panicked Americans.
NOW THE END BEGINS SHARE:
Stocks surged as President Trump was announcing at the White House that he would declare a national emergency over the coronavirus, freeing up billions of federal dollars to address that fast-spreading virus. The Dow jumped more than 3% as Trump was speaking.
Liberals across America are furious right now after President Trump knocks out a grand-slam home run in the Rose Garden this afternoon as he announced his plans to deal with the coronavirus. One by one, the president brought to the podium the heads of Walmart, Target, Google, Roche Pharmaceuticals and and many others to unveil a plan that is nothing short of a stroke of genius. What is that, you ask?
The creation of drive-thru testing locations using nasal swabs for any American who thinks they might be sick. No lines in doctors offices, no panics in the ER, just drive to your favorite big box store like Walmart and Target and get tested without ever getting out of your car. Wow, how crazy smart is that? As the president was speaking, the stock mark rose nearly 2,000 points as it became obvious that President Trump was in complete control of the situation, and responding to it vigorously.
The Democrats on Twitter are having a legit meltdown, seems you just can't stop the Trump Train. Time to pour myself a nice, steaming, hot cup of liberal tears, and laugh my butt off at the hundreds of the bitter, poor loser tweets from the Democrats whose lunch just got eaten. That is all, carry on.
STOCK RALLY EXPLODES AS TRUMP ANNOUNCES EXPANSIVE CORONAVIRUS EFFORT, DOW UP 9.4%
FROM GATEWAY PUNDIT: The Dow Jones Industrial Average was a few hundreds points as Trump, accompanied with CEOs of major businesses like Wal-Mart, Target and others sought to assure Americans that there will be a steady supply of goods for panicked Americans. In just the last few minutes of the markets being opened, the rise in the Dow for the day rose from about 1,100 to nearly 2,000 points.
THIS IS WHAT MADE THE STOCK MARKETS RISE 2,000 POINTS IN MERE MINUTES – DRIVE THRU CORONAVIRUS TESTING…GENIUS!
The Dow Jones Industrial Average closed 1,981 points higher, or 9.4%. The S&P 500 was up 9.2% while the Nasdaq Composite surged 9.3%. The averages posted their biggest one-day gain since October 2008.
The major averages hit session highs after Trump announced that 50,000 new coronavirus tests will be available by next week, hitting the largest point gain in history.
SPEAKING FROM THE ROSE GARDEN, Trump said, "I am officially declaring a national emergency." He said the presidential directive will make available more than $50 billion for state and local governments to respond to the coronavirus outbreak.
He also announced a new public-private partnership to expand coronavirus testing capabilities, as his administration has come under fire for being too slow in making the test available. The partnership will include drive-thru testing in some locations and an online portal to screen those seeking to get tested.
Still, Trump said that officials don't want people taking the test unless they have certain symptoms. "It's totally unnecessary," Trump said. He added, "This will pass."
Trump spoke as negotiations continue between the White House and Congress on an aid package, but there was no announcement of a breakthrough, as House Democrats prepare to vote on their own measure Friday.
"Trump said he was also giving Secretary of Health and Human Services Alex Azar emergency authorities to waive federal regulations and laws to give doctors and hospitals "flexibility" in treating patients," the Associated Press reported. READ MORE:
Trump Declares National Emergency Over Coronavirus Pandemic
Jump to 14:00 to hear the president' amazing response to the coronavirus outbreak. 
NOW THE END BEGINS IS YOUR FRONT LINE DEFENSE AGAINST THE RISING TIDE OF DARKNESS IN THE LAST DAYS BEFORE THE RAPTURE OF THE CHURCH
————————————————
CORONAVIRUS PATIENTS AND SURVIVORS TALK ABOUT WHAT IT'S LIKE
https://endtimeheadlines.org/2020/03/coronavirus-patients-and-survivors-talk-about-what-its-like/Mar 13, 2020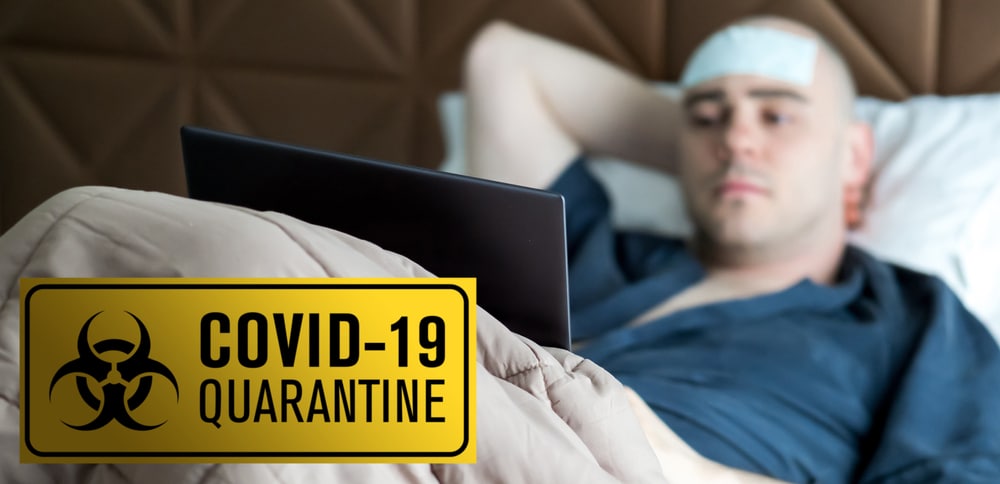 (Faithwire) – There's a lot of information about the novel coronavirus coming at us in every possible direction. Sometimes, it's good to hear from people who have seen it and experienced it up close. Currently, there are just over 1,600 confirmed cases in the U.S. Here are the stories of a few people who have been infected with the virus, COVID-19.
Bentley recently appeared on CNN alongside his wife, Suzy. Speaking with network anchor Poppy Harlow, the couple said it is their faith in Jesus that has carried them through the uncertainties of COVID-19.
In fact, earlier this week, Bentley said his doctors came into his isolation room to tell him the condition of his lungs was worsening. Bentley, though, said, "I heard the voice of God inside of me telling me, 'You're getting better.'" The medical staff also reassured Bentley that cases often get worse before they get better.

READ MORE

:
————————————————
HUNDREDS OF BILLIONS OF LOCUSTS SWARMING: NUMBERS COULD GROW SIGNIFICANTLY
https://prophecyupdate.blogspot.com/2020/03/hundreds-of-billions-of-locusts.html
These insects of the apocalypse eat their own body weight in food every day.
And they are breeding so fast that numbers could grow four hundredfold by June.
In January, the UN appealed for $76m (£59m) to tackle the crisis. That figure has now risen to $138m. But so far, only $52m has been received. 
The main threats are in East Africa and Yemen, as well the Gulf states, Iran, Pakistan and India.
Most recently, locusts have been seen in the Democratic Republic of Congo and swarms have arrived in Kuwait, Bahrain and Qatar and along the coast of Iran.
But locals and officials say there are 3 times more than at the beginning of the year:
Millions of acres of crops have already been destroyed and all attempts to contain or eradicate these pests have failed so far in India, Pakistan and Africa. 
Aerial and ground spraying combined with constant tracking of the swarms are viewed as the most effective strategies. But aircrafts are in short supply.
Currently, Ethiopia was using five and Kenya six for spraying and four for surveying. But the Kenyan government says it needs 20 planes for spraying – and a continuous supply of the pesticide Fenitrothion.
Now look at this plague invading an airport on the Abadan Island in southwest Iran:
————————————————
JESUS CHRIST RETURN FOR HIS CHURCH IS "IMMINENT"
Matt. 7:27 And the rain descended, and the floods came, and the winds blew, and beat upon that house; and it fell: and great was the fall of it.
Matt. 24:38 For as in the days that were before the flood they were eating and drinking, marrying and giving in marriage, until the day that Noe entered into the ark,
Matt. 24:39 And knew not until the flood came, and took them all away; so shall also the coming of the Son of man be
——————————————–
DON'T WAIT FOR THE LAST MINUTE
We are currently in the "Birth Pangs" of the coming

"7 year

TRIBULATION"

period, where all the Nations on Earth will be subject to God's Wrath on an "UNGODLY" World. The Rapture of Jesus Christ Church is "TOTALLY" imminent; And what will follow after that will be massively more devastating that we are seeing right now (Read Revelation Ch 6 – 22) God is trying to get everyone's attention to the coming

Judgments;

He does not want "ANYONE" to perish, but all to come to repentance. He loves us, but will not stand idly by and watch the World, (His Creation) turn to sin and debauchery). We are currently living in a fallen "Satanic" World where "EVIL", is totally accepted, and God and his Love is being exponentially rejected. The time has come when God HAS TO intervene, and he is (The prophetic word listed in his Word the Bible is being fulfilled exponentially).
——————————————————
Rom. 1:18 For the wrath of God is revealed from heaven against all ungodliness and unrighteousness of men, who hold the truth in unrighteousness;
Rom. 2:5 But after thy hardness and impenitent heart treasurest up unto thyself wrath against the day of wrath and revelation of the righteous judgment of God
Eph. 5:6 Let no man deceive you with vain words: for because of these things cometh the wrath of God upon the children of disobedience.
Col. 3:6 For which things' sake the wrath of God cometh on the children of disobedience:
James 1:20 For the wrath of man worketh not the righteousness of God.
Rev. 14:10 The same shall drink of the wine of the wrath of God, which is poured out without mixture into the cup of his indignation; and he shall be tormented with fire and brimstone in the presence of the holy angels, and in the presence of the Lamb:
Rev. 14:19 And the angel thrust in his sickle into the earth, and gathered the vine of the earth, and cast it into the great winepress of the wrath of God.
Luke 21:25 And there shall be signs in the sun, and in the moon, and in the stars; and upon the earth distress of nations, with perplexity; the sea and the waves roaring;
Luke 21:26 Men's hearts failing them for fear, and for looking after those things which are coming on the earth: for the powers of heaven shall be shaken
Luke 12:37 Blessed are those servants, whom the lord when he cometh shall find watching: verily I say unto you, that he shall gird himself, and make them to sit down to meat, and will come forth and serve them
——————————————————
SO WON'T YOU ACCEPT JESUS NOW AND BE REMOVED FROM THAT EVENT  (OF TRIBULATION) AND LIVE FOREVER WITH JESUS IN THE FAMILY OF GOD THIS WORLD IS IN "DISTRESS" AND IT WILL SOON BE IN TRIBULATION?
2 "(For he saith, I have heard thee in a time accepted, and in the day of salvation have I succoured thee: behold, now is the accepted time; behold, now is the day of salvation.)" (2nd Corinthians 2:6)
—————————————————
SEEK THE LORD JESUS CHRIST WHILE HE STILL CAN BE FOUND – HE IS COMMING QUICKLY – IT IS A "FREE" GIFT OF ETERNAL LIFE.
2 "(For he saith, I have heard thee in a time accepted, and in the day of salvation have I succoured thee: behold, now is the accepted time; behold, now is the day of salvation.)" (2nd Corinthians 2:6)
—————————————————
"WHAT IS THE PRAYER OF SALVATION?"
Many people ask, "Is there a prayer I can pray that will guarantee my salvation?" It is important to remember that salvation is not received by reciting a prayer or uttering certain words. The Bible nowhere records a person's receiving salvation by a prayer. Saying a prayer is not the biblical way of salvation.
The biblical method of salvation is faith in Jesus Christ.
John 3:16 tells us, "For God so loved the world that he gave his one and only Son, that whoever believes in him shall not perish but have eternal life." Salvation is gained by faith (Ephesians 2:8), by receiving Jesus as Savior (John 1:12), and by fully trusting Jesus alone (John 14:6; Acts 4:12), not by reciting a prayer.
The biblical message of salvation is simple, clear, and amazing at the same time. We have all committed sin against God (
Romans 3:23). Other than Jesus Christ, there is no one who has lived an entire life without sinning (Ecclesiastes 7:20). Because of our sin, we have earned judgment from God—death (Romans 6:23). Because of our sin and its deserved punishment, there is nothing we can do on our own to make ourselves right with God. As a result of His love for us, God became a human being in the Person of Jesus Christ. Jesus lived a perfect life and always taught the truth. However, humanity rejected Jesus and put Him to death by crucifying Him. Though that horrible act killed the only truly innocent man, our salvation was obtained. Jesus died in our place. He took the burden and judgment of our sin upon Himself (2 Corinthians 5:21). Jesus was then resurrected (1 Corinthians 15), proving that His payment for sin was sufficient and that He had overcome sin and death. As a result of Jesus' sacrifice, God offers us salvation as a gift. God calls us all to repent of our sins (Acts 17:30) and have faith in Christ as the full payment of our sins (1 John 2:2). Salvation is gained by receiving the gift God offers us, not by praying a certain prayer.
Now, that does not mean prayer cannot be involved in receiving salvation. If you understand the gospel, believe it to be true, and have accepted Jesus as your salvation, it is good and appropriate to express that faith to God in prayer. Communicating with God through prayer can be a way to progress from accepting facts about Jesus to fully trusting in Him as Savior. Prayer can be connected to the act of placing your faith in Jesus alone for salvation.
Again, though, it is crucially important that you do not base your salvation on having said a prayer. Reciting a prayer cannot save you! If you want to receive the salvation that is available through Jesus, place your faith in Him. Fully trust His death as the sufficient sacrifice for your sins. Completely rely on Him alone as your Savior. That is the biblical method of salvation. If you have received Jesus as your Savior, by all means, say a prayer to God. Tell God how thankful you are for Jesus. Offer praise to God for His love and sacrifice. Thank Jesus for dying for your sins and providing salvation for you. That is the biblical connection between salvation and prayer.
If you have received Jesus as your Savior because of what you have read here today, please click on the "I have accepted Christ today" button below.
If you have any questions, please use the question form on our Bible Questions Answered page.