Did 4 AI Robots Really Attack 29 Scientist in Japan?

218K subscribers
 

Did 4 AI Robots Really Attack 29 Scientist in Japan? Ex Military Officer breaks the story on 4 AI Robots that supposedly attacked 29 scientist in Japan. Thank You For Watching The WTF Files! Show Your Support for The WTF Files and (LIKE) this Video!
——————————————-
What's Behind the Azerbaijan Armenia War?

187K subscribers
Middle East Update: What's Behind the Azerbaijan Armenia War? Join Amir for a live Middle East Update on Facebook, where he will be discussing what's behind the Azerbaijan-Armenia war.
——————————————-
Amid Clash with Taiwan (Oct 14,2020) China Test fire Long Range Missile Near Border Line

Amid Clash with Taiwan, China Test fire Long-Range Missile Near Border Line The People's Liberation Army held a large-scale exercise that simulated the invasion of an island during Taiwan's Double Tenth holiday. The drill included new units such as drones, special forces and airborne troops, and saw forces moving from multiple locations in the coastal provinces of Guangdong and Fujian, some of them by night. "This exercise, with the effective integration of multiple new combat forces, increased the PLA's capabilities in joint landings and three-dimensaional assaults.
——————————————-
Turkey-Greece tensions escalate amid renewed exploration in disputed waters-TV7 Israel News 13.10.20

Today's top stories 13.10.20; 1) The Israeli Parliament, or Knesset in Hebrew, formally opened its winter session – amid domestic reports of a reemerging political crisis that may yet again force the Jewish State into another round of national elections. 2) A Cargo Vessel makes a first official maritime transport of Emirati goods to the state of Israel. 3) Tensions in the Eastern Mediterranean are once again on the rise, after Turkey announced its decision to conduct exploration works for offshore energy sources in disputed waters, south of the Greek Island of Kastellorizo – which is situated near Turkey's southern coast.
——————————————-
Coming soon… The Nagorno-Karabach conflict; Israeli perspectives – JS 549 Trailer
——————————————-
Tensions Rise Between Greece & Turkey Over Mediterranean Rights

127K subscribers
——————————————-
The 10 Kings and the rising Mideast Caliphate (Part 2)

187K subscribers
The 10 Kings and the rising Mideast Caliphate (Part 2) Part 2 of the 10 Kings and the rising Mideast Caliphate by Tim Buck, Focus on the End Times. Visit our website:

https://fotet.org

All the signs of the last days are converging at the same time. Bible Prophecy is happening right before our eyes and like birth pains, the predicted events are happening more frequently and more intently. Never, in the history throughout the world have so many forces, including economic, scientific, techno-logic, ecologic, cultural, geopolitical, moral, spiritual and religion, converged together to bring this world that's already teetering over the edge into the abyss, to a point of no return. Jesus said when you see all these signs happening, know that I am near, even at the door.
——————————————-
Exodus – Chapter 6 – Staying on the Path of Truth

187K subscribers
Exodus – Chapter 6 – Staying on the Path of Truth Pastor Brandon Holthaus If you would like to be added to our text alerts, please click here and complete your contact information.

https://rockharborchurchca.ccbchurch

…. I am Pastor Brandon Holthaus, and I want to welcome you to our Rock Harbor Church's YouTube Channel. We desire to reach people with the truth; believers and unbelievers alike. We connect dots of events that are happening in the world from a Biblical perspective and also a prophetic perspective. We offer prophecy updates, discipleship lessons, and sermons to help people grow in the Lord and come to the knowledge of the truth.

https://rockharborchurch.net

All the signs of the last days are converging at the same time. Bible Prophecy is happening right before our eyes and like birth pains, the predicted events are happening more frequently and more intently. Never, in the history throughout the world have so many forces, including economic, scientific, techno-logic, ecologic, cultural, geopolitical, moral, spiritual and religion, converged together to bring this world that's already teetering over the edge into the abyss, to a point of no return. Jesus said when you see all these signs happening, know that I am near, even at the door.
——————————————-
LATEST NEWS CLIPS – ARTICLES (WEDNESDAY 14th OCTOBER)
—————————————————
(THIS IS THE WORLD'S CURRENT TIMELINE)
Matt. 24:6 And ye shall hear of wars and rumours of wars: see that ye be not troubled: for all these things must come to pass, but the end is not yet.
Matt. 24:7 For nation shall rise against nation, and kingdom against kingdom: and there shall be famines, and pestilences, and earthquakes, in divers places.
Matt. 24:8 All these are the beginning of sorrows.
Matt. 24:9 Then shall they deliver you up to be afflicted, and shall kill you: and ye shall be hated of all nations for my name's sake.
Luke 12:40 Be ye therefore ready also: for the Son of man cometh at an hour when ye think not
—————————————–
THIS IS THE WORLD'S VERY NEAR FUTURE:
Matt. 24:21 For then shall be great tribulation, such as was not since the beginning of the world to this time, no, nor ever shall be
—————————————————
WE PREACH THE BLESSED HOPE FOR THE FUTURE IN JESUS CHRIST OUR SAVIOUR
1Cor. 12:3 Wherefore I give you to understand, that no man speaking by the Spirit of God calleth Jesus accursed: AND THAT NO MAN CAN SAY THAT JESUS IS THE LORD, BUT BY THE HOLY GHOST.
"Behold, I come like a thief! Blessed is he who stays awake and keeps his clothes with him, so that he may not go naked and be shamefully exposed."
"And you know what is restraining him now so that he may be revealed in his time. For the mystery of lawlessness is already at work. Only he who now restrains it will do so until he is out of the way."
REV. 14:12
Here Jesus was alluding to the fact that the Doctrine of Eternal Security WILL EXPIRE WITH THE RAPTURE OF THE CHURCH
Luke 12:37 Blessed are those servants, whom the lord when he cometh shall find watching: verily I say unto you, that he shall gird himself, and make them to sit down to meat, and will come forth and serve them
SO WON'T YOU ACCEPT JESUS NOW AND BE REMOVED FROM THAT EVENT  (OF TRIBULATION) AND LIVE FOREVER WITH JESUS IN THE FAMILY OF GOD?
2 "(For he saith, I have heard thee in a time accepted, and in the day of salvation have I succoured thee: behold, now is the accepted time; behold, now is the day of salvation.)" (2nd Corinthians 2:6)
—————————————————
DAILY CHRISTIAN BIBLICAL QUESTIONS AND ANSWERS:
—————————————————
Believe Or Die!
https://gracethrufaith.com/ask-a-bible-teacher/believe-or-die/
QUESTION:    Something is laying heavy on my heart and was wondering if you could give me an answer. I have always felt Christians had one up on Muslims because I always thought Christ taught that it is up to you join Him or not, whereas Muslims have to join and stay a Muslim under coercion and threat of death. Deuteronomy 13:10 – tells a different story. If God never changes why did he threaten death to those who refused to follow Him? Sounds like the koran. How can I tell a Muslim my God would not force you to believe in Him when He did it here?
ANSWER

:  

  Deuteronomy 13 is not about forcing someone to worship God on pain of death. It's about the penalty for introducing false gods to people who had already pledged themselves to the one true God and trying to lure them into idolatry. God had a national covenant with Israel that depended upon them keeping His laws, one of which was to worship Him and Him only. Anyone who introduced the worship of a false god into the mix was putting the entire nation at risk. The penalty for doing so was physical death.
Today, accepting Jesus as our Saviour is a choice we make, but rejecting Him does bring death. John 3:16-18 explains both the salvation that comes from belief, which is eternal life, and the condemnation that comes from refusing to believe, which is spiritual death. Again, the issue is not forcing someone to accept Jesus as their Savior on pain of death. The issue is that anyone who doesn't choose to accept Him is already condemned to death because of their sins.
To Die Or Not To Die?
https://gracethrufaith.com/ask-a-bible-teacher/to-die-or-not-to-die/
QUESTION:    The bible says it's appointed once unto EVERY man to die; since all of humankind must die, how can there be a rapture? The rapture would mean no physical death which contradicts what's stated in Hebrews. Can you please clarify this for me?
ANSWER

:   

You're misquoting Hebrews 9:27. The word every, which you've emphasized, does not appear in the verse. And the fact that several people, like Lazarus and Jairus' daughter, have died more than once shows that this is a general principle, not a hard and fast rule. Finally, in 1 Cor. 15:51-52 Paul said that we will not all die. Some of us will be changed instantaneously from this life to the next with out experiencing death. He was speaking of the Rapture of the Church.
Die Or Not Die? Which Is It?
https://gracethrufaith.com/ask-a-bible-teacher/die-die/
QUESTION:    In John 11:26 Jesus said "And whosoever liveth and believeth in me shall never die". But in 1 Thes. 4:16 Paul said at the rapture the dead in Christ will rise first. This seems like a contradiction to me. Do we die or not die?
"I am the resurrection and the life. He who believes in me will live even though he dies; and whoever lives and believes in me will never die."
You were only quoting the second half of the sentence.
He was speaking of the time of the resurrection of believers, when those who have died will live again and those who have not died never will die. It's the clearest hint of the rapture He ever gave.
Paul said the same thing, but in greater detail. He knew that when believers experience physical death their bodies are buried in the ground where they soon return to dust (Genesis 3:19). But their spirits go to heaven to be with the Lord (Phil. 1:21-24).
At the rapture the spirits of those who have died will receive new bodies and experience physical life again. At the same time the bodies of living believers will be changed from mortal to immortal and will never die (1 Thes. 4:16-17, 1 Cor. 15:53).
"Listen I tell you a mystery. We will not all sleep but we will all be changed."
He used the word "sleep" instead of "die" because at death the body appears to be asleep and the spirit is still very much alive.
Disappear Or Die?
https://gracethrufaith.com/ask-a-bible-teacher/disappear-or-die/
QUESTION:    When the rapture takes place and the church is taken away will our bodies disappear or just our spirits? There is a huge difference in the two! Explaining people who have just vanished right before people's eyes is one thing but if we just drop over dead, that could be explained more easily. We are a spirit that lives in a body and have a soul, so maybe just our spirits go. What are your thoughts?
ANSWER:    We'll Let Paul Answer This One.
"Listen, I tell you a mystery: We will not all sleep, but we will all be changed– in a flash, in the twinkling of an eye, at the last trumpet. For the trumpet will sound, the dead will be raised imperishable, and we will be changed. For the perishable must clothe itself with the imperishable, and the mortal with immortality." (1 Cor 15:51-53)
Since Paul knew that we live forever, he always spoke of believers who died as having fallen asleep, since that's how their dead bodies appeared. Here he says that at the Rapture, those of us who are alive will not die but be immediately changed from mortal to immortal, right after the dead are raised. Spirits of the dead are reunited with physical bodies, so this is not a merely spiritual event. Therefore, since our bodies are changed, not discarded , it would seem that we'll disappear, bodies and all.
Will We Really Disappear?
https://gracethrufaith.com/ask-a-bible-teacher/will-we-really-disappear/
QUESTION:    You seem to think we will disappear in the rapture, and I wonder where in the Bible it says we will vanish. Jesus, when he transfigured did not vanish, did he? Our transformation might be different, understood, but it seems, from what I understand in Thessalonians, that maybe we can only hear that trumpet in our transfigured bodies, and when we do we will have to (want to as well, no doubt!) fly up into the clouds to meet Him. Jesus did not burn his clothes off with His glory, nor did he disappear out of them- maybe it will be the same with us? This sounds more likely to me than a mass disappearance… But I would like very much to know what you think!
ANSWER:    I don't believe either the transfiguration or the ascension were meant to be types of the rapture. In explaining the resurrection, Paul used an agricultural example to describe the difference between an earthly body and a resurrection body. You plant a seed in the ground and it disappears. When you see it again it doesn't look anything like the seed, but you recognize it as the plant you were expecting. Paul said it's the same with us. We die in our Earthly (mortal) forms and disappear. Then we are raised in our Heavenly (immortal) forms, looking much different but still recognizable.
Then he said something that had never been explained before. He said some of us wouldn't experience death but would instantaneously change from mortal to immortal. (1 Cor. 15:35-53)
In 1 Thes. 4:16-18, written about the same time, he said when that instantaneous change occurred we would be "caught up" (the phrase from which we get raptured) to meet the Lord in the air, and from then on we would always be with Him. According to the Greek, to be caught up means to be carried off, or snatched away. Speaking of that event John 14:3 says the Lord will be coming from His Father's house to take us there, where He is. That means we'll disappear off the Earth.
The idea of masses of people floating up into the clouds, or leaving a pile of empty clothes lying on the ground, does not come from the Bible but are man's attempts to describe the rapture. We could just as easily take a right turn into a parallel dimension. But nearly every one agrees that from the perspective of those left behind, we will have disappeared.
—————————————————-
NEWS CLIPS/ARTICLES OBTAINED FROM MANY SOURCES – INCLUDING

Tracking bible prophecy.org
Rapture Ready News
Prophecyupdate.Com
Main News Channels
End Times Headlines
Prophecyupdateblogspot.com
Stevequayle.com
Gracethrufaith.com
Nowtheendbegins.com
Other Christian Sites
(CLICK ON) LATEST DAILY NEWS CLIPS:
ISRAEL NEWS:
THE MIDDLE EAST PEACE PLAN IS "ANTI GOD" – (GOD WILL NOT ALLOW JERUSALEM TO BE DIVIDED).
ZECHARIAH 12:2-3
I AM GOING TO MAKE JERUSALEM A CUP THAT SENDS ALL THE SURROUNDING PEOPLES REELING … Zech. 12:2
God is in control, and He told the nations the consequences of dividing the Promised Land and declaring peace and safety on their own terms (Joel 3:1-2; I Thess. 5:3)
WORLD TERRORISM – WARS
GENERAL WORLD NEWS:
GENERAL WORLD CORONAVIRUS NEWS:
WORLD FINANCE:
1Tim. 6:10 For the love of money is the root of all evil: which while some coveted after, they have erred from the faith, and pierced themselves through with many sorrows
MASSIVE EARTH CHANGES/EARTHQUAKES/VOLCANOES ETC:
2Chr. 7:13 If I shut up heaven that there be no rain, or if I command the locusts to devour the land, or if I send pestilence among my people;
2Chr. 7:14 If my people, which are called by my name, shall humble themselves, and pray, and seek my face, and turn from their wicked ways; then will I hear from heaven, and will forgive their sin, and will heal their land
CHRISTIAN AND RELIGIOUS WORLD NEWS:
Matt. 24:9 Then shall they deliver you up to be afflicted, and shall kill you: and ye shall be hated of all nations for my name's sake.
Matt. 24:10 And then shall many be offended, and shall betray one another, and shall hate one another
EXTRA WORLD – ALTERNATIVE NEWS:
Please keep in mind that this collection of News Articles is mainly concerning America, but also take note that what happens in America will also "Dramatically" affect Australia and the rest of the World "Massively".
————————————————
WORLD – PROPHETIC NEWS ARTICLES PRESENTATION (WEDNESDAY 14th OCTOBER 2020)
MIDDLE EAST AND WORLD WAR LOOMING THE BUILD UP TO PSALM 83  – ISAIAH 17 AND GOG OF MAGOG WARS EZEKIEL 37-38:
THE WHOLE WORLD IS UNSTABLE FINANCIALLY, POLITICALLY, PHYSICALLY, MORALLY, GODLY: – AND BECOMING MORE SO DAILY. (WE ARE IN THE BEGINNING OF SORROWS (MATT 24:8)
THE BIBLE STATES THAT IT WILL ONLY GET WORSE BEFORE THE START OF THE TRIBULATION OF MANKIND – (REVELATION 6)
But before that we have to go through the Birth Pangs, leading up to the Tribulation of Mankind; and I feel that the beginning of Matthew 24 explains that time very well. We are currently in the Birth Pangs (Even though Matthew 24: is directed at the Jewish Nation, it still reflects Biblical Prophecy for the whole World at this time):
Matt. 24:6 And ye shall hear of WARS AND RUMOURS OF WARS: see that ye be not troubled: for all these things must come to pass, but the end is not yet.
Matt. 24:7 FOR NATION SHALL RISE AGAINST NATION, AND KINGDOM AGAINST KINGDOM: and there shall be famines, and pestilences, and earthquakes, in divers places.
—————————————————-
GENERAL PROPHETIC NEWS SECTION:
—————————————————–
POWERFULL ARTICLE ON THE TRUTH:
This week, Sky News Australia contributor and former Australian Senator Cory Bernardi, tore open the debate on COVID after calling out a globalist agenda which few in mainstream media have dared to mention so far.
Since lockdowns began in March of 2020, few have challenged the government rationale for voluntarily imploding their economies and destroying communities and societies – based on a guess that coronavirus might kill tens of millions of citizens.
However, Bernardi believes that the COVID-19 pandemic hysteria is being used as the Trojan horse for a globalist agenda hatched out of the World Economic Forum in Davos. IT'S CALLED THE GREAT RESET, and its designed by elite billionaires supposedly to bring about 'social and economic change.'
"There is something unusual about the continuing pandemic panic," said Bernardi.
"Medical experts now acknowledge that lockdowns don't work…
Now none of that makes any sense until you open your mind to consider if there is another agenda at work."
According to technocrat, Klaus Schwab, founder and Chairman of the World Economic Forum, "COVID 19 cases have shown us that our old systems are not fit anymore for the 21st century, it has laid bare a fundamental lack of social cohesion, fairness, inclusion and equality."
"Now is the historical moment of time not only to fight the… virus but to shape the system… for the post-corona era," claims Schwab.
"(Mr Schwab) admits that COVID is the new excuse to usher in the Green New Deal that climate alarmists, profiteers and big government have been pushing for years," said Bernardi.
"Think about it, the global response to COVID has been a green socialist's dream."
Bernardi cites the fact that coordinated government shutdown policies (not COVID) have brought down fuel consumption and canceled international travel and bankrupted scores of airlines and travel firms already.
In addition, governments are using the 'pandemic' to permanently curtail civil liberties and freedom of movement and assembly.
"Why do you think the Australian Greens have been so quiet these past months … it's because their policy agenda is coming to life?" he asked.
"After decades of peddling climate change lies and propaganda to force government by the elites, the socialists have used a media induced hysteria over public health as their latest weapon of economic destruction."
The end game of creating to illusion of a global pandemic emergency is to rapidly usher-in the introduction of a 'Green New Deal' policy – where billionaires seek to restructure our capitalist system into a new 'green economy' – promising equality and "climate justice" along the way.
He also highlights the fact that many of the same scientists and institutions involved in the fraudulent over-the-top modelling of COVID deaths – are also involved in IPCC computer modeled projections of supposed future climate change.
In this segment, Mr. Bernardi explains what's actually behind the mass-panic being fomented by certain governments and mainstream media, hyping the idea that the world is in the midst of a "deadly plague" and public health crisis. 
VIDEO:
————————————————-
https://prophecyupdate.blogspot.com/ – Jonathan Brentner
The climate alarmists of our day would have us believe that a grave environmental crisis exists; one that requires immediate and drastic action in order to save the planet. The leaders of the United Nations tell us that the solution requires all nations to submit to a central government, a New World Order.
The UN's strategy for resolving the climate emergency consists of seventeen goals that fall under their Agenda 2030. These objectives, however, go far beyond protecting the environment. They call for a Marxist type of government that distributes wealth evenly among all nations and all people.
The World Economic Forum (WEF) refers to this redistribution of wealth as the "Great Reset." The quote below comes from the Fox Business website regarding the WEF's meeting in June 2020:
We're still in the earliest phase of the Great Reset. The full plan won't be rolled out until January 2021, when the World Economic Forum will host its annual meeting in Davos. But the framework of the plan is clear: By combining many of the money-printing strategies endorsed by Modern Monetary Theory economists with global Green New Deal-like policies and corporate cronyism, the elites at the World Economic Forum can effectively control economic activity on a scale that has never been achieved.
The words "effectively control economic activity" sound remarkably similar to the words of Revelation 13, which describe how the beast, the antichrist, will control all the buying and selling worldwide.
Agenda 2030 and its United States' equivalent, the Green New Deal, are the engines behind the coming economic control that the elite globalists plan to impose on the world. The Marxist nature of these programs is slavery by any other name.
A Washington Post article on February 11, 2019, reports that the GND resolution calls for a "10-year national mobilization" with the following as its key goals that focus as much on wealth redistribution as on the environment:
Guaranteeing a job with a family-sustaining wage, adequate family and medical leave, paid vacations, and retirement security to all people of the United States.

Providing all people of the United States with – (i) high-quality health care; (ii) affordable, safe, and adequate housing; (iii) economic security; and (iv) access to clean water, clean air, healthy and affordable food, and nature.

Meeting 100 percent of the power demand in the United States through clean, renewable, and zero-emission energy sources.

Repairing and upgrading the infrastructure in the United States, including. . . by eliminating pollution and greenhouse gas emissions as much as technologically feasible.

Upgrading all existing buildings in the United States and building new buildings to achieve maximal energy efficiency, water efficiency, safety, affordability, comfort, and durability, including through electrification.
The GND legislation leaves no aspect of human life outside the realm of government control. Its description on the CNN website provides a frightening and chilling depiction of just how the elite would control all areas of our lives under the GND.[i]
With implementation of the GND, a totalitarian government would guarantee the well-being of everyone in the United States. It would regulate all aspects of one's employment, housing, healthcare, availability of food, and of course clean up the environment (a secondary objective of the plan). It would ensure equal outcomes for all with the elite choosing the nature of such "outcomes." Does this not sound a little bit like being in prison?
The response of the world to COVID-19 has given the globalists confidence that they can control people through fear. Might there be climate lockdowns in the world's future under the guise of saving the planet from an impending environmental catastrophe? Some are already talking about just a scenario.
Mariana Mazzucato, a University College London economics professor who is a member of the U.N. Committee on Development Policy recently wrote the following, "Under a 'climate lockdown,' governments would limit private-vehicle use, ban consumption of red meat, and impose extreme energy-saving measures, while fossil-fuel companies would have to stop drilling."[ii]
THE CONSEQUENCES OF THE GREEN NEW DEAL
Tom Hughes, in a recent prophecy update, played a video from the World Economic Forum (WEF). It portrays the future as a wonderful utopia free of pandemics and all threats to our environment. The leaders of WEF fail to point out, however, the pain and suffering that will come from the move away from fossil fuels they envision under the UN's Agenda 2030 and its US counterpart, the GND.
The planting, maintaining, and harvesting of crops requires a tremendous amount of fossil fuels. Beyond that, the food would never make it from the farms to our grocery stores without diesel fuel powering millions of trucks as well as a numerous trains. And without fuel, it would be a very long walk for most of us to get our food home from the store. Alternatives do not exist for all the fuel needed to support all the activities needed to meet the demands of even a fraction of population in the US or in the world.
Below is what I wrote in my chapter on the climate alarmists for Lawless—The End Times War Against the Spirit of Antichrist (due for release this month, October 2020) concerning the consequences of the GND should it become law:
God designed the world to sustain the large population we have today. This may sound highly controversial, but I believe the Lord provided fossil fuels in the earth for the benefit of mankind. Why else would He have designed the earth with such vast resources of oil, coal, and natural gas and given humanity the knowledge to use it? These resources not only make it possible for food to reach our tables, but for millions of people to survive the harsh winters of the north.
These enormous reserves did not come into being apart from God's sovereign purposes nor did they originate from decaying dinosaurs. It would have required an astronomically high number of decomposing prehistoric animals to create the gigantic reservoirs of natural gas and oil that exist beneath the earth's surface.
Climatologist Dr. Pat Michaels says eliminating all fossil fuels would reduce the average earth temperature by .14 degrees Celsius. "That's a very small change for putting humanity back in the Stone Age."[iii]
The implementation of the Green New Deal would lead to record high fuel costs and with that soaring and out of control food prices. Those with fixed incomes would have no opportunity to keep up with the skyrocketing inflation. The economic fallout would devastate life in the United States and lead to starvation on a massive scale. As Dr. Michaels said, it just might push us back in "the stone age."
But do not panic; the Lord told us thousands of years ago that this would happen.
BIBLICAL PROPHECY PROVIDES A BIBLICAL CONTEXT FOR THE FUTURE NEW WORLD ORDER
Amir Tsarfati explains:
The Bible describes the man of sin, the Antichrist, as a man who will have the reins for a world government handed over to him. Involved with this will also be a world religion that will help subject all things under his evil control. The Bible indicates that this man is going to rise from what we now know as Europe (Daniel 7). This climate change hysteria is doing nothing but screaming for the world to let the globalist regime have more control. Eventually, things are going to get to the point where the economic, political, and even religious platforms of the world are going to be right where Satan wants them in order for this man to take control.[iv]
The Great Reset championed by the World Economic Forum is nothing new. Both Daniel and the Apostle John prophesied about just such a world government would emerge during the Tribulation

(

Daniel 7; Revelation 13

).

The globalists who push for a New World Order act as Satan's minions promoting his agenda to put his man, the Antichrist, in charge of all the nations just as the Bible says will happen in the last days.
Yes, it's exceedingly disheartening to watch the push for a totalitarian world government gain popularity under the deceptive guise of climate alarm. We must keep in mind, however, that not only does the Bible tell us this will happen someday, it provides details of the destruction of Satan's kingdom at the Second Coming of Jesus (Rev. 19:11-20:10).
What we see in our world is precisely what the Bible said would happen in the last days; a New World Order of some sort will take finally shape before or during the initial stages of the seven-year tribulation. We already see the planning for this New World Order in the United States' GND, in Agenda 2030 of the United Nations, and in The Great Reset of the WEF. All these programs have the same goal of unifying the world under the control of the elite globalists.
The Great Reset will not be the utopia the WEF advertises it to be; it will enslave all who are alive at the time.
The good news is that we will already be with Jesus in the place He has prepared for us before the antichrist rises to worldwide power (John 14:2-3; 2 Thess. 2:1-8). We will not see the sudden destruction that will kick off the day of the Lord; that is the Lord's promise to us.
For God has not destined us for wrath, but to obtain salvation through our Lord Jesus Christ, who died for us so that whether we are awake or asleep we might live with him. (1 Thessalonians 5:9-10)
Maranatha!!
————————————————-
https://prophecyupdate.blogspot.com/ – J.D. Farag
Bible Prophecy Update – October 11th, 2020 (VIDEO)
Pastor JD shares his research concerning masks, social distancing and hand washing being initiation rituals into the New World Order out of Chaos and how it points to Jesus and the imminent rapture of the church. Subscribe to Pastor J.D.'s new prophecy website at http://jdfarag.org
Bible Prophecy Update – October 11th, 2020
•

Streamed live on Oct 12, 2020

223K subscribers
Pastor JD shares his research concerning masks, social distancing and hand washing being initiation rituals into the New World Order out of Chaos and how it points to Jesus and the imminent rapture of the church. Subscribe to Pastor J.D.'s new prophecy website at

http://jdfarag.org

Prophecy Update Links The Mask Mandate Prophecy Update –

https://youtu.be/0ayBZF06nh0

Britannica Mask Face Covering –

https://www.britannica.com/art/mask-f…

Britannica Functions and Forms of Masks –

https://www.britannica.com/art/mask-f…

Satanic Cult Awareness PDF File –

https://www.ncjrs.gov/pdffiles1/Photo…

Medical News Today Effects of Isolation –

https://www.medicalnewstoday.com/arti…

Funeral Director Enforcing Social Distancing –

https://www.dailymail.co.uk/femail/ar…

CDC Five Steps to Wash Your Hands the Right Way –

https://www.cdc.gov/handwashing/when-…

One in Three Practicing Christians Has Stopped Attending Church During COVID-19

https://www.barna.com/research/new-su…

1 in 5 churches facing permanent closure within 18 months due to COVID-19 shutdowns: Barna pres.

https://www.christianpost.com/news/1-…

The Cult of Covidism Has Invaded the Church

https://www.americanthinker.com/artic…

Truthstream Media – The Characteristics of an Initiation Ritual –

https://www.youtube.com/watch?v=3RVG8…
————————————————-
https://prophecyupdate.blogspot.com/ – Tyler Durden
In late September into early this month for a brief moment it looked as if the Turkey-Greece East Mediterranean dispute over Turkish hydrocarbons exploration was cooling, given intense diplomatic contacts and negotiations among the major players, which includes Cyprus and the EU. This after in August and earlier last month the rival sides conducted increased war games which threatened at any moment to become 'live' fighting.
But now this momentary calm has been shattered, as Turkey's navy late Sunday issued a public advisory saying it will sail the Oruc Reis survey ship to conduct exploration activities just off Greece's easternmost island of Kastellorizo. Turkey indicated the mission is planned over the next ten days, until October 22.
Predictably, Athens was swift to condemn the move as a "major escalation and a direct threat to peace and security in the region," according to a Foreign Ministry statement. 
Greek Prime Minister Kyriakos Mitsotakis notified the European Council by phone, at a moment the EU has threatened sanctions on NATO country Turkey. "This new unilateral act is a severe escalation on Turkey's part," Mitsotakis said.
Like in prior instances of Turkish oil and gas vessels being sent into Greek and Cypriot waters widely recognized internationally as their Exclusive Economic Zones (EEZ), Ankara has vowed a military escort could be present if "support and protection" are necessary, according to Turkish Defense Minister Hulusi Akar.
Greek Foreign Minister Nikos Dendias has used this latest provocative act to highlight a pattern of Turkish aggression spanning the entire near East region: "I explained the obvious, who is the common denominator in all problematic situations in the area: Nagorno-Karabakh, Syria, Iraq, Cyprus, the southeastern Mediterranean," he said.
————————————————-
https://prophecyupdate.blogspot.com/ – by Rory for The Daily Coin
It was in 2009 that an article appeared in Alphaville, a branch of the Financial Times, that explained in order to have a truly ZERO interest rate policy (ZIRP) cash had to be removed from society. 
In order to create a global NEGATIVE interest rate policy (NIRP) cash had to be removed globally. Well, the satanic globalist finally devised a way of getting the people to hand over their cash without a fuse, without a backlash and smiling the entire time. The "virus" lives on cash for up to four weeks.
We highlighted an intersting development on Saturday that appeared to go largely unnoticed by the general public, despite its potentiall profound implications for the global economy. The BoJ joined the Fed and the ECB in launching a pilot program to explore the use of a digital currency inspired by bitcoin and its many rivals.
Just one day later, Bloomberg revived concerns about paper money contributing to the spread of COVID-19 by publicizing the findings from a new study suggesting that SARS-CoV-2 can persist on banknotes and coins for weeks. The research appears to be credible: it was conducted by Australia's top biosecurity laboratory, which published  a report highlighting the risks of paper currency, touch screens and handles like doorknobs.
As the CDC releases revised guidelines claiming that close contact with the infected trumps surfaces and aerosol – or 'airborne' – transmission as the primary means of infection, the study from the Australian Center for Disease Preparedness suggested that the virus is actually "extremely robust", allowing it to survive for up to 28 days on smooth surfaces like glass or the material used to print banknotes.
THE GOAL, FOR SOME TIME, HAS BEEN TO GET CASH OUT OF OUR HANDS. 
They now have the scheme to do so and as the globalist have said themselves they must take advantage of this situation and push for every agenda they have to come to fruition right now. The window to recreate the world and enslave the planet is now open but will be closing in short order.
Now they have everything in place to push Agenda 2030 forward, built on the back of the communist Chinese model. But, please don't take my word for it, listen to the globalist tell you in their own words what's happening right now and how you and your family are on the verge being completely wiped out and then shoved into a hole or a furnace (video):
————————————————-
AMERICA IS AT A CROSSROADS with revolution on our doorstep. On one side are the Patriots; those who seek to preserve, protect, and defend the Constitution. On the other side are Marxist insurrectionists; those who believe that America is evil and the cause of so many problems in world.
The Marxist-friendly side is pulling for Joe Biden to be ushered into the White House. They don't call themselves Marxists, but as the saying goes, if it talks like a duck and walks like a duck, it's a duck.
AT THE RISK OF SOUNDING LIKE I'M SAYING, "I TOLD YOU SO," I TOLD YOU SO.
If you've been reading tea leaves from the news lately, you may have already figured out what's coming at us in the next few months. If so, the following may simply affirm your observations. But I wanted to put this out there so everyone knows what to expect and therefore won't be surprised.
MY SEVEN PREDICTIONS FOR HOW 2020 COMES TO AN END:
PREDICTION 1: Trump will win the election in a landslide. I know, the media is telling you the polls are tight, but just look around. Trump rallies are packed to the gills while Biden can't fill the bleachers at a high school football field. Trump supporters hold huge boat parades while we see NONE for Biden. Trump supporters hold freeway caravans around that country that take up all lanes of a freeway, while an attempted caravan for Biden in Las Vegas drew only 30 people. Just like in 2016, pollsters today are making it look like it's a close race. This is gaslighting – they're telling you something that runs directly opposite of what your own eyes are telling you, but they're expecting you to believe what they say.
PREDICTION 2: On the evening of November 3, Joe Biden will not concede the election, even though the vote will clearly be for Trump. Hillary Clinton has publicly stated that Joe should not concede, so the seed has been planted in our minds to expect this. And, because we're expecting it, we won't be shocked by it.
PREDICTION 3: Massive mail voter fraud will create confusion and Marxists (e.g. Democrats) will insist that "every vote counts." They know Americans want to be fair so Marxists will play on that. They will cry and wail and plead that every vote needs to get counted, so they'll ask for sympathy for voters who didn't follow confusing new election rules about how to cast their mail-in ballots. That will be their story, but many votes will be fraudulent. As they've demonstrated on America's streets, Marxists don't care about following laws; they care about power.
PREDICTION 4: Because of massive mail fraud ballots showing up late, election results WILL be delayed. The deceptive Mark Zuckerberg at Facebook and the clearly biased Jack Dorsey at Twitter have already announced they will flag any posts or tweets that claim a victory for Trump. They KNOW Trump will have more than enough votes to win, but as Zuckerberg already told us, we should expect results to take "DAYS OR EVEN WEEKS." In other words, Facebook and Twitter are well-aware of the planned mail-in voter fraud, and they're already providing cover for it. The planned vote count confusion will be dragged out as long as possible. The Marxists' intention is to keep confusion swirling at least until December 14 in hopes that the electoral college won't be able to identify a winner. Expect ballots to keep showing up out of nowhere.
PREDICTION 5: If Marxists cannot keep up the façade until December 14, some states will obfuscate the electoral process by choosing not to follow the rules laid out in the 12th Amendment. In fact, both may happen. Either way, by attempting to throw the electoral college into confusion, Marxists (again, the Democrats) will make a push for the electoral college to be eliminated. Believe me when I say you don't want this. Students of the Constitution know that if the electoral college is eliminated, the Republic will be gone.
PREDICTION 6: Expect Nancy Pelosi to be acting all patriotic and concerned about the Constitution during the chaos, but rest assured, it's a passive-aggressive act. She is among the Marxist vanguard in both houses of Congress orchestrating the whole mess. You will also see some Marxist-friendly governors making a lot of noise.
PREDICTION 7: While Marxists in Congress are messing with the electoral process, Marxists on the streets (Antifa and BLM) will intensify their violence by burning, looting, and murdering even more than what we've seen to this point. There's already a movement that seeks to lay siege to the White House. Not only do the puppet masters want all the street chaos to distract our attention from what's going on in the electoral process, the street Marxists see this election as their only chance to either grab power or put up with Trump for four more years. The protestors have been trained to instigate violence, and copy-cat wannabes will want to join in. Street Marxists will view these riots as the fight of their lives: it will get intense.
To perpetuate the riots, puppet masters like George Soros will continue pouring money into organizations that fund them. Also remember that Antifa and BLM have threatened to go into the suburbs. Their purpose for doing so is to trigger the Soccer Moms who wants peace at all costs. Marxists will hope that these suburban moms will apply pressure on their elected representatives to give in to the Marxists so the violence will end. Life on American streets will be unpredictable and dangerous.
HOW DOES IT END?
The Marxists are desperate, so the fighting will be like nothing the country has ever seen before. I predict we'll see horrific things happening in our cities and on our streets, and traditional media (read: Marxist-friendly media) will be spewing twisted truths and lies about everything listed above. And we can't forget that social media giants favor the Marxists in this revolution, so they will be squelching debate in whatever ways they can.
The final months of 2020 will be an emotional roller coaster, but in the end, I predict Trump prevails. It's not going to be pretty, and many who are now thinking life will return to normal after November 3 will be sadly mistaken. They will be wondering what happened to the country they once knew.
————————————————-
Increasingly, I think, the American public operates in a mild dissociative state. I wrote about it here. It is almost as if people are afflicted with a kind of PTSD – only one where the trauma is generalized, relatively low grade, but ongoing.
Any of us who have questioned the Covid narrative have had to put up with an inordinate amount of hectoring, name-calling, ridicule, and ostracism. I remember when I signed on the artist appeal as part of the Milosevic Defense Committee, and the abuse and anger I faced whenever this topic came up. People who had no history with the region, knew little of the political landscape, would nonetheless wax irate, furious and near tears that I would hold such outrageous positions.
The Covid narrative has generated the same near-hysterical indignation. The narrative, as it has been constructed by the WHO, CDC, and more likely a dozen or so billionaires (including Bill Gates) is so rife with contradiction and illogic that one might think cracks would begin to show.
That many who accept the word of authority in general, might at this point start to question why none of this story makes sense. But no. Not in America anyway. (or rather, to be more precise, there is a pushback, but it keeps to a low profile lest the little Cotton Mathers of the haute bourgeoisie put one in the stocks).
Leave it to America to make the flu into a morality play. However there are clear signs of people waking up. In Europe certainly.
And not only Germany, doctors and health care professionals in Belgium, too. But the governments are sticking to the story they were handed.
In Norway here I still cannot drive to Sweden. Why? Who knows, there is no reason provided. The PM uttered something about better safe than sorry, and staying the course. Everything is discussed this way, in infantile baby talk, gibberish and slogans. Anti-democratic edicts delivered as if by a kindergarten teacher.
Someone wrote to me on social media the other day and said "Not everyone gets to live in Norway. Here we are surrounded by death". Now he lives in Los Angeles. In a nice westside area. He is not surrounded by death. Or rather only in his hallucinatory inner theatre of the mind is death present, surrounding him.
But this language has a quality I associate with Hollywood. Its kitsch image-making. Never mind it's literally not remotely true. But this is a version of something that I think happens all the time now. This man is in his own private movie.
It is a movie made of diverse parts; there is something from all the various post-apocalyptic zombie films (and TV, think Walking Dead), there is something of Norman Rockwell in there, or even Thomas Kincaid, there is Dr Phil and Oprah and the cheapening of emotion. The snarky pedestrian thoughts of a Bill Maher, too.
This is what has come to pass for public intellectuals and intellectual discourse. All are almost impossibly banal. There are parts from a dozen disaster movies, too. I mean literally all the way back to Towering Inferno. And there is, perhaps most significantly, a quality that is harder to define or outline, but which I associate with JJ Abrams and Joss Whedon.
The Covid story takes place in a universe of Whedon and Abrams, with parts of The Hunger Games, Breaking Bad, and the films of John Hughes. (Hughes was really the precursor for both Whedon and Abrams). Covid is taking place on the streets where Breakfast Club was filmed. In people's heads anyway.
Covid the virus is an overdetermined symbol — and one that only makes even a tiny bit of sense if it is located in these personal streaming sites in your brain. (and I recommend Jonathan Beller, The Cinematic Mode of Production).
There is a tendency toward fetishization, too, and hence the ubiquitous appearance and opinion of celebrities. Its bordering on surreal much of the time: Hip Hop moguls are asked about climate change, Silicon Valley billionaires voice opinion on overpopulation or vaccinations, soap opera stars offer thoughts on stem cell research.
Nothing is investigated, really. It is all driven by whatever is most lurid or sensationalized. The ruling class has clearly encouraged, if not mandated, a certain line of thinking on the pandemic. The ruling class has profited enormously from the lockdown, and is quite happy with a semi-permanent state of crisis.
In fact it is likely that this was at least partly all planned. I mean what does one think those billionaires at the Bilderberg meeting talk about? Or at DAVOS or the like? The ruling elite anticipated crises in Capitalism, and the lockdown certainly provides cover for massive plunder or pensions, real estate, and really, most everything.
There is a veritable mania, now, concerning testing. And yet even the NYTimes admits the tests are virtually meaningless. But no matter. We must test more!
Magical thinking permeates the climate discourse, as well. Never in history, or never since the Enlightenment, have so many people pretended to know so much. For the educated thirty percent (white and reasonably affluent) it is the era of the TED talk. Nothing dare last longer or be more demanding than a quick (and entertaining) ten minutes. The fires in California have come primarily from downed power lines (badly out of date and rarely serviced), but exacerbated by homeless encampments (rarely mentioned) and fireworks — and of course the drought that has extended backward a decade.
Already there has been significant psychological harm done to children. The clear lesson is to fear the other. That humans are contagious and potentially lethal. Intimacy is officially discouraged.
I cannot imagine that message were I fourteen or sixteen. Growing up in the sixties the idea was to promote intimacy, feelings, and to exactly *not* fear emotional openness. The English speaking west has gone from Paul Goodman to Theresa Tam.
The resurgent Puritanism is not restricted to odd ducks like Tam. Even bourgeois pundits are noticing. This is Zoe Williams in The Guardian:
There remains, in public life, a rich seam of puritanism that you notice only when times are so bleak that you could really do without it. A sense that frivolity is immoral, even if it is 95% of your economy; a feeling that they had it coming, all those people dedicating their lives to the generation of fun. Puritans tend not to announce their disapproval except in the most roundabout ways, so you can rarely pin it on them. But standing on the precipice of a year that ends without dancing, bears, dancing bears, playhouses, ale houses, music or Christmas, all I can think of is how happy Oliver Cromwell would have been. It is like all his cancelled Christmases come at once. He would be dancing (not dancing) in his grave."
This is a lament from the privileged class, but perhaps that's actually a good sign.
There is no longer even a pretense. The rich are entitled to special treatment. The rich deserve a clean depopulated world where they can cavort on the green, frolic in elysian fields by murmuring brooks, and to not be troubled by darkies and riff-raff. Remember it was a mere hundred years ago that Belgium brought Congolese from their African home, to be paraded in human zoos. Those they hadn't already murdered.
Covid is the final act in the transference of wealth to the top 1%. And culture is being destroyed along with everything else. Cinemas are closing, permanently, theatres, too, permanently, and museums. Galleries and other art spaces are shuttered, likely to never reopen. Something like 30 million jobs have been lost. There is an acute desperation across America.
———————————————
United Nations Combining The World's Largest Abortion Providers To Create A Unified Global Network To Slaughter Children As A 'Human Right'
https://www.nowtheendbegins.com/ – by Geoffrey Grider October 12, 2020
The U.N. made the announcement on September 29 to commemorate so-called International Safe Abortion Day, with the stated goal of addressing "unsafe abortion" in the context of the COVID-19 pandemic. The partnership, headed by the WHO Department of Sexual and Reproductive Health and Research, will bring together U.N. entities with the world's largest abortion providers, including the International Planned Parenthood Federation, Ipas, and Marie Stopes International, to promote "comprehensive abortion care," including access to self-administered telemedicine abortion, as an essential service and a "human right."
 NOW THE END BEGINS SHARE:
Various elements of the United Nations system, including the World Health Organization, UNICEF, UNFPA, and the World Bank, will partner with abortion groups to advance a "human right" to abortion.
LIKE A SCENE from the bible, the United Nations is creating a global consortium of abortion providers, demanding that the killing of one's own baby be elevated to the status of a human right. Even Adolf Hitler, in his wildest fantasies creating factories dedicated to the destruction of human souls, didn't think this big. Why is this happening now? Because this lost world is preparing themselves to receive Antichrist, that's why. I mean that literally, by the way, no metaphors here.
"Then Herod, when he saw that he was mocked of the wise men, was exceeding wroth, and sent forth, and slew all the children that were in Bethlehem, and in all the coasts thereof, from two years old and under, according to the time which he had diligently enquired of the wise men. Then was fulfilled that which was spoken by Jeremy the prophet, saying, In Rama was there a voice heard, lamentation, and weeping, and great mourning, Rachel weeping for her children, and would not be comforted, because they are not." Matthew 2:16-18 (KJB)
THE LIBERAL POSITION on abortion used be that they wanted it to be "rare, safe and legal", but my how that wheel has turned. Now it is literally an ocean of blood that consumes 3,200 babies every 24 hours in America, 36% of which are black babies, and that's not all. Both New York and Virginia have already passed laws allowing the babies to be killed on their due date, and even a little after that. This is the true spirit of Antichrist, that murderous, unpitying spirit, that is never satisfied no matter how much blood it receives. But just remember, the bible says that God is the "avenger" of those who trust in Him and cannot defend themselves, and that pay day is not only coming someday, but it's coming someday very soon.
FUN FACT: Joe Biden and Kamala Harris support due date abortion, and it will become the law of the land under their administration. Not only that, it will be celebrated as "progress and advancement" when in fact it will be a partnership with the Devil himself.
 IT'S PARTY TIME! NEW YORK GOVERNOR ANDREW CUOMO CELEBRATES AS HE SIGNS REPRODUCTIVE HEALTH ACT BILL AUTHORIZING KILLING OF BABIES UP TO THE MOMENT OF BIRTH
The United Nations Continues Its Abortion Advocacy
FROM YAHOO NEWS: The U.N. made the announcement on September 29 to commemorate so-called International Safe Abortion Day, with the stated goal of addressing "unsafe abortion" in the context of the COVID-19 pandemic.
THE PARTNERSHIP, headed by the WHO Department of Sexual and Reproductive Health and Research, will bring together U.N. entities with the world's largest abortion providers, including the International Planned Parenthood Federation, Ipas, and Marie Stopes International, to promote "comprehensive abortion care," including access to self-administered telemedicine abortion, as an essential service and a "human right."
BY COLLABORATING on "mitigation strategies" to reduce disruption in abortion access, in addition to "procurement and funding" for abortion services, the goal of the partnership is for Big Abortion and the U.N. to make abortion available and accessible on demand everywhere. The announcement goes so far as to highlight not only young girls but also "those with varying gender identities" as people who should be able to receive "abortion care."
Cooperation between the U.N. and the abortion industry is nothing new, but the coronavirus climate has paved the way for increasingly brazen and bizarre alliances. This is a new direction for UNICEF and the World Bank, for example, both of which traditionally have steered clear of overt abortion activism. Although it's commonplace, it is essential to underscore that U.N. abortion promotion is fundamentally at odds with its institutional mandate. National governments, not the international bureaucracy, should chart the course for the U.N. system.
AS LONG AS pro-life governments exist — and there are many stalwart pro-life governments — it is inappropriate and illegitimate for the U.N. to unilaterally advance abortion on demand. In fact, the powerful pro-life voice of the United States alone renders the U.N.'s continual promotion of abortion promotion and this new partnership illicit.
AS THE U.S. RECENTLY ARTICULATED in a statement to the U.N.: "There is no international right to abortion, nor is there any duty on the part of States to finance or facilitate abortion." This has been a consistent and frequent stance of the U.S. government, one that has garnered widespread support from countries across the globe.
EVEN SO, the U.N. Secretary General recently identified abortion as central to the U.N.'s COVID-19 response, and the organization's high commissioner for human rights expressed her support for "safe abortion day." Similarly, in the partnership announcement, Ian Askew, director of the WHO Department of Sexual and Reproductive Health and Research, states that "eliminating unsafe abortion is one of the key components of the WHO Global reproductive health strategy."

READ MORE

:
International Safe Abortion Day
 NOW THE END BEGINS IS YOUR FRONT LINE DEFENCE AGAINST THE RISING TIDE OF DARKNESS IN THE LAST DAYS BEFORE THE RAPTURE OF THE CHURCH
————————————————-
NORTH KOREA UNVEILS NEW WEAPONS AT MILITARY PARADE
https://endtimeheadlines.org/2020/10/north-korea-unveils-new-weapons-at-military-parade/ – Oct 11, 2020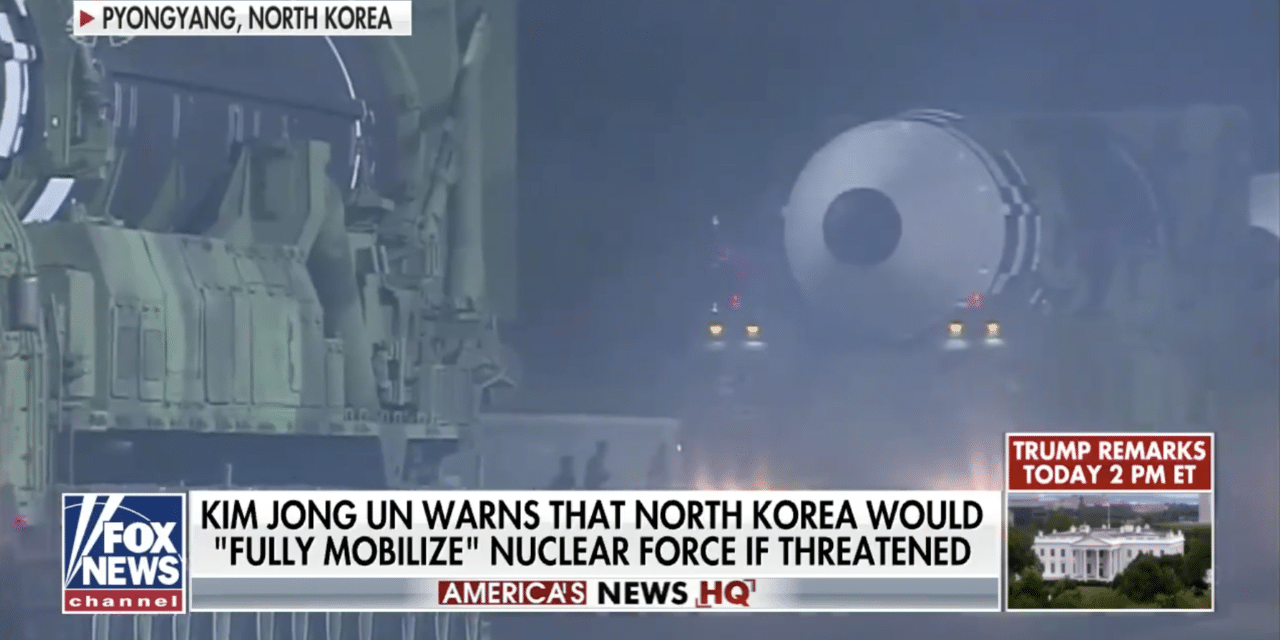 (ETH) – North Korea has reportedly unveiled new weapons at a recent military parade. This follows the recent warning from Kim Jong Un that North Korea would "fully mobilize" its nuclear force if threatened.
Kim was seen taking center stage at a military parade that unveiled what appeared to be a new intercontinental ballistic missile and other weapons according to Fox News. Kim described the continuing efforts of his country to develop its nuclear deterrent as necessary for its defense and said it wasn't targeting any specific country.
But "if any force harms the safety of our nation, we will fully mobilize the strongest offensive might in a preemptive manner to punish them," he said. Kim continued with a speech that was highlighted by thousands of troops, tanks, armored vehicles, rocket launchers, and a broad range of ballistic missiles that were rolled out in Pyongyang's Kim Il Sung Square.
Included in the weapons lineup was what was possibly the North's biggest-yet ICBM, which was seen mounted on an 11-axel launch vehicle that was revealed for the first time. North Korea also displayed a variety of solid-fuel weapon systems, including what could be an advanced version of its Pukguksong family of missiles designed to be fired from submarines or land mobile launchers.
————————————————-
https://prophecyupdate.blogspot.com/ – Seth J. Frantzman 
North Korea's massive military parade showcased an arsenal that should raise eyebrows in the Middle East. It wheeled out its Hwasong-15 ballistic missile and a giant intercontinental ballistic missile that had to be pulled on a transport vehicle with 11 axles. This is a monster and reports call it a "strategic weapon" that appears to threaten the globe.
Years after the Trump administration believed personal diplomacy would make North Korea into a compliant actor, the regime has new weapons. Because Iran is working with North Korea, this could mean Tehran could threaten Israel with similar missiles or shared technology, as it has in the past.  
France24 reported that experts said more new weapons were unveiled at this parade than in previous editions. China appeared pleased with President Xi Jinping congratulating Pyongyang on the anniversary.
Many internet sleuths are out there digesting the new photos of the massive missile and the transporter-erector-launcher (TEL) it rode on. Among these are Fabian Hinz and Tal Inbar. The length of these TELs has grown as well, from eight in 2012 to 11 in 2020. Last year it was reported that North Korea was mass-producing ballistic missile transporters and parts for them.
Questions remain about North Korea's new missile. It is likely the largest road-mobile ICBM in the world and is thought to be liquid-fueled. The consensus is that this missile, if it works, is a threat. The giant TEL is also a threat, apparently, because it shows the capabilities of North Korea in building these transport vehicles. North Korea has been doing a number of tests in recent years. Last August it carried out five tests in several weeks using transporters and shorter range ballistic missiles. Those missiles flew around 400km. In all there were 13 missile tests last year. Harry Kazianis, of The National Interest and an expert on North Korea, noted that the new ICBM that North Korea paraded "seems to be a derivative of what was tested back in late 2017, known as the Hwason-15, is much bigger and clearly more powerful than anything in DPRK's arsenal."
This has major ramifications for Israel because reports on September 20 indicated that Iran and North Korea had resumed collaboration. Iran has been increasing its ballistic missile arsenal in recent years, including ranges and precision of the missiles. Iran also has a much better drone, loitering munition, cruise missile and radar units than in the past.
Mark Episkopos at The National Interest noted in a September 23 article that Iran has been one of North Korea's best customers in the past, a client in the 1980s for missile technology that eventually went on to acquire the medium-range Hwason-7 ballistic missile. 
Iran has used these missiles as a model for its own rapidly expanding missile program. The article noted that the Hwasong-7 was the basis for the Shahab-3 in Iran. Other accounts say the North Korean Nodong-1 missile is a basis for the Shahab-3. Further the National Interest article notes, based on US State and Treasury Department reports, that Iran's Shahid Movahed Industries has cooperated with North Korea on long range missiles. These could include the Hwasong-12, Hwasong-14 and Hwasong-15 missiles.  
Interest in how Iran and North Korea work together has confounded analysts for several decades. Reports indicate that North Korea helped Pakistan and Iran in the 1990s and early 2000s, including on transport vehicles. Russian diplomats even told the US they were concerned about the Iran-North Korea cooperation on missiles in 2009. At the time US officials and others felt that the missile programs were not well-developed and experts scoffed at the idea that North Korea could successfully sell its larger missiles abroad. However, 2010 reports showed alarm bells were ringing as US intelligence reported that Iran had obtained 19 advanced missiles from North Korea that could hit Moscow and Europe. These were BM-25 (Hwasong-10) missiles and could give Iran "building blocks" for better missiles. Indeed, they did.  
————————————————-
OVER 13,000 ETHIOPIAN JEWS WAITING TO BE TAKEN TO ISRAEL, WHICH THEY CALL HOME.
 PROPHECY WATCH (ETH) – Israeli Prime Minister Benjamin Netanyahu has just announced to his Ethiopian counterpart that Israel has the intention to "immediately" bring over some 2,000 Ethiopian Jews.
According to the report from US News, The recent announcement came Friday after a recent phone call with Prime Minister Abiy Ahmed and that the decision comes "out of his commitment to the continued aliyah of Jews to Israel." The report also states that over 13,000 Ethiopian Jews are in the capital of Ethiopia and that most of them are waiting to be taken to Israel, which they call their home.
This has major prophetic significance in regards to the Bible foretelling of the time when there would be a great exodus of Jews that would come to Israel from around the World and it looks as of we are witnessing this coming to pass in ou lifetime. Most of these Ethiopian Jews are reportedly living in dire conditions and have threatened to stage a hunger strike if they're not allowed to travel to their "homeland." and many are saying they have family members who have settled in Israel.
"Some 250 people have left for Israel within the past year until COVID-19 came. Now the travel has stopped, but Israeli officials are conducting interviews online," Nigusie Alemu Eyasu, program director for the Ethiopian Jews Community, told The Associated Press.
————————————————-
There was a time when preppers were relentlessly mocked, but nobody is laughing now.  Today, most Americans are thinking about stockpiling food, and this massive shift in our national mindset has been sparked by concern about what is going to happen in the months ahead.  Many Americans believe that another wave of the coronavirus pandemic is coming, others believe that our ongoing economic depression will get even deeper
, and yet others are convinced that the upcoming election could produce widespread violence.  Of course there have always been people that have been deeply alarmed about future events, but we have never seen anything quite like this.  In fact, a brand new survey has found that over half of all Americans are currently planning 
"to stockpile food and other essentials"
…
(

READ MORE…

)
————————————————
JESUS CHRIST RETURN FOR HIS CHURCH IS "IMMINENT"
Matt. 7:27 And the rain descended, and the floods came, and the winds blew, and beat upon that house; and it fell: and great was the fall of it.
Matt. 24:38 For as in the days that were before the flood they were eating and drinking, marrying and giving in marriage, until the day that Noe entered into the ark,
Matt. 24:39 And knew not until the flood came, and took them all away; so shall also the coming of the Son of man be
——————————————–
DON'T WAIT FOR THE LAST MINUTE
We are currently in the "Birth Pangs" pending the coming "7 year TRIBULATION" period, where all the Nations on Earth will be subject to God's Wrath on an "UNGODLY" World. The Rapture of Jesus Christ Church is "TOTALLY" imminent; And what will follow after that will be massively more devastating that we are seeing right now (Read

Revelation Ch 6 – 22

) God is trying to get everyone's attention to the coming Judgments; He does not want "ANYONE" to perish, but all to come to repentance. He loves us, but will not stand idly by and watch the World, (His Creation) turn to sin and debauchery). We are currently living in a fallen "Satanic" World where "EVIL", is totally accepted, "and God and his Love for his Church": is being exponentially rejected. The time has come when God HAS TO intervene, and he is (The prophetic word listed in his Word the Bible is being fulfilled exponentially).
——————————————–
THE NEW WORLD ORDER:
ONE WORLD GOVERNMENT – ONE WORLD ECONOMIC SYSTEM – ONE WORLD RELIGION
Dan. 9:27 And he shall confirm the covenant with many for one week: and in the midst of the week he shall cause the sacrifice and the oblation to cease, and for the overspreading of abominations he shall make it desolate, even until the consummation, and that determined shall be poured upon the desolate
Dan. 7:24 And the ten horns out of this kingdom are ten kings that shall arise: and another shall rise after them; and he shall be diverse from the first, and he shall subdue three kings
Rev. 17:12 And the ten horns which thou sawest are ten kings, which have received no kingdom as yet; but receive power as kings one hour with the beast