Fight Begins (Nov O9,2020) 50,000 Soldier Armed in Position Ready to Help Japan Against China

Fight Begins (Nov O9,2020) 50,000 Soldier Armed in Position Ready to Help Japan Against China WORLD WAR 3 fears could be realised should China decide to move and attack Japan, as the US moves into the region and pledges to protect it at any cost. Sean King, senior vice-president of Park Strategies in New York and an affiliated scholar at University of Notre Dame's Liu Institute, "You would assume any aggression from China towards Japan would be around the Senkaku Islands. The US has 50,000 troops in Japan, most of whom are in Okinawa, which is nearby; it has 23,000 troops in South Korea who could be called on in case of contingency, and however many hours away the US has more troops in Hawaii and Guam.
—————————————
Post Election Special Update
12,593 views
•

Nov 8, 2020
188K subscribers
Post Election Special Update Americans had 4 years to taste what it is to have a godly federal government that actually cares for its people. This angered the evil one and he was quick to react. What's next? Amir Tsarfati & Mike Golay
—————————————
Post Election Special Update

188K subscribers
Post Election Special Update Americans had 4 years to taste what it is to have a godly federal government that actually cares for
—————————————
The Book of Daniel: 7:1-14 – The End is Near

188K subscribers
The Book of Daniel: 7:1-14 – The End is Near Pastor Barry Stagner
—————————————————
LATEST NEWS CLIPS – ARTICLES PRESENTATION (MONDAY 09th NOVEMBER 2020

)
———————————

——————
(THIS IS THE WORLD'S CURRENT TIMELINE)
Matt. 24:6 And ye shall hear of wars and rumors of wars: see that ye be not troubled: for all these things must come to pass, but the end is not yet.
Matt. 24:7 For nation shall rise against nation, and kingdom against kingdom: and there shall be famines, and pestilences, and earthquakes, in divers places.
Matt. 24:8 All these are the beginning of sorrows.
Matt. 24:9 Then shall they deliver you up to be afflicted and shall kill you: and ye shall be hated of all nations for my name's sake.
Luke 12:40 Be ye therefore ready also: for the Son of man cometh at an hour when ye think not
—————————————–
THIS IS THE WORLD'S VERY NEAR FUTURE:
Matt. 24:21 For then shall be great tribulation, such as was not since the beginning of the world to this time, no, nor ever shall be
—————————————————

 
WE PREACH THE BLESSED HOPE FOR THE FUTURE IN JESUS CHRIST OUR SAVIOUR
1Cor. 12:3 Wherefore I give you to understand, that no man speaking by the Spirit of God calleth Jesus accursed: AND THAT NO MAN CAN SAY THAT JESUS IS THE LORD, BUT BY THE HOLY GHOST.
"Behold, I come like a thief! Blessed is he who stays awake and keeps his clothes with him, so that he may not go naked and be shamefully exposed."
"And you know what is restraining him now so that he may be revealed in his time. For the mystery of lawlessness is already at work. Only he who now restrains it will do so until he is out of the way."
REV. 14:12
Here Jesus was alluding to the fact that the Doctrine of Eternal Security WILL EXPIRE WITH THE RAPTURE OF THE CHURCH
Luke 12:37 Blessed are those servants, whom the lord when he cometh shall find watching: verily I say unto you, that he shall gird himself, and make them to sit down to meat, and will come forth and serve them
SO WON'T YOU ACCEPT JESUS NOW AND BE REMOVED FROM THAT EVENT  (OF TRIBULATION) AND LIVE FOREVER WITH JESUS IN THE FAMILY OF GOD?
2 "(For he saith, I have heard thee in a time accepted, and in the day of salvation have I succoured thee: behold, now is the accepted time; behold, now is the day of salvation.)" (2nd Corinthians 2:6)
—————————————————
DAILY CHRISTIAN BIBLICAL QUESTIONS AND ANSWERS:
—————————————————
The Origin and Destiny of the Gentile Church
https://gracethrufaith.com/end-times-prophecy/the-origin-and-destiny-of-the-gentile-church/
A Bible Study by Jack Kelley
I do not want you to be ignorant of this mystery, brothers, so that you may not be conceited: Israel has experienced a hardening in part until the full number of the Gentiles has come in. (Romans 11:25)
There was a time in the ancient past when in some Jewish circles it was believed that Gentiles were created only to fuel the fires of Hell, but it wasn't long after the Resurrection before more and more of them began hearing and receiving the Gospel of Jesus Christ. At that time the only way to the Messiah was through Judaism and as you might expect, the restrictive nature of the Old Covenant was a major impediment, especially for men. For this reason, the early Church was predominantly Jewish with the majority of Gentile converts being women.
CHANGING TIMES
Several years after the Resurrection, while Peter was a guest in the Joppa home of Simon the Tanner, he had a vision of a large sheet being lowered down from heaven. In the sheet were all kinds of clean and unclean birds, animals and fish. A Voice from Heaven commanded him to kill and eat them. Protesting that some were unclean, Peter refused. "Do not call anything impure that God has made clean," the Voice said. (Acts 10:15) This scenario played out three times in Peter's vision and then the sheet was raised up into heaven again. He awoke wondering what the vision had meant.
Just then, he was told that three men were there to see him. Immediately the Holy Spirit told Peter that He had sent the men. Greeting them, he learned that they had come from the home of Cornelius the Centurion, a Gentile from Caesarea, and said that an angel had told them where to find him and to bring him back. Upon hearing this, Peter agreed to leave with them.
Arriving in Caesarea, he was greeted by a large group of Gentiles that Cornelius had gathered in his home there. They all wanted to hear about Jesus, and so he began to speak. While Peter was still speaking, the Holy Spirit came upon all who heard the message. The circumcised believers who had come with Peter were astonished that the gift of the Holy Spirit had been poured out even on the Gentiles, for they heard them speaking in tongues and praising God.
Then Peter said, "Can anyone keep these people from being baptized with water? They have received the Holy Spirit just as we have." So he ordered that they be baptized in the name of Jesus Christ. Then they asked Peter to stay with them for a few days. (Acts 10:44-48)
Peter now understood what his vision had meant. The visitation of the Holy Spirit upon the Gentiles made it clear. A direct way to salvation was being opened for them. And so that day at the home of Cornelius, Gentile believers came directly into the Church without passing through Judaism for the first time. The primary obstacles of a kosher diet and circumcision that had kept many from being baptized had been overcome. From this time forward, Gentiles began pouring into the Church in ever-increasing numbers.
THIS ARTICLE IS CONTINUED AT THE 2ND LAST PAGE OF THIS NEWS REPORT:
—————————————————-
NEWS CLIPS/ARTICLES OBTAINED FROM MANY SOURCES – INCLUDING

Tracking bible prophecy.org
Rapture Ready News
Prophecyupdate.Com
Main News Channels
End Times Headlines
Prophecyupdateblogspot.com
Stevequayle.com
Gracethrufaith.com
Nowtheendbegins.com
Other Christian Sites
(CLICK ON) LATEST DAILY NEWS CLIPS:
ISRAEL NEWS:
THE MIDDLE EAST PEACE PLAN IS "ANTI GOD" – (GOD WILL NOT ALLOW JERUSALEM TO BE DIVIDED).
ZECHARIAH 12:2-3
Zech. 12:2 Behold, I will make Jerusalem a cup of trembling unto all the people round about, when they shall be in the siege both against Judah and against Jerusalem.
Zech. 12:3 And in that day will I make Jerusalem a burdensome stone for all people: all that burden themselves with it shall be cut in pieces, though all the people of the earth be gathered together against it
I AM GOING TO MAKE JERUSALEM A CUP THAT SENDS ALL THE SURROUNDING PEOPLES REELING … Zech. 12:2
God is in control, and He told the nations the consequences

of dividing the Promised Land and declaring peace and safety on their own terms (Joel 3:1-2; I Thess. 5:3)
WORLD TERRORISM – WARS
GENERAL WORLD NEWS:
MASSIVE EARTH CHANGES/EARTHQUAKES/VOLCANOES ETC:
2Chr. 7:13 If I shut up heaven that there be no rain, or if I command the locusts to devour the land, or if I send pestilence among my people;
2Chr. 7:14 If my people, which are called by my name, shall humble themselves, and pray, and seek my face, and turn from their wicked ways; then will I hear from heaven, and will forgive their sin, and will heal their land
CHRISTIAN AND RELIGIOUS WORLD NEWS:
Matt. 24:9 Then shall they deliver you up to be afflicted, and shall kill you: and ye shall be hated of all nations for my name's sake.
Matt. 24:10 And then shall many be offended, and shall betray one another, and shall hate one another
WILL DR. THOMAS HORN BE RIGHT? WITH KAMALA-BIDEN, WILL 2025 WITNESS ARRIVAL OF ANTICHRIST AND START OF THE GREAT
EXTRA WORLD – ALTERNATIVE NEWS:
Please keep in mind that this collection of News Articles is mainly concerning America, but also take note that what happens in America will also "Dramatically" affect Australia and the rest of the World "Massively".
———————————————
WORLD – PROPHETIC NEWS ARTICLES PRESENTATION  (MONDAY 09th NOVEMBER 2020)
MIDDLE EAST AND WORLD WAR LOOMING THE BUILD UP TO PSALM 83  – ISAIAH 17 AND GOG OF MAGOG WARS EZEKIEL 37-38:
THE WHOLE WORLD IS UNSTABLE FINANCIALLY, POLITICALLY, PHYSICALLY, MORALLY, GODLY: – AND BECOMING MORE SO DAILY. (WE ARE IN THE BEGINNING OF SORROWS (MATT 24:8)
THE BIBLE STATES THAT IT WILL ONLY GET WORSE BEFORE THE START OF THE TRIBULATION OF MANKIND – (REVELATION 6)
But before that we have to go through the Birth Pangs, leading up to the Tribulation of Mankind; and I feel that the beginning of Matthew 24 explains that time very well. We are currently in the Birth Pangs (Even though Matthew 24: is directed at the Jewish Nation, it still reflects Biblical Prophecy for the whole World at this time):
Matt. 24:6 And ye shall hear of WARS AND RUMOURS OF WARS: see that ye be not troubled: for all these things must come to pass, but the end is not yet.
Matt. 24:7 FOR NATION SHALL RISE AGAINST NATION, AND KINGDOM AGAINST KINGDOM: and there shall be famines, and pestilences, and earthquakes, in divers places.
—————————————————-
GENERAL PROPHETIC ARTICLE NEWS SECTION:
—————————————————–
For 10 Years We Have Warned You That America Would Be Betrayed By Her Leaders And Taken Over, This Is What You Are Watching Happen Right Now
https://www.nowtheendbegins.com/god-judges-america-prepares-to-usher-in-new-world-order/ – by Geoffrey Grider November 7, 2020 – by Geoffrey Grider November 7, 2020
America is not mentioned by name in bible prophecy, and certainly neither are Donald Trump, Joe Biden and Kamala Harris. But what is mentioned in your King James Bible, and what is prophesied, is the coming New World Order under Antichrist. As Ronald Reagan so aptly pointed out in his landmark speech 'A Time For Choosing', America is the last nation on Earth to stand alone for freedom, liberty and provide it's people the ability to worship God in peace and security. No other nation on Earth has ever guaranteed those things to its people, and because of that, America is unique. But because of those exact same things, America stands in the way of the New World Order, and as such must be taken out of the way.
NOW THE END BEGINS SHARE:
America stands in the way of the New World Order, and as such must be taken out of the way. What you are watching now is our elected leaders betraying this nation and pulling down the remaining pillars on which it stands.
THE GRAPHIC THAT YOU SEE at the top of this article is the original banner I created over ten years ago. How well I remember sitting in front of my computer at my home in Colorado, looking at a completely blank canvas in Photoshop, and asking the Lord what He would have me to make. This was the very first graphic ever created for Now The End Begins. I direct your attention to the  text in the bottom left-hand corner of the image, this is where our story takes place right now in 2020. Take a look and see:
"For generations the Bible has warned of the coming End of Days, and you are now living in that time. America, a nation raised up by the Hand of God to spread the Gospel and to be a beacon of Freedom for people around the world is about to be forever silenced by these sworn to protect her—her leaders." Geoffrey Grider 2009
AMERICA IS NOT mentioned by name in bible prophecy, and certainly neither are Donald Trump, Joe Biden and Kamala Harris. But what is mentioned in your King James Bible, and what is prophesied, is the coming New World Order under Antichrist. As Ronald Reagan so aptly pointed out in his landmark speech 'A Time For Choosing', America is the last nation on Earth to stand alone for freedom, liberty and provide it's people the ability to worship God in peace and security. No other nation on Earth has ever guaranteed those things to its people, and because of that, America is unique. But because of those exact same things, America stands in the way of the New World Order, and as such must be taken out of the way.
THIS HAS BEEN a massive undertaking, costing billions of dollars and laid out over many years.  On January 17, 1961, Dwight D. Eisenhower ends his presidential term by warning the nation about the increasing power of the military-industrial complex, it is here the seeds of anarchy were sown. From there we watch President John F. Kennedy, in a speech entitled "The President and the Press" given at the Waldorf-Astoria Hotel in New York City on April 27, 1961, telling America how he aimed to expose the many 'secret societies' that were rising in power in the Deep State. Not long after he gave that speech, his security detail would be call off of his car in Dallas, Texas, and he would be dead. Murdered not by Lee Harvey Oswald, but by the CIA and George H.W. Bush.
 ON SEPTEMBER 11, 1991, that same man, George H.W. Bush, now president of the United States, went before Congress and told America to prepare for the New World Order. Ten years to the day later, the World Trade Centers would be brought down under the administration of his son, George W. Bush, with his other son Marvin overseeing 'security' at the Towers. When the smoke cleared, freedom in America had taken a shot to the forehead with something called The Patriot Act, kind of like Hitler's Enabling Act, just a little more subtle. One year after that, the first human implantable microchip would be released from a company called Digital Angel, and it was called the Veri-Chip. Oh yeah, I bet you're awake now, aren't you? Stay with me, the water is about to get deeper.
"The bricks are fallen down, but we will build with hewn stones: the sycomores are cut down, but we will change them into cedars. And there shall be upon every high mountain, and upon every high hill, rivers and streams of waters in the day of the great slaughter, when the towers fall." Isaiah 9:10, 30:25 (KJB)
In 2008, America elected its first black president, the Muslim Barack Hussein Obama. I was thrilled that a black man was president, but I was disgusted that the same black man was a Marxist with a past so shady, all his records were sealed. You do the math. His boyhood heros were gutter-dwelling low-lifes like Bill Ayers and Saul Alinsky, avowed Marxists who sought the overthrow of America. Under Obama's two terms, legal protections for heterosexual marriage was denied, and gay marriage became the law of the land. Transsexuals , transgenders and transvestites became a protected category. Under Obama we saw the creation of ISIS, Black Lives Matter and ANTIFA. The economy was so bad, Obama himself said it would take a 'magic wand' to restore it. Enter Donald Trump.
 THE BIZARRE BEHAVIOR OF PRESIDENT GEORGE BUSH ON 9/11 SHOWS HE HAD ADVANCE KNOWLEDGE OF THE ATTACKS
IN 2016, AMERICA ELECTED DONALD TRUMP with a mandate to take on the Deep State, and drain the swamp, and I must say, he did a really, really good job. He beat 16 Republicans including Jeb Bush for the nomination, and then beat Hillary Clinton who had the complete support of the fake news media, and a billion dollar bank account. Trump beat them all, because God placed him in the Oval Office for such a time as this. Under Trump, the US Embassy was moved to Jerusalem, Jerusalem was declared the capital of Israel, and the American economy began to fire on all 8 cylinders, and we were prosperous once more. Donald Trump is also the only president in the modern-era to not lead us into a new war. One of his last acts was the Abraham Accords, and it is here where we pull over and park for a moment.
"And he changeth the times and the seasons: he removeth kings, and setteth up kings: he giveth wisdom unto the wise, and knowledge to them that know understanding:" Daniel 2:21 (KJB)
DONALD TRUMP WAS put in office by God, according to Daniel 2:21, to prepare the table for the end times which began on May 14th , 1948. He was not put into office to Make America Great Again. I have long said that God used Obama to judge America, and to legally codify the sin we crave into the laws of our land, and He used Donald Trump to judge the world. The Abraham Accords are the foundational building blocks of the coming Daniel 9:27 (KJB) covenant that the Jews will make with Antichrist. Are you with me so far, do you see and understand what I am saying to you? The world has been prepared for judgement, and that judgment is now well under way, and it has reached America.
 CLICK TO VISIT OUR 'THE LAST TRUMP' ARCHIVE
GET YOUR EYES OFF of hapless pawns like Joe Biden and Kamala Harris, they are but instruments of God's judgment. But prepare for the same people to make your lives miserable, unsaved Liberals are some of the most vindictive, evil people you will ever come across.
"And the ten horns which thou sawest are ten kings, which have received no kingdom as yet; but receive power as kings one hour with the beast. These have one mind, and shall give their power and strength unto the beast." Revelation 17:12,13 (KJB)
OVER IN EUROPE, in Iran and China, leaders there are giddy with the prospect of a Joe Biden presidency. The globalism that Donald Trump stopped will be reestablished overnight, and taken to levels you have only ever read about in end times novels. Emmanuel Macron fully expects to form a pact with the Biden administration that will see the creation of the European Union Army, with Macron as its commander-in-chief.
ALL DURING THE COVID CRISIS, we have watched churches in Democrat-run states be fined, closed down and run out of business. We have watched nearly $3,000,000,000.00 dollars of damage done in the Black Lives Matter Riots, riots that presumptive vice president Kamala Harris says are "good, necessary, and won't stop even after the election". We have watched ANTIFA killing cops with impunity. Now all that lawlessness will be legal, and not only legal it will be 'protected speech' as Kamala Harris has long said it should be.
THIS IS THE new America, the Great Reset, the Fourth Industrial Revolution. We told you for 10 years this was coming, you should have listened, we tried out best to warn you.
 THE GLOBAL ELITES ARE CALLING IT 'THE GREAT RESET' AND IT IS EXACTLY WHAT END TIMES BOOKS AND MOVIES HAVE BEEN WARNING YOU ABOUT FOR DECADES
OVER THE PAST 24-HOURS, thousands of people have been out on the streets of New York City, no masks, no social distancing, with the full blessing of Democrat Mayor Bill Di Blasio and Democrat Gov. Andrew Cuomo. Huge groups of unmasked people only spread germs if you're a Trump supporter, if you're a Democrat, you won't even hear it mentioned one time. In Washington, AOC has called for the creation of an 'enemies list', and it has already begun to be populated with names. In 2016, NTEB was placed on the 'enemies list' of the Southern Poverty Law Center, I have no doubt we will make AOC's list also. And so will you.
"For the time is come that judgment must begin at the house of God: and if it first begin at us, what shall the end be of them that obey not the gospel of God? And if the righteous scarcely be saved, where shall the ungodly and the sinner appear? Wherefore let them that suffer according to the will of God commit the keeping of their souls to him in well doing, as unto a faithful Creator." 1 Peter 4:17-19 (KJB)
IN CLOSING, brothers and sisters, the time has come for all of us who name the Name of Jesus Christ to be tested in the fire in a time where preaching and teaching the gospel of the grace of God will now cost us something, maybe even our own lives. As bible believers in the end times remnant Church, we are called like the battle horses of old to run boldly into the fire, not whimper and cower as the rising darkness covers our land. As for me, you will find me right here, on the front lines of the end times, ready to spend and be spent for the cause of Jesus Christ. Flight #777 is so close I can feel the wind in my face from those Titus 213 Airlines jet engines. Let us go strong and confident in the might and power of Jesus Christ, and proclaim to a lost and dying world that will soon be under the rule of Antichrist, that the blood still saves! Are you ready for what comes next? You better be.
Watch Paula White Declare That Fallen Angels Have Been Released And Are Coming To America From Africa And South America.
If America really is falling like it looks like it is, and the Marxist forces take over, then maybe Paula White has been sent by the Devil to release the fallen angels. Jesus says the Tribulation is like the 'days of Noah', a reference to the Genesis 6 giants that God destroyed. In this crazy year of 2020, you know what I'm saying is not only not far-fetched, it is also quite likely at this point. 
 NOW THE END BEGINS IS YOUR FRONT LINE DEFENSE AGAINST THE RISING TIDE OF DARKNESS IN THE LAST DAYS BEFORE THE RAPTURE OF THE CHURCH
————————————————-
AMERICAN ELECTION NEWS:
————————————————-
HERE IS THE TOP THREE "SIGNS OF THE END TIMES"
https://endtimeheadlines.org/2020/11/here-is-the-top-three-signs-of-the-end-times/ – Nov 8, 2020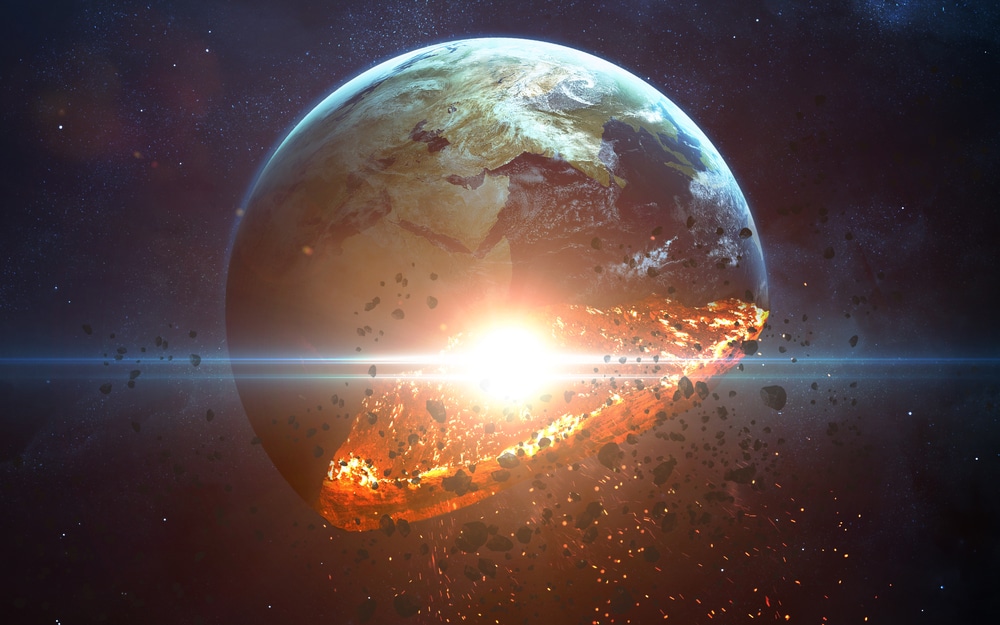 (OPINION) ETH – The last days, latter days, latter years, and the time of the end are a few scriptural expressions of the biblical end times. The fact that this present earth has an expiration date is a central theme within the Bible.
Apocalyptic predictions appear to be currently rolling off their ancient parchments and pounding down on the world's pavement, which is why many of today's reputable Bible scholars believe that mankind is already living in the last days!  Presently, there exists a flurry of telltale signs that indicate the FINAL BIBLICAL PROPHECIES are about to find their fulfillment. This article covers what seems to be the top three.
TELLTALE SIGN #1:The Rebirth of Israel as a Nation.
TELLTALE SIGN #2:The Convergence of All End Times Signs
TELLTALE SIGN #3:The Cryptocurrencies, National Digital Currencies, Blockchain Technologies, Global Digital ID, and the Mark of the Beast Connections.
#1:THE REBIRTH OF ISRAEL AS A NATION
Most prophecy experts that believe these are the last days teach the world hourglass made its final turn toward the end of days, on May 14, 1948, when Israel was rebirthed as a nation. A few of the prophecies that were fulfilled are provided below. Some of these passages correlate the latter years with the end of the Jewish Diaspora. "
…that the Lord your God will bring you (the Jews) back from captivity, and have compassion on you, and gather you again from all the nations where the Lord your God has scattered you." (Deuteronomy 30:3, NKJV; emphasis added) "He will set up a banner for the nations, And will assemble the outcasts of Israel, And gather together the dispersed of Judah From the four corners of the earth." (Isaiah 11:12, NKJV) "For I, (the LORD), will take you, (the Jews), from among the nations, gather you out of all countries, and bring you into your own land, (of historic Israel)."
(Ezekiel 36:24, NKJV; emphasis added) "After many days you, (a coalition of invaders), will be visited. In the latter years, you will come into the land of those brought back from the sword and gathered from many people on the mountains of Israel, which had long been desolate; they, (the Jews) were brought out of the nations, and now all of them dwell safely." (Ezek. 38:7, NKJV; emphasis added)
"You will come up against My people Israel like a cloud, to cover the land. It will be in the latter days that I will bring you against My land, so that the nations may know Me, when I am hallowed in you, O Gog, before their eyes." (Ezek. 38:16) These are just a few of the prophecies that were either fulfilled entirely or at least partially when Israel was reinstated as a nation. A few others are found in Isaiah 66:18, Ezekiel 37:21, Jeremiah 29:14, and elsewhere.
The regathering of the Jews into their historic homeland was unprecedented when you consider that one, it was prophesied, and two, no ethnic group had ever survived through a diaspora as long as the Jewish people. Some estimates are that 400 years stood as the historical record for an ethnic people to return from exile into their homeland. The Jewish people shattered this record by over 1478 years. The Jewish Diaspora officially began in 70 A.D. when the Roman Empire destroyed Jerusalem and the Second Jewish Temple and lasted for 1878 years until Israel was rebirthed as a nation on May 14, 1948. 

CONTINUE
(OPINION) ETH – The last days, latter days, latter years, and the time of the end are a few scriptural expressions of the biblical end times. The fact that this present earth has an expiration date is a central theme within the Bible.
Apocalyptic predictions appear to be currently rolling off their ancient parchments and pounding down on the world's pavement, which is why many of today's reputable Bible scholars believe that mankind is already living in the last days!  Presently, there exists a flurry of tell-tale signs that indicate the FINAL BIBLICAL PROPHECIES are about to find their fulfillment. This article covers what seems to be the top three.
————————————————-
The jihad against Europe by Turkish President Recep Tayyip Erdoğan is probably based on both ideology and opportunism. Fierce anti-Western rhetoric is an ideological sine qua non for Turkish political Islam; it is also a secure vote-catcher targeting conservative and nationalist masses.
Erdoğan's jihadism is not seasonal or a newfound system of political ideas. It is also not a reflection of peaceful sufism. Erdoğan comes from the ranks of Turkey's militant political Islamism that emerged in late 1960s under the leadership of the ideologue, Necmettin Erbakan, Turkey's first Islamist prime minister and Erdoğan's mentor. In Erbakan's rhetoric universal politics is simply about a struggle between the righteous (Islam) and a coalition of Zionists and racist imperialists — all else is just details. In his thinking, the Zionists support Turkey's membership in the European Union in order to "get Turkish Muslims to melt in a pot of Christianity."
In a 2016 speech, Erdoğan talked of European countries: "These are not just our enemies… Behind them are plans and plots and other powers." Also in 2016, he said that jihad is never terrorism. "It is resurrection…. It is to give life, to build… It is to fight the enemies of Islam." In 2017, Erdoğan added that the German government's actions resembled those of Nazi Germany.
Last month, the Gaza-based leader of Palestinian Islamic Jihad (PIJ), Dawood Shihab, said that Turkey was the bravest Muslim country to fight French President Emmanuel Macron's hostility toward Muslims. Turks thought flattering words from PIJ were not enough crucify an infidel disguised as the president of a big European nation.
Erdoğan had to take the stage. Venue: A party convention in the heart of Anatolia. Décor: Huge posters of Erdoğan and Azerbaijan's President Ilham Aliyev. Two more photographs: Azeri landscape and the Al-Aqsa mosque in Jerusalem. Slogan: "Karabakh and Al-Aqsa mosque [in Jerusalem] are waiting for us!" [Nagorno-Karabakh is a disputed territory under Armenian occupation since the 1990s.]
The sultan speaks: "What is Macron's problem with Islam? What is his problem with Muslims? Macron needs some sort of mental treatment." Erdoğan apparently thinks that Macron has gone clinically insane because the French president vowed to crack down on radical Islamism in France, after the country was shaken by the beheading of history teacher Samuel Paty on October 16.
Erdoğan also accused the West of supplying arms to one of the warring parties only, Armenia, in the most recent military conflict between Azerbaijan and Armenia. Nevertheless, a bit hypocritically, Erdoğan is also proud that Turkey has been equipping the Azeri military with drones, various other weapons systems and training.
Middle Eastern politics is always a trap for radical ideologues. In Erdoğan's mindset, the "infidel West" is militarily helping Armenia (the evil) and Turkey is militarily helping Azerbaijan (the righteous). Fine. What other nation is militarily helping Azerbaijan? A nation on the side of the righteous? Israel, a country Erdoğan deeply hates.
————————————————-
https://prophecyupdate.blogspot.com – Tyler Durden
Within the past weeks a number of countries across the globe, including France, Israel, and most recently the United Kingdom have been plunged into a second lockdown as coronavirus cases rise just ahead of the winter months.
Greece is the latest to announce a nationwide strict lockdown which takes effect Saturday. Police have threatened to enforce regulations and hand out stiff fines of up to 300 euros. The new lockdown rules include a ban on all non-essential travel and the wearing of masks indoors and outdoors in any public place.
Here are the far-reaching restrictions being enforced across Greece, or what people are "allowed" to or not do, according to Greek media source Ekathimerini: 
Visiting a pharmacy or a doctor, the latter by appointment only;

Doing a shopping run to a supermarket or grocery store, when delivery is not an option;

Visiting a bank when an online transaction is not possible;

Providing assistance to someone in need or chaperoning children to/from school;

Attending a funeral or exercising parental visitation rights;

Physical exercise or walking a pet – up to two people can engage in these activities on the condition that they maintain a distance of 1.5 meters from one another.
Hours before this second lockdown took place in Greece, an anti-lockdown demonstration mostly attended by young people turned violent in the northern city of Thessaloniki. Video captured running clashes with police Friday night.
Meanwhile, similar to a trend we recently saw in Paris, long lines of cars were seen leaving major cities, especially the capital of Athens just before the lockdown took effect.
Like in other major European cities that have again come under stay-at-home orders, many Athens residents appear to be fleeing urban areas for the countryside and family villages in hopes of avoiding conforming to the regulations altogether. 
[UPDATES to appear at the top of the page and will occur throughout the day]
————————————————-
https://prophecyupdate.blogspot.com –
Its been a while since I've done this, but I've been giving current events a lot of thought lately and just wanted to put some down on paper. 
God is in control and His prophetic plan will proceed. Period. Most big events right now probably have some level of prophetic significance. Ultimately, the prophetic plan is good for the Church. 

Shadow of the Tribulation: Everything we are seeing now, worldwide, is setting the stage for the coming (rapidly) Tribulation. There will be a world government during the Tribulation and the movement towards a world government is moving at breakneck speed. The U.S. has to conform to this world government either through weakness or leadership which is on board with this effort. This could be a post rapture event, but we can now clearly see the movement within the U.S. to conform to a world government. 

IfBiden Wins

:

The U.S. election appears to have a lot of tampering involved. Thats another story (see Chaos I-IV). Whether that succeeds or not will be part of God's prophetic plan. One article this week (JP) stated that a Biden administration would probably lead to war between Israel and Iran (based on a new agreement with Iran). This U.S. 'election' result, if it stands may have to happen in order to trigger the Gog-Magog battle. If that is the case, so be it. 

If Trump Wins: If the courts determine that Trump wins the election, the subsequent violence will be epic. It could trigger a civil war in the U.S. or prolonged violence and anarchy. 

E

xposure of evil

:

God typically exposes evil before He issues judgement – this was a pattern throughout the old testament, particularly during the prophet's time on earth. Right now evil is being exposed in many ways, as we see the Tribulation approaching. I don't expect to see justice served prior to the gathering up; I believe that is one of the purposes of the Tribulation. 

Instructions From Jesus:  Jesus said when we see these signs to look up for His return (Luke 21:28):
"When these things begin to take place, stand up and lift up your heads, because your redemption is drawing near."
In other words, our focus shouldn't be on the things happening here, but to "stand up" and "lift your heads" to watch for Him. Standing up and lifting your head is not a passive position, or a cowering position, nor a position of fear. When you stand up and lift your heads, that is a bold stance of confidence. As it should be. We have nothing to fear and everything to look forward to.
10 Kings: One prophetic event that needs to begin shaping up is the formation of the 10 kings (this could be a post-rapture event). One has to wonder if the US events are somehow creating movement towards the beginnings of the 10 kings. 

Birth Pains (I): Look all the way back to last November, a 12 month period and how much has changed in the world over that period. Consider the an increase in frequency and severity of events, and what will come, just extrapolating from the last 12 months. Very sobering thought. Things will not go back to normal, things will continue to change even more rapidly as the Tribulation closes in. These changes, which will take place around the world, will all be marching towards the Tribulation. Consider that. 

Birth Pains

(II):

Consider how much has happened just in the previous 6 months and how much the world has changed. Birth pains indeed. And thinking at this rate of change, what will the next 6 months bring? We are now seeing anarchy, chaos (worldwide), business/economy collapsing, riots, terrorism, and rapidly changing events at a rate exceeding the Covid crisis (last 6 months) and all the changes it brought. Birth pains increase in severity and frequency and will continue to do so. 

Now: This is no time to despair. This is no time to worry. This is no time to be anxious.  This is a time to stand up and look up, boldly and without fear. We have a Messiah who is coming. We have that hope which overrides all else. We have a reunion that is approaching; arguably the most epic celebration of all time. We have a wedding supper which is approaching. This is a time to consider and focus on what is coming our way. We have loved ones who are waiting for us. The glory which is coming is unimaginable and we cannot let that joy and anticipation be stolen by petty tyrants on earth. Period. 
PSALM 33
Sing joyfully to the Lord, you righteous;
it is fitting for the upright to praise him.
Praise the Lord with the harp;
    make music to him on the ten-stringed lyre.
Sing to him a new song;
    play skillfully, and shout for joy.
   For the word of the Lord is right and true;
    he is faithful in all he does.
The Lord loves righteousness and justice;
    the earth is full of his unfailing love.
By the word of the Lord the heavens were made,
their starry host by the breath of his mouth.
He gathers the waters of the sea into jars[a];

    he puts the deep into storehouses.
Let all the earth fear the Lord;
let all the people of the world revere him.
For he spoke, and it came to be;
    he commanded, and it stood firm.
The Lord foils the plans of the nations;
he thwarts the purposes of the peoples.
But the plans of the Lord stand firm forever,
the purposes of his heart through all generations.
Blessed is the nation whose God is the Lord,
    the people he chose for his inheritance.
From heaven the Lord looks down
and sees all mankind;
from his dwelling place he watches
    all who live on earth—
he who forms the hearts of all,
who considers everything they do.
No king is saved by the size of his army;
  no warrior escapes by his great strength.
A horse is a vain hope for deliverance;
    despite all its great strength it cannot save.
But the eyes of the Lord are on those who fear him,
on those whose hope is in his unfailing love,
to deliver them from death
    and keep them alive in famine.
We wait in hope for the Lord;
he is our help and our shield.
In him our hearts rejoice,
    for we trust in his holy name.
May your unfailing love be with us, Lord,
    even as we put our hope in you.
1 Thessalonians 5: 
9 For God did not appoint us to suffer wrath but to receive salvation through our Lord Jesus Christ. 10 He died for us so that, whether we are awake or asleep, we may live together with him. 11 Therefore encourage one another and build each other up, just as in fact you are doing.
————————————————-
https://prophecyupdate.blogspot.com –
An NHS nurse in Britain publicly resigned while wearing her uniform before releasing the real numbers of COVID patients in her hospital and denouncing the government's disastrous lockdown policy.
The whole of England officially entered lockdown 2.0 today despite numerous experts warning that lockdowns will eventually end up killing more people than coronavirus itself.
A video out of Cornwall shows a nurse in uniform giving a speech explaining why she decided to resign from her job.
"I don't need the uniform to prove that I work for them, but today, I'm publicly resigning," she stated.
The nurse then revealed how she received an email from her bosses demanding an explanation as to why she was being critical of official COVID policy and that people were "reporting" her.
"Unfortunately I can't lie anymore," said the nurse, explaining how she took a screenshot of internal hospital data showing there were just three people across three hospitals in the region infected with COVID.
The total deaths from these three hospitals across the last 7 months is just 76 people, roughly 10 deaths a month, according to the nurse, who questioned why it was necessary for her region to go into lockdown given such sparse figures.
"I've decided there's no point, I have gone against the rules within the NHS, I have shared confidential information that people need to see," said the nurse, adding that other doctors and nurses were trying to speak out.
As we highlighted earlier, the enforcement of a new lockdown is likely to bring with it more draconian measures of enforcement.
A woman in Skipton was threatened with a police visit for not downloading the NHS COVID 'track and trace' app, while another woman in Wales was questioned by police on whether buying custard counted as an 'essential purchase'.
In the age of mass Silicon Valley censorship It is crucial that we stay in touch. I need you to sign up for my free newsletter here. Also, I urgently need your financial support here.
————————————————
The Origin and Destiny of the Gentile Church (CONTINUED FROM FRONT PAGE):
WHAT ABOUT US?
Believing Jews were understandably perplexed. They had kept the Law both before and after receiving the Messiah, but Gentiles were coming straight into the family of God, seemingly without either prior qualification or subsequent restriction. After thirteen years of this apparent double standard, the Jewish Christian leadership gathered in the Council at Jerusalem to discuss how best to resolve the situation. Could a Gentile really become a Christian without first converting to Judaism, they wondered? And if so, what's to become of Israel?
Speaking of the Gentiles, Peter told the other council attendees, "God, who knows the heart, showed that he accepted them by giving the Holy Spirit to them, just as he did to us. He made no distinction between us and them, for he purified their hearts by faith. Now then, why do you try to test God by putting on the necks of the disciples a yoke that neither we nor our fathers have been able to bear? No! We believe it is through the grace of our Lord Jesus that we are saved, just as they are" (Acts 15:8-11).  Paul and Barnabas related similar experiences.
The answer to their questions revealed a clear picture of the order of things in the Latter Days. The Lord's brother James, who was the head of the Christian movement in Jerusalem, explained it to them. In sending His apostles into all the world, James told them, God at first showed His concern by taking from among the Gentiles a people for Himself. After that He will return and rebuild David's fallen Tabernacle (the Temple). "Its ruins I'll rebuild and restore that the remnant of men may seek the Lord, and all the Gentiles who bear my name," says the Lord who does these things that have been known for ages" (Acts 15:14-18).
This is as the Lord has ordained, James explained. Israel was being set aside for a time, but while His focus would now be on the Gentiles, the Lord was not finished with the Jews. After He had taken the Church for Himself (a hint of the rapture) he would again turn His attention to Israel, rebuilding the soon to be destroyed Temple and restoring the Old Covenant worship. He would do this so that those left in the world after the Church is gone, whether Jew or Gentile, would have one final chance to seek Him before the End of the Age.
THE GREAT PAUSE
Gentiles therefore, did not have to first convert to Judaism in order to become Christian. They did not have to be circumcised or keep the Law, being admonished only to avoid eating food sacrificed to idols and meat still containing its blood, and to abstain from improper sexual behavior. (These prohibitions have actually been in effect for all humanity since the time of Noah.) From God's perspective, humanity would henceforth be divided into 3 groups, Jew, Gentile, and the Church of God (1 Cor 10:32).
History shows us that after the cross, major signs began to appear in the Temple indicating the obsolescence of its ritual. First, the veil was torn, opening the way to the Holy of Holies. Then, one of the seven lamps of the Menorah refused to stay lit. The main entrance door kept opening by itself. The ribbon attached to the scapegoat's horn no longer turned from red to white at the moment of its death as it always had before. And there were others. Finally, Jerusalem and the Temple were destroyed, leaving only the now largely Gentile Church as God's witness on Earth from that time until ours. But soon, when the full number of Gentiles has come in, (Romans 11:25) the Lord will once again turn His attention fully on Israel.
"When I have brought them back from the nations and have gathered them from the countries of their enemies, I will show myself holy through them in the sight of many nations. Then they will know that I am the LORD their God, for though I sent them into exile among the nations, I will gather them to their own land, not leaving any behind. I will no longer hide my face from them, for I will pour out my Spirit on the house of Israel," declares the Sovereign LORD (Ezek 39:27-29).
Many scholars have come to believe that God's approach to man is either through Israel or the Church, never both at once. Shortly after the Church was born, Israel disappeared as a nation. Will the reverse also be true? As the nation Israel is born again to become God's witness in the world's final days, will the Church disappear? If the end of the Church Age is a mirror image of the beginning, that's exactly what will happen, and in fact that seems to have been the conclusion of the Council at Jerusalem.
The crucifixion of the Messiah had caused the 490 year period God gave to Israel to prepare for the Kingdom Age (Daniel 9:24-27) to pause seven years short of its fulfillment.  Into this pause, God inserted the Church.  When the full number of Gentiles has come in, the Church will be whisked off to our heavenly home.  Then Israel will be restored to its covenant relationship with God for its final seven years of preparation.  The reappearance of Israel in 1948 was a sign that the time for the Church was growing short.  For though we are temporarily in this world, it is not our destiny to be of this world.
Our citizenship is in heaven. And we eagerly await a Savior from there, the Lord Jesus Christ, who, by the power that enables him to bring everything under his control, will transform our lowly bodies so that they will be like his glorious body (Phil. 3:20-21).  You can almost hear the footsteps of the Messiah. 07-25-04
————————————————
JESUS CHRIST RETURN FOR HIS CHURCH IS "IMMINENT"
Matt. 7:27 And the rain descended, and the floods came, and the winds blew, and beat upon that house; and it fell: and great was the fall of it.
Matt. 24:38 For as in the days that were before the flood they were eating and drinking, marrying and giving in marriage, until the day that Noe entered into the ark,
Matt. 24:39 And knew not until the flood came, and took them all away; so shall also the coming of the Son of man be
——————————————–
DON'T WAIT FOR THE LAST MINUTE
We are currently in the "Birth Pangs" pending the coming "7 year TRIBULATION" period, where all the Nations on Earth will be subject to God's Wrath on an "UNGODLY" World. The Rapture of Jesus Christ Church is "TOTALLY" imminent; And what will follow after that will be massively more devastating that we are seeing right now (Read

Revelation Ch 6 – 22

) God is trying to get everyone's attention to the coming Judgments; He does not want "ANYONE" to perish, but all to come to repentance. He loves us, but will not stand idly by and watch the World, (His Creation) turn to sin and debauchery). We are currently living in a fallen "Satanic" World where "EVIL", is totally accepted, "and God and his Love for his Church": is being exponentially rejected. The time has come when God HAS TO intervene, and he is (The prophetic word listed in his Word the Bible is being fulfilled exponentially).
———————————————–
THE NEW WORLD ORDER:
ONE WORLD GOVERNMENT – ONE WORLD ECONOMIC SYSTEM – ONE WORLD RELIGION
Dan. 9:27 And he shall confirm the covenant with many for one week: and in the midst of the week he shall cause the sacrifice and the oblation to cease, and for the overspreading of abominations he shall make it desolate, even until the consummation, and that determined shall be poured upon the desolate
Dan. 7:24 And the ten horns out of this kingdom are ten kings that shall arise: and another shall rise after them; and he shall be diverse from the first, and he shall subdue three kings
Rev. 17:12 And the ten horns which thou sawest are ten kings, which have received no kingdom as yet; but receive power as kings one hour with the beast
—————————————————-
THE MARK OF THE BEAST:
DON'T TAKE THE MARK OF THE BEAST WHICH IS (CHANGING YOUR D.N.A.) AND GIVING YOUR CONTROL OVER TO THE "BEAST SYSTEM" – THIS IS AN ABONOMINATION TO GOD: (YOU ARE HIS CREATION):
Rev. 13:14 And deceiveth them that dwell on the earth by the means of those miracles which he had power to do in the sight of the beast; saying to them that dwell on the earth, that they should make an image to the beast, which had the wound by a sword, and did live.
Rev. 13:15 And he had power to give life unto the image of the beast, that the image of the beast should both speak, and cause that as many as would not worship the image of the beast should be killed.
Rev. 14:9 And the third angel followed them, saying with a loud voice, If any man worship the beast and his image, and receive his mark in his forehead, or in his hand
THE PUNISHMENT FROM GOD FOR THOSE WHO TAKE THE MARK AND WORSHIP THE "BEAST SYSTEM":
Rev. 14:10 The same shall drink of the wine of the wrath of God, which is poured out without mixture into the cup of his indignation; and he shall be tormented with fire and brimstone in the presence of the holy angels, and in the presence of the Lamb:
 (YOU ARE GOD'S CREATION – CHANGING YOUR D.N.A. AND/OR GIVING YOUR ALLEGANCE TO ANOTHER ENTITY I.E. (THE ANTICHRIST) – IS AN ABONOMINATION TO GOD):
————————————————-
THE FUTURE CONONAVIRUS INJECTION AT THIS POINT IN TIME ALSO APPEARS TO BE "MASSIVELY" AGAINST GOD AS IT WILL IS ALSO TAINTED WITH A CHANGE IN YOUR (R.N.A. WHICH CHANGES YOUR D.N.A.) AND WILL ALTER YOUR BODY IN MANY WAYS, (INCLUDING DEATH).