2020 — "A Year Of Prophetic Explosion"

284K subscribers
Please Help Support This Ministry:

https://www.paypal.me/watchman1963

Cash App: $watchman 1963 Please subscribe to my backup channel:

https://www.youtube.com/channel/UC4nc…

Current Events Linked To Biblical Prophecies. Everything is unfolding just as the bible foretold. Wars, Volcanic Eruptions, Earthquakes, Extreme Weather, Christian Persecution, Violence and more!
——————————————-
Israel bombs Gaza over terror; Turkey to confront Egypt-Greece accord – TV7 Israel News 07.08.20

Today's top stories 07.08.20; 1) Palestinian Islamists in the Gaza Strip unleashed several clusters of balloons attached to both incendiary and explosive devices causing blazes in southern Israel – consequently prompting a retaliatory bombardment against a Hamas subterranean installation. 2) A political crisis in Jerusalem over the state budget is seemingly threatening the Israeli unity government's stability. 3) Egypt and Greece sign a maritime exclusive economic zone in the Eastern Mediterranean – drawing Turkish vows to contest the accord by all means at its disposal.
——————————————-
Bible Prophecy Update – August 9th, 2020
•

Scheduled for Aug 10, 2020

201K subscribers
Pastor JD provides seven reasons from scripture that prove the rapture absolutely must happen prior to the seven-year tribulation.  Connect with Pastor J.D. Farag on Social Media to stay updated on his latest Bible Prophecy teachings and End Times-related news.
——————————————-
Prophecy Update – Current Events (8/7/20)

182K subscribers
Prophecy Update – Current Events (8/7/20) Tom Hughes and James Kaddis
——————————————-

182K subscribers
Open the Church Pastor Jack sits down with Charlie Kirk, founder of Turning Point USA to discuss the urgency facing America to open up the nation's churches, regardless of the edicts from governors and mayors. Pastor Jack Hibbs & Charlie Kirk
——————————————-
LATEST NEWS CLIPS – ARTICLES (SUNDAY 09th AUGUST 2020)
WE PREACH THE BLESSED HOPE FOR THE FUTURE IN JESUS CHRIST OUR SAVIOUR
1Cor. 12:3 Wherefore I give you to understand, that no man speaking by the Spirit of God calleth Jesus accursed: AND THAT NO MAN CAN SAY THAT JESUS IS THE LORD, BUT BY THE HOLY GHOST.
"Behold, I come like a thief! Blessed is he who stays awake and keeps his clothes with him, so that he may not go naked and be shamefully exposed."
"And you know what is restraining him now so that he may be revealed in his time. For the mystery of lawlessness is already at work. Only he who now restrains it will do so until he is out of the way."
REV. 14:12
Here Jesus was alluding to the fact that the Doctrine of Eternal Security WILL EXPIRE WITH THE RAPTURE
Luke 12:37 Blessed are those servants, whom the lord when he cometh shall find watching: verily I say unto you, that he shall gird himself, and make them to sit down to meat, and will come forth and serve them
SO WON'T YOU ACCEPT JESUS NOW AND BE REMOVED FROM THAT EVENT  (OF TRIBULATION) AND LIVE FOREVER WITH JESUS IN THE FAMILY OF GOD?
2 "(For he saith, I have heard thee in a time accepted, and in the day of salvation have I succoured thee: behold, now is the accepted time; behold, now is the day of salvation.)" (2nd Corinthians 2:6)
—————————————————
DAILY CHRISTIAN BIBLICAL QUESTIONS AND ANSWERS:
—————————————————
Sons Of God And The Son Of God
https://gracethrufaith.com/ask-a-bible-teacher/sons-of-god-and-the-son-of-god/
QUESTION:

   I don't know if someone else asked you this question before: When did God create the angels according to Genesis?
And in Job 38:7: "When the morning stars sang together, and all the sons of God shouted for joy, who are "the sons of God"? How do I explain to an unbeliever that Jesus was God's only son – when in Job he talks about the sons of God?
Can you please explain it to me?
ANSWER:    Genesis, being written about happenings on Earth, doesn't mention the creation of angels. But the verse you quoted from Job makes reference to the time of Earth's creation and implies that they were already around and cheered the event. That means that their creation preceded Earth's.
The Hebrew phrase translated as sons of God in Job 38:7 can be found 5 times in the Old Testament and always refers to angels. A Greek phrase also translated sons of God appears 6 times in the New Testament and always refers to the Church.
This sounds confusing until you realize that the Hebrew and Greek phrases are from two different languages and are not equivalent to one another. Though others are given the appellation, Jesus is uniquely the "Son of God", in both the physical and spiritual sense. Hebrews 1:1-14 explains this in great detail.
When Did The Son Become The Son?
https://gracethrufaith.com/ask-a-bible-teacher/son-become-son/
QUESTION:    Can you please elaborate the terminology of the Father, Son relationship as indicated in Hebrews 1 verse 5. "You are my son; today I have become your Father." As I understand it the Trinity always existed.
ANSWER:    The Bible tells us the trinity existed before time began. In Micah 5:2 where the birthplace of the Messiah was foretold, the phrase we read about Him that says "whose origins are from of old, from ancient times" basically means "whose family descent is from before time and is perpetual." And 1 Peter 1:20 tells us Jesus was chosen to be our redeemer before the creation of the world.
Hebrews 1:5 is a quote from Psalm 2:7, and records a conversation between the Father and the Son that took place at some undisclosed point in the distant past. David was revealing it, but did not say when it took place. It tells us that the second person in the trinity, although an eternally existing being, accepted His role as the Son of God and all that entails, at a specific time. As Peter indicated, this happened before the creation of the world, and has become known by scholars as the everlasting covenant.
Put together these verses confirm that God's plan for the redemption of mankind was in place well before the first man was created.
The Sign Of The Son Of Man
https://gracethrufaith.com/ask-a-bible-teacher/sign-son-man/
QUESTION:    Do you know what the "sign of the Son of Man" is? Some say the cross, some tell me it's the fish sign. Jesus said it like we should all know what it is.
ANSWER:    Lots of people have opinions about this and the two you mentioned are the favorites. But the fact is that the Bible does not clarify this for us.
Here's what we know. In Matt. 24:3 the 4 disciples asked Jesus, "What will be the sign of your coming and of the end of the age?"
In Matt. 24:27 Jesus said His coming would be as visible as lightning that comes from the East is visible in the west. In Matt 24:29 He said the sky will go completely dark. Neither the Sun nor the Moon will give any light and the stars will fall from the sky. Then in Matt. 24:30 He said the sign of the Son of Man will appear in the sky and all the nations of the Earth will mourn. They will see the Son of Man coming on the clouds of the sky with power and great glory.
In Rev. 19:11 John described this event as heaven standing open to reveal a rider on a white horse followed by the armies of heaven all on white horses and dressed in white. Put it all together and it's possible to conclude that this is the sign of the Son of Man. Think about it. A completely dark sky will suddenly be filled with a celestial army led by a rider identified as "King of Kings and Lord of Lords". That's some sign.
—————————————————-
NEWS CLIPS/ARTICLES OBTAINED FROM MANY SOURCES – INCLUDING

Tracking bible prophecy.org
Rapture Ready News
Prophecyupdate.Com
Main News Channels
End Times Headlines
Prophecyupdateblogspot.com
Stevequayle.com
Gracethrufaith.com
Nowtheendbegins.com
Other Christian Sites
(CLICK ON) LATEST DAILY NEWS CLIPS:
ISRAEL NEWS:
I AM GOING TO MAKE JERUSALEM A CUP THAT SENDS ALL THE SURROUNDING PEOPLES REELING … Zech. 12:2
God is in control, and He told the nations the consequences of dividing the Promised Land and declaring peace and safety on their own terms (Joel 3:1-2; I Thess. 5:3)
WORLD CHAOS/TERRORISM/WARS
GENERAL WORLD NEWS:
GENERAL WORLD CORONAVIRUS NEWS:
WORLD FINANCE:
1Tim. 6:10 For the love of money is the root of all evil: which while some coveted after, they have erred from the faith, and pierced themselves through with many sorrows
MASSIVE EARTH CHANGES/EARTHQUAKES/VOLCANOES ETC:
2Chr. 7:13 If I shut up heaven that there be no rain, or if I command the locusts to devour the land, or if I send pestilence among my people;
2Chr. 7:14

If my people, which are called by my name, shall humble themselves, and pray, and seek my face, and turn from their wicked ways; then will I hear from heaven, and will forgive their sin, and will heal their land
CHRISTIAN AND RELIGIOUS WORLD NEWS:
Matt. 24:9 Then shall they deliver you up to be afflicted, and shall kill you: and ye shall be hated of all nations for my name's sake.
Matt. 24:10 And then shall many be offended, and shall betray one another, and shall hate one another
EXTRA WORLD – ALTERNATIVE NEWS:
Please keep in mind that this collection of News Articles is mainly concerning America, but also take note that what happens in America will also "Dramatically" affect Australia and the rest of the World "Massively".
—————————————————-
WORLD – PROPHETIC NEWS ARTICLES PRESENTATION  (SUNDAY 09th AUGUST 2020)
MIDDLE EAST AND WORLD WAR LOOMING THE BUILD UP TO PSALM 83  – ISAIAH 17 AND GOG OF MAGOG WARS EZEKIEL 37-38:
THE WHOLE WORLD IS UNSTABLE FINANCIALLY, POLITICALLY, PHYSICALLY, MORALLY, GODLY: – AND BECOMING MORE SO DAILY. (WE ARE IN THE BEGINNING OF SORROWS (MATT 24:8)
THE BIBLE STATES THAT IT WILL ONLY GET WORSE BEFORE THE START OF THE TRIBULATION OF MANKIND – (REVELATION 6)
But before that we have to go through the Birth Pangs, leading up to the Tribulation of Mankind; and I feel that the beginning of Matthew 24 explains that time very well. We are currently in the Birth Pangs (Even though Matthew 24: is directed at the Jewish Nation, it still reflects Biblical Prophecy for the whole World at this time):
Matt. 24:6 And ye shall hear of WARS AND RUMOURS OF WARS: see that ye be not troubled: for all these things must come to pass, but the end is not yet.
Matt. 24:7 FOR NATION SHALL RISE AGAINST NATION, AND KINGDOM AGAINST KINGDOM: and there shall be famines, and pestilences, and earthquakes, in divers places.
—————————————————-
GENERAL PROPHETIC NEWS SECTION:
—————————————————–
Over 57,000 Thousands Lebanese Sign A Petition Begging Macron To Be Their Leader And Demanding That Lebanon Be Placed Under French Rule
https://www.nowtheendbegins.com/over-57000-thousands-lebanese-sign-petition-begging-macron-to-be-their-leader-place-lebanon-under-french-rule/ – by Geoffrey Grider August 7, 2020
Macron told angry crowds in downtown Beirut that he would seek a new deal with political authorities. "I guarantee you this — aid will not go to corrupt hands," Macron told protesters. "I will talk to all political forces to ask them for a new pact. I am here today to propose a new political pact to them," he said. The petition was directed at French President Emmanuel Macron, who on Thursday became the first foreign leader to arrive in Beirut since the tragedy struck.
NOW THE END BEGINS SHARE:
Over 57,000 people have signed an online petition to "place Lebanon under a French mandate for the next 10 years" as of Friday morning. The petition was directed at French President Emmanuel Macron, who on Thursday became the first foreign leader to arrive in Beirut since the tragedy struck.
The people of Beirut were so moved by the visitation of French president Emmanuel Macron that one day after his visit, over 57,000 Lebanese signed a petition demanding that Lebanon be placed under French rule, and that Emmanuel Macron become their leader. And that, my dear readers, is exactly they type of effect the bible says the man of sin will have on people.
"And in his estate shall stand up a vile person, to whom they shall not give the honour of the kingdom: but he shall come in peaceably, and obtain the kingdom by flatteries. He shall enter peaceably even upon the fattest places of the province; and he shall do that which his fathers have not done, nor his fathers' fathers; he shall scatter among them the prey, and spoil, and riches: yea, and he shall forecast his devices against the strong holds, even for a time." Daniel 11:2124 (KJB)
What a difference a day makes, right? Emmanuel Macron is a man on the rise, and seeing this story here today is a wonderful confirmation of our pick of him as the leading, and only, candidate for the person to fulfill the role of the biblical man of sin. In his own words, Macron told the Lebanese " I am here today to propose a new political pact". Exactly why he visited Lebanon, to add a much-needed notch to his belt in his quest to rule all of Europe.
Over 57,000 sign petition for France to take control of Lebanon
FROM DEUTSCHE WELLE: The petition on the community petition website Avaaz was reportedly set up by Lebanese citizens on Wednesday following the explosion that rocked Beirut on Tuesday, killing over 140 people and injuring more than 5,000.
"Lebanon's officials have clearly shown a total inability to secure and manage the country," the petition reads. "With a failing system, corruption, terrorism and militia the country has just reached its last breath."
"We believe Lebanon should go back under the French mandate in order to establish a clean and durable governance."
'

Lebanese are desperate'
Dima Tarhini, from DW's Arabic department, said the petition had been circulating widely on Lebanese social media.
"That's how desperate some Lebanese are," she said. "So much has been lost from where there was already so little. They lost their homes, they lost their properties, they cannot save their children. They don't know what to do."
France controlled the Middle Eastern country from 1920 to 1945 under a mandate set up after World War I. The petition was directed at French President Emmanuel Macron, who on Thursday became the first foreign leader to arrive in Beirut since the tragedy struck.
Macron warned that Lebanon will "continue to sink" without reforms as he arrived in Beirut. He promised that France will help mobilize aid for the city, which has seen billions of dollars worth of damage and destruction.
Macron told angry crowds in downtown Beirut that he would seek a new deal with political authorities.
"I guarantee you this — aid will not go to corrupt hands," Macron told protesters. "I will talk to all political forces to ask them for a new pact. I am here today to propose a new political pact to them," he said.

READ MORE

:
BEIRUT BLAST: WHY IS EMMANUEL MACRON IN LEBANON?
French President Macron arrived in Beirut, two days after the incident which left scores dead and wounded thousands more. Why was it important for him to come? France 24 James Andre tells us more.
 OVER 55,000 SIGN PETITION FOR FRANCE TO TAKE CONTROL OF LEBANON
More than 55,000 people have signed a petition calling for #France to take control of #Lebanon following the deadly blast in #Beirut. Vanessa Bassil says this highlights a dire lack of trust in the Lebanese government.
NOW THE END BEGINS IS YOUR FRONT LINE DEFENCE AGAINST THE RISING TIDE OF DARKNESS IN THE LAST DAYS BEFORE THE RAPTURE OF THE CHURCH
————————————————-
https://prophecyupdate.blogspot.com/  – Tyler Durden
Though all eyes have been focused on the emerging 'new Cold war' scenario between the US and China, Russia's military has just issued a rare and eye-opening statement which represents perhaps the most severe threat to come out of ongoing New START extension negotiations thus far.
"Russia will perceive any ballistic missile launched at its territory as a nuclear attack that warrants a nuclear retaliation, the military warned in an article published Friday," AP writes.
"The harsh warning in the official military newspaper Krasnaya Zvezda (Red Star) is directed at the United States, which has worked to develop long-range non-nuclear weapons," the report continues.
In the article some of Russia's top generals, including senior officer of the Russian military's General Staff, Maj.-Gen. Andrei Sterlin, claimed that in the event of an attack, radar and anti-air systems will have no way of knowing if a ballistic missile has a nuclear warhead or not.
"Any attacking missile will be perceived as carrying a nuclear warhead," the Russian military publication said. "The information about the missile launch will be automatically relayed to the Russian military-political leadership, which will determine the scope of retaliatory action by nuclear forces depending on the evolving situation."
"Russia has designated the 'red lines' that we don't advise anyone to cross," the Krasnaya Zvezda article said further. "If a potential adversary dares to do that, the answer will undoubtedly be devastating. The specifics of retaliatory action, such as where, when and how much will be determined by Russia's military-political leadership depending on the situation."
The military publication clearly upped the ante in a huge way, no doubt seeking to bolster Russian diplomats' leverage as the landmark nuclear arms reduction treaty, New START, could be on the chopping block after the US pulled out of the Intermediate-Range Nuclear Forces Treaty (INF).
New START will expire in February 2021 if the two sides don't agree to renew it. So far ongoing talks between Moscow and Washington have failed to extend it by up to five years, despite pressure to strike an extension by America's allies. 
There were talks in mid-June that led nowhere, as well as at least three days of talks at the end of July in Vienna. It appears that while Russian diplomats talk nice in Vienna, Russia's military is engaged in strong arm tactics to give the diplomats bigger bargaining position as the treaties extension is weighed.
The Kremlin also appears keen on reminding Washington in the clearest terms possible what a post nuclear arms control world looks like – namely, the likelihood of a new nuclear arms race in a deeply uncertain 'Wild West' scenario. 
————————————————-
IDF: IRAN BEHIND THWARTED ATTACK ON BORDER
https://prophecyupdate.blogspot.com/  – TOI STAFF
A terror cell that planted several explosives along Israel's border with Syria earlier this week had been operating under orders from Iran, arny Chief of Staff Aviv Kohavi said Friday.
The remarks made by the army chief during a meeting with soldiers from the Maglan reconnaissance unit that thwarted the Sunday attack represented the first time Israel has fingered Tehran as having been behind the attack. It appeared to put to bed initial speculation that the incident represented an attempt by the Lebanese terror group Hezbollah to stage a counter-attack against Israel for the reported killing of one of its officers last month.
"You thwarted a squad sent by Iran, which was part of the process of establishing a radical axis in Syria," Kohavi told the soldiers Friday, lauding them for their efforts, which led to the neutralizing of the four fighters who planted the explosives.
The Israel Defense Forces went on to conduct a series of airstrikes on Syrian military targets late Monday night in response to the Golan Heights attempted attack.
The IDF said it bombed Syrian observation posts, intelligence-gathering equipment, anti-aircraft cannons and command-and-control infrastructure.
"The IDF sees the Syrian regime as responsible for all activities that occur in its territory and will continue to act with determination against all violations of the sovereignty of the State of Israel," the military said in a statement.
Syrian state media confirmed that attacks took place. The official SANA news outlet reported that the country's air defenses were activated by the incoming missiles, which targeted sites southwest of Damascus. It also quoted a military source as saying the attack caused only material damage and no injuries.
Kohavi's comments Friday came four days after the Haaretz daily reported that the military believed an Iranian proxy militia was responsible for the attempted attack, not Hezbollah, with which Israel has been in a standoff over the past two weeks.
————————————————-
HEZBOLLAH LEADER DENIES ANY STORAGE OF WEAPONS IN BEIRUT PORT
https://prophecyupdate.blogspot.com/   – AARON BOXERMAN
Hezbollah leader Hassan Nasrallah on Friday "categorically" denied his terror group had stored any weapons or explosives at Beirut's port, following the massive explosion there Tureday that has claimed over 157 lives and wounded thousands.
"I would like to absolutely, categorically rule out anything belonging to us at the port. No weapons, no missiles, or bombs or rifles or even a bullet or ammonium nitrate," Nasrallah said. "No cache, no nothing. Not now, not ever."
After rising tensions with Israel in recent weeks, Nasrallah had originally intended to address the country on Wednesday. Tuesday night's Beirut port explosion sent the country reeling. So far 157 have been confirmed dead and over 5,000 wounded. Around 300,000 Beirut residents were rendered homeless as the blast tore apart homes miles from the port.
Israel has denied initial speculation that it had played a role in the explosion. Senior Hezbollah officials speaking on condition of anonymity to Lebanese media have been equally insistent that neither Hezbollah nor Israel was involved.
Preliminary evidence released by officials indicates that the explosion is connected to 2,750 metric tons of highly explosive ammonium nitrate which was left unsupervised in the port for almost six years. Documents allege that customs officials asked to move the vast trove numerous times but never received a reply.
However, Lebanese President Michel Aoun said earlier Friday that the probe into the blast was investigating the option of foreign involvement, despite many commentators saying the possibility was unlikely.
"The cause has not been determined yet. There is a possibility of external interference through a rocket or bomb or other act," Aoun said.
He added that the investigation was being conducted on three levels. "First, how the explosive material entered and was stored … second whether the explosion was a result of negligence or an accident … and third the possibility that there was external interference," he said.
While the government has promised an immediate investigation, many Lebanese remain skeptical, saying that the Beirut port disaster is merely the latest in a long line of neglect and corruption which have brought the country to its greatest crisis since the 1975-1990 Lebanese civil war.
Hundreds of demonstrators late Thursday night gathered outside the parliament building in downtown Beirut, with some attempting to set fire to its outer walls, before security forces dispersed them with tear gas.
While Hezbollah provides its own social services and operates its own militia, it also dominates the March 8 movement — which currently controls the Lebanese government. It is also been reported to have engaged in smuggling at Lebanese ports.
Nasrallah has in the past threatened to target the chemical and oil refineries in Haifa port in a bid to create an explosion similar to the Beirut blast. During the 2006 war with Israel, the terror group fired hundreds of rockets at Haifa.
Nasrallah barely mentioned Israel during the speech, although, echoing comments made by Aoun, he did not rule out that the explosion could have been caused by foreign intervention.
Nasrallah called what he said were politically motivated attacks on Hezbollah by those seeking to "settle political scores" in the midst of a crisis, including what he said was an attempt "from the outset" to blame Hezbollah for the explosion by the media and some "political forces."
————————————————-
ISAIAH 17 ON THE HORIZON AS THIRD INTIFADA PLANNED
https://prophecyupdate.blogspot.com/   – By Donna Rachel Edmunds
A third intifada is being planned by Fatah, the Palestine Liberation Organization (PLO) and other Palestinian groups, PLO Executive Committee member Wasel Abu Yusuf confirmed following a meeting of group members last week, according to Palestinian Media Watch (PMW). 
The confirmation follows previous statements in which Palestinian leaders have warned that Israel's plans to claim sovereignty over parts of the West Bank would lead to a "popular uprising" against Israel by the Palestinian population.
According to the host of 'Topic of the Day,' broadcast on official PA TV on July 28, 2020, as translated by PMW, "The statement issued after the [PLO – Fatah] meeting, spoke about 'developing and implementing coordination on the ground between all the political forces, popular committees, institutions, and activists of the resistance, and working to establish a united national front for popular resistance resulting in a comprehensive intifada.'"
Yusuf agreed that this was so, explaining: "We cannot agree to [Israel] establishing facts on the ground. We will not accept harming the Palestinian people's rights." 
The host then clarified: "A comprehensive intifada as part of the non-violent popular uprising?" adding "Peaceful. A non-violent intifada?"
Yusuf replied: "No. Of course [it will be] a comprehensive intifada, a national rebellion, and everything connected to ending this criminal occupation, which is implementing all its crimes and aggression against the Palestinian people. This is something necessary, and actually this is all being developed."
Yusuf went on to justify a third intifada on the grounds that the first intifada in 1987-1993, which claimed the lives of approximately 200 Israelis, and the second in 2000-2005 in which more than 1,100 Israelis were killed, had both been successful in bringing the Palestinian cause to the international stage.
Those uprisings "achieved a lot for the Palestinian cause, and everyone thought that the Palestinian cause was diminishing, but it always was in the international community's priorities. Therefore, the Palestinian cause is the basis in this matter," Yusuf said.
Highlighting international calls for dialogue and negotiation as the path to resolving the conflict, the host of the program asked Yusuf whether the international community would accept a new Palestinian intifada within the next two years. 
"Of course," Yusuf replied. "When we talk about intifada we are talking about the way to escalate the situation."
————————————————-
https://prophecyupdate.blogspot.com/  – TOI STAFF
Hezbollah apparently planned to use the ammonium nitrate stockpile that caused a massive bast at Beirut's port this week against Israel in a "Third Lebanon War," according to an un-sourced assessment publicized on Israel's Channel 13 Friday night.
The report was broadcast hours after Hezbollah's leader, Hassan Nasrallah, gave a speech "categorically" denying that his group had stored any weapons or explosives at Beirut's port, following the massive explosion there Tuesday that has claimed over 157 lives and wounded thousands. "I would like to absolutely, categorically rule out anything belonging to us at the port. No weapons, no missiles, or bombs or rifles or even a bullet or ammonium nitrate," Nasrallah said. "No cache, no nothing. Not now, not ever."
Israel has not formally alleged that Hezbollah was connected to the Tuesday blast.
Ammonium nitrate is used in the manufacture of explosives and is also an ingredient in making fertilizer. It has been blamed for massive industrial accidents in the past, and was also a main ingredient in a bomb that destroyed a federal building in Oklahoma City in 1995. Last year, reports in Israel claimed that the Mossad had tipped off European intelligence agencies about Hezbollah storing caches of ammonium nitrate for use in bombs in London, Cyprus and elsewhere.
The Channel 13 report noted that "the material that exploded in the port is not new to Nasrallah and Hezbollah."
It detailed Hezbollah's previous connections to ammonium nitrate, including incidents in Germany and the UK, both widely reported at the time, in which its agents were reportedly found with substantial quantities of the material. In London in 2015, following a Mossad tip off, British intelligence found four Hezbollah operatives with 3 tons of ammonium nitrate held in flour sacks, the TV report said, citing foreign reports. A similar process led to the discovery in Germany of Hezbollah operatives with enough ammonium nitrate "to blow up a city," the report said. Germany subsequently banned Hezbollah as a terrorist organization.
"That's what Nasrallah intended to do in Europe," the TV report said. "Regarding what was stored in Beirut port, the assessment is Nasrallah intended to use it in the Third Lebanon War." (Israel has fought two wars with Lebanon — in 1982, and, following a cross-border raid by Hezbollah in which Israeli soldiers were killed and abducted, in 2006.)
The TV report also noted that Nasrallah, in a 2016 speech, threatened to fire missiles at an Israeli ammonia storage tank in the northern port city of Haifa. "Lebanon has a 'nuclear bomb' today," Nasrallah said in the speech. "The idea is that some of our missiles, combined with the ammonia in Haifa, will create the effect of an atom bomb." (The tank has since been emptied out.)
And it also cited a speech by Israeli Prime Minister Benjamin Netanyahu to the UN General Assembly in 2018, in which Netanyahu accused Hezbollah of storing missiles and other weapons in civilian areas. The prime minister alleged that one such site was "on the water's edge" in Beirut.
Preliminary evidence released by Lebanese officials indicates that the explosion was connected to 2,750 metric tons of highly explosive ammonium nitrate which was left unsupervised in the port for almost six years. Documents allege that customs officials asked to move the vast trove numerous times but never received a reply.
In May, Israel's Channel 12 reported that the Jewish state carried out a months-long delicate operation to assess Hezbollah's operations in Germany and presented its findings to German intelligence and law agencies. Mossad reportedly gave Germany information about warehouses in the south of the country where Hezbollah stashed hundreds of kilograms of ammonium nitrate. Israeli intelligence was also said to have handed over details of key individuals in Hezbollah's operations in Germany.
————————————————-
FORCED – VACCINES, DIGITAL MONEY AND HEALTH 'PASSPORTS'
https://prophecyupdate.blogspot.com/  – By Bill Perkins
He said, "Go your way, Daniel, for these words are concealed and sealed up until the end time. Many will be purged, purified and refined, but the wicked will act wickedly; and none of the wicked will understand, but those who have insight will understand." – Dan. 12:9-10
I've been truly perplexed by the recent incredible cash giveaways by our government. Our national debt has ballooned from an already sky-high $20 trillion to $26.5 trillion in three months.
And now they're trying to give away another $3+ trillion, making our total national debt to exceed $30 trillion.
How is this possible? Who in their right mind thinks we can indiscriminately add 50% to our national debt in six months without suffering tremendous ramifications?
Even President Trump signed off on this. Something is amiss…and I have a theory.
I think it's possible that a new monetary system has been in the planning stages for a while and is so close to being fully operational that they don't really care about the old one. Since it's being replaced, they figured it wouldn't hurt anything to go out with a bang—maybe even buy some time. Maybe.
We know the next monetary system will probably be digital, doing away with paper money (which is private), and instead going all digital (which is traceable/taxable).
And at this late date, a new system could easily be the forerunner of the Tribulation's "total control system," (Rev:13:16-17) whereby they mark everyone and connect them back to a single computer.
Other countries are already going digital, like Sweden and China.
Last November the Federal Reserve admitted in writing that they were definitely looking at switching to a digital currency.
VISA International filed for a patent for a digital unit, assumed to be used in concert with their credit/debit cards.
How interesting…they actually put "destroying the physical currency" in the patent application.
So it was not surprising when Nancy Pelosi and the far-left liberal Democrats added creating a digital wallet system for every living American in the Covid-19 relief package last March, but President Trump made them take it out.
Pelosi has again reintroduced digital wallet legislation to create digital e-dollars for all Americans. Trump and the Republicans are, so far, holding this back.
Even Facebook is getting into the act with their libra e-money. Affectionately called "Zuck Bucks," just the size of Facebook's audience could launch a major digital currency. Ultimately, Facebook backed down but won't admit who pressured them. Probably they've been promised to be a key part of the future digital system.
But the mother of all digital currencies being bandied about is the patent Microsoft's applied for…a connected crypto-currency, with the assigned patent number WO2020/060606. That Biblically interesting number was supposedly arrived at randomly.
But it's not Microsoft's patent number that's scary, it's the drawing that accompanied the application. It shows a human connected by sensors to the bank via the Internet.
Notice that the drawing has no physical connection between the human and the sensors. Rather, brain waves are being transmitted to the sensors via radio waves.
The patent top line heading is:
WO2020060606 – "A CRYPTOCURRENCY SYSTEM USING BODY ACTIVITY DATA"
The patent drawing connects not only the money to the Internet, but also the body to the Internet. In other words, they want to insert microchips into people to "mine" or search their bodily activity for cryptocurrency purposes.
Basically, Microsoft expects to implant a digital certificate in every human in the world. This is how the patent application is worded:
I think they are purposefully being vague and not explaining the extent of what they'll be doing.
Gates said in a recent "Ask Me Anything" session on Reddit:
"Eventually we will have some digital certificates to show who has recovered or been tested recently or when we have a vaccine who has received it."
This is a major step forward—two-way communication between humans and computers. A Fitbit, for instance, doesn't read brain waves. It just records information.
————————————————-
It's been a big few days for the New Normal narrative and, through the deliberately cultivated haze of confusion, it's not hard to see the world they want to build is taking shape.
1. AUSTRALIA'S CURFEW
The state of Victoria, and the city of Melbourne, have declared a "state of disaster" and instituted a lockdown and curfew. The state's 6.3 million inhabitants, nearly 5 million in the city, have to follow these restrictions:
Workplaces and shops that are not deemed essential will close or reduce their hours from Wednesday midnight but services such as supermarkets, petrol stations and doctors will remain open.

"Permitted" or essential workers will have to carry a special permit to work outside the home.

There is a nightly curfew in force: between the hours of 8pm and 5am you cannot leave home except for work or to get or provide urgent care.

You must stay within five kilometres of your home to shop or exercise.

If you leave the house to exercise, it should be for only one hour each day.

While up to two people can still exercise together, people should shop on their own – groups in public, even from the same household, are no longer allowed.

Schools will shift to remote learning except for vulnerable students and children of permitted workers.

Childcare centres will close to all but vulnerable children and those of essential workers.

Funerals can continue with a maximum of 10 people but weddings are off except for rare, compassionate reasons.
Since march, Australia has had 247 Covid19 deaths, across the entire country. The median age of these deaths is over 80.
2. UK DOCTOR: "MEN SHOULD TAKE FEMALE HORMONES TO PREVENT COVID19 INFECTION"
Dr Amir Khan appeared on ITV's Good Morning Britain today, suggesting men – who are notionally at increased risk of coronavirus infection – should take a contraceptive pill filled with oestrogen. His theory, which he did not support with research, is that the oestrogen will boost the male immune system.
Hormone treatment is a big deal, potentially dangerous and seriously life-changing. To suggest its use to treat a disease which is harmless in over 95% of cases is borderline insanity, especially with no research to back it up. We tweeted about at the time, but GMB's twitter account has since deleted the video.
At a time when doctors are named-and-shamed (and even fired) for suggesting a known safe medicine like HCQ, or sites like ours are branded "misinformation" for pointing out that PCR tests are unreliable, that a man should appear on national television making such ridiculous claims boggles the mind.
3. MANDATORY MASKS WEREN'T ENOUGH
Dr Deborah Birx recently announced that people in high-risk areas or multi-generational homes should consider wearing masks at home as well.
It has since been confirmed genuine. In the UK city of Leicester they are literally going door-to-door to test people. The mayor of Leicester said on the Leicester council website:
Testing is vitally important as it provides us with the information we need to track the virus […] That's why we're helping to run the biggest testing operation in the country, mobilising around 500 volunteers to support door-to-door testing, particularly in areas of the city where positive test results have been higher.
That's not all the testing news either, new 90 minute tests are set to be used in schools as soon as possible, with a DNA based test set to be rolled out nation wide in September which will "eliminate false negatives".
There is not one word in the article about "eliminating" false positives, which are very common in all PCR-based testing. So prepare for a huge wave of "new cases" when these tests enter wide circulation.
5. WORLD ECONOMIC FORUM PUSHING "IMMUNITY PASSPORTS"
If you don't like being forced to wear masks (and/or visors), or being placed under house arrest or (for some reason) under a curfew, or indeed, having to take hormone treatments…well don't worry. Because the World Economic Forum has the solution – immunity passports.
This is not a new idea, it's been floating around for months, but now the WEF is actually pushing an app that…
uses blockchain technology to store encrypted data from individual blood tests, allowing users to prove that they have tested negative for COVID-19.
It goes on to say that using this kind of app is the only solution to getting everything back to (the old) normal:
CovidPass could also allow hotels, cinemas, theatres, sporting and concert venues to reopen safely.
If you think this all sounds like something from a dystopian novel, well you're right. But there's a silver lining. The app which uses your medical history to decide if you're allowed to travel will be real environmentally friendly:
CovidPass commits to mandatory carbon offsetting for each flight passenger, to preserve the environmental benefits of reduced air travel during the crisis.
So there's that, at least.
It's not hard to see the pattern taking shape here. Increasingly strict social controls on what you can wear, where you can go, when you can go there and so on and so on…and then the proposed solution.
A brief test and a little app that tracks your movement, or labels you nice and clean, a brand new vaccination for anybody who wants it (and most of the people who don't) and then we can get back to normal.
It is manipulative blackmail of the worst kind, and it appears to be working.
————————————————-
https://prophecyupdate.blogspot.com/  – Tyler Durden
The American Farm Bureau Federation (AFBF) released a new report Tuesday (Aug. 4) showing farm bankruptcies continue to increase. 
AFBF found bankruptcies rose 8% over the last 12 months (from June 2019 to June 2020), with 580 filings. The Midwest, Northwest, and Southeast recorded the most bankruptcies, representing 80% of all filings across the US. Wisconsin was the epicenter for filings, followed by Nebraska, Georgia, and Minnesota.
Filings slowed in 1H20 partly because of financial assistance provided by the Coronavirus Aid, Relief & Economic Security (CARES) Act, including direct payments to farmers via the Coronavirus Food Assistance Program (CFAP), along with Paycheck Protection Program (PPP) loans. 
Farmers are on government life-support. 
AFBF's President Zippy Duvall said the new rounds of farm aid helped cushion farmers from the economic impact of the virus-induced recession. 
AFBF's Chief Economist John Newton said CARES Act assistance was only a "bandage," warning filings could increase if aid programs are not continued. 
AFBF said, "approximately 60% of farm bankruptcies have been completed successfully – the highest successful percentage of all the reorganization chapters." 
Even before the virus pandemic, a global farm glut pressured agricultural prices. Farm incomes imploded, and bankruptcies began to increase in 2016. President Trump then unleashed a trade war against China, which in itself forced Chinese buyers to abandon US markets for South American ones. 
Even with a phase one trade deal, China continues to abandon US markets. We noted earlier this week that purchases are significantly lagging. 
Missouri's Food and Agricultural Policy Research Institute expects the Trump administration to dish out a record $33 billion in aid payments to farmers this year. What this all means is that farmers are on government life-support. 
————————————————-
APOCALYPTIC MONSOON FLOODS ACROSS SOUTH ASIA
https://prophecyupdate.blogspot.com/  – Strange Things
Since the onset of monsoon, almost 17.5 million people have been affected, millions displaced and more than 630 killed by major floods in India, Bangladesh and Nepal.
Monsoon floods are robbing millions of people of their homes and livelihoods, with mounting risk of more deadly disease outbreaks.
So far almost 17.5 million people have been affected and more than 630 killed by major floods in India, Bangladesh and Nepal according to government figures.
Half of Bangladesh's districts are underwater, leaving nearly 1 million families stranded and cut off in their villages.
Feroz Salah Uddin, Secretary General, Bangladesh Red Crescent said: "This is one of the biggest monsoon floods we have faced in many years and the worst may be yet to come as we face growing risks of malaria, dengue, diarrhea as well as this worsening bloody plandemic."
Flooding and landslides in Nepal have left almost 200 people dead or missing.
In India, almost 12 million people are affected by the floods mainly in the northern states of Assam and Bihar.
BIHAR
Bihar continues to be affected by floods as river overflow from Nepal has inundated more areas.
According to the situation report published by the Ministry of Home Affairs' Disaster Management Division on August 4, over half a million people have been affected by the floods, and 19 people have died.
One thousand one hundred and eighteen villages have been affected. A total of 440,507 people have been evacuated, and 38 relief centres have been opened. The relief camps are currently housing 28,664 people.
ASSAM
In Assam, almost 6 million people in 30 districts have been affected by the flood.
107 were killed in flood-related incidents, while 26 others were buried to death by landslides. 
Over 5,000 villages have been affected in the state, and 81,696 people have been evacuated. 626 relief camps have been opened and are currently hosting 156,874 people.
OVER 262723 HECTARES OF CROP AREA HAS BEEN AFFECTED.
Uttar Pradesh has also witnessed heavy rainfall since the onset of monsoon.
Over 500,000 people from 16 districts and 960 villages have been affected. 6 people have died since July 1st.
WEST BENGAL
In West Bengal, 233 died during the current monsoon and 6 are still missing. Most of these lives were lost when the super cyclone Amphan stormed through Southern Bengal in May 2020. 
Right now, more than 218,000 people in 23 districts and 1,868 villages have been affected. Over a thousand houses have been fully damaged, and over 10,000 houses have been partially damaged. 138 relief centers have been opened, and are currently housing 13,771 people.
REST OF INDIA
Apart from these four states, the death toll in Kerala, Tamil Nadu, and Madhya Pradesh are 28, 18, and 68 respectively. Assistance is being provided across the country by 10 National Disaster Response Force teams.
FLOODING EMERGENCY IN SOUTH ASIA
According to the International Federation of Red Cross And Red Crescent Societies, over 17,5 people in South Asia have been affected by floods and being threatened by disease.
"So far almost 17.5 million people have been affected and more than 630 killed by major floods in India, Bangladesh, and Nepal according to government figures. Half of Bangladesh's districts are underwater, leaving nearly 1 million families stranded and cut off in their villages.
Flooding and landslides in Nepal have left almost 200 people dead or missing. In India, almost 12 million people are affected by the floods mainly in the northern states of Assam and Bihar."
————————————————-
Hundreds of thousands of wealthy residents have already left New York City, and more are leaving every day as America's biggest city rapidly degenerates into a hellhole.  This is incredibly sad to watch, because in many ways New York had been an incredible success story over the past several decades.  The 1970s and 1980s were nightmarish times for the city, but over the past several decades it was transformed into a virtual paradise for the wealthy and famous.  Crime rates absolutely plummeted, the city was given a dramatic facelift and a booming financial community brought an unprecedented amount of wealth into New York.  But now many of the old problems are starting to come back again, and a lot of wealthy New Yorkers have decided that it is time to look for greener pastures. (

READ MORE…

)
————————————————-
THE NEXT GLOBAL DEPRESSION IS COMING AND OPTIMISM WON'T SLOW IT DOWN
https://endtimeheadlines.org/2020/08/the-next-global-depression-is-coming-and-optimism-wont-slow-it-down/  – Aug 8, 2020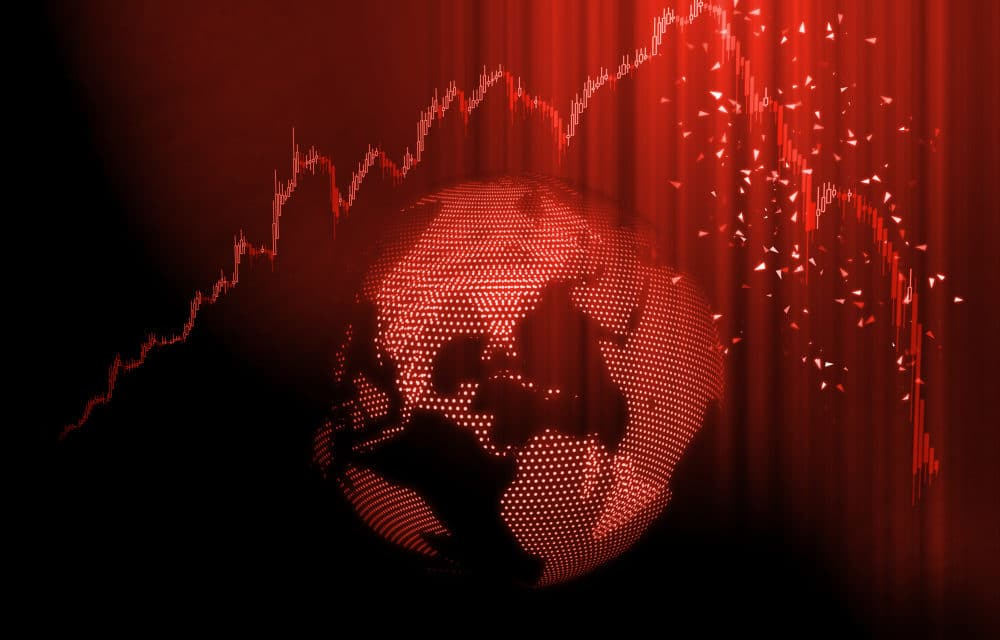 (Yahoo) – The world is confused and frightened. COVID-19 infections are on the rise across the U.S. and around the world, even in countries that once thought they had contained the virus. The outlook for the next year is at best uncertain; countries are rushing to produce and distribute vaccines at breakneck speeds, some opting to bypass critical phase trials.
Meanwhile, unemployment numbers remain dizzyingly high, even as the U.S. stock market continues to defy gravity. We're headed into a global depression–a period of economic misery that few living people have experienced. We're not talking about Hoovervilles. Today the U.S. and most of the world have a sturdy middle class. We have social safety nets that didn't exist nine decades ago. Fortunately, that's true even for developing countries.
Most governments today accept a deep economic interdependence among nations created by decades of trade and investment globalization. But those expecting a so-called V-shaped economic recovery, a scenario in which vaccinemakers conquer COVID-19 and everybody goes straight back to work, or even a smooth and steady longer-term bounce-back like the one that followed the global financial crisis a decade ago, are going to be disappointed.
Let's start with the word depression. There is no commonly accepted definition of the term. That's not surprising, given how rarely we experience catastrophes of this magnitude. But there are three factors that separate a true economic depression from a mere recession.

FULL REPORT

:
————————————————
JESUS CHRIST RETURN FOR HIS CHURCH IS "IMMINENT"
Matt. 7:27 And the rain descended, and the floods came, and the winds blew, and beat upon that house; and it fell: and great was the fall of it.
Matt. 24:38 For as in the days that were before the flood they were eating and drinking, marrying and giving in marriage, until the day that Noe entered into the ark,
Matt. 24:39 And knew not until the flood came, and took them all away; so shall also the coming of the Son of man be
——————————————–
DON'T WAIT FOR THE LAST MINUTE
We are currently in the "Birth Pangs" pending the coming "7 year TRIBULATION" period, where all the Nations on Earth will be subject to God's Wrath on an "UNGODLY" World. The Rapture of Jesus Christ Church is "TOTALLY" imminent; And what will follow after that will be massively more devastating that we are seeing right now (Read

Revelation Ch 6 – 22

) God is trying to get everyone's attention to the coming Judgements; He does not want "ANYONE" to perish, but all to come to repentance. He loves us, but will not stand idly by and watch the World, (His Creation) turn to sin and debauchery). We are currently living in a fallen "Satanic" World where "EVIL", is totally accepted, "and God and his Love for his Church": is being exponentially rejected. The time has come when God HAS TO intervene, and he is (The prophetic word listed in his Word the Bible is being fulfilled exponentially).
———————————————-
THE NEW WORLD ORDER:
ONE WORLD GOVERNMENT – ONE WORLD ECONOMIC SYSTEM – ONE WORLD RELIGION
Dan. 9:27 And he shall confirm the covenant with many for one week: and in the midst of the week he shall cause the sacrifice and the oblation to cease, and for the overspreading of abominations he shall make it desolate, even until the consummation, and that determined shall be poured upon the desolate
Dan. 7:24 And the ten horns out of this kingdom are ten kings that shall arise: and another shall rise after them; and he shall be diverse from the first, and he shall subdue three kings
Rev. 17:12 And the ten horns which thou sawest are ten kings, which have received no kingdom as yet; but receive power as kings one hour with the beast
—————————————–
THE MARK OF THE BEAST:
DON'T TAKE THE MARK OF THE BEAST WHICH IS (CHANGING YOUR D.N.A.) AND GIVING YOUR CONTROL OVER TO THE "BEAST SYSTEM" – THIS IS AN

ABOMINATION

 TO GOD: (YOU ARE HIS CREATION):
Rev. 13:14 And deceiveth them that dwell on the earth by the means of those miracles which he had power to do in the sight of the beast; saying to them that dwell on the earth, that they should make an image to the beast, which had the wound by a sword, and did live.
Rev. 13:15 And he had power to give life unto the image of the beast, that the image of the beast should both speak, and cause that as many as would not worship the image of the beast should be killed.
Rev. 14:9 And the third angel followed them, saying with a loud voice, If any man worship the beast and his image, and receive his mark in his forehead, or in his hand
THE PUNISHMENT FROM GOD FOR THOSE WHO TAKE THE MARK AND WORSHIP THE "BEAST SYSTEM":
Rev. 14:10 The same shall drink of the wine of the wrath of God, which is poured out without mixture into the cup of his indignation; and he shall be tormented with fire and brimstone in the presence of the holy angels, and in the presence of the Lamb:
 (YOU ARE GOD'S CREATION – CHANGING YOUR D.N.A. AND/OR GIVING YOUR

ALLEGIANCE

 TO ANOTHER ENTITY I.E. (THE ANTICHRIST) – IS AN

ABOMINATION

 

TO GOD):