World Events Pointing to the Rapture and the Soon Return of Jesus

297K subscribers
 

Please Help Support This Ministry:

https://www.paypal.me/watchman1963

Cash App: $watchman1963 Please subscribe to my backup channel:

https://www.youtube.com/channel/UC4nc…

Current Events Linked To Biblical Prophecies. Everything is unfolding just as the bible foretold. Wars, Volcanic Eruptions, Earthquakes, Extreme Weather, Christian Persecution, Violence and more!
——————————————-
Israel hopes for peace with Lebanon; to support to Greece-Cyprus in EastMed-TV7 Israel News 28.10.20

Today's top stories 28.10.20; 1) The Israeli military concluded a wide-scale military exercise – dubbed "Lethal Arrow" – in which the IDF simulated scenarios on various areas of operation, focusing chiefly on the northern front. 2) Lebanon and Israel, under U.S. mediation, hold a second day of negotiations on resolving a bilateral maritime dispute. 3) Israel pledges to stand by Greece and Cyprus – to advance regional security, growth and prosperity. 4) Turkish President Recep Tayyip Erdogan accuses Europe of intending to relaunch a Christian Crusade against Islam.
——————————————-
After US intercept Bomber (Oct 29,2020) Russian Deploys Dozens Warships & jets to Barents Sea

After US intercept Bomber, Russian Deploys Dozens Warships & jets to Barents Sea RUSSIA has deployed warships and fighter jets to the Arctic for explosive military drills, causing anxiety among Western military observers. Russian strategic bombers and anti-submarine frigates have been sent to the Arctic for a sabre-rattling military drill. Two Russian Tu-95MS strategic bombers performed flight over the Arctic and the Far East. The bombers were escorted by US Air Force F-22 fighter jets. The Russian Navy also sent a missile frigate to the Artic to perform anti-submarine warfare drills. The Russian Northern Fleet said: "Today the crew of the Northern Fleet's frigate Fleet Admiral Kasatonov started practicing assignments of anti-submarine warfare drills in the Barents Sea.
——————————————-
Russia Tests Missile-2nd Arms Deal w/US & Taiwan-Up to 10 more countries will make peace w/ Israel

59.4K subscribers
You will hear the following in this Broadcast: –

China has warned the United States of "dire consequences" following yet another multibillion dollar arms sale to Taiwan

—the second in the space of a week -Netanyahu Hails 'Important Victory' in Deal with U.S. Extending Scientific Cooperation to West Bank -Trump: Up to 10 countries set for peace with Israel, 'largely after' elections -Russia successfully test-fires new ABM interceptor missile -Russia Says US, Allies 'Building Up' Forces by Border Near Belarus, Raising Tensions -Russia to hold three more test launches of Tsirkon hypersonic missile by year-end
——————————————-
Prophecy Update End Times News Headlines – 10/27/20

End Times News Headlines – 10/27/20 Don't Miss The Rapture – It Could Happen Any Moment! God's End Time Alarm Clock is Going Off It's Later Than You Think… Time is Short! A fast-paced highlight and review of the major news stories and headlines that relate to Bible Prophecy and the End Times… All the signs of the last days are converging at the same time. Bible Prophecy is happening right before our eyes and like birth pains, the predicted events are happening more frequently and more intently. Never, in the history throughout the world have so many forces, including economic, scientific, techno-logic, ecologic, cultural, geopolitical, moral, spiritual and religion, converged together to bring this world that's already teetering over the edge into the abyss, to a point of no return. Jesus said when you see all these signs happening, know that I am near, even at the door.
——————————————-
Prophecy Update – How Israel Sees It – (10/27/20)

188K subscribers
How Israel Sees It – (10/27/20) Pastor Tom Hughes & David Tal
——————————————-

Nuclear Showdown in Iran Nathan Jones & Bill Salus What is Iran's future according to Bible prophecy? Find out with guest Bill Salus and Nathan Jones of the Lamb & Lion Ministries evangelism team as they provide their Prophetic Perspectives.
——————————————-
The Book of Daniel: Finishing Well – Daniel 6:1 – 28

188K subscribers
The Book of Daniel: Finishing Well –

Daniel 6:1 – 28

Pastor Barry Stagner teaching from Daniel 6:1-28 Pastor Barry Stagner
——————————————-
LATEST NEWS CLIPS – ARTICLES PRESENTATION (THURSDAY 29th OCTOBER 2020)
—————————————————
(THIS IS THE WORLD'S CURRENT TIMELINE)
Matt. 24:6 And ye shall hear of wars and rumours of wars: see that ye be not troubled: for all these things must come to pass, but the end is not yet.
Matt. 24:7 For nation shall rise against nation, and kingdom against kingdom: and there shall be famines, and pestilences, and earthquakes, in divers places.
Matt. 24:8 All these are the beginning of sorrows.
Matt. 24:9 Then shall they deliver you up to be afflicted, and shall kill you: and ye shall be hated of all nations for my name's sake.
Luke 12:40 Be ye therefore ready also: for the Son of man cometh at an hour when ye think not
—————————————–
THIS IS THE WORLD'S VERY NEAR FUTURE:
Matt. 24:21 For then shall be great tribulation, such as was not since the beginning of the world to this time, no, nor ever shall be
—————————————————
WE PREACH THE BLESSED HOPE FOR THE FUTURE IN JESUS CHRIST OUR SAVIOUR
1Cor. 12:3 Wherefore I give you to understand, that no man speaking by the Spirit of God calleth Jesus accursed: AND THAT NO MAN CAN SAY THAT JESUS IS THE LORD, BUT BY THE HOLY GHOST.
"Behold, I come like a thief! Blessed is he who stays awake and keeps his clothes with him, so that he may not go naked and be shamefully exposed."
"And you know what is restraining him now so that he may be revealed in his time. For the mystery of lawlessness is already at work. Only he who now restrains it will do so until he is out of the way."
REV. 14:12
Here Jesus was alluding to the fact that the Doctrine of Eternal Security WILL EXPIRE WITH THE RAPTURE OF THE CHURCH
Luke 12:37 Blessed are those servants, whom the lord when he cometh shall find watching: verily I say unto you, that he shall gird himself, and make them to sit down to meat, and will come forth and serve them
SO WON'T YOU ACCEPT JESUS NOW AND BE REMOVED FROM THAT EVENT  (OF TRIBULATION) AND LIVE FOREVER WITH JESUS IN THE FAMILY OF GOD?
2 "(For he saith, I have heard thee in a time accepted, and in the day of salvation have I succoured thee: behold, now is the accepted time; behold, now is the day of salvation.)" (2nd Corinthians 2:6)
———————————————–
"Every kingdom divided against itself is brought to destruction, and every city or town divided against itself will not stand" (Matthew 12:25; Mark 3:25; Luke 11:17).
———————————————–
—————————————————
DAILY CHRISTIAN BIBLICAL QUESTIONS AND ANSWERS:
—————————————————
Absent From The Body, Present With The Lord
https://gracethrufaith.com/ask-a-bible-teacher/absent-from-the-body-present-with-the-lord/
QUESTION:   Re: 2 Cor. 5:8. I have always believed that what Paul was saying in this verse is that when we pass from this life in an instant we will be present with God in heaven.
This came up in our men's Bible study of Psalm 91 and God's perfect protection afforded to all who dwell in the shelter of the Most High. When Paul spoke these words, and I believe he spoke of this in another letter as well, he made the comment that he had a choice to stay in this body and serve the Lord or to be present with Christ (Die). He said he was torn between the two. So my comment to the other men there was do you think Paul knew the promise of God (Psalm 91) so up close and personal that he realized he had a choice of Life or Death? And of course if he did do we?
ANSWER:    Paul also wrote about this to the Philippians when he was in prison, not knowing whether he would be found guilty and executed or released. He said,
"I eagerly expect and hope that I will in no way be ashamed, but will have sufficient courage so that now as always Christ will be exalted in my body, whether by life or by death. For to me, to live is Christ and to die is gain. If I am to go on living in the body, this will mean fruitful labor for me. Yet what shall I choose? I do not know! I am torn between the two: I desire to depart and be with Christ, which is better by far; but it is more necessary for you that I remain in the body. Convinced of this, I know that I will remain, and I will continue with all of you for your progress and joy in the faith, so that through my being with you again your joy in Christ Jesus will overflow on account of me." (Phil. 1:20-26)
Paul didn't believe He was being given the choice to live or die. He was saying that either way, he wanted the Lord to be exalted. He was convinced that even though he would prefer to die and be with the Lord, his time wasn't up yet. Therefore, he wasn't being given the choice and neither are we.
Absent From The Body
https://gracethrufaith.com/ask-a-bible-teacher/absent-from-the-body/
QUESTION:   I have read many articles stating that all who have died remain in the grave until the second coming. What about the transfiguration where Moses and Elijah were present? The rich man and Lazarus has also been discounted as some kind of parable. I have always believed "absent from body present with the Lord." Your thoughts?
ANSWER:    Since the cross, the spirit of a believer leaves the body at death and goes to be with the Lord. So all during the Church age, "absent from the body, present with the Lord" is the general rule,(2 Cor 5:8), but there have been exceptions. Many holy people came out of their graves following the Resurrection (Matt. 27:52-53). The Spirits of all other dead believers will be re-united with perfected models of their physical bodies at the Rapture, not the 2nd Coming.
Moses and Elijah appeared on the Mt. of Transfiguration before the Resurrection. Many believe they will appear again as the two witnesses of Revelation 11. They are exceptions to this general rule, brought forth to serve God's special purpose.
Many scholars don't believe that the story of the Rich man and Lazarus is is a parable because the names of both central characters are known. (the rich man's name was Dives) In the Lord's parables the characters weren't named.
So, although the story does teach the truth that there's no chance after death to change one's eternal destiny, the circumstances used to illustrate the point come from accepted Jewish thought about the afterlife and aren't meant to symbolize something else.
Resurrection Body But Not Glorified Body?
https://gracethrufaith.com/ask-a-bible-teacher/resurrection-body-but-not-glorified-body/
QUESTION:   You've written that Christ didn't appear in His glorified body after the resurrection. If that's true how did He appear in the upper room whilst the doors were bolted shut? Didn't He ascend to heaven and sprinkle His blood on the Mercy Seat before coming back to earth for forty days? I always figured that once He was raised He was in His glorified body. I never even entertained the notion that He was in His regular "human" body after he arose. Is there scripture I can use to reference this idea?
ANSWER:    Here's Matthew's description of what Jesus looked like in His glorified body on the Mt. of Transfiguration. "

His face shone like the sun, and his clothes became as white as the light" (

Matt. 17:2). Mark 9:2) says they were a dazzling white, whiter than anyone in the world could bleach them. Luke 9:29 says the appearance of His face changed and His clothes became as bright as a flash of lightning.
In Rev. 1:14-16 John described Him this way . "His head and hair were white like wool, as white as snow, and his eyes were like blazing fire. His feet were like bronze glowing in a furnace, and his voice was like the sound of rushing waters. His face was like the sun shining in all its brilliance."
In the 40 days between His resurrection and ascension, the New Testament records 12 post resurrection appearances by Jesus to individuals and groups of various sizes, the largest being about 500 in number. There's no indication that He looked like this in any of them.
He could appear and disappear at will, whether in a room with locked doors (John 20:19) or walking along a road (Luke 24:15). But He didn't look like he did in the descriptions of His transfiguration, which the dictionary defines as "the supernatural and glorified change in the appearance of Jesus on the mountain." He looked like other people on Earth.
This tells us that resurrection bodies have the ability to appear in different ways, and can do other things natural bodies can't do. 1 John 3:2 says after the rapture we'll be like Him. To me that means we'll have similar capabilities.
—————————————————-
NEWS CLIPS/ARTICLES OBTAINED FROM MANY SOURCES – INCLUDING

Tracking bible prophecy.org
Rapture Ready News
Prophecyupdate.Com
Main News Channels
End Times Headlines
Prophecyupdateblogspot.com
Stevequayle.com
Gracethrufaith.com
Nowtheendbegins.com
Other Christian Sites
(CLICK ON) LATEST DAILY NEWS CLIPS:
ISRAEL NEWS:
THE MIDDLE EAST PEACE PLAN IS "ANTI GOD" – (GOD WILL NOT ALLOW JERUSALEM TO BE DIVIDED).
ZECHARIAH 12:2-3
Zech. 12:2 Behold, I will make Jerusalem a cup of trembling unto all the people round about, when they shall be in the siege both against Judah and against Jerusalem.
Zech. 12:3 And in that day will I make Jerusalem a burdensome stone for all people: all that burden themselves with it shall be cut in pieces, though all the people of the earth be gathered together against it
I AM GOING TO MAKE JERUSALEM A CUP THAT SENDS ALL THE SURROUNDING PEOPLES REELING … Zech. 12:2
God is in control, and He told the nations the consequences of dividing the Promised Land and declaring peace and safety on their own terms (Joel 3:1-2; I Thess. 5:3)
WORLD TERRORISM – WARS
GENERAL WORLD NEWS:
GENERAL WORLD CORONAVIRUS NEWS:
WORLD FINANCE:
Rev. 6:6 And I heard a voice in the midst of the four beasts say, A measure of wheat for a penny, and three measures of barley for a penny; and see thou hurt not the oil and the wine
MASSIVE EARTH CHANGES/EARTHQUAKES/VOLCANOES ETC:
2Chr. 7:13 If I shut up heaven that there be no rain, or if I command the locusts to devour the land, or if I send pestilence among my people;
2Chr. 7:14 If my people, which are called by my name, shall humble themselves, and pray, and seek my face, and turn from their wicked ways; then will I hear from heaven, and will forgive their sin, and will heal their land
CHRISTIAN AND RELIGIOUS WORLD NEWS:
WEBPAGE ADMINISTRATOR:

 

Keep in mind the word "RELIGION" in the Greek is "Religare" meaning "Bind back" or "yolk" – CHRISTIANITY is not "bound" We are free in Jesus Christ our Saviour.
EXTRA WORLD – ALTERNATIVE NEWS:
Please keep in mind that this collection of News Articles is mainly concerning America, but also take note that what happens in America will also "Dramatically" affect Australia and the rest of the World "Massively".
—————————————————-
WORLD – PROPHETIC NEWS ARTICLES PRESENTATION  (THURSDAY 29th OCTOBER 2020)
MIDDLE EAST AND WORLD WAR LOOMING THE BUILD UP TO PSALM 83  – ISAIAH 17 AND GOG OF MAGOG WARS EZEKIEL 37-38:
THE WHOLE WORLD IS UNSTABLE FINANCIALLY, POLITICALLY, PHYSICALLY, MORALLY, GODLY: – AND BECOMING MORE SO DAILY. (WE ARE IN THE BEGINNING OF SORROWS (MATT 24:8)
THE BIBLE STATES THAT IT WILL ONLY GET WORSE BEFORE THE START OF THE TRIBULATION OF MANKIND – (REVELATION 6)
But before that we have to go through the Birth Pangs, leading up to the Tribulation of Mankind; and I feel that the beginning of Matthew 24 explains that time very well. We are currently in the Birth Pangs (Even though Matthew 24: is directed at the Jewish Nation, it still reflects Biblical Prophecy for the whole World at this time):
Matt. 24:6 And ye shall hear of WARS AND RUMOURS OF WARS: see that ye be not troubled: for all these things must come to pass, but the end is not yet.
Matt. 24:7 FOR NATION SHALL RISE AGAINST NATION, AND KINGDOM AGAINST KINGDOM: and there shall be famines, and pestilences, and earthquakes, in divers places.
—————————————————-
GENERAL PROPHETIC NEWS SECTION:
—————————————————–
CALM BEFORE THE COMING STORM: 'THE PLAN IS ABOUT TO GO LIVE'
https://prophecyupdate.blogspot.com/ – Ken Jorgustin 
We are about to begin what could be the most challenging times we have ever witnessed. I have a bad feeling about this. I'm sure many of you do too. 
As much as I try to rationalize that our near future will "just" be "bumpy", my gut says otherwise. The stakes are too high for the many "players" at this point. And there are a LOT of things in play right now. It is a perfect storm. We do not have the power to change its direction. It simply must run its course.
THE PLAN IS ABOUT TO GO LIVE
All eyes are on the U.S., right now. I do not need to rehash the political consequences of the upcoming election. However I can tell you with near certainty that "powers" have been planning for a long time. Violence and Chaos WILL erupt – REGARDLESS. Antifa, BLM Marxists, and other organized attackers. Think you've already seen their rioting and violence? You aint seen nothin yet…
Think you've seen Big Tech suppression and de-platforming so far? You aint seen nothin yet… There are well-prepared plans to silence the influencers beyond what we've already seen.
The election will be dramatically contested. It may drag on for months – blowing up into a split government, so to speak, as no one concedes while violence in the streets erupt into an inferno.
There are foreign entities salivating, chomping at the bit… waiting for the perfect moment to do what they're going to do – while the U.S. is burning. Cyber-attacks? Grid-down? Taiwan invasion anyone? Or a "Red Dawn"?
At the same time, we here in the U.S., and around the globe, are facing financial economic catastrophe. Cities are shuddered. Businesses gone. The Covid Pandemic has killed it all. Main Street is essentially dead. Millions have been out of work. Many are not paying their Rents and Mortgages. The lag effects are about to hit us. The money changers (global banking systems) are against the wall. A digital currency (currencies) is seemingly their only way out – along with a Great Reset as the world swims in incomprehensible debt.
WE ARE ON THE LAST LAP
The qualifying race is about to end. The real contest is about to begin. The thing is, no one is going to "win". It's going to be a mess. 
Your objective is to finish the race. To survive with minimal damage. Those who make it to the end might look back on these days as the "good days". 
We are at a turning. Our future will not be the same. 
It's time to lay low. Under the radar. Situation aware.
Vote (if you haven't already) and get home.
IT'S ABOUT TO "GO LIVE"…
RELATED VIDEO:
The Most Terrifying Event In History Is Staged To Happen Again In America! Watch Before Gone!
————————————————-
https://prophecyupdate.blogspot.com/ – Stefan Gleason 
The global coronavirus pandemic has accelerated several troubling trends already in force. Among them are exponential debt growth, rising dependency on government, and scaled-up central bank interventions into markets and the economy.
Central bankers now appear poised to embark on their biggest power play ever.
Federal Reserve Chairman Jerome Powell, in coordination with the European Central Bank and International Monetary Fund (IMF), is preparing to roll out central bank digital currencies.
The globalist IMF recently called for a new "Bretton Woods Moment" to address the loss of trillions of dollars in global economic output due to the coronavirus.
In the aftermath of World War II, the original Bretton Woods agreement established a world monetary order with the U.S. dollar as the reserve currency.
Importantly, the dollar was to be pegged to the price of gold. Foreign governments and central banks could also redeem their dollar reserves in gold, and they started doing so in earnest in the 1960s and early 1970s.
Fast forward to 2020, and the Fed has assumed for itself novel policy mandates that are a precursor to a new monetary system.
The Fed has unceremoniously thrown its statutory dual mandate of full employment and stable prices out the window. It now gives itself an unlimited mandate to inject stimulus and bailout cash wherever it sees fit (including, recently, "junk" bond exchange-traded funds).
Instead of pursuing stable prices, the Fed is now explicitly embarking on an inflation-raising campaign with the goal of generating annual price level increases above 2% for an undefined period.
The next frontier of the Fed's unlimited mandate could be "Fedcoin" – a central bank digital currency.
————————————————-
https://prophecyupdate.blogspot.com/ –  Zack Brown
Nuclear expert James Acton believes that we are entering into an era of what he calls "nuclear entanglement," one that promises to be different from anything we've seen before. Its main characteristic: an increasingly blurry line between nuclear and conventional weapons. 
The evidence is easy to spot. China and Russia are deploying greater numbers of "ambiguous," dual-use ground-launched ballistic missiles. At the same time, the United States' pursuit of conventional hypersonic missiles of very high speed and accuracy might enable even these non-nuclear weapons to hold nuclear arsenals at risk. 
Neither trend is good for crisis stability. In the case of warhead ambiguity, the lack of clear distinctions between nuclear and non-nuclear systems greatly complicates any attempt at escalation management. "Imagine that the U.S. and China are in a shooting match, and China deploys conventional DF-26 missiles with non-nuclear warheads," Acton explained. "But imagine U.S. intelligence gets that wrong and thinks they are nuclear versions of the DF-26." "From a U.S. perspective, that represents a big escalation of the crisis: China has just deployed nuclear weapons. But that kind of escalation is inadvertent because China hasn't, in fact, deployed nuclear weapons. We just misidentified it."From a U.S. perspective, that represents a big escalation of the crisis: China has just deployed nuclear weapons. But that kind of escalation is inadvertent because China hasn't, in fact, deployed nuclear weapons. We just misidentified it."
"The other way around is a problem, too," he continued. "Imagine that China does deploy nuclear-armed DF-26s, and we think they are conventional and try and hunt down and attack these missiles. If we're successful, we've inadvertently destroyed nuclear weapons, which from a Chinese perspective is extremely escalatory." 
————————————————-
THE RACE TO DEVELOP HYPERSONIC MISSILES AND WHY IT MATTERS:
https://prophecyupdate.blogspot.com/ – Todd Strandberg
What has kept the world safe from nuclear war over the past 60 years is the concept of Mutually Assured Destruction (MAD). This principle is founded on the notion that a nuclear attack by one superpower would be met with an overwhelming nuclear counterattack such that both the attacker and the defender would be annihilated.
For about two years I've been reading about the Russians' advancement in hypersonic missiles. I didn't understand the significance of Moscow's ability to deliver nuclear weapons at vastly faster speeds until I watched a recent YouTube news video on the subject.
If a conventional nuclear missile is launched against a target in the US from Russia, it would take about 30 minutes for the missile to travel from Russia to the US. A hypersonic missile can cut this travel time down by several minutes. Because a hypersonic missile can fly at a very low altitude, it can avoid radar detection. This means an attack on Western targets can occur within a few minutes.
A Russian nuclear submarine off the coast of Louisiana could strike at Offutt, AFB command system in Nebraska and take out our ability to launch a counter strike. In 1948, Air Force Secretary Stuart Symington chose to headquarter the Air Force's crucial long-range atomic strike force at Offutt primarily because the base was centrally located on the North American continent – placing it well beyond the existing range of potentially hostile bombers or missiles.
The planes that transmit launch codes would be able to get airborne before Offutt was destroyed by a nuclear strike. A hypersonic missile would now be able to span the 850 miles distance between Offutt and the Gulf of Mexico in less than eight minutes. Since it would take three minutes to sound the alarm, there would not be enough time to get the doomsday planes into the sky.
The president and the Pentagon would have almost no time to react. Being only a few miles from the Atlantic Ocean, a hypersonic missile attack would take out the DC area at a speed measured in seconds. A surprise attack on the organizations that have the launch codes could leave the US unable to carry out a retaliatory strike.
Our submarines could be sitting under the Baltic sea with no way to return fire to the enemy. As it became clear that command and control units could be easily wiped out, the ability to launch missiles would have to be greatly relaxed.
The Russian advancement in hypersonic missiles has spurred the need for us to develop this technology. The US Air Force is moving forward with a new hypersonic missile that it says can strike a target 1,000 miles away in under 12 minutes, reported Air Force Magazine. The hypersonic missile would be able to fly between 5,000 and 6,000 mph, or roughly between Mach 6.5 and Mach 8, to strike a target at that distance.
Bible prophecy clearly implies that humanity will largely destroy itself with nuclear weapons during the Tribulation. Isaiah 13:12 says that man will become

"more rare than fine gold."

Zechariah 14 seems to give a first-hand view of a nuclear holocaust. The graphic descriptions in this ancient prophecy are a good description of what would happen to people exposed to an atomic blast:
"Now this will be the plague with which the LORD will strike all the peoples who have gone to war against Jerusalem; their flesh will rot while they stand on their feet, and their eyes will rot in their sockets, and their tongue will rot in their mouth. It will come about in that day that a great panic from the LORD will fall on them; and they will seize one another's hand, and the hand of one will be lifted against the hand of another. Judah also will fight at Jerusalem; and the wealth of all the surrounding nations will be gathered, gold and silver and garments in great abundance. So also like this plague will be the plague on the horse, the mule, the camel, the donkey and all the cattle that will be in those camps" (Zechariah 14:12-15).
————————————————-
ERDOGAN SLAMS DEVASTATING RUSSIAN ATTACK ON SYRIAN MILITANT CAMP
https://www.almasdarnews.com/article/erdogan-slams-devastating-russian-attack-on-syrian-militant – camp/?utm_medium=ppc&utm_source=push&utm_campaign=push%notificationss&utm_content=varies – By News Desk – 2020-10-28
A before and after image of the Russian attack on a Faylaq Al-Sham training camp near the Turkish border on Monday, October 26, 2020.
BEIRUT, LEBANON (9:10 P.M.) – Turkish President Recep Tayyip Erdogan accused the Russian Armed Forces of launching an attack on a site of the Turkish-backed Free Syrian Army (TFSA), saying that this indicates Moscow's unwillingness for peace.
In a parliamentary speech in Ankara on Wednesday, Erdogan said, "Russia's attack on a training center for the Free Syrian Army in Idlib indicates its unwillingness to achieve lasting peace."
According to a field source in the Latakia Governorate, the total number of dead and wounded within the ranks of the Turkish-backed militants was estimated to be around 200.
The Russian Aerospace Forces carried out the devastating attack on a Faylaq Al-Sham training camp in the Salqin countryside of northern Idlib, coinciding with another powerful strike on oil smuggling sites near the Turkish border 48 hours prior.
Idlib is the only region in Syria that a large portion remains in the hands of armed groups.
In 2017, a de-escalation zone was established there, where the militants, who refused to lay down their weapons in the eastern Ghouta suburb of Damascus and the southern regions of the country, were transferred to.
There are Turkish Army observation points on the territory of the governorate, and according to the agreements between Russian President Vladimir Putin and Turkish President Recep Tayyip Erdogan, which were reached on March 5 in Moscow, the armies of the two countries are conducting joint patrols in Idlib.
————————————————-
TRUMP SAYS UP TO 10 COUNTRIES ARE SET FOR PEACE WITH ISRAEL, 'LARGELY AFTER' ELECTIONS
https://endtimeheadlines.org/2020/10/trump-says-up-to-10-countries-are-set-for-peace-with-israel-largely-after-elections/ – Oct 27, 2020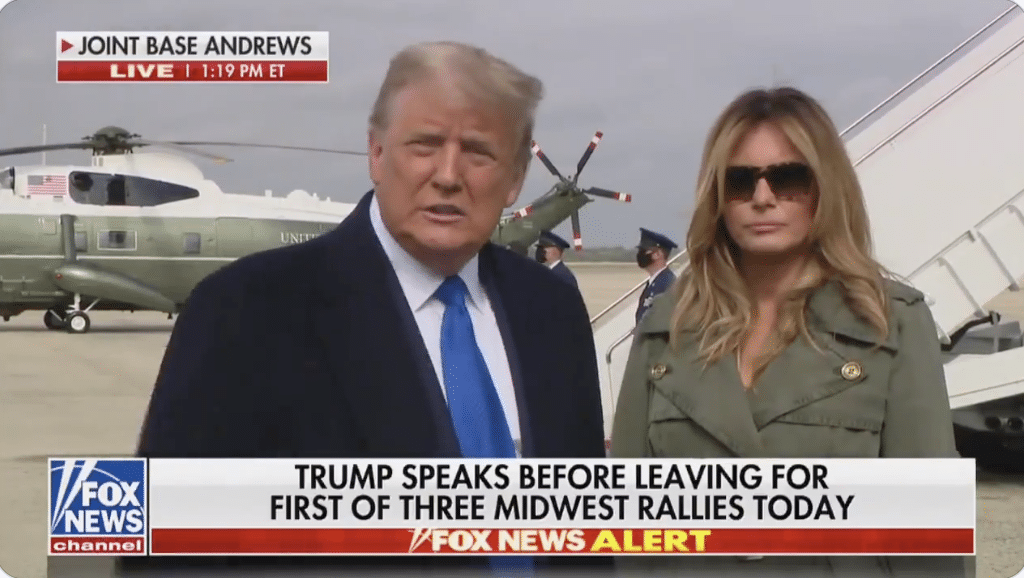 (ETH) – US President Donald Trump just made another huge announcement today regarding something that many are saying is more stepping stones to the fulfillment of Bible Prophecy. On Tuesday He declared that there are up to 10 countries that he is expected to soon normalize relations with and pursue peace with Israel.
Trump also stressed that but that these developments would largely happen after next week's presidential elections on November 3rd.  After Trump was asked if there would be more countries in the Middle East that would follow the footsteps of the United Arab Emirates, Bahrain, and Sudan who all recently opened diplomatic relations with Israel, Trump emphasized that there were more countries on the way, without specifying exactly how many or which countries they were.
"We have five, but really have probably nine or ten that are right in the mix, we're going to have a lot, I think we'll have all of them eventually," he told reporters at Andrews Air Force Base before hitting the campaign trail. "The beauty is there's peace in the Middle East with no money and no blood," he continued.
"There's no blood all over the sand. We have five defernites and I think we'll have another five pretty much definites. And all of them, the big ones, the smaller ones." Asked if agreements would come before or after the November 3 election, the President said: "largely after."
————————————————-
4 PROOFS THAT THINGS WILL ONLY GET WORSE AND NOT BETTER IN THE LAST DAYS
https://endtimeheadlines.org/2020/06/4-proofs-that-things-will-only-get-worse-and-not-better-in-the-last-days/ – Jun 17, 2020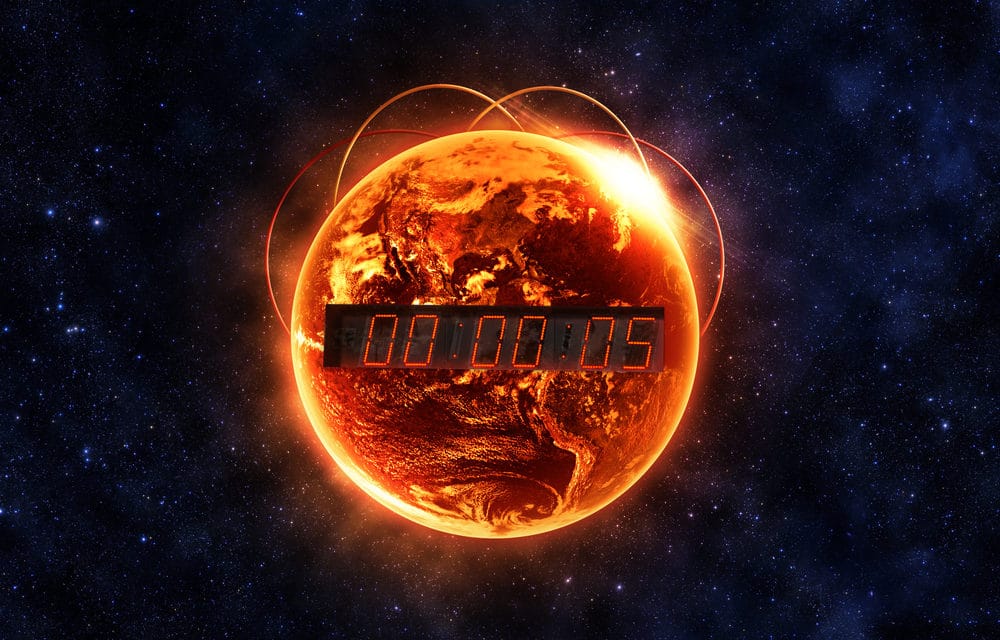 (OPINION) ETH – I know this word of warning will likely not be accepted by the majority but it is a hard truth that needs to be heard regardless. In today's modern Church culture any words of correction or warning are typically met with denial or neglect and the watchmen and prophets delivering the messages of warning are typically marked as "fear mongers" or "sensationalists".
However, sadly the masses with itching ears continue to surround themselves with false prophets cradling them to sleep with empty and vain words of peace when there is no peace.
"Because from the least of them even to the greatest of them, Every-one is given to covetousness; And from the prophet even to the priest, Everyone deals falsely. They have also healed the hurt of My people slightly, Saying, 'Peace, peace!' When there is no peace." – Jeremiah 6:13-14
I want to show you four proofs from the Word of God that things are not going to get better but they will continue to wax worse as we near the coming of the Lord.
1- Believers will depart from the faith and embrace a seducing spirit and demonic doctrines
"Now the Spirit speaketh expressly, that in the latter times some shall depart from the faith, giving heed to seducing spirits, and doctrines of devils; Speaking lies in hypocrisy; having their conscience seared with a hot iron" – 1 Timothy 4:1-2
The Holy Spirit warns from the passage above that there will be a time in the "Latter Days" that some believers will depart the faith and will accept and embrace seducing spirits and doctrines of devils. The word "seducing" here in the Greek actually means  "to slowly draw away from the truth into error".
We are most certainly seeing this happen across the Body of Christ right now. Sadly, there is a progression of bondage pointed out there in this passage. It begins with giving an ear to a seducing spirit or a spirit of error, and then it progresses to fully embracing a doctrine that is demonically inspired and rooted in falsehoods and error and not the Word of God.
The final stage reveals that the individual is completely consumed to the point where they are no longer convicted and their very conscience has been seared. I believe as we get closer to the return of the Lord we are going to see and hear more and more men and women of God fall victim to this very thing.
2- The Apostle Paul warned in the last days perilous times would come.
The second proof that things will not get any better is the warning that the Apostle Paul gave in the New Testament. Paul tells us that the last days would be marked by "perilous times". The Greek word used here for the word "perilous" is defined as dangerous, treacherous, or violent.
And if there were three words that we could use to clearly define the current conditions of the planet right now it is definitely dangerous, treacherous, and violent. We have witnessed unprecedented levels of lawlessness, rioting, looting, and violence taking place across the United States. I believe this only the beginning of sorrows and the Distress of Nations that the Lord warned about is beginning to unfold before our very eyes.
3-

It appears that great economic turmoil will take place in the Last Days
The Book of James gives a cryptic warning regarding the economy of the World in the last days and what may be on the horizon.
"Come now, you rich, weep and howl for your miseries that are coming upon you! Your riches are corrupted, and your garments are moth-eaten. Your gold and silver are corroded, and their corrosion will be a witness against you and will eat your flesh like fire.
You have heaped up treasure in the last days. Indeed the wages of the laborers who mowed your fields, which you kept back by fraud, cry out; and the cries of the reapers have reached the ears of the Lord of Sabaoth. You have lived on the earth in pleasure and luxury; you have fattened your hearts as in a day of slaughter". – James 5:1-5
In this passage, it clearly tells us that the rich will weep and howl from the miseries that will come upon them in the "Last Days" and what appears to be an economic reckoning that will be permitted from the Lord as a form of judgment in the earth.
It's interesting to point out that at the time of writing this many economic experts are now warning that a US dollar crash is 'virtually inevitable' over the massive debt that has ensued. "The U.S. economy has been afflicted with some significant macro imbalances for a long time,
namely a very low domestic savings rate and a chronic current account deficit," the former Morgan Stanley Asia chairman told CNBC's "Trading Nation" on Monday. "The dollar is going to fall very, very sharply." It would be very wise to not wait until the water is in the boat to begin preparing to sink but make provisions now while it is somewhat calm waters.
4-

The "Falling Away" of the Church in the End Time


Lastly, we have to pint out that the Bible warns us that in the time of the end right before the rise of the Antichrist that will deceive the world, there will come a "falling away" of many in the Body of Christ". The phrase "falling away" means a defection from truth, it is very similar to what we described earlier with the Greek word "seducing".
Therefore, The Apostle Paul is warning us here that right before the revealing of the Antichrist on the world's scene, there will come a mass departure of believers from the truth of the Word. I believe this will ultimately set the stage for this man to be able to deceive so many because there will be so many in the Church that has gone into error and apostasy that rather than oppose the Antichrist, they will endorse the Antichrist.
Although I know many don't believe in the rapture of the Church, I personally believe that the folks that will be embracing the Antichrist will be those left behind who were already led astray by seducing spirits and doctrines of error.
The conclusion here is, that according to the Word of God, things we are seeing happening now in 2020 will not get better as we approach the time of the end, but will only become more intense just as Jesus illustrated in comparison to the "Birth Pangs" of travail. So are you ready for the final trimester? Are you paying attention? Are you ready for the return of the Lord? Or will you read these words and reject them as "gloom and doom" or "fear-mongering"?
"Now go and write down these words. Write them in a book. They will stand until the end of time as a witness that these people are stubborn rebels who refuse to pay attention to the Lord's instructions. They tell the seers, "Stop seeing visions!"
They tell the prophets, "Don't tell us what is right. Tell us nice things. Tell us lies. Forget all this gloom. Get off your narrow path. Stop telling us about your 'Holy One of Israel.' – Isaiah 30:8-11 (NLT)
"Now when these things begin to happen, look up and lift up your heads, because your redemption draws near." – Luke 21:28
————————————————-
TURKISH-BACKED FORCES UNLEASH LARGE ATTACK IN RETALIATION FOR DEVASTATING RUSSIAN STRIKES
https://www.almasdarnews.com/article/turkish-backed-forces-unleash-large-attack-in-retaliation-for-devastating-russian-strikes/ – By News Desk
US-backed Free Syrian Army militants engage Syrian Army positions with Grad rocket system in central Syrian desert (Credit: Free Syrian Army media platform).
BEIRUT, LEBANON (10:20 A.M.) – The Turkish-backed forces have launched a large-scale attack on Tuesday against the Syrian Arab Army (SAA) and the areas under the control of the government.
According to a field source in the Latakia Governorate, the Turkish-backed militants launched dozens of missiles this morning towards the towns and villages inside the Latakia, Idlib, Aleppo and Hama governorates.
The source said the missiles caused a number of explosions across northwestern Syria, but the militant attack did not cause many casualties.
This latest attack by the Turkish-backed militants comes in response to the Russian Aerospace Forces' strikes on the training camp of Faylaq Al-Sham in northern Idlib.
The Russian strikes proved devastating, as a field source told Al-Masdar News that the total number of casualties from the attack was estimated to be over 200.
Since the resumption of hostilities in Karabakh, the Russian Armed Forces have increased their aerial activity in northern Syria, especially after reports surfaced about Turkey's transfer of Syrian mercenaries to Azerbaijan.
Turkey and Azerbaijan have denied these allegations, and in turn, they have accused Armenia of using foreign fighters from Lebanon and Syria.
————————————————-
SYRIAN ARMY STRIKES BACK AGAINST TURKISH-BACKED FORCES AS SITUATION DETERIORATES
https://www.almasdarnews.com/article/syrian-army-strikes-back-against-turkish-backed-forces-as-situation-deteriorates/ – By Leith Aboufadel
BEIRUT, LEBANON (12:00 P.M.) – The northwestern region of Syria has witnessed a great deal of violence on Tuesday, as both the Turkish-backed militants and Syrian Arab Army (SAA) trade heavy attacks across four governorates.
According to a field source in the Latakia Governorate, the Turkish-backed forces began the day by heavily targeting the government areas of Latakia, Hama, Idlib and Aleppo, resulting in a number of explosions and material damage.
Since this attack by the Turkish-backed forces, however, the Syrian Arab Army has begun a powerful counter-attack that has targeted the militant positions along the Idlib, Aleppo and Latakia front-lines.
The source told Al-Masdar News that the situation is getting progressively worse, as both sides have intensified their attacks over the last few hours.
Despite some early claims by the Turkish-backed forces of heavy casualties within the ranks of the Syrian Arab Army, the source said casualties are minimal, adding that many of the militant missiles landed in open areas of northwestern Syria.
On Monday morning, the Russian Aerospace Forces carried out one of their deadliest attacks since entering the conflict in 2015, as their military aircraft bombed a training camp belonging to the Turkish-backed Faylaq Al-Sham faction in the Salqin countryside.
As a result of this devastating Russian attack, an estimated 200 militants were killed or wounded, along with the destruction of this training camp.
————————————————-
https://prophecyupdate.blogspot.com/ –
Enraged Britons have taken to Twitter after the chief of West Midlands Police said officers would break up festive family celebrations for violating lockdown rules.
The West Midlands Police and Crime Commissioner David Jamieson said on Tuesday in an interview with the Telegraph newspaper that his officers would be ready to break up Christmas celebrations that defy the government's Covid rules.
"If we think there's large groups of people gathering where they shouldn't be, then police will have to intervene. If, again, there's flagrant breaking of the rules, then the police would have to enforce,"Jamieson remarked.
One Twitter user claimed that the police were ignoring the real crimes and that they should be wearing brown shirts, a reference to the Nazis' original paramilitary wing.
The former leader of the far-right British National Party, Nick Griffin, called on Britons to rise up in protest. Griffin slammed the "Covid cops" and also shared a photo of a police raid on a church in Cardiff which took place on Sunday. 
A number of people also accused the police chief of scaremongering and pointed out the logistics of enforcing Covid restrictions on Christmas Day, claiming there just are not enough police officers to go around. 
The 'rule of six' came into force in the UK on September 14, as the government sought to prevent a second wave of coronavirus by limiting socializing to groups of no more than six people.
The West Midlands is currently subjected to Tier Two lockdown measures, which also prevent households from mixing indoors. 
The debate around family gatherings continues to rage as Covid surges across the UK in the run-up to Christmas.
On Tuesday, BBC journalist and news presenter Victoria Derbyshire faced a barrage of criticism after she said that she would break the 'rule of six' at Christmas, claiming that she has a family of seven and needed to see her elderly relatives. She later apologized for her comments and vowed to adhere to the rules. 
————————————————-
https://prophecyupdate.blogspot.com/ –
Protests erupted across Europe last night as thousands of angry demonstrators called on their governments to reconsider a second-round of lockdown restrictions.
In Italy, violence was reported in at least two major northern cities, Milan and Turin, as vast crowds protested freedom-limiting restrictions enforced to tackle a second surge in coronavirus cases. 
The city's mayor today berated the violent protesters who she said had 'polluted' a demonstration by bar and restaurant owners who are facing another economic slump. 
In Milan at least 28 people were arrested after protesters threw Molotov cocktails at police in the capital of Lombardy, the original epicenter of the virus in Italy which is now seeing a resurgence of cases.  
Meanwhile in Barcelona, demonstrators set rubbish bins on fire in the streets – before riot police intervened to bring the chaos to an end.
The demonstrations came just one day after Spain declared a second nationwide state of emergency covering all regions except the Canary Islands.
The new state of emergency will initially last for 15 days but the Government plans to ask parliament for a six-month extension, meaning the restrictions – which include a 11pm to 6am curfew – could be enforced until early May 2021.
In Turin, police responded with volleys of tear gas as they tried to restore order on Monday night.
There were also clashes in Milan, the capital of the neigh-boring Lombardy region, an area that has borne the brunt of the Covid-19 epidemic in Italy.
'Freedom, freedom, freedom,' crowds chanted as they confronted police in the city Centre – with some shouting conspiracy theories like 'the coronavirus does not exist'. 
Footage showed Molotov cocktails and other projectiles being thrown at a police car during the protests which ended with around a dozen officers being injured and dozens of protesters arrested. 
The 28 people arrested in Milan included 13 minors, according to news agency ANSA, while six people were detained for fires and looting in Turin.
————————————————-
'

ARBITRARY AND TYRANNICAL'
https://prophecyupdate.blogspot.com/ –
California won't allow indoor family gatherings for the holidays, Christmas and Thanksgiving, and outdoor gatherings are limited to three families for a maximum of two hours.
THIS IS ARBITRARY AND TYRANNICAL.
"Gatherings that include more than 3 households are prohibited. This includes everyone present, including hosts and guests.  Remember, the smaller the number of people, the safer," reads the  "Guidance for Private Gatherings," issued by the California Department of Public Health on October 9.
"The host should collect names of all attendees and contact information in case contact tracing is needed later."
The new California rules apply to private gatherings which the state defines as "social situations that bring together people from different households at the same time in a single space or place."
"Gatherings should be two hours or less.  The longer the duration, the risk of transmission increases," reads the guidelines.
The new guidelines state that "All persons planning to host or participate in a private gathering" must comply with the guidelines which include collecting the information of guests "in case" contact tracing is required.
————————————————-
The turmoil surrounding this election keeps being ratcheted up. People on both sides see the future of America and the world hanging in the balance. Both sides see the other as dangerous. Such turmoil is not unique to the United States. 
In June, Business Insider magazine called planet earth, "A world on fire." Over the course of this year, people have taken to the streets in Australia, Belgium, Brazil, Canada, Chili, Denmark, England, France, Germany, Hong King, Hungary, Israel, Italy, Iran, Japan, the Philippines, Poland, Portugal, Kenya, Nigeria, Scotland, Senegal, South Korea, Spain, Sweden, Switzerland, Turkey, and more. 
I'm not talking about the justness of their causes. That varies. What I want you to see is the incredible level of unrest and agitation reaching across the world. People are outraged and afraid. They feel that evildoers control many of the world's governments. And in too many cases, they are right. These are the days the prophets predicted. We should not be surprised at the deception going on in the world. 
How should we react to the evildoers? There are many positive responses to that question, starting with the vote. If you are a voter in the United States, you have amazing, planet-wide influence. Do something positive to make good changes or to hold back evil ones. But whatever you do, do not cower in fear. Fear is the driving force of much of the destruction going on in the world right now. We see the principle in Psalm 37:8. It says, "Cease from anger and forsake wrath; Do not fret; it leads only to evildoing." 
The word "fret" is a translation of the Hebrew, "charah." It means to glow or blaze up in anger or jealousy. The scripture here is clear. This kind of fretting leads to evildoing. And we see this kind of evildoing all over the world at this moment in history. 
The first verse in Psalm 37 gives us this clear instruction. "Do not fret because of evildoers." 
Are there evildoers working for the candidate you oppose? Does the communist party in China seem filled with evildoers? Have evildoers taken political control over much of the world? God says not to fret about evildoers because that kind of fretting leads to your own evildoing, and then to your own undoing. 
Even when their actions are outrageous, do not be outraged. Keep your poise Stay calm. Be cool. Trust God. A lying media or a corrupt Washington establishment might be frustrating, even agonizing. But God says not to fret over them. 
Psalm 37 goes on to say, "Trust in the Lord and do good… Delight yourself in the Lord… Trust also in Him… Rest in the Lord and wait patiently for Him… Cease from anger and forsake wrath; Do not fret." 
In God, we are the ones with real power, so let us act in confident joy rather than worry or fear. This is a good time to read all of Psalm 37… and then read it again. Do not fret because of evildoers. Commit your way to God. Trust, delight, and rest in Him. Let Him be your "strength in time of trouble."
————————————————
JESUS CHRIST RETURN FOR HIS CHURCH IS "IMMINENT"
Matt. 7:27 And the rain descended, and the floods came, and the winds blew, and beat upon that house; and it fell: and great was the fall of it.
Matt. 24:38 For as in the days that were before the flood they were eating and drinking, marrying and giving in marriage, until the day that Noe entered into the ark,
Matt. 24:39 And knew not until the flood came, and took them all away; so shall also the coming of the Son of man be
——————————————–
DON'T WAIT FOR THE LAST MINUTE
We are currently in the "Birth Pangs" pending the coming "7 year TRIBULATION" period, where all the Nations on Earth will be subject to God's Wrath on an "UNGODLY" World. The Rapture of Jesus Christ Church is "TOTALLY" imminent; And what will follow after that will be massively more devastating that we are seeing right now (Read

Revelation Ch 6 – 22

) God is trying to get everyone's attention to the coming Judgments; He does not want "ANYONE" to perish, but all to come to repentance. He loves us, but will not stand idly by and watch the World, (His Creation) turn to sin and debauchery). We are currently living in a fallen "Satanic" World where "EVIL", is totally accepted, "and God and his Love for his Church": is being exponentially rejected. The time has come when God HAS TO intervene, and he is (The prophetic word listed in his Word the Bible is being fulfilled exponentially).
——————————————————
THE NEW WORLD ORDER:
ONE WORLD GOVERNMENT – ONE WORLD ECONOMIC SYSTEM – ONE WORLD RELIGION
Dan. 9:27 And he shall confirm the covenant with many for one week: and in the midst of the week he shall cause the sacrifice and the oblation to cease, and for the overspreading of abominations he shall make it desolate, even until the consummation, and that determined shall be poured upon the desolate
Dan. 7:24 And the ten horns out of this kingdom are ten kings that shall arise: and another shall rise after them; and he shall be diverse from the first, and he shall subdue three kings
Rev. 17:12 And the ten horns which thou sawest are ten kings, which have received no kingdom as yet; but receive power as kings one hour with the beast
—————————————————-
THE MARK OF THE BEAST:
DON'T TAKE THE MARK OF THE BEAST WHICH IS (CHANGING YOUR D.N.A.) AND GIVING YOUR CONTROL OVER TO THE "BEAST SYSTEM" – THIS IS AN ABONOMINATION TO GOD: (YOU ARE HIS CREATION):
Rev. 13:14 And deceiveth them that dwell on the earth by the means of those miracles which he had power to do in the sight of the beast; saying to them that dwell on the earth, that they should make an image to the beast, which had the wound by a sword, and did live.
Rev. 13:15 And he had power to give life unto the image of the beast, that the image of the beast should both speak, and cause that as many as would not worship the image of the beast should be killed.
Rev. 14:9

And the third angel followed them, saying with a loud voice, If any man wor

ship the beast and his image, and receive his mark in his forehead, or in his hand
THE PUNISHMENT FROM GOD FOR THOSE WHO TAKE THE MARK AND WORSHIP THE "BEAST SYSTEM":
Rev. 14:10 The same shall drink of the wine of the wrath of God, which is poured out without mixture into the cup of his indignation; and he shall be tormented with fire and brimstone in the presence of the holy angels, and in the presence of the Lamb:
 (YOU ARE GOD'S CREATION – CHANGING YOUR D.N.A. AND/OR GIVING YOUR ALLEGANCE TO ANOTHER ENTITY I.E. (THE ANTICHRIST) – IS AN ABONOMINATION TO GOD):
————————————————-
THE FUTURE CONONAVIRUS INJECTION AT THIS POINT IN TIME ALSO APPEARS TO BE "MASSIVELY" AGAINST GOD AS IT WILL IS ALSO TAINTED WITH (ABORTED BABY PARTS) (AND A CHANGE IN YOUR (R.N.A. WHICH CHANGES YOUR D.N.A.) IT WILL ALTER YOUR BODY IN MANY WAYS, (INCLUDING DEATH).