This Happened On Planet Earth…Nov. 2019…End Times Signs

276K subscribers
 

Please Help Support This Ministry:

https://www.paypal.me/watchman1963

Cash App : $watchman1963 Please subscribe to my backup channel:

https://www.youtube.com/channel/UC4nc…

Current Events Linked To Biblical Prophecies. Everything is unfolding just as the bible foretold. Wars, Volcanic Eruptions, Earthquakes, Extreme Weather, Christian Persecution, Violence and more!
Matthew 24:3-14 3 Now as He sat on the Mount of Olives, the disciples came to Him privately, saying, "Tell us, when will these things be? And what will be the sign of Your coming, and of the end of the age?" 4 And Jesus answered and said to them: "Take heed that no one deceives you. 5 For many will come in My name, saying, 'I am the Christ,' and will deceive many. 6 And you will hear of wars and rumours of wars. See that you are not troubled; for all these things must come to pass, but the end is not yet.
7 For nation will rise against nation, and kingdom against kingdom. And there will be famines, pestilences,[b] and earthquakes in various places. 8 All these are the beginning of sorrows. 9 "Then they will deliver you up to tribulation and kill you, and you will be hated by all nations for My name's sake. 10 And then many will be offended, will betray one another, and will hate one another.
11 Then many false prophets will rise up and deceive many. 12 And because lawlessness will abound, the love of many will grow cold. 13 But he who endures to the end shall be saved. 14 And this gospel of the kingdom will be preached in all the world as a witness to all the nations, and then the end will come.
—————————————————
Coming soon…Russia's growing influence over the Mideast- JS 466

—————————————————
Chinese killer robots sold to Middle East will leave 'every human dead'

113K subscribers
 #BlowfishA3

China is selling its most advanced "fully autonomous" military drones with fears that it could lead to a bloodbath in the Middle East. The Asian superpower is reportedly selling AI-enhanced combat drones to the region, with potentially disastrous consequences. Prof Toby Walsh, of the University of NSW, in Australia, said: "They would be impossible to defend yourself against. "Once the shooting starts, every human on the battlefield will be dead.
—————————————————
We are Being Programed to Accept the Antichrist Spirit & The Coming Antichrist // David Wilkerson

➤ Speaker(s): 1. David Wilkerson ➤ Footage: Copyright Free Content from Stockblock and Videos from Youtube ➤ Edited By: Robin Måhl
—————————————————
Animal Apocalypse Points To World-Wide Famine Coming—Signs of the Last Days
•

Streamed live 17 hours ago

ANIMAL KINGDOM APOCALYPSE happening where from elephants down to the insects they are dying in catastrophe that's harbinger of prophetic world-wide famine coming to humanity. Support this ministry so we can continue sharing signs of Biblical prophecy to the world, donate here: https://signsofthelastdays.org/produc…
—————————————————
LATEST WORLD NEWS CLIPS – ARTICLES – SUNDAY 17th NOVEMBER 2019
WE PREACH THE BLESSED HOPE FOR THE FUTURE IN JESUS CHRIST OUR SAVIOUR
1Cor. 12:3 Wherefore I give you to understand, that no man speaking by the Spirit of God calleth Jesus accursed: AND THAT NO MAN CAN SAY THAT JESUS IS THE LORD, BUT BY THE HOLY GHOST.
"Behold, I come like a thief! Blessed is he who stays awake and keeps his clothes with him, so that he may not go naked and be shamefully exposed."
Here Jesus was alluding to the fact that the Doctrine of Eternal Security WILL EXPIRE WITH THE RAPTURE
PLEASE NOTE:

The

"TRIBULATION"

Saints

are NO

T the

"CHURCH" Saints:

The Church Saints are Raptured

"Prior"

to the start of Revelation 6, (The beginning of God's 7 years of Wrath on Planet Earth.
——————————————
Rev. 14:13 And I heard a voice from heaven saying unto me, Write, Blessed are the dead which die in the Lord from henceforth: Yea, saith the Spirit, that they may rest from their labours; and their works do follow them
REVELATION 14:13 is talking about the TRIBULATION SAINTS
Rev. 3:10 Because thou hast kept the word of my patience, I ALSO WILL KEEP THEE FROM THE HOUR OF TEMPTATION, WHICH SHALL COME UPON ALL THE WORLD, to try them that dwell upon the earth:
These are the Pre-Tribulation Church Saints who will be Raptured BEFORE Revelation 6 – The start of the 7 year Tribulation of Mankind.
Luke 12:37 Blessed are those servants, whom the lord when he cometh shall find watching: verily I say unto you, that he shall gird himself, and make them to sit down to meat, and will come forth and serve them
SO WON'T YOU ACCEPT JESUS NOW AND BE REMOVED FROM THAT EVENT  (OF TRIBULATION) AND LIVE FOREVER WITH JESUS IN THE FAMILY OF GOD?
2 "(For he saith, I have heard thee in a time accepted, and in the day of salvation have I succoured thee: behold, now is the accepted time; behold, now is the day of salvation.)" (2nd Corinthians 2:6)
——————————————-
DAILY CHRISTIAN BIBLICAL QUESTIONS AND ANSWERS:
——————————————-
AS THOUGH IT WERE YOUR LAST
And we are instructed to turn from godless living and sinful pleasures. We should live in this evil world with wisdom, righteousness, and devotion to God, while we look forward with hope to that wonderful day when the glory of our great God and Savior, Jesus Christ, will be revealed .- Titus 2:12-13
When someone asked the great evangelist Dwight L. Moody how he would spend the day if he knew it was his last one, he said he wouldn't do anything differently than he did every day.
That is the way we all should live as Christians.
We can find a lot in the Bible about the Lord's return. In the 260 chapters in the New Testament, Christ's return is mentioned no less than 318 times. Statistically, one out of every twenty-five verses in the Bible mentions the return of Jesus Christ.
For the sake of a point, let's say we knew that Jesus Christ was returning at 3:00 tomorrow afternoon. I'm sure we would all look like saints at 2:45. We'd be wearing our Sunday morning smiles with our come-quickly-Jesus attitudes.
Of course, we know this isn't possible, because no one knows the day or the hour. Jesus said of His return,
"However, no one knows the day or hour when these things will happen, not even the angels in heaven or the Son himself. Only the Father knows" (Matthew 24:36 NLT).
But the fact is that we ought to live this way every day. We have never been closer to the Lord's return than we are right now.
The Bible says,
"But you must not forget this one thing, dear friends: A day is like a thousand years to the Lord, and a thousand years is like a day. The Lord isn't really being slow about his promise, as some people think. No, he is being patient for your sake. He does not want anyone to be destroyed, but wants everyone to repent" (2 Peter 3:8-9 NLT).
We should live every day as though it were the day Christ is coming back. We should live every day as though it were our last.
—————————————–
By Grant Phillips:
"Trust in the LORD with all your heart; do not depend on your own understanding.
Seek his will in all you do, and he will show you which path to take." (Proverbs 3:5-6)
"So don't worry about tomorrow, for tomorrow will bring its own worries. Today's trouble is enough for today." (Matthew 6:34)
"Don't worry about anything; instead, pray about everything. Tell God what you need, and thank him for all he has done." (Philippians 4:6)
The apostle Peter warned us that Satan traverses the earth seeking someone to devour. He is like a lion hunting its dinner. When he finds the herd, he zeros in on the weakest prey and charges after it.
"Stay alert! Watch out for your great enemy, the devil. He prowls around like a roaring lion, looking for someone to devour."
(1 Peter 5:8)
Life can be very hard and is often most unfair. We can all attest to that, but a Christian has the Lord Jesus Christ on his/her side. Sometimes we forget that. As we look around the world today, any wise Christian can easily see the world is falling apart around our ears, but Jesus said,
"… I am with you always, even to the end of the age…"
(Matthew 28:20)
He also promised three times, in the very last chapter of the very last book of His Word that He will soon return and take us unto Himself.
—————————————–
Loving God As He Loves Us
https://gracethrufaith.com/ask-a-bible-teacher/loving-god-as-he-loves-us/
QUESTION:    After Jesus' resurrection, and the time he appeared to the disciples after they had gone fishing. Where Jesus asked Peter three times if he loved Him and Peter replies in a different word, meaning he loved Him as a brother. Finally the third time that Jesus asked Peter the same question, He used the same word that Peter was using for love. I am wondering if it is possible for us to love Jesus and the Father in the same way that They love us, that is with an agape love. I know that Jesus is very dear to me and I love Him with all my heart, but am wondering if is possible for us as humans to love as God loves.
ANSWER:    I don't believe it will be possible for us to love the Lord as He loves us until after our sin nature is removed. As long as we have this defect, we're always going to be too concerned with self to be totally given over to someone else, even Jesus. He said money and other earthly matters will often get in the way of loving Him (Matt. 6:24) and Paul said even a spouse can be a distraction (1 Cor. 7:32-35). Most of us are in at least one of those situations and many are in both. I think one of the lessons from Peter's "reinstatement" is that the Lord can accept us as we are, with all our shortcomings, and be content.
———————————————
NEWS CLIPS OBTAINED FROM MANY SOURCES – INCLUDING

Tracking bible prophecy.org
Rapture Ready News
Prophecyupdate.Com
Main News Channels
End Times Headlines
Prophecyupdateblogspot.com
Stevequayle.com
Gracethrufaith.com
Nowtheendbegins.com
Other Christian Sites
(CLICK ON) LATEST DAILY NEWS CLIPS:
ISRAEL NEWS:
Zech. 12:2 Behold, I will make Jerusalem a cup of trembling unto all the people round about, when they shall be in the siege both against Judah and against Jerusalem.
Zech. 12:3 And in that day will I make Jerusalem a burdensome stone for all people: all that burden themselves with it shall be cut in pieces, though all the people of the earth be gathered together against it
WORLD TERRORISM – WARS
GENERAL WORLD NEWS:
WORLD FINANCE:
Rev. 6:6 And I heard a voice in the midst of the four beasts say, A measure of wheat for a penny, and three measures of barley for a penny; and see thou hurt not the oil and the wine
MASSIVE EARTH CHANGES/EARTHQUAKES/VOLCANOES ETC:
2Chr. 7:13 If I shut up heaven that there be no rain, or if I command the locusts to devour the land, or if I send pestilence among my people;
2Chr. 7:14 If my people, which are called by my name, shall humble themselves, and pray, and seek my face, and turn from their wicked ways; then will I hear from heaven, and will forgive their sin, and will heal their land
CHRISTIAN AND RELIGIOUS WORLD NEWS:
Matt. 24:9 Then shall they deliver you up to be afflicted, and shall kill you: and ye shall be hated of all nations for my name's sake.
Matt. 24:10 And then shall many be offended, and shall betray one another, and shall hate one another
EXTRA WORLD – ALTERNATIVE NEWS:
Please keep in mind that this collection of News Articles is mainly concerning America, but also take note that what happens in America will also "Dramatically" affect Australia and the rest of the World "Massively".
————————————————-
WORLD – PROPHETIC NEWS ARTICLES PRESENTATION – SUNDAY 17th NOVEMBER 2019
MIDDLE EAST AND WORLD WAR LOOMING THE BUILD UP TO PSALM 83  – ISAIAH 17 AND GOG OF MAGOG WARS EZEKIEL 37-38:
THE WHOLE WORLD IS UNSTABLE FINANCIALLY, POLITICALLY, PHYSICALLY, MORALLY, GODLY: – AND BECOMING MORE SO DAILY. (WE ARE IN THE BEGINNING OF SORROWS (MATT 24:8)
THE BIBLE STATES THAT IT WILL ONLY GET WORSE BEFORE THE START OF THE TRIBULATION OF MANKIND – (REVELATION 6)
But before that we have to go through the Birth Pangs, leading up to the Tribulation of Mankind; and I feel that the beginning of Matthew 24 explains that time very well. We are currently in the Birth Pangs:
Matt. 24:6 And ye shall hear of WARS AND RUMOURS OF WARS: see that ye be not troubled: for all these things must come to pass, but the end is not yet.
Matt. 24:7 FOR NATION SHALL RISE AGAINST NATION, AND KINGDOM AGAINST KINGDOM: and there shall be famines, and pestilences, and earthquakes, in divers places.
———————————————-
HENRY KISSINGER WARNS OF 'CATASTROPHIC' CONFLICTS UNLESS CHINA AND US SETTLE THEIR DIFFERENCES
'It will be worse than the world wars that ruined European civilization,' says former secretary of state and adviser to Richard NixonOne side cannot dominate the other – and they have to get used to that, veteran diplomat says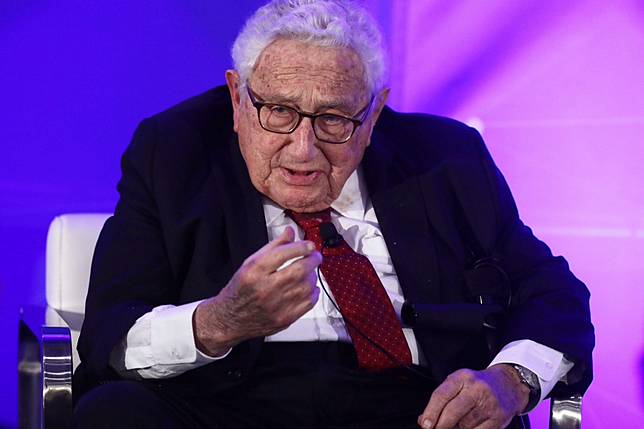 Conflict between the
will be "inevitable" and result in "a catastrophic outcome" that "will be worse than world wars" unless the countries settle their differences, according to former US secretary of state Henry Kissinger.
"We are in a difficult period now. I am confident the leaders on both sides will realise the future of the world depends on the two sides working out solutions and managing the inevitable difficulties," he said at an event hosted by the National Committee on US China Relations in New York on Thursday.
"There is no doubt many aspects of the evolution of China are challenging to the US," the 96-year-old said. "It never happened before that two major countries in different parts of the universe were in similar positions."
But they must understand that a permanent conflict between them could not be won and would end in "a catastrophic outcome" for Beijing and Washington, he said.
If no resolution was achieved, "it will be worse than the world wars that ruined European civilisation", he said.
"It's no longer possible to think that one side can dominate the other," he said. "They have to get used to the fact that they have that kind of a rivalry."
The remarks from Kissinger – who was a diplomatic driving force behind then-US president Richard Nixon's groundbreaking visit to China in 1972 – came as the world's two largest economies are embroiled in a trade war that has dampened appetites for cross-border business and damaged their economic growth prospects.
US President Donald Trump began imposing tariffs on thousands of Chinese-made products in July 2018 to put pressure on Beijing to change trade practices and industrial policies his administration deemed unfair.
, who met President Xi Jinping and senior cabinet officials during a visit to China in November last year, said in New York that "when we started this relationship, it was a strategic one".
"There were differences at the beginning of the relationship. Nevertheless, we've learned to live with each other for many decades," he said.
Looking to the future, he said he was confident the trade disputes would be resolved "in a positive way".
————————————————
https://prophecyupdate.blogspot.com/
Two rockets were fired into Israel in the predawn hours of Saturday morning in a fresh breach of a ceasefire agreement between Israel and Gaza terror groups.
Both projectiles, fired toward Beersheba, were shot down by soldiers operating the Iron Dome missile defense system, the Israel Defense Forces said.
The rockets set off warning sirens in Beersheba for the first time this week.
The Magen David Adom emergency and rescue service said it was treating five people for anxiety and four who were injured while running for bomb shelters following the attack.
The incident came as Israelis had started recovering from two days of intense fighting between Israel and Gaza terror groups.
From the predawn Tuesday to Thursday morning, Israel and the Islamic Jihad terrorist organization fought a battle in which over 450 rockets and mortar shells were fired at Israel from Gaza, and the IDF responded with dozens of airstrikes on Islamic Jihad facilities and on the terror cells as they were firing and preparing to launch rockets.
The escalation began when an IDF targeted missile strike killed Baha Abu al-Ata, a commander in the Islamic Jihad terror group who Israel said was the "prime instigator" of terrorism from Gaza over the past year.
Palestinian sources said 34 Gazans were killed in the two days of conflict. Israel said 25 of the fatalities were terrorists; human rights officials said 16 civilians were among the dead.
Fifty-eight Israelis were lightly and moderately injured or treated for anxiety.
Most of the rockets from Gaza either landed in open fields or were intercepted by Israeli air defenses. Some struck homes, businesses and streets, causing injuries and significant property damage. Dozens of people were also hurt as they fell running to bomb shelters.
———————————————–
https://prophecyupdate.blogspot.com/
The Palestinian Islamic Jihad fired a new kind of rocket at Israel with a massive 300 kilogram (660 lb) warhead that left a huge crater where it exploded in southern Israel, Channel 12 reported Friday.
The rocket, which carried significantly more explosives than most of the missiles fired by the terror group, landed in an open area in an Israeli community on the outskirts of Gaza and left a crater with a diameter of 16 meters (52 feet) and 2 meters (6 feet) deep.
Channel 12 said the size of the rocket surprised Israel and noted that it was developed locally with the assistance of Iranian engineers.
The report said Islamic Jihad had managed, in some aspects, to surpass the technical capabilities of the much larger Hamas terror group. However, it noted that Hezbollah in Lebanon has rockets of this size and larger aimed at Israel, some with precision-guided systems.
Islamic Jihad received hundreds of millions of dollars in assistance from Iran, which hopes to use its proxies in Gaza and Lebanon to fire thousands of missiles at Israel in the event of a conflict.
From predawn Tuesday to Thursday morning, Israel and Islamic Jihad fought a battle in which over 450 rockets and mortar shells were fired at Israel from Gaza. The Israel Defense Forces responded with dozens of airstrikes on Islamic Jihad bases and weapons facilities and on the terror cells as they were firing and preparing to launch rockets.
———————————————-
https://prophecyupdate.blogspot.com/
Israeli aircraft struck Hamas positions in Gaza before dawn Saturday, Nov. 16, after Beersheba came under rocket attack Friday night. 
It was the first time the IDF had targeted Hamas for reprisals in the ongoing clash with the Palestinian Islamic Jihad.  The two large Grad rockets that shook Beersheba's population of quarter of a million were intercepted by Iron Dome. Nine people suffered minor injuries or shock as they ran for shelter in response to the rocket sirens.
The Islamic Jihad was making a point: Its rocket war on Israel was not over, although the IDF's Home Command insisted on ending the war emergency after an agreed ceasefire went into force early Thursday to end the 450-rocket blitz that had shut down the towns and villages of the South for 48 hours. The IDF hailed its Operation Black Belt, launched with the killing of the Jihad senior commander Baha Abu Al-Atta, and the wrecking of its terrorist infrastructure in Gaza as a victory. 
Israel's leaders refused to accept that the war was still ongoing – even when Jihad fired three salvos after the ceasefire. The IDF Home Command insisted that the local councils reopen schools and return to their normal routines. After disobeying the order on Friday, they agreed to restart classes on Sunday.
On Friday too, Hamas cancelled its regular weekly mass disturbance on the Gaza-Israel border, for the first time since it instituted the violent "March of Return" demonstration eighteen months ago, so as deny its smaller rival, the Islamic Jihad,  a pretext for violating the ceasefire brokered by the UN and Egypt.
DEBKAfile's military sources note the Islamic Jihad did not need a pretext. On Friday night, after a quiet day, it attacked the major Israeli town nearest to the Gaza Strip, Beersheba, capital of the Negev. By persisting in their denials of the ongoing conflict, Israel's strategists triggered its escalation.
Aside from the single attack on Tel Aviv, Islamic Jihad had hitherto avoided using its long-range rockets to reach Israeli populations at a distance from the Gaza Strip, and Hamas refrained from intervening in the contest. But when on Friday night, the Hamas leader Ismail Haniyeh phoned his Islamic Jihad counterpart Zeyad al-Nakhala at his Beirut base with condolences for the death of Abu Al-Atta, the two Palestinians agreed to join forces to fight Israel. It is therefore possible that Hamas was responsible for the rocket fire on Beersheba, although this is not confirmed. 
Israel returned to attacking Hamas early Saturday in response to is leaders' decision to throw its support behind the Islamic Jihad once again. This decision scuttled the most hopeful outcome of the contest with Jihad: Hamas' neutral stance. Israel reacted by reverting to the dead-end, tit-for-tat routine in the Gaza Strip, which presages constantly deteriorating security for the southern regions within range of terrorist aggression.
——————————————–
The Deep State is the small number of people who control the organisations that donate the majority of the funds which finance the political careers of national officials, such as Presidents, Prime Ministers, and members of the national legislature. Almost always, the members of the Deep State are the controlling stockholders in the international corporations that are headquartered in the given nation; and, therefore, the Deep State is more intensely interested in international than in purely national matters. 
Since most of its members derive a large portion of their wealth from abroad, they need to control their nation's foreign policies even more than they need to control its domestic policies. 
Indeed, if they don't like their nation's domestic policies, they can simply relocate abroad. But relocating the operations of their corporations would be far more difficult and costly to them. Furthermore, a nation's public know and care far less about the nation's foreign than about its domestic policies; and, so, the Deep State reign virtually alone on the nation's international issues, such as: which nations will be treated as "allies" and which nations will instead be treated as "enemies." Such designations are virtually never determined by a nation's public. The public just trust what the Government says about such matters, like, for example, the US regime's standard allegation, for decades, that "Iran is the leading state sponsor of terrorism", which is clearly a blatant lie.
The Deep State here is the US-and allied Deep State, no merely national organization. It consists mainly of America's billionaires, plus of the billionaires in US-allied countries such as UK, France, Saudi Arabia, UAE, and Israel — but many more (including, for example, in Honduras, Brazil, etc.). These people number fewer than 2,000 in total, and they do deals together, and their contacts with one-another are both direct person-to-person, and indirect by means of representatives or agents. However, America's billionaires lead the US-and-allied Deep State. That's to say, the leaders are among the 607 US billionaires, the people who mainly fund American national political campaigns and candidates — and these 607 individuals determine who will get an opportunity to become a US President or member of Congress, and who won't. For example: these individuals don't necessarily select the politician who will become America's President, but they do select who will get the opportunity to be among the serious contenders for that position. (Basically, what the mullahs do in Iran, these super-rich do in America. Whereas in Iran the clergy rule, in America the aristocracy rule.)
One, in particular, is George Soros, and this article will detail the views of one of his many beneficiaries.
 The foreign policies of neoliberals are called "neoconservative" and this means supporting regime-change in any country that's labeled by billionaires and their government an "enemy" nation.
 So, "neoconservative" is merely an extension of "neoliberal": it favors extending neoliberalism to other nations — it is internationally aggressive neoliberalism; it is imperialistic neoliberalism. It is fascism, but so is neoliberalism itself fascist; the difference between the two is that neoconservatism is the imperialistic extension of fascism…
But now the US has emerged as the world's leading neoconservative regime, invading and occupying country after country, none of which had ever invaded nor even threatened to invade the United States. Propaganda is necessary in order to 'justify' doing that. This article will describe how that's done.
The dictatorship of the US Deep State really is more international than national; it provides the continuity in international relations, when it chooses and defines which nations (which foreign governments) are "allies" (meaning "we sell arms to them") and which are instead "enemies" (meaning "we should sanction them and maybe even bomb them"). Both allies and enemies are essential in order for the military-industrial-press-government complex (here: "MIPGC") to thrive, and the Deep State controls the entire MIPGC. In other words: the Deep State is an international empire, and, as such, its supreme aspiration is to conquer (via subversion, sanctions, coups, and/or invasions) all countries that it labels as "enemies."
——————————————–
https://prophecyupdate.blogspot.com/
[Yet another winter of multiple (cold) temperature records broken – obviously this means the planet is warming because we all know that cooling = warming in this Orwellian world we find ourselves in. And don't question this narrative or you will be labeled "conspiracy theorist"]
The past week has certainly been rough on people across eastern North America. The Washington Post reported on Nov. 13 that "The most severe early November cold snap in more than a century has plowed over the East Coast, where record low temperatures were set in the majority of population centers Wednesday morning."
Weather.com reported that over 400 daily cold records were set since the cold flowed into the continental US on Sunday. They also noted that it has already become colder in the Deep South than at any time observed there last winter.
Cities setting low temperature records this week (winter does not officially start until Dec 21) included those in both the eastern US and Canada:
Chicago: 7 degrees F

Nashville: 17 degrees F

New York City: 23 degrees F 

Toronto: -13.9 degrees C (previous record was -9.6 degrees C (1986))

Windsor: -15.8 C (previous record -10 degrees C (1873))

Kingston: -16.2 degrees C (previous record -8.2 degrees C (1983))
All this is just a warning of what is yet to come this winter, according to the Farmers' Almanac, which bases their predictions on more than two centuries of experience in meteorology, climatology and mathematical models. 
The managing editor of Almanac Version 1 (founded 1792) summed it up: "We're using a very strong four-letter word to describe this winter, which is C-O-L-D. It's going to be very cold."
Version 2 of the Almanac (founded 1818) agrees. "We expect yet another wild ride this winter," editor Peter Geiger said, "with extreme temperatures swings and some hefty snowfalls."
The coming winter is described by version 2 as a "polar coaster" for about 70% of the US. 
According to the Almanac, which has been reliable in recent winter forecasts, the Northern Plains and Great Lakes area could expect temperatures dropping to -40 degrees (F and C are the same at this level). 
Yet the National Aeronautics and Space Administration's climate body (Goddard Institute for Space Studies (GISS) and the National Oceanic and Atmospheric Administration (NOAA) predict that the 2019-2020 winter will be warmer than usual. NOAA wrote on October 17th, "Warmer-than-average temperatures are forecast for much of the U.S. this winter… below-average temperatures are not favored."
So, who should we believe, the cold winter predicted by the Farmers' Almanac or the mild one forecast by GISS and NOAA?
The problem with any prognostications from GISS and NOAA is that they are government bodies still controlled by entrenched bureaucrats appointed during previous administrations, all of whom promoted the politically-correct man-made climate change hypothesis. Consequently, warming or cooling, droughts or floods, it makes no difference. They will work to find every way possible to convince the public of the dangerous warming to come.
By contrast, the Farmers' Almanac has a track record of accuracy and honesty in climate forecasting so American farmers have long depended on the skill and accuracy of its seasonal forecasts. These forecasts have to be right.  If they are not, farmers who depend on it could suffer significant financial losses and the Almanac would lose financial support from buyers and advertisers.Consequently, the Farmer's Almanac cannot afford to entertain any political bias whatsoever. 
Quite different to the Almanac, GISS and NOAA face no consequences for inaccurate or fabricated science and forecasts. Those who put their faith in GISS/NASA forecasts certainly do however. For example, the state of Illinois is preparing for global warming by putting the few obsolete snow plows they have into storage based on the NOAA's mild weather prediction, while both Almanacs project Illinois to have part of the state "frigid and snowy" and the other part "frozen and snowy".
So far this year, the Almanacs have been right on target. 
The reason for the present and coming cold is of course a weak Sun. Recent research indicates that the Sun is the primary climate controller. This is a serious concern since we are approaching a super grand solar minimum when all the cycles of the Sun are expected to hit rock bottom about mid-century. 
Rather than waste billions of dollars trying to control climate, we need to prepare for the extreme cold that nature will likely be throwing at us in the decades to come.
Dr. Joel Glass is an engineer working in the field of water infrastructure for ultra-cold climate environments. He is the author of ICE AGE 2025. Tom Harris is Executive Director of the International Climate Science Coalition.
————————————————-
Eugenics and population control are long time hobbies of the financial elites. In the early 1900's, the Rockefeller Foundation and the Carnegie Institute were deeply involved in promoting Eugenics laws in the US. These laws led to the forced sterilization of over 60,000 American citizens in states like California and thousands of rejected marriage licenses. The Eugenics programs in the US were only a beta test though, as the Rockefellers then transferred their programs over to Germany under Hitler and the Third Reich in the 1930's, were a true widespread eugenics-based population control program was introduced.
The targets of population reduction were based on ethnic background, but also "mental intelligence" and economic status. The Carnegie Institute even established a "Eugenics Records Office" called Cold Springs Harbor Laboratory in 1904, which collected genetic data on millions of Americans and their families with the intent of controlling their numbers and erasing certain traits from the US population. The Cold Springs Harbor Laboratory still exists today and presents itself as a kind of philanthropic endeavor to help humanity.
Public knowledge of the globalists and their population control agenda was carefully swept under the rug in the US after the exposure of Nazi programs post-WWII. The word "eugenics" became a very ugly one and all the effort the elites put into promoting it as a legitimate science was ruined. However, they were not going to give up on their precious ideology.
In the late 1960's into the 1970's there was a resurgence of population control rhetoric coming out of globalist circles. Under the supervision of the UN and some related scientific groups, the Club Of Rome was formed. 
A prominent part of the Club of Rome's agenda was population reduction. In 1972 the group of "scientists" under the UN's direction published a paper called 'The Limits Of Growth', which called for greatly reduced human population in the name of "saving the environment". This effort was directly linked to another agenda – the institution of a global government that could handle and enforce population controls on a wide scale.
The elites had found a new scientific front for their eugenics obsession: Climate science. In the early 1990's the Club Of Rome published a book called 'The First Global Revolution'. In it they state:
"In searching for a common enemy against whom we can unite, we came up with the idea that pollution, the threat of global warming, water shortages, famine and the like, would fit the bill. 
In their totality and their interactions these phenomena do constitute a common threat which must be confronted by everyone together. But in designating these dangers as the enemy, we fall into the trap, which we have already warned readers about, namely mistaking symptoms for causes. All these dangers are caused by human intervention in natural processes. and it is only through changed attitudes and behaviour that they can be overcome. The real enemy then is humanity itself."
The statement comes from Chapter 5 – The Vacuum, which covers their position on the need for global government. The quote is relatively clear; a common enemy must be conjured in order to trick humanity into uniting under a single banner, and the elites see environmental catastrophe, caused by mankind itself, as the best possible motivator. 
It also outlines the perfect rationale for population control – Mankind is the enemy, therefore, mankind as a species must be kept under strict supervision and his proliferation must be restricted.
The Club of Rome and the UN agenda have always been intimately connected. In the 1990's at the same time 'The First Global Revolution' was being published, UN assistant secretary general Robert Muller was publishing his manifesto which is now collected on a website called 'Good Morning World'. Muller argues that global governance must be achieved using the idea of "protecting the Earth" and environmentalism as the key components. Through fear of environmental Apocalypse, the public could be convinced to accept global government as a necessary nanny state to keep society from destroying itself.
In a paper titled 'Proper Earth Government: A Framework And Ways To Create It' Robert Muller outlines how climate change could be used to convince the masses of the need for global government. Integral to his plan were the introduction of a new "global religion", and population controls.
It should come as no surprise that the UN established the Intergovernmental Panel On Climate Change (IPCC) and that this panel and it's offshoots are now at the forefront of the argument for population reduction. As we close in on the end date for the UN's Agenda 2030, which calls for a radical shift of human production from oil and other large scale energy sources into small scale "renewable energies", there is only 10 years left for the globalists to achieve their goals if they hope to meet their announced deadline. This would require a violent change in human society and most of all industrialized nations.
The human population would have to be reduced dramatically in order to survive on the meager energy output of renewables alone. A disaster of epic proportions would have to take place soon so that the globalists could then spend the next decade using the resulting fear to convince the surviving population that global governance is needed. Without aggressive crisis and change most people would never go along with the UN's agenda, out of simple desire for self preservation. Even many leftists, once exposed to the true nature of carbon controls and population reduction, might have second thoughts when they realize they could be affected.
The key to understanding people who cheer for population control or population reduction is that these people always assume that THEY will be the survivors and inheritors of the Earth after the culling.  They never assume that they will be the one's put on the chopping block.
In 2019, the population agenda is being ramped into high gear and the public is being carefully conditioned over time to accept the idea that man-made climate change is real and population is the source of the problem.  Recently, a groups of scientists partially funded by something called the "Worthy Garden Club" claimed 11,000 signatures on a statement for the need for population reduction in the name of saving the Earth from global warming.
The statement cites all the same long debunked IPCC and UN climate change propaganda as the reasons why the Earth is on the verge of annihilation. The fact of the matter is, climate scientists have been consistently caught red handed manipulating their own data to show the intended outcome of global warming. They have even been caught trying to adjust their own data from 20 years ago in order to match it more closely to the rigged data they publish today.
The Worthy Garden Club is a strangely sterile group and there doesn't seem to be any list of their patrons and who funds them. However, the mainstream media was quick to pick up on the statement from the "11,000 scientists" and tie it to statements made by the UN's IPCC.
Population control has also been brought up consistently as an issue in the 2020 Presidential Election race. Bernie Sanders argued for birth control measures in poor countries. Elizabeth Warren promoted abortion by saying it was as safe as "getting your tonsils removed". She has consistently promoted the carbon control agenda of the UN and was, interestingly, a member of the University Of Texas Population research Center in the 1980s. And, Green New Deal politicians are throwing their support behind the statements from the Worthy Garden Club on population reduction.
This is the first time I have seen the argument for population reduction used so blatantly and widespread in the mainstream media, and it suggests to me that a trend is forming. For years I have warned my readers that they will know when the globalists are about to pull the plug on the current system when they start talking about their criminality openly. When they admit to their agenda in a free way, this means they are close to a global reset and do not care anymore who knows about it. The openness of the plan to cut world population is becoming apparent.
How many people would the globalists like to kill off to achieve their utopian aspirations?  Well, globalist Ted Turner in a moment of honesty said when confronted by We Are Change that the population should be reduced to 2 billion down from 7 billion.
The primary issue here beyond the moral horror show of eugenics is, who gets cut? And furthermore, who gets to decide who gets cut? Who gets to decide if you can have children or not? Who gets to decide if you are allowed to access resources to produce and make a living or not? Who gets to decide if the global economy will sustain the population or not? Who pulls the trigger on the culling of the population?
As history has shown us, it is always the elites that end up in the position of deciding the fates of millions or billions. From the Rockefeller Foundation sterilization programs in the US in the early 1900's to the UN today, the globalists, a veritable death cult, are desperate to conjure a rationalization as to why they should be the ones to allow or deny human life based on lies like man-made climate change.  They don't believe in the climate change threat, THEY were the people that fabricated it.  So, what is the core reason behind all of this?
A reduced population completely dependent on limited energy sources might be easier to dominate.  But I have another theory – they are psychopaths looking for a socially justifiable way to kill as many people as possible. Why? because they enjoy it.
————————————————-
Un-elected bureaucrats, the faceless horde, the Deep State, the swamp if you will, the little despots drunk with power and the ability to screw with people's lives, have risen up
When Ronald Reagan became president, Democrats complained about being surrounded by so many Reagan appointees. They had to be reminded that they lost the election. And so it is with President Trump, but this time the opposition is fighting for what they see as their very existence, the threat to drain the swamp where they have lived so long and have grown so comfortable. They don't even smell the stink anymore. As long as the president was a Democrat, all was well. Dems have a long history of bloated government and despotic bureaucrats.
In New Mexico the Forest Service gated off a 23 acre tract of land preventing cattle from using a water hole. Why? And in Texas soon after, the Bureau of Land management tried to seize rich ranch land along the Red River. Few of us will forget the seizure of Clive Bundy's land and cattle in Nevada, and the less publicized effort by the EPA to garnish the taxpayer wages of Americans without a court order. Or, we can review the IRS attacks on conservative groups like the Tea Party…all under the Obama administration.
These un-elected bureaucrats, the faceless horde, the Deep State, the swamp if you will, the little despots drunk with power and the ability to screw with people's lives, have risen up. They believe they are the only legitimate government of the United States. Presidents come and go, but they are forever. They're striking back at a president that represents what they see as the 'peasants', the hayseeds, the fly-over states, deplorables who dare to question their authority, competency, and legitimacy.
The 'hillbillies' turned away from the Democrat Party and the bureaucratic establishment, their self-interest, self-righteous, sadistic, and cynical bearing. They spurned their 'business as usual', their insistence on 'that's the way we do it because we've always done it that way.'
Democrats have lost the support of many middle-class Americans…the forgotten tens of millions. They've been working feverishly to open our borders in order to sprout new Democrats in need of their support and loyalty. They've colluded with foreign governments, played fast and loose with the law and now have purposely created a major diversion, one they will try to keep alive until the election in 2020. Americans have an acute sense of fairness. The same sense that drove the Japanese Empire into the ground after Pearl Harbor. What they see now is pure political theater. This impeachment is NOT about removing Trump. It is about preventing his re-election. The opposition has cheapened impeachment to a political circus, complete with clowns.
Making the government slimmer and more efficient is a three-front war. The bureaucracy, both civilian and military, and the legislature have become living and breathing creatures unto themselves. They have their own interests and selfish agendas. They have and continue to be engaged in undermining the President's policies. Getting them to heal has proven to be a task requiring almost a war footing.
If there is anything the people have learned these past three years, it is that the Deep State does indeed exist and it's not giving up without a fight.
James Madison said:
"The accumulation of all powers, legislative, executive, and judiciary, in the same hands, whether of one, a few, or many, and whether hereditary, self-appointed, or elective, may justly be pronounced the very definition of tyranny." — James Madison, The Federalist, No. 47
The Bureaucracy and the opposition have indeed over-stepped their authority and squandered the trust of the American people.
——————————————–
GAIA WORSHIP 2020: Pope Francis Preparing To Make 'Ecological Sin' An Official Part Of The Catechism Of The Catholic Church In New Age Shift
https://www.nowtheendbegins.com/pope-francis-ecological-sin-changing-catechism-roman-catholic-church-gaia-worship-vatican/ – by Geoffrey Grider November 15, 2019
On Friday, Pope Francis said "We must introduce—we are thinking—into the Catechism of the Catholic Church the sin against ecology, the ecological sin against the common home, because it's a duty," the pope told an audience of legal experts at the Vatican. He noted that bishops from the Amazon region meeting at the Vatican in October had defined ecological sin as an "action or omission against God, against others, the community and the environment. It is a sin against future generations and is manifested in the acts and habits of pollution and destruction of the harmony of the environment."
SHARE THIS IMPORTANT NTEB ARTICLE:
Pope Francis, who has made the environment a signature cause of his pontificate, said he was strongly considering adding the category of ecological sin to the Catholic Church's official compendium of teachings.
You are watching a major paradigm shift happening right now within the "unchanging" Roman Catholic Church as Pope Francis, a longtime proponent of New Age earth worship known as Gaia, said today from the Vatican that he is preparing to add ecological sin to the official Catechism of the Catholic Church.
"Who changed the truth of God into a lie, and worshipped and served the creature more than the Creator, who is blessed for ever. Amen." Romans 1:25 (KJV)
2019 has been a banner year so far for the One World Religion he is obviously creating, combining everything from wooing the LGBTQ+P for Pedophiles, signing the covenant of Chrislam in Abu Dhabi, and now preparing to add ecological sin to official Catholic teaching. Ecological sin?? If only Jack Chick had lived long enough to see the world he warned us was coming in the pages of his gospel tract cartoons. It's here.  Flight #777 on Titus213 Airlines now boarding…
Pope Francis Weighs Adding 'Ecological Sin' to Church Teachings
FROM WSJ VATICAN: Pope Francis has stressed the importance of environmental protection since his election in 2013. He dedicated an entire encyclical, "Laudato Si,'" published in 2015, to the topic. In that document, he called global warming a major threat to life on the planet and called for a reduction in the use of fossil fuels. He also blamed the global market economy for plundering the earth at the expense of the poor and future generations.
In 2016, the pope added environmentalism, or "care for our common home," to the Catholic Church's traditional seven works of mercy. He also added it to the Beatitudes, the core set of Christian ideals such as meekness and mercy enunciated by Jesus in the Bible, saying: "Blessed are those who protect and care for our common home."
On Friday, he said he was considering going further. "We must introduce—we are thinking—into the Catechism of the Catholic Church the sin against ecology, the ecological sin against the common home, because it's a duty," the pope told an audience of legal experts at the Vatican.
He noted that bishops from the Amazon region meeting at the Vatican in October had defined ecological sin as an "action or omission against God, against others, the community and the environment. It is a sin against future generations and is manifested in the acts and habits of pollution and destruction of the harmony of the environment."
GODDESS BLESS YOU: POPE FRANCIS KEEPS PREACHING THE NEW AGE GAIA GOSPEL OF CLIMATE CHANGE AND MOTHER EARTH
The pope also urged the assembled jurists to work for "adequate legal protection" of the environment through sanctions against corporations that pollute.
Pope Francis has generally highlighted questions of social and economic justice while playing down traditional Catholic teachings on bioethics, sexuality and the family—an approach that has drawn complaints from conservatives.
The addition of ecological sin wouldn't be Pope Francis' first change to the Catechism, published in 1992 under St. John Paul II. In 2018, Pope Francis strengthened the compendium's language on capital punishment to state that the death penalty is "an attack on the inviolability and dignity of the person" and that the church is working "with determination for its abolition world-wide."

READ MORE

:
Pope Francis´s Dramatic Speech On Protecting Mother Earth
"Cowardice in defending Mother Earth is a grave sin", said Pope Francis recently in Bolivia (during the World Meeting of Popular Movements). Check the most powerful speech by Pope Francis on protecting Mother Earth.
——————————————–
https://prophecyupdate.blogspot.com/
[Note: Many prophecy watchers mistakenly believe that the last generation (as referenced in Matthew 24) began when Israel was reunited into a nation in 1948. Unfortunately there are no scriptures to support this point of view. Even though the regathering of Israel into their land is arguable THE single biggest sign within the last generation. We know that Israel would be reunited during the last generation and indeed would be a pivotal sign, but it doesn't mark the beginning of the generation. Jesus gave us that information clearly, and below are quotes from Arnold Fruchtenbaum in "The Footsteps Of The Messiah":
"…He revealed the single event that will indicate that the end of the age has begun. This sign is said to be when
nation shall rise against nation and kingdom against kingdom (Matthew 24:7-8).
This is to be coupled with famines and earthquakes. It is stated that these things are the beginning of travail. Throughout the prophetic portions of Scripture, the end days are pictures by the word travail, which means birth pain, the pain that a woman goes through before giving birth to a baby. 
The key factor, then, is to find the meaning of the idiom
"nation shall rise against nation, and kingdom against kingdom".
This idiom, taken in the Jewish context of the day when it was spoken, points to a total conflict in the area in view. This idiom is found in two old testament passages. First is is found in Isaiah 19:1-4:.….In this passage the land of Egypt is in view and the idiom points to conflict all over the land of Egypt…The second place is in II Chronicles 15:1-7…In this passage it is the Middle East that is in view and the idiom points to conflict all over the Middle East. 
In the Olivet Discourse it is the whole world that is in view, as is clear from verses 14, 21, 30 and 31. Hence, the idiom refers to a worldwide conflict and this worldwide conflict is the first birth pang, signifying that the last days have begun. 
In Jesus' day, the expression nation against nation, kingdom against kingdom was a Jewish idiom of a world war preceding the coming of the Messiah…
The first time that such a worldwide conflict occurred was in the years 1914 – 1918 with World War I. 
This worldwide conflict that signalled the beginning of the last days was to be coupled with famines and earthquakes. As far as famines are concerned, during the war years of 1918-1919, a pestilence killed 23 million people. In 1920, the Great Chinese Famine occurred, followed by the Great Russian Famine in 1921. 
The earthquake factor is even more interesting…between the years 63 – 1896 there were only 26 recorded earthquakes. Most of the world's earthquakes began to occur since 1900. In conjunction with World War I, there were several significant earthquakes: 1905 India – 19,000 killed; 1906 Chile – 20,000 killed; 1908 Italy – 70,000 – 100,000 killed, 1915 Italy – 30,000 killed, 1917 Indonesia – 15,000 killed, 1918 China – 10,000 killed; 1920 China – 200,000 killed; 1923 Japan – 143,000 killed…
The first sign of the first birth pang signifying that the last days of the age have begun was to be a worldwide conflict coupled with famines and earthquakes. This was fulfilled in 1914 – 1918. This also marks the first of the events leading up to the Tribulation period."
Then the obvious question becomes "what is a generation"?  Considering that it began in the era of WWI, and considering that the other various theories have already been disproven (70 years etc), and considering that one meaning of "generation" is a typical lifespan, we are left with returning to Jesus' words:
"…as it was in the days of Noah, so it will be at the coming of the Son of Man." (Matthew 24:37).
Returning to Genesis 6 (aka 'days of Noah') we see the following
"Then the Lord said, 'My Spirit will not contend with man forever, for he is mortal, his days will be a hundred and twenty years."
(Genesis 6:3)
And indeed we are living in an era in which a number of people are alive who's ages range between 110-120 years. 
So with that in mind, we look at this article from Pete Garcia (and consistent with the above, Mr. Garcia is pointing to the Gathering Up as occurring somewhere between now and 10 years from now, even though he comes to this via a different mechanism…And this is NOT date-setting, it is consistent with our being in the season). Additionally, we know that the "Gathering Up" will have to occur sometime prior to the Tribulation…]:
——————————————–
DIGITAL CURRENCY COMING SOON? WORLDWIDE PUSH TO KILL CASH
In a sign of the times, Hasbro has released a new cashless version of it's classic board game Monopoly, designed for the digital age. In Hasbro's latest edition of Monopoly, gone are the paper money and Community Chest cards.
Instead, the board game now comes with a voice-controlled, artificial intelligence device shaped like a top hat to help control the digital transactions.
Countries from around the world have been eager to implement a cashless society but none have moved as fast as Sweden.
Notes and coins now make up less than 1 percent of Sweden's economy which is ironic considering it was the first European country to issue modern banknotes, in 1661.
"No cash accepted" signs are now the norm in shops across Sweden as payments go digital and mobile but many Swedes want to take it to the next level as they blend tech with the human body.
Microchip implants that give people the ability to conduct financial transactions, monitor their health and even replace key-cards to allow them to enter offices and buildings are the new rage as thousands have already been implanted.
Many experts believe this is the next logical step in a digital society that is quite happy to give up privacy for convenience. Cash is one of the last vestiges of anonymity but with every transaction digital there is a record that is being logged, analysed and stored.. potentially forever.
Realising the danger of such a cashless society Sweden's Civil Contingencies Agency has issued a guidance warning to every household telling residents to stockpile 'cash in small denominations' for use in emergencies, such as power failures, hackers or even a cyber war which could disable the digital economy. In such a crisis, the economy would literally go back to the dark ages overnight as people would be forced to barter with no means of cash.
Last year a "systems issue" prevented customers from the CIBC, one of Canada's largest banks, from accessing their bank accounts for an entire business day. The sentiments of normally patient Canadians were … tense. Imagine if it had been longer – how long would you be able to survive without your credit/debit cards? It served as a reminder to Canadians and everyone else who rely on everything digital how vulnerable we all are.
Such troubles have not stopped The Bank of Canada from considering launching a digital currency that would help it combat the "direct threat" of crypto-currencies and collect more information on how people spend their money according to a report from "The Logic". The report details how Canada's proprietary digital coin would initially coexist with coins and paper money, eventually replacing them completely in a phased out scenario. In other words from voluntary to mandatory.
One of the ways this is already taking place around the world is the elimination of large currency notes and transactions of cash over certain amounts resulting in stringent reporting rules. For example Australia's "Black Economy Taskforce" wants to put people accepting over 10,000 AUD in cash in jail for up to two years, or fine them up to $25,000, in an ostensible bid to fight black market economies based on cash transactions. Transactions equal to, or in excess of this amount would need to be made using the electronic payment system or by cheque so that everything is recorded and monitored.
Canada is still only at the exploratory stage but many experts estimate it is coming soon and economic realities may force it to be introduced sooner rather than later. Canada is far from the only country exploring a digital currency.
Last month, Switzerland's central bank started exploring the use of digital currencies for trading. Sweden and Singapore both have research efforts underway. China appears ready to be the first to launch, with plans to have its own digital currency up and running either late this year or early next.
More and more countries are jumping on the bandwagon to establish a centralised digital signal that signal a global push to kill paper money in the name of safety, security, and financial inclusion.
However, it's not just countries getting into the digital currency game. In addition to Facebook's Libra, JPMorgan is already using a digital coin and Vanguard is testing a block-chain-based currency trading system.
Our vulnerabilities to the cashless society are not only technical but political as well.
Facebook – in partnership with major banks, payment processors, and e-commerce companies – has announced plans to launch a digital currency called the Libra. Unlike decentralised, free-floating crypto-currencies, Libra will be tied to national fiat currencies, integrated into the financial system, and centrally managed.
Critics warn Libra is akin to a "spy coin." Many of the companies involved in Libra (including Facebook itself) routinely ban users on the basis of their political views. Big Tech has booted scores of individuals and groups off social platforms for engaging in "hate" speech. If Libra one day becomes the predominant online payment method, then political dissidents could effectively be banned from all e-commerce.
A lesson from the past is the Bush administration's attacks on the credit card processors of pornography sites more than a decade ago. While we might applaud the effort to shut down pornography sites, the financial targeting set a precedent as New York's Comptroller, Thomas DiNapoli, appealed in a letter to major banks and credit card companies to block all transactions associated with firearms.
The efforts failed but we have seen recent attempts in a similar way with MasterCard and Visa being pressured to deny service to those that promote "hate", or put another way – Christian and Conservative businesses that don't act politically correct.
In the past, if credit cards and banks refused transactions involving something they disagreed with an individual could simply pay in cash, but once physical currency has been eliminated such purchases will require the permission of both corporations and government.
A mark of loyalty/allegiance to a government ruler in your right hand that controls your ability to buy or sell based on your political/religious loyalty is exactly what is described in the book of Revelation and is often referred to as "the mark of the beast".
Those who like to dismiss the book of Revelation as mere allegory may want to take another look.
The technology described in Revelation is already here and the next step is taking place before our eyes as the masses are being conditioned to accept it's spread. Slowly but surely we are also seeing our ability to conduct commerce becoming linked with our political/religious views. Are we prepared for what will happen next?
Dig deeper into the Book of Revelation to explore the "mark of the beast" and other current issues facing our world with our Decoding The Future DVD Series – now on sale here.