'God of Chaos' Asteroid SPEEDING UP Toward Earth
•

Streamed live on Feb 8, 2021

44.7K subscribers
New telescope data shows Apophis, 'God of Chaos', Asteroid is speeding up and heading toward Earth as the prophetic signs are accelerating just as the Bible Prophecy foretold. Support this ministry so we can continue sharing signs of Biblical prophecy to the world, donate here:

https://signsofthelastdays.org/giving-2/

​

Check recurring contribution button to become a monthly Partner In Prophecy.
——————————————
China is furious (Feb 12,2021) French Nuclear attack Submarine and two Warships Patrol in SCS

French Nuclear attack Submarine and two Warships Patrol in SCS French nuclear attack submarine was among two navy ships that recently conducted a patrol through the South China Sea, its defence minister announced, in a move likely to anger Beijing, which claims most of the strategic waters as its territory. The SNA Emeraude was accompanied by support ship BSAM Seine for the passage, Defence Minister Florence Parly said on Twitter late Monday. "This extraordinary patrol has just completed a passage in the South China Sea. A striking proof of the capacity of our French Navy to deploy far away and for a long time together with our Australian, American and Japanese strategic partners," she tweeted along with a picture of the two vessels at sea.
——————————————
Bible Prophecy Update – February 7th, 2021
•

Streamed live on Feb 8, 2021

Pastor JD talks about the prophetic significance of "The Ten Stages of Genocide" eerily describing with chilling accuracy what's happening in the world today. This update will only be shown in its entirety at

https://www.jdfarag.org/

​

while the traditional YouTube live stream will be limited to Pastor JD's introduction only.    "LIVE STREAMING ALERT: Pastor JD's COMPLETE Bible Prophecy Update Videos will only be available at

https://www.jdfarag.org/

​

. We will continue live-streaming the introduction to the Prophecy Update on YouTube, however, once the introduction is done, the YouTube live-stream will end, and Pastor JD will continue the live-stream with the conclusion of the update at

https://www.jdfarag.org/

​

. The best and easiest way to watch the complete updates will be to watch them in their entirety from the start of the live stream at

https://www.jdfarag.org/

​

.  Please set your reminders, bookmark our website page, or fan us on Facebook when we are about to go live."
——————————————
We're Being Set Up | Prophecy Update with Tom Hughes

78.9K subscribers
In this week's Prophecy Update with Tom Hughes, we look at how 2020 has served as the "Great Set Up" and what we may expect in the near future. If you'd like to support our ministry, please visit:

http://b.link/support-us

​

Connect with Pastor Tom!
—————————————————
LATEST NEWS CLIPS – ARTICLES PRESENTATION (FRIDAY 12th FEBRUARY 2021)
—————————————————
(THIS IS THE WORLD'S CURRENT TIMELINE)
Matt. 24:6 And ye shall hear of wars and rumors of wars: see that ye be not troubled: for all these things must come to pass, but the end is not yet.
Matt. 24:7 For nation shall rise against nation, and kingdom against kingdom: and there shall be famines, and pestilences, and earthquakes, in divers places.
Matt. 24:8 All these are the beginning of sorrows.
Matt. 24:9 Then shall they deliver you up to be afflicted and shall kill you: and ye shall be hated of all nations for my name's sake.
Luke 12:40 Be ye therefore ready also: for the Son of man cometh at an hour when ye think not
—————————————–
THIS IS THE WORLD'S VERY NEAR FUTURE:
Matt. 24:21 For then shall be great tribulation, such as was not since the beginning of the world to this time, no, nor ever shall be
—————————————————
WE PREACH THE BLESSED HOPE FOR THE FUTURE IN JESUS CHRIST OUR SAVIOUR
1Cor. 12:3 Wherefore I give you to understand, that no man speaking by the Spirit of God calleth Jesus accursed: AND THAT NO MAN CAN SAY THAT JESUS IS THE LORD, BUT BY THE HOLY GHOST.
"Behold, I come like a thief! Blessed is he who stays awake and keeps his clothes with him, so that he may not go naked and be shamefully exposed."
"And you know what is restraining him now so that he may be revealed in his time. For the mystery of lawlessness is already at work. Only he who now restrains it will do so until he is out of the way."
REV. 14:12
Here Jesus was alluding to the fact that the Doctrine of Eternal Security WILL EXPIRE WITH THE RAPTURE OF THE CHURCH
Luke 12:37 Blessed are those servants, whom the lord when he cometh shall find watching: verily I say unto you, that he shall gird himself, and make them to sit down to meat, and will come forth and serve them
SO WON'T YOU ACCEPT JESUS NOW AND BE REMOVED FROM THAT EVENT  (OF TRIBULATION) AND LIVE FOREVER WITH JESUS IN THE FAMILY OF GOD?
2 "(For he saith, I have heard thee in a time accepted, and in the day of salvation have I succoured thee: behold, now is the accepted time; behold, now is the day of salvation.)" (2nd Corinthians 2:6)
—————————————————
DAILY CHRISTIAN BIBLICAL QUESTIONS AND ANSWERS:
—————————————————
Satan The Hinderer
https://gracethrufaith.com/ask-a-bible-teacher/satan-the-hinderer/
QUESTION:    How can Satan hinder a person from being saved; could you name few ways?
ANSWER:    One way is to try and prevent people from hearing the gospel in the first place. His effort to hinder the spread of the gospel is not a new thing but has been increasing dramatically of late, even within the church.
But even when the gospel is preached Satan has ways to try and subvert it. Here are some examples mentioned in the Bible.
Confusion
Matthew 13:19 says, "When anyone hears the message about the kingdom and does not understand it, the evil one comes and snatches away what was sown in his heart."
Spiritual blindness
2 Corinthians 4:3-4 says, "And even if our gospel is veiled, it is veiled to those who are perishing. The god of this age has blinded the minds of unbelievers, so that they cannot see the light of the gospel of the glory of Christ, who is the image of God."
False Teaching
2 Corinthians 11:13-15, adds, "For such men are false apostles, deceitful workmen, masquerading as apostles of Christ. And no wonder, for Satan himself masquerades as an angel of light. It is not surprising, then, if his servants masquerade as servants of righteousness. Their end will be what their actions deserve."
Human philosophy
Colossians 2:8 warns us. See to it that no one takes you captive through hollow and deceptive philosophy, which depends on human tradition and the elemental spiritual forces of this world rather than on Christ.
There are lots of variations on each of these themes, but our God is greater than all of them.
When necessary He appears to people in visions and dreams, and in Revelation 14:6 we're told that as the anti-Christ comes to power God will send an angel flying through the air proclaiming the gospel to every nation, tribe, language, and people. No one will be able to say they sought Him but could not find Him.
Satan The Hinderer, Follow Up
https://gracethrufaith.com/ask-a-bible-teacher/satan-the-hinderer-follow-up/
QUESTION:    Your explanation of "Satan the Hinderer" the other day caused me to wonder…how are we to determine whether the false apostles quoted in 2 Cor. 11: 13-15 are simply sincere Christians being deceived by false doctrines, or genuinely evil workmen?
Is it our responsibility to even know the difference? How should we handle them, if they arise in our local congregations? Thank you, for your insight.
ANSWER:    In 2 Cor. 11:13-15 Paul accused false apostles of transforming themselves into apostles of Christ. He used the same word in referring to Satan transforming himself into an angel of light. By the use of this word, Paul revealed that these false apostles knew they were being deceptive, just like Satan does. If so then they're not just misguided, but actually evil.
Personally I worry just as much about misguided people who've been deceived. These people have an air of sincerity about them that fools people who would not be fooled by an impostor. Anyone who's in a teaching position should encourage his listeners to test what he tells them against the Word of God to see whether they agree with his interpretation of Scripture. (Acts 17:11)
The leaders of a local congregation are responsible for the teaching that takes place. A sincere but deceived person will usually be open to correction, while someone who's purposely deceiving people won't. In either case, someone whose teaching cannot be confirmed by Scripture should not be permitted to teach.
There are cases where knowledgeable people will disagree on the interpretation of a passage of Scripture. If the leaders are comfortable with a differing view being taught, then the teacher can proceed, as long as members know that the view being taught is not consistent with the view of their leaders.
——————————————–
NEWS CLIPS/ARTICLES OBTAINED FROM MANY SOURCES – INCLUDING
Tracking bible prophecy.org
Rapture Ready News
Prophecyupdate.Com
Main News Channels
End Times Headlines
Prophecyupdateblogspot.com
Stevequayle.com
Gracethrufaith.com
Nowtheendbegins.com
Other Christian Sites
(CLICK ON) LATEST DAILY NEWS CLIPS:
WORLD TERRORISM – DECEPTION – CHAOS – WARS
GENERAL WORLD NEWS:
GENERAL WORLD CORONAVIRUS NEWS:
WORLD FINANCE:
Rev. 6:5 And when he had opened the third seal, I heard the third beast say, Come and see. And I beheld, and lo a black horse; and he that sat on him had a pair of balances in his hand.
MASSIVE EARTH CHANGES/EARTHQUAKES/VOLCANOES ETC:
2Chr. 7:13 If I shut up heaven that there be no rain, or if I command the locusts to devour the land, or if I send pestilence among my people;
2Chr. 7:14 If my people, which are called by my name, shall humble themselves, and pray, and seek my face, and turn from their wicked ways; then will I hear from heaven, and will forgive their sin, and will heal their land
CHRISTIAN AND RELIGIOUS WORLD NEWS:
Matt. 24:9 Then shall they deliver you up to be afflicted, and shall kill you: and ye shall be hated of all nations for my name's sake.
Matt. 24:10 And then shall many be offended, and shall betray one another, and shall hate one another
(THE MASSIVE WORLD WIDE PERSECUTION OF CHRISTIANS IS ABOUT TO COMMENCE: WE WILL BE BLAMED FOR "EVERYTHING" – PRAY FOR JESUS CHRIST RETURN FOR HIS CHURCH).
EXTRA WORLD – ALTERNATIVE NEWS:
Please keep in mind that this collection of News Articles is mainly concerning America, but also take note that what happens in America will also "Dramatically" affect Australia and the rest of the World "Massively".
—————————————————-
WORLD – PROPHETIC NEWS ARTICLES PRESENTATION  (LATEST NEWS CLIPS – ARTICLES PRESENTATION (FRIDAY 12th FEBRUARY 2021)
MIDDLE EAST AND WORLD WAR LOOMING THE BUILD UP TO PSALM 83  – ISAIAH 17 AND GOG OF MAGOG WARS EZEKIEL 37-38:
THE WHOLE WORLD IS UNSTABLE FINANCIALLY, POLITICALLY, PHYSICALLY, MORALLY, GODLY: – AND BECOMING MORE SO DAILY. (WE ARE IN THE BEGINNING OF SORROWS (MATT 24:8)
THE BIBLE STATES THAT IT WILL ONLY GET WORSE BEFORE THE START OF THE TRIBULATION OF MANKIND – (REVELATION 6)
But before that we have to go through the Birth Pangs, leading up to the Tribulation of Mankind; and I feel that the beginning of Matthew 24 explains that time very well. We are currently in the Birth Pangs (Even though Matthew 24: is directed at the Jewish Nation, it still reflects Biblical Prophecy for the whole World at this time):
Matt. 24:6 And ye shall hear of WARS AND RUMOURS OF WARS: see that ye be not troubled: for all these things must come to pass, but the end is not yet.
Matt. 24:7 FOR NATION SHALL RISE AGAINST NATION, AND KINGDOM AGAINST KINGDOM: and there shall be famines, and pestilences, and earthquakes, in divers places.
—————————————————-
GENERAL PROPHETIC NEWS SECTION:
—————————————————–
US CROSSES PATHS WITH BOLSTERED CHINESE FORCES AS FEARS OF WAR INCREASE
https://endtimeheadlines.org/2021/02/us-crosses-paths-with-bolstered-chinese-forces-as-fears-of-war-increase/ – Feb 11, 2021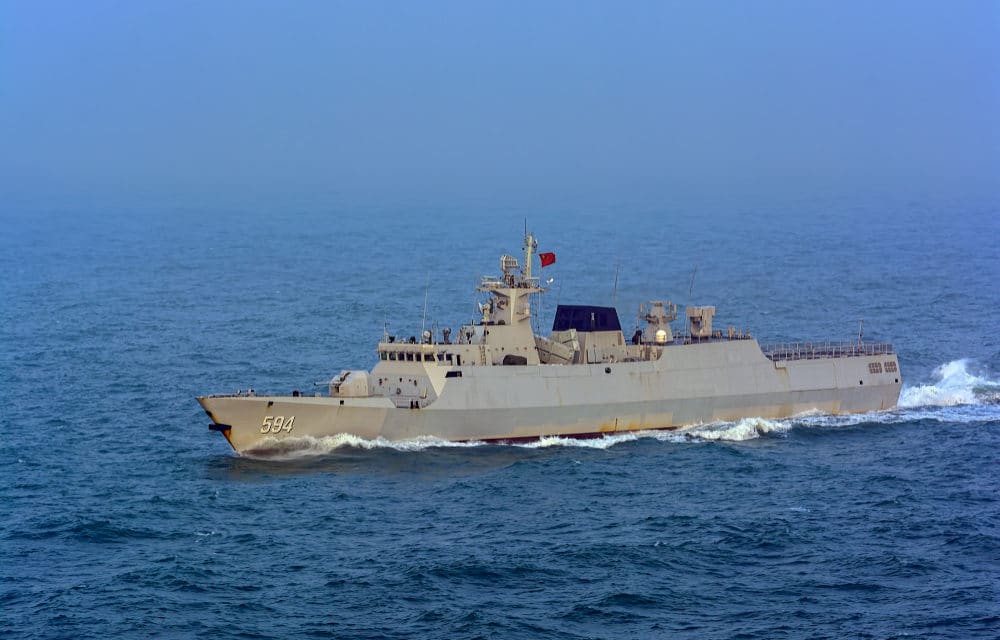 (Express) – US naval forces have had an increasing number of encounters with Beijing's military in the South China Sea as tensions reach an unprecedented level. Rear Admiral James Kirk, commander of the USS Nimitz which carried out an exercise in the region on Tuesday with USS Theodore Roosevelt, said:
"We've seen an expansion of their military capability." He spoke during a video call to reporters alongside Rear Admiral Doug Verissimo, commander of Theodore Roosevelt, according to the Financial Times. Rear Admiral Kirk said:
"We've seen an expansion of their military capability; a larger number of aircraft, larger number of ships being utilized on a daily basis. So the capacity has clearly increased. "I wouldn't infer what their intent is … [but] the number of forces we see in all domains has increased significantly."
Chinese and the US sent military planes into the southwestern corner of Taiwan's air defence identification a fortnight ago, after Chinese jets carried out "simulated missile attacks" on the US aircraft carrier the USS Theodore Roosevelt. Eleven Chinese military fighter jets, including H-6 bombers, flew to the area as the ship passed through.
Pilot cockpit conversations intercepted by Taiwan and US intelligence confirmed that the fighter pilots were taking part in a simulated missile strike against the US warships, sources said. READ MORE:
————————————————-
https://prophecyupdate.blogspot.com/ –
Iran's navy has unveiled 340 new missile firing speedboats. This is highly significant, considering the heightened brazenness of the regime in recent weeks. A couple days ago, Iran's supreme leader, the Ayatollah Khamenei, demanded that Biden lift sanctions before Iran even returns to talks on a renewed nuke deal. But Biden has refused to lift sanctions unless Iran returns to the negotiating table to broker a deal, leaving Iran and America at an impasse.
The regime has been escalating its military might with lightening speed as it rapidly moves toward making a nuclear bomb. Iran is also deeply religious and ascribes to doomsday theology, which is ignored by mainstream media despite its importance.
The Hidden – or Twelfth – Imam plays a dominant role in one specific form of Shi'ite Islamic theology, called "Twelverism," which happens to be the primary belief system of Iran's leadership. There is a messianic belief that at the end of days, the Hidden Imam will appear in the midst of a violent apocalyptic scenario played out on a battleground stained with infidels' blood.
Also, "in the words of senior Iranian Ayatollah Mohammad Mehdi Mirbagheri: 'In Order for the Hidden Imam to Reappear We Must Engage in Widespread Fighting with the West.'" Ayatollah Khamenei has also stated: "The return of this holy land [Israel] to the World of Islam is not a strange and unattainable matter."
"Iran's Navy unveils 340 new missile firing speedboats as Tehran looks to increase influence in the Persian Gulf," RT, February 8, 2021:
" Iran's latest homegrown military hardware, capable of cruising at 90nots/h, was unveiled in front of the armed forces top brass on Monday amid a buildup of foreign naval assets in the Persian Gulf.
"Today, marine vessels which cruise at 90nots/h will be unveiled… God willing, we will go toward (building) speed vessels with 100knots/h speed," Rear Admiral Tangsiri told reporters on Monday ahead of a ceremony to inaugurate 340 navy speedboats in the port city of Bandar Abbas.
"Iran has several times sent messages to the Persian Gulf littoral states that this region belongs to the Persian Gulf littoral states and we are capable of establishing security through sympathy among the neighboring states in the region," he added.
Iran's Fars News shared a photo on Twitter of the boats being unveiled.
The speedboats will be part of the Iranian Navy and will operate in the Persian Gulf, the Sea of Oman, and the Caspian Sea.
———————————————–
https://prophecyupdate.blogspot.com/ – James Delingpole
Just when you thought CORONAFASCISM had reached peak insanity along comes another politician yelling 'hold my beer!'. Today it is the turn of Britain's Health Secretary Matt Hancock with his genius new rule in which lying where you've been on holiday has now become an offence punishable with a 10-year jail sentence.
LET'S PAUSE, FOR A MOMENT, TO RELISH THE JACK-BOOTED, FACE-STOMPING TOTALITARIAN CRUELTY OF THE CRAZED DICTATOR HANCOCK'S OUTRAGEOUS RULING.
What it means is that any Briton who returns to the UK from a holiday anywhere from the Cape Verde islands (a hugely popular winter sun destination) to the Seychelles, from South Africa or Tanzania, or even, ridiculously, from Portugal, must spend 10 days — and £1750 in expenses — in quarantine at some crappy, charmless hotel. And if they try to wriggle out of it by lying to the Border Control officer as to where they've been, then they face 10 years in prison.
Ten years in prison is the maximum term normally given for: rioting, making threats to kill, indecent assault, firearm possession, burglary with intent to commit rape; indecency with children under 14.
It is longer than you'd get for some sex offences involving children; carrying a loaded firearm; racially aggravated assault; incest. These carry a maximum seven-year sentence.
So, to spell it out: if you try to grab a cheeky break on the Algarve and don't tell the UK border authorities where you've been, Matt Hancock, the UK Health Secretary, thinks you deserve a longer prison sentence than if, say, you'd molested your 14-year old niece.
In what possible way is this a just or proportionate addition to Britain's legal code?
As the distinguished barrister Jonathan Sumption – who sat on the UK's Supreme Court between 2012 and 2018 – writes in the Telegraph:
Laws like these […] are the work of people who think there is no limit to the misery, oppressive cruelty, economic damage or injustice that we must put up with if it reduces infections.
Lord Sumption goes on:
The main charge to be levelled at the present government is not that they have the balance wrong. It is that they are not interested in balance at all. They are not natural tyrants, but they believe, like every tyrant that ever lived, that the end justifies the means.
A senior Tory once told me that Hancock was widely despised by his fellow Conservative parliamentarians and that he had a 'Messiah Complex.' The fact that even his fellow MPs consider Hancock to be a loathsome loon is small consolation when he currently has so much power.
Sure, one day in the future we will be able to laugh at the idea that in 2021 Britain's response to coronavirus was so bizarrely over the top that illicit foreign travel earned you a stiffer sentence than child sexual abuse. But currently, we are living the nightmare for real. And what's maybe even more terrifying is that so many drooling lapdogs of this increasingly fascist government are happy to go along with it.
———————————————–
A rural Oregon man was sentenced Wednesday to 30 days in jail and over $1,500 in fines because he had three reservoirs on his property to collect and use rainwater.
Gary Harrington of Eagle Point, Ore., says he plans to appeal his conviction in Jackson County (Ore.) Circuit Court on nine misdemeanor charges under a 1925 law for having what state water managers called "three illegal reservoirs" on his property – and for filling the reservoirs with rainwater and snow runoff.
"The government is bullying," Harrington told CNSNews.com in an interview Thursday.
"They've just gotten to be big bullies and if you just lay over and die and give up, that just makes them bigger bullies. So, we as Americans, we need to stand on our constitutional rights, on our rights as citizens and hang tough. This is a good country, we'll prevail," he said.
The court has given Harrington two weeks to report to the Jackson County Jail to begin serving his sentence.
Harrington said the case first began in 2002, when state water managers told him there were complaints about the three "reservoirs" – ponds – on his more than 170 acres of land.
According to Oregon water laws, all water is publicly owned. Therefore, anyone who wants to store any type of water on their property must first obtain a permit from state water managers.
Harrington said he applied for three permits to legally house reservoirs for storm and snow water runoff on his property. One of the "reservoirs" had been on his property for 37 years, he said.
Though the state Water Resources Department initially approved his permits in 2003, the state – and a state court — ultimately reversed the decision.
"They issued me my permits. I had my permits in hand and they retracted them just arbitrarily, basically. They took them back and said 'No, you can't have them,' so I've been fighting it ever since," Harrington told CNSNews.com.
———————————————–
https://prophecyupdate.blogspot.com/ – Michael Snyder 
The economic downturn that we are currently experiencing is making the last recession look like a Sunday picnic.  Yes, 2008 and 2009 were bad, but they weren't anything like this.  Unprecedented intervention by the Federal Reserve has allowed the rich to get even richer during this crisis, but meanwhile millions upon millions of ordinary Americans are deeply suffering.  Unfortunately, what we have gone through so far is just the beginning.
Let's start with the number 7.  According to the Congressional Budget Office, approximately 7 million more Americans would have jobs right now if the COVID pandemic had never happened…
In fact, the Federal Reserve says that 152 million Americans were working before the pandemic started, and only 142 million Americans are working now.
So the CBO estimate appears to be off by about 3 million.
Let's try another number.  According to Bloomberg, the number of Americans living in poverty has risen by 8 million during this crisis…
Support is rising among policy makers to address America's child-poverty crisis, which is getting worse as the pandemic drags on.
More than 8 million Americans — including many children — fell into poverty during the second half of last year, exacerbating the racial and income inequalities that are holding back the U.S. economy.
One of the big reasons why it will continue to rise is because hordes of small businesses will be collapsing, and that brings us to our next number.
According to a study that was recently released by the Fed, 9 million small businesses in the U.S. say that they "won't survive" in 2021 without more government assistance…
———————————————–
https://prophecyupdate.blogspot.com/ – By Keegan
THE CREATED CRISIS,THE GREAT RESET AND THE NWO'S 'BUILD BACK BETTER'   

                  In all my years of studying Biblical end times escatology i have always held onto the position that in order to create a New World Order you first have to get rid of the current world order that being the mighty United States Of America! Today we are looking at a dismanteled, weak, chaotic and vunerable America! A house divided against itself cannot stand as Matthew 12:25 clearly tells us.Today USA is no more the United States of America, its the Divided states of America!
As lockdowns and mask mandates became a part of daily life over the last year, politicians the world over asked their citizenry to accept "The New Normal." The phrase became ubiquitous, but as vaccines inched closer to deployment, that phrase was replaced with a new one, "The Great Reset," used to describe the monumental changes to human society needed in a post-coronavirus world.
Unveiled in the May of 2020 by Britain's Prince Charles and the World Economic Forum's Klaus Schwab, the 'Great Reset' is an ambitious plan to create a more equal, cashless, integrated and sustainable global society. World leaders have seemingly signed up to the plan, with its catchphrase, "Build Back Better" featured prominently in incoming US President Joe Biden's campaign messaging. 
The word 'unprecedented' has become a part of our everday vocabulary brought about by this orchestrated Coronavirus plannedemic ! Yes the world as we know it has changed forever and its never going back…
The transition to a new world…A New World Order has begun! Pastor Tom Hughes and Jan Markell stated that the last two times an event of this magnitude affected the entire globe was during Noah's flood and the tower of Babel! 
 The globalists of the world, including the new U.S. administration, have put the Antichrist agenda – which was already on fast-forward – to now on warp speed! Joe Biden chose 'Build Back Better' as his campaign slogan because he is the chosen vessel of the New World Order, and a Biden Harris administration would tear down the United States from sea to shining sea. Build what back? Better than what? It just kind of hovers in the ether, meaning nothing and saying nothing. But as it turns out, it says a lot, so much so that it turns out to be the main slogan to the impending New World Order of the United Nations.
The Biden administration tells me that his presidency will hasten the arrival and fasttrack towards The Great Reset in America, which will in turn accelerate the arrival of the antichrist on the world scene! An article penned by Joe Biden in 1992 reveals how long he's pledged allegiance to the New World Order system. The Wall Street Journal op-ed, titled "How I Learned to Love the New World Order," Biden, then a Delaware senator, explained his plans to cede America's sovereignty to the United Nations and establish a one world government by "breathing life into the U.N. Charter." 
They now have the crisis they need in the widespread fear generated by the COVID-19 virus. Schwab is master strategist a canny manipulator and knows how to turn a perceived catastrophe to his advantage, in his own words "to break glass in case of an emergency." The phrase "BUILD BACK BETTER" is a popular talking point with salesmen for the globalist Great Reset. 
———————————————–
JAN MARKELL: THINGS TO COME
https://prophecyupdate.blogspot.com/ – Jan Markell 
As lawlessness abounds, has the spirit of the Antichrist been unleashed? Find out with guest Jan Markell and Nathan Jones of the Lamb & Lion Ministries evangelism team as they provide their Prophetic Perspectives. Access the 7-minute video at the link below or above . . . .  
CLICK ON LINK BELOW:
———————————————–
RHEUMATOLOGIST WARNS ABOUT SPIKE PROTEIN IN VACCINE CAUSING BLOOD CLOTS, BRAIN INFLAMMATION
Dr. J. Patrick Whelan, a pediatric rheumatologist, warned the FDA in December that mRNA vaccines could cause microvascular injury to the brain, heart, liver and kidneys in ways not assessed in safety trials.
On Dec. 8, 2020, the U.S. Food and Drug Administration (FDA) Vaccines and Related Biological Products Advisory Committee (VRBPAC) received a public submission from J. Patrick Whelan, M.D., Ph.D. The submission was in response to the agency's request for comments regarding vaccines against SARS-CoV-2 in advance of the Dec. 10  meeting when the committee would review the Pfizer/BioNTech (BNT162b2) SARS-CoV-2 vaccine for emergency use authorization (EUA).
Whelan's training (at Harvard, Texas Children's Hospital and Baylor College of Medicine) includes degrees in biochemistry, medicine and rheumatology. For 20 years, he worked as a pediatric rheumatologist. He currently specializes in treating children with multisystem inflammatory syndrome (MIS-C), which has been associated with coronavirus infections.
In his public submission, Whelan sought to alert the FDA about the potential for vaccines designed to create immunity to the SARS-CoV-2 spike protein to instead cause injuries.
Specifically, Whelan was concerned that the new mRNA vaccine technology utilized by Pfizer and Moderna has "the potential to cause microvascular injury (inflammation and small blood clots called microthrombi) to the brain, heart, liver and kidneys in ways that were not assessed in the safety trials."
CDC And Two-Mask Mandate?
We already know based on objective, impartial, empirical data, that there is effectively no difference in covid case counts/hospitalizations/deaths in states that mandate masks and business restrictions (such as North Dakota) vs states which do not (such as its southern neighbour).
So, perhaps while looking at this graphic, the CDC had a brilliant idea: ok, one mask does not work, but what about… two masks!
That's right: starting Wednesday, the CDC (aka the U.S. Centers for Disease Control and Prevention) began recommending that Americans wear two masks, or specifically a cloth mask over a medical mask to slow the spread of Covid-19.
The guidance followed the release of an agency study (because "scientists") that found double masking can boost protection from aerosolized particles.
Whereas government officials previously said the CDC was waiting to gather evidence on double masking, they now appear to have a greenlight to mandate double-masking. The new study, part of the agency's Morbidity and Mortality Weekly Report, also examined the efficacy of modifications made to improve the fit of a medical mask. Either double masking or tightening a mask's fit reduced exposure to aerosols that could be infectious by about 95%, the research concluded.
And while the CDC may argue that "the bottom line" is whatever it wants it to be, at least until it changes its mind in a month to suit some political interest du jour, the reality is that wearing just one mask has shown no tangible improvement on infection numbers.
In fact, none other than Dr Anthony Fauci said one week ago that "there's no data that indicates that [double masking] is going to make a difference."
———————————————–
WEBPAGE ADMINISTRATOR:  I was trained by the "NATIONAL SAFETY COUNCIL OF AUSTRALIA" For 5 years; and I served in my own Safety Consultancy Company for a further 20 years; I can positively tell everyone that wearing a paper or cloth mask for more that 10 minutes is dangerous. but wearing 2 masks is "Utterly" "STUPID". Paper and cloth masks do not have an "EXCALATION VALVE" Which means that the "Carbon Monoxide" that we exhale from breathing cannot fully escape, and we breath it back in, hence causing asphyxiation, tiredness, general sickness, and possible dearth in people who have any physical problems to start with; i.e. I have (A. FIBULATION – HEART PROBLEM); and I cannot and will not wear a mask which can kill me.
THE REASON THAT WE ARE FORCED TO WEAR A MASK IS A MANAGEMENT SYSTEM OF FORCED POPULATION CONTROL. AND HAS NOTHING TO DO WITH COVET 19 – COVET 19 IS A BACTERIA "NOT A VIRUS"
CLICK ON LINK BELOW
———————————————–
BEYOND COVID: NEW PESTILENCES ARE BREAKING OUT ALL OVER THE GLOBE
By Michael Snyder/End of the American
Did you hear about the outbreak of the new "mystery disease" in Tanzania?  What about the alarming new outbreak in Congo?  
New developments in South Africa are making headlines all over the globe as well.  Despite all of our advanced technology, humanity remains extremely vulnerable to outbreaks of disease, and many believe that the COVID pandemic is just the beginning.  
Fearsome new bugs are constantly being cooked up in labs all over the planet, and it is inevitable that there will be more "accidents" that result in more of these bugs getting released in the future.  
As we have seen, a single virus can rapidly spread throughout the entire world, and it is just a matter of time before a pandemic comes along that will wipe out tens of millions of people.
This is a hot button topic for me, and so I am constantly monitoring news sources for new pestilences that may be emerging.  Needless to say, when news stories about a new "mystery illness" in Tanzania started coming out, that definitely got my attention…
A MYSTERY illness which causes patients to vomit blood has killed at least 15 in Tanzania, officials said.
More than 50 people have been hospitalised in the south of the country due to the unidentified condition which also causes nausea in sufferers.
Authorities in Tanzania do not know what is causing people to vomit blood and drop dead.
But they did suspend the doctor that first reported this outbreak for "causing panic"…
Tanzania has suspended a medical officer who reported that a mystery disease had killed 15 people in the country and caused people to throw up blood.
Felista Kisandu, the chief medical officer for the Chunya district, had described how patients 'vomit blood and die when they get to the hospital late' in an unexplained bout of sickness which was said to have affected more than 50 people.
At this point, officials are insisting that there will not be a wider outbreak, but of course Tanzania would also have us believe that COVID does not exist in their country when there is a tremendous amount of evidence to the contrary.
So far, this new mystery disease does not appear to match the type of killer pandemic that I described in my latest book, but we will continue to monitor the situation.
Meanwhile, a new Ebola outbreak in Congo is creating a tremendous amount of concern…
Health officials in Congo confirmed another Ebola outbreak in the country's east on Sunday, the fourth in less than three years. On February 3, a woman died in Butembo town in North Kivu province, Minister of Health Eteni Longondo announced.
The woman from the nearby village of Biena felt sick for a few days before being tested in a clinic there. She then went to a hospital in Butembo, but died before receiving the results. The government has begun tracing everyone who came in contact with her to try to "eradicate the epidemic as soon as possible," said Longondo.
VIDEO
The good news is that it is not easy to transmit Ebola from one person to another.
But of course Ebola could mutate at any time.
Speaking of mutations, the number of cases of "SUPER COVID" in the United States appears "to be doubling about every 10 days"…
Cases of the 'super COVID' variant that originated in the UK are spreading rapidly across the United States, a new study claims.
Researchers estimate that the variant, known as B 1.1.7., is between 35 percent and 45 percent more transmissible than strains seen earlier on in the pandemic.
Because of its more contagious nature, infections of the variant in the U.S. appear to be doubling about every 10 days.
Some health experts believe that this will cause the largest wave of COVID that we have seen so far, but others dispute that claim.
Of even greater concern is the COVID variant that has emerged out of South Africa.  At the moment, confirmed cases of that variant have been identified in three different states…
The South Africa coronavirus variant has been identified in Virginia, the third state to report a B.1.351 variant case, according to Feb. 7 data from the CDC. Maryland and South Carolina have also reported cases of the variant, bringing the nation's total to six known cases.
One of the reasons why the South African variant is causing so much concern is because vaccines appear to be of little use against it.
In fact, South Africa just suspended their entire vaccination campaign after the results of a shocking new study were released…
South Africa suspended its vaccination campaign against COVID-19 Sunday after a new study revealed that the AstraZeneca vaccine is less effective against a variant of the virus found in the country.
The World Health Organization is holding a meeting Monday about the latest development in South Africa.
If the South African strain becomes dominant all over the planet, that will be a complete and utter nightmare for global health authorities.
And we are being told that COVID is going to keep mutating in the years ahead.  This is a disease that is simply not going to be eradicated, and even the Wall Street Journal is admitting that this virus could be with us for "decades"…
Governments and businesses are increasingly accepting what epidemiologists have long warned: The pathogen will circulate for years, or even decades, leaving society to coexist with Covid-19 much as it does with other endemic diseases like flu, measles, and HIV.
So those that were expecting their lives to "get back to normal" are going to be deeply disappointed.
Thomas Frieden, the former director of the CDC, says that "we need to come to the acceptance phase that our lives are not going to be the same"…
The ease with which the coronavirus spreads, the emergence of new strains and poor access to vaccines in large parts of the world mean Covid-19 could shift from a pandemic disease to an endemic one, implying lasting modifications to personal and societal behavior, epidemiologists say.
"Going through the five phases of grief, we need to come to the acceptance phase that our lives are not going to be the same," said Thomas Frieden, former director of the U.S. Centers for Disease Control and Prevention. "I don't think the world has really absorbed the fact that these are long-term changes."
But what Frieden and other experts don't seem to realize is that this COVID pandemic is not a worst case scenario.
Pandemics that are far, far worse are inevitably coming, and they will wipe out tens of millions of people.
We have now entered an era of deadly pandemics, and society is going to be completely turned upside down as a result.
————————————————-
FACTS VS MYTHS ABOUT SOCIALISM
https://prophecyupdate.blogspot.com/ – John Stossel
Last week, I reported on two myths about socialism. My new video covers three more.
Myth No. 3: Socialism works if it's "democratic."
As the Democratic Socialists of America put it, "Society should be run democratically — to meet public needs, not to make profits for a few."
Sounds nice. If socialists are elected, then we'll have a more just society.
But Venezuela's socialists were elected.
"They can start off democratically elected," says economist Ben Powell, director of the Free Market Institute at Texas Tech, but "once they centralize control over the economy, it becomes impossible to 'un-elect' them."
Hugo Chavez was elected but became an authoritarian who chose his successor, Nicolas Maduro. Maduro now gets "elected," by having opponents arrested and "ordering state employees to vote for him or they lose their job," says Powell.
"Socialism always becomes authoritarian?" I ask.
"Everywhere you try socialism, that's what you get," he replies. "It's hard to exercise political freedom if you don't have economic freedoms. If you're dependent upon the state for your livelihood, you lose your ability to use your voice to oppose (the state) because you can be punished.
And if the state directs the economy, some government department must manage millions of production decisions and prices. That never works. No bureaucrat can anticipate the needs and wants of millions of people in different places. No politician can match the wisdom of decentralized entrepreneurs making subtle adjustments constantly.
Celebrities like Rosario Dawson, Susan Sarandon and Danny DeVito star in videos selling "democratic" socialism as "public schools" and "interstate highways."
They are not wrong. "Some industries are government-owned," replies Powell, but "when you look at things that are inefficiently done — public education, our congested streets — (it's clear) socialized industries don't work well."
"They do in Scandinavian countries!" say socialism's promoters.
That's myth No. 4.
Scandinavia does have big welfare programs, but capitalism pays for them.
The socialists call Sweden socialist, but that's just wrong. "Volvo is a private company," says Powell. "Restaurants and hotels are privately owned. Markets organize the vast majority of Swedish economic activity."
Sweden did once try socialism. The result was high taxes, inflation and economic decline. It's an example of how people in prosperous places often don't know what made their lives better.
In 1950, Sweden was the world's fourth-richest country. Then Sweden tried socialism. Suddenly, once industrious Swedes started taking sick days. Wealth creation stopped.
"Talent and capital stormed out of Sweden to escape taxes and red tape," writes Swedish historian Johan Norberg. "Businesses moved headquarters and investments to more hospitable places. IKEA left for the Netherlands… Bjorn Borg and other sports stars fled to Monaco."
Sweden recovered only when it ended its socialist experiment. They cut taxes, government spending, and sold state-owned businesses.
After economically ignorant politicians like Bernie Sanders called Scandinavia "socialist," Denmark's prime minister even came to America to say: "Denmark is far from a socialist planned economy. Denmark is a market economy.
————————————————-
https://prophecyupdate.blogspot.com/ – Strange Sounds
This violent mudflow composed of a slurry of pyroclastic material, rocky debris and water destroyed everything on its path while descending the slopes of Semeru volcano in East Java, Indonesia.
The second video shows the widespread damage in the region:
It looks like a dam built in an effort to divert the flow of lava away from residential areas and agricultural areas Level II (Waspada) at Semeru broke down. Could this be the culprit of this amazing lahar? here a video:
So the origin is pretty much unknown. Normally, such lahars are triggered by heavy rains, but this one may have been caused by this dam breach.
A swarm of big earthquakes (M6.0, M6.1, M7.7, M6.1, M6.1) and their aftershocks are currently hitting southeast of the Loyalty Islands in the Pacific Ocean. Hopefully the subduction won't rupture today.
Imagine raindrops the size of boulders, scorching hot, falling from clouds of plasma 100,000 kilometers overhead. It's happening right now on the sun and was captured by Apollo Lasky in Naperville, Illinois:
FROM WARM TO COLD… THE POLAR VORTEX SWEEPING ACROSS CANADA HAS BROCKEN SEVERAL COLD (EXTREME COLD) TEMPERATURE RECORDS. AND YES -50°C (-64°F) IS TRULY TERRIFYING!
————————————————-
SALVATION
CLICK ON LINKS BELOW:
WHAT IS SALVATION? What is the Christian doctrine of salvation?
SIMPLY Salvation is believing in the Ld Jesus Christ death on the Cross where he gave his life for us. And
HOW DOES GOD SAVE

?

In the Christian doctrine of salvation, God has rescued us through (JESUS CHRIST DEATH (ON THE CROSS) AND HIS "RESURRECTION) (John 3:17). Specifically, it was Jesus' death on the cross and subsequent resurrection that achieved our salvation (Romans 5:10; Ephesians 1:7). Scripture is clear that salvation is the gracious, undeserved gift of God (Ephesians 2:5, 8) and is only available through faith in Jesus Christ (Acts 4:12).
AND IT IS A "FREE" GIFT, BASED ON OUR LOVE FOR JESUS SACRIFICE FOR US AND OUR CONTINUAL SINS THAT MUST BE "FORGIVEN" THROUGH HIS SACRIFICE.
————————————————
AN EXAMPLE OF THE SINNERS PRAYER:
Dear Father,
I now believe that Jesus Christ is Your only begotten Son, that He came down to our earth in the flesh and died on the cross to take away all of my sins and the sins of this world. I believe that Jesus Christ then rose from the dead on the third day to give all of us eternal life.
Lord Jesus,
I now confess to You all of the wrong and sinful things that I have ever done in my life. I ask that You please forgive me and wash away all of my sins by the blood that You have personally shed for me on the cross. I am now ready to accept You as my personal Lord and Savior. I now ask that You come into my life and live with me for all of eternity.
Father, Jesus – I now believe that I am truly saved and born again.
Thank You Father.
Thank You Jesus.
————————————————
JESUS CHRIST RETURN FOR HIS CHURCH IS "IMMINENT"
Matt. 7:27 And the rain descended, and the floods came, and the winds blew, and beat upon that house; and it fell: and great was the fall of it.
Matt. 24:38 For as in the days that were before the flood they were eating and drinking, marrying and giving in marriage, until the day that Noe entered into the ark,
Matt. 24:39 And knew not until the flood came, and took them all away; so shall also the coming of the Son of man be
——————————————–
DON'T WAIT FOR THE LAST MINUTE
We are currently in the "Birth Pangs" pending the coming "7 year TRIBULATION" period, where all the Nations on Earth will be subject to God's Wrath on an "UNGODLY" World. The Rapture of Jesus Christ Church is "TOTALLY" imminent; And what will follow after that will be massively more devastating that we are seeing right now (Read

Revelation Ch 6 – 22

) God is trying to get everyone's attention to the coming Judgments; He does not want "ANYONE" to perish, but all to come to repentance. He loves us, but will not stand idly by and watch the World, (His Creation) turn to sin and debauchery). We are currently living in a fallen "Satanic" World where "EVIL", is totally accepted, "and God and his Love for his Church": is being exponentially rejected. The time has come when God HAS TO intervene, and he is (The prophetic word listed in his Word the Bible is being fulfilled exponentially).
——————————————————
THE NEW WORLD ORDER:
ONE WORLD GOVERNMENT – ONE WORLD ECONOMIC SYSTEM – ONE WORLD RELIGION
Dan. 9:27 And he shall confirm the covenant with many for one week: and in the midst of the week he shall cause the sacrifice and the oblation to cease, and for the overspreading of abominations he shall make it desolate, even until the consummation, and that determined shall be poured upon the desolate
Dan. 7:24 And the ten horns out of this kingdom are ten kings that shall arise: and another shall rise after them; and he shall be diverse from the first, and he shall subdue three kings
Rev. 17:12 And the ten horns which thou sawest are ten kings, which have received no kingdom as yet; but receive power as kings one hour with the beast
—————————————————-
THE MARK OF THE BEAST:
DON'T TAKE THE MARK OF THE BEAST WHICH IS (CHANGING YOUR D.N.A.) AND GIVING YOUR CONTROL OVER TO THE "BEAST SYSTEM" – THIS IS AN ABONOMINATION TO GOD: (YOU ARE HIS CREATION):
Rev. 13:14 And deceiveth them that dwell on the earth by the means of those miracles which he had power to do in the sight of the beast; saying to them that dwell on the earth, that they should make an image to the beast, which had the wound by a sword, and did live.
Rev. 13:15 And he had power to give life unto the image of the beast, that the image of the beast should both speak, and cause that as many as would not worship the image of the beast should be killed.
Rev. 14:9 And the third angel followed them, saying with a loud voice, If any man worship the beast and his image, and receive his mark in his forehead, or in his hand
THE PUNISHMENT FROM GOD FOR THOSE WHO TAKE THE MARK AND WORSHIP THE "BEAST SYSTEM":
Rev. 14:10 The same shall drink of the wine of the wrath of God, which is poured out without mixture into the cup of his indignation; and he shall be tormented with fire and brimstone in the presence of the holy angels, and in the presence of the Lamb:
 (YOU ARE GOD'S CREATION – CHANGING YOUR D.N.A. AND/OR GIVING YOUR ALLEGANCE TO ANOTHER ENTITY I.E. (THE ANTICHRIST) – IS AN ABONOMINATION TO GOD):
————————————————-
THE FUTURE CONONAVIRUS INJECTION AT THIS POINT IN TIME ALSO APPEARS TO BE "MASSIVELY" AGAINST GOD AS IT WILL IS ALSO TAINTED WITH A CHANGE IN YOUR (R.N.A. WHICH CHANGES YOUR D.N.A.) AND WILL ALTER YOUR BODY IN MANY WAYS, (INCLUDING DEATH).
————————————————-
 WEBPAGE ADMINISTRATOR:
(THE AUSTRALIAN R.N.A. VACCINE)
You Know, there comes a time in one's life when you just have to speak up regarding the "Blatant "Stupidity", "Greed", "Corruption", "Lies", "ETC" that some people have in their Soul; To say we have to have the Vaccine because of an "I SAID SO" attitude; even if it is Tainted with "DEATH", it can change your R.N.A. to Totally Change your D.N.A. Causing "DEATH". And "OH" if you change your D.N.A. don't look to God to have Mercy on you "IF" you survive, because "GOD" is the "CREATOR" of your "SOUL", and your "BODY". And once you change your D.N.A. you WILL become "NEPHLINIC," i.e. a different person. This is what the fallen Angels did after God Created Adam and Eve, they changed "Animal", and "Human" D.N.A. Which turned "Humans & Animals into a Totally different Species, i.e. it made them "NEPHLIMIC" "NOT OF GOD". God's Judgment is coming upon the people that are creating this "Ungodly" Evil, and like it was before the "FLOOD", so it will be again; Destruction of God's Creation over a "SEVEN YEAR PERIOD". Revelation Chapter 6 to Revelation Chapter 22. Which is about to start any time in the very near future.
This RNA "Vaccine" is "NOT APPROVED", and Trials that they recently conducted on people in Korea, Africa, and God knows where else, resulted in "Hundreds" of Deaths, and left the rest very sick and dying. And since then "tens of Thousands" of people are becoming very sick after the jab, and most are dying. Ask yourself why are they vaccinating Nursing Home residents and Hospitals first; the answer is because the New World Order's Objective is to Eliminate every person over 70 Years Old, and that is exactly what is happening Worldwide;
The "AGENDA" of the "NEW WORLD ORDER" "THE ORDER OF THE PROTOCOLS OF ZION" is to wipe out "EIGHT TENTH'S OF HUMANITY", and leave enough room for the "ELITES" to live in peace and harmony". But they have not considered God into this equation, and he is our Creator and he loves his Creation with a passion –Jesus Christ died for us on the cross at calvary, and Once the Church has gone from this World God's vengeance will commence on the Ungodly of this World.
THE NEW WORLD ORDER THAT HAS ALREADY BEGUN, It Means A "ONE WORLD GOVERNMENT", A ONE WORLD CHURCH, AND A ONE WORLD RELIGION ("CHRISLAM"). "AND IT IS PURE EVIL"
PLEASE ACCEPT GOD'S FREE GIFT OF SALVATION. IT IS OUR ONLY HOPE