World Events Pointing to the Rapture and the Soon Return of Jesus
———————————————-
(Mar 26,2021) Russian Deploy 2,500 Troops, Hundreds Artillery to Sakhalin Island Near Japan Border

Russian Deploy 2,500 Troops, Hundreds Artillery to Sakhalin Island Near Japan Border he tactical drills with a live-fire exercise that will run on Russia's Sakhalin Island next week will involve over 2,000 army corps troops, the press office of the Eastern Military District reported on Wednesday. Some tactical tasks will be based on the experience of present-day military conflicts, including the skills to fight strike and reconnaissance unmanned aerial vehicles
———————————————-
E3-US aligned vs Iran;Israel congratulates Greece on Bicentennial Independence-TV7 Israel News 25.03

Today's top stories 25.03.21; 1) Israel congratulates Greece and its people on the occasion of its bicentennial independence day. 2) ; Greek Prime Minister Kyriakos Mitsotakis and Cypriot President Nikos Anastasiades have called on their European counterparts to ensure a "credible implementation" of a dual-track' approach to relations with Turkey. 3) U.S. Secretary of State Antony Blinken stresses that Washington and its E3 partners, London, Berlin and Paris, are very much on the same page when it comes to Iran.
———————————————-
Approaching Apocalypse | Prophecy Update with Tom Hughes

In this week's Prophecy Update with Tom Hughes, we look at how the ground is being laid for the End Times global systems spoken of in the Bible! If you'd like to support our ministry, please visit:

http://b.link/support-us

​

Connect with Pastor Tom!
———————————————-
Massive Meteorite Blast Rattles Indonesia and Cuba, Triggers Loud Explosions

———————————————-
whats the age of the earth ?
LIVE IN 2 HOURS
Scheduled for Mar 26, 2021

talking about how old our planet is, young earth creation ? or old earth, talking about science and scripture, do you trust current dating methods ? ice core samples ? carbon 14 dating ? uranium dating come and share your opinion
———————————————-
Sons Of Abraham Deception To One World Religion
•

Streamed live on Mar 22, 2021

The Sons of Abraham unification of all religions & the Abraham Accords for peace lead to prophesied great deception of one religious world order of Revelation that denies Jesus. Support this ministry so we can continue sharing signs of Biblical prophecy to the world, donate here:

https://signsofthelastdays.org/giving-2/

​

Check recurring contribution button to become a monthly Partner In Prophecy. You can also now WATCH this LIVE-STREAM on our WEBSITE at this link:

https://signsofthelastdays.org/live/
—————————————————
LATEST NEWS CLIPS – ARTICLES PRESENTATION (FRIDAY 26th MARCH 2021)
—————————————————
(THIS IS THE WORLD'S CURRENT TIMELINE)
Matt. 24:6 And ye shall hear of wars and rumors of wars: see that ye be not troubled: for all these things must come to pass, but the end is not yet.
Matt. 24:7 For nation shall rise against nation, and kingdom against kingdom: and there shall be famines, and pestilences, and earthquakes, in divers places.
Matt. 24:8 All these are the beginning of sorrows.
Matt. 24:9 Then shall they deliver you up to be afflicted and shall kill you: and ye shall be hated of all nations for my name's sake.
Luke 12:40 Be ye therefore ready also: for the Son of man cometh at an hour when ye think not
—————————————–
THIS IS THE WORLD'S VERY NEAR FUTURE:
Matt. 24:21 For then shall be great tribulation, such as was not since the beginning of the world to this time, no, nor ever shall be
—————————————————
WE PREACH THE BLESSED HOPE FOR THE FUTURE IN JESUS CHRIST OUR SAVIOUR
1Cor. 12:3 Wherefore I give you to understand, that no man speaking by the Spirit of God calleth Jesus accursed: AND THAT NO MAN CAN SAY THAT JESUS IS THE LORD, BUT BY THE HOLY GHOST.
"

Behold, I come like a thief! Blessed is he who stays awake and keeps his clothes with him, so that he may not go naked and be shamefully exposed."
"And you know what is restraining him now so that he may be revealed in his time. For the mystery of lawlessness is already at work. Only he who now restrains it will do so until he is out of the way."
REV. 14:12
Here Jesus was alluding to the fact that the Doctrine of Eternal Security WILL EXPIRE WITH THE RAPTURE OF THE CHURCH
Luke 12:37 Blessed are those servants, whom the lord when he cometh shall find watching: verily I say unto you, that he shall gird himself, and make them to sit down to meat, and will come forth and serve them
SO WON'T YOU ACCEPT JESUS NOW AND BE REMOVED FROM THAT EVENT  (OF TRIBULATION) AND LIVE FOREVER WITH JESUS IN THE FAMILY OF GOD?
2 "(For he saith, I have heard thee in a time accepted, and in the day of salvation have I succoured thee: behold, now is the accepted time; behold, now is the day of salvation.)" (2nd Corinthians 2:6)
—————————————————-
WEBPAGE ADMINISTRATOR:
URGENT MESSAGE:
MESSAGE TO ALL JESUS CHRIST LOVING CHRISTIANS OUT THERE
FROM GOD:
Pack your bags (DIRECTIONS BELOW); because Jesus Christ Plane (FLIGHT 777 TO HEAVEN) is leaving soon from runways all over the World; Be Ready "JESUS" is Coming Quickly. WITH ALL OF GOD'S LOVE WITH HIM TO RESCUE HIS CHURCH FROM A FALLEN "SINFULL" WORLD
Rev. 2:5 Remember therefore from whence thou art fallen, and repent, and do the first works; or else I will come unto thee quickly, and will remove thy candlestick out of his place, except thou repent.
Rev. 2:16 Repent; or else I will come unto thee quickly, and will fight against them with the sword of my mouth.
Rev. 3:11 Behold, I come quickly: hold that fast which thou hast, that no man take thy crown.
Rev. 22:7 Behold, I come quickly: blessed is he that keepeth the sayings of the prophecy of this book.
Rev. 22:12 And, behold, I come quickly; and my reward is with me, to give every man according as his work shall be.
Rev. 22:20  He which testifieth these things saith, Surely I come quickly. Amen. Even so, come, Lord Jesus.
THIS IS A TIME OF TESTING BEFORE THE END:
Rev. 3:19 As many as I love, I rebuke and chasten: be zealous therefore, and repent
We are well and truly into God's Birth pangs (PRE-TRIBULATION) at this time; "THE BEGINNING OF SORROWS" as described in (Matt. 24:3-8).This is not the 7 year Tribulation as yet, just a lead up to and "warning" from God That the Rapture of Jesus Christ Church, and the Tribulation Revelation 6 (God's Judgment) is about to start.
(PLEASE SEE THE ARTICLE BELOW "BIRTH PANGS" PLACED AT THE BOTTOM OF THIS REPORT (JUST ABOVE SALVATION).
IN THE MEANTIME, GATHER YOURSELVES TOGETHER IN LOVE, FAITH, AND WORSHIP, AND PRAY "INCESSANTLY TILL HIS GLORIOUS RETURN.
————————————
" THE UNDERGROUND CHURCH HAS BEGUN":
REMEMBER SOME MAIN STREAM CHURCHES ARE NOT WHAT THEY SEEM:
Rev. 3:14  And unto the angel of the church of the Laodiceans write; These things saith the Amen, the faithful and true witness, the beginning of the creation of God;
Rev. 3:15 I know thy works, that thou art neither cold nor hot: I would thou wert cold or hot.
Rev. 3:16 So then because thou art lukewarm, and neither cold nor hot, I will spue thee out of my mouth.
Rev. 3:17 Because thou sayest, I am rich, and increased with goods, and have need of nothing; and knowest not that thou art wretched, and miserable, and poor, and blind, and naked:
SEEK THE LORD JESUS CHRIST WHILE HE MAY BE FOUND – "THE TIME IS CRITICALLY SHORT"
—————————————————
DAILY CHRISTIAN BIBLICAL QUESTIONS AND ANSWERS:
—————————————————
OSAS. No Repentance No Conversion?
https://gracethrufaith.com/ask-a-bible-teacher/osas-no-repentance-no-conversion/
QUESTIONS:    I know how strongly you believe in OSAS. But what about "believers" who have never been taught about the need for repentance? Isn't it true that no repentance is evidence of no conviction, which means no conversion? These people may think they're saved forever, but are they?
ANSWERS:    If you look up the meaning of the Greek word translated repent you'll find the common understanding of repentance is not consistent with the Greek word from which it comes. The word is metanoeo and literally means to change one's mind about something. It is not connected to changing behavior.
Every born again believer has changed his or her mind about several things pertaining to salvation;
1. that he or she is a sinner in need of a savior and is hopelessly lost without one (Romans 3:23),
2. that Jesus died for his or her sins and has agreed to be that savior (John 3:16),
3. that God will immediately and unconditionally grant salvation to everyone who asks in faith (Matt. 7:7-8).
These are things unbelievers don't accept. Therefore, according to a correct understanding of the word, every born again believer has repented.
This is the reason that repentance was more strongly emphasized among the Jews (Acts 2:38) than among the Gentiles (Romans 10:9). Jews had been (incorrectly) taught that their salvation was solely dependent upon their obedience to the Law and needed to change their minds about their need for a savior. Most Gentiles had not been taught anything about salvation and didn't need to change their minds.
It is true that most believers will find their behavior changing after being saved. But that's a response to the Holy Spirit's prompting and is evidence of their gratitude for the free gift they've received. It's the effect of their salvation, not a condition for receiving it.
———————————————-
OSAS And Repentance
https://gracethrufaith.com/ask-a-bible-teacher/osas-and-repentance/
QUESTIONS:    I concur that the work of the Cross was and is sufficient to remove the stain of sin in any and all souls, but what happens with those repetitive sins that are not repented of (turning away from)? OSAS gives argument to the devil's claim in Job that Job only does it because he has no choice. God did protect his life that he might repent and be forgiven for it, but it would have been Job's choice to do so.
I believe salvation will come at the end of this life and no being can forcibly take that hope from you, but life is your profession of faith in Christ. Faith is action not mental acceptance. James ask the question "Where's your faith if you are not living it?" Can a belief that shows no trust save a person? How can you claim to wish a person well while you, having what they need, will not give it to them?
When God called me into the ministry of the Gospel, He did so from Isaiah 58:1, "Cry aloud, spare not, lift up thy voice like a trumpet, and show my people their transgression, and the house of Jacob their sins." It is not my desire to prove you wrong and myself right but that it is only the righteous (obedient, sometimes through repentance) that will inherit the kingdom. If I am wrong then we have not lost anything, but if I am right, then some will loose everything.
ANSWERS:    I agree with some of what you say. However the word repent does not mean to turn away from something but to change one's mind about it. We can't legitimately ask to be saved from our sins until we change our mind and agree that our behavior is sinful. But no where are we told that we have to stop sinning before we can qualify for salvation.
A primary rule of interpretation is that we use clear verses to interpret obscure ones. The clearest verses in the New Testament associate salvation with belief, never with behavior. A change of behavior often comes later at the prompting of the Holy Spirit, but never to the point where we can be considered righteous. Our righteousness comes only through faith and that's what qualifies us for eternity. (Romans 4:5) In fact it's because we're sinners that we need to trust God. If we could make it on our own, Jesus didn't have to die.
As far as there being no harm if you're wrong, that's true as long as you apply it only to you. But when you start teaching others, you must be absolutely certain you are correct in interpreting what the Bible says, otherwise you'll be held accountable. (James 3:1) The clearest interpretation of Scripture is that we're saved because of what we believe (John 3:16) and that our place in eternity is guaranteed by God Himself, from the first moment of belief, not after our life is over. (Ephes. 1:13-14) Since the Bible is God's word and can't be contradictory everything else on the matter of salvation has to be understood in that context. The Lord knew every sin of your life before you committed the first one and took them all to the cross (Colossians 2:13-15). The moment you accepted that and received your pardon you were free because by His one sacrifice he made perfect forever those who are being made holy (Hebr. 10:14). Being made, not making themselves.
———————————————-
OSAS That Isn't Really OSAS
https://gracethrufaith.com/ask-a-bible-teacher/osas-that-isnt-really-osas/
QUESTIONS:    You are an amazing man of God and I appreciate what Christ is doing through you and your ministry. My question or comment is on eternal security, also called once saved, always saved: OSAS.
Let me first state that I fundamentally believe that we are saved by what we believe and not how we behave. I think that scripture makes that pretty clear.
But I believe we have to be careful how we disseminate that truth to others, and I think that is what has been the BIG problem in the OSAS doctrine. People have put it out there like, "Hey, say a prayer, you're saved, and live the way you want. Don't worry, God has forgiven you."
We have to make sure that people understand that God paid a price to make a change in us "a new creation" and that is something special and beautiful. Does the change take some time and work? Yes, but that is where the Holy Spirit comes in to help us – to convict us! If the person is not feeling the conviction of the Holy Spirit, then all they did is rattle off a prayer and there was no change.
OSAS should not be used as a scapegoat for their behavior. That is making a mockery of our Lords gift. Yes, I believe OSAS if there is a true confession and conversion!
Do you believe that the OSAS doctrine has been misunderstood, and if so what can we do as literal bible believing followers of Christ to change that misunderstanding?
ANSWERS:    Look at what you're saying. "I believe OSAS if there is a true confession and conversion!" Under what other circumstances could OSAS possibly apply? And God did not pay a price to make a change in us through time and work and the Holy Spirit's conviction. Because He paid a price a change has been made in us that allows God to view us as if we had never sinned. The old is gone, the new has come! (2 Cor. 5:17)
The truth be told, we do have the right to say a prayer and then live the way we want, because it's the sincere prayer that saves us not our attempts to be good afterward. Now if we choose to ignore the counsel of the Holy Spirit and live meaningless, fruitless lives, we'll suffer loss both here and in eternity (1 Cor. 3:15) but we'll still be saved.
I think that the only place where OSAS has been misunderstood is among those who would take away from what the Lord has done by attaching man's conditions.
———————————————-
NEWS CLIPS/ARTICLES OBTAINED FROM MANY SOURCES – INCLUDING
Tracking bible prophecy.org
Rapture Ready News
Prophecyupdate.Com
Main News Channels
End Times Headlines
Prophecyupdateblogspot.com
Stevequayle.com
Gracethrufaith.com
Nowtheendbegins.com
Other Christian Sites
(CLICK ON) LATEST DAILY NEWS CLIPS:
ISRAEL NEWS:
I AM GOING TO MAKE JERUSALEM A CUP THAT SENDS ALL THE SURROUNDING PEOPLES REELING … Zech. 12:2
God is in control, and He told the nations the consequences of dividing the Promised Land and declaring peace and safety on their own terms (Joel 3:1-2; I Thess. 5:3)
WORLD TERRORISM – DECEPTION – CHAOS – WARS
GENERAL WORLD NEWS:
GENERAL WORLD CORONAVIRUS NEWS:
WORLD FINANCE:
Rev. 6:6 And I heard a voice in the midst of the four beasts say, A measure of wheat for a penny, and three measures of barley for a penny; and see thou hurt not the oil and the wine
MASSIVE EARTH CHANGES/EARTHQUAKES/VOLCANOES ETC:
2Chr. 7:13 If I shut up heaven that there be no rain, or if I command the locusts to devour the land, or if I send pestilence among my people;
2Chr. 7:14 If my people, which are called by my name, shall humble themselves, and pray, and seek my face, and turn from their wicked ways; then will I hear from heaven, and will forgive their sin, and will heal their land
CHRISTIAN AND RELIGIOUS WORLD NEWS:
Matt. 24:9 Then shall they deliver you up to be afflicted, and shall kill you: and ye shall be hated of all nations for my name's sake.
Matt. 24:10 And then shall many be offended, and shall betray one another, and shall hate one another
—————————————————-
MIDDLE EAST AND WORLD WAR LOOMING THE BUILD UP TO PSALM 83  – ISAIAH 17 AND GOG OF MAGOG WARS EZEKIEL 37-38:
THE WHOLE WORLD IS UNSTABLE FINANCIALLY, POLITICALLY, PHYSICALLY, MORALLY, GODLY: – AND BECOMING MORE SO DAILY. (WE ARE IN THE BEGINNING OF SORROWS (MATT 24:8)
THE BIBLE STATES THAT IT WILL ONLY GET WORSE BEFORE THE START OF THE TRIBULATION OF MANKIND – (REVELATION 6)
But before that we have to go through the Birth Pangs, leading up to the Tribulation of Mankind; and I feel that the beginning of Matthew 24 explains that time very well. We are currently in the Birth Pangs (Even though Matthew 24: is directed at the Jewish Nation, it still reflects Biblical Prophecy for the whole World at this time):
Matt. 24:6 And ye shall hear of WARS AND RUMOURS OF WARS: see that ye be not troubled: for all these things must come to pass, but the end is not yet.
Matt. 24:7 FOR NATION SHALL RISE AGAINST NATION, AND KINGDOM AGAINST KINGDOM: and there shall be famines, and pestilences, and earthquakes, in divers places.
————————————————–
WORLD – PROPHETIC NEWS ARTICLES PRESENTATION  (LATEST NEWS CLIPS – ARTICLES PRESENTATION (FRIDAY 26th MARCH 2021)
—————————————————-
CORONAVIRUS NEWS ARTICLES PRESENTATION
—————————————————–
CLICK ON TODAYS MAIN CORONAVIRUS NEWS CLIPS BELOW:
—————————————————–
We are running out of time, but most people are still dead asleep.  I have to admit that I am really struggling with how to say what I need to share in this article.  I have been up against some real challenges in recent days, but the vast majority of my readers didn't know that anything was different because I have just continued to pump out content on the websites.  Of course we all face challenges in life, and there are many that are facing far greater challenges than I have been facing.  The phrase "remember Job" has been repeatedly coming to mind throughout this time, and there is so much that we can all learn from that story.  When great challenges come, there are often very important lessons that we can learn from them, and an entirely new chapter may await us on the other side of those challenges.

(

READ MORE…

)
In this article I am going to share with you some of the things that I have been sharing with people privately.  Prior to sitting down, I spent some time walking around in the chilly mountain air outside.  I wanted to clear my head and organize my thoughts before I began writing.  Unlike in our major urban areas, the air is crisp and clean here, and I will never get tired of the view.  We live in a truly beautiful world, but unfortunately many of us take the beauty of nature for granted.
Many of you probably expected me to write an article about the latest mass shooter today.  That is the "big story" that everyone is talking about, but the truth is that it isn't really that important.  There was a mass shooting last week, and there will inevitably be more mass shootings in the days ahead.  We live at a time when mass shootings have become commonplace, and that is because we live in a deeply broken society.
In 2020, the number of mass shootings was almost 50 percent higher than it was in 2019.
And since we are off to a brisk start this year, the final number for 2021 will almost certainly be even higher.
The Democrats are going to politicize this latest tragedy and use it as an opportunity to push their gun control agenda, and conservatives will freak out about that.
But these short-term political battles are not where our focus should be right now.
For a very long time, many of us have been warning about things that are coming.  But now we are transitioning into a period when the time for warning will be over because so many of the things that we have been warning about will actually be happening.
Of course you could say that we have already been in such a time since the beginning of 2020.  The COVID pandemic continues to sweep across the globe, the entire world is wrestling with severe economic problems, civil unrest continues to rage in our major cities and our planet is becoming increasing unstable.  I covered many of the things that we are currently facing in an article entitled "7 'Plagues' That Are Hitting Our Planet Right Now" that just went viral on Zero Hedge.
But as bad as conditions are at the moment, I believe that they will soon get a lot worse.
In fact, I believe that we have entered a time when global events will accelerate dramatically.
Now that Joe Biden is in the White House, a lot of people are crying "peace and safety", but they aren't going to get "peace and safety".
The next few months are a time to be watchful.  In particular, I have been privately telling people to watch Israel for anything "unusual" that happens.  If you learn of something extremely unusual that happens over there that you don't think I know about yet, please write to me.  Way too often there are extremely important events that take place that the mainstream media never covers.  So if history changing events take place in the weeks or months ahead, that doesn't mean that the mainstream media will cover them.
In addition to watching Israel like a hawk, let us also keep our eyes on the Biden administration.  Joe Biden is not all there mentally, and the warmongers that he has surrounded himself with are pushing us toward conflicts with Russia, China, North Korea and Iran.  There are multiple places around the globe where war could break out, but let us hope that war can be put off for as long as possible.
Once war does finally break out, it will greatly intensify the economic problems that we are already facing.
I know that many of you are very eager for me to release my next book.  Lost Prophecies Of The Future Of America has been ranking very well on the Amazon charts for many months, and
it is literally waking people up all over the globe.  My next book will also examine coming events which will greatly shake the world as we know it today, but I can't publish it yet.  I feel that things that are about to happen will be absolutely critical to the message of the book, and so I need to wait and watch during this season.
I believe that we will soon see historic events take place which will literally change everything.
Needless to say, many others also believe that 2021 will be a critical turning point as well.  But ultimately even "2021" is just an artificial man-made construct.
Do you want to know who decided that the year would start on January 1st?
It was the Romans.
And why should our days start at midnight?
That is an artificial man-made construct as well.
Just because something has been handed down to us from previous generations does not mean that we have to blindly accept it.
Many of you will read this article on Wednesday.  Did you know that the name "Wednesday" actually comes from an ancient pagan god?…
Wednesday is "Wōden's day." Wōden, or Odin, was the ruler of the Norse gods' realm and associated with wisdom, magic, victory and death. The Romans connected Wōden to Mercury because they were both guides of souls after death. "Wednesday" comes from Old English "Wōdnesdæg."
When you start to learn about the lies that we have inherited, it will open your eyes to a whole new world.
Of course most people never stop to question why things are the way that they are.  Sadly, most people just mindlessly absorb whatever the system tells them to believe, and as a result we have vast hordes of vacuous "sheeple" populating our society today.
The good news is that millions of them will soon be shaken out of their slumber by the apocalyptic events that are coming.
It will be a rude awakening, but that is certainly preferable to never waking up at all.
***Michael's new book entitled "Lost Prophecies Of The Future Of America" is now available in paperback and for the Kindle on Amazon.***
—————————————————-
W

HY ARE FORMER PRESIDENTS URGING VACCINE USE?
https://prophecyupdate.blogspot.com/2021/03/why-are-former-presidents-urging.html – Andrew White
Globalist former Presidents Bill Clinton, George W. Bush, and Barack Obama urged Americans to take the experimental mRNA COVID-19 vaccines in creepy videos released by the Ad Council.
One advertisement posted to YouTube on March 11 featured the three former US Presidents standing alongside one another at the Memorial Amphitheater at Arlington National Cemetery with American flags behind them, swaying in the breeze.
This is not the first creepy pro-vaccine advertisement that the former Presidents had made an appearance for. This next video was also released by the Ad Council on March 11, featuring former Presidents and First Ladies. In the first 18 seconds, the former Presidents say the exact same thing as they did in the first video, only in a different order.
"Right now, the COVID-19 vaccines are available to millions of Americans," said Bush. "And soon, they will be available to everyone."
"It will protect you and those you love from this dangerous and deadly disease," said Obama.
The video then shows photos of former Presidents and First Ladies getting what appears to be the experimental mRNA COVID vaccines as they make their case as to why Americans should do the same.
—————————————————-
GENERAL PROPHETIC NEWS ARTICLES  SECTION:
—————————————————–
NORTH KOREA CALLS FOR STRONGER ALLIANCE WITH CHINA AGAINST 'HOSTILE FORCES

'
https://prophecyupdate.blogspot.com/2021/03/north-korea-calls-for-stronger-alliance.html – The Korea Times
North Korean leader Kim Jong-un called for stronger strategic communication and unity with China to address "hostile forces" in a message to Chinese President Xi Jinping, state media said Tuesday.

Kim sent the message "to notify the accounts of the 8th Congress of the WPK, as required by the times that call for intensifying the strategic communication between the two parties on the basis of deep comradeship," the Korean Central News Agency said, without mentioning when the message was sent. WPK is the Workers' Party of Korea.
"It stressed the need to strengthen the unity and cooperation between the two parties and two countries to cope with the hostile forces' all-round challenges and obstructive moves," KCNA added.
Kim described in detail the measures that North Korea took during the party congress in January, including "policy stand on the bolstering of defense capabilities of the country, the inter-Korean relations and the DPRK-U.S. relations.
DPRK stands for the North's official name, the Democratic People's Republic of Korea.
Kim also expressed belief that cooperation between North Korea and China will get stronger "as required by the times and in conformity with the desires, wishes and core interests" of the two countries, KCNA said.
KCNA said that Xi also stressed that the traditional China-North Korea friendship is a "valuable asset" both to the two countries and vowed to make "positive contributions" to peace and stability on the Korean Peninsula in his verbal message to leader Kim.
"Saying that the international and regional situations are undergoing grave changes, he expressed his willingness to make new positive contributions to defending peace and stability on the Korean peninsula and achieving peace, stability, development and prosperity in the region," he added, according to KCNA.
The latest exchange of messages appears aimed at strengthening relations between the allies amid Beijing's deepening rivalry with the United States and stalled denuclearization talks between Pyongyang and Washington. (Yonhap)
————————————————-
CHINA AND RUSSIA AFFIRM COUNTRIES' CLOSE TIES AMID TENSION WITH EU, US
https://prophecyupdate.blogspot.com/2021/03/china-and-russia-affirm-countries-close.html – Worthy News
The foreign ministers of China and Russia affirmed their countries' close ties at a meeting Tuesday, amid intense criticism and new Western sanctions against them over human rights.
Wang Yi and Sergei Lavrov rejected outside sniping at their authoritarian political systems and said they were working to further global progress on issues from climate change to the coronavirus pandemic.
At their initial meeting in the southern Chinese city of Nanning on Monday, Wang and Lavrov accused the U.S. of interference in other countries' affairs and urged it to rejoin the Iran nuclear agreement, something that President Joe Biden's new administration has approached cautiously. Russia and China both maintain close relations with Tehran, with which they share a firm approach against any political opposition. [ Source: Washington Times (

READ MORE…

) ]
————————————————-
https://prophecyupdate.blogspot.com/ – Strange Sounds
As if the San Andreas fault wasn't worrying enough… A new scientific paper reveals that a small stretch of the southern San Andreas Fault is moving much faster than previously thought.This anomalous place is called the Mission Creek strand and stretches from around Indio, through Desert Hot Springs and into the mountains of San Bernardino.
"This particular strand of the San Andreas failure has been interpreted to be not very active. It's actually very active and is the fastest slipping fault for the San Andreas in Southern California. Therefore it has the highest likelihood of a large magnitude earthquake to occur on it in the future," said the lead author of the study.
"Higher slip rates on faults mean more risk. It means stress is accumulating faster on that fault and you would need basically either more earthquakes or larger earthquakes over centuries to relieve that stress," said Morgan Page, one of the developers of the California Earthquake Uniform Forecast.
All of which means that this particular strand on the San Andreas has a greater risk than was previously understood. How much of an additional risk? It needs to be assessed.
Any infrastructure in that area, like water or gas lines which run over the fault itself, will need to be looked at with a critical eye, given that offsets of as much as 30 feet could occur in the event of a major quake.
"Their study is in a region where the San Andreas fault is quite complex. This is a substantial step in improving our understanding of how the Southern San Andreas fault works," said Sally McGill, a geology professor at Cal State San Bernardino.
Regardless of what happens on the Mission Creek strand, we know that sizable earthquakes on the San Andreas are possible.
————————————————-
https://prophecyupdate.blogspot.com/ – Kit Knightly
And so we come to March 23rd, and lockdown's first birthday. Or, as we call it here, the longest two weeks in history.
1 year. 12 calendar months. 365 increasingly grueling days.
It's a long time since "2 weeks to flatten the curve", became an obvious lie. Sometime in July it turned into a sick joke. The curve was flattened, the NHS protected and the clapping was hearty and meaningful.
This was not a sacrifice for the "greater good". It was not a hard decision with arguments on both sides. It was not a risk-benefit scenario. The "risks" were in fact certainties, and the "benefits" entirely fictional.
Because Lockdowns don't work

.

It's really important to remember that.
Even if you subscribe to the belief that "Sars-Cov-2" is a unique discrete entity (which is far from proven), or that it is incredibly dangerous (which is demonstrably untrue), the lockdown has not worked to, in any way, limit this supposed threat.
Lockdowns. Don't. Work.
They don't make any difference, the curves don't flatten and the R0 number doesn't drop and the lives aren't saved (quite the opposite, as we've all seen).
Just look at the graphs.
Or this one, comparing "Covid deaths" in California (lockdown) and Florida (no lockdown):
From Belarus to Sweden to Florida to Nicaragua to Tanzania, the evidence is clear. "Covid", whatever that means in real terms, is not impacted by lockdowns.
Putting the entire population under house arrest doesn't benefit public health. In fact, it's (rather predictably) incredibly counter-productive.
Dr David Nabarro, World Health Organization special envoy for Covid-19, said this of lockdowns back in October:
"We in the World Health Organization do not advocate lockdowns as the primary means of control of the virus […] just look at what's happened to the tourism industry… look what's happening to small-holding farmers […] it seems we may have a doubling of world poverty by next year. We may well have at least a doubling of child malnutrition […] This is a terrible, ghastly global catastrophe."
A terrible, global catastrophe. A doubling of childhood malnutrition. The "pandemic" didn't do that, lockdowns did that. 
Too often soft language in the media talks about "misjudgments" or "mistakes" or "incompetence". Supposed critics claim the government "panicked" or "over-reacted". That is nonsense. The easiest, cheesiest excuse that has ever existed.
"Whoops", they say, with an emphatic shrug and shit-eating grin "I guess we done messed up!". Unflattering, but better than the truth.
Because the truth is that the government isn't mistaken or scared or stupid… they are malign. And dishonest. And cruel.
All the suffering of lockdown was entirely predictable and deliberately imposed. For reasons that have nothing to do with helping people and everything to do controlling them.
It's been more than apparent for most of the last fifty-two weeks that the agenda of lockdown was not public health, but laying the groundwork for the "new normal" and "the great reset".
And we've all had lives ruined and a year of precious time wasted. For nothing. You've been locked up for two weeks that lasted 365 days. For nothing.
…or rather, for everything. Because that's what they are trying to take from us. Everything. And the only way to stop them is not to let them. To simply refuse consent.
Let's not let lockdown get a second birthday.
————————————————-
https://prophecyupdate.blogspot.com/ – Rick Hayes
On Saturday, March 20th, an elderly gentleman walked his dog through a New York City park on a beautiful sunny day. "I fled from communist Russia," he said while facing a small group of people taking in the day on one of the park benches. In a side-to-side motion with his arm, while pointing his finger, he said, "This country is doing exactly what Russia did to become communist, and you people are allowing it to happen. Wake up."
The man is 100% correct. Who can argue against the fact that Americans are losing their Constitutional freedoms at a rate never before seen in the history of this country? The freedom to speak openly and freely is almost a thing of the past. What Americans are not allowed to say is almost as prevalent as the tonnage of information Americans are not allowed to know.
Millions of Americans have no idea that President Joe Biden is currently making billions of dollars with China,  or that thousands of children suffer inhumane treatment on American soil at the Mexican border.
Whether you agree with a political position or not, until now, it was always understood that such beliefs were allowed to exist. Not anymore. It is now taken as the new normal that certain types of opinions and expressions are forbidden,  that some books should be banned and burned and that responsible universities must prevent certain topics from being discussed on their campuses.
This is madness on an epic scale. The pain, misery, and sorrow that will inevitably result from this derangement will swiftly and suddenly destroy, as it always does, both the oppressors and the oppressed. Will Americans heed the warnings of an older man walking his dog on a sunny day or silently allow their world to crumble forever?
————————————————-
https://prophecyupdate.blogspot.com/ – LeoHohmann.com
FEW ARE AWARE OF IT BUT THE DIGITALIZATION OF THE HUMAN RACE IS ADVANCING AT BREAK-NECK SPEED.
Don't look now but the world is racing down a path that has been interlaid with landmines of control and surveillance and yet almost no Western politician of any party seems concerned enough to even talk about the impact this will have on personal privacy. 
If you're curious about what the near future holds, listen to technocrats like Bill Gates.
He said this was the only way to keep up with who has the virus and who has been vaccinated. Note that no vaccine was known to be in the pipeline in March 2020, but Gates talked about the vaccine as if it was just around the corner. He knew.
In a March 18, 2020 "Ask Me Anything" online forum sponsored by Reddit, Gates was asked what changes needed to be made to the way businesses operate to ensure public health without ruining the economy.
Gates' answer to the problem was digital certificates, which clearly drives once-free Western societies into a "show your papers" scenario that pre-COVID would have been considered a Nazi-like taboo [see screenshot below]:
Gates was also known at the time to be investing in the ID2020 initiative, which seeks to connect people's vaccine history to their purchasing actions.
Instead of taking Gates seriously back in March 2020, the vast majority of folks blew off his comments as the fantasy of the world's biggest geek.
I was one of the first last year to suggest that Gates ought to be taken seriously and that his ultimate plan was to "update" every person's genetic code with the latest version of mRNA virus protection, similar to the way his Microsoft Windows operating system automatically updates your computer.
Gates is not just spewing techno fairy tales. He is a big-time mouthpiece for the techno-medical wing of the New World Order [there are also economic, social and religious wings to the NWO]. I believe Gates gets many of his ideas from less widely known individuals associated with the World Economic Forum [see WEF graphic on digital identity], the same folks pushing for the so-called global Great Reset. Gates also likes to work in partnership with the Rockefeller family foundations.
They are using the "opportunity," presented by the pandemic, says WEF director Klaus Schwab, to transform health care, banking, industrial production, energy production and consumption systems, global land-use, even the way we socialize together as human beings.
Schwab has commented that no industry will be exempt from the Great Reset. And the United Nations states in its Agenda 2030 that no person will be "left behind" by this coming global system. Since no vote was held and none of us were asked if we wanted to sign up for the Great Reset/Agenda 2030, this begs the question: What will be done with dissidents who refuse to go along with this vision for the world?
The answer lies hidden in the coming cashless system.
These elites have wanted to get rid of cash for a long time. This has been a priority item on their to-do list for more than 60 years. Cash is simply too difficult to track [despite various attempts] and the technocratic elites are obsessed with tracking, measuring and monitoring everything in real time.
They want to monetize, put a value on, every human life. To achieve this, they need to be able to track with pinpoint accuracy everyone's spending and consumption habits.
They now believe they have found the solution: Replacing cash with a new digital currency based on blockchain technology.
As CBN News reports, the new digital Chinese Yuan will be an international currency, offering a frightening specter of control over Chinese citizens and a "model" for other countries.
David Curry of Open Doors told CBN, "China is building what I think is a blueprint, a road map of persecution for other regimes around the world and they're doing it with surveillance."
I believe that's at least partly why the dollar is being deliberately devalued by the U.S. government, with runaway spending soon to lead to hyper-inflation as the national debt approaches an astonishing $30 trillion. At some point, individuals may be offered a deal in which their share of the debt, along with perhaps their personal debt, gets eliminated in return for joining the new digital system.
It's no accident that the world's most repressive regime is driving the world toward a cashless society.
Think of the possibilities.
You step out of line with the dictates of the state, and the central bank immediately shuts down your access to the digital money necessary to put food on your table. You refuse to vaccinate, and they shut down your account. You violate Big Tech's community standards in your social media accounts, and they shut down your account [this is already happening in China where Facebook works with the one-party state to punish dissidents].
Yes, it's possible for the FBI to freeze your bank account here in America under the current cash-based system, and that is a tactic they are increasingly using against Trump supporters, but you can always fall back on cash in the current economic system.
Under the new system, you will have no such back up. Your entire livelihood will be left to the whim of big government working with Big Tech and Big Pharma.
I predict that over a period of three to five years, the transition to this new cashless system will be complete. It will start off as voluntary, with various incentives offered to join the system. Over time, those incentives will be replaced with punishments, until those using cash are totally locked out of the system, unable to buy or sell or work a job.
You will not be allowed to board planes, enter hotels, stadiums, concert halls and other large venue events, even retail stores, without showing your proof of vaccination, which will be a card or app on your phone tied into the new digital currency at your bank.
This beast system will offer the latest in convenience and security using blockchain technology.
I can hear the advertisements now: Are you tired of all the COVID rules and restrictions? Just sign up to get "the pass" and you can go back to enjoying evenings at the pub, ballgames on sunny Saturday afternoons, concerts, cruises, church services, all the benefits of your previous "normal" life!
The truth is, all of this is quietly progressing under the radar of media attention and public scrutiny. By the time it is rolled out for widespread "voluntary" enrollment, it will be too late to turn back the clock.
This was the plan all along, to use COVID to scare the masses into a whole new type of society, where every individual's personally identifiable information is tied in with a new digital currency.
Below are just a few of the recent headlines indicating how fast we are headed into this Brave New World.
————————————————-
https://prophecyupdate.blogspot.com/ – Dailymail.co.uk
The first test of a project backed to spray millions of tonnes of chalk into the stratosphere, in an attempt to 'dim the sun' and cool the Earth, could happen in June.
Harvard University experts will test the system by sending a large balloon 12 miles above the Swedish town of Kiruna and have it drop 2kg of chalk dust into the stratosphere.
The aim of the estimated $3 million mission, backed by billionaire Bill Gates, is to have the chalk deflect a portion of the sun's radiation, stop it from hitting the surface, and cool the planet.
The idea has been heavily criticised since its inception, with project director Frank Keutsch even calling the need for this scale of geo-engineering 'terrifying'.
And experts have warned that the unusual technique could be disastrous for weather systems in ways nobody can predict.
Backed by a range of private donors including Gates, the test mission is launching from Sweden as they could offer a launch by the end of this summer.
The test balloon will lift 600kg of scientific equipment 12 miles above the surface of the Arctic town and if it all goes well, about 2kg of dust will be released.
————————————————-
ONGOING 'DE-DOLLARIZATION' EFFORTS INCLUDE RUSSIA, CHINA
https://prophecyupdate.blogspot.com/2021/03/ongoing-de-dollarization-efforts.html – Ekaterina Blinova
This is not the first time that Russia has called for fleeing the dollar and switching to national currencies: in July 2019 the two countries signed a deal to settle bilateral trade in their respective currencies, while in October 2019, a similar agreement was struck by Moscow and Ankara. A month earlier, the Central Bank of Iran (CBI) announced that the Islamic Republic and Russia had agreed to carry out all financial transactions with domestic money, adding that about 30% to 40% of mutual trade between Iran and Turkey had been settled in liras and rials and the rest in euros.
The Bretton Woods monetary system, created after the Second World War, gave the dollar the status of an international reserve currency, explains the economist, adding that this allowed the United States to exert pressure through the dollar and manage financial flows around the world.
DE-DOLLARISATION EFFORTS WORLDWIDE
China is now pushing ahead with the internationalisation of the yuan in the countries participating in the Beijing-led Belt and Road Initiative (BRI). Besides this, the People's Republic has come up with a digital yuan project that could one day challenge the dollar's hegemony in global trade, according to the Financial Times.
During its presidency of the eight-member Shanghai Cooperation Organisation (SCO) in 2020, Russia actively advocated the development of an ecosystem for payments in national currencies within the bloc, according to VEB.RF, a key Russian development institution, who assumed the role of chairman of the SCO Interbank Consortium for this period. Together with four observer states, the SCO bloc accounts for approximately half of the world's population and a quarter of the world's GDP.
————————————————-
ANALYSIS: NETANYAHU FOLLOWING THE ELECTIONS
https://prophecyupdate.blogspot.com/2021/03/analysis-netanyahu-following-elections.html
DEBKA
A day after Israel's election, the numbers logged on March 24 contradicted media attempts to present Yair Lapid at the head the anti-Netanyahu grouping of factions in the lead position for forming a government coalition. According to DEBKAfile's political analysts, the still partial count of 52 versus 56 does not take into account, key factors:  
(a) that the count is far from final; (b) that Netanyahu's 56 seats represent a firm lineup of committed partners, his Likud and three religious parties, plus Yamina's 9 for a 61-seat majority. Yamina's leader Naftali Bennett has pledged not to join a Lapid government that includes far-right Meretz and the Joint Arab List; (c) that the opposition camp in contrast consists of a mix of widely divergent factions from right to far left – Lapid's Yesh Atid, Lieberman's Yisrael Beitenu, Labor, Kachol Lavan, New Hope and Meretz. He is also counting in the 7-member Joint Arab List.
Lapid must still face the daunting task of hammering these clashing groups together into a harmonious lineup behind him with an agreed political program. The prospect of a cohesive Lapid government, which seats Aviigdor Lieberman alongside Arab MK Ayman Odeh, or the right-wing Gideon Saar as a willing partner of the far-left Meretz,, looks more like a pipe dream than solid reality.
And still out there are the five seats gained by the Ra'am party after apparently making it past the threshold of 3.75pc. Its leader Abbas Mansour says he is open to negotiations with any party leader depending on their response to the needs of the Arab community.
None of the figures recorded so far are final. The central elections committee has not given a date to complete the count of all polling stations, as well as the 450,000 "double envelopes," and the military vote (a relatively high 70pc turnout), Some five Knesset seats are therefore still up in the air.
The final count of ballots may provide one of the opposing camps in this tight race enough strength to block its rival's attempts to lead a new government. DEBKAfile predicts that at the end of the road, Netanyahu will strive to form a government with the resources to hand. If he finds he is short of a majority, he is likely to try for a minority government with the paramount aim of avoiding a ludicrous fifth election.
According to an earlier DEBKAfile report: 
PM Binyamin Netanyahu's Likud scored 31 Knesset seats according to the early Wednesday, March 24 count of 78pc national election votes. Yesh Atid came in second with 19 seats, followed by Shas with 10; Religious Zionism and Yisrael Beitenu – 7 each; Torah Judaism and Kachol Lavan – 8 each; Labor, New Hope and the Joint Arab list – 6 each; and Meretz – 5. The Arab Ra'am list is not far below the Knesset threshold.
If these figures are confirmed in the final count, the Likud-led bloc with Yamina commands a 62 majority for forming a coalition government. Still to be counted are hundreds of "double envelopes, whose contents may yet reshuffle the final election results. Netanyahu avoided claiming victory at this stage. He praised his party for scoring number one in Israel's fourth election in a year and called for support to set up a stable government that will last its full four-term and avoid a fifth election at all costs. "I don't rule anyone out in this government," he said, "and I hope others will reciprocate."
The figures computed on Tuesday night, March 23 for the exit polls of three television stations at the close of voting in Israel's fourth general election, bring the Likud leader Binyamin Netanyahu within reach of his sixth term as prime minister if the figures are confirmed in the final count of votes. The score is as follows:
Likud: 31-33
Future 16-18
Yamina 7- 8
Shas 9
Torah Judaism 6-7
New Hope 6
Israel Beitenu 7
Labor 7
Religious Zionism 7
Meretz 6-7
Kachol Lavan 7
Arab list 8-9
Gideon Saar, who set up New Hope to displace Netanyahu as Likud leader barely passed the finishing line. His second right-wing rival Naftali Bennett like Saar dropped to a single digit after a promising start. 
The second largest party Yair Lapid's Future confirmed its permanent position at the head of the opposition on his fourth try to reach the prime minister's office. The Religious Zionism Party, led by Bezalel Shmotrich, did better than predicted by the pollsters, as did Defense Minister Benny Gantz's Kachol Lavan and the far-left Meretz. Both were written off by the pollsters who expected them to fall at the 3.25pc Knesset threshold.
The turnout of 69pc was relatively low. The response to the special voting facilities made available to coronavirus patients, quarantined voters and returning Israelis as the airport drew low numbers.
CLICK ON LINK BELOW FOR MORE INFORMATION:
————————————————-
DUST BOWL II IN THE U.S.?
https://prophecyupdate.blogspot.com/2021/03/dust-bowl-ii-in-us.html – By Michael Snyder/
The horrific drought that has much of the western half of the United States in a death grip has already surpassed what many scientists thought was possible.  
Some areas of the Southwest went more than 200 straight days without any measurable rain last year, vegetation is disappearing at a frightening pace, and giant dust storms are becoming increasingly common.  
For years, we have been warned that the droughts in the Southwest were getting worse.  For years, we have been warned that Dust Bowl conditions would return.  
Now a nightmare scenario is upon us, and authorities are using the term "megadrought" to describe what is taking place…
The western U.S. continues to endure dry conditions, and now scientists are using the term "megadrought" to describe the problem — which has existed for decades — with no end in sight.
"A megadrought is typically a drought event that has a long duration," Brian Fuchs, with the National Drought Mitigation Center, said to FOX Television Stations Tuesday.
The latest U.S. Drought Monitor map that has been released has such bad news that it is hard to believe.  More than 265,000 square miles of territory is currently experiencing "exceptional drought conditions"…
The scope of the western drought is chilling. All of Nevada, Utah and New Mexico are in drought, according to the US Drought Monitor. Close behind are Arizona at 98.9% and Colorado at 98.6%.
More disturbing is the size of what's called the "exceptional drought" area, according to the US Drought Monitor. Parts of Arizona, Nevada, Utah, New Mexico, Colorado, California and Texas classified as exceptional drought, total 265,200 square miles. For comparison, that is nearly equivalent to the size of Texas.
It would be difficult to overstate the severity of this crisis.  In fact, the Wall Street Journal says that this drought is already "one of the most severe on record in the Southwest".
————————————————-
'

BLACK TRIANGLE' SEEN NEAR THE SUN FOR ONE FULL YEAR SPARKS UFO CONSPIRACY FRENZY
https://endtimeheadlines.org/2021/03/black-triangle-seen-near-the-sun-for-one-full-year-sparks-ufo-conspiracy-frenzy/ – Mar 25, 2021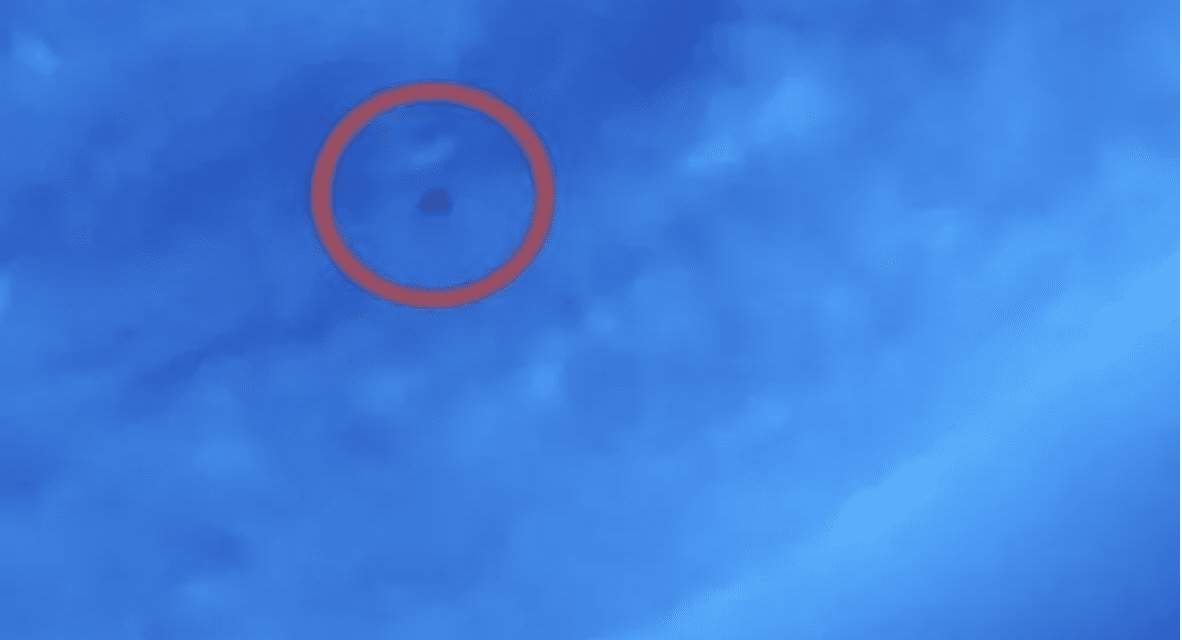 (OPINION) Express – UFO hunters were left in a frenzy after a "black triangle" was spotted hovering near the Sun for more than a year. Has "intelligent alien life" visited the solar system or is there a much more mundane explanation?
The supposed UFO was first spotted more than a year ago on the Helioviewer instrument. The online tool allows people to observe the latest snapshots of the Sun from various satellites, including NASA's Solar Dynamics Observatory (SDO) and the NASA-ESA SOHO spacecraft.
Self-professed ET expert and conspiracy theorist Scott C Waring claims to have stumbled upon the mystery object once again a year after his initial discovery. Mr. Waring took to his blog UFOSightingsDaily where he speculated wildly about the object's origin. He noted the triangle appeared near the Sun in regular intervals, claiming it could be an alien spacecraft.
The UFO hunter then went on to suggest the triangle was an entrance into a "hollow Sun" or some sort of wormhole. It is worthing none of Mr. Waring's theories included more plausible explanations, such as a software glitch in the images.
Mr. Waring wrote: "I was looking at the sun on Helioviewer this week and noticed the black triangle that I discovered over a year ago is still there. "It seems to move every three months. I mean every three months it moves in the opposite direction. READ MORE
————————————————-
POPE FRANCIS COMMITS BLASPHEMY TODAY BY TWEETING MARY IS THE 'BRIDGE TO GOD', IF YOU BELIEVE THAT, YOU WILL JOIN HIM IN A BURNING HELL FOR ALL ETERNITY
https://www.nowtheendbegins.com/?s= – by Geoffrey Grider March 25, 2021
According to the bible, for those of you that believe the bible, we can learn a number of things about Mary. Mary had sin that needed a sacrifice to cover, Luke 2:24. Mary called Jesus her Saviour, Luke 1:47, only sinners need a Saviour, sinless people do not. If Mary was sinless then she lied about needing a Saviour, lying is a sin, you get the picture. Mary did not stay a virgin, she had other 6 children according to Mark 6:1-3, a point backed up by Psalm 69:8. Mary is not the "bridge to God", not by a longshot. If you are trusting in her to get to Heaven, then Hell is as far up as you're going to go.
 NOW THE END BEGINS SHARE:
Only Jesus Christ can save your soul, only Jesus Christ is the "BRIDGE TO GOD", which is exactly what He was doing on the cross at Calvary. Trust Him alone, not Mary.
THE ROMAN CATHOLIC POPE who is the head of the world's largest counterfeit Christian organization tweeted today that Jesus Christ is not our bridge to God the Father, and not our only path to Heaven. This morning, at 5:31 AM, Rome time, Jorge Bergoglio announced that it is Mary who is our path to God, and if you believe that you will burn in Hell for all eternity because you will have lived and died without a Saviour for your sins.
"For thou shalt worship no other god: for the LORD, whose name is Jealous, is a jealous God:" Exodus 34:14 (KJB)
ACCORDING TO THE BIBLE, for those of you that believe the bible, we can learn a number of things about Mary. Mary had sin that needed a sacrifice to cover,

Luke 2:24

. Mary called Jesus her Saviour, Luke 1:47, only sinners need a Saviour, sinless people do not. If Mary was sinless then she lied about needing a Saviour, lying is a sin, you get the picture. Mary did not stay a virgin, she had other 6 children according to Mark 6:1-3, a point backed up by Psalm 69:8. Obviously the real Mary of the bible is a person virtually unknown to any Roman priest, bishop or pope.
You are a liar and a false prophet. Only Jesus is our bridge to God, no one else and certainly not Mary. Repent you wicked, wicked man. #JesusSaves #NowTheEndBegins https://t.co/I9qb95eHmB
— Now The End Begins (@NowTheEndBegins) March 25, 2021
THE BIBLE DOES NOT record any miracles performed by Mary, no accounts of her praying for anyone, and certainly no accounts of anyone seeking her help or guidance. The only time she ever told someone what to do was in John 2:1-5, and what she told them was "do whatever my Son tells you to do". Hmm. Yet somehow we are to believe that now in Heaven, Mary functions as the "bridge to God" and the path to Heaven for all of us down here on earth? That is one of the many lies of the Roman Catholic Church, invented in 1854 by Pope Pius IX.
Mary Worship Became Official In 1854 With Pope Pius IX
Pope Pius IX is best known for writing the Roman Catholic doctrine concerning the character and nature of Mary, called the Ineffabilis Deus. Pius made many "infallible" statements about Mary, not the least of which include that she was "born sinless", that she is seated in Heaven at the "right hand of Jesus", that she is to be the object of the affections of Catholics, and that she is to be prayed to for guidance, wisdom and for the fulfillment of all the "needs of the faithful". As if that wasn't enough, Pius went on to threaten anyone who dared disagree with these statements, saying that they would be kicked out the Catholic Church, would be considered as apostate, and that would face the full "penalties established by law" for refusing to worship Mary.
IF YOU'RE A ROMAN CATHOLIC, listen to me and listen well, your eternity depends on it. I was a Roman Catholic for nearly 30 years, and like you, I was trained to pray to the "virgin Mary", to "venerate" her, but you know as well as I do that Catholics worship Mary. That is idolatry, THE BIBLE FORBIDS AND CONDEMNS IT, AND MARY HERSELF WOULD BEG YOU NOT TO DO IT.
"Be it known unto you all, and to all the people of Israel, that by the name of Jesus Christ of Nazareth, whom ye crucified, whom God raised from the dead, even by him doth this man stand here before you whole. This is the stone which was set at nought of you builders, which is become the head of the corner. Neither is there salvation in any other: for there is none other name under heaven given among men, whereby we must be saved." Acts 4:10-12 (KJB)
ONLY JESUS CHRIST can save your soul, only Jesus Christ is the "bridge to God", which is exactly what He was doing on the cross at Calvary. Jesus on the cross holds on hand with God the Father, and reaches out the other nail-pierced hand to you, and Jesus and Him alone is your bridge. Pope Francis is a liar, don't believe a word that comes out of his mouth. Pope Francis is heading to Hell like a bullet, for the love of God, please don't join him there.
NOW THE END BEGINS IS YOUR FRONT LINE DEFENSE AGAINST THE RISING TIDE OF DARKNESS IN THE LAST DAYS BEFORE THE RAPTURE OF THE CHURCH
————————————————-
SALVATION
CLICK ON LINKS BELOW:
What is repentance and is it necessary for salvation?
What does it mean for salvation to be a gift from God?
What is progressive revelation as it relates to salvation?
WHAT IS SALVATION? What is the Christian doctrine of salvation? 
SIMPLY Salvation is believing in the Lord Jesus Christ death on the Cross where he gave his life for us. And
HOW DOES GOD SAVE

?

In the Christian doctrine of salvation, God has rescued us through (JESUS CHRIST DEATH (ON THE CROSS) AND HIS "RESURRECTION) (John 3:17). Specifically, it was Jesus' death on the cross and subsequent resurrection that achieved our salvation (Romans 5:10; Ephesians 1:7). Scripture is clear that salvation is the gracious, undeserved gift of God (Ephesians 2:5, 8) and is only available through faith in Jesus Christ (Acts 4:12).
AND IT IS A "FREE" GIFT, BASED ON OUR LOVE FOR JESUS SACRIFICE FOR US AND OUR CONTINUAL SINS THAT MUST BE "FORGIVEN" THROUGH HIS SACRIFICE.
————————————————
AN EXAMPLE OF THE SINNERS PRAYER:
Dear Father,
I now believe that Jesus Christ is Your only begotten Son, that He came down to our earth in the flesh and died on the cross to take away all of my sins and the sins of this world. I believe that Jesus Christ then rose from the dead on the third day to give all of us eternal life.
Lord Jesus,
I now confess to You all of the wrong and sinful things that I have ever done in my life. I ask that You please forgive me and wash away all of my sins by the blood that You have personally shed for me on the cross. I am now ready to accept You as my personal Lord and Savior. I now ask that You come into my life and live with me for all of eternity.
Father, Jesus – I now believe that I am truly saved and born again.
Thank You Father.
Thank You Jesus.
————————————————
JESUS CHRIST RETURN FOR HIS CHURCH IS "IMMINENT"
Matt. 7:27 And the rain descended, and the floods came, and the winds blew, and beat upon that house; and it fell: and great was the fall of it.
Matt. 24:38 For as in the days that were before the flood they were eating and drinking, marrying and giving in marriage, until the day that Noe entered into the ark,
Matt. 24:39 And knew not until the flood came, and took them all away; so shall also the coming of the Son of man be
——————————————–
DON'T WAIT FOR THE LAST MINUTE
We are currently in the "Birth Pangs" pending the coming "7 year TRIBULATION" period, where all the Nations on Earth will be subject to God's Wrath on an "UNGODLY" World. The Rapture of Jesus Christ Church is "TOTALLY" imminent; And what will follow after that will be massively more devastating that we are seeing right now (Read Revelation Ch 6 – 22) God is trying to get everyone's attention to the coming Judgments; He does not want "ANYONE" to perish, but all to come to repentance. He loves us, but will not stand idly by and watch the World, (His Creation) turn to sin and debauchery). We are currently living in a fallen "Satanic" World where "EVIL", is totally accepted, "and God and his Love for his Church": is being exponentially rejected. The time has come when God HAS TO intervene, and he is (The prophetic word listed in his Word the Bible is being fulfilled exponentially).
——————————————————
THE NEW WORLD ORDER:
ONE WORLD GOVERNMENT – ONE WORLD ECONOMIC SYSTEM – ONE WORLD RELIGION
Dan. 9:27 And he shall confirm the covenant with many for one week: and in the midst of the week he shall cause the sacrifice and the oblation to cease, and for the overspreading of abominations he shall make it desolate, even until the consummation, and that determined shall be poured upon the desolate
Dan. 7:24 And the ten horns out of this kingdom are ten kings that shall arise: and another shall rise after them; and he shall be diverse from the first, and he shall subdue three kings
Rev. 17:12 And the ten horns which thou sawest are ten kings, which have received no kingdom as yet; but receive power as kings one hour with the beast
—————————————————-
THE MARK OF THE BEAST:
DON'T TAKE THE MARK OF THE BEAST WHICH IS (CHANGING YOUR D.N.A.) AND GIVING YOUR CONTROL OVER TO THE "BEAST SYSTEM" – THIS IS AN ABONOMINATION TO GOD: (YOU ARE HIS CREATION):
Rev. 13:14 And deceiveth them that dwell on the earth by the means of those miracles which he had power to do in the sight of the beast; saying to them that dwell on the earth, that they should make an image to the beast, which had the wound by a sword, and did live.
Rev. 13:15 And he had power to give life unto the image of the beast, that the image of the beast should both speak, and cause that as many as would not worship the image of the beast should be killed.
Rev. 14:9

And the third angel followed them, saying with a loud voice, If any man worsh

ip the beast and his image, and receive his mark in his forehead, or in his hand
THE PUNISHMENT FROM GOD FOR THOSE WHO TAKE THE MARK AND WORSHIP THE "BEAST SYSTEM":
Rev. 14:10 The same shall drink of the wine of the wrath of God, which is poured out without mixture into the cup of his indignation; and he shall be tormented with fire and brimstone in the presence of the holy angels, and in the presence of the Lamb:
 (YOU ARE GOD'S CREATION – CHANGING YOUR D.N.A. AND/OR GIVING YOUR ALLEGANCE TO ANOTHER ENTITY I.E. (THE ANTICHRIST) – IS AN ABONOMINATION TO GOD):
————————————————-
THE FUTURE CONONAVIRUS INJECTION AT THIS POINT IN TIME ALSO APPEARS TO BE "MASSIVELY" AGAINST GOD AS IT WILL IS ALSO TAINTED WITH A CHANGE IN YOUR (R.N.A. WHICH CHANGES YOUR D.N.A.) AND WILL ALTER YOUR BODY IN MANY WAYS, (INCLUDING DEATH).
————————————————-
 WEBPAGE ADMINISTRATOR:
(THE AUSTRALIAN R.N.A. VACCINE)
You Know, there comes a time in one's life when you just have to speak up regarding the "Blatant "Stupidity", "Greed", "Corruption", "Lies", "ETC" that some people have in their Soul; To say we have to have the Vaccine because of an "I SAID SO" attitude; even if it is Tainted with "DEATH", it can change your R.N.A. to Totally Change your D.N.A. Causing "DEATH". And "OH" if you change your D.N.A. don't look to God to have Mercy on you "IF" you survive, because "GOD" is the "CREATOR" of your "SOUL", and your "BODY". And once you change your D.N.A. you WILL become "NEPHLINIC," i.e. a different person. This is what the fallen Angels did after God Created Adam and Eve, they changed "Animal", and "Human" D.N.A. Which turned "Humans & Animals into a Totally different Species, i.e. it made them "NEPHLIMIC" "NOT OF GOD". God's Judgment is coming upon the people that are creating this "Ungodly" Evil, and like it was before the "FLOOD", so it will be again; Destruction of God's Creation over a "SEVEN YEAR PERIOD". Revelation Chapter 6 to Revelation Chapter 22. Which is about to start any time in the very near future.
This RNA "Vaccine" is "NOT APPROVED", and Trials that they recently conducted on people in Korea, Africa, and God knows where else, resulted in "Hundreds" of Deaths, and left the rest very sick and dying. And since then "tens of Thousands" of people are becoming very sick after the jab, and most are dying. Ask yourself why are they vaccinating Nursing Home residents and Hospitals first; the answer is because the New World Order's Objective is to Eliminate every person over 70 Years Old, and that is exactly what is happening Worldwide;
—————————————
CLICK ON LINK BELOW:
—————————————————-
The "AGENDA" of the "NEW WORLD ORDER" "THE ORDER OF THE PROTOCOLS OF ZION" is to wipe out "EIGHT TENTH'S OF HUMANITY", and leave enough room for the "ELITES" to live in peace and harmony". But they have not considered God into this equation, and he is our Creator and he loves his Creation with a passion –Jesus Christ died for us on the cross at calvary, and Once the Church has gone from this World God's vengeance will commence on the Ungodly of this World.
THE NEW WORLD ORDER THAT HAS ALREADY BEGUN, It Means A "ONE WORLD GOVERNMENT", A ONE WORLD CHURCH, AND A ONE WORLD RELIGION ("CHRISLAM"). "AND IT IS PURE EVIL"
PLEASE ACCEPT GOD'S FREE GIFT OF SALVATION. IT IS OUR ONLY HOPE