China,N.Korea & Iran build up Nuclear Arsenals-Pompeo:Taiwan Not a Part Of China-Trump Bans on China

59.3K subscribers
You will hear the following in this Broadcast: -Beijing Slams New US Investment Blacklist as 'Wantonly Suppressing' Rights of Chinese Firms -China's 'secretive, crash' nuclear buildup revealed -'Unusual and extraordinary threat': Trump bans ANY Chinese 'military companies' from US securities markets -North Korea Estimated to Have Up to 60 Nuclear Warheads -Tehran's stockpile of enriched uranium 12 TIMES above nuclear deal limit -China Warns Of Action After Pompeo Says Taiwan Not Part Of China
——————————————
Quake & Fireball Hit NE U.S. After Election Called
•

Streamed live on Nov 13, 2020

44.9K subscribers
Rare earthquake & a fireball in the sky, same area, same day—the day after the election was called by US media; with it happening over the Northeast at the epicenter of election drama. Support this ministry so we can continue sharing signs of Biblical prophecy to the world, donate here:

https://signsofthelastdays.org/giving-2/

Check recurring contribution button to become a monthly Partner In Prophecy.
——————————————
——————————————
Illuminati and the One World Government
—————————————————
LATEST NEWS CLIPS – ARTICLES PRESENTATION (SUNDAY 15th NOVEMBER 2020)
—————————————————
(THIS IS THE WORLD'S CURRENT TIMELINE)
Matt. 24:6 And ye shall hear of wars and rumors of wars: see that ye be not troubled: for all these things must come to pass, but the end is not yet.
Matt. 24:7 For nation shall rise against nation, and kingdom against kingdom: and there shall be famines, and pestilences, and earthquakes, in divers places.
Matt. 24:8 All these are the beginning of sorrows.
Matt. 24:9 Then shall they deliver you up to be afflicted and shall kill you: and ye shall be hated of all nations for my name's sake.
Luke 12:40 Be ye therefore ready also: for the Son of man cometh at an hour when ye think not
—————————————–
THIS IS THE WORLD'S VERY NEAR FUTURE:
Matt. 24:21 For then shall be great tribulation, such as was not since the beginning of the world to this time, no, nor ever shall be
—————————————————
WE PREACH THE BLESSED HOPE FOR THE FUTURE IN JESUS CHRIST OUR SAVIOUR
1Cor. 12:3 Wherefore I give you to understand, that no man speaking by the Spirit of God calleth Jesus accursed: AND THAT NO MAN CAN SAY THAT JESUS IS THE LORD, BUT BY THE HOLY GHOST.
"Behold, I come like a thief! Blessed is he who stays awake and keeps his clothes with him, so that he may not go naked and be shamefully exposed."
"And you know what is restraining him now so that he may be revealed in his time. For the mystery of lawlessness is already at work. Only he who now restrains it will do so until he is out of the way."
REV. 14:12
Here Jesus was alluding to the fact that the Doctrine of Eternal Security WILL EXPIRE WITH THE RAPTURE OF THE CHURCH
Luke 12:37 Blessed are those servants, whom the lord when he cometh shall find watching: verily I say unto you, that he shall gird himself, and make them to sit down to meat, and will come forth and serve them
SO WON'T YOU ACCEPT JESUS NOW AND BE REMOVED FROM THAT EVENT  (OF TRIBULATION) AND LIVE FOREVER WITH JESUS IN THE FAMILY OF GOD?
2 "(For he saith, I have heard thee in a time accepted, and in the day of salvation have I succoured thee: behold, now is the accepted time; behold, now is the day of salvation.)" (2nd Corinthians 2:6)
—————————————————
DAILY CHRISTIAN BIBLICAL QUESTIONS AND ANSWERS:
—————————————————
Why Do I Still Sin?
https://gracethrufaith.com/ask-a-bible-teacher/why-do-i-still-sin-2/
QUESTION:    I screw up every day! What a surprise, huh? I feel bad and ask for forgiveness as soon as I mess up. I know the Lord forgives me, I just have a hard time forgiving myself! I never want to hurt my Father's feelings, or cause Him shame, but sometimes I act before I think. Am I the only one who does this?
ANSWER:    Not by a long shot. We all do it. And for those of us who derive our self-esteem from our performance, it's especially hard to forgive ourselves. We know better, and yet we still sin. I have to constantly remind myself that it's part of my nature. It's a built-in flaw I have, a self-defeating mechanism. If I didn't have it I wouldn't need a saviour. But Satan uses it to work me over, trying to discourage and defeat me.
Like God does with all his children, I have to separate my behaviour from who I am in Christ. And who am I? A new creation, as righteous as God Himself (2 Cor 5:17,21) As Paul said, "It's not I who sins, it's the sin nature that dwells within me." (Romans 7:20)
I can't rescue myself, but I have a Savior, and He has rescued me.
Therefore there is now no condemnation from God, because through Christ Jesus, the law of the Spirit of life has set me free from the law of sin and death (Romans 8:1-2).
He Who Was Without Sin Became Sin
https://gracethrufaith.com/ask-a-bible-teacher/he-who-was-without-sin-became-sin/
QUESTION:    We know Jesus was sinless, but when he was on the cross he cried out "My God, My God why have you forsaken me?" It was at the moment when he was bearing our sins. However, he himself did not become sinful because of them, so why did God turn away from Him at that time?
ANSWER:    2 Cor 5:21 says, "God made Him who had no sin to be sin for us, that in Him we might become the righteousness of God."
During the time He was on the cross Jesus did more than just take our place and pay the penalty that was due us. This verse tells us He literally became sin, and Habakkuk 1:13 tells us that God's eyes are too pure to look upon sin. That's why He had to turn away, and leave His Son alone there.
By the way, this is the only part of His ordeal Jesus was not able to bear in silence. He didn't make a sound when He was unjustly accused, or when He was beaten, or even when He was nailed to the cross. But had never been separated from His father before, and that pain was too great for Him to endure quietly.
The fact that Jesus came out of the tomb and ascended into Heaven to sit at the right hand of God is our proof that His death paid the price for all of our sins. If even one sin remained unpaid, God would not be able to tolerate Jesus in His presence, so He would still be in the grave and you and I would be hopelessly lost. That's why in Romans 10:9 Paul said that one requirement of salvation is that we believe in our heart that God raised Jesus from the dead. It's our proof that His death was sufficient. Because He lives, so will we
Life Without Sin
https://gracethrufaith.com/ask-a-bible-teacher/life-without-sin/
QUESTION:    The Bible makes it very clear that sin is an abnormal state brought into this world because of a choice made by Adam and Eve. I've been trying to picture what my life would look like if there was no sin in this world. My question is this. Does the Bible paint us a picture of what life for a human would be without sin in this world?
ANSWER:    There are plenty of verses that tell us what life is like because of sin, but as far as I know there's only one passage that tells us what life will be like without it. Rev. 21:3-4 says,
And I heard a loud voice from the throne saying, "Now the dwelling of God is with men, and he will live with them. They will be his people, and God himself will be with them and be their God. He will wipe every tear from their eyes. There will be no more death or mourning or crying or pain, for the old order of things has passed away."
Think of a life where nothing would ever make you sad, you wouldn't ever mourn the loss of anything. You'd never experience the pain of separation, there would never be any sickness or injury, and no one would ever die. By extension I could say that whatever work you did would be by choice and would bring only a sense of fulfilment, with no stress, no fear, no drudgery. You would never feel discouraged or frustrated. There would never be any financial pressure.
Your heart would never be broken, you'd feel no envy or jealousy. You'd be close friends with everyone, and they would always be concerned for your best interests, as you would be for theirs. Your days would be without number, but you'd never feel bored or restless. Each one would bring a new excitement for life, a new thirst for adventure.
And here's the best part. If you're born again someday soon your life will be just like that forever.
—————————————————-
NEWS CLIPS/ARTICLES OBTAINED FROM MANY SOURCES – INCLUDING

Tracking bible prophecy.org
Rapture Ready News
Prophecyupdate.Com
Main News Channels
End Times Headlines
Prophecyupdateblogspot.com
Stevequayle.com
Gracethrufaith.com
Nowtheendbegins.com
Other Christian Sites
(CLICK ON) LATEST DAILY NEWS CLIPS:
ISRAEL NEWS:
THE MIDDLE EAST PEACE PLAN IS "ANTI GOD" – (GOD WILL NOT ALLOW JERUSALEM TO BE DIVIDED).
ZECHARIAH 12:2-3
Zech. 12:2 Behold, I will make Jerusalem a cup of trembling unto all the people round about, when they shall be in the siege both against Judah and against Jerusalem.
WORLD TERRORISM – WARS
GENERAL WORLD NEWS:
GENERAL WORLD CORONAVIRUS NEWS:
WORLD FINANCE:
1Tim. 6:10 For the love of money is the root of all evil: which while some coveted after, they have erred from the faith, and pierced themselves through with many sorrows
MASSIVE EARTH CHANGES/EARTHQUAKES/VOLCANOES ETC:
2Chr. 7:13 If I shut up heaven that there be no rain, or if I command the locusts to devour the land, or if I send pestilence among my people;
2Chr. 7:14 If my people, which are called by my name, shall humble themselves, and pray, and seek my face, and turn from their wicked ways; then will I hear from heaven, and will forgive their sin, and will heal their land
CHRISTIAN AND RELIGIOUS WORLD NEWS:
Matt. 24:9 Then shall they deliver you up to be afflicted, and shall kill you: and ye shall be hated of all nations for my name's sake.
Matt. 24:10 And then shall many be offended, and shall betray one another, and shall hate one another
EXTRA WORLD – ALTERNATIVE NEWS:
Please keep in mind that this collection of News Articles is mainly concerning America, but also take note that what happens in America will also "Dramatically" affect Australia and the rest of the World "Massively".
—————————————————-
WORLD – PROPHETIC NEWS ARTICLES PRESENTATION  (SUNDAY 15th NOVEMBER 2020)
—————————————————-
MIDDLE EAST AND WORLD WAR LOOMING THE BUILD UP TO PSALM 83  – ISAIAH 17 AND GOG OF MAGOG WARS EZEKIEL 37-38:
THE WHOLE WORLD IS UNSTABLE FINANCIALLY, POLITICALLY, PHYSICALLY, MORALLY, GODLY: – AND BECOMING MORE SO DAILY. (WE ARE IN THE BEGINNING OF SORROWS (MATT 24:8)
THE BIBLE STATES THAT IT WILL ONLY GET WORSE BEFORE THE START OF THE TRIBULATION OF MANKIND – (REVELATION 6)
But before that we have to go through the Birth Pangs, leading up to the Tribulation of Mankind; and I feel that the beginning of Matthew 24 explains that time very well. We are currently in the Birth Pangs (Even though Matthew 24: is directed at the Jewish Nation, it still reflects Biblical Prophecy for the whole World at this time):
Matt. 24:6 And ye shall hear of WARS AND RUMOURS OF WARS: see that ye be not troubled: for all these things must come to pass, but the end is not yet.
Matt. 24:7 FOR NATION SHALL RISE AGAINST NATION, AND KINGDOM AGAINST KINGDOM: and there shall be famines, and pestilences, and earthquakes, in divers places.
—————————————————-
GENERAL PROPHETIC NEWS SECTION:
—————————————————–
U.S. BOATS FACE RUSSIAN AGGRESSION NEAR ALASKA
https://prophecyupdate.blogspot.com/ – Mike Baker
The crew of the Bristol Leader was laying out its long cod-catching line well within U.S. fishing territory in the Bering Sea when a voice crackled over the VHF radio and began issuing commands: The ship was in danger, it said, and needed to move.
The warnings, coming in a mixture of Russian and accented English from a plane buzzing overhead, grew more specific and more urgent. There was a submarine nearby, the voice said. Missiles were being fired. Leave the area.
Other U.S. fishing vessels that were scattered over 100 miles of open sea were getting similar messages. Capt. Steve Elliott stood dumbfounded on the trawler Vesteraalen as three Russian warships came barreling through, barking orders of their own. On the ship Blue North, commands from a Russian plane led Capt. David Anderson to contact the U.S. Coast Guard, wondering how to protect his crew of 27.
"It was frightening, to say the least," Anderson said. "The Coast Guard's response was: Just do what they say."
The Russian military operations in August inside the U.S. economic zone off the coast of Alaska were the latest in a series of escalated encounters across the North Pacific and the Arctic, where the retreat of polar ice continues to draw new commercial and military traffic. 
This year, the Russian military has driven a new nuclear-powered icebreaker straight to the North Pole, dropped paratroopers into a high-Arctic archipelago to perform a mock battle and repeatedly flown bombers to the edge of U.S. airspace.
Russia's operations in the Arctic have meant a growing military presence at America's northern door. Rear Adm. Matthew T. Bell Jr., the commander of the Coast Guard district that oversees Alaska, said it was not a surprise to see Russian forces operating in the Bering Sea over the summer, but "the surprise was how aggressive they got on our side of the maritime boundary line."
In the air, U.S. jets in Alaska typically scramble to intercept about a half-dozen approaching Russian aircraft a year, outliers on the long-range nuclear bomber patrols that Russia resumed in 2007. But this year that number has risen to 14 — on pace to set a record since the Cold War era. In the most recent case, last month, the United States responded to the approach of two Russian bombers and two Russian fighters that came within 30 nautical miles of Alaskan shores.
Russians have refurbished and restored dozens of military posts in the Arctic region, including on Wrangel Island, some 300 miles from the coast of Alaska, and have laid plans for controlling emerging navigation routes that would bring traffic through the Bering Strait between Alaska and Russia.
This summer, Russia's military operated in the Bering Sea, home to America's largest fishery, where boats haul up pots crawling with red king crab, and trawlers dump nets filled with 200 tons of pollock onto their decks. The area is the U.S. pathway to the Arctic waters where extraction companies have worked for years to capture the billions of dollars of oil and gas resources trapped under the sea floor.
CLICK ON VIDEO BELOW
Putin threat (Nov 15,2020) Russian Navy intercept US Warship with 4 Warships & Submarine in Red Sea
————————————————-
CHINA: 'WON'T HESITATE TO STRIKE BACK' AFTER U.S. STATES IT WILL DEFEND TAIWAN
https://prophecyupdate.blogspot.com/ – Tyler Durden
Secretary of State Mike Pompeo has once again sparked outrage among Beijing leaders by expressly referring to Taiwan as "not" part of China. 
Pompeo said in an interview with conservative radio host Hugh Hewitt on Thursday that Washington's perspective remains bipartisan and unanimous in understanding that Taiwan "has not been a part of China" for decades.
"That was recognized with the work that the Reagan administration did to lay out the policies that the United States has adhered to now for three-and-a-half decades," he explained in the provocative comments.
Interestingly, Pompeo had specifically been asked about how the US might respond if China decided to take Taiwan by force, to which the secretary of state emphasized that both the Republican and Democratic parties have committed to defend Taiwan's democracy.
This was predictably met with a swift response out of China, with its foreign ministry saying Friday it won't hesitate to "strike back against any moves that undermine its core interests," according to Reuters. Such "moves" have lately included unprecedented American weapons sales to the island, including drones and coastal defense missiles.
"We solemnly tell Pompeo and his ilk, that any behavior that undermines China's core interests and interferes with China's domestic affairs will be met with a resolute counterattack by China," Chinese foreign ministry spokesman Wang Wenbin said.
He affirmed that Taiwan was "an inalienable part of China" and that Pompeo's remarks are further spiraling Sino-US relations. However, despite the bellicose and jingoist rhetoric, it's more likely Beijing is now just waiting out the clock on the Trump administration.
————————————————-
https://prophecyupdate.blogspot.com/ – by Lori DeMonia
Now The End Begins was one of the very first media outlets anywhere in the world to show you the connection between Bill Gates, Event 201, Johns Hopkins and the COVID-1984 global plannedemic. Now here in the end on 2020, presumptive president-elect Joe Biden has been constantly repeating the phrase 'dark winter', an expression that upon further discovery brings you right back to Bill Gates and Event 201. Is this the next chapter in the COVID-1984 end times scenario? 
THESE ARE THE end times where there are no coincidences and things just don't happen by accident. Take, for example, the Joe Biden campaign slogan of 'Build Back Better', a phrase that was crafted by the United Nations and the New World Order, long before Joe Biden started using it. So why did he start using it, and why is he now talking about a 'dark winter'? I will tell you why. The global elites who brought you Event 201 and COVID-1984 and preparing you for the next step – forced vaccinations. Dark winter? You have no idea. Forced lockdowns, mandatory vaccinations, human implantable Immunity Passports, and something that will send you out of the room running when you understand what it is – the 'green zone shielding scenario' that takes place inside your own home. 
A connection we all need to be paying attention to is this, the CDC and something called the
'shielding approach'.
What is very interesting is one of the players involved who we've heard much about in recent months, Johns Hopkins. The John Hopkins Center for Civilian Bio defense Strategies (CCBS) were one of the designers and controllers of the Dark Winter simulation. What a coincidence, they were also part of Event 201, the simulation back in October 2019 of a global pandemic of a coronavirus. Now that two phrases to come out of the Joe Biden team have been used repeatedly, we should take notice.
As reported earlier, 'Build Back Better' was taken from the United Nations. Now "dark winter" of all things is being used to warn us of the next covid-19 second wave. Are we being warned because our eyes are open? Yes, because propaganda like this only works on an uneducated populace. So much of the United States is asleep, doesn't do their own homework, and scariest of all does not know American history.
A connection we all need to be paying attention to is this, the CDC and the shielding approach. On the CDC website it outlines what potentially could happen. In their Interim Operational Considerations for Implementing the Shielding Approach to Prevent Covid-19 Infections in Humanitarian Setting, it describes "green zones" to reduce cases by limiting contact between individuals. When you look into the summary of their approach you find they refer to a report by Caroline Favas from the Health and Humanitarian Crisis Centre in London. The name of her report? Wait for it. Guidance for the prevention of Covid 19 infections among high-risk individuals in camps and camp-like settings.
Here is a diagram of "green zones" that could be implemented to begin the shielding approach. Notice Option 3 – Sector-level states "no movement outside the green zone".
It states on sector level 3 the results of isolation, "risk of poor adherence (adjustment) due to isolation and separation from family members." This approach is right on the CDC website and refers that they would use this model. Being in lockdowns and having to wear a mask sounds pretty good compared to a "camp-like setting" about now.
Is there a connection between hearing a "dark winter" is coming and the simulation back in 2001 and the CDC adding in March 2020 the shielding approach as an option?
CNN conducted a special in 2002 covering bioterror and health facilities. The name of this special? Dark Winter and lack of USA Preparedness, Is Your City Ready? It discussed the possibility of the spread of germs before symptoms appear and how we are under-prepared to handle a widespread outbreak. A survey by CNN in 2002 found 22 states didn't have a CDC epidemic officer. They also pointed to the fact that public health veterinarians are needed due to the possible bio-agents transmission through animals. That sounds awful familiar. The connection between the CDC and the dark winter operation is that both do not rule out using mandatory quarantine measures to stop the spread of disease. In the dark winter report is says quote, "Federal officials argued that such issues (mandatory vs. voluntary isolation) were best decided on a national basis to ensure consistency and the give the President maximum control of military and public-safety assets".
There is also a section regarding "dealing with the media". Mind you, this was back in 2001, before the media was being manipulated and censored. If you remember, Event 201 also had planned how to strategically deal with the control of information coming from media outlets. The Dark Winter report states that information management will be a critical element in handling the crisis. And points out the following:
"FOR EXAMPLE, PARTICIPANTS WORRIED THAT IT WOULD BE POSSIBLE TO FORCIBLY IMPOSE VACCINATION AND TRAVEL RESTRICTIONS ON LARGE GROUPS OF THE POPULATION WITHOUT THEIR GENERAL COOPERATION. TO GAIN THAT COOPERATION, THE PRESIDENT AND OTHERS RECOGNIZED THE IMPORTANCE OF PERSUADING THEIR CONSTITUENTS THAT THERE WAS FAIRNESS IN THE DISTRIBUTION OF VACCINE AND OTHER SCARCE RESOURCES. THE DISEASE-CONTAINMENT MEASURES WERE FOR THE GENERAL GOOD OF SOCIETY."
————————————————-
https://prophecyupdate.blogspot.com/ – Strange Sounds
Sky News host Rowan Dean says the next World Economic Forum in Davos has morphed from a "jet-setter climate gabfest" into a sinister "anti-democratic enterprise designed to destroy your job, steal your prosperity and rob your kids of a future."
"It's a hardcore leftist eco-horror show replete with quasi-fascism," he said. Mr Dean highlighted what he described as a "disturbing trend among many of the world's left-wing elites to increasingly conflate COVID-19 with climate change. Many are going so far as to suggest that all the measures applied to the coronavirus, the lockdowns, the destruction of businesses, the suppression of dissent, curfews, strong-arm police tactics, should become the 'new normal' for dealing with climate change."
Mr Dean said the next World Economic Forum is planning "to convince governments with the help of big businesses and big tech to bring about something deeply sinister called 'The Great Reset'. It is a program designed to strip us all of our fundamental democratic rights in favour of a new form of society as dictated by the elites."
Mr Dean said the advertising for 'The Great Reset' was "just about as cliched and vomit-inducing as the most inane corporate ad can be. This promo is saying that all the very worst things in the world, from the coronavirus to bushfires to riots to pollution to poverty are somehow linked. Then it is claiming they can magically disappear. Literally at the push of a button and just like that, everything in the world is made right and pure again. The Great Reset. What could be simpler?
Mr Dean said ultimately "lunatics including Prince Charles and the United Nations and the IMF want to replicate the global response to COVID and repurpose it for climate change, to enforce zero net emissions."
————————————————-
https://prophecyupdate.blogspot.com/ – Harris Kupperman 
I bring this all up as a crisis is rapidly brewing here in the US. President Trump clearly won re-election, only to have it snatched through blatant fraud. You can agree with that statement or you can disagree. Honestly, I don't care what your opinion is—this article isn't about voter fraud anyway. We're past the point where facts matter—this is about emotions and game theory now. President Trump thinks he won and about 70 million of his supporters feel like they just had something stolen from them. They're pissed and see every data-point as proof of a system that's been rigged against them.
My question is: what happens next?
To start with, Trump could gracefully concede. However, we all know that won't happen. Trump isn't graceful (ever) and I've never once seen him concede anything. For much of my childhood, he was bankrupt and it never slowed him down—if anything, having his back against the wall made him stronger. For Trump, this is a minor setback and he intends to win.
Next, we're going to see a lot of litigation as ballots are counted, some are rejected and accusations of fraud are tossed about. It will be highly partisan and volatile. Each step along the way is bound to inflame and upset both sides. Expect riots and protests. Thus far, the victims have mostly been storefront windows. It seems inevitable that the two sides will eventually clash in the streets. However, that violence is just the prelude.
A real investigation into election fraud takes time and with so many fake ballots now mixed in, it will be nearly impossible to reach a conclusion in the limited time remaining—in fact, it may never be solved. We're going to run out of time. Then what? Do we have a re-vote? Do we let the states choose Electoral College winners? Do we defer to the 12th amendment (Google it as it's about to become very important)? These are all highly partisan decisions that will mostly be made in states controlled by Republicans at the state level. If we go down this path, it will infuriate about half of our country and lead to further riots and chaos. Remember, these people were out celebrating last week, they're not going to take a reversal of fortune lightly.
What if Trump does not get what he wants? I have a strong sense that Trump isn't going anywhere. If you know anything about how Trump negotiates, he always starts with a very unreasonable ask and then walks it down. In this instance, he has multiple nuclear options to choose from. There's also a chance that events could overtake Trump depending on what his own supporters do. In summary, I can see multiple event-paths over the next few weeks, many of them are not mutually exclusive and most of them are not favorable to equity markets. We haven't had a true seccession crisis in America in a very long time – the market certainly isn't prepared for it. If anything, the market is dreaming of yet another round of stimulus, which certainly isn't coming until we know who's in charge.
————————————————-
The British Prime Minister Boris Johnson, currently being criticised for imposing another lockdown based on questionable data, has met with Bill Gates to discuss implementing a global "health security" program using Britain's G7 presidency to speed up the process.
Johnson met with Gates along with the CEOs of ten of the world's biggest pharmaceutical companies to foment plans to roll out the vaccine for coronavirus.
Every CEO agreed to commit to providing "fair" access across the globe to the vaccine when it is ready.
Johnson said that the opportunity the G7 presidency in 2021 affords Britain will allow the nation to spearhead a global health plan developed by the Bill and Melinda Gates Foundation in partnership with the Wellcome Trust.
The plan was unveiled by Gates at the UN in September, where he called for  overhauling big pharma's capacity to manufacture "vaccines and treatments."
Johnson hailed the effort as a "new era of collaboration for problem solving," and "pandemic preparedness," adding that it will be a "truly global endeavor".
The Prime Minister said that world leaders should have heeded Gates' warnings years ago, and must now work with his Foundation to prevent "something like [Covid-19] ever happening again."
Gates noted that "the world needs a comprehensive strategy; a coherent approach to financing and manufacturing billions of doses of vaccines, tests and drugs; and a network to monitor for new threats."
"We're fortunate that Prime Minister Johnson has come up with a smart plan to do just that in the UK, and our foundation will continue to work with his government and others to make it a reality," Gates added.
It has been described as "the biggest logistical effort since the Second World War."
Gates has previously declared that the world won't return to normal until "a lot of people" take a second "super-effective" coronavirus vaccine that could be years away.
Last week, we Gates has forcast that a "best case scenario" for a return to normal would be the end of 2021, a date that was qualified with the proviso, "We still don't know whether these vaccines will succeed."
The billionaire has also suggested that governments need to 'brainstorm' ways of "reducing vaccine hesitancy," in the face of anti-vaccine "conspiracy theories".
————————————————-
https://prophecyupdate.blogspot.com/ – Leo Hohmann, 
Dishonest scales are an abomination to the LORD, But a just weight is His delight. Proverbs 11:1
"Some of the most popular ballot-marking machines, made by Election Systems & Software and Dominion Voting Systems, register votes in bar codes that the human eye cannot decipher," according to a February report by Associated Press
But according to researchers, that's a problem, as "voters could end up with printouts that accurately spell out the names of the candidates they picked, but, because of a hack, the bar codes do not reflect those choices."
"Because the bar codes are what's tabulated, voters would never know that their ballots benefited another candidate."
Many political analysts and journalists, myself included, warned back in 2003 and 2004, when many states were switching their systems over from actual paper ballots to this new electronic format, that this would take us down a dangerous path.
So when claims of fraud arise, it's almost impossible to find where exactly things went wrong. That's why election officials like to skim over such claims with "oh it was just a glitch, nothing to see here, move along."
The politicians refused to listen to the cautionary warnings, which were dismissed as "prophets of doom" who just wanted to resist the tide of technological advancement in the modern era. They gleefully turned their election systems over to Big Tech.
Fast forward to 2020 and everyone's worst nightmare has arrived.
We are seeing the disastrous results of the decisions made 15 to 18 years ago in almost every state. Last Tuesday's presidential election was fraught with irregularities, and the most difficult ones to get to the bottom of will be those which involved Dominion Voting Systems, used by every one of the key battleground states whose ballot counts are being called into question.
Evidence in Antrim County, Michigan, where 6,000 votes were switched from Trump to Biden, lead many to believe that this was just the tip of the iceberg in a software system that may have been infiltrated by an outside source, namely the HAMMER Scorecard program [see yesterday's post, Did American Patriots get HAMMERED by deep-state globalists?
Elections authorities in Michigan were quick to write off the 6,000 vote switch as a "glitch" caused by "human error."
"In computer software development lingo, a 'glitch' is slang for an unintentional software malfunction. Voting software that switches votes means that it was intentionally programmed to do so," says Patrick Wood, editor in chief at Technology News and Trends.
The Dominion Voting Systems, which has been used in multiple states where fraud has been alleged in the 2020 U.S. Election, was rejected three times by data communications experts from the Texas Secretary of State and Attorney General's Office for failing to meet basic security standards.
Unlike Texas, other states certified the use of the system, including Pennsylvania, where voter fraud has been alleged on multiple counts this week.
————————————————-
AMERICAN RESISTERS FACE NATO GUN CONFISCATION AND DEPORTATIONS TO CANADIAN-BASED CONCENTRATION CAMPS RUN BY THE CHICOMS
Steve Quayle and myself have been investigating a three-nation deal involving Communist China, Canada and  the United States. The deal has now expanded to NATO forces, living in American bases that were closed during the Bush Sr., era. The CSS has also learned that their is some UN involvement as well. The agreements have to do with ridding America's new Harris-Biden administration of any and all. Unfortunately, the interview that is presented below on this topic is a work in progress. The implications of this interview is frightening as it promises an international, state-sponsored genocidal program against "deplorables" who will oppose the real new world order. 
THE INTERVIEW IS NOT FOR THE FAINT OF HEART.
To listen to this interview of fantastic implications, please

CLICK HERE
————————————————-
SUPREME COURT JUSTICE WARNS 'RELIGIOUS LIBERTY IS IN DANGER OF BECOMING A SECOND-CLASS RIGHT'
https://endtimeheadlines.org/2020/11/supreme-court-justice-warns-religious-liberty-is-in-danger-of-becoming-a-second-class-right/ – Nov 13, 2020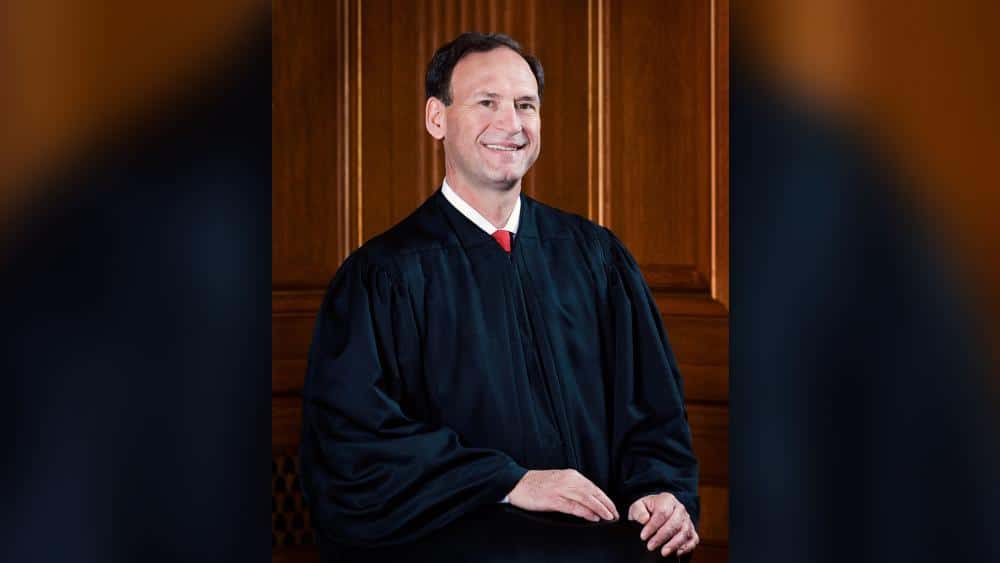 (ETH) – American freedoms and religious liberties are experiencing unprecedented limitations according to Supreme Court Justice Samuel Alito who is reportedly sounding the alarm about ongoing actions in America whether from COVID or from pro-LGBT hardliners.
According to CBN, Alito recently told The Federalist Society that America has never faced such extreme limitations on freedom as it has this year due to the coronavirus restrictions. "The pandemic has resulted in previously unimaginable restrictions on individual liberty," Alito said in a virtual address to the conservative Federalist Society.
"We have never before seen restrictions as severe, extensive, and prolonged as those experienced for most of 2020." Alito went on further to warn that laws giving government officials so much discretion to impose such regulations can be abused and that religious freedom was particularly at risk.
"It pains me to say this, but in certain quarters, religious liberty is fast becoming a disfavored right," he said, citing COVID restrictions that "blatantly discriminated against houses of worship." This perspective of Alito stems from the fact that he himself was critical of two cases this year, where the Supreme Court agreed with restrictions on religious gatherings.
In both cases, Chief Justice John Roberts sided with the court's liberals in 5-4 rulings that limited the First Amendment rights of worshippers. "Whatever one may think about the COVID restrictions, we surely don't want them to become a recurring feature after the pandemic has passed," said Alito. The Supreme Court Justice is merely raising a red flag that religious freedom should be protected in America. He went further to state: "Religious liberty is in danger of becoming a second-class right,"
————————————————-
Liberal Norway Has Made It A Crime Punishable With Prison Time To Criticize The LGBTQ+ P For Pedophile Movement Even In Your Private Conversations
https://www.nowtheendbegins.com/liberal-norway-has-made-it-a-crime-punishable-with-prison-time-to-criticize-lgbtq-p-for-pedophile-movement-even-in-your-private-conversations/ – by Geoffrey Grider November 13, 2020
"LGBTQ+ ideology has been mainstreamed in every sphere of life imaginable. Still, radical gender activists will not be at rest until every private citizen repudiates biological truth and relinquishes his every doubt about their dogma." Reuters noted that under the penal code, "people charged with violent crimes can receive harsher sentences if a judge decides their actions were motivated by someone's sexual orientation or gender identity." Opponents of the change pointed out it could be used to criminalize free speech. In the United Kingdom, there already are plans to criminalize speech in private homes.
 NOW THE END BEGINS SHARE:
Norway's parliament has voted to expand the protections that the LGBTQ+ community has enjoyed in that nation since 1981 by expanding the definition of "hate speech" that can land a person in prison.
AS THE SPIRIT OF ANTICHRIST continues to rise over America and on every nation on Earth, we some something absolutely chilling coming from the ultra-Liberal nation of Norway. It is now a crime in Norway to verbally criticize the LGBTQ+ community in public and in private, including the privacy of your own home. Maximum fine for those people ratted out to the government includes but is not limited to ONE YEAR IN JAIL for private criticism, and THREE YEARS IN JAIL for comments made publicly.
"Every record has been destroyed or falsified, every book rewritten, every picture has been repainted, every statue and street building has been renamed, every date has been altered. And the process is continuing day by day and minute by minute. History has stopped. Nothing exists except an endless present in which the Party is always right." ― George Orwell 1984
AS YOU CAN SEE, the horrific, dystopian future that George Orwell warned us about is now here, and getting worse with each passing day. Jail time for criticism? Sure, Antichrist brooks no dissent. What's next, execution? Exactly. The Liberals in the LGBTQ+ lied to you when they said they only want "tolerance and acceptance", they want nothing of the kind. They want to you rule your life, control your thoughts, and make you bow down before them, cowering in fear. Thus it has always been with tyrants.
"Canst thou draw out leviathan with an hook? or his tongue with a cord which thou lettest down? He beholdeth all high things: he is a king over all the children of pride." Job 41:1,34 (KJB)
THE LGBTQ+ HAVE a king over them, his name is Leviathan, and he is coming to rule this sin-cursed world for 7 short years. But because we are living in the overlapping time period between the close of the Church Age waiting for the Rapture, and the start of the time of Jacob's trouble that happens after the Rapture, we are getting a little "free sample" of what that dispensation will be like. What do you think of it so far? Cheer up, it gets worse, a whole lot worse.
I PRAISE GOD that I don't have to go through the Tribulation, and if you're saved you won't either. But if you're not saved, you can either enjoy the Tribulation or be smart and be excused from that mess by trusting in Jesus Christ. Your choice, have at it, but be warned. A non-response to Jesus' free gift of salvation will be taken as a "no".
Norway criminalizes private criticism of LGTBQ+ people
FROM WND: Reuters reported Norway already was among the "most liberal countries in Europe" on the issue," allowing trans people to legally change gender without a medical diagnosis" and more. But "reported homophobic crimes have risen," the report said, citing an advocacy organization.
So parliamentarians agreed to expand their penal code this week.
NOW THOSE FOUND GUILTY of hate speech face a fine or up to a year in prison for private remarks, and a maximum of three years for public comments. Monica Maeland, minister of justice, said transgendered people are "an exposed group when it comes to discrimination, harassment and violence."
"It is imperative that the protection against discrimination offered by the criminal legislation is adapted to the practical situations that arise," she told Reuters.
"We're forever hearing about this supposed rise in 'LGBTQ+ hate crimes,' and it's no wonder, really — given that the definition of what constitutes a 'hate crime' keeps being expanded. The latest example is Norway, which has just amended its penal code, first passed in 1981, to outlaw even 'private remarks' that the ruling class considers offensive," she wrote.
"LGBTQ+ ideology has been mainstreamed in every sphere of life imaginable. Still, radical gender activists will not be at rest until every private citizen repudiates biological truth and relinquishes his every doubt about their dogma."
REUTERS NOTED THAT under the penal code, "people charged with violent crimes can receive harsher sentences if a judge decides their actions were motivated by someone's sexual orientation or gender identity." Opponents of the change pointed out it could be used to criminalize free speech. In the United Kingdom, there already are plans to criminalize speech in private homes.

READ MORE

:
NOW THE END BEGINS IS YOUR FRONT LINE DEFENSE AGAINST THE RISING TIDE OF DARKNESS IN THE LAST DAYS BEFORE THE RAPTURE OF THE CHURCH
————————————————
JESUS CHRIST RETURN FOR HIS CHURCH IS "IMMINENT"
Matt. 7:27 And the rain descended, and the floods came, and the winds blew, and beat upon that house; and it fell: and great was the fall of it.
Matt. 24:38 For as in the days that were before the flood they were eating and drinking, marrying and giving in marriage, until the day that Noe entered into the ark,
Matt. 24:39 And knew not until the flood came, and took them all away; so shall also the coming of the Son of man be
——————————————–
DON'T WAIT FOR THE LAST MINUTE
We are currently in the "Birth Pangs" pending the coming "7 year TRIBULATION" period, where all the Nations on Earth will be subject to God's Wrath on an "UNGODLY" World. The Rapture of Jesus Christ Church is "TOTALLY" imminent; And what will follow after that will be massively more devastating that we are seeing right now (Read

Revelation Ch 6 – 22

) God is trying to get everyone's attention to the coming Judgments; He does not want "ANYONE" to perish, but all to come to repentance. He loves us, but will not stand idly by and watch the World, (His Creation) turn to sin and debauchery). We are currently living in a fallen "Satanic" World where "EVIL", is totally accepted, "and God and his Love for his Church": is being exponentially rejected. The time has come when God HAS TO intervene, and he is (The prophetic word listed in his Word the Bible is being fulfilled exponentially).
——————————————————
THE NEW WORLD ORDER:
ONE WORLD GOVERNMENT – ONE WORLD ECONOMIC SYSTEM – ONE WORLD RELIGION
Dan. 9:27 And he shall confirm the covenant with many for one week: and in the midst of the week he shall cause the sacrifice and the oblation to cease, and for the overspreading of abominations he shall make it desolate, even until the consummation, and that determined shall be poured upon the desolate
Dan. 7:24 And the ten horns out of this kingdom are ten kings that shall arise: and another shall rise after them; and he shall be diverse from the first, and he shall subdue three kings
Rev. 17:12 And the ten horns which thou sawest are ten kings, which have received no kingdom as yet; but receive power as kings one hour with the beast
——————————————-
THE MARK OF THE BEAST:
DON'T TAKE THE MARK OF THE BEAST WHICH IS (CHANGING YOUR D.N.A.) AND GIVING YOUR CONTROL OVER TO THE "BEAST SYSTEM" – THIS IS AN ABONOMINATION TO GOD: (YOU ARE HIS CREATION):
Rev. 13:14 And deceiveth them that dwell on the earth by the means of those miracles which he had power to do in the sight of the beast; saying to them that dwell on the earth, that they should make an image to the beast, which had the wound by a sword, and did live.
Rev. 13:15 And he had power to give life unto the image of the beast, that the image of the beast should both speak, and cause that as many as would not worship the image of the beast should be killed.
Rev. 14:9 And the third angel followed them, saying with a loud voice, If any man worship the beast and his image, and receive his mark in his forehead, or in his hand
THE PUNISHMENT FROM GOD FOR THOSE WHO TAKE THE MARK AND WORSHIP THE "BEAST SYSTEM":
Rev. 14:10 The same shall drink of the wine of the wrath of God, which is poured out without mixture into the cup of his indignation; and he shall be tormented with fire and brimstone in the presence of the holy angels, and in the presence of the Lamb:
 (YOU ARE GOD'S CREATION – CHANGING YOUR D.N.A. AND/OR GIVING YOUR ALLEGANCE TO ANOTHER ENTITY I.E. (THE ANTICHRIST) – IS AN ABONOMINATION TO GOD):