—————————————————
LATEST NEWS CLIPS – ARTICLES PRESENTATION (FRIDAY 26th FEBRUARY 2021)
—————————————————
(THIS IS THE WORLD'S CURRENT TIMELINE)
Matt. 24:6 And ye shall hear of wars and rumors of wars: see that ye be not troubled: for all these things must come to pass, but the end is not yet.
Matt. 24:7 For nation shall rise against nation, and kingdom against kingdom: and there shall be famines, and pestilences, and earthquakes, in divers places.
Matt. 24:8 All these are the beginning of sorrows.
Matt. 24:9 Then shall they deliver you up to be afflicted and shall kill you: and ye shall be hated of all nations for my name's sake.
Luke 12:40 Be ye therefore ready also: for the Son of man cometh at an hour when ye think not
—————————————–
THIS IS THE WORLD'S VERY NEAR FUTURE:
Matt. 24:21 For then shall be great tribulation, such as was not since the beginning of the world to this time, no, nor ever shall be
—————————————————
WE PREACH THE BLESSED HOPE FOR THE FUTURE IN JESUS CHRIST OUR SAVIOUR
1Cor. 12:3 Wherefore I give you to understand, that no man speaking by the Spirit of God calleth Jesus accursed: AND THAT NO MAN CAN SAY THAT JESUS IS THE LORD, BUT BY THE HOLY GHOST.
"Behold, I come like a thief! Blessed is he who stays awake and keeps his clothes with him, so that he may not go naked and be shamefully exposed."
"And you know what is restraining him now so that he may be revealed in his time. For the mystery of lawlessness is already at work. Only he who now restrains it will do so until he is out of the way."
REV. 14:12
Here Jesus was alluding to the fact that the Doctrine of Eternal Security WILL EXPIRE WITH THE RAPTURE OF THE CHURCH
Luke 12:37 Blessed are those servants, whom the lord when he cometh shall find watching: verily I say unto you, that he shall gird himself, and make them to sit down to meat, and will come forth and serve them
SO WON'T YOU ACCEPT JESUS NOW AND BE REMOVED FROM THAT EVENT  (OF TRIBULATION) AND LIVE FOREVER WITH JESUS IN THE FAMILY OF GOD?
2 "(For he saith, I have heard thee in a time accepted, and in the day of salvation have I succoured thee: behold, now is the accepted time; behold, now is the day of salvation.)" (2nd Corinthians 2:6)
—————————————————-
WEBPAGE ADMINISTRATOR:
URGENT MESSAGE:
MESSAGE TO ALL JESUS CHRIST LOVING CHRISTIANS OUT THERE
FROM GOD:
Pack your bags (DIRECTIONS BELOW); because Jesus Christ Plane (FLIGHT 777 TO HEAVEN) is leaving soon from runways all over the World; Be Ready "JESUS" is Coming Quickly. WITH ALL OF GOD'S LOVE WITH HIM TO RESCUE HIS CHURCH FROM A FALLEN "SINFULL" WORLD
Rev. 2:5 Remember therefore from whence thou art fallen, and repent, and do the first works; or else I will come unto thee quickly, and will remove thy candlestick out of his place, except thou repent.
Rev. 2:16 Repent; or else I will come unto thee quickly, and will fight against them with the sword of my mouth.
Rev. 3:11 Behold, I come quickly: hold that fast which thou hast, that no man take thy crown.
Rev. 22:7 Behold, I come quickly: blessed is he that keepeth the sayings of the prophecy of this book.
Rev. 22:12 And, behold, I come quickly; and my reward is with me, to give every man according as his work shall be.
Rev. 22:20  He which testifieth these things saith, Surely I come quickly. Amen. Even so, come, Lord Jesus.
THIS IS A TIME OF TESTING BEFORE THE END:
Rev. 3:19 As many as I love, I rebuke and chasten: be zealous therefore, and repent
We are well and truly into God's Birth pangs (PRE-TRIBULATION) at this time; "THE BEGINNING OF SORROWS" as described in (Matt. 24:3-8).This is not the 7 year Tribulation as yet, just a lead up to and "warning" from God That the Rapture of Jesus Christ Church, and the Tribulation Revelation 6 (God's Judgment) is about to start.
(PLEASE SEE THE ARTICLE BELOW "BIRTH PANGS" PLACED AT THE BOTTOM OF THIS REPORT (JUST ABOVE SALVATION).
IN THE MEANTIME, GATHER YOURSELVES TOGETHER IN LOVE, FAITH, AND WORSHIP, AND PRAY "INCESSANTLY TILL HIS GLORIOUS RETURN.
——————————————-
" THE UNDERGROUND CHURCH HAS BEGUN":
REMEMBER SOME MAIN STREAM CHURCHES ARE NOT WHAT THEY SEEM:
Rev. 3:14  And unto the angel of the church of the Laodiceans write; These things saith the Amen, the faithful and true witness, the beginning of the creation of God;
Rev. 3:15 I know thy works, that thou art neither cold nor hot: I would thou wert cold or hot.
Rev. 3:16 So then because thou art lukewarm, and neither cold nor hot, I will spue thee out of my mouth.
Rev. 3:17 Because thou sayest, I am rich, and increased with goods, and have need of nothing; and knowest not that thou art wretched, and miserable, and poor, and blind, and naked:
SEEK THE LORD JESUS CHRIST WHILE HE MAY BE FOUND – "THE TIME IS CRITICALLY SHORT"
—————————————————
DAILY CHRISTIAN BIBLICAL QUESTIONS AND ANSWERS:
—————————————————
The Revelation Story: Chapters 19-End
https://gracethrufaith.com/the-bible-thru-the-eyes-of-its-writers/revelation-story-chapters-19-end/
Chapter 19
With the final and total destruction of Babylon, God's enemies have been all but defeated and the war for Planet Earth is just about over. "Hallelujah," we all shouted from Heaven, "For our Lord God Almighty reigns!" Hallelujah is a Hebrew word meaning "Praise the Lord" and after the fact I was surprised to learn that I'm the only New Testament writer who used it. I guess the Lord was saving it for just this occasion. It certainly applies.
I looked around again and saw Heaven standing open and there before me was a rider on a white horse. Unlike the one I had seen in a vision at the beginning of my story, this one was the real thing. He was even wearing the right crown, the crown of royalty. So there would be no mistaking His identity, I gave Him the name I had coined in my gospel account; the Word of God. The armies of Heaven were with Him on white horses of their own, all clean and dressed in white linen. By the blood on His garments and the absence of any on theirs it was clear that He was defeating His enemies all by Himself, just as Isaiah had foretold. (Isa. 63:1-6) No babe in arms this time, He's here to assume command of His creation and won't be taking any guff from anyone.
Down on Earth the anti-christ and the armies of all the nations gathered together for their final stand, but just like that He wiped them all out. As opposed to the bow without arrows carried by the imposter in my earlier vision, the Lord spoke with such power and authority it's as if His words were a sharp double edged sword. He is the King of Kings and Lord of Lords! The anti-christ and false prophet were captured alive, but all it took for all the armies of Earth to be slain in their tracks was the sound of His voice. God summoned demonic creatures that looked like birds to consume their dead flesh. The anti-christ and false prophet were thrown alive into the place of eternal suffering reserved for Satan and his followers, to be tormented forever.
THIS ARTICLE IS CONTINUED BELOW: AFTER THE NEWS ARTICLES AND ABOVE "SALVATION"
————————————————
NEWS CLIPS/ARTICLES OBTAINED FROM MANY SOURCES – INCLUDING
Tracking bible prophecy.org
Rapture Ready News
Prophecyupdate.Com
Main News Channels
End Times Headlines
Prophecyupdateblogspot.com
Stevequayle.com
Gracethrufaith.com
Nowtheendbegins.com
Other Christian Sites
(CLICK ON) LATEST DAILY NEWS CLIPS:
ISRAEL NEWS:
I AM GOING TO MAKE JERUSALEM A CUP THAT SENDS ALL THE SURROUNDING PEOPLES REELING … Zech. 12:2
God is in control, and He told the nations the consequences of dividing the Promised Land and declaring peace and safety on their own terms (Joel 3:1-2; I Thess. 5:3)
WORLD TERRORISM – DECEPTION – CHAOS – WARS
GENERAL WORLD NEWS:
GENERAL WORLD CORONAVIRUS NEWS:
WORLD FINANCE:
Rev. 6:6 And I heard a voice in the midst of the four beasts say, A measure of wheat for a penny, and three measures of barley for a penny; and see thou hurt not the oil and the wine
MASSIVE EARTH CHANGES/EARTHQUAKES/VOLCANOES ETC:
2Chr. 7:13 If I shut up heaven that there be no rain, or if I command the locusts to devour the land, or if I send pestilence among my people;
2Chr. 7:14 If my people, which are called by my name, shall humble themselves, and pray, and seek my face, and turn from their wicked ways; then will I hear from heaven, and will forgive their sin, and will heal their land
CHRISTIAN AND RELIGIOUS WORLD NEWS:
Matt. 24:9 Then shall they deliver you up to be afflicted, and shall kill you: and ye shall be hated of all nations for my name's sake.
Matt. 24:10 And then shall many be offended, and shall betray one another, and shall hate one another
EXTRA WORLD – ALTERNATIVE NEWS:
Please keep in mind that this collection of News Articles is mainly concerning America, but also take note that what happens in America will also "Dramatically" affect Australia and the rest of the World "Massively".
—————————————————-
WORLD – PROPHETIC NEWS ARTICLES PRESENTATION  (LATEST NEWS CLIPS – ARTICLES PRESENTATION (FRIDAY 26th FEBRUARY 2021)
MIDDLE EAST AND WORLD WAR LOOMING THE BUILD UP TO PSALM 83  – ISAIAH 17 AND GOG OF MAGOG WARS EZEKIEL 37-38:
THE WHOLE WORLD IS UNSTABLE FINANCIALLY, POLITICALLY, PHYSICALLY, MORALLY, GODLY: – AND BECOMING MORE SO DAILY. (WE ARE IN THE BEGINNING OF SORROWS (MATT 24:8)
THE BIBLE STATES THAT IT WILL ONLY GET WORSE BEFORE THE START OF THE TRIBULATION OF MANKIND – (REVELATION 6)
But before that we have to go through the Birth Pangs, leading up to the Tribulation of Mankind; and I feel that the beginning of Matthew 24 explains that time very well. We are currently in the Birth Pangs (Even though Matthew 24: is directed at the Jewish Nation, it still reflects Biblical Prophecy for the whole World at this time):
Matt. 24:6 And ye shall hear of WARS AND RUMOURS OF WARS: see that ye be not troubled: for all these things must come to pass, but the end is not yet.
Matt. 24:7 FOR NATION SHALL RISE AGAINST NATION, AND KINGDOM AGAINST KINGDOM: and there shall be famines, and pestilences, and earthquakes, in divers places.
—————————————————-
GENERAL PROPHETIC NEWS SECTION:
—————————————————–
VACCINE 'PASSPORT' EVOLUTION: NEXT PHASE IS 'BARCODE-LIKE' TATTOOS STAMPED ON SKIN'
https://prophecyupdate.blogspot.com/2021/02/vaccine-passport-evolution-next-phase.html – Brian Sussman 
This column is not meant to argue vaccine versus no vaccine. Instead, I'm concerned about the many conversations I've recently h – ad with friends who are convinced that COVID-19 vaccination passports – for air travel, access to job sites, schools and public places – should be, and will be, instituted soon. I also know of people who are considering proof of vaccination to attend their private wedding ceremony and reception.
Currently, vaccination verification is limited to a paper form. Such a document could be easily forged. As such, alternate proposals are turning to technology. One proposal involves vaccination authentication that could be stored in a digital token on a smartphone app with various forms of two-step authorization as a safety mechanism.
In fact, the International Air Transport Association (IATA), an airline trade association that represents 290 airlines worldwide, said on Nov. 23, 2020, that it was in the final stages of developing a digital vaccine passport for travelers. The IATA Travel Pass will let travelers share their vaccination status and COVID test results with airlines and border authorities via a contactless passport app.
But there's a problem: What about those without a smartphone?
In addition to those who don't have smartphones, there are countless individuals who do not want to share their personal health information with the likes of a private, for-profit corporation like Google.
But don't worry, there's a plan for these concerns.
It's called The Slippery Slope.
Let's be clear: There is currently no vaccine for COVID-19 that insures immunity; one can still become ill. Also, the current vaccines do not prevent the spread of the virus.
Digital-format immunity passports would eventually likely normalize digital-format proof-of-status documents.
Advocates of COVID passports visualize a world where we can't pass through a door to a plane, workplace, school, or restaurant until the gatekeeper scans our credentials. In no time the public would be conditioned to submit to these demands.
This digital system could easily be expanded to check not just a person's immunity status, but any other bit of personal information a gatekeeper might deem relevant, such as banking information, age, pregnancy, HIV status, or criminal history; and all data – your data – could be accumulated into one database.
And could we really trust those overseeing the databases?
The next step in this plan will move from smartphone apps to invisible barcode-like tattoos stamped on the body of those who have been vaccinated. This would accommodate those without cell phones and prevent hackers from stealing personal information. The tattoo plan is funded by Bill and Melinda Gates. The easily applied invisible tattoos would likely be placed on the hand or forehead.
No, I'm not claiming the vaccine is the mark of the Beast, but I am emphasizing that society is moving very quickly into a brave new world, especially in the realm of personal privacy and information security.
"He causes all, both small and great, rich and poor, free and slave, to receive a mark on their right hand or on their foreheads, and that no one may buy or sell except one who has the mark or the name of the beast. …" (Revelation 13:16-17)
CLICK ON LINK BELOW:
EVERYONE NEEDS TO READ THE ARTICLE BELOW (IT COULD SAVE YOUR LIFE):
—————————————–
WEBPAGE ADMINISTRATOR:
Rev. 13:17 And that no man might buy or sell, save he that had the mark, or the name of the beast, or the number of his name.
Rev. 13:18 Here is wisdom. Let him that hath understanding count the number of the beast: for it is the number of a man; and his number is Six hundred threescore and six.
Now I am not saying that this "PATCH" is the "Mark of the Beast"; but IT IS the pre-curser to the "MARK"; because it has the same "Qualities" as the "Mark" and it is exceedingly "Dangerous" i.e. it is a controlling mechanism to say the least, and it has all the same qualities as the stated Mark of the Beast in Rev 13:17-18.
AND REMEMBER – Any thing Bill Gates is involved in is being used to "CULL" the majority of the World's Population;

"WHICH IS THE NEW WORLD ORDER MAIN OBJECTIVE"
————————————————-
https://prophecyupdate.blogspot.com/ – Isabel Kershner
Israel has raced ahead with the fastest Covid vaccination campaign in the world, inoculating nearly half its population with at least one dose. Now, the rapid rollout is turning the country into a live laboratory for setting the rules in a vaccinated society — raising thorny questions about rights, obligations and the greater good.
Under a new "Green Badge" system that functions as both a carrot and a stick, the government is making leisure activities accessible only to people who are fully vaccinated or recovered starting Sunday. Two weeks later, restaurants, event halls and conferences will be allowed to operate under those rules. Customers and attendees will have to carry a certificate of vaccination with a QR code.
Israel is one of the first countries grappling in real time with a host of legal, moral and ethical questions as it tries to balance the steps toward resuming public life with sensitive issues such as public safety, discrimination, free choice and privacy.
"Getting vaccinated is a moral duty. It is part of our mutual responsibility," said the health minister, Yuli Edelstein. He also has a new mantra: "Whoever does not get vaccinated will be left behind."
The debate swirling within Israel is percolating across other parts of the world as well, with plans to reserve international travel for vaccinated "green passport" holders and warnings of growing disparities between more-vaccinated affluent countries and less-vaccinated poor ones.
Israel's central government — eager to bring the country out of its third national lockdown without setting off a new wave of infections — was spurred into action by local initiatives. Chafing under the country's lockdown regulations, an indoor shopping mall in the working-class Tel Aviv suburb of Bat Yam threw its doors open last week for customers who could prove that they had been vaccinated or had recovered from Covid-19.
In Karmiel, the mayor made a similar decision to open his city in the northern Galilee region for business. His office began processing requests from employers who could verify that all of their employees had received the requisite two vaccine doses or had recovered from the virus.
And in other cities, mayors wanted to bar unvaccinated teachers from classrooms while some hoteliers threatened unvaccinated employees with dismissal.
Dr. Maya Peled Raz, an expert in health law and ethics at the University of Haifa, defended some limits on personal liberties for the greater good. Employers cannot force employees to get vaccinated, she said, but they might be allowed to employ only vaccinated workers if not doing so could harm their business.
"That may involve some damage to individual rights, but not all damage is prohibited if it is well-balanced and legitimate in order to achieve a worthy goal," she said. "It's your choice," she added of leisure activities. "If you are vaccinated, you can enter. As long as you aren't, we can't let you endanger others."
————————————————-
https://prophecyupdate.blogspot.com/ –
The Vaccine Reaction is reporting that a recent survey found that 53 percent of U.S. military families do not want to take the experimental mRNA COVID injections.
A survey conducted in December 2020 by the Blue Star Families, a non-profit military advocacy organization, found that 53 percent of U.S. military families do not want to get the experimental COVID-19 vaccines being distributed under an Emergency Use Authorization (EUA) granted by the U.S. Food and Drug Administration (FDA).
Of the of 53 percent of military families who responded to the survey indicating that they would not get the vaccine, nearly three-quarters cited a distrust of the development process or timeline.
Pentagon officials said as long as the COVID-19 vaccines are classified as EUA by the FDA and not fully licensed, the DoD cannot mandate service members to take the vaccine.
Employers Cannot Legally Mandate An Experimental Medical Product
While the military acknowledges that they cannot legally require anyone to receive an experimental injection not yet approved by the FDA, some businesses in the U.S. are attempting to do just that.
Last month we reported that a nursing home in Wisconsin was firing employees who refused to get an experimental mRNA COVID injection.
Townhall.com later reported that the nursing home faced a backlash for their policy, and one employee is now represented by an attorney who has reportedly sent a cease-and-desist letter.
A Rock County-owned nursing home policy that mandates employees get the COVID-19 vaccination or be laid off is "illegal and unenforceable," according to a cease-and-desist letter filed on behalf of a nursing home employee.
————————————————-
https://prophecyupdate.blogspot.com/ – Shane Trejo
The Federal Reserve is talking about adopting a "digital dollar" as cryptocurrencies take off and the central bank wants to proceed toward the cashless society.
"We are looking very carefully about whether we should issue a digital dollar," Fed Chairman Jerome Powell said before the Senate Banking Committee. "As the reserve currency, we have the responsibility to get this right rather than be the first."
Powell made it clear that his central bank will be upping the inflation in order to destroy the value of paper money and ease the transition toward the cashless society.
"The economy is a long way from our employment and inflation goals, and it is likely to take some time for substantial further progress to be achieved," he said.
Liberty Conservative News has warned of the cashless society, as a cabal of wealthy international interests pine for a monetary system where everyone can be tracked by state authorities at all times:
"The Cato Institute, a Washington D.C. think-tank funded in part by globalist oligarchs David and Charles Koch, has formally endorsed the notion of a cashless society that would enable centralized government control over the entire economy on an unforeseen scale.
Economics professors Michael D. Bordo and Andrew T. Levin wrote a white paper for the Cato Journal titled, "Improving the Monetary Regime: The Case for U.S. Digital Cash." They argue that digital cash is necessary so the "Federal Reserve can provide sufficient monetary stimulus to preserve price stability."
"Our analysis indicates that the Federal Reserve should take active steps to establish digital cash as the fulcrum of the U.S. monetary system," the Cato analysts wrote.
Although they do not propose explicit banning the use of paper cash, they admit that their proposal would phase it out and eventually lead to a digital-only system where paper currency becomes a thing of the past.
They wrote: "Once digital cash becomes convenient and ubiquitous, the demand for paper currency will rapidly diminish."
The analysts confusingly claim that digital paper money would "foster true price stability" while admitting that a cashless system would allow the central bank to inflate currency instruments limitlessly."
The cashless society could lead to individuals being frozen out of the marketplace completely, unable to buy and sell goods they need for their families to survive, unless they submit and serve the Beast System.
————————————————-
https://prophecyupdate.blogspot.com/2021/02/fear-and-delusion.html – Weaver
CLICK ON VIDEO BELOW:
According to psychiatrist and medical legal expert Dr. Mark McDonald, the true public health crisis is not COVID-19 itself; rather, it's the fear of the infection, which has "morphed and evolved into a form of mass delusional psychosis"

Many enter a state of hysteria when they see an unmasked person, even if they look perfectly healthy and clearly are not suffering from any kind of respiratory issue. This is a highly irrational state that has no basis in reality

Delusion is defined as believing something that doesn't conform with reality

There are serious concerns about the lasting effects this widespread insanity will have on children as they grow up. One of the worst traumas children suffer as a result of all this fearmongering is the idea that they may kill their parents or grandparents simply by being around them

Treating the children's trauma in therapy is not going to be enough, as parents and other adults are the ones creating the trauma by their own exaggerated fear response. To heal a generation of traumatized children, we must first address the psychosis of the adult population
Analysis by Dr. Joseph Mercola
A number of mental health experts have expressed concern over the blatant fear and panic mongering during the COVID-19 pandemic, warning about potential — and let's face it, likely — psychiatric effects. In a December 22, 2020, article1 in Evie Magazine, S.G. Cheah discusses what may in fact be the real problem at hand: mass insanity caused by "delusional fear of COVID-19."
Cheah refers to lectures and articles by psychiatrist and medical legal expert Dr. Mark McDonald,2 who believes "the true public health crisis lies in the widespread fear which morphed and evolved into a form of mass delusional psychosis."
"Even when the statistics point to the extremely low fatality rate among children and young adults (measuring 0.002% at age 10 and 0.01% at 25), the young and the healthy are still terrorized by the chokehold of irrational fear when faced with the coronavirus," Cheah writes.
Cheah goes on to review a number of irrational behaviors that have become all too commonplace, such as parents being kicked off planes because their young children refuse to wear a mask during the flight, or people having hysterical meltdowns when they see a person not wearing a mask.
The science3 is quite clear about the risk posed by asymptomatic individuals, meaning anyone who feels perfectly healthy yet may have tested positive for SARS-CoV-2 with a PCR test set to an excessively high cycle threshold. They pose an exceptionally low risk to others, if any risk at all. Science is even clearer on healthy individuals who test negative for SARS-CoV-2. You simply cannot spread a virus you do not have.
The bulk of published science4,5,6,7,8,9,10,11 also shows that masks do not prevent the spread of viral infections, and this is particularly true if you're wearing cloth masks,12 surgical masks or masks with vents.
Despite all of that, many still enter a state of hysteria when they see an unmasked person, even if they look perfectly healthy and clearly are not suffering from any kind of respiratory issue. This is a highly irrational state that has no basis in reality.
Indeed, according to McDonald, these people are suffering from delusional psychosis,13 and there are a lot of them. He goes so far as to refer to the outside of his home or office as the "outdoor insane asylum," where he must assume "that any person that I run into is insane" unless they prove otherwise.14 As explained by Cheah:15
"Instead of facing reality, the delusional person would rather live in their world of make-believe. But in order to keep faking reality, they'll have to make sure that everyone else around them also pretends to live in their imaginary world.
In simpler words, the delusional person rejects reality. And in this rejection of reality, others have to play along with how they view the world, otherwise, their world will not make sense to them. It's why the delusional person will get angry when they face someone who doesn't conform to their world view …
It's one of the reasons why you're seeing so many people who'd happily approve the silencing of any medical experts whose views contradict the WHO or CDC guidelines. 'Obey the rules!' becomes more important than questioning if the rules were legitimate to begin with."
In his interview with Jesse Lee Peterson (video above), McDonald explains his diagnosis this way:
MASS DELUSIONAL PSYCHOSIS TRAUMATIZES CHILDREN
McDonald is particularly concerned with the lasting effects this widespread insanity will have on children as they grow up. As a psychiatrist specializing in the treatment of children and adolescents, he should know. Since the lockdowns began in the first quarter of 2020, he's seen a massive increase in patients, and their mental states are far worse than what he's used to seeing in these age groups.
One of the worst traumas children suffer as a result of all this fearmongering is the idea that they may kill their parents or grandparents simply by being around them. As noted by Cheah, they're also being taught to feel guilty about behaviors that would normally be completely, well, normal.
As just one example, hysterical adults calling a toddler who refuses to wear a mask a "brat," when in fact resisting having a restrictive mask put across your face is perfectly normal at that age.
"It's not normal for children to grow up thinking that everyone is a danger to everyone else," Cheah says, and rightly so. It's not normal at all, and hysterical adults are mindlessly inflicting severe emotional trauma on an entire generation.
As noted by McDonald in his interview with Peterson above, a primary cause of depression, especially among youngsters, is disconnection from others. We need face-to-face contact, we need physical contact as well as emotional intimacy. We need these things to feel safe around others and within our own selves. Digital interactions simply cannot replace these most basic human needs, and are inherently separating rather than connective.
McDonald cites recent CDC statistics showing there's been a 400% increase in adolescent depression compared to one year ago, and in 25% of cases, they've contemplated suicide. These are unheard of statistics, he says. Never before have so many teenagers considered committing suicide.
"This is a mass-casualty event," McDonald says, and parents — adults — are to blame, because they are the ones scaring them to the point they don't feel life is worth living anymore.
This is also why just treating the children is not going to be effective enough. We have to address the psychosis of the adult population. "It's up to us adults to fix this," McDonald says, "because children are not going to be able to fix this themselves."
A totalitarian society, McDonald believes, is the ultimate end of this societal psychosis unless we do something about it and realize that "we're fine, we're perfectly safe." Indeed, we're in no more danger now than we were pre-COVID. We must not allow our freedoms to be taken from us due to delusional fears. As noted by Cheah in her article:16
————————————————-
https://prophecyupdate.blogspot.com/ – Worthy News
The United Nations has reported a massive increase in the number of people suffering hunger in Central America over the last two years, Voice of America (VOA) reports.
Releasing new data on Tuesday, the UN World Food Program said nearly 8 million people in El Salvador, Guatemala, Honduras, and Nicaragua are suffering hunger this year, compared to 2.2 million in 2018, VOA said.
In addition to the pandemic, Central America is also dealing with the impact of two hurricanes that tore into the region in November, Miguel Barreto, WFP Regional Director for Latin America and the Caribbean, said in a statement. "The COVID-19-induced economic crisis had already put food on the market shelves out of reach for the most vulnerable people when the twin hurricanes Eta and Iota battered them further," Barreto said.
Speaking to VOA about conditions in Honduras since hurricane flooding destroyed many homes last year, 70-year-old Marina Rosado said: "We're eating the little food that people give to us." Rosado, whose home was destroyed in November, added that she and her family normally collect bottles and cans in the streets to sell, but this activity has been hindered by coronavirus restrictions.
The WFP conducted a survey in which it found that 15% of Central Americans who answered questions in January 2021
————————————————-
ICELAND HIT WITH SWARM OF POWERFUL QUAKES
https://prophecyupdate.blogspot.com/ – Strange Sounds
As shown in the map below, Iceland is shaking hard today.
Even the manager of Vedur said: "I think we've never seen anything like it on the Reykjanes peninsula."A powerful earthquake swarm began on the Reykjanes peninsula this morning when two quakes at or over Magnitude 5 struck just after 10.00 am local time.
Meanwhile, some 40 quakes larger than M3 have been recorded, and over ten bigger than M4. No damage to buildings or infrastructure has been reported, or any injuries — though loose items in some people's homes were damaged or broken.
The biggest quake's epicentre was 3.3 kilometres southwest of Keilir mountain at 10.05. It was Magnitude 5.7. The Met Office warns on its website that there is an increased risk of rockfalls and landslides. 
The swarm continues at this time and aftershocks tend to be short and sharp, and many have been felt clearly in the capital region. The seismic activity is all taking place on the Reykjanes peninsula. 
Kristín Jónsdóttir, natural disaster monitoring manager at the Met Office, told RÚV news that the earthquake swarm is unusual for featuring so many large quakes in such a short time. "I think we've never seen anything like it on the Reykjanes peninsula. It's likely around ten quakes that are over four, and some of them were larger than five."
What makes this swarm unusual is that it has two active zones. One is to the east under Fagradalsfjall, and the other is in a similar spot to the 20th October quake: Núpshlíðarháls.
Kristín Jónsdóttir, director of Vedur.is explained that the area is locked and does not release tension except in larger earthquakes:
"We are in the middle of an event now. We believe that while this instability is ongoing, there is an increased chance that there will be even more earthquakes and even larger earthquakes."
————————————————-
DAYS OF NOAH: AMERICAN AIRLINES FLIGHT #2292 HAS A VERIFIED UFO ENCOUNTER AT 37,000 FEET WITH A 'LONG CYLINDRICAL OBJECT' FLYING OVER THEIR HEADS
https://www.nowtheendbegins.com/ – by Geoffrey Grider February 24, 2021
The pilot on flight 2292 radioed around 1:00 p.m. CST and said that the unidentified object was flying right on top of them, according to a transmission recorded by Steve Douglass on his blog, Deep Black Horizon. American Airlines verified to Fox News that the transmission is from flight 2292. UFO sightings are reported each year, but encounters by pilots have received increased attention recently.  In February 2018, two pilots separately encounter an object beaming light at roughly 50,000 feet in eastern Arizona, the Arizona Republic reported. Between 2014 and 2015, Navy pilots encountered numerous UFOs traveling at hypersonic speeds up to 30,000 feet in the air, the New York Times reported.
NOW THE END BEGINS SHARE:
An American Airlines passenger jet traveling from Cincinnati to Phoenix encountered an apparent UFO over northeastern New Mexico Sunday afternoon.
On our Monday Podcast, I went 'out on a limb' and said that 2021 is likely the year we will make face-to-face contact with the space aliens, umm, no, the Genesis 6 giants that Jesus says in Matthew 24 will come back at the end of the Church Age. But it wasn't really much of a prediction, the proof is more abundant than most people have the time to fact check. The Genesis 6 giants have returned, and you will see their faces shortly on the nightly news. That's right, you will see them very soon.
"But as the days of Noe were, so shall also the coming of the Son of man be." Matthew 24:37 (KJB)
The NTEB UFO Archive is literally filled to overflowing with verified, actual encounters with space aliens, complete with verified statements from the US Pentagon and DARPA that Navy pilots engage them in flight on a near daily basis. on April 28th of this year, the United States Pentagon admitted that videos of UFOs taken by Air Force pilots are indeed legit, and that the encounters they had with aliens actually took place. In July, the Pentagon went a step further and said that they have recovered 'objects and vehicles not made on this earth' and that there is so much activity they had to create the Unidentified Aerial Phenomenon Task Force inside the Office of Naval Intelligence on August 4th, 2020. These are the facts, let's proceed.
American Airlines not denying possible UFO spotting, says: 'Talk to the FBI'
FROM FOX NEWS: The pilot on flight 2292 radioed around 1:00 p.m. CST and said that the unidentified object was flying right on top of them, according to a transmission recorded by Steve Douglass on his blog, Deep Black Horizon. American Airlines verified to Fox News that the transmission is from flight 2292.
"Do you have any targets up here? We just had something go right over the top of us," the pilot said in the radio transmission. "I hate to say this but it looked like a long cylindrical object that almost looked like a cruise missile type of thing moving really fast. It went right over the top of us."
American Airlines confirmed that the radio transmission is authentic, but did not give any further comment on the possible alien encounter.
"Following a debrief with our Flight Crew and additional information received, we can confirm this radio transmission was from American Airlines Flight 2292 on Feb. 21," an American Airlines spokesperson told Fox News in a statement. "For any additional questions on this, we encourage you to reach out to the FBI."
The FBI did not immediately respond to a request for comment Tuesday.
Flight 2292 was around 37,000 feet at the time of the sighting, and Albuquerque Center did not respond because local air traffic interfered, according to Douglass. The flight went on to land in Phoenix, Arizona. New Mexico is home to White Sands Missile Range, which is located in the southern part of the state and is described as the Department of Defense's "largest, fully-instrumented, open air range."
Scott Stearns, the chief of public affairs at White Sands Missile Range, said the range was not testing anything on Sunday and also noted the distance between the missile range and northeastern New Mexico, which is about 400 miles.
"We have no idea what it could have been or if anything similar has been sighted in that area before," Stearns said in a statement to Fox News.
Thousands of UFO sightings are reported each year, but encounters by pilots have received increased attention recently.  In February 2018, two pilots separately encounter an object beaming light at roughly 50,000 feet in eastern Arizona, the Arizona Republic reported. Between 2014 and 2015, Navy pilots encountered numerous UFOs traveling at hypersonic speeds up to 30,000 feet in the air, the New York Times reported. 

READ MORE

:
 NOW THE END BEGINS IS YOUR FRONT LINE DEFENSE AGAINST THE RISING TIDE OF DARKNESS IN THE LAST DAYS BEFORE THE RAPTURE OF THE CHURCH
————————————————-
AMERICA IS ON THE EDGE OF COLLAPSE! THE TIME TO PREPARE IS ENDING- ROBERT GRISWOLD AND DAVE HODGES
https://thecommonsenseshow.com/activism-agenda-21-conspiracy/america-edge-collapse-time-prepare-ending-robert-griswold-and-dave-hodges – Submitted by Dave Hodges on Thursday, February 25, 2021 – 15:52.
 In the days going forward, which are going to be exceedingly difficult to say the least, may the CSS suggest that all believers keep Psalm 91 ready at their hand to rely on?
Psalm 91 He that dwelleth in the secret place of the most High shall abide under the shadow of the Almighty.
2 I will say of the Lord, He is my refuge and my fortress: my God; in him will I trust.
3 Surely he shall deliver thee from the snare of the fowler, and from the noisome pestilence.
4 He shall cover thee with his feathers, and under his wings shalt thou trust: his truth shall be thy shield and buckler.
5 Thou shalt not be afraid for the terror by night; nor for the arrow that flieth by day;
6 Nor for the pestilence that walketh in darkness; nor for the destruction that wasteth at noonday.
7 A thousand shall fall at thy side, and ten thousand at thy right hand; but it shall not come nigh thee.
8 Only with thine eyes shalt thou behold and see the reward of the wicked.
9 Because thou hast made the Lord, which is my refuge, even the most High, thy habitation;
10 There shall no evil befall thee, neither shall any plague come nigh thy dwelling.
11 For he shall give his angels charge over thee, to keep thee in all thy ways.
12 They shall bear thee up in their hands, lest thou dash thy foot against a stone.
13 Thou shalt tread upon the lion and adder: the young lion and the dragon shalt thou trample under feet.
14 Because he hath set his love upon me, therefore will I deliver him: I will set him on high, because he hath known my name.
15 He shall call upon me, and I will answer him: I will be with him in trouble; I will deliver him, and honor him.
16 With long life will I satisfy him, and shew him my salvation.
THE EDGE OF COLLAPSE: THE TIME TO PREPARE IS NEARLY AT AN END
I recently interviewed Robert Griswold of Readymaderesources.com. Robert Griswold is widely recognized as a pre-eminent authority of necessary preparations for the difficult times we live and in as well as what is coming.
Our interview was a pre-recorded two-part affair and it was conducted on The Common Sense Show.tv. Generally, our TV show is very proprietary, and one has to be a member in order to gain access to the in-depth investigative interviews we conduct. However, in this instance, the Lord spoke to my heart and instructed me to "tell the people." Subsequently, this is the first part of a two part series in which some of the content of our television interview will be reviewed in this venue. The Lord made it clear to me that time is very, very short and the time to prepare in all forms (ie physical, emotional, spiritual) is nearly at an end. I pray that each reader takes this information and uses it as a motivator to better prepare themselves and their loved ones for the literal holocaust that is coming.
THE REAL PURPOSE BEHIND ELECTION FRAUD 2020
The evidence available to the public with regard to the frequency and intensity of the massive voter fraud that stole an election like America was a third world banana republic are ubiquitous, undeniable and omnipresent. The evidence behind voter fraud is so voluminous that even the late Ray Charles could have seen the fraud.
With all the evidence and all the affidavits issued under the penalty of perjury were too voluminous to ignore. However, in over 30 instances, courts, ranging from local to federal and even the Supreme Court, not one piece of evidence was considered and America accepts this as business as usual. In decades gone by, millions would have taken to the streets and we barely saw a whimper. The rule of law in America is dead. There will never be another free and fair election in America every again. Is there any point to voting.
To tell most of us that the election was stolen is like preaching to the choir. However, the election was stolen, but nobody is talking about why. Both Griswold and myself feel that the election was stolen in order to directly usher in the New World Order (ie global governance under the auspices of Satan). Few have come to appreciate that Bill Gates, George Soros and others have decided it is time to usher in the new. The 2020 election will eventually be recorded as the watershed event leading to the end of America. The collapse is planned and the planned areas of collapse are voluminous. The areas range from the planned destruction of the economy, using climate change to subjugate all personal liberties and private property and much, much more.
THE ESTABLISHMENT OF PRAVDA
Pravda was name of the propaganda media run by the Soviets. Their entire purpose could be described as unmitigated propaganda. We are seeing the same thing today. The purpose of the propaganda and the control of both Big Tech social media and the mainstream media (MSM), is to control the belief systems of America in order to limiit the scope and severity of any uprisings against our collective subjugation.
As John Kennedy stated in his Secret Societies speech, our enemies use the media to hide the truth and to deceive as to what is happening. The media has successfully kept most of America from realizing that our country was just taken over in a coup. The globalists have declared war on the United States. Our economy was destroyed by a fake virus, with mitigation efforts which destroyed our economy but did nothing to prevent the spread of Covid.
New York Governor Cuomo called Trump a Nazi. However, it was Cuomo that ran the modern-day concentration camps called nursing homes where Cuomo performed the equivalent of giving small pox blankets to indigenous people. In Cuomo's case, he gave Covid to the very population whose immune systems could not resist the virus. And what does the media do? Do they recognize and publish the accounts that show the genocide that was perpetrated on the New York City elderly? No, they cover up this crime against humanity as much as possible even to the point where the victims are being blamed by the MSM.
CONCLUSION TO PART ONE
There is nobody coming to our rescue, until the Second Coming, and until then you must rely on prayer. In the upcoming parts of this series, we will identify the pressure points which will serve to threaten your very existence. Please heed the wraning the time to prepare is drawing to a speedy conclusion. 
————————————————-
ASSEMBLY OF GOD CHURCH DEPARTS DENOMINATION, GOES FULLY INCLUSIVE FOR LBTQ COMMUNITY
https://endtimeheadlines.org/2020/02/assembly-of-god-church-departs-denomination-goes-fully-inclusive-for-lbtq-community/ – Feb 18, 2020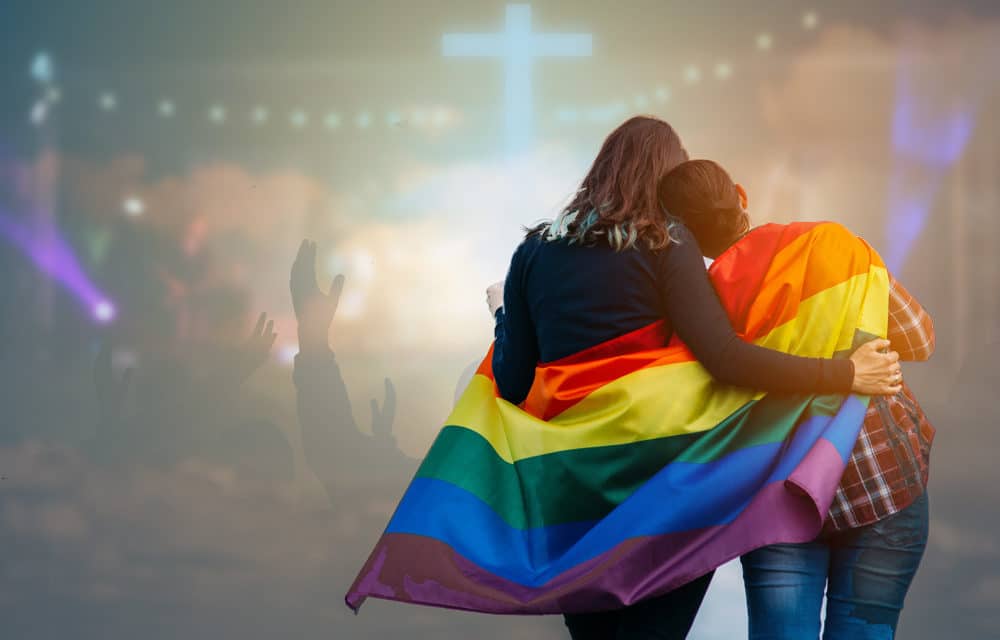 OPINION (ETH) – According to a report from Charisma News, An Assembly of God Church in Texas has departed from the denomination and is now fully affirming the LGBTQ Community and even announced the news on their Church website:
"In our endeavor to promote unity over uniformity, we've compiled these resources that we believe will be helpful as you learn more and lean into conversations regarding our church's decision to be a fully inclusive church for the LGBTQ+ community."
The suggested resources that are provided, include a podcast titled "How to Be a Girl Podcast: A Christian Family's Story of Raising Their Trans Child," a book titled God and the Gay Christian by Matthew Vines, a glossary of LGBTQ+ terms and much more. Author and Speaker John Burton reportedly contacted the general superintendent of the Assemblies of God regarding the news and received a response. The following is an excerpt of that reply:
"As many of you are aware, a certified minister at an Assembly Of God church in Texas on Sunday announced a departure from the official Assemblies of God position on human sexuality. The Assemblies of God has a well-established process to deal with such departures. Immediately upon first knowledge, the North Texas District initiated appropriate action required in dealing with both the minister and the church. When it comes to matters of marriage, sexual orientation, and gender identity, the Bible is clear. That is why the only acceptable position for Assemblies of God ministers and churches is clearly outlined in this statement"

MORE

:
WEBPAGE ADMINISTRATOR

:
I am "COMPLETELY" stunned at this news I was "Baptized" by the A.O.G. Church, and I spent a considerable amount of time in their organization. I eventually left this group of Churches because they continually faulted on God's law and grace. but this event has stunned me. God specifically stated in his word that HOMOSEXUALITY IS A SIN of great proportions; just look at what God did to "Sodom and Gomorrah"; and 5 other Cities at the same time; "HE UTTERLY DESTROYED THEM"
Lev. 20:13 If a man also lie with mankind, as he lieth with a woman, both of them have committed an abomination: they shall surely be put to death; their blood shall be upon them
Obviously the A.O.G. Churches "Group" do not read "GOD'S WORD THE BIBLE". But we are in the last days and moments of this World, and God did say:
2Th. 2:3  Let no man deceive you by any means: for that day shall not come, except there come a falling away first, and that man of sin be revealed, the son of perdition;
————————————————-
https://prophecyupdate.blogspot.com/ – Mark Tapscott
Not long after Jesus was crucified and buried, two of his disciples, Peter and John, were jailed by the Jerusalem authorities for telling people that He had been resurrected from the dead after three days in the tomb, that He had talked multiple times with the disciples, and that He had ascended to Heaven.
Peter and John were preaching these things from Solomon's Colonnade in the Temple, according to Acts 3:11, and in course of the incident, they healed a man who was lame, and claimed the healing was done "by the name of Jesus Christ the Nazarene — whom you crucified and whom God raised from the dead — by Him this man is standing before you healthy."
And then they made the claim that began to change the world in the most radical ways possible: "There is salvation in no one else, for there is no other name under heaven give to people by which we must be saved" (Acts 4:12).
The authorities who had Peter and John arrested realized that they had put themselves between a rock (pun intended) and a hard place, saying, "What should we do with these men? For an obvious sign, evident to all who live in Jerusalem, has been done through them and we cannot deny it."
So they did what governments have been doing to dissidents ever since: They ordered them to shut up, to stop preaching Jesus resurrected, on pain of further, likely much more severe, punishments. Since Jerusalem had no First Amendment, Peter and John were faced with a profoundly serious choice.
Acts 4:19-20 tells us the choice they made: "But Peter and John answered them, 'whether it's right in the sight of God for us to listen to you rather than God, you decide; for we are unable to stop speaking about what we have seen and heard."
So Peter and John kept right on proclaiming Jesus as the resurrected saviour of all who would accept Him, defying the very authorities who had murdered Him with a cross and held the same power over His disciples who now refused to shut up.
A remarkably similar scene has just happened in our neighbour to the North. Pastor James Coates of Edmonton, Canada, Grace Life Church, was jailed earlier this month for preaching to an assembly of unmasked congregants whose numbers exceeded the 15 percent of building capacity permitted by the authorities during the Covid pandemic.
Coates was tried in secret and sentenced to prison, according to his wife, but on the condition that he can be a free man if he agrees not to again violate the Covid restrictions by preaching to his congregation assembled illegally for worship. Coates, like Peter and John, refuses to be silent. Unlike Peter and John in Acts, Coates remains in jail.
Coates is the first Canadian pastor to be so jailed. No American pastor has been jailed, yet, but many of them, especially in California, face fines that in some cases approach millions of dollars. And the prospect of going to jail is very much on their minds.
Canadians are guaranteed freedom of worship. Americans have the First Amendment to the Constitution, with its guarantee of freedom of worship and assembly.
The U.S. Supreme Court, unlike those in Canada, is steadily striking down and limiting the actions of presumptuous officials threatening church congregations and their pastors with fines and imprisonment for their obedience to God's command at Hebrews 10:25 "to not neglect the assembling together [for worship]."
But why are these battles having to be fought in the first place if governments are bound by their chartering documents to respect freedom of assembly and worship?
Lawyer James Kitchen of Canada's Justice Centre for Constitutional Freedoms suggests that a major part of the answer to that question is the fact we let officials trample on our rights:
"More people need to stop self-censoring. They're scared to speak up. They're scared of getting in trouble at work, they're scared of losing their friends, they're scared of what people are going to say, they're scared of dirty looks, this is what I hear, they're scared of other people.
"And unfortunately, the more influence people have, the more they're scared to use it, to say 'You know, this is wrong. Count me in, I disagree with this. This has to stop.' People with their words and with peaceful actions need to say, STOP, ENOUGH IS ENOUGH."
————————————————-
https://prophecyupdate.blogspot.com/2021/02/jonathan-brentner-war-against-life.html – Jonathan Brentner
Bill Gates, in a video that dates from May of 2010, stated that the following steps would reduce the population of the world by ten to fifteen percent and thereby help save the planet from the consequences of climate change:
New Vaccines

Health Care

Reproductive Health Services
So exactly how will these positive-sounding items reduce the world's population by up to one billion people? Shouldn't these things increase the number of people alive in the future?
Health care and reproductive health services, aka abortion, are just the beginning of what the left has in mind to reduce the population of the world. The fact that Bill Gates listed vaccines as a way to reduce the population of the world should set off alarms and flashing red lights…
Peter Koenig, former Senior Economist for the World Health Organization (WHO), wrote this about the goal of the elite to reduce the world's population:
The Big Picture of the plan is clear. It plays out in front of our eyes. And we do not want to see it. Or we are blinded by the relentless lie-and deceit-propaganda stream flooding us with false news and outright lies about covid – and what's to come.
When we understand that since more than 70 years the overall concept of the Rockefeller cum Gates plan – and certainly others, like Soros – and the rest of the Bilderberger and the World Economic Forum's (WEF) members, and yet others – whose affiliates overlap different semi-obscure organizations – is to drastically reduce the world population – and that this moment has come now – then we understand much better what is happening today; then we get a better overview of the Big Picture. . . .
When we understand this, it should come like an awakening what is currently happening with the different purposefully uncoordinated lockdowns around the globe. Especially since covid – the falsely declared pandemic, actually a Plandemic – has engulfed all 193 UN member countries at once. It is physically and scientifically impossible that a virus hits the entire world at the same time. Unless it has been artificially (human-made) spread to every corner of the world at the same time.[i]
Notice what Henry Kissinger said on February 25, 2009 when he spoke to the WHO about the role future vaccines would play in killing people with the aim to reduce the earth's population.
Once the herd accepts mandatory forcible vaccination, it's game over! They will accept anything—forcible blood or organ donation—for the "greater good." We can genetically modify children and sterilize them—for the "greater good." Control sheep minds and you control the herd. Vaccine makers stand to make billions, and many of you in this room are investors. It's a big win-win! We thin out the herd and the herd pays us for providing extermination services. (my emphasis)
Are not people today becoming the "herd" that Kissinger predicted would materialize? They have become so afraid of dying that they cease to live while hiding behind ineffective masks and locking themselves away from the world. Driven by the lies of the media, they have become fear-ridden, willing to do anything for their own well-being and for the "greater good," This allows the elite to dangle the carrot of "life returning to normal" in front of them while continuing to move the goal posts for this further and further down the road.
The above is just a sampling of what I have read and heard from a variety of both secular and Christian sources regarding the ultimate goal of the globalists to reduce the earth's population.
"How does this war on life relate to biblical prophecy?" you ask. The Bible tells of a drastic loss of life during the end times that will come as a result of God's outpouring of wrath during the tribulation, that will begin with the antichrist's covenant with Israel and other nations (Dan. 9:27).
The Lord long ago warned about a day of the Lord. In Isaiah 13:9-12 we read these words about God's wrath that will come up the world during this time:
Behold, the day of the Lord comes, / cruel, with wrath and fierce anger, / to make the land a desolation / and to destroy its sinners from it. / or the stars of the heavens and their constellations / will not give their light; / the sun will be dark at its rising, / and the moon will not shed its light. / I will punish the world for its evil, / and the wicked for their iniquity; / I will put an end to the pomp of the arrogant, / and lay low the pompous pride of the ruthless. / I will make people more rare than fine gold, / and mankind than the gold of Ophir.
Lest you conclude that this refers to a time in the distant past, the book of Revelation reveals a series of end timed judgments that will result in a great loss of life (Rev. 6:7-8, 9:13-19). What we see in the apocalypse tracks with what we read throughout the Old Testament prophets about the day of the Lord. In Isaiah 24:6 the Lord again warns of this future time when at the end "FEW MEN ARE LEFT."
CLICK ON THE "MORE" BELOW TO SEE THE REST OF THIS ARTICLE – (IT IS WORTH IT
————————————————-
The Revelation Story: Chapters 19-End
(

CONTINUED) FROM PAGE 4 OF THIS NEWS REPORT
https://gracethrufaith.com/the-bible-thru-the-eyes-of-its-writers/revelation-story-chapters-19-end/
Chapter 20
And then the most incredible thing happened. An angel with a great chain and the key to the underworld came down from Heaven. He single handily captured Satan, bound him with the chain and locked him away for 1000 years. Satan has one more appearance to make in God's Grand Design but for the duration of the Millennium he'll be in solitary confinement.
Then all those who had refused to worship the anti-christ and been martyred for their faith in the Lord were brought back to life to reign with Christ for 1000 years. With this event, the first resurrection that had begun with Jesus Himself coming out of the grave, was over. All those who died in faith from the cross till now, together with those raptured with the Church, were alive again to receive the blessings of the Kingdom Age.
This is a good time to remind you that the Bible, being God's Word for the age of man, doesn't speak of events that take place before the Creation or after the Millennium. But so you'll know his ultimate disposition, at the very end of our Lord's 1000 year reign on Earth, Satan's set free again. And without a speck of remorse or any evidence of a change of heart, he immediately begins recruiting a massive army to go up against God one more time. And can you believe it, even after 1000 years of peace under the perfect rule of the Lord Himself, and with the lessons of history to teach them what happened the last time someone took on the Lord, a huge mass of people responds to his call. But the Lord sends down fire from Heaven and devours them all in a flash. Then that old devil Satan is thrown into the place of eternal suffering to join the anti-christ and the false prophet to be tormented day and night for ever and ever. And with that we're finally rid of him.
I've often wondered why the Lord placed this 1000 year period between time and eternity. I guess I've come to the conclusion that it's to shatter all our excuses for our behaviour. Ever since the Garden of Eden, we've been blaming outside circumstances each time we're caught sinning. First we say, "The devil made me do it". So in the Millennium God has Satan chained and imprisoned. Then we say, "If only you hadn't gone away and left us." So He comes back to personally rule over us. Then we say, "It's the bad example of all those unbelievers." So He takes all the unbelievers off the planet at the beginning of the Millenium and leaves only those who've survived the Great Tribulation and professed their faith in Him to repopulate the Earth. (Note: See Matt. 25:31-46). And after 1000 years of Heaven on Earth, there's still enough sin in the hearts of unregenerate man to staff Satan's final rebellion the minute he's freed. Even under ideal conditions such as these, natural man cannot behave well enough to please God and will rebel against His authority the first chance he gets. Only after he's perfected by God can man hope to please Him. Our need for a Savior is indisputable.
One more thing happens at the very end of the Millennium. After Satan's been dealt with, the Lord brings all the unsaved dead back to life for their final judgment. Boy are they surprised! Having lived their lives ignoring or denying God, they now stand face to face with Him to explain their behaviour. As the events of their lives are reviewed, all the times they heard and rejected the gospel are pointed out. And having refused God's offer of pardon, they now become accountable for their sins. They're judged and thrown into the place of eternal suffering. It's such a shame. The place was created for Satan and his angels so man has to choose to go there. He does so by committing the one unpardonable sin, refusing God's remedy in favor of his own.
Chapter 21
With those two glimpses of the end of the Millennium, let's go back to its beginning. Before my very eyes, I saw Heaven and Earth restored to their original condition before sin entered the world and messed things up. I realized that some of the "natural disasters" that took place during the Tribulation were actually re-shaping the Earth and changing its orbit to permit this restoration.
Then I saw the New Jerusalem coming down out of the sky to enter its orbit near Earth. Because of its size, which I'll detail in a minute, and the fact that only perfected believers can live there, there's no way this city could ever be a part of Earth, but it has to be near to permit travel back and forth. The city was absolutely huge, over 1400 miles square and 1400 miles high. Some speculate that there's enough room there for each and every believer to have his own 10,000 square foot mansion.
The city had 12 gates, one each for the 12 tribes of Israel and each made of a single pearl. (That's a hoot! Oysters aren't even kosher.) It also had 12 foundations covered with precious gems, named for the 12 apostles. There wasn't any temple in the city, nor did it need the light from the sun or moon because the Father and the Son both dwell there. Their Presence provides all the light that's necessary. Leaders of all the nations of Earth come and pay tribute bringing all their honour and glory, but no one impure can ever enter, only those whose names are written in the Lamb's Book of Life.
CHAPTER 22
On Earth a Great Temple, built in Israel to glorify God, gushed forth a giant spring of fresh pure water. It became a river that flowed west to the Mediterranean and east to the Dead Sea. Its waters freshened the Dead Sea and permitted fish to flourish there (Note: see Ezekiel 47). All along the river's banks fruit trees grew, each bearing a new crop every month of the year. Their leaves had healing power, and the fruit was delicious to eat. Near the Temple the Father and Son had their Throne, and from there they would rule the world for ever and ever.
I was so overcome with joy at seeing all the splendour that God has in store for those who love Him that I fell at the feet of the angel who was showing it to me, and he scolded me. "Worship God alone," he said. Good advice.
Then my Lord said, "Behold I am coming soon! My reward is with Me, and I will give to everyone according to what he has done." I could see that He meant that God in His infinite wisdom has given all of us all the right to choose our own destiny. By what He showed me it's obvious that everyone ever born lives forever. The only question is where we'll spend eternity. Choose Him and receive eternal life in the City of God. Reject Him and it's eternal punishment with Satan and his followers in his place of torment. The choice has never been so clear.
He then told me to warn all of the millions who would read this letter down through the centuries. Take this message seriously! Grave consequences would await the one who either adds to or tries to dilute its purpose and content. But as He told me at the beginning, great blessings would come to the ones who read, hear and take to heart what I've written
To this I say, Amen: Come, Lord Jesus. The grace of the Lord Jesus be with God's people. Amen.
FOR THOSE THAT WANT FURTHER READING FROM SCRIPTURE (CLICK ON ARTICLE BELOW):
————————————————-
SALVATION
CLICK ON LINKS BELOW:
WHAT IS SALVATION? What is the Christian doctrine of salvation?
SIMPLY Salvation is believing in the Lord Jesus Christ death on the Cross where he gave his life for us. And
HOW DOES GOD SAVE

?

In the Christian doctrine of salvation, God has rescued us through (JESUS CHRIST DEATH (ON THE CROSS) AND HIS "RESURRECTION) (John 3:17). Specifically, it was Jesus' death on the cross and subsequent resurrection that achieved our salvation (Romans 5:10; Ephesians 1:7). Scripture is clear that salvation is the gracious, undeserved gift of God (Ephesians 2:5, 8) and is only available through faith in Jesus Christ (Acts 4:12).
AND IT IS A "FREE" GIFT, BASED ON OUR LOVE FOR JESUS SACRIFICE FOR US AND OUR CONTINUAL SINS THAT MUST BE "FORGIVEN" THROUGH HIS SACRIFICE.
————————————————
AN EXAMPLE OF THE SINNERS PRAYER:
Dear Father,
I now believe that Jesus Christ is Your only begotten Son, that He came down to our earth in the flesh and died on the cross to take away all of my sins and the sins of this world. I believe that Jesus Christ then rose from the dead on the third day to give all of us eternal life.
Lord Jesus,
I now confess to You all of the wrong and sinful things that I have ever done in my life. I ask that You please forgive me and wash away all of my sins by the blood that You have personally shed for me on the cross. I am now ready to accept You as my personal Lord and Saviour. I now ask that You come into my life and live with me for all of eternity.
Father, Jesus – I now believe that I am truly saved and born again.
Thank You Father.
Thank You Jesus.
————————————————
JESUS CHRIST RETURN FOR HIS CHURCH IS "IMMINENT"
Matt. 7:27 And the rain descended, and the floods came, and the winds blew, and beat upon that house; and it fell: and great was the fall of it.
Matt. 24:38 For as in the days that were before the flood they were eating and drinking, marrying and giving in marriage, until the day that Noe entered into the ark,
Matt. 24:39 And knew not until the flood came, and took them all away; so shall also the coming of the Son of man be
——————————————–
DON'T WAIT FOR THE LAST MINUTE
We are currently in the "Birth Pangs" pending the coming "7 year TRIBULATION" period, where all the Nations on Earth will be subject to God's Wrath on an "UNGODLY" World. The Rapture of Jesus Christ Church is "TOTALLY" imminent; And what will follow after that will be massively more devastating that we are seeing right now (Read

Revelation Ch 6 – 22

) God is trying to get everyone's attention to the coming Judgments; He does not want "ANYONE" to perish, but all to come to repentance. He loves us, but will not stand idly by and watch the World, (His Creation) turn to sin and debauchery). We are currently living in a fallen "Satanic" World where "EVIL", is totally accepted, "and God and his Love for his Church": is being exponentially rejected. The time has come when God HAS TO intervene, and he is (The prophetic word listed in his Word the Bible is being fulfilled exponentially).
——————————————————
THE NEW WORLD ORDER:
ONE WORLD GOVERNMENT – ONE WORLD ECONOMIC SYSTEM – ONE WORLD RELIGION
Dan. 9:27 And he shall confirm the covenant with many for one week: and in the midst of the week he shall cause the sacrifice and the oblation to cease, and for the overspreading of abominations he shall make it desolate, even until the consummation, and that determined shall be poured upon the desolate
Dan. 7:24 And the ten horns out of this kingdom are ten kings that shall arise: and another shall rise after them; and he shall be diverse from the first, and he shall subdue three kings
Rev. 17:12 And the ten horns which thou sawest are ten kings, which have received no kingdom as yet; but receive power as kings one hour with the beast
—————————————————-
THE MARK OF THE BEAST:
DON'T TAKE THE MARK OF THE BEAST WHICH IS (CHANGING YOUR D.N.A.) AND GIVING YOUR CONTROL OVER TO THE "BEAST SYSTEM" – THIS IS AN ABONOMINATION TO GOD: (YOU ARE HIS CREATION):
Rev. 13:14 And deceiveth them that dwell on the earth by the means of those miracles which he had power to do in the sight of the beast; saying to them that dwell on the earth, that they should make an image to the beast, which had the wound by a sword, and did live.
Rev. 13:15 And he had power to give life unto the image of the beast, that the image of the beast should both speak, and cause that as many as would not worship the image of the beast should be killed.
Rev. 14:9 And the third angel followed them, saying with a loud voice, If any man worship the beast and his image, and receive his mark in his forehead, or in his hand
THE PUNISHMENT FROM GOD FOR THOSE WHO TAKE THE MARK AND WORSHIP THE "BEAST SYSTEM":
Rev. 14:10 The same shall drink of the wine of the wrath of God, which is poured out without mixture into the cup of his indignation; and he shall be tormented with fire and brimstone in the presence of the holy angels, and in the presence of the Lamb:
 (YOU ARE GOD'S CREATION – CHANGING YOUR D.N.A. AND/OR GIVING YOUR ALLEGANCE TO ANOTHER ENTITY I.E. (THE ANTICHRIST) – IS AN ABONOMINATION TO GOD):
————————————————-
THE FUTURE CONONAVIRUS INJECTION AT THIS POINT IN TIME ALSO APPEARS TO BE "MASSIVELY" AGAINST GOD AS IT WILL IS ALSO TAINTED WITH A CHANGE IN YOUR (R.N.A. WHICH CHANGES YOUR D.N.A.) AND WILL ALTER YOUR BODY IN MANY WAYS, (INCLUDING DEATH).
————————————————-
WEBPAGE ADMINISTRATOR:
(THE AUSTRALIAN R.N.A. VACCINE)
You Know, there comes a time in one's life when you just have to speak up regarding the "Blatant "Stupidity", "Greed", "Corruption", "Lies", "ETC" that some people have in their Soul; To say we have to have the Vaccine because of an "I SAID SO" attitude; even if it is Tainted with "DEATH", it can change your R.N.A. to Totally Change your D.N.A. Causing "DEATH". And "OH" if you change your D.N.A. don't look to God to have Mercy on you "IF" you survive, because "GOD" is the "CREATOR" of your "SOUL", and your "BODY". And once you change your D.N.A. you WILL become "NEPHLINIC," i.e. a different person. This is what the fallen Angels did after God Created Adam and Eve, they changed "Animal", and "Human" D.N.A. Which turned "Humans & Animals into a Totally different Species, i.e. it made them "NEPHLIMIC" "NOT OF GOD". God's Judgment is coming upon the people that are creating this "Ungodly" Evil, and like it was before the "FLOOD", so it will be again; Destruction of God's Creation over a "SEVEN YEAR PERIOD". Revelation Chapter 6 to Revelation Chapter 22. Which is about to start any time in the very near future.
This RNA "Vaccine" is "NOT APPROVED", and Trials that they recently conducted on people in Korea, Africa, and God knows where else, resulted in "Hundreds" of Deaths, and left the rest very sick and dying. And since then "tens of Thousands" of people are becoming very sick after the jab, and most are dying. Ask yourself why are they vaccinating Nursing Home residents and Hospitals first; the answer is because the New World Order's Objective is to Eliminate every person over 70 Years Old, and that is exactly what is happening Worldwide;
—————————————
CLICK ON LINK BELOW:
—————————————————-
The "AGENDA" of the "NEW WORLD ORDER" "THE ORDER OF THE PROTOCOLS OF ZION" is to wipe out "EIGHT TENTH'S OF HUMANITY", and leave enough room for the "ELITES" to live in peace and harmony". But they have not considered God into this equation, and he is our Creator and he loves his Creation with a passion –Jesus Christ died for us on the cross at calvary, and Once the Church has gone from this World God's vengeance will commence on the Ungodly of this World.
THE NEW WORLD ORDER THAT HAS ALREADY BEGUN, It Means A "ONE WORLD GOVERNMENT", A ONE WORLD CHURCH, AND A ONE WORLD RELIGION ("CHRISLAM"). "AND IT IS PURE EVIL"
PLEASE ACCEPT GOD'S FREE GIFT OF SALVATION. IT IS OUR ONLY HOPE