Unprecedented World Events…The Bible Warned Us Of These Days!

279K subscribers
Please Help Support This Ministry:

https://www.paypal.me/watchman1963

Cash App : $watchman1963 Please subscribe to my backup channel:

https://www.youtube.com/channel/UC4nc…

Current Events Linked To Biblical Prophecies. Everything is unfolding just as the bible foretold. Wars, Volcanic Eruptions, Earthquakes, Extreme Weather, Christian Persecution, Violence and more!
Matthew 24:3-14 3 Now as He sat on the Mount of Olives, the disciples came to Him privately, saying, "Tell us, when will these things be? And what will be the sign of Your coming, and of the end of the age?" 4 And Jesus answered and said to them: "Take heed that no one deceives you. 5 For many will come in My name, saying, 'I am the Christ,' and will deceive many. 6 And you will hear of wars and rumours of wars. See that you are not troubled; for all these things must come to pass, but the end is not yet.
7 For nation will rise against nation, and kingdom against kingdom. And there will be famines, pestilences,[b] and earthquakes in various places. 8 All these are the beginning of sorrows. 9 "Then they will deliver you up to tribulation and kill you, and you will be hated by all nations for My name's sake. 10 And then many will be offended, will betray one another, and will hate one another.
11 Then many false prophets will rise up and deceive many. 12 And because lawlessness will abound, the love of many will grow cold. 13 But he who endures to the end shall be saved. 14 And this gospel of the kingdom will be preached in all the world as a witness to all the nations, and then the end will come.
—————————————————
Special Prophecy Update on March 8th!

54.8K subscribers
 

What in the world is going on!? People all around the world are freaking out about the Coronavirus. What does the Bible have to say about it? We're going to be looking at the facts in a must-see Prophecy Update this Sunday at 5pm Pacific. I can't wait to see you there! Connect with Pastor Tom!
—————————————————

Watch our new video about how the Syrian province of Idlib became one of the hottest war zones in the world.
—————————————————
High Tensions: China Sends More Planes and Warships In the South China Sea to Counter Australia 2020
—————————————————
Living in the Shadow of the Tribulation

165K subscribers
Living in the Shadow of the Tribulation All the signs of the last days are converging at the same time. Bible Prophecy is happening right before our eyes and like birth pains, the predicted events are happening more frequently and more intently. Never, in the history throughout the world have so many forces, including economic, scientific, techno-logic, ecologic, cultural, geopolitical, moral, spiritual and religion, converged together to bring this world that's already teetering over the edge into the abyss, to a point of no return. Jesus said when you see all these signs happening, know that I am near, even at the door.
—————————————————
LATEST NEWS CLIPS – ARTICLES SUNDAY 08th MARCH 2020
WE PREACH THE BLESSED HOPE FOR THE FUTURE IN JESUS CHRIST OUR SAVIOUR
1Cor. 12:3 Wherefore I give you to understand, that no man speaking by the Spirit of God calleth Jesus accursed: AND THAT NO MAN CAN SAY THAT JESUS IS THE LORD, BUT BY THE HOLY GHOST.
"Behold, I come like a thief! Blessed is he who stays awake and keeps his clothes with him, so that he may not go naked and be shamefully exposed."
"And you know what is restraining him now so that he may be revealed in his time. For the mystery of lawlessness is already at work. Only he who now restrains it will do so until he is out of the way."
—————————————-
JESUS CHRIST RETURN FOR HIS CHURCH IS "IMMINENT"
Matt. 7:27 And the rain descended, and the floods came, and the winds blew, and beat upon that house; and it fell: and great was the fall of it.
Matt. 24:38 For as in the days that were before the flood they were eating and drinking, marrying and giving in marriage, until the day that Noe entered into the ark,
Matt. 24:39 And knew not until the flood came, and took them all away; so shall also the coming of the Son of man be
——————————————–
DON'T WAIT FOR THE LAST MINUTE
We are currently in the

"Birth Pangs"

of the coming "

7 year

TRIBULATION

" period, where all the Nations on Earth will be subject to God's Wrath on an "UNGODLY" World. The Rapture of Jesus Christ Church is "TOTALLY" imminent; And what will follow after that will be massively more devastating that we are seeing right now (Read Revelation Ch 6 – 22) God is trying to get everyone's attention to the coming Judgments; He does not want "ANYONE" to perish, but all to come to repentance. He loves us, but will not stand idly by and watch the World, (His Creation) turn to sin and debauchery). We are currently living in a fallen "Satanic" World where "EVIL", is totally accepted, and God and his Love is being exponentially rejected. The time has come when God HAS TO intervene, and he is (The prophetic word listed in his Word the Bible is being fulfilled exponentially).
——————————————————
Rom. 1:18 For the wrath of God is revealed from heaven against all ungodliness and unrighteousness of men, who hold the truth in unrighteousness;
Rom. 2:5 But after thy hardness and impenitent heart treasurest up unto thyself wrath against the day of wrath and revelation of the righteous judgment of God
Eph. 5:6 Let no man deceive you with vain words: for because of these things cometh the wrath of God upon the children of disobedience.
Col. 3:6 For which things' sake the wrath of God cometh on the children of disobedience:
James 1:20 For the wrath of man worketh not the righteousness of God.
Rev. 14:10 The same shall drink of the wine of the wrath of God, which is poured out without mixture into the cup of his indignation; and he shall be tormented with fire and brimstone in the presence of the holy angels, and in the presence of the Lamb:
Rev. 14:19 And the angel thrust in his sickle into the earth, and gathered the vine of the earth, and cast it into the great winepress of the wrath of God.
Luke 21:25 And there shall be signs in the sun, and in the moon, and in the stars; and upon the earth distress of nations, with perplexity; the sea and the waves roaring;
Luke 21:26 Men's hearts failing them for fear, and for looking after those things which are coming on the earth: for the powers of heaven shall be shaken
Luke 12:37 Blessed are those servants, whom the lord when he cometh shall find watching: verily I say unto you, that he shall gird himself, and make them to sit down to meat, and will come forth and serve them
——————————————————
SO WON'T YOU ACCEPT JESUS NOW AND BE REMOVED FROM THAT EVENT  (OF TRIBULATION) AND LIVE FOREVER WITH JESUS IN THE FAMILY OF GOD THIS WORLD IS IN "DISTRESS" AND IT WILL SOON BE IN TRIBULATION?
2 "(For he saith, I have heard thee in a time accepted, and in the day of salvation have I succoured thee: behold, now is the accepted time; behold, now is the day of salvation.)" (2nd Corinthians 2:6)
——————————————-
DAILY CHRISTIAN BIBLICAL QUESTIONS AND ANSWERS:
——————————————-
Time And Eternity
https://gracethrufaith.com/ask-a-bible-teacher/time-and-eternity/
QUESTION:    In your article Seven Things You Have to Know to Understand End Times Prophecy, you say "A Millennium is obviously a defined span of time, while by definition Eternity is the absence of time." You say similar things about there not being Time when we are in our eternal state in other parts of the articles. I am curious why you think there will be no time on the New Earth. Is it from Revelation 10:6 where the KJV translates it "there should be time no longer"? If so, shouldn't that be interpreted to mean "no more delay"?
ANSWER:

 

   For the record, I didn't say there would be no time on the New Earth, but in Eternity. And I didn't get the idea from Rev. 10:6 but agree with you on it's actual meaning.
Since the Bible doesn't describe eternity beyond saying that there will be one, no one else can accurately describe it either. But the word implies an absence of time. Isaiah 57:13 says that God inhabits Eternity. As an eternal being, God is not simply someone with a lot of time, but is outside the time domain altogether. That's how He knows the end from the beginning.
When He created the Earth He established time for its governance. One of the most revered Rabbinical Scholars of all times explained that when the Bible says that on the 7th day God rested, it means that he permanently established the space-time reference that would govern Earth. And in Micah 5:2 where it says that the Messiah's origins were "from of old, from ancient times" it literally means "from before time and perpetual" proof of the Messiah's eternal existence.
In summary there is no description of eternity in the Bible, but the use of the word itself implies an absence of time. And how can God be ageless except in the absence of time?
Concerned About Eternity
https://gracethrufaith.com/ask-a-bible-teacher/concerned-about-eternity/
QUESTION:    Will we do creative things in eternity like art and building things or something we enjoyed from earth or will all of that cease to exist forever with us having no memory or desire of it? I can't stand the notion of all things being absorbed or losing the ability to be creative. That is a crappy view of eternity and for that reason I don't have hardly any belief at all. I believe creative endeavors and desires continue.
ANSWER:

  

  It's a terrible mistake to develop an opinion of our next life based on such incorrect assumptions. This is especially so when your opinion results in you having "hardly any belief at all." It sounds like you haven't done any study of your own but have relied on people who don't know what they're talking about to inform you. This is a great example of letting the devil steal your joy.
It never fails to amaze me when I receive a comment like this, and I've had several. I had one person write to say that if called upon to do so, he would choose to spend eternity in hell rather than sacrifice a single lamb for God. (He won't have to.) And another said if she couldn't take her pets with her in the rapture then she wasn't going. I don't know how people who profess to be Christians can think that God, who gave His life to set us free from bondage, would make our next life even worse than this one. They obviously haven't taken the time to learn much about Him.
This life is the one where everything has been stifled. The next life is when all the potential with which we have been created will be set free. We have no idea what we'll be capable of when we've been freed from our sin nature. But whatever it is, it will be so much better than life is here that it's beyond our current ability to even imagine (1 Cor. 2:9).
To Eternity And Beyond
https://gracethrufaith.com/ask-a-bible-teacher/to-eternity-and-beyond-2/
QUESTION:    I have two questions, in Revelation 19:20 it says the beast and the false prophet were thrown alive into the lake of fire. Did they receive resurrected bodies, or were they thrown in to the lake of fire in their earthly bodies? If so what will happen to them? Also, at the end of the millennium what type of bodies will the believers in Christ have and what type of bodies will the non-believers have as they enter eternity?
ANSWER:

  

  The fact that the anti-Christ and his false prophet will be thrown alive into the lake of fire indicates they will not die and be resurrected but will go in their natural bodies. They will suffer by themselves for the first 1000 years and then Satan will be thrown in with them, after which the three of them will suffer for eternity (Rev. 20:10)
Beyond Imagining
https://gracethrufaith.com/ask-a-bible-teacher/beyond-imagining/
QUESTION:    Concerning this Scripture: "As it is written: No eye has seen, no ear has heard, no mind has conceived what God has prepared for those who love Him but God has revealed it to us by His Spirit." (1 Cor. 2:9-10). Please excuse me for asking a dumb question but I don't know what the last part means or "but God has revealed it to us by His Spirit". Maybe I'm complicating this verse but I really don't know what the Spirit has revealed.
ANSWER:

  

 1 Cor. 2:9 is actually based on Isaiah 64:4. The idea that both Isaiah and Paul were trying to convey was that no one has ever seen our eternal home and no one has ever heard a description of it. In fact no human mind has ever been able to accurately imagine what it will be like, because it's beyond our comprehension. But the Holy Spirit has placed a longing in our hearts to be there by revealing little glimpses of how it will feel.
—————————————————–
NEWS CLIPS OBTAINED FROM MANY SOURCES – INCLUDING

Tracking bible prophecy.org
Rapture Ready News
Prophecyupdate.Com
Main News Channels
End Times Headlines
Prophecyupdateblogspot.com
Stevequayle.com
Gracethrufaith.com
Nowtheendbegins.com
Other Christian Sites
(CLICK ON) LATEST DAILY NEWS CLIPS:
ISRAEL NEWS:
THE MIDDLE EAST PEACE PLAN IS "ANTI GOD" – (GOD WILL NOT ALLOW JERUSALEM TO BE DIVIDED).
ZECHARIAH 12:2-3
I AM GOING TO MAKE JERUSALEM A CUP THAT SENDS ALL THE SURROUNDING PEOPLES REELING … Zech. 12:2
God is in control, and He told the nations the consequences of dividing the Promised Land and declaring peace and safety on their own terms (Joel 3:1-2; I Thess. 5:3)
WORLD TERRORISM – WARS
GENERAL WORLD NEWS:
WORLD FINANCE:
Rev. 6:6 And I heard a voice in the midst of the four beasts say, A measure of wheat for a penny, and three measures of barley for a penny; and see thou hurt not the oil and the wine
MASSIVE EARTH CHANGES/EARTHQUAKES/VOLCANOES ETC:
2Chr. 7:13 If I shut up heaven that there be no rain, or if I command the locusts to devour the land, or if I send pestilence among my people;
2Chr. 7:14 If my people, which are called by my name, shall humble themselves, and pray, and seek my face, and turn from their wicked ways; then will I hear from heaven, and will forgive their sin, and will heal their land
CORONAVIRUS NEWS CLIPS:
CHRISTIAN AND RELIGIOUS WORLD NEWS:
Matt. 24:9 Then shall they deliver you up to be afflicted, and shall kill you: and ye shall be hated of all nations for my name's sake.
Matt. 24:10 And then shall many be offended, and shall betray one another, and shall hate one another
EXTRA WORLD – ALTERNATIVE NEWS:
Please keep in mind that this collection of News Articles is mainly concerning America, but also take note that what happens in America will also "Dramatically" affect Australia and the rest of the World "Massively".
————————————————-
WORLD – PROPHETIC NEWS ARTICLES PRESENTATION SUNDAY 08th MARCH 2020
MIDDLE EAST AND WORLD WAR LOOMING THE BUILD UP TO PSALM 83  – ISAIAH 17 AND GOG OF MAGOG WARS EZEKIEL 37-38:
THE WHOLE WORLD IS UNSTABLE FINANCIALLY, POLITICALLY, PHYSICALLY, MORALLY, GODLY: – AND BECOMING MORE SO DAILY. (WE ARE IN THE BEGINNING OF SORROWS (MATT 24:8)
THE BIBLE STATES THAT IT WILL ONLY GET WORSE BEFORE THE START OF THE TRIBULATION OF MANKIND – (REVELATION 6)
But before that we have to go through the Birth Pangs, leading up to the Tribulation of Mankind; and I feel that the beginning of Matthew 24 explains that time very well.
Matt. 24:6 And ye shall hear of WARS AND RUMOURS OF WARS: see that ye be not troubled: for all these things must come to pass, but the end is not yet.
Matt. 24:7 FOR NATION SHALL RISE AGAINST NATION, AND KINGDOM AGAINST KINGDOM: and there shall be famines, and pestilences, and earthquakes, in divers places.
————————————————-
APOSTASY OF CHRISTIANITY, THE CHURCH, AND ISRAEL NEWS SECTION:
————————————————-
Columbia Pictures Launching 'Cinderella' Remake With Dress Wearing LGBTQ Actor Billy Porter Who Will Play A 'Genderless' Fairy Godmother
https://www.nowtheendbegins.com/columbia-pictures-cinderella-movie-billy-porter-genderless-fairly-godmother/ – by Geoffrey Grider March 6, 2020
Emmy-award winning Billy Porter, who identifies with his same-sex attractions, will be cast as Cinderella's magic-weaving godparent. Porter, celebrated in Broadway circles for wearing women's clothing, told CBS on Monday that he thought it "profound" that he was playing the role. He did not explain why he believes that erasing the female identity of the most famous godmother in European folklore is powerful.
NOW THE END BEGINS SHARE:
The fairy godmother for Cinderella will be portrayed as 'genderless' by homosexual male actor Billy Porter in a remake of the classic fairytale by Columbia Pictures.
Bit by bit, they are tearing down the fabric of society, erasing not only the distinctions of male and female, but the identity of our two genders as well. Why? Because God created us male and female, and Satan cannot implement his plan with those foundations in place. And since Leviathan, a type of the Devil in the Bible, is the king over the 'children of pride', he is instructing his children to tear everything down to the ground, and the LGBTQ+P for Pedophile Movement is doing just that. Meet gay, dress wearing actor Billy Porter.
"If the foundations be destroyed, what can the righteous do?"
Psalms 11:3 (KJB)
People are not, and indeed cannot be genderless, it is not only a ridiculous notion, it is also quite anti-scientific as well. For 6,000 years, no one has disputed the fact that there are only two genders, not until our generation has this idea been floated. It's not only being floated, but it's being forced on us as well by our school systems, the media, and through music and movies as well. Basically, we are surrounded and they are attempting to beat us into submission. Will you submit? If you answered yes, go watch a homosexual play a genderless fairy godmother in the upcoming remake of 'Cinderella'.
Cinderella remake to feature 'genderless' fairy godmother played by gay man
FROM LIFE SITE NEWS: Emmy-award winning Billy Porter, who identifies with his same-sex attractions, will be cast as Cinderella's magic-weaving godparent. Porter, celebrated in Broadway circles for wearing women's clothing, told CBS on Monday that he thought it "profound" that he was playing the role.
"It hit me when I was on the set last week, how profound it is that I am playing the fairy godmother — they call it the Fab G," he said, without specifying who "they" were. "Magic has no gender," he continued. "We are presenting this character as genderless. That's how I'm playing it. And it's really powerful."
Billy Porter did not explain why he believes that erasing the female identity of the most famous godmother in European folklore is powerful. Novelist and pro-life women's rights activitist Fiorella Nash told LifeSiteNews that there is a certain amount of power involved when male actors appropriate women's roles.
"It is so hard for female actors to get any roles after the age of 35," Nash said.  "It is powerful when men take over a women's role because misogynists have been trying to erase female identity for centuries," she continued.  "They've just found a 'woke' way of doing it."
Nash noted that the swapping of male and female roles is a "staple" of the British pantomime tradition, in which men still dress up as older women characters (including the Fab G in panto versions of Cinderella) and women used to dress up as the hero, but that there is no tradition of men playing women's roles in film.
If there were, there would be even fewer good roles for women, Nash said.
"You already have a situation where there are, I think, seven strong male roles for every one female, and that's partly because for so long theatre was a male-only domain," she explained. "So if you take a really strong female role and give it to a man, you're doing what has always been done to squeeze women out of the industry. There's absolutely no excuse for it."
Nash said she wouldn't take her children to the new Cinderella, which is scheduled to appear in 2021, because they would just find a man playing a "genderless" fairy godmother ridiculous.  "There's no such thing as a genderless human being, like it or not," said Nash. READ

MORE

:
Billy Porter On Playing Fairy Godmother Genderless In Upcoming Cinderella
Billy Porter is set to play the Fairy Godmother in an upcoming remake of 'Cinderella' due out in 2021. In an interview with CBS News, Porter said "kids are ready" for a new take on a classic fairytale. "Magic has no gender," he said.
NOW THE END BEGINS IS YOUR FRONT LINE DEFENCE AGAINST THE RISING TIDE OF DARKNESS IN THE LAST DAYS BEFORE THE RAPTURE OF THE CHURCH
————————————————-
GENERAL PROPHETIC NEWS SECTION:
————————————————-
WAR DRUMS: PUTIN WARNS THE US THAT WAR WITH IRAN WOULD BE 'CATASTROPHIC

'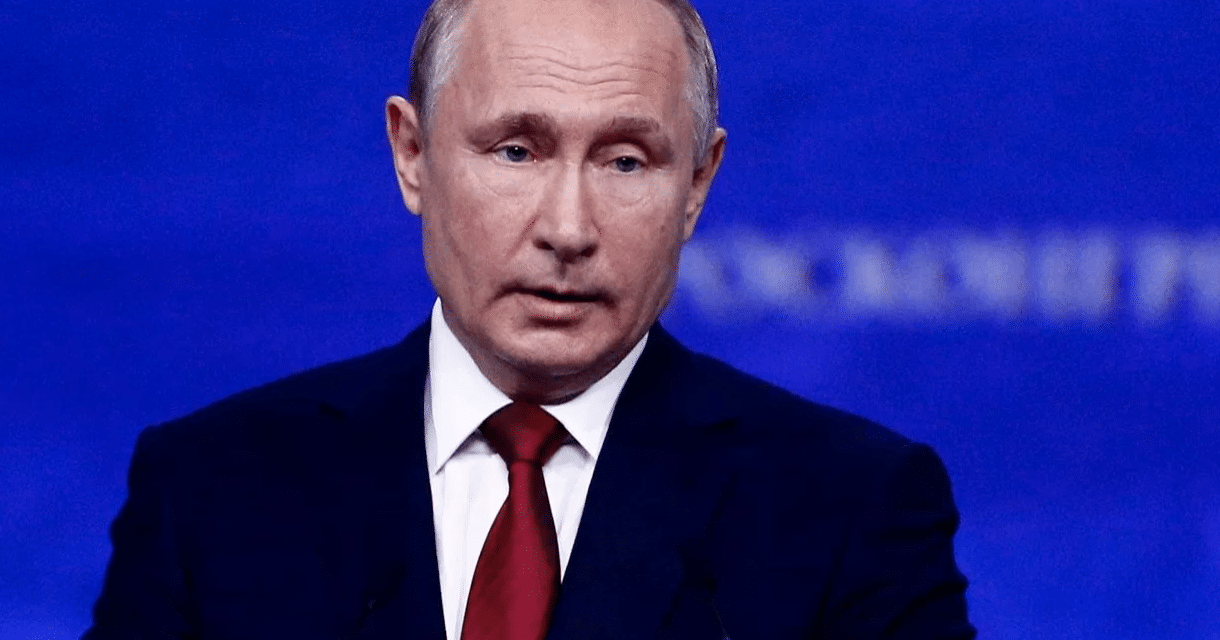 (The Sun) – Donald Trump has warned Iran has "made a very big mistake" shooting down a US drone. His comments come as Russian President Vladimir Putin warned the US against using force on Iran, saying it would have catastrophic consequences. Iran has said it's "ready for war" after claiming to shoot down a US "spy" drone today as tensions continue to rise in the Persian Gulf. But the US president tweeted: "Iran made a very big mistake!" Speaking on Thursday during a televised call-in show,
Putin said the US military action against Iran would be a "catastrophe for the region as a minimum." He added that it would trigger an escalation of hostilities with unpredictable results. Trump tonight claimed the drone strike could have been an accident by someone "foolish and stupid". He added: "I have a feeling – I may be wrong, and I may be right, but I'm right a lot – I have a feeling that it was a mistake made by somebody that shouldn't have been doing what they did...

READ MORE

:
————————————————
https://prophecyupdate.blogspot.com/ – M.K.Bhadrakumar 
The annual Munich Security Conference that took place February 14-16 this year turned out to be an iconic event, drawing comparison with the one held in the same Bavarian city on February 10, 2007, where in a prophetic speech Russian President Vladimir Putin had criticized the world order characterized by the United States' global hegemony and its "almost uncontained hyper use of force – military force – in international relations."
Deep cracks have appeared in the transatlantic relationship. In an extraordinary opening address, German President Frank-Walter Steinmeier, an éminence grise in European diplomacy, accused Washington of rejecting "the very concept of an international community."
Steinmeier acknowledged that there is no return to the halcyon days of close transatlantic partnership, as Europe and the U.S. are drifting away from each other. He warned, "If the European project fails, the lessons of German history, but perhaps also European history, will be called into question."
Having said that, Steinmeier did not advocate that Europe could go it alone, either. Rather, "only a Europe that can and wants to protect itself credibly will be able to keep the U.S. in the alliance."
But he regretted that "Europe is no longer as vital to the U.S. as it used to be. We must guard against the illusion that the United States' dwindling interest in Europe is solely down to the current administration… For we know that this shift began a while ago, and it will continue even after this administration."
The theme of European independence—Europe becoming a sovereign, strategic and political power—was also the leitmotif of a speech by French President Emmanuel Macron who brought a rare dynamism into the European debate, fighting spiritedly for a common European foreign and security policy. The German policymakers have signaled broad agreement with Macron's idea that Europe must take charge of its own destiny.
In contrast, the U.S. Secretary of State Mike Pompeo had earlier insisted that the talk about the demise of the West is "grossly exaggerated," and, in fact, "the West is winning. We are collectively winning. We are doing it together."
Meanwhile, two subplots that kept appearing in the discussions were, one, the continued relevance of multilateralism in the international system and, two, deep anxiety over the current global security environment.
Steinmeier framed the concerns sharply, saying, "the idea of international community is not outmoded," adding that "withdrawing into our national shells leads us into a dead end, into a truly dark age."
All in all, these sharp exchanges between the Europeans and some of the American delegation confirmed, more than ever, the weakness and disunity of the West. A Politico report on the Munich Security Conference noted, "The two sides aren't just far apart on the big questions facing the West (threats from Russia, Iran, China), they're in parallel universes."
"We cannot be the United States' junior partner," said Macron, citing recent failures in the West's policy of defiance. Clearly, internal divisions afflict the West, and it is hard to see how they can be overcome.
At best, coalitions of the willing may appear within and among the Western states on specific issues. But even then, the West can at best slow down its relative decline but nowhere near reverse it.
The heart of the matter is that the economic centre of gravity in the world order and the ensuing global power equation is inexorably shifting away from the West,

 while on the other hand, there is no longer a "West" that is united behind principles, values, and policies.
————————————————
https://prophecyupdate.blogspot.com/ – Caroline Glick
On Monday night, as the public waited for the polls to close and the exit polls to be released, Eretz Nehederet, Israel's biggest prime-time satire show broadcast a sketch that perfectly captured the state of the Democrats' Israeli counterparts. The sketch portrayed Blue and White party leader Benny Gantz on election day on one side of a split screen and Likud leader Prime Minister Benjamin Netanyahu on Election Day on the other.
Gantz's character spent the day lolling around his house, clueless and indifferent to the elections. It was only at the end of the day that he remembered he was supposed to vote – and campaign.
Netanyahu's character, on the other hand, spent the day frenetically searching for votes, campaigning relentlessly, if comically for every constituency he could think of.
The gag perfectly characterized the basic distinction not only between Gantz and Netanyahu but between the political Right and the political Left in the lead-up to Monday's elections. From the moment the last Knesset dissolved itself and third elections were called, Netanyahu canvassed the country from one end to the other, over and over again, talking to voters. The Likud put together a ground game the likes of which it hadn't deployed in ages to get voters to the polls on Election Day and expanded its voter base by more than 200,000.
Blue and White's campaign, in contrast, was barely noticeable. For over a month, Gantz refused to give media interviews and ordered his party members to say as little as possible. Blue and White's campaign, such as it was, was hateful and contemptuous of voters. Yair Lapid, Gantz's number two, outdid himself last week when he called right-wing voters "sh*ts." His party colleague Yoaz Hendel gave an interview where he derided Likud voters along elitist lines. In a swipe at Sephardi Jews, Hendel insinuated that Likud voters come from the culture of darbukas drums, and Blue and White voters, come from the classical music culture of Vienna.
Blue and White made no attempt to win over voters. All they cared about, to the extent they cared at all, was uniting their camp under a tent of elitism, bigotry and hatred of Netanyahu whom they portrayed as Turkish dictator Recep Tayyip Erdoğan, and his primitive, sh**ty voters.
Gantz inadvertently explained the lackadaisical campaign strategy in a radio interview last week. Gantz said that from his perspective, political leaders aren't really that important. The real leaders of Israel are the legal fraternity.
In his words, "The Supreme Court is the top authority."
Why bother campaigning when political leaders don't decide anything anyway? And more to the point, why should Gantz and his colleagues fight for votes when the only votes that matter are those belonging to Supreme Court justices and the state prosecutors? The legal fraternity has made abundantly clear that it prefers Gantz to Netanyahu and will stop at nothing to get rid of Netanyahu. So why campaign at all? Might as well sleep in on Election Day.
Blue and White, with its official platform rejecting all legal reform, isn't alone in its view that democracy is a thing of the past and that the people's vote is no more binding than an op-ed. In the last two weeks of the campaign, there was a sudden rash of letters by veterans of elite IDF units, the Israeli Air Force and the diplomatic corps calling for the Supreme Court to bar Netanyahu from forming a government. These elitists didn't even bother to wait to see how the public voted. It made no difference to them.
If Lapid and Hendel let the cat out of the bag in their sneering and hateful remarks about Likud voters, in 2016, Clinton called the tens of millions of Americans that supported Donald Trump "a basket of deplorables … the racists, the sexists, the homophobes, the xenophobes, the Islamophobes."
In Israel, the checks and balances move in only one direction. The Knesset and the government – that is, the elected branches of government – are fully checked by the legal fraternity. The justices, attorney general and state prosecutors, for their part, have no checks on their power at all. The reason they keep seizing the powers of the Knesset and the government is because they can.
Whereas Likud and its coalition partners are committed to pursuing significant reform to check the power of the prosecutors and justices, Blue and White's platform dismisses outright all possibility of reform. The Left knows what its source of power is. And it isn't the people.
On Wednesday, Blue and White announced it will seek the passage of a law barring indicted officials from serving as prime minister. In so doing, Blue and White formalized its rejection of democracy. If passed into law, Blue and White's bill will do two things which are both antithetical to democracy.
First, it will give the unelected attorney general the power to decide who can run for office. If all that is needed to block a politician from running is a criminal indictment, then the only person who matters in Israeli politics will be the attorney general.
Second, the bill seeks to cancel Monday's election. More than two million Israelis voted for Netanyahu, either directly by voting for Likud, or indirectly, by voting for its coalition partners. And the Blue and White bill intends to throw their ballots into the trash.
If the law passes, Israel's parliamentary system will have more in common with Iran's parliamentary system than with Britain's. In Iran, the Guardian Council of the Islamic Revolution decides who can run for office. In Israel, the Guardian Council of the legal revolution will perform the same function, and to the same end.
It's not at all clear how we can proceed from this point. But what is clear enough is that we have reached an inflection point. Either three members of the Blue and White coalition break ranks and join Netanyahu to form a government and save Israeli democracy, or Israel will cease to be a democracy.
————————————————
TEENAGER WHO BOUGHT IED SUPPLIES FROM AMAZON ALMOST TRIGGERED INDIA-PAKISTAN WAR
https://prophecyupdate.blogspot.com/
Two more suspects have been nabbed after the deadly Pulwama terrorist attack – which killed 40 Indian troops and spiked hostilities between India and Pakistan – including a 19-year-old bomb-maker who got chemicals from Amazon.
The two men – Waiz ul Islam, 19, and Mohd Abbas Rather, 32 – were arrested by India's counterterrorism force, the National Investigation Agency (NIA), on Friday, alleging Islam procured bomb ingredients such as ammonium nitrate from the online retail titan. The teen, whose father is a government employee, is also accused of personally bringing items to the terrorist cell that carried out the attack, Jaish-e-Mohammed (JeM).
Rather, for his part, is said to have harbored the militants in his home in the lead-up to last year's attack, including IED builder Mohammed Umar and the suicide bomber himself, Adil Ahmed Dar.
The two men are set to appear before the NIA Special Court in Jammu on Saturday.
The attack – which took place in the disputed Kashmir territory – brought tensions between India and its nuclear-armed neighbor Pakistan to a boiling point, resulting in an Indian bombing raid on a JeM training camp, in turn triggering a reprisal by Islamabad which saw an Indian fighter jet downed and its pilot taken prisoner.
————————————————
PUTIN WILL ULTIMATELY CONTROL TURKEY
https://prophecyupdate.blogspot.com/ – Tom Rogan
Even by Vladimir Putin's standards for embarrassing his foreign counterparts, his treatment of President Recep Tayyip Erdogan on Thursday was a spectacle — and not a good one for the Turkish president.
Meeting Putin in the aftermath of a recent Syrian airstrike, which killed 34 Turkish soldiers, Erdogan might have been expected to take a tough stance with the Russian leader. Or at least a harder line than his submissiveness of past. 
After all, Erdogan knows full well that Russia authorized Bashar Assad to carry out the attack which killed his soldiers. The Russians knew his forces were in the strike location before the attack began. Putin is ultimately responsible for the bloody strategic context here — namely, the Assad-Iran-Russia axis offensive in Syria's Idlib governate. In stark breach of cease-fire agreements with Turkey, the axis's offensive (and its deliberate targeting of schools and hospitals) has sparked a refugee exodus to Turkish borders.
So, yes, Erdogan had good reason to play hardball in Moscow. Instead, he decided to lick Putin's boots.
"I would like to once more give my condolences for the death of your soldiers in Syria," Putin began, without even looking Erdogan in the eye. He continued with a vintage show of Chekist dark humor, "This is always a big tragedy." Then, the former KGB lieutenant colonel jumped to the central lie. "Unfortunately, nobody, even the Syrian military, knew about their whereabouts." And Putin added, "Syrian soldiers have also suffered."
Any leader with a basic sense of self-respect or national honor would have interrupted Putin here. As I say, Erdogan knows that Putin knew where his forces were. He knows that those forces were targeted with Putin's approval. Putin's words were thus an insult to all Turks.
Erdogan responded by staring blankly at Putin, offering not even a hint of anger. Putin had won. 
Amazingly, Erdogan then decided to make himself look even weaker, and he succeeded.
He offered an excuse as to why the meeting was being held in Moscow and not Ankara, even though he had requested the latter. Erdogan knows that the meeting is in Moscow because Putin wanted the image of Erdogan coming to pay homage and beg for a compromise. But rather than sidestep this issue, the Turkish president said he had only accepted Moscow due to Putin's constitutional changes. It would be laughable were it not so pathetic.
It was always a danger that Erdogan would allow Putin to play him yet again, but this is really something to behold. The United States and Turkey's other NATO allies were ready to consolidate his position against Putin's pressure. Coordinated economic action could have brought Assad to heeland forced Russia into an Idlib retreat.
But Erdogan couldn't stomach going eyeball to eyeball with Putin. Faced with the KGB man, he buckled. Ataturk must be turning over in his grave.
————————————————
https://prophecyupdate.blogspot.com/ –
 Associated Press
HEADWINDS: Germany's biggest airline, Lufthansa, says it will cut up to 50% of its flights in the next few weeks, depending on how the virus outbreak develops. It said it had seen a drastic drop in reservations, with all regions now affected. Lufthansa, which also owns Swiss airlines and several smaller regional European carriers, operates over 83,000 flights a month. The airline earlier announced plans to cancel all flights to and from Israel for three weeks after Israeli authorities announced tough restrictions on travelers from several countries.
The airline industry is among the hardest hit since the outbreak, forcing carriers to reassess their near-term financial expectations. An industry group said the spreading coronavirus could cost airlines as much as $113 billion in lost revenue. That figure, released Thursday, is four times the number released just two weeks ago by the The International Air Transport Association, which is imploring governments for assistance.
Declining reservations have rippled outward to commercial aerospace companies. "The impact on airline profitability appears to be worsening by the day, and the spread of the virus and the impact on air travel has rapidly exceeded expectations of just a few days and weeks ago," wrote Ken Herbert, an industry analyst with Canaccord Genuity.
THE MACRO VIEW: Citing the outbreak Friday, Moody's lowered its baseline growth forecasts for G20 economies to 2.1%, from 2.4%. It lowered its U.S. growth forecast for 2020 to 1.5%, from 1.7% and dialed back growth expectations in China as well. Moody's said more downgrades are possible.
"Several plausible developments could lead to a far more negative scenario than our baseline forecast," said Moody's Vice President Madhavi Bokil. "A sustained pullback in consumption, coupled with extended closures of businesses, would hurt earnings, drive layoffs and weigh on sentiment. Such conditions could ultimately feed self-sustaining recessionary dynamics."
"Several plausible developments could lead to a far more negative scenario than our baseline forecast," said Moody's Vice President Madhavi Bokil. "A sustained pullback in consumption, coupled with extended closures of businesses, would hurt earnings, drive layoffs and weigh on sentiment. Such conditions could ultimately feed self-sustaining recessionary dynamics."
STOCKPILE ECONOMY: The spread of coronavirus, which has sickened more than 100,000 people worldwide and killed more than 3,400, has led to a wave of stockpiling. People are loading up on canned goods, frozen dinners, toilet paper, and cleaning products. Heavy supply runs are expected to last for weeks, resulting in a boon c or stores and also food delivery services.
Costco's Chief Financial Officer Richard Galanti described the buying frenzy as "off the charts″ in a conference call this week. Shares of Wholesale Corp. of jumped almost 11% this week, one of the few gainers on Wall Street.
Instacart has reported a surge in demand for pantry items such as powdered milk and canned goods, as well as personal care products like hand sanitizer and vitamins. Sales of hand sanitizers in the U.S. soared 73% in the four weeks ending Feb. 22 compared with the same period last year, according to market research firm Nielsen. Sales of thermometers spiked 47% during that same period. Online purchases of toilet paper have nearly doubled and non-perishable items like canned goods rose nearly 70% during the January and February period, according to Adobe Analytics.
"This is a big time of anxiety, and we know the biggest source of anxiety is uncertainty," says Stewart Shankman, professor of psychiatry and behavioral sciences at Northwestern University. "People are trying to get a sense of control by buying things you really don't need. It's a false sense of control."
Thursday's sell-off was triggered when Southwest Airlines warned of a "significant decline" in bookings and a rise in cancellations, and an industry trade group estimated that airlines globally could lose up to $113 billion in revenue this year. On Friday, Cowen analyst Helane Becker said the virus will test airlines' claim that consolidation makes them better able to withstand big shocks.
Amusement parks could get hit by a double whammy with fewer people willing to travel or willing to be a part of large crowds. Walt Disney Co.'s Shanghai Disneyland and Hong Kong Disneyland parks have been closed since late January. The company announced earlier this week that its parks in Japan will be closed until the middle of the month. Shares of other theme park companies, like Six Flags, Cedar Fair and SeaWorld Entertainment have fallen between 30% and 45% in the past month.plan
Gyms are also getting hit on the anticipation that health buffs will shift to workouts at home. Planet Fitness has fallen 22% this month in heavy trading. Brunswick, which sells fitness gear, is down an equal percentage.
BUSINESS NOT AS USUAL: New disruptions in the work place are picking up pace. Gap closed its New York office and is asking employees to work from home until further notice after one of its employees became infected. The San Francisco clothing chain told The Associated Press that the individual was not in the office Thursday and is recovering at home. It could not be learned how the Gap employee contracted COVID-19.
Microsoft has asked its employees who can work from home to do so in the Seattle area. This means there's less of a need for many of the company's hourly workers, but Microsoft said it will continue to pay those workers their regular pay during this period.
Facebook temporarily closed a Seattle office after a worker was diagnosed with the virus. Amazon this week said one of its employees in Seattle, and two in Milan had contracted the coronavirus. All were quarantined. The company told told its Seattle area employees to work from home if possible.
Walmart restricted cross-border international travel to the most critical business trips, according to an internal memo shared by the company. Trips to its stores and clubs will continue, but the country's largest employer has restricted travel to conferences, trade shows and other events. It canceled its U.S. Customer Conference in Dallas Dallas next week, opting to hold a virtual conference in its place.
ENERGY: Oil prices slumped more than 9% after talks between OPEC and non-member allies like Russia ended Friday without a deal on cutting oil production. The global economy was already slowing and the spread of the virus is certain to be a further drag on energy use. A barrel of oil could be had for about $42. The price was $60 per barrel at the start of the year, and that has fallen 17% in just the past month.
RELATED CORONAVIRUS NEWS CLIPS:
————————————————
LATEST CORONAVIRUS NEWS CLIPS:
————————————————
https://prophecyupdate.blogspot.com/ – by Robert Gore
Turn on the news and chances are the story concerns the special class. History books are mostly chronicles of the special class—their wars, machinations, depredations, follies, all-too-rare wisdom, monuments to themselves, and the invasions and revolutions that occasionally upend them. It goes far beyond propaganda or brainwashing, it is simply an ingrained fixation, accepted by virtually everyone, that attention must always be on the special class and its volcano—government.
The CoVid-19 coronavirus ushers in the new decade and beyond: large, ostensibly wealthy and powerful governments, defeated by aggregations of comparatively minuscule units that collectively work tectonic shifts. Another virus has broken out in China that's received nowhere near the coverage of the coronavirus. A viral epidemic of souring debt threatens to overwhelm the Chinese financial system and spread beyond China's borders.
Tacitly recognizing that it can't stop this epidemic, only administer triage and palliative measures, the Chinese government no longer backstops all significant debt via financial and accounting hocus-pocus. One yuan is a slip of paper or a computer entry, trillions of them due and payable have overwhelmed the system. Companies and individuals are defaulting and going bankrupt; creditors are taking losses. It's not supposed to happen in this harmonious and just showcase of socialism with capitalist characteristics (Or is it capitalism with socialist characteristics?) but there you have it.
The CoVid-19 and debt viruses reinforce each other in unhealthy ways, as China shuts down production to quarantine its citizens. The all-knowing, all-powerful government is left with a damned if it does, damned if it doesn't choice: prematurely restart its economy and fuel the epidemic or quarantine everyone and watch the economy and financial markets tank. Bureaucrats and politicians propose, entropy disposes. The more you try to control, the less you end up controlling. There's a certain justice to it.
In modern governance, there is no more minuscule unit than the individual, so minuscule that it's completely ignored. Propaganda pays homage to democracy—aggregated individuals—but democracy is mob rule, the wolves deciding which sheep are today's lunch. The trick has always been to give the sheep the illusion of choice while they're fleeced and herded to the slaughterhouse.
No institution is more wedded to control than the military, but guerrilla insurrection against imperial empires and would-be conquerors is in a long bull market that started just after World War II and shows no signs of topping. Indeed, it appears to be gathering steam. The US military hasn't won a meaningful war since World War II. It's a sign of the corruption and evil of our time that perpetual chaos and devastation have become the ends of war, for the nefarious power and profit it confers on those who wage it. They labor under the oxymoronic delusion of controlled chaos.
"Uncontrolled" chaos induces panic, nowhere more so than among the controllers. That panic is palpable, and has been since SLL posted "Desperation" a month before Trump was inaugurated. They cling to the belief, shared by some in the alternative media, that if they can just control what's called the narrative, they'll be able to control events at home and abroad.
The controllers have co-opted the mainstream media, academia, think tanks, Wall Street and big business, Hollywood, and professional sports. Respect for all these institutions has tanked. Millions of people have simply tuned the controllers and their acolytes out. Viewership of the emblematic Academy Awards hit a recent low in the US this year, 23.6 million, which means that over 300 million didn't watch Hollywood's self-congratulatory bromides and hectoring lectures. Viewership of any one network's nightly news rarely reaches 10 million, and daily readership of the big mainstream press organs, both print and internet, is rarely above 5 million. How do you control a narrative if nobody's paying attention to it?
The special class has never been able to wholly suppress individual conscience. In every age there are those who insist on telling the truth, regardless of the risks. They're often signing their own death warrants, but they tell the truth. The honor roll for our age includes Katherine Gün (I recommend Official Secrets, now available on download), Chelsea Manning, Edward Snowden, Julian Assange, and Craig Murray, who has reported on Assange's kangaroo extradition proceeding and told the truth for those who care to learn it (see craigmurray.org.uk. As the special class sinks further and further into its own morass of lies, truth tellers and the truth itself will loom ever larger as a threat.
The ground is rumbling but it is a mere harbinger of the full-blown Age of Chaos earthquake. The special class clings to narrative management and rule by fraud and force, dreaming its dreams of ruling the entire globe. Murder is the ultimate control—corpses offer no resistance—and they're quite willing to destroy the world to rule it. Humanity's last, best hope is that the earthquake hits full force and the Age of Chaos arrives before the special class can fully implement its homicidal designs.
You can keep your eyes fixed on the special class and their volcano. You can hope that quarantines, travel bans, closing public venues, face masks and disinfectants will protect you from the Covid-19 coronavirus. You can pray that central bank fiat debt, bailouts, and government economic management will save financial markets and the economy. You can believe that all this talk of rising discontent, secession, and insurrection is just talk and nothing will come of it. You can close your eyes, plug your ears, and try to inoculate yourself against truth and reality, all the while screaming for somebody to do something.
Or you can prepare for the Age of Chaos. Your fate means less than nothing to the special class and its interests are antithetical to yours. It would rather kill than save you—you and yours are on your own. Accept that reality and you have a chance. It's not quite as daunting as it might seem—there are many people out there of similar mind. If the special class doesn't kill us all, the Age of Chaos may ultimately offer an opportunity —for those who want to do so and understand what's required—to live in freedom, peace, and prosperity.
————————————————
https://prophecyupdate.blogspot.com/ – Walter Williams
Here are a few headlines about an African tragedy: "Africa's Worst Locust Plague in Decades Threatens Millions" (The Wall Street Journal), "'Unprecedented' Locust Invasion Approaches Full-Blown Crisis" (Scientific American), "Somalia Declares Locust Outbreak a 'National Emergency'" (The National) and "UN Calls for International Action on East Africa Locust Outbreak" (Bloomberg Green). This ongoing tragedy is mostly man-made, according to an analysis by Paul Driessen, who is a senior policy adviser with the Committee for a Constructive Tomorrow (CFACT) and the Center for the Defense of Free Enterprise.
Driessen says that billions of desert locusts have attacked the eastern Africa nations of Kenya, Ethiopia, Eritrea, Djibouti and Somalia. According to the U.N., the locust attack in Kenya is the worst in 70 years and the worst in 25 years for other east African nations. Locusts are destroying crops and threatening tens of millions of Africans with lost livelihoods and starvation. These locust swarms can blanket 460 square miles at a time and consume more than 400 million pounds of vegetation daily. They reproduce fast, too, meaning locust swarms could be 500 times bigger in six months.
Africa's locust plague is man-made. Economic development organizations and activist nongovernmental organizations have foisted "agroecology" on the poorest nations — an organic-style agriculture. They promote the virtues of peasant farming. So how do these poor farmers fight the locust plague? Driessen says: "Desperate Africans are responding with 'time-tested' methods: whistling and shouting loudly, banging on metal buckets, waving blankets and sticks, crushing the bugs perhaps even roasting and eating them, under UN-approved nutrition programs. In Eritrea, they are using 'more advanced' methods: hand-held and truck-mounted sprayers. In Kenya, police are firing machine guns and tear gas into the swarms!"
Antonio Guterres of Portugal, the U.N. secretary-general, claimed global warming as a cause of the problem. He said there is a link between climate change and the unprecedented locust crisis plaguing Ethiopia and East Africa. Guterres said: "Warmer seas mean more cyclones generating the perfect breeding ground for locusts. Today the swarms are as big as major cities and it is getting worse by the day."
Guterres' suggestion that global warming is the cause of today's plague is sheer nonsense. Locust infestations have been feared and revered throughout mankind's history. Devastating locust attacks in Egypt around 1446 B.C. were mentioned in the Book of Exodus in the Bible. "The Iliad" describes locusts taking flight to escape fire. Plagues of locusts are also mentioned in the Quran.
Driessen concludes: "A primary reason this plague of locusts has overwhelmed East Africa — indeed, perhaps THE primary reason — is that the UN Food and Agricultural Organization, other UN agencies and multiple environmentalist NGOs have been extolling and imposing 'agroecology' on Africa. 
This highly politicized 'movement' rabidly opposes hybrid seeds, synthetic insecticides and fertilizers, biotechnology, and even mechanized equipment like tractors! Acceptance of its tenets and restrictions has become a condition for poor farmers getting seeds and other assistance, and their countries and local communities getting development loans and food aid."
By the way, locusts are not only a threat to crops; they threaten people in another way. In early January, a Boeing 737 on final landing approach to Dire Dawa, Ethiopia, found itself in the midst of a massive cloud of locusts swarming above the airport. The insects were sucked into the plane's engines. Their bodies were splattered across the windshield blinding the pilots to the runway ahead. The Boeing 737 climbed above the swarm. The pilot depressurized the cabin so he could open the side window and reach around to clear the windshield by hand. Diverting to Addis Ababa Bole International Airport, the pilot was able to land the plane safely.
————————————————
LOCUSTS NOW HIT PAKISTAN
https://prophecyupdate.blogspot.com/ – By AFP
Pakistan's farmers are struggling to combat the worst locust plague in nearly three decades as insect swarms decimate entire harvests in the country's agricultural heartlands and send food prices soaring.
Heavy rains and cyclones sparked 'unprecedented' breeding and the explosive growth of locust populations on the Arabian peninsula early last year, according to the United Nations.
The insects have since fanned out and wreaked havoc on farms from East Africa to India before making their way into Pakistan from the desert on the country's southwestern border with Iran.
The crisis is so severe that the government has declared a nationwide emergency and urgently appealed for help from the international community.
A farmer in Pakistan beats locust back in a field as the insects threaten his livelihood 
Officials in southern Sindh province fear the infestation will devastate the supply of cotton, the local cash crop, ahead of its harvest in the coming months.
Local surveys of the damage are continuing, but the Sindh Chamber of Agriculture says nearly half of all crops have been destroyed near the port city of Karachi.
'I have not seen an infestation like this one in my career,' said Shehbaz Akhtar, an agricultural official charged with locust eradication efforts in the village of Pipli Pahar in central Punjab province.
Local authorities had 'launched a combat operation' to clear the area of infestation with pesticide sprays, he said.
The pesticides used by officials are also dangerous for consumption, so even when the locusts are dead the remaining crops have to be discarded.
Some farmers have been forced to opt for more desperate solutions while waiting for their fields to be sprayed and have attempted to scare off the swarms by shouting and banging pots.
A team of Chinese experts has arrived in Pakistan to survey the crisis, food security ministry chief Muhammad Hashim Popalzai told AFP.
Beijing could also offer aerial spraying – a much faster and more efficient method of pest control – and Pakistan may also import pesticides from China.
Earlier reports circulating online suggested China was planning to send thousands of ducks to Pakistan to devour the scourge. Pakistani officials said no such plans were being considered.
The UN Food and Agriculture Organization has also set up meetings between India and Pakistan to prevent the swarms from spreading, Popalzai said.
————————————————
https://prophecyupdate.blogspot.com/ –
A shallow M5.5 earthquake hit Baja California, Mexico and was felt throughout San Diego County on March 6, 2020 evening.
This strong shaking comes just after geologists upgraded the risks of the Rose Canyon Fault that runs through the urban core of San Diego in California.
The M5.5 earthquake struck near Coahuila, Mexico, roughly 167 miles southeast of San Diego.
Multiple individuals throughout Twitter and also Facebook rapidly responded to the quake.
Many reported feeling the tremor in Del Mar, Chula Vista and also in Arizona. Some also felt the rumbling as much north as Orange County.
— Gaby Rodriguez (@GabyR_news) March 7, 2020
Upgrade San Diego Earthquake Scenario
The Earthquake Engineering Research Institute looked at the impact of a M6.9 earthquake along the Rose Canyon Fault on the region, since the fault line runs through the urban core of San Diego.
A quake of that magnitude would cause widespread damage. There are indeed about 120,000 buildings that could be damaged after a future earthquake on the Rose Canyon Fault.
According to the study, government agencies, religious centers and multi-family housing units built prior to 1990 are especially at risk, as San Diego's building codes were updated in the 1990s.
Moreover, the dangerous quake could trigger a $38 billion financial loss in the community.
Again, this San Diego Big One is unpredictable… But according to the scientists, it is only a matter of time.
Of course, this isn't the only earthquake that can damage San Diego as many other dangerous seismic faults are present in the region nearby. More earthquake news on Strange Sounds and Steve Quayle. [USGS, NBC San Diego]
5.5 Vanuatu Islands
4.8 Vanuatu Islands
5.1 West Chile Rise
4.5 Southern Chile
5.2 Costa Rica
4.8 Panama
4.7 Mexico
4.5 Mexico
4.6 Afghanistan border
5.2 Banda Sea
4.9 Indonesia
4.8 Kuril Islands
————————————————
https://prophecyupdate.blogspot.com/ –
Jack Kelley
Some of the confusion regarding the permanence of our salvation comes from our failure to distinguish between the two facets of our relationship with the Lord: union and fellowship.
Basis and Status
Union describes the basis of our relationship and is explained in John 17:20-23. The summary of the passage is verse 23; "I in them and You in Me."
Ephesians 1:13-14, and 2 Corinthians 1:21-22 clearly state that at the moment of belief we're united with God and the Holy Spirit is sealed inside us as "a deposit guaranteeing our inheritance." In John 17:23 Jesus claims to be in us as well. And since the Father is in the Son and the Son is in us then the Father is also in us. Father, Son and Holy Spirit; all in us. Union.
Fellowship defines the status of our relationship at a given point in time. Are we together frequently and conversing often, or has something come between us, causing us to be estranged from one another?
The Need for Both is Clear
The Lord wants us to learn the lessons taught by Israel, first that the most concerted effort ever put forth by man could not produce a single life good enough to meet God's standards for righteousness.
But even so He still wants us to live in a way that is pleasing to Him, obeying His laws and receiving His blessings. He knows we'll be happier and live longer, better lives that way. And that's the second lesson.
Of course we can only be truly free to live happy blessed lives if we're not constantly afraid of losing everything, and yet our sin nature will cause even the best of us to fall short on many occasions. So He made sure that His promise of Eternal Life could be kept irrespective of our merit by paying the whole price Himself, and then made it irrevocable by sealing Himself inside us. The old hymn calls it "Blessed Assurance." He calls it union.
And He made sure that when we continued to sin by breaking His laws even after being saved we could restore our relationship simply by confessing our sins and asking His forgiveness. Its called maintaining fellowship and He made it possible by paying for all the sins of our lives in advance.
WHO ARE YOU CALLING STUBBORN?
He knew that being stubborn and rebellious creatures, we would sometimes deny our sins, justifying our behaviour and refusing to repent. Since He never could tolerate sin, He knew that this would interrupt our fellowship and require Him to withdraw His blessing temporarily (its called discipline). He hopes this will prompt us to repent and confess our sins so we can be forgiven and restored, having no fear of being refused or rejected. (1 John 1:8-10)
There are two reasons so many Christians live defeated, fruitless lives:
They've been taught a doctrine that omits any reference to Holiness so they live out of fellowship and don't even know it.

They've been convinced that they're somehow beyond God's forgiveness and therefore can't restore their relationship with Him.
Both ignore the admonition and promise of 1 John 1:8-10 and are main battery weapons in Satan's artillery against us.
The Lord's Prayer
So next time you pray "forgive us our sins as we forgive those who sin against us" you'll know you're asking to be restored to fellowship after being angry with someone who's wronged you.
You've forgiven them and can now be forgiven for your anger (Matthew 6:14). Justified or not, anger's a sin (Matthew 5:22)
And Then There's Hebrews 6:4-6
And the next time you read this famous passage, you'll know that the writer was warning Messianic Jews that if they went back to sacrificing lambs for their sins (falling back into Jewish ritual) it would be impossible for them to restore their fellowship with the Lord. The shadow had been replaced by the reality. He wasn't threatening them with irretrievable loss of salvation but with loss of fellowship.
HOW DO YOU KNOW THIS?
There are several places we could look to for support for this idea, but perhaps the clearest is in the parable of the Prodigal son. It's found in Luke 15:11-32 if you want to review it.
Two points are critical:
When the son demanded the right to leave his father's house and go his own way, he didn't stop being his father's son

and when he finally came to his senses and returned, his father welcomed him back with celebration. Union was never broken and fellowship had been unconditionally restored.
When you gave your heart to Jesus He gave you the authority to become a child of God (John 1:12).
Since you are His child, you are also His heir (Galatians 4:4-7) and your inheritance is eternal life (Titus 3:7).
Your un-confessed sins will interrupt your fellowship with God, but you can never stop being His child.