Unprecedented World Events Have Many Asking…Is This The End?

279K subscribers
 

Please Help Support This Ministry:

https://www.paypal.me/watchman1963

Cash App : $watchman1963 Please subscribe to my backup channel:

https://www.youtube.com/channel/UC4nc…

Current Events Linked To Biblical Prophecies. Everything is unfolding just as the bible foretold. Wars, Volcanic Eruptions, Earthquakes, Extreme Weather, Christian Persecution, Violence and more!
Matthew 24:3-14 3 Now as He sat on the Mount of Olives, the disciples came to Him privately, saying, "Tell us, when will these things be? And what will be the sign of Your coming, and of the end of the age?" 4 And Jesus answered and said to them: "Take heed that no one deceives you. 5 For many will come in My name, saying, 'I am the Christ,' and will deceive many. 6 And you will hear of wars and rumours of wars. See that you are not troubled; for all these things must come to pass, but the end is not yet.
7 For nation will rise against nation, and kingdom against kingdom. And there will be famines, pestilences,[b] and earthquakes in various places. 8 All these are the beginning of sorrows. 9 "Then they will deliver you up to tribulation and kill you, and you will be hated by all nations for My name's sake. 10 And then many will be offended, will betray one another, and will hate one another.
11 Then many false prophets will rise up and deceive many. 12 And because lawlessness will abound, the love of many will grow cold. 13 But he who endures to the end shall be saved. 14 And this gospel of the kingdom will be preached in all the world as a witness to all the nations, and then the end will come.
————————————————-
Israel declares war on COVID19; applies counter-terrorism measures – TV7 Israel News 16.03.20

 

Today's top stories 16.03.20; 1) Israeli Prime Minister Benjamin Netanyahu declares war on the coronavirus; approved counter-terrorism measures against the general Israeli public to identify suspects in breach of self-quarantine. 2) Israeli National Security Adviser Meir Ben Shabbat highlights that the situation remains under control; as Jerusalem mobilizes the military to assist local councils and civilian medical services. 3) Israelis flood supermarket, as they prepare for a possible nationwide curfew.
————————————————-
New Syrian Army Offensive In Idlib Becoming Inevitable As Militants Sabotage Turkish-Russian Patrols
————————————————-
Gary Stearman: Dispensationalism
————————————————-
Revelation 20:1-6 – The Reign of The Righteous

166K subscribers
 

Revelation 20:1-6 – The Reign of The Righteous Pastor Barry Stagner in Revelation 20:1-6 plus Q&A including Don Stewart Pastor Barry Stagner & Don Stewart Temptation may not be avoidable, but acting on it is! Connect with Pastor Barry on social media:

https://www.instagram.com/barry_stagner https://www.facebook.com/pastorbarrys

…

https://twitter.com/BarryStagner

Calvary Chapel Tustin
————————————————-
LATEST NEWS CLIPS – ARTICLES (TUESDAY 17th MARCH 2020)
WE PREACH THE BLESSED HOPE FOR THE FUTURE IN JESUS CHRIST OUR SAVIOUR
Rev. 3:3 Remember therefore how thou hast received and heard, and hold fast, and repent. If therefore thou shalt not watch, I will come on thee as a thief, and thou shalt not know what hour I will come upon thee.
Prov. 14:12  There is a way which seemeth right unto a man, but the end thereof are the ways of death.
Is. 52:10 The LORD hath made bare his holy arm in the eyes of all the nations; and all the ends of the earth shall see the salvation of our God
Jer. 25:31 A noise shall come even to the ends of the earth; for the LORD hath a controversy with the nations, he will plead with all flesh; he will give them that are wicked to the sword, saith the LORD
——————————————-
DAILY CHRISTIAN BIBLICAL QUESTIONS AND ANSWERS:
——————————————-
Will God Punish Me For Praying To Jesus?
https://gracethrufaith.com/ask-a-bible-teacher/will-god-punish-me-for-praying-to-jesus/
QUESTION:    I have always felt very close to Jesus as if He is always sitting right beside me.
When I think of God, he seems further away somehow. I look at Him as I do my earthly father who is stern and strict. I always address 99 % of my prayers to Jesus, even though I love God, I don't feel that same one on one connection. I am afraid that he is going to punish me for this, but I don't know how to change my way of feeling this way.
I have been listening to all your mp3 studies and they kind of make me understand a little why I feel this way. I take them as we are all children of God, but He will be concerned more with his covenant people than the Church. When the final judgment comes, will we be united with God and his covenant people on Earth, or will we still be in the New Jerusalem hovering above?
ANSWER:    There's a belief in Christianity that our view of God as adults will be influenced by our view of our earthly fathers as children. I've seen this many times.
The truth of the matter is that the Father and Son are one. Jesus is simply God in the flesh. When we say Jesus we mean God.
I don't think it's any accident that the real name of God has been lost. It was forbidden to speak or write God's name, except for once a year on Yom Kippur, when it was spoken 7 times. YHWH are initials that stand for His name, and when you see LORD written all in caps in the Old Testament, in the Hebrew it's YHWH. Vowels were added later to make Jehovah and then Yahweh, something we could pronounce. But you'll notice that Orthodox Jews don't call him that. They call Him Ha Shem (the Name). They haven't been able to pronounce His name since the Temple was destroyed, and no longer remember it.
But in Philippians 2:9 we see the reason for all this. God has made Jesus the name above all names. His is the name by which God desires to be known. So don't worry about being punished. You're doing what He wants us all to do.
I've written that when dealing with Earth, God's focus is either on Israel or the Church, never both simultaneously. When He turns back to Israel for the End Times events, the Church has to disappear just like Israel disappeared while He focused on the Church.
If you're referring to the time after the Millennium when you say after the final judgment, no one knows what will happen because the Bible only tells us that there is an eternity. It doesn't describe it in any detail because the Bible was written for the Age of Man, and the Millennium is the final 1000 years of that age. All during the Millennium, the Church will be in the New Jerusalem and Israel will be on Earth.
What About Praying To Mary And The Saints?
https://gracethrufaith.com/ask-a-bible-teacher/what-about-praying-to-mary-and-the-saints/
QUESTION:    I'm wondering what you have to say about Catholics "praying" to Mary or other saints. I understand that the first commandment tells us to have no other gods, but Catholics seem to believe they're not praying to Mary or the other saints, but somehow praying to God through them.
This also brings another question to mind of praying for someone after they've died. Is there anyplace in the bible that speaks to this?
Thanks so much for your thoughtful answer.
ANSWER:    All during Old Testament times, the way to God was through the Priest. The people brought their prayers to the temple along with a sacrifice and the priests presented their prayers to God. WHEN JESUS DIED THE VEIL OF SEPARATION IN THE TEMPLE WAS TORN APART, SIGNIFYING THAT THE PEOPLE WOULD NO LONGER NEED AN INTERCESSOR ON EARTH. THEY COULD NOW APPROACH GOD DIRECTLY (Ephes. 3:12)
In the New Testament, ONLY JESUS (Rom 8:34) and the Holy Spirit (Rom. 8:26) are named as intercessors for us. None others are authorized. The notion of praying to Mary or others is uniquely catholic and has no Biblical support.
The same is true about praying for the dead. It comes out of the Catholic tradition of purgatory, where according to them all believers go to pay for their remaining sins upon death. It's believed that the prayers and good works of their living loved ones can shorten their stay there. This is another non-Biblical tradition of the Catholic Church.
The single over riding purpose of our lives is to decide whether to allow the Lord's death to pay for our sins or not. We have to decide for ourselves, no one can do it for us, and we have to do it while we're still alive. Failing to decide is the same as rejecting it. At the instant of death, we're either saved or not based on that one decision, and no effort by us or anyone we've left behind can alter it thereafter. Man was destined to die once and after that to face judgement. (Hebr. 9:27)
—————————————————–
NEWS CLIPS OBTAINED FROM MANY SOURCES – INCLUDING

Tracking bible prophecy.org
Rapture Ready News
Prophecyupdate.Com
Main News Channels
End Times Headlines
Prophecyupdateblogspot.com
Stevequayle.com
Gracethrufaith.com
Nowtheendbegins.com
Other Christian Sites
(CLICK ON) LATEST DAILY NEWS CLIPS:
ISRAEL NEWS:
THE MIDDLE EAST PEACE PLAN IS "ANTI GOD" – (GOD WILL NOT ALLOW JERUSALEM TO BE DIVIDED).
ZECHARIAH 12:2-3
WORLD TERRORISM – WARS
WORLD FINANCE:
Rev. 6:6 And I heard a voice in the midst of the four beasts say, A measure of wheat for a penny, and three measures of barley for a penny; and see thou hurt not the oil and the wine
MASSIVE EARTH CHANGES/EARTHQUAKES/VOLCANOES ETC:
(PLUS) EXTRA WORLD – ALTERNATIVE NEWS:
2Chr. 7:13 If I shut up heaven that there be no rain, or if I command the locusts to devour the land, or if I send pestilence among my people;
2Chr. 7:14 If my people, which are called by my name, shall humble themselves, and pray, and seek my face, and turn from their wicked ways; then will I hear from heaven, and will forgive their sin, and will heal their land
CORONAVIRUS NEWS CLIPS:
CHRISTIAN AND RELIGIOUS WORLD NEWS:
Matt. 24:9 Then shall they deliver you up to be afflicted, and shall kill you: and ye shall be hated of all nations for my name's sake.
Matt. 24:10 And then shall many be offended, and shall betray one another, and shall hate one another
————————————————-
WORLD – PROPHETIC NEWS ARTICLES PRESENTATION (TUESDAY 17th MARCH 2020)
MIDDLE EAST AND WORLD WAR LOOMING THE BUILD UP TO PSALM 83  – ISAIAH 17 AND GOG OF MAGOG WARS EZEKIEL 37-38:
THE WHOLE WORLD IS UNSTABLE FINANCIALLY, POLITICALLY, PHYSICALLY, MORALLY, GODLY: – AND BECOMING MORE SO DAILY. (WE ARE IN THE BEGINNING OF SORROWS (MATT 24:8)
THE BIBLE STATES THAT IT WILL ONLY GET WORSE BEFORE THE START OF THE TRIBULATION OF MANKIND – (REVELATION 6)
But before that we have to go through the Birth Pangs, leading up to the Tribulation of Mankind; and I feel that the beginning of Matthew 24 explains that time very well.
Matt. 24:6 And ye shall hear of WARS AND RUMOURS OF WARS: see that ye be not troubled: for all these things must come to pass, but the end is not yet.
Matt. 24:7 FOR NATION SHALL RISE AGAINST NATION, AND KINGDOM AGAINST KINGDOM: and there shall be famines, and pestilences, and earthquakes, in divers places.
————————————————-
APOSTASY OF CHRISTIANITY, THE CHURCH, AND ISRAEL NEWS SECTION:
————————————————-
"HYPROCRACY AND "APOSTACY" AT IT'S HIGHEST"
With His Hand Dripping With 'Anointed Oil' End Times Heretic Kenneth Copeland Heals Viewers Of The Coronavirus Through Their Television Sets
https://www.nowtheendbegins.com/false-teacher-kenneth-copeland-anointing-oil-cure-coronavirus-through-television-set/ – by Geoffrey Grider March 14, 2020
Texas-based Evangelical preacher Kenneth Copeland, his right hand dripping with ointment, urged believers to put their hands on their screens and be cured of the coronavirus, for which there is no known remedy. Video of the 83-year-old preacher's program was tweeted Thursday. It showed him conducting the alleged healing ritual. No, Kenneth Copeland cannot cure you of the coronavirus, no matter how much money you send to him through his 'Victory Prayer Line', but your donation just may get him that 7th jet he's been lusting after.
NOW THE END BEGINS SHARE:
False teacher and  televangelist Kenneth Copeland would like people to believe that coronavirus can be cured through their TV sets, so long as those televisions are tuned into his show.
END TIMES HERETIC (AND FALSE TEACHER) KENNETH COPELAND has decided to cast his healing power on the coronavirus, from the safety of his television study, just in case his prayer don't get through. And just to make his fake faith healing complete, he holds up a hand dripping in some sort of 'holy oil', in a hideous misapplication of James 5.
"Is any sick among you? let him call for the elders of the church; and let them pray over him, anointing him with oil in the name of the Lord: And the prayer of faith shall save the sick, and the Lord shall raise him up; and if he have committed sins, they shall be forgiven him." James 5:14,15 (KJB)
Regular readers of NTEB will recall back in 2018 when his wife Gloria Copeland told their viewers that their Christian faith made them immune from the flu, another lie thrown on the gigantic mountain of lies they've accumulated after nearly 50 years 'in the ministry'. No, Kenneth Copeland cannot cure you of the coronavirus, no matter how much money you send to him through his 'Victory Prayer Line', but your donation just may get him that 7th jet he's been lusting after.
Televangelist Kenneth Copeland claims to cure coronavirus through television sets
FROM THE NY DAILY NEWS: Texas-based Evangelical preacher Kenneth Copeland — his right hand dripping with ointment — urged believers to put their hands on their screens and be cured of the coronavirus, for which there is no known remedy.
Video of the 83-year-old preacher's program was tweeted Thursday by the group Right Wing Watch. It showed him conducting the alleged healing ritual.
"I'm healed," said Copeland, seeming to imply that he could absorb other people's illnesses through the television, then himself be cured of infections with the help of God.

READ MORE

:
THE END TIMES COMEDY OF KENNETH COPELAND AND HIS WIFE GLORIA
KENNETH COPELAND IS an old-fashioned gospel PHONY, whose main job is to separate your from your money. Kenneth Copeland is a faker and a fraud of the highest order.
NOW THE END BEGINS IS YOUR FRONT LINE DEFENCE AGAINST THE RISING TIDE OF DARKNESS IN THE LAST DAYS BEFORE THE RAPTURE OF THE CHURCH
————————————————
IMPORTANT CORONAVIRUS NEWS CLIPS:
"HYPROCRACY AND "APOSTACY" AT IT'S HIGHEST"
Pope Francis who recently 'had a cold', headed first to a Rome basilica, St. Mary Major, where he often stops to give thanks after returning from trips abroad. There he prayed before an icon of the Virgin Mary dedicated to the "salvation of the Roman people." "With his prayer, the Holy Father has invoked the end of the pandemic that is striking Italy and the world, implored for healing for the many sick, recalled the so many victims of these days and asked that their family members and friends find consolation and comfort,"′ Vatican spokesman Matteo Bruni said in a statement.
————————————————-
GENERAL PROPHETIC NEWS SECTION:
————————————————-
https://prophecyupdate.blogspot.com/ – Emil Avdaliani 
As the emotional tide following the January killing of Iran's Quds Force commander Qassem Soleimani ebbs, we have a clearer perspective on what the event meant and whether it was as significant as many analysts and politicians believed.
Though many focused (understandably) on the US's evolving policies regarding the Middle East in general and Iran in particular, Russia's stance was less discussed. Those analyses that touched on Moscow focused more on its immediate reaction to the Soleimani crisis than on analyzing its Iran policy over the long term.
First, it is important to understand Iran's role in Russia's strategic calculus. Iran is crucial for Moscow, as its location at times renders it the most important player in the Middle East. 
This fits the rationale of the Russian political elite. Its political thinkers of the 1990s contended that Iran should be a pillar of Russian influence in the Middle East. The so-called Eurasianists, who believe Russia is a mixture of Europe and Asia, say that if Moscow is to limit Western power in the Middle East, it needs Tehran.
For modern Russia, as happened during both the Romanov era and the time of the Soviet Union, it is essential to keep Tehran at least neutral. A hostile Iran would mean diminution of Russian maneuverability in the Middle East.
The countries share a similar understanding of several geopolitical developments in the region. Both loathe any Western military encroachment in the South Caucasus, Central Asia, or the wider Middle East. Russia and Iran both consider Western interference in their respective zones of influence (the former Soviet space and Syria-Mesopotamia, respectively) as undermining their historical imperatives and rights.
But for Russia, Iran plays a larger geopolitical role. As Moscow's relations with the West generally and the US specifically have worsened over the past several years, the model of multi-polarity in world affairs has become popular in Russia. This trend of geopolitical thinking presumes the development of several clusters of geopolitical gravitation across Eurasia and elsewhere: China, Russia, India, the EU, and the US.
This thinking is not new: it comes from the 1990s, when Russia was economically and militarily weakened, and its only path to improving its position was to undermine the US-led order by developing deeper cooperation with China and other big Eurasian states. The Shanghai Cooperation Organization and the BRICS organizations were the result of this kind of multi-polar thinking.
Iran is missing here, but for Russia it plays a practical role: it shifts American attention away from other areas in Eurasia. Iran, unlike other states such as China and India, can do this militarily. Iranian strategists are clever enough to avoid direct military clashes with US forces (Iran's entire strategy since the 1979 revolution rests upon this presumption) — but Iran can move its forces into Syria and Lebanon, deeply influence Yemen and Iraq, pose a limited but by no means insignificant military problem in the Persian Gulf, and even stir up trouble in Afghanistan by supporting the Taliban or other groups.
This fits into Moscow's policy of global multi-polarity in which there is a first echelon of states to which Russia belongs and a second consisting of Iran and other regional players that are able to complicate the US's position in the Middle East.
Thus on a strategic level we are likely to see a further aligning of Iran's and Russia's Middle East policies — and we can now factor in the killing of Soleimani and Tehran's decision to pull out of the 2015 nuclear agreement (and many months before, the American decision to leave the agreement unilaterally).
For decades, Iran's only real near-ally among the world players was Russia. Now that US-Iran relations have deteriorated so sharply, Tehran will have to rely on Russia even more.
 Iran's greater dependence on Russia's economic and diplomatic support gives Moscow enormous leverage over Tehran. 
What seems more realistic is that a growing Iranian dependence on Russia will open up purely economic opportunities for Moscow. There are likely to be deeper negotiations on the possible sale of Russian military hardware to Iran. More significant could be Iran's closer cooperation with the Russia-led Eurasian Economic Union (EEU). The Iranian leadership has been toying with the idea of establishing a free trade agreement with the EEU, but the process has dragged on. That could change now that there are opportunities for Russia to use Iran's relative weakness to link its 80 million person market to the EEU.
The killing of Soleimani opens up new opportunities for Russia: possible tactical gains in Syria and major economic possibilities through deeper cooperation between a Moscow-led EEU and Iran.
Emil Avdaliani teaches history and international relations at Tbilisi State University and Ilia State University. He has worked for various international consulting companies and currently publishes articles on military and political developments across the former Soviet space.
————————————————
IMPORTANT CORONAVIRUS NEWS CLIPS:
March 16, 2020
Coronavirus COVID-19 victims in Italy over the age of 80 will be denied access to intensive care and live-saving health care services acoording to new doc….
——————————–
March 16, 2020
Is the surging panic of the COVID-19 coronavirus a ploy by the New World Order to shut down the Internet and roll out martial law to control us? …
————————————————
Although the "racist"-sounding "Wuhan virus" is now labeled as a pandemic by the World Health Organization, in America the real pandemic, more accurately described as pandemonium, is at the local supermarkets where store shelves resemble those in Venezuela.
America is in the grips of a panic the likes of which we haven't seen before. What exactly is a pandemic, other than a scary sounding word from science fiction movies? According to WHO, "Pandemic refers to an epidemic that has spread over several countries or continents, usually affecting a large number of people."
Per the Johns Hopkins dashboard, at the time of this writing, there are 147,000 confirmed cases of coronavirus spanning the globe, with 5500 deaths and 72.000 recoveries. Cases in China have leveled off over the past several weeks, suggesting that we in the U.S. may see the same over the upcoming weeks to months.
Wuhan virus is not the first viral pandemic America has had to contend with. The last one was the H1N1 virus from 2009. How did America react to that last pandemic 10 years ago? Does anyone have more than a vague recollection of H1N1, also known as swine flu? No one will forget this current panic, but most have forgotten H1N1.
During the swine flu pandemic, were there mass cancellations of events including conferences, concerts, sporting events, and entire professional sports leagues? Did colleges cancel classes, finishing the remainder of their semesters online? Were travel restrictions imposed between America and Europe? Were panicked Americans hoarding everything from toilet paper to pasta?
In 2009, congressional Democrat leaders weren't criticizing the president, instead they were trying to force through a government takeover of healthcare, known as ObamaCare. Criticizing its namesake wasn't in the media's playbook and they all but ignored the swine flu.
What a difference a decade and a president makes.
One might think the H1N1 virus pandemic was relatively mild since life proceeded as usual for most Americans, rather than the zombie apocalypse we are now living through. H1N1 was also referred to as the swine flu without objections from animal rights groups. In 2009, a name was just a name, labeling a virus based on its origin.
What about a comparison of the number of cases and deaths between the two viral pandemics? With all the hysteria over coronavirus compared to swine flu, the current outbreak must be far worse, right?
As of this writing, there are 63 deaths in the U.S. due to coronavirus, 40 of which are in Washington State. The vast majority of the Washington deaths involved patients at a skilled nursing facility in Kirkland, elderly and with underlying medical problems.
Overall, the coronavirus is quite selective as to whom it kills. From the New York Times: "Among the people in the United States who have died from coronavirus, almost all have been in their 70s, 80s or 90s. The youngest known fatality was a man in his 40s." Unlike other viral epidemics, coronavirus is not killing the young and healthy.
For comparison, let's look at the H1N1, or swine flu, pandemic of 2009. It was first detected in April 2009, "primarily affecting children and adults under 65." It had a much different appetite compared to Coronavirus, in fact almost the opposite patient demographic.
Reported deaths had occurred in people ranging in age from 22 months old to 57 years old. Also, only 13% of hospitalizations had occurred in people 50 years and older, and there were few cases and no deaths in people older than 65 years, which was unusual when compared with seasonal flu.
Not to be crass, but those dying of coronavirus could just have easily died of the seasonal flu, pneumonia, or any of their underlying illnesses, and would have as some point, unlike swine flu where the young and healthy were dying.
The World Health Organization declared swine flu a pandemic in June 2009. President Obama didn't declare it a national emergency for four months, until October 2009. House Democrats introduced ObamaCare in July 2009, in the midst of this pandemic. The last thing they wanted was any distraction, shifting focus to the healthcare system they were trying to take over.
Given the mass hysteria, supply hoarding, event cancellations and abject panic in America over the coronavirus, the numbers must be far worse now compared to the swine flu pandemic a decade ago. Let's see if that's true.
Swine flu caused 60.8 million illnesses, 273,304 hospitalizations, and 12,469 deaths in the U.S.
Worldwide, swine flu may have killed up to 203,000 people, more than the number thus far infected with Coronavirus, and the vast majority of those infected recovering uneventfully.
Why wasn't virtually every major sporting event in 2009 cancelled given these numbers? Especially with swine flu preferentially affecting the young?
Granted the coronavirus hasn't run its course and the numbers will likely increase, but look at the comparison of numbers and reaction now versus then.
In the U.S., 63 deaths now versus 12,000 then. 3,621 cases now versus 60 million then. Yet I don't remember the hair-on-fire media reaction now versus then. What a difference a president makes.
Swine flu came and went, leaving a far greater swath of destruction compared to the current coronavirus outbreak. The economic and societal disruption from the reaction to coronavirus is likely to be far worse to whatever damage the virus does. Yet the reactions are far different, flames of panic stoked by the media. Most don't remember the swine flu pandemic but will certainly remember the current chaos.
What's the difference? The occupant of the White House and an upcoming election. And ponder this timing. The WHO declared coronavirus a global health emergency within a week of President Trump's impeachment acquittal in the Senate. Do you believe in coincidences?
————————————————
THE CORONAVIRUS
The coronavirus is dominating the news, but it is difficult to know what to believe.
Some think the danger is understated, and others think it is overstated.
I am 80 years old with respiratory issues, and I would really like to know the truth.
Dr. Ben Carson, a member of Pres. Trump's Coronavirus Task Force, said it "has the potential to be severe."
The key word is "potential."
I take that to mean the threat is not great, but the threat could become great.
So, it is a tough call, God is in control, and we are in his hands.
The development of the Coronavirus is disputed, but I believe this to be true: the Coronavirus has spread from China to 80 or more nations, from no reported cases to more than 114,000 confirmed cases, and from one death to more than 4,000 confirmed deaths.
The deception is great, and there is good reason to question the accuracy of these statistics.
But who could have imagined the business district of some of the world's largest cities suddenly turned into ghost towns with empty streets and no pedestrian traffic; hundreds of planes, trains and busses with very few passengers almost overnight; thousands of prisoners being released from jail for their own protection; businesses with a "no mask, no service" policy; a two-package limit on how much toilet tissue a customer can buy; Israel banning tour groups and asking tourists to leave; restaurants and hotels facing bankruptcy in just a matter of days, etc.?
As incredible as it sounds, these things are happening in various parts of the world today.
They world has changed a great deal almost overnight.
On Mar. 2, 2020, the White House released a photo of Vice Pres. Mike Pence bowing his head in prayer at a coronavirus task force team meeting.
Pence was strongly criticized for praying, and some called it useless.
Who can blame God for letting the coronavirus spread among people that criticize prayer and think it is worthless?
Rev. Franklin Graham thanked Vice Pres. Pence and asked others to join them in prayer.
The U.S. needs prayer; and if enough of God's people will pray, a solution can be found for this crisis.
God can bring good out of all things, and good can come from this crisis (Rom. 8:28).
It has been reported that 80% of the medicine and 97% or more of the antibiotics that are used in the U.S. are made in China.
It has also been reported that China has said if the U.S. boycotts products made in China, the Chinese will stop the sale of medicines, antibiotics, masks, etc. to the U.S.
The fact that most of America's antibiotics are made in China and that nation is willing to stop the shipment of those medicines to the U.S. during a crisis means the U.S. is in trouble.
This is one result of outsourcing our jobs and globalism.
It is blackmail, a threat to our way of life and something our nation badly needs to reverse.
He said the U.S. started working on this about a year ago and because of some of the policies he has already implemented, some companies have already started working on manufacturing our medicines in our own country; but we need to carry through on that.
Perhaps God is blessing America and we didn't know it.
Finally, globalists, China, the U.S. Federal Reserve and others have started using the fact that the coronavirus can live for several days on paper money to promote a cashless society.
Some banks are sanitizing money before it is distributed to help prevent the spread of the virus.
There have even been reports that China burned paper money to destroy the virus.
Some are urging people to use digital money whenever possible.
Many Bible prophecy teachers believe the Antichrist and False Prophet will promote a cashless society to track all buying and selling.
If the coronavirus becomes severe, it will still be a little crisis compared to the dangers of a cashless society.
The cashless society will wind up killing more than the coronavirus.
Perhaps, God is using this to get the world's attention.
He most surely wants people to truly accept Jesus before they die.
Prophecy Plus Ministries, Inc.
Daymond & Rachel Duck
[email protected]
————————————————
 "So, first of all, let me assert my firm belief that the only thing we have to fear is…fear itself — nameless, unreasoning, unjustified terror which paralyzes needed efforts to convert retreat into advance. In every dark hour of our national life a leadership of frankness and of vigor has met with that understanding and support of the people themselves which is essential to victory. And I am convinced that you will again give that support to leadership in these critical days."- Franklin D. Roosevelt – March 4, 1933
Franklin D. Roosevelt spoke these words during his first inauguration at the depths of the Great Depression in 1933. The narrative taught in government schools is how FDR's words invigorated the nation and inspired the people to show courage in the face of adversity. His terminology was that of a general leading his troops into battle.
What is not taught in government schools or proclaimed by the propaganda spewing fake news media were the dictatorial type actions taken by FDR over the next month after his "inspirational" speech. He was the first Democrat president to not let a crisis go to waste. The day after his inauguration, Roosevelt assembled a special session of Congress to declare a four-day bank holiday, and on March 9 signed the Emergency Banking Act.
What the American people should have feared was the government taking control of every aspect of their lives and threatening them with imprisonment if their dictums were not followed. On March 6, taking advantage of a wartime statute that had not been repealed, he issued Presidential Proclamation 2039 that forbade the hoarding 'of gold or silver coin or bullion or currency', under penalty of $10,000 and/or up to five to ten years imprisonment."
One month later, Roosevelt implemented Executive Order 6102 "forbidding the hoarding of gold coin, gold bullion, and gold certificates within the continental United States". FDR, like every corrupt politician, overstepped his authority by invoking the Trading with the Enemy Act of 1917, to seize all the gold in the country. The fake reason for the order was that hard times had caused "hoarding" of gold, stalling economic growth and making the depression worse.
As usual, the Federal Reserve created the Great Depression through their recklessly easy monetary policy during the 1920s, creating a stock market bubble and its inevitable crash. The false rationale behind the order was to remove the restriction on the Federal Reserve which prevented it from increasing the money supply during the depression; the Federal Reserve Act (1913) required 40% gold backing of Federal Reserve Notes issued.
Excessive money printing by the Fed to benefit their Wall Street owners and the monied interests is a consistent theme since the Fed's shameful conception in 1913. They catalyzed the Great Depression Fourth Turning in 1929 and seventy-nine years later created the current Greater Depression Fourth Turing in 2008. Americans should fear what they have done to our country.
Roosevelt used the fears of the American people to elevate the Federal government as the savior and ultimate allocator of dispensations to the masses. This is how politicians used fear in the 1930s to implement more control over our lives. They used the 2008 Wall Street created financial collapse to further confiscate the nation's resources, while screwing over the little guy.
Now, we are in the midst of another manufactured crisis where government control of every aspect of our lives will be implemented through mandates, quarantines, and ultimately military force. There is nothing to fear but listening to politicians, government apparatchiks, and the hysteria inducing corporate media doing the bidding of their oligarch masters.
I've followed this entire coronavirus outbreak with a skeptical eye since it first appeared on the radar in January. Knowing that I'm lied to by virtually everyone has made it difficult to comprehend the truth about this ongoing crisis. We know China lied to the entire world about the outbreak in Wuhan. It wasn't until social media revealed the true extent of the virus and quarantine of a city larger than NYC, that the world began to understand this was serious.
In the middle of 2019, something beneath the surface of our debt based financial system broke. Suddenly, the Fed began to cut interest rates. This was done when the economy was "the best ever" according to Trump. They cut three times during the second half of 2019. The repo market went berserk in September. The Fed began "not QE" in January as the wheels began to fall off. The Wall Street lemmings cheered and bought everything in sight, propelling the market to the most overvalued in history. The Wall Street titans encouraged the public to buy, buy, buy. The Fed balance sheet made a V like "recovery", skyrocketing by $700 billion in a matter of months. The daily bailing out of Wall Street banks has continued at an increasing level.
In the past week, politicians, bureaucrats and bankers of all stripes have used this coronavirus crisis, to increase their control and power over our daily lives. They passed another "stimulus package" that was 300 pages and no one in Congress read before voting it through. It's filled with pork and corporate goodies. Manuchin, another Goldman vampire squid, is doing all he can to keep the net worth of his banker and corporate buddies headed north during this crisis.
This Fourth Turning is really heating up. We have entered the phase where body counts will accelerate. No one knows whether the coronavirus will result in thousands of deaths or millions of deaths. Anyone telling you they know what is going to happen is a liar. If you think your Constitutional rights have been trashed through the mass surveillance being conducted by our government, you haven't seen anything yet.
Wait until they declare this coronavirus out of control requiring a countrywide quarantine enforced by the U.S. military. When military vehicles are patrolling your streets with the threat of arrest or death if you leave your home, you'll know the Constitution has been tossed into the trash bin. After decades of government school indoctrination and mass media propaganda, the sheep will passively be led to slaughter.
Our Himalayan mountain of debt is about to come tumbling down. The Federal Reserve has proven to be nothing but a whore for the Wall Street pimps. They have destroyed any semblance of credibility and independence they once had. The economic impact of this global pandemic will drive the entire world into recession. The likely outcome is a global depression as fear replaces greed and debts can't be repaid. Fiscal stimulus when the national debt is already $23 trillion is like injecting adrenaline into a cancer patient. Small businesses are going to fail and unemployment is going to rise. This farce of a debt ponzi scheme is over.
Once economies across the world implode, with central bankers having failed epically, and citizens angry about how their political leaders have failed them, feckless politicians will do what they always do. They will create a foreign bogeyman enemy to redirect the ire of their citizens. Again, our leaders will exaggerate threats to induce fear into the masses. Will it be China or Russia or both? Some false flag will be utilized to launch another Fourth Turning war.
—————————————————
https://prophecyupdate.blogspot.com/ – Toi Staff
A leading Israeli virologist on Sunday urged world leaders to calm their citizens about the coronavirus pandemic, SAYING PEOPLE WERE BEING WHIPPED INTO UNNECESSARY PANIC.
Prof. Jihad Bishara, the director of the Infectious Disease Unit at Petah Tikva's Beilinson Hospital, said that some of the steps being taken in Israel and abroad were very important, but the virus is not airborne, most people who are infected will recover without even knowing they were sick, the at-risk groups are now known, and the global panic is unnecessary and exaggerated.
"I've been in this business for 30 years," Bishara said in a Channel 12 interview. "I've been through MERS, SARS, Ebola, the first Gulf war and the second, and I don't recall anything like this. There's unnecessary, exaggerated panic. We have to calm people down.
"People are thinking that there's a kind of virus, it's in the air, it's going to attack every one of us, and whoever is attacked is going to die," he said.
"That's not the way it is at all. It's not in the air. Not everyone [who is infected] dies; most of them will get better and won't even know they were sick, or will have a bit of mucus."
But in Israel and around the world, "everybody is whipping everybody else up into panic — the leaders, via the media, and the wider public — who then in turn start to stress out the leaders. We've entered some kind of vicious cycle."
He urged the public to internalize that "we're talking about a virus that is not airborne. Infection is via droplet transmission… Only if you are close to someone who has the virus, and you get the saliva when he sneezes or coughs, can you get ill. And if you don't then maintain personal hygiene," primarily by washing hands.
Bishara said some of the harsh steps taken in Israel — which has essentially closed its borders, limited gatherings to no more than 10 people, closed all educational facilities, and shut down malls, restaurants and places of entertainment and culture — were motivated by the leaders' acknowledged awareness that the Israeli health system will buckle under any further strain.
Home quarantine has been ordered for "everyone who has passed by someone who may have been infected by someone else," he protested, "because they know that our health system cannot withstand coming under any more strain, because we are perennially stretched to the limit."
Referring to Italy's national lockdown, he said that "quarantine is an effective precaution, but there has to be temperate use. You can shut down a whole country, but there are other means."
At this stage, he said, "we know how the virus behaves, how it spreads, and which groups are in danger. We know now that his virus is primarily dangerous to old people, and to people with a history of chronic disease, and those who are immunocompromised."
Appealing to Israeli leaders "who are appearing every night at 8 p.m. to announce all kinds of steps, some of them very important," he said, they should "first and foremost calm people down."
————————————————
It's been a crazy week, hasn't it? On Monday, the stock market tanked. On Tuesday, Italy shut down. On Wednesday, Seattle closed its schools. On Thursday, Denmark locked down. By Friday, it seemed most of our country was in an advanced state of panic.
Hysteria is sweeping the globe, and it's ridiculous.
Typical example: "Last week, Gov. David Ige of Hawaii declared a state of medical emergency even though there had not been one case of the coronavirus there. He recommended that everyone have a two-week supply of food. There was pandemonium at the supermarkets."
As of March 13, there have been 137,000 reported cases worldwide of this new strain of coronavirus, with 5,065 deaths. Eighty percent of the cases were in China (which, to put it in perspective, has a population of 1.5 billion).
Meanwhile, according to the CDC, during the 2018-2019 flu season there were 35 million cases of the flu just in the United States, with 34,000 deaths. From Oct. 2019 through Feb. 22, 2020, the U.S. has had 45 million cases of the flu, with 46,000 deaths.
About these shocking-but-normal statistics, we hear … crickets.
What on earth is causing such panic over COVID-19? Why can't people put things in perspective? This virus is not Ebola or bubonic plague, yet we're acting like it's a death sentence for anyone and everyone who contracts it. I know the media tends to operate on an "if it bleeds, it leads" basis, but it's driving me nuts to see the ridiculous amount of unnecessary terror being cultivated.
There is far more damage being created by the panic than by the virus itself. The damage is hitting hardest those who are most unable to take a hit – small business owners, hourly workers, the poor. Yet because the media continue to push the angst and drama, the panic worsens, and the little guy takes a huge hit. There will be millions of job losses. Did you get that? Not deaths, job losses. Millions.
Doctors everywhere – who understand the statistics about flus – are urging calm. During an interview with CBS News last week, Dr. Drew Pinsky "shredded the media for purposely causing panic in the American people which negatively affects not only individuals but also businesses. … 'What I have a problem with is the panic and the fact that businesses are getting destroyed, that people's lives are being upended, not by the virus, but by the panic. The panic must stop. And the press, they really somehow need to be held accountable because they are hurting people."
"When the radioactive dust settles from this orchestrated panic-strategy, potentially hundreds of billions will have been lost, thousands of businesses closed, and millions of employees fired," observes Douglas MacKinnon with Issue Insights. "The economic devastation ignited by the deliberate panic strategy is spreading like an unchecked wildfire. … Naturally, once it was clear that the panic was not only taking hold but spreading, craven politicians predictably jumped into the echo chamber to scream 'The Sky is Falling' for partisan or self-serving reasons."
Contrary to what politicians believe, people aren't stupid. If you're smart enough to start and run a small business, you're smart enough to realize that the most pro-business president we've ever had isn't hyping the coronavirus to decimate the economy. In fact, I suspect people are more likely to vote for a businessman as a result of this economic hack-attack than they are likely to vote for progressive policies that will hamstring all attempts to rebuild after the worst is over.
One columnist even urges those who lost their livelihood to enter into a class-action lawsuit "against those who willingly created a panic for ratings, ad revenue and political advantage."
It's clear Democrats see the coronavirus outbreak as an opportunity, not an epidemic. The yearly cases of influenza are ignored because no one can criticize Trump for them. But a new mystery disease? Woo-hoo, open the floodgates of blame!
It's a crying shame dozens of people have died from the coronavirus in America.
But it's an even bigger shame that millions are having their livelihoods disrupted, thanks to the media-fueled hysteria.
After NYC Mayor Bill de Blasio said during an interview on CNN earlier that he "all options are on the table" when asked if he was considering closing city schools and shutting down restaurants and other non-essential businesses, NYC Comptroller Scott Stringer, the former Manhattan Borough President who defeated Elliot Spitzer in his primary for for the comptroller job a few years back, called on the Mayor's Office to move ahead with the shut down.
During a series of tweets, Stringer said the city must "act logically and strategically" and that "out of an abundance of caution, I am calling for a city shutdown."
Only essential services should remain open. No bars, restaurants, or movie theaters.
And I am again calling for NYC schools to be shut down.
We cannot go on with business as usual.
— Scott M. Stringer (@NYCComptroller) March 15, 2020
Stringer called for a city-wide shutdown on Sunday, including closing bars and restaurants, while only essential services should remain open.
He also repeated his call for the city schools to be shut down, despite the pressures on millions of parents to find child care and figure out how to react.
"We cannot go on with business as usual…This is about all of us. This is about protecting our most vulnerable. Lives are at stake and there's no time to waste. We have to flatten the curve."
————————————————
NTEB RADIO BIBLE STUDY: Is There A Spirit Behind The COVID-19 Coronavirus Global Panic That Is About To Bring In The New World Order?
https://www.nowtheendbegins.com/rightly-dividing-king-james-bible-covid-19-coronavirus-global-panic-new-world-order/ – by Geoffrey Grider March 15, 2020
On this episode of Rightly Dividing, we are looking at the last days found in scripture and comparing them to what is happening right now not only here in America, but in other countries around the world as well. Something is not right, we have had many scary bad virus outbreaks but none with the fear and panic that the COVID-19 coronavirus is now generating. There is a spirit at work here, I suspect, and we are going to do our best to see if we can identify who and what is behind that spirit. 
NOW THE END BEGINS SHARE:
What is happening now is unique in our modern global society, and tonight we will ask the question if perhaps the COVID-19 coronavirus panic is actually a cover to bring in the New World Order?
As I sit here writing this article that will bring you tonight's end times bible study, the headlines from around world are nearly unbelievable in what they are saying. The Times of Israel tells me that the Israeli government okays mass surveillance of Israelis' phones to curb coronavirus, armed guards in Kentucky are enforcing quarantine at gunpoint, and in New York City, the mayor is calling on President Trump to institute Martial Law to fight COVID-19. In short, the world has gone crazy, and it's only just getting started. Could all this have something to do with the prophesied New World Order we read about in scripture?
"For God hath not given us the spirit of fear; but of power, and of love, and of a sound mind." 2 Timothy 1:7 (KJB)
On this episode of Rightly Dividing, we are looking at the last days found in scripture and comparing them to what is happening right now not only here in America, but in other countries around the world as well. Something is not right, we have had many scary bad virus outbreaks but none with the fear and panic that the COVID-19 coronavirus is now generating. There is a spirit at work here, I suspect, and we are going to do our best to see if we can identify who and what is behind that spirit, and how it might be connected with the New World Order.
An event like what we are experiencing now is unique to me in my lifetime, nothing that I can recall is equal to what is happening at the moment. People are panicking, people are afraid, Christians are afraid, and it is disproportionate to the COVID-19 outbreak that is supposedly causing it. People didn't panic like this over AIDS, or SARS, or Ebola, or Swine Flu, or over anything else at all. What is happening now is unique in our modern global society, and tonight we will ask the question if perhaps the COVID-19 coronavirus panic is actually a cover to bring in the New World Order? This is one show you should  not, and indeed cannot miss. We will talk about everything currently propelling this mass frenzy, and it will blow your mind.
————————————————
Is the United States on the verge of a complete and total "lockdown" like we have already seen in China, Italy and elsewhere?  As you will see below, the Trump administration has repeatedly brought up the possibility of "domestic travel restrictions", and that means that this is something that is very seriously being considered.  The first step may be simply banning all non-essential domestic air travel, and that would be a major inconvenience for many Americans.  But beyond that, there is the possibility that we could see restrictions on all travel between states or even draconian restrictions on going out in public at all like we have already seen in China and Italy.  If we get to that point, where you are at that moment is where you will be staying, and I will be sharing more about this below. (

READ MORE…

)
————————————————
PANDEMIC RISKS BRINGING OUT THE WORST IN HUMANITY
https://endtimeheadlines.org/2020/03/pandemic-risks-bringing-out-the-worst-in-humanity/ – Mar 15, 2020
CNN) – A woman at an Australian supermarket allegedly pulls a knife on a man in a confrontation over toilet paper. A Singaporean student of Chinese ethnicity is beaten up on the streets of London and left with a fractured face. Protesters on the Indian Ocean island of Reunion welcome cruise passengers by hurling abuse and rocks at them. The coronavirus risks bringing out the worst in humanity.
Never mind that Australia's toilet paper supply is plentiful, that the Singaporean has no links to the virus and that not a single passenger on the Princess cruise ship that docked in Reunion was infected.
Irrational and selfish incidents like these are likely the exception, not the rule, but an everyone-for-themselves mentality — or each family, even each country — appears to be growing, putting into question the world's ability to unite and slow the coronavirus' spread.
Leaders of affected nations are scrambling to seize some control of the situation. They impose restrictive measures in their countries, inject money into their economies, and promise their health systems will somehow find the extra beds, doctors and nurses they will inevitably need.

READ MORE

: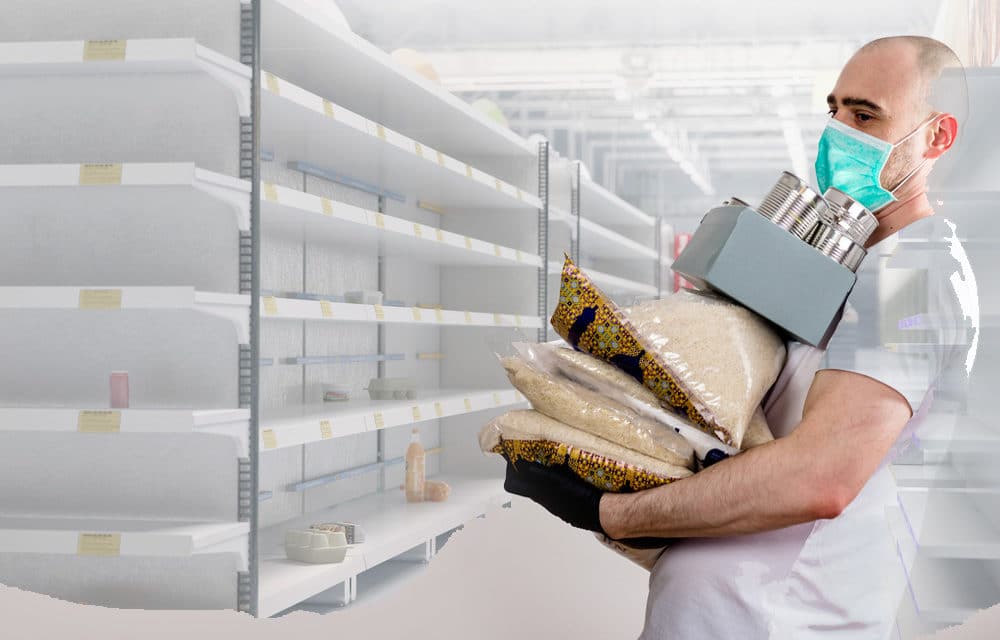 (CNN) – A woman at an Australian supermarket allegedly pulls a knife on a man in a confrontation over toilet paper. A Singaporean student of Chinese ethnicity is beaten up on the streets of London and left with a fractured face. Protesters on the Indian Ocean island of Reunion welcome cruise passengers by hurling abuse and rocks at them. The coronavirus risks bringing out the worst in humanity.
————————————————
Is the United States on the verge of a complete and total "lockdown" like we have already seen in China, Italy and elsewhere?  As you will see below, the Trump administration has repeatedly brought up the possibility of "domestic travel restrictions", and that means that this is something that is very seriously being considered.  The first step may be simply banning all non-essential domestic air travel, and that would be a major inconvenience for many Americans.  But beyond that, there is the possibility that we could see restrictions on all travel between states or even draconian restrictions on going out in public at all like we have already seen in China and Italy.  If we get to that point, where you are at that moment is where you will be staying, and I will be sharing more about this below. (

READ MORE…

)
————————————————
Unless the Federal Reserve is purposely attempting to spread panic on Wall Street, the decisions that the Fed just made don't make any sense at all.  Back on March 3rd, the Federal Reserve announced an unscheduled emergency interest rate cut for the very first time since 2008.  Wall Street immediately interpreted that as a "panic move" and the Dow Jones Industrial Average ended the session down 785 points.  So Fed officials had to know what was going to happen once they announced an even bigger unscheduled emergency interest rate cut on Sunday.  Predictably, stock futures hit "limit down" very rapidly, and now investors are bracing for a week of tremendous carnage. (

READ MORE…

)
————————————————
https://prophecyupdate.blogspot.com/ –
Meanwhile, no one seems to be noticing the earthquake story. Below we see the quakes at 4.5 or higher over the last 24 hours:
5.3 Southern Iran
5.0 S Molucca Islands
5.1 Santa Cruz Islands
5.1 Indonesia
4.6 Greece
4.7 Mid-Atlantic Ridge
4.8 Brazil
4.5 Fiji Islands
4.9 Central America
4.8 New Ireland Region
4.7 Venezuela Coast
4.9 Columbia-Equador Border
4.7 Kuril Islands
————————————————
THE VALLEY OF THE SHADOW OF DEATH
The Grim Reaper is a name that makes a shiver run down the spine. He is sometimes depicted as a skeletal being carrying a scythe. Other times he's shown as a figure wrapped in a tattered, flowing robe with a cowl covering his head. As you peer into the depths of the cowl, you see only shadows and darkness. Sometimes two red glowing eyes shine from the shadows. He carries a scythe so he can reap the souls from mortal men. The picture of him puts fear into the human heart. King David had a healthier attitude about death.
"Yea, though I walk through the valley of the shadow of death, I will fear no evil: for thou art with me; thy rod and thy staff, they comfort me" (Psalm 23:4).
As Christians we need not fear the Grim Reaper with his scythe. Death was conquered by Jesus Christ, our Good Shepherd, who has a rod and a staff to comfort and protect us instead of a scythe to destroy us.
The valley of the shadow of death is all around us, and the world encourages our fear. Christians have had much to fear over the centuries. The shadow of death was more than a threat to the first century Christians; it was a reality. Because of their faith they faced crucifixion, being burned alive, and were used as entertainment when put into an arena filled with hungry lions. They faced fear and death every day, but never lost their faith. Because their feet were planted on the firm foundation of Jesus Christ, the Gospel was passed from one generation to the next.
I admire those brave people who loved Jesus and weren't afraid to stand up for Him. They had nothing to fear from death. When death took them from life in this fallen world ruled by Satan, they stepped into eternity surrounded by the perfect love of God. Christians have that same promise today.
By no stretch of the imagination does this mean we are to hurry death. We have a commandment from Jesus that we are to share the Gospel with the lost, and we cannot do that if we hide in fear or rush death.
Every one of the Apostles faced physical pain and death. Only John died from natural causes, but he did face persecution. The Apostle Paul kept his heart set on Jesus and endured imprisonment, shipwrecks, beatings, stoning, and more. His desire was to be with his Lord, but understood he was given a mission on earth.
"For to me to live is Christ, and to die is gain. But if I live in the flesh this is the fruit of my labour: yet what I shall choose I wot not. For I am in a strait betwixt two, having a desire to depart, and to be with Christ; which is far better: nevertheless to abide in the flesh is more needful for you" (Philippians 1:21-24).
Christians still have that same dilemma. We yearn for our Heavenly reward, but it's needful that we stay in this world and share the Gospel. So, as we walk through the valley of the shadow of death, we needn't fear any evil. Jesus is with us.
Persecution didn't end after the first century. It continues today. In Muslim countries, if you profess to be a Christian, you face beheading or some other means of torture, but that hasn't stopped Christianity from spreading to those men and women who live daily with the threat of death hanging over them. Christians in China face persecution, but that hasn't stopped the Christian faith from prospering. For many years the Christians there have had to be very cautious and not open about their faith. They could meet together, but only if their teaching was approved by the government. Pure Christianity had to be hidden, but it did prosper.
Today there's a new threat that puts fear into our hearts. Like the Black Death of the 1300's, or the Cholera Plague of the 1800's, or the Spanish Flu in the 1900's, we now are facing another plague. This one is called the coronavirus. There's no doubt that this is a real threat that has the entire world worried. As Christians, we need to keep our faith in God in place and not allow fear to cause us to hide in fear. I am not trying to make light of this disease or trying to say there's no threat. I'm just trying to calm the panic.
There are precautions we need to take: Wash your hands, use hand sanitizer, cover your nose when you sneeze and mouth when you cough, eat more natural and healthy foods that boost your immune system naturally; vitamin C is an asset any time. What we cannot do is hide in fear.
Christians in China have come out of hiding and are now wearing yellow jackets in order to be seen. They go into the streets and hospitals, helping wherever they can. They hand out tracts and openly witness to people who are very afraid. They offer hope to the many who are filled with fear and who are dying. In contrast, today in the small congregation I attend, everyone was talking about how we shouldn't shake hands or hug each other. This is the opposite of what God's word admonishes us to do.
"Is any sick among you? let him call for the elders of the church; and let them pray over him, anointing him with oil in the name of the Lord" (James 5:14).
On more than one occasion, Paul urged Christians to
"Greet one another with an holy kiss" (2 Corinthians 13:12).
In the culture of today, we're more likely to shake hands. The point is, human touch is important. With the risk of contracting a disease, be sure to wash your hands to protect yourself and others.
The shadow of death falls on all of us. Many people today are living in fear of what's happening with wars, earthquakes, disease, politics, and more. Jesus said that in the end times these things would get worse. As always, Jesus was right. It's up to Christians to be the ones who lead in giving hope to the frightened people around us. Times are evil, but if we speak up for Jesus, we can give hope, calm fears, and win souls.
"See then that ye walk circumspectly, not as fools, but as wise, redeeming the time, because the days are evil" (Ephesians 5:15-16).
There are more things that can bring fear than disease. The hearts of men are truly growing colder. The cold-blooded murder of people is growing at a pace equal to the drug cartel's growth. Gang activity is growing; the political scene is becoming more and more liberal, which means a socialistic agenda that embraces sin and tries to control how we think. Redeem the time while you can. That means take every opportunity to calm fear in the name of the Lord and share with the lost the truth of the Gospel.
The news media seems to thrive on spreading fear. Here's a fact that seems to be forgotten. Everyone will die one day. Whether you get hit by a car or contract a deadly disease, your life is a vapor
"Whereas ye know not what shall be on the morrow. For what is your life? It is even a vapour, that appeareth for a little time, and then vanisheth away" (James 4:14).
Although we are facing a world-wide epidemic that's truly a cause for concern, sin is the most frightening disease of all. It's interesting to me that the airwaves are filled with warnings about not touching each other and staying indoors, but politicians and the news media encourage sin which leads to death.
HIV is still an issue, but instead of prevention, the liberal agenda makes sure that the deviant lifestyle of homosexuality is "normalized." It isn't normal. It is sinful. Sin infects all people and separates us from God. The only way to overcome sin and the eternal death it brings is to give your life to Christ. The disease you contract while living a sin-filled life won't go away, but if you sincerely repent of your sin and follow Christ, you will spend eternity with Him. Death will no longer put fear into your heart. All around us is the valley of the shadow of death where people who seem alive are dead in their sin. Christians need to set our fear aside and share the Gospel.
Fear can drive a person to think irrationally. It's normal to not want to die, and we need to take precautions to live in this world as long as God allows. We need to trust Him to give us peace.
"For God hath not given us the spirit of fear; but of power, and of love, and of a sound mind" (2 Timothy 1:7).
If we allow fear to stop us from helping people or sharing the Gospel, then we deny the power of God. Jesus called the Holy Spirit the Comforter. He is the third person of the Trinity, and He indwells all Christians. Trust Him to lead you and give you the peace that only comes from God. We will face death one day, but there is no fear in Christ. We don't want to leave friends and family, but only after death can we truly be alive. Christians have no need to fear because we will no longer be walking in the valley of the shadow of death. We will be living with Jesus and all who have been redeemed by His blood.
When the disciples went to Jesus and asked when the end of the age would happen, He told of signs to look for. War, disease, famine, earthquakes, are on the list of signs. These things have always happened, but as we near the end, they are growing stronger and happening more often. The Rapture will take Christians Home before the most horrible things happen. Before the Four Horsemen of the Apocalypse ride and before the judgements of God's wrath are poured on a world that has rejected God, Christians will hear His call.
"After this I looked, and, behold, a door was opened in heaven: and the first voice which I heard was as it were of a trumpet talking with me; which said, Come up hither, and I will shew thee things which must be hereafter. And immediately I was in the spirit: and, behold a throne was set in heaven, and one sat on the throne" 
(Revelation 4:1-2).
If you fear the coronavirus, then consider what will happen on earth during the Great Tribulation. There will be worse disease, war, and evil than can be imagined. You can read about it in Revelation. Place your faith in Jesus Christ and be saved from the wrath to come.
I'm just like you. I'm looking forward to eternity with Christ, but I don't feel as if I'm ready to leave this life quite yet. I love my children and grandchildren and would like to be a part of their lives for a long time. There's much more that I want to do for the Lord and strive to serve Him better. So, as I walk through the valley of the shadow of death, Jesus is with me. He's with you too, so you have nothing to fear.
God bless you all,
Nathele Graham
All original scripture is "theopneustos" – God breathed.
If you'd like to be on my mailing list to receive the commentaries, just drop me an email and let me know.
—————————————————
SEEK THE LORD JESUS CHRIST WHILE HE STILL CAN BE FOUND – HE IS COMING QUICKLY – IT IS A "FREE" GIFT OF ETERNAL LIFE.
2 "(For he saith, I have heard thee in a time accepted, and in the day of salvation have I succoured thee: behold, now is the accepted time; behold, now is the day of salvation.)" (2nd Corinthians 2:6)
—————————————————