Demons Materializing In Start Of Epic WAR Against Humanity
——————————————
World Events Pointing to the Rapture and the Soon Return of Jesus
——————————————
Shoot drown (Apr 06,2021) Russian Navy guided Missile frigates Sinking Enemy Warships in Black Sea

Russian Navy guided Missile frigates Sinking Enemy Warships in Black Sea The crews of the Black Sea Fleet's frigates Admiral Makarov and Admiral Essen held a training battle with a group of a notional enemy's warships during drills in the Black Sea, the Fleet's press office reported on Tuesday. "Under the drills' scenario, the Black Sea Fleet's coastal defense reconnaissance systems detected an unidentified unmanned aerial vehicle that made a flight over the Fleet's facilities. The drone's tracking helped register its landing on a helipad of a notional enemy's ship," the press office said in a statement. The Black Sea Fleet's command has assigned the frigates staying at sea the task of urgently moving to the designated area and preventing new attempts of drone flights. The crews of the Admiral Makarov and the Admiral Essen that arrived at the scene detected a group of the simulated enemy's surface ships. Upon coming closer to them, the frigates "were attacked," the statement says.
——————————————
MAGOG ON THE MOVE: U.S. Military High Alert, NATO Warned

MAGOG ON THE MOVE: Russia massing military at Ukraine border, U.S. military goes on high alert in Europe, & NATO warned by Russia to back-off. In signs of WAR in the Last Days prophecies. Support this ministry so we can continue sharing signs of Biblical prophecy to the world, donate here:

https://signsofthelastdays.org/giving-2/

​

Check recurring contribution button to become a monthly Partner In Prophecy. You can also now WATCH this LIVE-STREAM on our WEBSITE at this link:

https://signsofthelastdays.org/live/
—————————————————
LATEST NEWS CLIPS – ARTICLES PRESENTATION (TUESDAY 06th APRIL 2021)
—————————————————
(THIS IS THE WORLD'S CURRENT TIMELINE)
Matt. 24:6 And ye shall hear of wars and rumors of wars: see that ye be not troubled: for all these things must come to pass, but the end is not yet.
Matt. 24:7 For nation shall rise against nation, and kingdom against kingdom: and there shall be famines, and pestilences, and earthquakes, in divers places.
Matt. 24:8 All these are the beginning of sorrows.
Matt. 24:9 Then shall they deliver you up to be afflicted and shall kill you: and ye shall be hated of all nations for my name's sake.
Luke 12:40 Be ye therefore ready also: for the Son of man cometh at an hour when ye think not
—————————————–
THIS IS THE WORLD'S VERY NEAR FUTURE:
Matt. 24:21 For then shall be great tribulation, such as was not since the beginning of the world to this time, no, nor ever shall be
—————————————————
WE PREACH THE BLESSED HOPE FOR THE FUTURE IN JESUS CHRIST OUR SAVIOUR
1Cor. 12:3 Wherefore I give you to understand, that no man speaking by the Spirit of God calleth Jesus accursed: AND THAT NO MAN CAN SAY THAT JESUS IS THE LORD, BUT BY THE HOLY GHOST.
"Behold, I come like a thief! Blessed is he who stays awake and keeps his clothes with him, so that he may not go naked and be shamefully exposed."
"And you know what is restraining him now so that he may be revealed in his time. For the mystery of lawlessness is already at work. Only he who now restrains it will do so until he is out of the way."
REV. 14:12
Here Jesus was alluding to the fact that the Doctrine of Eternal Security WILL EXPIRE WITH THE RAPTURE OF THE CHURCH
Luke 12:37 Blessed are those servants, whom the lord when he cometh shall find watching: verily I say unto you, that he shall gird himself, and make them to sit down to meat, and will come forth and serve them
SO WON'T YOU ACCEPT JESUS NOW AND BE REMOVED FROM THAT EVENT  (OF TRIBULATION) AND LIVE FOREVER WITH JESUS IN THE FAMILY OF GOD?
2 "(For he saith, I have heard thee in a time accepted, and in the day of salvation have I succoured thee: behold, now is the accepted time; behold, now is the day of salvation.)" (2nd Corinthians 2:6)
—————————————————-
WEBPAGE ADMINISTRATOR:
URGENT MESSAGE:
MESSAGE TO ALL JESUS CHRIST LOVING CHRISTIANS OUT THERE
FROM GOD:
Pack your bags (DIRECTIONS BELOW); because Jesus Christ Plane (FLIGHT 777 TO HEAVEN) is leaving soon from runways all over the World; Be Ready "JESUS" is Coming Quickly. WITH ALL OF GOD'S LOVE WITH HIM TO RESCUE HIS CHURCH FROM A FALLEN "SINFULL" WORLD
Rev. 2:5 Remember therefore from whence thou art fallen, and repent, and do the first works; or else I will come unto thee quickly, and will remove thy candlestick out of his place, except thou repent.
Rev. 2:16 Repent; or else I will come unto thee quickly, and will fight against them with the sword of my mouth.
Rev. 3:11 Behold, I come quickly: hold that fast which thou hast, that no man take thy crown.
Rev. 22:7 Behold, I come quickly: blessed is he that keepeth the sayings of the prophecy of this book.
Rev. 22:12 And, behold, I come quickly; and my reward is with me, to give every man according as his work shall be.
Rev. 22:20  He which testifieth these things saith, Surely I come quickly. Amen. Even so, come, Lord Jesus.
THIS IS A TIME OF TESTING BEFORE THE END:
Rev. 3:19 As many as I love, I rebuke and chasten: be zealous therefore, and repent
We are well and truly into God's Birth pangs (PRE-TRIBULATION) at this time; "THE BEGINNING OF SORROWS" as described in (Matt. 24:3-8).This is not the 7 year Tribulation as yet, just a lead up to and "warning" from God That the Rapture of Jesus Christ Church, and the Tribulation Revelation 6 (God's Judgment) is about to start.
(PLEASE SEE THE ARTICLE BELOW "BIRTH PANGS" PLACED AT THE BOTTOM OF THIS REPORT (JUST ABOVE SALVATION).
IN THE MEANTIME, GATHER YOURSELVES TOGETHER IN LOVE, FAITH, AND WORSHIP, AND PRAY "INCESSANTLY TILL HIS GLORIOUS RETURN.
————————————
" THE UNDERGROUND CHURCH HAS BEGUN":
REMEMBER SOME MAIN STREAM CHURCHES ARE NOT WHAT THEY SEEM: IF A CHURCH "REFUSES" TO PREACH CERTAIN PARTS OF THE BIBLE, I.E. "THE PROPHETIC SIDE (ESCHATOLOGY) THEN THERE IS A SERIOUS PROBLEM, AND THE PARISHONERS ARE KEPT IN THE DARK ABOUT WHAT IS CURRENTLY HAPPENING "RIGHT NOW" IN OUR FALLEN WORLD. AND THAT CAN BE "CATASTROPHIC" TO FAITH IN GOD.
Rev. 3:14  And unto the angel of the church of the Laodiceans write; These things saith the Amen, the faithful and true witness, the beginning of the creation of God;
Rev. 3:15 I know thy works, that thou art neither cold nor hot: I would thou wert cold or hot.
Rev. 3:16 So then because thou art lukewarm, and neither cold nor hot, I will spue thee out of my mouth.
Rev. 3:17 Because thou sayest, I am rich, and increased with goods, and have need of nothing; and knowest not that thou art wretched, and miserable, and poor, and blind, and naked:
SEEK THE LORD JESUS CHRIST WHILE HE MAY BE FOUND – "THE TIME IS CRITICALLY SHORT"
—————————————————
DAILY CHRISTIAN BIBLICAL QUESTIONS AND ANSWERS:
—————————————————
Explain The Trinity Please
https://gracethrufaith.com/ask-a-bible-teacher/explain-the-trinity-please/
QUESTION:    In the article, "Will God Punish Me for Praying to Jesus?", you say that God is the same as Jesus. I have always had difficulty understanding the trinity. I heard someone say it is sort of like water…Water can have three forms, liquid, gas and ice. They are all different, but they are all water. The same is true for God. He has three forms, Himself, the Holy Spirit and Jesus. Would you say this is a good example of God's trinity?
Why must we pray to God and ask "in the name of Jesus Christ?" Is this simply to acknowledge what Jesus (God) done for us and that we trust in it?
ANSWER:    Everyone has trouble understanding the Trinity because it exceeds our intellectual capability. As humans, we exist in something called the space/time continuum. That means that we're subject to certain laws, one of which is that only one entity can occupy a given place at a given time. It's all we know. So how can God, Jesus, and the Holy Spirit be One, yet Three? All in the same place at the same time in one instant, three vastly different places in the next, and then back to one again? They talk to each other and yet they are each other. It's beyond our comprehension.
Saying that the Trinity is like the three forms of water or like the three parts of an egg really doesn't help because the water can't be all three parts at once (at least not for long), and the egg, once separated, can't ever go back to being one.
And yet, the Bible states that God is that way. How this can be is never explained, so we're not asked to understand it. We're just asked to believe it.
By the way, the same is true of several things we use every day and take for granted. For example, no one can completely explain how gravity, electricity or the engine in our car works. But we use them anyway, even though we don't understand them.
As for prayer, we aren't required to pray only to God, but Jesus did tell us that whatever we ask for in His name would be given to us. (John 14:13)
Please Explain This
https://gracethrufaith.com/ask-a-bible-teacher/please-explain-this/
QUESTION:    Unbelievers have said that our Lord was never seriously challenged in his earthly judgments. They were always in response to some form of entrapment by the Temple. For example, Scripture never reports that He was ever faced with the issue of healing an amputation. Although He could have, there is no hint that He was ever asked to. That seems a bit strange. What is the answer to unbelievers in that matter? What is the answer to believers?
ANSWER:    I don't pay any attention to what unbelievers say about the Lord. 1 Cor. 2:14 says the man without the Spirit cannot understand things that come from the Spirit of God. And 2 Cor. 4:4 says the god of this age (Satan) has blinded their minds. Talking with them about Jesus is like trying to have a conversation with a man who can't understand the language you speak.
From reading the Gospels we can see that the religious leaders of the day were relentless in their efforts to find some error in His teaching. Groups who were otherwise bitter enemies were united in this effort, trying to find some way to discredit Him. All you have to do is read John 8:12-59 so see an example of this.
The Law required a Passover lamb to be minutely inspected in the three days before Passover and in the time between Palm Sunday and the crucifixion Jesus was just as carefully inspected. Matt. 22:46 says He so convincingly defended Himself that finally, no one dared ask Him any more questions.
As for healing amputees, this is a favorite of the unbelievers because they know there's no specific account of Him doing so. What they don't understand is that of the thousands of healing miracles Jesus performed, only 21 are described in any detail. We know there were many more because some variation of the phrase "He went among the people healing all their sick" occurs nine times in the Gospels. These 21 weren't chosen just to describe the Lord's power to heal but also to teach us something about His nature. If restoring the limb of an amputee would have served as a better teaching tool, the Holy Spirit would have included such a miracle among the 21.
What point are these scoffers trying to make? Are they foolish enough to believe restoring an amputated limb is beyond His capability? Or do they think we are? Debating with them about things like this is an exercise in futility.
Please Explain The Rapture
https://gracethrufaith.com/ask-a-bible-teacher/please-explain-the-rapture/
QUESTION:    I've never heard any pastor, layman or brethren explain fully the rapture. When it is explained it's always in ethereal terms and without a whole lot of sense. I've of a mind it's not something we can regulate with the many varieties of explanations currently being taught. Hence, I've been skeptical of this phrase as well as the whole concept. Would you like to give me your explanation?
ANSWER:    In a nutshell, here's what the Bible says. In 1 Thes. 4:16-18 Paul wrote that at some point in time Jesus will call both deceased and living believers from the entire Church Age together to meet Him in the air, and from that time on we will always be with Him. In John 14:2-3 Jesus said the place He will take us to is His Father's House. In 1 Cor. 15:51-53 Paul said this will happen instantaneously and without advance warning. At that time the dead will receive new physical bodies and the bodies of the living will be changed from mortal to immortal so we can exist in His presence. From 1 Thes. 1:10 and Rev. 3:10 we learn that the reason for this is to take us away from both the time and place of the judgments that are coming upon the Earth, so He'll come for us before these judgments begin.
Next to His promise to save us from the penalty due us for our sins, this is the most important promise the Lord has made to us. At the moment we came to belief He placed His Spirit within us as a guarantee that this will happen, whether we understand it or not.
———————————————-
NEWS CLIPS/ARTICLES OBTAINED FROM MANY SOURCES – INCLUDING
Tracking bible prophecy.org
Rapture Ready News
Prophecyupdate.Com
Main News Channels
End Times Headlines
Prophecyupdateblogspot.com
Stevequayle.com
Gracethrufaith.com
Nowtheendbegins.com
Other Christian Sites
(CLICK ON) LATEST DAILY NEWS CLIPS:
ISRAEL NEWS:
I AM GOING TO MAKE JERUSALEM A CUP THAT SENDS ALL THE SURROUNDING PEOPLES REELING … Zech. 12:2
God is in control, and He told the nations the consequences of dividing the Promised Land and declaring peace and safety on their own terms (Joel 3:1-2; I Thess. 5:3)
WORLD TERRORISM – DECEPTION – CHAOS – WARS
GENERAL WORLD NEWS:
GENERAL WORLD CORONAVIRUS NEWS:
WORLD FINANCE:
1Tim. 6:10 For the love of money is the root of all evil: which while some coveted after, they have erred from the faith, and pierced themselves through with many sorrows
MASSIVE EARTH CHANGES/EARTHQUAKES/VOLCANOES ETC:
2Chr. 7:13 If I shut up heaven that there be no rain, or if I command the locusts to devour the land, or if I send pestilence among my people;
2Chr. 7:14 If my people, which are called by my name, shall humble themselves, and pray, and seek my face, and turn from their wicked ways; then will I hear from heaven, and will forgive their sin, and will heal their land
===================================
CHRISTIAN AND RELIGIOUS WORLD NEWS:
Matt. 24:9 Then shall they deliver you up to be afflicted, and shall kill you: and ye shall be hated of all nations for my name's sake.
EXTRA WORLD – ALTERNATIVE NEWS:
Please keep in mind that this collection of News Articles is mainly concerning America, but also take note that what happens in America will also "Dramatically" affect Australia and the rest of the World "Massively".
————————————————–
WORLD – PROPHETIC NEWS ARTICLES PRESENTATION  (LATEST NEWS CLIPS – ARTICLES PRESENTATION (TUESDAY 06th APRIL 2021)
————————————————-
MIDDLE EAST AND WORLD WAR LOOMING THE BUILD UP TO PSALM 83  – ISAIAH 17 AND GOG OF MAGOG WARS EZEKIEL 37-38:
THE WHOLE WORLD IS UNSTABLE FINANCIALLY, POLITICALLY, PHYSICALLY, MORALLY, GODLY: – AND BECOMING MORE SO DAILY. (WE ARE IN THE BEGINNING OF SORROWS (MATT 24:8)
THE BIBLE STATES THAT IT WILL ONLY GET WORSE BEFORE THE START OF THE TRIBULATION OF MANKIND – (REVELATION 6)
But before that we have to go through the Birth Pangs, leading up to the Tribulation of Mankind; and I feel that the beginning of Matthew 24 explains that time very well. We are currently in the Birth Pangs (Even though Matthew 24: is directed at the Jewish Nation, it still reflects Biblical Prophecy for the whole World at this time):
Matt. 24:6 And ye shall hear of WARS AND RUMOURS OF WARS: see that ye be not troubled: for all these things must come to pass, but the end is not yet.
Matt. 24:7 FOR NATION SHALL RISE AGAINST NATION, AND KINGDOM AGAINST KINGDOM: and there shall be famines, and pestilences, and earthquakes, in divers places.
—————————————————-
CORONAVIRUS NEWS ARTICLES PRESENTATION
—————————————————–
CLICK ON TODAYS MAIN CORONAVIRUS NEWS CLIPS BELOW:
GENERAL WORLD CORONAVIRUS NEWS:
—————————————————-
https://prophecyupdate.blogspot.com/ – Ann Ellzy
"In a nutshell, they are to cull a large percentage of the human race and to turn the survivors into a completely controlled army of slaves who own nothing and are dictated to and tracked, traced and monitored 24 / 7 everywhere, even inside their own homes, which of course they will no longer own."
"It only starts to make sense when you understand that everything that has happened and is happening is due to a meticulously planned and sinister plot being implemented by the narrow clique of gangsters who now control our world."
The period from 1945 to 2019 was for many a "Golden Age" – a period of relative peace, prosperity, stability, and freedom. This has now ended as the most dangerous and destructive timeline in the history of the World has begun, initiated by malevolent and extremely ruthless Plutonian forces characterized by a complete lack of empathy intent on creating a global totalitarian regime. 
 If this timeline is not derailed soon – and there is little sign that it will be – the result will be death, destruction, and enslavement on a biblical scale for the majority of humanity and we are already seeing this starting. Examples of other such inflection points in history that lead to catastrophe are the shooting of Archduke Ferdinand in Sarajevo that triggered the onset of the 1st World War and the declaration of war on Germany by Britain in 1939, using the excuse that it had a pact with Poland, but what we are seeing now is an order of magnitude higher and truly global in nature so that nowhere on Earth will escape the dragnet. 
This time around the trigger is the timed release of a relatively harmless virus that has been heavily hyped by the media non-stop to make the public think it is akin to the Black Death.
With respect to the timing of the release of the virus and attendant media hysteria, this was determined by two factors. One was that the global debt situation had become critical with the world economy on the verge of collapse – they needed a crisis to provide the excuse for another orgy of money creation, so they crashed world markets into March and put the blame on the virus.
The way the heist works couldn't be simpler. Those in control collapse the world economy and force the majority of its population into massive debt just to survive. Those with any assets worth stealing are then given an ultimatum – hand them over or starve or be sent to the debtors' prison, which in the US will doubtless mean utilization of the vast sprawling network of FEMA camps. 
We now have almost the entire world population unknowingly engaging in occult rituals that are designed to transport them into a new subservient reality. This is the first time this has ever happened in the history of the world… It is important to understand that this narrow but extremely wealthy and powerful clique at the top of the pyramid already controls everything – Central Banks including and especially the Fed, governments, politicians, and judiciaries, who are nearly all "for sale", the clergy, the media, etc. 
They don't entirely control the internet yet …but they are working on it, and soon they will close this window. As for their objectives, in a nutshell, they are to cull a large percentage of the human race and to turn the survivors into a completely controlled army of slaves who own nothing and are dictated to and tracked, traced, and monitored 24 / 7 everywhere, even inside their own homes, which of course they will no longer own.
The NWO is of the view that the world is grossly overpopulated, and they are right, it is, with the massively bloated population placing a crushing burden on planetary ecosystems…the NWO is going to intercede and forcibly reduce their numbers via lethal vaccines with a "kill switch" which is why the virus vaccines will be compulsory or via a deliberately induced wave of mass starvation caused by supply chain disruptions, such as is now imminent, or a combination of the two.
There are three big reasons for all the severe restrictions imposed this year, which are as follows. They are eliminating as much human interaction as they can, in order to destroy social cohesion, isolate people and prevent them from exchanging ideas and thus learning the truth of what this is all about, so reducing the chances of insurrection and possible revolution, and also for good measure to weaken them psychologically and physically.
This is why they have closed down all places where people meet – bars cafes and pubs, restaurants, gyms, etc. and even art galleries, churches and museums, and are making people afraid of interacting with each other via masks and antisocial distancing, etc. It is particularly important to stop churchgoers' meetings because those with faith have principles and believe in something bigger than themselves which gives them the courage to act that many others lack.
 A big reason for the lockdowns is to destroy as many small businesses as possible in order to make people dependent, either on large corporations for employment, which they control or on government handouts such as the pending Universal Guaranteed Income (UGI), which you will only receive if you behave yourself and accept all their diktats. The NWO is already talking about people owning nothing by 2030 and being happy and we can already see how they will bring this about. 
As mentioned above they will do it by crashing the economy and forcing people to go heavily into debt just to survive. They then come along and make you an offer you can't refuse, saying "You have to pay back that debt, but you can't, so we will eliminate it for you in exchange for all of your property." 
Through this method, they will be able to acquire most Real Estate owned by people in what will be the biggest heist of all time. Some of you may have already seen the WEF video You'll own nothing. And you'll be happy that starts with a grinning idiot who clearly at least owns, or at least rents, a good tube of toothpaste. 
What we have witnessed this year is absolute insanity on a global scale, all purportedly for an illness that is not much different from the flu and kills less than 1% of its victims, and has virtually no effect on the young. We have seen society destroyed with the forced prevention of human interaction, bars, cafes, and pubs closed and millions forced out of business, concert halls and museums closed and football games played before empty stadiums. 
Children having their development stunted and being psychologically scarred by being shut indoors and isolated from their classmates and friends, people told how many people they can have visited their house, etc. It is sheer lunacy, and yet, up to now, people have gone along with it due to being brainwashed and weak. It only starts to make sense when you understand that everything that has happened and is happening is due to a meticulously planned and sinister plot being implemented by the narrow clique of gangsters who now control our world.
 Their goals have been set out above, which include exterminating 70% or more of the population and herding the rest into high tech urban ghettoes to be farmed as slaves, where their every move and even their thoughts will be monitored and controlled. THE SECRET TO STOPPING THEM IS FOR MILLIONS TO WITHDRAW THEIR SUPPORT AND REFUSE TO GO ALONG WITH THEIR DEMANDS, REGARDLESS OF PERSONAL CONSEQUENCES. That is the only way to derail this apocalyptic timeline that is fast-tracking the majority of the population towards either death or slavery.
————————————————-
THE AGENDA EXPOSED:
https://prophecyupdate.blogspot.com/2021/04/the-agenda-exposed.html – Thomas Lifson
Too much freedom is a bad thing because it limits the ability of the state to coerce its subjects ("citizens" seems almost archaic as the Great Reset looms) into behavior they otherwise would resist. That's the basic message explained to Chris Cuomo by a professor of public health policy that CNN favors with its airtime.
We lost an incredible amount of the freedom we formerly took for granted when Covid-19 leaked out of a lab in Wuhan, China, and was greeted by world leaders as a pandemic justifying the radical curtailment of liberty and enhancement of their own power. 
Now, they and their lackeys in the academic and medical establishment see the restoration of those liberties as a threat. 
George Washington University Public Health Policy Professor Laura Wen said it out loud – a classic Kinsley gaffe of accidentally telling the truth about something that politicians would rather the public not understand. A lot of people noticed, including Ace of Spades, Legal Insurrection, and Instapundit. This tweet with 38 seconds of video has gotten almost 4 million views:
It's clear to them that the vaccine is the ticket to pre-pandemic life….and the window to do that is really narrowing. You were mentioning, Chris, about how all these states were reopening. They are reopening at 100 percent….and we have a very narrow window to tie reopening policy to vaccination status.
Because, otherwise, if everything is reopen, then what's the carrot going to be? 
How are we going to incentivize people to actually get the vaccine? So that's why I think the CDC and the Biden administration needs to come out a lot bolder and say, "If you're vaccinated, you can do all these things…here's all these freedoms that you have." Because, otherwise, people are going to go out and enjoy those freedoms anyway." [emphasis added]
You can't have people enjoying freedoms before the government forces them all to take an experimental drug that acts on their genetic makeup. One that has caused severe reactions in some, including a number of deaths.
As Ace puts it:
[T]he goal of stripping our liberties is to then offer us the "carrot" of getting them back… as long as we do what the government says.
When people in positions of influence and authority openly bemoan the restoration of liberty as a lost opportunity for state coercion, they demonstrate that a new, terrible era is upon us, one of "public health" tyranny.
————————————————-
https://prophecyupdate.blogspot.com/ – Tyler Durden
As we have reported numerous times, the reality of COVID-19 passports will become an individual's 'passport to life' seems like a foregone conclusion. The UK intends to roll out "Covid passports" within weeks for high-profile sporting and music events. 
Those who are wealthy and/or fortunate enough to get their hands on the vaccine may be able to attend FA Cup semi-finals and final as well as the League Cup final in football and the World Snooker Championship, along with numerous music events, according to FT. 
Pilot tests for "coronavirus-free" mass events will require anyone entering the event to provide digital Covid certificates, including vaccination history or a recent test. The first trial run of the digital Covid passport for the mass gathering will begin this summer. 
The "digital certification app" will be found inside the National Health Service's existing app used by patients to book doctor appointments and order prescriptions. COVID passports for mass gatherings may be announced as soon as this week, or early next week. 
Prime Minister Boris Johnson has already suggested health passports may be required for entry to pubs and restaurants. This means that citizens will have to produce "papers for the pub" — which could be included as part of recommendations in a report for combatting the spread of Covid, which is due out in May. 
Cabinet Office minister Michael Gove examined the legal and ethical issues around COVID passports for pubs, restaurants, and other mass gathering areas. 
COVID passport plans have already been met with fierce opposition from more than 70 members of Parliament across various political parties. 41 Tory backbenchers warned such requirements would erode civil liberties.
One Tory MP said the possible requirements for health passports are "disgusting." 
None of this should be surprising to readers who have understood from our writings vaccination passports will be the new "golden ticket" for global travel, along with the travel and tourism industries and now other forms of mass gatherings such as sporting and music events. 
It's not just European countries that are rolling out COVID passports. The US is already in the process of leveraging apps and smartphones to allow travelers to offer proof that they have been vaccinated or recently tested negative for COVID-19.
————————————————-
Italy's government has announced that ALL HEALTH WORKERS IN THE COUNTRY MUST GET A COVID-19 JAB OR FACE POSSIBLE SANCTIONS.
A decree on Wednesday—approved by Prime Minister Mario Draghi's cabinet—says that health workers, including pharmacists, "are required to undergo vaccination," with those who refuse facing potential suspension without pay, according to Reuters.
"The aim of the measure is to protect as much as possible both medical and paramedical staff and those who are in environments that may be more exposed to the risk of infection," the Italian government said in a statement.
The move comes after the discovery of COVID-19 clusters in hospitals after staff refused to get shots, in a country noted for relatively high levels of vaccine hesitancy. A survey last fall found that nearly 40 percent of Italian respondents said they didn't want to risk a COVID-19 jab.
Members of the medical staff wearing personal protective equipment (PPE) tend to a patient in the COVID-19 unit of the Bolognini hospital in Seriate, Bergamo, Italy, on March 12, 2021. (Miguel Medina/AFP via Getty Images)
In the United States, by comparison, a December 2020 survey by the Kaiser Family Foundation vaccine attitude tracking project showed that 27 percent of the general public were vaccine-hesitant, telling pollsters they would either definitely or probably not get a shot. A separate January Gallup poll showed that vaccine hesitancy is higher among U.S. healthcare workers and first responders than workers in all industries, which can serve as a proxy for the general population.
The Gallup survey showed that 34 percent of healthcare workers and first responders said they would not agree to get a shot, 49 percent said they would, while 18 percent were unsure. The percentage of workers in all industries expressing vaccine hesitancy stood at 27 percent, the same as the percentage of the general population polled by the Kaiser Foundation a month earlier.
Italy, where some 10 million vaccine doses have been administered since late December, has seen a resurgence in infections and deaths over the last month, prompting authorities to tighten restrictions.
The United States, which leads the world in COVID-19 vaccinations, recently surpassed 100 million administered doses, with the Centers for Disease Control and Prevention (CDC) announcing on April 1 a record 3.38 million shots in a single day.
But despite progress in vaccinations, new infections in the United States are on the rise, with the seven-day moving average of daily infections now over 79,000, up from around 53,000 earlier in March, according to Johns Hopkins data.
At a White House health briefing earlier this week, both President Joe Biden and the head of the CDC, Dr. Rochelle Walensky, voiced dire warnings that too many Americans were easing COVID-19 protocols.
————————————————-
https://prophecyupdate.blogspot.com/ – HAF
Many people think that a universal basic income (UBI) would be a good substitute for the welfare state.
Under this proposal, each person resident in a country would receive a guaranteed income, sufficient to live at a modest level. People would get the money unconditionally.
The critics of the UBI aren't convinced and still claim the program would be too costly to implement. In a recent book, Universal Basic Income – For and Against (Rational Rise Press, 2019).
Antony Sammeroff offers a very able account of this controversy and many other issues connected with the UBI.
He gives an especially good analysis of the argument that automation is liable to make so many people unemployable that a UBI will be needed to provide for them. But what I'd like to discuss this week is another argument that Sammeroff deploys to great effect against the UBI.
The UBI, Sammeroff reminds us, is a government program, and we ought always to view the state as an enemy of liberty.
It is precisely the feature of the UBI that its supporters emphasize, its universal coverage, which would enable to state to exercise tyrannical control. Sammeroff says:
"Now a Basic Income Guarantee may begin universal, but as the years wear on and it proves expensive to grant, corners may be cut to ensure its continuance. Hardly anyone will object to the UBI being withdrawn from criminals, for example. And then perhaps for anti-social behavior.
"Petty crimes, like littering the street, might lead people to receive a penalty against their UBI. A few might moan that this is the beginning of a government social-engineering program, but to most people it will seem like quite a sensible and reasonable measure…. Clipping people's Basic Income will soon seem the most sensible and appropriate response to many crimes and misdemeanors." (p.148–49)
Not only could the state use the UBI as an instrument of social control; we have every reason to think those in charge of the state would exercise their power for bad motives.
"This is the same class of people [who] launched a permanent war in the Middle East wasting trillions of dollars and destroying millions of lives. They bailed out the banks from the public purse and gave themselves raises after telling the rest of the nation that we had to tighten our belts.
"They have robbed the young of the opportunity to own a home by sending house prices through the roof, and mean to leave them a nation in ruinous debt." (p.147)
"Why the Worst Get on Top," but it is not quite the same. Hayek argues that rulers will very likely be bad, but Sammeroff's point is not dependent on this thesis. His claim is rather that the evidence shows that our present rulers are bad and will remain so. Thus they can be expected to abuse the UBI program.
Sammeroff strengthens his case that the UBI poses a threat of tyranny by using an admission from Charles Murray, who, as mentioned above, is a pioneering advocate of the program. He acknowledges that the UBI would require people to have a "universal passport" and "known bank account."
Sammeroff strengthens his case that the UBI poses a threat of tyranny by using an admission from Charles Murray, who, as mentioned above, is a pioneering advocate of the program. He acknowledges that the UBI would require people to have a "universal passport" and "known bank account."
Making the most of these admissions, Sameroff says:
"I don't think it's unrealistic to imagine that people may soon be forced to accept a mandatory Government ID Card in order to claim their Basic Income.
"Before long they will be asked to show it in order to get into government buildings. Then at the airport to get on a plane. Then simply to board a train or a bus. Then to post a package. Then to get into a bar. Then a restaurant. Before long every public place will ask you to show your ID card….
—————————————————-
GENERAL PROPHETIC NEWS ARTICLES  SECTION:
—————————————————–
WORLD WAR 3 ON THE BRINK
CLICK ON NEWS CLIPS BELOW FOR COMPLETE INFORMATION
————————————————-
————————————————-
A General & European MSM Warn 'Global Hell May Break Loose In Just 4 Weeks!'
BRITISH NEWSPAPER HEADLINE ". . .

WORLD WAR . . . IN FOUR WEEKS" — DIPLOMAT TOO: "A WAR WITH RUSSIA IS BEING WORKED OUT"
FOR COMPLETE ARTICLE/VIDEO'S AND RELATED PICTURES PLEASE CLICK ON LINK BELOW:
A veritable garbage dump of British media, "The Sun" newspaper, has a headline in yesterday's edition " . . . World War could be triggered in Four Weeks" over the ongoing and escalating situation in Ukraine. 
Gee, that would put us at about May 2, the precise date I mentioned on my radio show last week, for the start of this conflict!
The April 3 issue of The Sun reports:
WORLD War could be triggered in just four weeks in Ukraine as Vladimir Putin sends thousands of troops to the Russian border, experts have warned.  
The bombshell claims come as convoys of tanks and armoured vehicles were filmed being mass transported in regions close to rebel-held eastern Ukraine and annexed Crimea. 
With tension sharply rising, Russian military analyst Pavel Felgenhauer said it now requires a "psychoanalyst" to determine Moscow's intentions but warned events could see "war in a month."
Those who have actually followed the development of these troubles don't need a psychoanalyst to understand what's going on, we understand quite clearly.
Back in 2014, it was the United States and European Union that fomented and funded the violent protests and riots which overthrew the Democratically elected President of Ukraine, Viktor Yanukovych.  WE CAUSED IT!
At the time, Europe and America were trying to "woo" Ukraine away from the Russia sphere of influence, and bring that country into the western sphere of influence.  
In fact, for several years prior, the US alone had spent $5 Billion "helping" Ukraine, in an effort to "woo" them to the West.
So intertwined in Ukraine affairs was the USA, that even before Yanukovych was overthrown, Gloria Nuland from the US State Department, was caught having phone conversations about who the US would approve to become Prime Minister under Yanukovych!   (A Dictator, dictating Democracy?)
In that phone call, at precisely 3:01, Nuland commented about what the US was doing and how the Europeans would view it when she said "Fuck the E.U."
Here's the COVERT INTELLIGENCE INTERCEPT of the phone call from Gloria Nuland:
And it got worse.   Then-Senator John McCain, personally spoke to the rioting Ukrainians in front of the Ukraine Parliament, and incited more trouble, Telling them, among other things, "Your future lies in Europe . . ."  meaning NOT where they are with Russia, now.  It seemed to many to be Incitement that actually worked toward the later physical, violent, overthrow of the Ukrainian government!
Americans all recall the recent protests at the US Capital which the Sissy-Mary Democrats are still calling an "insurrection?"   Well imagine if a Russian elected official like . . . . Zhirinovsky. . . . had given a speech at the US Capital that day, and then things all went haywire.  The US would claim that the Russian politician was trying to overthrow the US Government!  Yet Senator John McCain did the same thing – to Ukraine — and the mass media says absolutely nothing about how he, and the US fomented and incited the ACTUAL OVERTHROW of the Ukraine government!
The REASON we were trying to "woo" Ukraine was nefarious:
1) We wanted to put NATO military bases in Ukraine to position anti-missile "defenses" in that country, AND;
2) We wanted to deprive Russia of its only warm water military port on Crimea.
There were two gigantic problems with NATO doing these things:
A)Our "Defenses" . . .  could also be used as First-Strike weapons; their "conventional" missiles could be refitted in under five minutes, with NUCLEAR warheads.
Being located in Ukraine would have those missiles within five minutes flight time to Russia's nuclear arsenal.  
So having that capability via Ukraine, would make it physically possible for NATO to first-strike Russia and destroy Russia's ability to fight back.   It would be a decapitation strike, AND
B)If Russia were to lose its only warm water port, in Crimea, their entire country would face a total shipping outage for imports and exports, during Winter when all their other ports freeze-over, and their military would have no access to global seas during those times either!
ARROGANT PLANNING A YEAR IN ADVANCE!
So ARROGANT were we about how effective this effort would be to grab Ukraine to our sphere of influence, a full YEAR before the troubles in Ukraine, the US Congress allocated money to start building a new Children's Hospital on Crimea, in Simferopol, because we just knew we were going to take it.  They let the contract through the US NAVY . . . so they also KNEW that we were going to grab Crimea by force if need-be!  
Here's the screen shot of that contract offering from the US Government web site:
Here a direct link to the US Government web site which still holds the records, which still show the ORIGINAL OFFERING DATE of December, 2013 — a YEAR before all the troubles inside Ukraine! (Click HERE)
 Here's ANOTHER Contract offering by the US Government for a School in Sevestopol:
And here is a direct link the the US Government web site which still has the records, which show an initial offering date of  Sep 05, 2013 02:58 am EDT — more than a YEAR before the Ukraine President was overthrown!  (Click Here)
These two contract offerings are irrefutable PROOF the US (and Europe) KNEW they were going to forcibly overthrow the government of Ukraine and grab control of the country.  They were so arrogantly confident of success, they offered contracts for work a year before the deed was done.  
There was no way that Russia would tolerate such a  thing.  So Russia politically backed Yanukovych while the US and EU were fomenting protests and riots.
Then, something unexpected took place: Yanukovych fled Ukraine.
That opened the door for US and EU-backed politicians in Ukraine to take power . . . and they did.
These new politicians were made to understand they needed to do the bidding of the US and of Europe.  Put simply, they were BRIBED.   Big bribes.   Cash.   Lots of it.
Want proof?
Ukraine is a relatively poor country, with annual family income of about two thousand US Dollars ($2,000.00).
Now look at the houses these Western-Backed politicians built themselves once they got their hands on US and EU cash:
(The NAMES of the politicians appear beneath each House image)
So we in the west literally BOUGHT ourselves the Ukraine government; and from 2014 it was to do OUR bidding.
Well, Russia wasn't going to put up with that.
So they put thousands of troops into Crimea, first, to protect their warm water port and military base.
Then pointed out to residents in Crimea their government in Kiev had been bought and paid for by the West and wasn't loyal to Ukraine anymore, but also telling them that Crimea could VOTE to return to Russia and they could all become Russian citizens!
The public went for it.  They held an open, transparent, Referendum and about 96% of the people in Crimea VOTED to leave Ukraine and become part of Russia.
The west, furious that their plans were being thwarted, called the election "Rigged."  The west refused to even recognize it, and immediately put sanctions on Russia over Crimea.
The West officially lost because the Russian Duma (Parliament) passed legislation admitting Crimea back into Russia and that was the end of it.  Crimea is back home in Russia, where it had been for 300 years before then-Soviet Chairman Nikita Khrushchev, "gave" Crimea to Ukraine, 54 years ago.
When other areas of Ukraine saw what happened to their duly elected President, and saw the way bought-and-paid-for corrupt politicians were doing the bidding of the EU and the USA, they decided THEY wanted to leave Ukraine and become part of Russia as well.  The two areas where this sentiment was strongest was in the oblasts (states) of Luhansk and Donetsk, highlighted in Red (along with Crimea) on the map below:
Those two oblasts (states) held votes and their populations voted to leave.  But Kiev, the capital of Ukraine, seeing their plans falling apart, said "no, you can't leave."
Kiev sent TROOPS to try to quell the secession of Luhansk and Donetsk.  But the two states formed militias which fought the Ukrainian Army to a stand still.
It was during this fighting that upwards of 13,000 Ukrainians KILLED each other in battles.
During those battles, Russia sided with Luhansk and Donetsk.  Suddenly, "Little Green Men" started appearing on the battlefields of Luhansk and Donetsk.  Men dressed in military green, completely equipped with military gear, but wearing no patches, no flags and no identifying information.
It was with the help of those "Little Green Men" that Luhansk and Donetsk held-off the Ukrainian Army to this very day.
Meanwhile, time rolled on and elections were held in the USA.  Donald Trump won.  
Suddenly, all the troubles in Ukraine got very much quieter.  They stayed quiet throughout the entire Trump administration.
Fast-forward to November 3, 2020 and Joe Biden and his Democrat Party, STOLE the US Presidential Election.
As soon as Biden was illegitimately inaugurated as US President, what happened?   Troubles started all over again in Syria and in . . .  UKRAINE!
THREE WEEKS AGO THE SIGNAL CAME THAT TROUBLE HAD BEEN STIRRED UP AGAIN
Last month, more of the trouble started cropping up when, unsolicited, the British Ambassador to Ukraine issued a Press Statement saying Britain would never accept Russian possession of Crimea.
————————————————-
MAGOG ON THE MOVE: U.S. Military High Alert, NATO Warned

MAGOG ON THE MOVE: Russia massing military at Ukraine border, U.S. military goes on high alert in Europe, & NATO warned by Russia to back-off. In signs of WAR in the Last Days prophecies. Support this ministry so we can continue sharing signs of Biblical prophecy to the world, donate here:

https://signsofthelastdays.org/giving-2/

​

Check recurring contribution button to become a monthly Partner In Prophecy. You can also now WATCH this LIVE-STREAM on our WEBSITE at this link:

https://signsofthelastdays.org/live/
————————————————-
SATELLITE IMAGES SHOW HUGE RUSSIAN MILITARY BUILDUP IN THE ARCTIC
ORIGINAL

NEWS CLIP BELOW

:   (VIDEO FOOTAGE IS AVAILBLE AT THE (CLICK ON SITE BELOW)
US Panic (Apr 06,2021) Russian Deploys dozens Jets, S-400 Missile and 3 Nuclear Submarines to Arctic

Russian Deploys dozens Jets, S-400 Missile and 3 Nuclear Submarines to Arctic Russia was holding fresh military exercises on Tuesday in the Arctic, a territory of growing importance for Moscow as it vies for regional dominance with rivals including the United States. The exercises include tests of Pantsir-S1 anti-aircraft systems, in-flight refuelling of a MiG-31 fighter jet and jamming the controls of drones simulating an attack. Russia has also deployed its state-of-the-art S-400 air defence systems there.
————————————————-
(CNN)Russia is amassing unprecedented military might in the Arctic and testing its newest weapons in a region freshly ice-free due to the climate emergency, in a bid to secure its northern coast and open up a key shipping route from Asia to Europe.
Weapons experts and Western officials have expressed particular concern about one Russian 'super-weapon,' the Poseidon 2M39 torpedo. Development of the torpedo is moving fast with Russian President Vladimir Putin requesting an update on a "key stage" of the tests in February from his defense minister Sergei Shoigu, with further tests planned this year, according to multiple reports in state media.
(VIDEO FOOTAGE IS AVAILBLE AT THE (CLICK ON SITE BELOW)
Images show build up of Russia's military presence in the Arctic 04:15
This unmanned stealth torpedo is powered by a nuclear reactor and intended by Russian designers to sneak past coastal defenses — like those of the US — on the sea floor.
The device is intended to deliver a warhead of multiple megatons, according to Russian officials, causing radioactive waves that would render swathes of the target coastline uninhabitable for decades.
In November, Christopher A Ford, then assistant secretary of state for International Security and Non-Proliferation, said the Poseidon is designed to "inundate U.S. coastal cities with radioactive tsunamis."
(VIDEO FOOTAGE IS AVAILBLE AT THE (CLICK ON SITE BELOW)
An "onyx" anti-ship cruise missile launched by the Northern Fleet in Alexandra Land, near an Arctic "trefoil" base. Credit: Russian Ministry of Defense
Experts agree that the weapon is "very real" and already coming to fruition. The head of Norwegian intelligence, Vice Admiral Nils Andreas Stensønes, told CNN that his agency has assessed the Poseidon as "part of the new type of nuclear deterrent weapons. And it is in a testing phase. But it's a strategic system and it's aimed at targets … and has an influence far beyond the region in which they test it currently." Stensønes declined to give details on the torpedo's testing progress so far.
Satellite images provided to CNN by space technology company Maxar detail a stark and continuous build-up of Russian military bases and hardware on the country's Arctic coastline, together with underground storage facilities likely for the Poseidon and other new high-tech weapons. The Russian hardware in the High North area includes bombers and MiG31BM jets, and new radar systems close to the coast of Alaska.
The Russian build-up has been matched by NATO and US troop and equipment movements. American B-1 Lancer bombers stationed in Norway's Ørland air base have recently completed missions in the eastern Barents Sea, for example. The US military's stealth Seawolf submarine was acknowledged by US officials in August as being in the area.
A senior State Department official told CNN: "There's clearly a military challenge from the Russians in the Arctic," including their refitting of old Cold War bases and build-up of new facilities on the Kola Peninsula near the city of Murmansk. "That has implications for the United States and its allies, not least because it creates the capacity to project power up to the North Atlantic," the official said.
(PICTURE IS AVAILBLE AT THE (CLICK ON SITE BELOW)
Correction: A previous version of this graphic displayed an image from 2016 instead of 2020. This has been fixed.
Source: Satellite image ©2021 Maxar Technologies, Center for Strategic and International Studies (CSIS).
Graphic: Henrik Pettersson, CNN
The satellite images show the slow and methodical strengthening of airfields and "trefoil" bases — with a shamrock-like design, daubed in the red, white and blue of the Russian flag — at several locations along Russia's Arctic coast over the past five years. The bases are inside Russian territory and part of a legitimate defense of its borders and coastline. US officials have voiced concern, however, that the forces might be used to establish de facto control over areas of the Arctic that are further afield, and soon to be ice-free.
"Russia is refurbishing Soviet-era airfields and radar installations, constructing new ports and search-and-rescue centers, and building up its fleet of nuclear- and conventionally-powered icebreakers," Lt. Col. Thomas Campbell, a Pentagon spokesman, told CNN.
(PICTURE IS AVAILBLE AT THE (CLICK ON SITE BELOW)
The 50 Let Pobedy (50 years of victory) icebreaker moving through the Arctic ice, said to be in January this year, in a first transit of the eastern seas in deep winter. Credit: Rosatom State Nuclear Energy Corporation
"It is also expanding its network of air and coastal defense missile systems, thus strengthening its anti-access and area-denial capabilities over key portions of the Arctic," he added.
Campbell also noted the recent creation of a Quick Reaction Alert force at two Arctic airfields — Rogachevo and Anadyr — and the trial of one at Nagurskoye airfield last year. Satellite imagery from March 16 shows probable MiG31BMs at Nagurskoye for what is thought to be the first time, bringing a new capability of Russian stealth air power to the far north.
High-tech weapons are also being regularly tested in the Arctic area, according to Russian officials quoted in state media and Western officials.
Campbell added that in November, Russia claimed the successful test of the 'Tsirkon' anti-ship hypersonic cruise missile.
(

VIDEO FOOTAGE IS AVAILBLE AT THE (CLICK ON SITE BELOW

)
A Russian army demonstration video of its new ski sled for the Arctic. Credit: Russian Ministry of Defense
The Tsirkon and the Poseidon are part of a new generation of weapons pledged by Putin in 2018 as strategic game changers in a fast-changing world.
At the time US officials scorned the new weapons as technically far-fetched and improbable, yet they appear to be nearing fruition. The Norwegian intelligence chief Stensønes told CNN the Tsirkon as a "new technology, with hypersonic speeds, which makes it hard to defend against."
On Thursday, Russian state news agency TASS cited a source in the military industrial complex as saying there had been another successful test of the Tsirkon from the Admiral Gorshkov warship, saying all four test rockets had hit their target, and that another more advanced level of tests would begin in May or June.
The climate emergency has removed many of Russia's natural defenses to its north, such as walls of sheet ice, at an unanticipated rate. "The melt is moving faster than scientists predicted or thought possible several years ago," said the senior State Department official. "It's going to be a dramatic transformation in the decades ahead in terms of physical access."
(PICTURE IS AVAILBLE AT THE (CLICK ON SITE BELOW)
Source: Satellite image ©2021 Maxar Technologies, Center for Strategic and International Studies (CSIS). Graphic: Henrik Pettersson, CNN
US officials also expressed concern at Moscow's apparent bid to influence the "Northern Sea Route" — a shipping lane that runs from between Norway and Alaska, along Russia's northern coast, across to the North Atlantic. The 'NSR' potentially halves the time it currently takes shipping containers to reach Europe from Asia via the Suez Canal.
Russia's Rosatom state nuclear company released elaborately produced drone video this February of the 'Christophe de Margerie' tanker completing an eastern route across the Arctic in winter for the first time, accompanied by the '50 Let Pobedy' nuclear icebreaker for its journey in three of the six Arctic seas.
Campbell said Russia sought to exploit the NSR as a "major international shipping lane," yet voiced concern at the rules Moscow was seeking to impose on vessels using the route. "Russian laws governing NSR transits exceed Russia's authority under international law," the Pentagon spokesman said.
"They require any vessel transiting the NSR through international waters to have a Russian pilot onboard to guide the vessel. Russia is also attempting to require foreign vessels to obtain permission before entering the NSR."
The senior State Department official added: "The Russian assertions about the Northern Sea Route is most certainly an effort to lay down some rules of the road, get some de facto acquiescence on the part of the international community, and then claim this is the way things are supposed to work."
(PICTURE IS AVAILBLE AT THE (CLICK ON SITE BELOW)
Elizabeth Buchanan, lecturer of Strategic Studies at Deakin University, Australia, said that "basic geography affords Russia the NSR which is increasingly seeing thinner ice for more of the year making it commercially viable to use as a transport artery. This might yet transform global shipping, and with it the movements of 90+% of all goods globally."
The State Department official believes the Russians are mostly interested in exporting hydrocarbons — essential to the country's economy — along the route, but also in the resources being uncovered by the fast melt. The flexing of their military muscles in the north — key to Moscow's nuclear defense strategy, and also mostly on Russian coastal territory — could be a bid to impose their writ on the wider area, the official said.
"When the Russians are testing weapons, jamming GPS signals, closing off airspace or sea space for exercises, or flying bombers over the Arctic along the airspace of allies and partners, they are always trying to send a message," the official added.
Russia insists motives are peaceful and economic
Russia's foreign ministry declined to comment, yet Moscow has long maintained its goals in the Arctic are economic and peaceful.
A March 2020 document by Kremlin policymakers presented Russia's key goals in an area behind 20% of its exports and 10% of its GDP. The strategy focuses on ensuring Russia's territorial integrity and regional peace. It also expresses the need to guarantee high living standards and economic growth in the region, as well as developing a resource base and the NSR as "a globally competitive national transport corridor."
Putin regularly extols the importance of Russia's technological superiority in the Arctic. In November, during the unveiling of a new icebreaker in St. Petersburg, the Russian President said: "It is well-known that we have a unique icebreaker fleet that holds a leading position in the development and study of Arctic territories. We must reaffirm this superiority constantly, every day."
Putin said of a submarine exercise last week in which three submarines surfaced at the same time in the polar ice: "The Arctic expedition … has no analogues in the Soviet and the modern history of Russia."
Among these new weapons is the Poseidon 2M39. The plans for this torpedo were initially revealed in an apparently purposeful brandishing of a document discussing its capabilities by a Russian general in 2015.
It was subsequently partially dismissed by analysts as a 'paper tiger' weapon, meant to terrify with its apocalyptic destructive powers that appear to slip around current treaty requirements, but not to be successfully deployed.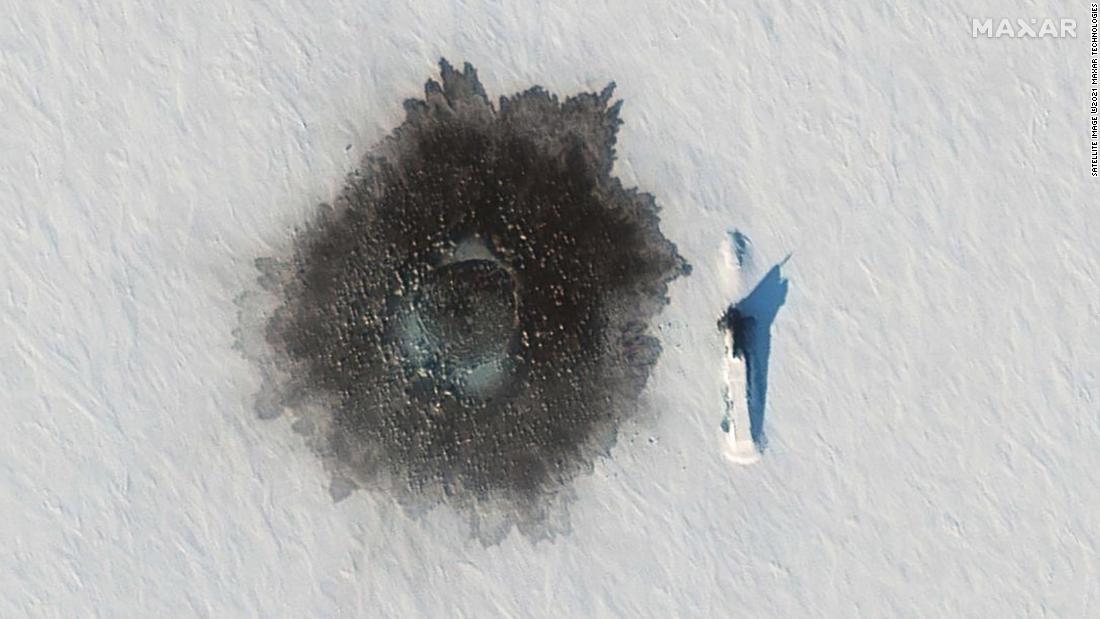 A Russian Delta IV submarine photographed on top of ice near Alexandra Island on March 27, during an exercise, with a likely hole blown in the ice to its left from underwater demolition.
Yet a series of developments in the Arctic — including, according to Russian media reports, the testing of up to three Russian submarines designed to carry the stealth weapon, which has been suggested to be 20 meters long — have now led analysts to consider the project real and active.
Russia's state news agency, RIA Novosti, cited a "source" on Monday saying that tests for the Belgorod submarine, especially developed to be armed with the Poseidon torpedo, would be completed in September.
Manash Pratim Boruah, a submarine expert at Jane's Fighting Ships, said: "The reality of the weapon is clear. You can absolutely see development around the torpedo, which is happening. There is a very good probability that the Poseidon will be tested, and then there is a danger of it polluting a lot. Even without a warhead, but definitely with just a nuclear reactor inside."
Boruah said some of the specifications for the torpedo leaked by the Russians were optimistic and doubted it could reach a speed of 100 knots (around 115 miles per hour) with a 100MW nuclear reactor. He added that at such a speed, it would probably be detected quite easily as it would create a large acoustic signature.
"Even if you tone it down from the speculation, it is still quite dangerous," he said.
(PICTURE IS AVAILBLE AT THE (CLICK ON SITE BELOW)
Source: Satellite image ©2021 Maxar Technologies, Center for Strategic and International Studies (CSIS). Graphic: Henrik Pettersson, CNN
Boruah added that the construction of storage bays for the Poseidon, probably around Olenya Guba on the Kola Peninsula, were meant to be complete next year. He also expressed concerns about the Tsirkon hyper-sonic missile that Russia says it has tested twice already, which at speeds of 6 to 7 Mach would "definitely cause a lot of damage without a particularly having big warhead itself."
Katarzyna Zysk, professor of international relations at the state-run Norwegian Institute for Defence Studies, said the Poseidon was "getting quite real," given the level of infrastructure development and testing of submarines to carry the torpedo.
"It is absolutely a project that will be used to scare, as a negotiation card in the future, perhaps in arms control talks," Zysk said. "But in order to do so, it has to be credible. This seems to be real."
Stensønes also raised the concern that testing such nuclear weapons could have serious environmental consequences. "We are ecologically worried. This is not only a theoretical thing: in fact, we have seen serious accidents in the last few years," he said, referring to the testing of the Burevestnik missile which was reported to have caused a fatal nuclear accident in 2019. "The potential of a nuclear contamination is absolutely there."
————————————————-
RUSSIA WARNS NATO AGAINST SENDING TROOPS TO UKRAINE: 'FRIGHTENING' ESCALATION
https://prophecyupdate.blogspot.com/2021/04/russia-warns-nato-against-sending.html – Tyler Durden
The Kremlin's latest statements out Friday amid the potential new Ukraine crisis which has seen a serious flare-up in fighting in the Donbass region, along with what appears to be far bigger-than-usual troop movements on Russia's side of the border, has raised the stakes further. 
Russia has vowed it will take "extra measures to ensure its own security" should it observe any deployment of NATO troops inside Ukraine, the Kremlin statement said Friday according to Reuters.
It firmly warned against any potential looming NATO troop movements following Brussels voicing concern the day prior over the widespread reports and videos purporting to show a significant Russian build-up of forces along Ukraine's eastern border. 
Reuters reports Russia's Friday statement and "warning" as follows:
Kremlin spokesman Dmitry Peskov told reporters on Friday that the situation at the contact line in eastern Ukraine between Ukrainian government forces and Russian-backed separatist forces was quite frightening and that multiple "provocations" were taking place there.
U.S. Defense Secretary Lloyd Austin on Thursday spoke with his Ukrainian counterpart, Andrii Taran, and "condemned recent escalations of Russian aggressive and provocative actions in eastern Ukraine," the Pentagon said.
"Our rhetoric [over Donbass] is absolutely constructive," Peskov said in response to journalists' questions. "We do not indulge in wishful thinking. Regrettably, the realities along the engagement line are rather frightening. Provocations by the Ukrainian armed forces do take place. They are not casual. There have been many of them."
Ukrainian President Volodymyr Zelensky condemned the Russian troop movements across the border, calling the situation "muscle-flexing" likely to lead to "provocations" for which Ukraine's army is "ready"…
It was exactly a week ago that fighting in Donetsk grabbed international headlines once again when four Ukrainian national troops were killed, which Kiev promptly blamed on Russia-backed separatists. However, the Donetsk People's Republic claimed it wasn't the result of a direct exchange of fire, but due to inspecting a minefield.
Ukraine's parliament followed by announcing a sharp "escalation" in the east – a contested region which has seen 14,000 deaths going back to 2014, and the country's military leadership put the armed forces on high alert.
————————————————-
RUMORS OF WAR: SET-UP FOR ISAIAH 17 IS IN PLACE
https://prophecyupdate.blogspot.com/2021/04/rumors-of-war-set-up-for-isaiah-17-is.html – by Steven Emerson
Despite a collapsing Lebanese economy and considerable political turmoil, Hezbollah continues to threaten Israel. These threats must be taken seriously, given that Hezbollah — the Iranian-backed proxy army — has an incredible stockpile of long-range, medium range, and short-range missiles that can reach every square inch of Israel.
I spoke last Friday with the Middle East Forum about the worst-case scenarios for a conflict between Israel and Hezbollah. The possibilities include a surprise attack by Hezbollah, an Israeli pre-emptive strike, an unplanned escalation, and a multi-front war against Israel. The situation is a powder keg, and one false move could set any of these scenarios in motion.
Israelis understood the surprise attack possibility in 2019, when they discovered several well-built tunnels that started more than a half mile inside of Lebanon, but crossed into Israel. Hezbollah could have used them to attack northern Israeli communities, trying to kill as well as take Israeli civilians hostage. This kind of terrorist attack would have sparked a full-blown war.
Israel already lives under constant threat from Hezbollah's missile arsenal, much of which has been smuggled into Lebanon and retrofitted with advanced GPS guidance systems.
A multi-front war against Israel appears more possible now that Iraqi militias can use Iranian-supplied missiles, which can strike inside Israel. 
From the south, Yemeni Houthis now have projectiles capable of reaching Israel's port city of Eilat along the Red Sea. In Syria, Hezbollah has battle-tested forces capable of attacking, and there are Iranian and Russian weapon systems ready to strike. Finally, Gaza is home to Hamas and Palestinian Islamic Jihad, two terrorist groups that have been firing rockets at Israeli civilian communities for years. If they all acted together, a five-prong multi-front war against Israel is the worst-case scenario.
In 2019, Hezbollah leader Hassan Nasrallah went on Hezbollah's Al Manar television station with his list of Israeli strategic targets that he wants destroyed during the next war with Israel.
These strategic targets include Ben Gurion Airport near Tel Aviv, power plants, water desalination plants, nuclear sites, seaports, gas production facilities and natural gas rigs, petro-chemical production facilities near Haifa, IDF Headquarters/Ministry of Defense in Tel Aviv, air bases, naval bases, army bases, military industries, and important financial and commercial centers.
Hezbollah's arsenal is believed to include 130,000 short range rockets that can travel less than 70 km, about 500 medium range rockets (greater than 70 km and less than 250 km), and about 100 long range rockets (greater than 250 km) missiles. According to a 2018 reportfrom the Jewish Institute for National Security Affairs (JINSA), "Hezbollah now possesses more firepower than 95 percent of the world's conventional militaries, and more rockets and missiles than all European NATO members combined."
Analysts believe that Hezbollah has between 500-1,000 precision guided munitions outfitted with enhanced GPS guidance systems that can hit every square inch of Israel, with devastating accuracy.
With long range advanced GPS Scud B warheads carrying as much as 2,200 pounds of high grade explosives, these missiles could easily destroy top strategic targets in Israel such as the Dimona nuclear power plant, Ben Gurion Airport, Israeli power plants, Israeli military bases, and sites that could cause massive civilian carnage — all targets that Nasrallah has personally threatened to attack in the next war with Israel. (For comparative damage assessments, the unguided Qassam rockets launched by Hamas carry a payload of only 12 pounds of explosives.)
Additionally, Hezbollah reportedly has several dozen anti-ship missiles, such as the three C-802 anti-ship missiles that they fired at the Israeli Navy ship Hanit during the 2006 war, killing four Israeli sailors.
————————————————-
CHINA'S NEW SUBMARINES HAVE INTERCONTINENTAL NUCLEAR-POWERED NUCLEAR-ARMED HYDROSONIC TORPEDOES
https://prophecyupdate.blogspot.com/ – This was reported by H. I. Sutton for Naval News.
The new submarine is reportedly armed with 48 Submarine Launched Ballistic Missiles (SLBMs). It can also carry massive nuclear-powered nuclear-armed autonomous torpedoes.
The submarine was unveiled on April 1st
It was revealed at the Bohai Shipyard in Huludao, China, the new submarine is believed to be the Type-100 'Sun Tzu' class. The timing, together with its type number, appear to refer to the 100th year anniversary of the Chinese Communist Party (CCP).
The vessel is approximately 210 meters long and about 30 meters across. This compares to a paltry 175 meters and 23 meters for the Typhoon Class. Although figures for the new submarine's displacement are not known, it is almost certainly greater than the 48,000 ton Typhoon.
This makes the Chinese submarine, three or four times larger than the US Navy's Ohio-class submarine. Furthermore, the Ohio class carries "only" 24 ballistic missiles.
In the bow are at least 8 Intercontinental nuclear-powered nuclear-armed hydrosonic torpedoes. These weapons are similar to the Russian Navy's Poseidon weapon.
The hydrosonic torpedoes have an effectively unlimited range and are difficult to counter with current weaponry.
According to Sutton, its development, so soon after Russia moved forward with Poseidon, suggests that Poseidon has been exported. Or that some degree of a technology transfer has taken place.
The shift to a massive submarine may hint, like Typhoon, at an Arctic role. China regards itself as a Near-Arctic country and may intend to use the ice cap to protect its at-sea nuclear deterrence.
The C-100 also has an open hangar on its back, potentially for the "sailless" submarine, that was built in Shanghai.
One potential use for this is to provide layered self-defense for the host submarine. Another possibility is that it is for severing undersea internet cables in times of war.
It has been suggested that this tactic could be used to bring about the immediate collapse of Western economies.
After all, it should be remembered that April 1st may now go down in history for when the new era of submarines became, as this "God of Submarines" entered the scene.
One should also remember that the commissioning of the Russian Project 941 Typhoon-class submarines took place between 1981 and 1989, and then all except a single one were scrapped within the next 20 years. As of 2021 there is only one of these submarines left, since a massive underwater monster isn't too hard to track, find and even potentially destroy.
One should keep in mind that this report is almost 100% certainly an April Fools' Day joke, but on the off-chance it isn't the West better prepare itself.
————————————————-
https://prophecyupdate.blogspot.com/ – Steve Watson
An effort to dim the sun to stop global warming has been scrapped by the Swedish Space Agency, who announced that the program, funded by Bill Gates, has 'divided the scientific community' and will therefore not be carried out.
The Swedish Space Corporation (SSC) released a statement saying that the Stratospheric Controlled Perturbation Experiment (SCoPEx), which also had secured Harvard funding, will not go ahead as planned in June.
"SSC has had dialogues this spring with both leading experts on geoengineering and with other stakeholders, as well as with the SCoPEx Advisory Board," the statement reads, adding "As a result of these dialogues and in agreement with Harvard, SSC has decided not to conduct the technical test flight planned for this summer."
IT ALSO NOTES THAT:
"The scientific community is divided regarding geoengineering, including any related technology tests such as the planned technical balloon test flight from Esrange this summer." 
The Gates funded idea would have seen the release of calcium carbonate, essentially chalk dust, into the atmosphere from a high-altitude balloon to observe the effect it has on sunlight reaching the planet surface.
The ultimate goal of the study was to reduce the temperature on the planet in an effort to stave off global warming.
However, not surprisingly, the notion of blocking out the Sun proved somewhat unpopular, with environmental groups warning of potential "catastrophic consequences."
The Saami Council, an advocate group for Sweden's indigenous population, warned that the Gates experiment "essentially attempts to mimic volcanic eruptions by continuously spewing the sky with sun-dimming particles."
The group also pointed out that SCoPEx could have "irreversible sociopolitical effects" and would do nothing to reduce Carbon emissions, which are touted as the leading cause of climate change.
Essentially, the whole idea comes off as a weird vampirish effort to starve the planet of sunlight, the driver of all life, with little scientific logic behind it at all.
Bill Gates, who is flogging a book about climate change, has poured millions into geoengineerng, funnelling at least $4.6 million to the lead researcher on SCoPEx, Harvard applied physics scientist David Keith.
Gates has repeatedly lauded the notion of dimming the Sun, noteably during a Ted Talk in 2010:
————————————————-
'

WALKING LOCUSTS

' INVADING SAUDI ARABIA
https://prophecyupdate.blogspot.com/
Yes, this has "End Times" written all over it…
These walking locusts look like a giant army of soldiers marching in a capitulated country…
————————————————-
HAL LINDSEY: THIS HOME VS PERMANENT HOME
https://prophecyupdate.blogspot.com/2021/04/hal-lindsey-this-home-vs-permanent-home.html – Hal Lindsey 
In 1936, a man named Albert Brumley wrote a song called, "This World is Not My Home." The chorus and every verse ends with the words: "I can't feel at home in this world anymore." I know how he felt. Maybe you do, too. And that's a good thing. This world is temporary. So are its pleasures and pains. But our citizenship is in heaven. Our joys in Christ are eternal.
As followers of Jesus, it makes sense that we feel uncomfortable in a world filled with violence and debauchery. The ache you feel when you watch the news should be normal for Christians. We're living at the end of Romans chapter one. We live in a time when men and women intentionally "suppress the truth in unrighteousness." (Romans 1:18) By this, they "became futile in their speculations, and their foolish heart was darkened. Professing to be wise, they became fools." (Romans 1:21-22)

"They exchanged

the truth of God for a lie, and worshiped and served the creature rather than the Creator." (Romans 1:25).
IT'S ALL SUMMED UP IN
Romans 1:28-32. "

Just as they did not see fit to acknowledge God any longer, God gave them over to a depraved mind, to do those things which are not proper, being filled with all unrighteousness, wickedness, greed, evil; full of envy, murder, strife, deceit, malice; they are gossips, slanderers, haters of God, insolent, arrogant, boastful, inventors of evil, disobedient to parents, without understanding, untrustworthy, unloving, unmerciful; and, although they know the ordinance of God, that those who practice such things are worthy of death, they not only do the same, but also give hearty approval to those who practice

them."
That's the world we live in… but it's not our home. Philippians 3:20-21 says, "

For our citizenship is in heaven, from which also we eagerly wait for a Savior, the Lord Jesus Christ; who will transform the body of our humble state into conformity with the body of His glory."
In every way heaven is better than earth. Jesus said to pray, "'Our Father who art in heaven." (Matthew 6:9) That tells us something magnificent about heaven. God the Father lives there! The scripture we just looked at in Philippians is one of many telling us that Jesus lives there now in His resurrected body. Psalms 16:11 says, "In Your presence is fullness of joy; In Your right hand there are pleasures forever."
1 Corinthians 2:9-10 tells us, "Eye has not seen, nor ear heard, Nor have entered into the heart of man The things which God has prepared for those who love Him."
Unlike the pleasures of earth, the joys of heaven neither dim nor die. 1 Peter 1:4 calls it, "An inheritance incorruptible and undefiled and that does not fade away."
No wonder Colossians 3:2 admonishes all of us to, "Set your mind on things above, not on things on the earth."
The songwriter mentioned above, Albert Brumley, is best known for the song, "I'll Fly Away." "Some glad morning when this life is over, I'll fly away. To a home on God's celestial shore, I'll fly away."
Those words are right in line with scripture.

Psalms 90:1

0 says that when "the days of our life" are gone, "we fly away."
Our future does not consist of living in a deteriorating society and in deteriorating bodies. Soon, we'll fly away — either at the rapture or when we die. Either way, it will be glorious and good. No matter what you face, keep Jesus and heaven in mind. Then, go on your way rejoicing with the full knowledge that some glad morning, you'll fly away!
————————————————-
WEBPAGE ADMINISTRATOR:
Many Christians have the opinion that speaking in "TONGUES" is the only path to Jesus Christ as our Saviour. "THIS IS TOTALLY INCORRECT"; i.e. Pentecost at 33AD was an outpouring of God's "Holy Spirit" for a purpose, and that was the Gift of speaking in other "EARTHLY LANGUAGES" "TONGUES"; i.e. "English"; "German"; Chinese; etc, etc. God is not a God of confusion, therefore he did not give them "Confusion", or a "Heavenly Communication Channel" to God alone; It was a gift of "Earthly Languages" so that they could go forth and spread the "Word of God" i.e. the "GOSPEL" OF JESUS CHRIST" Throughout the World in the specific language of individual Countries. And that is how people in other countries obtained Christianity, P.S. The Apostles travelled to other Countries continually after this receiving this Gift, as did many others that received the gift also. Do not be fooled by "False Religion", The only way to God is through "JESUS CHRIST", it is not "SPEAKING IN TONGUES", IT IS ANOTHER EARTHY LANGUAGE OTHER THAT THE ONE THE PERSON ALREADY HAS.
PLEASE READ THE ARTICLE BELOW FOR CLARIFICATION
————————————————-
Receive The Holy Spirit Part 2 … The Gifts
A Bible Study by Jack Kelley
Last time we discovered Pentecost was not the day the Disciples received the Holy Spirit, but instead, it was a time when He came upon them with an unmistakable display of power (Acts 2:1-4). Remember, they had already performed miracles in the Lord's name. When He sent the 12 out to preach to Israel, He gave them authority to heal the sick and drive out demons (Luke 9:1-6). After that, He sent out 72 others to every town in Israel, Jewish, and Gentile, and they were able to heal the sick and drive out demons too (Luke 10:9,17). But never before had anything like the events of Pentecost happened.
WHAT HAPPENED ON PENTECOST?
We begin this part of our study by looking at the effect speaking in tongues had on those in the presence of the disciples on Pentecost. Since this was the first time anything like this had happened, we should expect to find some defining characteristics for this supernatural ability. Theologians call this the Principle of First Mention. It's based on the fact that when an important idea appears for the first time in the Bible, additional detail is often included in the passage to help us understand it. For example, we find the first mention of the cross in Matt. 10:38, where Jesus said, "anyone who does not take His cross and follow me is not worthy of me." People sentenced to be crucified were required to carry their own cross to their execution, and we've all seen vivid enactments of the Lord doing just that. But He didn't mean we all have to be crucified like He was. He meant that His followers must put their own plans for their life to death and seek to follow His plan for them instead.
With that, we'll pick up the narrative in Acts 2:7 to get the crowd's reaction to their use of the gift of tongues.
Utterly amazed, they asked: "Are not all these men who are speaking Galileans? THEN HOW IS IT THAT EACH OF US HEARS THEM IN HIS OWN NATIVE LANGUAGE? Parthians, Medes and Elamites; residents of Mesopotamia, Judea and Cappadocia, Pontus and Asia, Phrygia and Pamphylia, Egypt and the parts of Libya near Cyrene; visitors from Rome (both Jews and converts to Judaism); Cretans and Arabs-we hear them declaring the wonders of God

in our own tongues!"

(Act 2:7-11)
When the Holy Spirit came upon the Disciples that morning, they were supernaturally empowered to speak to their audience in such a way that each one present understood them IN HIS OWN NATIVE LANGUAGE. Their hearts were opened to Peter's sermon, and about 3,000 were baptized into the faith.
Later on, when Paul described the gift of tongues, he said it's complemented by the gift of interpretation implying that messages in tongues are meant to be understood. Otherwise, they serve no purpose. Paul taught that if there is no interpreter present, then the person with the message is to remain silent. (1 Cor. 14:27-28) Without an interpretation, the message is meaningless.
By the testimony of these two examples, it's clear that messages in tongues are meant to be understood and the use of the gift is meant to be orderly, as a sign for unbelievers, just as it was at Pentecost. Uttering a phrase or sentence consisting of words no one on Earth can understand doesn't meet either the Biblical definition of, or the Holy Spirit's purpose for, the gift of tongues. But when the Holy Spirit empowers someone to share a message in a language he or she can't speak, that person is exercising the gift of tongues. When someone translates such a message into a language that everyone can understand, he or she is using the gift of interpretation. At Pentecost, no interpreters were needed because everyone heard the Gospel in his own language.
GIFTS IN 1 Cor. 12
As for spiritual gifts in general, the Bible makes it clear that every believer has at least one. These gifts are distributed by the Holy Spirit just as He determines, for the good of the body. (1 Cor. 12:7,11)
How the Holy Spirit distributes His gifts is hinted at in the words Paul used in listing them. The English word "another" appears eight times in 1 Cor. 12:8-10, but Paul alternated between two different Greek words when he wrote it. They both mean another, but allos means another of the same kind, while heteros means another of a similar but different kind. The way Paul used these two words is very instructive.
Using their different meanings, 1 Cor. 12:8-10 would read like this. (It will read more easily if I leave out the parts that say it's all done by the same Spirit. I assume we already know that.)
"To one there is given through the Spirit the message of wisdom, to another (Greek allos, another of the same kind) the message of knowledge, to another (Greek heteros, another of a different kind than those given wisdom and knowledge) faith, to another (allos, same kind as those given faith) gifts of healing, to another (allos, same kind as faith) miraculous powers, to another (allos, same kind as faith) prophecy, to another (allos, same kind as faith) distinguishing between spirits, to another (heteros, of a different kind than either previous group) speaking in different kinds of tongues, and to still another (allos, same kind as those given tongues) the interpretation of tongues.
The way Paul alternated allos and heteros shows that he was separating believers into three groups. The first group gets the gifts of wisdom and knowledge; gifts for the second group include faith, healing, miracles, prophecy, and discernment; and the third has tongues and interpretation.
I don't think we should necessarily understand this as a set of hard and fast rules. For one thing, the Holy Spirit can come upon any of us at any time with the temporary power to do what needs to be done at the moment. And for another, He distributes His gifts just as He determines for the good of the body. But it does confirm that different people get different gifts and can help us understand why certain gifts seem to be more prevalent in some parts of the Church than in others.
Even if some of the details concerning these gifts are confusing, others are very clear. For instance, every born-again believer was given at least one spiritual gift when we received the Holy Spirit to dwell within us. Our job is to use our gift(s) for the good of the body, following the Spirit's prompting.
Also, the gift of tongues is not given to every believer and was never intended as evidence of a so-called baptism in the Holy Spirit.
Gifts In Romans 12
Some folks don't realize there are other lists of gifts in the New Testament. One is in Romans 12 where Paul also gave us the procedure for discovering our gifts. First, we offer our lives totally to God, giving Him permission to accomplish His will in us. Next, we stop conforming to the pattern of this world and its preoccupation with getting all this life has to offer, often at the expense of our heavenly calling. Then we let ourselves be transformed by the renewing of our mind. We do this by rejecting the secular world view and accepting the Biblical one in its place. By doing these things, we'll begin to understand God's will for our lives and how He's gifted us to fulfill it. (Romans 12:1-2)
Then he listed seven more gifts the Lord has made available, again as He has determined.
We have different gifts, according to the grace given us. If a man's gift is prophesying, let him use it in proportion to his faith. If it is serving, let him serve; if it is teaching, let him teach; if it is encouraging, let him encourage; if it is contributing to the needs of others, let him give generously; if it is leadership, let him govern diligently; if it is showing mercy, let him do it cheerfully. (Romans 12:6-8)
You can see from this passage the Lord intends for us to use our gifts. As you let Him re-order your life around the area of your giftedness, you'll be more effective in everything you do and experience higher levels of satisfaction and well-being than you've ever known. And you'll have a greater impact for good on those around you. This is what the Lord meant by streams of living water flowing from within us. (John 7:37-39)
Gifts In Ephesians 4
And there is still one more list from Paul. Speaking of Jesus, he said;
It was he who gave some to be apostles, some to be prophets, some to be evangelists, and some to be pastors and teachers, to prepare God's people for works of service, so that the body of Christ may be built up until we all reach unity in the faith and in the knowledge of the Son of God and become mature, attaining to the whole measure of the fullness of Christ. (Ephesians 4:11-13)
The gift of prophecy is contained in all three lists, perhaps reflecting Paul's view that we should be eager to prophesy (1 Cor. 14:39), and teaching appears twice. So the total of 21 includes 18 unique gifts. The list in Romans 12 is attributed to the Father, the one in Ephesians 4 to the Son, and the one in 1 Corinthians 12 to the Holy Spirit.
Our gifts were invested in us the moment we heard the Gospel of our salvation and believed it. Sadly, some believers are never told they have a spiritual gift and therefore don't ever look for it. Others know about it but need some time to tune out the static of their secular lives sufficiently to hear the still small voice of the Holy Spirit within them. When they do, they realize He's been there all along, waiting to activate the gift He's given them and provide guidance on its use.
Still, others come to the Lord at a point in life that makes them especially attuned to the Holy Spirit's voice, and they immediately know, with a clarity they can't explain, what their primary gift is and how they're supposed to use it. For them, it's like having a tiger by the tail as their lives are radically transformed, and they realize things will never again be the same as they were before.
Depending on their gift they may start a Bible study or a prison ministry, visit the sick, or begin giving away their money. Often they do this to the utter amazement of friends and family, who marvel at the change in them.
The only difference between these three groups is the length of time it takes to be transformed and renewed. The Holy Spirit is the same for all of us. As Charles Stanley so aptly puts it, "It's not how much of the Spirit is in you, it's how much of you is in the Spirit."
FOR PART 1 CLICK ON CAPTION BELOW:
————————————————-
SALVATION
CLICK ON LINKS BELOW:
WHAT IS SALVATION? What is the Christian doctrine of salvation?
SIMPLY Salvation is believing in the Lord Jesus Christ death on the Cross where he gave his life for us. And
HOW DOES GOD SAVE

?

In the Christian doctrine of salvation, God has rescued us through (JESUS CHRIST DEATH (ON THE CROSS) AND HIS "RESURRECTION) (John 3:17). Specifically, it was Jesus' death on the cross and subsequent resurrection that achieved our salvation (Romans 5:10; Ephesians 1:7). Scripture is clear that salvation is the gracious, undeserved gift of God (Ephesians 2:5, 8) and is only available through faith in Jesus Christ (Acts 4:12).
AND IT IS A "FREE" GIFT, BASED ON OUR LOVE FOR JESUS SACRIFICE FOR US AND OUR CONTINUAL SINS THAT MUST BE "FORGIVEN" THROUGH HIS SACRIFICE.
————————————————
AN EXAMPLE OF THE SINNERS PRAYER:
Dear Father,
I now believe that Jesus Christ is Your only begotten Son, that He came down to our earth in the flesh and died on the cross to take away all of my sins and the sins of this world. I believe that Jesus Christ then rose from the dead on the third day to give all of us eternal life.
Lord Jesus,
I now confess to You all of the wrong and sinful things that I have ever done in my life. I ask that You please forgive me and wash away all of my sins by the blood that You have personally shed for me on the cross. I am now ready to accept You as my personal Lord and Savior. I now ask that You come into my life and live with me for all of eternity.
Father, Jesus – I now believe that I am truly saved and born again.
Thank You Father.
Thank You Jesus.
————————————————
JESUS CHRIST RETURN FOR HIS CHURCH IS "IMMINENT"
Matt. 7:27 And the rain descended, and the floods came, and the winds blew, and beat upon that house; and it fell: and great was the fall of it.
Matt. 24:38 For as in the days that were before the flood they were eating and drinking, marrying and giving in marriage, until the day that Noe entered into the ark,
Matt. 24:39 And knew not until the flood came, and took them all away; so shall also the coming of the Son of man be
——————————————–
DON'T WAIT FOR THE LAST MINUTE
We are currently in the "Birth Pangs" pending the coming "7 year TRIBULATION" period, where all the Nations on Earth will be subject to God's Wrath on an "UNGODLY" World. The Rapture of Jesus Christ Church is "TOTALLY" imminent; And what will follow after that will be massively more devastating that we are seeing right now (Read

Revelation Ch 6 – 22

) God is trying to get everyone's attention to the coming Judgments; He does not want "ANYONE" to perish, but all to come to repentance. He loves us, but will not stand idly by and watch the World, (His Creation) turn to sin and debauchery). We are currently living in a fallen "Satanic" World where "EVIL", is totally accepted, "and God and his Love for his Church": is being exponentially rejected. The time has come when God HAS TO intervene, and he is (The prophetic word listed in his Word the Bible is being fulfilled exponentially).
——————————————————
THE NEW WORLD ORDER:
ONE WORLD GOVERNMENT – ONE WORLD ECONOMIC SYSTEM – ONE WORLD RELIGION
Dan. 9:27 And he shall confirm the covenant with many for one week: and in the midst of the week he shall cause the sacrifice and the oblation to cease, and for the overspreading of abominations he shall make it desolate, even until the consummation, and that determined shall be poured upon the desolate
Dan. 7:24 And the ten horns out of this kingdom are ten kings that shall arise: and another shall rise after them; and he shall be diverse from the first, and he shall subdue three kings
Rev. 17:12 And the ten horns which thou sawest are ten kings, which have received no kingdom as yet; but receive power as kings one hour with the beast
—————————————————-
THE MARK OF THE BEAST:
DON'T TAKE THE MARK OF THE BEAST WHICH IS (CHANGING YOUR D.N.A.) AND GIVING YOUR CONTROL OVER TO THE "BEAST SYSTEM" – THIS IS AN ABONOMINATION TO GOD: (YOU ARE HIS CREATION):
Rev. 13:14 And deceiveth them that dwell on the earth by the means of those miracles which he had power to do in the sight of the beast; saying to them that dwell on the earth, that they should make an image to the beast, which had the wound by a sword, and did live.
Rev. 13:15 And he had power to give life unto the image of the beast, that the image of the beast should both speak, and cause that as many as would not worship the image of the beast should be killed.
Rev. 14:9 And the third angel followed them, saying with a loud voice, If any man worship the beast and his image, and receive his mark in his forehead, or in his hand
THE PUNISHMENT FROM GOD FOR THOSE WHO TAKE THE MARK AND WORSHIP THE "BEAST SYSTEM":
Rev. 14:10 The same shall drink of the wine of the wrath of God, which is poured out without mixture into the cup of his indignation; and he shall be tormented with fire and brimstone in the presence of the holy angels, and in the presence of the Lamb:
 (YOU ARE GOD'S CREATION – CHANGING YOUR D.N.A. AND/OR GIVING YOUR ALLEGANCE TO ANOTHER ENTITY I.E. (THE ANTICHRIST) – IS AN ABONOMINATION TO GOD):
————————————————-
THE FUTURE CONONAVIRUS INJECTION AT THIS POINT IN TIME ALSO APPEARS TO BE "MASSIVELY" AGAINST GOD AS IT WILL IS ALSO TAINTED WITH A CHANGE IN YOUR (R.N.A.

WHICH CHANGES YOUR D.N.A.) AND WILL ALTER YOUR BODY IN MANY WAYS, (INCLUDING DEATH. IT  MAY TAKE DAYS, OR WEEKS, OR MONTHS. BUT IT WILL ALTER YOUR D.N.A. AND CAUSE DEATH).
————————————————-
  WEBPAGE ADMINISTRATOR:
(THE AUSTRALIAN R.N.A. VACCINE)
You Know, there comes a time in one's life when you just have to speak up regarding the "Blatant "Stupidity", "Greed", "Corruption", "Lies", "ETC" that some people have in their Soul; To say we have to have the Vaccine because of an "I SAID SO" attitude; even if it is Tainted with "DEATH", it can change your R.N.A. to Totally Change your D.N.A. Causing "DEATH". And "OH" if you change your D.N.A. don't look to God to have Mercy on you "IF" you survive, because "GOD" is the "CREATOR" of your "SOUL", and your "BODY". And once you change your D.N.A. you WILL become "NEPHLINIC," i.e. a different person. This is what the fallen Angels did after God Created Adam and Eve, they changed "Animal", and "Human" D.N.A. Which turned "Humans & Animals into a Totally different Species, i.e. it made them "NEPHLIMIC" "NOT OF GOD". God's Judgment is coming upon the people that are creating this "Ungodly" Evil, and like it was before the "FLOOD", so it will be again; Destruction of God's Creation over a "SEVEN YEAR PERIOD". Revelation Chapter 6 to Revelation Chapter 22. Which is about to start any time in the very near future.
This RNA "Vaccine" is "NOT TESTED OR APPROVED" BY MEDICAL SCIENCE METHODS, and Trials that they recently conducted on people in Korea, Africa, and God knows where else, resulted in "Hundreds" of Deaths, and left the rest very sick and dying. And since then "tens of Thousands" of people are becoming very sick after the jab, and most are dying. Ask yourself why are they vaccinating Nursing Home residents and Hospitals first; the answer is because the New World Order's Objective is to Eliminate every person over 70 Years Old, and that is exactly what is happening Worldwide;
—————————————
CLICK ON LINK BELOW:
—————————————————-
The "AGENDA" of the "NEW WORLD ORDER" "THE ORDER OF THE PROTOCOLS OF ZION" is to wipe out "EIGHT TENTH'S OF HUMANITY", and leave enough room for the "ELITES" to live in peace and harmony". But they have not considered God into this equation, and he is our Creator and he loves his Creation with a passion –Jesus Christ died for us on the cross at calvary, and Once the Church has gone from this World God's vengeance will commence on the Ungodly of this World.
THE NEW WORLD ORDER THAT HAS ALREADY BEGUN, It Means A "ONE WORLD GOVERNMENT", A ONE WORLD CHURCH, AND A ONE WORLD RELIGION ("CHRISLAM"). "AND IT IS PURE EVIL"
PLEASE ACCEPT GOD'S FREE GIFT OF SALVATION. IT IS OUR ONLY HOPE