This Happened On Planet Earth…Oct. 2019…End Times Signs

275K subscribers
 

Please Help Support This Ministry:

https://www.paypal.me/watchman1963

Cash App : $watchman1963 Please subscribe to my backup channel:

https://www.youtube.com/channel/UC4nc…

Current Events Linked To Biblical Prophecies. Everything is unfolding just as the bible foretold. Wars, Volcanic Eruptions, Earthquakes, Extreme Weather, Christian Persecution, Violence and more!
Matthew 24:3-14 3 Now as He sat on the Mount of Olives, the disciples came to Him privately, saying, "Tell us, when will these things be? And what will be the sign of Your coming, and of the end of the age?" 4 And Jesus answered and said to them: "Take heed that no one deceives you. 5 For many will come in My name, saying, 'I am the Christ,' and will deceive many. 6 And you will hear of wars and rumours of wars. See that you are not troubled; for all these things must come to pass, but the end is not yet.
7 For nation will rise against nation, and kingdom against kingdom. And there will be famines, pestilences,[b] and earthquakes in various places. 8 All these are the beginning of sorrows. 9 "Then they will deliver you up to tribulation and kill you, and you will be hated by all nations for My name's sake. 10 And then many will be offended, will betray one another, and will hate one another.
11 Then many false prophets will rise up and deceive many. 12 And because lawlessness will abound, the love of many will grow cold. 13 But he who endures to the end shall be saved. 14 And this gospel of the kingdom will be preached in all the world as a witness to all the nations, and then the end will come.
—————————————————-
Turkey warns Russia of its resolve in Syria – 21.10.19 TV7 Israel News

Today's top stories; 1) A Palestinian assailant, who reportedly rushed with a knife in hand toward Israeli security forces, was shot a killed over the weekend at a checkpoint near the West Bank city of Tulkarem. 2) President Recep Tayyip Erdogan emphasized that unless Kurdish forces comply with the U.S.-brokered agreement, Turkey will resume its military operation to assure its goals are met. 3) U.S. Secretary of Defense Mark Esper confirmed that U.S. Forces remain in Syria to protect oilfields from falling into the hands of the Islamic State or other regional enemies.
—————————————————-
Israel Fears Abandonment Turns To New Mideast Prince MaGog—Signs of the Last Days
•

Streamed live 18 hours ago

31.1K subscribers
 

Israel fearing abandonment turns to new Mideast power broker as signs Gog of Magog prophecy, the catching away, & Israel-World Tribulation are increasing. Support this ministry so we can continue to share signs of Biblical prophecy to the world, donate here:

https://signsofthelastdays.org/produc…
—————————————————-
Watchman Report: Setting the Stage for the Antichrist – PASTOR J.D. FARAG

Watchman Report: Setting the Stage for the Antichrist Pastor J.D. explains how the global uncertainty is setting the prophetic stage and readying the world for the Antichrist. – Those wishing to give to Calvary Chapel Kaneohe, please visit https://calvarychapelkaneohe.com/dona… Connect with Pastor J.D. Farag on Social Media to stay updated on his latest Bible Prophecy teachings and End Times-related news.
—————————————————-
LATEST WORLD NEWS CLIPS – ARTICLES – TUESDAY 22nd OCTOBER 2019
WE PREACH THE BLESSED HOPE FOR THE FUTURE IN JESUS CHRIST OUR SAVIOUR
1Cor. 12:3 Wherefore I give you to understand, that no man speaking by the Spirit of God calleth Jesus accursed: AND THAT NO MAN CAN SAY THAT JESUS IS THE LORD, BUT BY THE HOLY GHOST.
"Behold, I come like a thief! Blessed is he who stays awake and keeps his clothes with him, so that he may not go naked and be shamefully exposed."
Here Jesus was alluding to the fact that the Doctrine of Eternal Security WILL EXPIRE WITH THE RAPTURE
Rev. 3:10 Because thou hast kept the word of my patience, I also will keep thee from the hour of temptation, which shall come upon all the world, to try them that dwell upon the earth:
Luke 12:37 Blessed are those servants, whom the lord when he cometh shall find watching: verily I say unto you, that he shall gird himself, and make them to sit down to meat, and will come forth and serve them
SO WON'T YOU ACCEPT JESUS NOW AND BE REMOVED FROM THAT EVENT AND LIVE FOREVER WITH JESUS IN THE FAMILY OF GOD?
2 "(For he saith, I have heard thee in a time accepted, and in the day of salvation have I succoured thee: behold, now is the accepted time; behold, now is the day of salvation.)" (2nd Corinthians 2:6)
——————————————-
DAILY CHRISTIAN BIBLICAL QUESTIONS AND ANSWERS:
——————————————-
THE MEANING OF THE MILLENNIUM
QUESTION    I have the following question about the Millennium and the time there after, when Satan is released again. What is the 1000 years used for – and why does Satan get released again – is there a deeper meaning for these events … couldn't everything just end after the tribulation?
ANSWER:

  

  At first glance, having a 1000 year interlude between the Age of Man and Eternity doesn't make sense. But on reflection, I think that it may be mankind's final chance to prove himself to God.
Through out history we've had the evil workings of the devil to contend against, so all during the Millennium the devil will be imprisoned. Without him to tempt them can mankind behave in a manner pleasing to God?
We've also had the bad influence of unbelievers, so at the beginning of the Millennium all unbelievers will be taken away. Will that make it possible for man to please God?
For the last 2000 years the Lord has been absent from the planet. When He returns and takes up residence here to be their King will man be able to please Him?
Sadly, the answer to all these questions is no. Even with Satan bound, no more unbelievers, and the in person rule of the Lord Himself, there's still enough sin in the hearts of natural man that as soon as Satan is freed, man will join him in a final rebellion against God. The Millennium is our final proof that there is no circumstance or condition in which natural man can behave in a manner pleasing to the Lord.
THE MEANING OF THE MILLENNIUM. FOLLOW UP
QUESTION    Re: The Meaning of the Millennium. If the earth is re-populated only with believers after the 2nd Coming, and if believers can't loose their salvation, then how can the 1000 years be a final test for mankind? In fact, what you are saying is that some will sink so low, they actually will loose their salvation and go to battle against The Lord. Would a believer do that – and can believers do that?
ANSWER:

 

   Eternal security is a blessing only given to believers during the Church Age. Following the rapture, salvation will be conditional upon obedience and faithfulness (Rev. 14:12) just as it was in the Old Testament . Remember, Daniel's 70th Week is a return to Old Covenant conditions. That's why a temple and animal sacrifice are necessary. My study on The Nature of Post Church Salvation explains this.
Children born during the Millennium will have to choose to be saved and will have to remain faithful to stay that way. As is the case today, some will choose salvation and others will not. What's different is that some of those who choose salvation will fall away. As the millennium proceeds the number of unbelievers will increase until there will be enough for a massive army to be waiting when Satan is released at its end (Rev. 20:7-8).
ETERNAL SECURITY FOR TRIBULATION BELIEVERS?
QUESTION    You have stated that you feel the post rapture believers will be on their own when it comes to staying faithful to their belief in Christ as their Lord and Savior. In Revelation (7: 1-9) it says that the Angel of God will put a seal on the foreheads of the "servants of God". It goes on to show that the 144,000 from the 12 tribes (Jews) were at least part of this group, but then it moves right into discussing the "multitude" in white robes that were "serving God and The Lamb" day and night.
I believe the multitude are the tribulation Saints and that they are being included in the group that were sealed on their foreheads by the Angel of God, identifying them as "servants of God". Also, I don't think the gentile Christians during this period would be left to suffer the stings of these demonic creatures of Rev. 9 so they must have the seal. In summary; I believe that the tribulation believers will not be able to lose their salvation. Do you disagree with this?
ANSWER:

 

   Rev. 7:1-3 shows the four winds being held back by four angels. Then another angel with the seal of God comes forward, telling them not to harm the land or sea until he puts the seal on the foreheads of the servants of God. Rev. 7:4 says the number of those who are sealed is 144,000 and then Rev. 7:5-8 lists 12,000 from each of 12 tribes of Israel. From this I conclude that the 144,000 are the only ones sealed. This all happens on Earth.
After that John sees the multitude, but they are before the throne of God (Rev. 7:11). That's in Heaven, and the elder tells John they've come out of the Great Tribulation. The Greek word translated "come out of" applies to both location and time. In essence it means they will have been martyred and come to heaven before the Great Tribulation begins. They and the 144,000 are not part of the same group. In the first place the 144,000 are all Jews. The martyrs are from every nation, tribe, people and language.
Your concern for Tribulation believers is commendable but I don't think it's consistent with Scripture. Both Rev. 14:12 and Rev. 16:15 indicate Tribulation believers are responsible for remaining faithful. Matt. 25:1-13 confirms this. Eternal Security is a special blessing given only to the Church.
————————————————
NEWS CLIPS OBTAINED FROM MANY SOURCES – INCLUDING

Tracking bible prophecy.org
Rapture Ready News
Prophecyupdate.Com
Main News Channels
End Times Headlines
Prophecyupdateblogspot.com
Stevequayle.com
Gracethrufaith.com
Nowtheendbegins.com
Other Christian Sites
(CLICK ON) LATEST DAILY NEWS CLIPS:
ISRAEL NEWS:
ZECHARIAH 12:2-3
I AM GOING TO MAKE JERUSALEM A CUP THAT SENDS ALL THE SURROUNDING PEOPLES REELING … Zech. 12:2
God is in control, and He told the nations the consequences of dividing the Promised Land and declaring peace and safety on their own terms (Joel 3:1-2; I Thess. 5:3)
WORLD TERRORISM – WARS
GENERAL WORLD NEWS:
MASSIVE EARTH CHANGES/EARTHQUAKES/VOLCANOES ETC:
2Chr. 7:13 If I shut up heaven that there be no rain, or if I command the locusts to devour the land, or if I send pestilence among my people;
2Chr. 7:14 If my people, which are called by my name, shall humble themselves, and pray, and seek my face, and turn from their wicked ways; then will I hear from heaven, and will forgive their sin, and will heal their land
CHRISTIAN AND RELIGIOUS WORLD NEWS:
Matt. 24:9 Then shall they deliver you up to be afflicted, and shall kill you: and ye shall be hated of all nations for my name's sake.
Matt. 24:10 And then shall many be offended, and shall betray one another, and shall hate one another
EXTRA WORLD – ALTERNATIVE NEWS:
————————————————-
WORLD – PROPHETIC NEWS ARTICLES PRESENTATION – TUESDAY 22nd OCTOBER 2019
MIDDLE EAST AND WORLD WAR LOOMING THE BUILD UP TO PSALM 83  – ISAIAH 17 AND GOG OF MAGOG WARS EZEKIEL 37-38:
THE WHOLE WORLD IS UNSTABLE FINANCIALLY, POLITICALLY, PHYSICALLY, MORALLY, GODLY: – AND BECOMING MORE SO DAILY. (WE ARE IN THE BEGINNING OF SORROWS (MATT 24:8)
THE BIBLE STATES THAT IT WILL ONLY GET WORSE BEFORE THE START OF THE TRIBULATION OF MANKIND – (REVELATION 6)
But before that we have to go through the Birth Pangs, leading up to the Tribulation of Mankind; and I feel that the beginning of Matthew 24 explains that time very well. We are currently in the Birth Pangs:
Matt. 24:6 And ye shall hear of WARS AND RUMOURS OF WARS: see that ye be not troubled: for all these things must come to pass, but the end is not yet.
Matt. 24:7 FOR NATION SHALL RISE AGAINST NATION, AND KINGDOM AGAINST KINGDOM: and there shall be famines, and pestilences, and earthquakes, in divers places.
————————————————–
ISRAEL WATCH: TRUMP, ISRAEL, AND THE KURDS
Well, President Trump is being roasted in the media for his drawdown of troops in Syria, which has created a pathway for Turkey to assert itself. He is also being roasted by some allies, including pro Israel folks.
But I do believe in the view that says Trump is wily and often moves quite a bit ahead of his opponents.
First, let's look at the hand-wringing over the Kurds. They are an ancient people often maligned and persecuted by their neighbors. Iraq and Turkey in particular have damaged the Kurds for many years.
It is also true that Christians in the region are being persecuted; this goes hand-in-hand with the apparent escape of some ISIS terrorists. Many Never Trumpers in the Evangelical world are, I think, using this Christian persecution issue to take yet another jab at Trump. Am I saying they are that craven and calculating?
Yes, I am.
However, Christians have been persecuted in the region since antiquity, and until very, very, very recently, nary a peep from Trump critics on this issue. Southern Baptist Convention [political] operatives like Russell Moore typically use issues like this to bash the President and his supporters. I'm all for supporting Christians in the region, but let's put together a comprehensive and workable plan to do so. Let's not use them as a political football, feigning compassion. Some of the most calculating, heartless people on the planet live in the evangelical leadership community.
I digress.
When Ataturk in Turkey persecuted the Kurds, some of the latter created a Marxist entity, the PKK, to combat all that. Thus, they evolved into a terror organization themselves. Trump is not wrong at all to point out that these internecine battles are chronic and ages-long. How much longer are we to police far-flung places with our blood and treasure?
(The Iraqi area known as "Kurdistan" has adopted sharia law, which makes it an enemy of all decent people everywhere. I'm simply pointing out that the poor, maligned Kurds who are being "abandoned" by Trump, have some other elements to their makeup worth noting.)
Now, how is this affecting Israel and her ability to defend herself? The hysteria now says that the introduction of Turkey into the region further erodes Israel's defensive capabilities.
I disagree.
When Israeli prime ministers say publicly sometimes that they can deal with any military reality in the region-and hint that they are light years ahead of their enemies-I believe them.
And there is another factor, a very important one. By saying "See Ya," Trump has left a real mess in the lap of…Putin. He now has another bad actor in the region to deal with. He faces the choice of jumping through hoops to prevent Iran from taking over the country, or a Russian defeat. So all of a sudden, far from being a cold abandonment of a key ally, Trump's announcement is a bravo strategic move.
And frankly, I like Trump's pro-America thinking here, as he stated this week:
"'Lindsay Graham would like to stay in the Middle East for the next thousand years, with thousands of soldiers fighting other people's wars,' Trump said. 'I want to get out of the Middle East. I am not going to lose potentially thousands and tens of thousands of American soldiers fighting a war between Turkey and Syria.'"
Further, Iran has shifted from a proxy war to more direct military conflict in the region. Personally, I don't want American troops fighting a war against Iran in the Middle East. After Trump pulled out of the disastrous Obama-led "nuclear deal" in 2018, Iran adopted what it called a policy of "strategic patience" and since May of this year has been moving more toward direct military confrontation. Trump this week fairly scolded the Arab states, telling them to finance and fight their own wars. You can bet that Iran has Saudi Arabia in its crosshairs more than it has Israel in the same spot.
A statement from the Meir Amit Intelligence and Terrorism Information Center is very interesting:
"Despite the significant change in Iran's modus operandi, in our assessment, Iran does not strive for an all-out confrontation with the United States or Israel, preferring instead to pursue a policy of brinkmanship, constantly testing the 'rules of the game.'"
So then, let's look more at long-term solutions regarding Iran, with an American-Israeli-led strike on the mullah's nuclear facilities. Stop worrying so much about the Syrian civil war, which, as we noted, has now mired Russia in a long-term muck.
You'll notice I have not discussed this week the claims that Turkey's entrance into Syria starts the clock ticking on Gog-Magog. I've given my views on this subject before this past year, but suffice to say I continue to believe we cannot be dogmatic about the timing of this coming end-times battle. I believe it will happen, of course, but I don't set dates or say, "Yes, it has started."
In the meantime, let's celebrate the fact that fewer American soldiers are dying in far-off wars. Let's also celebrate even more that our God's promises are sure and He has promised that Israel will never disappear again.
Meditate on that fact this week!
—————————————————–
IS PUTIN THE NEW KING OF THE MIDDLE EAST?
"Russia Assumes Mantle of Supreme Power Broker in the Middle East," proclaimed Britain's Telegraph.
The article began: "Russia's status as the undisputed power-broker in the Middle East was cemented as Vladimir Putin continued a triumphant tour of capitals traditionally allied to the US."
"Donald Trump Has Handed Putin the Middle East on a Plate" was the title of a Telegraph column. "Putin Seizes on Trump's Syria Retreat to Cement Middle East Role," said the Financial Times.
The U.S. press parroted the British: Putin is now the new master of the Mideast. And woe is us.
Before concluding that Trump's pullout of the last 1,000 U.S. troops in Syria is America's Dunkirk, some reflection is needed.
Yes, Putin has played his hand skillfully. Diplomatically, as the Brits say, the Russian president is "punching above his weight."
He gets on with everyone. He is welcomed in Iran by the Ayatollah, meets regularly with Bibi Netanyahu, is a cherished ally of Syria's Bashar Assad, and this week was being hosted by the King of Saudi Arabia and the royal rulers of the UAE. October 2019 has been a triumphal month.
Yet, consider what Putin has inherited and what his capabilities are for playing power broker of the Middle East.
He has a single naval base on the Med, Tartus, in Syria, which dates to the 1970s, and a new air base, Khmeimim, also in Syria.
The U.S. has seven NATO allies on the Med – Spain, France, Italy, Croatia, Albania, Greece and Turkey, and two on the Black Sea, Romania and Bulgaria. We have U.S. forces and bases in Afghanistan, Iraq, Bahrain, Saudi Arabia, Qatar, Oman and Djibouti. Russia has no such panoply of bases in the Middle East or Persian Gulf.
We have the world's largest economy. Russia's economy is smaller than Italy's, and not a tenth the size of ours.
And now that we are out of Syria's civil war and the Kurds have cut their deal with Damascus, consider what we have just dumped into Vladimir Putin's lap. He is now the man in the middle between Turkey and Syria.
He must bring together dictators who detest each other. There is first President Erdogan, who is demanding a 20-mile deep strip of Syrian borderland to keep the Syrian Kurds from uniting with the Turkish Kurds of the PKK. Erdogan wants the corridor to extend 280 miles, from Manbij, east of the Euphrates, all across Syria, to Iraq.
Then there is Bashar Assad, victorious in his horrific eight-year civil war, who is unlikely to cede 5,000 square miles of Syrian territory to a permanent occupation by Turkish troops.
Reconciling these seemingly irreconcilable Syrian and Turkish demands is now Putin's problem. If he can work this out, he ought to get the Nobel Prize.
"Putin is the New King of Syria," ran the op-ed headline in Thursday's Wall Street Journal.
The Syria of which Putin is now supposedly king contains Hezbollah, al-Qaida, ISIS, Iranians, Kurds, Turks on its northern border and Israelis on its Golan Heights. Five hundred thousand Syrians are dead from the civil war. Half the pre-war population has been uprooted, and millions are in exile in Turkey, Lebanon, Jordan and Europe.
If Putin wants to be king of this, and it is OK with Assad, how does that imperil the United States of America, 6,000 miles away?
Wednesday, two-thirds of the House Republicans joined Nancy Pelosi's Democrats to denounce Trump's decision to pull U.S. troops out of Syria and dissolve our alliance with the Kurds. And Republican rage over the sudden abandonment of the Kurds is understandable.
But how long does the GOP believe we should keep troops in Syria and control the northeastern quadrant of that country? If the Syrian army sought to push us out, under what authority would we wage war against a Syrian army inside Syria?
And if the Turks are determined to secure their border, should we wage war on that NATO ally to stop them? Would U.S. planes fly out of Turkey's Incirlik air base to attack Turkish soldiers fighting in Syria?
If Congress believes we have interests in Syria so vital we should be willing to go to war for them – against Syria, Turkey, Russia or Iran – why does Congress not declare those interests and authorize war to secure them?
Our foreign policy elites have used Trump's decision to bash him and parade their Churchillian credentials. But those same elites appear to lack the confidence to rally the nation to vote for a war to defend what they contend are vital American interests and defining American values.
If Putin is king of Syria, it is because he was willing to pay the price in blood and treasure to keep his Russia's toehold on the Med and save his ally Bashar Assad, who would have gone under without him.
WHO DARES, WINS. NOW LET'S SEE HOW PUTIN LIKES HIS PRIZE
————————————————–
CANNIBALISM TAKING HOLD IN SOUTHERN CALIFORNIA
https://www.exposingsatanism.org/cannibalism-taking-hold-in-southern-california/ – October 20, 2019 by Jon Watkins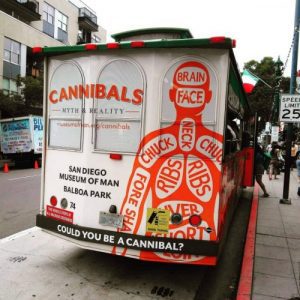 Leo Zagami  – Few topics cause more intense feelings of revulsion than cannibalism, and rightly so. The consumption of human flesh has always been considered abhorrent, vile, and to most, morally wrong. However, a Swedish scientist speaking at a Stockholm summit of libtards and local Illuminati last week offered cannibalism as a possible tactic to combat global climate change, unveiling publically for the first time the fixation of the mondialists with cannibalism. Stockholm School of Economics professor and researcher Magnus Soderlund, a Freemason of the Swedish Rite, said that he believes eating human flesh derived from dead bodies might  save the human race if only a world society were to "awaken the idea."  The scientist also mentioned the possibility of cannibalism during a TV broadcast on Swedish channel TV4.
Meanwhile in the kingdom of libtards, cannibalism is becoming increasingly fashionable in Southern California. Aside from the reported fixation of Hollywood stars who engage in blood rituals and cannibalism, the Museum of Man, one of the more popular museums of Balboa Park in San Diego, which is said to "inspire human connections by exploring the human experience" in January 2016, began their sickest exhibition to date Cannibals: Myth & Reality. In one-of-a-kind libtard exhibit, you'll discover that cannibals aren't who you think they are, and you might even want to join them if you were to listen to the guides. The museum does not describe cannibals as freaks, but as warriors from many cultures, European kings and queens, American and European sailors, American colonists, accident survivors, the sick, and more. When the exhibition opened back in 2016 The San Diego Union-Tribune gave Cannibals high praise: "Get past the ick factor. Stifle the barbecue jokes. Cannibals: Myth & Reality is a poignant and beautiful experience, the type that you hope to get at a museum. It deftly guides you from one emotional place to another, revealing connections across time and cultures, until you reach a point of deeper understanding. Through history, art, films, interactive displays and games, visitors confront what seems, at first, to be an unthinkable choice. By the end, you might realize that it's far more nuanced and complicated."
1st Corinthians 16:22 "If any man love not the Lord Jesus Christ, let him be Anathema  Maranatha."
Anathema – a person or thing accursed or consigned to damnation or destruction. 
Maranatha – the Lord is coming" or "come, O Lord.
Going back to Magnus Soderlund's argument for human cannibalism that took center stage at the Gastro Summit during a panel called "Can You Imagine Eating Human Flesh?"
"Conservative" taboos against cannibalism, he said, can change over time if people simply tried eating human flesh. Some of the talking points at the seminar have included whether humans were too selfish to "live sustainably" and if cannibalism is the solution to food sustainability in the future. When asked during an interview after his talk if he would try human flesh, Soderlund said he was open to the idea.
Cannibalism causes infamous Kuru, a very rare disease caused by an infectious protein (prion) found in contaminated human brain tissue. Kuru was first found among people from New Guinea who practiced a form of cannibalism in which they ate the brains of dead people as part of a funeral ritual. This practice stopped in 1960, but cases of kuru were reported for many years afterward because the disease has a long incubation period. Although the knee-jerk reaction to eating human flesh is strong, the actual morality and ethics behind feelings like these will change in the years to come if it were up to the sick propaganda of the leftist agenda to "save the world."
Of course in desperate times, people have resorted to cannibalism to survive; for instance, there are reports of cannibalism during the North Korean famine in 2013, the siege of Leningrad in the early 1940s, and China's "Great Leap Forward" in the late 1950s and 1960s, but what Swedish behavioral scientist Magnus Soderlund has suggested is that eating people after they die could actually be a means of combatting climate change in the ultimate screwed up agenda to save humanity from extinction. For these sickos of the NWO, many of us eat our fingernails, and some women eat their placenta after giving birth, so why is it such a big deal? They want to convince us to become cannibals to join their Satanic legion.
This might be California in 2030…not real yet but…..
Please visit LeoZagami.com and help support Leo
————————————————–
Regions directly north of Jerusalem are being stirred to turmoil by the whirlwinds of prophetic destiny. Therefore it is the responsibility of watchmen on the wall to closely examine all things powerfully affecting that area so concentric to Bible prophecy yet to be fulfilled.
The specific prophecy, of course, involves that given about the Gog-Magog battle in Ezekiel chapters 38 and 39. We have been watching the stage setting for some time. Russia, which we believe to be Rosh, Iran (the greatest part of which is almost certainly Persia), and Turkey, which we believe to be a reference to most of what was ancient Togarmah, have been coalescing to Israel's north for quite some time. This alone can be seen as nothing short of astonishing. Now, with the whole region directly to Israel's north lighting up with what looks to be prophetic pyrotechnics, the spiritually attuned discerner's observational powers should be fully turned on and in focus.
We have some from the Christian media community making declarations of what developments mean.
Pat Robertson said the following on his 700 Club show: "I am absolutely appalled that the United States is going to betray those Democratic forces in northern Syria, that we possibly are going to allow the Turkish to come in against the Kurds." In typical "word of knowledge" power he claims to have, he offered further: "The President of the United States is in danger of losing the mandate of Heaven if he permits this to happen."
While I can't and don't wish to be able to claim such "word of knowledge" ability to pontificate, I'm concerned, but not necessarily against, the president's decision. I certainly don't believe his decision to withdraw America from the immediate region of hostilities will doom Mr. Trump to a loss in the 2020 presidential election.
It might just be that the move is by the very hand of God. We can know for sure that America withdrawing in such a manner has in no way slipped up on the Creator of all things. This has not escaped His omniscience.
Turkey invading northern Syria to get at rebels of the region is a serious matter. The Kurdish people are in danger. Many among them are Christians, and that is one reason for many concerns among we who pray for our brothers and sisters there. But so should we pray for all who face death and destruction in this or any military incursion. So, I, like you, don't view all this lightly.
I do, however, consider these matters from a particularly focused perspective. Things taking place in that biblically important part of the world at this late hour in this quickly fleeting Age of Grace must be critically important. In view of all other converging signs we are discerning, any such apparent stage-setting should light up the eschatological radar screens. 
It is proper to consider, I think, whether this president's decision to remove American involvement from that specific area is God-ordained. I don't mean that Mr. Trump might be aware of it possibly being a directive from on high. That in no way is part of this bit of prophetic pondering on my part.
We know that America is not mentioned by name in Ezekiel's Gog-Magog prophecy, just as the nation isn't mentioned in any prophecy by name. Here is what we do know God's prophetic Word says about the nations observing that attack from the sidelines –the attackers we believe to be led by Russia, Iran, and Turkey.
Sheba, and Dedan, and the merchants of Tarshish, with all the young lions thereof, shall say unto thee, Art thou come to take a spoil? hast thou gathered thy company to take a prey? to carry away silver and gold, to take away cattle and goods, to take a great spoil? (Ezekiel 38:13)
My scenario-pondering is wrapped up in the following. I claim no "word of knowledge."
With America removed from that region of interminable conflict, the other nations that presently comprise NATO and all other countries of combatant-loaning sorts might not be willing to intervene against the assault. Most consider Israel as the problem in the world. Think about the UN being almost totally against Israel on every issue.
If America isn't there at the time of the Gog-Magog assault, these nations will almost without question not seek to oppose the coalition, led by a powerful Russia.
The removal of America at this time from this theater of future war is most interesting to contemplate. God tells in this prophecy that He, alone, will save His chosen nation. There will be no doubt about who does the rescue.
America's military might won't do so. That's for sure.
————————————————–
https://prophecyupdate.blogspot.com/ – Elijah Magnier
Assad trusts that Russia will succeed in halting the Turkish advance and reduce its consequences, perhaps by asking the Kurds to pull back to a 30 km distance from the Turkish borders to satisfy President Erdogan's anxiety. That could also fit the Turkish-Syrian 1998 Adana agreement (5 km buffer zone rather than 30 km) and offer tranquillity to all parties involved. Turkey wants to make sure the Kurdish YPG, the PKK Syrian branch, is disarmed and contained. 
Nothing seems difficult for Russia to manage, particularly when the most difficult objective has already been graciously offered: the US forces' withdrawal.
Russia is one of the most successful players here, on numerous fronts, and is now in a position President Putin could only have dreamed about before 2015. 
Numerous analysts and think tanks predicted Moscow would sink into the Syrian quagmire, and they mocked its arsenal. They were all wrong. Russia learned its lesson from the 1979 invasion of Afghanistan. It offered air and missile coverage and brilliantly cooperated with Iran and its allies as ground forces.
President Putin skillfully managed the Syrian war, striking a balance and creating good ties with Turkey, a NATO ally- even after the downing of his jet by Ankara in 2015. Russia wanted to collaborate with the US but was faced with an administration with persistent "Red-Soviet" phobia. Moscow proceeded without Washington to solve the Syrian war and defeat the jihadists who had flocked to the country with support from the West (via Turkey and Jordan) from all over the world.
Russia showed off its new arsenal and managed to sell a lot of its weapons. It has trained its Air Force using real battle scenarios, fought alongside the Syrian and Iranian armies, and a non-state actor (Hezbollah). It defeated ISIS and al-Qaeda 40 years after its defeat in Afghanistan. President Putin has distinguished himself as a trustworthy partner and ally, unlike Trump- who abandoned the Kurds, and who blackmails even his closest ally (Saudi Arabia).
Russia imposed the Astana process instead of Geneva for peace talks, it offered countries to use their local currencies for commerce rather than the dollar, and it is dealing pragmatically with Iran and Saudi Arabia, and with Assad and Erdogan. The Americans, by their recklessness, showed themselves incapable of diplomacy.
Moscow mediated between the Syrian Kurds and the central government in Damascus even when these had been under US control for years. Putin behaved wisely with Israel even when he accused Tel Aviv of provoking the killing of his officers, and stayed relatively neutral in relation to the Iran-Israel struggle.
On the other hand, Tel Aviv never thought Syria would be reunited. Today Damascus has armed drones, precision and cruise missiles from Iran, supersonic anti-ship Russian missiles- and has survived the destruction of its infrastructure and so many years of war.
Israel has lost the prospect of a Kurdish state (Rojava) as an ally. This dream has gone now for many decades to come and with it the partition of Syria and Iraq. The "Deal of the Century" makes no sense anymore and the non-aggression deal with the Arab states is a mirage. Everything that Trump's close advisor, Prime Minister Netanyahu, wanted has lost its meaning, and Israel now has to deal with the Russian presence in the Middle East and bear the consequences of the victory achieved by Assad, the Russians, and the Iranians.
After the Kurds, Israel is the second biggest loser- even if it has suffered no financial damage and no Israeli lives have been lost in combat. Netanyahu's ambitions can no longer be used in his election scenario. Israel needs to prepare for living next door to Assad, who will certainly want back Syria's Golan- a priority for Damascus to tackle once domestic reconstruction is on its way. He has been preparing the local resistance for years, for the day when Syria will recover this territory.
———————————————–
https://prophecyupdate.blogspot.com/
Hong Kong streets descended into chaotic scenes following an unauthorized pro-democracy rally Sunday, as protesters set up roadblocks and torched businesses, and police responded with tear gas and a water cannon.
Protesters tossed firebombs and took their anger out on shops with mainland Chinese ties as they skirmished late into the evening with riot police, who unleashed numerous tear gas rounds on short notice, angering residents and passers-by.
Police had beefed up security measures ahead of the rally, for which they refused to give permission, the latest chapter in the unrest that has disrupted life in the financial hub since early June.
Some 24 people were hurt and treated at hospitals, including six with serious injuries, the Hospital Authority said.
Police did not give an arrest figure. One person was seen being handcuffed and taken away to a police van.
As the rally march set off, protest leaders carried a black banner that read, "Five main demands, not one less," as they pressed their calls for police accountability and political rights in the semi-autonomous Chinese territory.
Supporters sang the protest movement's anthem, waved colonial and U.S. flags, and held up placards depicting the Chinese flag as a Nazi swastika.
Many protesters wore masks in defiance of a recently introduced ban on face coverings at public gatherings, and volunteers handed more out to the crowd.
Matthew Lee, a university student, said he was determined to keep protesting even after more than four months.
"I can see some people want to give up, but I don't want to do this because Hong Kong is my home, we want to protect this place, protect Hong Kong," he said. "You can't give up because Hong Kong is your home."
Some front-line protesters barricaded streets at multiple locations in Kowloon, where the city's subway operator restricted passenger access.
As night fell, protesters returned to the streets, setting trash on fire at intersections.
Residents jeered riot police, cursing at them and telling them to leave. The officers, in turn, warned people that they were part of an illegal assembly and told them to leave, and unleashed tear gas to disperse the crowds.
Along the way, protesters trashed discount grocery shops and a restaurant chain because of what they say is the pro-Beijing ownership of the companies. They also set fire to ATMs and branches of mainland Chinese banks, setting off sprinklers in at least two, as well as a shop selling products from Chinese smartphone maker Xiaomi.
The police used a bomb disposal robot to blow up a cardboard box with protruding wires that they suspected was a bomb.
Organizers said ahead of the march that they wanted to use their right to protest as guaranteed by Hong Kong's constitution despite the risk of arrest.
"We're using peaceful, rational, nonviolent ways to voice our demands," Figo Chan, vice convener of the Civil Human Rights Front, told reporters. "We're not afraid of being arrested. What I'm most scared of is everyone giving up on our principles."
————————————————-
https://prophecyupdate.blogspot.com/
An official in the Syrian Democratic Forces called on Israel on Monday to take action against Turkey's military incursion into northern Syria.
The official, who spoke on condition of anonymity, also expressed confidence that the Jewish people would not neglect the plight of Kurds in northern Syria, invoking its history of persecution.
"The State of Israel must work to put an end to this war that is killing women and children and expelling civilians from their homes," the official told The Times of Israel in a text message.
Ankara launched a cross-border attack against Syria's Kurds on October 9 after the US announced a military pullout from the north of the war-torn country.
Last Thursday, however, a US-brokered ceasefire was declared, giving the SDF until Tuesday evening to withdraw from a 30-kilometer buffer zone Turkey wants to create along its southern frontier.
Despite the announcement of the ceasefire, some fighting between Turkish and SDF forces has continued along the border.
The SDF has been a key ally to Washington in the US-backed fight against Islamic State group jihadists in Syria, but Turkey views its forces as terrorists linked to Kurdish militants on its own soil.
"I am certain that the Jewish people understand the situation of the Kurdish people best because it lived these types of dangers throughout much of its history. I am sure that it will not stand by idly as our region faces Turkey's terror," the SDF official said.
Since Turkey commenced its invasion, more than 300,000 civilians have been displaced, according to Rami Abdel Rahman, the head of the Syrian Observatory for Human Rights.
Dozens of mainly Syrian Kurdish civilians have also been killed in fighting.
Amnesty International has accused Turkey's miltiary as well as Turkish-backed militias of carrying out war crimes, exhibiting "a shameful disregard for civilian life." The group also documented a Turkish-supported militia's grim murder of a female, Syrian Kurdish politician.
On October 10, Prime Minister Benjamin Netanyahu denounced Turkey's invasion of Kurdish-controlled areas of northeastern Syria and said Israel was prepared to offer humanitarian aid to the Kurds in Syria.
"Israel strongly condemns the Turkish invasion of the Kurdish areas in Syria and warns against the ethnic cleansing of the Kurds by Turkey and its proxies," Netanyahu said in a statement released by his office at the time. "Israel is prepared to extend humanitarian assistance to the gallant Kurdish people."
Israel has not announced whether it has attempted to deliver aid to the Syrian Kurds affected by the Turkish invasion.
———————————————-
ARIZONA TRAFFICKING CASE EXPOSES LOCAL AND FEDERAL POLITICIANS TIED TO CHILD TRAFFICKING WITH TIES TO UKRAINE
WEBPAGE ADMINISTRATOR:

  What a "Putrid" disgusting World we are living in, and people wonder why Christians preach the 2nd coming of Jesus Christ and God's Wrath to come upon this planet "His Creation". These people that use "Children" for sex trafficking are about to meet their "Judgment" very soon, and God will show no mercy.
Rev. 20:12 And I saw the dead, small and great, stand before God; and the books were opened: and another book was opened, which is the book of life: and the dead were judged out of those things which were written in the books, according to their works
James 2:13 For he shall have judgment without mercy, that hath shewed no mercy; and mercy rejoiceth against judgment
———————————–
I was recently watching the media in Arizona cover a story regarding the selling of babies from mothers who were brought from the Marshall Islands by an Arizona public servant. Maricopa County Assessor Paul Petersen was arrested on charges of running an illegal international adoption scheme in three states. Petersen is facing 62 criminal charges for bringing pregnant women from the Marshall Islands to Arizona to give birth and then selling their babies in Utah, Arizona and Arkansas. The women were kept in homes in the East Valley of Phoenix until they gave birth and the babies were sold to would-be-parents. None of the news reports touchec unp several critical issues. How does a public servant, making $70,000 per year afford "bondage houses" and transport and delivery servies? How did the mothers get to the United States from the Marshall Islands? Who was paying for the homes that the mothers were staying in until they gave birth? Who was paying for the medical services to deliver these children? Where would this "public servant" find medical staff competent enough to deliver the children, but criminal enough to participate in what they had to know was a massive international crime ring? Further, how did one public servant with a middle income salary pull this off by himself? Paul Peterson, according to the FBI, local authorities and the local media has no accomplices. This story, on its face is not even believable. In fact, what we have here is a Jeffrey Epstein operation which is probably connected to the Clinton Foundation and this case has complete been missed by the CPS of Arizona. But wait it gets worse. 
Enter Arizona State Senator David Farnsworth. He is investigating 550 children who have gone missing in Arizona. And for his trouble, Farnsworth says he has been threatened by another elected official for "daring" to investigate this heinous activity in Arizona. Before I start connecting dots, and there are a lot of dots to connect, let's take a momentary detour and show Senator Farnsworth just how much danger he is in. 
OKLAHOMA AND ARIZONA SHARE IN MISSING CHILDREN FROM CPS
In the Fall of 2016, in Oklahoma, Seventy-eight children went completely missing,with no explanation. The most frightening aspect of this development is that these children went missing while in custody of the Oklahoma Department of Human Services (DHS). Even the Oklahoma media is asking questions. Millie Carpenter, who holds the position of DHS's permanency and well-being program administrator, and her cohort, Melissa Jones, a DHS program supervisor, insist that there is nothing wrong and their publicly funded agency has made absolutely no mistakes. No mistakes? There are 78 children, under their care who are missing! Nothing wrong?  
Carpenter and Jones insist there is DHS accountability and that all 78 missing children should be considered to be runaways and that they have not been abducted. How would they know since the children are missing? 
  Please allow me to emphasize that these 78 children were under the custody and care of DHS at the time of their disappearance. If these children had disappeared while in the custody of their parents, wouldn't there be hell to pay regarding parental accountability? Both the authorities and the media should be asking questions about supervision and agency accountability. When these children were not in their tax-supported bed at night, why was nothing done?  
Presumably, many of these children were removed from their parents by Child Protective Services and placed in DHS custody because their parents were accused of neglect and/or abuse. Isn't DHS responsible for room and board? Each child is required to be accounted for with regard to state allocations for food and housing!  Therefore, can some responsible person of authority, connected to DHS, please explain to me why 78 missing person reports have not been filed? Why weren't the police notified? If these children were removed from the parents' home, then a court would have to be involved. As such, the courts should have been immediately notified when the children went missing because a court order was not being complied with.  
If the missing 78 children in Oklahoma was just a case of gross dereliction of duty by officials such as DHS administrators Carpenter and Jones, then we could fire the incompetent personnel and hire better people who would protect the children. But the fact that these children were not even reported as missing is inexcusable. How do I know that something is terribly wrong? Simple, I used to be a therapist and these types of administrative procedures were part of my training. The facts connected to the handling of these missing children does not add up. If the three stooges are not running Oklahoma's DHS, then there is something very criminal going on. And the fact that the authorities are not up in arms and conducting a criminal investigation is highly suspicious and suggests further complicity at some official level. There is very good reason to expect a much deeper level of criminal activity related to these children because it has happened before.  
There was somebody, like Arizona State Senator Farnsworth, who cared enough to look into this matter and found that these "negligent MIA children" are a part of the past practice of Oklahoma's DHS and these kids are sold to child-sex-traffickers. The woman who looked into this practice was an Oklahoma State Senator and she was murdered in her home. Her name was Linda Collins-Smith and her murder was a "message murder" as her body was covered in a blanket as if to say "coverup". 
ONE MORE DIGRESSION TO SHOW SENATOR FARNSWORTH HOW MUCH DANGER HE'S IN
I was recently asked by a talk show host why MS-13 was being imported into the United States and I replied "When political assassinations are planned, along with media figures and law enforcement offtcers (LEO), the brutal use of MS-13 can lead to a complete destabilization of our society while keeping the CIA and the Clinton Foundation hands clean in this arena. 
After CSS researcher, Alexandra Daley sent me a list of ten murdered individuals who were connected to child-sex-trafficking rings (some with CPS connections), some facts began to jump our at me as several of the ten murdered individuals were involved in areas of criminality that the cartels/terrorists are deep involved in on this side of the border. However, I must say that these people could have more easily been Arkancided, because in one way or another, each death is related to Hillary.
Arkancided is a term reserved for the long list of people who posed a legal threat to the freedom of the Clintons and the continuance of their organized crime activities. Of the ten who were murdered, six of them were directly related to child sex trafficking, related Clinton emails to this effect, and specifically to Comet Pizzagate.  
Here is a list of people who were close to the Clinton Foundation and child-sex-trafficking allegations. Running parallel to the Clinton Foundation are various child-sex-trafficking allegations connected to various Child Protective Services (CPS). Here is the list of murder victims:
Linda Collins-Smith, former Arkansas state senator, died of gunshot wounds and in a bizarre manner, her body was wrapped in blanket. Was this a symbolic gesture for a "coverup".  
Jonathan Nicole was a former State Senator, as was Collins-Smith. Specifically, Nicole was an Oklahoma state senator who also died of died of gunshot wound. In a "message killing fashion" a gun found on table near the body. Both State Senators were investigating the connections between their local CPS organizations and disappearing children for the purposes of trafficking them in sex-rings. 
Steven Silks, the now deceased New York Deputy allegedly committed suicide by gunshot. He was only a month away from his retirement which makes this "suicide" highly unlikely.. He was one of the few  people who have actually seen the horrifying sand graphic details on on Anthony Weiner's laptop that supposedly made men cry. these are the emails that many believe got Seth Rich murdered. These are the 33,000 emails that the Clintons', the Deep State and Obama appointed Democratic judges have worked so hard to cover up as they block the release to the public.   
 Joseph Calabrese, an NYPD homicide detective  committed suicide with his on gunshot as he was another who had seen the infamous the Pizza Grate related Anthony Weiner's laptop
 Herb Sandler was another "Pizzagater" tied to the infamous Comet Pizzagate and the Podesta emails that have largely been kept out of the public eye.  
 Tony Rodham, was the most notable member of this tragic list, is none other than Hillary Clinton's Brother. In a very bizarre twist of fate, the cause of death is not being released. Was it a heart attack, a gunshot, was he tortured to death, or something like what happened to Justice Scalia? I cannot remember high profile death where the cause of death was not at least vaguely referred to with regard to the cause of death. 
Senator Farnsworth better watch out, he is on very dangerous ground. I will come back to Farnsworth later. But first, it is important to note that I have been down this road before. 
EVEN STATE DEPARTMENT EMPLOYEES ARE NOT IMMUNE FROM ATTACK
In 2015, Monika Wesolowski, a State Department employee with a security clearance, believes that she was politically targeted and this led to the seizure of her son. My investigation in this matter has revealed an acquaintance of Monika, who lived in her building and their children played together, was likely met with foul play, because he was about to blow the whistle on government connected child sex trafficking. This lends credence to Monika's belief of being targeted for what someone thought she knew about child sex trafficking and elements of the U.S. government. Somebody thinks that Monika knew more than she does because at the same time, this federal employee with no outside income was targeted by the IRS for an audit and the State Department began to drug test her. The operating hypothesis is based on the notion that this child abduction strategy was adopted in order to (use your imagination) keep Monika quiet. When she contacted me, the opposite happened.
Monika firmly believes that her son Dylan would be sex trafficked by now if it were not for the intervention of the CSS. When Dylan was removed from his mother's custody, he was illegally placed with two gay men who openly joked about how "sexy" the boy was. Monika had irrefutable proof that the boy was being abused and about to be trafficked. I was able to expose this on a very public stage and Virginia officials were forced to remove the boy from the sutation.
Many connected to the Weslowski case will openly state that the only reason that Monika is alive today is because fo the attention called to her case by the intense coverage of the CSS. 
BACK TO ARIZONA
Farnsworth filed a report with the Depart of Public Safety (DPS). He went as far as to call the police because he reported that fellow State Senator Kate Brophy McGee threatened him if he did not stop investigating the ciphoning off of Arizona foster children to a global sex-trafficking ring and this, in part is exactly what the Peterson case is about. 
Many people I have spoken with speaks about a man named McKay who was appointed by Arizona Governor Doug Ducey to clean up the mess at CPS. Instead, McKay ordered agents to seize more children and even more kids disappeared. The Phoenix New Times talks about how Ducey has changed his name from Roscoe to Ducey, to conceal his family's organized crime background from Ohio. What's interesting is that Ducey appointed Peterson to his present position. 
Speaking of the Phoenix New Times, they once ran a story on the late John McCain. They traced how when he was a POW in Vietnam, his first wife was disfigured from an automobile crash. McCain divorced her and married Cindy Hensley (McCain). The New Times went on to expose that the Hensley family was an organized crime family with a history dating back to bootlegging during Prohibilition. It was their money that funded the political rise of John McCain. Governor Doug Ducey was once an employee of the Hensley business, Hmmm, I would have to be a dedicated conincdence theorist to not see these connections.  
The person who Farnsworth alleges threatened him, Kate Brophy McGee is on the Legislative committee overseeing CPS activities. What a coincidence! Here is another set of coincidences. McKay is not only tied to Ducey (ie friends), he is also associated with ex-senator Jeff Flake, the late John McCain and amazingly, Mitt Romney in their "never-Trumper movement and Romney is someone who I have implicated for his subtle threats against of President Trump. In fact, all of these men are tied together by Urkranian business interests according to one anonymous source. This explains a a lot because this also brings the Bidens into the equation by association as well as Nancy Pelosi's son. These events are currently under investigation by the CSS and others as I have learned. 
These Ukranian associations, I am told, go a lot further than illicit energy deals and get directly into the realm of child-sex-trafficking.Trump has made the stopping of this practice aprioity and this explains the wrath from this group that he is feeling.  From the comments made by Tulsi Gabbard to Hillary Clinton, I believe that it is highly likely that Gabbard has this same information that is just coming to light. Ther is no question that the Arizona CPS fiasco is an Epstein operation and many of Arizona's politicians, in key positions, are complicit. This is an ongoing story and more will be forthcoming.
These associations explain a lot about the Ukrainian impeachment fiasco. The Democrats are masters at accusing others of what it is there guilty of. For example, the Russian-Collusion-Delusion, I believe the evidence speaks to this, was about covering up the Clinton Foundation's Uranium One fiasco of selling highly enriched uranium to the Russians and this deal involved Robert Mueller as I conclusively proved in July of 2017. Now, we have Trump attacked for the Ukraine fiasco and beneath it all are the child-sex trafficking exploints of key Arizona politicians, both past and present and the Peterson case highlights these connections.
CONCLUSION
History shows that both Peterson and Senator Farnsworth are in a great deal of danger. Peterson will undoubtedly be Arkancided in prison so he can't make a deal for a lighter sentence. Over in California, Ed Buck will suffer a similar fate. Senator Farnsworth, like Collins-Smnith, runs the risk of being assassination by the drug cartels (ie MS-13) for daring to expose this area of corruption. 
To the unaware, I just exposed for you why the borders are left open by members of both political parties. Oh, did I mention that an Attorney General from the Marshall Islands was just found shot to death? Of course, this would have nothing to do with the Peterson case. 
I have had my own dealings with these unscrupulous people and lived to tell about it. That story will be published this morning on this site and it is entitled, Huge Secrets in Maricopa County. 
————————————————–
WHO OR WHAT IS BEHIND THE CIVIL UNREST ACROSS THE PLANET?
Who or What Is Behind the Civil Unrest Across the Planet? Some of it is Motivated by Desire to Experience Freedom. Some of the Violence Is Contrived? Why?
————————————————–
THE BATTLEFIELD OF LIGHT VS DARKNESS
The headlines everywhere are alarming. The narrative continues to focus on brutal visceral between Americans, economic disruption, government disruption, political disruption, social disruption. Disruption on all levels, according to the news media.
There is no rest from disruption. It is so, because the media and the disrupters make it so. So there they are making their noise, accusing others of what they are doing, judging people from the content of their own hearts, spewing forth hate, derision, suspicion and darkness.
What is it to us?
Why do we have to allow them to occupy the battlefield of our minds?
Does their darkness overcome the light of Christ and the Holy Spirit in each of us?
I stand to say "NO."
In John 8:12, Christ said,
"I am the light of the world: he that follows me shall not walk in darkness, but shall have the light of life."
In Matthew 5:14-16, Christ affirms this transfer of light, saying,
"You are the light of the world. A city that is set on a hill cannot be hid. Neither do men light a candle and put it under a bushel, but on a candlestick; and it gives light unto all that are in the house. Let your light so shine before men, that they may see your good works, and glorify your Father which is in heaven."
Philippians 2:14-15 says,
"Do all things without murmurings and disputings: That you may be blameless and harmless, the sons of God, without rebuke, in the midst of a crooked and perverse nation, among whom you shine as lights in the world."
Proverbs 4:14-18 says,
"Enter not into the path of the wicked, and go not in the way of evil men. Avoid it, pass not by it, turn from it, and pass away. For they sleep not, except they have done mischief; and their sleep is taken away, unless they cause some to fall. For they eat the bread of wickedness, and drink the wine of violence. But the path of the just is as the shining light, that shines more and more unto the perfect day."
Psalm 119:105 says,
"Your word is a lamp unto my feet, and a light unto my path."
There is a pattern here that there is a path we all travel, but we do not have to travel in darkness because Christ is the light for the just. He transfers it to his disciples that they might also be the light of the world.
As you interact with friends and family, you do not have to take part in the darkness around us. You can be that light to others, that joy in the midst of sorrow. Everyone seems to be at everyone else. Peace is but a fleeting moment like an insincere greeting.
Remember, though, that as the light of the world, you are also an ambassador of Christ, an emissary of the kingdom of God. We don't have to enter into the darkness because it already has been defeated by the King of Kings. Renew your mind. Have a perspective of light. As is written in 2 Timothy 1:7,
"For God has not given us the spirit of fear; but of power, and of love and of a sound mind."
SO LET YOUR LIGHT SHINE.